London is without a doubt one of the best places in the whole world to spend a weekend! It boasts some of the most iconic architecture in Europe as well as world-class theatre, sport, shopping and music. Basically there's so much stuff going on that a single weekend in London is not enough and you're guaranteed to return!
One bonus of spending a weekend in London is that many of the best attractions are free! So, despite the hefty exchange rate of the pound, a London weekend can be very reasonably priced.
With so many indoor activities on offer, it's actually a fantastic city to visit year-round so don't let the infamous British weather put you off. The museums are some of the best in the world housing global artifacts and technologically driven research. Public transport in London is also great   so you can easily get to all of London's iconic landmarks in a single weekend!
Whether you're a theatre-goer, a sports fan, a foodie or a raging partier, there's lots to love about London.

Unlock Our GREATEST Travel Secrets!
Sign up for our newsletter and get the best travel tips delivered right to your inbox.
Insider Tips for an AMAZING Weekend in London
These tips will help you enjoy London at its best and help you avoid any unnecessary headaches, struggles or concerns. In this guide, we'll look at the best hostels in London, what to do in London and how to find the best food in London!
Know Where to Stay in London
With only a weekend to spare, you'll want to stay somewhere in central London in order to minimize travel time. London's a large city, and some of the best things to do in London are spread out. It is therefore worth taking a look at the various different neighborhoods and working out which one is best for travelers with little time!
Covent Garden is possibly the ideal neighborhood for first-timers in the city. It's close to some of the top London attractions, with a great dining and cultural scene. Public transport goes everywhere from here, and you can comfortably spend the day walking around.
Another great place to stay in is Soho particularly if you're into London's party scene.
If you do want to save some cash while travelling in a big group, you can find many cute cottages in London's outskirts areas that are close to transport links to the city center.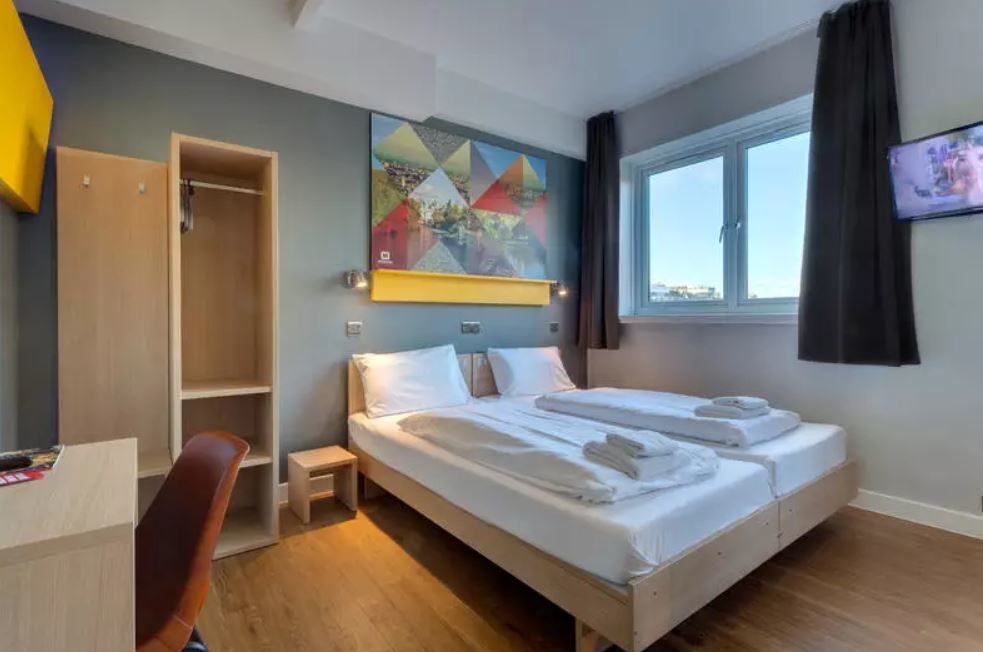 Meininger London Hyde Park is our favorite hostel in London!
Great location with easy access to public transport
Vibrant, colorful and clean rooms
Fun, comfortable general spaces
Located right next to Hyde Park, this hostel is perfect for those looking for something well-priced and comfortable. If you are looking to meet people then get yourself a drink in the bar or lounge and make some friends! The staff are friendly and helpful, and the vibrant rooms are clean with comfortable beds.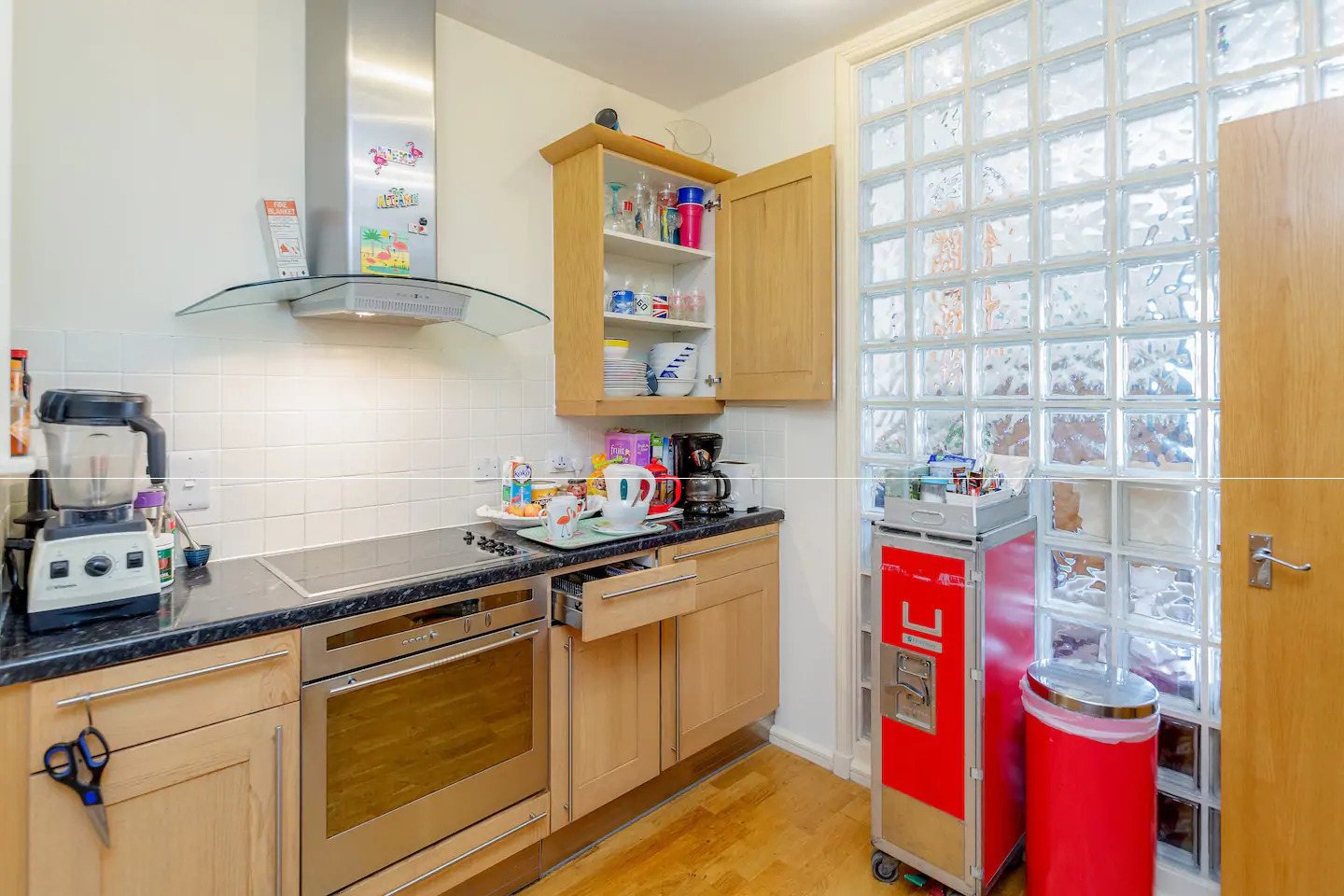 This massive room is great for travellers who visit London for the first time. The apartment is located in central Leicester Square. There are lots of great places, cafes, and restaurants around. You'll also get free breakfast every morning. The main bathroom is shared, however, you'll have a private toilet. If you've seen enough of the city, you can enjoy the free Netflix and Amazon Prime Video on your TV.
The Z Hotel Shoreditch is our favorite budget hotel in London!
Quaint, boutique hotel with handcrafted beds
Located in the hip, heart of London
Great amenities and buffet breakfast available
This treasure is a quaint, lovely little hotel, reminiscent of 18th century London, set in a perfect location! The staff are great, and the beds are comfortable. The breakfasts, at a small extra cost, are incredible, and there's unlimited coffee available to fuel your busy weekend. Basically have everything you need and more!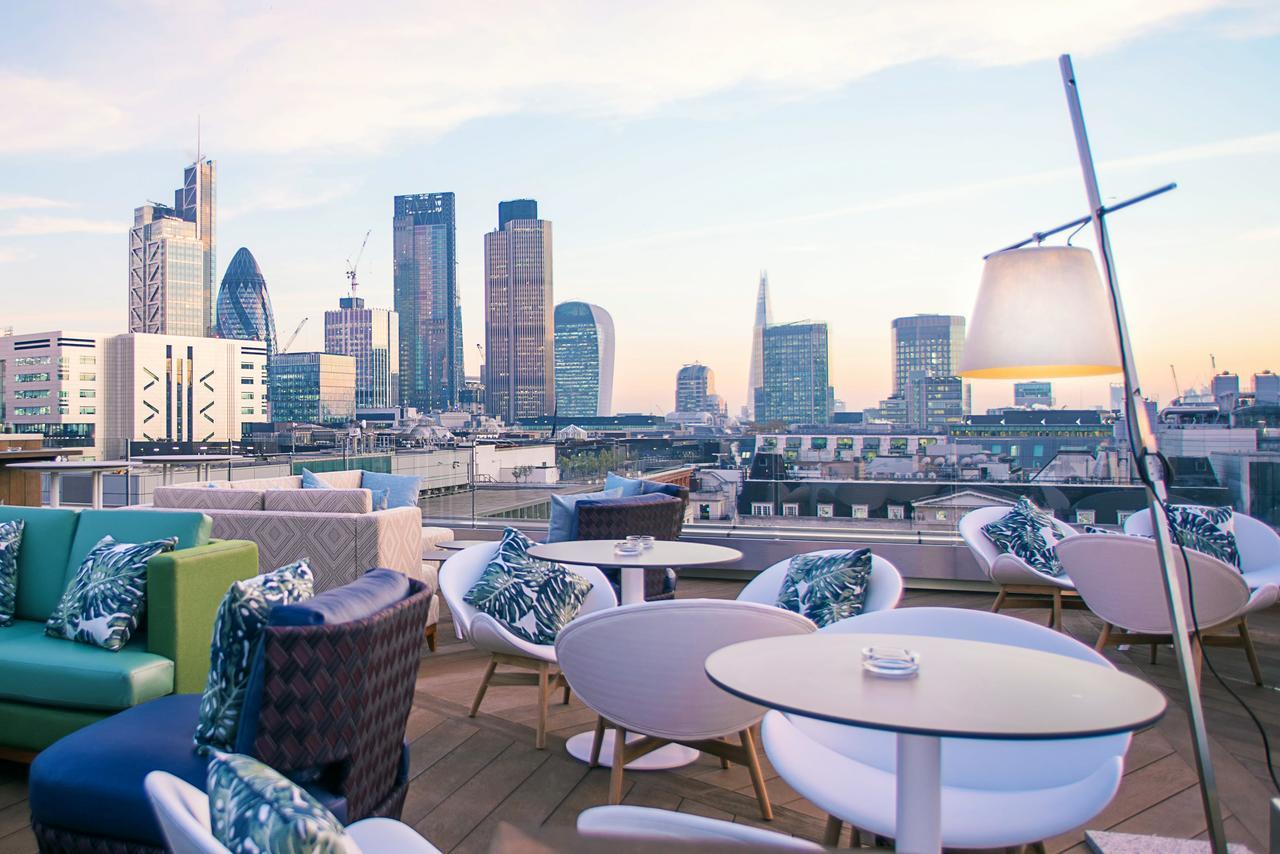 Montcalm Royal London House is our favorite splurge hotel in London!
Spectacular views over the city, with rooftop bar
Restaurants, bars, spa and indoor swimming pool
Luxurious rooms with 24-hour room service and concierge
With large rooms and all the amenities you can dream of, this 5-star luxury hotel combines modern luxury with old-school class. It's terrific for couples and the views over London are perfect. The staff is helpful and friendly, and the food is some of the best in the city.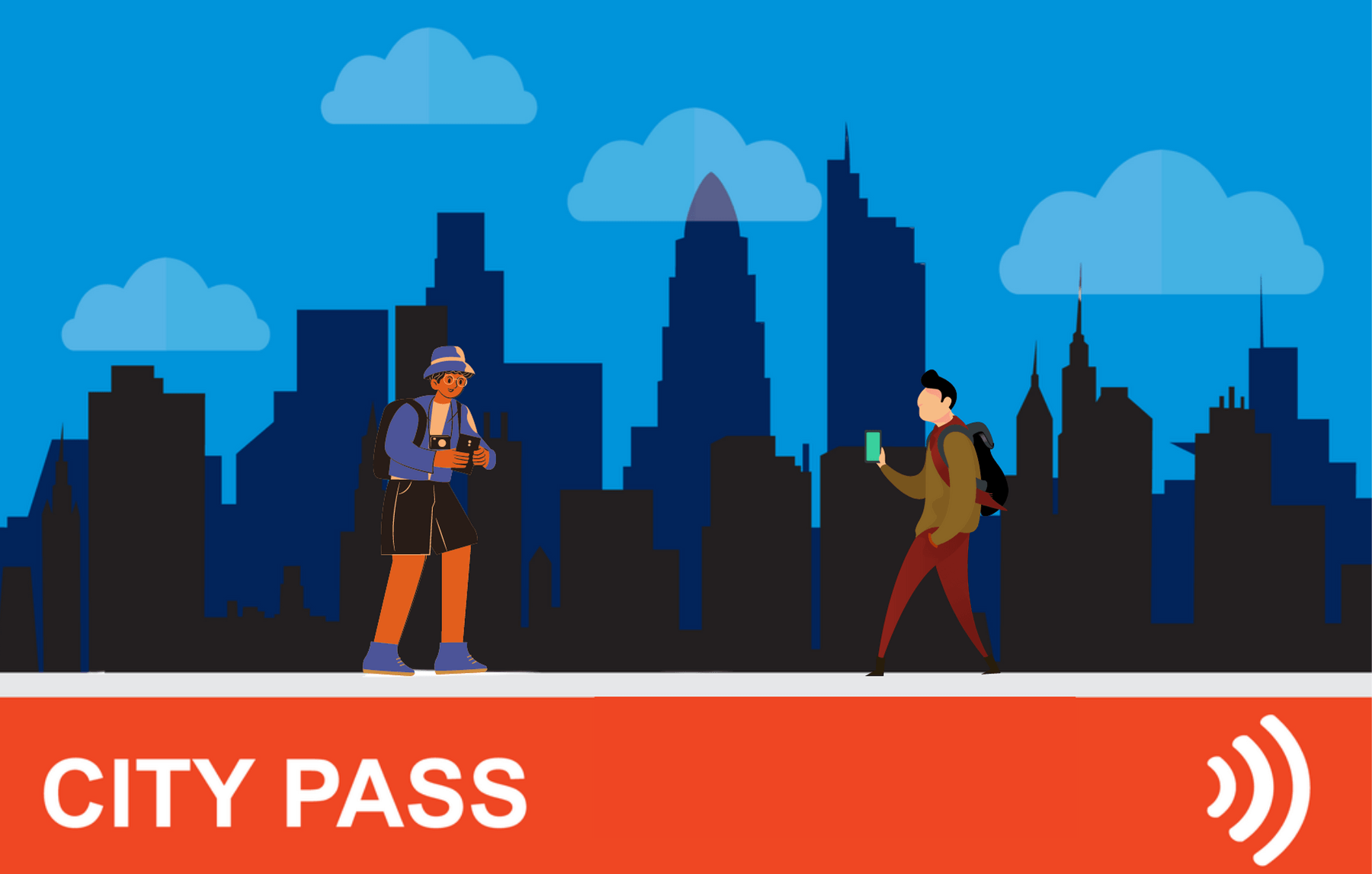 Travelling to London? Then plan yo' trip the smart way!
With a London City Pass, you can experience the best of London at the CHEAPEST prices. Discounts, attractions, tickets, and even public transport are all standards in any good city pass – be sure invest now and save them $$$ when you arrive!
Buy Your Pass NOW!
Know How to Get Around in London
Getting around London is easy, despite the city's size. Many of the attractions are close together, and walking between them allows you to get a real feel for the city! However, there are also many public transport options should you need them.
You can catch the London Underground, the tram link, busses, railway, river services or the overground. With so many options, you're able to get anywhere you want from wherever you are, fast.
Transport is quite expensive in London. It is a good idea to take some time to check if it's going to prove cheaper to buy single tickets, or a weekend ticket, depending on your London itinerary.
If you're spending most of your time walking around and occasionally catching a tram or train then single tickets are probably your best bet. If on the other hand your itinerary means you'll be needing a lot of transport get an Oyster Card; an Oyster card allows you to load money onto it, and use it on all of the public transport systems.
The bright red London busses are iconic and are a great way to get around and explore London. The trains are incredibly efficient, but if you try to catch one during peak hours (between 8 and 9 am, and 4 and 6 pm), you'll be packed like sardines against impatient strangers.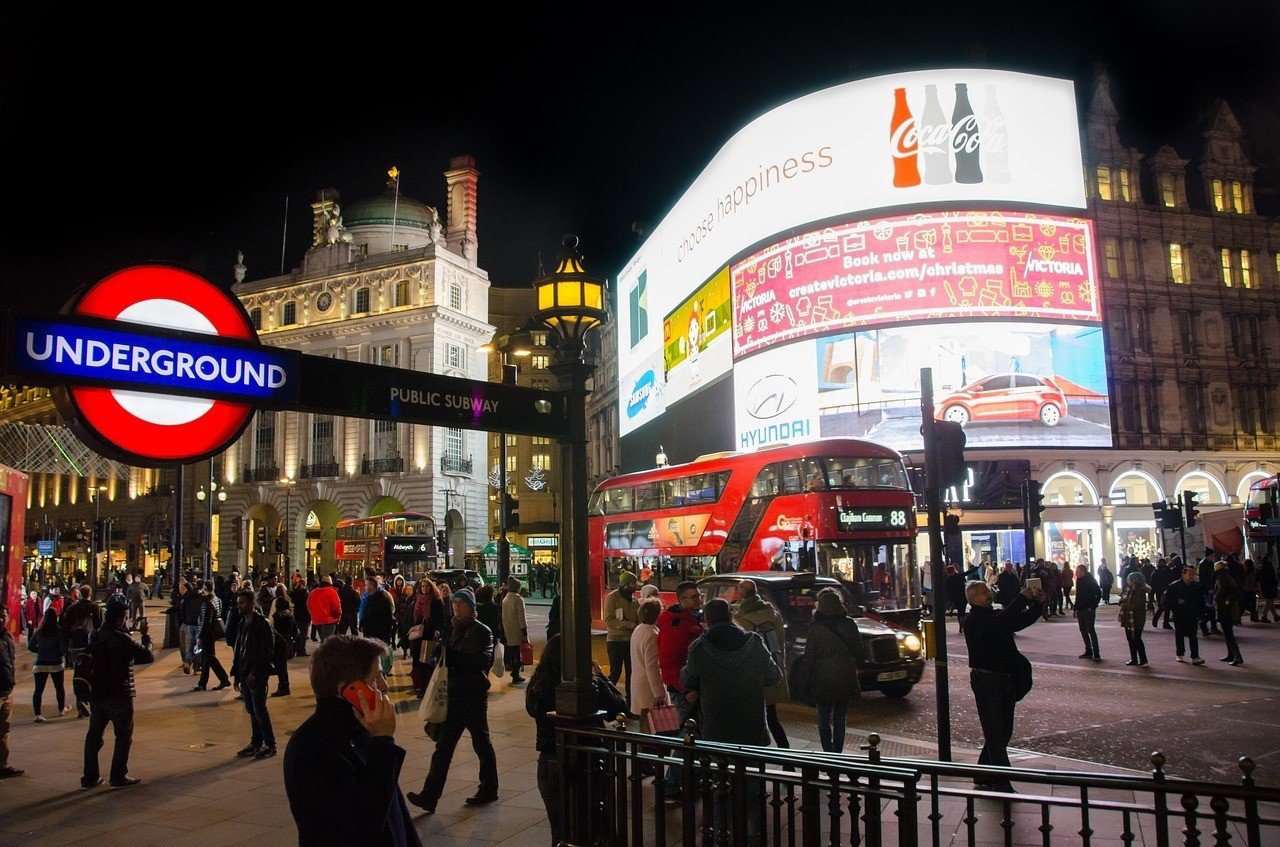 London has some amazing nightlife options!
Despite a number of high-profile club closures, London still has some of the best nightlife in the world. Check out these awesome options for some inspiration.
Piccadilly Circus
Go pub-hopping until the early hours of the morning (many stay open until 4 am on weekends)
Guaranteed great night out with some of London's best nightspots and a vibrant atmosphere
You can also go to an after dark museum, musical, or casino, for great alternatives to clubbing
Iconic enough during the night and day, Piccadilly Circus is an absolute must-see at night time! Neon lights contrast with historical buildings, and everyone is having a great time. For bar hopping, visit Irish-themed bar Waxy O'Connor's, and Graphic, a gin palace with great DJ's every weekend. For glitz and wild dancing, go to Cafe de Paris.
Soho
A historic hub of London's famous entertainment scene throughout the ages.
Bars, pubs and clubs line the street, catering to an incredibly wide variety of party styles
Explore some of the area's flamboyount gay bars or circus-themed clubs, like Cirque le Soir, for something totally out of the ordinary (but don't bring your Mother!)
Soho is certainly one of the best nightlife scenes in London, if not the world! With a rich history and a diversity of clubs to match, you are bound to have a brilliant time. Ronnie Scott's has some of the world's top jazz and blues musicians performing in its basement club and other great options are Swift and the gay pub Admiral Duncan.
Camden
Enjoy lively bohemian nightlife and night markets for something different
Great place to find live music, quirky bars, and some very unusual people
A long history of counterculture entertainment and alternative rock make for a night unlike any you'll find elsewhere
Camden is a more offbeat but equally vibrant London nightlife destination. Leading the alternative rock & Indie scene, you'll find great music and unique hair-styles in abundance here. For an old-school rock club experience, go to KOKO or Underworld. For a unique combination of the night market, club and casino, try out Electric Ballroom.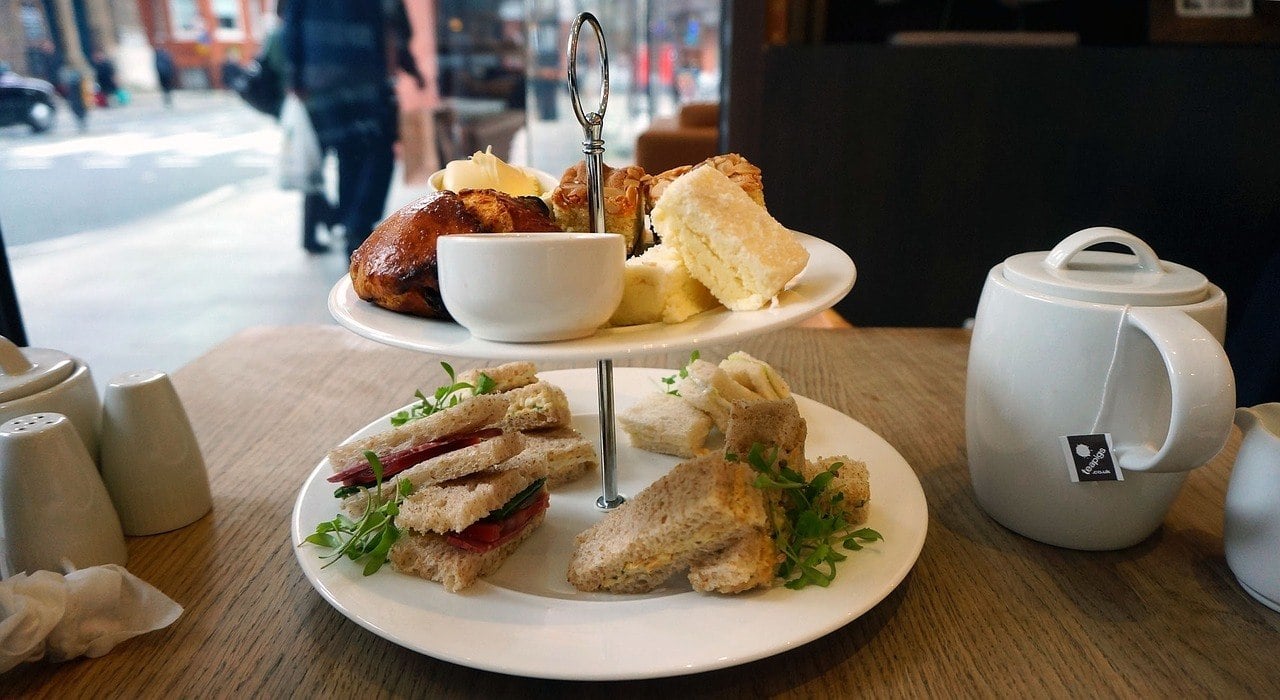 British food has a pretty bad reputation which is both undeserved and outdated. As you will see for yourself, London actually has one of the most diverse, cutting-edge culinary scenes in the world. Not only that, but you can find any type of cuisine in London, because it is so multi-culural and diverse. With so much to choose from at these stops, you'll want to eat everything! And maybe you should…
Sunday UpMarket at Brick Lane
A very different kind of Sunday Roast, with both street vendors and classic pubs like the Old Truman Brewery to dine with
Great organic food options and authentic international cuisines
Vendors let you try tasters, so you can taste everything before you decide on one option
Be sure to arrive with an empty stomach as you're going to want all the space you can get! Here you can find traditional ethnic foods from across the globe, and quaint craft and vintage stalls to explore while you eat. A lively market with a fun vibe, this is the perfect place for adventurous foodies.
Camden Market
Not only for the night-time crowd, Camden is also one of London's best foodie scenes
Camden's famous market features an eclectic mix of cuisines from around the world
Prices range from street food to gourmet, and you can find a taste of everything to either eat on the spot or take home. I recommend trying the Indian Paneer burger.
Truly, there is something to quench every craving and curiosity in Camden Market! Leading the race in vegan innovations is Nora and Nama, and providing delightfully meaty options to the punks and alternatives, is Roadkill. Come to Camden Market to try tonnes of food and stroll through the market, admiring the weird and wonderful wares on offer.
Bob Bob Ricard
Iconic Soho restaurant serving delicious British-Russian cuisine and amazing cocktails
Dining takes place in luxurious old-school booths with Art Deco style
Every booth has a 'press for champagne' button, which is the absolute epitome of British class
With a dress code of 'elegant', uniformed staff and art-deco surrounds, this restaurant is a one of a kind foodie stop! This luxury dining experience needs to be booked well in advance but it is well worth it. Try either their Russian specialties or local favorites, and be sure to enjoy the glamor and great atmosphere.
London's The Rubens at the Palace Hotel
Iconic spot for afternoon tea, overlooking Buckingham Palace
A quintessential afternoon activity for those who like to live a little lavishly
Enjoy the best scones with clotted cream and jam in the city!
No London trip would be complete without taking time out for some afternoon tea, and the four-star hotel,The Rubens at the Palace Hotel, is one of the best places to enjoy this as it's upper class and elegant, making for a fine afternoon affair. It's also super romantic, if you're travelling as a couple.
In England, Afternoon Tea is not just a term for drinking tea in the afternoon. It is usually accompanied by sandwiches, cakes, macarons, scones with clotted cream and jam, plus of course, tea. It can be a little pricey, but totally worth it – plus you actually get a ton of food, so it could count as a late lunch or early dinner.
With famous stadiums hosting popular British sports, there's some great choices for sport lovers.
See a Game at Wembley Stadium
England's national Football team is one of the most famous in the world – if you can, watch a match at the famous Wembley Stadium
The venue for many memorable events, it's incredible just to see Wembley stadium, never mind watching a match in it
Wembley stages sports events and live performances every weekend with teams and performers from around the world.
There are several other football stadiums across London so be sure to pick up a ticket and come cheer on your favorite team!. You can even plan your London visit around your favorite sport and team! Just check out Wembley Stadium events.
Play Tennis at Regents Park
Enjoy a game or two of tennis on beautiful courts across from a London park
One of England's few great pay-and-play tennis centers where you can book with minimal advance
Fun, great exercise and perfect for couples, families, and friends
While you can't play at the private Wimbledon arena, Regents Park is the next best thing for tennis enthusiasts!
Play England's most elegant and popular sport on this lovely public field. You can book a drop-in session a day in advance. And of course, equipment is available to rent or buy, if you didn't bring your own.
(Note – In the UK tennis is largely confined to the months of May – August when the weather is fair)
Try Flying Trapeze at Gorilla Circus
Try something new and learn to fly trapeze in a two-hour lesson
It's a great outdoor activity and an opportunity to learn something new while you take a break from the stadiums
Fun and great for all ages, it'll get your blood pumping and you'll leave with a sense of achievement
Do something a little different! You'll find them at Kensington Gardens and Regents Park, so you'll have great views while you fly through the air., This sport is a great way to soak up the sun if you are lucky enough to visit during the summer season.
Small Pack Problems? 😉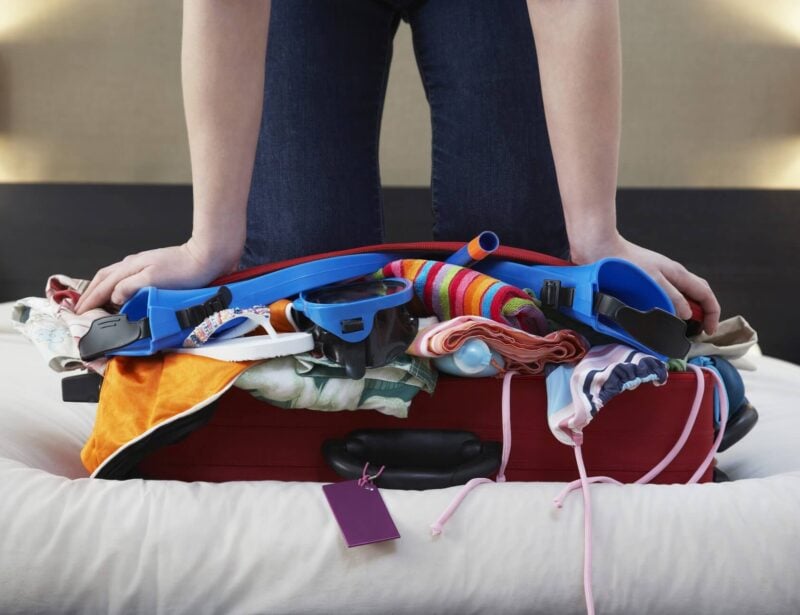 My missus travels with all her clothes in ziplock bags: don't be like my missus. UP YOUR PACKING GAME!
Packing cubes for the globetrotters and compression sacks for the real adventurers – these babies are a traveller's best kept secret. They organise yo' packing and minimise its volume too so you can pack MORE.
Or, y'know… you can stick to ziplock bags.
View Our Fave Cubes
Or Check Out the Sacks!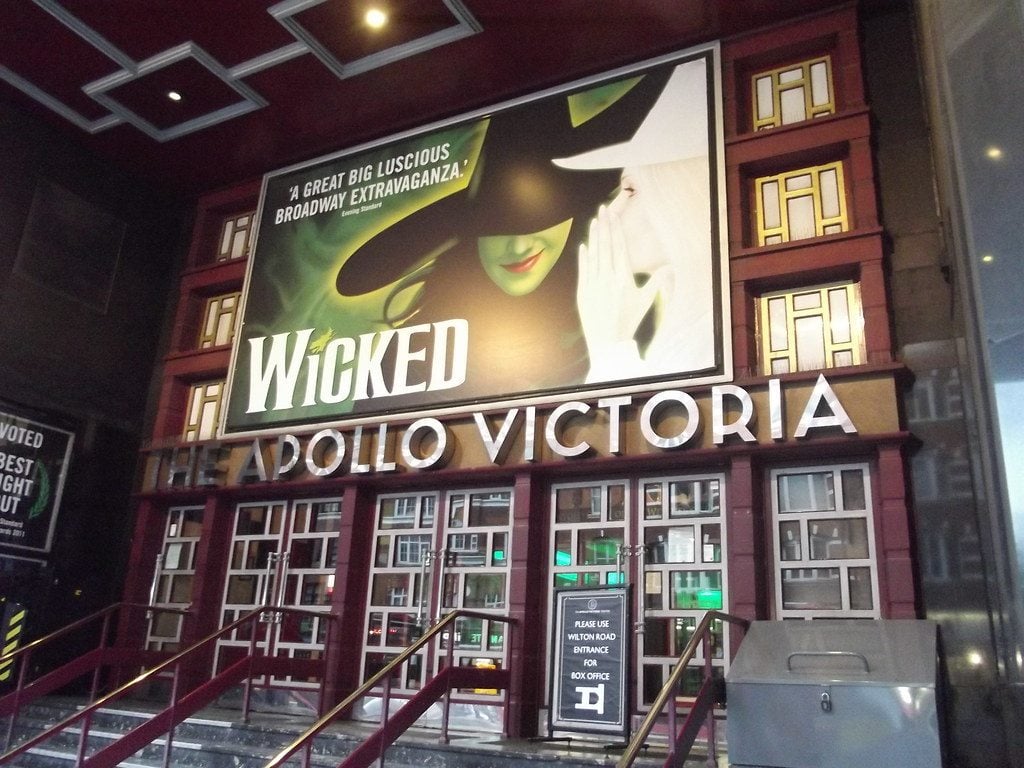 Musical theatre and talent-filled plays are popular pastimes in London! Join the locals, and watch something incredible.
The O2 Academy, Brixton
You can find the perfect performance at one of London's leading music venues, nightclubs, and theatres
Raised floor so everyone has a great view, and experiences fantastic acoustics
Beautiful architecture and incredible live acts every weekend make it a very worthwhile stop
For some of the best international bands and coolest gigs, book a spot at the O2 Academy! The slope of the venue accommodates everyone, and the vibe is always brilliant. The Academy caters to all music tastes, as well as comedy, so be sure to check what's on and book in advance before your weekend in London.
Apollo Victoria Theatre
Beautiful old theatre with lots of character and beautiful decor
Lovely campy fun, with bar service to your seat if requested, binoculars provided
Great international acts every weekend (and during the week) – like the long-running musical Wicked
Opening as a cinema in 1930, the Apollo has a rich and interesting history in entertainment. With vibrant art-deco architecture and decor, there's much to see without even watching a performance! But that's not to say you shouldn't – the musicals performed here are legendary, and there's no better place to watch them than here.
English National Opera
Experience something truly grand with a visit to the opera in one of London's oldest theatres
Modern versions of classic operas make them accessible to a wide audience, in English
Enjoy performances bringing to life stories you've known since childhood, with incredibly talented casts and beautiful acoustics!
For another different experience (London is full of them), watch a show at the ornate and classic London Coliseum. One of London's most luxurious theatres, it opened in 1904 and continues to awe its audiences today. The English National Opera brings classic opera to the modern audience. Experience London at its finest!
West End Theatre
Enjoy a variety of musical and stage performances in several theatres in the West End.
Family friendly shows and matinee performances available.
One of the most popular attractions in this wonderful city!
For anyone wanting to see a show in London, the West End in Covent Garden district is the place to be. Covent Garden has 38 theatres, from family-friendly musicals such as The Lion King, to timeless classics like Les Miserables, or popular rock numbers such as We Will Rock You. There is a show for everyone in Covent Garden.
Travel with peace of mind. Travel WITH a security belt.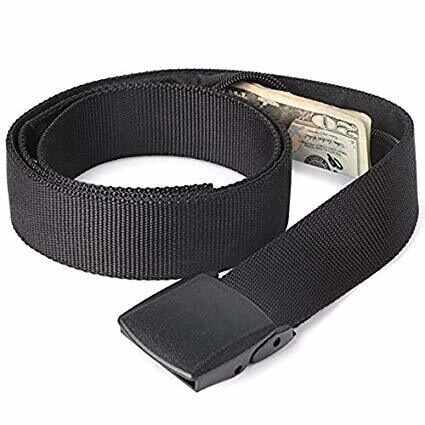 Get your cash stashed with this awesome Pacsafe money belt. It will keep your valuables safe no matter where you go.
It looks exactly like a normal belt except for a SECRET interior pocket perfectly designed to hide a wad of cash or a passport copy. Never get caught with your pants down again! (Unless you want to.)
Hide Yo' Money!
11 Other Awesome Things to do in London This Weekend
There is so much more on offer in London! If you have more time, then try to squeeze in as many of these amazing attractions and landmarks as you can.
#1 – Buckingham Palace
When visiting London, I guess you have to see Buckingham Palace! Home to the British Queen, the palace is massive, opulent and beautiful. Be sure to come and watch the changing of the Guard at 11am to experience a long-standing, British royal tradition.
You can also explore the palace if you have more time, with either a guide or audio guide to learn more about the palace's curious history. There's quite a collection of artifacts and gifts from foreign dignitaries acquired over the centuries!
Arguably the most important landmark in England and a national treasure, this is a must-see.
#2 – National Gallery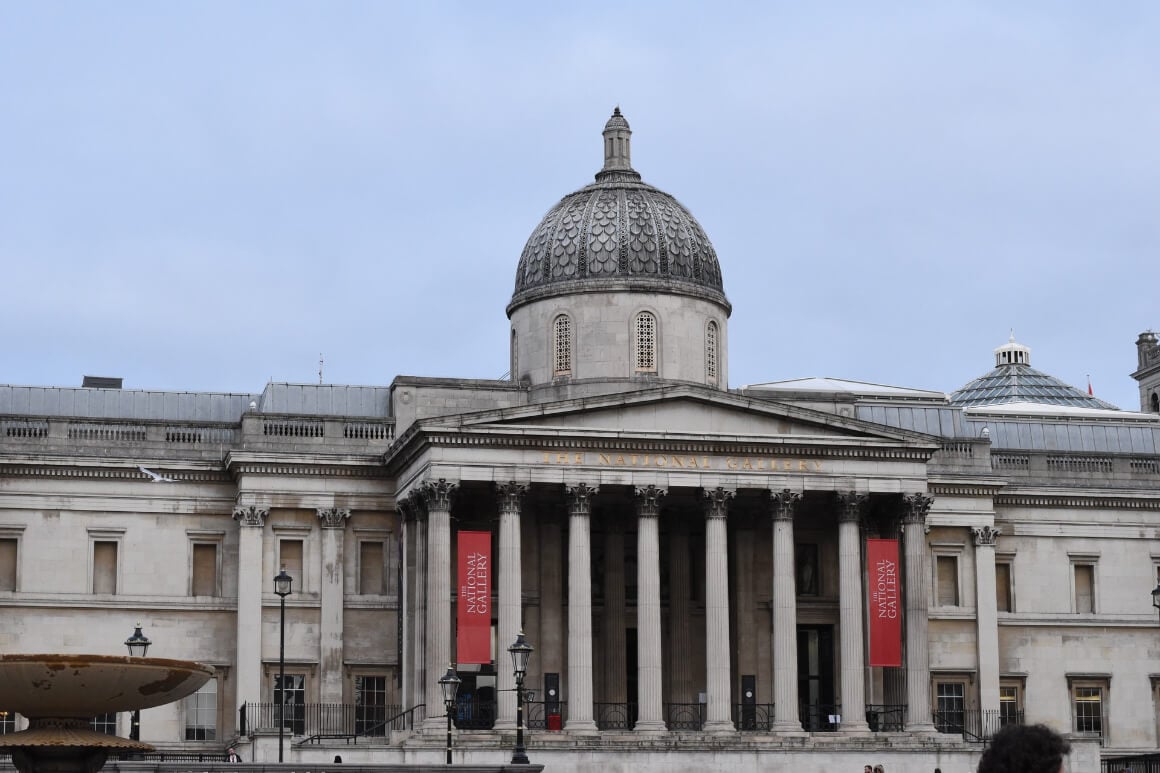 Whatever your preferences, visiting the National Gallery will be one of the best things you do on your weekend in London! The gallery houses England's great collection of art from the 13th to the 19th century.
They have most of the artworks you learned about in school, and it is an absolutely magnificent experience to be able to see so many masterpieces in one day. As an added bonus, it's also free!
You can spend hours here without getting bored marvelling at the changes in art through the centuries.
#3 – Hop on the London Eye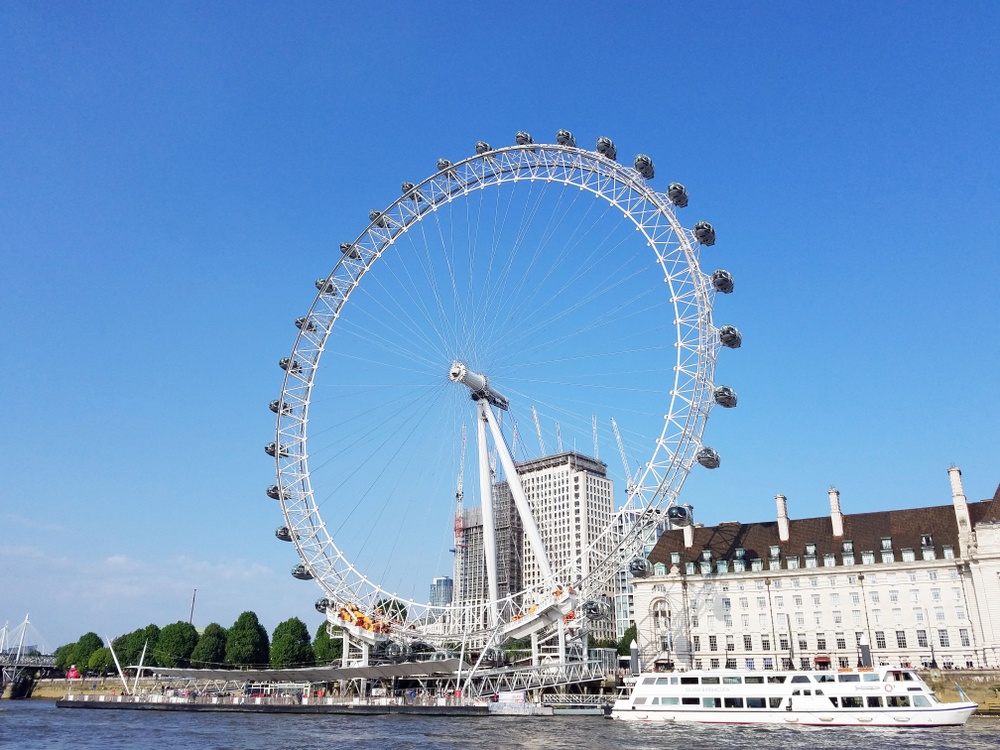 This giant Ferris Wheel is Europe's biggest, and one of England's most popular tourist stops! Take a ride on it to see a brilliant view over London and the Thames river, or just take a photo with it.
The best way to see the city and all your favorite stops, you'll have 30 minutes up in the air which is plenty. The surprisingly large and roomy capsule moves around, so you can get all the perfect angles from your seat, or you can walk around!
It's open daily from 10 am to 9:30 pm. e suggest you book early as it's an extremely popular attraction.
Just across the river, you'll find Big Ben and the Houses of Parliament. If you're ever struggling for London weekend ideas, you'll find plenty to do around this area.
#4 – Oxford Street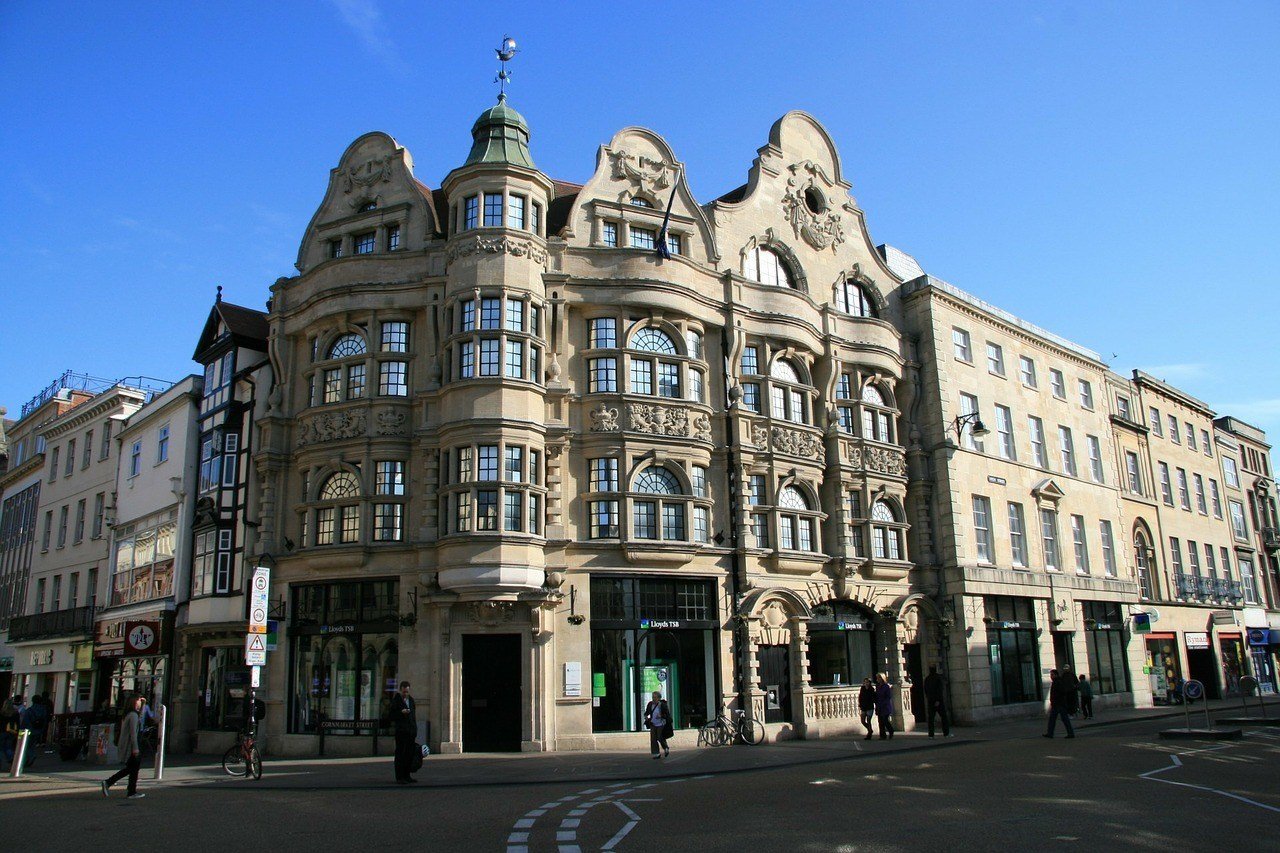 The biggest shopping street in the world, Oxford Street is a must-see when you're spending a weekend in London! Go window-shopping, or find those brands you've always wanted to try on. It's a shopaholic's dream, but great fun for everyone.
Aside from shopping, the street is enjoyable for its beautiful architecture with a few modern buildings contrasting beautifully with the many old ones. There are also a few theatres and pubs.
Find something to snack on while you walk, and take in all the happy people and the activity. Our advice is to visit in the morning or late afternoon to avoid rush hour as it can get packed. This is one of the most popular things to do in London.
#5 – St Paul's Cathedral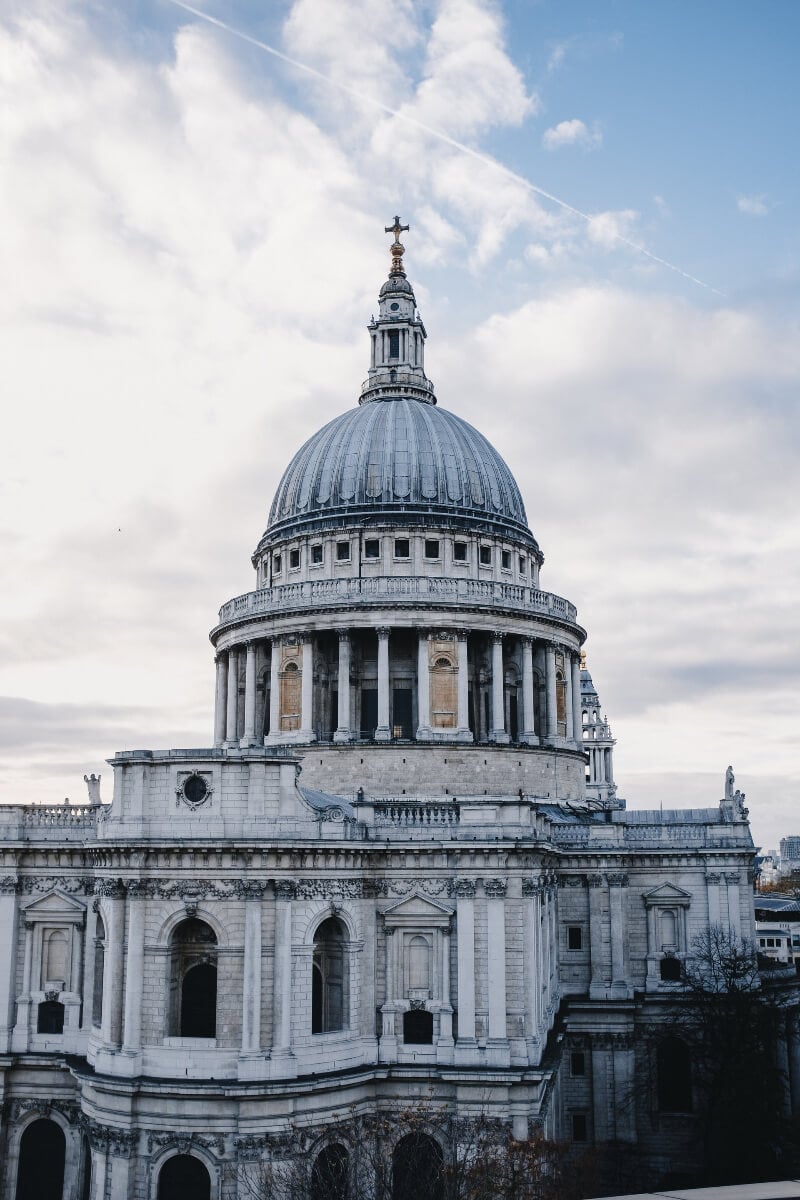 This immense, colorfully decorated cathedral is an important British site and one of the best places to visit in London. Built in 1666 after a fire destroyed its predecessor, the working Cathedral is an architectural marvel.
Visit one of the daily services, or with a tour, it's five levels to experience the unique acoustics of the Whispering Gallery, and the panoramic views over London. The cathedral has staged many historic, state occasions, including royal weddings and the funeral of Sir Winston Churchill!
The church has a peaceful atmosphere that sets it apart from much of London. Be advised that there are a few areas you cannot explore though.
Book your full St Paul's Cathedral tour here.
IN A RUSH? THIS IS OUR FAVORITE HOSTEL IN LONDON!
#6 – Leicester Square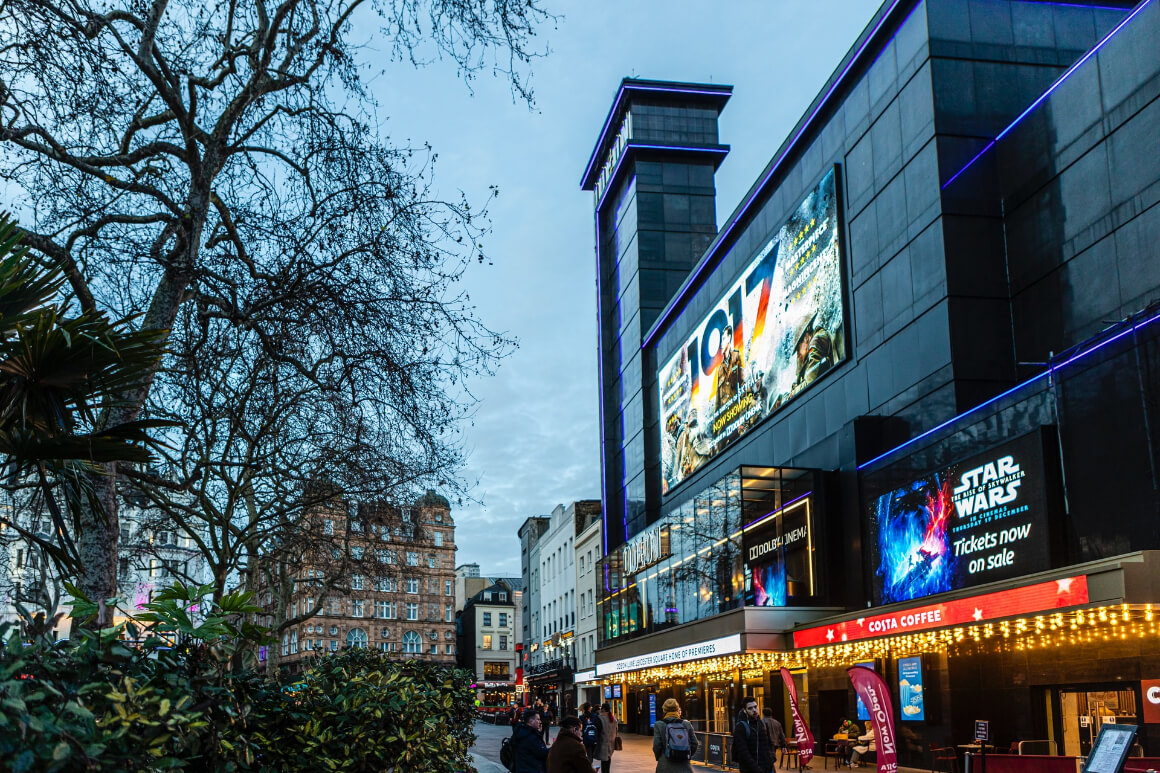 Laid out in 1670, the pedestrian square is a cultural hub. One of the best parts of London's West End, there's something great for everyone including unique restaurants, vibrant musical theatres, and family fun. Stroll through the brightly lit streets at night to get the best of Leicester Square!
There are always street performers and a great vibe.. Whether you watch a play here, have dinner at one of the charming eateries, or just walk through the streets, it's a great place to be in central London. Do be mindful of pickpockets and keep your wits about you.
#7 – Kensington Museums: Natural History Museum, Science Museum, Victoria and Allbert Museum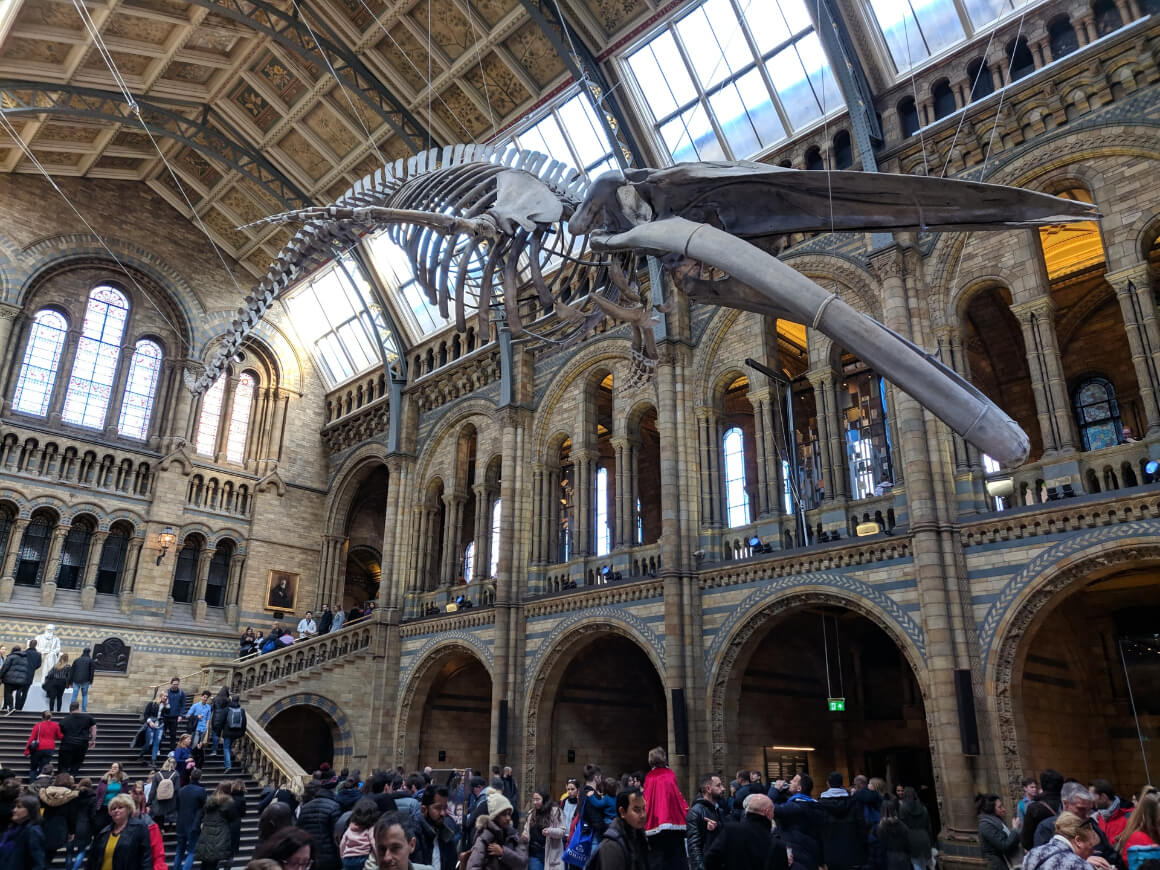 Discover scientific discoveries, classic artist pieces, and rich historical exhibitions and research at the incredible museums in Kensington. And, they are all free! For those even vaguely interested in nature, science or history, this is an amazing opportunity to learn more about life.
My personal favourite is the Natural History Museum. The most interesting exhibit you'll find in the Natural History Museum is the dinosaurs exhibit (with real skeletons and facts galore), plus a life-size robot dinosaur! There are also exhibitions about human evolution and space exploration.
There are also lots of really cool night-time options for weekend trips, like a silent disco, murder mystery, or sleepover inside the museum! These are, of course, adults only (over 18) allowed.
Plus, for any royal lovers, Kensington Palace is just down the road, making Kensington a hot spot to visit for a weekend in London.
#8 – Take a Cruise on the Thames
Cruising down the Thames is one of the best ways to see London's sights! You can choose between different types of cruises, but our favorite is the hop-on-hop-off day pass from South Bank. This is simply the best way to fit it around your own schedule, allowing you to stop at any of the landmarks you see.
On the tour you'll see Westminster Abbey, Big Ben, Greenwich, Tate Modern, the London Eye, London Bridge and Tower Bridge, and for Harry Potter Fans, the Millenium Bridge. All from the water!
Enjoy lively commentary, and a relaxing sightseeing experience. Be sure to bring your camera and a raincoat.
Book Your Thames River Cruise here!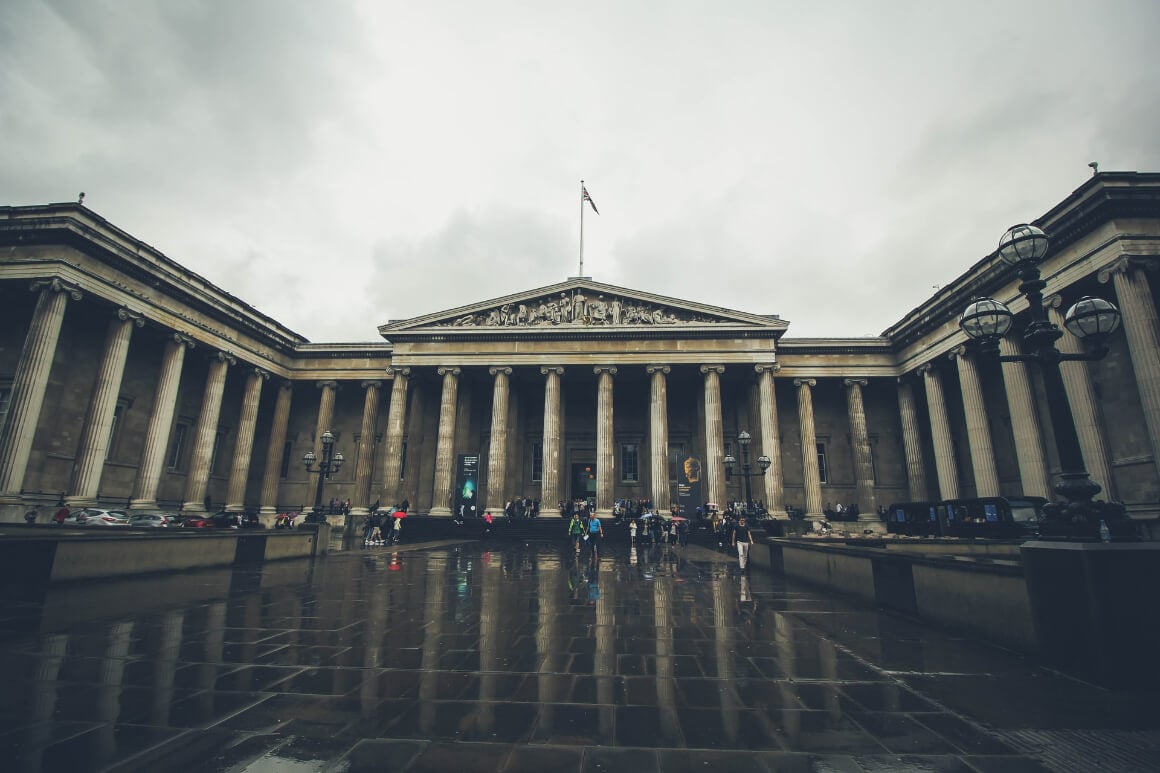 This national museum exhibits over two million years of human history and culture! It holds world-famous ancient artefacts, such as Egyptian mummies, and the Rosetta Stone.
With so much to see here, be sure to set aside a good few hours, and definitely wear comfortable shoes. The exhibits are extensive and educational, with a wealth of antiquities from around the world.
There's nothing like seeing it in person to bring human history to life.
#10 – Tower Bridge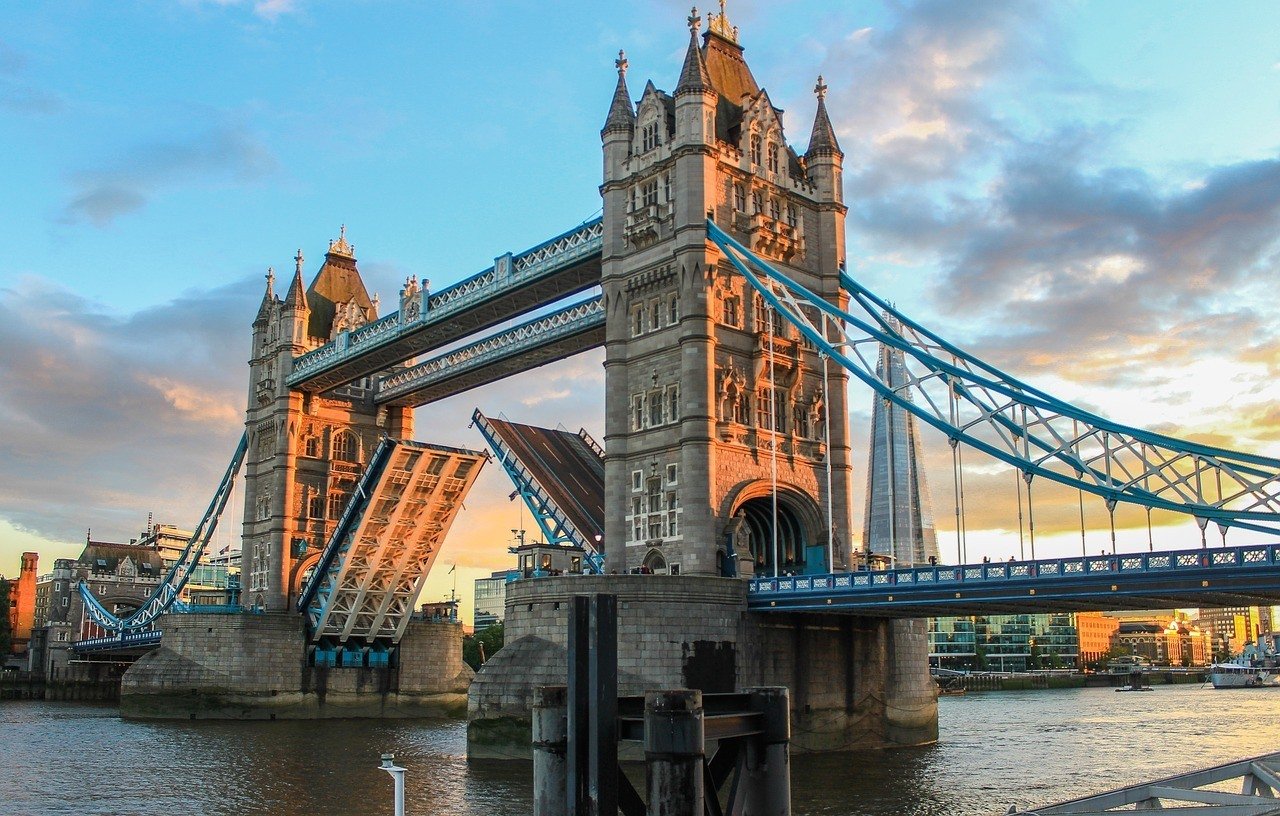 Tower Bridge is one of London's best-loved icons! The beautiful suspension bridge is a feat of Victorian engineering, with great views of London. Stroll along its pedestrian sides and marvel at the castle-like turrets.
This one is perfect for Instagram so get someone to take a photo of you at this iconic London landmark. You can also take the stairs or a lift to the top of a bridge tower where you'll walk on glass floors and watch the action below you! You can join a tour to learn more about the bridge, or you can do it yourself.
#11 – Walk around Movie Sets in Notting Hill
Notting Hill has been the backdrop to many blockbuster movies, Bridge Jones, Love Actually, Paddington and of course, Notting Hill.
It's also where you can pick up some sweet vintage items in the boutique stores and market stalls of Portobello road.
As you walk around Notting Hill, you are walking around the streets where the record labels live, giving birth to London rock Legends such as Jimi Hendrix, the Beatles, Rolling Stones, Sex Pistols, and Pink Floyd. Just a short distance away in St John's Wood, you'll find the iconic zebra crossing that became a Beatles album cover.
If you're a fan of pop culture, you'll love Notting Hill. Plus, you'll get some cool shots here for your social media.
Is This the Best Daypack EVER???
Here are some of the most frequently asked questions about visiting London. If you know where you're going and what you're doing, it's a great city to explore. But it can be a bit much for people who have no game plan! So check out these helpful FAQs.
Don't Forget Your London Travel Insurance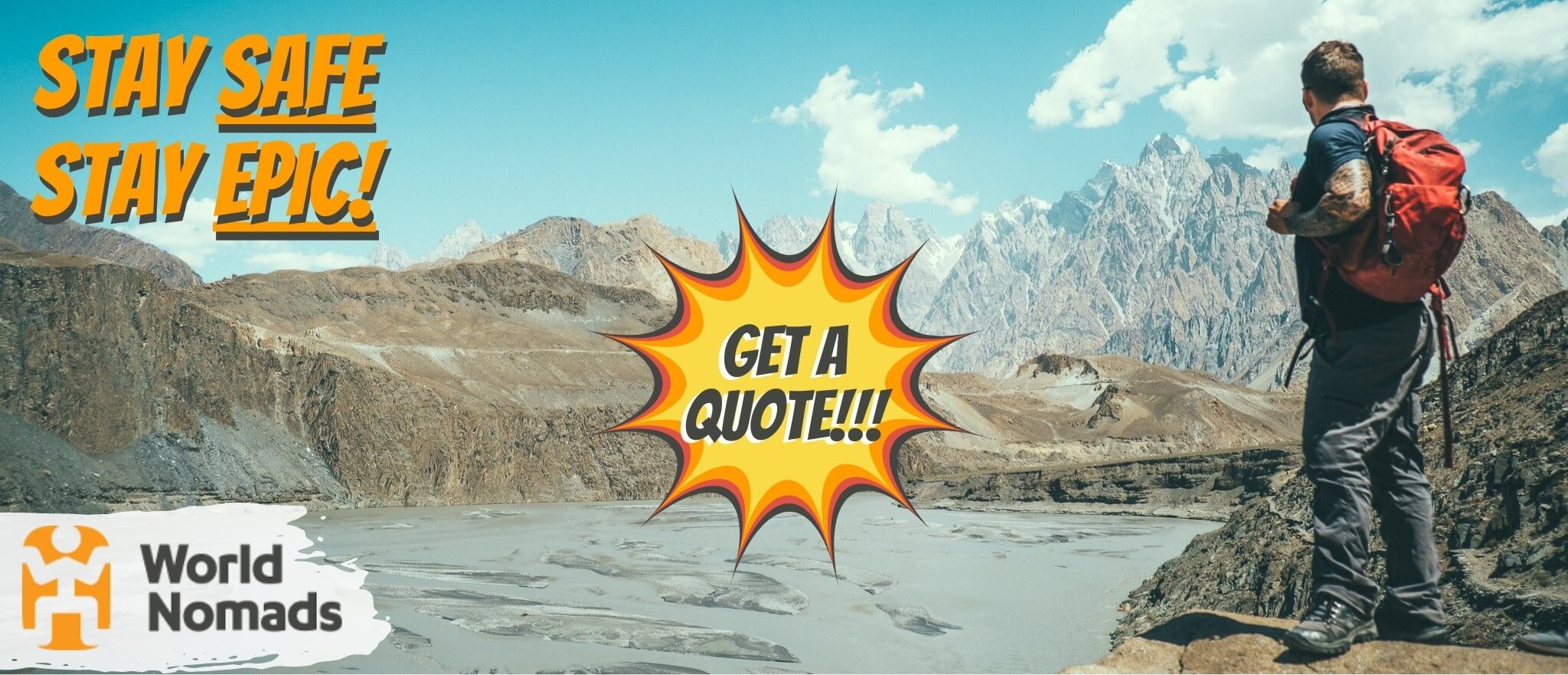 World Nomads' mission is to support and encourage travellers to explore their boundaries. They offer simple & flexible travel insurance, and safety advice to help you travel confidently.
They've been doing it since 2002 – protecting, connecting, and inspiring independent travellers just like you.
Get a quote below or read our in-depth review!
World Nomads provides travel insurance for travelers in over 100 countries. As an affiliate, we receive a fee when you get a quote from World Nomads using this link. We do not represent World Nomads. This is information only and not a recommendation to buy travel insurance.
Final Thoughts on a Great Weekend in London
While more time in this great city would be excellent, even spending a weekend in London will leave you with a mind full of memories and a big smile for weeks. There are just so many cultural and historical hubs, and great fun for everyone of all interests and ages. You cannot go wrong!
Be sure to book accommodation in the city center, and work out you favorite way to get around! Like with everything else in London, you have a wealth of choice.
So, find a cheap flight to London with your friends, or plot the perfect solo trip. With our London weekend ideas, you'll be able to fill up your time with whatever your heart desires!
(Psssst – If you're planning a weekend in London as part of a wider England or the United Kingdom trip, then be sure to check out our backpacking UK travel guide.)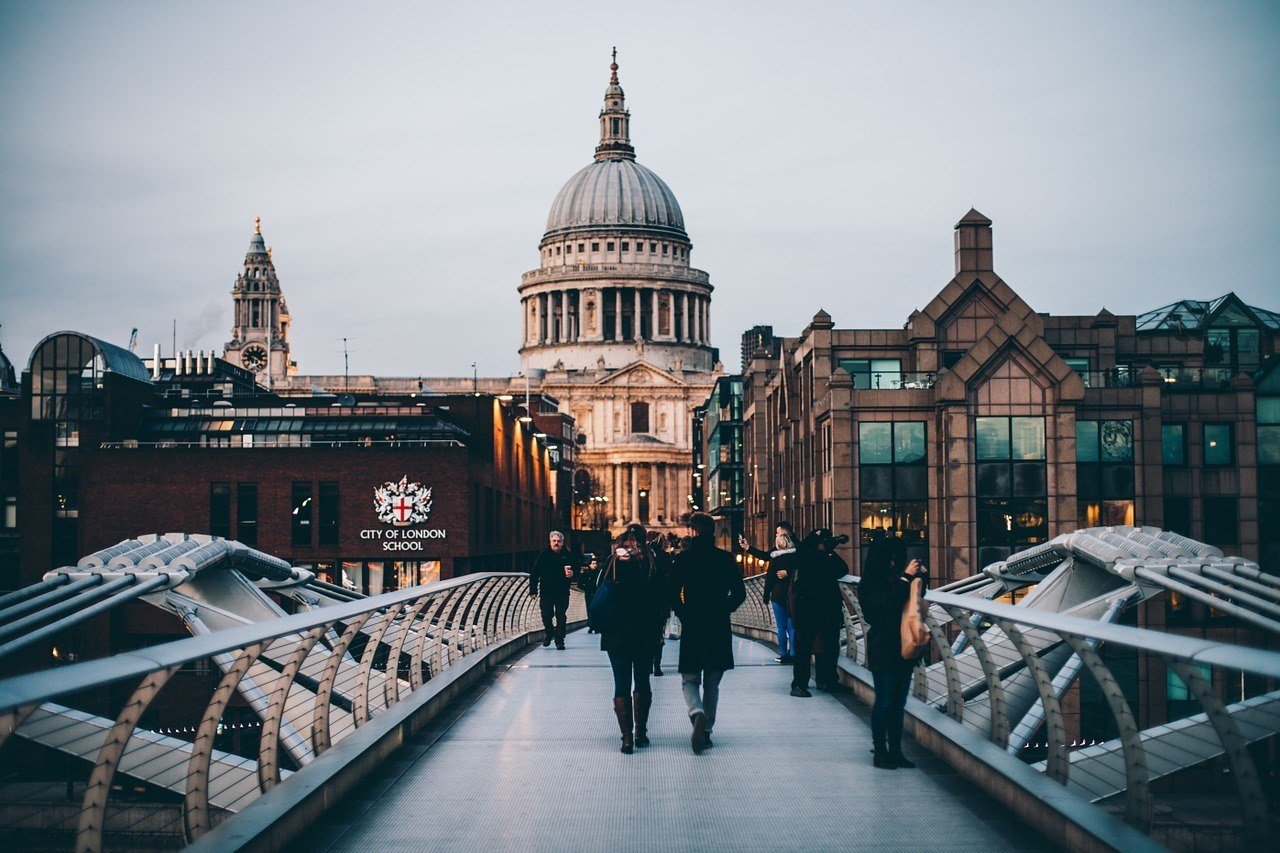 ---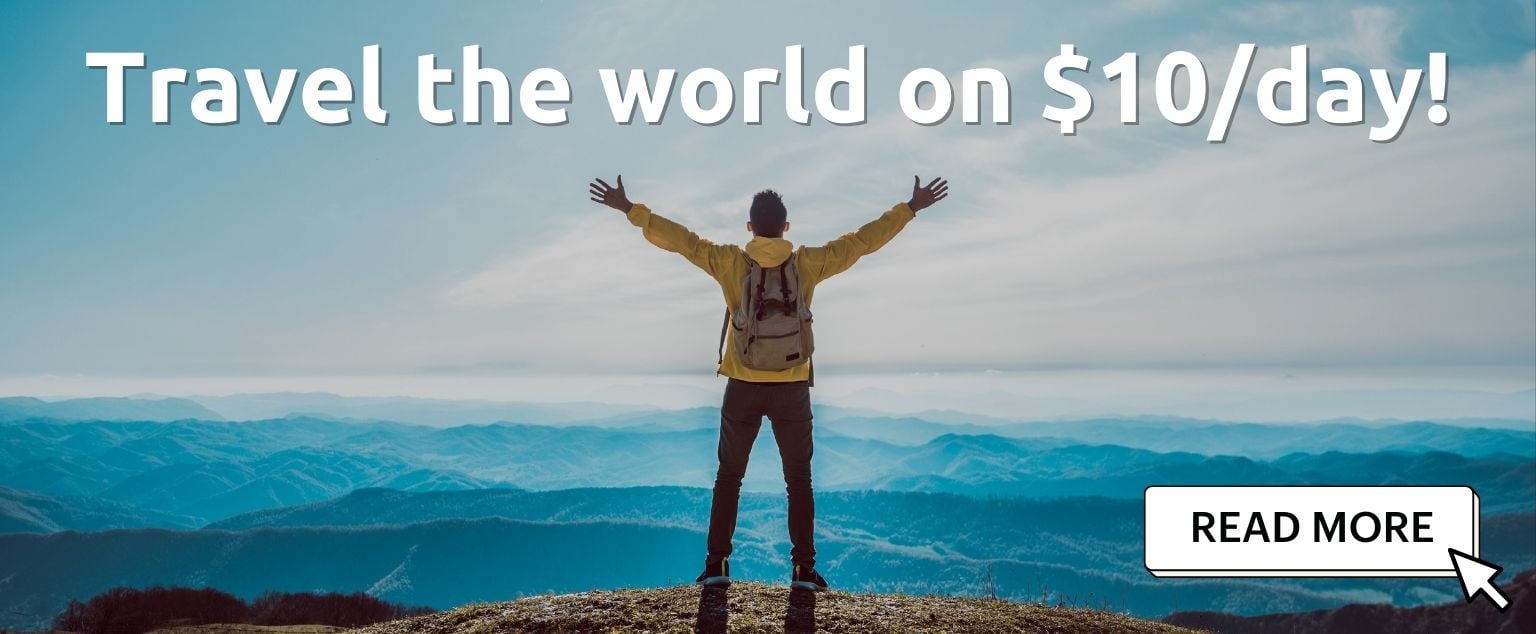 And for transparency's sake, please know that some of the links in our content are affiliate links. That means that if you book your accommodation, buy your gear, or sort your insurance through our link, we earn a small commission (at no extra cost to you). That said, we only link to the gear we trust and never recommend services we don't believe are up to scratch. Again, thank you!