Are you on the London underground, frantically attempting to convince your wife that you've planned things in advance?
Then QUICK, come on in!
For your maniacal googling is about to pay off…
I have collected an EPIC list of the best places to visit in London, and you will soon find yourself without opposition to your sensational planning skills.
This post contains the juiciest of locations, and will answer your most valid questions, such as "where do I find the majority of Chinese tourists?", "How quickly can I max out my credit card?", and the eternal "where the fuck am I?".
More brilliant advice awaits…
What are the Best Places to Visit in London?
While I wouldn't go so far as to say travelling in London is an intrepid occupation, it is undoubtedly one that should be engaged with at least once in a lifetime. These are the top attractions in London!

Unlock Our GREATEST Travel Secrets!
Sign up for our newsletter and get the best travel tips delivered right to your inbox.
1. Buckingham Palace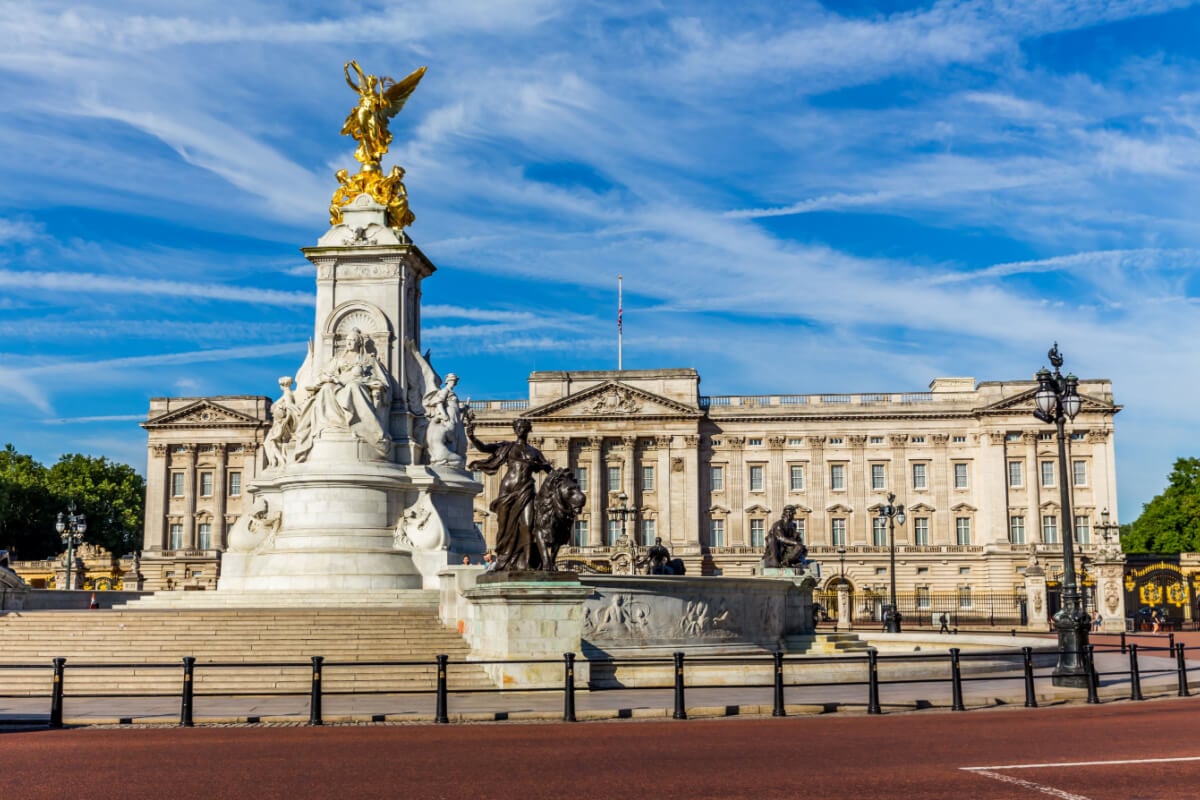 Superb standing skills on display
Ceremonial splendour
Beautiful architecture
Iconic London landmark
Why it's awesome: Buckingham Palace is one of London's most iconic attractions. The official home of Queen Elizabeth II and the British Royal Family, the splendid royal palace is used for many royal functions. Guarded by a smartly dressed royal soldier, clad in black and red with unmistakable bearskin hats, the original parts of the palace were built in the early 1700s.
An impressive building from the outside, the lavish interiors are equally as awe-inspiring. Of the royal palaces 770-plus rooms, the stunning staterooms are open to visitors in the summer months. We don't really have to say that Buckingham Palace is one of the most famous places in London – it's quite a no-brainer and definitely worth the visit!
Remember, if the Royal Sovereign flag is flying, it means there's a member of the royal family present in the building.
What to do there: Walk along the wide and stretching Mall, the ceremonial route that leads to Buckingham Palace from Trafalgar Square through Admiralty Arch. Snap pictures of the grand building from the outside and see the Queen's Guard standing to attention. Try and time your visit for the Changing of the Guard ceremony (held each Monday, Wednesday, Friday, and Sunday) and witness a fine British tradition as the soldiers switch places. It's one of the coolest things to do in London!
If you visit Buckingham Palace in the summer you can take a tour of the staterooms to experience the inner regal splendour and feel like royalty for a fleeting moment.
2. Covent Garden
Based on the historic Covent Garden Market
Great range of shops, boutiques and attractions
Super fashionable
Great connections to the Opera Quarter
Why it's awesome: Covent Garden is pretty unmissable if you plan to visit London. It makes a break from the sightseeing stuff and gives you an insight into modern London existence, so stop off at a cafe or grab some lunch, and check out some of the most exciting shopping in the city!
It's the heart of London's West End and sprawls across 9 streets and a historic piazza. Marketed as London's experiential playground, it is one of the most fashionable London districts to be seen in.
What to do there: It's a shopping and dining hub! Head to Buns & Buns for some sensational upmarket burgers, or stop in at Charlie and the Chocolate Factory for afternoon tea. Every boutique here is classy, stylish, and gives the opportunity to experience some of the best cuisine and hospitality in the world. Mind you, it does come with a bit of a price tag.
3. St. Paul's Cathedral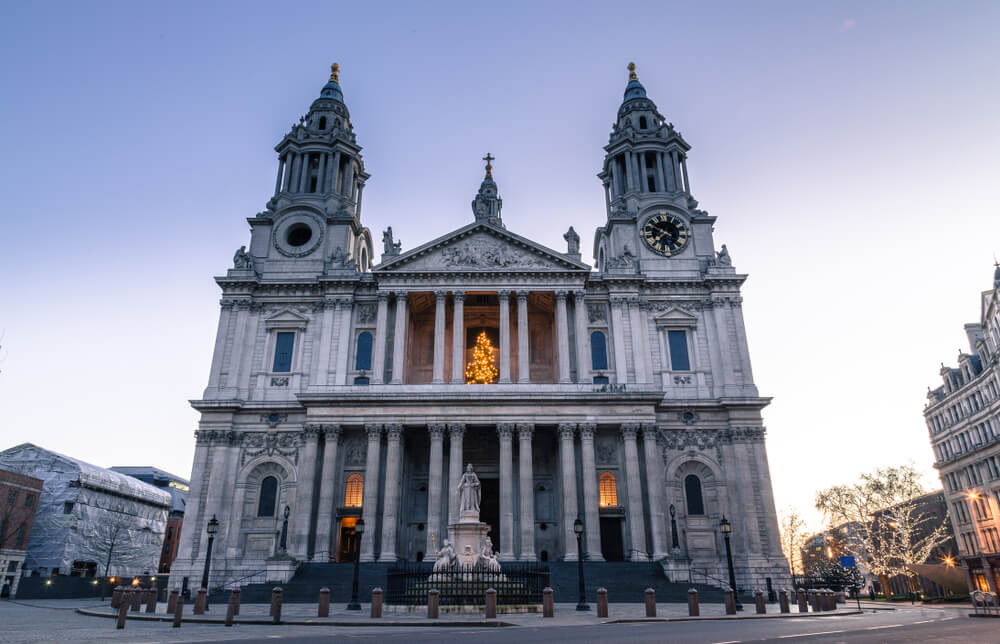 Historic Baroque-style church
The professional choir sings at services
One of the biggest churches in the UK
Photogenic landmark
Why it's awesome: St. Paul's Cathedral is located at the highest point of the City of London and is considered to be another famous place to visit in London. A listed building, it has a beautiful dome flanked by spires. Sitting on the site of an earlier church, the present church dates back to the 17th century. It has hosted the funerals of several famous people and also been used to celebrate a number of special occasions, including the Queen's landmark birthdays and Silver, Gold, and Diamond Jubilees.
An active place of worship, the interiors of St. Paul's Cathedral are opulent with lots of detailed religious art, a huge organ, memorials, and tombs.
What to do there: Gaze up at the mighty cross-topped dome and admire the stunning St. Paul's Cathedral from the outside, taking time to admire the Roman-like decorative features, grand columns, clock, towers, and overall splendour. A sweeping nave leads to an ornate altar, the walls and ceiling embellished with splendid mosaics and carved wood panelling.
Don't miss the mighty statue of the Duke of Wellington sitting on the back of his trusty steed, Copenhagen. Descend into the crypt and you can pay your respects at the tombs and memorials. It's not just one of the most famous monuments, St. Paul's Cathedral also one of the most interesting places to visit in London.
4. Westminster Abbey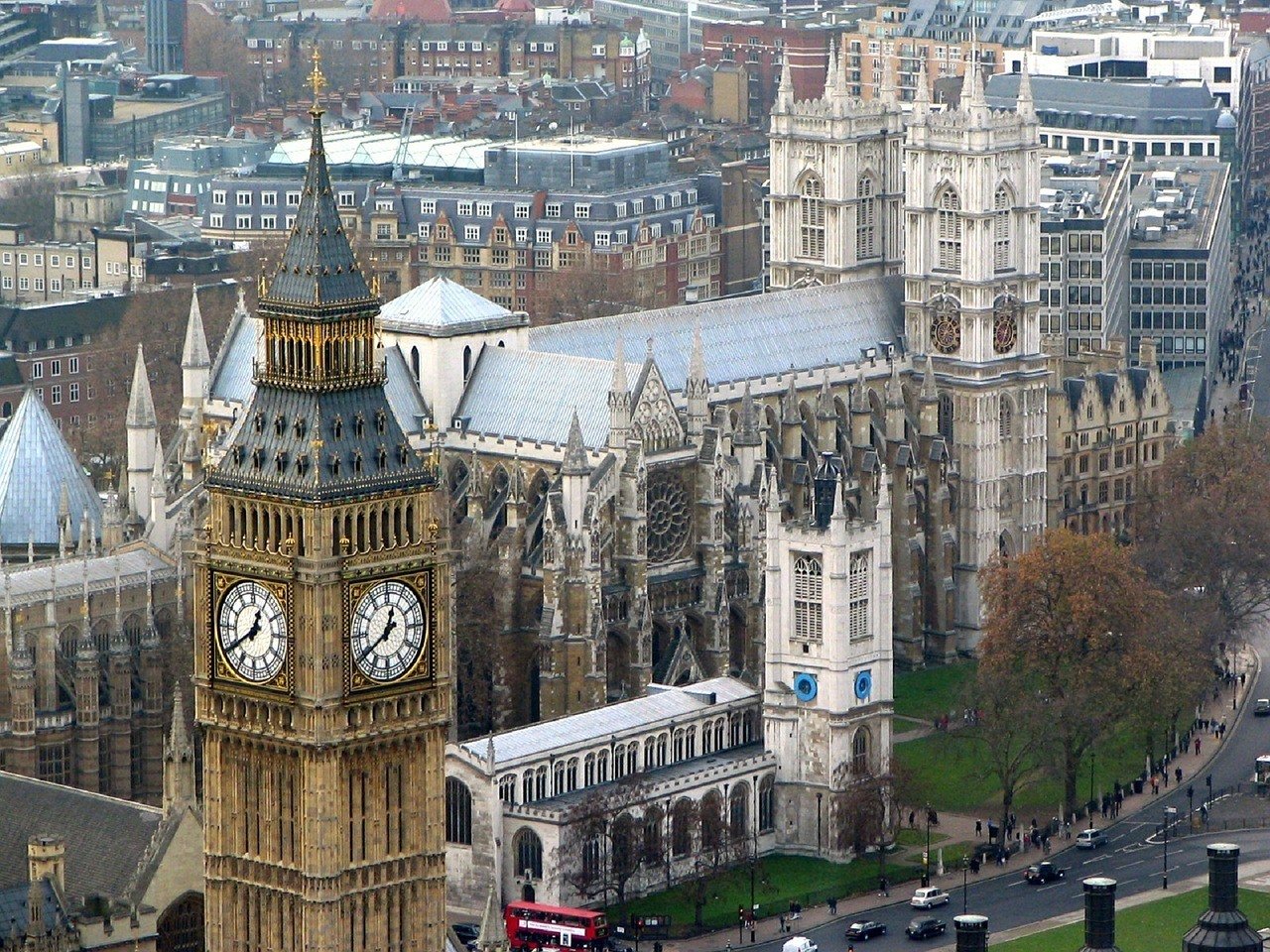 Traditional site of coronations and burials of British monarchs
Common venue for royal weddings
Splendid Gothic architecture
Famous choir
Why it's awesome: Westminster Abbey is a marvellous architectural gem. Once a Benedictine monastery church, this historic building dates back to the 1200s. The coronations of British kings and queens take place here, and it's the setting for most royal weddings and funerals. A number of history's influential people, including past prime ministers, scientists, and actors, are buried there, along with many late monarchs.
The Gothic masterpiece has many glorious details inside and out. It's one of the UK's most popular tourist destinations and definitely a must-visit in London.
What to do there: Photograph the impressive Gothic building from the outside, taking note of the stained glass windows, arches, carvings, clock, towers, and all the finer details that help to make the building so attractive. Look above the main door and you'll see statues dedicated to modern-day martyrs, including Martin Luther King, Janani Luwum, Esther John, and Wang Zhiming.
Pass through the main entrance to admire the beautiful interiors, complete with grand pillars, religious art and sculptures, tombs, memorials, and various antiquities, such as the Chair of King Edward and the Coronation Chair. See the striking murals in the Chapter House, be wowed by the colour and details of the Lady Chapel, visit Poet's Corner, and walk through the Cloisters. Take a moment for some serene reflection in the pretty gardens and pick up souvenirs in the gift shop.
5. The London Eye
Terrific city views
Spot major London landmarks
One of the biggest observation wheels in the world
Romantic experience
Why it's awesome: Sitting on the South Bank of the Thames River, the soaring London Eye stands 135 metres (443 feet) high. It might actually be THE most famous place to visit in London – if you're travelling to London, there might not be a way around exploring this site. At the time of its opening in the year 2000, it was the biggest Ferris wheel in the world. Today, it is still one of the tallest observation wheels on the planet. A full revolution takes half an hour, during which time you can enjoy a bird's eye view of many of London's most famous attractions in central London.
Rides are available during the day and when it's dark, letting you enjoy different views of the city. Illuminated at nighttime, the London Eye is usually used for spectacular firework displays on New Year's Eve.
What to do there: Board one of the 32 capsules and take a ride high over London's streets with your beloved. Admire the panoramic views through the glass walls, spotting places like Buckingham Palace, Tower Bridge, Westminster Abbey, the Houses of Parliament, the Shard, the Tower of London, and the River Thames. Although a basic ride is romantic in the right company, you can really ramp up the loving vibes and impress your significant other with the Champagne Experience, which gives you fast-track admission and a chilled glass of bubbly.
If you really want to splash the cash and be fancy, it's also possible to book a private capsule for just you and your sweetheart. It's definitely a cool way to experience one of the best places in London.
6. The Tower of London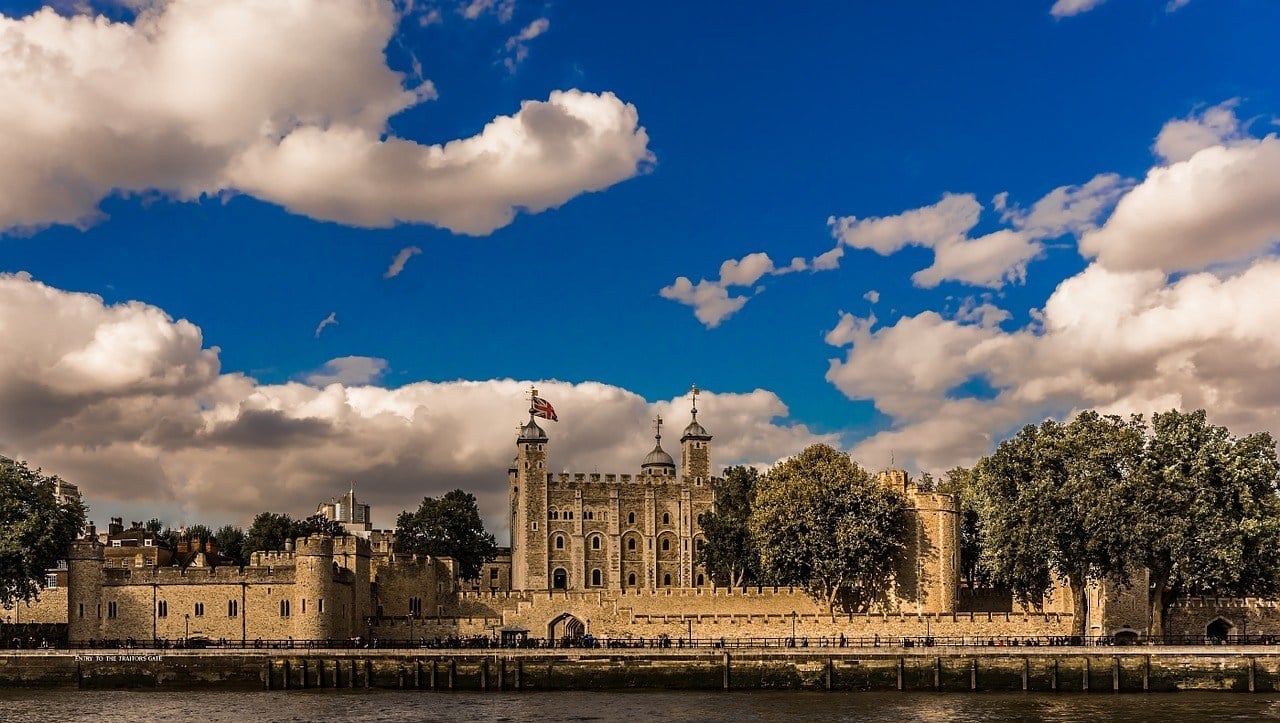 Impressive architecture
Home to the Crown Jewels
Important historical site
Steeped in rich traditions and interesting legends
Why it's awesome: Sitting on the banks of the River Thames, the mighty Tower of London was established in the 1000s as part of the Norman Conquest. The White Tower was built on the orders of William the Conqueror. Over the years, it has been used as a fortress, royal home, prison, royal mint, treasury, and even a zoo! There are many sections of the tower to explore, with interesting nooks and crannies to poke about in. Rumoured to be haunted, there are plenty of intriguing tales to be heard about the Tower of London.
It is said that the ghost of the ill-fated Anne Boleyn roams the grounds. The Tower of London is home to the Crown Jewels, which are guarded by the ceremonial Yeomen Warders, often referred to as Beefeaters. Local lore says that the tower will collapse if the resident ravens ever leave.
What to do there: Take a self-guided audio tour of the Tower of London to uncover its history and darkest secrets or get a special ticket that allows you to see the Crown Jewels Exhibition. Hear gruesome tales of imprisonment and execution and feel a shudder down your spine as you look up at the Traitors' Gate. See where Anne Boleyn was imprisoned and peek inside other cells.
Dare to visit in the dark for an even bigger thrill. Snap pictures of the Beefeaters and meet the ravens—the other guardians of the Tower of London. Admire the views from the high vantage points and be dazzled by the gleaming Crown Jewels. You can refresh and refuel in one of the onsite eateries and purchase souvenirs in the gift shop.
7. The Shard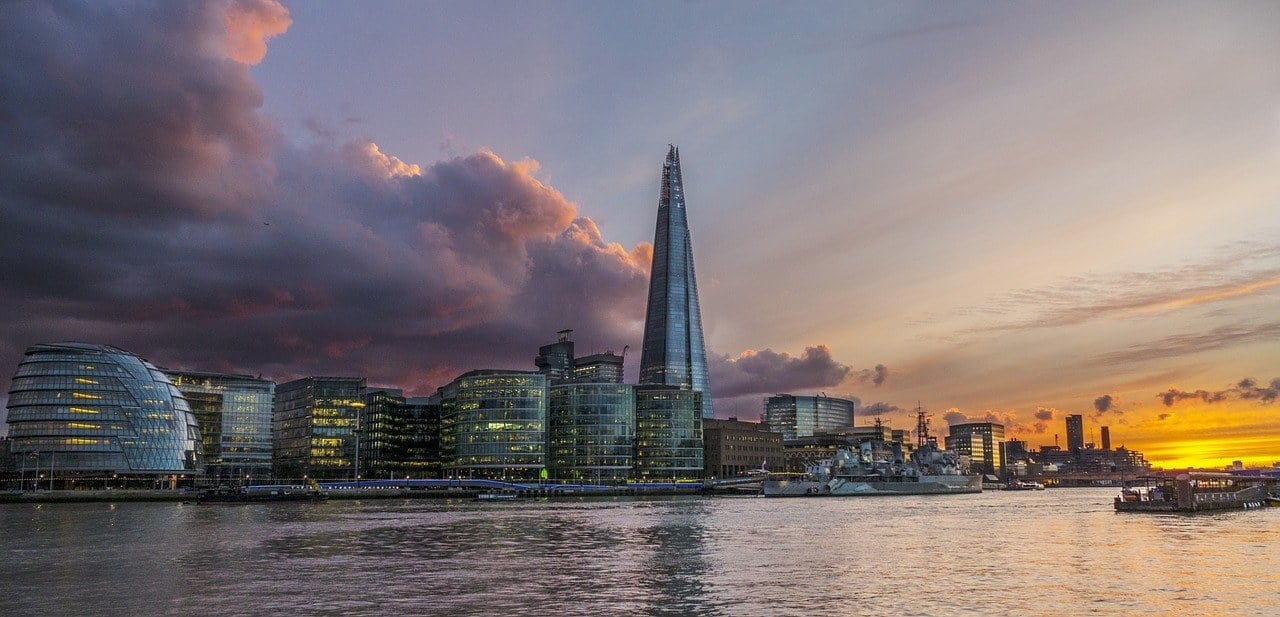 Tallest building in the UK
Awesome views
Dazzling piece of modern architecture
Featured in films and TV shows
Why it's awesome: The Shard is almost 310 metres (1,016 feet) tall and is made from gleaming metal and lots of angled glass. Seemingly rising up from the River Thames, the iconic landmark was inspired by sleek spires. Completed in 2012, it's not only the tallest building in the UK but is also one of the top five tallest buildings in Europe. It's pretty impressive to see, even from afar, and we'd consider it a must-visit in London.
Featured in movies and TV shows, the building is also celebrated for its environmentally-friendly features like its onsite combined heat and power plant that creates electricity and hot water for the building. The Shard truly is among the best places to visit in London.
What to do there: Admire the striking building from afar and take plenty of pictures before going to London's highest viewing platform to soak up the spectacular panoramic views. On a clear day, you can see for as far as 65 kilometres (40 miles). Enjoy a meal in one of the Shard's exclusive restaurants and bars, such as Gong, Hutong, and Ting, all of which offer superb views of London and beyond.
Give your credit cards a workout in the high-class retail arcade before leaving one of London's most emblematic buildings. It's one of the best spots in London, even at nighttime when the magnificent structure is brightly illuminated.
8. Thames Cruise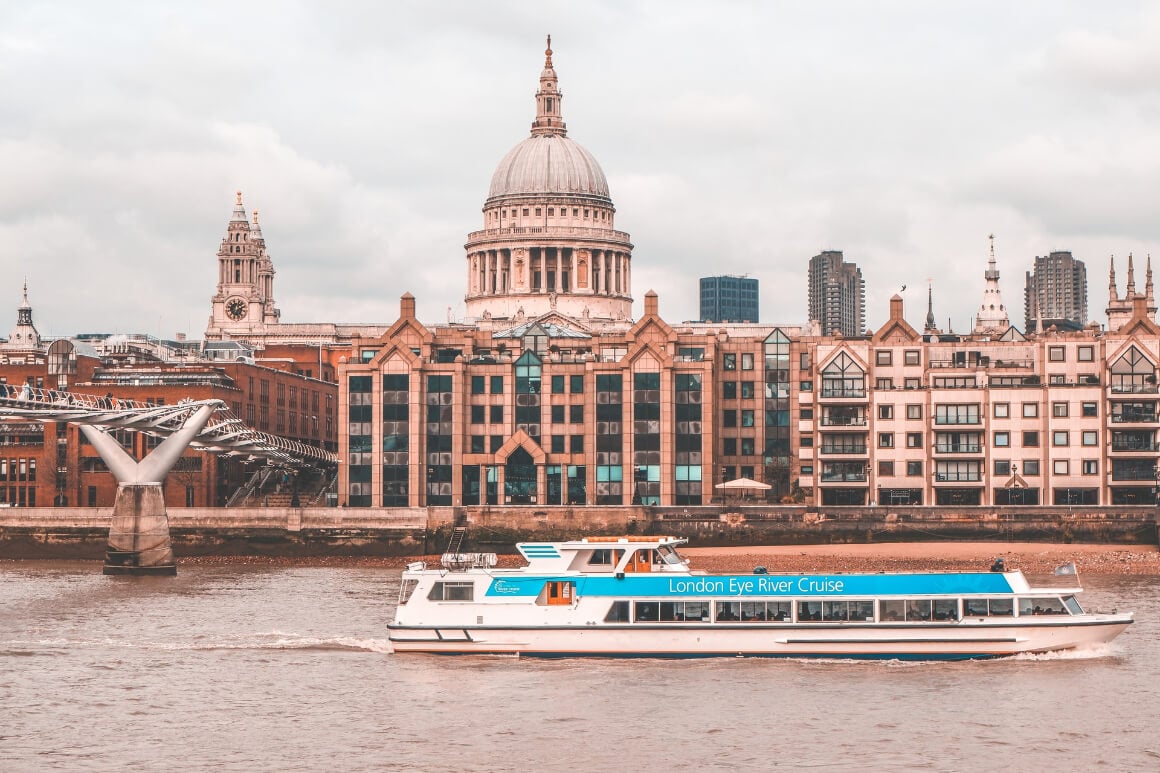 Best place to see the London bridges
A romantic setting for a dinner date
A leisurely activity in London
Great attraction for those with reduced mobility
Why it's awesome: The Thames is the river that divides London and is the second-largest river in England. It is the best way to see all the historical monuments that line the banks of central London and all truly get a glimpse of incredible architecture, from centuries ago and modern times. This is also one of the best things to do in London at night because the city center is all lit up at night, creating a really magical atmosphere.
What to do there: take a river cruise from Westminster to Greenwich and admire the sights. You'll pass London Bridge, Tower Bridge, the Tate Modern and of course the Houses of Parliament, Big Ben, and the London Eye.
9. British Museum
Free admission
Items from different time periods and from all over the world
One of the biggest museum collections in the world, with around 8 million permanent exhibits
Family-friendly activities
Why it's awesome: The British Museum was established in the 1750s and it has grown to become one of the biggest museums in the world. It's considered to be one of the most interesting places to visit in London. There are several million exhibits related to history, culture, anthropology, and other themes in the British Museum.
The museum covers all time ages from pre-history up to the current day. It houses items from all around the world as well as from within the UK. There's something to appeal to varied tastes, and there are displays and activities specifically aimed at younger visitors.
What to do there: Plan to spend at least a couple of hours discovering the British Museum's diverse collections. Because the museum is so large and the collections are so broad, you might be wise to decide which areas interest you the most and focus your attention accordingly. Another option is to explore the Museum with a guide – they'll tell you everything you need to know about the Museum.
The different departments to visit include the Departments of Ancient Egypt and Sudan, Middle East, Greece and Rome, Asia, Britain, Europe, and Pre-History, Africa, Oceania, and the Americas, Coins and Medals, and Prints and Drawings. Join a tour to make the most of your visit and let kids have fun at diverse workshops and demonstrations. If you want to take a break and think about what you've already seen, visit the café or restaurant or stay somewhere nearby.
10. The Royal Botanic Gardens
Home to over 500 acres of woodland
You help support biodiversity by visiting!
Stunningly beautiful
World's largest seed conservation project
Why it's awesome: The Royal Botanical Gardens make for a great break from city claustrophobia. Nature is reinvigorating, and with large grounds to wander, and an awesome greenhouse, it's a super cool place to visit if you get the chance. You will also be given the chance to explore the science behind their seed conservation project, which aims to preserve biodiversity, fearing a loss due to development and global warming.
What to do there: Take a walk around the grounds, check out some of the craziest plants on the planet, and enjoy 500 acres of forest! If you need a break from central London, you're going to want to include this on your London itinerary.
11. Hyde Park
One of London's Royal Parks
Known for being a place for free speech
Beautiful green space in the heart of the city
Interesting water features and statues
Why it's awesome: Hyde Park is the biggest of the eight royal parks in the city and another very famous place to visit in London. Hyde Park is abr pleasant place for a stroll, it's a fantastic place to escape the busy streets and enjoy being outdoors.
t's also a top place for families, with lots of open space for kids to run and play. Old and young alike can cool down with a paddle in the Serpentine, a large recreational lake. There are diverse recreational facilities too, and there are several places where you can buy refreshments. The park sometimes hosts concerts at the bandstand and it has long associations with freedom of speech and debates.
What to do there: Relax in the green surroundings of Hyde Park, admire the fragrant flowers, and see diverse monuments and statues, including the snaking Diana, Princess of Wales Memorial, the Cavalry Memorial, the Holocaust Memorial, and the unusual Jelly Baby Family.
See the large Standing Stone, a gigantic monolith that some people say was once part of Stonehenge. If you're more of an active traveller, join a 3.5 hour bike ride tour around the park and other attractions with a local guide.
In the summer, plunge into the Serpentine for a swim, feed the ducks, and go boating on the shimmering lake. You can also enjoy tennis, jogging, and horse riding in the park, or simply sit and watch the world go by from a charming waterside café – visiting this park is one of the best things to do in London!
12. Warner Bros. Studio Tour London – The Making of Harry Potter
Enter the magical realm of Harry Potter
See how movies are made
Great family-friendly attraction
Fun for people of all ages
Why it's awesome: Housed within an old aircraft factory, Warner Bros. Studio is one of just a couple of places in the UK where large-scale productions can be made. Many movies have used the studios, including The Invisible Woman, GoldenEye, The Mummy, Tomb Raider, and Inception. Located in Hereford, just outside of London, the studios have a popular attraction: Warner Bros. Studio Tour London – The Making of Harry Potter.
Each Harry Potter film was made at the studios, and several other productions (including Sweeney Todd and Sherlock Holmes) made use of the olde-worlde Harry Potter sets. Visitors can see incredible sets, learn more about how the movie was made, and have lots of fun and unusual (some may say magical!) experiences.
What to do there: Leave the real world behind for a few hours and suspend reality as you enter the magical world of Harry Potter. You'll see an array of fabulous sets, including Hagrid's hut, Gryffindor common room, Potion's classroom, and the male dormitory, and you're sure to be impressed as you stand inside Dumbledore's office and the expansive Great Hall.
Walk along Diagon Alley, passing the shop fronts of Gringotts Wizarding Bank, Ollivanders Wand Shop, and Eeylops Owl Emporium, and see various props and costumes used in the making of the hugely popular film series.
Insider Tip: Warner Bros. Studio is roughly two hours from the city center. If you're not keen on driving yourself, book a transfer that'll pick you up, drop you off and take you back home as well. It also includes the entry ticket.
13. Houses of Parliament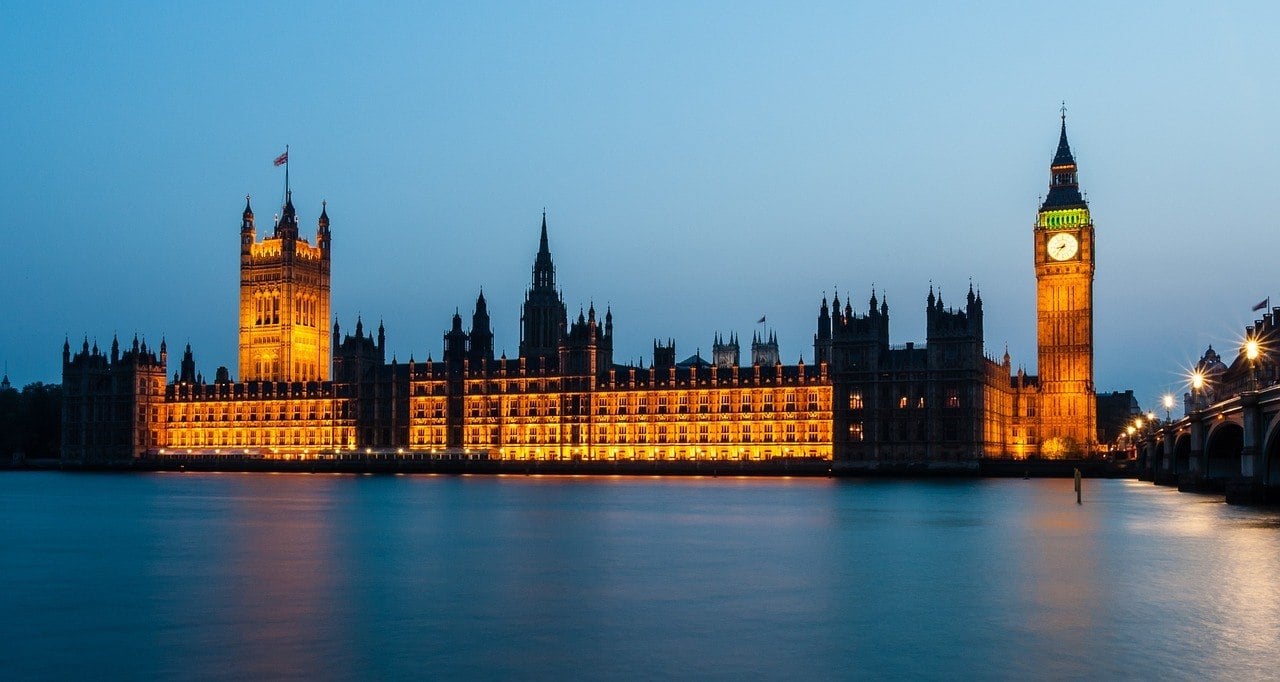 Photogenic architecture
Home to the UK parliament
See the iconic Big Ben clock tower
Learn about the inner workings of parliament and watch debates
Why it's awesome: The Houses of Parliament, officially called the Palace of Westminster, is a stunning Gothic Revival building that was built in the mid-1800s. Sitting on the banks of the River Thames, the large building has more than 1,000 rooms. A UNESCO World Heritage Site, the Houses of Parliament is a glorious sight to behold, with its three main towers, many windows, spires, and turrets. There's plenty of splendour inside too, with frescoes, carvings, fine architectural details, and lavish furnishings. It's free to walk through the grounds and admire the building from the outside, and there are also several ways that you can enter the building for free too.
What to do there: Take plenty of pictures of the iconic building from the outside and walk through the pleasant grounds. Stop by Cromwell Green to see a bronze statue of Oliver Cromwell, a rather unusual sight given that Cromwell is a controversial figure in British history. Check the schedules and visit parliamentary debates for free, or book free tickets to attend question time with the prime minister (only available for UK residents).
There are various free talks and events in the Houses of Parliament that are free for members of the public, though you should arrange your spot in advance to avoid disappointment. If you want to see more of the interiors and get an even greater in-depth understanding of parliament there are several paid tours that you can join too, including self-guided audio tours and guide-led tours.
14. London Dungeon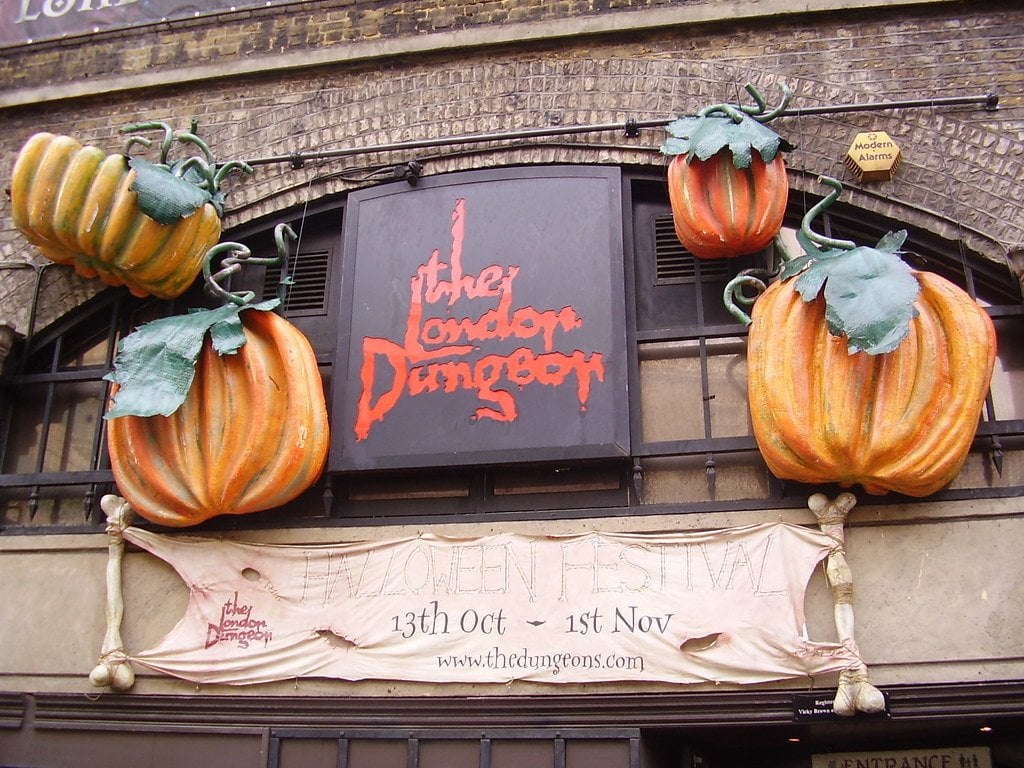 Spooky and scary thrills
Experience London's darker history and learn secrets from the past
Come face to face with some of London's most nefarious, notorious, and fearsome characters
Exhilarating rides
Why it's awesome: The original London Dungeon opened its doors in the 1970s. It has been through several changes and expansions over subsequent years and is today one of London's most exciting attractions. There are 19 shows and two rides, with gruesome past events, brought to life by convincing actors and actresses. Awesome sets, dramatic costumes, and special effects add to the chilling and scary ambience. It's definitely a place that will send a shiver down your spine and get the blood pumping through your veins!
What to do there: Follow the jester to descend underground into the cavernous depths below London's busy streets. Ride on the Tyrant Boat and feel the fury of King Henry XIII, pass through the City Gates, and find yourself in a rat-infested tunnel right in the middle of the Gunpowder Plot with Guy Fawkes. Next, shudder in the Torture of Chambers before experiencing London in the times of the plague, or Black Death. All of this and more! One of the more interesting places to visit in London if you want history bringing graphically to life.
Insider Tip: The Dungeons can be seriously scary so we wouldn't necessarily recommend it for kids or families. There are different shows and attractions on offer as well, which are all very popular, so make sure you book your tickets well in advance.
15. Leicester Square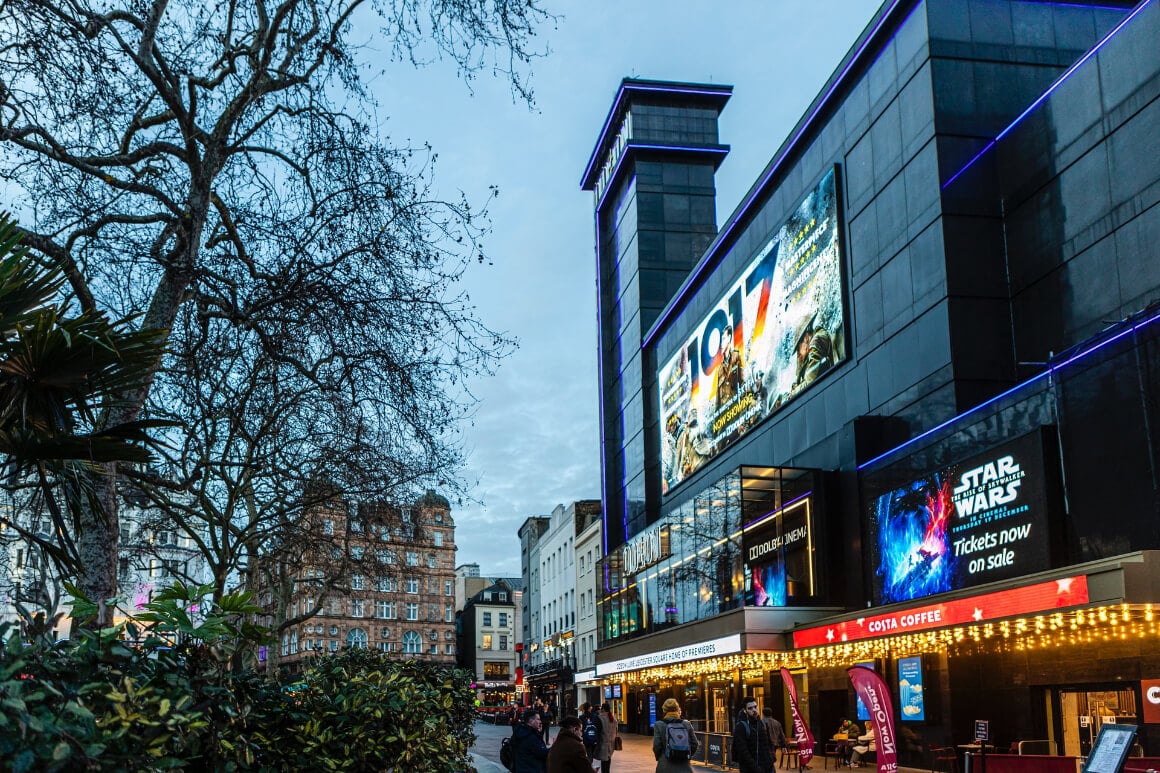 Best place in London to see a musical
Top place for nightlife
A great place for star spotting
One of the most historical attractions in London
Why it's awesome: Leicester Square is located in the bustling West End and is the ideal place to find cheap tickets to a musical or theatrical production. The pedestrianised square was built in 1670 and was named after the 2nd Earl of Leicester. This is one of the oldest and most historical monuments in London and is often used as the location for film premieres at the nearby Odeon cinema.
What to do there: Wander around the park or try and do some star-spotting when a movie premiere is happening. You can also pick up cheap tickets for the West End shows here.
16. Natural History Museum and The Science Museum in South Kensington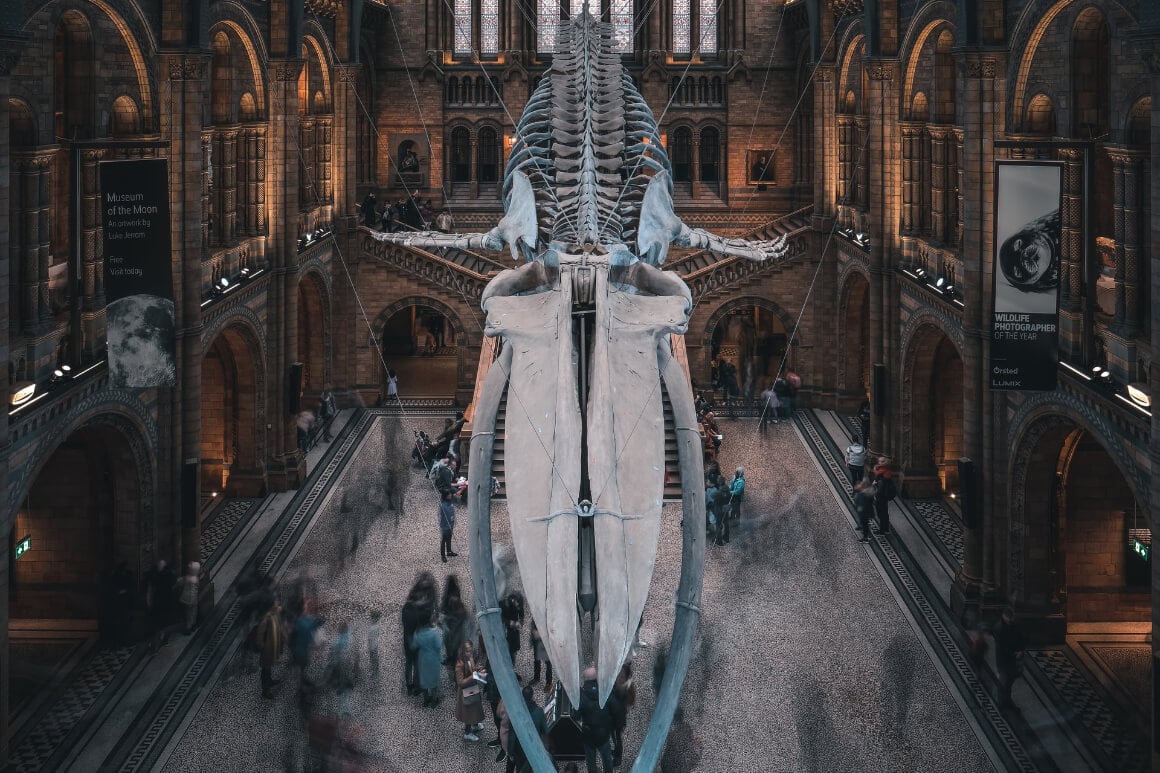 The top London Museums
A family-friendly activity
Opposite the Victoria and Albert Museum
Interactive exhibits
Why it's awesome: Of all of the London Museums, the Natural History Museum and the Science Museum are my absolute favourite things to do with the family. The interactive exhibits provide a world of fun for the kids as well as showcase interesting facts in an easy way for them to understand. Across the street is the Victoria and Albert Museum which has some of the best of British Art on display. And best of all? These museums are absolutely FREE!
What to do there: take a trip back in time to the land of the dinosaurs at the Natural History Museum and explore 4.5 billion years worth of history. The museum is incredibly popular, but you can skip the line with a guided tour which is definitely worthwhile. You can learn in an interactive way about space, how toilets work and how electricity is made at the Science Museum. When you've immersed yourself in enough education for one day, take a stroll around the affluent South Kensington and enjoy a delicious meal in one of the many fine restaurants.
17. Piccadilly Circus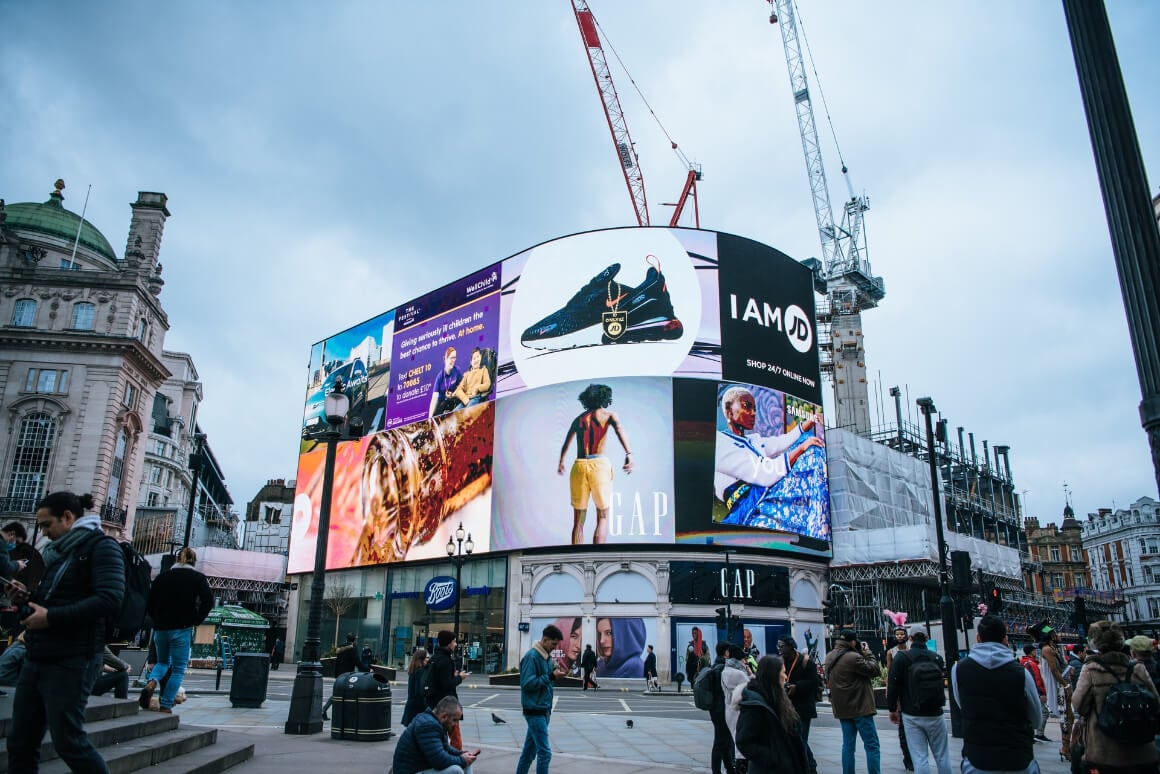 The busiest roundabout in London
Near Trafalgar Square
An important cultural landmark in London
A great place to get photos of the advertisements in London
Why it's awesome: Piccadilly Circus is probably the most famous junction in the whole of the UK, as well as London. The roundabout also has a public space where you can marvel at the craziness of London's West End. It was built in 1819 and was named circus which is actually the Latin word meaning "circle".
Whenever I think of London, I think of postcard images of this junction and the iconic red double-decker buses that circle here. It's truly an iconic landmark in London.
What to do there: marvel at the traffic and take some photos of the advertisements on the buildings, catch a theatre production or musical nearby or hang out and feed the pigeons in nearby Trafalgar Square. There is a reason the Brits like to say "it's like Piccadilly Circus around here" whenever they are faced with a busy place – it's awesome to see, but you won't want to hang around too long.
18. Davenport's Magic
Unique attraction
Magic school and shop
Hidden gem
Great for people of all ages
Why it's awesome: Long before Harry Potter took the world by storm, Davenport's Magic was meeting London's magical needs. Established in the late 1890s, the shop still remains in the same family. Currently located underneath Charing Cross Station, the whimsical store is the best place for any budding magicians to learn more and be inspired. One of the great places in London to taste arcane.
Spellbooks line the shelves and there are also instructional DVDs, cards, potions, and a wide range of other items that any self-respecting magician, sorcerer, sorceress, witch, or wizard may need. It's like entering a completely different world! More than just a shop, the establishment also runs various workshops, demonstrations, and events, and is a place where magicians go to network and practice.
What to do there: Browse the fascinating collection of magical items and books and perhaps pick up a few unusual items as gifts or unique souvenirs. Learn more about the art (some might say science) of magic and soak up the sense of history. Take part in a magic class to keep some tricks up your sleeve to impress your friends with. There are workshops for both children and adults and you can learn things like card magic, coin magic, close-up magic, and mental magic.
19. Knightsbridge
London's most exclusive shopping area
Home to luxury department stores
Fashionable with a sophisticated and elite air
Perfect place to treat yourself
Why it's awesome: Knightsbridge is one of London's premium retail areas and it's a must-visit for serious shopaholics, fashionistas, people who want to splash the cash, and also if you simply want to daydream and indulge in a little window shopping.
There are many luxury stores in Knightsbridge, including the world-famous Harrods, Harvey Nichols, and flagship stores such as those of Manolo Blahnik and Jimmy Choo. The area also boasts a number of esteemed restaurants, high-class hotels with hot tubs, and top-quality beauty salons. It's definitely a place to feel fancy!
What to do there: Admire the stylish shop fronts and displays before entering chic stores to browse and buy a huge selection of designer and luxury goods. Whether you're looking for apparel, footwear, jewellery, perfumes, cosmetics, gadgets, artisan chocolates, or something else, you'll find the best of the best in Knightsbridge. This is the best place to visit in London to max out your credit cards.
20. Shoreditch
Lots of cool street art
Offbeat part of the capital
Youthful, creative, and hipster vibe
Plenty of unusual leisure activities
Why it's awesome: Shoreditch is a cool neighbourhood in London's East End. An entertainment area since the 17th century, it has seen much gentrification over the years, though it still has a somewhat edgy vibe. It's one of the best places around London to see interesting public art, and walking around seeing the art and sights and soaking up the atmosphere won't cost you a single penny. There are tons of eateries with affordable prices and you can browse in quirky stores, vintage shops, thrift stores, and other unusual retail outlets. If you are visiting London on a budget stay in one of Londons best cheap hostels
What to do there: One of the best things to do in Shoreditch is to simply wander the streets (ideally with a guide for even more insights) and find the abundance of cool street art. The art is constantly changing and evolving, so you'll always find something new to admire. Start at Redchurch Street and Brick Street before moving into other parts of the neighbourhood. Take time to look in vintage shops and markets and sample some of the area's delicious food. Brick Lane Market is a top place for foodies to satisfy their hunger.
The Old Spitalfields Market is another top market to check out in Shoreditch. Pay a visit to the hipster favourite of Boxpark, where all stores are within shipping containers, pause to smell the roses (literally!) at Columbia Road Flower Market, and enjoy cheap drinks of an evening in a cool bar. This is THE London place to visit for you hipsters.
21. Chislehurst Caves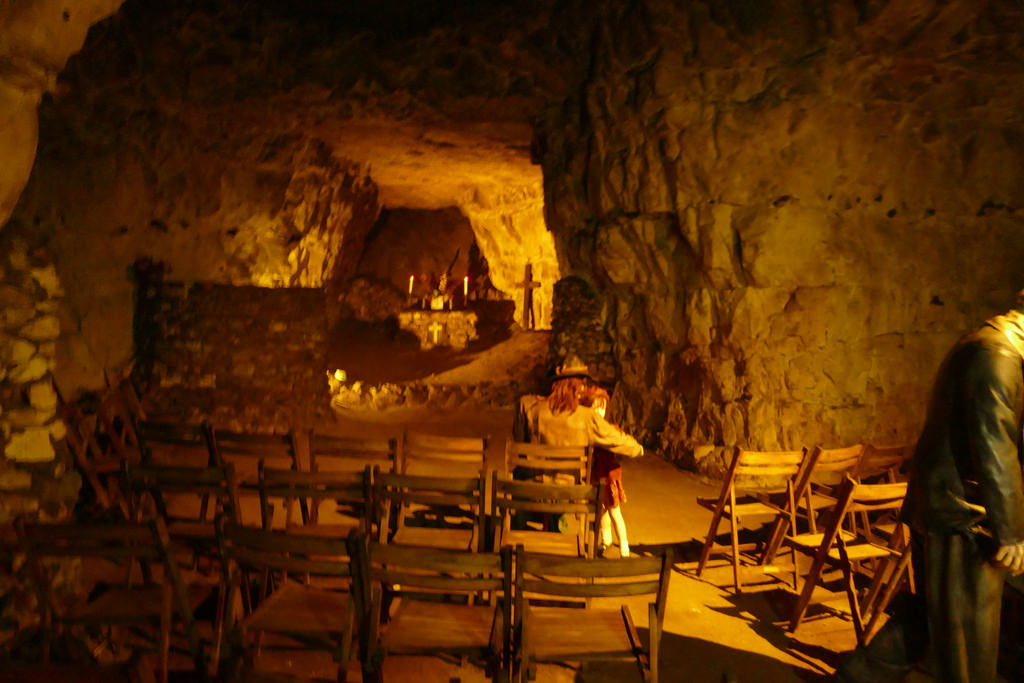 Away from the typical tourist trail
Huge stretch of caves and tunnels
Featured in TV productions, films, and music videos
Underground history and legends
Why it's awesome: Located in nearby Kent, Chislehurst Caves stretch for 22 miles (35 kilometres) underground. The tunnels and caverns are manmade, created between the 13th and 19th centuries by mining activities. The subterranean chambers were used to store ammunition during World War One and were also used as an air-raid shelter. At their peak, the caves housed some 15,000 people fleeing bombing and had toilets, bathing facilities, lighting, a hospital, and a chapel. The caves have also been used as a cool music venue, with artists and bands like Jimi Hendrix, Pink Floyd, and the Rolling Stones having performed there.
What to do there: Access to the cave system is by guided tour only. Grab your lamp and descend underground as part of a group tour to explore the huge network of tunnels and underground rooms. Hear tales about the caves' past and imagine what it would have been like to spend substantial periods of time in the gloomy underground. Feel a chill as you hear about the ghosts who are said to haunt the caves. You can enjoy a pleasant stroll in nature in the woodlands above when you exit the caves and re-enter the sunshine.
22. Soho
Historic entertainment district
Fashionable part of London
Fun nightlife area and great for dining
Gay-friendly venues
Why it's awesome: If you are wondering where to stay in London, I would say Soho takes the cake! London's Soho has been a major entertainment area since the 19th century. Once a royal park, landmarks throughout the area today include St. Anne's Church and St. Patrick's Church.
London's thriving gay community can be found in Soho around Old Compton Street. There are many top-class restaurants as well as diverse bars and clubs. It's definitely one of the best places in London for a top night out.
What to do there: By day, discover the quirky, hip, and trendy independent stores around Soho, including record shops, art, musical instruments, confectioners, clothes, and retro kitsch. Look out for the Seven Noses of Soho—random noses on walls and buildings that were originally placed in protest against CCTV surveillance. Get dressed up in the evening and have a fun night out in Soho.
23. Brick Lane Market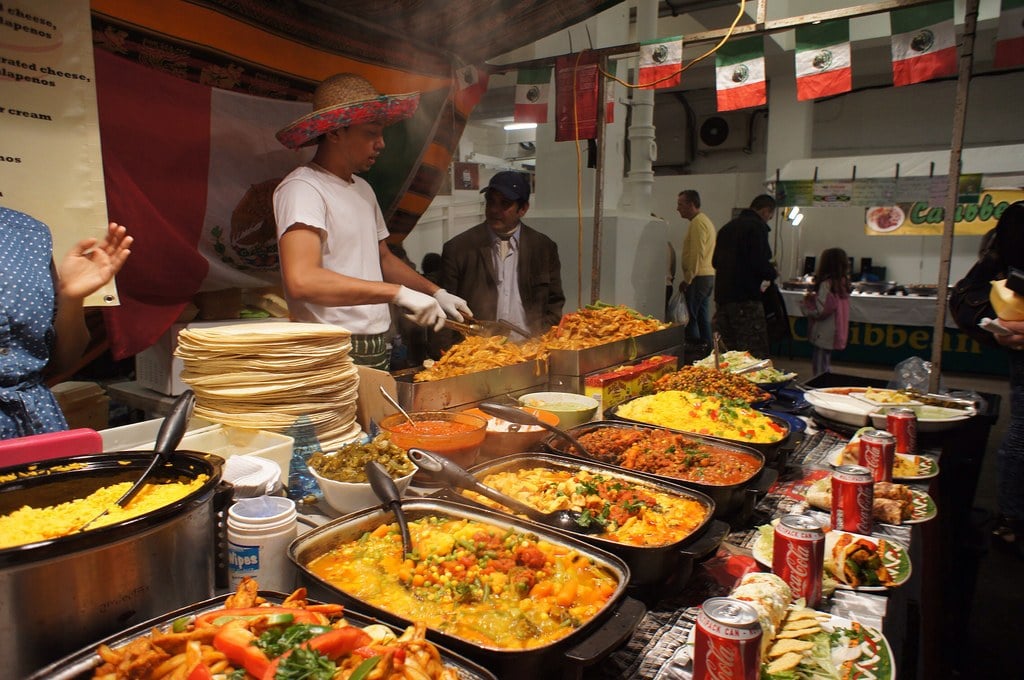 Excellent market for global cuisine
Great for bargain hunting
Affordable prices
Historical roots
Why it's awesome: Brick Lane Market opens on Sundays when many other markets around the capital are firmly shuttered up and empty. A market has operated in the same spot since at least the 17th century, and it developed a reputation for vintage goods, delicious food, and bargain curiosities. It's also a great place for photography and for watching the hustle and bustle of everyday market life.
What to do there: Stroll around the atmospheric market and browse the wide assortment of goods on offer. You'll find plenty of whimsies and unusual souvenirs if you wish to buy anything, but the market is also well worth visiting simply to look around and soak up the ambiance. Foodies are sure to be delighted with the tempting food options and you can sample delicious fare from various parts of the globe. The market is especially known for its Asian goodies.
Insider tips: There are loads of other amazing markets around the city and trying to see all of them can get overwhelming. If you join a walking tour with a guide, you'll get a scoop of everything without having to miss out on all of the hidden gems.
Make sure you bring a good rain jacket when wandering around London's markets. A rain jacket or an umbrella should definitely be on your London packing list!
24. The Tate
One of the top art collections in London
Is this really art?
Two galleries- modern and historic
Great day out
Why it's awesome: Two of the four Tate institutions are located in London: the Tate Britain and the Tate Modern. The Tate Britain dates back to 1897 and is one of the biggest museums in England. Housed within a beautiful Grade II listed building, the gallery has a large collection of British art spanning from the Tudor era to the present day. It is the home of the Turner Prize.
The Tate Modern is housed in a former power station. It opened in 2000 and is the UK's national gallery of international modern art. It features temporary exhibitions as well as permanent collections.
What to do there: A top pick of the best places to see in London for art fans. See pieces by famous national artists in Tate Britain. Works include those by J.M.W. Turner, Constable, William Blake, and Hogarth.
Some rooms are dedicated to one particular artist, such as rooms for Tacita Dean, Tracey Emin, and Douglas Gordan. Take a free tour of the museum for greater insights (available on the hour each day). Visit the Tate Modern to admire diverse contemporary pieces by artists like Robert Delaunay, Paul Klee, and Picasso.
25. Camden Town
Famous for being home to musicians
Cool street art and a quirky market
Best place to see live music
Great place for Insta-worthy photos
Why it's awesome: Camden Town is a lively and hipster area known for its quirky market and abundance of street art and music venues. Camden is famously known as the home to the late Amy Winehouse and is where many musicians have made history in the many live music venues in the area.
The high street in Camden is one of the trendiest areas in London. There is an impressive array of goth and rock shops, with murals on the front of their buildings, making it a key place to grab some Insta-worthy shots. Camden Market is just a short 5-minute walk from the underground and is the best place to pick up some quirky antiques and souvenirs.
What to do there: Walk along the wide and artistically decorated high street, or shop for antiques in the market there. If you're looking for something awesome to do in London at night, then head to one of the many music venues for some live music. The Roundhouse has many up-and-coming indie artists performing each week, and who knows, maybe you'll see some new artists performing at the Electric Ballroom before they're famous!
26. O2 Arena
World's most iconic music and entertainment venue
See incredible views of the London skyline
Become an urban mountaineer
Unique thing to do in London
Why it's awesome: The O2 Arena, or the millennium dome, is one of the most architecturally striking landmarks in London. Inside, there is a 20,000 seater arena where you can catch some of the biggest names performing, including stand-up comics and musicians. There's also the BME (British Music Experience), a museum that showcases the best memorabilia and exhibits on famous British artists such as The Rolling Stones, The Beatles, The Spice Girls, and many more. You'll also find some shops and restaurants inside the dome too.
It was built to mark the year 2000 and when it was constructed it was the eighth largest building in the world by usable volume.
What to do there: one of the best things to do in London is climbing the O2 arena and walk across the 52-meter high dome. The summit of the dome offers a 360 degree, panoramic view overlooking Greenwich, the Olympic Park, Tower Bridge, Big Ben, Canary Wharf, and The Shard. This 90-minute activity is one of the most unique things to do in London and the perfect activity for couples or small groups.
27. Stonehenge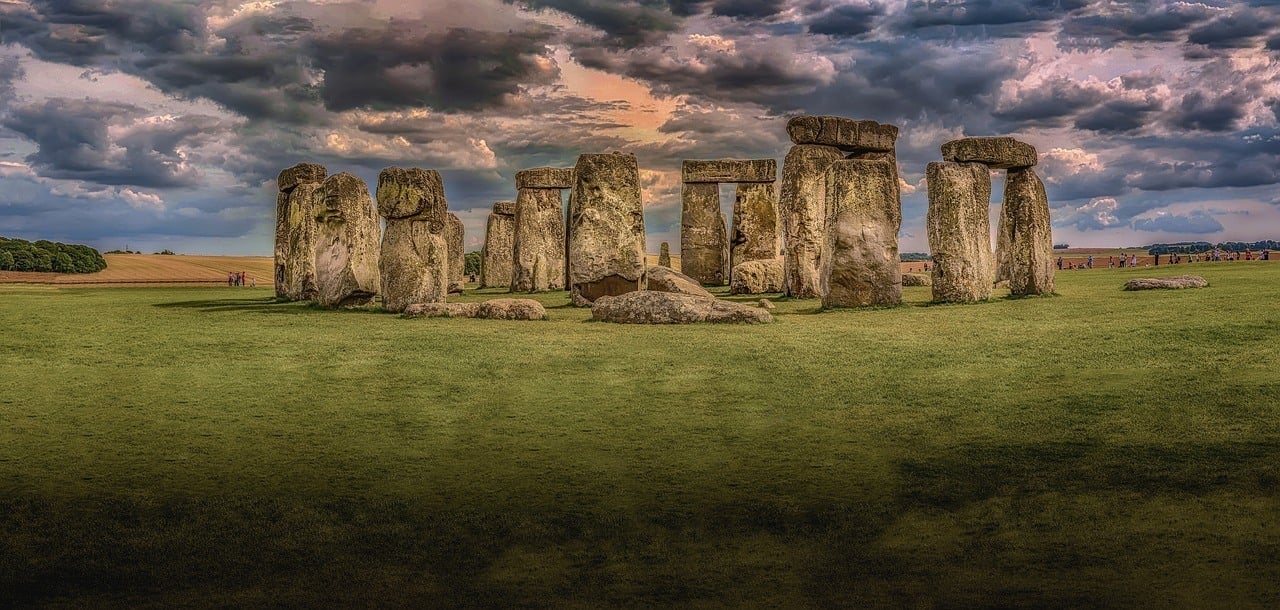 UNESCO World Heritage Site
Surrounded in legends
Prehistoric site
Spiritual site
Why it's awesome: 88 miles away from London is Stonehenge, one of the most famous places near London (and in the whole of the UK) and a fabulous place to go for a trip from the capital. Located in Wiltshire, the iconic monument is thought to date back to around 2,400 BC. Gigantic monoliths stand in a circular formation and, while nobody quite knows for sure why the site was created, how it was made, and who made it, there are many fascinating theories and stories.
Some people believe that the site was used for religious worship, while others believe that it had an astronomical function. There are also some people who think the site is connected with extraterrestrial beings or supernatural bodies. Whatever you believe yourself, it truly is one of the UK's most astonishing places.
What to do there: Take a break from exploring London, hop on a train or car instead, and make your way towards Stonehenge. Marvel at the sheer size of the individual standing stones, letting your imagination run wild as you think about what would have been needed to transport the stones to the site and then stand them up and arrange them information. Walk in the footsteps of ancient peoples and wander across Neolithic landscapes.
Learn more about modern human's distant ancestors in the Neolithic Houses as you see a variety of tools and other items from the Neolithic age. You can also see the skeletal remains of a man who lived some 5,500 years ago. To make sure you learn everything there is to know about the mysterious monument, you can book a tour right here. Transportation and an excellent audio guide are included.
28. Baker Street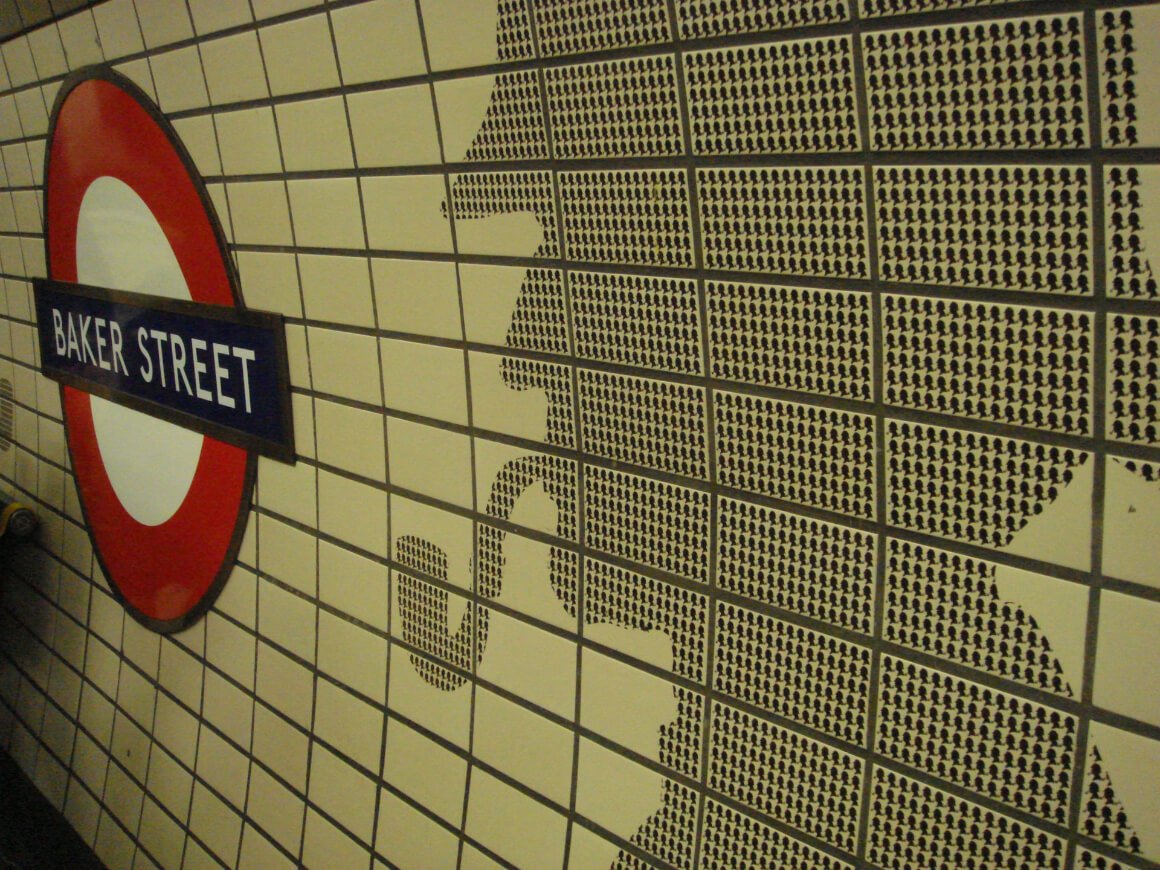 The world-famous street known as the home of fictional detective Sherlock Holmes
Immerse yourself in the crimes of London's past
See some beautiful architecture
Visit some vintage shops
Why it's awesome: Baker Street is most famous for being the home to iconic fictional detective, Sherlock Holmes. But 221B Baker Street is not a fictional place, in fact, it's the Sherlock Holmes Museum, a place dedicated to showcasing the crimes of London's past.
What to do there: Baker Street is also a cool place to visit for vintage and retro lovers as the historic street is home to many vintage shops where you can buy old gadgets and clothing. It's also a bustling street lined with gorgeous architectural buildings.
29. Electric Avenue
The best place to get a bargain
Best place to buy electronics
You finally get to sing the Eddie Grant song outside of a karaoke club
Unique thing to do in London
Why it's awesome: If you're a bargain hunter looking for some cheap souvenirs then you need to rock down to Electric Avenue (as Eddie Grant once sang). As the first street market in London and is where you can buy some cheap stuff.
If you are ever looking for something in particular, you'll likely find it here. Electric Avenue is famous for being a mecca for cameras, computers, and hi-tech electrical gadgets, so if you need some new electronics, you now know where to find them.
What to do there: shop until you drop and pick up some bargain clothes, souvenirs, and various random bits and bobs.
30. Museum of Brands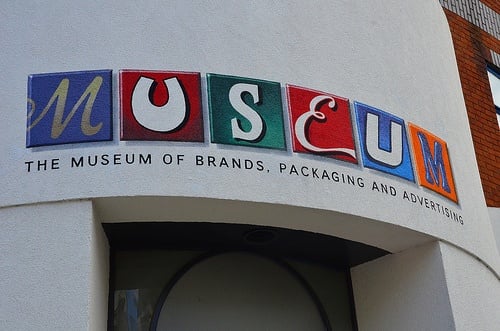 Unknown attraction
Historical view of retail and advertising
Large collection of old items and packaging
Quirky and unusual museum
Why it's awesome: The Museum of Brands, located in Notting Hill, offers a fascinating journey back in time through its large collection of diverse items. Covering the present day back to Victorian Times, the museum contains more than 12,000 exhibits related to everyday life. Visitors walk through time, seeing how items, logos, and slogans have evolved over time, changing from being fairly simple to today's sleek sophistication to target consumers.
You'll realise that sometimes, the most interesting aspects are the most mundane! There are packages from numerous well-known and smaller brands, as well as posters, games, toys, and more.
What to do there: Walk through time with the time tunnel experience, seeing how brands have changed over the years to appeal to an ever evolving society and remain competitive in a world full of multiple options. Notice how shopping habits have changed over the years and see the effects of major wars, the growth in women's rights, and transportation on people's shopping options and preferences. Some items are sure to inspire a twinge of nostalgia.
Something of a hidden gem, the quirky museum offers an alternative view of history, focusing on the day-to-day life of people of the past. You'll find an onsite café to beat any pangs of hunger or thirst.
31. Oxford Street
Best place to visit for shopping
Get awesome photos of the famous red double decker buses
Near the best nightlife spots
One of the busiest areas in London
Why it's awesome: For those who love to shop, Oxford Street is a shoppers paradise and it's right in the city center so you'll always be close to where the action is. It has every high street brand imaginable and it's also where you'll find the biggest stores. If you are looking for nightlife, there's a ton of clubs nearby too.
What to do there: shop until you drop in many of the UK's top high street branded stores. The theatres are also just a short walk around the corner and there are many top clubs and restaurants in the area. For those visiting London and looking for nightlife, you'll find this place comes alive at night.
32. Richmond Park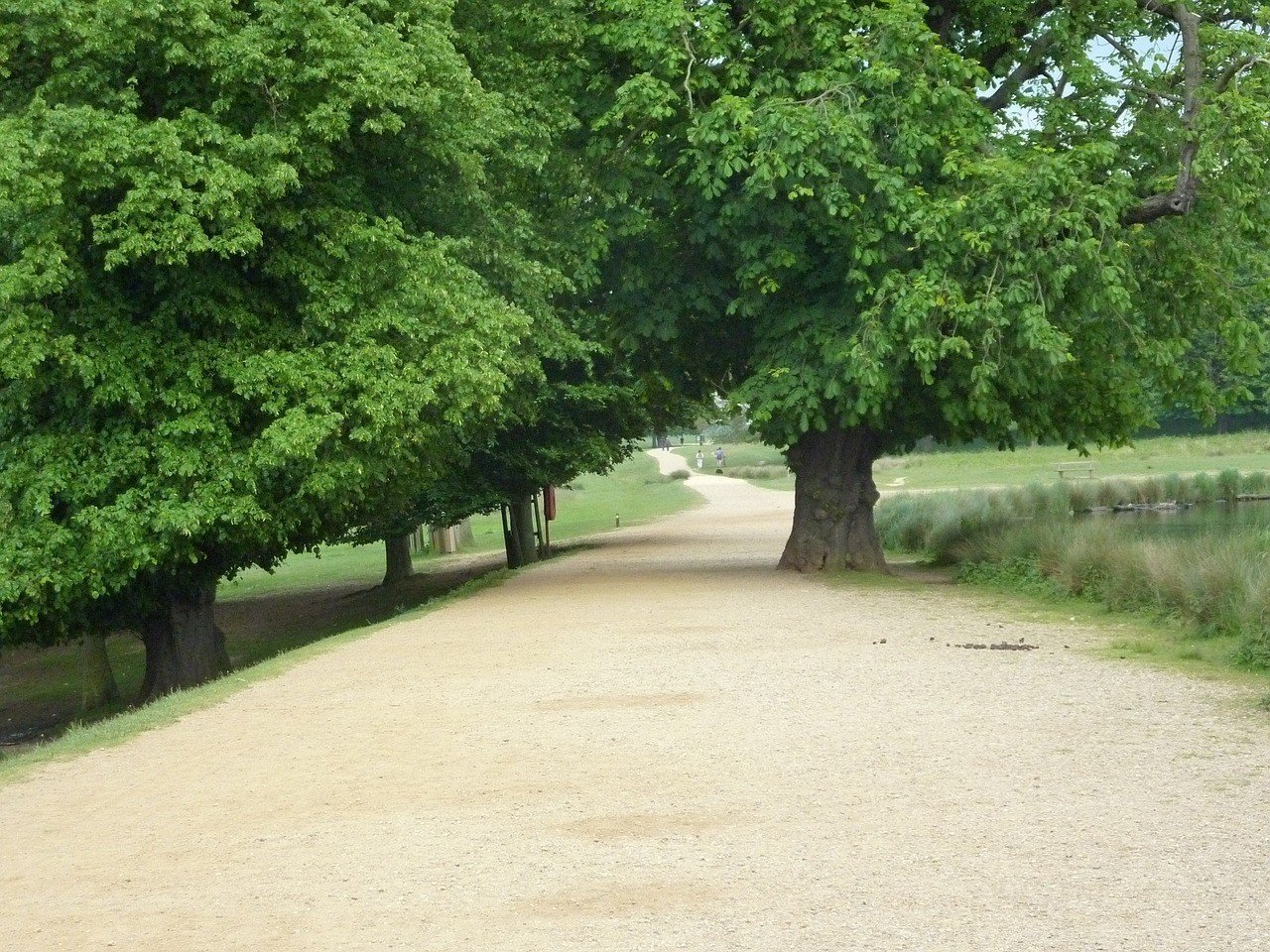 Famous for its resident deer
Enjoy nature and the outdoors
One of London's Royal Parks
Historic buildings throughout the pretty park
Why it's awesome: Richmond Park was established as a royal reserve and hunting park in the 17th century. Now open to the public, the large 3.69-square-mile (9.6-square-kilometre) park is home to many friendly deer along with other interesting fauna and flora. A major place for wildlife conservation, there are woods, gardens, lawns, flowerbeds, ponds, trees, and other features. Visitors can enjoy various leisure activities and there are several historic structures dotted throughout the park. Peaceful and pretty, the park is an ideal place for families and couples to spend a couple of hours.
What to do there: One of the good places to visit in London for some exercise and air. Stroll through the pretty gardens and wider park area, come face to face with the deer, spot an array of wildlife, and soak up stunning views. The 7.2-mile-long (11.6-kilometre-long) looped Tamsin Trail is popular with walkers, runners, and cyclists, and bikes are available to rent within the park.
Get insured for your trip to London!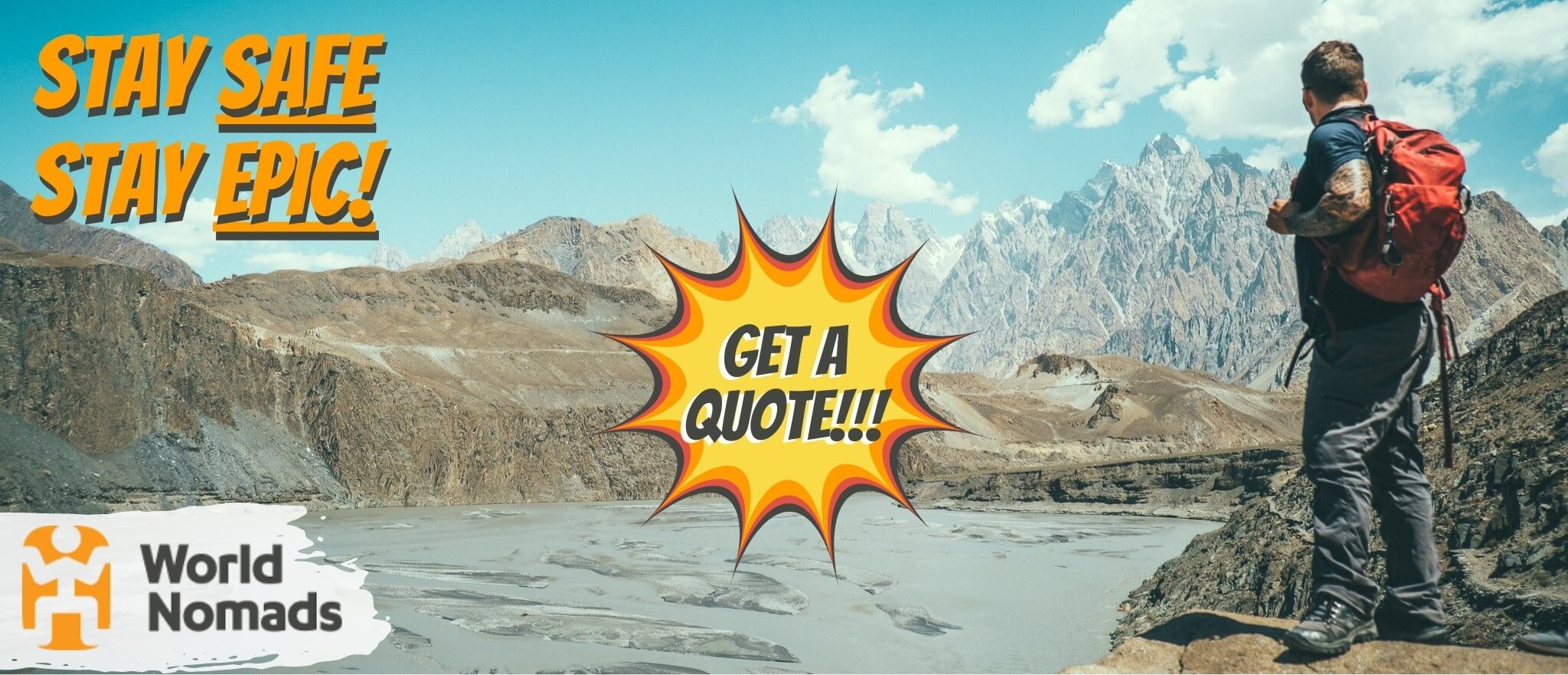 World Nomads' mission is to support and encourage travellers to explore their boundaries. They offer simple & flexible travel insurance, and safety advice to help you travel confidently.
They've been doing it since 2002 – protecting, connecting, and inspiring independent travellers just like you.
Get a quote below or read our in-depth review!
World Nomads provides travel insurance for travelers in over 100 countries. As an affiliate, we receive a fee when you get a quote from World Nomads using this link. We do not represent World Nomads. This is information only and not a recommendation to buy travel insurance.
FAQs on the Best Places to Visit in London
Here's what people usually ask us about the best attractions and locations in London.
Final Thoughts on the Best Places to Visit in London
From popular tourist attractions to hidden gems, London has so much to see and do for people of all ages and with diverse interests.
Visiting London needn't break the bank when you include some of our recommended budget places to visit, and you'll also find plenty of ways to splash the cash and treat yourself if that's what you want. There's something for romance seekers, friends, and families travelling with young children.
Covering history, culture, shopping, entertainment, art, nightlife, and more, add these best places to visit in London to your bucket list for a memorable time in the exciting British capital.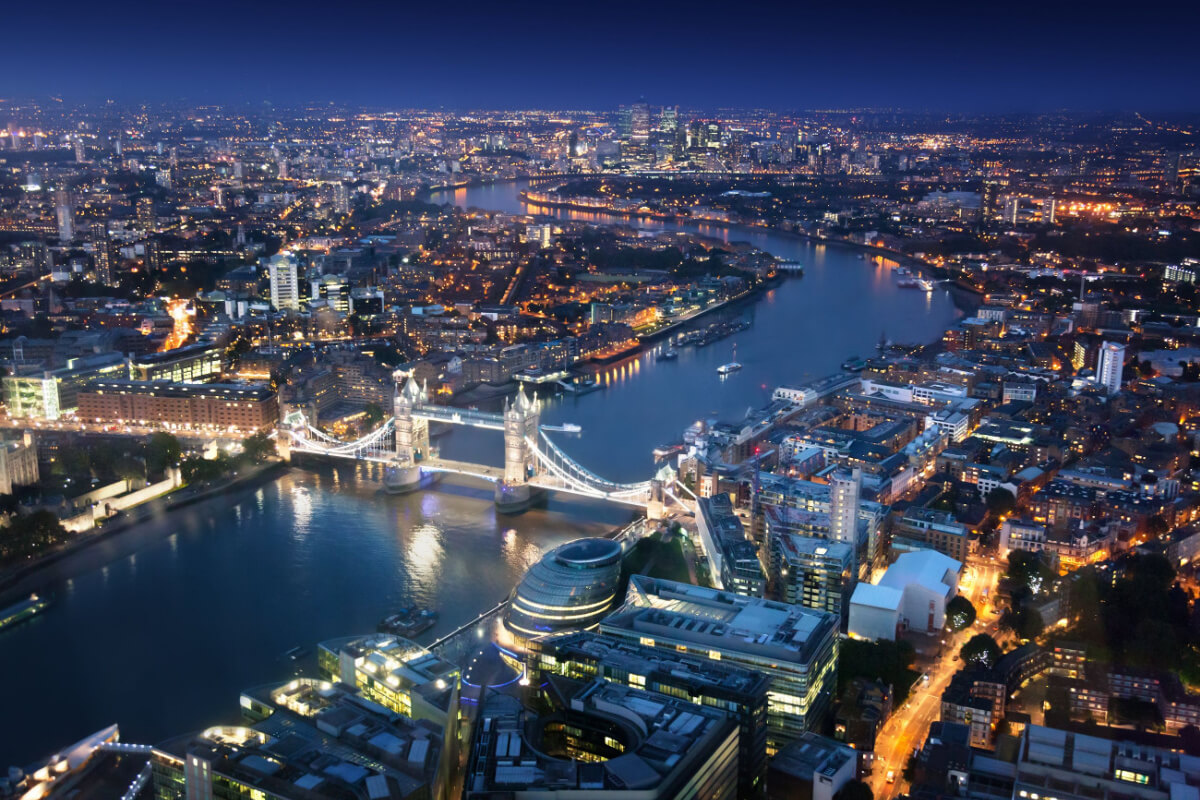 ---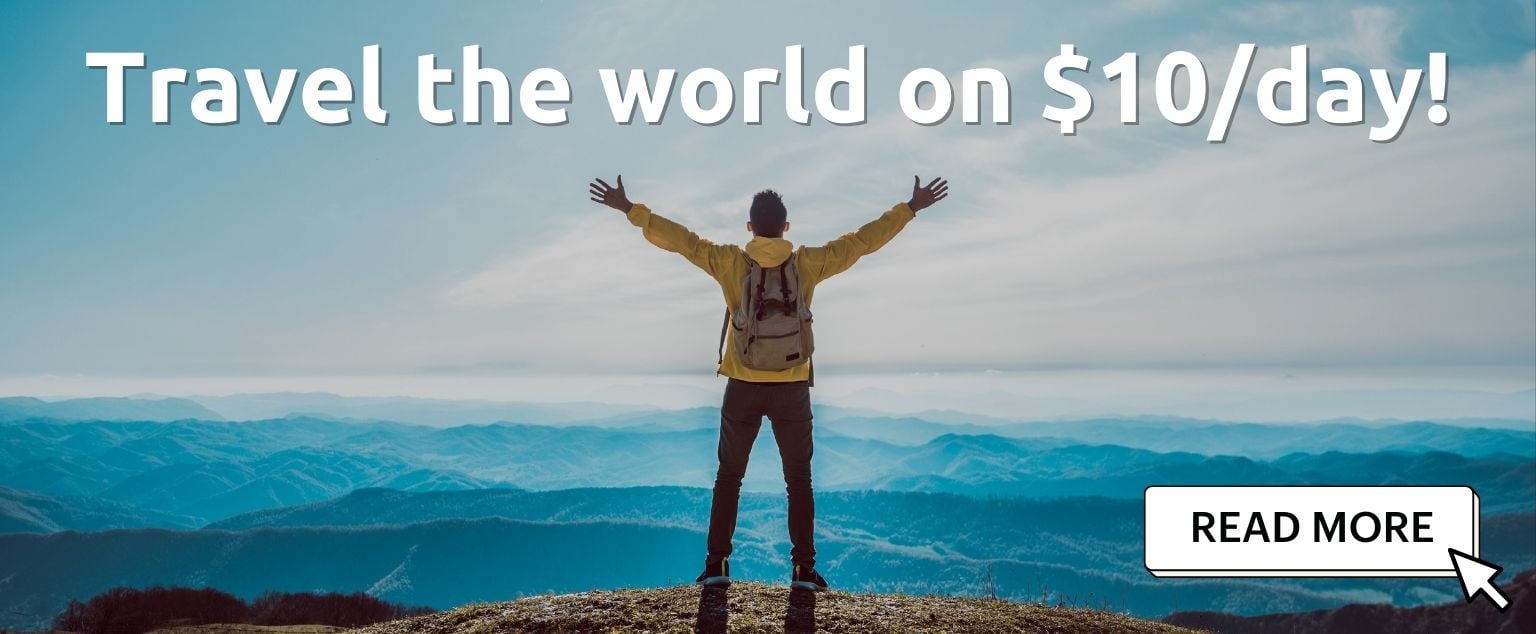 And for transparency's sake, please know that some of the links in our content are affiliate links. That means that if you book your accommodation, buy your gear, or sort your insurance through our link, we earn a small commission (at no extra cost to you). That said, we only link to the gear we trust and never recommend services we don't believe are up to scratch. Again, thank you!