I've been going to London for as long as I can remember. It's a bloody big city and I still feel like I've barely scratched the surface. Even with its charming grey skies and not so charming taxi drivers, this city is truly something to behold.
If you're lucky enough to get to a festival in London, you're in for a shock… and the good kind of shock at that. This big melting pot of cultures certainly throws celebrations to another level. They hold some of the world's most iconic celebrations and it'll set your travel memories alight with joy. 
But believe me, not all festivals are worth visiting. Some of the biggest festivals in London can be extremely overwhelming in an already immense city. So it pays to know just a little bit before you rock up to LDN. 
So I've pieced together a list of some of my favourite festivals in London. Some you'll probably know, but some might be brand new – and they're DEFINITELY worth knowing about! Let's get into it…
Festivals in London
I've had more good times in London than I can shake a stick at: these London festivals send an already renowned bucket list destination to another level. Traveling to London gives you a new perspective of the city and its festive culture.
People from all over come together for Carnival and Wimbledon, while the New Year's Day Parade and Taste of London feel a little more like home. Either way, you're going to love the best festivals in London!
New Year's Day Parade
When: January (dur!)
Where: West End, London
London's New Year's Day Parade takes place in the center of town every year on January 1st. The parade has been held since 1987 and usually attracts around half a million to a million people. And like any New Year's Day, A LOT of Brits will be starting the day with a good ol' new-year-new-me hangover.
All good though, the parade doesn't start until noon giving us chance to nurse a headache. The parade is packed with vibrant floats from London boroughs, cheerleading teams, marching bands, and many more performance groups that showcase the fantastical London diversity.
The parade starts at one of the most popular places to stay in London, Piccadilly, near The Ritz Hotel. It then heads east towards Piccadilly Circus, goes around Eros, and continues south down Regent Street St James's. F
From there, it left turn down Pall Mall, Trafalgar Square, then goes along Whitehall to end at Westminster. The whole thing lasts three hours from the first float starting to the last one finishing.
It features over 10,000 acts, with performers from a range of different countries and cultures. There is also free entertainment on the streets before and during the parade, including music and dance performances.
The London New Year's Day Parade is not only an amazing spectacle of color and noise; it's also a great way to bring people together. Each year, it celebrates the cultural diversity of London and brings different communities together in celebration.
Where to Stay
Stay in Mimi's Hotel near the parade on Regent Street. Grab yourself a good spot on the side of the road to watch all the action.
Pub in The Park
Pub in The Park is the perfect festival to get a small taste of what visiting the entire UK is about. It's the ultimate festival weekend filled with feasting and partying. The festival hosts world-class chefs, award-winning restaurants, and Michelin-star food, along with amazing live music line-ups.
Not only is this a festival, but it's a traveling festival. Tom Kerridge, a Michelin-star chef and judge on 'Great British Menu,' started and hosts Pub in the Park. He wanted to create a place that allows foodies to sample incredible, high-quality food from all over London.
This food and music festival is designed to recreate the friendly atmosphere of a classic British pub in the great outdoors, featuring scrumptious pub-style food and exciting live music. And he's pretty much smashed it: it's become London's biggest food festival!
Along with all the food, booze, and partying, you can also learn a thing or two. The Chef Demo Stage will showcase numerous renowned chefs from across the country, teaching invaluable cooking techniques. Head to The Firepit for the best meat, seafood, and vegetables of your life.
You can also visit the bookshop, where you can buy good books AND meet famous authors. It's an all-around great festival for the best of true London culture.
Where to Stay
For those traveling on a budget, check out the Urbany Hostel. London is not a cheap city, so saving on accommodation can really help! Plus they have great lounge areas to meet other travelers.

Do You Want to Travel FOREVER??
Pop your email in below to get a FREE copy of 'How to Travel the World on $10 a Day!'.
Cross the Tracks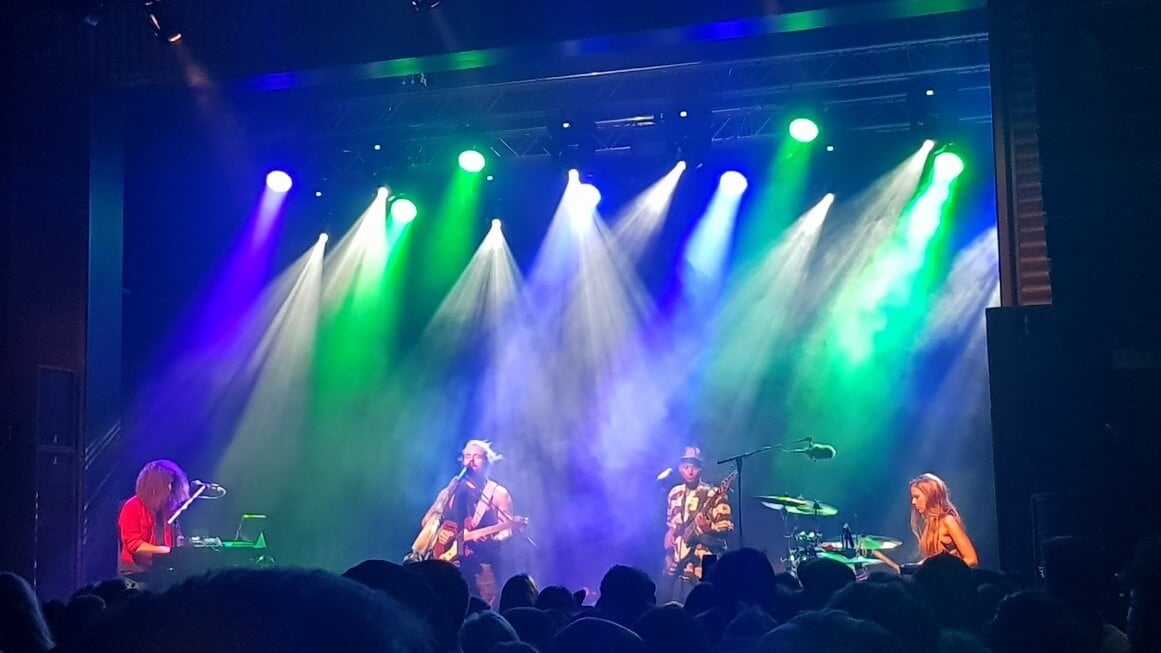 When: May
Where: Brockwell Park
London's #1 Jazz, Funk & Soul Festival is a must-visit! The festival takes place at the iconic Finsbury Park and features a lot of live music, interactive activities, art installations, and more.
Cross The Tracks is a festival that offers more than just music. It celebrates community, culture, family, and history, and provides a welcoming space for all attendees. You can explore a variety of delicious food options from London's top street food vendors and enjoy a refreshing craft beer from local breweries while discovering the latest in jazz, funk, and soul music.
The festival is an exhilarating day filled with various activities at Brockwell Park in South London. Make friends at London's sick hostels, shop for your festival fairy outfit at one of the independent fashion boutiques, attend informative panels and workshops, or get twisted and flit between the seven stages.
One of the coolest things about this festival is that Cross The Tracks is dedicated to supporting local traders, artisans, musicians, charities, and vendors in our community. They aim to promote growth and success by fostering a strong sense of belonging and you can really feel it in the atmosphere. Everyone is supporting everyone else and the spirit of collaboration and positivity is so present.
Weekend passes start at £50 and VIP is £150. This is a great way to get involved in the community and support all the hard work that goes into making something like this possible.
Where to Stay
Splurge a little and stay right across from the park, It has three bedrooms so it's perfect for groups or families!
Wimbledon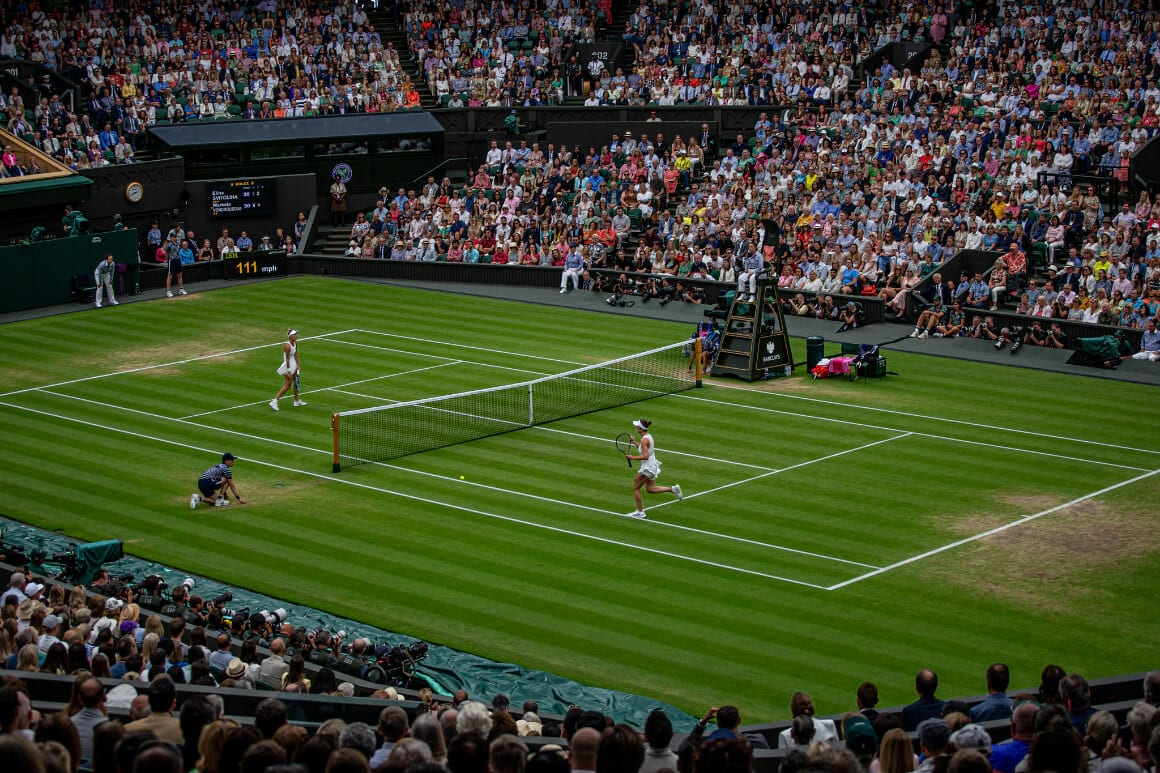 The oldest Tennis Tournament in the world, the Wimbledon Tennis Championship is right-of-passage for some. Even if you don't love the sport, it's seriously amazing to see some of the world's top talent competing in such an iconic event. The Championships have been taking place since 1877, spanning two weeks at the end of June.
Wimbledon is the only one among the four main tennis tournaments called 'Grand Slams' still played on grass. (This is where the name lawn tennis came from.) This makes it unique from the Australian Open and US Open and a clay court in the French Open. The tournament also provides a great atmosphere, this iconic – and typically "London-priced" – strawberries and cream, and even royal appearances.
Every year, Wimbledon serves a staggering amount of food and drinks: with 29,000 bottles of champagne, you've never seen so many pissed posh people. It's the biggest single annual sporting catering operation in Europe and obviously one of London's top attractions.
Talking about excessive – 28,000 kilos of English strawberries and 10,000 liters of cream draw people in for some reason. I'm not sure why: it's much cheaper from the supermarket. Also, Wimbelon requires guests to follow a white or almost all-white dress code, which is apparently fun for boogie people.
Wimbledon is one of London's most popular festivals, attracting more than 500,000 visitors each year and broadcasting to a global audience of millions. Whether you're watching from home or attending in person, Wimbledon is a can't-miss event in London.
Where to Stay
If you want to stay near Wimbledon, you'll want to book asap and prepare to spend a bit of money. Antoinette Hotel Wimbledon is close by and is one of the more moderately priced options.
Taste of London
The Taste of London food festival will take place in Regent's Park for four days from June 16 to 19. Over 40 restaurants and chefs from London participate in this outdoor food festival. It's about filling your bellies and getting some culture under your belt.
Taste of London, which started in 2004, is currently the world's biggest restaurant festival – so yeah, it's pretty epic. Food festivals come and go, but Taste of London makes a mug out of all the others. It features a combination of celebrity and leading chefs, as well as 200 gourmet food and drinks purveyors, artisan producers, and exclusive lifestyle product manufacturers.
It attracts a lot of upscale and knowledgeable foodies who come to explore the latest, most impressive, and exciting local restaurants. It's possible to meet food critics, Michelin-star chefs, and food experts. Watch live demonstrations and workshops on how to cook up the latest trends in food and cooking.
It's a great way to sample some of the best culinary talents from around the world without having to book expensive reservations at a five-star restaurant. And if you're looking to get involved, there are plenty of opportunities to participate in tasting sessions or even head up a stall.
Where to Stay
Meet other travelers and stay in the Selina Hostel. It's in my favourite London town, Camden, and close to the tube so you can get to the festival quick and easy.
Have you sorted your accommodation yet?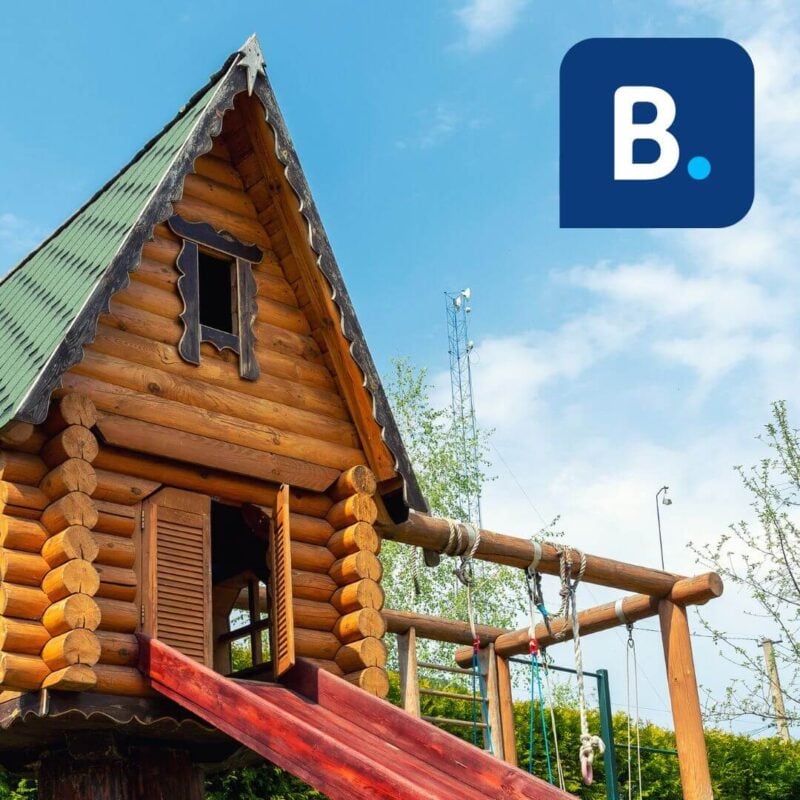 Get 15% OFF when you book through our link — and support the site you love so dearly 😉
Booking.com is quickly becoming our go-to for accommodation. From cheap hostels to stylish homestays and nice hotels, they've got it all!
View on Booking.com
BST Hyde Park
When: July
Where: Hyde Park
BST is when summer really feels like summer in London. This over-the-top music festival now spans over two weekends in London after becoming so popular.
The festival has a line-up of some of the biggest names in the industry. You get all sorts of performers, from pop to rock to hip-hop and more, so there's something for everyone.
BST stands for British Summer Time and it's a great way to soak in the London summer sun. As well as music, there is also food, stalls, activities, and art installations, so you can really make the most of your day.
Hyde Park just screams "sunstroke and mental memories" and every year since 2013, BST has been taking over the area, and this year is no different. The max capacity it can hold is 65,000 and let me tell you – it fills up!
They've had everyone from Adele to P!nk to the Red Hot Chili Peppers. So you know it's gonna be good.
This is one of the UK's top summer festivals. It certainly tops London's music festivals.
When I first got tickets, they had originally sold out but on their Instagram, they released a few extra tickets so keep an eye out there! They usually start around £100 and continue to go up depending on which package you want to buy. Honestly, for the price, it's totally worth it.
Where to Stay
This newly refurbished studio is the perfect place to stay. It's near the tube, it's comfortable, and it's not too expensive!
Notting Hill Carnival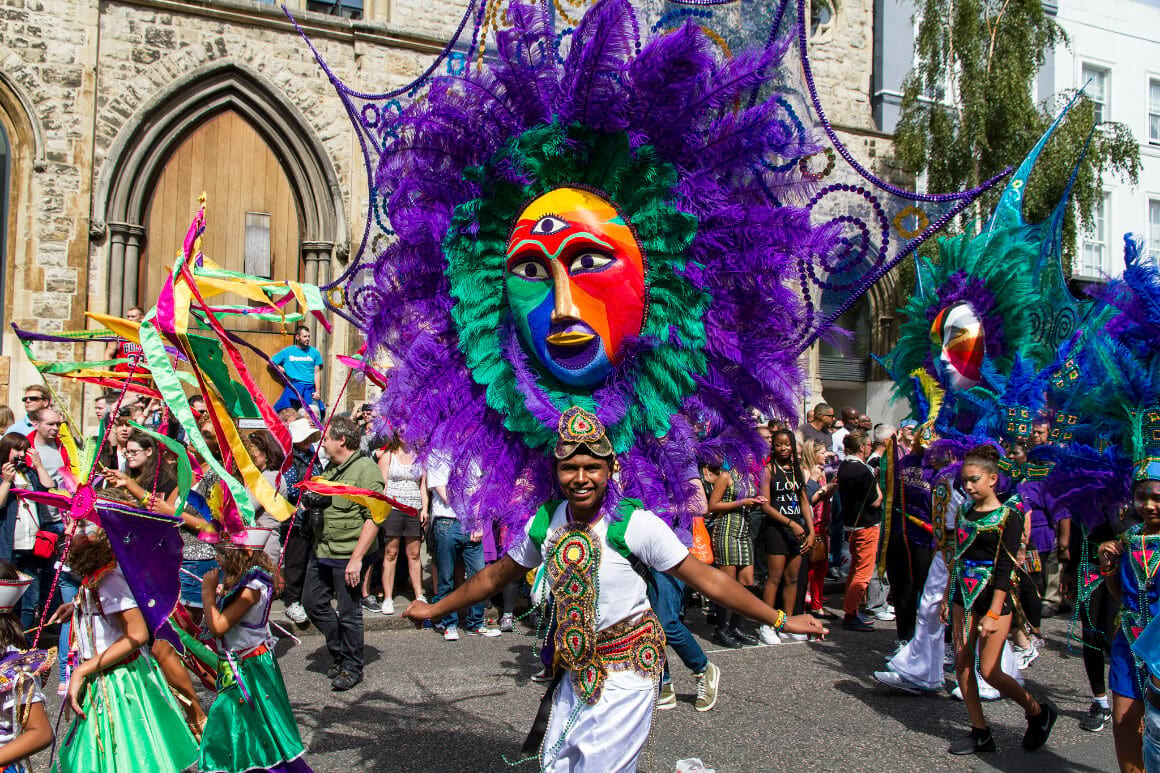 When: August
Where: Notting Hill, London
If you aren't headed to Rio's Carnival, the next best one is going to be the Notting Hill Carnival. Taking over West London every August Bank Holiday, this Caribbean celebration draws in crowds of more than one million each year.
The festival celebrates the Caribbean culture and community spirit in London since the 1960s. It is a huge street party and attracts people from all over. The festival is so big that entire suburbs in one of Europe's busiest cities are closed for it. It's the second biggest carnival in the world and it includes a parade of floats accompanied by steel bands, costumed dancers, DJs, and sound systems.
This parade started as a way for local Afro-Caribbean people to celebrate their culture and traditions. It has been held in Notting Hill ever since, with musical performances by leading Caribbean artists from around the world. The celebratory atmosphere, bright colors, and Caribbean food make this one of London's most iconic festivals.
As you walk through the area, you'll see extravagant outfits, and vibrant dancers, and hear loud reggae music from sound systems throughout the streets. This is the perfect event for those traveling on a budget since it's free to join. Once inside, you'll find various food stalls, bars, multiple big screens showing the carnival, and orchestras parading the streets.
Where to Stay
Stay close to all the action in this charming Victorian hotel, it's near the parade but far enough away that you won't be bothered by the loud music!
Field Day
When: August
Where: Victoria Park
This old-school festival in London will quickly take you back to your days in primary school when you and all your friends could skip class to head to the park to play games. Field Day is a whole-day extravaganza that takes place in London's Victoria Park, with music acts from the local scene as well as some international favorites.
Field Day is a unique outdoor festival that takes place every summer in London. It has been consistently popular, having sold out every year since it started in 2007. This is not surprising considering the impressive list of previous performers such as Pixies, Metronomy, Animal Collective, Disclosure, Patti Smith, FKA Twigs, Savages, Of Montreal, and Run the Jewels.
Along with some of the best electronic music around, you'll get to enjoy the street food, art, and vintage markets that have become a staple of Field Day. The festival also has tons of fun activities that will make you feel like a kid again.
There is an annual village fete called Village Mentality at the festival. Since 2008, it's included all the classics: sack race, tug of war, and egg and spoon race. In 2008, the events ended at 5 pm, earlier than the rest of the festival.
In 2009, the fete was expanded to include the Village Mentality Stage with performances by Mumford & Sons, Toumani Diabaté, and Malcolm Middleton. This was the inception of the fete, and it has continued to be an important part of Field Day ever since and you gotta check it out.
Where to Stay
Shoreditch is a super cool area of London to stay in, close to Victoria Park. Check out Mama Shelter London and you may just be able to hear the music from there.
Is This the Best Daypack EVER???
The Great British Beer Festival
When: August
Where: London
Pubs and London just go together like British people and mildly offensive humor. So you know the Great British Beer Festival has got to be a riot.
All under one roof you'll have access to the best pubs in Britain, Europe, the United States, and more. I promise you, after experiencing the largest live beer selection in the world, you'll never look at your pint glass the same way again.
At the festival, you can try over 100 different beers, ciders, and perries from various breweries. There are both traditional and new flavors available for you to taste, ranging from dark milds to light ales, as well as wine and gin. I'm telling you, it's a lot of liquid!
And what's beer without food? Some of London's best street food will be available at the festival, from gourmet kebabs to vegan hot dogs. So don't forget to bring your appetite!
Where to Stay
Stay in this downtown family ran hotel, and get a true sense of being in London.
London Jazz Festival
When: November
Where: London
The EFG London Jazz Festival is a large music festival that happens every November in London. It features a mix of talented musicians from around the globe and does an incredible job showcasing both established and up-and-coming artists. The festival is known for bringing jazz music to a large audience and is considered to be one of the UK's most important music events.
In 1992, the live international music producers known as Serious started the jazz festival. The festival was a result of the Camden Jazz Week that was created in 1970. It had received support from the London Arts Board, now known as Arts Council England, London. Serious had been producing the Camden Jazz Week for several years and brought about the transformation to create the festival.
The London Jazz Festival started incorporating a blend of British and global artists while prioritizing educational events. Despite its growth, the festival still upholds its original goals of honoring jazz's role in the city's cultural diversity. Multiple venues throughout London host jazz performances consistently throughout the year.
During November, for 10 days, the EFG London Jazz Festival takes over the city with world-class performances. Big names such as Herbie Hancock, Macy Gray, and Gregory Porter appear alongside creative projects like music workshops and educational sessions. If you're a jazz fan, this is a must-attend event!
Where to Stay
The Hayden Pub and Rooms is perfect for solo travelers or a couple that wants to get out and explore all that London has to offer.
Don't Forget Insurance!
Granted, I love a party that gets a little crazy. But traveling without good travel insurance is not the good kind of crazy.
ALWAYS sort out your backpacker insurance before your trip. There's plenty to choose from in that department, but a good place to start is Safety Wing.
They offer month-to-month payments, no lock-in contracts, and require absolutely no itineraries: that's the exact kind of insurance long-term travellers and digital nomads need.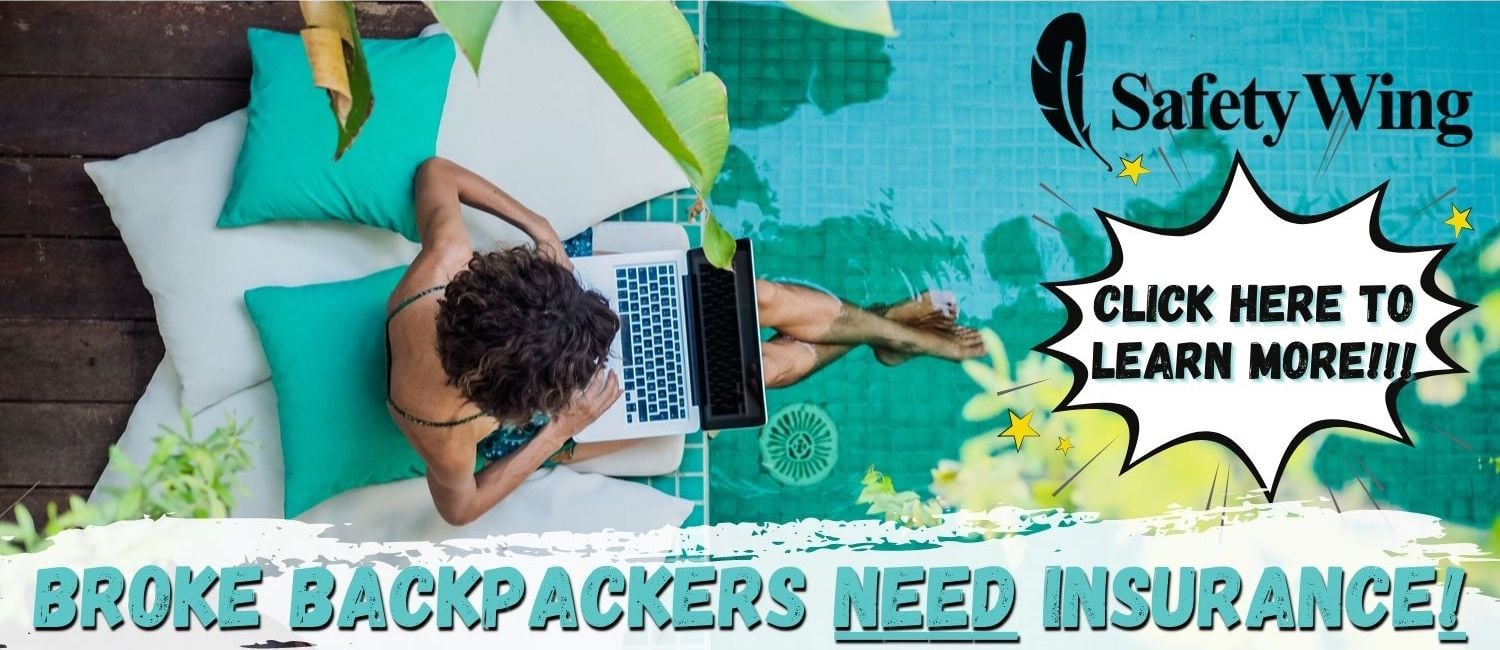 SafetyWing is cheap, easy, and admin-free: just sign up lickety-split so you can get back to it!
Click the button below to learn more about SafetyWing's setup or read our insider review for the full tasty scoop.
Final Thoughts
There is a reason London is one of the most popular places in the world. I mean, there is so much to see, like Buckingham Palace, the London Eye, and the Tower of London. But after you see all of those things, you gotta get out and get the culture of the UK.
And what better way to do that than to attend one of the amazing festivals in London? Whether you like music, art, or food, there's something for everyone here in this great city. And I just know that it will keep calling you back time after time, like me.
But, despite all of these lovely London festivals, there is simply one that is a true can't-miss. And that's Notting Hill Carnival. This is a great way to experience and appreciate the diversity of London, while also having an absolute blast in one of the most vibrant cities in the world.
---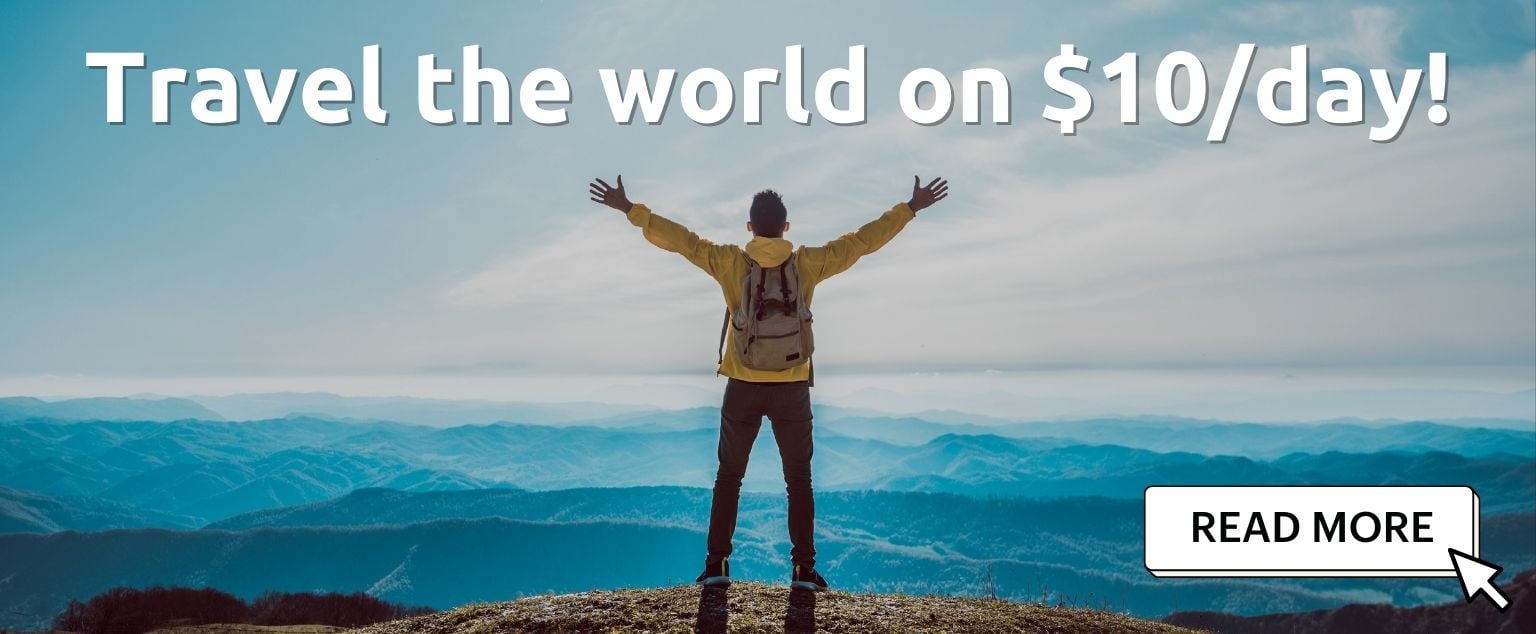 And for transparency's sake, please know that some of the links in our content are affiliate links. That means that if you book your accommodation, buy your gear, or sort your insurance through our link, we earn a small commission (at no extra cost to you). That said, we only link to the gear we trust and never recommend services we don't believe are up to scratch. Again, thank you!