London is a giant among global cities. With a history dating back thousands of years, the UK capital is awash with landmarks that point back to its illustrious past. Roman walls squat below skyscrapers, Victorian buildings host contemporary coffee shops — it's a marvellous mash of past & present.
But taking a trip to this exciting city can really break the bank. It's definitely not a cheap place to live — nor visit, for that matter. Accommodation ain't cheap, and the food and attractions really add up.
But if you spend your money wisely, though, you can easily visit London on a budget. All it takes is a little insider knowledge!
And that's where we come in. Our guide to keeping costs low in London is your one-stop-shop for the best ways to experience this incredible city in the most affordable way. Accommodation, wallet-friendly rides, cheap eats, and more…
We're here to show you how to make your money go further.
The cost of your London trip will depend on a bunch of different factors. We're talking flights, food, activities and attractions, accommodation, transportation within the city, alcohol… you know how it goes.
It really can be all too much to think about, but don't you worry — our guide will be digging down into the details, making life easier for you (and your wallet).
All of the costs for London that we list in this post are estimates and are subject to change. Prices are listed in US Dollars (USD).
London uses the pound (GBP). As of March 2021, the exchange rate is 1 USD = 0.72 GBP.
To keep things simple, we've summarized your expenses for a general, three-day trip to London in this handy table below:
3 Days in London Travel Costs
ESTIMATED EXPENSE: $150 – $2170 USD for a roundtrip ticket.
Flights to any destination in the world can vary depending on the time of year — and sometimes the differences are mind-boggling. The best time to fly to London, in general, is from February-March (which is also when the weather starts getting nicer). Summer is bound to see an increase in prices.
London has two main airports: Gatwick and Heathrow. There's also Luton and Stansted, but these are less important in terms of international travel.
If you're wondering about how much it costs to fly into London, just cast your eyes on our quick breakdown below:
New York to London Heathrow Airport: 452 – 1230 USD
LA to London Heathrow Airport: 629 – 1305 USD
Sydney to London Heathrow Airport: 1,096 – 1804 AUD
Vancouver to London Heathrow Airport: 715 – 1060 CAD
Generally, flying to London is expensive. Depending on the time of year, though, you can find some pretty sweet deals. Be sure to check out sites like Skyscanner, where you can easily sift through the cheapest options.
Connecting flights is one way to keep things budget-friendly – that is, if you don't mind a flight lasting double the time it should take.
Keep an eye on budget airlines like EasyJet, Wizz Air, and Ryanair. All of these carriers regularly offer special deals and tickets to London can be found for as low as $25! Depending on where you're flying from, obvs.
ESTIMATED EXPENSE: $30 – $110 USD per night
London travel costs can really rack up if you don't make the right accommodation choices. A place to crash isn't usually cheap in the city, but you can still manage to stay in London on a budget.
It all depends on what type of accommodation you go for — in London, there's a whole lot of everything on offer. Hotels are generally at the high-end of the spectrum, while hostels (and some Airbnbs) are more likely to cater to the budget-conscious.
With that in mind, let's look at the city's accommodation options and see how you can keep your travel costs in London as low as possible.
Hostels in London
The cheapest way to travel to London is to stay in hostels. Backpackers have dipped in and out of the British capital for decades, and the sheer number of hostels around is a testament to that.
Gone are the days of grotty digs — London's hostels are pretty sweet these days, some even award-winning, and a night here will average around $30 USD for a bunk.
Being generally sociable places, they're great for solo travellers and groups of friends, but if you prefer privacy, then you can opt for private rooms (naturally, these cost more).
Here are a few of the best hostels in London to pique your interest:
Clink78 – Based inside a 200-year-old courthouse (where Charles Dickens used to work), this funky hostel has modern, spacious interiors and a cracking social scene. The on-site bar is particularly noteworthy.
Astor Hyde Park – Just a stone's throw from Hyde Park itself, Astor is a swish hostel with great features. But staying in this posh pad still won't break the bank. Rooms are modern, clean, and comfortable.
Wombats City Hostel London – If you're a first-timer to hostels, Wombats may be a good place to start. They've got hostels all over the world — and over 20 years of hostel life! Their London branch is set in a former seamen's hostel (which is really cool), and it's got a great social vibe.
Airbnbs in London
Like many big cities, London is filled to the brim with Airbnbs. They can help you travel (relatively) cheaply, but they ultimately give you the feeling of actually living in the places you travel to. Prices fluctuate, but on average, an Airbnb in London will cost you around $80 per night.
Airbnbs come with plenty of goodies: privacy, your own space, a kitchen to help keep costs low, and having a place to call your own. And they've often got cool interiors, which is always appreciated.
In our humble opinion, these are some of the best Airbnbs in London:
Studio in Central London – This bright, compact studio is situated in West Kensington, leaving you close to a whole bunch of museums and galleries. The interiors are modern, and there's a fully-equipped kitchen to rustle up meals too.
Room in Modern East London Apartment – Located in hipster-friendly East London, this warm, cosy flat gives an authentic British B&B vibe, with hosts providing breakfast and communal living spaces.
Bright Room on Portobello Road – This room in a family home overlooks Portobello Road, you might've heard of its market. The room boasts a comfy double bed and vintage-inspired interiors.
Hotels in London
Is London expensive when it comes to hotels? You bet. There are some seriously fancy hotels here! Even the most affordable options start at around $100 a night — not exactly budget-friendly, but you can go halfsies on it if you're sharing.
If you're dead-set on a hotel, you'll already know the benefits. Tons of amenities at your fingertips, maybe a pool, gym, sometimes a free breakfast. The housekeeping & concierge service, you know it.
Here are a few of London's best budget hotels to help you travel to London in style, but affordably too:
citizenM London Shoreditch – This funky hotel in trendy Shoreditch is a stroll away from sights like Brick Lane and Spitalfields Market. It's clean and contemporary, with colourful guest lounges and an onsite restaurant and bar.
Euston Square Hotel –Situated in Camden, this is a polished hotel with a glitzy lobby and swish guest rooms to boot. It's comfortable, the staff is friendly, and overall a great value for your money.
Crestfield Hotel – Now we're talkin' budget! The whole place is still clean and modern. Rooms are compact but are equipped with bathrooms still. The location is great — just a quick walk away from King's Cross and St. Pancras International Station.
ESTIMATED EXPENSE: $0 – $22 USD per day
London is fairly vast, so the cost of a trip can add up if you're using public transport all the time. Mostly, you'll be using the London Underground (or the tube), the Overground or buses. If you're staying further out, fares will be higher to get in and out of Central London.
If you're in town for at least three days, get an Oyster Card. You can use contactless payment if your bank allows, but transaction fees may fuck you over. You can also buy single cards for a day, and make them custom per zone you're travelling to (or to all of them).
There's also a Visitor Oyster Card, which can be delivered to your home address before your flight. It works the same as an Oyster but comes with extra perks.
For now, let's dive into the nitty-gritty of just how much these things will cost you.
Riding the Subway in London
London boasts the oldest underground system in the world. It's a comprehensive network of multiple lines and hundreds of stops.
Overall, the London Underground is the best way to travel around the city. They usually run on time, and some routes even run 24 hours a day (delays aren't uncommon though).
Fares are calculated per journey, per zone, and per time of day. For example, during peak time, a journey in Zone 1 will cost you around $3.30 with an Oyster, whereas the cash fare would be closer to $7.
The other benefit to an Oyster card is that you'll be treated to daily caps on how much you'll be charged. That means, no matter how many trips you make within 24 hours in Zones 1-6 you'll be capped at a certain price. See the break-down below:
Zone 1-2: $9.88
Zone 1-3: $11.66
Zone 1-4: $14.27
Zone 1-5: $16.87
Zone 1-6: $18.11
In London for a week? Then the 7-day Travelcard could be the cheapest option. At around $90, you get unlimited travel on all of London's public transport.
Bus Travel in London
Ah, London's iconic red, double-decker buses. These are more than iconic; they're super convenient, too, and take you where all the railway lines don't. They connect the remaining dots.
Note: London's buses are cashless, accepting either Oyster / contactless payment or a previously purchased Travelcard. Tickets are not issued on buses themselves.
Another great way to save money on London buses is the "Hopper Fare". You get unlimited journeys on buses within one hour of tapping in on your first journey (if you're rocking Oyster/contactless). Buses are free for children under the age of 11 and wheelchair users.
A great hack for London's buses is using them to sightsee. Tour buses are expensive, so why not just jump on the top deck of a regular bus and be treated to the same sights? Routes 9, 14, 15, 22, and 26 swing by some particularly remarkable London landmarks.
The journeys themselves are a bargain, as you can see below:
Pay as you go: $2.06
Daily cap: $6.17
Weekly cap (Monday to Sunday): $29.08
Renting a Scooter or Bicycle in London
We wouldn't vouch for any sort of driving in London — unless we're talking bikes. Pedal power is much advisable, and, in recent years, London has become very cycle-friendly.
Biking around can help keep the cost of travel in London very low indeed! And not only that, but it's great to explore the city through its various cycling routes.
If you don't want to get your own bike, London's Santander Cycles — aka "Boris Bikes" — will do just fine. There are over 11,000 of them across 750 docking stations, making it easy to get around the city. You can use the Santander Cycles app to search for docking stations and routes.
The access fee is around $2.75 (Oyster/contactless payment). The first half-hour is free, with every additional 30 minutes adding another $2.75. But, my fellow cheap bastard, if you dock your bikes before the time is up and grab another one after it… the whole day will come out at just $2.75 (the access fee). That's very cheap!
Don't want to go through all that? Plenty of companies rent out mountain bikes or hybrid electric bikes, which may just make your life easier.
ESTIMATED EXPENSE: $25-$50 USD per day
Is London expensive if I wanna eat out? Well, it depends.
Eateries range from Michelin-starred restaurants all the way to budget bites at local joints. It's not greatly affordable to eat out all the time, but if you do like eating out — a little research can take you a long way.
British food may not have the best reputation, but there are still things you should try! Here are some of our favourites:
Pub roast – The ultimate comfort food in pubs. It's a dish of roasted potatoes, loads of vegetables, and various meats and gravy. Prices run from $20 to $27 and you've got veggie/vegan versions, too.
Pie and mash – Forget fish n' chips, the quintessential London dish has always been pie and mash. Best picked up in its spiritual home, East London (try eel pie if they've got it). Costs between $7 and $13.
Curry – It's the catch-all term in the UK for Indian, Bangladeshi and Pakistani cuisine. Brick Lane is particularly dense with curry joints. Prices fall between $11 and $24.
A few things you can do to take your money further are:
Looking for coupons and midweek bargains – Many of the UK's chain restaurants will give you money-off meals; Pizza Express is just one.
Discover the Meal Deal – The holy grail of eating on a budget in London. Supermarkets like Sainsbury's and Tesco offer a "Meal Deal", on which you get a sandwich, drink, and chips (or the like) for as low as $4.
Cook a meal at home – If you're staying in a hostel or Airbnb with a kitchen, the most cost-effective way to eat in London is to make your own food. Not as exciting, but definitely budget-friendly.
Where to Eat Cheaply in London
Eating out can greatly increase the cost of a trip to London, but there are still cheap eats to be had. And we know a few!
Kebab Shops – They provide veritable feasts for relatively low costs. These usually Turkish-owned establishments serve kebabs in pita bread with salad and a side of fries for as low as $6.
Chain Pubs – Wetherspoons is one of them. Usually, each day of the week corresponds to a different food deal. A curry for $6, for example, or the classic "beer and burger" for around the same price.
Greasy spoon cafes – There's a distinction between continental-style cafes and the traditional greasy spoon cafe (pronounced "kaff"). These local joints serve super affordable English breakfasts, bacon sandwiches, etc. throughout the day.
If you really need to save, though, you should cook a few meals yourself. Getting the best bargains can be tricky when you're new to London, so here are a couple of supermarkets to check out:
Aldi – Aldi is a European chain of supermarkets that's known for being many times cheaper than its competitors. The choice may not be as abundant, but on average you pay way less for way more.
Sainsbury's – This has a good range of affordable basics and slightly more splurge products on offer. They can be found everywhere.
ESTIMATED EXPENSE: $0-$35 USD per day
London is no stranger to alcohol. This city is strewn with bars, pubs and nightclubs where locals let their hair down and have a couple of drinks. Or 15 of them, but either way…
Pubs are a staple of London life and should not be avoided. The average price of a pint in London is around $7, but can be as low as $5.50 depending on the brand of beer. It also depends on the area — Camden, for example, usually has lower booze prices when compared to Covent Garden.
Keep an eye out for happy hours. Usually, cocktails cost $11-$14 on average, but two-for-one happy hour cocktails make everything better. These usually run in the week between 5 and 7 p.m.
Wondering what the cheapest tipples are? See below:
Cider – Well known throughout the UK for being a great way to get the party started. It's usually quite high percentage in terms of ABV, sold at most pubs, and pretty affordable. If you like sweet drinks, you'll love cider.
Beer – The staple of the UK drinking scene, beer is everywhere and in many, many forms. The cheapest pint of beer you'll find is an IPA or session ale on tap at one of London's chain pubs.
So, is London expensive for drinking? Kind of, but it really depends on how much you drink, where you drink and what time of day you're doing it (we're looking at you, day drinkers).
Chain pubs are a great budget-friendly way to drink in London. Besides Wetherspoons, you've got a popular local chain called Samuel Smiths where you can get a pint of their very own Taddy Lager for about $4.50.
ESTIMATED EXPENSE: $0-$50 USD per day
London is famed for its iconic sights and attractions, from landmark icons such as Big Ben and the Houses of Parliament to days out at places like Hyde Park or Primrose Hill. There's something for everyone here!
There's even more leftfield stuff like joining a tour of Jack the Ripper-era London or climbing atop the O2 Arena for some awesome city views.
There are also plenty of iconic day trips one can take. Hampton Court, the former home of King Henry VIII, is just a 40-minute train ride from Waterloo. Windsor Castle is only an hour on the train as well!
But the thing is: tickets are not cheap. A visit to the Tower of London can cost you $34, a glimpse inside St. Paul's Cathedral will set you back $27 and a ticket for a trip up The Shard is priced at $47.
Here are a few insider tips to help keep costs low:
Make the most of London's free attractions. There are a surprising number of these: the Natural History Museum, the Science Museum, the Tate Modern… in fact, all national museums in the UK are free! Even the Sky Garden observation deck is free, you just have to book it in advance.
Take yourself on a free walking tour. Whether you join a walking tour from your hostel, follow a walking tour you find online or in a guidebook, a stroll around historic London is always rewarding.
The London Pass offers free entry to over 80 attractions. That includes The Shard, The Tower of London and a hop-on, hop-off bus tour. It's pricey, but really worth it if you plan to visit a bunch of places.
Let's keep it real, a trip is always an unexpected endeavour. You never know what your additional expenses might be!
No matter how much you plan, you could end up spending money shopping for snazzy souvenirs, paying a fine or for luggage storage. Any spur of the moment purchase or unforeseen cost could leave you in the red if you don't set some of your budget aside for the unexpected.
Keep around 10% of your budget for things like this. Most likely, you'll be using it to buy souvenirs or gifts for folks back home. There are plenty of unique things to buy in London, just steer clear of the obvious tourist kiosks which will charge an arm and a leg for a fridge magnet.
If you're considering a move to the city, take a look at our cost of living in London post!
Tipping in London
Like everywhere in the UK, there are no set rules for tipping in London. But being a capital city with an international population, tipping is still practised.
Unlike drinking dens in the US, you don't tip in pubs. That doesn't happen, and it would be strange if you did so. If you do want to show appreciation, offer to buy the bar staff a drink.
Cafes, especially independent ones, may have tip jars on the counter. While it's not expected that you leave anything, if you're from a tipping culture and can't help yourself — or if you've had particularly good service — feel free to drop a couple of pounds into the jar.
There's no set rule to tipping in taxis, but it's seen as polite to round up – say if your ride costs £8.56, leaving a £10 note and saying "keep the change" is the norm.
A 10-15% service charge is often added to the bill at restaurants. This is optional, but it may be better for the waitstaff to opt out of the service charge and leave them the cash tip directly. At hotels, it's common to tip porters — especially at more high-end accommodation.
Get Travel Insurance for London
World Nomads' mission is to support and encourage travellers to explore their boundaries. They offer simple & flexible travel insurance, and safety advice to help you travel confidently.
They've been doing it since 2002 – protecting, connecting, and inspiring independent travellers just like you.
Get a quote below or read our in-depth review!
World Nomads provides travel insurance for travelers in over 100 countries. As an affiliate, we receive a fee when you get a quote from World Nomads using this link. We do not represent World Nomads. This is information only and not a recommendation to buy travel insurance.
If you think you've completely nailed the cost of a trip to London, think again. Shave off some extra dollars with these extra budget tips:
Get around on foot: Take yourself on strolls and wander around London's historic districts. It's the best way to take everything in — and it's free!
Head to the city parks: One of the best things to do in London for free is simply rocking up at a London park on a sunny day. Save some extra cash by eating your own lunch there! Airbnbs & hostel kitchens help.
Keep away from the busy sights: Any eatery or shop close to an attraction is going to have ridiculous prices. Walk further out to find more affordable and unique spots.
Give Couchsurfing a try: Couchsurfing gives you the chance to stay with a local for free. Plus, a like-minded local can show you around like no one else!
Look for discounts: Money off deals can be found at plenty of websites online. Check Days Out Guide and Discount London for a start.
Travel on the riverboats: Avoid the tourist boats and hop on a TFL riverboat instead. Chug up and down the Thames for a snip of the cost!
Pack a water bottle: Stop killing your wallet and the planet with plastic water bottles; carry your own and refill it on the way. A filtered one like the GRAYL will kill 99% of viruses and bacteria!
Become a volunteer with Worldpackers: Give back to the local community and, in exchange, your room & food will be covered. It's not always free, but it's still a cheap way to travel in London.
While London is expensive, it's most definitely doable on a budget.
Be smart with your money and you'll get to experience the best London at a fraction of the costs:
Stay in hostels: Hands-down the cheapest way to stay in London. Not only cheap, but also fun and social — you may even end up exploring the city with some new travel buddies.
Eat where the locals eat: Do as the Londoners do and opt for popular places off the tourist trail, down-to-earth chain eateries and cafes.
Travel by bus and bike: Buses offer the best value for money when it comes to long-distance journeys. Combine that with a good ol' Boris Bike, and you'll be zipping around for less than $10 per day.
Don't visit in peak season: The summer might have the best weather but it also means prices are at their peak too. Visit during spring or September — when the weather is still fine and prices are lowlow.
Plan ahead: If you know the rough dates and time of year you want to travel, book it asap — your wallet will thank you.
As an average daily budget for London, we think you can easily enjoy a trip to London for around $100 – $150 per day. And even less if you're a true backpacking warrior!
Ensure you're adequately prepared by preppin' your London packing list in advance. It can save you from buying unnecessary shit on arrival!
---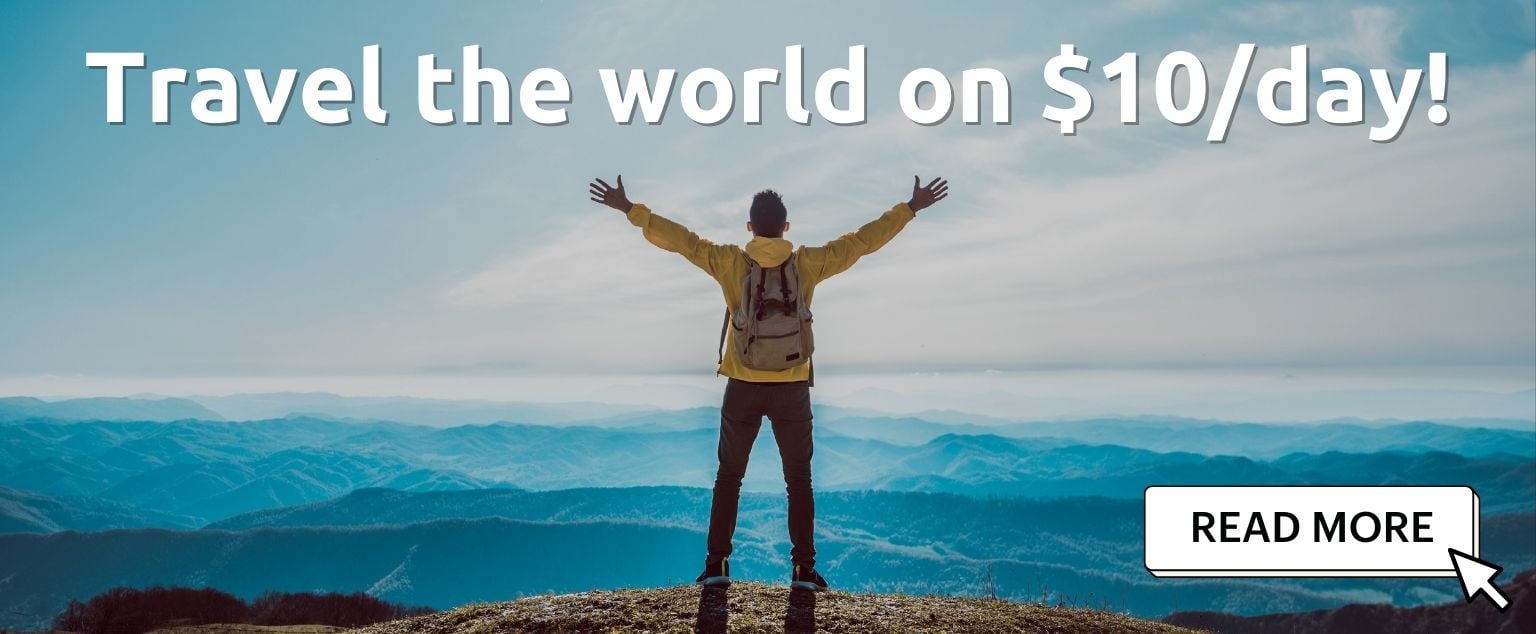 And for transparency's sake, please know that some of the links in our content are affiliate links. That means that if you book your accommodation, buy your gear, or sort your insurance through our link, we earn a small commission (at no extra cost to you). That said, we only link to the gear we trust and never recommend services we don't believe are up to scratch. Again, thank you!