London is a vibrant and dynamic city, filled with history, culture… and Wetherspoons pubs. Despite terrible weather, London is one of the most popular tourist destinations in the world.
From world-class museums and iconic landmarks to bustling shopping districts and a thriving food scene, London has something for everyone. Whether you're a first-time visitor or a seasoned traveller, this city has endless experiences.
The big question is, which are the best hotels in London to stay in? London is huge and expensive, so choosing the right hotel will change everything during your time in the big city.
Different neighbourhoods and hotels all have their own distinct characters. Some areas, like Kensington, are straight out of a Jane Austen novel.
While other suburbs, like Soho and Covent Garden, are more contemporary and vibrant. For those looking for a more gritty and bohemian experience, Shoreditch (AKA hipster central) is your go-to. These top hotels in London are all in fantastic areas.
Let's get the ball rolling, to understand what you need from your accommodation before you arrive and splash the cash on the buffet breakfast. All these hotels have easy access to public transport and a unique and authentic stay. We'll dive into hotels I found myself continuously returning to when I need a London getaway.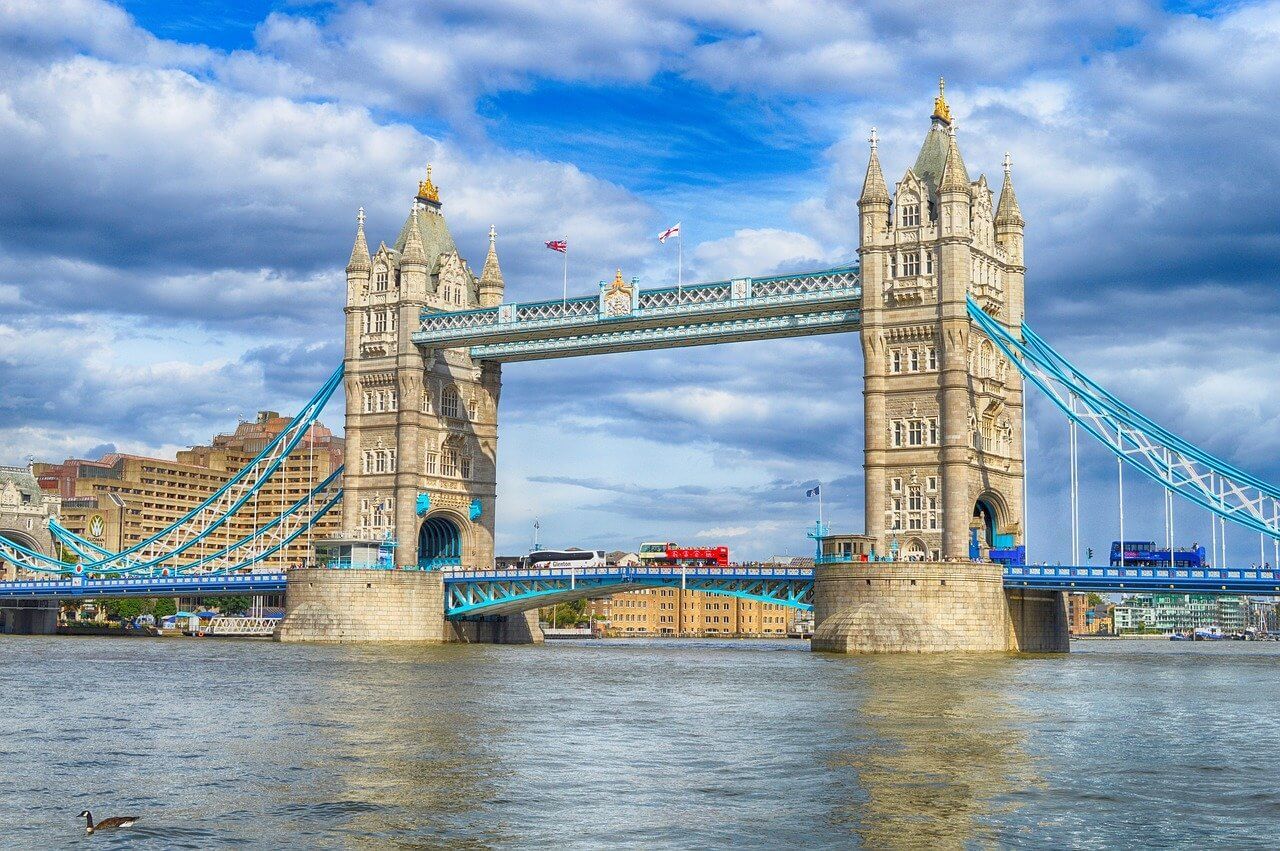 Selection Criteria
Just like finding the best English Breakfast in town, it is important to do your research in order to find what hotel will fulfil your travel priorities.
Location – THE MOST IMPORTANT FACTOR when choosing a hotel when visiting London. Use this list to find the neighbourhood which suits you. For example, those with families will probably not appreciate the street music and nightclubs in Shoreditch as much as my Nightowl 20-year-old backpackers.
Customer reviews and ratings – Hotels have nowhere to hide thanks to the transparency of the internet. Use rating profiles on Booking.com in order to see whether previous customers have had positive or negative experiences. Our bar at The Broke Backpacker is pretty high: nothing but the best for my readers. <3
Amenities and services – While we would all love an indoor pool and sauna, some of us are happy with a working air-conditioner (if it means saving some dollars for more fish and chips). This list of the best hotels in London has a wide range of amenities and services, which will suit all travellers.
Price range – This list has a wide spectrum of hotels, from budget to luxury. For my broke backpackers, there are some great value economical hotels to choose from, while my not-so-broke travellers also have some great options to choose from. I've even added some cheeky 5-star luxury choices just in case some of you win the lottery.
Unique features or experiences – There is no point flying halfway around the world just to find yourself in a nondescript hotel room. The hotels on this list have unique British features, allowing you to experience a bit of history in close proximity to key London landmarks.
Now you have your selection criteria, let's start with one of the most well-known neighbourhoods in the city…

Unlock Our GREATEST Travel Secrets!
Sign up for our newsletter and get the best travel tips delivered right to your inbox.
South Bank
Located along the River Thames, South Bank is home to many of London's top attractions and it's the best place to stay for tourism. Here you'll find the London Eye, the Tate Modern, and the National Theatre. South Bank is very kid-friendly (including big kids!), with Southbank Centre and London Dungeon within easy walking distance.
Check out the Southbank Centre Food Market on weekends, and stroll around the River Thames (when the weather permits) to see some of London's most iconic landmarks up close. Some of the nicest hotels in London can be found in this animated sector of the city's historic centre. So you have plenty of great options to choose from.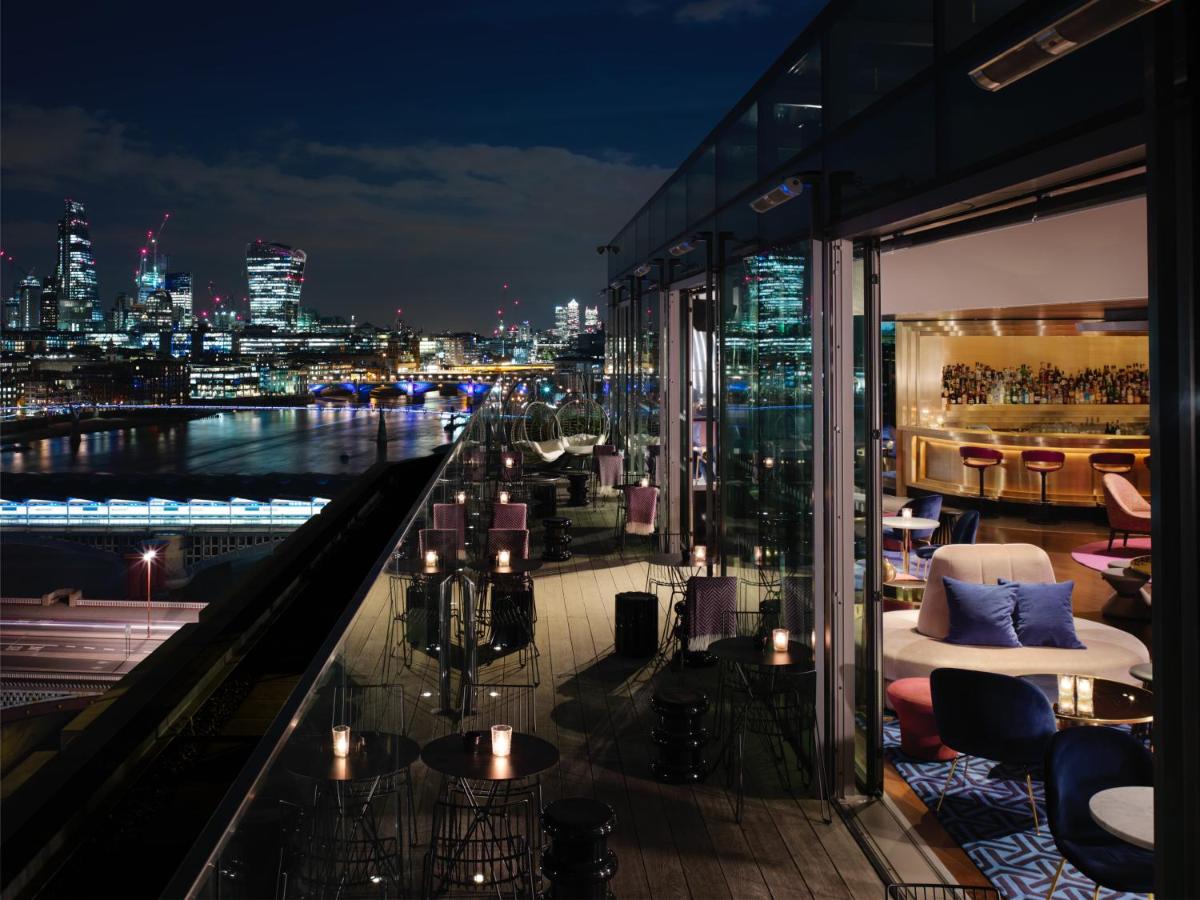 Designed to be a throwback to a 1920s transatlantic cruise liner, Sea Containers London is a clean, polished, and chic hotel. This hotel has some of the best views of the city, with a stunning rooftop bar which overlooks the River Thames and city skyline. Enjoy their restaurant, spa treatments, and 24-hour gym in between your London tourist itinerary.
If you are a little shy about working out in public, Sea Containers London has you covered with the Ship Shape Suite offering a fully equipped exercise area (you have to give it to their marketing team with that fantastic pun too).
Looking for a hotel with the best views of Big Ben? Park Plaza Westminster Bridge London is located right opposite the Houses of Parliament and Big Ben.
Staying here will put you less than a five-minute walk from major attractions such as the London Eye and theatres. You will also be next to the Westminster and Waterloo tube stations when you are ready to explore the rest of the city.
Like most hotels in London, Park Plaza Westminster Bridge London does a ripper high tea. However, the Park Plaza Westminster Bridge London also offers a range of different culinary delights, including a Sushi and sashimi restaurant, an award-winning Brasserie, a patisserie with all-day tapas and the Primo Bar offering live entertainment every night.
Once you have loaded up your plates and appreciated Big Ben in all its glory, enjoy a fully equipped 24-hour gym, 15m swimming pool, and sauna room to relax after a long day.
Covent Garden
Covent Garden has a vibrant street atmosphere, full of street performers, great shopping and diverse dining options. Check out the famous Covent Garden Market, see endlessness in the Infinity Chamber, and catch one of the free lunchtime recitals at the Royal Opera House.
Another hidden treasure in Covent Garden is the London Transport Museum (stay with me on this). I know, I had my doubts. But it turned out to be one of my favourite excursions in the city, leading you through the evolution of London's famous double-decker buses.
Dating all the way back to 1759, the Kings Arms is exactly what you imagine a traditional British pub to be. When looking for the best boutique hotels in London, the Kings Arms is relatively cheap for London considering it is in one of the best locations.
The downside of this is you will need to book in advance, as there are only five bedrooms to choose from. Each bedroom is uniquely decorated, from copper baths to four poster bed-frames, and all come with Nespresso machines and smart TVs for when you need a bit of R&R. Once you are ready to venture out, the historic cellar bar, The Undercroft, is a beautiful setting for a candlelit cocktail.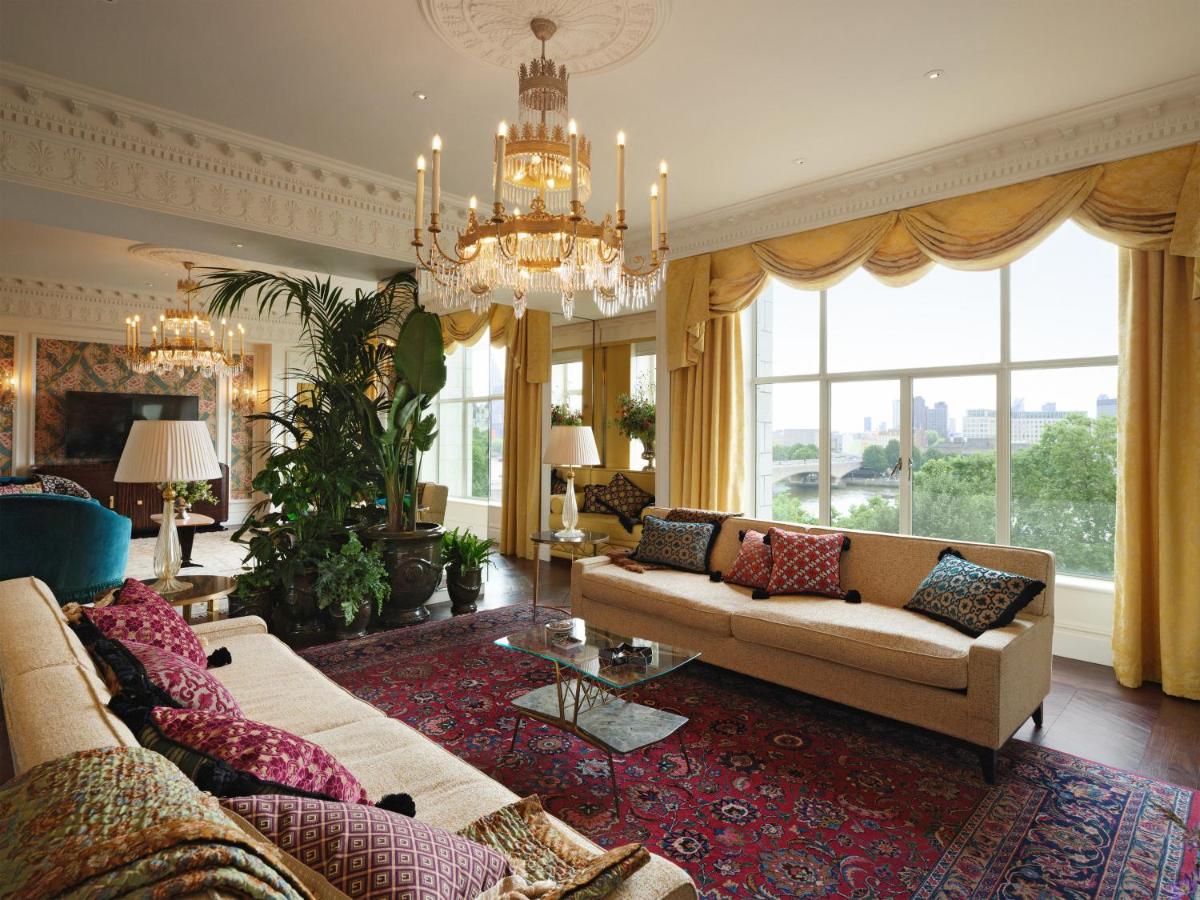 Yep, we need to talk about that old, glitzy London glamour. The Savoy's reputation precedes it.
Opened in 1889, the Savoy is decadent and treats its clients like royalty, enabling to you be a part of history with a guest list which includes the likes of Frank Sinatra and Katherine Hepburn. In fact, Guccio Gucci himself used to work as a luggage porter at the Savoy before he founded his company. To celebrate this history, Gucci and Savoy collaborated to design the Savoy's Royal Suite.
Situated just five minutes from the British Museum and Royal Opera House, you will be in the perfect location to explore the city. After a long day, enjoy the two gyms and beauty treatments, or sit down at the black and gold Beaufort Bar, boasting a DJ from Thursday to Saturday.
While the Savoy was sadly outside of my budget, I still wanted to explore what is one of the best historic hotels in London. Luckily, I discovered that gift vouchers for a high tea at the Savoy are a great birthday present. So us broke backpackers get a taste of the high life.
Small Pack Problems? 😉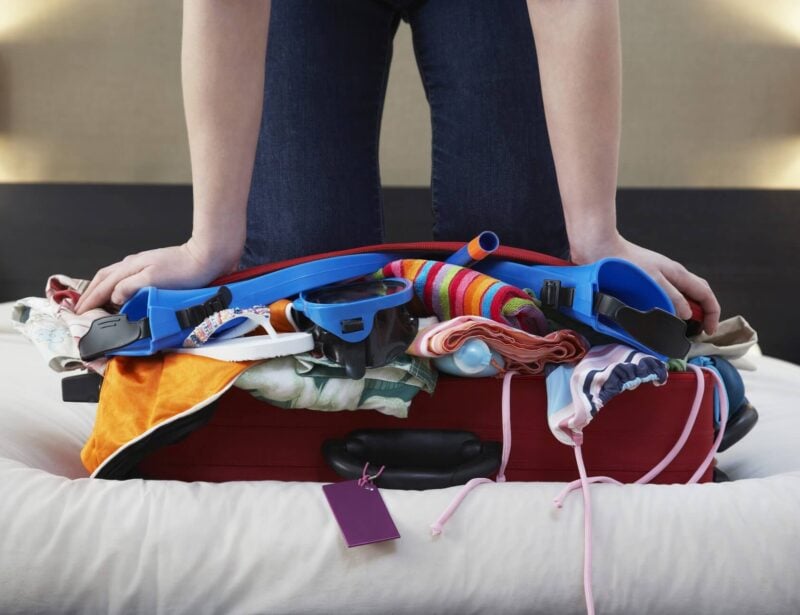 Wanna know how to pack like a pro? Well for a start you need the right gear….
These are packing cubes for the globetrotters and compression sacks for the real adventurers – these babies are a traveller's best kept secret. They organise yo' packing and minimise volume too so you can pack MORE.
Or, y'know… you can stick to just chucking it all in your backpack…
Get Yours Here
Read Our Review
Notting Hill
This charming neighbourhood is famous for its colourful houses, quaint cafes and eclectic boutiques. It's also home to the famous Portobello Road Market (the world's longest antique market) and the Notting Hill Carnival (the biggest street festival in Europe).
There are Michelin-star restaurants and market stalls with cheap eats, all mixed in with a plenitude of unique stores and hidden finds. If you're lucky, you might even find a famous actor in a bookshop.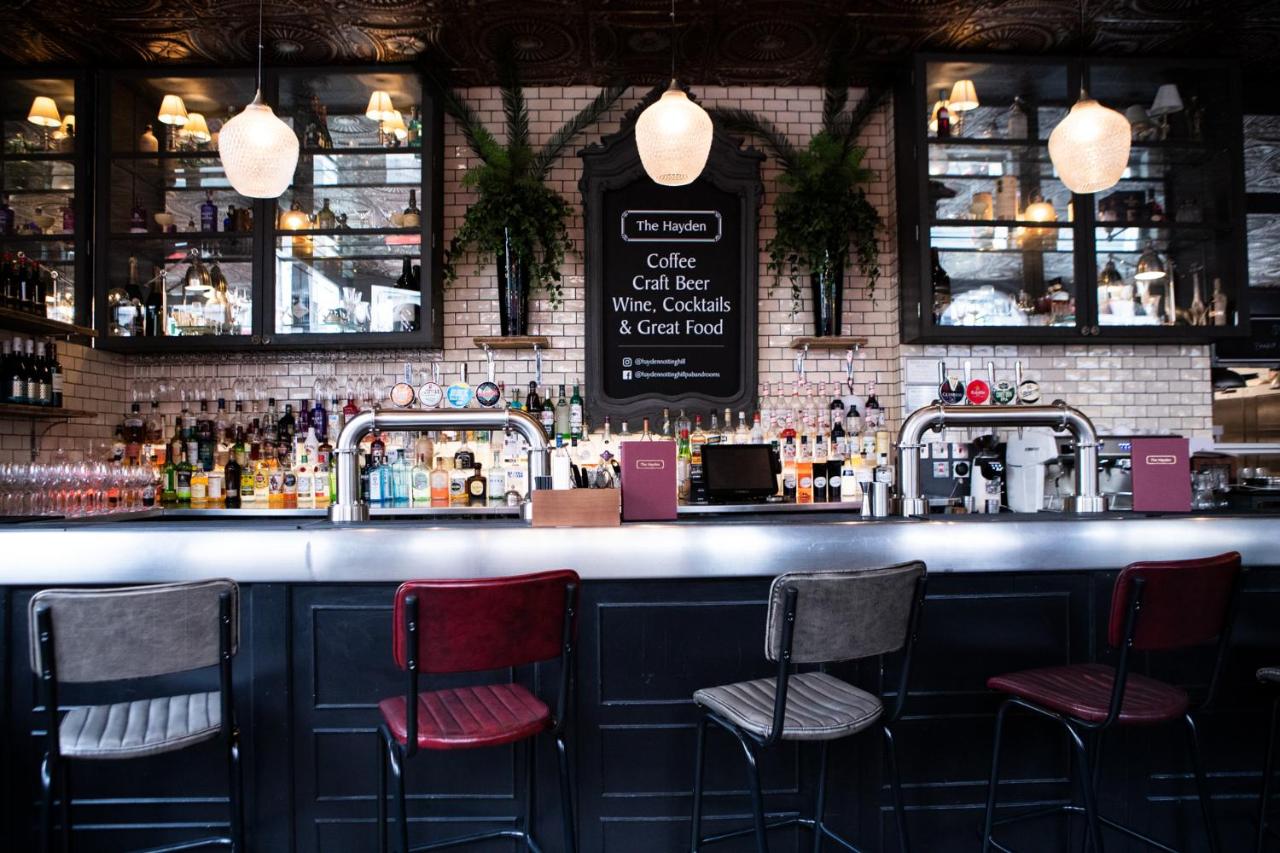 The Hayden Pub & Rooms is a more budget-friendly option for a taste of London's pub scene, without worrying about finding a taxi to take you home. This mid-ranged hotel has rooms starting from £200, making it a great value hotel option to economise in extortionate London.
The Hayden is in a great location for you to enjoy the hustle and bustle of Notting Hill, just a short walk to Portobello Road Market and Kensington Park Gardens. The Circle tube line is just an 8-minute walk from the hotel, and there are plenty of buses to get you where you need to be.
The rooms are kitted out in true British pub-style. And you need only go downstairs to enjoy the best of British culture. So if you want an authentic experience, this is one of the best hotels in London.
For those people who enjoy a little added luxury to their weekend in London need to check out The Laslett. They provide all the services from a coffee shop, a bar (serving top craft beers), and even an art gallery. It's like a mini-London right all in one building.
Just a 1-minute walk from Notting Hill tube station will take you to this fabulous hotel. So take it slow in the morning before you hit the bustling cobble streets of Notting Hill to check out the vast dining and shopping opportunities the area has to offer.
The hotel and rooms are decorated in a classic style. All the rooms come with a swanky bathroom, including rain shower and subway tiles. Even in the hot summer months, there's no better place to relax: take a drink on the outdoor terrace or cool off in air-conditioned rooms.
Soho
I LOVE Soho. As a die-hard musical theatre fan, I used to love wandering up and down the West End, putting my name into the ballots in the hope of winning £20 tickets.
Known as London's entertainment district, Soho is packed with theatres, bars, shopping, and amazing Chinese food. I highly recommend Old Compton Street for nightlife and Kingly Court for an extensive array of restaurants.
Be a part of history here at Hazlitt's London. Built in 1718, this four-star boutique hotel feels like a time capsule, with expensive antiques, chandeliers, and carved wooden beds. Enjoy lounging in your Victorian bath in rooms decorated with panelled walls and elegant drapes.
A particular highlight of Hazlitt's London is the incredible library, with a large fireplace, comfortable seating, and rows of books to browse. There is also an honesty bar for you to grab a drink.
There are plenty of key landmarks just a short walk away: Soho Square, Oxford Street, and Oxford Circus. Hazlitt's is just 300m from Tottenham Court Road Tube Station – meaning you have the whole of London at your fingertips!
I must admit, this hotel is pretty bougie. But we're in London: you're allowed some bouginess.
The Ham Yard Hotel is a large hotel, located just three minutes from London's famous Piccadilly Circus. Enjoy some quiet time from the business of central London in the garden or terrace.
Ham Yard provides different types of rooms, including apartments. This is a great option for cooking your own meals or travelling long-term in the UK.
Relax in the sauna after a big day of riding red buses or simply set up in the outdoor dining area with a much-needed gin and tonic. (Do it for the Queen.) Ham Yard is one of the best hotels in London for families, with its long list of child-friendly amenities including a theatre and bowling alley!
Is This the Best Backpack EVER???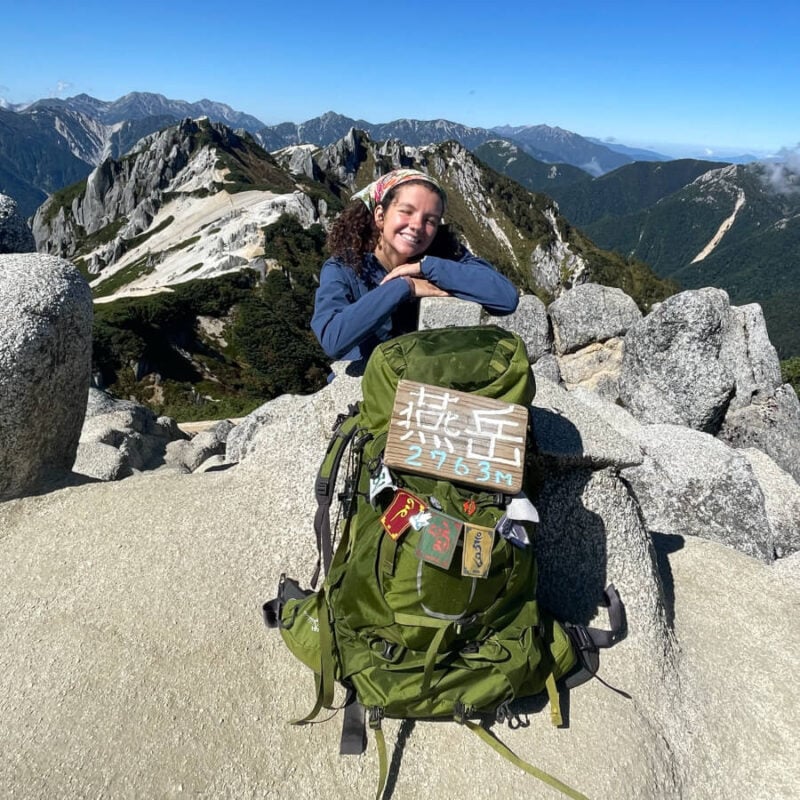 Kensington
If you're looking for a more upscale experience, Kensington is a great option. Home to many of London's top (and often FREE) museums and beautiful green spaces like Hyde Park, this area is perfect for those who want to indulge in luxury.
Definitely add Kensington Palace to your list of must-dos. And who knows? Maybe you'll run into the Prince of Wales while you're at it!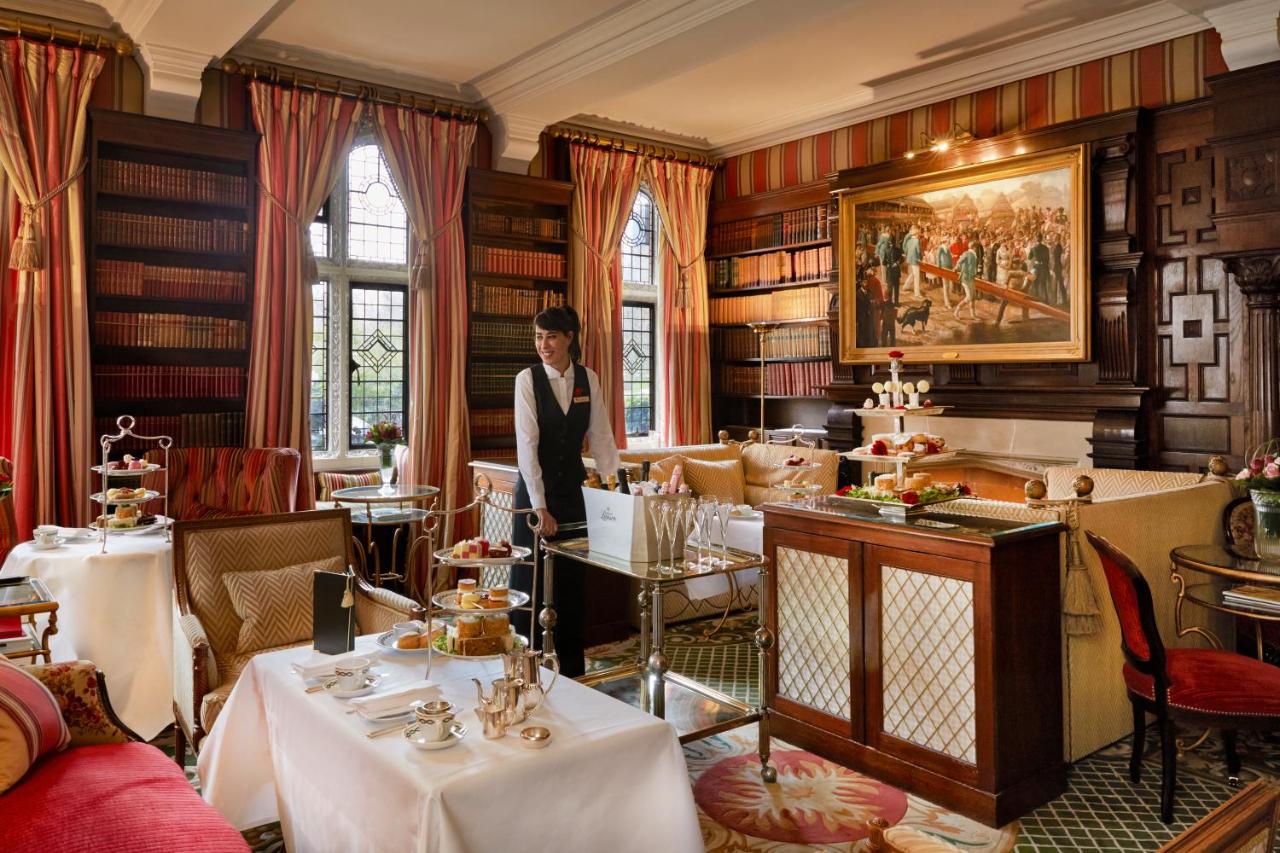 There are two things that really sold me on the Milestone Hotel Kensington.
The first is that you get a complimentary hamper of biscuits, chocolates and more ready and waiting for you in your private Residence.
The second is that the Milestone has a range of unique experiences, such as a behind-the-scenes tour of the Royal Albert Hall.
It is not surprising, Milestone Hotel Kensington is one of the best-reviewed hotels on Booking.com. The rooms are luxuriously grand, yet have a sense of cosiness about them, with romantic balconies, and expensive antiques. Like most of the nicest hotels in London, the Milestone Hotel Kensington offers a state-of-the-art afternoon tea, in a book-lined lounge.
If you're starting to feel a little guilty with all of these pub meals and afternoon teas, have no fear. There is a fitness centre, a spa, and a wellness centre to use.
Expect elegant pillars, grand staircases, and elaborate chandeliers when booking the Ampersand Hotel. This stunning Victorian building fuses both the contemporary and the traditional with modern interior designs that accentuate the charm of the original Victorian features. The Ampersand boasts a fitness centre, games room, a ground floor bar, and a Mediterranean restaurant.
The Hotel is right next to South Kensington tube station, as well as just two minutes walk from the Natural History Museum. The Ampersand Hotel also has a very informative concierge. The Ampersand is another great hotel to visit with your family, with a ping pong table, a dinosaur-themed high tea and activity packs (including a kid-sized bathrobe) available on demand.
Shoreditch
Shoreditch is a vibrant and creative neighbourhood located in East London. It is known for its trendy bars, cafes, and street art, making it a popular destination for young people and artists.
Shoreditch is also home to several tech startups and co-working spaces, making it a hub for innovation, entrepreneurship, and a great base for digital nomads. The area has a rich history, with many of its buildings dating back to the Victorian era, and it continues to evolve and thrive as a diverse and exciting part of London.
This boutique hotel is one of the best hotels in London for couples looking for an exciting stay in the city. There are a range of different suites, rooms, and lofts to choose from – whether you prefer timeless bedrooms in the original Georgian style or newly-built contemporary rooms. All rooms come with beautiful porcelain tiles, hardwood floors, and walk-in drench showers that create welcoming and warm overtones.
Sitting on the edge of Shoreditch, right next to Liverpool Station, you are perfectly located in the historic centre of central London. Explore the vibrant culture of one of the city's most hipster neighbourhoods.
The Acerca de Orangery & Lounges is also worth checking out. Bathed in light from a large glass roof, this bar is perfectly set up with plenty of leather chairs, exposed brick wall, and well-loved plants. It's an oasis within the heart of the city.
citizenM has hotels all over London – and they are incredibly popular. With 216 rooms to choose from, citizenM is a modern accommodation fitted out with bright colours and quirky furnishings.
Bringing you into the 21st century, an interesting feature of citizenM is the app you can download to help make your stay a little easier. From checking out to changing the room temperature, the app means you never have to leave your XL king-size bed. The hotel also has a 24-hour food service, canteen bar, and a buffet breakfast.
For the digital nomads out there, there are also free iMacs for guests to use during their stay. citizenM Hotel is located just 10 minutes from the graffiti-covered streets of Brick Lane and Spitalfields Market.
Tips for Booking a Hotel in London
London welcomes millions of tourists every year, meaning it will always be busy, no matter what time of the year you visit. June to August is peak season, so hotels will be pricier and will book out FAST.
It can often be beneficial to book in advance, allowing you to find some early bird discounts both on booking websites such as Booking.com. If you're a spontaneous traveller, keep an eye out for last-minute deals. However, be warned that last-minute options can be limited and you may end up having to compromise rather than scoring a great price.
Third-party booking platforms and hotel websites also often offer seasonal promotions and discounts, particularly in the off-peak seasons. Do your research and compare the two booking options in order to find the best deal.
Tips for Booking a Hotel in London on a Budget
There is no doubt that London is expensive, making it a fun challenge for my bargain hunters out there. Nevertheless, there are plenty of great value budget options in the city – you just need to know where to look!
Location is a big influence on hotel prices. Looking at some of our more grungier and lesser-known neighbourhoods will provide some more economical accommodation options. However, it is important to research these areas beforehand. While London is a safe city, always take precautions in large cities. Ensure your hotel has adequate security, and is close to public transport.
Being flexible with your dates will also help you find some great deals (although keep in occupancy rates as our great value hotels book out fast!).
Finally, do not follow in my footsteps and think that cheap airport hotels will save you money. All of London's airports are pretty far out of the city, meaning you're going to be spending all your savings on transport rather than simply finding a slightly more expensive hotel which is more central.
FAQs About London's Top Hotels
Let's not stop there! Here are some frequently asked questions about the best hotels to stay in London.
Exploring London with The Broke Backpacker
London is huge. Many people from all walks of life call this multicultural city home. No matter how many hipsters, galleries, and contemporary bars pop up, nothing can erase the incredible history and lives that make London… London.
With so much history to uncover, figure out an itinerary beforehand. (Top Tip! Pre-book Harry Potter World!) If you are a solo traveller on a budget, check out some of the great hostels in London too.
Finding your perfect hotel in London doesn't have to be daunting. But do try and find a hotel which is unique, authentic, and has the local know-how to have a truly London experience. (If you haven't heard a complaint about the train system then you're definitely in the tourist bubble.)
Check out the rooftop bars London has to offer. All my favourite memories in London come from sitting in pubs or hotels next to a roaring open fire with a glass of wine and friends. I highly recommend checking out the hotels which offer this traditional British pastime.
London is hectic, crowded, and if it starts snowing, be prepared for the entire country to come to a stop. However, London is also animated, eclectic, and full of talented artists.
Do your research and hopefully, this list will help you get a better idea of what neighbourhood in London is the best fit for you. Just don't forget to pack your umbrella!
---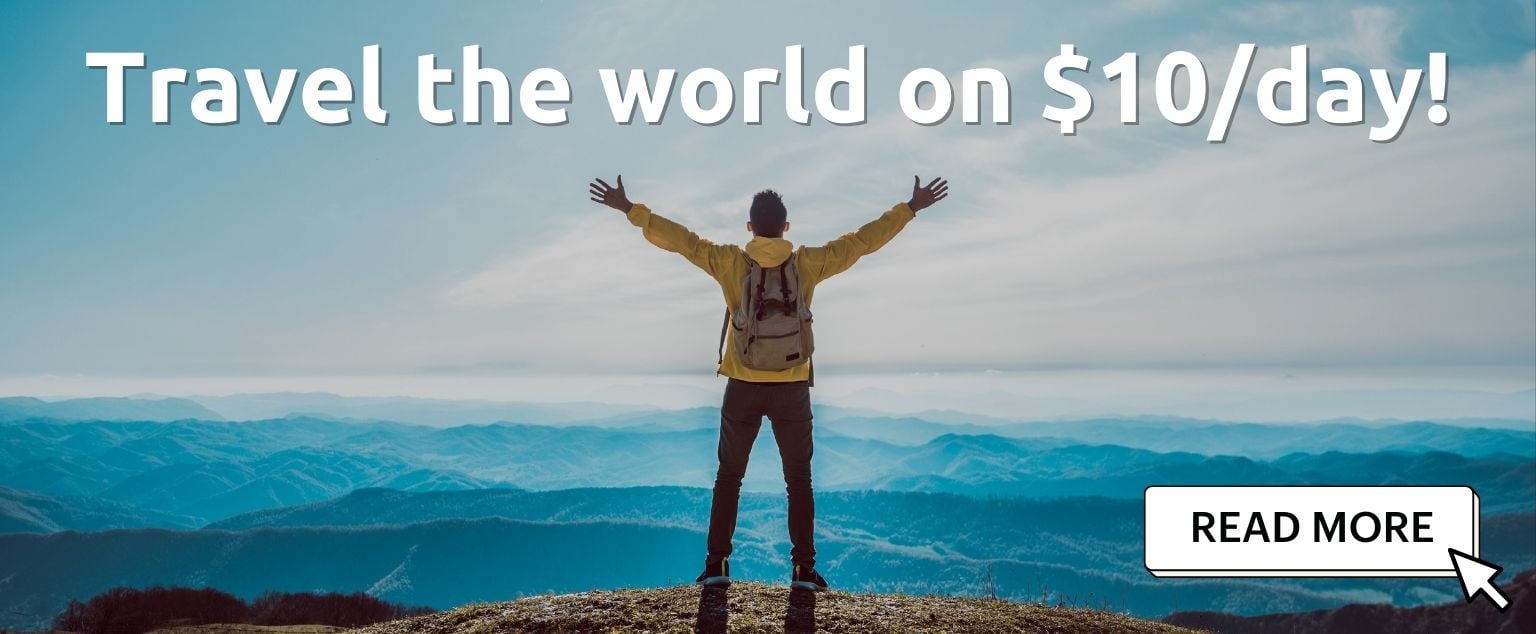 And for transparency's sake, please know that some of the links in our content are affiliate links. That means that if you book your accommodation, buy your gear, or sort your insurance through our link, we earn a small commission (at no extra cost to you). That said, we only link to the gear we trust and never recommend services we don't believe are up to scratch. Again, thank you!