London – a perfect blend of the old and the new – is a city soaked in thousands of years of history yet sits at the forefront of the modern world! It's amongst the biggest cities in Europe and is one of the world's largest financial centers.
The UK's massive capital is filled with iconic London landmarks and far-reaching history, as well as incredible views and some of the best museums in existence. The city has something for everyone and while it is possible to see a fair amount of London in two days, there's no shortage of things to see if you're able to stay longer.
The below London trip itinerary will help you plan your trip, whether you're just stopping by for a weekend in London or intend on staying for much longer! If you want to know what to do in London, you've come to the right place.
London's history, architecture, and cultural diversity are a few of the main reasons why people visit the English capital. It has something for every traveler, from the picturesque royal parks to fascinating museums and spooky tours, you'll never run out of things to do in London!
London is a huge city, and you're wondering how many days to spend in the city, it really depends on how adventurous you are and how much you want to cram in. Ideally, you should spend anywhere between three and five days in London, to really get the most of it (any less than three days and you'll miss the magic, in my opinion).
If you want to see all of the important landmarks you will want to stay in central London in the City of Westminster – here you'll be able to see the postcard attractions such as Tower Bridge, London Eye, Covent Graden, London Bridge, Westminster Bridge, Trafalgar Square, and the royal residence of Buckingham Palace, of course. If this is all you want to see, you MIGHT be able to fit everything into 24 hours, but that'll guarantee a lot of stress because even though they are close by, walking around London is a huge hassle because of the number of people and navigating the underground as a tourist takes some getting used to (don't worry, after the first day, you'll get the hang of it).
However, as I mentioned earlier, the ideal number of days in London is three to five, so in this London itinerary, you'll find three days packed with action, culture, history, and adventure. But don't worry, you won't have to rush from A to B, trying to fit everything in – I've strategically planned this three-day itinerary so you spend time in each neighborhood before moving on to another one.
In this itinerary, I've chosen the ideal daily structure, added times, routes to get there and suggestions on how long you should spend at each spot, but of course, you can add your own spots in, swap things around, or even skip some places if they're not to your taste. Use this itinerary as inspiration instead of a fixed plan, because not everyone is travelling with the same style and budget.
3 Day London Itinerary Overview
Day 1 in London: Westminster Abbey, Westminster Palace & Big Ben, Lunch at Quirinale, London Eye, Tate Art Modern Gallery, St. Paul's Cathedral, SoHo, Chinatown
Day 2 in London: Tower Bridge, Tower of London, Buckingham Palace, Hyde Park, Victoria & Albert Musem, Knightsbridge, The West End
Day 3 in London: The British Museum, National Gallery, Oxford Street, Camden Town & Market
There really isn't a 'best area' to stay in London as all of the attractions are spread out across the city, meaning you'll have to travel regardless of where you stay. However, the more central areas are nearest to the majority of the iconic London attractions, so I wouldn't recommend staying too far from the center.
The West End (SoHo, Leicester Square, Covent Garden) is one of your best bets for touring London, as it's centrally located and near to many of the best entertainment, gallery, shopping, nightlife areas. The West End can be a bit pricey though, so it's worth checking out some of the neighboring areas such as Fitzrovia and Bloomsbury.
Kensington, South Bank, and Bank Side are all near to some of the iconic attractions, fairly well-positioned, and well connected to the airports. Areas like Camden and the East End are more affordable than the other areas discussed but aren't as conveniently located. However, you can find some affordable cottages in London in these outlying districts and they are close to transport links to the city..
You may save quite a bit of money by staying in outer London (ie Wembly) but will end up spending extra money and time getting to the action each day. Hostels are a great way to cut costs, make friends and the best hostels in London are all central.
Best Hostel in London – SoHostel
SoHostel is perfectly located in SoHo, just a couple of minutes' walk from Oxford Street, Leicester Square, and Piccadilly Square. It's an awesome option if you're backpacking in London. They offer clean, stylish, and comfortable accommodation for a very reasonable price. There is a wide range of rooms to suit any kind of traveler, and the staff are incredibly helpful and friendly!
This massive room is great for travellers who visit London for the first time. The apartment is located in central Leicester Square. There are lots of great places, cafes, and restaurants around. You'll also get free breakfast every morning. The main bathroom is shared, however, you'll have a private toilet. If you've seen enough of the city, you can enjoy the free Netflix and Amazon Prime Video on your TV.
Best Budget Hotel in London – 202 Apartments
202 Apartments are in an excellent location in Kensington, just a quick journey away from some top attractions and entertainment areas.
Each apartment is fitted with a terrace, a private bathroom, a TV and a balcony with incredible city views!
Hotel Indigo was designed beautifully in the Victorian style, and is well located in Kensington, just a walk away from many iconic London attractions.
The rooms are individually decorated, and extremely comfortable. Each room has its own TV and free minibar, and guests have access to a health and fitness center.
For other luxury hotels, consider looking at hotels in London with private hot tubs.
Your first day in London will be spent taking in some truly iconic stops including the Westminster Parliament buildings. We do cover some ground today so wear comfy shoes and bring an umbrella in case of rain.
If you're suffering from jetlag and you get up super early, then consider taking a walk through Borough Market to find some fresh fruit for breakfast before starting your itinerary. Borough market opens at 8 am and is the best place to find fresh produce in central London.
Let's get stuck into the best things to do in London in 3 days.
9:00 AM – Westminster Abbey
Westminster Abbey is a large, abbey church built in 1269 AD and designed mostly with a Gothic style of architecture. The outside is striking and incredibly ornate. The inside is just as impressive with soaring ceilings, intricate detailing, and an array of historical relics and ornaments.
The site was home to previous church buildings and has been a daily place of worship for over 1000 years!
11:00 AM – Palace of Westminster & Big Ben
Also known as the London Houses of Parliament, the Palace of Westminster is the political center of the city and a UNESCO world heritage site. This is where British members of parliament meet to debate and discuss political matters.
The impressive complex contains an astounding 1 100 rooms and the Perpendicular Gothic architecture is breathtaking! The complex was rebuilt in the mid 19th century after a fire tore down much of the original building-complex in 1834.
12:00 – Lunch at Quirinale
Quirinale is an upmarket Italian & med restaurant that caters to the political classes and London tourists alike. Booking ahead is advisable.
It isn't cheap, so if you are backpacking London on a budget and looking to save money, I suggest diving into a Tesco Express or Boots for a meal deal instead. You could easily sit outside the houses of Parliament on the grass to eat and watch the world go by, or as you walk along Westminster Bridge to admire the views of Big Ben and the London Eye. There are also plenty of benches along South Bank overlooking the River Thames. Basically, it's quite usual for people to eat on the street in London.
Cost – Budget $25 per person.
How Long Should I Stay Here? 60 minute.
Getting There – It's a 5 minute walk from the last stop.
1:00 PM – London Eye
Originally intended as a temporary attraction built in celebration of the year 2000, the London Eye has established its place as a permanent attraction due to its significant popularity and financial success. It is, in fact, the most popular paid tourist attraction in the United Kingdom!
Situated right against the South Bank of the meandering Thames River, the wheel stands an impressive 440 feet tall! Needless to say, it offers exceptional views of London's impressive skyline.
2:30 PM – Tate Modern Art Gallery
The Tate Modern is one of the largest museums of contemporary and modern art in the world and the second most-visited attraction in London. Housed in the former Bankside Power Station, the massive gallery is home to a vast and impressive collection of art.
4:30 PM – City of London St Paul's Cathedral
The City of London is the UK's financial centre, home to the Bank of England and major offices of pretty much every financial institution in the entire world. The city is home to some modern architectural marvels including the "inside out" Lloyds Building and the Shard with its epic views over London.
And of course, at its centre sits St Paul's Cathedral. This Grade I listed building is a 17th Century Anglican Cathedral, beautifully designed and built in English Baroque Style. The stunning building is the seat of the Bishop of London, and a site of daily worship.
6.00 PM – SoHo
After a day filled with historical sites and old ornate buildings, take a big step-back into the modern world and experience a completely different side of London by paying a visit to SoHo.
SoHo is famous for its incredible shopping, live entertainment, and nightlife. It also has a thriving LGBT bar scene and is home to many of the city's sex shops and burlesque shows.
The streets are tightly-packed with a series of narrow alleyways running between them. Night time in SoHo brings quite a spectacle – as the sun drops from the sky, thousands of neon lights vibrantly color the streets and the evening energy starts to emerge!
7:00 PM – Dinner in Chinatown
London's Chinatown is bang in the middle of Soho. Home to bookmakers, karaoke bars, and loads of Chinese restaurants, it's the perfect place to end the day with some delicious, hot Chinese food.
You might be thinking, I am coming to London I want to eat British food! Well, London is quite a multi-cultural city, and you'll find some of the best international cuisines in Soho. You can have a pie any day.
Cost – $30 per person.
How Long Should I Stay Here? The night is yours!
Getting There – It's in Soho.
On day two you'll delve into London and the UK's Royal past with a visit to the Tower of London as well as the Queen's current residence. Even those indifferent to the Royalty (like your humble narrator) can appreciate the splendid architecture, history & cultural significance.
8:30 AM – Tower Bridge
London boasts many famous bridges covering the mighty Thames but this one is my favourite. Best of all though, it is stated a short walk from The Tower of London which is your first major stop of the day. Cross the bridge on foot, watch the river roll below and get your photo fix.
Cost – NA.
How Long Should I Stay Here? 15 minutes is enough.
Getting There – The nearest underground stop is Tower Hill.
9:00 AM- Tower of London
The Tower of London is an impressive castle with a fascinating history built in 1066. In its almost 1 000 years of existence, the Tower of London has acted as a fortress, a royal palace, a prison, an astronomical observatory, a treasury, and an armoury. In fact, it was originally part of the city walls that encompassed The City of London.
One of the main attractions to the castle is the Crown Jewels – a collection of the world's finest jewels set into a variety of items including swords and crowns. The Queen still dons the Imperial State Crown for ceremonial occasions.
12:00 PM – Buckingham Palace
If you are visiting London for the first time, then chances are you'll want to see the Queen's residence. Buckingham Palace is the official London residence of the British Royal Family and has been since the 18th century.
Most tourists pay a visit to Buckingham Palace to witness the iconic Changing of the Guard where one set of the palace's fuzzy-hatted protectors (beefeaters) hand over their duties to a fresh bunch. It's a spectacular ceremony which takes place in the forecourt of the palace featuring marching and live music!
2:00 PM- Hyde Park
Hyde Park is large and beautiful, and it offers a huge variety of great activities. Take a walk through this beautiful park and soak up some natural beauty away from the chaos of the city streets.
Just off the Northeast side of the park visitors can check out the iconic Marble Arch, whilst the Northwestern side hosts the Diana Memorial Playground, which is absolutely awesome for kids.
3:00 PM – Victoria and Albert Museum
The V&A museum is the largest museum of applied and decorative arts in existence, featuring 2.2 million art pieces and relics from all around the globe. The museum's collection covers 5 000 years of art spread out over 145 galleries.
Whilst the V&A is an art museum, the pieces here are not restricted to paintings and sculptures – it houses everything from jewelry and clothing to furniture, pottery, and even ancient cave paintings.
4:00 PM – Knightsbridge, Dinner & Change
The V & A Museum is located in Kensington, which is an area you could spend a whole day in and not get bored. If you do find you have more time, consider taking a trip to Kensington Palace which was the residence of Princess Diana and other members of the royal family.
But, by now, you're probably feeling a little peckish, so I recommend hearing to the nearby affluent Knightsbridge area of London. The world-famous Harrods Department Store can be found here and Sloan Square which is also nearby. Use your time to check out this very impressive area, grab some dinner and then head back to your accusation to change for tonight's trip to the West End.
7:30 PM- West End Show
After a long day of walking around, it'll be time to take the weight off your feet and enjoy some incredible theatre. Prepare yourself for some awesome and immersive entertainment – a vacation in London wouldn't be complete without watching a West End show.
The West End is to London as Broadway is to New York, and together they are generally considered to represent some of the highest levels of commercial theatre in the world.
From admiring the Ancient Egyptian Mummies at the British Museum to drinking and shopping in Camden, let's delve into our third and final day in London.
9:00 AM – British Museum
The British Museum covers everything related to human culture, art, and history. Its' collection of over 8 million items is one of the largest and most comprehensive in the world! The British museum sees more visitors each year than any other tourist attraction in the country.
The museum was established in 1753, making it one of the oldest in the country too – in fact it was the first national public museum in the world. If it's your first time in London, you'll love the British Museum.
12:00 PM – National Gallery
The National Gallery is an impressive building perched boldly in Trafalgar Square, opposite Picadilly Circus. It's an art museum with over 2 300 paintings that were committed to canvas between the mid 13th century and 1900.
The National Gallery is one of the most famous art museums in the world, and one of London's most popular Museums, with over 5.5 million visitors passing through its doors each year.
2:00 PM – Oxford Street
One of London's most famous shopping streets is also the busiest in Europe, with over 500.000 visitors passing through every day! It's no surprise that Oxford Street sees so much footfall – it offers one of the best and most extensive shopping experiences in the world.
From technology to fashion and beauty to entertainment, Oxford Street has absolutely everything any shopping fiend would need to keep busy. You could spend days weaving amongst the sea of people shopping yourself silly!
3.30 PM – Camden Town & Market
Camden is a district of northwest London that was once known as the rock n roll capital of the world due to its rich musical history. These days, Camden is best known for its shopping, markets, live music, and unique atmosphere.
The smell of incense floods the Camden streets as you wander through them – the district has a really relaxed vibe and a plethora of interesting markets waiting to be picked through and explored.
Need a place quick? Here's the best neighborhood in London:
In case you are lucky enough to have some extra days in London, here are a couple of ideas on how to fill them.
1. The View From the Shard
The Shard is a 95-storey skyscraper in Southwark with a striking design and walled almost entirely with glass! It's the tallest building in the United Kingdom, standing at 1 000 feet.
The viewing platforms are located on the 68th, 69th, and 72nd floors of the building. They are the highest viewpoints in the whole of London and offer truly amazing 360 views of the city.
2. Natural History Museum
As I mentioned earlier, the area of Kensington has so much to offer you could spend a whole day there. Whether you swing past Kensington Palace or the Science Museum, if you have got moe time and only one more museum to fit in, let it. bethe Natural History Museum.
London's Natural History Museum is large and incredibly comprehensive, with around 80 million items spread out across five main collections!
The London History Museum covers everything related to the history of our natural world and beyond, from chunks of moon rocks to a 25-meter Blue whale skeleton hanging lazily overhead. It is one of the largest collections of natural history worldwide.
Though London is notoriously gray and rainy, the weather actually varies a fair amount throughout the year as the city experiences the typical four seasons; winter, spring, summer, and autumn (fall). Below, I'll give you some guidance on when to visit London.
Despite this variety, London's weather is rarely extreme and is generally very manageable with the appropriate preparation. The city is also well equipped to deal with the cold and the rain, and the majority of the London points of interest can be visited comfortably regardless of the weather conditions. There's no need for the weather to deter you from planning a trip to London.
The late spring and summer months (May-August) are peak tourism season when the weather is pleasant and children are on holiday. London also sees a lot of tourists at the end of the year, around the December holidays. There is a festive atmosphere in the air at this time of year, and plenty of stunning light displays throughout the city.
Getting around London is fairly easy – the transport system is world-class and fortunately, some of the London attractions are within walking distance of one another. Walking is a great way to see the city, and I recommend going on a walking tour if you have time.
The first two days on my London itinerary will be staying in central London, but that does not mean to say getting around will be easy. Most of the first day you can spend on foot, but your feet will be tired if you try to walk it all. Be sure to wear comfy shoes and bring some snacks if you do want to walk! On the third day, my itinerary takes you to some of the further afield areas – not too far out of the center, but still a few stops on the underground.
For journeys that are too far to walk, it's best to use public transport. The easiest way to make use of the transport system depends on the length of your stay.
Being the massive and diverse city it is, London does have a fantastic public transport system. One of the most popular ways to get around in London is via the underground (or the Tube, as the Londoners call it) which is an underground train system that pretty much connects you to everywhere in London.
Locals use oyster cards which can be topped up and scanned in order to access the busses or tubes (subway). For zones 1-3 (inner city) oyster cards are capped at £10 for the day, and they can be picked up at any train station.
7-day Travel Cards are a great way of getting around if you're staying in London for more than a few days. For just $50 you can enjoy unlimited travel in zones 1-3 for a week.
To operate the underground, you will need to buy an Oyster card or day tickets. You can get this from any Underground station from the ticket office. You can also use a contactless debit/credit card, which operates in the same way as an Oyster card. You could also jump on one of the city's handy buses using an Oyster card, but to be honest, the traffic in London is so terrible I do not recommend buses, as you'll likely sit in traffic for a long time.
It's very easy to get around London as the Underground is colour-coded. But I do recommend getting your hands on a map of the Underground so no time is wasted by getting lost!
You can also make use of the Santander Cycles – they're bicycles located at docking points around the city and can be rented for £2.50 per 24 hours! Cycling is also a great way to explore the city (especially in spring and summer). This is a perfect option if you're just spending one day in London.
If you're planning a trip to London, then you'll be delighted to learn that it is a really safe city, but as with any large city, crime does occur occasionally and there are ways to minimize your chances of being victimized. Most of the crime in London is opportunistic theft, so as long as you don't make yourself seem like an easy target, you should be fine.
Recent years have seen a number of terror attacks in London and these may happen again. At the time of writing, London is also struggling with knife-crime but this appears to be gang-related. Statistically, though, it is a safe city and you don't have much to worry about at all.
Though pickpocketing is very rare in London, it's best to be aware of your personal belongings when in busy public spaces.
If you're walking around late at night, try to stick to relatively populated areas – especially if you've ventured away from the city center.
Walking and public transport should get you around the city just fine, but if you decide to catch a cab, make sure you only get into clearly marked taxis – never get into unmarked cars or accept rides off the street. Uber is popular in London and also very safe.
World Nomads' mission is to support and encourage travellers to explore their boundaries. They offer simple & flexible travel insurance, and safety advice to help you travel confidently.
They've been doing it since 2002 – protecting, connecting, and inspiring independent travellers just like you.
Get a quote below or read our in-depth review!
World Nomads provides travel insurance for travelers in over 100 countries. As an affiliate, we receive a fee when you get a quote from World Nomads using this link. We do not represent World Nomads. This is information only and not a recommendation to buy travel insurance.
Find out what people want to know when planning London itinerary.
London is one of the world's most popular tourist destinations, and it's easy to see why. The city is large, vibrant, and full of energy, and it really does offer some of the world's most fascinating tourist attractions.
Whether London is your main destination or you're just spending two days in London while backpacking the UK, the above London trip planner will take you on an exhilarating and varied journey through this vast city.
You'll explore all of the best sights and places to visit in London in 3 days – from some of the oldest pieces of human history to some of the hippest and most forward-facing areas in the world.
---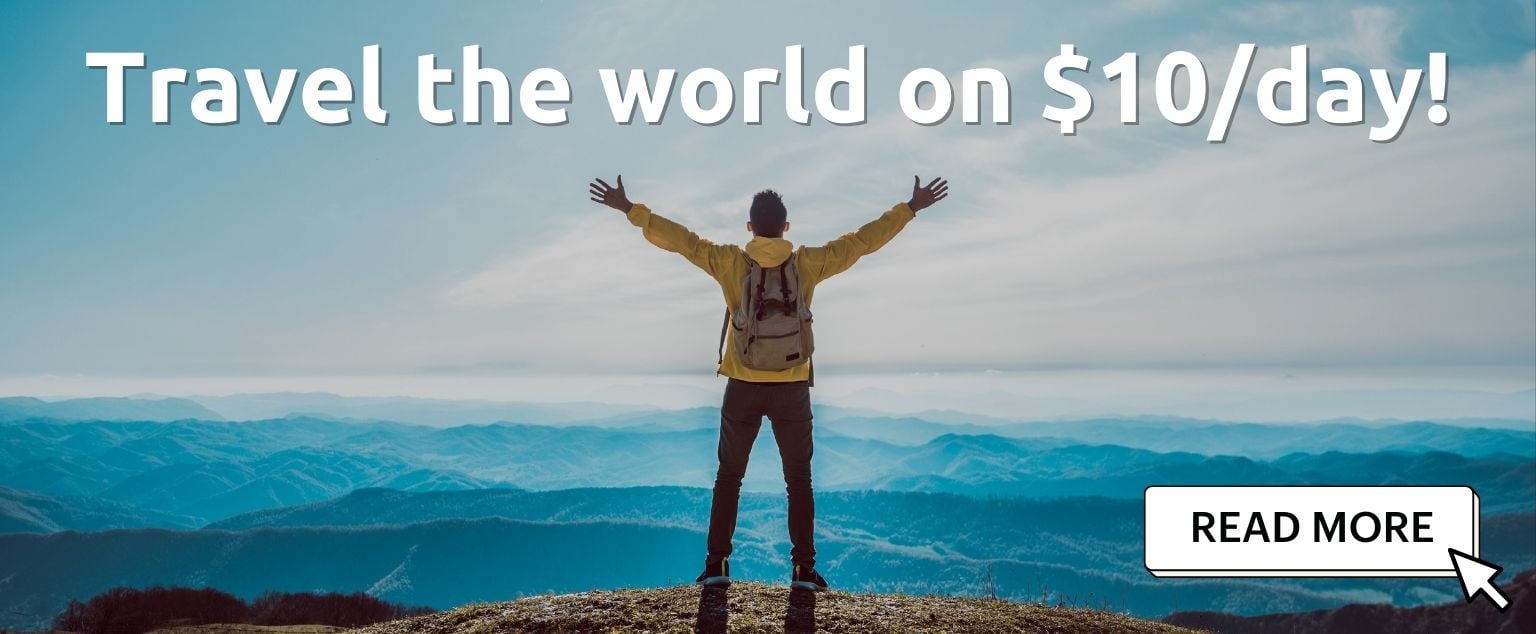 And for transparency's sake, please know that some of the links in our content are affiliate links. That means that if you book your accommodation, buy your gear, or sort your insurance through our link, we earn a small commission (at no extra cost to you). That said, we only link to the gear we trust and never recommend services we don't believe are up to scratch. Again, thank you!