Edinburgh is famous for medieval castles, Gothic churches, and an excellent pub scene (among other things). There's so much to discover here, whether you're into history, culture, nightlife, or are just curious about the Scottish capital.
Edinburgh is divided into distinct neighborhoods. Each offers something slightly different to travelers, so it's a good idea to know exactly what to expect before arriving.
In this guide, we've rounded up our top five places to stay in Edinburgh. We've included something for each travel style, so you can pick somewhere that suits you. Whether you're looking for nightlife, are traveling on a budget, or are heading on a family vacation, we've got you covered.
So, let's get into it!
Looking for a specific place to stay? These are our top recommendations for the best places to stay in Edinburgh, Scotland. There are a lot of incredible places to visit in Edinburgh when you're here so be sure to stay in the right spot.
This one-bedroom loft in Edinburgh's Old Town provides cosy accommodation for up to two guests. The apartment features an open-plan living area and skylight, with windows boasting views over the city. Staying here, you'll be within walking distance of Edinburgh's top attractions as well as being just a short walk from Edinburgh Waverley station.
This epic hostel is one of the best and cheapest you'll find in Edinburgh. It's located in Grassmarket and is surrounded by bars, pubs and restaurants. The hostel enjoys modern furnishings, and beds come with individual power points and reading lamps. It's clean, comfortable, and the staff is very friendly. It's close to the famous Edinburgh Castle, George Street and Princes Street too.
This contemporary hotel in West End is one of the best places to stay in Edinburgh. Located near the Gin Distillery, this hotel is a short walk from Edinburgh Castle and many of the city's top attractions such as Princes Street, The Royal Mile and The Scottish National Gallery. Accommodation options range from simple rooms to small studios, so you can find something to fit your needs.
Edinburgh is the capital and second-largest city in Scotland. Home to more than 450,000 people, this city seamlessly combines historic and modern features. Here, you'll find everything from futuristic museums to medieval castles and shopping malls such as the Ocean Terminal Shopping Centre.
From eating infamous haggis to wandering The Royal Mile, there's so much to see and do in Edinburgh. The city. is well connected to the rest of the UK via the Edinburgh Waverley train station.
The side-by-side districts of Old Town and New Town make up the historical and cultural heart of the city. Dating back hundreds of years, this area is where you'll find stunning gothic architecture and the imposing medieval castle. Most of Edinburgh's top attractions such as the beautiful Princes Street Gardens, the Scott Monument, The Royal Mile and George Street are right in the heart of Edinburgh City Centre.
If you're visiting Edinburgh on a budget, check out West End. Despite being one of the city's most sought-after neighbourhoods, there are a number of budget-friendly accommodation options on offer.
Set within Old Town, but offering a completely different vibe, is Grassmarket. This small district is where you'll find the best bars and liveliest spots, making it our top pick for where to stay in Edinburgh for nightlife.
North of New Town and the city centre is the residential and bohemian neighbourhood of Stockbridge. One of the coolest neighbourhoods in the city, this is where you'll find hip independent boutiques, innovative restaurants, and eye-catching architecture.
Still not sure where to stay in Edinburgh? Fear not – we've got heaps more information about each place below. We've even included our favourite accommodation and activity picks in each, so you really know what you're getting.
Fortunately, Edinburgh is pretty easy to get around on foot. That being said, some areas are better to stay in than others depending on your travel needs. Read below…
1. Old Town – Where to Stay in Edinburgh for your First Visit
The historic heart of the city, Old Town Edinburgh dates back to the early 12th century and is now a UNESCO World Heritage site. This is where you'll find Edinburgh's best places to visit, from Holyrood to the medieval Edinburgh Castle, The Royal Mile and Princes Street Gardens.
Old Town is the best place to stay in Edinburgh if it's your first time in the city. It's the gateway to discovering the city and is well connected to all of the other areas in this guide.
This Edinburgh Airbnb is ideal for couples and solo travellers. It features a unique mix of antique and modern furnishings, an open-plan living area, and a skylight. It's a short walk from pubs and restaurants, making it a convenient base for exploring the Edinburgh City Centre.
Set in the shadows of Edinburgh Castle, you won't find a better hostel in Old Town. Private and dorm rooms are on offer, as well as a large communal kitchen and many social spaces. This hostel is close to George Street, The Royal Mile and Waverley train station.
This is one of the best hotels in Edinburgh thanks to its unbeatable location in the heart of Old Town. It's within walking distance of Edinburgh's top attractions, bars, pubs, and restaurants. Rooms are modern and comfortable, with everything you'll need for a convenient stay. There is a wide variety of festivals in Edinburgh throughout the year, making this an ideal location if you're planning to visit the Edinburgh Fringe Festival, one of the best festivals in Scotland.
Things to See and Do in Old Town (Edinburgh City Centre):
See a great mix of artifacts and exhibitions at the National Museum of Scotland and the Scottish National Gallery of Modern Art.
Visit Camera Obscura and World of Illusions for a fun day of quirky optical illusions and 360-degree views of the city.
Walk the famous Royal Mile between Edinburgh Castle and Holyrood Palace.
Visit Edinburgh Castle, a majestic royal fortress looking over the city.
Explore the Abbey and Palace of Holyroodhouse, a royal residence and one-time home of Mary Queen of Scots.
See art from the Royal Collection at the Queen's Gallery.
Visit St. Giles' Cathedral, the historic City Church of Edinburgh.
Enjoy spectacular views of the city from North Bridge.
Pop into Gladstone's Land to view the impressive painted ceiling.
2. West End – Where to Stay in Edinburgh on a Budget
Located west of the city centre is the aptly named West End neighbourhood. It's one of the most desirable districts in the city and home to some of its wealthiest residents.
But there's another side to the West End, as it's also where you'll find some of Edinburgh's best budget accommodation. Whether you're looking for a boutique hotel or a backpacker hostel, you'll find it here.
This private room in West End is perfect for solo travellers or couples visiting Edinburgh on a budget. Set in a traditional Scottish home, guests have access to a fully-equipped shared kitchen and bathroom. The Airbnb is close to Haymarket station, and a 15-minute walk will get you to Edinburgh Castle. You'll also find a number of bars and restaurants nearby.
Situated in a Victorian townhouse, this hostel provides the perfect base for exploring Edinburgh without paying the high prices of the city centre! The accommodation is simple, but there are a number of perks including a £3 breakfast, an onsite bar and bistro with discounts, free wifi, and security lockers.
Cityroomz Edinburgh is a cosy, contemporary hotel in the West End with wonderfully spacious rooms. Located near the Gin Distillery, this hotel is a short walk from Edinburgh Castle and many of the city's top tourist attractions. If you're planning to take the Leith walk over to The Royal Yacht Britannia, this is a great place to start from.
It is close to public transit and even provides guests with an airport shuttle. This three-star hotel features a coffee bar and on-site laundry, and each room is outfitted with modern amenities including tea and coffee supplies.
Things to See and Do in West End Edinburgh:
Learn about the history of Gin at the Edinburgh Gin Distillery.
Pick up fresh produce at the weekly Edinburgh Farmer's Market.
Explore Georgian House, a fully restored historical home.
See impressive architecture and stunning stained glass windows at St. Mary's Cathedral.
Enjoy an entertaining and high-quality performance at the Lyceum Theatre. If there aren't any shows on, pop in to see the impressive architecture and elegant décor.
Catch a rugby match at Murrayfield Stadium, the home of Scottish rugby.
See the world-famous penguin parade at the Edinburgh Zoo.
Relax in the shade at Suntrap Garden, a three-acre green space comprised of gardens and woodlands.
Walk or cycle the Water of Leith Walk, a riverside route that travels through the city and out to the sea and The Royal Yacht Britannia.
Enjoy delicious food at First Coast, a delightful neighbourhood bistro.
3. Grassmarket – Where to stay in Edinburgh for Nightlife
The Grassmarket is a small and unique neighbourhood located in the heart of Edinburgh. Although technically part of Old Town, Grassmarket has a distinct flair and atmosphere that makes it feel like a world of its own.
A historic marketplace and event space, Grassmarket was also the site of many public executions. For hundreds of years, it was a gathering place for the citizens of Edinburgh. It's still a popular gathering space today, though these days people come to enjoy the numerous bars on offer.
Located near Edinburg Castle, this Harry Potter-themed apartment comes complete with panelled walls, antique books, and even a secret cupboard. Up to four guests can stay here, making it ideal for groups. If you really want to feel like you're staying the a Harry Potter movie, consider staying in an old English cottage in Edinburgh!
This hostel is the best in the Grassmarket neighborhood and one of the cheapest backpackers in Edinburgh. It's located in the center and is surrounded by bars, pubs, and restaurants. Perks include free city tours, and an onsite bar and restaurant.
Apex City is a colourful and hip hotel located in the centre of the city. Conveniently situated in the Grassmarket neighbourhood, this hotel is close to historical attractions, cultural sights, as well as Edinburgh's hottest bars and nightclubs. While it's not a hotel with a hot tub in Scotland, it has all the modern amenities and luxury features of a four-star hotel in the city.
Things to See and Do in Grassmarket:
Visit the pubs most frequented by your favourite authors, writers and poets on the entertaining and informative Edinburgh Literary Pub Tour.
Enjoy a pint and a traditional Scottish pub night at the Last Drop.
Learn how whisky is made, and even make some yourself, at the Scotch Whisky Experience.
Step back in time and enjoy urbane cocktails and elegant 20s décor at the Dragonfly Cocktail Bar.
Enjoy a great atmosphere and live music at Whistle Binkies.
Visit the White Hart Inn, one of the oldest and most historical pubs in the city, a favourite of poet Robert Burns back in the day.
Dance the night away at the Hive, home to six of Edinburgh's famous underground caverns where dance to a variety of musical styles.
Enjoy live music in Sneaky Pete's a cosy, rustic bar.
Grab a pint at Maggie Dickson's Pub. It's named after the infamous criminal who (legend has it) came back to life after her hanging in the Grassmarket square.
Spend a night at Espionage, a grand nightclub with five floors of music, drinks and dancing.
4. Stockbridge – Coolest Place to Stay in Edinburgh
Stockbridge is a small neighbourhood just north of Edinburgh's city centre. Once a separate community, Stockport merged with the city in the 19th century and quickly became one of Edinburgh's most popular districts.
Since merging, Stockbridge has retained much of its bohemian vibe, making it one of the coolest places to stay in Edinburgh. This is where you'll find eye-catching architecture, a range of local and independent shops, and a number of terrific pubs and innovative restaurants.
Enjoy a unique stay in this converted factory in Stockbridge. The flat maintains its industrial style and benefits from spacious rooms and large windows letting in plenty of natural light. Sleeping up to four guests, this is the perfect place for couples or groups spending a couple of nights in Edinburgh.
This is one of the most unique hostels in Edinburgh. Housed in a converted church, the hostel's dorm rooms occupy the old church hall and are illuminated with stained glass windows. Cool, right!?
Offering private and shared accommodations, each bed is equipped with a double power plug and a private storage locker. Centrally located, this hostel is close to public transit as well as the city's major tourist attractions such as Dean Village.
Best Hotel in Stockbridge: The Raeburn
This stunning four-star hotel sits in an old Georgian house and features a brasserie-style restaurant, bar, and a large sun terrace. Rooms are decorated with luxurious furnishings and traditional tartan fabric, and all come with ensuite bathrooms. Family rooms and room service are also available. Edinburgh's Old Town is a 25-minute stroll away, with Haymarket station close by. It's also in a great spot if you want to explore the wonderful Dean Village.
Things to See and Do in Stockbridge:
Wander through the Royal Botanic Garden for a break from the city streets.
Enjoy traditional Scottish fare at Hector's a warm and welcoming pub.
Explore the artisan crafts and homegrown produce at the Stockbridge Market, which takes place every Sunday afternoon.
Wander through the streets and alleys of Dean Village.
Enjoy a picnic lunch and stunning views in Inverleith Park, one of Scotland's largest urban parks.
Visit the National Gallery of Modern Art and see some works of Picasso, Matisse, and Warhol. While the art inside is impressive, the grand neoclassical building is worth viewing alone.
Dine on tapas-style plates while enjoying a glass of wine at the intimate and innovative Rollo Restaurant and Wine Bar.
5. New Town – Where to Stay in Edinburgh for Families
New Town makes up the other half of Edinburgh's city centre. Settled in the late-18th century, this part of the city is where you'll find stunning buildings in the Georgian architectural style. It's also home to Edinburgh's main shopping districts.
New Town is also close to all of the city's major tourist attractions. It's home to a number of activities for kids of all ages, making it the ideal location for families visiting the city.
This stunning Airbnb is perfect for anyone traveling with kids. It sleeps four guests in two double beds, and a travel cot is provided as well as children's toys, games, and DVDs. The apartment is located right in the heart of the city, so you'll have all of Edinburgh's top attractions on your doorstep.
Enjoy maximum comfort at this New Town Edinburgh hostel. Each dorm bed is housed in its own private nook giving guests semi-private accommodations.
The hostel also features a full kitchen and contemporary lounge. Located in the heart of the city, it is close to Edinburgh's main train station as well as the city's most famous attractions. Its location also makes it ideal if you plan on taking any Edinburgh day trips.
Treat the family to a spot of luxury at this five-star hotel in Edinburgh. Featuring family rooms, an onsite gym, restaurant and free wifi, you'll have everything you need and more for a comfortable stay in the Scottish capital. It's within walking distance to the city's top attractions including the National Gallery, Scott Monument and Edinburgh Castle.
Things to See and Do in New Town Edinburgh:
Climb Carlton Hill to browse the monuments and take in great views of the city.
Wander through Princes Street Gardens, a small urban green space that borders both Old and New Town.
Go shopping along Princes Street, Edinburgh's main thoroughfare.
Enjoy fish 'n' chips and a whole lot more at Rapido, an Edinburgh staple.
View the collection of paintings and sculptures that highlight key figures of Scotland's history at the Scottish National Portrait Gallery.
Grab a cone and enjoy some of the best ice cream in Edinburgh at Mary's Milk Bar.
Here's what people usually ask us about the areas of Edinburgh and where to stay.
World Nomads' mission is to support and encourage travellers to explore their boundaries. They offer simple & flexible travel insurance, and safety advice to help you travel confidently.
They've been doing it since 2002 – protecting, connecting, and inspiring independent travellers just like you.
Get a quote below or read our in-depth review!
World Nomads provides travel insurance for travelers in over 100 countries. As an affiliate, we receive a fee when you get a quote from World Nomads using this link. We do not represent World Nomads. This is information only and not a recommendation to buy travel insurance.
Edinburgh is possibly one of the most beautiful cities in the world, and one of the coolest places to stay in Scotland. It's full of incredible architecture, churches, and castles on one side, and trendy shops and restaurants on the other.
Still not sure where to stay in Edinburgh? You can't go wrong staying in Old Town, but West End is perfect if you're visiting Scotland on a budget. Thankfully, the city is pretty compact and can be easily explored on foot or by bike.
Did we miss anything? Let us know in the comments below!
Do you own an awesome hostel, hotel or apartment? Want to be featured in our list? Email [email protected] to find out how.
---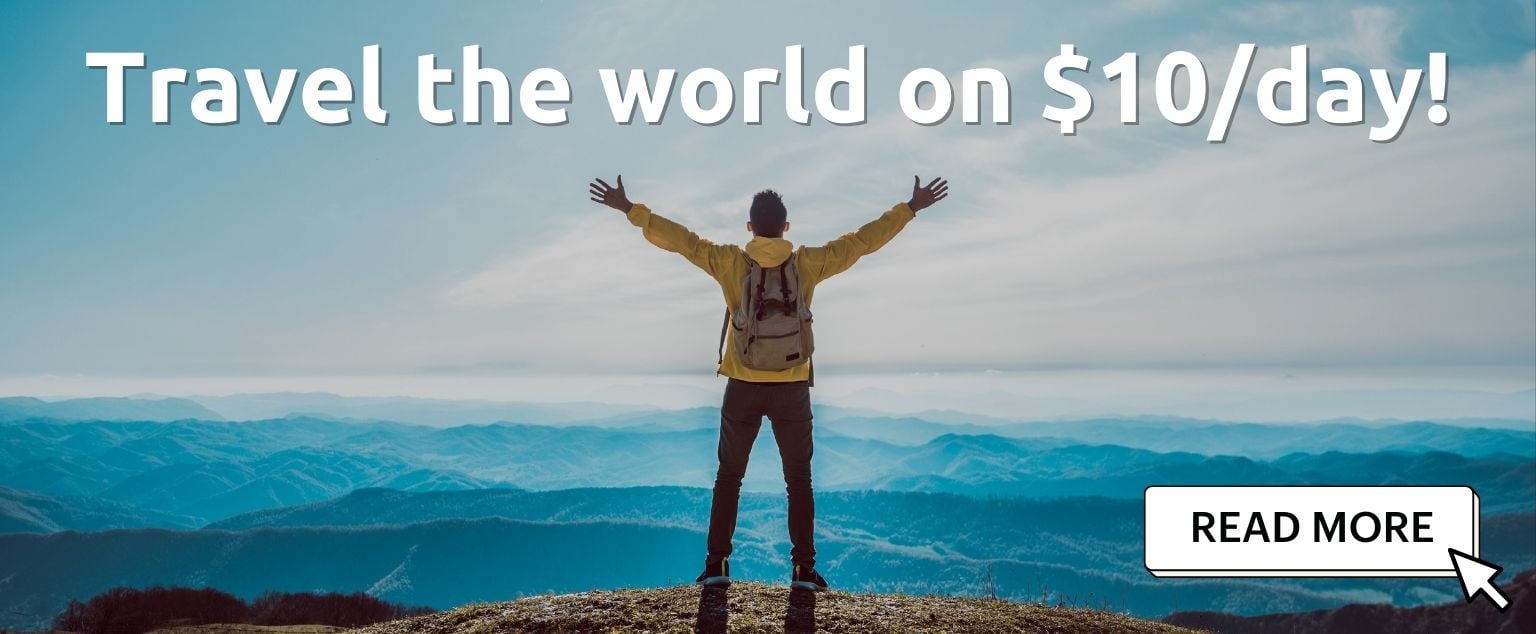 And for transparency's sake, please know that some of the links in our content are affiliate links. That means that if you book your accommodation, buy your gear, or sort your insurance through our link, we earn a small commission (at no extra cost to you). That said, we only link to the gear we trust and never recommend services we don't believe are up to scratch. Again, thank you!