Backpacking Scotland? Why the bloody hell not? The country has landscapes so green that the hills seem to ooze chlorophyll. It has islands dotted with whiskey distilleries, lochs, and waterfalls. The hiking trails and huts in the Highlands offer up an endless supply of adventure opportunities in an otherworldly environment. Throw in the abundant cultural richness of the big cities and tiny far flung villages and you have yourself one sweet place to go backpacking.
Looking to get off of the beaten track and explore some of the best of Europe's last truly wild places? If you thought that Scotland was too expensive for broke backpackers, think again. Traveling to Scotland on a budget is totally possible, and I aim to show you how.
If Scotland has managed to stay off your travel radar until now, no worries. This budget travel guide will teach you what you need to know in order to have a kick-ass journey exploring this magnificent country without breaking the bank. Put on your waterproof layers and get your whiskey face on friends. This is the ultimate guide to backpacking Scotland on a budget!
Backpacking Scotland offers up the opportunity to explore a vast array of landscapes. From wandering the streets of the big cities and trekking in the Highlands to island hopping around the Hebrides, Scotland has plenty to keep budget backpackers busy.
It might not be the biggest country in Europe, but it can still be a struggle to find out where to stay in Scotland. But don't worry, we've covered pretty much everything you need to know before you start your travels, so planning your trip will be a breeeze.
Backpacking 2-4 week Itinerary #1: Scottish Highlands
Fancy exploring some of the best hiking trails in Scotland? Want to get to know the rich culture of the Scottish Highlands? I have assembled a 2 week Scotland backpacking route that will take you through the best places in the Scottish Highlands, including some of the top national parks.
This backpacking itinerary can be started from Glasgow or Edinburgh. If you have more time on your hands, this Scotland backpacking route can easily be combined with other itineraries on my list.
Backpacking 2 week Itinerary #2: Scottish Islands
You could spend 2 weeks just backpacking the Scottish Islands. Start by visiting the most accessible Isle of Arran, just a few hours from Glasgow. The island is laidback, and the Laggan Circuit provides excellent hiking.
Next, ferry to the Isle of Skye, the most famous isle in Scotland. Its rugged Cullin Mountain range consistently graces magazine covers and Scotland brochures.
Afterward, make your way to the Outer Hebrides island chain made up of 5 major islands. These islands offer natural scenery and Gaelic culture.
Finally, if your budget and time allow, you can make your way to the Shetlands, the northern most point in Great Britain. This is the most remote area in Scotland, though it can be worth the trek to explore a part of Scotland most do not see.
For more information on the islands, check out the "places to visit in Scotland" section below.
Backpacking 10 day Itinerary #3: Scottish Cities
If you are not the kind of person who doesn't need ample time in the mountains, Scotland boats some interesting urban escapes as well. Your journey backpacking Scotland will probably begin with your arrival into Glasgow or Edinburgh. These two cities offer budget backpackers a wide range of interesting activities to get into.
Whether you are into history, architecture, or the food scene, you will find Scottish cities to be bursting with all three and then some. There are also heaps of day trips from Edinburgh and Glasgow to do if you find yourself here for a little while before heading off on your bigger Scottish trip.
If you are wanting to combine this backpacking route with some of Scotland's other main attractions, it is super easy to tack on the other Scotland backpacking itineraries I have included here. Edinburgh and Glasgow are the main transportation hubs of the country and make for good jumping off points for the rest of Scotland.
Torn? Let us help you make the decision between Edinburgh or Glasgow with this helpful guide.
Backpacking the West Highland Way
For the ambitious backpacker, the famous West Highland Way is one of the best long distance walks in Europe. The hike stretches for 151km from Milngavie on the edge of Glasgow to Fort William. The path is well marked, well serviced, and accommodation/camping options are abound along the way.
The best place to stay in Glencoe is the Glencoe Independent Hostel. A bed in the bunkhouse costs about £16.50. The cheery on top? They have a steam room to soothe your poor legs after all that walking. Free fast wifi and laundry service is available as well. You might have gathered by now that it is a great idea to book things in advance while backpacking Scotland. This is an absolute must in the summer when plenty of other hikers are wanting a bed also!
This hike is the essence of backpacking Scotland at its core. If you have time, I highly recommend tackling the West Highland Way. You will not be sorry you did. At a slow pace, this hike can take up to 2 weeks. But if you are moving steady and can hike roughly 6 hours a day, you can finish in 10 days or less
If the distance intimidates you, don't let it! You can always break up hiking days with rest days too!
Remember, trekking doesn't cost very much money. The West Highland Way can be done as cheap as you wish to do it. A good long walk is often the most memorable and rewarding part of any trip!
Backpacking Loch Lomond
Nestled within the boundary of Trossachs National Park is Loch Lomond. This lake is the largest body of fresh water in Great Britain. It is a natural dividing line between the highlands and lowlands. Here is where the majestic beauty of the highlands begins.
You will not be alone, however, as Loch Lomond is a very popular spot for locals and foreigners. In 2017 some of the laws regarding wild camping in the national park changed. There are now many (more than 300) spots for putting tents or cars along the lake shore which require a reservation and payment of £3 . It is also possible to obtain a wild camping permit which also costs £3. In my opinion, these aren't necessary if you're going far into the bush. That is what backpacking Scotland is all about!
There is not much in the way of budget accommodation here, but there are a few options. I recommend staying at Rowardennan Lodge Youth Hostel. Dorm beds will run you back about £25 (ouch!), but the location and view can't be beat. This is the only hostel I found at Loch Lomond as of the time of writing.
The other hotels start at about 4x the price! I heard that it might be possible to stay with local farmers as well. Always ask before setting up camp!
There are some amazing hikes to be found all around Loch Lomond. I recommend hiking up Ben A'an for great views of the lochs and surrounding forest.
Backpacking Fort William
Fort William is a medium sized port town in the heart of the Scottish Highlands. It is the 2nd largest town after the city of Inverness. The main activities surrounding Fort William involve all things mountains. Ben Nevis, the UK's highest peak (1,345 m/4,411 ft) can be seen from town on clear days.
The town itself is worth a visit as it has everything you need to resupply, whether you are beginning or finishing a trek. There are more cheap accommodation choices here too than elsewhere in the Highlands. I loved staying at The Wild Goose Hostel. The Wild Goose has free breakfast and is centrally located. The hostel is very close to the Caledonian Canal and The Lochy Bar when your ready for a pint
The Fort William area has plenty of hikes to keep you busy other then Ben Nevis. I recommend checking out the Walk Highlands resource page for detailed information about hikes like Neptune's Staircase and the long distance hike Great Glen Way.
Find out where the best places to stay in Fort William are so you can be as close as possible to the attractions (or parties for that matter). Or better yet, if you're looking for a remote escape, here's our epic guide to the best cabins and lodges in Fort William!
Check out my guide to the 10 best hostel in Fort William and find a place that suits your style!
The Scottish Midge
Cover up your arms and legs when you are out hiking! The Scottish Highlands are home to the famous bitting insect called midges. They are truly horrible little fuckers who will eat you alive if you give them a chance. Backpacking Scotland brings few annoyances but the midge tops the list for me.
Try to avoid toxic insect repellent if you can help it. If it kills the midges, it is slowly killing you. Find natural essential oil based alternatives as they are available. Or make it yourself!
Backpacking Aviemore
Certainly no trip to the Highlands would be complete without a visit to Cairngorms National Park. Aviemore is a quaint little town in the heart of the park and makes for a good base to explore the wild mountains of the Cairngorms.
Cairngorm Lodge Youth Hostel is a great place to lay your head in between your outdoor adventures. A bed in the bunkhouse costs £22. I found that the restaurant and bar had good food for a reasonable price. You can buy packed lunches to take with you on hiking missions.
The Ryvoan and Lochan Uaine circuit is a gorgeous 10 kilometer walk through ancient pine forests and mystical lochs. Honestly there are so many beautiful hiking options in the Cairngorms! How do you decide what to do? Well, there is something for everyone here whether you are after short or long distance walks. Remember, being overwhelmed with a huge variety of hiking routes is never a bad thing!
Camping in the Cairngorms
Throughout the Cairngorms National park there are many, many places to wild camp. I must stress the importance of this option yet again. Hostels are great and often necessary when the weather is god awful; however, wild camping is truly your key to saving money and getting the most out of your experience backpacking Scotland.
Hitchhiking is common for travelers here, so it can be easy to move from village to village. I always advise keeping some sort of food/meal rations in your bag for hiking trips or last minute diners. Although grocery stores can be found in many of the villages, finding yourself always without food and in need of a restaurant is a good way to blow your budget!
Backpacking Loch Ness
Of course, no respectable backpacking Scotland guide can skip mentioning Loch Ness. The mysterious Loch Ness monster "Nessie" has been confounding children's imaginations for almost a century and has in turn made Loch Ness, Scotland world famous.
That said, Loch Ness is an extremely touristy place. You will see every shop, hotel, pub, restaurant, and taxi bearing some kind of Loch Ness monster theme. The loch is beautiful yes, but there are thousands of other beautiful lochs in Scotland too.
If you must go to Loch Ness and hunt the legend of "Nessie" for yourself, fair enough. The Lochside Hostel is the best place in town in which to explore what Loch Ness has to offer. Dorm beds run about £20. Perks include the lake side location, cheap breakfast and free wifi.
See the lake, buy your Loch Ness monster t-shirt, and leave with a huge smile on your face. I stand by the fact that Scotland boasts many other beautiful lochs, but I understand too that Loch Ness is not without the charm of legend.
Backpacking Isle of Arran
The Isle of Arran is one of the most accessible of the islands to the mainland. You can be on the island in just a few hours after leaving Glasgow. Despite being so close to Scotland's most populous city, the island has a very chilled out vibe.
The Lochranza Youth Hostel is located in the beautiful northern end of the island. The only whiskey distillery on Arran is just a few minutes walk away. The informative distillery tour costs £8 and comes with some delicious samples.
Around the town of Lochraza there are numerous tracks leading out into the hills. The Laggan Circuit offers stunning views of the sea and other islands in the vicinity. A visit to the 13th century castle ruins on the waterfront can be combined with a stroll along the beach.
Throughout the Isle of Arran I found many beautiful wild camping spots along the coast. A friendly local even offered me a few grams of free weed to enjoy after I had just pitched camp. Keep your eyes peeled at all times for potential places to camp. Look for little turn-offs along the main road with paths leading down to the beach or river.
Backpacking Isle Of Skye
This is the Scotland from the travel magazines. Backpacking Isle of Skye really is like traveling through a mountain fairy tale kingdom at times. It is the largest and most northern of the major islands in the Inner Hebrides of Scotland. The rugged and mysterious Cullin Mountain ranges make up a good portion of the interior.
Local buses can be option for getting around but there are only a few routes, and they don't run everyday.
There are multiple towns and villages dotting the coastline and interior. The biggest and closest town to the mainland after crossing over on the Skybridge (that's right, you can drive to Skye!) is Broadford. Here you can find a wide array of restaurants, pubs, and a decent sized grocery store.
For a welcoming hostel in Broadford, I can recommend Skye Base Camp. I liked the excellent location, great views of the bay, and the big kitchen. A Dorm bed will be about £17.50. Buy some local salmon, cook it yourself, and eat like a king!
Skye is a place of dramatic landscapes, harsh weather, and rewarding treks. Tourism has boomed here in recent years and the amount of cars on the tiny island roads reflect that.
Isle of Skye Attractions: Too many Tourists?
In my opinion, backpacking Isle of Skye is a must for anyone backpacking Scotland. Yes, it is a very popular place with tourists. The tour buses and motor homes aren't so abundant as to be in your face all the time. I am sure that over the next few years this will change. More people will come and the island will loose its charm. Luckily, we are not there yet! And it's a big island!
Despite the occasional traffic jam, it is still possible to find large areas of desolation, especially in the back country. A huge bonus is that you can camp out in many areas of the island. Be prepared for when the weather turns to shit as it so often does.
When you get rained out, I can recommend The Portree Youth Hostel. A dorm bed costs about £19.50. The hostel is very clean and centrally located in the village of Portree. Portree is great for two reasons. It is a nice little town with some good pubs and enough services to become a base for hikes or kayaking. Reason number two is that it is fairly easy to get to the Old Man of Storr.
My sunrise hike to the Old Man of Storr was without a doubt one of my favorite moments I experienced while backpacking Scotland. It is even possible and relatively easy to camp there. The Storr rocks are a roughly 30 minute hike from the road. This makes it simple to haul some camping gear with you if need be.
When you go to Storr go very very early (or camp)! Watch the sunrise. Bring a thermos full of coffee or tea and even a blanket. Have a seat by the rocks and as the sun comes up, prepare for one of those magical moments that only traveling can bring.
Check out our ultimate list of the best hostels in Isle of Skye.
Backpacking the Outer Hebrides
The Outer Hebrides island chain consists of five major islands and numerous tiny ones. These islands offer some of the most spectacular natural scenery in all of Scotland. The five major islands are Lewis and Harris, North Uist, Benbecula, South Uist, and Barra.
Gaelic culture is still alive and well here so be prepared to hear some Scottish Gaelic spoken. Most if not all of the residents on these islands will speak fluent english, though with the thickest goddamned accent you've ever heard.
If you can forget about all of the layers you will be wearing, you might think you have landed on a tropical beach. The color of the water has that turquoise sparkle often found in the tropics.
Take the ferry from Ullapool To Stornoway to arrive on Lewis. The cost of the ferry is £18.40 roundtrip, and takes 2 1/2 hours. If you are interested in visiting multiple islands in the Outer Hebrides, I recommend buying the hopscotch pass.
The Heb Hostel is your best bet for budget accommodation. For a dorm bed, you're going to have to shell out 19£. This hostel has an ancient website, so I recommend calling to book a bed for yourself before you arrive. Or wild camp camp camp!
Connect to you pagan side with a visit to the Callanish Standing Stones. Visiting Luskentyre beach is a great way to discover some of the coastal gems the island has to offer. I still can't believe how tropical this place looks! White sand beach and turquoise waters for real!
Backpacking The Shetlands
The Shetland island chain is the northern most point in Great Britain. It shares similar latitudes to Norway and Finland. Welcome to backpacking (very) northern Scotland! The Shetlands are famous for its wildlife biodiversity, extreme weather, general isolation, and of course, the tiny Shetland pony!
Normally I would say that due to its remoteness, a backpacking trip to the Shetlands would be cost prohibitive. A flight can cost upward of £500. However, there is a ferry that runs from Aberdeen to Lerwick that costs £27 in low season! This is a 12-hour ferry journey.
Once in Lerwick I recommend taking a bus or ferry to Unst. Gardiesfauld Hostel is one of the few budget places to stay. It is a truly unique location and offers surprisingly affordable rates. £16 will get you a dorm bed, and it is only £8 to camp.
When backpacking Scotland takes you this far north, a whole other world of magic awaits! Hermaness, a National Nature Reserve in Unst, is home to more than 50,000 puffins! Be respectful to these little guys. Look but do not by any means disturb their nests or habitat.
You can easily spend a week or more exploring the various islands. Since it was such an effort to get here, it seems an obvious choice to stay a while and make the most of the time. Happy puffin watching
Most backpackers will start their backpacking journey in Edinburgh, arriving from London or else where in Europe. Edinburgh is a beautiful capital city offering up great pubs, food, historic buildings, and culture, there are heaps of places to visit in Edinburgh. You can easily fill three days here exploring all it has to offer. Plan your Edinburgh itinerary well because there's a lot to do here!
Edinburgh is a city surrounded by seven hills. These hills provide excellent opportunities to get some hiking in close to the city. To get your bearings, a hike up to Arthur's Seat is a great way to get the blood pumping and take in some great views.
I recommend staying at High Street Hostel. High Street has dorm beds starting from £12, includes wifi, free coffee/tea/hot chocolate, and very clean hot showers! This place books up fast, especially on weekends so plan accordingly.
For more inspiration on where to stay in Edinburg, check out this guide. And check out this Broke Backpacker article for a complete list of the best hostels in Edinburgh.
The Thistle Street Bar serves up local pints in a cozy, no bullshit traditional pub atmosphere. They keep the fire roaring on chilly days and have a nice beer garden for when the sun is out.
There are truly a million things to do in Edinburgh. I must recommend having a look at the world class National Museum of Scotland. The museum is free and offers up a great cultural perspective of Scotland and Celtic history.
Edinburgh is a very accessible place to walk around in and just explore. I also advise walking the Royal Mile, exploring the tiny streets of Old Town, and to start trying some of the famous Scotch whiskey!
Edinburgh is also a transportation hub to and from other regions of Scotland. From here, you can catch buses to Inverness, Glasgow, or the Highlands.
Backpacking Glasgow
Glasgow is Edinburgh's edgier but cooler big brother. Though only 75 kilometers away it has a totally different vibe. This is the industrial center of Scotland and some of the landscapes around the city reflect that. Glasgow has a major international airport and is another main artery in Scotland's transportation network.
Despite its reputation as being somewhat dangerous and ugly, there are plenty of fun things in Glasgow for backpackers in the city. The dangerous and ugly designations are now outdated. In the last 20 years, the local Glasgow government has improved the city's previously run down industrial areas. It now boasts a happening pub scene, art galleries, interesting walks, and plenty of backpacker accommodation.
I recommend staying at the Hot Tub Hostel. You guessed it, free hot tub! Dorm beds start at £11.25 and include free wifi and fresh towels.
If you are looking for a good time in Scotlands's gritty city then you must head over to Sauchiehall Street. This is where the party and music scene gets going most nights. Around the Sauchiehall Street area there are clubs and bars galore for every persuasion. Glasgow is said to be the center of the Scottish LGBT scene and is a buzzing on a weekend.
Street art is a pretty big deal in Glasgow. I recommend taking in the Glasgow murals trail, a 9-kilometer/3 hour walk that weaves amongst the city's most impressive street art creations.
After you have seen what Glasgow has to offer it is time to lace up your boots and head for the Highlands.
Check out our guide to best hostels in Glasgow.
Read up on the best areas to stay in Glasgow using our comprehensive guide.
Backpacking Inverness
Inverness is the unofficial capital of the Highlands. If you are in need of a place to rest your weary trekking bones, look no further. Inverness has got a pretty cool city centre going for it, with plenty of things to see and do.
Bazpackers Hostel is a great place to land in Inverness. For the price it simply can't be beat. A dorm bed will cost you about £16. The showers are clean and hot, and there is a cool lounge area with a fireplace. You must book this one in advance as it is very popular!
Take some time to walk the streets. Catch up on some reading or email in one of the many cafes; I recommend the Velocity Cafe. They have healthy (and not so healthy) snacks, cakes, and tea. It is a good spot to chill out for a few hours anyway.
The Inverness Museum and Art Gallery is a terrific place to enhance your knowledge of Highland culture. The museum is perfect for those days where it just won't stop raining. Check out this post for more info on visiting Inverness
Fancy trying haggis? If you are backpacking Scotland and are not vegetarian, haggis is the must try national dish of Scotland. The Castle Tavern has got your haggis needs covered at a reasonable price. Love it or hate, it is up to you to decide.
Check out my in-depth guide to the best hostels in Inverness.
Read up on the best areas to stay in Inverness using our comprehensive guide.
Backpacking Aberdeen
If you are travelling to or from the Shetlands, then you will spend a few days in Aberdeen. The city is Scotland's third most populous city.
Sopprano Hostel is a great choice for accommodation in Aberdeen. It is located right next to the bus station and is a short walk from the bars and shops. Dorm beds cost about £20. The bar at the hostel is a great place to catch up with other people backpacking Scotland.
Aberdeen is a city packed with great historical attractions. While there are a few castles right around the city limits, my favorite is the Dunnottar Castle at Stonehaven. The Dunnottar Castle (£6 entry) is perched right above the sea and is an ideal place to bring a picnic lunch or a bottle of wine.
You can catch a bus to Stonehaven on the Stagecoach X7 bus. The round trip fare is around £7 and takes 35 minutes.
A good friend of mine works at Scotland's premier microbrewery-gone global, BrewDog in Aberdeen. They are badass pioneers in the realm of sour and wild fermented beer! Step into their pub and find out what's on tap this week.
Getting Off the beaten path in Scotland
I personally spent 6 weeks backpacking Scotland. I found that if I had more time I could of kept on exploring. Scotland has several tourist route hot spots. This includes Loch Ness, Ben Nevis, and the Isle of Skye. However, in each of those places there is always an opportunity to get off the beaten path.
I noticed that other folks traveling around Scotland don't seem to stray too far from the car or bus. The weather keeps most people close to the fire sipping their tea. Often, when I would just head out away from a main road I would discover these amazing places with very people around.
The most important thing you can bring with you on this trip is a good tent. A waterproof, comfortable tent with plenty of space for two people will be your best mate while you are backpacking Scotland. A good tent and warm sleeping bag are you keys to the wilds of Scotland. They will save you so much money and will allow you to truly explore!
Overwhelmed by all of the amazing things to get into whilst backpacking Scotland? Understandable! Backpacking Scotland offers up interesting possibilities just about everywhere you look.
I have listed the top 10 most popular and best things to do in Scotland below to get your ideas flowing for your next trip to Scotland!
1. Sunrise at Old Man of Storr
Keen to beat the crowds and witness one of the best sunrises of your life? An early morning hike to the famous Old Man of Storr on the Isle of Skye will with out a doubt be one of the highlights of your time backpacking Scotland.
2. Visit the National Museum of Scotland in Edinburgh.
This fabulous museum is one of the many gems of Scottish culture. Entry is free and there is plenty to take in here so budget the majority of your day if you plan to visit.
3. Go for a Multi-Day Hike in the Highlands
With so many awesome trails to choose from, the hiking options are truly endless in Scotland. If you want to escape the crowds and experience some of the raw natural beauty Scotland has to offer, I highly recommend going for a multi-day trip in the Highlands! If you do so, stay in one of these epic lodges in Scotland and you'll be close to all the best hiking trails.
4. Sleep in a Bothy
A fucking awesome aspect of trekking in Scotland is the national system of mountain Bothies. A bothy is a type of mountain hut or shelter used traditionally in Scottish farming communities of old. Often they are very sturdy, weatherproof, and big enough for at least 5 people. Sometimes they can sleep much more than that. Most bothies I encountered were well built and made from stone and wood.
A night out in a bothy will certainly get you in touch with the hiking culture of the Highlands!
5. Visit the Best Castles in Scotland
Scotland is home to some of the most spectacular castles in Europe. Each castle has its own interesting history and story, and some castles even provide accommodation for travelers.
I recommend checking out Dunnottar Castle at Stonehaven, just outside of Aberdeen if you are in the area. The castle itself isn't in the best shape, but the ruins combined with the great location make this castle something special for sure. There are also awesome castles to visit in Edinburgh, Isle of Skye, and in the Highlands.
6. Try Haggis in Scotland
The legendary Scottish pudding containing sheep's pluck (heart, liver, and lungs); minced with onion, oatmeal, suet, spices, and salt, mixed with stock, traditionally encased in the animal's stomach.
An acquired taste? Probably. A must try whilst backpacking Scotland? Most definitely.
7. Climb Ben Nevis
Keen to tackle the UK's tallest mountain? From Fort William, Climbing Ben Nevis takes roughly seven hours round trip. It is best to start early in the morning, thus avoiding the hordes of people. If you are trekking outside of the main summer season, you might be nearly alone.
Prepare for cold weather no matter what time of year it is! Ben Nevis might not see that high but it can get snow anytime. It is also very exposed to wind, sleet, and rain so plan accordingly. Pray for clear skies!
8. Whiskey Tour on Isle of Arran
The Arran whiskey distillery on Arran is just a few minutes walk away. The informative distillery tour costs £8 and comes with some delicious samples. I am especially thankful to the Arran Whiskey Company, as they let me take a sink shower, fill all my water bottles, and have a look around after I returned from a hike.
Around the distillery, there are some fantastic hikes to do where you can get great views of the island and beyond.
9. Take the Ferry to the Outer Hebrides Islands
Experience the vibrant Gaelic culture and spectacular landscapes of the Outer Hebrides. The ferry is cheap (less than 19 pounds roundtrip) and the journey through the Irish Sea to the Islands is stunning.
10. Visit the Puffins on the Shetland Islands
If you find yourself having ample time to visit the Shetlands, I know it will be worth the trip. The Shetlands are home to thousands of Atlantic puffins! Hermaness, a National Nature Reserve in Unst, is home to more than 50,000 puffins! Be respectful to these little guys. Look but do not by any means disturb their nests or habitat.
Scotland has a wide array of accommodation options for people backpacking Scotland. There are a good network of great hostels in Edinburgh and throughout the country. Established campgrounds are also available throughout Scotland, offering a site, laundry, and a shower at a reasonable price.
One of my favorite ways to meet locals and save some cash is to use Couchsurfing. Couchsurfing truly is one of the best tools available to help save you money traveling. Plus you are always bound to meet interesting people!
Scotland is one of the few places in Europe where they have no wild camping laws! This means you can legally camp most places free of charge and without hassle from police. The actual law states that you may "camp on most unenclosed land", EG national parks, reserves, coastal areas, or any other wild places.
Camping is always my favorite way to get away from the crowds and connect with nature. As always when camping out, familiarize yourself with "leave no trace principles" and put them into practice. If you love being outdoors and exploring wild places, then more than likely you will be camping out at least a few nights a week whilst backpacking Scotland. In this country, camping choices abound!
To help you find the absolute best places to stay during your Scotland backpacking adventure, check out this post on the best hostels in the UK.
The Best Places To Stay in Scotland
My average costs for backpacking Scotland (2017-2018) was about £25/day for six weeks. That equals out to be £1,050.
A Daily Budget in Scotland
Scotland can be a very expensive country at times. If you are staying at hostels every night, drinking heaps of beer, and eating out all the time, then you are looking at a budget of at least £50/day (probably more). A true budget backpacker simply can't support that way of travel in a place like Scotland.
My experience backpacking Scotland was a balancing act. I'd say most of my money was spent eating, but I like to eat well – and Scottish food is fantastic!
Eating well doesn't mean I went out a lot, though. In the six weeks I was there, I ate out maybe twice. I went to grocery stores a lot and cooked. Limit your booze intake and you'll save big!
Money in Scotland
The currency in Scotland is the same used in all of the UK, the British pound sterling.
Currency symbol= £ GBP
ATMs are widely available in just about every place in the country. If you are going to remote locations on some of the islands, bring enough cash to see you through.
If you bring heaps of foreign cash to exchange, expect to get a poor exchange rate.
Find out whether or not your bank in your home country has fee-free international withdrawal. If so, activate it for your trip or for whenever you travel abroad. Once I discovered my bank card had that option, I saved a huge amount in ATM fees! When traveling to Scotland on a budget, every dollar (pound) counts right?
Travel Tips – Scotland on a Budget
To keep your spending to an absolute minimum whilst backpacking Scotland I recommend sticking to the basic rules of budget adventuring….
Hitchhike: In Scotland, it is relatively easy to thumb a ride. Hitchhiking is an ace way to keep your transport costs down. Make good use of your thumb while backpacking Scotland!
Camp: With a life-time worth of gorgeous natural places to camp, Scotland is a perfect place to sleep outdoors. You can often crash in Bothies for free when trekking. Check out this post for a breakdown of the best tents to take backpacking or maybe you prefer the more ultralight style camping hammock?
Eat local food: You can always score a big portion of fried fish and tatties for around £6. If you're on a real tight budget; it's worth taking a portable stove – check out this post for info on the best backpacking stoves.
Go on Free Walking Tours: You'll find an abundance of these in bigger cities like Dublin and Edinburgh although you will be asked to pay a tip at the end usually. If you happen to be enticed by tours that aren't free, we've managed to find one that lets you pay in interest-free instalments at a rate that you choose with Global Work and Travel that ticks off a few of Scotland's main highlights.
Pack a travel water bottle and save money every day!
Why Should You Travel to Scotland with a Water Bottle?
Plastic washes up on even the most pristine beaches… so do your part and keep the Big Blue beautiful!
You aren't going to save the world overnight, but you might as well be part of the solution and not the problem. When you travel to some of the world's most remote places, you come to realise the full extent of the plastic problem. And I hope you become more inspired to continue being a responsible traveller.
STOP USING SINGLE-USE PLASTIC! If you'd like some more tips on how to save the world.
Plus, now you won't be buying overpriced bottles of water from the supermarkets either! Travel with a filtered water bottle instead and never waste a cent nor a turtle's life again.
Scotland can be a bit cold and damp at the best of times. The summer season is the obvious choice for those planning on spending lots of time outdoors. In order to succeed backpacking Scotland on the cheap, you will have to sleep out a lot. The warmer, drier weather extends from May to October. Remember, warmer and drier is relative.
The weather can vary wildly from region to region. The Highland mountains can receive freak snow storms at any time of year. Always check the forecast before heading out and always be prepared for extreme cold. The islands are know for violent weather systems coming in from the Atlantic ocean and the North Sea.
Often I found myself hiking in just my t-shirt and trekking pants.
Winter time in Scotland is no time to be in the mountains unless you are an experienced individual. Ice climbing is a huge sport in Scotland!
I would plan to come sometime in June, July, or August, when the rest of Europe is super hot. You will be stoked by the refreshing mountain air. Of course this is the main tourist season as well, but it's simply the best time to visit. When traveling Scotland on a budget, warmer weather equals more nights camping out, which in turn equals less money spent on hostels.
Festivals in Scotland
There is a wide variety of vibrant festivals in Scotland covering the arts to parties and culture. Check them out!
Cowal Highland Gathering
Every summer people from all over the UK descend on the Highlands for a multi-day festival celebrating Highland culture. The Highland games event is held in the Scottish town of Dunoon, on the Cowal peninsula in Argyll and Bute, over the final weekend in August. Activities include live traditional music and Scottish style olympic sports.
Hogmanay
Hogmanay is the Scottish New Year celebration. The origins of Hogmanay are unclear, but it may be derived from Norse and Gaelic observances. Customs vary throughout Scotland, and usually include gift-giving and visiting the homes of friends and neighbors, with special attention given to the first-foot, the first guest of the new year.
In the streets of major cities, a copious amount of debauchery is sure to be found.
Edinburgh International Film Festival
There is a wide variety of festivals in Edinburgh throughout the year. The Edinburgh International Film Festival runs every June-July in the city of Edinburgh. This festival features a great selection of movies from around the world.
Scotland is not a dangerous country. Crime levels are low and there aren't any real natural disasters. As we said earlier, the Highland Midges are a real annoyance and there is also an outside risk of street crime and drunken violence in the cities.
Travel Insurance For Scotland
World Nomads' mission is to support and encourage travellers to explore their boundaries. They offer simple & flexible travel insurance, and safety advice to help you travel confidently.
They've been doing it since 2002 – protecting, connecting, and inspiring independent travellers just like you.
Get a quote below or read our in-depth review!
World Nomads provides travel insurance for travelers in over 100 countries. As an affiliate, we receive a fee when you get a quote from World Nomads using this link. We do not represent World Nomads. This is information only and not a recommendation to buy travel insurance.
Scotland lies smack in the north of the UK, bordering England to its south. It is surrounded by the Irish Sea to the south west and the North Sea to the east. The UK includes England, Wales, Northern Ireland, and Scotland. If you are also headed to England, Wales or Northern Ireland, then we do have a UK backpacking guide on the site.
If you enjoy the tough but beautiful Scottish landscapes, then you should maybe consider a trip to Lake District in England.
If you are arriving from elsewhere in mainland Europe, you have a few options. You can fly into London, Edinburgh, or Glasgow, depending on which city has the cheapest flights (probably London) at that time. The other option is to take the ferry across the English Channel. Also, there are ferry services running from Northern Ireland to Scotland.
Entry Requirements For Scotland
Tourist visas for citizens of many countries can be easily obtained on arrival at all of the ferry ports and airports. As of early 2018, members of all EU countries and EFTA member states still have freedom of movement privileges and don't require any visas.
There are 58 countries outside of the European Union that have a visa reciprocity agreement with the UK. This means that citizens of those countries, depending on which one you are from, can receive 3-6 months of visa free travel (tourist travel) in the UK.
If you are from a country not on the reciprocity list, you will need to apply for a visa through the British embassy in your home country.
Traveling by Public Transport in Scotland
Backpacking Scotland on the cheap requires trying to avoid expensive trains and buses. From the moment you arrive, you will see the abundance of tour buses on every major road. If you are short on time and desire an easy alternative to mainstream tour companies, I recommend Haggis Adventures. They hit all the highlights, but for the cost of a pretty penny. It is more of a party bus atmosphere geared towards younger travelers.
For a cheap city to city one-way bus service, I recommend UK Megabus. As always in Scotland, booking in advance will keep the prices down dramatically.
Renting a car is a great way to see the country in even more detail. A car gives you freedom to really get into what you want.
You can sort your car rental here in just a few minutes. Booking in advance is the best way to ensure you score the lowest price and your choice of vehicle. Often, you can find the best car rental prices when you pick up the rental from the airport.
Make sure you also purchase a RentalCover.com policy to cover your vehicle against any common damages such as tires, windscreens, theft, and more at a fraction of the price you would pay at the rental desk.
Campervan Hire in Scotland
Traveling Scotland by campervan is definitely the most comfortable and convenient way to see the country. Hiring a campervan in Scotland is easy and straightforward. Scotland is dotted with epic places to park up for the night. In the end there is simply no better way to see Scotland!
Transportation in the Scottish Isles
Getting to the islands (isles) on Scotland's west coast is pretty easy and straight forward. You will need to book ferry tickets online before your desired departure date. Calmac UK offers bundle ticket packages which allow you to visit multiple islands at a cheaper rate. There are no set dates for these tickets and you can hop on and off as you please.
Some islands are closer to the mainland than others. Obviously there can be huge differences in price depending on the distance. The Scottish Isles are magical places and are not to be missed!
Onwards Travel From Scotland
If you are on an extended European backpacking tour good for you! Cheap flights from Glasgow or Edinburgh can take to your next backpacking destination without breaking the bank. Most major European capitals are only an hour or two flight away!
Refer to the "Arriving into Scotland" section for information regarding ferry departure and arrivals.
Scotland is a part of the UK. As such living standards are ostensibly amongst the highest in the world. The minimum wage is £8 which to be honest can make for a hard living amidst ever rising living costs.
Scotlands economic engines are Edinburgh and Glasgow and offer varied employment opportunities. If you are looking for seasonal work then farming is an option as is working in the tourism sector.
Work Visa's in Scotland
Scotland is part of the UK. Following Brexit, pretty much everybody will need a work visa. These are awarded on a points based immigration system which more or less closes the door to most would be applicants.
Volunteer in Scotland
Volunteering abroad is an amazing way to experience a culture whilst giving something back. There are loads of different volunteer projects in Scotland ranging from teaching, to animal care, to agriculture to pretty much everything!
Scotland is wealthy and well-developed, but you'll still find volunteering opportunities that benefit smaller communities. Help out at a guesthouse in the Highlands or bag yourself a 'bread and board' gig in Edinburgh to experience local life for a while. Some volunteer programs require a T5 (short-term work) visa even if you're not getting paid – so make sure to double-check!
If you want to find volunteering opportunities in Scotland, then we recommend that you Signup for Worldpackers – a volunteer platform that connects local hosts directly with traveling volunteers. As a Broke Backpacker reader, you'll also get a special discount of $10 when you sign up. Just use the discount code BROKEBACKPACKER and your membership is discounted from $49 a year to only $39.
Volunteer programs run through reputable work exchange programs like Worldpackers are usually very well-managed and reputable. However, whenever you are volunteering, do stay vigilant especially when working with animals or children.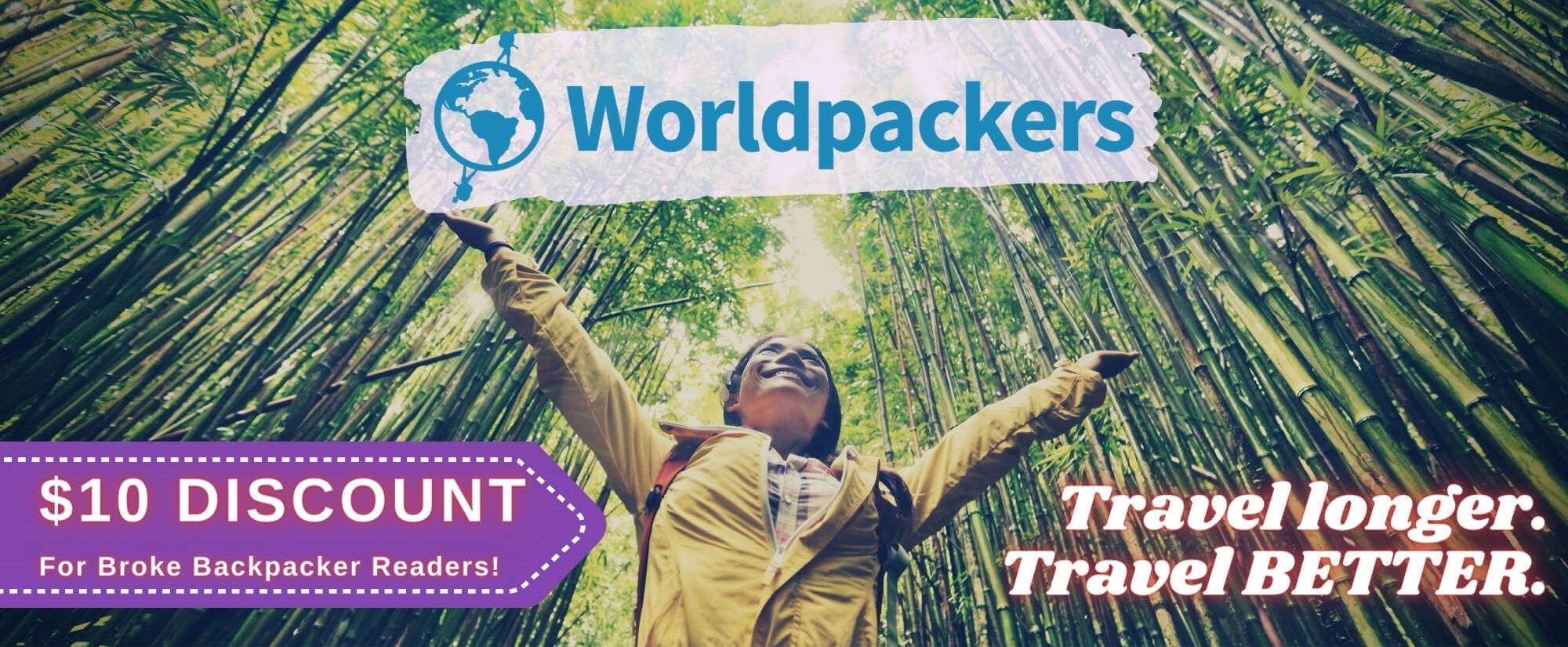 Worldpackers: connecting travellers with meaningful travel experiences.
Scottish people are know the world over for being genuine, hardworking people with a great sense of humor. Rock into a pub anywhere in Scotland and you are bound for good conversation.
Hiking and other outdoor activities are a big part of Scottish culture. Head out into the mountains and there is. a good chance you will make some new friends with locals.
Couchsurfing is an excellent way to meet locals and learn more about life in that place. Whilst Couchsurfing in various countries around the world, the insights I have received from my hosts about what to do and where to go have ben priceless.
Never try to argue with a farmer about trying to wild camp on his land. Wild camping laws in Scotland are a great enjoyment for lots of people. Don't be the person that ruins a spot for everyone else. Further, do not be disrespectful to the people making their living from the land.
Dating in Scotland
The rules of dating in Scotland are roughly the same as they are in most of the western world. It is your responsibility to practice safe sex and treat your date/travel lover/one night stand with respect and kindness.
Tinder seems to be a popular choice for many travelers and locals a like. Sometimes, Tinder is a far more rewarding Couchsurfing experience if you know what I mean. Never jump to conclusions though. No means no, every time.
Kindness, honesty, love, and humor go a long way. The world needs more people treating other people better! Jump on board, it feels great!
Books To Read About Scotland
Scotland: The Story Of A Nation– Story of a Nation is history on an epic level, and essential reading for anyone interested in the rich past of this captivating land.
The Highland Clearances– A very interesting and tragic read about the plight of the Highland people during the period known as "the Highland Clearances" Quite shocking, but very informative. Highly recommended.
Trainspotting– A modern day Scottish classic. Rents, Sick Boy, Mother Superior, Swanney, Spuds, and Seeker are as unforgettable a clutch of junkies, rude boys, and psychos as readers will ever encounter. Trainspotting was made into the 1996 cult film starring Ewan MacGregor.
A Brief History of Scotland
Scotland, like most every country on earth, has a very complicated past. In the 20th century, Scotland played a major role in the British and allied effort in the two world wars and began to suffer a sharp industrial decline, going through periods of considerable political instability.
The decline was particularly acute in the second half of the 20th century, but was compensated for to a degree by the development of an extensive oil industry, technological manufacturing and a growing service sector. This period also increasing debates about the place of Scotland within the United Kingdom, the rise of the Scottish National Party and after a referendum in 1999 the establishment of a devolved Scottish Parliament.
Another referendum on Scottish independence from the United Kingdom took place on 18 September 2014. The referendum question, which voters answered with "Yes" or "No", was "Should Scotland be an independent country?" The "No" side won, with 55.3 voting against independence and 44.7 voting in favor. The turnout of 84.6% was the highest recorded for an election or referendum in the United Kingdom since the introduction of universal suffrage.
In my time backpacking Scotland, I heard pro-Scottish independence mutterings more than once. The Scottish people are very proud of their country and deeply care about its future. It is not uncommon to hear a few (or many!) negative comments thrown the way of the English.
1. Hike in the Highlands
2. Have a beer by the fire in a Scottish pub.
3. Visit a castle or 2
4. Explore the Scottish Islands by Ferry
5. Wake up early for the sunrise on the Isle of Skye
6. Sample a few Scottish Whiskeys
7. Sleep in a Bothy
8. Couchsurf with a local
9. Learn a few words of Gaelic!
10. Rent a campervan
As I have mentioned before, Scotland is trekking paradise! There are so many well established, well maintained routes that one could spend a life time exploring.
I really recommend giving one of the long distance routes a go if you have the time.
There are hundred of bothies spread out across Scotland. Most of the time they are free to use and are maintained by various volunteer organizations. Bothies are essentially a free, warm place to stay out of the wind and elements. All you have to do is walk to them.
They really are a terrific part of Scottish mountain culture. I invite you to stay in as many as you can! Remember to always carry your tent with you on the off chance the bothies are full. My bothy memories are some of the best I have from my time backpacking Scotland.
Remember to always use "leave no trace principles" around bothies or when trekking in general.
Well there we have it. Scotland is a mighty fine country and you will have an amazing time. Just remember to enjoy yourself and keep on smiling!
---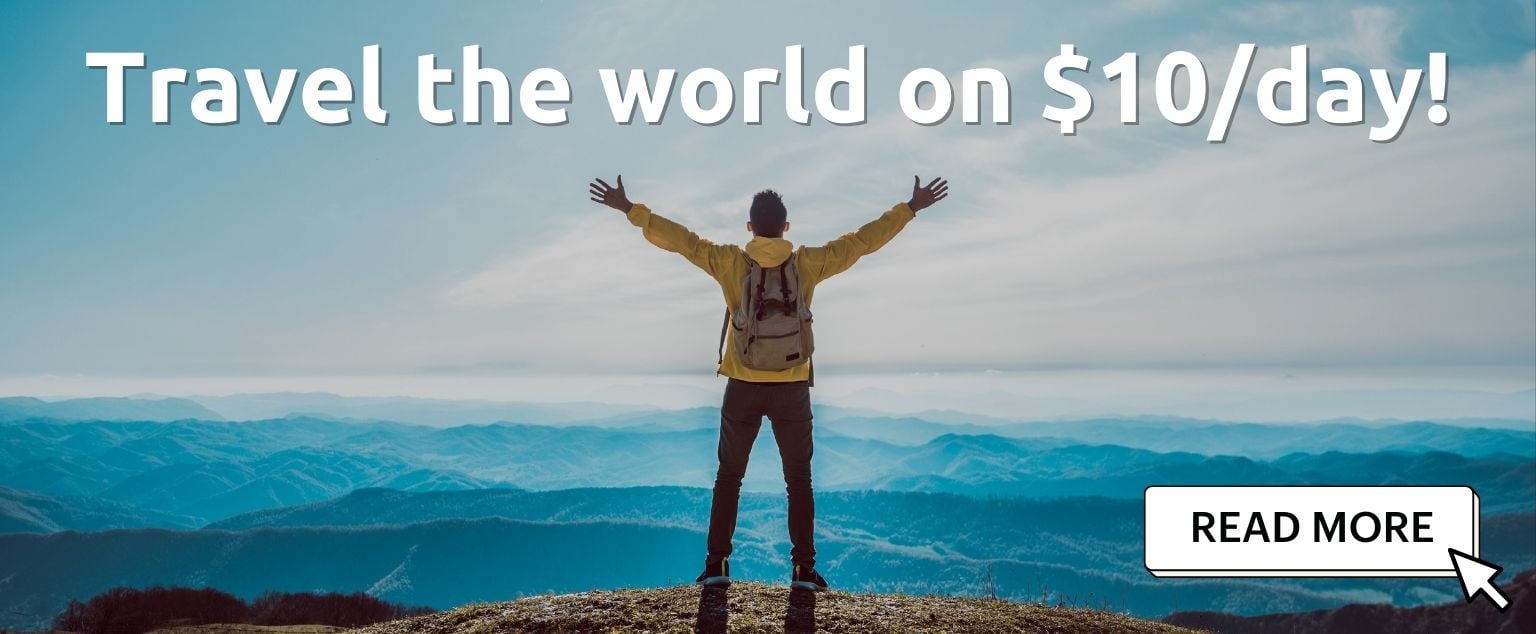 And for transparency's sake, please know that some of the links in our content are affiliate links. That means that if you book your accommodation, buy your gear, or sort your insurance through our link, we earn a small commission (at no extra cost to you). That said, we only link to the gear we trust and never recommend services we don't believe are up to scratch. Again, thank you!