Oh, Edinburgh, what a dreamy destination. The city is full of cobblestone streets and traditional pubs filled with locals enjoying a pint or two. If you've ever been to the UK, two is more like it!
You can walk to historic sites like Edinburgh Castle and the Royal Mile, hear traditional bagpipe players, or enjoy a show at one of the many theatres.
As if all this weren't enough, there's an extra sparkle to Edinburgh during its festivals that you can relish as a backpacker!
Throughout the year, the city hosts many amazing festivals — including some of the most popular festivals in all UK! From music and theatre to culture, film, and even fire dancing, there is something for everyone. Whether you want to just take in the sights or immerse yourself in the festivities, Edinburgh has it all!
The perfect blend of history, culture, and modern attractions in its vibrant Old Town, Edinburgh really puts the fest in festival!
Festivals in Edinburgh
Traveling to Scotland is a heady experience for most. Edinburgh, its crowning glory, will bring you close to some of the most famous festivals, such as the Edinburgh Jazz & Blues Festival and the Royal Edinburgh Military Tattoo, which will give you a taste of Scottish culture like nothing else!
So without any further ado, let's take a deep dive into the best festivals in Edinburgh!
When: January
Where: All over Scotland
Okay, this is technically not just an Edinburgh festival, but they celebrate just as hard as the rest of the country, and it's a great festival to give you a true inside look into Scottish pride.
When you backpack Edinburgh, you will have the chance to celebrate the birthday of Scotland's esteemed national poet, Robert Burns, by participating in a classic Burns Night feast on January 25th. This traditional event honors the revered 18th-century Scottish writer and offers a chance to immerse oneself in genuine Scottish customs and traditions.
Over 200 years ago, in 1801, the first Burns supper was held to honor their national poet. Since then, some new customs have been added but the purpose has stayed the same — to show respect to Robert Burns and his literary works.
The traditional Burns supper is an event where everyone comes together to enjoy haggis, which is a Scottish dish made from the heart, liver, and lungs of sheep — yum … Along with haggis, there will be whisky — lots and lots of whisky, as well as bagpipes, and dancing. Attendees can also listen to recitations of Robert Burns' poetry here.
Because everyone comes together for this festival, it's perfect for families with children or those who are traveling solo. The Scots are really good at welcoming and including strangers in their festivities.
There will be various activities available to enjoy such as ceilidh, which is traditional Scottish folk dancing. If you're not interested in grooving, you can still soak in the lively atmosphere! Overall, it's an amazing chance to immerse yourself in Scottish culture.
Where to Stay:
For your Burns Night celebrations, you can stay at this charming guest house in Edinburgh. Located in the city center, it is perfect for being near all the fun. Oh, and who doesn't love complimentary wine, am I right!
When: April
Where: Edinburgh
Short for "traditional music festival", Tradfest has a history rooted in the Edinburgh Folk Festival and began in 2013 as a unique platform to showcase folk arts in the city.
The festival is held over 10 days and features a wealth of local and international talent — a few Grammy winners have even made an appearance in the past few years! You can immerse yourself in concerts, workshops, ceilidhs (Scottish folk dances), and storytelling events.
Expect to listen to traditional Scottish songs as well as local musicians playing a mix of contemporary folk music. You can also pick up some instruments or dancing skills from the workshops, or even join a jam session. It's the perfect event to appreciate traditional music and dance!
Tradfest creates a truly memorable experience for both the audience and musicians while fostering a sense of community within the music scene. There's no better place to satiate your love for music than here!
Where to Stay:
There are so many wonderful places to stay in Edinburgh. This modern hotel, located just 5 minutes from Edinburgh Castle, is the perfect place for you to enjoy Tradfest and the city! You will have access to a kitchenette in case you want to cook and keep costs down — but don't worry, there are plenty of restaurants and pubs nearby for a night out on town!

Unlock Our GREATEST Travel Secrets!
Sign up for our newsletter and get the best travel tips delivered right to your inbox.
When: May
Where: Edinburgh
It's incredible to see so many people traveling with their kids these days, introducing them to the wonders of the world so early. I wish my parents had done that for me. Ah, it's okay, I'm seeing it now!
There are so many exciting things to put on your Edinburgh itinerary, even on a family-friendly trip. If you're looking for an exciting Edinburgh festival to attend with your children that's both educational and entertaining, then look no further! The Edinburgh International Children's Festival is your one-stop shop — suitable for all ages, really!
The festival is held in various theatres and community centers throughout Edinburgh and begins with a day of free pop-up performances at the National Museum of Scotland. For nine days, the festival features unique and family-friendly top-rated theatre and dance performances for young audiences from different parts of the world.
The little ones can also try their hand at fun activities such as puppet-making workshops and storytelling sessions. It is the perfect opportunity to explore and appreciate different cultures through art, music, theatre, and literature!
Where to Stay:
Located 2.5 km from the city center, you can stay at this lovely hotel during the festival. The rooms are spacious and family-friendly, and you will have access to a garden, terrace, and on-site restaurant. Canny Man's Pub, a quirky Edinburgh institution, is just a stone's throw away!
When: July
Where: Edinburgh
The annual Edinburgh Jazz & Blues Festival is one of Europe's biggest jazz festivals, featuring more than 170 performances over 10 days. Celebrating its 45th edition this year, the festival offers locals and tourists an unforgettable musical experience!
In its early days, the festival showcased traditional jazz played in Edinburgh's pubs. Over time, it has expanded to include a variety of genres such as blues, funk, and hip-hop. The festival is now even more popular due to the free Mardi Gras and Carnival events, so you can get your groove on too!
The festival is a great opportunity to listen to incredible live music in intimate venues and also take part in workshops. It brings together emerging talent from Scotland as well as some of the world's best jazz musicians, so you can expect an amazing atmosphere.
Tickets for shows range from free to up to 50 pounds, so there is something for everyone's budget. But I do recommend booking early, as the shows tend to sell out rather quickly!
Where to Stay:
This quirky Georgian boutique hotel, in the heart of Old Town, is full of character and located very close to venues where you can find out what gigs are playing at the festival. You will have access to free Wi-Fi, an iPod docking station, and an on-site restaurant offering dishes prepared with fresh local produce!
When: August
Where: Edinburgh
The Royal Edinburgh Military Tattoo is one of the most unique festivals in Edinburgh. With the castle as a backdrop, it's utterly captivating to witness and serves as a platform to showcase the abilities and performances of military bands and teams from all over the world.
The festival is typically attended by over 220,000 individuals annually, with about 100 million people tuning in worldwide to watch television broadcasts. It's crazy that I had no idea about this festival, considering it's so popular!
One of the things I love about this festival is that every year the "tattoo" (meaning a musical display or performance of armed forces) is unique, because of the yearly themes that change, so you really never know what you're going to get! The past themes have involved topics like Scotland's homecoming, creativity, and nature.
It's easy to get enveloped in the atmosphere as everyone gets crazily excited and expresses their enthusiasm by stomping and cheering to the sound of bagpipes and drums. The audience is treated to Highland dancing, motorcycle tricks as well as the precise formations of the marching bands.
The bands can be heard throughout the city, so if you don't go to the event, you'll most likely have a lot of FOMO listening to how much fun everyone is having. Military jets fly overhead with a loud roar, and the night ends with a dazzling fireworks display! Sigh, pure magic!
Where to Stay:
This cute and modern studio is very close to the venue and is ideal for a couple or a solo traveler looking for a place to stay during the festival. You will have access to free Wi-Fi and a well-equipped kitchen, and you are only half a mile from the trippy Camera Obscura and World of Illusions, and Royal Mile.
Forget boring accommodation… book yourself an EPIC STAY!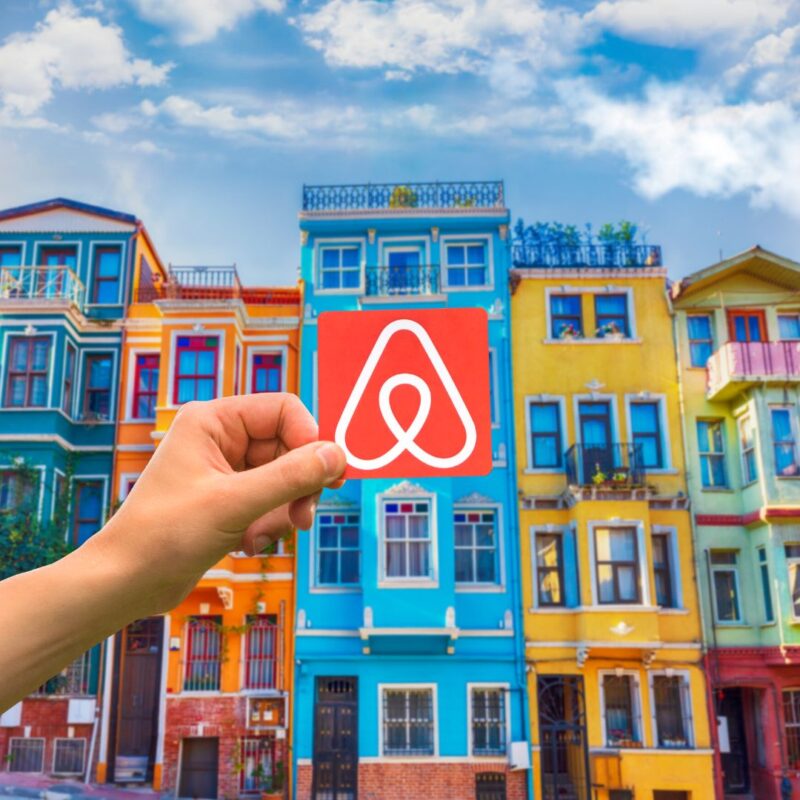 Why stay in a naff hotel when you can stay in a cosy, stylish local house instead? And for half the money too!
Stay somewhere EPIC and save your hard-earned dollars — from houses to barns to castles and caves, there is an Airbnb for every occasion!
Book an EPIC Stay
When: August
Where: Edinburgh
The Edinburgh International Film Festival is one of the country's most popular cultural events of the year. If you're a film enthusiast like me, you can't miss this!
Held since 1947, the festival is known for highlighting some of the finest works of international cinema and leading discussions in global film-making, perfect for veterans and those just getting started in the industry alike.
The festival lasts for five days and takes over the city center (one of the best places to visit in Edinburgh), with venues such as the famous arthouse cinema Filmhouse. People come from all around to enjoy this world-class event in an exceptionally beautiful setting.
Glamour buffs can also have a chance to spot some famous faces as the festival is known for hosting popular film premieres — these have previously included hit movies like Taxi Driver, Annie Hall, Amélie (a personal favorite!), and The Hurt Locker, among many others!
Where to Stay:
When in Edinburgh, why not do as the Dunediners do? A stay at this romantic castle will take you back in time and have you feeling like you're on Downton Abbey! Don't worry, you'll still have all the modern amenities (like free Wi-Fi and a flat-screen TV) while you lounge on your four-poster bed!
When: August
Where: Edinburgh
Get ready for one of the most popular festivals in all of Scotland, the Edinburgh Fringe Festival!
The Fringe is a large performing arts festival in Scotland, known for its comedic and theatrical performances. It began in 1947 when eight theater groups arrived unannounced to perform at the Edinburgh International Festival. Today, it's a 3-week festival held annually in August and is a significant cultural event in Scotland.
The festival is open access and un-juried, and takes place over a month, showcasing over 50,000 performances across hundreds of venues. The categories include theatre, comedy, dance, physical theatre, circus acts, cabaret shows, and children's plays. With such a diverse range of genres, I'm sure you'll be able to find something right up your alley.
The festival's many low-priced shows allow more people to attend as well as provide support for new performers. Don't forget that this extremely popular festival attracts attendees from all over the world and tickets sell out quickly, so scoop them up as soon as you can!
Where to Stay:
There are so many great hostels in Edinburgh. If you stay at this affordable hostel in Old Town, you'll be close to many shows and will also have the opportunity to socialize and meet other travelers. Additionally, St Giles Cathedral and Edinburgh Castle are just a stone's throw away.
When: August
Where: Edinburgh
The Edinburgh International Festival (EIF) occurs annually in August in Scotland's capital city. It might seem similar to the Fringe festival as they run simultaneously, but the EIF is a selection of only the most superior performances.
The festival was established in 1947 and has evolved into a significant celebration of film culture from across the globe, as well as a chance for international artists to shine. Over three weeks, attendees can enjoy various presentations of classical music, theatre, opera, and dance, each with their own distinct style.
This year's program will feature top classical music from different parts of the world, impressive theatrical performances in both traditional and contemporary settings, and a variety of international film screenings.
The festival also provides an excellent chance to immerse yourself in Edinburgh and its diverse characteristics! Whether you're able to manage a weekend in the city or longer, make sure to go here!
Where to Stay:
This recently renovated modern hotel is situated close to Haymarket train station in Edinburgh and is perfect for those trying to save some cash. The property is clean and well-run, and most of the popular tourist spots in the city can be easily reached on foot from here.
Is This the Best Daypack EVER???
When: October
Where: Edinburgh
The Samhuinn Fire Festival is a contemporary celebration of a traditional Celtic ritual that marks the transition from summer to winter. At the Scottish festival, two kings representing Summer and Winter compete for the title of season ruler. The Cailleach, also known as the Goddess or Divine Hag, judges who will win the title. As night falls, the Cailleach symbolically brings in the colder months while bidding farewell to warm memories of sunny days.
The Summer and Winter courts come together to celebrate the change of energy between seasons with stunning performances of music and dance. This event highlights how transitions between seasons can bring significant changes in life, in addition to resolving any conflicts between them.
This event is perfect for people of all ages and offers a one-of-a-kind experience. You'll get to witness vibrant costumes, impressive fire displays, and a captivating atmosphere for storytelling. It's an immersive way to discover Celtic traditions and appreciate their contemporary adaptations.
At the end of the festival, all the performers come together for a procession around the city. Since this event coincides with Halloween, there will be lots of spooky decorations and activities available for the horror lover in you!
Where to Stay:
Edinburgh has many options for cheap hostels. If you're planning to visit Edinburgh in October when the city is expected to be more crowded, consider booking a room at this popular hostel, perfect for travelers who are watching their spending. Additionally, it is located in the city center, making it convenient to get around. There's also free Wi-Fi and access to a shared kitchen so you can whip up a meal and save some more.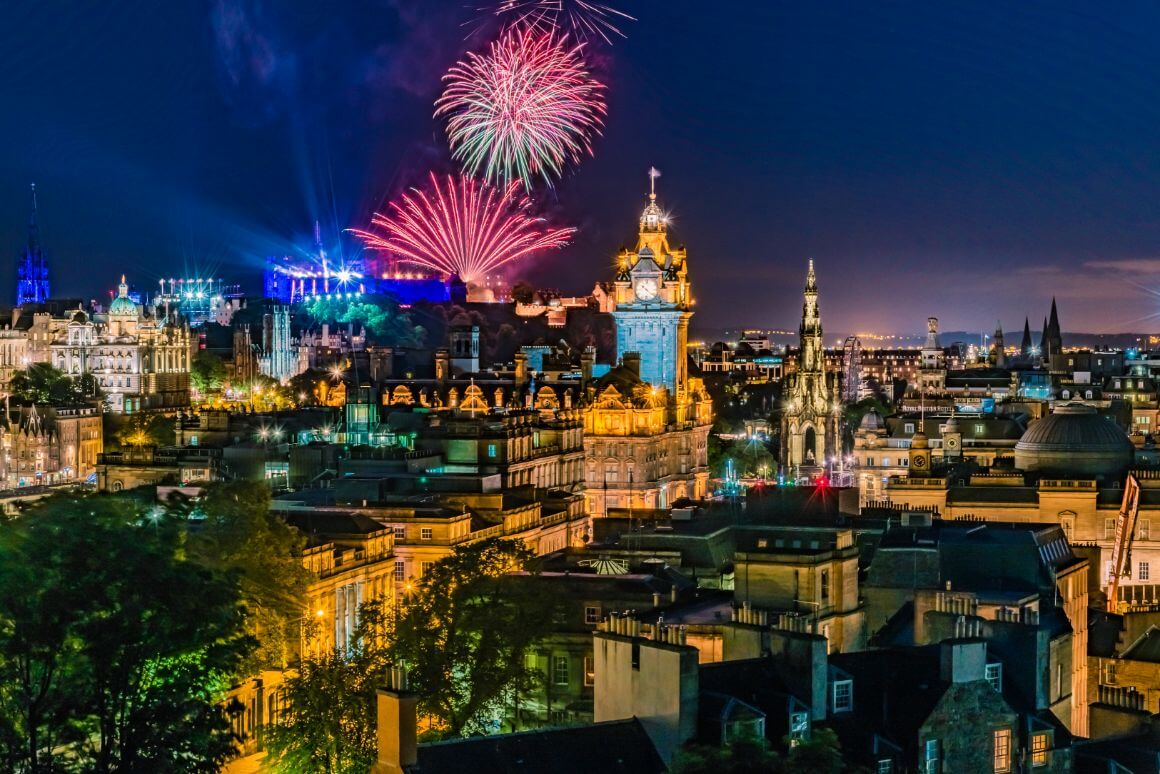 When: December
Where: Edinburgh
Scotland's well-known New Year's celebration, Edinburgh Hogmanay, attracts visitors from around the globe. It lasts for three days and features music, art, and performances from local and international artists. "Hogmanay" is a term that means "lost in the past," and it is an important Scottish festival that is thought to have originated from the country's Viking forefathers.
On December 30th, the celebrations kick off with a torchlight parade all around the city. A large crowd of people, carrying lit torches and singing joyous songs, participate in the procession. The event concludes with a stunning performance at the heart of Edinburgh, highlighted by an impressive exhibit of pyrotechnics, aerial stunts, and laser displays.
The following day, be regaled by street performers, DJs, bands, and other activities. The three-day event will make sure you won't run out of things to do. The ambiance is so fun as everyone is energetic and celebrating all throughout the streets.
For the final night, Edinburgh Castle throws a big New Year's Eve party featuring performances from traditional and modern acts all night long. You can't miss the culminating midnight fireworks display that lights up the sky during this celebration. Although it may seem like an ordinary New Year's Eve celebration, it's one of the most unique festivals in the UK.
Where to Stay:
If you want to enjoy great views of the fireworks and be near all the festivities, consider staying at this kickass hostel, which is just 2 minutes' walk from Edinburgh Castle. This hostel has a cozy and friendly vibe, and it also provides various amenities to make your stay unforgettable.
Final Thoughts
Edinburgh is the second-most-visited city in the UK, and it's no surprise why! With its gorgeous cityscape and a huge variety of exciting festivals that celebrate music, culture, and history, there's just so much to see and do.
Whether you're looking for a traditional celebration or something more modern — from Tradfest to the Edinburgh International Film Festival — you'll have so many options throughout the year that I'm sure will blow your socks right off!
Personally, as a performing arts enthusiast, I can't let you go to Edinburgh without swaying you just a little to go to the Fringe, the biggest performing arts festival in the WORLD — this is an unmissable Edinburgh festival!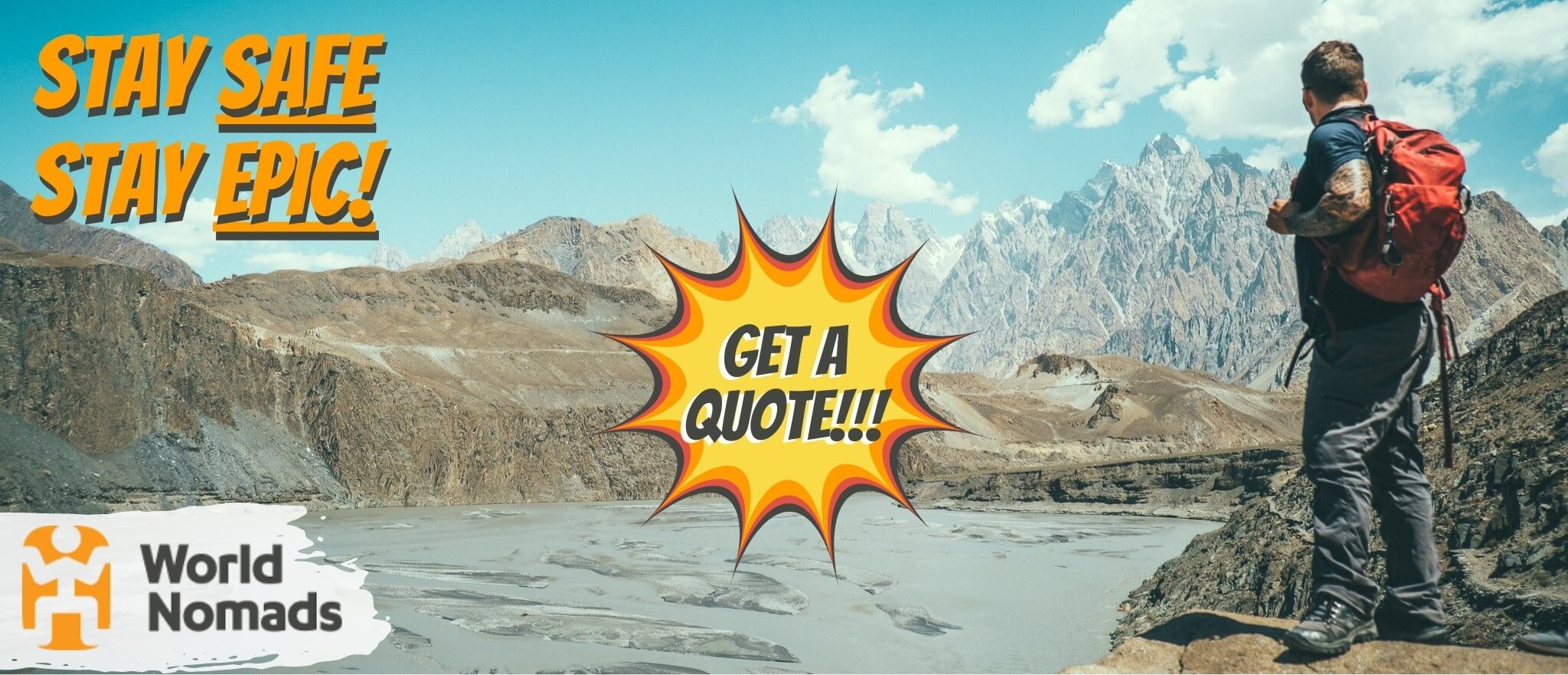 World Nomads' mission is to support and encourage travellers to explore their boundaries. They offer simple & flexible travel insurance, and safety advice to help you travel confidently.
They've been doing it since 2002 – protecting, connecting, and inspiring independent travellers just like you.
Get a quote below or read our in-depth review!
World Nomads provides travel insurance for travelers in over 100 countries. As an affiliate, we receive a fee when you get a quote from World Nomads using this link. We do not represent World Nomads. This is information only and not a recommendation to buy travel insurance.
---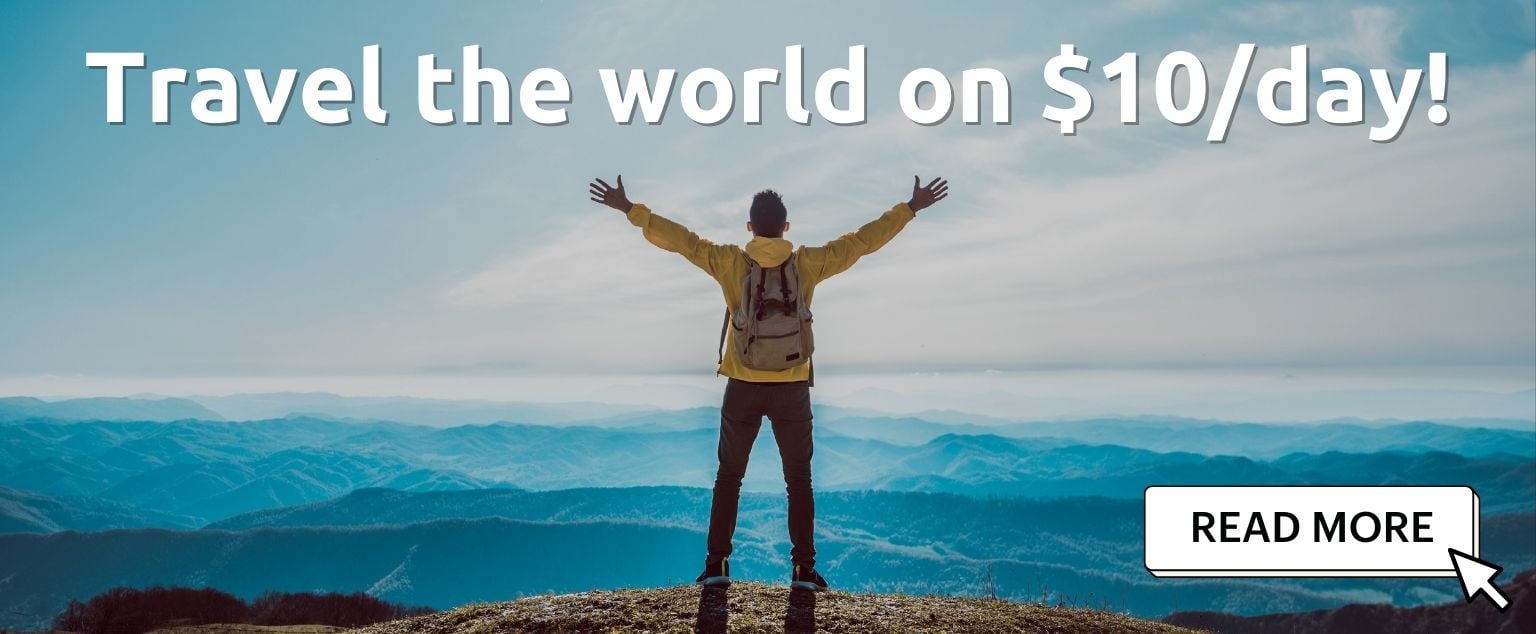 And for transparency's sake, please know that some of the links in our content are affiliate links. That means that if you book your accommodation, buy your gear, or sort your insurance through our link, we earn a small commission (at no extra cost to you). That said, we only link to the gear we trust and never recommend services we don't believe are up to scratch. Again, thank you!