The historic and beautiful 'City of Literature' is a treasure trove of activity, natural beauty, and an atmosphere that is full of life. Edinburgh is one of those truly unique cities where a sense of adventure meets with a deep history, merging to create a diverse range of options for any traveller!
Edinburgh has so much to offer – whether you stay in vibrant New Town with its inventive cuisine and theatre scene, or you're after that historical feel that Old Town does so well, Edinburgh appeals to anyone looking for something special! There are things that no Edinburgh itinerary should be without. Exploring the winding streets, majestic castle that has inspired books to be written, bursting into spontaneous singing; all of these are mandatory when you visit.
Whether you love music, hiking to capture that incredible views, discovering the city's hidden gems, or digging into some delicious food – our guide for spending three days in Edinburgh has it all.
Edinburgh has everything from buildings steeped in history to natural wonders and enjoyable top-notch eateries. Whether you're seeing Edinburgh in two days or you're planning a week-long visit, Edinburgh has so much to offer. You'll never run out of things to do! There are even a whole heap of amazing Edinburgh day trips to take too if you want to get out of the city.
Take a look at our picks for the ultimate Edinburgh itinerary!
3 Day Edinburgh Itinerary Overview
Being the small and perfectly compact city that it is, Edinburgh is fairly easy to navigate. The city is separated into Old and New Town, with the Princes Street Gardens dividing the sides of the city.
Old Town is one of the best places to stay in Edinburgh because it's incredibly central. With its dreamy cobblestone streets and a plethora of historical landmarks, you can't go wrong! Walk the famous Royal Mile through this storied area which is a Unesco World Heritage Site, or hop on a bus and see the sights on your Edinburgh itinerary!
If you're looking for more of a nightlife scene, the trendy area of Grassmarket (which is technically part of Old Town) is the perfect destination. With a collection of vibrant clubs and pubs with classic charm, this is the place to explore Edinburgh by night!
New Town is filled with Georgian architecture as well as high-end eateries and bars. If you're looking for some amazing shopping options, fantastic dining, and a taste of history too, New Town has you covered!
For accommodation that's located a little further out but still accessible, West End is an amazing area to stay in! It's home to a number of major sporting facilities and top-shelf budget accommodation. You could even enjoy a stroll along the Water of Leith walkway. To see another side of this diverse city, enjoy a stay in West End.
With its spectacular location nestled beside Edinburgh Castle, this warm and vibrant hostel never fails to amaze. It has spacious, themed rooms, a well-stocked kitchen, and a colourful riot of lounges. It's the perfect place to recline or socialize on your trip. With facilities like a pool table and fantastic activities every night, the vibe is unbeatable!
If you're interested in exploring more Edinburgh hostel options, check out our list of the twenty best hostels in Edinburgh!
This stunning one-bedroom apartment is located in the heart of Edinburgh's Old Town. Housed in an 18th-century tower, this modern flat is just steps from the Castle, Grassmarket and many of the city's main attractions.
Enjoy spacious rooms, comfortable beds and unbeatable views at this fantastic Airbnb. With a queen bed and a pull-out sofa, this is the best place to stay in Edinburgh for couples or small families.
Best Budget Hotel in Edinburgh – Kew House
In gorgeous West End, this quaint and classic spot has homey touches and an incredibly cosy atmosphere. Begin each day with a delicious fresh breakfast and then head out to the many nearby attractions. It's only a stone's throw away from Edinburgh Zoo and Saint Mary's Cathedral. You could even enjoy a rugby match at Murrayfield Stadium!
Located in central New Town, this spectacular hotel is immaculately decorated with amazing attention to detail! Enjoy your meals in 'The Garden'- a stunning indoor courtyard- and have a dip in their pool. As a contender for the best place to stay during your three-day stay in Edinburgh, this hotel is close to many landmarks including Edinburgh Castle, the Scott Monument, and the Princes Street Gardens.
If you're wondering what you can do in Edinburgh in a day, you'll learn there are many options. Discover landmarks, history, and a touch of the countryside. The first day of your Edinburgh trip itinerary promises to be amazing.
9:00 AM – St Giles Cathedral
This truly historic cathedral is one of the major Edinburgh points of interest with its incredible facade and deep history.
With a story dating back to the 14th century, the cathedral is home to the stunning Thistle Chapel, filled with incredible woodwork and an intricate gold-leaf ceiling that will take your breath away! Admire the beautiful interior with its spectacular stained glass windows, which illustrates Bible stories and saints in exquisite technicolour.
The history of the cathedral can be admired throughout every inch of it including the 16 stalls where the Knights of the Order sat. A trip up to the rooftop is unmissable while you're touring Edinburgh because you can get a glimpse of the incredible city!
Costs – Entry is free but a donation is suggested.
How Long Should I Stay Here? – 30 – 60 minutes.
Getting There – It's in central Edinburgh so you can walk from any bus/train station or your base.
10:00 AM – Camera Obscura & World of Illusions
If you're looking for a taste of fun and some incredible views, Edinburgh's Camera Obscura & World of Illusions definitely belongs on your Edinburgh itinerary.
This treasure trove of mind-bending illusions and activities has two main features. The first is several floors packed with optical illusions, tricks of light, as well as old-fashioned games and displays to enjoy. The World of Illusions has over one hundred interactive exhibits where your mind will be blown!
Play Alice in Wonderland as you get the opportunity to 'shrink' yourself, feel a little like Peter Pan as you catch your own shadow on the 'Shadow Wall', discover bewildering holograms, and get lost in the iconic Mirror Maze.
Above the unforgettable World of Illusions awaits Edinburgh's Camera Obscura, which is one of the oldest visitor attractions in the city. This is one of the best places to take in some amazing views of the city as you get a feel for the rest of your itinerary!
Costs – $18 for adults $13 for children.
How Long Should I Stay Here? – 90 minutes.
Getting There – A pleasant 4 minute walk from St Giles.
12:00 PM – Lunch at Redcoat Cafe
Redcoat Cade at Edinburgh specialises in British afternoon tea. Think pots full of proper milky tea, big pieces of cake and cucumber sandwiches. If you want traditional luncheon food, near to the castle then this is the place. Of course, you do pay for the location and novelty so this is not necessarily the budget backpackers or discerning foodies option.
1:00 PM – Edinburgh Castle
If it's your first time in Edinburgh then you must visit the castle. As one of the most recognisable landmarks in the city, Edinburgh Castle has become a pinnacle of the city's skyline. If you're a history buff or even if you're looking to discover Edinburgh to the fullest, a visit to the Castle is a must-see on your vacation to Edinburgh!
Discover the city's storied past as you walk the halls of this incredible castle! As the home to many a famous Scotsman (and Scotswoman), discover an array of historical artefacts including weapons, clothing and the impressive 'Scottish Crown Jewels', which are oh-so-regally known as the Honours of Scotland.
Become immersed in its rich history as you explore the 'Fight for the Castle', a fascinating exhibition retelling the dramatic events during the War of Independence. Don't miss out on a stroll through the ultra-opulent Great Hall where suits of armour and dazzling chandeliers fill every corner!
Costs – $25 for adults. Cheaper if you buy ahead online!
How Long Should I Stay Here? – 150 minutes.
Getting There – You can walk here from the lunch stop in 10 minutes.
4.00 PM – Dinner and Relax
Even though the fiery ball still hangs high in the sky, it is time for our itinerary to take a bit of a chill break. We have something very special planned for this evening so we suggest using the intervening hours to get back to your digs for a rest, a shower, a change of clothes and some dinner!
7:30 PM – Edinburgh Literary Pub Tour
Edinburgh is famous for being a 'City of Literature and boasts an array of beloved authors to match its title. Join fictional live wires, Clart and McBrain as they take you on a tour of wit and literature through Edinburgh's pubs!
Learn all about the habits and haunts of some of Scotland's great writers as you follow the hilarious and thought-provoking trail of your larger-than-life guides! You'll discover the hidden gems of Scotland's pub scene on a tour that is as entertaining as it is fascinating!
Take a look into the city's both lofty and murky literary past as it comes to life on this Edinburgh walking tour.
Costs – $25 for adults.
How Long Should I Stay Here? – It takes 2 -3 hours
Getting There – Walk or take Uber to the Beehive Inn at Grassmarket. DON'T be late!
So, you're spending two days in Edinburgh, which means there's, even more, to see and do on your itinerary! From spectacular art collections to grand yachts that will make you feel like a royal, the second day of your Edinburgh itinerary won't disappoint!
10:00 AM – Scottish National Gallery of Modern Art
If you're a fan of modern and contemporary art, the Scottish National Gallery of Modern Art is a must-see when you're planning a trip to Edinburgh!
The museum is home to an impressive collection of artwork including over 6,000 paintings, installations, prints, drawings, video work, and major exhibitions! Modern One houses a huge collection that includes cubist works as well as paintings by Matisse and Picasso.
Modern Two brings a sense of the avant-garde with an extensive array of Dada and Surrealist Art, including works by Salvador Dali. The sprawling garden is a museum in itself with a fantastic sculpture park and a dazzling arrangement of pools beneath Modern One.
Discover the incredible artworks within the museum, then explore the artistic marvels that fill the museum's landscape!
Costs – Free entry.
How Long Should I Stay Here? – 60 minutes
Getting There – Take the X18 bus.
11:30 AM – Calton Hill
While mapping out your itinerary for Edinburgh, keep in mind a hike up Calton Hill can't be missed. If you're up for a fun walk in Edinburgh's wilderness, you'll discover the tranquillity and beauty of Calton Hill.
This iconic hill is home to the National Monument, which strikes an uncanny resemblance to the Acropolis of Athens! While it used to be the black sheep of Edinburgh landmarks, the unfinished monument has become something of a national treasure.
It is also the site of the Nelson Monument, named after Admiral Nelson who led the British army to victory at the Battle of Trafalgar. There's even a tiny museum inside where you can get an extra taste of history!
Atop this incredible hill, you can also find the City Observatory where the original Transit Telescope sits. A walk up Calton Hill provides you with a collection of amazing views, amazing attractions, and makes for the perfect photo op. Visitors to this incredible spot enjoy views that span all the way across the Salisbury Crags, Edinburgh Castle, Holyrood Park, and Arthur's Seat!
Costs – Free.
How Long Should I Stay Here? – 60 minutes to walk up and down is plenty.
Getting There – Take the X18 bus from the art museum.
12.00 PM – Lunch at Kilderkin
Kildern is a lovely gastropub specialising in traditional Scottish food and great beer. The Haggis is top-notch and the choices of Scotch lethal!
Costs – $15 – $20 per diner.
How Long Should I Stay Here? – 60 minutes is enough.
Getting There – Walk here.
1:00 PM – Holyrood Palace
Sitting on the opposite end of the Royal Mile from the Edinburgh Castle, the Holyrood Palace is a necessary part of your Edinburgh itinerary!
Formally known as the Palace of Holyrood House, this regal landmark is truly at home on the Royal Mile. Holyrood Palace is the official residence of the British monarch in Scotland and has been the principal residence of Scottish royals for centuries. Enjoy a stroll through the stunning Royal and State Apartments, (which are still used for high-profile visits to this day)!
The beautiful palace was named after the Augustinian Holyrood Abbey, and you can still visit its ruins near the palace. Explore the lush gardens and grounds as you admire the turreted palace with its exquisite statues and tree-lined estate!
Costs – $28 for adults.
How Long Should I Stay Here? – 120 minutes.
Getting There – It's a 13 minute walk from Calton Hill.
3:00 PM – Ruins of Holyrood Chapel
Situated pretty much next to the modern Scottish Parliament building lies the haunting and evocative ruins of Holyrood Abbey. Whilst there isn't much to see, it is well worth stopping by for a look.
Costs – Free
How Long Should I Stay Here? – 15 minutes.
Getting There – Jump here from Holyrood Palace!
3:30 PM – National Museum of Scotland
Take a walk through history and current innovations as you explore the National Museum of Scotland. The museum's unbelievable collections have everything from across the globe including historic Scottish artefacts, art, fashion, technology, and science!
One of the museum's stand-out collections is a number of objects related to Mary Queen of Scots. It includes jewellery, letters, coins, and furniture. The interior of the museum is like a piece of art itself with an exquisite cast-iron gallery!
Discover the museum's endless array of incredible collections, which includes amazing features like the Millenium Clock, The Maiden (an early form of the guillotine), and a bizarre but fascinating addition Dolly the Sheep!
Costs – Free.
How Long Should I Stay Here? – 90 minutes.
Getting There – The walk from Holyrood Palace is 16 minutes.
Need a place quick? Here's the best neighborhood in Edinburgh:
See some of the city's best as you enjoy an unforgettable three days in Edinburgh! From natural wonders to some of Edinburgh's favourite pastimes – you'll love every second! Take a look at our picks for the best places to visit in Edinburgh.
9:00 am – Arthur's Seat
If you have 3 days in Edinburgh or more, then that's enough of a chance to get outside and sample its' great surroundings. Just outside of central Edinburgh awaits this incredible natural wonder! Arthur's Seat is a true testament to Edinburgh's incredible blend of wilderness, history and tourist favourites.
Arthur's Seat truly is an iconic place to visit when you travel to Edinburgh! It is the remnants of an extinct volcano, and legend has it that it was named after the tales of King Arthur. This is the perfect spot to go for a hike, especially on a clear day when you can see for miles across the spectacular landscape!
While you're in the area, why not check out the birdlife at Duddingston Loch and admire the stunning Salisbury Crags?
Costs – Free.
How Long Should I Stay Here? – 90 – 150 minutes
Getting There – The whole point is to walk right?!
12:00 pm – Victoria Street
A river of cobblestones runs through the patchwork of buildings and storefronts that line Victoria Street. This beautiful lane in Edinburgh is filled with multicoloured facades and a mosaic of history!
Explore a plethora of little shops like the Old Town Bookshop, local art prints, and the Aha Ha Ha Jokes and Novelties shop where you'll find anything from card tricks to over-the-top costumes. Enjoy strolling down this historic road where Edinburgh's past is written into the buildings!
Costs – Free.
How Long Should I Stay Here? – 90 minutes
Getting There – The walk from Holyrood Palace is 16 minutes.
2:00 pm – Scott Monument and the Princes Street Gardens
As Edinburgh is a Unesco City of Literature, it's only fitting that we include the monument of Scotland's most famous writer on your three-day itinerary! Edinburgh is home to the Scott Monument, the largest monument constructed to honour a writer in the world, which tells the story of beloved figures from Scott's novels as well as other famous literary figures.
Just below this spectacular landmark is The Princes Street Gardens, which is halved by an incredible hill named The Mound and has quite a view. Enjoy a stroll around the gardens, take a picnic on the lawns, or snap some amazing pics of the surrounding Edinburgh landmarks!
Costs – Free.
How Long Should I Stay Here? – 90 minutes.
Getting There – The walk from Holyrood Palace is 16 minutes.
Edinburgh is fairly cold and tends to have a fair amount of rain year-round, but if you're ready to bundle up and explore the sights, it's perfect for you.
The spring months from March to May are usually pleasant and quiet times to visit. April is the driest month of the year, the month of TradFest, and a celebration of traditional music, dance, drama, and storytelling!
There are so many vibrant festivals in Scotland. The weather becomes quite temperate during Edinburgh's high season, towards the middle of the year when warmer days and festivals fill the city! There is a wide variety of festivals in Edinburgh throughout the year. August is particularly busy but with good reason – it is the biggest month of festivals. The city hosts everything from the Foodies Festival to the amazing Edinburgh Fringe Festival. Combined with the better weather, August is the perfect time to visit the city.
During December, Edinburgh has a classic winter. The city is especially beautiful and the snow makes it truly incredible. The city's holiday celebrations are next level with rides, attractions, ice skating, and an array of shows!
Edinburgh is known for being seen best on foot. Most of Edinburgh's favourite spots to visit are centrally located and many of the city's museums have free entrance, which makes Edinburgh a tourist's best friend!
The city also has a fantastic public bus system, so you can visit almost any attraction or famous landmark with ease! The Hop-On-Hop-Off bus is also a fantastic way to get a feel for the city, which is perfect for a first time trip to Edinburgh.
You could also head over to the central Edinburgh Waverley railway station. Hop on a train if you're planning to visit some Edinburgh attractions that are a bit further afield, or you could even take a memorable day trip from Edinburgh!
If you are visiting Edinburgh for the first time, don't be caught out by the temperamental weather. Even by British standards, it is rainy up here! The unpredictable weather can be a hazard if you are improperly dressed, so make sure you layer up, bring your best travelling jacket, and wear good walking shoes if you go on a hike. Scotland also has tiny insects called midges, which can cause itchiness and are very common during the summer months. Use insect repellent if necessary.
When planning your itinerary for Edinburgh, it's important to think about being safe on your travels.
While Edinburgh is generally a safe city with a low crime rate, it's still important to be mindful of your surroundings and your belongings. Areas such as Pilton, Niddrie, Craigmillar, and Wester Hailes can be unsafe after dark, especially if you're travelling alone.
If you're travelling from out of the country, it's important to know what number to call in case of an emergency. It's 999 in Scotland. Heavy crime in Edinburgh rarely affects tourists, but it's best to utilize a safe for your valuables if your hotel or hostel has one.
It's also recommended that you avoid carrying large amounts of cash as an extra safety precaution, especially if you're backpacking through Edinburgh. If you aren't accustomed to driving on the left-hand side of the road, be cautious and take it easy if you are driving.
Don't Forget Your Travel Insurance for Edinburgh
World Nomads' mission is to support and encourage travellers to explore their boundaries. They offer simple & flexible travel insurance, and safety advice to help you travel confidently.
They've been doing it since 2002 – protecting, connecting, and inspiring independent travellers just like you.
Get a quote below or read our in-depth review!
World Nomads provides travel insurance for travelers in over 100 countries. As an affiliate, we receive a fee when you get a quote from World Nomads using this link. We do not represent World Nomads. This is information only and not a recommendation to buy travel insurance.
Find out what people want to know when planning their Edinburgh itinerary.
Whether you're in town for a day, a week-long trip or a weekend in Edinburgh, there is lots of Scotland's capital city, to discover and enjoy! With its craggy surrounding mountains, streets filled with stories and music, and the smell of almost any cuisine filling the air – this is a city with something special that will be a highlight of any Scotland backpacking trip.
Discover the natural beauty, historic monuments, and endless array of festivals that make Edinburgh the unforgettable place it is!
---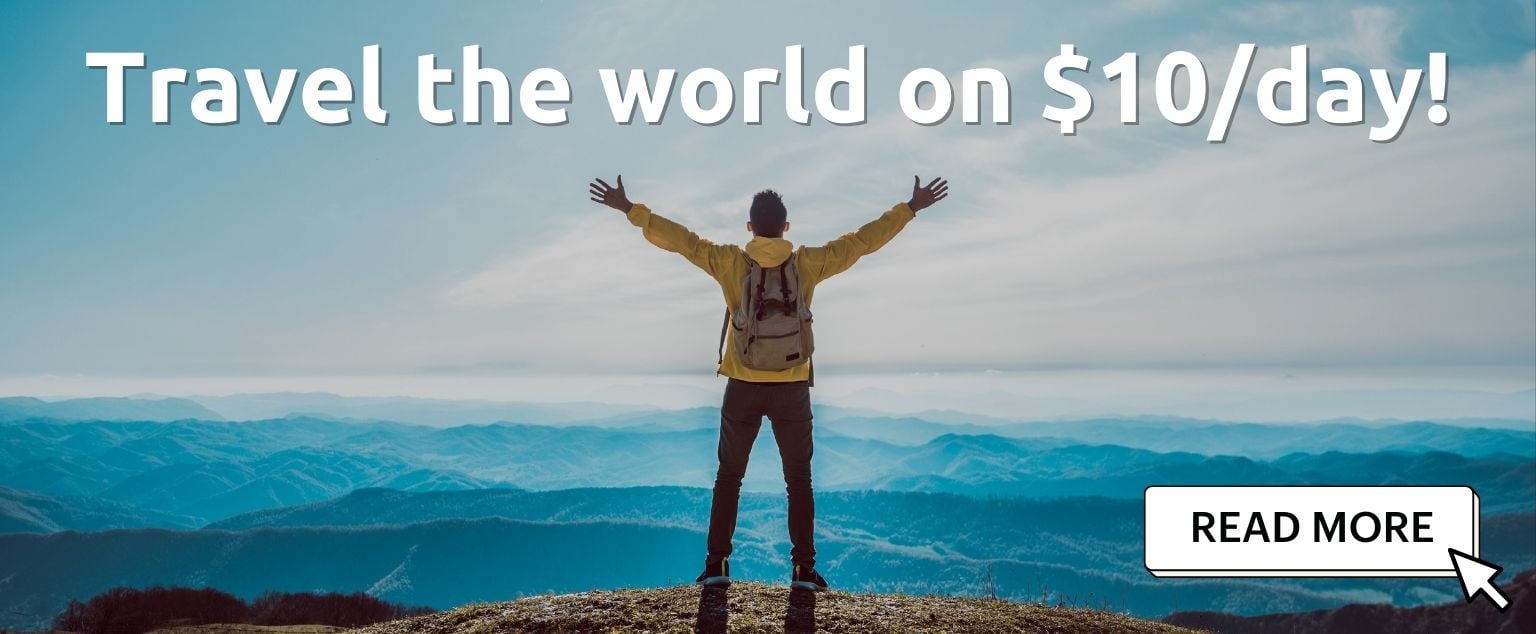 And for transparency's sake, please know that some of the links in our content are affiliate links. That means that if you book your accommodation, buy your gear, or sort your insurance through our link, we earn a small commission (at no extra cost to you). That said, we only link to the gear we trust and never recommend services we don't believe are up to scratch. Again, thank you!