Edinburgh is Scotland's bonny capital overflowings with breathtaking landscapes, quaint wee streets and centuries-old architecture. The city is a charming mix of ancient and modern – from the Old Town's jumble of cobbled streets and historic buildings to the New Town's neat neoclassical grid of streets and terraces.
The medieval past of Edinburgh makes for several "braw" sights interspersed throughout the city. Edinburgh Castle is perched atop an extinct volcano and dominates the skyline, looming above the 18th-century tenements below.
There are plenty of things to see and do in the city, but there's also fun to be had further afield too!
With the city as your base, there are many incredibleEdinburgh day trips to take within a short distance from the capital. From pretty villages to the iconic Scottish highlands, tranquil lochs and imposing castles. There's an abundance of options for all interests and tastes. So check them out ya cheeky wee jobby ya (look that one up!)

Unlock Our GREATEST Travel Secrets!
Sign up for our newsletter and get the best travel tips delivered right to your inbox.
Half-Day Trips from Edinburgh
Whilst Edinburgh's not known for its glorious weather, that shouldn't dampen youradventurous spirit. It's nothing the warm Scottish welcome and a shot of whisky won't fix. Grab a tweed cardigan, a thick woollen kilt (just watch for the wind), throw on a mackintosh and you're ready to explore bonny Scotland.
In fact, we rate Edinburgh as one of the best winter destinations in Europe, so inclement weather is no excuse!
1. Edinburgh Whisky Tour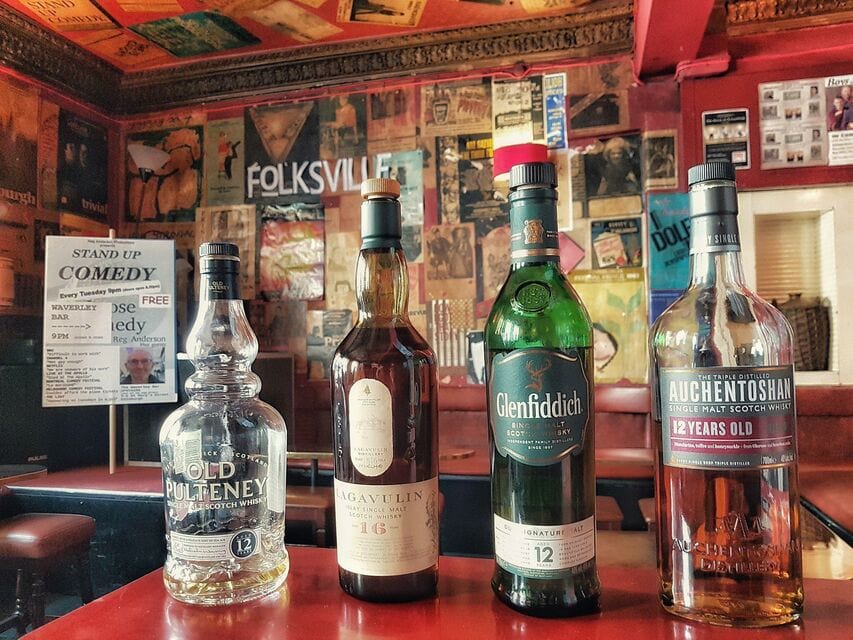 A visit to the whisky distilleries is a great half-day trip from Edinburgh. As they say, there's no trip to Scotland without a sip of whisky. Distillery visits are ideal for those rainy days as most tours are indoors, often though set in some incredible surrounding scenery.
A whisky tour isn't a pub crawl for getting pissed up! These trips offer traditional storytelling of the proud Scottish identity through the intertwined history of whisky making within this country. As well as some quality craic too! Here you'll get tasters of outstanding single malt whiskies from some of the famous most famous distilleries in Scotland.
And yeah, it is spelt (not spelled) correctly, the Scottish way!
Suggested Trip: Half-Day Highland Whiskey Tour, History of Whiskey with Tasting and Storytelling
2. Dean Village
Looking for some sights off the tourist trail that are underrated yet incredibly scenic? Deans Village should be on top of your list, it's the perfect destination for a half-day trip in Edinburgh.
Just on the outskirts of Edinburgh, Dean Village is within walking distance from the city centre but feels miles away from the hustle and bustle of the capital. It's one of our favourite places to visit in Edinburgh and is highly underrated.
The real charm of this wee village within the city is exploring the warren of narrow cobblestone streets lined with quaint cottages. You'd be forgiven for thinking you'd walked straight into a fairytale or a scene from Harry Potter!
A famous feature of Dean Village is the centuries-old St Bernard's Well, constructed over a natural spring. At the heart of the pillared dome of the well is a statue of Hygieia, the goddess of Health. It is said the water from the well has healing powers. So maybe head here the day after you've been sampling the local whisky!!
How to get there: 20 min walk from the city centre.
Suggested Trip: Dean Village Tour
3. Cramond Island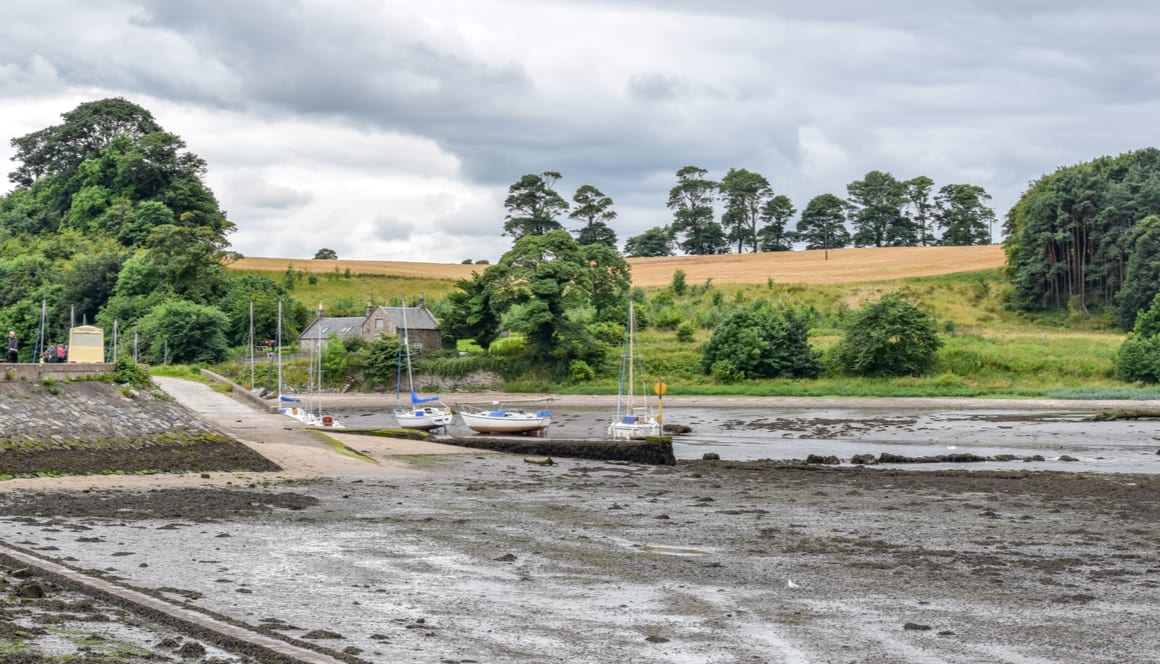 Did you remember to pack your budgie smugglers because it's time to hit the beach! Ok, so you might need to wear something a bit warmer, but you read that right. Edinburgh even has a beach!
Cramond Island is a tidal island and what it lacks in palm trees and suitable swimming temperatures (for anyone other than the brave Scots) it more than makes up for in history and beautiful scenery. There's nothing like the soothing sound of crashing waves, even on a bracing Scottish day.
Cramond Island is in the Firth of Forth near Edinburgh. When the tide is low, you can walk to and from the island on a paved path. At high tide, the pathway is covered with seawater and which makes it inaccessible. Make sure to check the times of the tides when going. The island is an ideal place to take a stroll on the beach, read a book, or have a picnic and is especially pleasant in summer.
When you're ready to call it a day, sit down for fish and chips in the cosy Cramond Inn or have a pint at the pub (or embrace your inner Brit and do both). In the summer there's usually an ice-cream van around too!
How to get there: 40-50 min ride. From Princes Street take bus 41 to Cramond.
Is This the Best Daypack EVER???
Full-Day Trips from Edinburgh
Just a little further out of the city, but within easy reach on public transport, there awaits spectacular castles, abbeys, lochs, and villages perfect for a full-day trip from Edinburgh.
Only got a few days in Edinburgh, check oot this weekend in Edinburgh guide to make sure you make the most of your time here before exploring further afield.
4. Stirling
Stirling, known as the Gateway to the Highlands, is a treat for history buffs and nature lovers alike. It's very much a compact and more local version of Edinburgh but without the crowds.Stirling is a day trip from Edinburgh that is not to be missed! With a beautifully preserved cobblestoned old town, historic architecture, sprawling green highlands and an ancient castle perched on a hill, the similarities are uncanny!
Stirling Castle has been standing since medieval times and is one of the most historically significant buildings in the country. Follow in the footsteps of the Stewart Kings and Queens as you wander the winding roads to the ramparts of the castle. From here you can take in the stunning panoramic views over the city and beyond.
Fancy yourself as a bit of a Braveheart, or maybe you've just got a thing for tartan and facepaint, either way, you can visit theNational Wallace Monument and scream "Freedooooom!" at the top of your lungs!
How to get there: 40 min ride. From Edinburgh Waverly, take any of the regular trains going to Stirling.
Suggested Trip: Stirling Castle from Edinburgh, Stirling Castle Secrets
5. Roslyn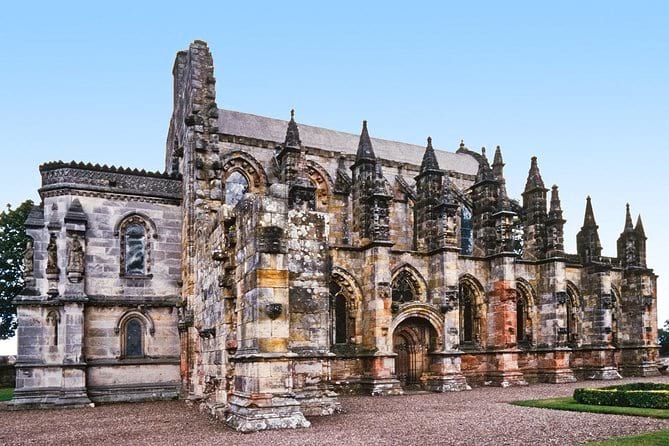 Roslyn is a tranquil village famous for some of its mysterious places, making it a firm favourite for an Edinburgh day trip. Home to the ancient Gothic Rosslyn Chapel which became world-famous after appearing in"The Da Vinci Code" asthe final resting place of the Holy Grail. Other conspiracy theories also link the Chapel to the Knights Templar and Freemasonry. Spooky, right?
Rosslyn Chapel is described as "a bible in stone", thanks to its beautiful stained-glass windows, ornate stonework and intricate carvings. The Chapel sits in the lush green Roslin Glen, an ancient woodland where William Wordsworth once stayed.
Perched high above the glen is another eerie structure, the ruins of the 14th centuryRosslyn Castle, unsurprisingly it's said to be haunted by; a bewitched child, a phantom dog and several hooded monks surrounded by knights. Question? Why are ghosts never Stacey from the local council estate? When did we stop making new ones!?
Anyway if you're thinking things can't possibly get any weirder then think again, this is Scotland after all! Once you're done duelling knights and exorcising demons why not swing by the Roslyn Institute? Where theworld's first cloned sheep, Dolly, was created in 1996. Phew, time for a pint after all that!
How to get there: 50 min ride. From Edinburgh city centre take the Lothian 37 bus.
Suggested Trip: Rossyln Chapel and Hadrian's Wall Tour, Roslyn Chapel Tour
6. Loch Ness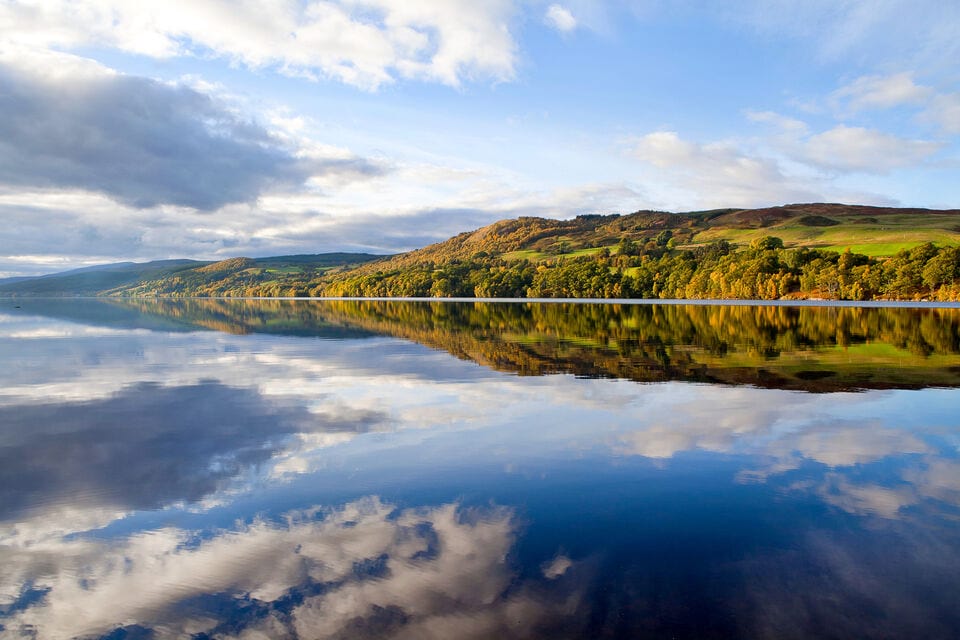 Loch Ness is a large and deep freshwater loch (lake) in the Scottish Highlands. Did you know that Loch Ness contains more water than all the lakes of England and Wales combined? Wild!
As beautiful as it is mysterious, the lake is said to be the home of the Loch Ness Monster, a prehistoric marine creature. Over the last century, there have been many 'signings of "Nessie" but most have proven to only make this legend even more of an enigma. This secretive creature's existence was first written about in the 6th century and has since become part of Scottish folklore.
You can spend the day hunting for Nessie and enjoy the serenity of the glassy waters. You can also wander around the Highlands and see other attractions, such as the Urquhart Castle and Fort Augustus. The Loch Ness Center and Exhibition are worth a visit if you're looking to learn more about Loch Ness and its mysterious Monster.
Though visiting Loch Ness makes for a perfect day trip, we also recommend spending more time in the region if time allows as there is so much to do here. Inverness makes the perfect overnight base and there are lots of great places to stay, such as this perfect Airbnb, located close to some cosy pubs. Or you can book a comfortable room at the Torridon Guest House, located a short walk each from the city centre and the river Ness. Inverness itself is well worth spending a few hours exploring too.
How to get there: 3 ½ hrs ride. Take a train or bus to Inverness, then a local bus to Loch Ness.
Suggested Trip: Loch Ness Cruise, Cruise from Inverness
7. Loch Lomond and the Highlands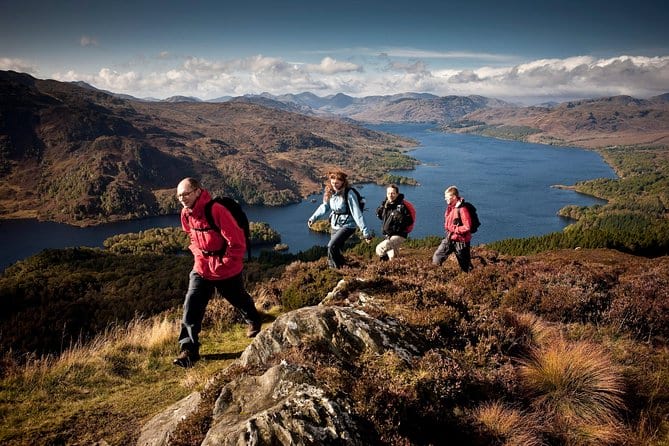 Loch Lomond is the second-most famous lake in Scotland after Loch Ness and the largest lake in Great Britain. It is part of the Loch Lomond and Trossachs National Park, where you'll have lush green countryside, spectacular mountains, quaint villages, cosy inns and diverse wildlife. This region is considered one of the most stunning and picturesque in the whole of the UK and if you have more time is a great starting point for some amazing Scottish road trips.
Loch Lomond is the place to be for adventure and nature lovers. There are many opportunities for water sports like kayaking, canoeing, water-skiing, boating, fishing, etc. The Trossachs National Park is also packed with activities. Walk along trails around the lake and up to the hills for some breathtaking views of the area. The area is also home to the most southernly "Munro" (mountain) in Scotland, the impressive Ben Lomond which sits right on the edge of the loch.
How to get there: 1 ½ – 3 hrs ride. From Edinburgh, take the train to Glasgow, then connect to Balloch.
Suggested Trip: Loch Lomond and Trossachs National Park
8. St Andrews
The tiny town of St. Andrews is best known for St. Andrews University, one of the oldest universities in the world and the place where Prince William first met Kate Middleton.
St. Andrews has plenty of sights to keep you busy despite its size which makes it a great day trip from Edinburgh. There is Old Course, the oldest and most famous golf course in the world. Then there are the 12th-century ruins of the Cathedral of St. Andrew, once the largest cathedral in Scotland. From its remaining towers, you can take in stunning views over the coastline below and beyond.
St. Andrews lies along the beautiful Fife Coast, so there's plenty of scenic walks around the coastal path and the shoreline. The West Sands beach is also wheelchair accessible with free rentals of specially adapted chairs available, so no one has to miss out on the fun!
How to get there: 1 ½ hour ride. From Edinburgh, take the train to Leuchars station, then take a bus or taxi to St. Andrews.
Suggested Trip: St. Andrews and Falkland Palace Tour, St. Andrews and Fife Tour
If you like ruins and old buildings, but this day trip isn't epic enough, you can actually trek the length of Hadrian's Wall!
9. Hogwarts Express
Train rides are glorious, especially if the train is a classic steam locomotive and drives through the cinematic Scottish countryside scenery. Add to that the fact that the train and its route are straight out of a Harry Potter movie. Um, sign us up, please!
The dramatic landscapes of Glencoe in the imposing Scottish Highlands have been used as the backdrop for some of the most memorable scenes in the Harry Potter movies. TheGlenfinnan Viaduct on the West Highland Line forms part of one of the world's most beautiful railway lines and is where the Hogwarts Express charges over.
The Hogwarts Express or the Jacobite Train is a steam train running between Fort William and Mallaig. This magical journey can be experienced from the unforgettable first-class carriages, taking in the rolling scenery from luxury and comfort. For the more adventurous and budget-minded traveller, there are some magnificent views of the viaduct dotted around the surrounding hillsides. Just check the train times beforehand to avoid disappointment!
10. Glasgow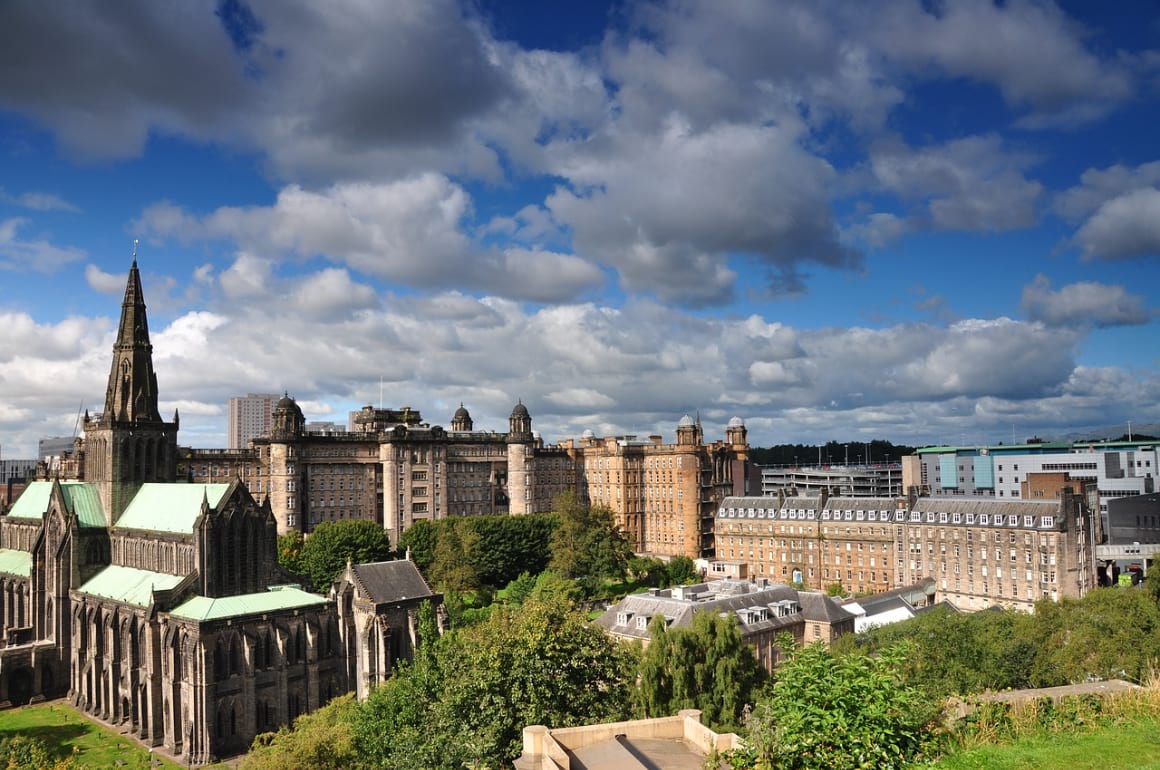 Scotland's second city is only a stone's throw from the capital which makes it an easy day trip from Edinburgh. The most populous city in Scotland, Glasgow is home to many attractions, museums and parks. The city is all about great music, vibrant street art, fashion and shopping. There's heaps to see and do in Glasgow on a day trip.
Once there, you will marvel at the Victorian-style architecture, such as the gleaming marble of the City Chambers at George Square and the grand baroque complex of the Kelvingrove Museum that houses art by Dali and van Gogh. The city also has many breweries and distilleries – not sure where the Scottish get their reputation for being drinkers from at all!
Foodies among you will love to know that Glasgow is a prime location in the UK for the best Indian food. Try Mother India restaurant for delicious creamy curries. Glasgow has a famed nightlife, so if you're planning to stay, check out this comfy Airbnb in the heart of the city.
If you're a sports fan be sure to check out if arch-rivals Celtic or Rangers are playing, better yet if you can get a ticket to the famously fierce Old Firm Derby when both teams play each other. Staying over for the weekend in Glasgow gives you a great chance to experience football fever in 'The Dear Green Place'.
How to get there: 50 min ride. From Edinburgh Waverly, take the train to Glasgow Queen Street station.
11. The Kelpies and the Helix Park
Kelpies are mythical horse-like creatures that are said to inhabit the Scottish lochs. The Kelpies at the Helix Park stand 30 meters tall and are the largest equine sculptures in the whole world. These magnificent steel beasts weigh over 300 tonnes! You can join a tour and even go full trojan and get inside these imposing sculptures.
The Helix Park is a vast area with several fun attractions – there's an Adventure Zone play park, a Splash Play area, a lagoon with kayaking and canoeing activities, a visitor centre and a café. The nearby Falkirk Wheel is a modern engineering marvel and the only rotating boatlift in the world which connects the historic Forth and Clyde Canal with the Union Canal. Catching it in use is a mesmerising experience.
How to get there: 1-hour ride. From Edinburgh Waverley take the train to Falkirk High station, then take bus 3 to the Helix.
Suggested Trip: Falkirk Wheel and Kelpies Trip
12. Inchcolm Island and Abbey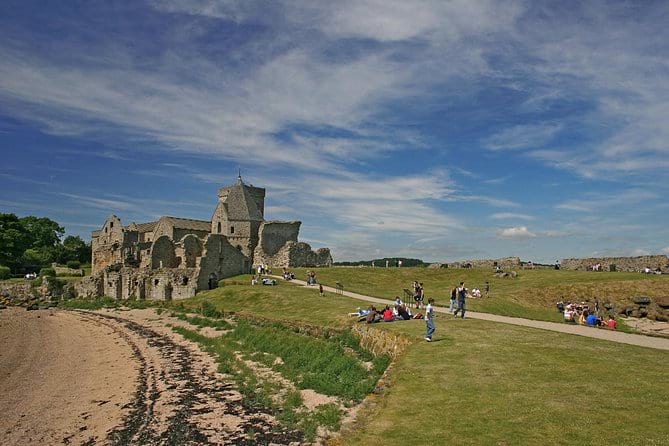 Considered the most beautiful island in the Firth of the Forth, Inchcolm Island is often referred to as the"Iona of the East". Its main feature is the 12th-century Inchcolm Abbey, which is open to fully explore including the tower which offers great views over the island.
The island also features some impressive wartime fortifications used by over 500 soldiers in both world wars to protect the Royal Navy's base at Rosyth. Inchcolm is also famous for its wildlife – you can see puffins, seals and other seabirds along its tranquil beaches. So there's plenty to explore on a day trip and great opportunities to relax on the scenic ferry too.
How to get there: 3 ½ hours. From Edinburgh Waverly take the train to Dalmeny Station (South Queensferry). From Hawes Pier, take the Maid of the Forth ferry to Inchcolm.
Suggested Trip: Inchcolm Island Cruise
13. Tantallon Castle
Tantallon Castle is one of Scotland's most photogenic ruins, set on the edge of the rugged East Lothian coastline. From its perilous position on the steep cliff edge, there are some monumental views to take in whichever way you look… Just don't look down, especially after a few whiskies!
Tantallon Castle is open all year round and is spectacular whatever the weather. It is well worth taking the time to explore the multiple levels, stairs, passages and rooms of the castle. In the dark recesses of the spiral staircase in the mid-tower, there have been photographs taken that show an unexplained figure. Keep an eye out for the "Ghost of the Tantallon Castle", as it might make an appearance.
Seriously, Scotland could do with getting a hold of the number for The Ghostbusters, anyone know if they're on Watsapp?!
Advanced booking is required, so don't forget to book your ticket before going. Unless you're too scared that is!
How to get there: 2-hour ride. From Edinburgh Waverly, take the train to Dunbar, then take a bus to North Berwick. Tantallon Castle is a few minutes walk.
Did you know you can also stay overnight in a castle in the UK, like, as your actual freaking accommodation! Check out the 10 best castles to stay in the UK if you fancy getting haunted overnight as well as during the say!
Don't Forget your Edinburgh Travel Insurance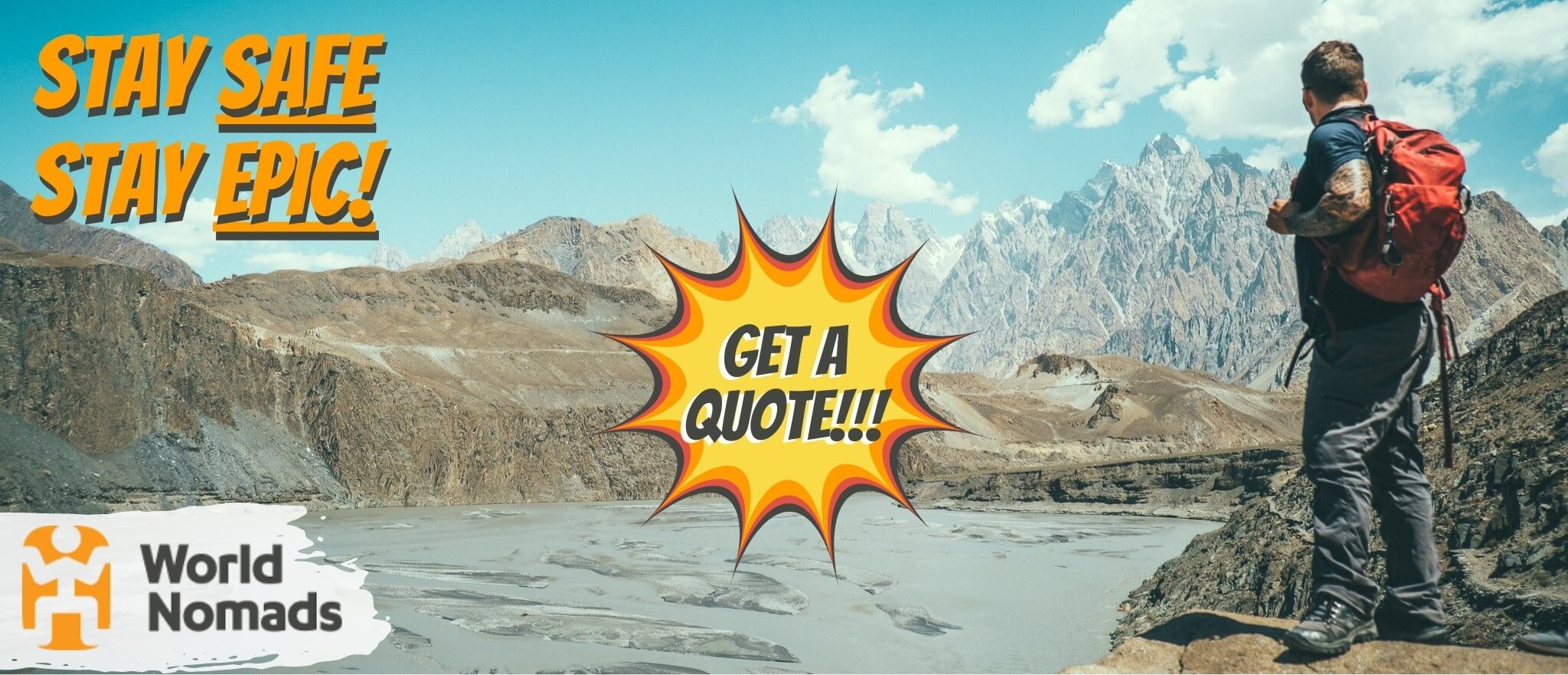 World Nomads' mission is to support and encourage travellers to explore their boundaries. They offer simple & flexible travel insurance, and safety advice to help you travel confidently.
They've been doing it since 2002 – protecting, connecting, and inspiring independent travellers just like you.
Get a quote below or read our in-depth review!
World Nomads provides travel insurance for travelers in over 100 countries. As an affiliate, we receive a fee when you get a quote from World Nomads using this link. We do not represent World Nomads. This is information only and not a recommendation to buy travel insurance.
Final Thoughts
Scotland is a bonny wee county full of enchanting landscapes, historic buildings, quaint villages, eerie ruined castles, scenic lochs, a shit tonne of booze and apparently an unholy amount of paranormal activity! Thankfully the Scottish capital makes a great base for exploring the wider country and is well connected with good public transport links making theseday trips from Edinburgh easy to organise.
Here are a few useful tips for planning your day trips:
Let us know if spot Nessie, a wandering cloned sheep or a fearsome phantom on your travels!
---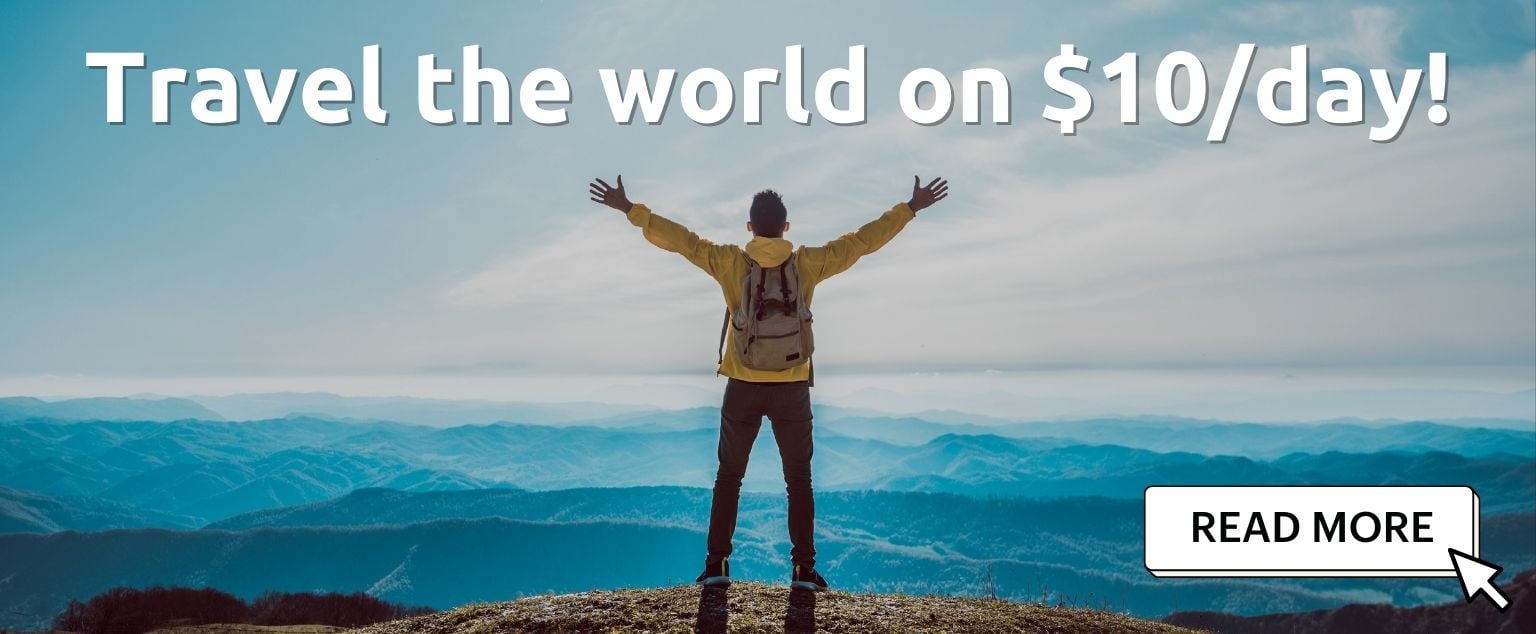 And for transparency's sake, please know that some of the links in our content are affiliate links. That means that if you book your accommodation, buy your gear, or sort your insurance through our link, we earn a small commission (at no extra cost to you). That said, we only link to the gear we trust and never recommend services we don't believe are up to scratch. Again, thank you!