Scotland's second city is actually it's biggest and home to nearly 50% of the nations population. In so many ways Glasgow is true beating heart of Scotland and is the commercial & creative hub of the country. From ancient soccer rivalries to a thriving Techno scene, there is a lot of culture going on up in rainy Glasgow.
Its location on the River Clyde means it has ample natural scenery as well as plenty of rain. Its centuries-old history has given the city many fabulous, grand monuments. Glasgow certainly knows how to have a good time. There is even a saying, "you'll have more fun at a Glasgow funeral than an Edinburgh wedding".
This combination of earthiness, elegance & edge is what attracts so many tourists to Glasgow and what makes it one of my personal favorite cities in the UK. Finding a balance between these attractions on our list of things to do in Glasgow is key to an unforgettable vacation in Glasgow!
Top Things to Do in Glasgow
No matter what brings you to town, you should always make time for the essential things to do in Glasgow!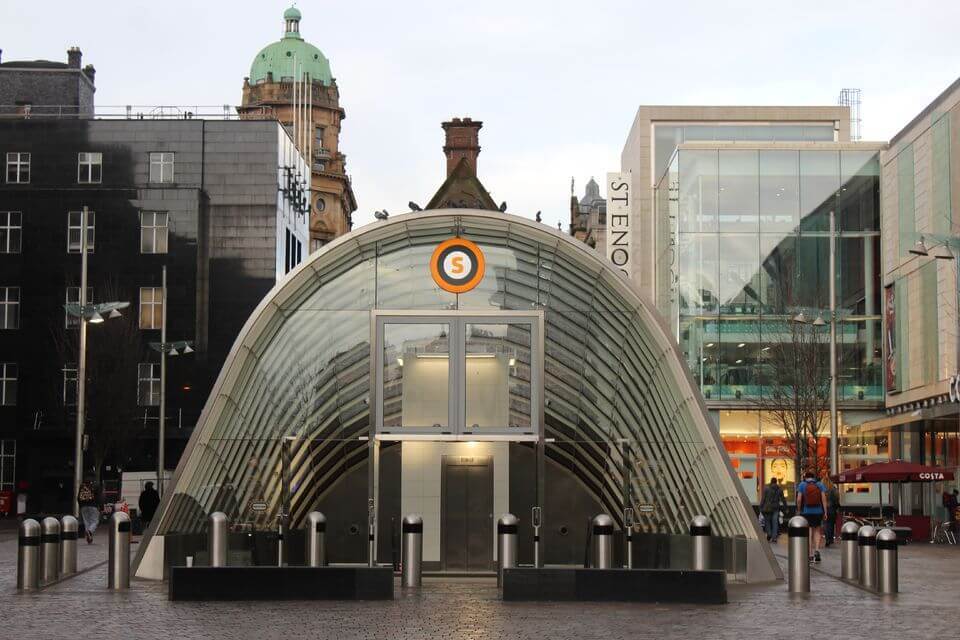 Glasgow's vast city center kind of circles outwards from around George Square – the Georgian & Victorian era centre of power. The charming Georgian buildings which line the area are some of the cities finest.
George Square dates back to 1781 and it honors many prominent figures in British history. On the square, you'll find statues of Queen Victoria and Robert Burns, amongst others.
On one side of the square is the Victorian Glasgow City Chambers. The exterior is an iconic sight but you can also join one of the free guided tours to see the magnificent interior!
2. Laugh at the Equestrian Statue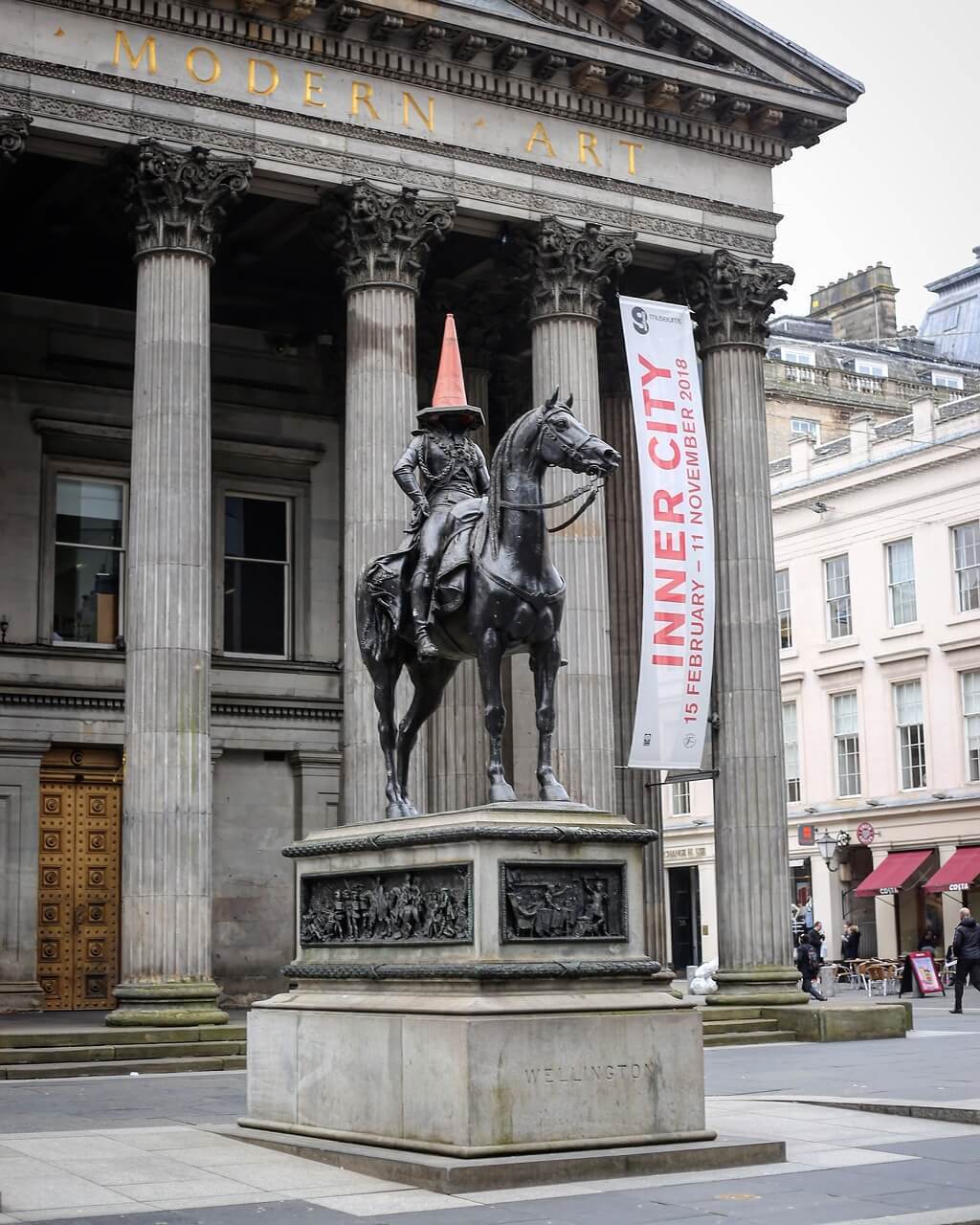 The Equestrian Statue of the Duke of Wellington is one of the most unique Glasgow points of interest. The statue was erected in 1844 to honor the man who defeated Napolean. But it's now more famous for the cone that sits on his head!
Since the 1980s, locals have religiously placed a traffic cone on the horse's head every evening! This demonstration of Glaswegian humor has led one guidebook to include the statue in its list of the top ten most bizarre monuments on Earth!
The statue is in front of the Gallery of Modern Art.
First Time in Glasgow
Merchant City
Merchant City is a small neighbourhood sitting within the Centre boundaries, between George Square and the river, and west of Trongate. It's one of the more historic parts of town, being where wealthy traders had their homes in the 18th century.
Places to Visit:
Visit GoMA to see the eye-catching and thought-provoking displays.

Shop at exclusive stores on Ingram Street.

People-watch at Royal Exchange Square.
For more places to stay, check out our full Glasgow neighborhood guide!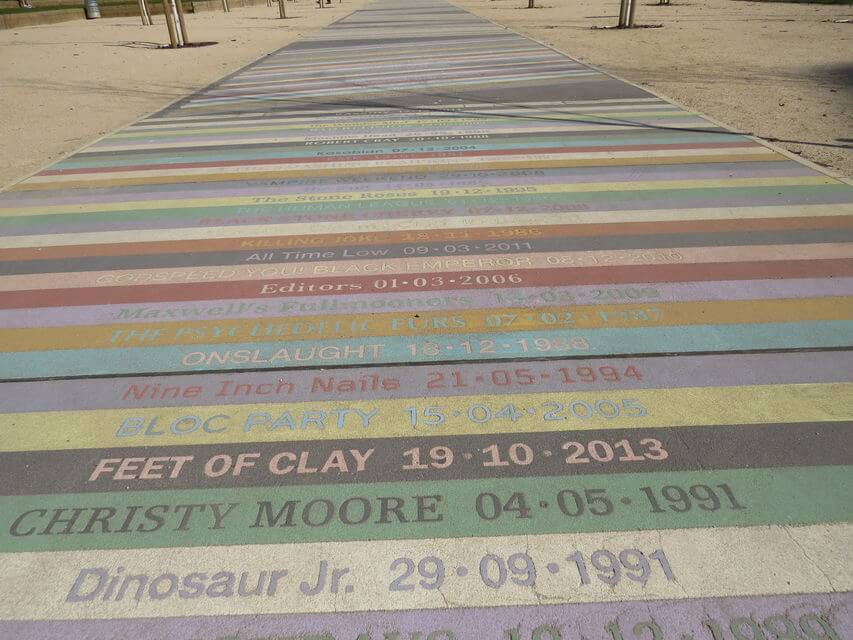 Glasgow has a music scene to rival any other on earth and has produced bands such as Simple Minds, Primal Scream & Chvrches. This has been recognised and the city is now a UNESCO City of Music.
At the heart of Merchant City is the Britannia Panopticon, the oldest surviving music hall in the world! It first opened in 1857 and1500 people would attend each of the six daily shows!
There are loads of venues across the city offering live music and beer. Nice N Sleazy on Sauchiehall sometimes has bands as do the venues nearby. Or, head over to the Clutha. It's been popular with locals since 1819 and has undergone extensive renovation following a tragic helicopter crash.
4. Check Out Glasgow Style Architecture
The Lighthouse is Scotland's Center for Design and Architecture. Fittingly, it was also the first public building designed by Charles Rennie Mackintosh, the pioneer of the Glasgow style of architecture!
The building used to be the headquarters of the Glasgow Herald but today it houses various arty attractions. It's often used as an events venue, as well as hosting an information center, gift shop, and a viewing gallery!
The main attraction, though, is the Mackintosh exhibition which will help you appreciate the building that much more.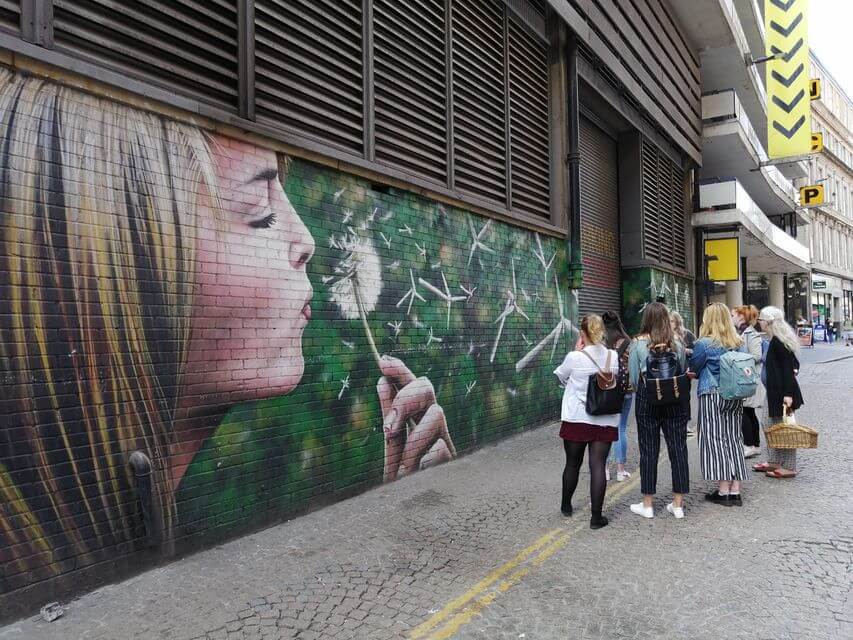 No list of things to do in Glasgow, Scotland, would be complete without mentioning the city's amazing street art. Street art is one of the best expressions of Glasgow's vibrant urban culture!
Near George Square is The Wonderwall, a celebration of the achievement of students at Strathclyde University. You should also stop by the iconic mural at the Clutha. It pays tribute to some of the famous musicians who played in the bar.
You can find the city's street art on your own, but it is worth considering a guided tour. Guides know what to see in Glasgow and can tell you all about the story behind the artwork.
6. Marvel at Glasgow Cathedral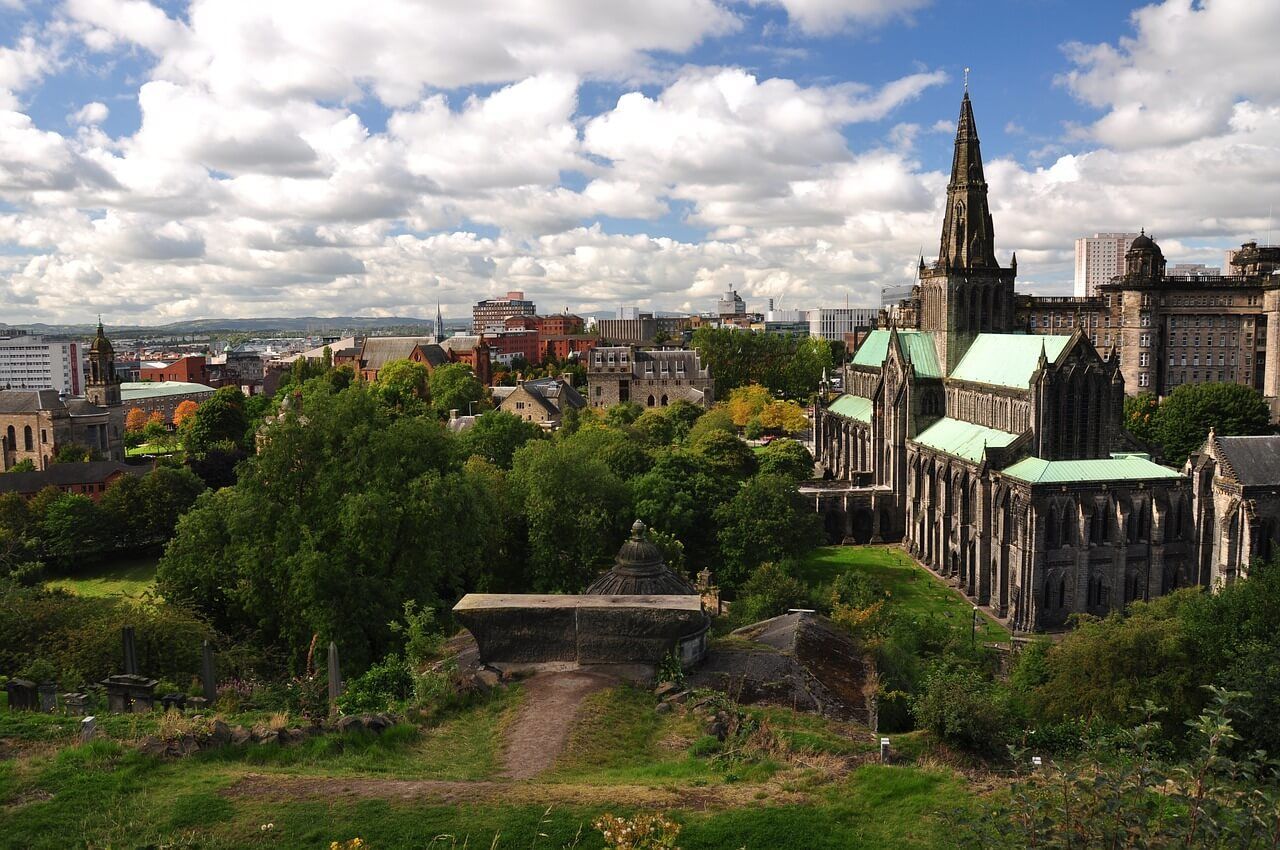 Visiting Glasgow Cathedral is one of the most important things to do in Glasgow city center. The cathedral is the oldest building in Glasgow and has plenty of fascinating tales to discover!
Parts of this historic cathedral date back to 1136. As such, it shows elements of several architectural styles and hosts important historical artifacts. It's thought that St Mungo, the patron saint of Glasgow, founded his church on this very spot! In fact, the saint is buried beneath the cathedral.
Just standing in the nave and gazing up at the Gothic arches is an awe-inspiring experience! However, if you want to learn about the history and architecture of the place, book a guided tour. The Cathedral is also adjacent to the stunning Necropolis and also near to the Tenants brewery.
The Best Travel Backpack?!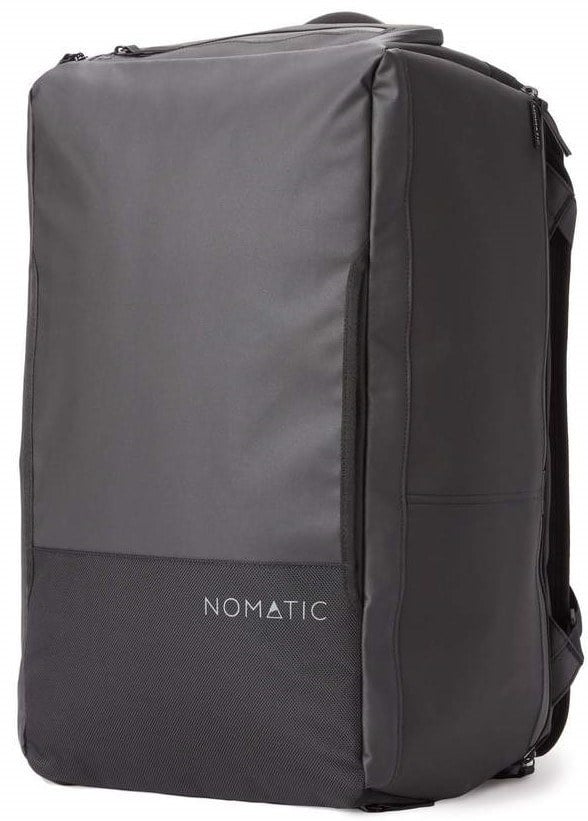 Pssssst! Not picked the perfect travel backpack yet? The Broke Backpacker team has tried out over thirty backpacks this year! Our favourite carry on backpack is the Nomatic Travel Bag.
Read our full review!
Unusual Things to Do in Glasgow
Are you the kind of person who likes exploring the road less traveled? Luckily, we know exactly what to do in Glasgow, Scotland!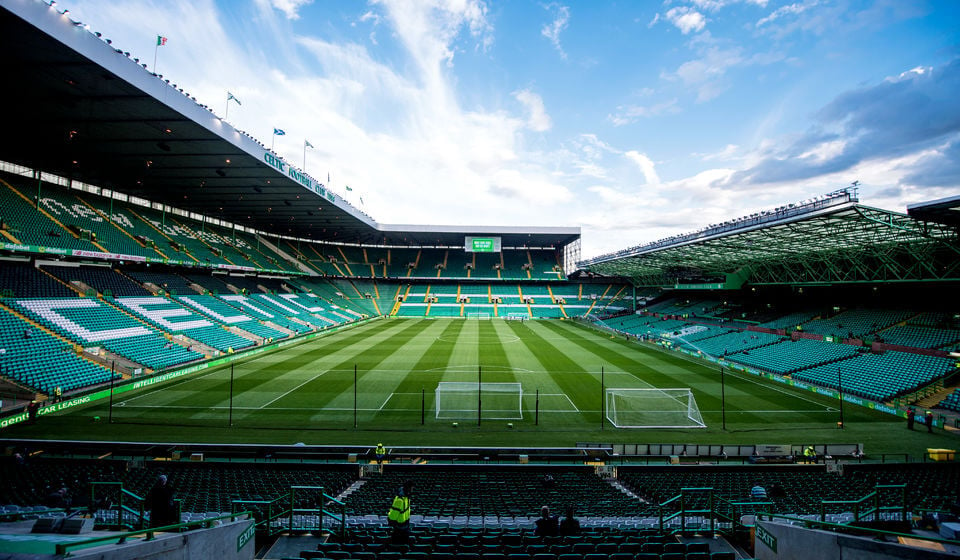 The bitter rivalry between Celtic and Rangers (known as "the old firm") is one of the footballing worlds greatest and most explosive. To learn more about the sectarian, religious & political history behind this – stopping by the Celtic Park Stadium is a must.
Celtic Park is one of the biggest soccer stadiums in Europe and has been the home of the Celtic Football Club since 1888. Visitors can explore the home team's dressing room and learn about the club's colorful history through the stadium exhibitions.
If you're looking for things to do in Glasgow off-the-beaten-path, this is activity is ideal since it will introduce you to the hearty spirit of the city. Either grab a ticket for a match, or simply stop by for a stadium tour.
8. Watch a Show Put on by Machines
The Sharmanka Kinetic Theatre offers one of the most unique things to do in Glasgow: a show put on by motorized machine sculptures!
These sculptures are synchronized to light and music. They were developed by Eduard Bersudsky in St Petersburg and Glasgow. The machines tell stories about Bersudsky's life and native country.
This is not a traditional show set on a stage. You move around the room from one statue to another. Each one then lights up and performs! It's an unusual experience, but it is also a very enjoyable art form to see.
9. Wander Around Glasgow Necropolis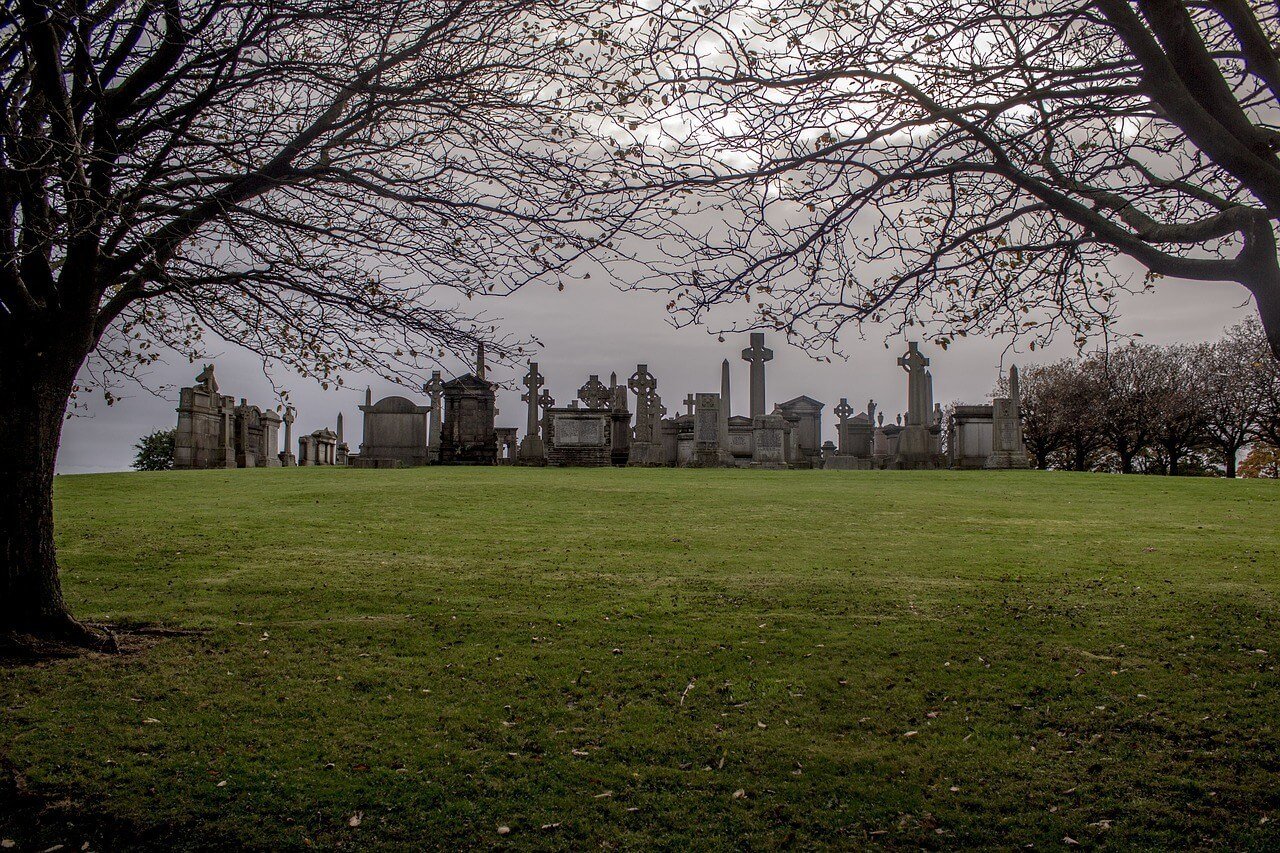 Spanning 37 acres, the Glasgow Necropolis is the final resting place of around 50 000 local residents! The Victorian cemetery is not for everyone but it is interesting to learn about former Glaswegians.
The Necropolis has more than just graves. In fact, it has links to some of the most prominent Scottish figures. For example, you'll find the first statue ever built of John Knox, leader of the Scottish Reformation, there.
You can also admire the Celtic Cross adorning the grave of Andrew McCall, a high-ranking police officer. The monument was the first individual public creation built by the legendary Charles Rennie Mackintosh. The Necropolis is particularly atmospheric on a winters day when the light is retiring.
Safety in Glasgow
Glasgow has a reputation as a hard city that is semi-justified. There are issues with crime, substance abuse, and anti-social behavior but these are largely confined to sub-burbs. As a visitor, you are unlikely to encounter any problems, and Glaswegians are a friendly, sociable bunch.
However, as with any city, be mindful of pickpockets and opportunist theft especially on public transport and in crowded areas.
The nightlife is booming and fun but can get quite hectic, especially on the weekends, so try to keep a low profile. Avoid anybody who seems lairy or spoiling for a fight. Also note that the locals take the rivalry between Rangers and Celtic very seriously, so don't get involved unless you know what you're talking about! If you are visiting on an "old firm" match day, note that the city atmosphere can get seriously tense.
Read our tips for traveling safely before you fly and always get travel insurance. Check out our roundup of the best travel insurance.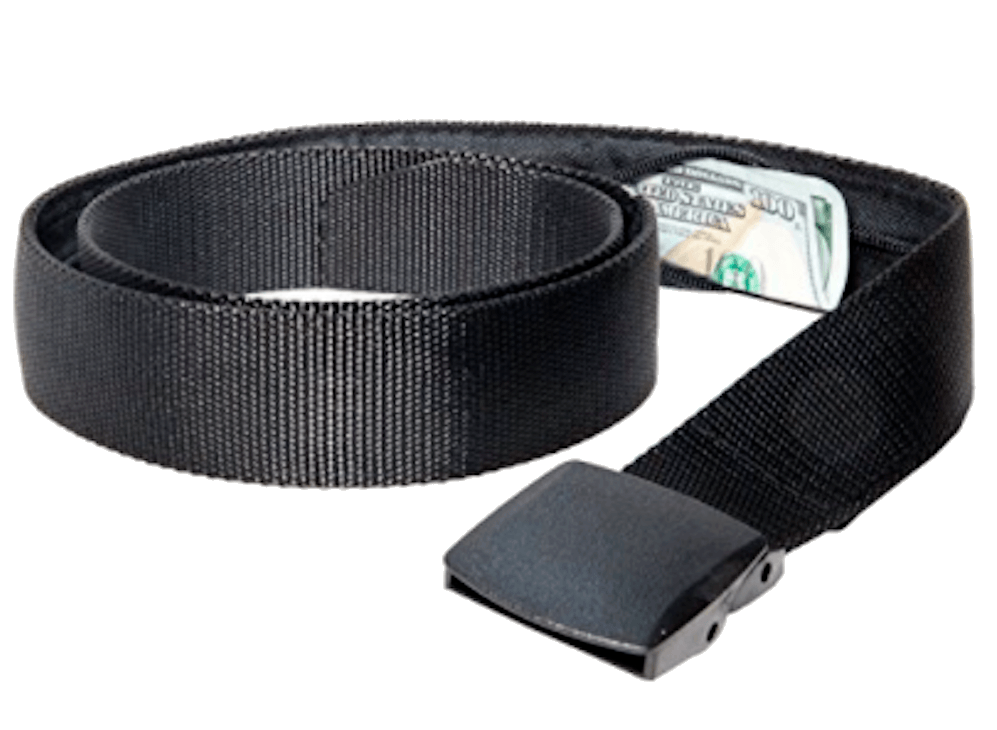 You should always have emergency cash hidden on you – pick up this awesome security belt with its hidden pocket before you travel, it's perfect for hiding money, a passport photocopy.
Things to do in Glasgow at Night
Lively Glasgow is not the kind of city that switches off after sunset! In fact, with pubs and live music, it's just the opposite!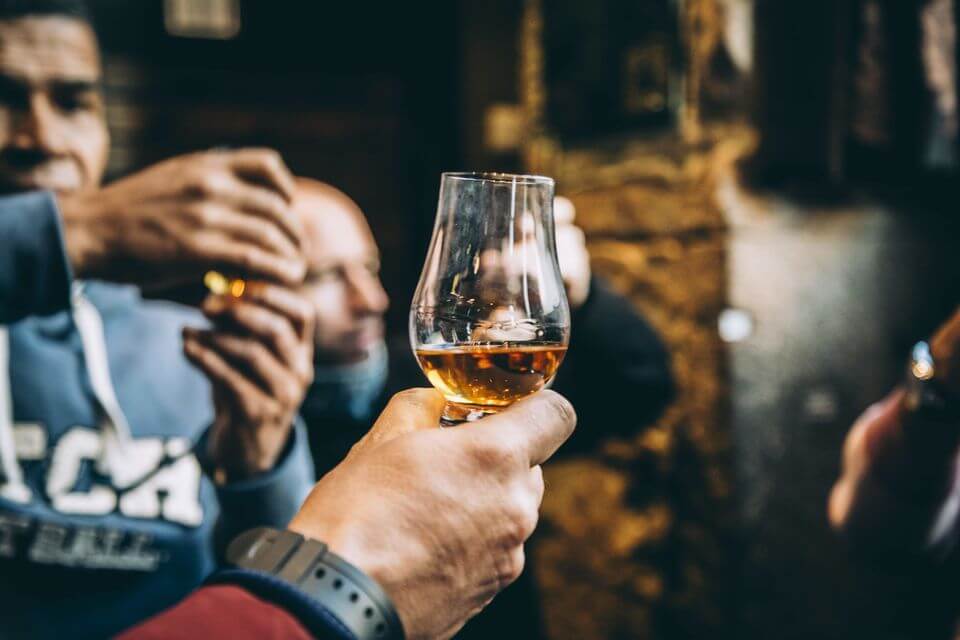 Glasgow played a key role in the development of the whiskey industry so it's only fitting that you start your night out with a whiskey tasting!
In the heart of the city center is The Pot Still. It offers a traditional pub experience, as well as an epic 600 whiskeys to try out!
Another great venue is Oran Mor. It was once a church but now offers a whiskey bar with around 280 malts!
11. Attend a Traditional Ceilidh
For the unique opportunity to see traditional Scottish culture in action, head over Sloans on a Friday night. The iconic pub hosts a ceilidh, an age-old social gathering!
The highlight of the ceilidh at Sloans is the country dancing. Don't feel shy; the boisterous music and flamboyant moves mean that no one will even notice you! This is a fantastic place to try out the Scottish country dancing!
Try things like the Eightsome Reel and the intriguingly named, Strip the Willow!
12. Enjoy Live Music
King Tuts Wah Wah Hut is the best small gig venue in town and attracts a trendy crowd. It offers a fun cultural night out!
The venue attracts both new and established talent. Famously, it's where Alan McGee discovered and signed Oasis in 1993! Thanks to the student crowd, there are plenty of drinks specials and admission is usually quite affordable.
You can also get some dinner in the trendy basement before the show.
Where to Stay in Glasgow – City Center
The city center is the ideal base for your Glasgow itinerary. There are plenty of apartments, hotels and some of Glasgow's top hostels here. Staying in the area means that you can walk to most attractions, as well as the train station.
George Square
Glasgow Cathedral
Gallery of Modern Art
This spacious and clean loft-style apartment is the perfect base for exploring the best things to do in Glasgow! It has views of the historic street below and is close to George Square. The apartment has a separate bedroom and living room so there's lots of space!
View on Airbnb
Motel One Glasgow offers stylish rooms with comfortable soft furnishings and fantastic views of historic buildings! There's also a swanky cocktail lounge and a breakfast cafe to keep your energy up.
Its location means you can walk to many of the top things to do in Glasgow so it offers really great value.
View on Booking.com
Romantic Things to Do in Glasgow
Couples visiting Glasgow, Scotland, are spoiled for choice when it comes to date time! Here are our favorite romantic activities.
13. Honor St Valentine
For an unusual but fun date in Glasgow, consider visiting the bones of St Valentine. That's right, you can bless your relationship by honoring the bones of the saint who inspired Valentine's Day!
You'll find the saint in The Blessed St John Duns Scotus Church where his remains are on permanent display. They're even decorated on Valentine's Day!
The relics arrived in Glasgow in 1868 and were moved to this quiet spot in 1968. You'll find them at the front of the church!
14. Picnic in the Park
Kelvingrove Park offers one of the loveliest things to do in Glasgow for couples: a picnic date!
This public park is a typical Victorian park that was designed by Sir Joseph Paxton. It's located along the River Kelvin in the west of Glasgow and boasts magnificent landscaped gardens.
After strolling down one of the tranquil riverside walks, choose a pretty spot and set up your picnic! This is one of the best things to do in Glasgow in summer but even then you should bring along a jersey, just in case!
Do You Need Travel Insurance
Don't forget to sort your travel insurance! We've put together a roundup of the best travel insurance for backpackers, or if you're low on time, get a quote from World Nomads now, our favorite travel insurance provider.
Getting an estimate from World Nomads is simple – just click the button or image below, fill out the necessary info, and you're on your way!

Best Free Things to Do in Glasgow
Wondering what to do in Glasgow on a budget? Fortunately, the city has no shortage of fantastic, free attractions!
15. Admire Modern Art
The artworks at the Gallery of Modern Art are some of the most beautiful things to see in Glasgow. It's the most visited modern art gallery in Scotland and boasts exciting exhibitions! Best of all? It's free!
The gallery offers exhibitions of both local and international artists. Although it is one of the best things to do in Glasgow on a budget, you may be tempted to spend some cash in its souvenir shop!
16. Learn About Glasgow's Social History
The People's Palace is a social history museum that offers a window into the lives of Glaswegians from the 18th to the 20th century.
Visitors can explore a series of photographs, films, and artifacts. Seeing how life has changed since the 20th century is an eye-opening experience!
The People's Palace is on Glasgow Green, the oldest public green space in town. You can wander around the beautiful riverside gardens or visit the Winter Gardens. Visiting this conservatory of exotic palm trees is one of the best things to do in Glasgow on a rainy day!
17. Wander Down The Lanes
One of the most hipster things to do in Glasgow is to stroll down Byres Road. It's affectionately known as "The Lanes" thanks to the adorable, cottage-style buildings that line these hidden streets!
Ashton Lane is the most popular lane to explore, especially at night when it is lit up with fairy lights. Cresswell Lane and Ruthven Lane are also picturesque sights. The lanes are filled with tiny shops, intimate bars, and pubs, and some fabulous restaurants.
Glasgow Packing List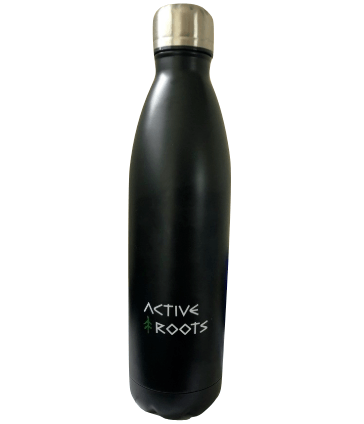 1. Travel Water Bottle: Always travel with a water bottle – it'll save you money and reduce your plastic footprint on our planet. AR bottle are tough, lightweight and maintain the temperature of your beverage – so you can enjoy a cold red bull, or a hot coffee, no matter where you are. For every AR bottle sold, we donate 10% to PlasticOceans.org – an initiative to reduce plastic in our oceans!
2. Microfibre Towel: It's always worth packing a proper towel. Hostel towels are scummy and take forever to dry. Microfibre towels dry quickly, are compact, lightweight and can be used as a blanket or yoga mat if need be.
3. Security Belt with Hidden Pocket: I never hit the road without my security belt. This is a regular looking belt with a concealed pocket on the inside – you can hide up to twenty notes inside and wear it through airport scanners without it setting them off. This is hands down the best way to hide your cash.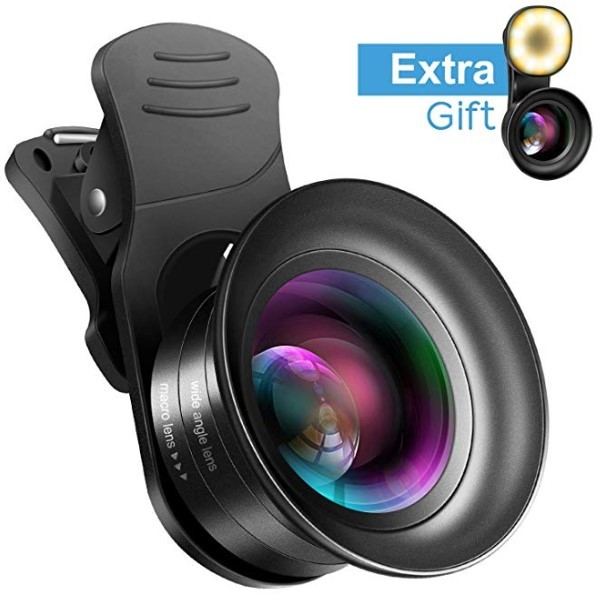 4. Camera or Cell Phone Camera Accessories: One thing's for sure – Glasgow is a picturesque destination! Get perfect shots from your phone using clip-on-lenses with wide-angle, close-up and optical zoom. With the ability to turn travel pictures from basic to professional, this universal lens sits neatly over any phone camera and comes with a durable, travel-friendly case!
5. International Adapter: Glasgow uses 3-pin British style plugs. You may need an adapter. Save yourself the hassle of trying to track down an adapter at your destination and paying twice as much than planning ahead by buying one online.
Books to Read in Glasgow
The Backpacker Bible – Learn how to ditch your desk and travel the world on just $10 a day whilst building an online income.
Trainspotting – A modern day Scottish classic. Edinburgh natives Rents, Sick Boy, Mother Superior, Swanney, Spuds, and Begbie are as unforgettable a clutch of junkies, rude boys, and psychos as readers will ever encounter. Trainspotting was made into the 1996 cult film starring Ewan MacGregor.
The Wasp Factory – The polarizing literary debut by Scottish author Ian Banks, The Wasp Factory is the bizarre, imaginative, disturbing, and darkly comic look into the mind of a child psychopath set in the Scottish Highlands.
Lonely Planet Scotland – I find that even with being such a huge company now, Lonely Planet still does a good job sometimes. It won't be as genuine as this guide, but still worth its salt.
Things to Do with Kids in Glasgow
Glasgow, Scotland, has no shortage of fun things to do with kids. These hands-on activities will keep kids and even adults stimulated!
18. Watch Mind-Blowing Experiments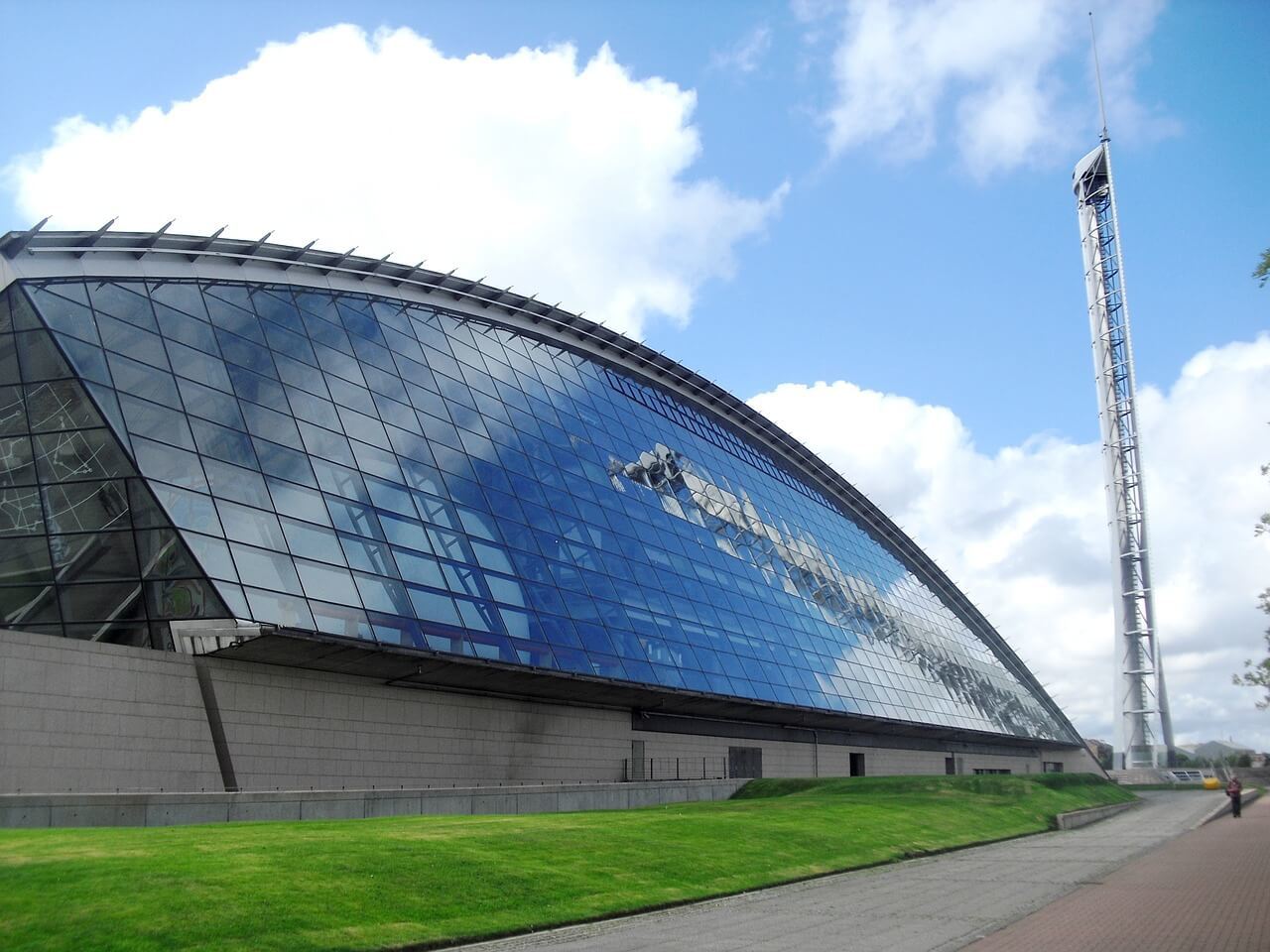 Taking your little ones to the Glasgow Science Center is one of the best things to do in Glasgow with kids. There, children of all ages will be mesmerized by the exhibitions and shows on offer!
At the Science Show Theater, children will be amazed by the experiments performed by real scientists. Visiting the Glasgow Science Center requires very little supervision from parents as the exhibits are very engaging for kids.
19. Climb Aboard The Glenlee
For more kid-friendly Glasgow things to do, head over to The Glenlee. This rare ship is afloat on the River Clyde and offers plenty of hands-on activities to learn about sailing!
Whether they're scrubbing the deck clean or ringing the ship's bell, kids are kept busy and stimulated! They can also test the fog horn and check out the play area.
Find out ahead of time if there are any special events happening on "The Tall Ship". There are often costume days and fascinating tours to enjoy!
Other Things to Do in Glasgow
Still looking for more things to see in Glasgow, Scotland? The list could go on and on but here the very best!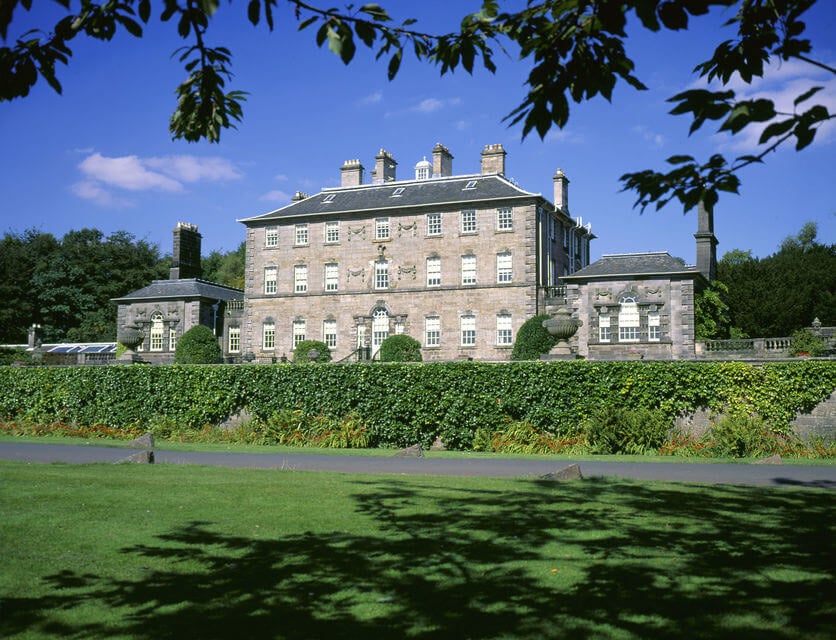 If you've ever wondered what it's like to be part of the aristocracy, you can find out at Pollok House. This grand family home is perfect for imagining the good life!
Pollok House was the home of the Maxwell family for six centuries! The main part of the house was constructed in the late 18th century and is a stunning example of Georgian grandeur.
The house is also home to a magnificent collection of Spanish art. Alongside imposing portraits of Spanish rulers are evocative depictions of Biblical passages.
21. Cycle Along the Forth and Clyde Canal
There's no doubt that cycling along the canal is one of the greatest outdoor things to do in Glasgow! The Forth and Clyde Canal was opened in 1790 as an important transport route but it's now a center for leisure activities.
The trail is peaceful and it feels like you're in the countryside. The major landmark of the canal is the Falkirk Wheel. This spectacular feat of engineering lifts boats from the canal and places them onto the upper canal!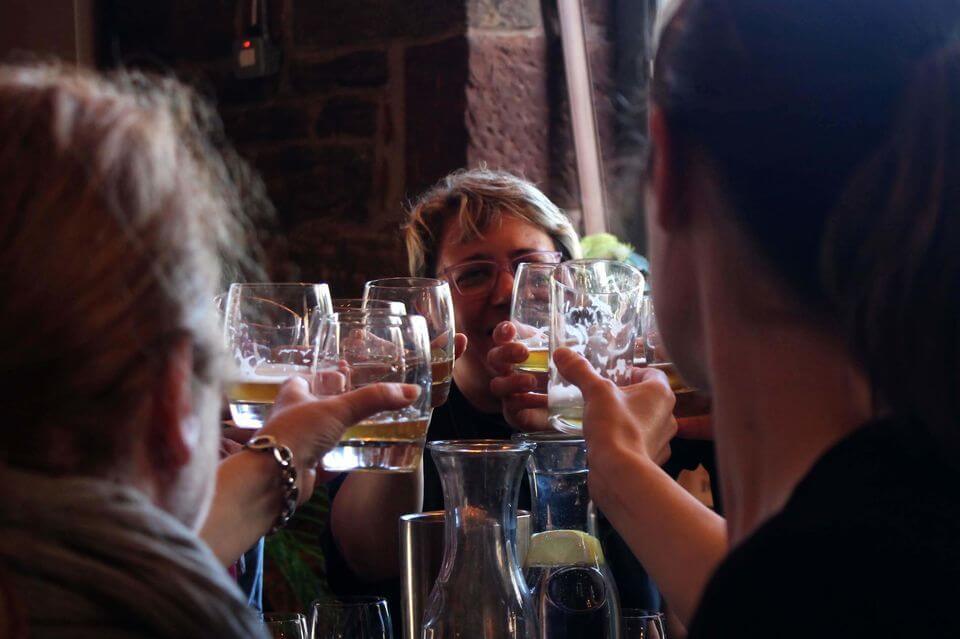 When you think of a Scottish drink, it's probably whiskey, but Scotland also has a long history with beer!
No visit to Glasgow, Scotland, would be complete without a sip of Tennant's. Affectionately known as "Scotland's favorite pint", the beer is brewed at Wellpark Brewery in Glasgow. Note that Tennant's is strong and a bit syrupy – it is perhaps an acquired taste.
If you're more into craft beer, then visit Drygate Brewery. The micro-brewery has a pretty beer garden and allows you to brew your own custom beers!
23. Admire Artistic Masterpieces At Kelvingrove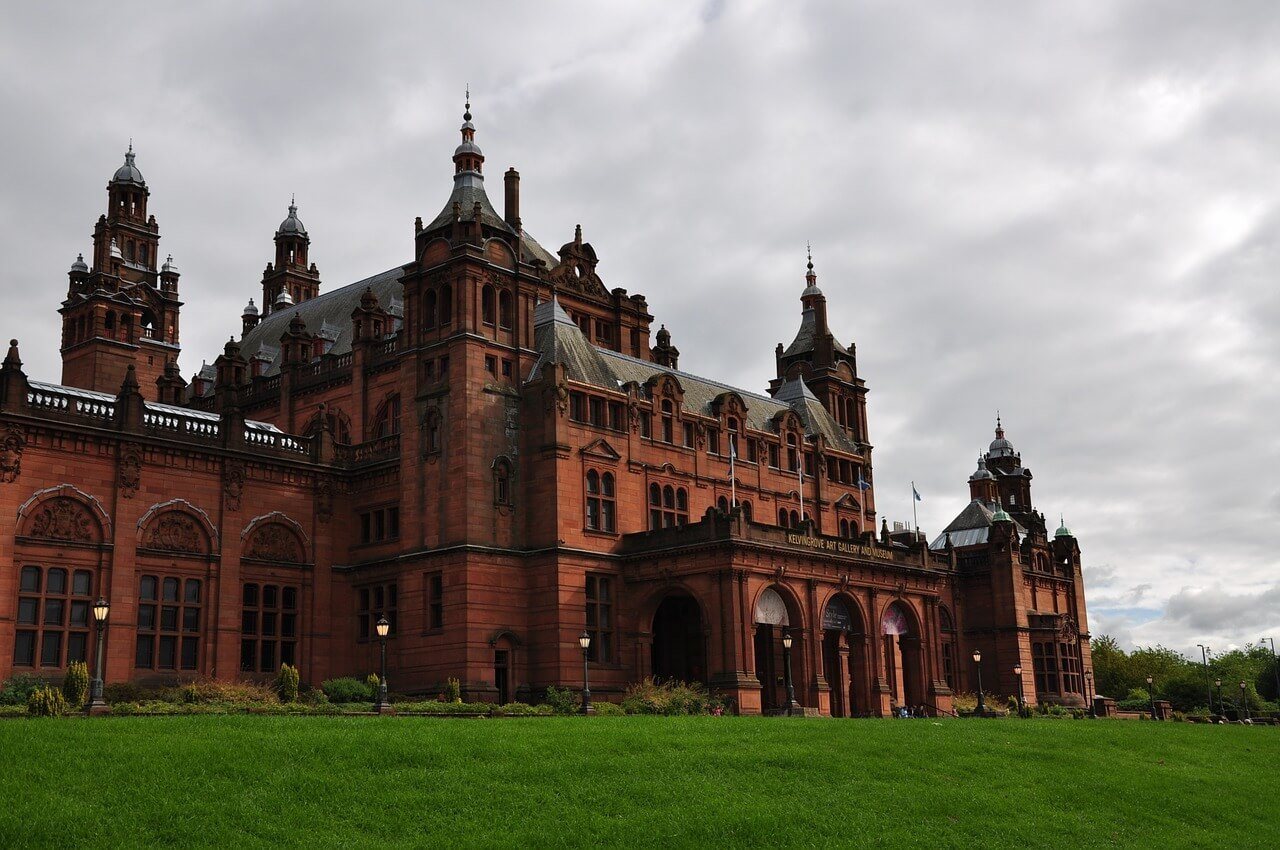 Kelvingrove Art Gallery and Museum is Glasgow's premier art gallery of historic British and European art. It's easy to lose yourself in the gallery's never-ending exhibitions, making it one of the loveliest things to do in Glasgow alone!
One of the highlights is the work of Charles Rennie Mackintosh. There is also a portrait by Van Gogh and Salvador Dali's Christ of Saint John of the Cross to admire.
Entrance is absolutely free so there is no excuse not to visit this gem! There are also free guided tours on offer.
Day Trips From Glasgow
If you've got a few more days to spend in the city, you should definitely consider exploring the surrounding area. These are the best day trips from Glasgow!
In many ways, the Highlands is the soul of Scotland, and the area does not disappoint! From cruising on the legendary Loch Ness to hiking through panoramic landscapes, there are some fabulous things to do near Glasgow!
The highlands offer not just superb beauty but passionate Scottish tales. In a day trip from Glasgow you can easily visit Glencoe, where the MacDonald Clan where massacred. There's also Urquhart Castle, which saw countless battles between the English and the Scottish over its 500-year-old history!
You can also explore the small town of Inverness, the gateway to the Highlands. And, of course, there is Loch Ness. Humans have spotted 'monsters' in the Highland waters for around 2000 years, so it's only tradition that you search for your own Loch Ness Monster! Note that if you do head to Inverness you will want to set off early in the morning to get the most out of it.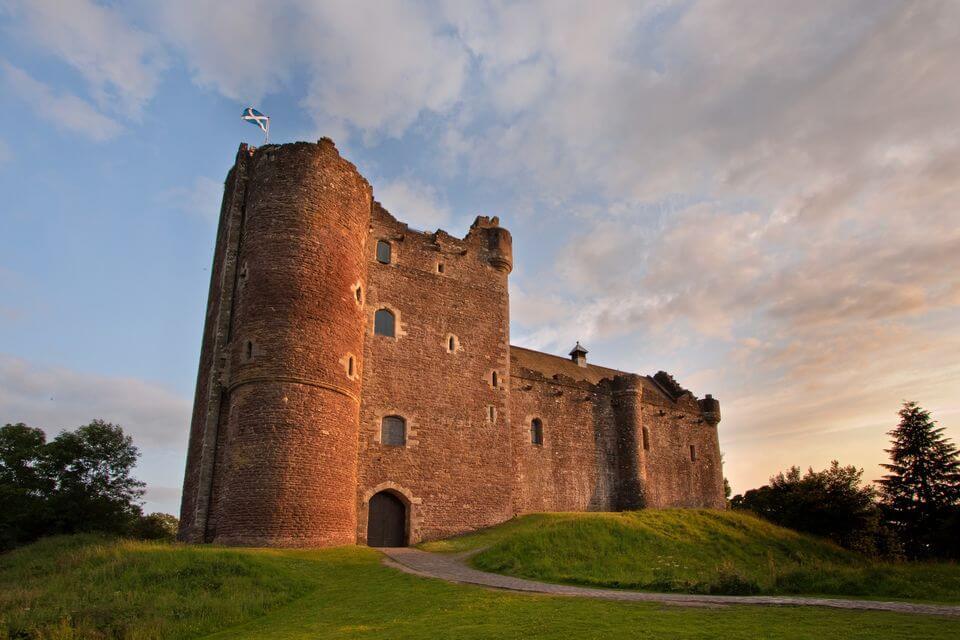 You've probably tasted the end product in Glasgow but to see how whiskey is actually made, you need to visit whiskey distillery. These visits are some of the best things to do outside Glasgow!
Tullibardine Distillery is a family-owned business that's been in operation since the middle of the last century. Previously, it was a brewery that made the ale served at King James IV's coronation in 1488! In addition to whiskey tastings, it also offers chocolate tours!
You can also pop by Deanston Distillery. There you can view the open-top mash tun, as well as the maturation warehouses where you can taste whiskey straight from the cask!
3 Day Itinerary in Glasgow
With so many unmissable things to do in Glasgow, you need to have an itinerary. Fortunately, that's why we're here!
Day 1 – Stroll Around the Historic Heart of Glasgow
Start off your time in Glasgow with George Square. This has been the heart of the city since the 18th century and is a truly magnificent sight!
Next up, stroll to the nearby Gallery of Modern Art. It's just a two-minute walk away. Pause by the Equestrian Statue of the Duke of Wellington to admire the traffic cone on his horse's head. This is a fun photo-op!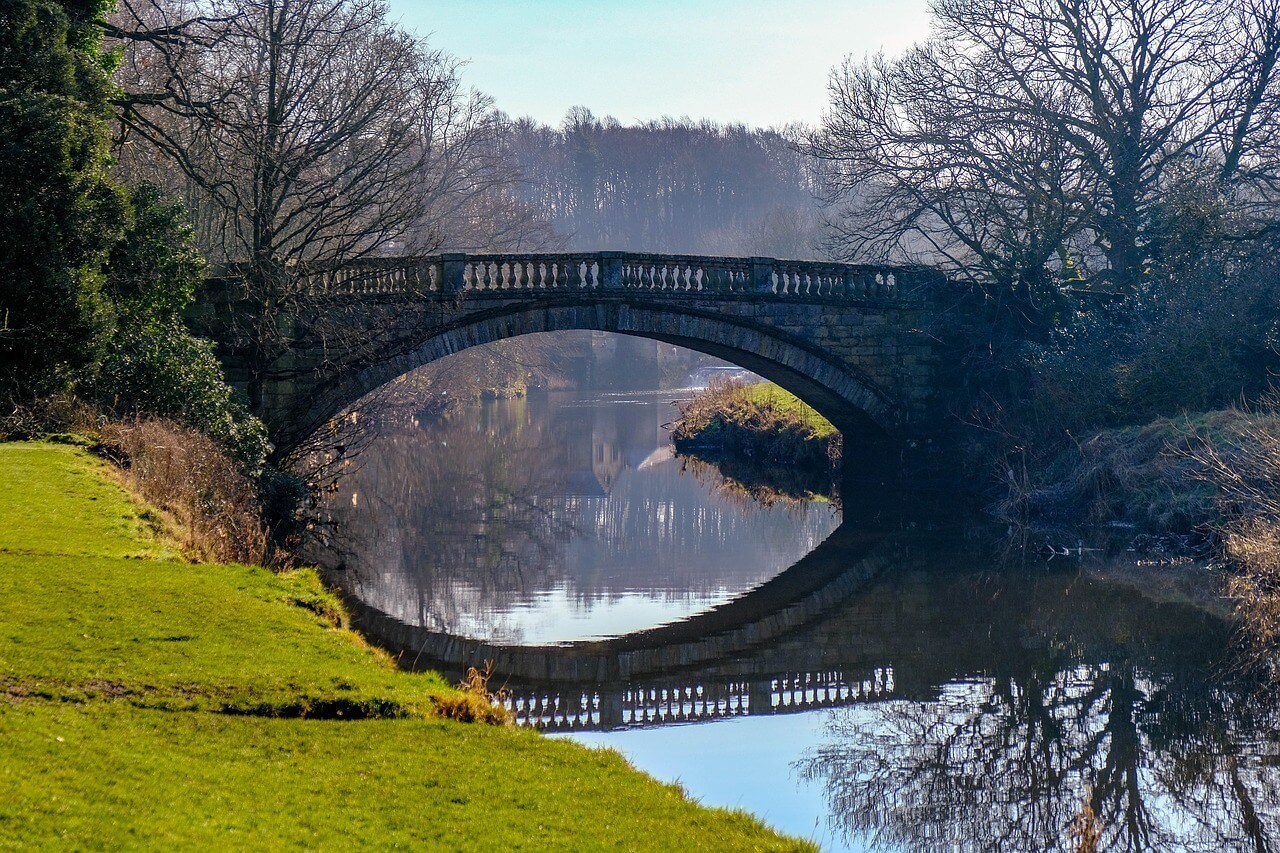 Just behind this iconic statue is the Gallery of Modern Art. It's the city's premier modern art gallery and showcases a selection of local and international artists.
Afterward, visit Glasgow Cathedral. It's a leisurely 18-minute walk through the city center to this landmark. With its Gothic arches and religious relics, it's easy to spend the entire afternoon under the church's spell! Once that's done, make your way to The Necropolis.
Day 2 – Discover Glasgow's Fun Side
Start your day off by going on a street art walking tour. It doesn't have to be a guided tour but you must stop by at least a few of Glasgow's famous murals!
Near George Square is The Wonderwall, one of the most extensive murals in the city. From there it's a ten-minute walk to the Clutha. Here you'll find the iconic mural depicting famous musicians who have played in the bar.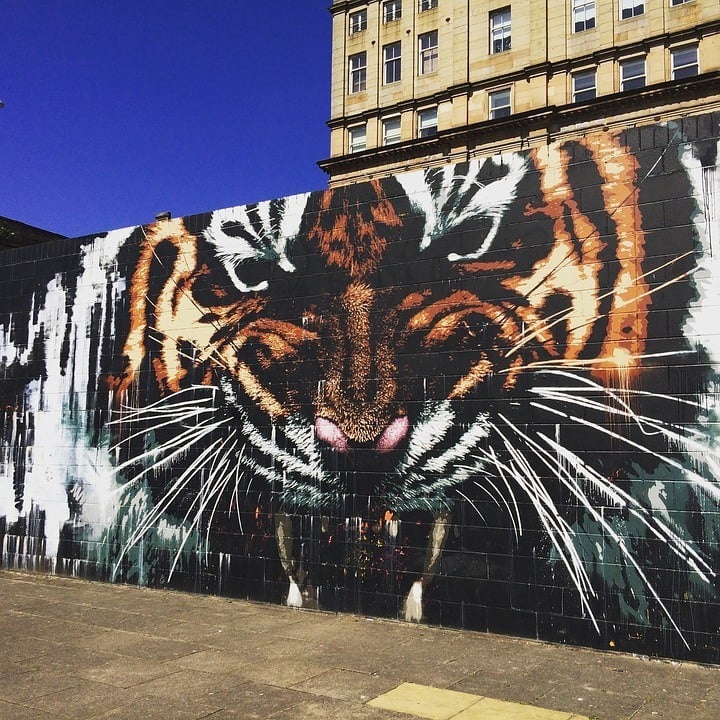 Afterward, it's time to explore Merchant City's musical history! Just a seven-minute walk away is the Britannia Panopticon, the oldest music hall in the world.
From there, head over to Wellpark Brewery for a tour of the whiskey facilities, as well as a tasting of Scotland's premier drink! It's in the heart of the city, just a 15-minute walk from the Britannia Panopticon.
Day 3 – Find Tranquility in Nature and Art
First things first: the Kelvingrove Art Gallery and Museum. It boasts an awesome collection of British and European art. Go early because you can easily spend the entire morning there!
Once you've emerged from that arty paradise, stroll over to Kelvingrove Park for a picnic. It's literally on the doorstep of the gallery! After lunch, take a walk through the landscaped Victorian gardens and along the gorgeous riverside trail.
From there, head to The Lighthouse, Scotland's Center for Design and Architecture. To get there, take the 2 simpliCity from Blantyre Street which is just a minute from Kelvingrove Park. The Lighthouse was the first public building designed by Charles Rennie Mackintosh, one of the country's leading architects. There you can learn more about the famous architect's life and work.
Finish off your day with a trip to the Winter Gardens. It'll take 20 minutes to get there, whether you walk or take public transport. The Winter Gardens are located on the Glasgow Green, the first public green space in the city.
Strolling through the warm conservatory and admiring the riverside gardens is the perfect end to your vacation in Glasgow!
Conclusion
Cosmopolitan Glasgow is the kind of destination where you feel like you could stay forever. Local Glaswegian humor and spirit light up the grand monuments and Victorian architecture, adding a uniquely friendly and welcoming atmosphere!
Whether you're in the mood for peace and quiet or feel like being the life of the party, Glasgow has just the place for you! In one day, you can easily go from reflective solitude in the Necropolis to socializing at one of Glasgow's iconic live music venues.
This wonderful variety of things to do in Glasgow makes it the kind of city that you'll just keep returning to!
Yay for transparency! Some of the links in this post are affiliate links. This means that if you book your accommodation, buy a book or sort your insurance, I'll earn a small commission at no extra cost to you. I only link to stuff I've actually used and never endorse crap. Your support helps me keep the site going.
---
Need More Inspiration?
Like this post? PIN ME!!!
Chris Lininger is a writer, photographer, and guide from California. He is an advocate for off-beat responsible travel and the preservation of the world's wild places and spaces. Chris is also a founding member of Epic Backpacker Tours and leads expeditions to Pakistan throughout the year. He is currently riding out the pandemic in Bali.  Follow his adventures on Instagram.