Glasgow is the cultural hub of Scotland and is all about great music, vibrant street art and lively local humour. It is well known for its beautiful Victorian and art nouveau architecture. People visit Glasgow not only for history and culture but the infamous nightlife of the city as well. Many others also come here to enjoy the great outdoors as it's the perfect gateway to Scotland's countryside.
The best thing about Glasgow is that it's well connected to Scotland's most popular attractions. If you're in the city and craving some adventure, why not hop on a train or bus and go to some of the great places nearby? There's so many fun things to do and see that are just a day trip away from Glasgow.
Explore the other side of Scotland beyond the city– the beautifulglens, charming villages, stunning lakes, and magnificent ancient castles of the Scottish Highlands. Where ever you choose to go, you'll be thrilled at the captivating scenery Scotland has to offer. Let's see what the perfect day trips from Glasgow have to offer.

Unlock Our GREATEST Travel Secrets!
Sign up for our newsletter and get the best travel tips delivered right to your inbox.
Getting Around Glasgow and Beyond
Before starting out any of the day trips, let's see how we can get out and about around Glasgow in itself. While Glasgow is fairly walkable, it's still a good idea to know about the public transport options of the city.
Public transport in and around Glasgow is convenient and affordable.
Bus: Download the First Glasgow bus app and buy day or week bus cards online. Day pass costs 4.60 GBP. Week pass costs 17 GBP.
Subway: Glasgow is the only city in Scotland with a metro system. Day tickets cost 3 GBP. Week pass costs 14 GBP.
Taxi: Taxis are not cheap, so we'd advise sticking to public transport which is reliable and safe.
Bike rental: Use Nextbike Glasgow app to rent a bike. Rentals start from 1 GBP for 30 min.
Ridesharing: Use the BlaBlaCar app to travel between cities. It's faster than buses.
Most of the Glasgow day trips involve using the local and intercity trains or buses. The main stations are Glasgow Queen Street and Glasgow Central, from where you'll find a train or bus to your destination. Make sure your accommodation in Glasgow is near to the bus or train stations.
Half-Day Trips from Glasgow
Short on time, only have a weekend in Glasgow? No problem! Choose from one of these quick half-day trips to make the most of your short stay in Glasgow.
Campsie Fells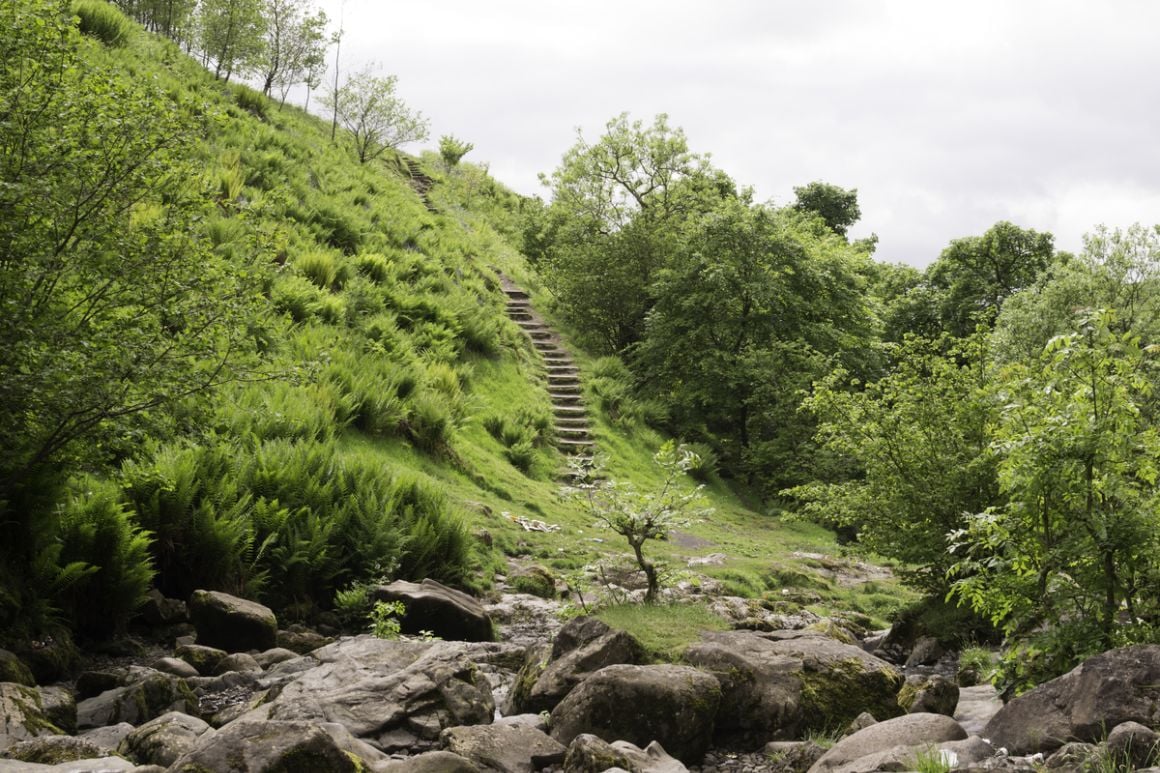 For a quick escape from the city, head out to one of the most picturesque spots in Scotland and visit the beautiful rolling hills of the Campsie Fells. The scenic landscape, serene pastures and stunning views are the perfect settings for a day out of Glasgow.
Campsie Fells were formed by volcanic intrusion hundreds of millions of years ago. The area is popular among tourists and locals alike with many opportunities for hiking and walking, with its highest point being the "Earl's Seat" at 578m. The village of Campsie Glen sits between the hills, surrounded by woodlands and valleys, and is a good starting point for some short and scenic walks.
Interesting places to visit here are the Shrine of Schoenstatt and the curious Lennox Castle Hospital, an eerie abandoned mental hospital. You can also visit the Glengoyne Distillery and sample some delicious whisky, just make sure to get a designated driver back to Glasgow!!
How to get there: 40 min ride by car or taxi.
Loup of Fintry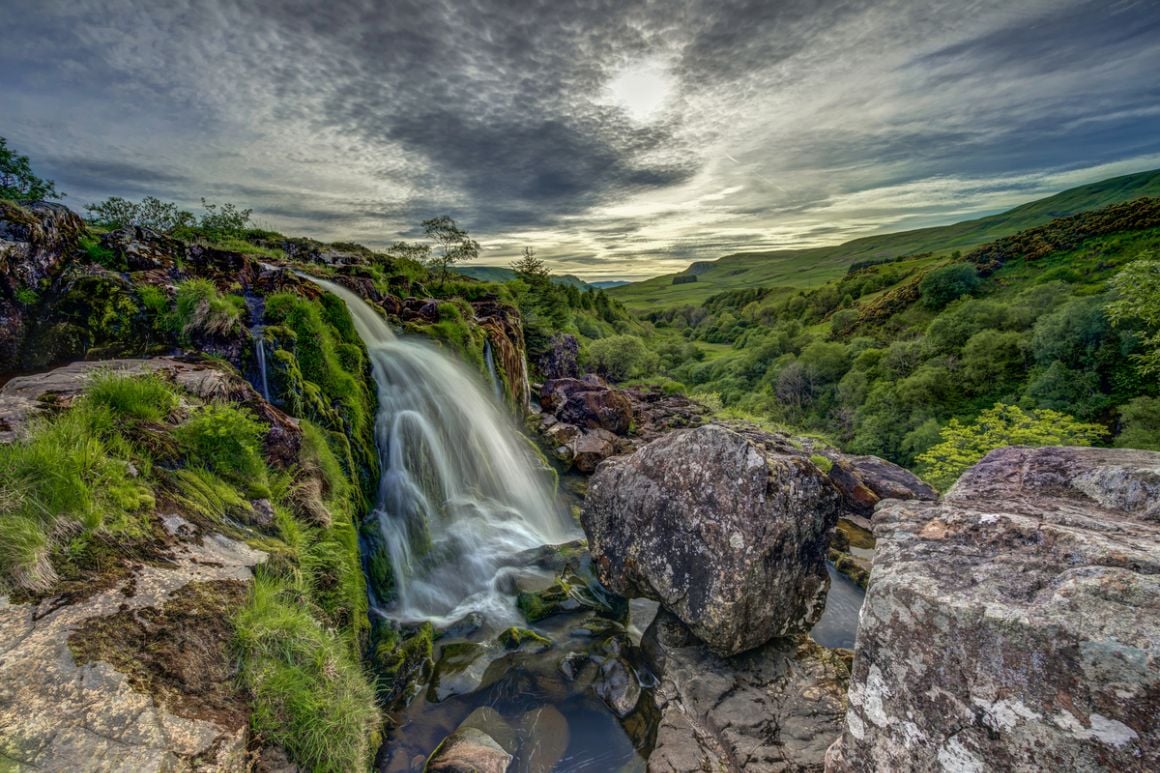 Get ready to be thrilled as you make this short and sweet half-day trip from Glasgow to this stunning waterfall. The Loup of Fintry lies on the River Endrick, between the Campsie Fells and Fintry Hills.
The water from the 94-feet Loup of Fintry cascades down several levels of rocks and into the valley below. The sight and the sounds are a treat for the senses. It is an ideal place for a picnic – sit on the grass and have lunch with the sound of rushing water in the background. It's an ideal way to experience some of the landscape Scotland is famous for even if you only have a very limited time here.
"Loup" means "leap" in Scottish. If you visit after a period of snow or heavy rain, you can see the full power of water leaping over the rock's ledge, which is where the name comes from. The route to the falls is a muddy footpath, so make sure to wear sturdy boots on your adventure.
How to get there: 45 min ride by car or taxi.
The Kelpies and Falkirk Wheel
On this unique half-day trip from Glasgow, you have the opportunity to behold an incredible wonder of art, engineering and design. You'll be left awestruck by The Kelpies, the largest horse sculptures in the world. Kelpies are mythical horse-like creatures said to inhabit the Scottish lochs. Standing 30m tall and weighing over 300 tonnes, the steel sculptures of the Kelpies are an imposing sight. You can join a tour and even go inside these sculptures.
If that wasn't enough, another wonder of engineering in the Falkirk Wheel is close by too. The has a one-of-a-kind rotating boatlift that connects two canals on different levels. Both are marvels of the modern world and something a little different for your trip. The Falkirk Wheel is a modern engineering masterpiece and the only one of its kind in the world. You can book a boat tour here and experience the boatlift first hand.
How to get there: 20 min ride. From Glasgow, take a train to Falkirk High.
Suggested Trip: Falkirk Wheel and Kelpies Half-Day Tour
Is This the Best Daypack EVER???
Full-Day Trips from Glasgow
Scotland is a treasure trove of beautiful natural scenery to explore and Glasgow provides the ideal base to plan your excursions from. Just check the weather and gear up with the essentials and off you go on your Scottish adventure. Once you've seen all there is to do in Glasgow, spread your wings further and explore the rest of bonnie Scotland!
Loch Lomond and the Highlands
With lush green countryside and the famous Loch Lomond, the largest freshwater lake in Scotland, this is an unforgettable day trip from Glasgow. The Loch Lomond and Trossachs National Park is the ideal setting for adventure and nature lovers alike. The scenery here is so beautiful that the park is often called "The Highlands in Miniature."
There are a host of activities and things to do at Loch Lomond and Trossachs National Park. The park has a seemingly endless amount of walking, hiking and biking trails around the lake and through the forests. Hike up Ben Lomond for some breathtaking views of the glens and lochs below, it's one of the most accessible 'munros' (mountain in Scottish) in the country.
Loch Lomond is at the heart of the park. Have a picnic by the lake's edge or try out some water sports. There are opportunities for kayaking, canoeing, water-skiing, boating and fishing. As we said, ideal for all you outdoorsy types! Doing a day trip here is a great way to see the highlands on a budget as accommodation can be more expensive out here compared to Glasgow.
How to get there: 50 min ride. From Glasgow Queen Street, take a train to Balloch.
Suggested Day Trips: Loch Lomond and Trossachs National Park
Loch Ness and the Scottish Highlands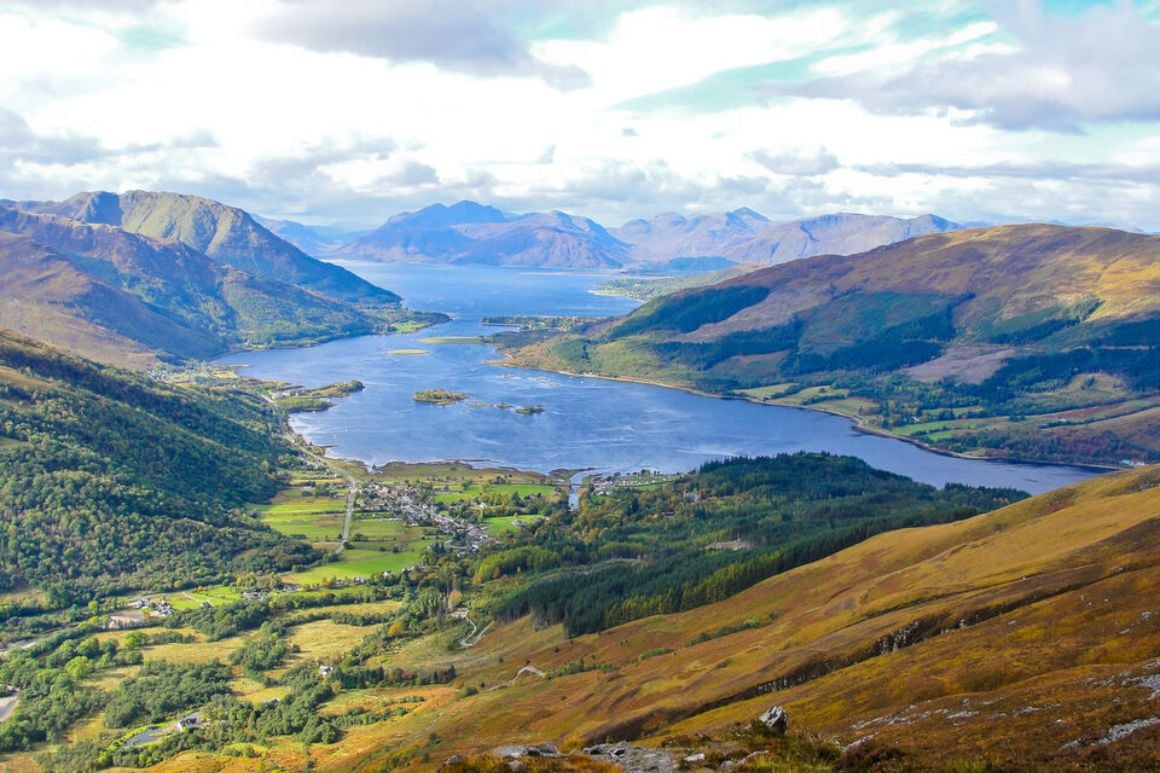 No trip to Scotland is complete without a visit to Loch Ness. This large and deep freshwater lake in the Scottish Highlands contains more water than all the lakes of England and Wales combined. It is also home to the elusive Loch Ness Monster nicknamed "Nessie".
Legend has it that Loch Ness has a prehistoric sea serpent lurking beneath its waters. This mythical creature has been reportedly sighted many times since the last century… though some are more dubious than others! Spend the day hunting for Nessie and enjoy the tranquil surroundings of the lake. Visit the Loch Ness Exhibition Centre if you want to learn more about the mysterious Loch Ness Monster.
Wander around the Highlands to see other attractions in the area such as the Urquhart Castle and Fort Augustus.
Stay overnight in Inverness and extend your trip beyond a day to explore more of the area. This perfect Airbnb is close to the river and has cosy pubs and cafes nearby, so you'll not miss anything!
How to get there: 3 ½ hrs ride. Take a train or bus to Inverness, then a local bus to Loch Ness.
Suggested Trip: Loch Ness Glencoe and Highlands Tour
Stirling and Stirling Castle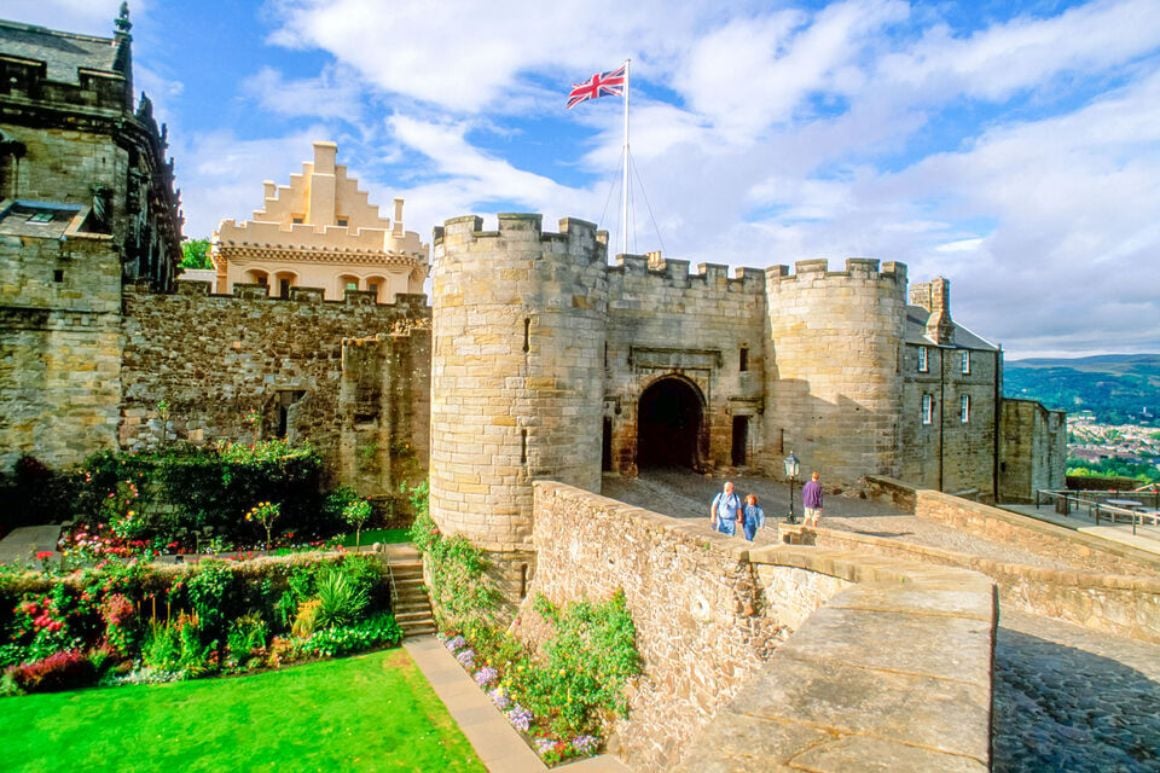 For nature, culture and history, take a day trip from Glasgow to Stirling. Located right in the middle of Scotland, where the highlands meet the lowlands, Stirling is a small town with a rich history being the birthplace of several Scottish Kings and the site of many battles.
Visit the National Wallace Monument – a tower honouring the legendary freedom fighter Sir William Wallace. The movie Braveheart depicted his life. So be sure to shout 'freeeeedom' to get the full experience!
Next, visit Stirling Castle, the magnificent medieval castle that had a significant role throughout Scotland's history. Follow the winding roads up to Stirling Castle's ramparts, where you'll have beautiful views of the area. Finish the day with stroll along the cobbled streets of the Old Town below.
How to get there: 30 min. From Glasgow Queen Street, take a train to Stirling.
Suggested Trip: Stirling Castle Tour
Oban and the West Highlands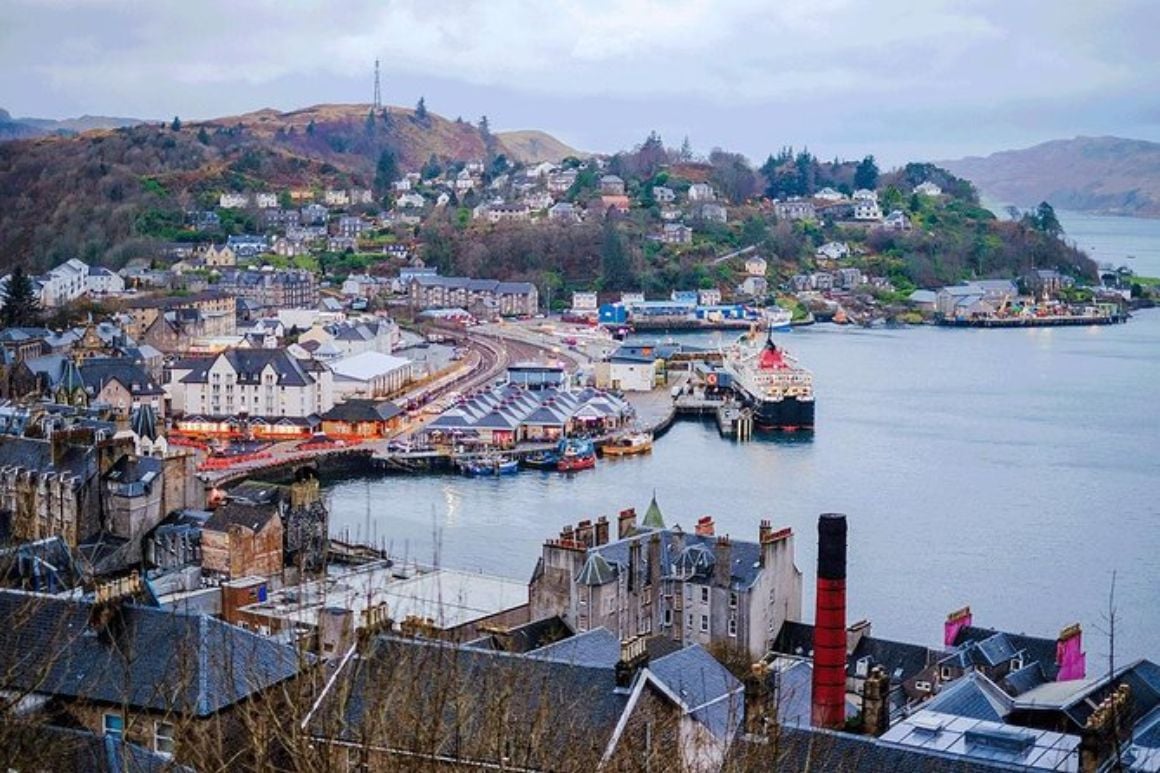 The colourful town of Oban on the Scottish coast has been a popular holiday resort since Victorian times, and rightly so. The incredible scenery here is unique and completely breathtaking, it's totally worth taking the time to viist. Oban is the main port that connects Scotland's West Highlands and Hebrides regions, it's a gateway to the incredible islands of the country.
Take a boat excursion from Oban to the islands of Staffa and Iona. The views of the beautiful coast of Mull along the way are superb! Oban is the seafood capital of Scotland. Try fresh oysters, prawns or crab for lunch. Explore the Victorian town and its sights. The McCraig's Tower (oddly looking like the Colosseum of Rome) is a good vantage point for spectacular views of Oban. It's a climb of 144 steps, but worth it. Remember to hit the beach too, you'll be forgiven for thinking you're in the caribean with the white sand beaches… well, apart from the temperature!
How to get there: 3-hour ride. From Glasgow Queen Street, take a train to Oban.
Suggested Trip: Oban and West Highlands Day Trip or Full Day Oban and Glencoe
Edinburgh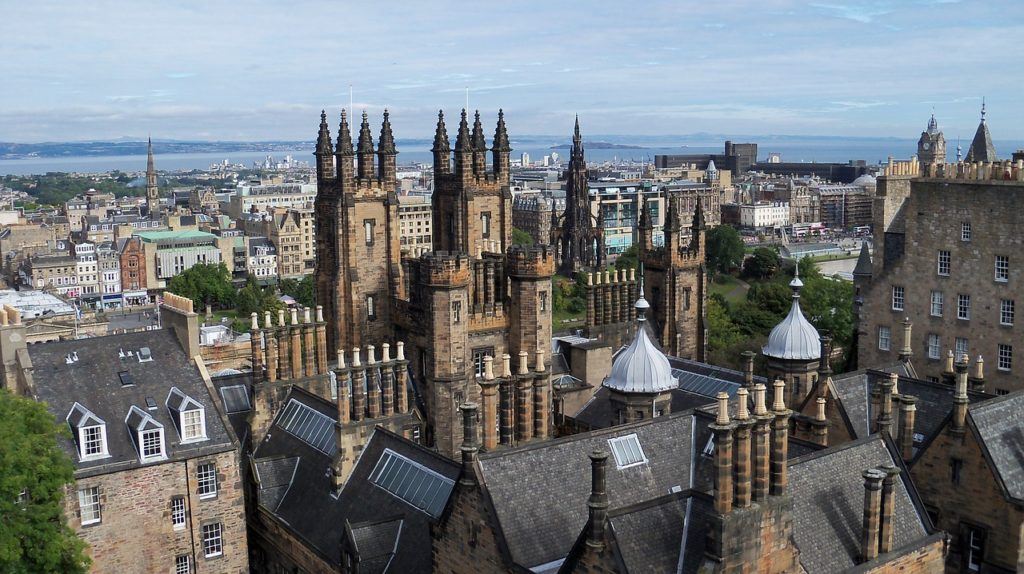 Edinburgh is just an hour away by train, bus or car and is easily one of our favourite day trips from Glasgow. Scotland's capital is a beautiful hilly city, with gorgeous landscapes and historic architecture.
Edinburgh Castle dominates the city's skyline. The New Town below is a neat grid of streets and terraces, while the Old Town has a line of fascinating medieval buildings. Walk on the cobblestone streets as the sound of bagpipes fill the air. After a day exploring, grab a few pints down at the local pubs and rub shoulders with the locals.
Visit the National Galleries of Scotland, home to famous art that includes the works of Da Vinci and Raphael. For those who love Harry Potter, you'll be delighted exploring every corner of this incredibly city.
There's so much to do in Edinburgh that we suggest staying back for a day to enjoy the city. This unique hotel in Old Town is perfect for its location and facilities, or try this place, which has an award-winning restaurant and classic dining.
How to get there: 1-hour ride. From Glasgow Queen Street, take a train or bus to Edinburgh.
Outlander Day Tour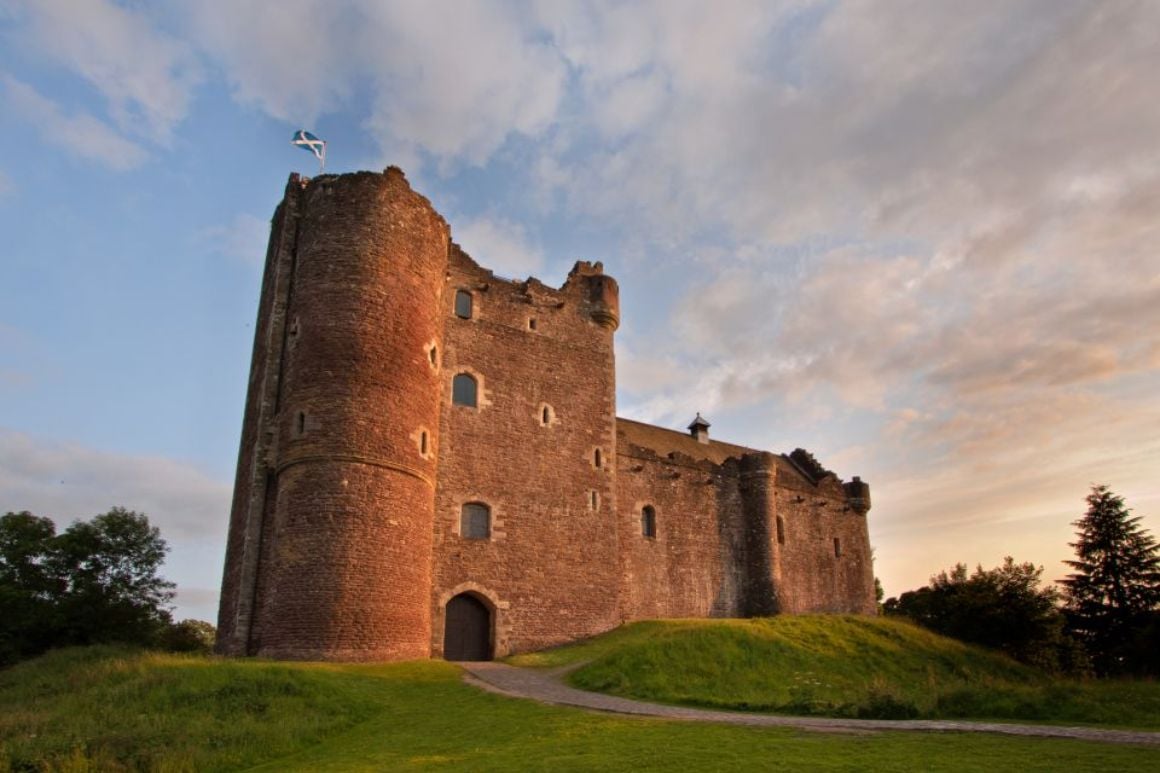 Outlander fans gather around! Here is one day trip from Glasgow that will have you visit the famous sites and castles from your favourite TV show.
Visit the 14th century Doune Castle, the setting for Castle Leoch. It was also used for Winterfell in Game of Thrones and as a filming location in Month Python. Explore this well-preserved fortress for an insight into how Scottish royalty lived in the times gone by.
The picturesque village of Culross starred as Crainesmuir and you'll love exploring the quaint village and the lovely town square. Next up you've got to make a stop at bothBlackness Castleand Midhope Castle to marvel at their incredible architecture and history.
Grab a quick lunch at the picturesque village of Falkland. Lastly, visit Linlithgow Palace and take a stroll along the loch, and don't forget to check out the ruins of Mary Queen of Scots' birthplace.
How to go there: 40 min ride.
Suggested Trip: Outlander Day tour
Culzean Castle and Country Park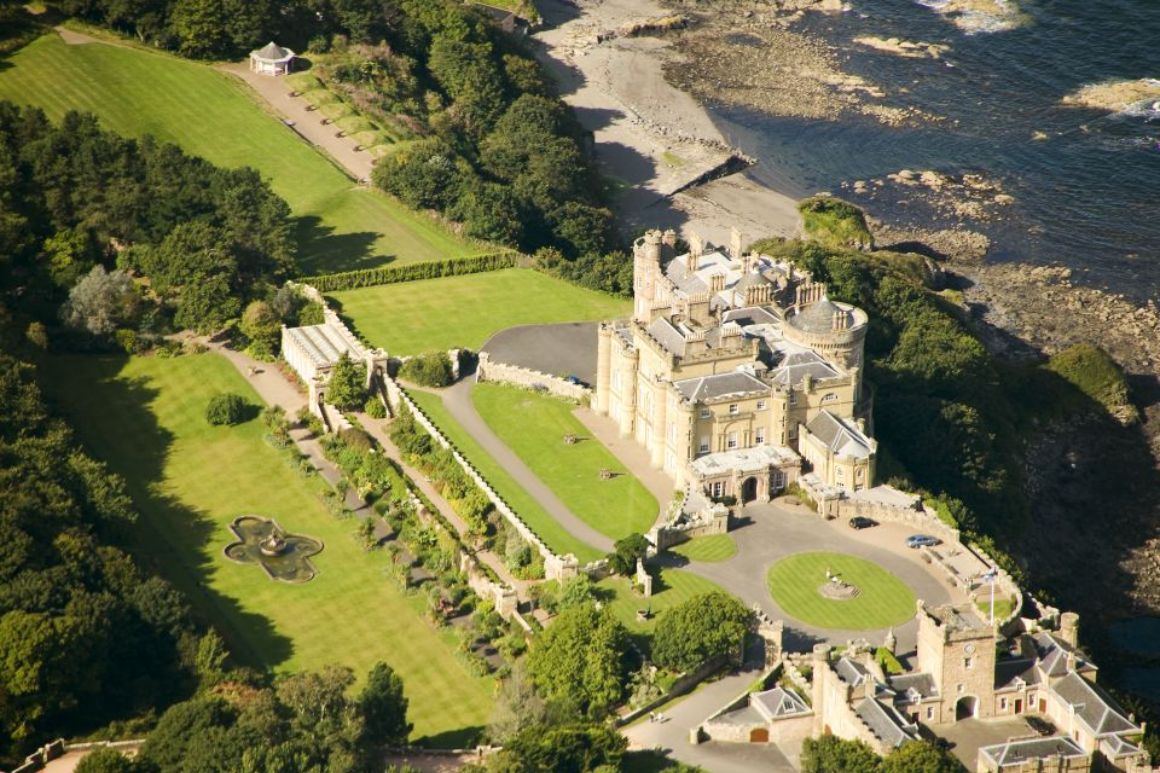 Ayrshire on the west coast of Scotland is a region that offers incredible countryside, outdoor activities, beautiful views of the shores and a taste of island life. Here Scotland's celebrated poet Robert Burns lived and got the inspiration for his works from these wonderful surroundings.
The Culzean Castle and Country Park are the top highlights of the Ayrshire coast. The park has woodland trails and a lush forest around the sandy coastline. An unbeatable combination for sure! Culzean Castle is perched atop a high cliff and is so iconic it even features on the Scottish five-pound note.
If you venture inside the castle itself you can admiremany fine paintings and priceless furniture. Visit the Eisenhower Apartment within the castle – an apartment dedicated to the former US president for his role during WW2. Stop at the castle tea room and indulge in tea and delicious cakes – a classic British pastime!
How to get there: 1-hour ride.
Suggested Trip: Culzean Castle and Ayrshire Coast
Glenfinnan, Mallaig and Glencoe
For a truly relaxing and visually pleasing getaway from the city, take a tour of Glenfinnan, Mallaig and Glencoe. Add in the sights and sounds of the Jacobite steam train (Hogwarts Express, anyone?) making its way through the scenery, and your day is complete. If you're a photographer then this is definitely the place for you.
Start at Glencoe, a nature reserve with stunning scenery – a good opportunity for some nature photography – keep en eye out for the deer! Particularly popular with hikers, the mountainous area of Glencoe is a visual treat. From here, go further north to Fort William, the home of Scotlands highest mountain. You can also catch the Jacobite steam train operates from here to Mallaig if you want to ride the train itself.
Mallaig is a beautiful little town by the sea with great views over the harbour. Take in the Scottish charm of this port and grab lunch at one of its cosy restaurants. Carry on towards Glenfinnan, where you can catch the Hogwarts Express making its way through the stunning surrounding scenery.
How to get there: 2-hour ride.
Suggested Trip: Glenfinnan, Mallaig and Glencoe Tour
Pitlochry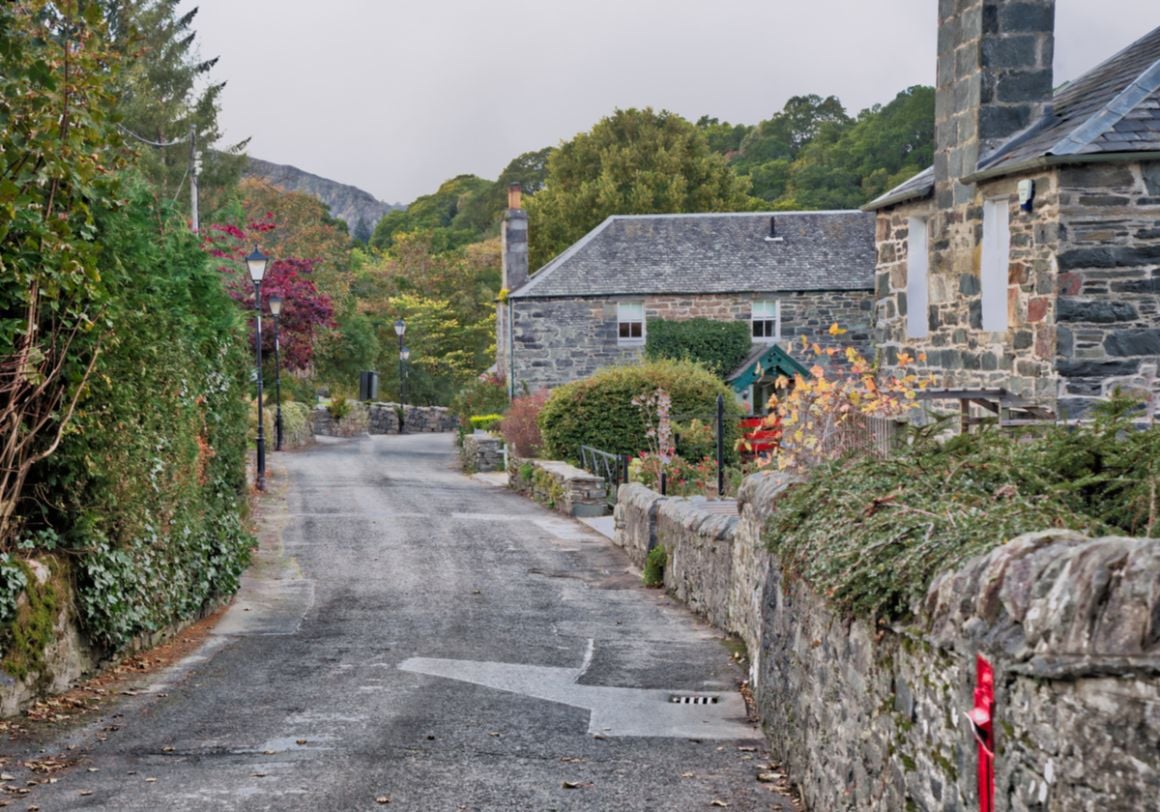 Pitlochry is one of Scotland's most beautiful and scenic places to visit. It is the ideal escape for a trip in its own right, but it can also be done as a day trip from Glasgow. Pitlochry is one of those places that has something fun happening all year round and is well worth the trip to experience it.
The Victorian town has been popular among tourists ever since Queen Victoria visited and fell in love with it in the 19th century. If it's good enough for a queen then it's good enough for us!
There are a lot of things to do and see in Pitlochry to keep you busy. Visit and explore the Blair Athol Distillery, one of the oldest working distilleries in Scotland. Sample their delicious single malt whisky. Walk (or stumble if you've had a few too many whiskies) around Queen's View which overlooks the tranquil Loch Tommel below or go fishing at Loch Tommel itself.
If you're visiting in Autumn, enjoy the Enchanted Forest, a sound and light show, or check out the Pitlochry Highland Games. The town will keep you entertained for hours, with its good pubs and restaurants, a great shopping scene and outdoor activities.
How to get there: 1 ½ hour ride. From Glasgow, take a train to Pitlochry.
Isle of Arran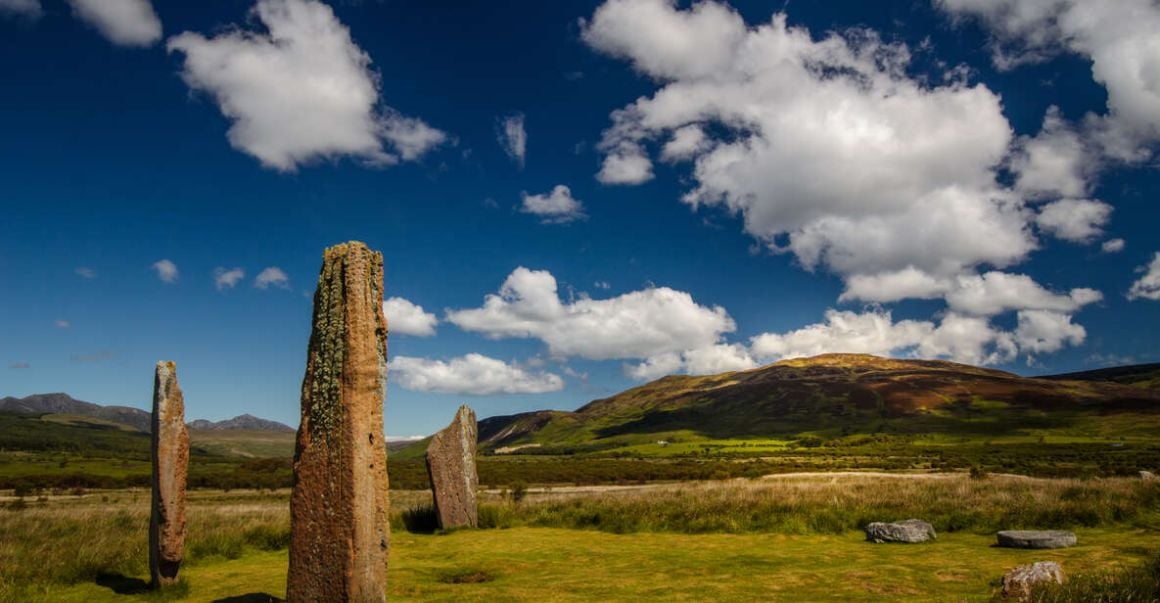 The Isle of Arran is nicknamed "Scotland in Miniature", and rightly so. It has all the bits and pieces of what makes Scotland so amazing but in one neat package! There are impressive mountain peaks, sandy beaches, lush green forests, castles, a scenic coastline and tasty local food and drinks…Whisky of course!
Visit the Arran Distillery and have a taste of their world famous malt whisky. Check out the restaurants and try their cheeses, traditional oatcakes and delicious desserts… or maybe do this before you hit the drink!
Arran also has a variety of outdoor activities to enjoy as well. Grab your binoculars and spot the unique wildlife around the island's coast. You'll see eagles, otters, seals and even sharks. Arran is great for hiking and mountain biking, the best places to visit are Brodick Castle and Goat Fell Mountain if that's your jam.
There's a dose of history too, it is Scotland after all! On the west side of Arran are the Machrie Moor Stone Circles. Giving off Stonehenge vibes, it is an archaeological site with six huge stones dating to 3500 BC and it's actually much more enjoyable and less crowded to visit.
How to get there: 2 ½ hour ride. From Glasgow, take a train to Ardrossan Harbor. Then take the ferry to Brodick Isle of Arran Ferry Terminal.
Dundee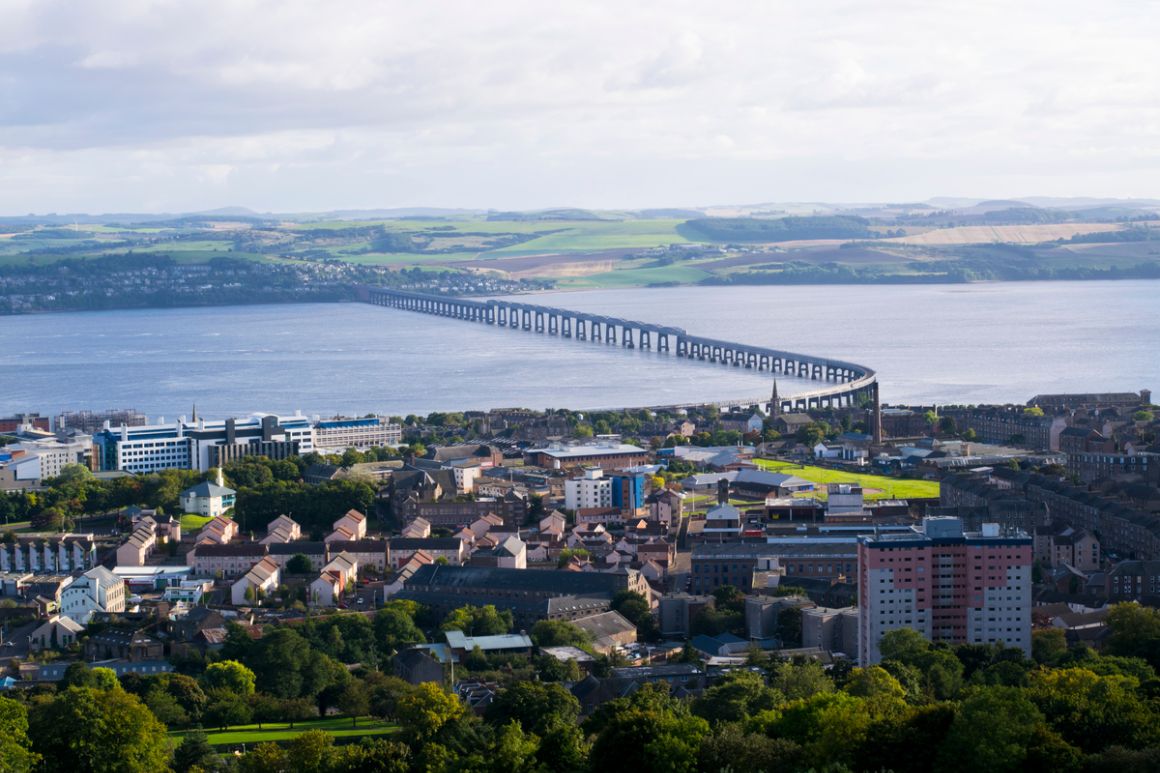 Dundee is a perfect getaway from Glasgow. The city offers many attractions and activities such as good food, shopping and a number of interesting art galleries and design galleries. In fact, it has been named the first UNESCO City of Design of the UK.
Visit V&A Dundee, Scotland's first design museum that showcases its design heritage along with exhibitions and galleries. Head on to the McManus next, which is Dundee's main Art Gallery and Museum. This magnificent Victorian building is the heart of Dundee's art and culture scene and where everything eminates from.
Pop into some of the many quirky cafes, bakeries and restaurants and try their delicious food. The Dundee Cake is a local favourite Scottish fruit cake that you should try whilst you're in the city. Explore the bars and pubs for a drink or two (or three or four!)
If you're planning to stay, check out this cosy backpackers hotel. All the major attractions are within walking distance.
How to get there: 1 ½ hour ride. From Glasgow Queen Street, take a train or bus to Dundee.
Kilmarnock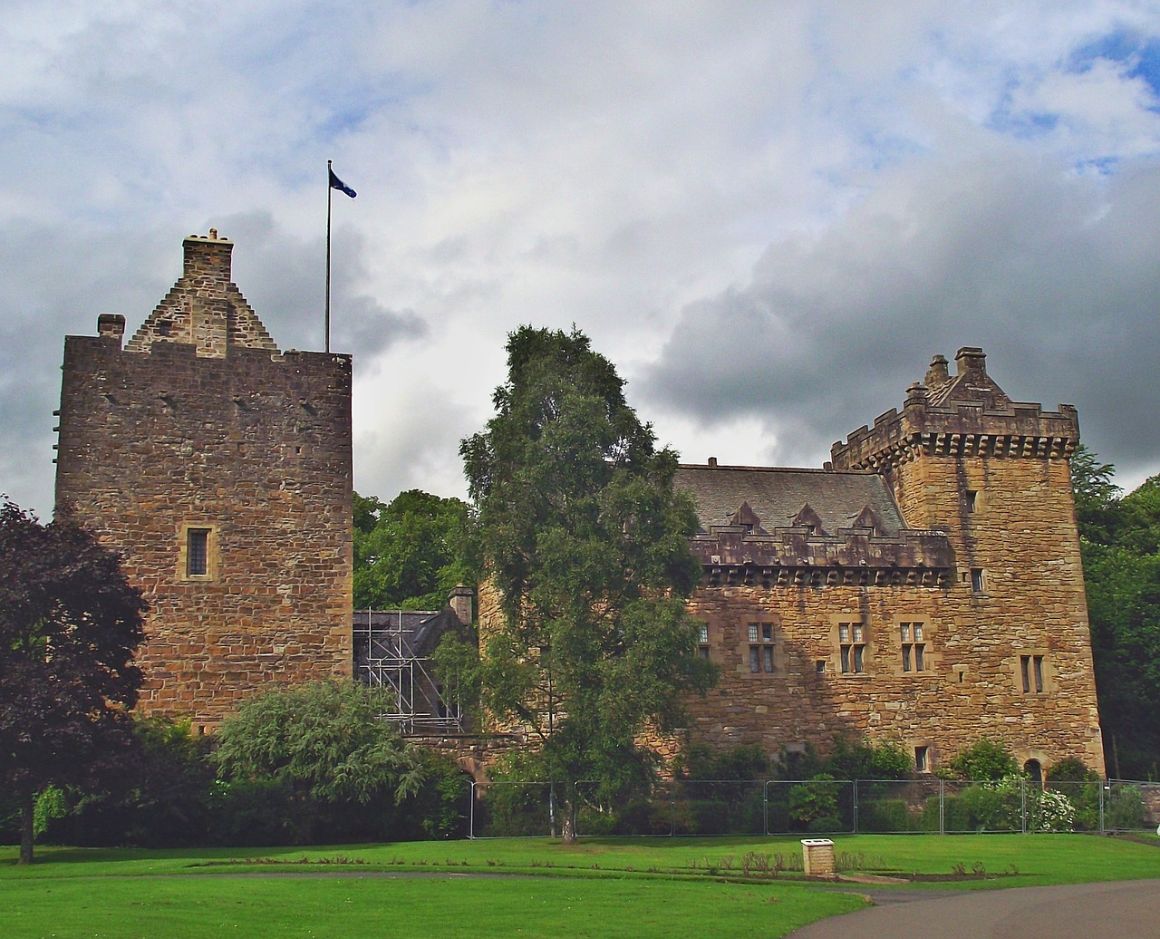 Kilmarnock is a town with rich cultural history. It is the hometown of Jonnie Walker, the founder of that famous whisky brand known the world over. It's been bottled in Kilmarnock for hundreds of years and continues to do so to this day. Historically signifcant people and events don't end there. Thefamed poet Robert Burns first published his works here and Kilmarnock is also the town where Alexander Flemming, who discovered penicillin, was educated.
Kilmarnock is a classic Scottish town with a fascinating heritage and thankfully makes an easy and fun day trip from Glasgow. It is an eclectic mix of the old and the new. Walk along the cobbled Bank Street, or the John Finnie Street, which has incredible Victorian architecture. Stop by the Dick Institute (stop it you filthy lot!) which features the largest museum and art gallery space in Ayrshire.
The Burns Monument Centre is dedicated to the poet and is an interesting place to visit, especially if you have an interest in literature. Another places not ot miss is the New Laigh Kirk church with its vibrant and colourful stained glass windows.
How to get there: 1-hour min ride. From Glasgow, take a train to Kilmarnock.
Small Pack Problems? 😉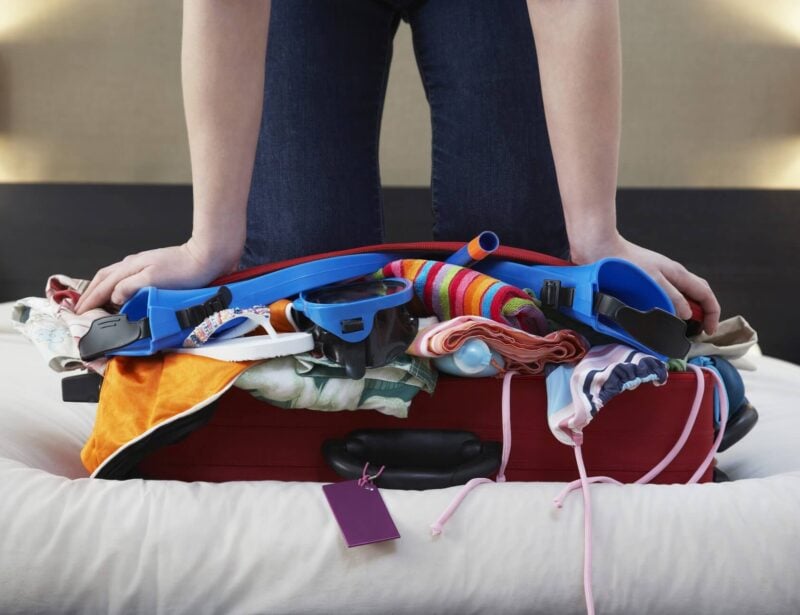 My missus travels with all her clothes in ziplock bags: don't be like my missus. UP YOUR PACKING GAME!
Packing cubes for the globetrotters and compression sacks for the real adventurers – these babies are a traveller's best kept secret. They organise yo' packing and minimise its volume too so you can pack MORE.
Or, y'know… you can stick to ziplock bags.
View Our Fave Cubes
Or Check Out the Sacks!
Don't Forget your Glasgow Travel Insurance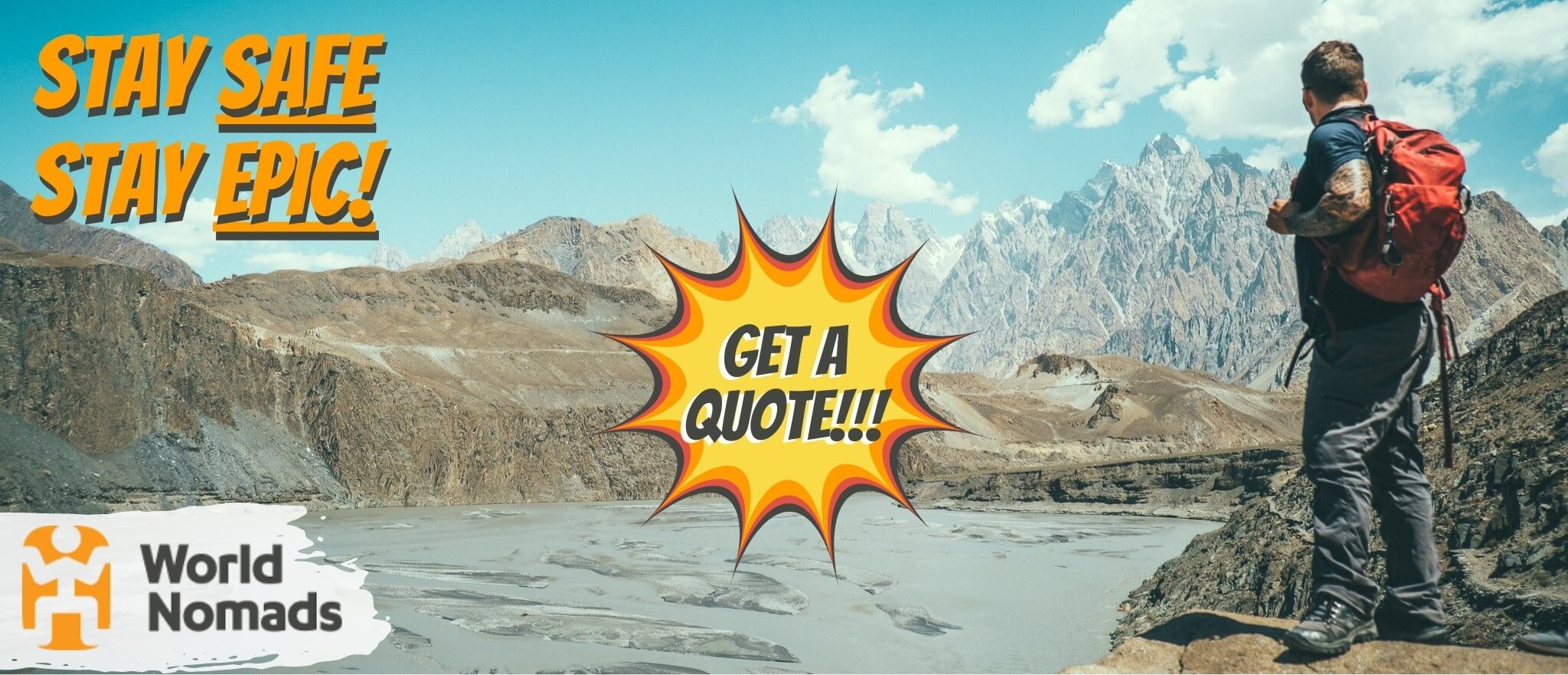 World Nomads' mission is to support and encourage travellers to explore their boundaries. They offer simple & flexible travel insurance, and safety advice to help you travel confidently.
They've been doing it since 2002 – protecting, connecting, and inspiring independent travellers just like you.
Get a quote below or read our in-depth review!
World Nomads provides travel insurance for travelers in over 100 countries. As an affiliate, we receive a fee when you get a quote from World Nomads using this link. We do not represent World Nomads. This is information only and not a recommendation to buy travel insurance.
Final Thoughts
There's a lot to do in Glasgow, but there's a lot more to see and experience out of the city too. It is the perfect base to plan fun excursions to almost every place to visit in Scotland. Whether you choose to see ancient castles or want to relax in a port city, it is just a train or bus ride away from Glasgow.
Our favourite places to visit are Loch Lomond and Loch Ness. There's something just so breathtaking about the natural wonders of Scotland. As hikers and climbers, the Highlands are our weak spot, with their beautiful and wild scenery. If you're in Glasgow for a week or more, make a couple of these half-day or full-day trips for the full Scottish experience.
Here are some travel tips for Glasgow:
The best time to visit is spring (April-May) when there is minimal rain, and October when there's beautiful autumn foliage. Summer is most popular and gets too crowded. Winters are cold and dark.
Pack some rain gear, warm layers, walking shoes and hiking equipment, and don't forget your first aid kit.
Book your accommodation for Glasgow within walking distance of the train or bus station.
Guided tours are convenient for far-off places if you don't have your own transport, but it's more fun to plan the trips yourself if you can.
If you're lost, just ask locals for advice or directions, Glaswegians are the friendliest people ever! You just might need to listen closely to decipher that they're saying!
Check out the Scottish Heritage Pass and the Historic Scotland Explorer Pass. These passes include entry to many historical sites and are handy if you plan to visit many of them.
Do let us know which day trips you would like to go on. Bon Voyage!
---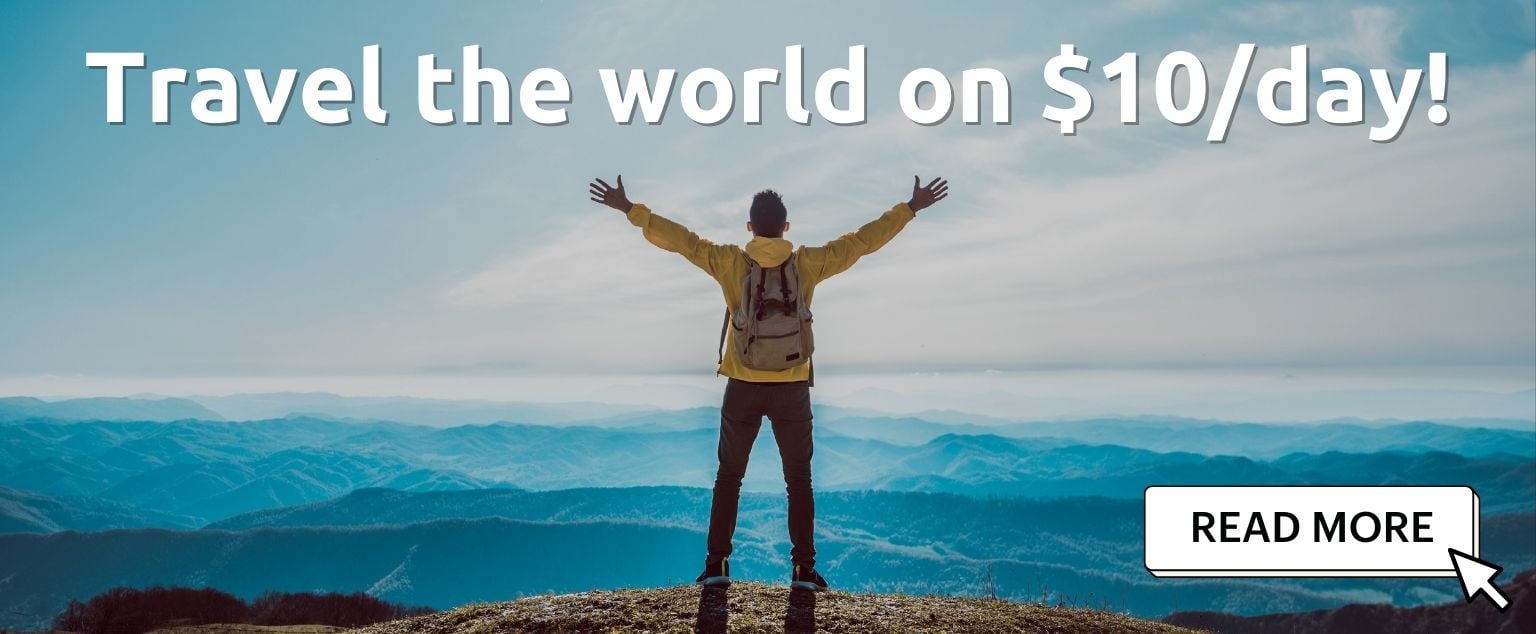 And for transparency's sake, please know that some of the links in our content are affiliate links. That means that if you book your accommodation, buy your gear, or sort your insurance through our link, we earn a small commission (at no extra cost to you). That said, we only link to the gear we trust and never recommend services we don't believe are up to scratch. Again, thank you!