Follow your finger north along a map of the UK and you will arrive at the Scottish capital Edinburgh. Few other cities in Europe have the same intimate feel and fine city-earthy balance as Edinburgh does.
This is where urban culture meets natural escapes, and the frigid sea and rocky green hills are just as important to the cityscape as the medieval buildings, castles, and skyscrapers. Getting to know the intricate fabric of Edinburgh is a rewarding experience for any keen traveler.
Backpacking Edinburgh is your chance to discover the old town's magical cobblestone streets and wind battered hiking trails of the Pentland Hills for yourself.
Edinburgh is well-known for being a cultural heavyweight in the UK. The city is still ground zero for the arts, philosophy, music, and progressive politics. Scotland as a whole is very different from the rest of the UK, and Edinburgh is the embodiment of Scottish pride, progress, urban culture, and history.
Sounds like the perfect backpacker destination, right?
Let's be honest here. Nowhere in Western Europe is dirt cheap for budget travelers, and backpacking Edinburgh is no different.
This Edinburgh travel guide highlights my ultimate list of tricks and tips to traveling in Edinburgh on a budget. Get my top picks for things to do in Edinburgh, budget hacks, best hostels in Edinburgh, best hikes around the city, and a three day Edinburgh itinerary.
Going on an extended Scotland backpacking adventure?
Check out my in-depth backpacking Scotland travel guide!
Edinburgh is by no means cheap. There are plenty of high-end options for places to stay and eat in Edinburgh that are capable of crippling your budget in a heartbeat.
You'll need to strategize to backpack Edinburgh on the cheap… but it is by no means impossible. It might mean just spending a weekend in Edinburgh or picking certain types of accommodation.
The minimum shoestring budget for backpacking Edinburgh is $25-$35/day. With this budget, you can get a dorm bed in a hostel and you'll have to walk most places; don't plan to eat out nor drink much, if any, beer. This is what I call the dorm bed, ramen noodle, and malt liquor budget.
A comfortable Edinburgh backpacking budget is $65-85/day. With that, you can afford the hostel bed, entrance fees for attractions, a few pints in one of Edinburgh's legendary pubs, and a meal or two out.
Edinburgh does not have the same extreme price and tourist fluctuations as say Barcelona or Florence. The Scottish summer is more pleasant than the Scottish winter, but the price of a hostel dorm bed remains the same throughout the year more or less.
Public transportation is affordable as well, though Edinburgh is compact and using public transportation isn't often necessary.
Average Costs of a Trip to Edinburgh
In the section below I have covered a ton of free activities in Edinburgh, as well as some important budget tips. Here is a breakdown of the costs of travel in Edinburgh for the average backpacker:
Edinburgh Budget Tips
Whilst backpacking Edinburgh, a budget needs to be routine, not an obsession that consumes every waking moment. Budget backpacking is a mentality that needs to be cultivated.
So, in Edinburgh, there are indeed many attractive places one can visit. Old Town, for example, is full of them.
Many expensive shops, pubs, and restaurants are located on the cobblestone streets of the Royal Mile and High Street. I suggest that you check out the scene there but avoid actually eating or drinking anything beyond a single coffee or beer. A beer in a pub on High Street is double the price of pubs in other parts of the city.
Why You Should Travel to Edinburgh with a Water Bottle
Plastic washes up on even the most pristine beaches… so do your part and keep the Big Blue beautiful
You aren't going to save the world overnight, but you might as well be part of the solution and not the problem. When you travel to some of the world's most remote places, you come to realise the full extent of the plastic problem. And I hope you become more inspired to continue being a responsible traveller.
Plus, now you won't be buying overpriced bottles of water from the supermarkets either! Travel with a filtered water bottle instead and never waste a cent nor a turtle's life again.
Backpacking Edinburgh Travel Hacks
Buy Public Transportation Passes in Bulk: If walking isn't your thing, the weather turns to shit, or you really want to cover some ground in a day, I recommend that you buy your public transportation tickets in bulk instead of one at a time. A day pass for the tram and bus are £4 respectively.
Visit Free Museums/Attractions: The National Museum in Scotland is free and it is not to be missed. I spent nearly seven hours in there and loved every minute of it! The Scottish National Galleries and St Giles Cathedral are also free!
Free Tours: There are many different ways to get connected with a free walking tour of Edinburgh. Check with your hostel to see if they offer one. For fans of the occult, history, and Scottish humor, I recommend that you take the Free Edinburgh ghost tour. The tour leaves from 154 High Street every day at 5 pm, 7 pm and 9.30 pm sharp.
Enjoy Free Live Music: Many bars have live music on offer, especially on the buzzing Edinburgh weekends. Go listen to some music at happy hour for double the value: cheap beer and free music.
Couchsurf: If you can land a host, Couchsurfing is one of my favorite ways to meet locals and save money.
Cook your own food: If you really want to save some cash, you should at least be cooking yourself dinner during your stay in Edinburgh. Bonus points for you and your budget if you can manage lunch as well. Most hostels in Edinburgh have fully-equipped kitchens available for you to use.
Drink before going out: Buying full-priced drinks at the bar all night will kill your budget. Instead, buy alcohol at a market and drink with your friends. You can then hit up local bars and get plenty a buzz.
Don't buy expensive drugs: Cocaine and hash come from very far away places and because of that, drugs in Edinburgh are EXPENSIVE. Plus, the cocaine has probably been cut more times than a suburban lawn and won't make you feel very good.
Go for a hike: Hiking is always my favorite free activity whether I'm in the city or not. There are MANY places to get out into nature around Edinburgh. Get your arse up to explore one of the craggy outcrops around Arthur's Seat.
Head out of the city: The capital is a great base for exploring more of what Scotland has to offer and there are some great day trips from Edinburgh to take whether you want to hit the beach, the mountains, or another city.
Edinburgh's hostel accommodation is fairly cheap when compared to the prices of other European capitals.
Again, the Edinburgh city center is quite compact and well connected by public transport so where you stay isn't as important as staying somewhere you'd like.
Check out our Edinburgh neighborhood guide for all of our up-to-date recommendations of the best areas to stay in Edinburgh.
Edinburgh is a very walkable city, so don't be paranoid about choosing a hostel way out in the sticks. Even if your hostel isn't smack-dab in the center of Old Town or by Edinburgh Castle, it won't be too far away.
Venturing beyond Edinburgh to the greater UK and beyond? To help you find the absolute best places to stay during your Scotland/UK backpacking adventure, check out this post on the best hostels in the UK.
I have listed our top 3 picks for best hostels in Edinburgh below…
Check out our complete list of the best hostels in Edinburgh here.
There are excellent Edinburgh Airbnbs spread across the city.
We have chosen Castle Rock Hostel as the best hostel in Edinburgh for its many fine qualities. For one, I appreciate the hostel's commitment to "green tourism"; Castle Rock Hostel is carbon neutral and encourages guests to recycle everything! The hostel building is beautiful as well.
The setting provides the perfect place to chill out after a long day of exploring and/or tasting whiskey. If you are lucky, you will get a dorm room with a view of Edinburgh Castle. Getting a room with a view is easy enough as many of the dorm rooms have a great orientation to catch a good view.
If you happen to be staying at Castle Rock over the New Year period, Castle Rock issues free tickets to the famous street party celebrating Hogmanay (Scottish New Year festivities).
Socializing and meeting new people on the road is an important part of traveling. St. Christopher's Edinburgh is the perfect place to facilitate connections with other backpackers.
The social atmosphere and backpacker-pub make St. Christopher's more than ideal for solo travelers looking to plug into a fun social scene. All guests of the hostel receive a 25% discount at the in-house restaurant. Drink deals are served up every night as well.
Between the low-prices and social atmosphere, St. Christopher's Hostel is the obvious choice for the best hostel for solo backpackers in Edinburgh.
Best Party Hostel in Edinburgh – Kick Ass Hostels
As far as a cheap hostel in Edinburgh and party goes, Kick Ass Hostel meets the expectations that such a hostel name would suggest.
You can score pints for as low as £2 which—in Edinburgh—is unheard of. The bar area is the beating heart of the hostel and you will undoubtedly find yourself there.
Check in with hostel staff to get the day's drink special list. The dorm beds are affordable, clean, and come with a USB charging port, reading light, and the like.
This stunning one-bedroom apartment is located in the heart of Edinburgh's Old Town. Housed in an 18th-century tower, this modern flat is just steps from the Castle, Grassmarket and many of the city's main attractions.
Enjoy spacious rooms, comfortable beds and unbeatable views at this fantastic Airbnb. With a queen bed and a pull-out sofa, this is the best place to stay in Edinburgh for couples or small families.
There are MANY awesome places to visit in Edinburgh. Below I have organized by top picks for the 10 best things to do in Edinburgh.
1. Be wowed by the Scottish National Museum
The Scottish National Museum is my favorite museum in Scotland, plus it is free.
2. Taste some whiskey
Quality Scotch is Scotland's pride and joy. Save some room in your budget for a whiskey tasting tour; you won't regret it.
3. Hike up Arthur's Seat
A hike up to Arthur's Seat is one of Edinburgh's most popular walks, and the views from the top make this city landmark well worth it.
4. Take a Stroll along the Royal Mile
Going for a walk through Edinburgh's dreamy old town is a given. Important sites along the Royal Mile include St Giles' Cathedral, the Scottish Parliament building, and Canongate Kirk.
5. Take a Haunted Edinburgh Tour
Edinburgh has a shocking history when it comes to some of the dirty deeds that were carried out here over the years. Take a tour of the "haunted" vaults in and around the Edinburgh Castle and connect with the city's ever-present paranormal realms.
You can go for the full-on experience at The Real Mary King's Close or just graze the surface with a free tour.
6. Visit the Edinburgh Castle
If diving straight into Edinburgh's haunted past is too much for you, you can visit the Edinburgh Castle (during the day time). The castle has been around since the 12th century, and has survived many occupations, assaults, and other attempts at its destruction.
7. Climb the Scott Monument
For amazing views in the heart of the city, climb the 267 steps to the top of the Scott Monument. Note, the monument is closed during periods of strong wind.
8. Catch some live music
Edinburgh's vibrant pubs are great places to catch some live music. From traditional Scottish ballads to modern indy rock tunes, there is live music for every taste in Edinburgh.
The best folk music venue in Edinburgh is Sandy Bells. Copious amounts of Scotch and foot stomping are a must.
9. Go for a hike
In addition to famous spots like Arthur's Seat, Edinburgh has many accessible hikes in the area within walking distance from the city. One can spend the whole day hiking in the hills around Edinburgh, and easily a week if you have more time on your hands.
10. Celebrate Edinburgh Hogmanay
There are so many vibrant festivals in Scotland. Don't miss Edinburgh's biggest street party if you are in town over the New Year holiday. Hogmanay is one of the craziest (and most fun) street festivals one can attend.
I'm talking about three days of music, theater, fireworks, street parting, traditional dancing, and debauchery.
Below I have crafted a 3 day sample itinerary for backpacking Edinburgh that will take through all of the highlights and important UNESCO sites as well as some of my favorite backpacker-friendly spots.
Edinburgh is a city known for its gray, rainy weather. Thankfully, there are many fun things to do in Edinburgh indoors as well as out. This Edinburgh itinerary assumes that you are working with decent weather, and thus able to spend some time exploring the hills around the city.
If bad weather is forecasted during your Edinburgh trip, arrange your itinerary accordingly, and save the outdoor activities for when a dry spell is projected.
Edinburgh Itinerary: Day 1
For day 1 in Edinburgh, start your day at the Scottish National Museum. Reserve at least 2-3 hours at the museum. If you are like me and enjoy visiting one really good museum per city, you could easily spend a majority of your morning and afternoon exploring the interesting exhibits of the Scottish National Museum.
For lunch, consider the budget-friendly Union of Genius; a favorite spot for broke students and broke backpackers alike.
After lunch, head to the Edinburgh Castle at Castle Rock. Research conducted in 2014 identified 26 sieges in its 1100-year-old history(!), earning it the dual titles of "the most besieged place in Great Britain and one of the most attacked in the world."
Reward yourself with a proper Scotch whiskey tasting at aptly named Scottish Whiskey Experience (in Old Town). Not only will you taste excellent whiskey, but you'll also gain the knowledge of how to properly taste, nose, and judge whiskey, along with other interesting bits of whiskey-related knowledge.
If you still have a bit of energy you can head to Sandy Bells Pub after dinner. They have awesome live music performances every night of the week.
If the first day of your Edinburgh backpacking adventure has left you a wee bit exhausted, you can save the live music at Sandy Bells for another night.
Edinburgh Itinerary: Day 2
After a slow start to the morning – if the music and pub scene kept you out until late – you can stretch your legs with a hike to Arthur's Seat. When it is not pissing rain, the hike through Holyrood Park en route to Arthur's Seat is awesome. Few cities in the world have such impressive greenscapes literally on their doorstep.
Once atop the mountain, and clear weather permitting, you can enjoy fantastic views of Edinburgh stretching out to the sea. Bring a picnic and have a loch-side lunch within Holyrood Park.
After lunch, it's time to head to Edinburgh's Old Town to take in the streets and sites along the Royal Mile.
From the Castle gates to the Palace gates, the street is almost exactly a mile long and runs downhill between two important locations in the royal history of Scotland, namely Edinburgh Castle and Holyrood Palace, thus its name. (You would have walked pretty close to the Old Town yesterday if you went to the Edinburgh Castle.)
Be warned: Old Town and the Royal Mile are the most touristy parts of Edinburgh. You should definitely check out the scene, but as I said before, I advise against eating a meal in a restaurant here, as the food prices are a rip-off. If you need to sit down, ope for a single coffee, beer, or whiskey instead.
Stop off at Camera Obscura, even if you only have the slightest interest in photography. Actually, Camera Obscura is a trippy place full of fun illusions and mind-boggling exhibits. This place is especially entertaining after a cheeky smoke.
One of my favorite Edinburgh institutions is the Royal Mile Market. Here you can find cool local crafts like funky jewelry and art in addition to tasty food and artisanal products. If you love craft/farmers markets, check this one out!
For a little bit of culture and history, take the time to gawk at St Giles' Cathedral. This 14th-century building is one of the most important churches in Scotland…and certainly one of the most beautiful.
Edinburgh Itinerary: Day 3
Alright, we have arrived at day three in Edinburgh! If starting the day with a good walk felt good yesterday, I recommend trying out a different hiking route today.
Head to the Pentland Hills for the morning (again, bring along a picnic or lunch supplies). The walk up Allermuir Hill is my personal favorite, though there are many hiking options in the Pentlands.
After getting back to Edinburgh proper in the early afternoon, head to the Holyrood Palace. This palace was constructed between 1671 and 1678 and is the officially residence of the Queen of Scotland.
The queen barely spends any time here, but the history and beautiful construction are enough to make the visit worthwhile for anyone.
Just across the street from Holyrood Palace is the Scottish Parliament building. It is worth taking note that this is where many Scottish political decisions take place. I did not personally take a tour of the building, but if you're into that sort of thing you are likely to enjoy learning more about the Parliament building and what goes on inside.
Energy and motivation permitting, head up to Calton Hill to check out the view, watch the sunset, and take in some of the important monuments (like the National Monument of Scotland).
If you haven't done so already, be sure to catch some live music in one of the pubs tonight. Like so many cultures, music is deeply engrained in the fabric of Scottish society. Nothing brings locals and backpackers together like a few pints and quality tunes.
Torn? Let us help you make the decision between Edinburgh or Glasgow with this helpful guide.
Off the Beaten Path in Edinburgh
Edinburgh is large and diverse enough to have plenty of opportunities to enjoy the city off the beaten path. The Royal Miles and many of the sites in and around Old Town are very much on the tourist trail, and no visit to Edinburgh would be complete without taking the time to discover some of the less visited places of value.
1. Visit the Inchcolm Abbey
You can find the Inchcolm Abbey in the heart of the Firth of Forth. As far as medieval abbeys go, the Inchcolm Abbey is in great condition. Many travelers focus on the historical buildings within the city center, though if you have the time, a visit to the Inchcolm Abbey is not to be missed.
2. Get to know the Bruntsfield and Morningside Neighborhoods
Bruntsfield and Morningside are very much locals-only neighborhoods. These areas are home to nice pubs, places to eat, and picnic/walking destinations like the Bruntsfield Links.
3. Hike along the Water of Leith
Edinburgh's River Leith flows from the Pentland Hills to the sea, and all the trails in between make for some peaceful walking opportunities. Really, it is so easy to escape the city and get into nature in Edinburgh! I love it.
4. Visit a lesser known museum
The National Scottish Museum may receive the lion's share of Edinburgh's museum prestige, but there are several other cool institutions of culture that should be on your radar.
My favorite "lesser famous" museum is the The People's Story Museum. Here, you can learn about the lives of ordinary Scots living in Edinburgh during the 18th century. As a writer of meaningful words myself, of course, I appreciate the Writer's Museum too!
5. Seek out less popular artisanal markets
There are no shortage of cool artisanal markets in Edinburgh. The Royal Mile Market in Edinburgh may be great but all of the tourists seem to go there. You can find some equally impressive, more food-focused markets all around Edinburgh. The Stockbridge Market is a good place to start.
6. Go canyoning!
That's right, Canyoning. If you are up for an adrenaline-filled adventure, consider canyoning with a local outdoor adventure company.
Best Walks in Edinburgh
Arthur's Seat: I've described the Arthur's Seat hike above, but here is one more shout. The hike only takes a few hours round trip, and provides one of the best vantage point views one can have of Edinburgh.
Portobello Beach: I had to show the coast some love on this list! The hike along Portobello beach is a good introduction to Edinburgh's coastline. Be sure to pack layers in your daypack, as this stretch of coast can be frigid when the wind blows.
Figgate Park: Figgate Park is an excellent spot to bring a picnic and go for a leisurely walk. Perhaps even better than walking is cycling. Rent a bike in town and enjoy the bike paths around Figgate Park.
Royal Botanical Garden: Botanical gardens anywhere in the UK are usually quite impressive, and the Royal Botanical Garden in Edinburgh is no different. The botanical gardens are an oasis of urban paradise, and the perfect place to come and enjoy a blissed out horticultural marvel.
Water of Leith: This walk begins at Balerno and goes all the way to Leith (the port). The Water of Leith footpath is more mellow in nature than it is strenuous. Enjoy the sounds of the river as you stroll under leafy trees on a fern-lined path.
Best Time of Year to Visit Edinburgh
Edinburgh's weather can be summarized in three words: wet, gray, and depressing. But when the skies clear for brief periods in the summer and fall, Edinburgh can be one of the most beautiful places to be in all of Europe.
From a weather perspective, Winter is the most miserable. As it is close to the ocean, the winter temperatures average just a hair above freezing for most of January and February.
Summer is without a doubt the best time to visit Edinburgh. As is the case with all European cities, most people take their holidays when the weather is best, so summer is also Edinburgh's busiest tourist period.
There is a wide variety of festivals in Edinburgh throughout the year. It's worth noting that the ever-popular Edinburgh Fringe takes place in the month of August, so if comedy is your bag and you fancy checking out one of the most important festivals in the UK, then your trip should coincide with this month-long event.
An autumn visit to Edinburgh is 2nd best, both for the benefit of having less foreign visitors around as well as the dazzling spectacle of the fall foliage.
I've visited Edinburgh primarily in the summer months, and even then the rain prevented or altered my hiking plans. In Edinburgh—no matter what time of year– you should prepare for rain and hope for the best.
Getting in and out of Edinburgh
Edinburgh is a very well connected city. The Airport and train stations are just a short, affordable ride away. Below are your options for getting in and out of the city.
Airlink Bus: The Airlink Bus (service 100) runs between the airport and the city centre, reaching Waverley Bridge railway station in 25 minutes. A single adult ticket costs £4.50 and an open return is £7.50. The route to and from the airport runs 24 hours a day every 10 minutes approximately.
Tram: Another possibility is for backpackers to take a tram into the city centre from the airport. It takes approximately 35 minutes and they run every 8–12 minutes. An adult single fare is £6 and an adult return is £8.50. For more information, check out the official website.
Private Transfer: There is absolutely no reason why you should ever need a private driver. That said, I only provide you with the information you need should a private driver be on your mind. If you book a private airport transfer service, the driver will be waiting for you at the arrival terminal with a sign with your name on it (god damned fancy).
This is the fastest and most comfortable way of getting to your posh hotel where the staff will be waiting to spoon feed you caviar (just kidding). You can book a four passenger car for £33 or an eight-seater for £43.
Uber: Uber is another option (cheaper than taxis) if you need to get to the airport in a hurry.
Car Rental: Renting a car is a great way to see the country if you plan to visit Scotland beyond Edinburgh. A car gives you the freedom to really do what you want to do.
You can sort your car rental here in just a few minutes. Booking in advance is the best way to ensure you score the lowest price and your choice of vehicle. Often, you can find the best car rental prices when you pick up the rental from the airport. Make sure you purchase a RentalCover.com policy to cover your vehicle against any common damages such as tires, windscreens, theft, and more at a fraction of the price you would pay at the rental desk.
How to get around in Edinburgh
As I have said before, Edinburgh is very walkable. If and when you need to get across town, you can do so on the cheap via bus or tram. Consider renting a bike and exploring the city for a day that way.
Edinburgh is biker friendly. There are plenty of nice bike trails to be found through out the city.
Walking and biking are by far the best ways to get around. Since the distances in Edinburgh are manageable on foot, you shouldn't need public transportation much except for getting to/from the airport or train station.
Long Distance Trains from Edinburgh
Other parts of Scotland and the UK can be assessed via train from Edinburgh.
A train journey from Edinburgh to London takes a little more than four hours! The trains in the UK can be expensive though, like shockingly expensive. If you book the train at the last minute, expect to pay through the nose.
By contrast, if you book or train a month or more in advance you can find much lower prices (for example: £25 or so). £25 London-Edinburgh is a great deal in my opinion.
The Edinburgh to Glasgow train takes around 50 minutes. Scotrail is a good place to look for train tickets around Scotland.
Safety in Edinburgh
In many respects, Edinburgh is a fairly safe city. Out of 109 European cities, Edinburgh ranks number 75th in terms of crime (with #1 being the most crime-ridden) in 2018.
As in any city in the world, common sense and general awareness go a long way with regard to keeping yourself safe. Certainly, you should avoid staying out late and alone, plastered on whiskey. Don't get so drunk that a blind dog could steal your wallet.
Check out Backpacker Safety 101 for tips and tricks to stay safe whilst backpacking.
Pick yourself up a backpacker security belt to keep your cash safe on the road. Check out this article for an in-depth review of the best money travel belts, and this post for plenty of ingenious ways to hide your money when traveling.
I strongly recommend traveling with a headlamp whilst Backpacking Scotland (or anywhere really – every backpacker should have a good head torch!) – check out this post for a breakdown of the best value headlamps to take backpacking
Travel Insurance for Edinburgh
Traveling without insurance would be risky so do consider getting good backpacker insurance sorted before you head off on an adventure.
I have been using World Nomads for some time now and made a few claims over the years. They're easy to use, professional and relatively affordable. They may also let you buy or extend a policy once you've started your trip and are already abroad which is super handy.
If there's one insurance company I trust, it's World Nomads.
World Nomads' mission is to support and encourage travellers to explore their boundaries. They offer simple & flexible travel insurance, and safety advice to help you travel confidently.
They've been doing it since 2002 – protecting, connecting, and inspiring independent travellers just like you.
Get a quote below or read our in-depth review!
World Nomads provides travel insurance for travelers in over 100 countries. As an affiliate, we receive a fee when you get a quote from World Nomads using this link. We do not represent World Nomads. This is information only and not a recommendation to buy travel insurance.
Edinburgh Accommodation Travel Hacks
As budget backpackers, we all want to save money and travel on the cheap. In a perfect world, Couchsurfing hosts would be as abundant as the rain in Edinburgh.
I have found that scoring Couchsurfing hosts in big cities (in the west in particular) to be a real challenge as they get so many requests on a daily (or hourly) basis. Sometimes we just need to book a hostel and count our blessings that we are able to go traveling at all.
Eating and Drinking in Edinburgh
Edinburgh is overflowing with awesome places to try haggis, grab a pint, or sip a fine Scotch.
As you read before, the prices can vary depending on which part of the city you're in. Anywhere around the main sites (including the Royal Mile) of Old Town are bound to be pricier than other parts of town.
I wouldn't say the food is bad in Old Town…far from it. The prices (especially for dinner) are just far higher than budget backpackers can afford. In any big city though, there are bound to be cheap places to eat.
Thanks to a vigorous university student population, finding cheap eats in Edinburgh is easy. Backpackers can sort of piggy-back onto where all of the students go to eat out. With this strategy, you can find tasty meals in the £5-10 range.
In terms of pubs, prices are going to be higher in the Old Town area. Booze in the UK and Scotland is expensive in general, so it isn't always easy to find a super cheap pint.
Outside of what is deemed to be the "tourist quarter of Old Town," you can find pints hovering around £4-5. You'd be hard pressed to do better than that in terms of price.
For coffee lovers, there are many cool cafes in town serving up the black nectar we all need to keep going.
Tips for Drinking and Eating in Edinburgh on the Cheap
Seek out happy hours: There are so many bars and restaurants in Edinburgh that many offer up happy hour/student specials as a way to bring in customers. You can score some pretty epic deals on beer, haggis, wings, snacks, and other appetizers. Happy hour is usually sometime between 3 pm to 6 pm (this can vary).
Avoid fancy sit down restaurants: Street food, kebab places, Indian/Chinese/Thai… they're all here and they are tasty and cheap. You can almost always score a decent takeaway meal between £5-8 (or less).
Avoid drinking at bars: Going to a bar or two is a quintessential experience when visiting any new city. That said, bars in Edinburgh are expensive as hell. Consider buying wine and drinking it in by the Water of Leith like a hobo instead.
Cook your own food: Try and cook at least one meal per day. If you don't feel like cooking, then go to the grocery store and arm yourself with sandwich fixings so that you can make food on the road if need be. $10 spent on sandwich materials can feed several people multiple times. Having some snacks in your day backpack will offset impulse food purchases.
Pack a travel water bottle and save money every day!
Cheap Eats in Edinburgh
Here are the top five best places to score cheap eats in Edinburgh…
Mosque Kitchen: This is a place every backpacker should know about. I'm talking about delicious curry dishes for £5. Inshallah, you will get there before they run out for the night.
Bonnie Burrito: As a Californian, I am always hard to please when it comes to Mexican food. Bonnie Burrito puts in a good effort, and with most things on the menu costing £5 or less, I was a fan.
Alplings: Hearty mountain food like dumplings, goulash, spätzle, stew, potato rosti and schnitzel at reasonable prices. For £8 you can warm your soul with some good mountain soul food.
The Pakhora Bar: Tasty Indian street food. The perfect, cheap late-night snack.
Taste of Italy: Whilst they couldn't have picked a less original name, Taste of Italy is perfect for ultra-hungry backpackers looking to smash a 3-course Italian dinner for >£15.
Nightlife in Edinburgh
Edinburgh may be famous for its castle, cobblestone streets, and dedication to arts/culture, but one thing is for sure, Edinburgh likes to party.
Specifically, Scottish people love to party. The high number of thirsty university students mixed in with the year-round working class locals, and the stream of travelers makes for an interesting Edinburgh nightlife scene for sure.
Student bars, old-timey pubs, classy joints, dive shit holes, music venue pubs… they all exist in Edinburgh.
Why Not Nightclub has the reputation of being a pretty fun spot, though I did not personally go there.
To avoid blowing your budget, pre-game if you are prone to spending too much money on beer in expensive cities. I tell you because I can relate.
Books to Read When Backpacking Edinburgh
Below are some of my favorite books set in Edinburgh and Scotland.
Trainspotting – A modern day Scottish classic. Rents, Sick Boy, Mother Superior, Swanney, Spuds, and Seeker are as unforgettable a clutch of junkies, rude boys, and psychos as readers will ever encounter. Trainspotting was made into the 1996 cult film starring Ewan MacGregor.
44 Scotland Street – Love triangles, a lost painting, intriguing new friends, and an encounter with a famous Scottish crime writer are just a few of the ingredients that add to this delightful and witty portrait of Edinburgh society, which was first published as a serial in The Scotsman newspaper
The Wasp Factory – The polarizing literary debut by Scottish author Ian Banks, The Wasp Factory is the bizarre, imaginative, disturbing, and darkly comic look into the mind of a child psychopath.
How the Scots Invented the Modern World – Who formed the first literate society? Who invented our modern ideas of democracy and free market capitalism? The Scots. As historian and author Arthur Herman reveals, in the eighteenth and nineteenth centuries Scotland made crucial contributions to science, philosophy, literature, education, medicine, commerce, and politics–contributions that have formed and nurtured the modern West ever since.
Scotland: The Story Of A Nation – Story of a Nation is history on an epic level, and essential reading for anyone interested in the rich past of this captivating land.
The Highland Clearances – A very interesting and tragic read about the plight of the Highland people during the period known as "the Highland Clearances" Quite shocking, but very informative. Highly recommended.
Rob Roy – Rob Roy MacGregor was a historical figure—an outlaw and legendary clansman, immortalized here in Walter Scott's classic novel.
Lonely Planet Pocket Edinburgh – For everything not found in this guide, this book is packed with plenty of useful information.
Lonely Planet Scotland – I find that even with being such a huge company now, Lonely Planet still does a good job with their travel guides.
Volunteering in Edinburgh
Long term travel is awesome. Giving back is awesome too. For backpackers looking to travel long-term on a budget in Edinburgh whilst making a real impact on local communities, look no further than World Packers. World Packers is an excellent platform connecting travelers with meaningful volunteer positions throughout the world.
In exchange for a few hours of work each day, your room and board are covered.
Backpackers can spend long periods of time volunteering in an awesome place without spending any money. Meaningful life and travel experiences are rooted in stepping out of your comfort zone and into the world of a purposeful project.
World Packers opens the doors for work opportunities in hostels, homestays, NGOs and eco-projects around the world. Broke Backpacker readers get a special discount of $10 – just use this discount code BROKEBACKPACKER and membership is discounted from $49 a year to $39.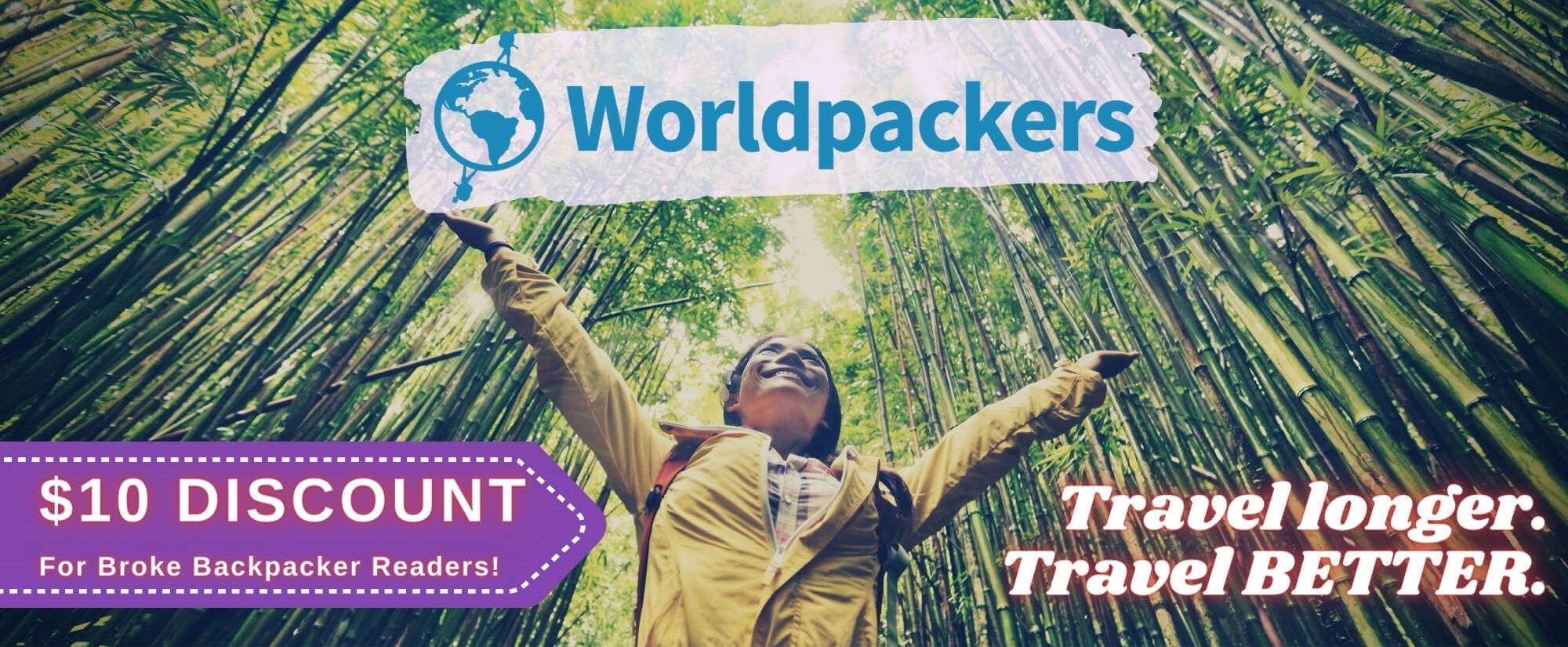 Worldpackers: connecting travellers with meaningful travel experiences.
Make Money Online Whilst Backpacking Edinburgh
Traveling in Edinburgh or the UK long term? Keen to make some cash when you are not exploring the city? Want to make money teaching English in a country where English is the native language?!
Teaching English online is a great way to earn a consistent income—from anywhere in the world with a good internet connection. Depending on your qualifications (or your motivation to obtain qualifications like a TEFL certificate) you can teach English remotely from your laptop, save some cash for your next adventure, and make a positive impact on the world by improving another person's language skills!
It's a win-win! Check out this detailed article for everything you need to know to start teaching English online.
In addition to giving you the qualifications to teach English online, TEFL courses open up a huge range of opportunities and you can find teaching work all over the world. To find out more about TEFL courses and how you can teach English around the world, read my in-depth report on teaching English abroad.
Broke Backpacker readers get a 35% discount on TEFL courses with MyTEFL (simply enter the code BACKPKR), to find out more, please read my in-depth report on teaching English abroad.
Whether you are keen to teach English online or looking to take your teaching game a step further by finding a job teaching English in a foreign country, getting your TEFL certificate is absolutely a step in the right direction.
Being a Responsible Backpacker in Edinburgh
Reduce your plastic footprint: Perhaps the best thing you can do for our planet is to make sure you do NOT add to the plastic problem all over the world. Don't buy one-use water bottles, the plastic ends up in landfill or in the ocean. Instead, pack a tough travel water bottle.
Go and watch A Plastic Ocean on Netflix – it'll change how you view the plastic problem in the world; you need to understand what we are up against. If you think it doesn't matter, get off my fucking site.
Don't pick up single use plastic bags, you're a backpacker – take your daypack if you need to go to the shop or run errands.
Bear in mind, that many animal products in countries you travel through will not be ethically farmed and won't be of the highest quality. I'm a carnivore but when I'm on the road, I only eat chicken. Mass-farming of cows etc leads to the rainforest being cut down – which is obviously a huge problem.
Need more guidance? – Check out our post on how to be a responsible backpacker.
Backpacking in Edinburgh will bring you ample opportunities to participate in debauchery, and it is very important to have fun, let loose, and get a bit wild at times—as you will soon find out. Most backpacking trips I have been on across the world have included at least a few mornings where I wake up knowing I went too far.
Being super loud and obnoxious in a tiny hostel at 3 AM is a classic rookie backpacker mistake. Everyone in the hostel will hate you when you wake them up. Show your fellow travelers (and locals) respect whilst backpacking in Edinburgh and anywhere else for that matter!
---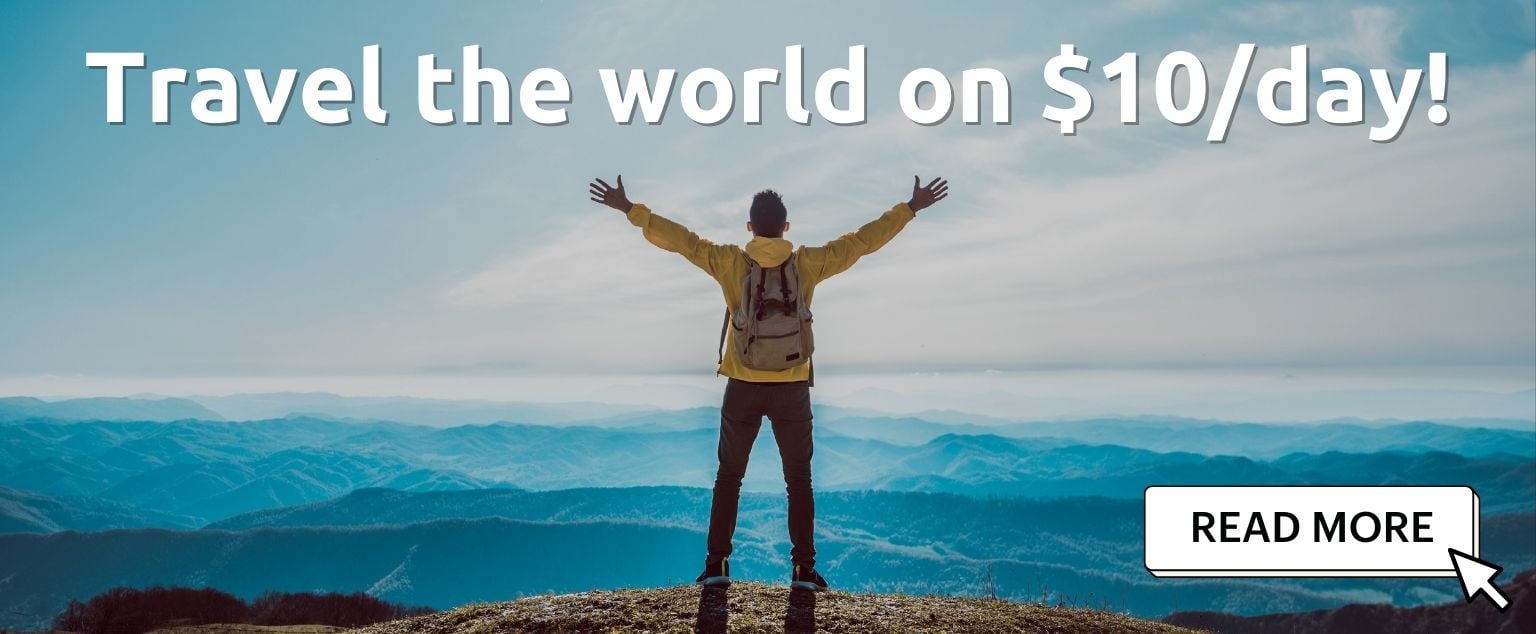 And for transparency's sake, please know that some of the links in our content are affiliate links. That means that if you book your accommodation, buy your gear, or sort your insurance through our link, we earn a small commission (at no extra cost to you). That said, we only link to the gear we trust and never recommend services we don't believe are up to scratch. Again, thank you!