So, you're headed to Scotland, are ye? This country in the UK is certainly one of the most beautiful, edifying, and cultured nations in the world. But the biggest question when traveling here is often which city is better to visit: Edinburgh or Glasgow?
When it comes to traditional architecture and historical significance, both cities have much to offer. Edinburgh is known for its medieval architecture and cobblestone streets, while Glasgow boasts modern, vibrant buildings and a bustling cityscape. Historically speaking, both cities have much to explore – from the Highland Games of Edinburgh to the renowned museums of Glasgow.
However, when it comes to nightlife and entertainment offerings, these two cities are far from alike. Edinburgh is known for its pubs and fringe festival, while Glasgow offers live music venues and world-renowned comedy clubs. Both cities are home to traditional festivals that draw large crowds of locals and tourists alike.
When it comes to food, there is something for everyone in both cities. From fresh seafood to traditional Scottish fare – Edinburgh and Glasgow both serve a variety of delicious options. But when it comes to the cost of living, Edinburgh is slightly more expensive than its neighbor.
The choice between Edinburgh and Glasgow ultimately depends on what you're looking for in a getaway experience. So, let's jump into our fiery debate on which city is best in terms of culture, nightlife, budget, and experiences.

Unlock Our GREATEST Travel Secrets!
Sign up for our newsletter and get the best travel tips delivered right to your inbox.
Edinburgh vs. Glasgow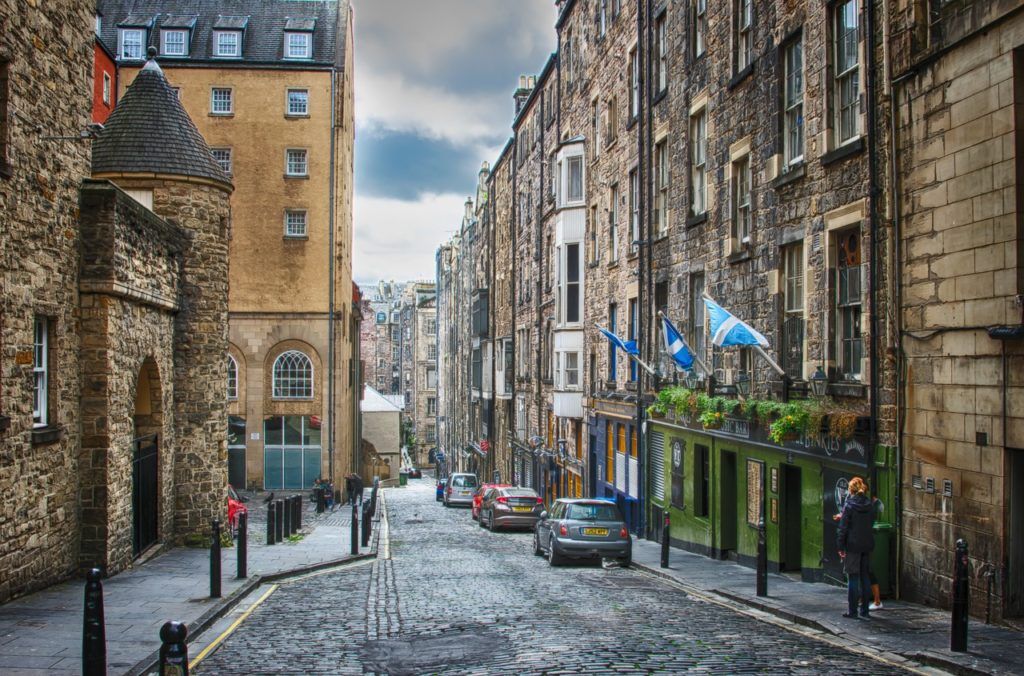 Despite their geographic proximity, these two cities offer distinct differences worth exploring to determine which destination is the best fit for you when visiting Scotland. Let's dive in and uncover what each has to offer!
Edinburgh summary
The capital of Scotland is 107 square miles large and home to 500,00 people, but during the summer, the population can as much as double due to all the visitors.
Edinburgh is known as one of the most beautiful cities in the world, with stunning architecture, cobblestone streets, and a castle perched atop the hill.
Edinburgh is easily accessible to travelers from around the world. The city's international airport offers direct flights to major cities in the UK, Europe, and beyond. You can also take a train from London or Glasgow to Edinburgh, or take a ferry from Scandinavia or Ireland for a scenic journey by sea.
Edinburgh is easily navigable by foot and bike. Although the city is built on hills, the gorgeous, cobbled streets make this a picturesque way to explore the city. Public buses provide easy access to all areas of the city, with services that run frequently throughout the day. You can also use the Edinburgh Tram network to get around.
There are plenty of different types of accommodations available in Edinburgh including hotels, hostels, Airbnbs, and bed and breakfasts.
Glasgow summary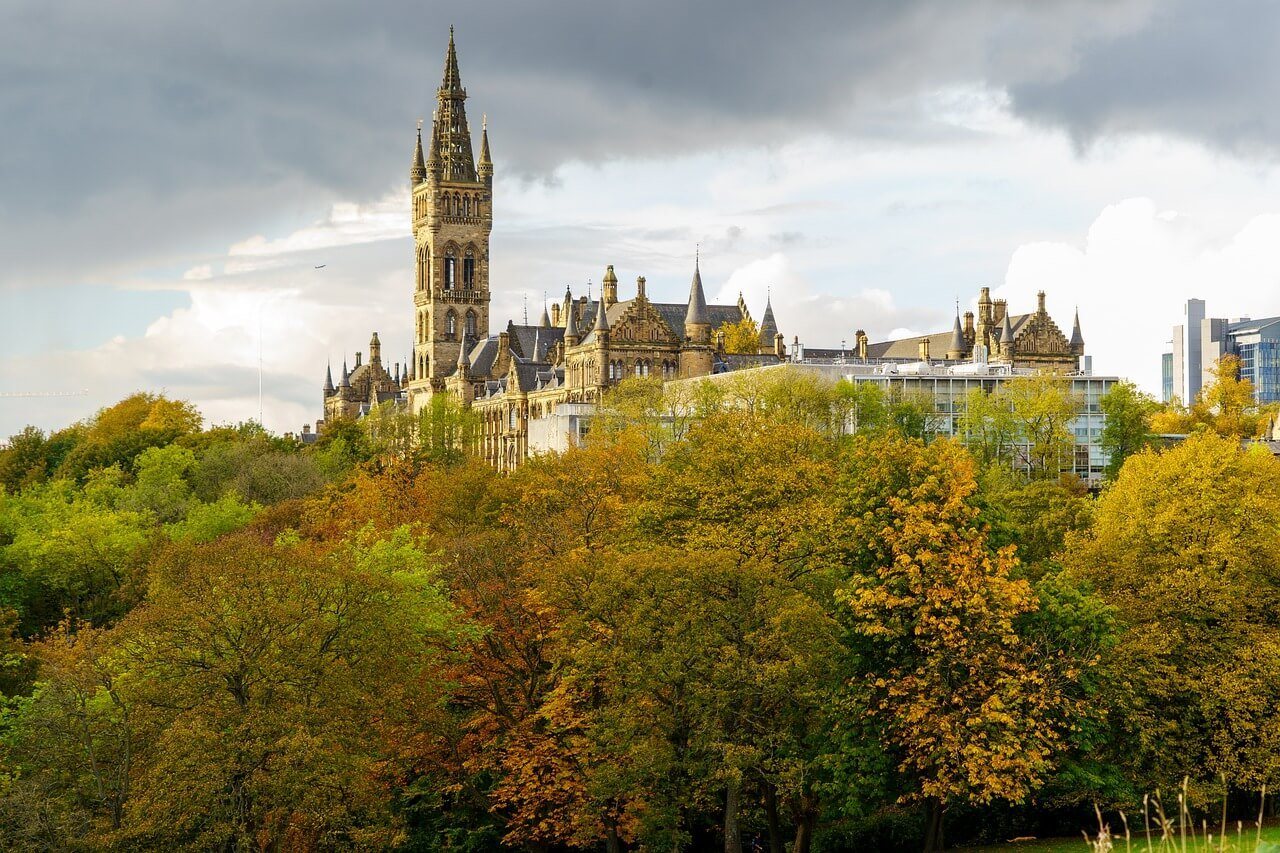 Glasgow is the largest city in Scotland, at 142 square miles with a population of over 600,000 people.
The city is known for its modern architecture and vibrancy, as well as its nightlife scenes that draw visitors from all over the world.
Glasgow is also easily accessible. Flights arrive at Glasgow International Airport daily, and you can take a train from major cities in the UK including London, Edinburgh, and Manchester.
Glasgow is also easily navigable. Many public transportation options such as buses, trams, and trains are reliable and convenient ways to get around the city.
Accommodation wise Glasgow offers plenty of different types of accommodation from luxury hotels, to budget-friendly bed and breakfasts.
Is Edinburgh or Glasgow Better?
So many people just pop into Edinburgh and think they've seen all Scotland has to offer. But there's so much more to explore in both of these cities.
Each city has its pros and cons, and in this article, we will be exploring each of them to help you decide which city is the best fit for your getaway experience.
For Things to Do
While these two destinations are relatively close to one another given the size of the country, they could not be any more different if they tried. And there are quite a few things to compare when it comes to Edinburgh and Glasgow.
For instance, Edinburgh is situated in a stunning location, surrounded by rolling hills and natural beauty. Meanwhile, Glasgow is home to a bustling commercial center, modern architecture, and vibrant nightlife scenes.
Edinburgh is also the historic capital of Scotland, with historical sites and traditional festivals that draw locals and tourists into town. It's the perfect place for history lovers!
This city offers plenty of unique attractions, including the world-famous Edinburgh Castle and the Museum of Scotland. From old-fashioned pubs to comedy clubs, you will be entertained throughout your whole holiday.
If you've done at least a bit of research, I'm sure you'll have heard of the most iconic attraction in Edinburgh – The Royal Mile. This street is a great way to experience Scotland's history, as it winds through cobbled alleys and narrow passageways.
On the other hand, visiting Glasgow also offers a range of different attractions. From the beautiful Kelvingrove Art Gallery to the trendy bars and clubs that make up cultural Merchant City, there's something always going on in Glasgow.
Glasgow offers an interesting cultural heritage. Visitors can explore the works of Charles Rennie Mackintosh, visit one of the many art galleries, or take a tour around the city's oldest buildings to learn more about its past.
For my foodies, Edinburgh is home to a range of different cuisines from traditional Scottish dishes to international fare. There are plenty of pubs, bistros, and fine dining venues throughout the city. Edinburgh is also well known for its whisky distilleries and whisky bars that offer an array of options for both connoisseurs and newcomers.
Winner: Edinburgh
For Budget Travelers
If you are looking for value for money, both cities offer a range of different accommodation options and activities to accommodate your budget.
Both of these destinations are going to be cheaper than London, for example, but they aren't what many of us would consider "budget-friendly".
Edinburgh has some great hostels that offer private rooms at an affordable cost. But Edinburgh is more expensive than Glasgow, with average prices that are around 15% higher than its rival city. Also with the sheer number of attractions in Edinburgh, you have more opportunities to spend your money.
Glasgow can be affordable, as hotel rates are often lower than in Edinburgh. There are also fewer tourist traps and more budget-friendly options in the city such as local pubs and restaurants. Glasgow is the clear winner when it comes to budget travel.
Staying in a mid-range hotel in the center of Edinburgh will run you about $200 a night, which can balloon to $300 or more if you're looking for a luxury hotel. On the other hand, Glasgow offers much more affordable options and you can easily find accommodation for around $150 in the city center.
We gotta love European public transportation. Both cities cost around $2.50- $3.00 to get around by public transport, making both cities a great option for budget travelers. If you hop in a taxi at the Edinburgh airport to the city center it should cost you around $25, while in Glasgow it's around $45.
Eating out at a mid-range restaurant in Edinburgh will cost around $20 per person. In Glasgow, it will only be about $16.
In both cities, a beer will cost you from $5-$7 depending on the place.
Winner: Glasgow
Small Pack Problems? 😉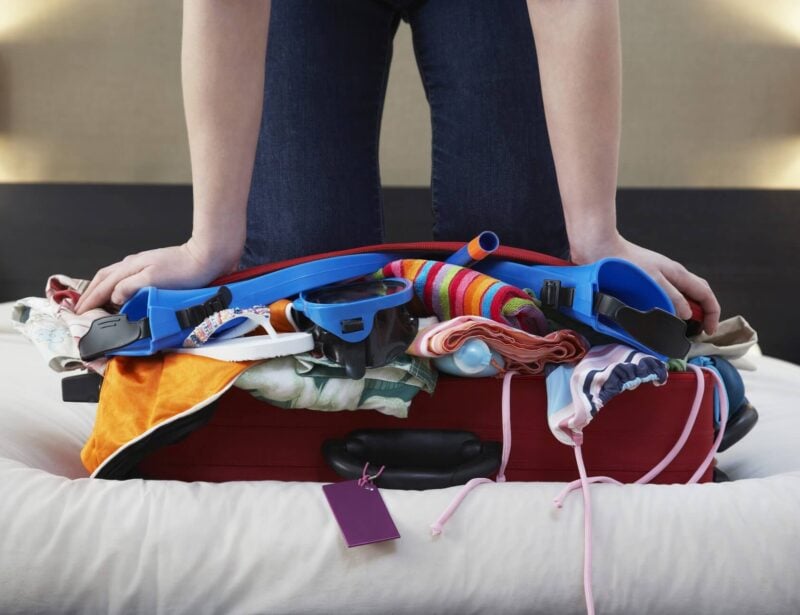 Wanna know how to pack like a pro? Well for a start you need the right gear….
These are packing cubes for the globetrotters and compression sacks for the real adventurers – these babies are a traveller's best kept secret. They organise yo' packing and minimise volume too so you can pack MORE.
Or, y'know… you can stick to just chucking it all in your backpack…
Get Yours Here
Read Our Review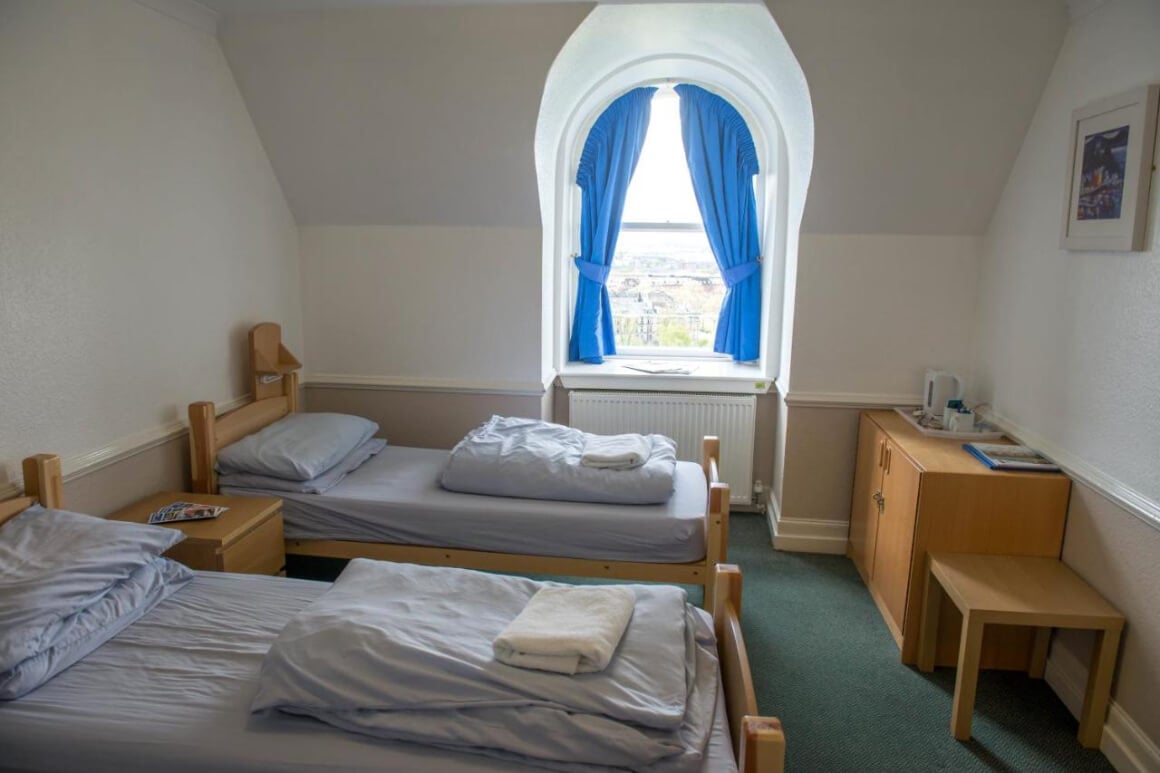 This youth hostel is the perfect place to stay for budget travelers. Only $35 a night, and 1.5 km from the center of town, you will have access to a shared kitchen, lounge area, and free Wi-Fi.
For Couples
For couples looking for a romantic getaway, both Edinburgh and Glasgow offer plenty to keep you occupied. Whether it's discovering the beauty of the countryside with a romantic hike or taking in some culture at one of the many galleries and museums, there's something to suit every couple.
Edinburgh is known for its beautiful architecture and romantic cobblestone streets. Ah, swoon, can you imagine going for a stroll hand in hand? The Royal Mile is sure to give you a fairytale experience and there are plenty of cozy restaurants for an intimate dinner. Just make sure to book early as they can get busy!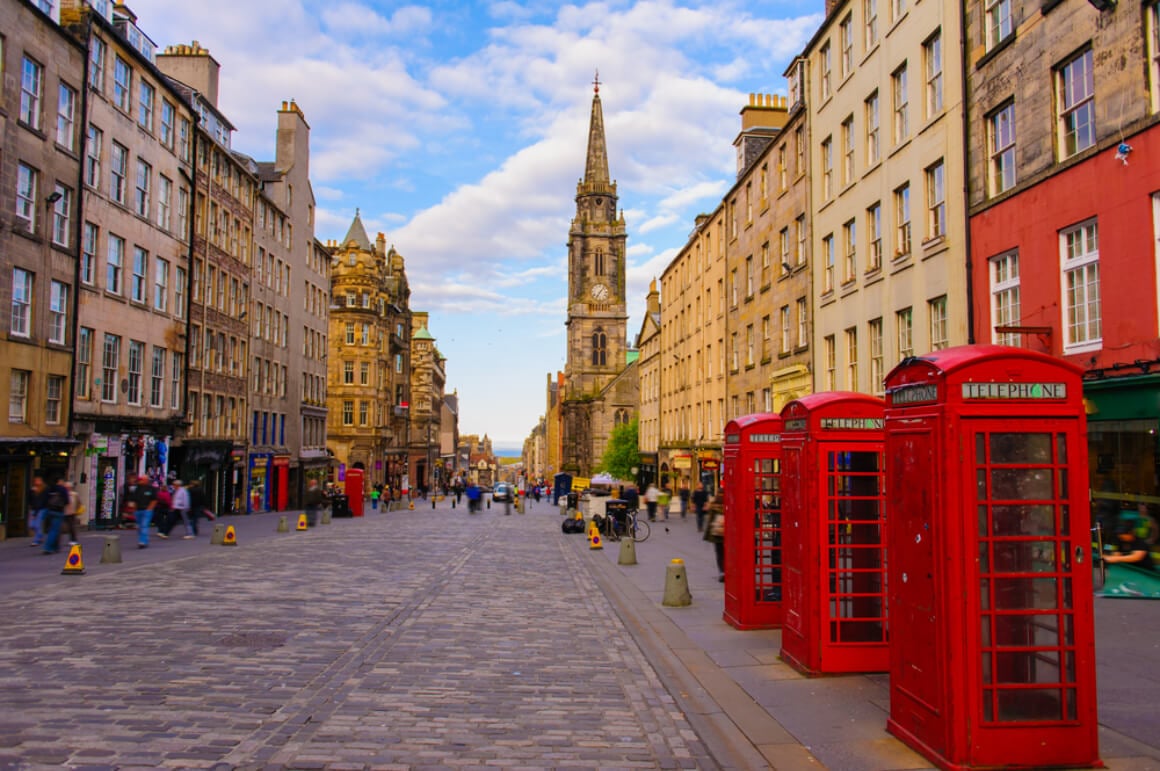 Glasgow offers couples the chance to explore the city's vibrant nightlife, from traditional pubs to lively clubs. With plenty of comedy shows, live music venues, and unique restaurants, you'll have plenty of romantic options for your night out. Or, you can stay in while indulging in some much-deserved pampering. There's a whole host of spa retreats, restaurants, and bars to explore.
Winner: Edinburgh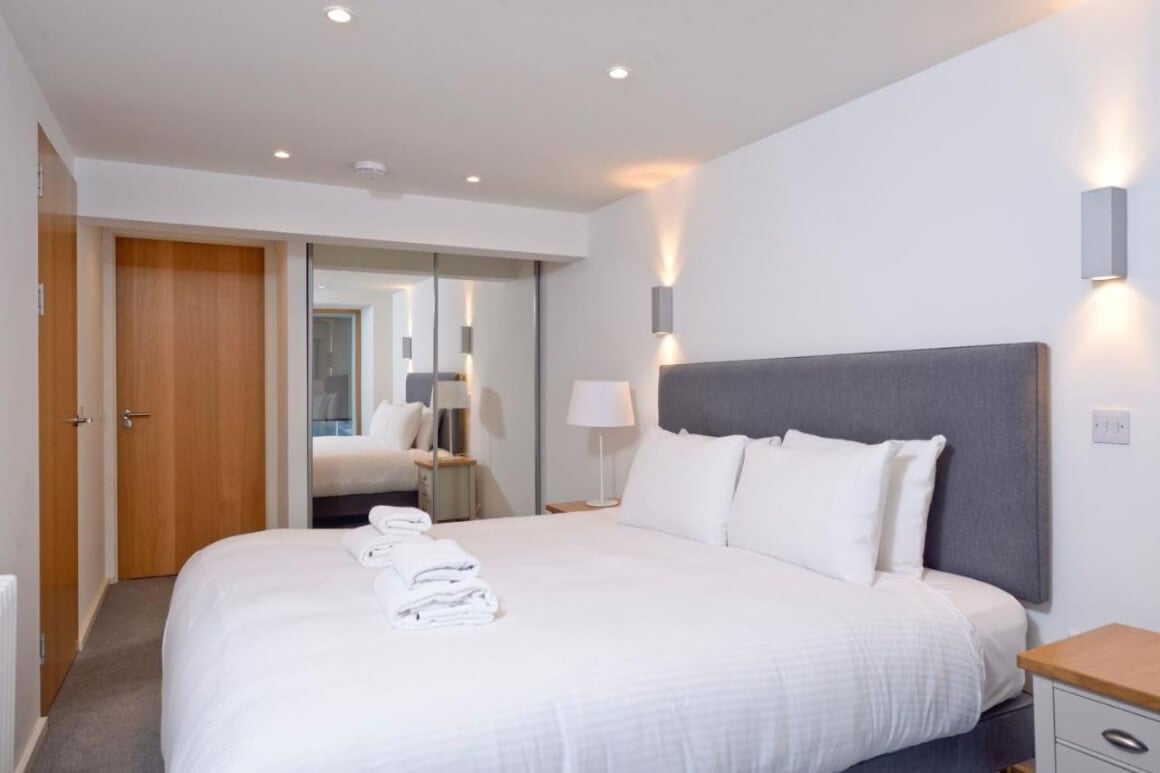 This romantic loft is the perfect place to stay for couples looking to explore Edinburgh. Located in the heart of the city, you will be close to all attractions and can enjoy luxurious amenities such as a fully equipped kitchen, spa-like bathroom, and cozy living area.
For Getting Around
Edinburgh is easily accessible by public transport with a comprehensive bus network, and train and tram services. The city has two main railway stations, Waverley Railway Station and Haymarket Railway Station, which connect to the rest of Scotland and the UK. In addition, if you don't wish to take public transport there are plenty of taxi services available too.
Glasgow has a vast public transport network with plenty of buses, trains, and trams to get around the city. The local train service is efficient and reliable and connects Glasgow to other major cities in Scotland. If you don't fancy using public transport, there are also taxi services available for getting around the city quickly and safely.
For those who enjoy walking, both Edinburgh and Glasgow offer plenty of interesting sights to explore. In Edinburgh, the scenic Royal Mile is a great way to soak up some of the city's history. Or, you can take a leisurely stroll along the River Clyde in Glasgow for beautiful views across the city.
Winner: Edinburgh
For a Weekend Trip
If you only have a few days to explore one of these cities, which do you choose? Edinburgh or Glasgow: it really could go either way.
Edinburgh is an ideal destination for those looking to experience a vibrant culture. There are plenty of historical landmarks to explore, such as the Palace of Holyroodhouse and Edinburgh Castle, along with lots of museums, galleries, and parks. And don't forget about its world-famous nightlife!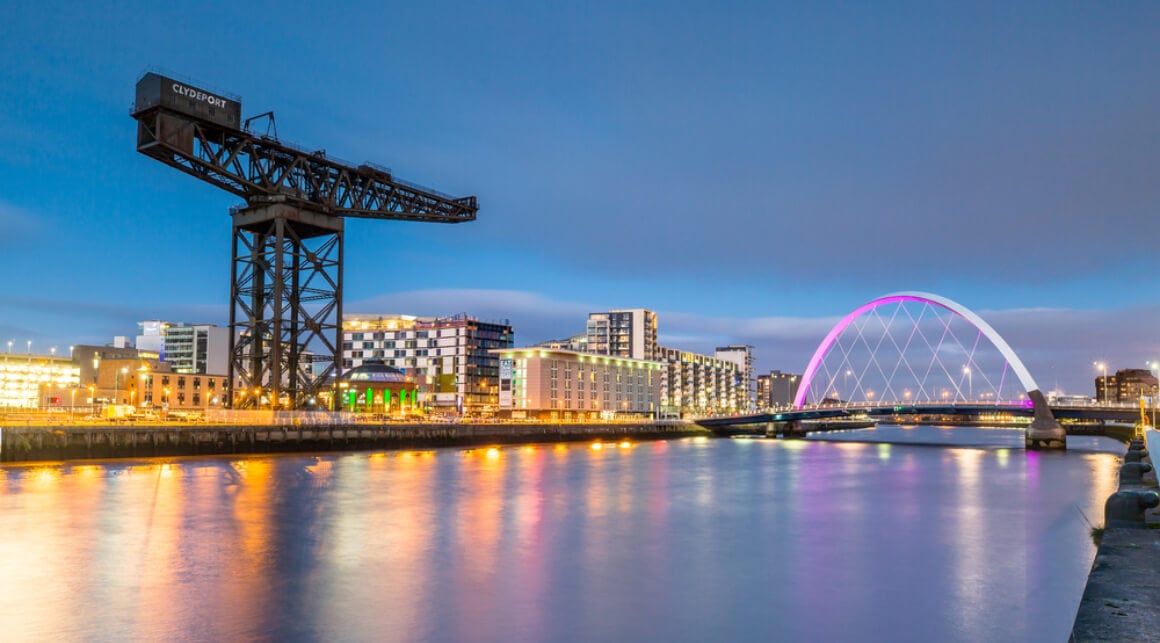 Glasgow is a great choice for those looking for a more laid-back city break. You can explore the city's charming neighborhoods, enjoy some live music in one of its pubs, or take a stroll along the River Clyde. There are also plenty of unique shops and boutiques to browse and lots of delicious food to sample!
The main reason I would choose Glasgow over Edinburgh for a weekend away is the vast amount of things to do in Edinburgh that I just don't think can be squeezed into a couple of days. Glasgow is more relaxed and allows for plenty of time to really take in the city rather than rushing around from sight to sight.
Winner: Glasgow
For a Week-Long Trip
For those looking for a longer getaway, both Edinburgh and Glasgow offer plenty to keep even the most discerning traveler entertained. Edinburgh is packed full of cultural attractions and activities; from the iconic Castle and Palace to the thought-provoking National Museum of Scotland, there's something for everyone in this ancient city. For night owls, there's vibrant nightlife with plenty of pubs, clubs, and comedy shows.
Glasgow is the perfect destination for those looking to shop till they drop! It's home to designer outlets, boutiques, and traditional markets where you can find everything from vintage clothes to artisanal crafts. Glasgow also has plenty of delicious eateries and world-class art galleries for you to explore.
However, more than a few days in Glasgow might make one a bit bored. There are only so many pubs and shops you can visit in a week, so if you're looking for something more stimulating Edinburgh might be the better choice.
Another reason Edinburgh has an edge over Glasgow is because of its convenient travel opportunities. With merely a week in Edinburgh, you can ride the train to numerous towns nearby like Stirling and Falkirk for additional sightseeing visits.
Conversely, going around areas near Glasgow is generally more difficult due to limited public transport options that make it slightly challenging if you want to explore further outside of the city.
Winner: Edinburgh
Visiting Edinburgh and Glasgow
It's a small country, and you've come all this way, so why not visit both of these lovely cities? You can have a few days in each city, switching between the two and taking in both their unique charms.
Edinburgh is perfect for history buffs, while Glasgow offers plenty of nightlife. Both cities offer amazing food at affordable prices and lots of activities to keep you busy. It will be like experiencing two different worlds.
The travel between the two is extremely easy and convenient. The train from Edinburgh to Glasgow takes around 50 minutes and is an enjoyable journey with stunning views of the countryside. It runs regularly throughout the day and is a great way to get around.
For the best of both Edinburgh and Glasgow, you can't go wrong. With a week-long trip, you can easily explore each city in depth and get a real feel for what makes Scotland so special.
Is This the Best Backpack EVER???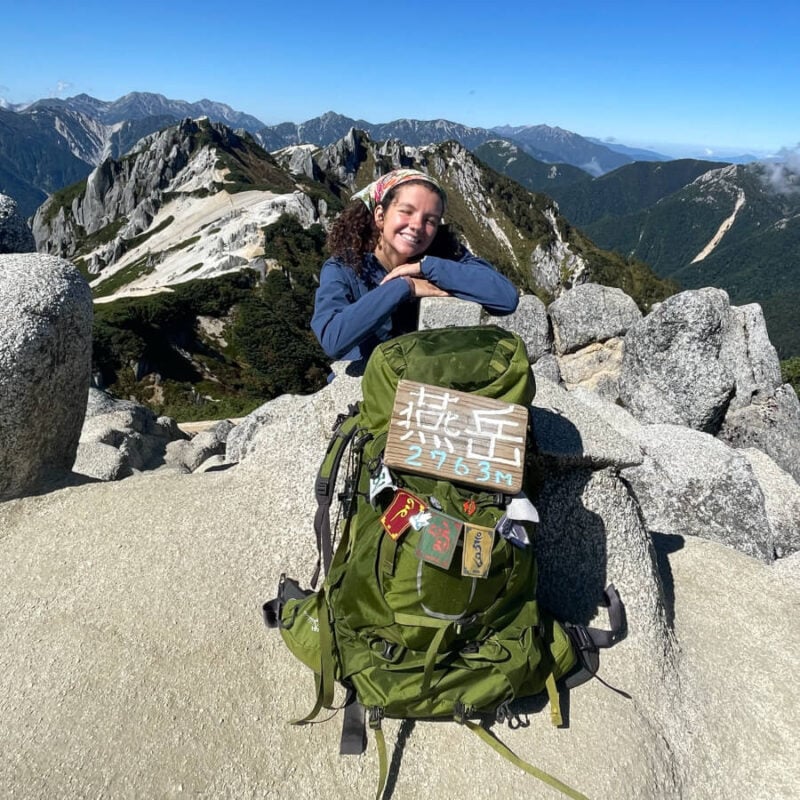 FAQs About Edinburgh vs Glasgow
Final Thoughts
Scotland's unparalleled history and majestic landscape make it an ideal destination for travelers seeking a truly unique experience. From the captivating cityscapes to its picturesque countryside, Scotland is certain to leave you speechless with its natural beauty.
The magic of Edinburgh's cobblestone alleyways will leave you spellbound, while Glasgow's lively nightlife will have you coming back for more. Whether you're looking to explore the past or experience Scotland's vibrant culture, these two cities are guaranteed to exceed all expectations.
I know it's hard to decide, and there is a reason Edinburgh draws in so many visitors each year and it's easy to go on the trodden path but I've gotta say, Glasgow puts up a good fight in the match of Edinburgh vs. Glasgow. We may never know the real winner, so why not experience both cities for yourself and decide for yourself?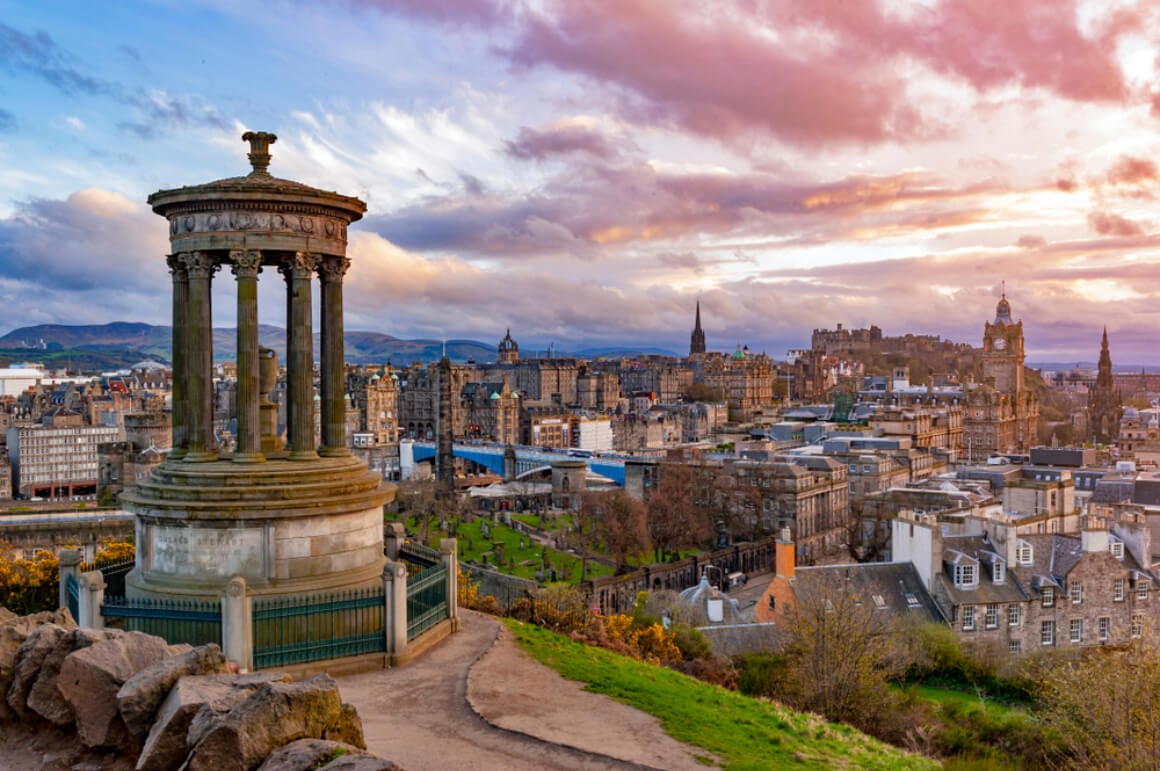 ALWAYS sort out your backpacker insurance before your trip. There's plenty to choose from in that department, but a good place to start is Safety Wing.
They offer month-to-month payments, no lock-in contracts, and require absolutely no itineraries: that's the exact kind of insurance long-term travellers and digital nomads need.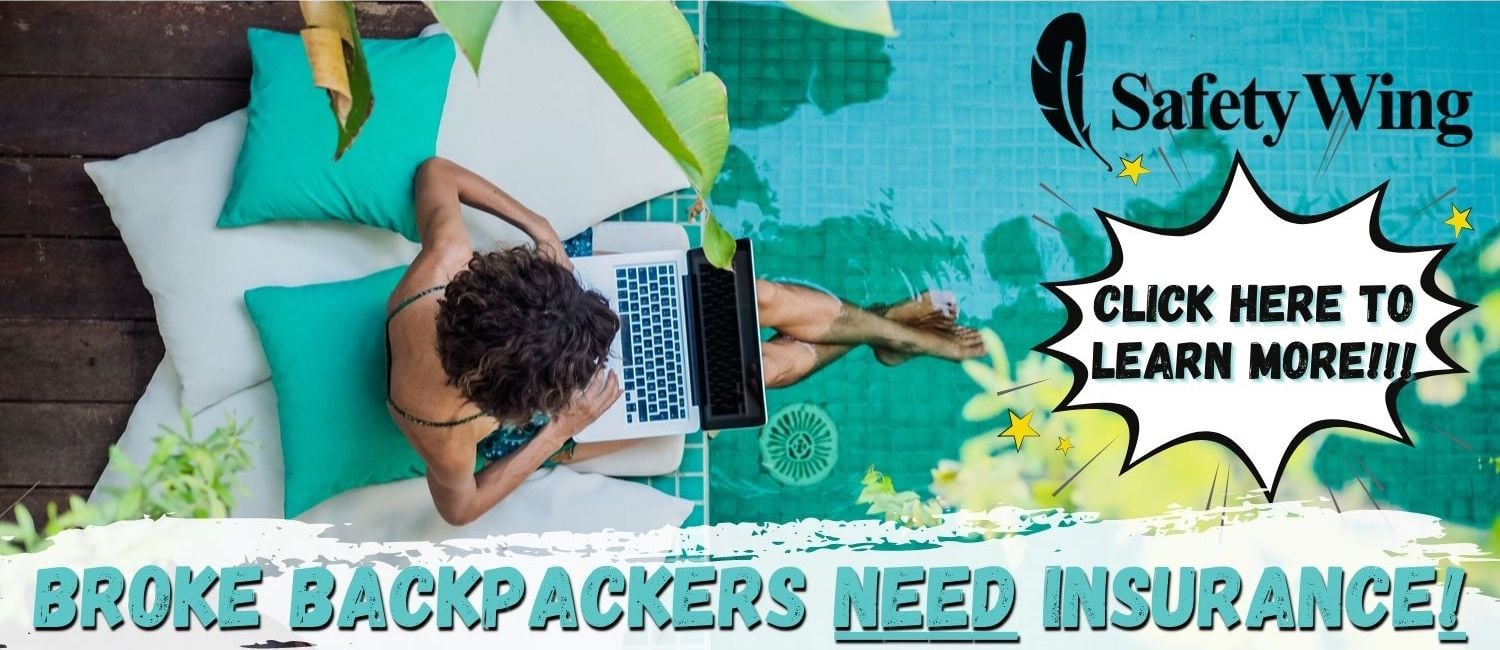 SafetyWing is cheap, easy, and admin-free: just sign up lickety-split so you can get back to it!
Click the button below to learn more about SafetyWing's setup or read our insider review for the full tasty scoop.
---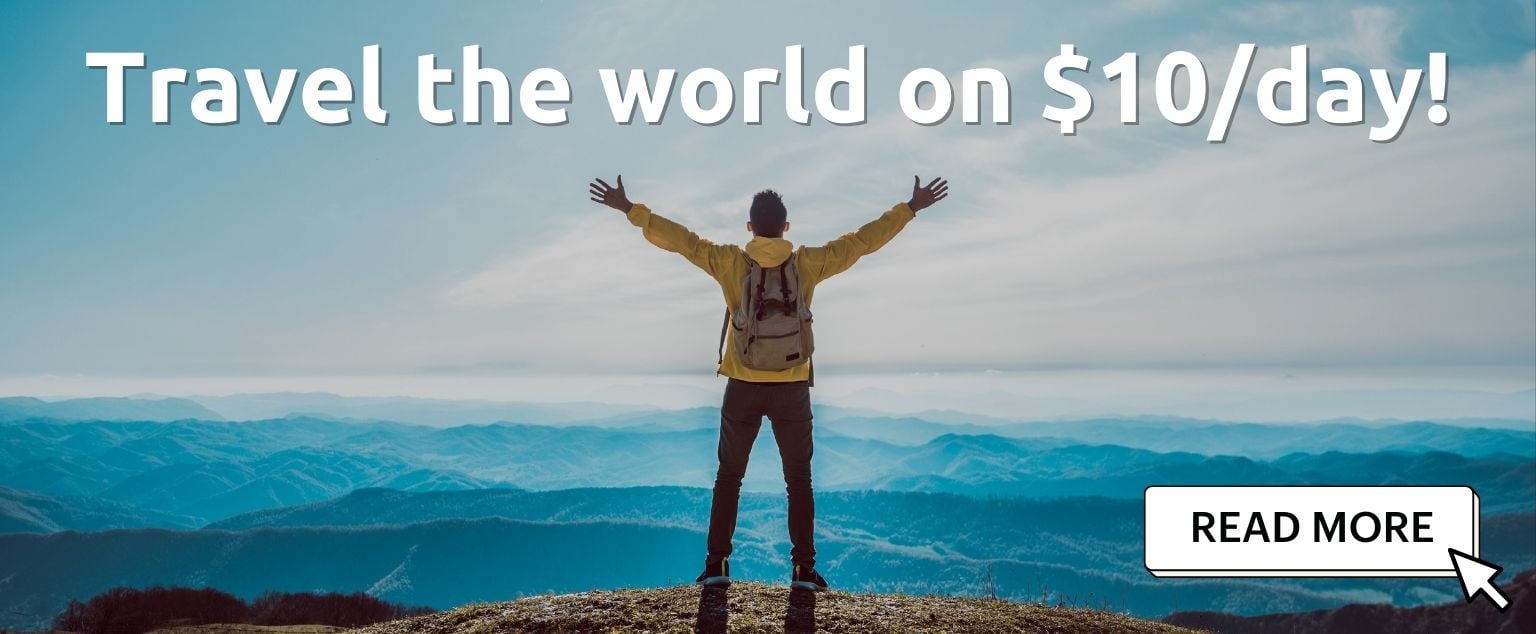 And for transparency's sake, please know that some of the links in our content are affiliate links. That means that if you book your accommodation, buy your gear, or sort your insurance through our link, we earn a small commission (at no extra cost to you). That said, we only link to the gear we trust and never recommend services we don't believe are up to scratch. Again, thank you!