One of the prettiest cities not only in the UK but the whole of Europe, Edinburgh is a delight to explore. Whether you want the charms and ghost tours of the Old Town, the excellent shopping of Princes Street, or to climb the extinct volcano pretty much in the centre – Arthur's Seat – this city has got it all. Visiting in August for the biggest arts festival in the world? It may sound crazy but now is the time to start looking for a place to stay!
The Scottish capital has hotels and hostels galore, but you might fancy saying somewhere with that little more personality and character. How about checking out Edinburgh Airbnbs? There certainly are some cool and quirky options. Fancy a Harry Potter-themed apartment? A place that'll make you feel like Scottish Royalty? Or simply a no-frills room at a bargain-basement price? Rentals in Edinburgh really do capture the imagination.
We've put together a list of the 15 best Airbnbs in Edinburgh to help you plan and make the most of your trip. So, let's take a closer look at your accommodation options in the Scottish capital!
In a Hurry? Here's Where to Stay in Edinburgh for One Night
Is this amazing Edinburgh Airbnb booked for your dates? We've got your back with our other favorite properties below!
Quick Answer: These are the Top 5 Airbnbs in Edinburgh
Overall Best Value Airbnb in Edinburgh

Overall Best Value Airbnb in Edinburgh

Quiet Royal Mile Apartment

>

$$

>

4 Guests

>

Awesome location

>

Wall mounted TV

>

$$

>

4 Guests

>

Awesome location

>

Wall mounted TV

VIEW ON AIRBNB

Best Homestay in Edinburgh

Best Homestay in Edinburgh

Quirky wee Arthur's Seat apartment

>

$

>

3 Guests

>

Breakfast Included

>

Your own living room!

>

$

>

3 Guests

>

Breakfast Included

>

Your own living room!

VIEW ON AIRBNB

Best Airbnb for Couples in Edinburgh

Best Airbnb for Couples in Edinburgh

Old Town Historic Building Apt

>

$$

>

2 Guests

>

King Bed

>

Fully equipped kitchen

>

$$

>

2 Guests

>

King Bed

>

Fully equipped kitchen

VIEW ON AIRBNB

Best Airbnb for Families in Edinburgh

Best Airbnb for Families in Edinburgh

Magical Harry Potter inspired flat

>

$$

>

4 Guests

>

Awesome location

>

Secret Cupboard!

>

$$

>

4 Guests

>

Awesome location

>

Secret Cupboard!

VIEW ON AIRBNB

Best Luxury Airbnb in Edinburgh

Best Luxury Airbnb in Edinburgh

Majestic Georgian City Centre Flat

>

$$$$$$$

>

9 Guests

>

Super King Beds

>

High Ceilings and Chandeliers

>

$$$$$$$

>

9 Guests

>

Super King Beds

>

High Ceilings and Chandeliers

VIEW ON AIRBNB
Why Stay in an Airbnb?
Local Experience
Airbnb gives travellers the unique opportunity to live "like a local." If you decide to book a shared home with your host, you get to look inside a local's daily life, learn about their culture and you might even be able to taste some traditional home-cooked meals.
There are few other ways short-term travellers can get into the homes and lives of locals, so this is a great way to create new connections. As an added bonus, you'll contribute to the local economy and build relationships.
Reach out to your host with questions about things to do or where to eat and they will be happy to help out and give you the best spots and tips. Don't be shy, Airbnb hosts are known for their caring and open hospitality.
And who knows? Next time you might be staying as a friend and not as a paying guest! (No promises though.)
Affordability
Airbnb has a huge selection of over 6 million unique properties for ANY budget, from single rooms or entire houses to yachts and even castles. This platform is made for travellers, so you will find yourself looking at decent and, especially, affordable places! In addition to this, most Airbnb hosts also provide household amenities like linens and towels.
If you choose, you can get a place with dining table and kitchen, so besides saving money on the accommodation itself, you can also save money by cooking at home and eating in, rather than having to spend a lot at the nearest restaurant. Whether it's a luxurious mansion or kitchenette in even the tiniest of spaces, rentals usually have plates, mugs, glasses, bowls, cutlery, and coffee makers and microwaves.
Some hosts provide emergency toiletries like body wash, toothpaste and an unopened toothbrush that can sometimes be a lifesaver for a forgetful traveller.
Safety
Worried about safety? Airbnb wants every guest to be safe and secure. They require hosts to have a keyed door lock and an interior deadbolt or chain. The privacy inside the rental depends on what kind of place you are looking for but you can always find details in the booking description.
Remember that you are living in someone's home – they want to keep it safe, too. Some properties even have CCTV and a doorman so you don't have to worry about any undesired visits.
Airbnb also has a 24/7 emergency line with someone ready to assist you in case of any problem. They're even able to provide a driver, book you a hotel or send a doctor in a medical emergency.
The Top 15 Airbnbs in Edinburgh
$$
4 Guests
Awesome location
Wall mounted TV
Let's kick off with an apartment that's right in the thick of the action near to all the Edinburgh places to visit. There's nowhere better to stay in Edinburgh that the Royal Mile if you want to delve into the city's grisly history, sample some of the top places to eat and drink, and pick up some awesome souvenirs! This colourful apartment puts all that right on your doorstep.
Don't expect to spend all of your time out the flat though – this place is pretty nice! There's an LED mounted wall TV and iPod compatible music docks if you fancy a night in. And Edinburgh can be pretty expensive, so the fully equipped kitchen will save you from splashing out on restaurants if you're on a budget!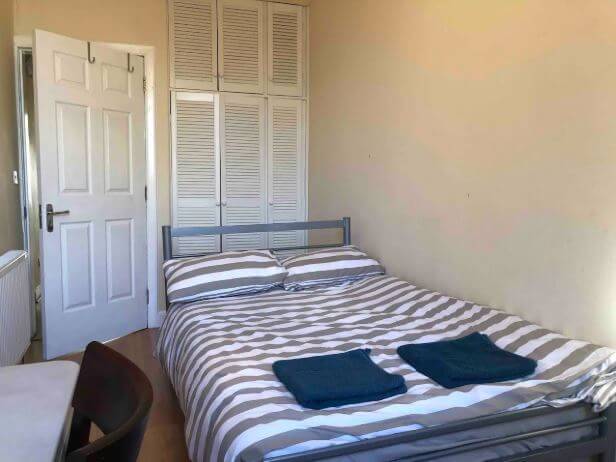 $
2 Guests
Laptop friendly workspace
Flexible check-in/out times
There are very few downsides to Edinburgh, but the one thing you can't deny is it's quite expensive! Hopefully, that won't put you off visiting because we've found the perfect Edinburgh apartment for you! And just because it's cheap doesn't mean you have to compromise on location or quality. This private room is part of a home where you're welcome to share the kitchen and you'll have your own bathroom too. There's even shower gel and shampoo provided! A desk is a bonus for any digital nomads on a shoestring.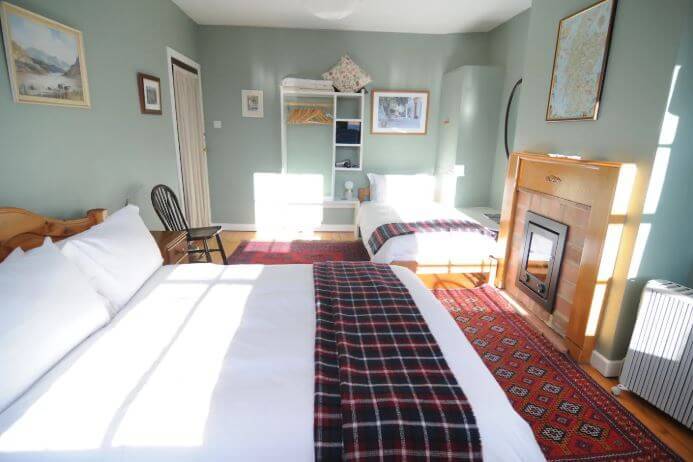 $
3 Guests
Incredible Location
Power Shower
Digital nomads are quick to pick out certain things in travel listings, and seeing unlimited use of fast free fibre-optic Wi-Fi will have them scrambling to book this place. Look further into this listing and you'll see that the hosts have thought of everything you could need to work in this home away from home.
There is even a range of travel adaptors from the US, Europe, and Australia! You've got a power shower and underfloor heating, which is a lifesaver if you're travelling to Scotland in winter!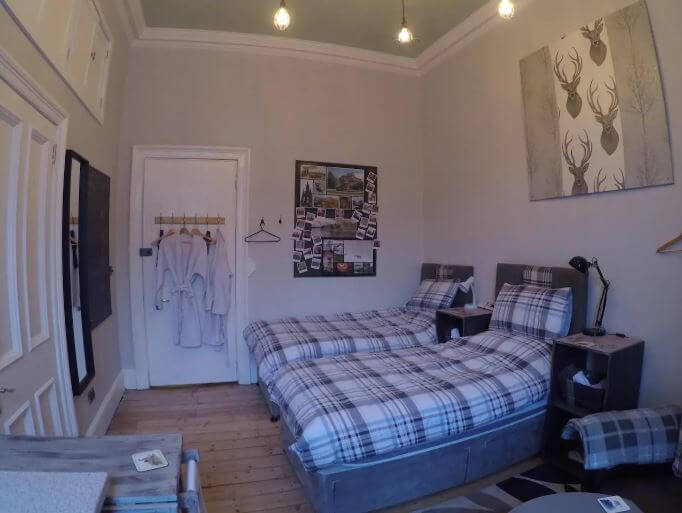 $
2 Guests
Private en suite bathroom
Lounge with lots of books
If you're travelling solo, it could be a good idea to consider an Edinburgh homestay. It might give you a bit more space than the average city flat, and local experience is invaluable for finding your way around. Also, when you fancy a chat and a bit of company, just seek out your host. All of that is available here – there even happy to borrow books and chill in their living room.
What's the catch, then? It's miles away? No, actually, this home is in one of the best spots in Edinburgh – right in the Old Town! And you've got your own private bathroom. Need we say anymore…?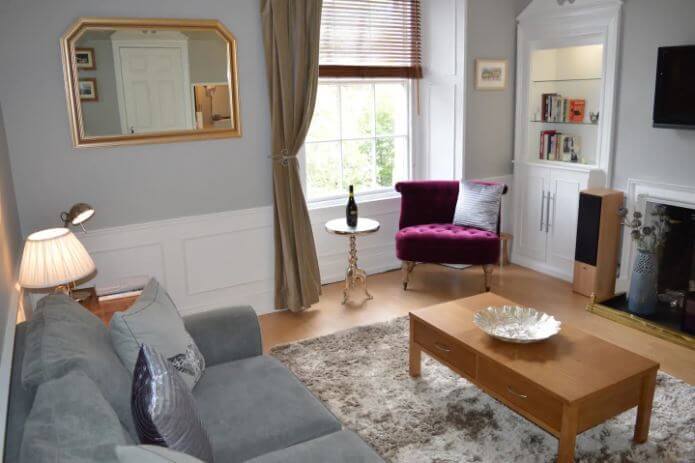 $$
2 Guests
Best location for nightlife
Views of Edinburgh Castle
The Grassmarket area is legendary for its traditional Scottish pubs and bars, so you'll want somewhere within walking (or carrying) distance after some whiskies! This isn't just a pad to crash though – it's got an indoor fireplace, comfortable sofas, and views of Edinburgh Castle! Perhaps this best thing about staying here is waking up the morning after. head to one of the many cafes on hand.
You'll sort that hangover right out with a strong coffee and a full Scottish breakfast. Don't miss out on Lorne sausage!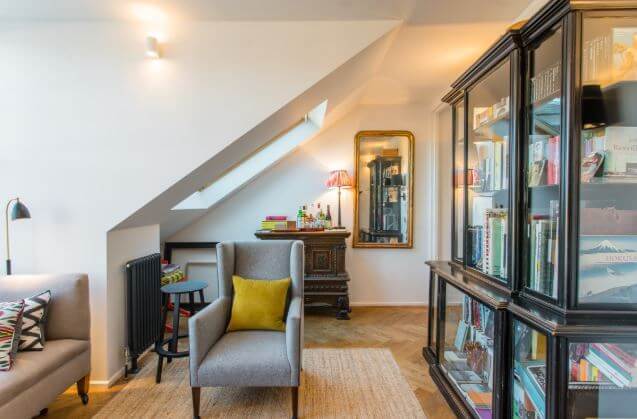 $$
2 Guests
King Bed
Fully equipped kitchen
Travelling with your other half? Show them how special and important they are with this incredible Edinburgh Airbnb. A plus listing (so you know it's good), it's decorated with a mix of antique and modern furnishings in an open plan living area. Light flows in through that skylight, which will shed light on your preparing a romantic dinner for two in the fully equipped kitchen.
You can both starfish in the huge double bed – although it's probably not quite big enough for you to get away from your partner's snoring!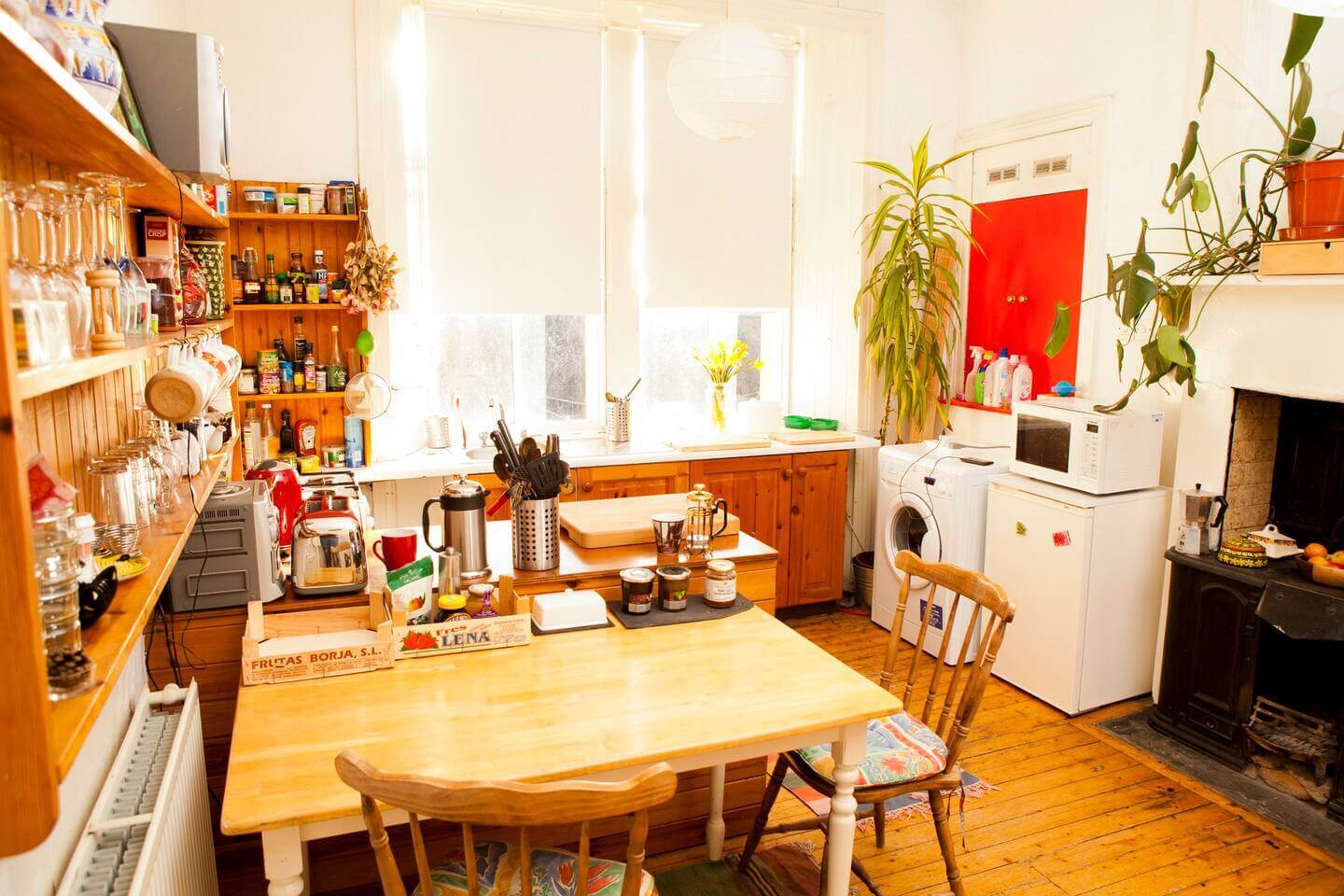 $
3 Guests
Breakfast Included
Your own living room!
If you're reading this and wondering why on earth wee is in the title… it's Scottish for small. However, this place isn't that small as you pretty much have your own living room in this apartment! Two sofas and a TV make this Edinburgh homestay a real reminder of your home! Even better, you get a complimentary breakfast from your friendly host – something you won't find on too many listings in town!
This characterful flat is the perfect place to spend a few days resting and recharging – great if you've been travelling long term!
$
2 Guests
Fully equipped kitchen
Basic amenities provided
There are so many great homestays in Edinburgh that we couldn't just show you one. You might not get your own living room in this one, but you do get a lovely minimalist bedroom with plenty of plants! And it's another one that offers you a complimentary breakfast – the self-service option is available in your host's hallway dining space. This is a great place to stay if you want a local experience on a budget in the city centre.
$$$$
2 Guests
Near Iconic Landmarks
Quirky and Historic
It's not hard to find a luxury Airbnb in Edinburgh, but it was hard to select one for our list! In the end, this gorgeous place won as it's got an excellent location, and the quirkiness lends it plenty of character! It's got a traditional Scottish flavour without being kitschy and tacky – just look at the tartan throw, deer's head, and painting of Edinburgh Castle on the wall!
An ideal place to explore the city, it's right in the Old Town. And what a place to come back to at night, where you can relax with a hot bath or chilling with a book in the living room!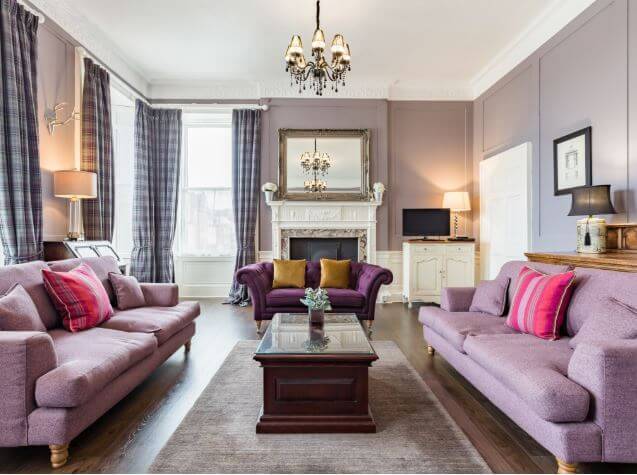 $$$$$$$
9 Guests
Super King Beds
High Ceilings and Chandeliers
Some Edinburgh apartments we can only dream of staying in, and unless you're in a big group, this falls into that category. You can find Georgian architecture throughout the city, which is characterised by high ceilings and spacious rooms. It's full of grand furniture, chandeliers, and places that you can host dinner parties – if that's what you're into! Four super king beds mean that a good night's sleep is guaranteed in this awesome short term rental in Edinburgh.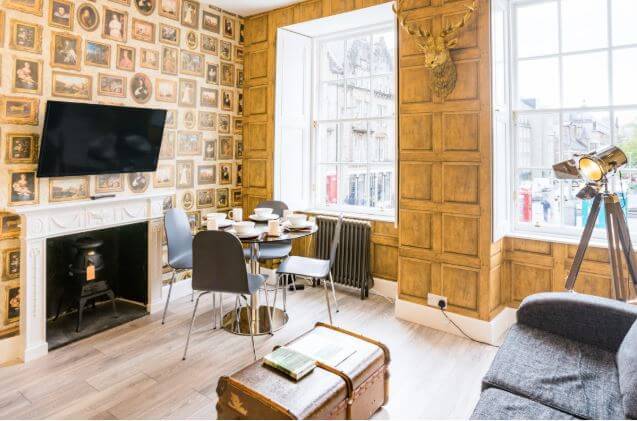 $$
4 Guests
Awesome location
Secret Cupboard!
Fancy a little bit of magic on your trip? Slytherin to this spellbinding Edinburgh apartment, based on the boy wizard himself – Harry Potter. It's Diagon Alley, one of the best places to stay in Edinburgh, opposite some of the city's coolest attractions (well, it's close to them at least)! With space for up to four guests, it's a great place to stay as a family. If you have really young ones, they'll have a lot of fun hunting for the secret cupboard! The host hasn't confirmed if they keep broomsticks in there…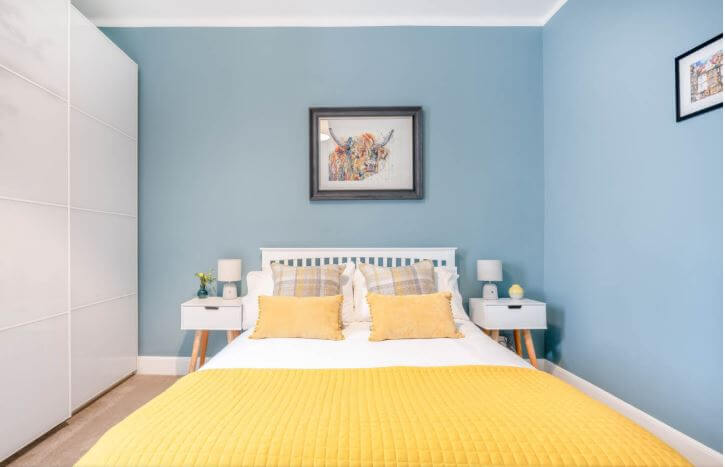 $$
6 Guests
Dining Room
Centuries Old stone walls
Edinburgh's New Town sometimes gets overlooked by guests who want to be close to the Royal Mile and Grassmarket. However, some of the best shopping is around Princes Street and parallel Rose Street, where this apartment is located. In the Georgian building, you've got a fully equipped kitchen and a living room perfect for spending time together. Rather head out? Some great pubs are on your doorstep too. And, if you're splitting this place six ways, it ends up being very affordable!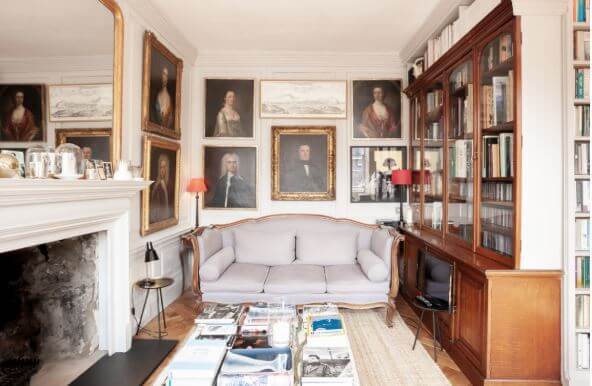 $$$
2 Guests
Fully equipped kitchen
Hundreds of Books
We've already sung the praises of the Royal Mile, but we've got a couple more Edinburgh apartments to show you nearby. Portraits on the walls, an indoor fireplace, antique furnishings and shelves of books will make you feel as though you've stepped back in time. There are mod cons too though – the kitchen is fully equipped and the dining room is perfect for enjoying your creation with your travelling companions!
If you're travelling solo, we challenge you to find a better spot to sit with a book and a glass of wine!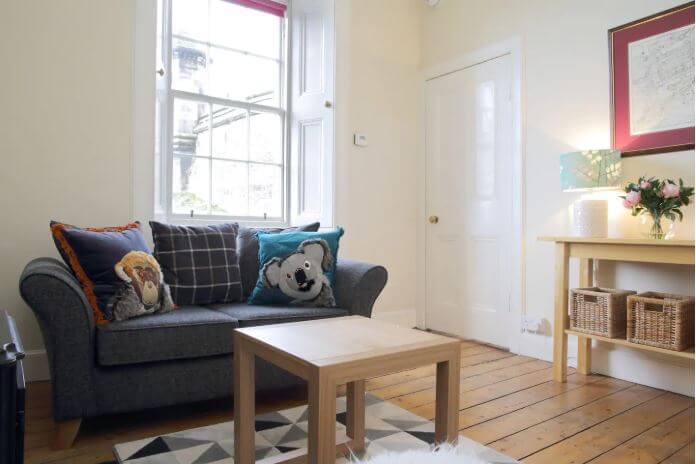 $$
2 Guests
Close to bars
Views of Edinburgh Castle
We promise this is the last Edinburgh apartment we're going to show you near the Royal Mile. No, really! Views of the castle mean that you don't have to brave heading out on a rainy day (they happen quite a lot) and you can stay toasty in this warm and welcoming flat in front of the electric fire! The host says that the only complaint they ever receive is that guests can't get up in the morning – so rest assured you'll get a good night's sleep!
$$
4 Guests
En suite shower rooms
Indoor Fireplace
Looking for an old place in the new town? There's no better Airbnb in Edinburgh that this comfy apartment then! Located on the top floor of a historic building (so no noise from above), this is just a hop, skip, and a jump from Rose Street and Princes Street. The building may be 200 years old, but inside you've got a wall-mounted TV and DVD player, an electric stove, and en suite shower rooms. A fabulous place to round off our article of the best Airbnbs in Edinburgh!
What to Pack for your Edinburgh Airbnb
Our Broke Backpacker editors have put together a shortlist of their Airbnb essentials, which you can find here.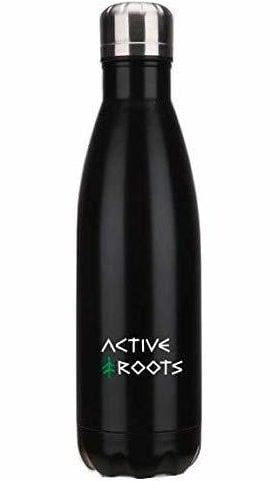 1. Active Roots Water Bottle: Most Airbnbs provide potable (drinkable) water. Have a bottle to fill up so you can take that water on your rambles instead of buying disposable plastic bottles. The Active Roots Water Bottle is great for travellers who are aware of plastic pollution and want to reduce their single-use plastic consumption – no need to buy drinks from the supermarket anymore. The stainless-steel material will keep your drinks cold or hot for up to 24 hours. Stay hydrated throughout your entire holiday with this cool bottle!
2. Bluetooth Speaker: Music always brightens up the mood, which is why a Bluetooth speaker has to be one of the essentials in your suitcase or backpack. Whether you're at the beach, alone at your Airbnb or with friends, having something playing in the background makes the whole experience more comfortable. This waterproof speaker is perfect for any kind of holiday, with a battery that can last up to 15 hours and a sound quality that is more than amazing.
3. Active Roots Toiletry Bag: Many Airbnb hosts will provide basic toiletries, but not everyone is happy to find a simple bar of harsh soap so you'll want to come with some of your own supplies in case. This Active Roots Toiletry Bag keeps all of your bathroom essentials organized, accessible and safe from leaking into your suitcase. The bag stands on its own or hangs off a towel rack. Made from water-resistant and durable material, you can be sure that this bag will survive lots of great holidays.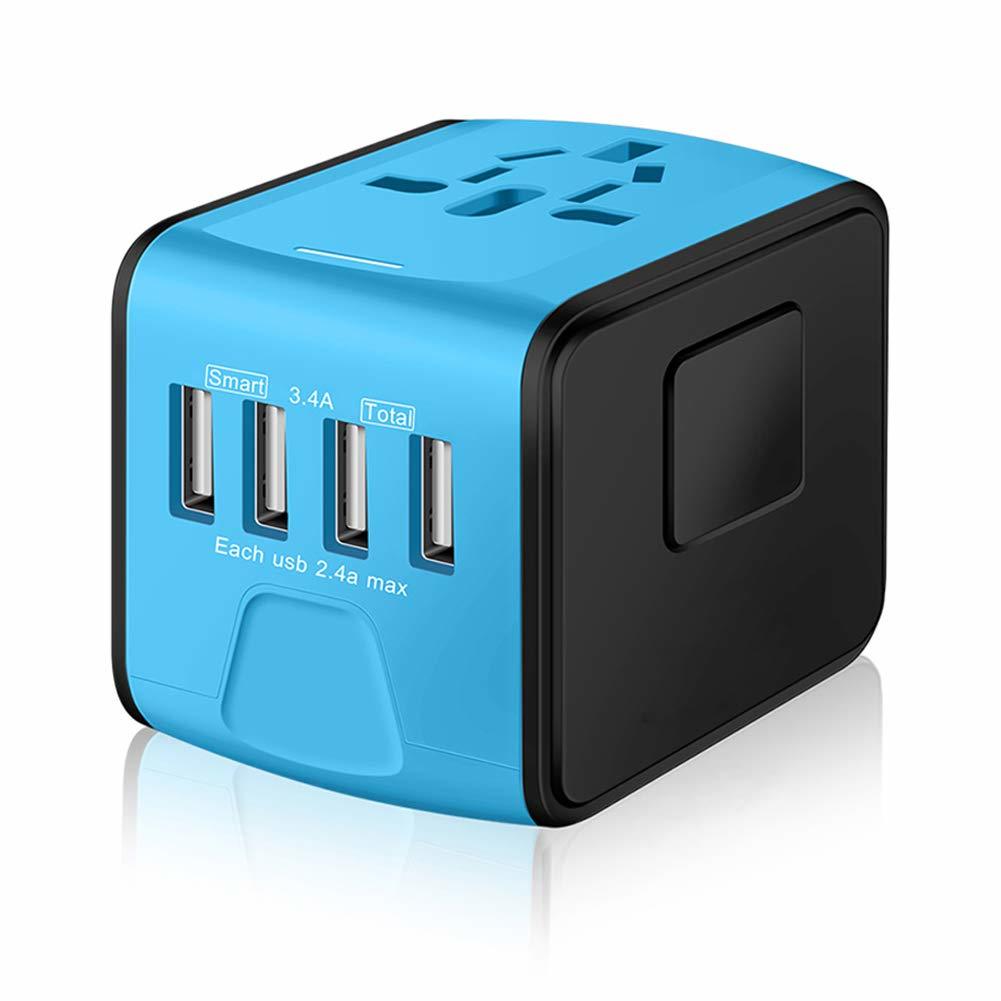 4. Universal Travel Adapter: Nothing is worse than being on holiday, having your phone on 1% and scrambling to find an adapter on the streets. Get a Universal Travel Adapter before you head off. It fits every major type of wall plug. With the 5 USB ports, you can even plug in multiple devices and charge them at the same time – having this little tool can be a total game-changer.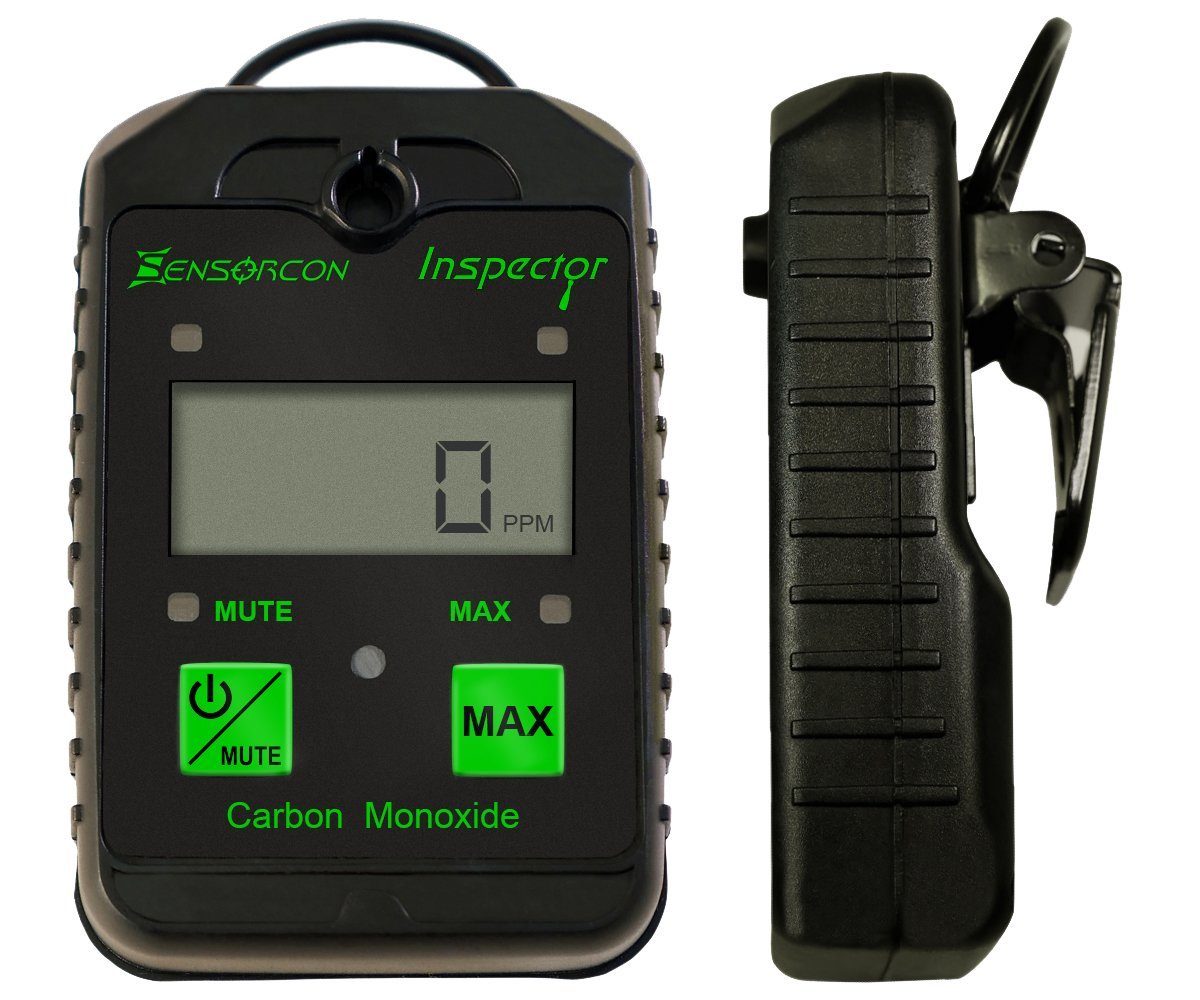 5. Carbon Monoxide Detector: Most U.S. and E.U. homes ill have a CM detector but most countries don't require homes (and by extension, Airbnbs) to have one. By getting this portable CM monitor, you can holiday without a worry. The device will send out a visual and audible alarm if carbon monoxide is above normal levels – before you could be harmed. Waterproof and long-lasting, the tiny machine is a one-time purchase that you won't regret.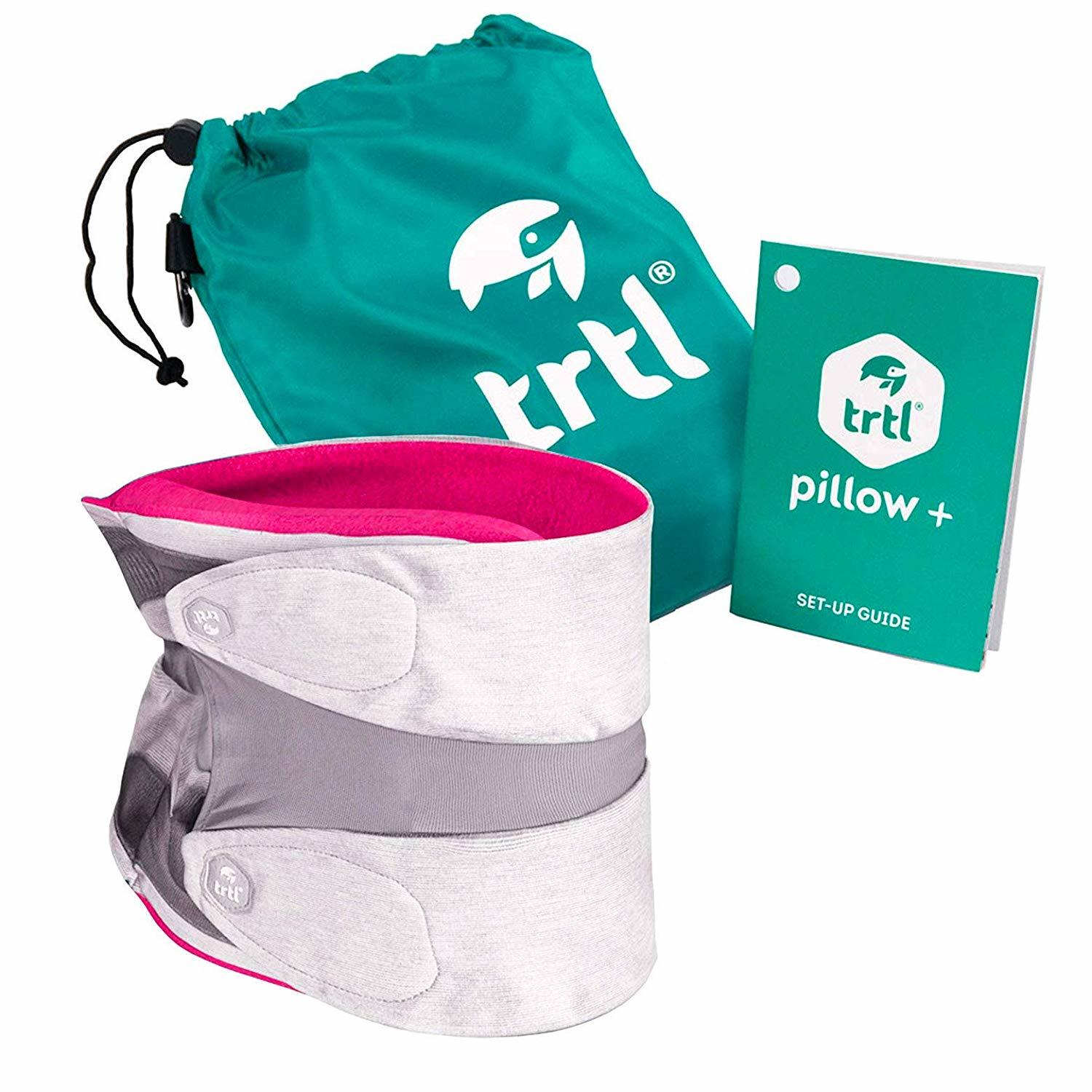 6. TRTL Travel Pillow: I don't have anything to make long-haul flights or bus rides any shorter. But…. The TRTL Travel Pillow will give your neck and head so much support that you'll actually be able to get some proper rest. The ergonomic design, with its adjustable interior support, is absolutely unique and was scientifically engineered to keep you comfy and safe. Including a step-by-step guide and a waterproof bag, you'll never travel without this pillow again.
Check out these other great resources
We have loads more information to help you plan your trip.
Final Thoughts on Edinburgh Airbnbs
So, that concludes our list of the best Airbnbs in Edinburgh. We've taken into account a range of different budgets, accommodation styles, and tastes. So, we're pretty sure that you'll have found the perfect place for you and your party!
Whether it's an awesome apartment where you can gaze at the castle after a few drams of whisky at Grassmarket, a place where you can step out onto the Royal Mile, or a quirky apartment with a local, Edinburgh has got it all.
Feel like we've given you too much choice? Understandable. There are just so many great Airbnbs in Edinburgh! If you're having trouble deciding, keep it simple and go for our favourite Edinburgh apartment – Quiet Royal Mile Apartment. It's got an unbeatable location while offering great value and style!
All that's left now is for us to wish you an incredible holiday in Edinburgh. Have a great trip!
And don't forget to sort your travel insurance before heading to Edinburgh! We've put together a roundup of the best travel insurance for backpackers – check it out here, or if you're low on time, get a quote from World Nomads, our favorite travel insurance provider.
Getting an estimate from World Nomads is simple – just click the button or image below, fill out the necessary info, and you're on your way!

---
Need More Inspiration?
Like this post? PIN ME!!!