Every seasoned backpacker has had that moment of complete horror when they arrive at their hastily booked hostel to find a rickety bed, dirty bathroom and less than friendly bunkmates. Whether they posted years old photos from when the place was first built, or faked the description, there's nothing worse than that initial disappointment when you realise you've been hostel-cat-fished.
We've all been there. Fortunately, the Internet was built for this! Avoid the uncertainty by reading backpacker reviews. We have scoured HostelWorld to find backpackers' favorite hostels all over the world.
From the streets of London to the heart of Myanmar, these are the most reviewed and highly rated hostels that backpackers love!
Quick Answer: The Top Hostels on Hostelworld
Top Hostel in Paris
Top Hostel in Paris
Les Piaules
> Located in a renovated art deco building
> In a friendly, funky neighborhood
Top Hostel in Colombia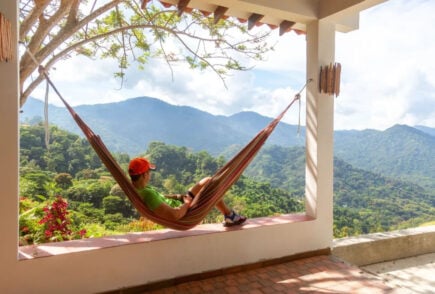 Top Hostel in Colombia
Mundo Nuevo Eco Lodge
> Set in the bio-diverse Sierra Nevada
> A farm hostel surrounded by the wonders of nature
Top Hostel in Singapore
Top Hostel in Singapore
Campbell Inn
> Close to public transport
> Located in Little India
Top Hostel in Costa Rica
Top Hostel in Costa Rica
Relax Hostel
> Great location
> Friendly, very helpful staff
Top Hostel in Fiji
Top Hostel in Fiji
Tropic of Capricorn
> Beachfront
> Airport transfers included
Why Book with HostelWorld?
When it's time to book accommodation for your holiday, HostelWorld offers lots of extras to ensure that you feel safe and comfortable with your booking. At HostelWorld, they've created extras to ensure your comfort and security at every stage. In fact, when looking at holiday accommodation stats, hostels are still at the top. And Hostelworld is the leading platform to book the next stay.
Their properties have reviews to help you choose the right accommodation for you as well as friendly, helpful customer service in case you need help. They have a 100% booking guarantee, so if there are any problems with your booking, you can get a refund and a $50 towards your next booking – AMAZING.
If you're concerned about booking now, then take a look at the cancellation policy. It will allow you to cancel your booking up to 24 hours ahead of your arrival date! (As long as the hotel doesn't say otherwise in their house rules). This will allow you to avoid a no-show or cancellation charge.
This is all part of a quality assurance guarantee. And they offer group bookings, because sometimes the best holidays are the ones you spend with the people you love the most!
Top 25 Properties on HostelWorld
If you're ready to take the leap but don't know where to go, check out the top properties on HostelWorld located all over the globe!
Close to the central train station
Quiet and chill
This is a relaxed kind of hostel that would suit travelers looking for a sanctuary away from the noise and busyness of central Rome. It's not a party hostel, but it does offer lots of chances for guests to socialize as well as rooms of varying sizes, from dorms to private rooms with shared or private bathrooms. The hostel also has a bagel business so that you can start out your day with a delicious bagel.
Relax in the hostel's courtyard garden, the lounge, or cook up a delicious meal in the communal kitchen. Basically, this hostel in Rome has everything you'll need for chilling during your vacation.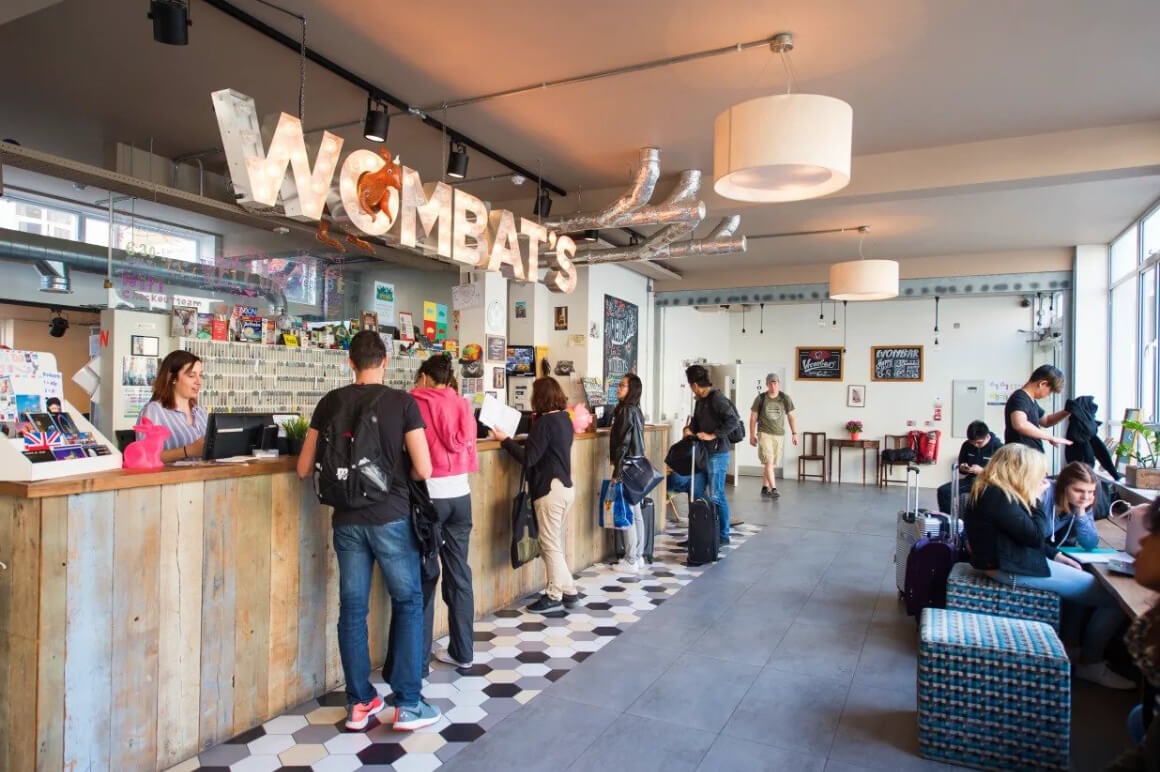 Close to attractions like the Tower Bridge
Created by one of the most experienced hostel chains in the world
Wombat's The City Hostel is perfect for young travelers who want to socialize and have a good time in a London hostel. It's very centrally located, just a few minutes away from the nightlife of Shoreditch and the Tower of London. There is also a bar, a courtyard, and a hangout area in the lobby to encourage you to get to know your fellow travelers.
The rooms are clean and safe, and there are dorm rooms with ensuite bathrooms as well as private twin or queen rooms with private bathrooms available. You can use the fully equipped guest kitchen with a free food section, and individual lockers to keep all your valuables safe during your stay.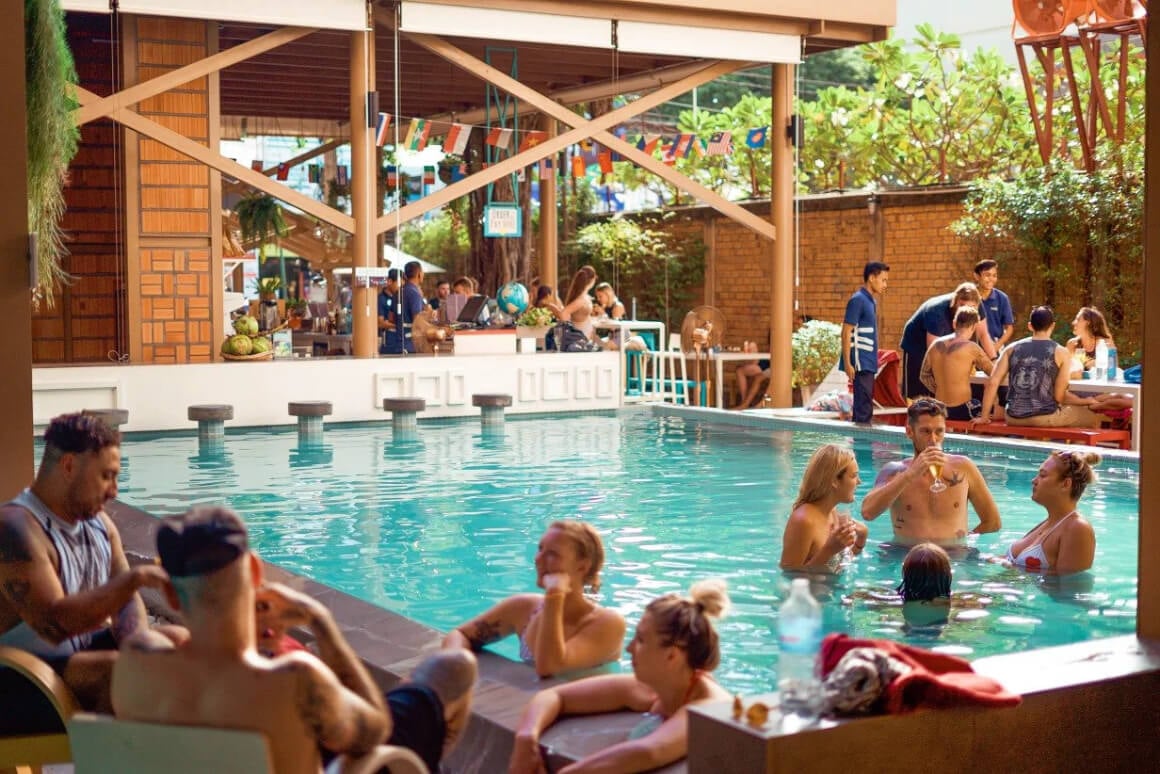 Includes a co-working space for digital nomads
Has a pool with swim-up pool bar
This hostel in Siem Reap is the largest and the most modern of all! It's centrally located just a few minutes from Pub Street and offers Khmer-inspired design and lots of facilities for young travelers and those who want to have a good time. It's also great for digital nomads as there is a co-working space, as well as a 24-hour reception and security.
The hostel has its own restaurant with an all-day breakfast and a games area including a Pacman arcade game. Take part in a range of group activities like tours to popular tourist spots and out into the countryside. With dorm rooms, king or twin rooms and even connecting rooms for families, this hostel would suit almost any size travel group.
Top Hostel in South Africa, Cape Town – 91 Loop
Free breakfast
Has its own bar
If you're traveling to Cape Town you need a comfortable spot to rest after a long day of exploring. This hostel has easy access to public transport! It's just moments from the train station as well as several popular tourist spots and there's a bus stop just outside the front door.
The hostel is clean, modern, and safe, and offers a bar where you can relax with a drink. You can enjoy a free breakfast every morning and free city walking tours, along with lots of activities in the hostel itself. For a social hostel in Cape Town, this is a great place to stay!
Top Hostel in Amsterdam – The Bulldog
Amazing location in the city center
Fun and lively, but not a party hostel
This Amsterdam hostel is fun and lively. However they don't accept parties sporting groups, or stag dos, so it strikes the perfect balance between noise and excitement, and peaceful nights for sleep. It's one of the best-known hostels in Amsterdam, right in the center of the city and close to attractions like the red-light district and Dam Square.
The hostel has its own bar where you can meet fellow travelers, listen to music, and play pool. There is even a roof terrace for a quiet drink with beautiful views. The dorm rooms and private rooms have their own bathrooms, so you can travel in the way that suits you best.
Top Hostel in Berlin – PLUS Berlin
Great value for money
Has a swimming pool, garden, and sauna
This cool new Berlin hostel is in one of the trendiest parts of town, between great nightlife areas, shopping districts, and art buildings. If you want to take public transport during your time in the city, you'll be pleased to hear that the hostel is surrounded by tram and train stops.
Spotlessly clean and comfortable, almost more like a hotel than a hostel, it has its own swimming pool, sauna, and garden so you can relax.
The hostel offers private rooms as well as two, four, and six-bed dorms with ensuites. The neo-gothic architecture of the building is impressive and has earned its spot on the Berlin Monument list, only adding to the amazing experience you will have.
The Top Hostel in Australia, Byron Bay – The Surf House
Located in beautiful Byron Bay
Just moments from the beach
Just 100 meters from the main beach, this great hostel in Byron Bay is perfect for any traveler who enjoys a beachy, friendly atmosphere. It has a rooftop bar so you can enjoy the stunning weather and ice-cold beers.
Stay in a dorm room or in your own private space with its own ensuite. You can relax in the beach-chic décor that reflects the beachy surroundings. The hostel is close to the local food and bar scene, with popular spots like The Bayleaf Café just a short walk away. There's also free parking on-site in case you want to hire a car to explore the area.
Top Hostel in Los Angeles, Santa Monica – HI Los Angeles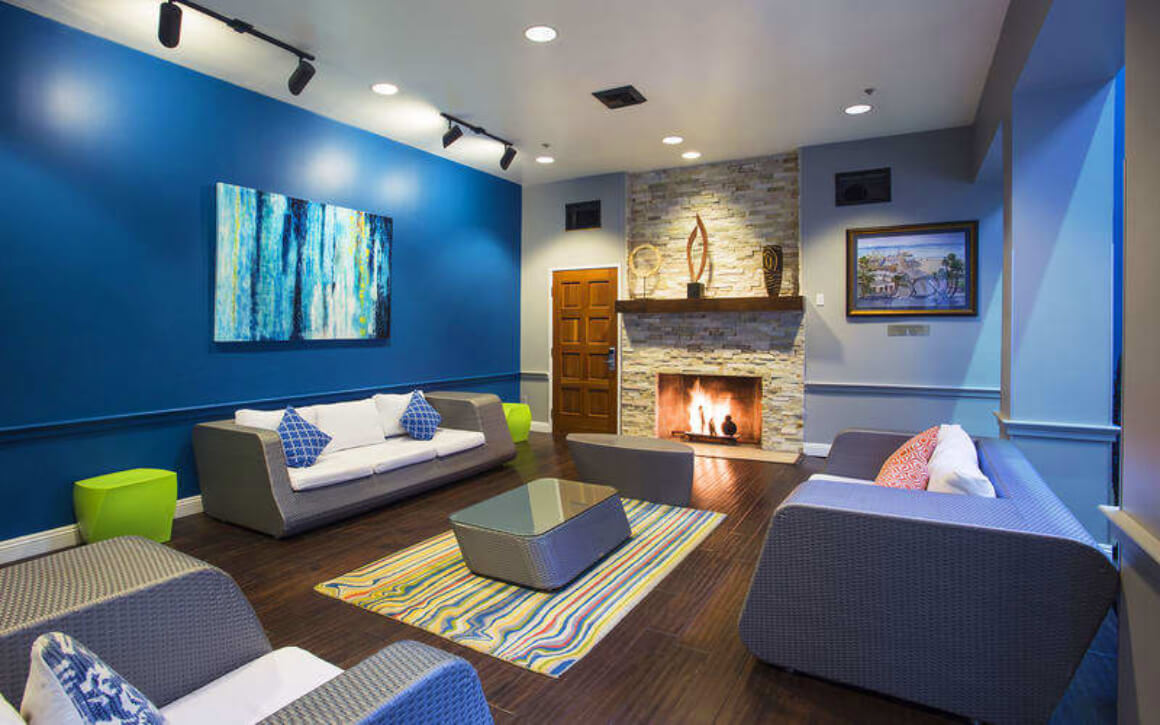 Close to the beach
Lots of activities including bar crawls
Los Angeles is famous for its beach atmosphere and drawing beautiful people from all around the world. This hostel is just a block from the Santa Monica Stands and is surrounded by cafes, bars, and shops. It's perfect if you're looking for the quintessential Los Angeles experience.
This LA hostel has a tour desk where you can book tours and activities to explore the town – including spotting famous homes! There are several indoor and outdoor common areas so you can enjoy the weather and some company. The dorm rooms are modern and spacious, and perfectly comfortable for a short stay.
Top Hostel in Singapore, Little India – Campbell Inn
Close to public transport
Located in Little India
This Singapore hostel is right in the heart of Little India, one of the best areas for shopping and eating. It has simple but modern spaces with a common lounge and personal lockers for your valuables. There's 24-hour security on-site and a front desk where you can book tours during your stay in Singapore.
With dorm rooms that boast air conditioning and a shared bathroom, the hostel is aimed at younger backpackers who are comfortable sharing spaces. There's also a communal kitchen on site for cheap, quick snacks.
Top Hostel in Costa Rica, San Jose – Relax Hostel
Great location
Friendly, very helpful staff
The best thing about this hostel in San Jose is the location! It's close to bus terminals, the downtown, and the bus stop for the airport bus. You can easily explore the town from this spot. It's also surrounded by shops, restaurants, and bars to keep you entertained at all hours.
The hostel has lots of common spaces including a dining room, kitchen, book exchange, and a garden area. It offers comfortable dorm rooms, showers with hot water, and a TV room where you can sit and relax after a long day of activities. And make sure that you don't miss out on the free pancake and fruit breakfast every morning during your stay too!
Close to the center of the city and transportation
Lively neighborhood with lots of shops and restaurants
Located in the center of the capital, this hostel in Budapest is the youngest in the Maverick chain and has a modern design with lots of common areas and a rooftop terrace. It's close to the world-famous Great Market Hall as well as 5 minutes walk from several transport options.
There are shared dorms, and private rooms with ensuite bathrooms, making this a great choice for groups and solo travelers. There's a 24-hour reception in case you need help or guidance during your stay, and just to put your mind at ease, the staff clean the common areas several times a day, and the rooms are cleaned daily.
Top Hostel in Tulum – Lum
Payments in cash only
Socialize in the bar area
This Tulum hostel is close to nightlife, so it's perfect for travelers who want to spend their nights getting to know the locals and other travelers. There's also a bar at the hostel for pre-drinks before heading out for a night on the town. Use the fully equipped kitchen to cook your own meals and snacks after a day of adventures.
You'll find it easy to explore from the hostel thanks to the free bikes! There are only dorm rooms available at the hostel, but the rooms are air-conditioned and there are lockers where you can store your valuables.
Breakfast included
In a trendy neighborhood
This hostel in Santiago, Chile is located in an area that's been declared a historic monument. It has all the history and atmosphere you could want for your stay! It's in one of the trendiest neighborhoods in the city just minutes from local metro stations, shops, bars, and restaurants. You shouldn't have any trouble exploring from this charming and cozy base!
There are a range of different rooms available to suit all different travel groups, making it a great choice if you want to be comfortable and get to know the local culture. The hostel is also dedicated to responsible tourism and is environmentally friendly.
The Top Hostel in the Philippines, Manila – Bahay Kubo Hostel
A luscious tropical island design
A really homey experience
This Manila hostel is located inside a converted heritage house and boasts an amazing tropical island design. It's filled with green plants and conveys a tropical island atmosphere that will encourage you to put your feet up and relax.
The hostel is in a great location, close to shops and transport options, and it also has free parking in case you hire a car. The dormitory accommodation has air conditioning and lockers to keep your valuables safe and there's also a small kitchen on-site that you can use. Everything is clean and will encourage you to stay awhile to get to know your fellow travelers.
Beachfront
Airport transfers included
When you stay in Fiji, you want to be close to the coast to enjoy the beaches and the sunset views. That's exactly what you'll get at this hostel! The 180-degree views over the islands and the marina are simply spectacular. With a beach resort atmosphere and tropical setting, you won't find a better spot in Fiji on a budget.
There is a range of rooms available at the hostel, from dorms to doubles and oceanfront privates. During your stay, you can enjoy hot showers, air conditioning, and a lounge and bar where you can relax with a cocktail in hand. There's also a swimming pool and beach deck at this Fiji hostel, just to make your stay even more comfortable.
Top Hostel in New York, Lexington and 3rd Ave – American Dream Hostel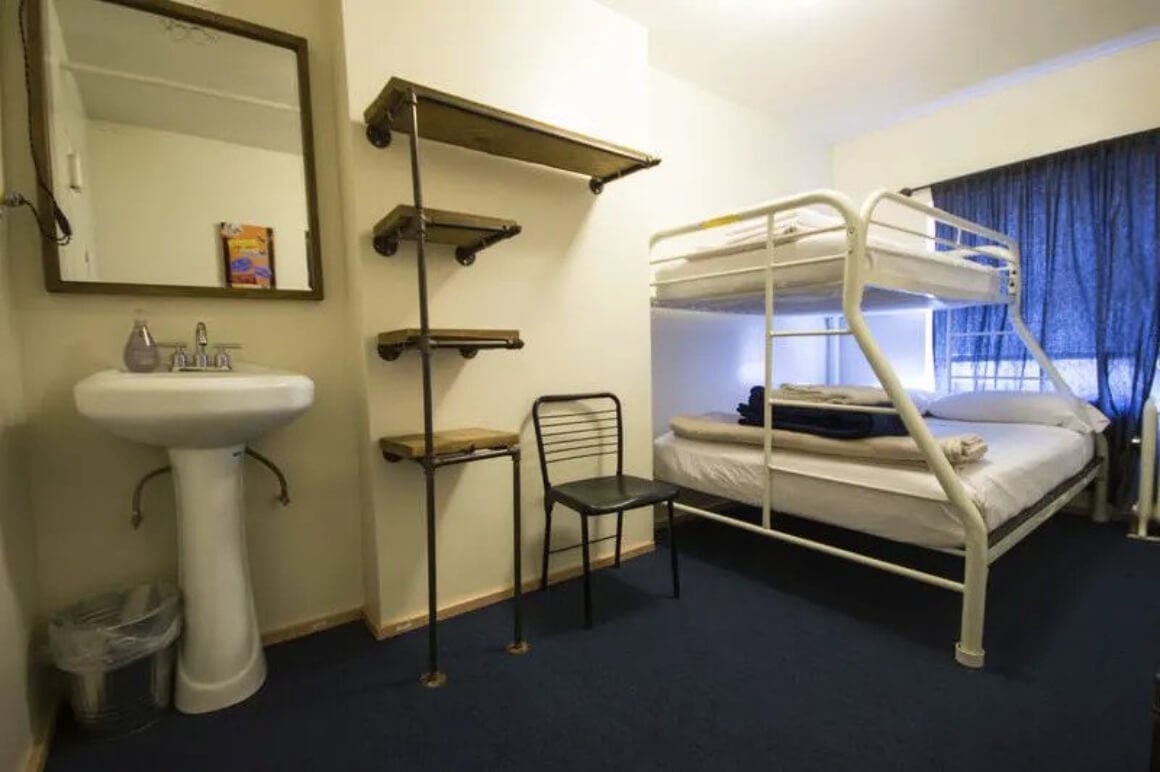 Complimentary breakfast
Family-owned business
If you've ever wanted to stay in New York but don't have the budget, this hostel could be the answer you're looking for. Located in Manhattan's Gramercy Park, it's close to some of the most popular tourist sites in the city as well as bars, restaurants, and transport options.
This NY hostel has been in business for more than 15 years and offers private rooms with bunk beds, heaters, ACs, and a sink. There are shared bathrooms on each floor and the hostel serves a delicious breakfast that includes homemade waffles, coffee, fresh fruit, and cereal.
Free, unlimited Wi-Fi
Located in Melbourne's CBD
If you want to be right in the center of Melbourne, then this hostel is for you. It's surrounded by funky cafes and shops and is just a few minutes' walk from local attractions like Federation Square. Which is why this hostel has won HostelWorld's most popular hostel in Melbourne award several years in a row!
The hostel offers free breakfast and a big common area with a pool table and kitchen. Linens and laundry facilities are included during your stay, and the dorm rooms are comfortable and clean. The beds have individual lights and USB power plugs.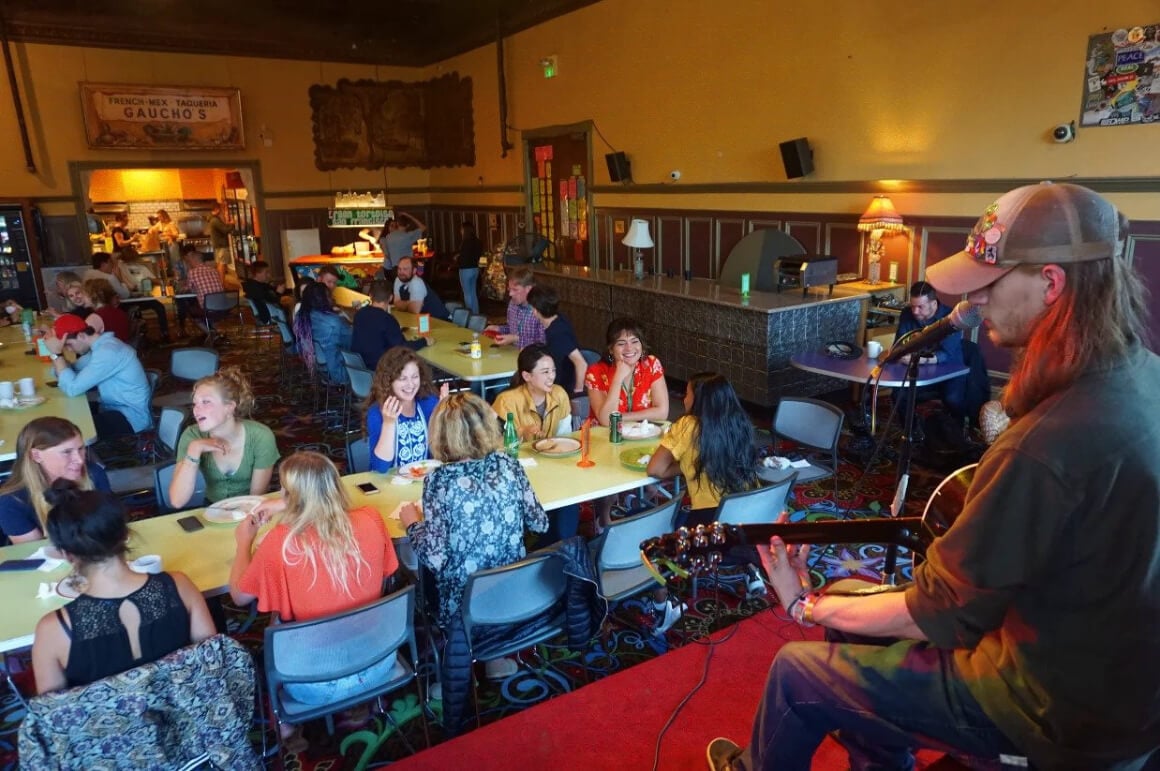 Free breakfast
Family owned
This inclusive hostel is family-owned and is ideal for travelers who want to experience beautiful San Francisco! The hostel has nightly activities like pub crawls as well as a huge common room with everything from musical instruments to a pool table.
Located in North Beach, just a short walk to Chinatown and Little Italy, this San Fran hostel is ideally positioned for travelers who want an active, busy stay in the city. It has dorm rooms and private rooms, and the hostel is so colorful that the best part of your stay in the city will probably be all the time you spend socializing in its bright, welcoming spaces.
Himalaya views
A short walk to local shops and restaurants
This hostel is ideal for anyone who wants to explore Nepal on a budget. It's located in the south end of Lakeside and has stunning views of the mountains, all while being close to local shops.
There are dorm rooms and private rooms available at the hostel, as well as comfortable common spaces and even rooftop hammocks where you can enjoy the outdoors in comfort. This hostel in Nepal offers a free breakfast and is full of life, with barbecues, cooking classes, and other activities popping up all the time. This is the perfect place to stay if you want to relax and find a trekking buddy before you head out to conquer the mountains.
Located in a renovated art deco building
In a friendly, funky neighborhood
This is a Paris hostel for the young with that indefinable vibe that makes people fall in love with the city. It's located in a renovated art deco building and has a rooftop terrace where you can enjoy lovely views over the city. It has a cool bar that offers delicious coffee, local beer, and some Parisian specialties.
The dorm rooms are comfortable and have custom bunk beds, comfortable mattresses, and private lockers for security. If you want to stay less than 10 minutes from the historic center of Paris and all its beautiful attractions, then book a stay at this hostel in the arty Belleville district.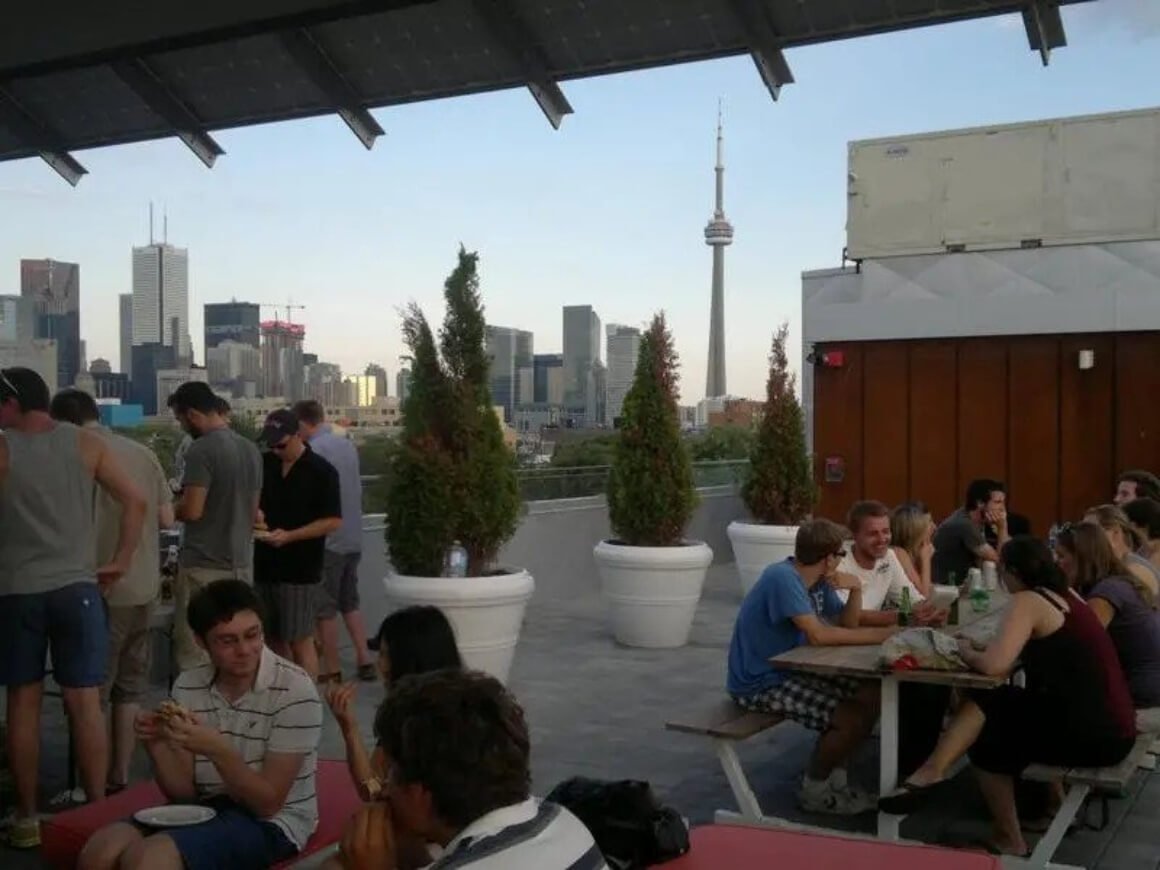 The greenest hostel in Toronto
Located in a turn of the century building
Toronto is known for the friendliness of its people and this hostel brings that home. The staff works really hard to create a friendly, welcoming vibe, offering lots of activities and exciting daily events. Just to make things better, this is a green hostel that incorporates the latest in planet-saving technology like geothermal heating and solar water heating.
The dorm rooms are secure with ensuite bathrooms and locker areas, there's a fully equipped kitchen that you can use during your stay too. The common areas are ideal for stretching out in front of the fireplace, watching movies or sports, and socializing with other travelers. What more could you want from a Toronto hostel?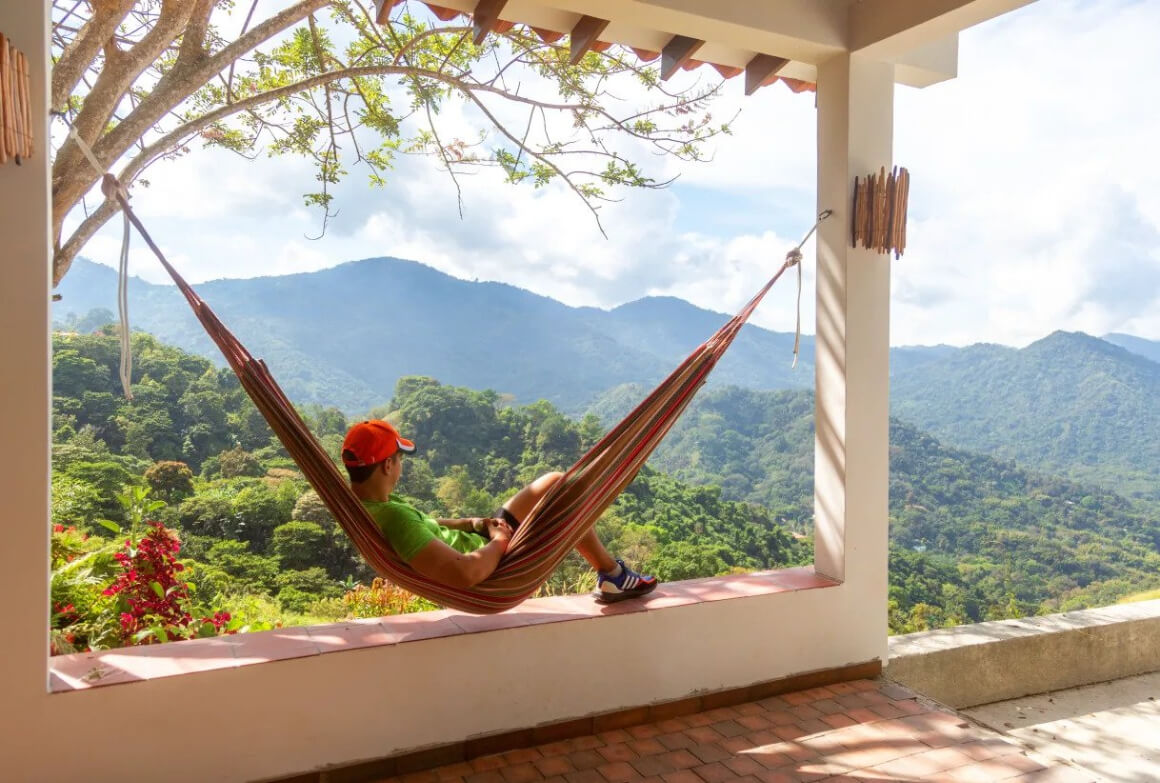 Set in the bio-diverse Sierra Nevada
A farm hostel surrounded by the wonders of nature
This is a farm hostel in Minca – a place where you can stay or work and learn more about organic farming, sustainability, and the indigenous culture. It is surrounded by some of the best natural sights that the world has to offer, with soaring mountain tops and lush forests, perfect for hiking and nature walks.
Set in an old coffee farm, the hostel has been altered enough to make it comfortable without compromising the historic appeal. During your stay, you'll have access to the flower and fruit gardens, as well as lots of chances for hiking and nature spotting. There is a communal space on the property with sofas and hammocks, and private, family, or dorm rooms.
Centrally located
Great onsite bar
If you want to party while you're in Barcelona, then why not do it in this hostel bar? Located close to attractions like Sagrada Familia and one of the most important shopping areas in the city, Paseo de Gracia, this Barcelona hostel is ideally positioned. It even offers walking and night tours so you can enjoy a guided look at the city.
The hostel has comfortable and quiet dorm rooms, laundry facilities and 24-hour security to keep you safe during your stay. It also has a 24-hour reception so you can get help or guidance whenever you need it.
Amazing location within walking distance of everything
Luxury breakfast
Prague is the most amazing city, and this hostel is the perfect match for it! It's within walking distance of the city's best attractions like Prague Castle and Charles Bridge and is close to Little Quarter. This is the most historic and atmospheric part of the city, and chances are that you'll want to spend most of your time in this neighborhood!
The hostel has dorm and private rooms, so it's ideal for groups and couples. The terrace is the ideal place to relax and soak in the city's atmosphere. It also has a great restaurant and bar where you can try local dishes with a drink in hand. Sounds like the perfect hostel in Prague to me!
Top Hostel in Myanmar, Yangon – Wayfarer's Rest
A great budget place to stay
Close to everything
Traveling to Myanmar can be expensive, but you can cut costs by staying at this Yangon hostel. It's located close to local restaurants, shops, and transport, so it's an ideal base for couples and adventure travelers. It's also close to Chinatown, and all its food and entertainment options.
The high-quality facilities and spaces at this hostel will remind you more of a hotel than anything else. The beds are custom made to be comfortable, there is a free breakfast and an outdoor terrace where you can relax and take in the scenery.
Is This the Best Travel Pack EVER???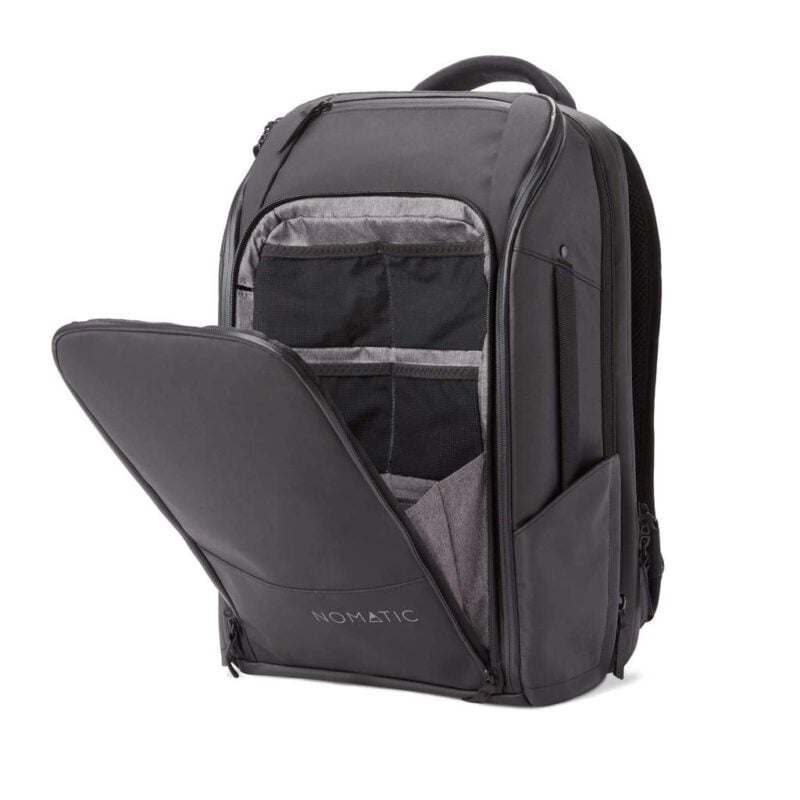 What to Pack for your Hostel
Pants, socks, underwear, soap?! Take it from us, packing for a hostel stay is not always quite as straight forward as it seems. Working out what to bring and what to leave at home is an art we have perfected over many years.
Check out our definitive Hostel Packing list for our top packing tips!
Travel Safety Tips
And don't forget Travel Insurance! We've put together a roundup of Travel Insurance for backpackers – check it out here, or if you're low on time, get a quote from World Nomads, our favorite travel insurance provider.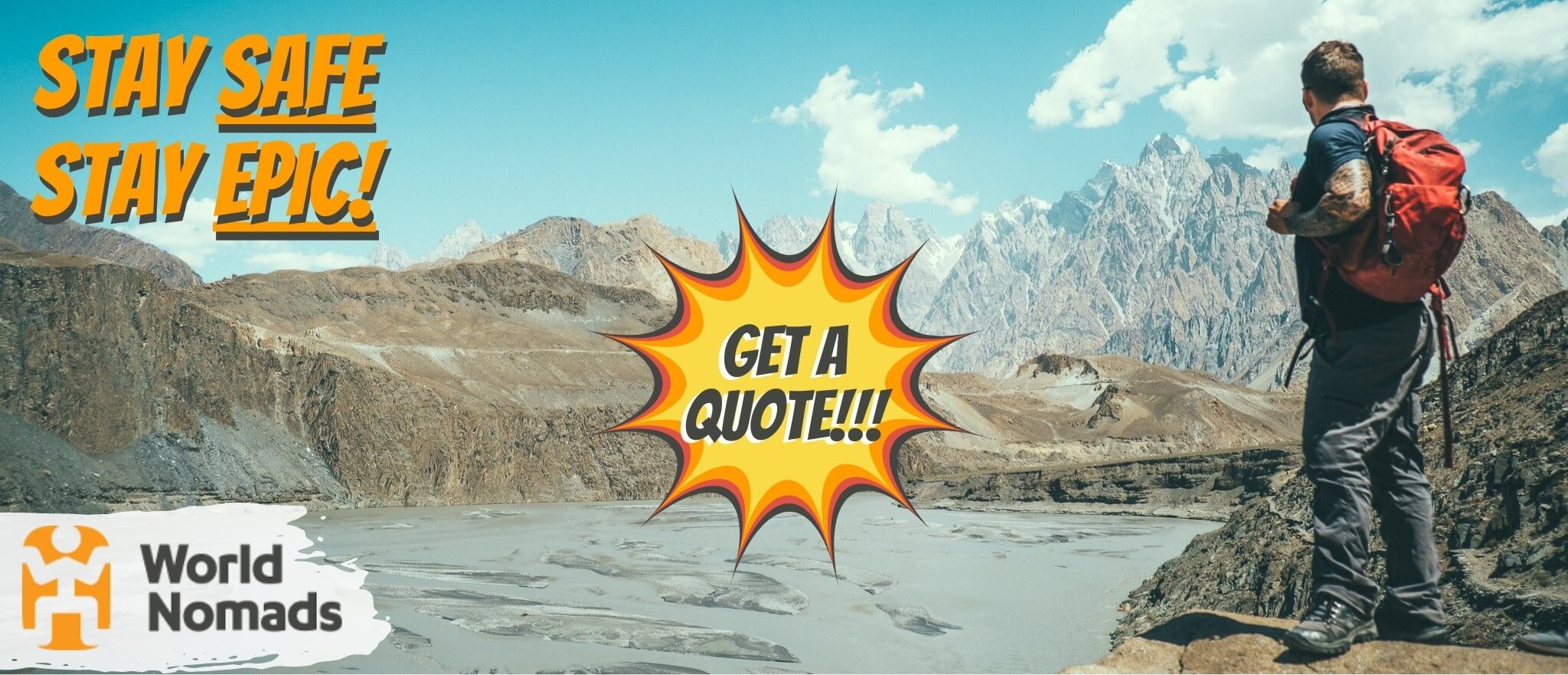 World Nomads' mission is to support and encourage travellers to explore their boundaries. They offer simple & flexible travel insurance, and safety advice to help you travel confidently.
They've been doing it since 2002 – protecting, connecting, and inspiring independent travellers just like you.
Get a quote below or read our in-depth review!
World Nomads provides travel insurance for travelers in over 100 countries. As an affiliate, we receive a fee when you get a quote from World Nomads using this link. We do not represent World Nomads. This is information only and not a recommendation to buy travel insurance.
Final Thoughts
For many travelers, it's past time to get out there and explore the world. And what better way to do it than by staying in one of the top properties on HostelWorld? Choosing one of these hostels eliminates much of the worry about bad accommodation or inconvenient locations. You can just book and look forward to the holiday of your dreams!
Do you own or run a kick ass hostel? Want to be featured in this list? Get in touch at [email protected]
---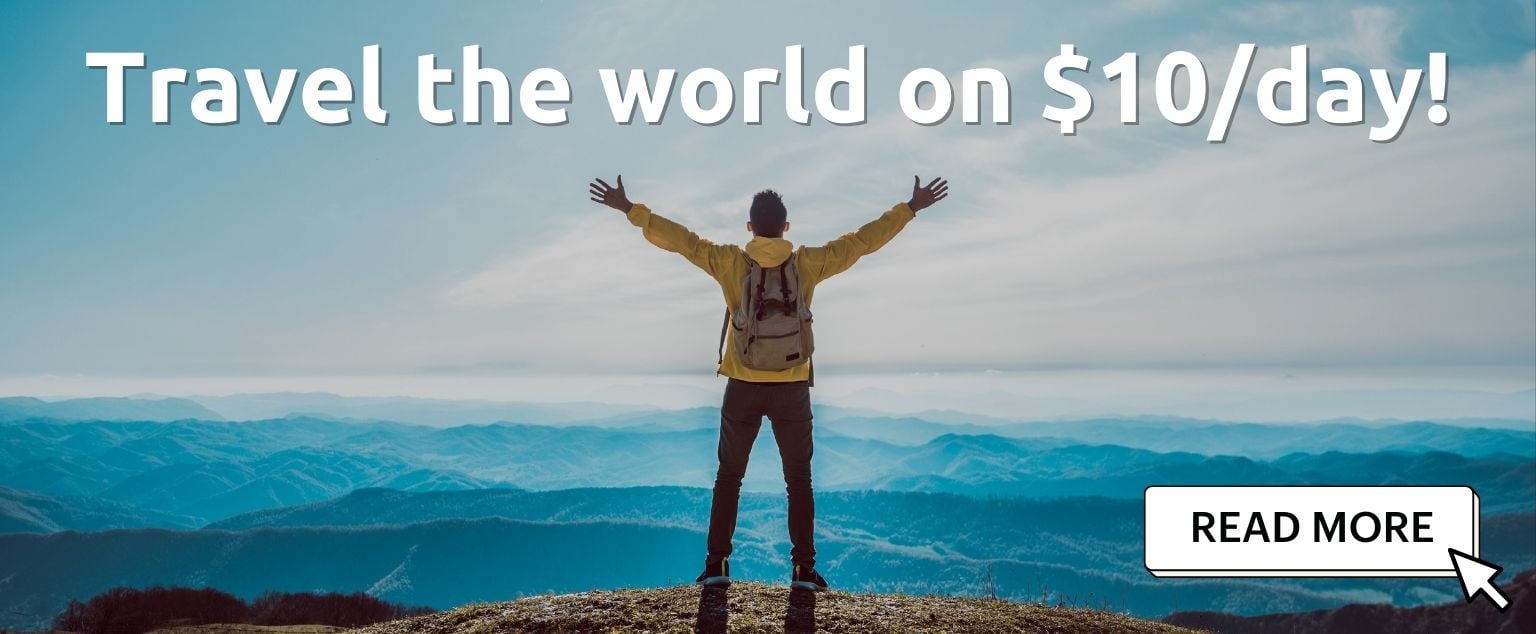 And for transparency's sake, please know that some of the links in our content are affiliate links. That means that if you book your accommodation, buy your gear, or sort your insurance through our link, we earn a small commission (at no extra cost to you). That said, we only link to the gear we trust and never recommend services we don't believe are up to scratch. Again, thank you!