Why Go Backpacking in Spain
Spain has beautiful islands and beaches, all night parties, and a fascinating history impacted by Medieval times, Moorish influence, the Catholic Church, and a 20th-century dictatorship. All of that being said, I think the best part about backpacking Spain is experiencing Spain's uniquely different regions: the rebellious Basque Country, laid-back Andalucía, lush-green Galicia, and more.
Travel to the Basque Country, and then to Catalonia, and you will feel like you have visited two separate countries. (Perhaps this is because both of these regions want to be independent countries from Spain. Basques and Catalonians do not really identify with Spanish nationality.)
I have broken down each of these regions below with helpful routes and itinerary inspiration below.
I have broken down some of the best backpacking routes for Spain. While Spain has reliable transportation and plenty of airports, it's still a large country in comparison to other European countries.
The first itinerary is the perfect backpacking route if you have one month or more to travel through Spain. The other routes will cover different regions in Spain and are doable in 1-2 weeks. ¡Vamos!
Backpacking Spain 4 Week Itinerary #1: Ultimate Trip around Spain
If you are flying into Spain, you will most likely start your trip in Madrid.
After Madrid, I recommend heading to the laid-back region of Andalucía in the South of Spain. You can explore Córdoba, Seville, and Granada, as well as the beaches along la Costa del Sol. Granada's Alhambra and Córdoba's Mezquita are two must-see attractions in Andalucía.
Next, you can make your way up the Eastern coast to charming Valencia. Be sure to sample the paella. After a couple of days in Valencia, you can take a train or bus to the energetic and bustling city, Barcelona.
From Catalonia, you can travel West to the unique Basque Country: check out the medieval town of Bilbao, and surf in San Sebastían. This area has some of the best food in Spain.
You can end your Spain backpacking trip in the coastal regions of Asturias and Galicia: a stark contrast from the hot, dry Andalucía region. This area is visited much less than the other stops on this Spain itinerary, yet its scenery is more dramatic.
From Galicia, you can easily travel South to Portugal, or circle back to Madrid if you have an international flight. If you have an opportunity to stop in Salamanca on your way to Madrid, it's a magical city with a great nightlife and vibe, thanks to the university!
Backpacking Spain 2 Week Itinerary #2: Northern Spain
This is a great 2 week Spain travel itinerary. Whether you fly into Madrid or Barcelona, catch a ride to San Sebastián for some surf and fun in the sun. You could easily spend a week chilling and partying in the Basque Country. Every visitor should try the Basque cuisine: the pintxos (tapas), fish, the fancy restaurants and the cider houses.
If you are traveling in Spain for the museums, head inland to Bilbao to visit the famous Guggenheim museum. You can also take a day trip to La Rioja, Spain's most famous wine region!
Afterward, make your way to the coastal region of Asturias, stop by Santillana del Mar in Cantabria- a medieval town that is perfectly preserved. Asturias is an excellent region to visit in Spain if you like to hike, and you are after a completely different side of the "traditional" Spain. Oviedo will have the most options for accommodation in Asturias.
Galicia looks more like Ireland; whereas, Central and Southern Spain are dry and hot. You can make your way along Galicia's coastline through Coruña and Costa da Morts as well.
Spend your last couple nights in Santiago de Compostela, a Galician city with homemade cuisine and an iconic cathedral.
This is a great travel itinerary to couple with the epic El Camino de Santiago walk, an epic month-long pilgrimage, which I covered below in our trekking section! And if you are Backpacking Spain and Portugal, this trip will fit in nicely, as it is easy to cross into Portugal, just below Galicia.
Backpacking Spain 2 Week Itinerary #3: The South of Spain
Start your trip in Seville, which has an airport. You can also arrive via bus, train, or flight from Madrid (if you are flying into Spain internationally), or drive from Portugal with ease. This is a great itinerary route if you are backpacking Spain and Portugal.
After spending at least 4 days in Seville, I recommend heading to Córdoba for a day, and then Granada for a few more. There is so much to do and see in Granada, which I covered in the Granada section below. Get ready for beautiful views and free tapas!
Next head to Málaga, the white city by the Mediterranean Sea. Málaga has the biggest airport in the South of Spain, so this will most likely be the easiest city to fly out of. If your itinerary allows it, visit Ronda just a couple hours outside Málaga, and the other whitewashed villages in this area!
If you decide to take the ferry, another well-worthy stop is the beautiful city of Cádiz, Spain. We spontaneously visited this city by the beach, and had a lovely time. Like the rest of the South of Spain, there are plenty of cafés and tapas bars, some beautiful plazas to enjoy an espresso, and cathedrals abound. Tarifa (the jump-off point to Morocco) is famous for its kite surfing and offers a few awesome backpacker hostels if you want to stay a night or two..
If you are already visiting Málaga, I think you can choose to just visit Málaga or Cádiz. They have a simiilar feel being on the beach (although I doubt the locals would agree with me).
Backpacking mpain 10 Day Itinerary #4: Barcelona and Beaches
If you've been paying attention to the news, you'll know that there is a movement to ratify Catalonía from Spain; many Cataloníans would like to be independent of Spain, but Barcelona has one of Spain's best economies. If you visit Catalonía, take note of the pride in their flag, language, and traditions.
There's a lot to do here so be sure to plan your Barcelona itinerary before you go!
Barcelona may be known for its beach, but I think it's mediocre compared to the rest of Costa Brava up North, and the Mediterranean islands. But there are plenty more places to visit in Barcelona than just the beach and that's what makes this city so fascinating.
Within an hour of Barcelona, you can visit Tossa de Mar – a beautiful bay with a towering castle, and Tamariu – a quaint coastal village. Sitges is also a fun beach town just 30 minutes away from Barcelona!
You can also visit Girona, a city full of Gothic churches and cobblestone lanes. You can easily visit Girona as a day trip from Barcelona, but it would be nice to spend a couple of days here, and there is a good nightlife scene. Figueres is another great day trip for the Dalí Museum; this was Dalí's home.
Quick Guide to Hopping Around Spain's Balearic Islands
The Balearic chain of islands is comprised of 4 islands: Formentera, Ibiza, Menorca, and Mallorca. You can take the local ferry between the islands or fly if you wish.
Mallorca: This is the largest island in the Balearic chain. South of Palma lies the infamous clubbing towns such as Magaluf and Palma Nova, and the northern coast of the island is much more laid-back. Mallorca is also renowned for its natural beauty, adventure sports, and holiday packages attracting lots of sun-hungry Germans.
Ibiza: Ibiza is internationally famous for its wild clubs, where world-class DJs have weekly residencies during the summer. Head away from this side of the island, however, and you'll soon discover that Ibiza has miles of hidden sandy beaches, and yoga retreats. If you want to explore the entire island, you'll need your own car to see it as public transportation is inefficient and taxis are expensive. There are many other tips to making this infamously glitzy island a cheap destination to visit in our guide to travelling cheap in Ibiza.
Formentera: Only 6 kilometers from Ibiza, this island couldn't be more different. It's known for its white powdery beaches and turquoise blue waters. There is some great cliff jumping on Formentera as well! It's definitely worth staying in Formentera for a couple of days for a bit of peace and quiet.
Menorca: Staying in Menorca is a quieter alternative to Mallorca or Ibiza, thanks to lower levels of tourism. Think beaches and rolling hills.
Backpacking Spain 3 Week Itinerary #5: Cities of Spain
This itinerary can be comfortably covered in 3 weeks, which allows for plenty of day trips from the cities. That said, 2 weeks is fine too.
I suggest starting your trip with a visit to Barcelona. You can bus or train to San Sebastían and enjoy this other city known for its culinary and surfer scene. Then head to Madrid for a few days. From Madrid, you can take an overnight bus to Córdoba or go straight to Granada or Seville.
It is possible to end your trip in Seville or Granada. Both are easily reachable from Córdoba and each other. I suggest you choose which city you visit first based your flight plan.
Spain's capital is a bustling city that requires a few days to appreciate it. While Madrid doesn't have the immediate grandeur of Paris and Rome, it does boast a fantastic art scene, nightlife, and some of Spain's top restaurants.
Most of Spain's best art museums are located in Madrid, including Museo del Prado and El Centro de Arte Reina Sofía. At Reina Sofia, you can check out masterpieces by Pablo Picasso and Salvador Dalí.
Tip: Reina Sofía offers free admission Monday to Saturday 7–9 pm and Sundays 1:30–7:30 pm.
El Rastro is Madrid's famous Sunday flea market. Go if you are visiting Madrid on a weekend. El Retiro is a great park to spend a sunny afternoon. Watch out for rollerbladers!
Madrid's nightlife doesn't really start until 3 am. From live venues and wall-to-wall bars to multi-story clubs, there is always something going on. The best districts to party in Madrid are Huertas, Chueca and La Latina.
La Latina has restaurants and tapas bars! Malasaña is another neighborhood with great cafés. Mercado de San Miguel is a fun market to taste different Spanish dishes and wine! I just read an article on what to do in the neighborhood Lavapíes too.
Sungate One is one of the best hostels to stay in Spain. For more information, check out our post dedicated to the best hostels in Madrid and neighborhood guide for where to stay in Madrid.
Backpacking Barcelona
By day, you can get lost amongst the cobblestone lanes of the Gothic quarter, and café hop the Gracía area.
By night, well, there are no shortage of bars and dance clubs in Barcelona. Razzmatazz is the biggest club; 5 stories tall with some great artists. La Terrazza is an open aired castle that becomes a club in the summer. Go if you like raves. There are a few famous beach clubs built underground. They can be kind of mainstream and drinks are overpriced, though the most famous DJs in Europe tend to frequent these clubs.
The most famous attraction in Barcelona is Antoni Gaudí's La Sagrada Familia, and rightfully so. This cathedral is one of the most unique architectural masterpieces in the world… and it's still being built. Make sure to reserve your tickets in advance! If you are backpacking Spain during summer, book your Sagrada Familia tickets weeks in advance. For more info on how to visit like a pro, check out my buddy Ash's extensive post on all things Sagrada.
If you are interested in live/classical music, watch a concert at the Palau de la Música Catalana. The interior is beautiful!
The Picasso Museum in the Gothic Quarter is supposed to be lovely, but I never made it (lines were always too long). Situated on Mont Juic, don't miss an FC Barcelona fútbol game at one of the biggest stadiums in the world, Camp Nou. You can also tour the FC Barcelona stadium during the day.
There are many awesome viewpoints to watch the sunset over Barcelona, including Mont Juíc. I highly recommend hiking up to the Bunkers. Make sure to bring food and wine, and get there early to grab a spot for the show! Park Guell is another one of Gaudí's amazing creations, and has some great views of the city!  Parc de la Ciutadella is another great park and a wonderful place to spend a sunny Sunday away from the crowds of the city.
As for places to eat, you can find some great restaurants in every neighborhood. If you're backpacking Spain on a budget, I highly recommend Bo D Bi for amazing sandwiches. La Xampanyeria is an awesome local spot to taste cava, a dry sparkling wine (sort of like champagne) grown in Catalonia and local meats. Milk has awesome brunch.
My favorite neighborhoods in Barcelona are the Born and Gothic Quarters, and Gracía. Ravel can be rough around the edges but has some pretty cool bohemian vibes. While in Raval, check out the oldest bar in Spain, Bar Marsella, and drink Absinthe like Ernest Hemingway did.
As for places to stay in Spain, we wrote a whole post about the best hostels in Barcelona, and a neighborhood guide on where to stay in Barcelona, or our top things to do in Barcelona. I recommend staying away from the famous "La Ramblas" street. It's too touristy, and the restaurants and bars around there are overpriced. Stay in the bohemian Gracía area, or beautiful Gothic/Born area.
Best Day Trips from Barcelona
There are plenty of day trips you can take from Barcelona. Montserrat is known for its "sacred mountain." You may have seen photos on Instagram of the the stairway into heaven? Girona is a quaint medieval town with an interesting history. Tarragona has Roman ruins.
Costa Brava is lined with beaches, and reachable by bus or train. Sitges has some nice seaside parties. Tossa de Mar is a bay with a castle for a backdrop.
You can also make a trip to Figueres to see the Dalí Museum. (He's my favorite artist, so I definitely think this is worth a trip if you're into surrealism art!)
Backpacking Córdoba
One building alone should give you enough reason to travel to Córdoba. The mesmerizing Mezquita Catedral is a church that became a mosque before reverting back to a church. This building fuses both Gothic and Islamic architecture – two religions, and two cultures under one roof.
Aside from visiting the Mezquita, the city of Córdoba itself is actually quite beautiful (and photogenic) with plenty of shops, cafés and winding foot streets. They even have a yearly festival in May where contestants compete for the prettiest courtyards.
Summers are scorching hot and crowded though, so I highly suggest planning a trip to Córdoba in the spring or fall time.
Backpacking Seville
Seville encapsulates the essence of the South of Spain: narrow alleyways lined with small bars, large, open plazas and dramatic churches and palaces, and scorching hot summers… There are so many cafés and tapa bars to stop into. Did I say that already? Yeah, welcome to Spain. While most of the bars aren't extraordinary, they're always full of Spaniards enjoying life with a cafecito or cerveza. It's a vibe. Be sure to stroll around Barrio (neighborhood) Santa Cruz, and for an authentic tapas experience, eat at the Feria Market in the Macarena neighborhood.
Seville has tons to see during the day as well. In terms of sights, Seville has an impressive cathedral, but nothing compares to Seville's Alcázar, which was built in the 1300s. Game of Thrones shoots the Dorne palace scenes here!
Seville is the place to watch an authentic flamenco performance, and one can't go backpacking in Spain without seeing a flamenco show. La Carbonería is a local favorite and a popular spot to watch an authentic flamenco show. If you're spending any amount of time in Seville, read our guide to traveling in Seville.
Backpacking Málaga
Like most of the cities in the South of Spain, the top things to do in Málaga are eating and drinking, hanging out in the plaza central (central plaza), and exploring the historic cathedrals. I also love the fact that Málaga is right on the beach.
Definitely buy food and shop around Mercado Merced. There are a few nice museums in Málaga, like the Picasso Museum, but overall, my favorite part about Málaga was simply hanging out at the beach and cafés and restaurants in the plaza.
The majestic mountaintop town of Ronda is a great day trip from Málaga (or Seville). Here you'll see the photogenic Puente Nuevo bridge with views of the Ronda Mountains above a deep gorge. This bridge separates the new town from the Moorish old town.
Find out where the best places to stay in Malaga are so you can be as close as possible to the attractions (or parties for that matter).
Backpacking Granada
This is probably my favorite city in the South of Spain, though you have to peel back its layers to truly experience its charm. Luckily, my sister studied in Granada for a year and took me to all of her favorite spots.
You can't visit Granada without visiting Alhambra palace. This is one of the most impressive places to visit in all of Spain. By the time I arrived in Granada I was sick of looking at churches, but the Granada Catedral and Grand Chapel were nice from the outside! Every time I walked by the Granada Catedral there was a new musician playing beautiful music that echoed across the courtyard: truly magical.
For breakfast, order a tostada like a local. This is toasted french roll smothered in olive oil with tomatoes, salt, cheese, mermeladas, and jamón (optional). You can't visit Granada without getting lost among the ascending streets of el Barrio Albayzín, which is one of Granada's prettiest neighborhoods. Barrio Sacromonte next door is great as well. While in Albayzín, go to Abaco Té for tea and an amazing view, and good smoothies and tea.
Granada is the only place left in Spain with free tapas. Essentially, you get free food with every drink you purchase. The more drinks you order, the bigger the dishes get. It's pretty common to bar crawl in search of the best tapas, and eat free dinner by drinking more beers. Check out Calle Navas and Calle de Elvira for the best tapa bar hopping. Elvira specifically had some great cafés and bars that I thoroughly enjoyed. The bars around the bullring have good tapas as well.
If you have a sweet tooth, I highly recommend getting a rich milkshake at the eccentric Bohemian Jazz Café. Tabernaculo is a tiny, quirky dive bar covered in religious paraphernalia.
For great views of Granada, hike up to San Nicolás Mirador and Miguel. There are a lot of great parks sprinkled throughout the city as well. Take a stroll down the romantic street, Carrera del Darro, and treat yourself to some gelato. For more in-depth info on things to do in fascinating Granada, check out this post. 
If you are itching to spend some time outdoors, and work off all of Andalucía's tapas, the Sierra Nevada Mountains are right next door. There are ample hiking opportunities for most of the year, although the height of summer will be scorching. And you can ski (quite affordably) during winter!
Additional reading – Check out Granada's 5 best neighborhoods to stay in!
Backpacking Valencia
Visit Valencia for the paella and beaches. Grab desayuno (breakfast) at Plaza de la Virgen. Visit the Ancient Valencia Central Market for fresh fruit and produce; it's a great way to immerse with with the locals. Rent a bike and cruise around on the promenade by the beach in-between sunbathing.
Go ahead and try their local drink of choice, Agua de Valencia (Valencia water). It's anything but water: orange juice, cava, gin, and vodka… The best place to enjoy Valencia water is Café Madrid de Valencia, where the drink was invented!
If you are backpacking Spain in March, make sure to visit Valencia for Las Falles Festival! Each neighborhood creates huge statues to parade around the streets before being set on fire. This is a week-long party paired with the beautiful costumes and fireworks, and it's one of Spain's best events. Make sure to book your place to stay in Valencia well in advance if you are visiting Valencia for Las Falles Festival. Check out our best hostels in Valencia.
This is also a great area to find yoga retreats in Spain.
Backpacking San Sebastián
San Sebastián is a surfer town with a gorgeous >crescent-shaped beach and lively nightlife. This is also a food lover paradise thanks to Basque 'Pinxos' the local specialty similar to tapas in the South.
Spend some time shopping in Gros, a barrio lined with trees, and stores stocked with creative local goods. In between bar hopping, take a stroll on the promenade along Zurriola Beach, or jump in the water with your surfboard. La Playa de la Concha beach is great for sunbathing. If you only have 36 hours in San Sebastián, here's a great itinerary.
Bar Zeruko and Bar Azkena are two of the top-rated pintxos bars in San Sebastián. There are also a ton of cool hostels in San Sebastian.
Live like a local and know where the best places to stay in San Sebastian are!
Backpacking the Asturias Region
With hundreds of miles of forested trails, a dramatic coastline, white powdery beaches, and the Picos de Europea (Peaks of Europe), this region of Spain is a paradise… and yet, no one is visiting!
Asturias is one of the least visited regions in Spain, yet boasts some of the best food, kindest people, and most beautiful scenery. Its wild Atlantic coastline is lined with powdery white beaches, and its rolling green hills and mountains are crowdless. Moreover, because there are plenty of secluded fishing villages to visit with the turquoise sea as a backdrop.
Asturias also has a huge hard cider culture. Seriously. Cider bars are a thing? And you're a seafood fan, this is the region of Spain to visit.
The small city, Oviedo, is your best bet for accommodation and basing yourself for day trips in the region. (This is the same town Vicky and Javier Bardem in the movie Vicky, Christina, Barcelona and Javier Bardem go for a spontaneous weekend. Woody Allen certainly has good taste.)
Asturias is its beautiful, cultural, and affordable.
Backpacking Galicia
The region of Galicia is located on the far western end of Spain's northern coastline. Mystical Celtic religion and a rugged coastline reveal its connections with the the likes of Scotland, Wales and Ireland. Almost all the local people speak Castillian, which we know as Spanish, as well as the regional language, Galician (Gallego).
The best place to stay in Galicia if you are interested in seeing the northern coast is A Coruña. For more of a city vibe, check out Santiago de Compostela, which is most famous for its Catedral de Santiago, the end-point of the Camino de Santiago. Along with admiring the architecture and art, be sure to walk around Rua del Franco (Franco Street) right off the main square, which is bursting with seafood restaurants and bars.
Backpacking Salamanca
Come to Salamanca to gawk at its impressive cathedrals and the refined university, and enjoy the student bars and nightlife scene. The streets around Plaza Mayor are packed with terraces, which are great for starting the night out. Plaza de San Juan Bautista is renowned for its cheap drinks, and Gran Vía is popular with foreign students and tourists.
Visiting the Game of Thrones Locations in Spain
Alright, as a hardcore Game of Thrones fan, I had to add this into our backpacking Spain guide. Seasons 5 and 6 had some Game of Thrones epic filming locations in Spain, and they're worth visiting if you are traveling to these areas!
Peñíscola: This is a cobbled street town near Valencia with whitewashed house along the sea. While a bit touristy, it's a beautiful town.
Girona: A medieval town just a short train from Barcelona. This is a beautiful city to explore for a couple days!
Seville's Alcázar: This is one of the best Game of Thrones Locations to visit.You can spend hours within this castle's walls admiring the architecture and sitting in the gardens, like Lady Tyrell.
Granada's Alhambra: This is one of my favorite buildings in the world. Make sure to visit this Moorish palace while visiting Granada!
Getting Off the Beaten Path in Spain
Spain is one of the most popular countries to visit in Europe, and if you go backpacking Spain in summer, it'll be hard to get away from the crowds. That being said, you can visit some of Spain's lesser-known regions, full of culture and beauty, like Galicia and Cantabria & Asturias. 
Both of these regions offer sandy coves and beaches, emerald-green coastlines, and a stark, rugged contrast to the rest of Spain, and they are best to visit in summer due to unpredictable rain and weather off-season. Picos de Europa offers some of Spain's best hiking and most dramatic scenery, as well as Spain's best seafood, cheese, and arguably best food.
While many people visit the popular and beautiful town of Salamanca, most of the backpackers head to other villages in Castilla and León. This Northwest region is rich in history and cathedrals. Aragón, just west of Catalonia, offers plenty of quaint villages amongst the Pyrenees Mountains.
If you are into Roman history, check out Emerita August near Portugal for Spain's best Roman site, and some of Spain's finest cured ham.
Below I have listed 8 amazing things you have to do when backpacking Spain.
1. Go to a Fútbol Game
Spain is home to two of the most famous teams (and rivals) in the world: Réal Madrid and FC Barcelona. Even if you just manage to score cheap(ish) nosebleeds, the energy in these massive stadiums is a must-do when backpacking Spain. I went to a game at Camp Nou to watch FC Barcelona, and had a blast.
El Clásico is the name given to any match between these two teams. Tickets are quite expensive, but even if you just watch the game at a bar, be prepared for a crazy night out.
Budget Tip: While most people will aim to watch a Real Madrid football match, half of the locals support Madrid's other team, Atlético Madrid. Watching Atlético is another great cultural football experience for half the cost!
2. Hike El Camino de Santiago
Follow in the footsteps of hundreds of thousands of pilgrims and travels on this epic 500+ mile hike. El Camino has many different starting points. The Pyrenees bordering France is the most popular one, but many people also start this trek in Portugal. No matter where you begin the walk, everyone ends at the Cathedral in Santiago de Compostela.
While I haven't hiked El Camino (yet), all of my friends who have walked say it is one of the best experiences of their lives. Essentially, you walk from town to town, staying at hostels, and meeting wonderful characters along the way. Everyone hikes El Camino for their own personal reasons, and everyone finishes with a newfound self-discovery. For inspiration, watch the movie "The Way."
3. Eat Tapas and Pintxos under the Sun
If you want the real tapas experience, you have to go to the South of Spain and visit Andalucía. The other regions of Europe serve "tapas" for tourists. You can still get free tapas in Granada, Spain every time you order a drink! The tapas tend to get bigger with every round you order!
Pintxos are a bar snack turned art form, only found in the Basque Country.
4. Admire Gaudi's architecture while visiting Barcelona, Spain
Home to cutting-edge architecture and a buzzing nightlife, you can spend a lifetime in Barcelona. Be sure to admire Gaudí's Sagrada Familia and Parc Guell!
5. Sunbathe, party, or get away from it all on one of Spain's many islands
Spain has two chains of islands in the Mediterranean Sea: the Baleric and Canary Islands. Ibiza is known for its monster clubs and 24 hour parties. Gran Canaria has great outdoor activities, and Mallorca is simply paradise. However, staying on Fuerteventura, one of the lesser-known islands, can be a real treat too.
6. Marvel at the Alhambra
This palace in Granada is perhaps the coolest Islamic building in the world! You can spend an entire day marveling at the fortress and gardens. The view of Granada from the palace isn't half bad either.
7. Go to a Flamenco Show
Flamenco is traditionally found in the South of Spain: preferably Seville or Cádiz. Flamenco shows are passionate, and full of culture. I highly recommend checking a few out while visiting Spain.
8. Party until the sun comes up
Whether you're in Ibiza, Madrid, Barcelona, or San Sebastián, you can find a party anywhere in Spain. From wall-to-wall bars to megaclubs, there is something for everyone… pretty much anywhere.
There are plenty of hostels in Spain's cities, tourist towns, and the villages along the Camino de Santiago walk, but you may need to book ahead in the summertime.
In my experience, accommodation prices increase dramatically from June to August. During the summer, Couchsurfing is the best way to save money and meet local Spaniards, though it can get competitive.
However, there are a ton of affordable Airbnbs in Spain that are located in the heart of the city center. Sometimes a private room on Airbnb can be just as affordable as a hostel.
And as a quick insider tip: If you want to see all – and we mean ALL – hostel options in Spain, be sure to check out HOSTELWORLD. You can even filter your personal travel needs to find the perfect place for you.

Want to escape the mainland? Check out my guide to the 10 best hostels in Tenerife!
A Daily Budget For Spain
Why Should You Travel to Spain with a Water Bottle?
Plastic washes up on even the most pristine beaches… so do your part and keep the Big Blue beautiful!
You aren't going to save the world overnight, but you might as well be part of the solution and not the problem. When you travel to some of the world's most remote places, you come to realise the full extent of the plastic problem. And I hope you become more inspired to continue being a responsible traveller.
STOP USING SINGLE-USE PLASTIC! If you'd like some more tips on how to save the world.
Plus, now you won't be buying overpriced bottles of water from the supermarkets either! Travel with a filtered water bottle instead and never waste a cent nor a turtle's life again.
The best time for backpacking Spain on a budget is shoulder season – March-May and September-November. Spain is more expensive during the summer and holiday season, and you will definitely have to book ahead and find creative ways to save some cash.
Plus, Central and Southern Spain are unbearably hot in the summer, and the crowds hit their all-time high. Many of the cities with thriving universities, like Granada, Seville, Cadíz, and Salamanca, have more parties during the school year as well. That being said, if you are trying to travel to Spain during the height of the parties on the beaches, like Barcelona and Ibiza, then June and July are a good time to visit Spain. Galicia and Asturias region are also best visited in the summer when the days are warmer and sunnier.
I think the best time to visit Barcelona is in September. The heatwave has died off, but it's still beach weather. The parties are throwing their end of summer bashes, and September 11th is their "Independence" Day, where millions take to the street to celebrate. There are a ton of fun parties on this day, as well as political protests, so be cautious for riots. The best time to visit Madrid is spring and fall time when prices are lower and the weather is more temperate.
Spain is one of the best countries to visit for festivals and cultural events. They are so awesome and unique that I think it is wise to plan your trip around a festival that interests you most. There is something going on pretty much every month, so check out my section on the festivals in Spain below!
There are so many incredible festivals in Spain ranging from religious holidays, cultural events, all-night parties, and internationally acclaimed music festivals. If you happen to cross one of these while backpacking Spain, GO!
Carnaval: Always in February, this festival takes place 47 days before Easter Sunday, and involves parades and festivities. The best places to celebrate Carnaval are Cádiz in the South of Spain, and Sitges near Barcelona.
Las Fallas de San José: This incredible festival takes place in Valencia, Spain. Las Fallas consists of several days of dancing and drinking. Each neighborhood in Valencia builds fallas – huge sculptures of paper maché on wood – which are later burned in the streets.
Semana Santa: This is the week leading up to Easter Sunday. While celebrated all over Spain, Seville, Málaga, Lorca, and Zamora have some of the best celebrations. Make sure to book far in advance if you are backpacking Spain during this week.
Feria de Abril: This is a week-long party in Seville where locals dress up in their traditional finery and ride around the city. There are massive parties late into the night.
Fiesta de San Isidro: This fiesta takes place in Madrid in May. There are parades, concerts, and parties. Locals dress up in traditional costumes and celebrate with bullfights all month (though I do not approve of the animal treatment during these bullfights, they are still a large part of Spain's traditional culture).
Sonar: One of Europe's best electronic music festivals, this 2-day extravaganza takes place in Barcelona in June. There are plenty of after parties throughout the city.
Batalla del Vino (Wine Battle): This festival takes place in Spain's best wine town, La Rioja. On the 29 of June, participants squirt wine all over the place, while drinking the wine, of course.
Primavera Sound: This is Spain's biggest music festival. It takes place in Barcelona over three days in late May/early June.
Running of the Bulls: This is week-long nonstop festival and party in Pamplona in the Basque country. There is a daily running of the bulls. The anti-bullfighting event, the Running of the Nudes, takes place two days earlier.
Fiestas del Apóstol Santiago: On the 25 of July, Santiago celebrates Spain's national saint (St. James). This is the same cathedral thousands walk to (El Camino de Santiago).
La Rioja's Grape Harvest: In September the same town that celebrates the wine battle also kicks off grape harvest with a feast day and grape-crushing ceremonies! Naturally, there are endless opportunities to sample the wine.
San Sebastián Film Festival: This is a two-week film festival held in the second half of September!
Christmas Markets: Although not quite as extravagant as Northern Europe's markets, there are still large markets in the big cities: Madrid, Barcelona, Seville, and Granada. The entire country will be quite festive during Christmas time, and you can expect to see traditional, large-scale nativity sets in public squares and window shops.
What to Pack for Spain
Packing for Spain isn't particularly complex. But on every adventure, there are six things I never go traveling without:
Spain is a very safe country to visit. What you really need to be careful of is pick-pocketing. Madrid and Barcelona are notorious for mischievous pickpockets. If you leave your purse or bag unzipped, I can guarantee your phone and wallet will get stolen.
To avoid pick-pocketing, be aware of your surroundings, and don't carry a wallet in your back pocket. Watch out for strangers coming up to you with petitions and signs; this is usually just a distraction to steal your stuff, especially if you're sitting at a café with your phone out, or walking around a touristy area.
Use a backpack or purse that is hard to get into. If you are renting a car, keep valuables out of sight!
Sex, Drugs, and Rock 'n' Roll in Spain
You can find an all-night party pretty much anywhere in Spain, but the best nightclubs and large venues are in Madrid, Barcelona, and Ibiza.
Although Barcelona and Madrid have more going on in the summer, there is no wrong time to visit Barcelona and Madrid if you are trying to party. I actually prefer visiting Madrid outside of summer because it's just too hot in the middle of Spain.
Barcelona has some pretty great music festivals, like Sonar, in June. The entire city turns into a party for Primavera Sound. There are a few clubs and bars that are only open in summer, like Terraza.
Any of the university towns: Granada, Seville, Salamanca, Cadíz, San Sebastián, etc. will have a fun, lively nightlife during the school year, but summers may be more relaxed depending on where you are.
Cadíz and Salamanca have an awesome dancing scene! Just as a local where the party is (donde está la fiesta)!
Travel Insurance for Spain
World Nomads' mission is to support and encourage travellers to explore their boundaries. They offer simple & flexible travel insurance, and safety advice to help you travel confidently.
They've been doing it since 2002 – protecting, connecting, and inspiring independent travellers just like you.
Get a quote below or read our in-depth review!
There are two main international airports with flights arriving from all over Europe, North America, and Asia. You can fly into Adolfo Suárez Madrid-Barajas Airport, which will mostly likely have the cheapest flights into Spain.
El Prat Airport is in Barcelona. You can take a EUR 6 bus to the city center. If you are arriving into Spain by from other European countries, there are several airports where you can connect: Sevilla, Málaga, Granada, and Alicante are just a few of them.
If you use budget airlines, like Ryan Air, make sure you check which airport they fly into! For example, Girona, 90 minutes from Barcelona, has a small airport that airlines often list as "Barcelona."
Entry Requirements for Spain
EU citizens will only need their passport to enter Spain. Citizens of Australia, Canada, Israel, Japan, New Zealand, Poland, Switzerland, and the US do not need to pre-apply for a visa; their valid passport will be stamped on arrival. Other nationalities will need to apply for a Schengen Visa beforehand to visit all Schengen zoned countries.
As a non-European traveler, you can only travel in Spain, and other Schengen zone countries for 3 months out of every 6 months. Once 6 months have passed from your original arrival date, the visa resets.
The UK, Ireland, and most Eastern European and Baltic countries are not part of the Schengen zone, even though they are part of the EU. Theoretically, you can backpack Spain for 3 months, and then hop over to a non-Schengen country – like Croatia, Albania, Bosnia and Herzegovina – for 3 months, and then travel back to Spain with a fresh 3 month visa.
A lot of long-term travellers, and Spanish gap year goers, plan their travels around the Schengen visa accordingly. For more information, and the official Schengen country list, check out this website.
Traveling To Spain During COVID Times
Spain was badly hit by COVID-19 and responded with some strict, enduring lockdowns. These have not been fully eased. Whilst citizens of the EU can enter Spain, they may be subject to quarantine and may find themselves locked down.
The exception is the Canary islands which have so far have been exempt from the worst of the lockdowns and quarantines.
While trains are always a fun experience, they can be expensive, especially if you book a train ticket on the Renfe rail network last minute. That said, sometimes the Eurail Pass is a great option for travelling around Europe! (UK and European residents: make sure to use Interrail.) I wrote an entire post on how to use train travel in Europe cheaply and efficiently.
I also suggest using Spain's long-distance buses, which are clean, comfortable, and come with reclining seats! Book with ALSA to get the best bargains.
While backpacking Spain last year, I used BlaBlaCar as my main mode of transportation. This is a popular car sharing app that is often cheaper than taking a bus. Plus, it's easy to book a seat last minute.
If you are staying in a city for a while, consider a travel card. Weekly travel passes can save you quite a bit of money and also mean you won't be scrabbling for change every time you take the metro or bus. Do not take taxis. Uber is cheaper.
Renting a car is a great way to see Spain at your own pace. You can sort your car rental here in just a few minutes. Booking in advance is the best way to ensure you score the lowest price and your choice of vehicle. Often, you can find the best car rental prices when you pick up the rental from the airport.
Make sure you also purchase a RentalCover.com policy to cover your rental vehicle against any common damages such as tires, windscreens, theft, and more at a fraction of the price you would pay at the rental desk.
Traveling in Spain by Campervan
Traveling in Spain by campervan is a fantastic option. Renting a campervan will certainly open doors to your Spain backpacking adventure. I can't think of a better way to spend a few weeks cruising around Spain than in a campervan!
Hitchhiking in Spain
Hitchhiking is totally doable in Spain, though it's not as common as other European countries, like Germany or France, so don't plan on covering more than 200-300km a day. Try to stick to service stations and know some phrases in Spanish!
Try to avoid hitchhiking during the "the siesta" (from 14:00 to 17:00) when there tends to be less traffic. In the summer, this time of day is way too hot to be waiting around anyway!
For more hitchhiking tips, check out Will's hitchhiking 101 post.
Onwards travels from Spain
While you can easily spend a month backpacking Spain alone, it makes a great addition to a backpacking trip in Portugal. You can cross via land, or cheap flights. You can also cross in France in the Pyrenees, or from the Atlantic Coast. A lovely addition to a trip to San Sebastián would be a trip to France's surf town, Biarritz.
You can also fly from multiple cities to pretty much anywhere in Europe. If you want to visit other countries in Europe, flights are going to be the fastest, and often cheapest ways to get there.
Lastly, you can easily travel onwards to Morocco via flight or ferry from Algeciras, Spain. There are plenty of budget flights under $50, however, so unless you are going to Northern Morocco first, a flight makes the most sense.
Spain mixes a modern European lifestyle with a latin lust for life. It is a very tempting place to live and work for comers all across the world. However, wages here are not as high as in other parts of Europe and living costs are very high.
In order to find work in Spain, a sound grasp of the language is an absolute must otherwise opportunities will be limited. Lucky for you Global Work and Travel offer the chance to study Spanish in Valencia. They're so nice that you can pay in interest-free instalments too! You can stay anywhere from 1 to 12 weeks and take your Spanish to the next level.
Work Visa's in Spain
Citizens of the EU and EEA can live and work freely in Spain. Everybody else will need a work visa. There are a number of different visa types available including seasonal, long term and Au Pau visas. Citizens of Latin American counties often have an easier time obtaining visa's on account of former colonial ties.
If you're looking for a shorter term trip, a Spanish working holiday is perfect!
Volunteering in Spain
Volunteering overseas is a great way to experience a culture whilst doing some good in the world. There are lots of different volunteer projects in Spain which you can join ranging from teaching, to animal care, to agriculture to pretty much anything!
Spain may not be in as much need of volunteers as less-developed nations, but you'll still find plenty of opportunities to help out. From hospitality and teaching to farming and restoring medieval castles, you'll have loads to choose from. Note that it's usually necessary to have the right to work in Spain in order to volunteer.
Want to find some awesome volunteering opportunities in Spain? Then signup for Worldpackers, a platform that connects local hosts with volunteer travelers. As a Broke Backpacker reader, you'll also get a special discount of $10. Just use the discount code BROKEBACKPACKER and your membership is discounted from $49 a year to only $39.
Programs run through reputable work exchange programs, like Worldpackers, are generally very well-managed and highly reputable. However, whenever you are volunteering do stay vigilant especially when working with animals or children.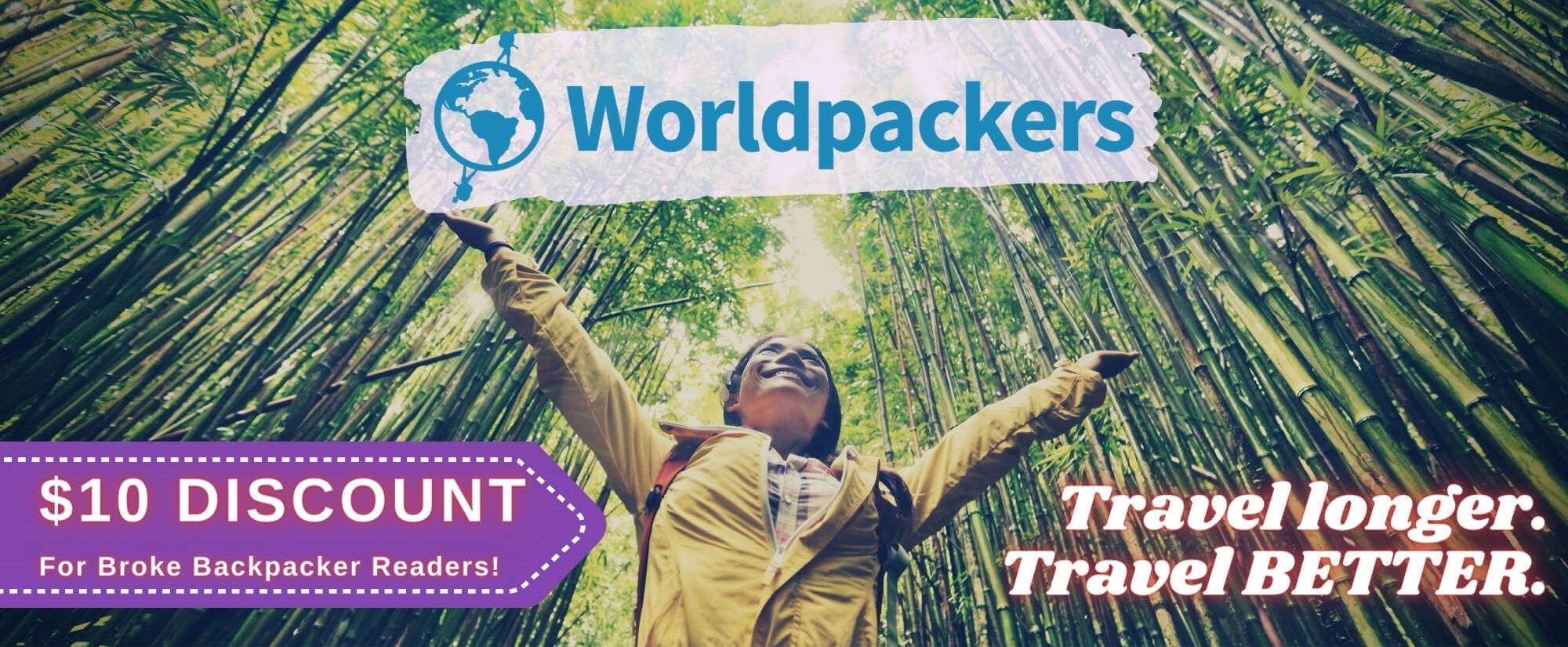 Worldpackers: connecting travellers with meaningful travel experiences.
Teaching English in Spain
Teaching English is a very popular option for ex-pat English speakers. You don't need a degree (although it will help and may land you better gig) just a TEFL or CELTA. Pay varies from 700 – 2000 Euro's a month – it may be a struggle to get by at the lower end of this pay scale.
Across Spain, don't be surprised to see pig legs hanging in shops, grocery stores, and even gas stations. Spaniards love their jamón (ham).
While it is possible to survive on jamón, olives, and tortillas bravas (tortillas with egg and potato), there are many more culinary delights… if you know how to look.
Note for Vegetarians/Vegans: It is possible to eat in Spain as a vegetarian or vegan, despite most famous dishes revolving around meat. The cities have plenty of options, however, once you get into the smaller towns you may have to stick to a lot of rice and potatoes. I had the hardest time finding vegetarian dishes in the South of Spain. Often "vegetarian" tapas just comes with tuna.
While backpacking Spain, what you eat is almost as important as when you eat. Breakfast is eaten late and generally consists of a quick coffee and snack, tostada, or maybe even a churro with chocolate. Lunch is eaten between 2pm and 3pm, and dinner from 10pm onward.
Between 2pm and 4pm, most shops in Spain shut down. While most foreigners assume it's for a siesta, it's actually more likely so that people can have lunch at home with their families. Plus, most of Spain is unbearably hot at this time, and who wants to work in the heat!? Most people will stay up late into the night – even children. It's common to have dinner at midnight, especially on weekends.
Useful Phrases For Traveling in Spain
Before I list some essential Spanish (Castillan) phrases you should learn, I will preface this list by saying most of the North of Spain doesn't actually speak Spanish as their first language.
There are 5 languages spoken in Spain: Castillan (Spanish), Catalan, Basque, Galician, and Occitan. While most of the schools teach both their regional language and Spanish, many older people – especially in smaller towns and remote areas – may not speak Spanish in Catalonia, Basque Country, Galicia, or the Pyrenees.
That being said, you can get by pretty much anywhere if you know Spanish, and you won't have any trouble getting around Barcelona, Madrid, or other touristic areas only knowing English. Moreover, most young Spaniards people can speak Spanish and English.
Books to Read About Spain
Lonely Planet: Spain – Comprehensive travel guide book for travelling in Spain
Ghosts of Spain: Travels Through Spain and Its Silent Past –  Francisco Franco, the dictator who ruled Spain until his death in 1975, is long gone. But the ghosts of the Fascist era still haunt the country.
The Alchemist – The story of how universe can help you to achieve goals that you really want to fight for. The main character is a young shepherd from Spain who decides travel to Egypt.
For Whom the Bell Tolls – Ernest Hemingway covered the Spanish Civil War as a journalist, and turned his ac count into a fiction story.
A Brief History of Spain
While backpacking Spain, I think it is important to be aware of Spain's complex history. Spain has been invaded and conquered by various groups throughout its history. This country is shaped by ancient (and not-so-ancient) civilisations, who have swept through the Iberian Peninsula, and ideological battles between Muslims and Christians. The 20th century is marked by Spain's first democratic government to rise from the ashes of a Civil War and dictatorship.
Ancient History
The first to appear were Iberians, a Libyan people. The Phoenician Empire was known for ruling the sea. Later came the Celts (think Galicia).
Ancient Rome rule conquered Spain at its peak, and left four powerful social elements: the Latin language, Roman law, the municipality, and the Christian religion. After the fall of the Roman Empire, many other group occupied the Peninsula. At the beginning of the 8th century, the Arabs entered from the south, and ruled Spain for large periods of time over eight centuries.
Moorish Arrival
There's no way to miss the imprint of Muslim rule while backpacking Spain. The Alhambra in Granada and Mezquita in Córdoba are the stars, but there are thousands of other buildings in the South of Spain that date back to Moorish times.
Córdoba went through a golden age that would end with a civil war, and like many large empires, it was eventually broken up into fractioned kingdoms. The Christian Reconquest of the Iberian Peninsula ended with the fall of Granada in 1492.
Christian Revival, the Spanish Inquisition, and the Decline
1469 marks one of the most important periods of Spanish history when the marriage of two Catholic Monarchs, Isabella of Castile and Ferdinand of Aragon marks the beginning of Catholic growing success over Spain. Over their reign they conquered the last stronghold of the Arabs, and in 1492 sent Christopher Columbus to conquer America.
Over the next two centuries, the Spanish Empire became a world power.
The Spanish Inquisition made it quite clear that Islam's policies and region was a thing of the past. The Spanish Inquisition focused on converting Jews to Christianity as well. This is why pork and jamón have such a strong cultural connection in Spain. Hanging pig legs in your shop or house showed the Inquisition you were not a Muslim or Jewish traitor (both cultures do not consume pig).
During this time period, 100,000 trials sent 2,000 people to burn at the stake. Fernando and Isabel eventually issued their Edict of Expulsion, which exiled all Jews who refused to convert.
Spain was divided between liberals who wanted democratic reclaims and conservatives (the Church, nobility, etc.) for much of the 19th century. Both sides teetered between powers, and with so much focus on internal struggles, they were not able to maintain their few remaining colonies. For a country with one of the greatest empires of its aged, the end of the 18th century was a less than graceful fall from power.
20th Century: Civil War, a Dictatorship, and Democracy
A never-ending power struggle between liberal and conservative forces, and a climate of growing violence and social conflicts eventually led to a military rising and civil war. Both sides committed massacres and reprisals. On 1936, General Franco took over as Commander-in-Chief and President with a Nationalist victory.
Despite Franco's support of Hitler, Spain remained on the sidelines during WWII. His forty year dictatorship marks a time of oppression and conflict in Spain.
Franco's death in 1975 brings an end to the era of this dictatorship and the return of a monarchy system. The King of Spain, Juan Carlos I de Borbon y Borbon established a western-style democracy with free elections in 1977. Their new constitution established a democracy with no official religion.
Between 1980 and 1982, the Catalonia, Basque Country, Galicia and Andalucía regions approved statuses for their own self-government.
In 1986, Spain joined what is now the EU. The 1992 Barcelona Olympic Games put Spain in the international spotlight.
Trekking in Spain
With two main mountain ranges, there are plenty of hiking opportunities in Spain, often overshadowed by the grander Alps mountain range, but if you want to go trekking in Spain, I suggest walking the Camino de Santiago instead for a unique and life changing experience.
How to Walk El Camino de Santiago
What began as a pilgrimage trail hundreds of years ago is now also journeyed by travelers all over the world. This is one of the world's most famous walks in the world. If you have the time, I highly suggest walking El Camino while backpacking Spain.
The best times to hike El Camino are May and September. July and August are crowded and hot.
There's very little technical walking on the main Camino routes—you'll mostly be on well-maintained tracks or pavement—so you don't need much. The most important thing to bring is broken in shoes, a full water bottle, and layers, especially if you are hiking during shoulder season. Otherwise, rain is rare. Aim to pack light, as you will stay and eat in towns along the way.
El Camino Routes
Camino Francés (the French Way): The Camino Francés is the most popular option due to the varied scenery and good infrastructure. It officially starts in St Jean Pied-du-Port.
Camino Primitivo (the Original Route): The Camino Primitivo is the most direct route from Oveido to Santiago (passing through Lugo), and it rejoins the Camino Francés about 40 miles from Santiago. The walk is about 180 miles long and is quite challenging, as it includes a fair amount of hill climbing and the weather can be very erratic.
Camino del Norte (the Northern Way): The 510 miles of pathway will take about 35 days to complete, and though the distances between towns are reasonable, accommodation is sparse. You may have to book ahead. This route starts in Irún on the border with France and travels west through Bilbao, Santander and Oveido.
Camino Portugués (the Portuguese Way): This route is becoming very popular, often starting in Lisbon and passing through Porto and Poneverdra. It is 380 miles long, and reasonably flat; however, you will walk alongside motorways pretty often.
Camino de Finisterre (the Finisterre Way): Instead of finishing their walk in Santiago, many pilgrims continue on to one of the westernmost points in Europe: Finisterre, whose name literally translates to "end of the world." The route from Santiago to Finisterre adds on 55 miles with an optional extra 18-mile walk to Muxia afterwards.
Hiking in the Pyrenees of Spain
This mountain range is close to Barcelona and borders France. There are plenty of hiking and skiing opportunities here. Parque Nacional de Ordesa y Monte Perdido is full of limestone peaks, and deep valleys.
Hiking in the Picos de Europa
Picos de Europa translates to Peaks of Europe. This national park is located in the Asturias region, so you can expect lush green scenery.
Hiking in the Sierra Nevadas in the South of Spain
No, I'm not talking about the American pale ale beer. The original Sierra Nevada mountain range is located in the South of Spain. On a clear day, you can see this snow-capped mountain range from Granada. This is the largest of Spain's national parks, with plenty of hiking and climbing options.
During winter you can also ski in the Sierra Nevadas for ridiculously affordable prices.
Joining an Organized Tour in Spain
For most countries, Spain included, solo travel is the name of the game. That said, if you are short on time, energy, or just want to be part of an awesome group of travelers you can opt to join an organized tour. Joining a tour is a great way to see a majority of the country quickly and without the effort that goes into planning a backpacking trip. However—not all tour operators are created equal—that is for sure.
G Adventures is a solid down-to-earth tour company catering to backpackers just like you, and their prices and itineraries reflect the interests of the backpacker crowd. You can score some pretty sweet deals on epic trips in Spain for a fraction of the price of what other tour operators charge.
Check out some of their awesome itineraries for Spain here…
It's easy to understand why backpacking Spain allures anyone who appreciates history and rich culture, a laid-back food and drinking scene, and the internationally acclaimed late-night party scene.
I urge anyone who plans to travel to Spain to make an effort to visit more than one region, time permitting, to experience contrasting regions of culture.
---
And for transparency's sake, please know that some of the links in our content are affiliate links. That means that if you book your accommodation, buy your gear, or sort your insurance through our link, we earn a small commission (at no extra cost to you). That said, we only link to the gear we trust and never recommend services we don't believe are up to scratch. Again, thank you!