Valencia is home to fascinating Catalan history, unique modern architecture, mouth-wateringly good food (including its founding dish, paella), and enormous sunny beaches. You could say that as a tourist destination, Valencia has it all!
Valencia should be a top destination for those of you who love the arts and sciences as well. There is a whole district full of museums, theaters, gardens, and more.
While many people choose to spend their city breaks in the capital Spanish city of Barcelona, those people are missing out. If you want a more authentic Spanish experience with fewer crowds, then Valencia is a fantastic city to visit.
And people are starting to realise this. Each year, it greets millions more visitors than the previous year, and as such, accommodation options are popping up all over the city. This is great news for travellers, but it does make you wonder about where to stay in Valencia.
When deciding on where to stay in Valencia, I know that it can be overwhelming and confusing at times. That's why I've created this ultimate Valencia area guide, so you can find the best place to stay in Valencia no matter what your travel style or budget.
So, let's get to it!
Looking for a place to stay in Valencia, but don't have much time? Here are my top overall recommendations of the coolest places!
This epic apartment in the lively neighborhood of Ruzafa is our top overall recommendation for an Aribnb in Valencia! It is surrounded by restaurants and bars and is the perfect basecamp for exploring Valencia both day and night. You are within walking distance to both the old town and some of the best nightclubs in the city. With two bedrooms, this apartment can comfortably sleep up to five guests. In addition, there is a giant private outdoor patio where you can hang out in the sun.
The Home Youth Hostel Valencia is a fantastic place to stay in the city center for those who are looking for the ultimate balance of affordable prices and terrific location.They offer both female-only and mixed dorm rooms of different sizes, as well as twin private rooms for two. For a fun touch, all of the rooms are uniquely decorated with creative art-deco decorations. Their slogan is "don't be a tourist, be a traveller", and they do everything they can to make sure you have an excellent experience while backpacking in Spain.
The Hotel Plaza Mercado & Spa is a stunning hotel in the center of Valencia. If you are searching for the quintessential luxury getaway, look no further! Not only do they have huge rooms and comfortable beds, but they actually have a spa on the hotel premises. The spa has a Turkish steam bath, a relaxing pool, a jacuzzi, a cold tub, a relaxing area, and even massage treatments available. To top it all off, there are endless bars and restaurants nearby the hotel.
Valencia is the third-largest city in Spain, but it packs a lot into its intimate districts. Most areas are easy to get around and the metro system makes it easier to see all the sites. However, each districts has something different and unique to offer, as well as being close to some major attractions.
The historic district of Ciutat Vella is considered the true center of Valencia. It's a place full of culture, restaurants, markets, and even has a group of buildings, La Lonja de la Seda de Valencia, that are a UNESCO World Heritage Site. For those of you only in the city for a day or two to explore the city, this is where to stay in Valencia for a quick visit.
Quatre Carreres is a little outside of the center and is full of cool places to stay for those on a budget. With multiple museums, botanical gardens, and libraries, this is a magnificent neighborhood for the intellectuals amongst us. In addition, you can easily walk to both the old town and the beach from this area.
If you want to spend as much time as possible soaking up the sun at the beach, Poblats Varitims is the area for you. Valencia has huge beautiful beaches and all of the ones found within the city limits are here in this area. If you are traveling with kids, there are many outstanding family-sized homes in this area.
Ruzafa is very close to the city center and is a superb place for young travelers. There are more bars than you can count in this neighborhood, and most of them are geared towards a young audience. After a few drinks at the bar, head to a nightclub where you can dance and drink until six in the morning.
Now that I've briefly introduced you to each area in Valencia to stay in, let's look at each area in more detail. If you're looking for an apartment, condo, hostel, or hotel in Valencia, I've found the best ones in each district.
Go take a look!
Ciutat Vella, which translates to "the old town", is the heart and soul of Valencia. It is made up of six small barrios (neighborhoods) which are: La Seu, La Zerea, El Carmen, El Pilar, El Mercat, and Sant Francesc.
The architecture in the area is absolutely stunning and the narrow cobblestone streets are the perfect place to wander around and get lost. You will truly feel like you are back in time when you stay in Ciutat Vella.
This area is absolutely cram-packed with tourist attractions. The Central Market is the largest and most famous in Valencia and it's an absolute must-visit. Make sure you go with an empty stomach so you can sample a wide variety of local food and drinks!
The Cathedral de Valencia is also located within this area, and it is one of the most important places to visit in all of Spain. With all this and much much more, Ciutat Vella is without a doubt where to stay in Valencia if it's your first time in the city.
This charming one-bedroom penthouse apartment is centrally located in the heart of the old town. The Central Market is right next door, and all of the other major tourist attractions are just short walks away. The apartment has a modern design that uses a lot of wood and is full of giant windows. The living room is almost all window and has out-of-this-world city views. For even better views, head outside to the enormous wrap-around terrace. It's a delightful place to enjoy a meal or watch the sunset!
Home Youth Hostel is the ultimate cheap hostel in Valencia! They not only have some of the cheapest rates in the city, but also an excellent family-like atmosphere. You can stay in a three or four-bed dorm, or in a private room if you desire a little more privacy. Throughout the week they host fun nightly events for guests such as "free dinner night" or "free sangria night". If you are traveling solo and looking to meet as many people as possible, this is the place for you!
This luxury hotel is ideally located in the old town, very close to the Barrio del Carmen. Barrio del Carmen is one of the hippest neighborhoods in Valencia and is full of delicious restaurants and popping bars. However, if you are feeling lazy, you can always order a meal or a drink from the in-house restaurant/bar. All of their suites are large and spacious, have kitchenettes that include fridges and microwaves, and can sleep up to three people.
Things to See and Do in Ciutat Vella (Old Town):
Wander through the Old Town and get lost amongst the locals.
Visit the cathedral for a chance to catch a glimpse of the "holy grail".
Climb the 207 steps to the top of the Miguelete tower.
Go inside La Lonja de la Seda (The Silk Exchange). It's a UNESCO World Heritage Site and full of local history.
Explore the Central Market. It's a great place to try a local snack or buy a handmade souvenir.
Grab something to eat or drink in the hip and bohemian Barrio El Carmen.
Quatre Carreres, or the Ciudad de las Artes y las Ciencias as it is also known, is the cultural capital of Valencia. It consists of seven small barrios which are: Na Rovella, Monteolivete, Malilla, La Punta, Font de San Lluís, En Corts, and the City of Arts and Sciences.
Here you will find the largest aquarium in Spain, an interactive science museum, an opera house, a 3D cinema, and a massive open-air garden.
Situated about three kilometers from the old town, the Ciudad de las Artes y las Ciencias is for sure where to stay in Valencia if you are on a budget. Here you can find not only some of the cheapest accommodation options but also some of the coolest!
This two-bedroom, two-bathroom penthouse apartment is one of the best deals you will find in Valencia! Whether you are traveling alone, as a couple, or as a group of friends, this is a terrific option. The base price is one of the cheapest in the whole city, and they only charge $11 for each additional guest. On top of that, the location is fantastic and it's only a three-minute walk to get to the Ciudad de las Artes y las Ciencias.
This modern hotel offers a huge selection of wonderfully designed rooms to choose from. They have elegant studios which are fabulous for couples, or big family rooms which can sleep up to five people. If you like to cook your own food, some of the rooms even have private kitchens. If not, there is a restaurant inside the hotel that serves breakfast every morning. Additionally, it is right next door to the Science Museum and is a superb home base for exploring all the top attractions in Qautre Carreres!
Best Hostel in Quatre Carreres: Rooms Ciencias
Rooms Ciencias is not only one of the top-rated hostels in Valencia but in all of Spain! This unique hostel only offers private rooms for its guests, but at superb low prices. There are 30 rooms altogether in the hostel, and plenty of communal areas to hang out and meet new friends. The rooms can sleep between one and four people, and all of them have private bathrooms, air conditioning, and TVs.
Things to See and Do in Quatre Carreres (Ciudad de las Artes y las Ciencias):
Learn about ocean life at the Oceanogràfic. It's the largest aquarium in Spain and houses almost 45,000 specimens and 500 different species.
View an educational film on the enormous 900 meter concave screen at the Hemisfèric digital 3D cinema.
Explore the fun and interactive Science Museum. Their number one rule is "not touching is prohibited!"
Visit the Palau de les Arts Opera house. If you are here in October or November you can try and see a live performance!
Stroll around the Umbracle, a giant open-access garden where you can discover many different types of Mediterranean plants.
Feel like an ant at "el Parque Gulliver." It's inspired by the classic novel, Gulliver's Travels.
Poblats Varitims is the most famous coastal area in Valencia. It is composed of six barrios which are: Cabanyal, Canyamelar, Grao, Malvarrosa, Beteró, and Nazaret.
In this area, you can find countless oceanfront restaurants and bars where you can enjoy delicious tapas. Moreover, the marina is a glorious place to explore by bike or on foot, especially at sundown!
Most people think of Valencia as a coastal city, but because the city is so large, depending on where you stay the beach can be quite the journey.From the city center, it is about 45 minutes to the beach using public transport.
That is one reason why it's so important to be informed and knowledgeable about the city before you visit, so you can choose the best area for you! The beaches are very family-friendly, and if you plan on spending a lot of time at the beach, then Poblats Varitims is definitely where to stay in Valencia.
This adorable one-bedroom loft is located super close to the beach and the marina in the barrio of el Cabanyal. The interior design has a bohemian atmosphere and is full of fun creative touches. Thanks to the high wood-beamed ceilings, the apartment feels extra spacious. The cozy outdoor patio is full of plants and has a table which is a marvelous place to have breakfast and a morning coffee before heading to the beach!
The Urban Youth Hostel is a new hostel located in the center of Poblats Varitims, right next to the Marina. It is the closest hostel to the beach in all of Valencia and has a massive selection of dorms and private rooms to choose from. Also, there is a wonderful communal area that has foosball, board games, a projector, and is the perfect place to socialize and meet new people. In addition, they have a lively bar where you can grab a drink or two with your new friends before heading out to explore the local nightlife.
Best Hotel in Poblats Varitims: Lindala
Lindala is a cute and attractive hotel situated extremely close to Malvarrosa Beach, the most popular beach in Valencia. Courtesy of the pastel color-palate, wood, and bamboo, this hotel makes you feel like you are staying on a tropical island. Furthermore, they have an amazing open-air courtyard with a terrific garden in the middle of the property. The garden also features a gigantic terrace with a handful of tables, which is the perfect place to relax at the end of a long day.
Things to See and Do in Poblats Varitims:
Go for a walk or a bike ride in the Marina of Valencia.
Get out of the city and take a day trip to the Albufera Natural Park.
Relax and work on your tan at the vast and beautiful Malvarrosa Beach.
Visit the quiet and peaceful El Saler Beach to get away from the crowds.
Enjoy tapas and some sangria at one of the many beachside restaurants.
Head out on the water and explore the Valencian coast on a sailing tour.
Ruzafa is a small barrio located just outside of the historic old town. With bars seemingly everywhere and two of the hottest nightclubs in Valencia, it's no doubt where to stay in Valencia if you are a fan of nightlife.
Joining a local pub crawl is a sublime way to meet new people if you are traveling solo. Alternatively, if you are traveling with friends or as a group, a fun way to spend the evening is by creating your own pub crawl route!
Besides nightlife, this area is also magnificent for foodies. There are many restaurants, including some of the top-rated ones in the city! The Ruzafa Municipal Market also has many food stands if you are looking for a quick pit stop where you can grab a tasty snack to go.
Drinking is part of the custom in Spain and deep routed in the culture – not just alcohol, but coffee too. I recommend brushing up on some travel tips for Spain so you can get a better feel for the customs before heading on a night out.
This contemporary two-bedroom apartment is both modern and rustic at the same time, and is an absolute gem! You will undoubtedly love the style of the brick walls and high-vaulted ceilings with exposed wooden beams. What makes this home truly remarkable though is the giant outdoor living space. The terrace has shade cloths strung up to protect you from the sun, a sofa, an incredibly comfortable lounge chair, and a table that is sensational for digging into a meal or enjoying a late-night beverage.
Cantagua Hostel is an eco-friendly hostel in the heart of Ruzafa. They have 10-bed and 8-bed mixed dormitories, as well as 4-bed female-only dormitories. All of the dorm rooms have "cave" style beds which feature private curtains that can be closed for extra privacy. There is a shared kitchen for guests to use, as well as a phenomenal common room which is a great place for socializing. If you are traveling alone and want to meet new people, this is one of the best options in Valencia!
This fabulous boutique hostel offers both standard rooms as well as suite-style apartments. The apartments include private kitchens and beautiful terraces. The property has a lovely zen design and a peaceful atmosphere that will make you feel right at home. Additionally, there is a heavenly indoor swimming pool located in the center of the hotel. If you are a couple and looking for a romantic getaway, this is our number one choice in Valencia!
Things to See and Do in Ruzafa:
Join a bar crawl or make your own! There are more bars in this area than you can count.
Dance until 6am at Biplaza or Mandalay Club, two of the most popular clubs in Valencia.
Rent a bike and explore the city on two wheels. The Jardín del Turia (river park) that runs through the city is a brilliant place to ride away from vehicles.
Eat an authentic traditional paella in one of the many delicious restaurants. La Nonna or El Rojo are two prime options!
Try a tasty horchata de chufa. Valencia is where this popular Spanish drink originated.
Visit the colorful and authentic Ruzafa Municipal Market.
Don't Forget Travel Insurance for Valencia
World Nomads' mission is to support and encourage travellers to explore their boundaries. They offer simple & flexible travel insurance, and safety advice to help you travel confidently.
They've been doing it since 2002 – protecting, connecting, and inspiring independent travellers just like you.
Get a quote below or read our in-depth review!
World Nomads provides travel insurance for travelers in over 100 countries. As an affiliate, we receive a fee when you get a quote from World Nomads using this link. We do not represent World Nomads. This is information only and not a recommendation to buy travel insurance.
Valencia is certainly one of the most underrated cities in Spain, but it won't be for long! As more and more people set their eyes on Valencia for their next travel destination, planning and preparation help to beat the crowds and have a memorable stay.
I hope this guide helped you to decide on the best area to stay in during your Valencia trip. Remember, if it's your first time, staying in the historicCiutat Vella area is a good idea as it's super close to all the main attractions.
Wherever you decide to stay in this Mediterranean coastal city, you'll no doubt get to experience some of the best food in the country, most interesting museums, and witness the most impressive modern architecture – I'm jealous already!
So, did you decide on where to stay in Valencia? Let me know in the comments!
---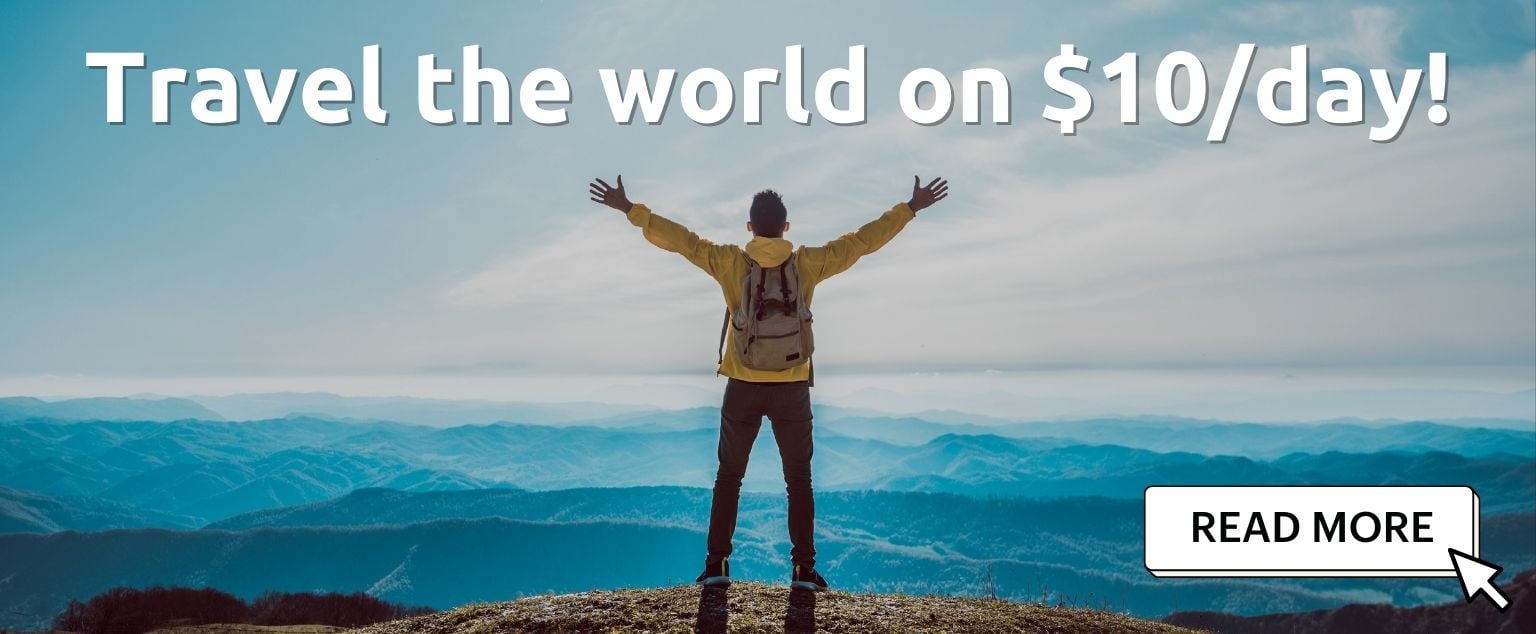 And for transparency's sake, please know that some of the links in our content are affiliate links. That means that if you book your accommodation, buy your gear, or sort your insurance through our link, we earn a small commission (at no extra cost to you). That said, we only link to the gear we trust and never recommend services we don't believe are up to scratch. Again, thank you!