Spain is a bit of a dream destination. Sure, it may be known for package holidays, resorts and tour groups, but travelling around this incredible country as a backpacker is an incredible experience.
Its cities drip with culture and history, incredible architecture from old cathedrals to modern wonders… and don't even get us STARTED on the food. Seriously.
But there are so many places to see in Spain… how can you even begin to pick where to start? Or where to finish (or even if you finish)? Or where to stay in between?
Don't you worry. We got you. Our guide to the best hostels in Spain not only gives you the top choices for the best hostels, but we've sorted through it by finding the best hostels in Spain's top cities, making life really easy for you!
All that's left for you now is to start planning your road trip, epic trek or train travel around Spain – leave the hostels to us! Let's go!
Here are the cities we cover in this guide:
Quick answer: The Best Hostels in Spain
The football-crazy Catalan capital is filled with wild Gaudi architecture, the famous walking street of Las Ramblas, good food everywhere, and a whole lot of history going all the way back to the good ol' Romans.
Basing yourself in Barcelona also means that you'll have the beaches and village villages of the Costa Brava at your disposal thanks to a decent train network.

Do You Want to Travel FOREVER??
Pop your email in below to get a FREE copy of 'How to Travel the World on $10 a Day!'.
Best Overall Hostel in Barcelona – Hostel One Sants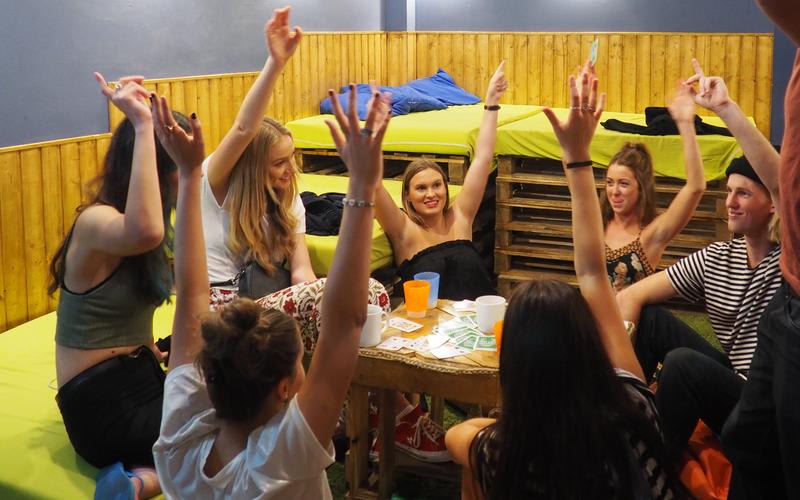 $$
Free Dinner!
Games Room
Outdoor Terrace
The best overall hostel in Barcelona is a great place to meet other travellers, making it especially perfect if you're someone who loves to be social. The staff will sort you out with tickets to the best clubs in town and welcome you to the hostel with open arms – they're the kinda people who'll make sure you have a good time while you're here.
It's a 10 min walk to the main train station, which is pretty handy to get around outside of the city. This Barcelona backpackers hostel is also super clean and beds are ultra comfy, so you'll get a good night's rest no matter how much beer you had the night before.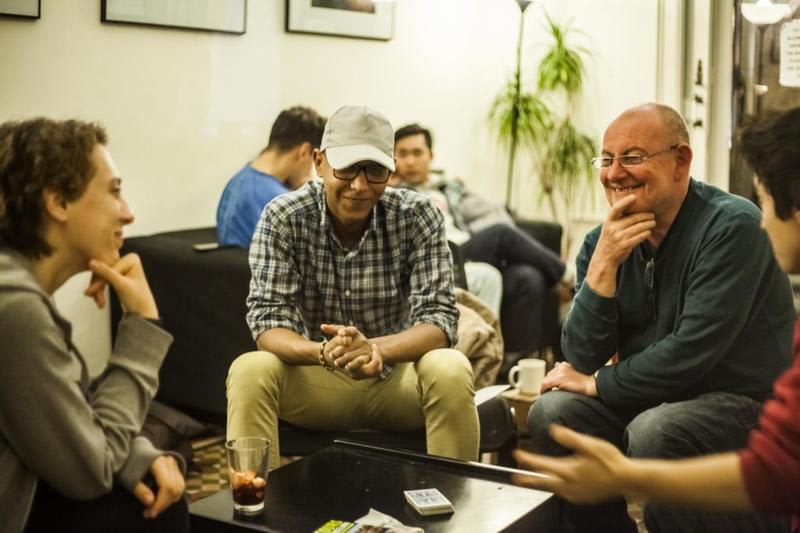 $$
Security Lockers
Cafe
Luggage Storage
If you want to experience the alternative side of Barcelona – that means cool and not weird – the staff here will show you some of the best places in the city. Every day they organise walking tours and events so you can head out and explore with your other half whilst you get chatting to other travellers, too.
The rooms are super clean and well looked after, so when you've had enough of hanging out with other people you can head back to your INCREDIBLE private room with tiled floors, amazing decor, comfy beds (etc. etc.) for a bit o' downtime.
Best Party Hostel in Barcelona – Sant Jordi Alberg
$
Laundry Facilities
Cafe
Aircon
If you're in Barcelona to party, well, this is THE hostel for you. The totally popping atmosphere, staff that people refer to as 'legends' (you know the kind) – if you're travelling solo you'll be making loads of new friends in no time at this top hostel in Barcelona.
Here they organise free tours and outings to local bars and restaurants, but they're really professional with it as – they know what they're up to. So, yeah, it's the best party hostel in Barcelona: turn up, make friends, and TURN UP. If you're in town, check out Tibidabo, the most accessible day hike in Spain.
Sant Jordi Alberg is one of our favourites in Spain but they're not taking guests right now. We're not sure if they're closed for good but we hope they'll come back soon.
From the depths of the hostelsphere, we bring you… the Hostel Card!
HostelPass has spent years & years looking for the best places to stay in Europe, and they just came back with something GREAT.
The Hostel Card is a hassle-free solution with up to 25% discount at the most amazing hostels, tours, and experiences. Any-where-you-go.
Don't sleep on the ultimate budget travel card — use code "brokebackpacker" at checkout for 25% off!
Get the Card
Madrid is the capital city of Spain and, dang, do you know it when you get there. It's all tree-lined boulevards, museums, art galleries and it's completely overflowing with vibrant life. There's some totally smashing fine dining to be had here, as well as cocktail lounges, but also tapas bars and pubs – so get yourself into the historical heart of it all and get lost in the hordes of happy people in this 24-hour city.
If you need more Madrid-hostels, check out our list of the best backpacker hostels in Madrid.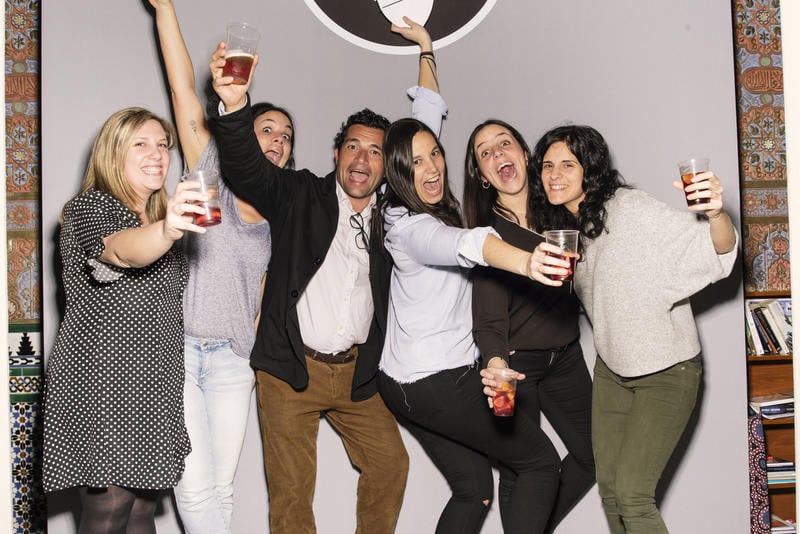 $$
Bar
Laundry Facilities
24 Hour Security
For all you party cats out there (lol?) this is the best party hostel in Madrid. Not all partying means excessive drinking, however: there's a paella party they put on every weekend, and a party centred around food sounds mighty fine to us.
The staff at this Madrid backpackers hostel also put on ace pub crawls, starting at the Cats Bar (of course) downstairs; there's also loads of other walking tours so you can get to know your fellow guests as well as the incredible Madrid. Newly renovated, so you can get at least a decent morning sleep after a night of partying.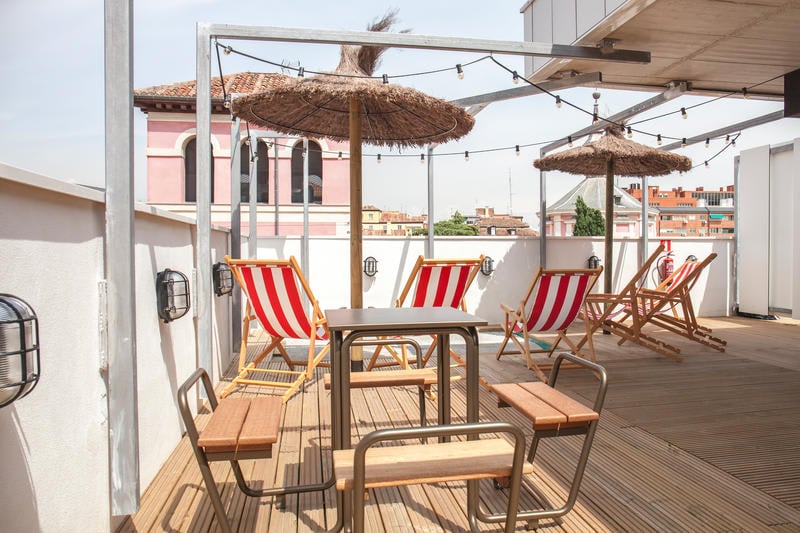 $
Looks Cool
Restaurant & Bar
Elevator
We're not quite sure why this hostel is called Bastardo, but we love it so we'll go with. This trendy lil' place is the perfect place for couples who want an adventure – it's in the heart of the centre of the city, close to artisan shopping street, Funecarral.
Even the dorms here are super chic, but the private rooms win us over too much for this not to be the best hostel for couples in Madrid. They come in various sizes and they're all ultra cool, super design oriented and totally somewhere you'd dream of staying if you saw it on Instagram. BUT IT'S REAL AND AFFORDABLE!
Best Overall Hostel in Madrid – Way Hostel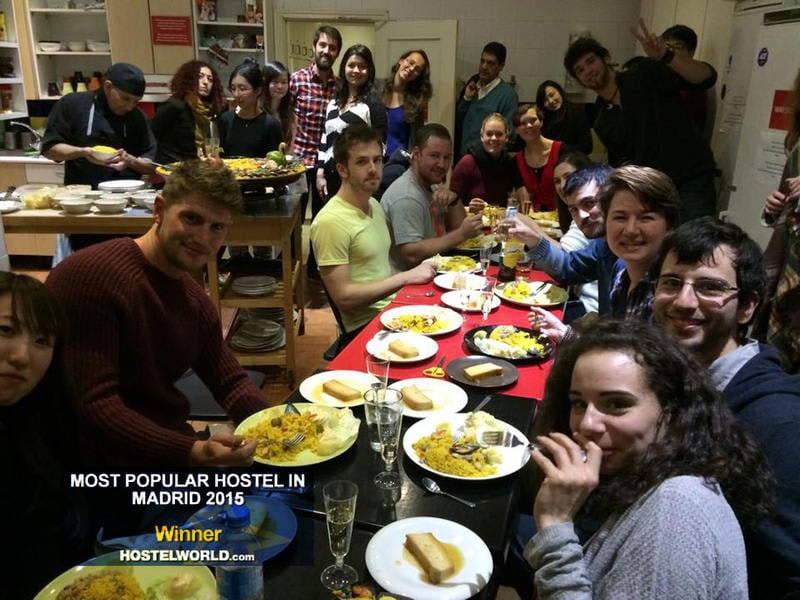 $$
Communal Kitchen
Bicycle Hire
Cafe
Close to Rastro Market – a big ol' flea market in the city every Sunday morning – this is the best overall hostel in Madrid exactly because of its ace location. It's literally surrounded by bars, eateries and clubs and a general exciting vibe that's hard not to love.
They also do fun events like flamenco shows, and communal 'family dinners' where everyone staying there, plus staff, all sit around and eat, drink and chat together, making it a great hostel for solo travellers too. The atmosphere inside matches the frenetic pace of life outside – almost!
Way Hostel is one of our favourites in Spain but they're not taking guests right now. We're not sure if they're closed for good but we hope they'll come back soon.
Is This the Best Backpack EVER???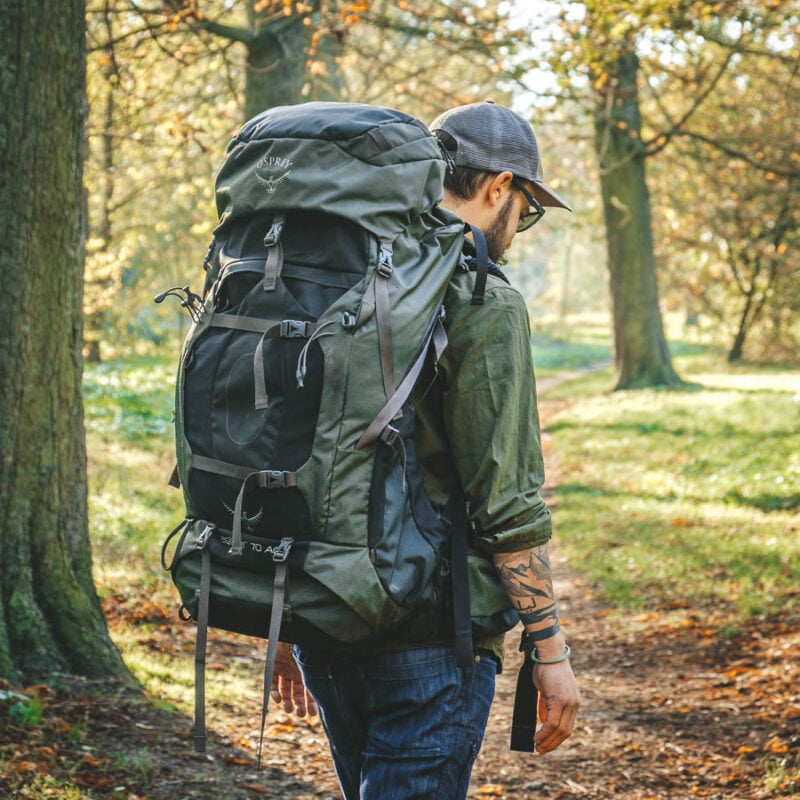 Famous for its flamenco and its stunning Moorish architecture, the city of Seville is the capital of Andalusia in southern Spain. Here you can get lost along the winding labyrinth of the photogenic Old Town, where you can discover hidden squares, little cafes and pretty much something new around every corner. The city is alive in its packed tapas bars as much as its culture and tradition.
Here's the full list of the top overall hostels in Seville.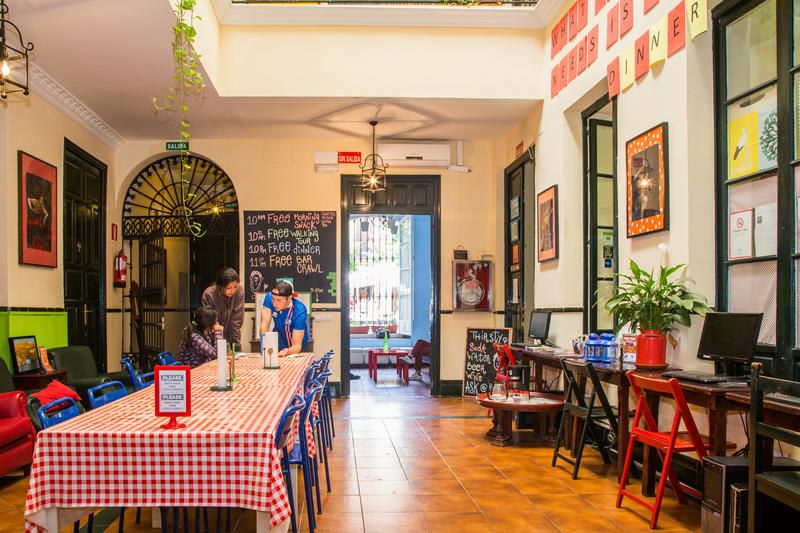 $$
Bicycle Hire
Outdoor Terrace
Aircon
A very central location combined with a load of different activities you can get involved in on the day makes this easily the best overall hostel in Seville. There's pub crawls, dinners and more to throw yourself into. As always, the staff make this place: they're super friendly.
It's great if you're travelling by yourself, too, since you can eat meals together and chat on games nights and things like that. And when the day is done all that's left to do is fall back into your super, super comfy dorm bed. Definitely THE top hostel in Seville. (You can also get a very nice private room with a balcony and a bathroom if that's what you're into).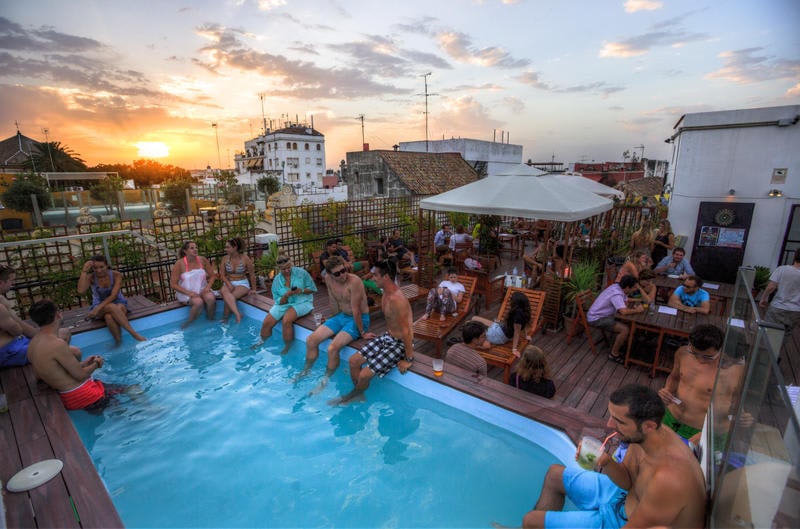 $$
Rooftop Pool
24 Hour Reception
Bar
Being the best party hostel in Seville, you can expect this place to be lively and loud and smack bang in the city centre. Yep, if you've come to this city to party, this is a recommended hostel in Seville for you. It really is all about fun times.
You can meet new mates on pub crawls, on the tapas tastings, or even in the dancing and cooking lessons this place puts on. OR you can just while away the hours by the rooftop pool with a sangria in hand just waiting for night to fall so you can hit the town.
Best Hostel for Couples in Seville – Cathedral House Sevilla
$
Communal Kitchen
Bicycle Hire
Aircon
This place is less than 1km from Seville's cathedral (hence the name, we guess) and it's easily the best hostel for couples in Seville. The dorms here are light and airy, but the private rooms is where it's AT. They're boutique AF and we love 'em. Some of them are literally more like apartments.
The kitchen here means you can make yourself some food and chow down with your partner on the terrace before heading out and exploring the historic – and romantic! – city together. It's an easy walk to loads of restaurants and great shops, so you'll never be bored.
Cathedral House Sevilla is one of our favourites in Spain but they're not taking guests right now. We're not sure if they're closed for good but we hope they'll come back soon.
Notorious for its lads-on-tour-friendly strip, high-rise hotels and beach bums, this Costa del Sol resort town has a lot more going for it than you might think. Sure, if you're looking for late night binge drinking, it's there. But there's also a whole lotta history in Malaga, plus creativity and even Michelin star dining. Plus this is where Picasso is from. See? It's got more layers than you imagined.
Here's even more of the most awesome hostels in Malaga, Spain.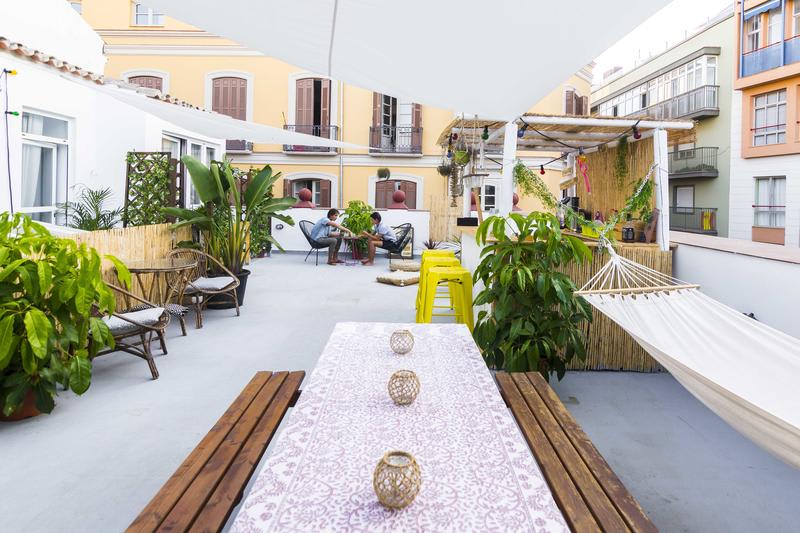 $$
Bar
Late Check-out
Communal Kitchen
This budget hostel in Malaga is RIGHT in the city centre. Anywhere you wanna get to is in walking distance of this place, so it gets top marks for location. It also gets top marks for design: it might be one of the coolest hostels in Spain let alone the coolest hostel in Malaga.
Aside from all the minimalism, upcycled furniture and houseplants, there are plenty of places to chill with a book at this calm hostel. Everything about this place, plus its safety and security, really make it the best overall hostel in Malaga. Fight us if you disagree!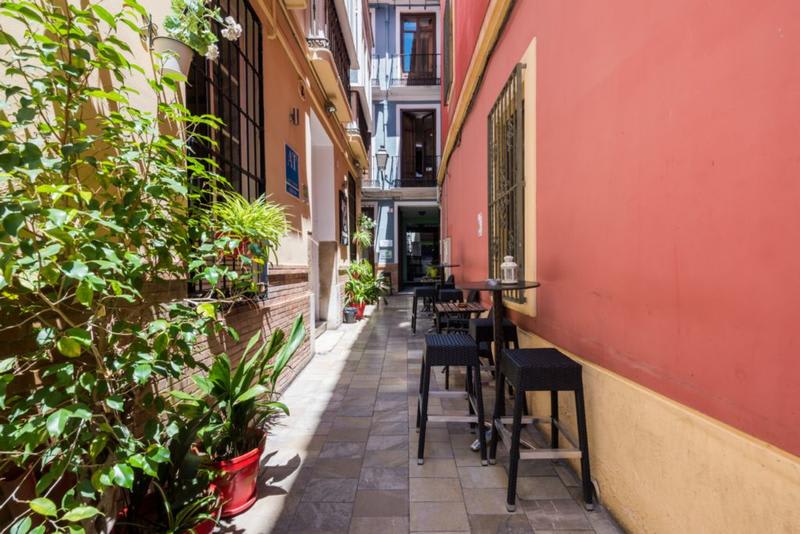 $
Free Breakfast
Common Room
Luggage Storage
Get all the feels from this place. God what a terrible pun. Sorry. But really, it's a lovely, homely little place that oozes, like, typical Spanish flavoured architecture. It's not the most tastefully decorated place, and it's not overly lively, but they DO have a cocktail bar.
The major plus point is that it's chilled out. And that it's basically in the middle of the old town, meaning you and your partner can do some seriously picturesque wandering about. And that's why it's the best hostel for couples in Malaga. Plus it's 10 mins from the main train station.
Best Party Hostel in Malaga – Oasis Backpacker's Hostel Malaga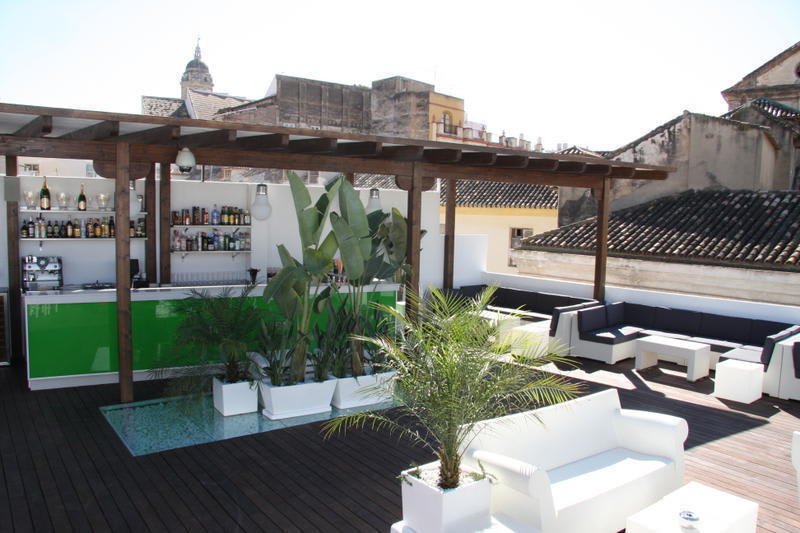 $
Communal Kitchen
Free Breakfast
Bar
Not the coolest of hostels but it is great for a fun time, this Malaga backpackers hostel is just a few mins' walk from the city's most lively areas. It is definitely the best party hostel in Malaga if that's what you're looking for. Even the hostel themselves admit that it can be hard to sleep here!
So we have beer Olympics, pub crawls, and a load of other social events to give you "the best damn time" (their words!) you could possibly have in Malaga. They also suggest you can sleep on the beach if you want, 15 mins away. A good place to meet other people.
Oasis Backpacker's Hostel Malaga is one of our favourites in Spain but they're not taking guests right now. We're not sure if they're closed for good but we hope they'll come back soon.
Valencia is instantly recognisable of the home of its football team, but obviously, there's more to it than the beautiful game. It's the third-largest city, a great place to stay in Spain, and instantly more modern – and liveable – than either Madrid or Barcelona. Valencia is dotted with weird futuristic buildings, has a decent stretch of beach and (you were waiting for this) a lovely Old Town. Oh, and it's also the home of paella.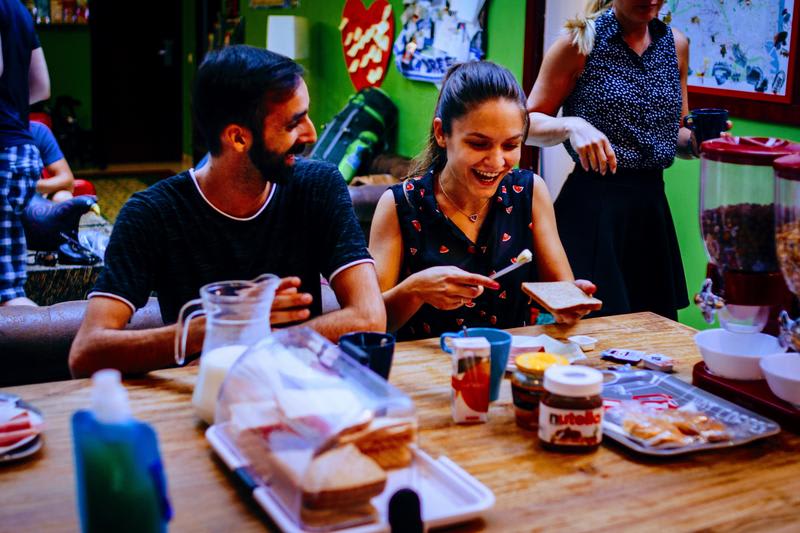 $$
Cafe
Bicycle Hire
Laundry Facilities
This place sure puts in a lot of effort to make sure everyone has fun – and this includes putting on FREE dinner nights, so you can get to chat over some seriously tasty grub. The staff are also amazing, always on hand with recommendations and tips for what to do in the city.
So, yeah, you can see why this is the best overall hostel in Valencia. As a bonus, we'll just let you know that there are also free walking tours and pub crawls going on at this Valencia backpackers hostel. The bold colours of the decor might be a bit much for some eyeballs, but the tiled floors are a beaut.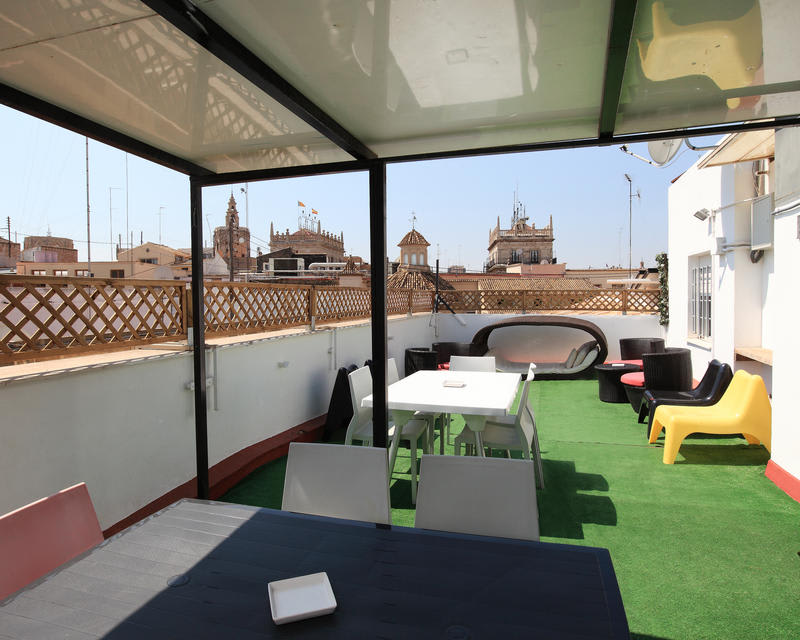 $
Outdoor Terrace
Free Breakfast
Cafe
There are so many different types of rooms to choose from at this budget hostel in Valencia that you'll be able to find something that suits your wallet the best. That's a start. But there's more to it than just saving money.
You can hang out with new mates on the rooftop terrace – complete with amazing skyline views of the Old Town. Its location right in the main square means there are LOADS of places to eat and drink, hence why this is our top pick for the best party hostel in Valencia.
Best Hostel for Couples in Valencia – Valencia Lounge Hostel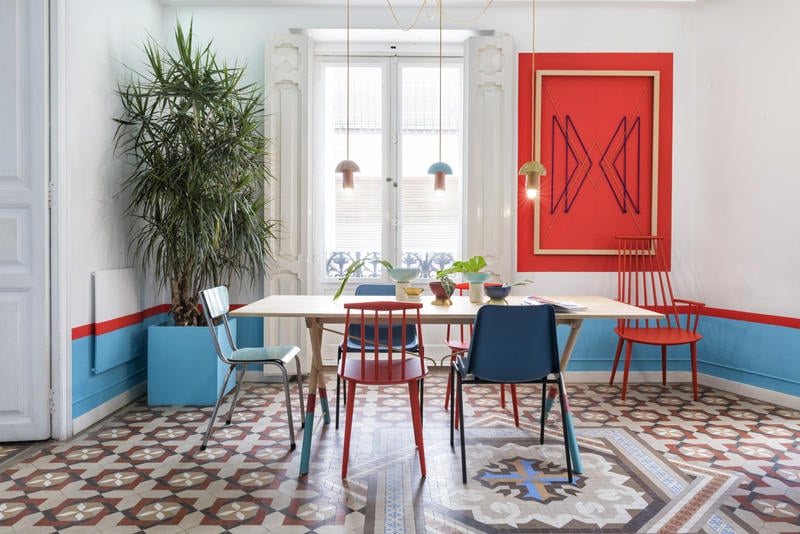 $$$
Bicycle Hire
Communal Kitchen
Luggage Storage
This place only features private rooms, but WHO CARES. It is literally – and we actually mean literally this time – LITERALLY one of the most amazing hostels we've ever seen. The decor is up there as easily one the coolest hostels in Spain: tasteful design, colour pops, minimalism, houseplants – all the good stuff.
The cool nature of this hotel means it's basically perfect as, like, a 'special' place to stay in Valencia for you and your partner. It ain't the kinda place you're gonna meet other people (everyone's too busy Instagramming the F out it anyway), so that's why this lil' dash of luxury is the best hostel for couples in Valencia.
Valencia Lounge Hostel is one of our favourites in Spain but they're not taking guests right now. We're not sure if they're closed for good but we hope they'll come back soon.
The most famous bastion of Moorish architecture in Spain, Granada is all about castles, an Arabic vibe, traditional tapas and a vibrant youth and student scene. The most famous castle of all, of course, is the globally renowned Alhambra, which attracts loads of visitors each year.
However, Granada is more than its history. There are zillions of little bars to dive in and out of, and you'll love exploring the Arabian Nights-esque streets when everyone's out and the vibe is poppin'.
Best Overall Hostel in Granada – ECO Hostel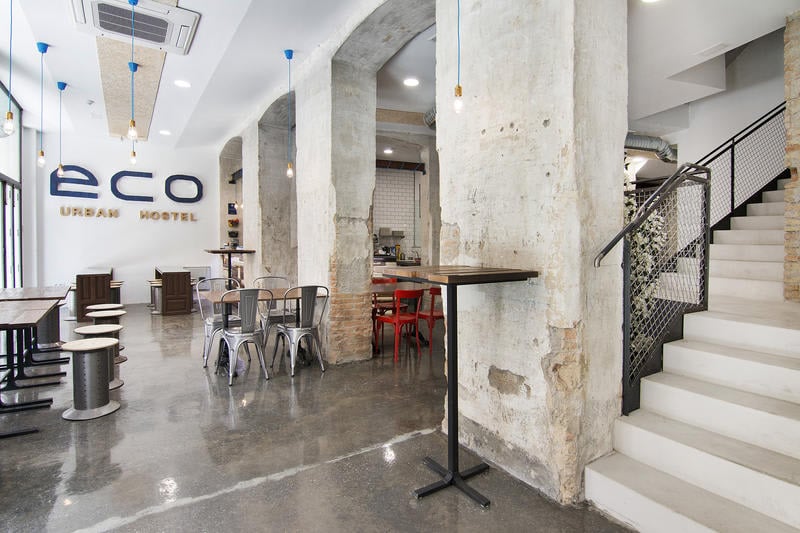 Su. Per. Sty. Lish. It's all polished concrete floors, distressed plaster walls, metal frame beds – you know, that industrial chic vibe that everyone loves at the mo. It's cool, we like it. It's also housed in an old building, which gives it high ceilings and a nice sense of space.
This cool hostel in Granada is also surprisingly sociable – the bar is a great place to grab a beer or two and get chatting to other guests. The staff are amazing, too – ask about what to do in town and they'll definitely be able to help. Easily the best overall hostel in Granada.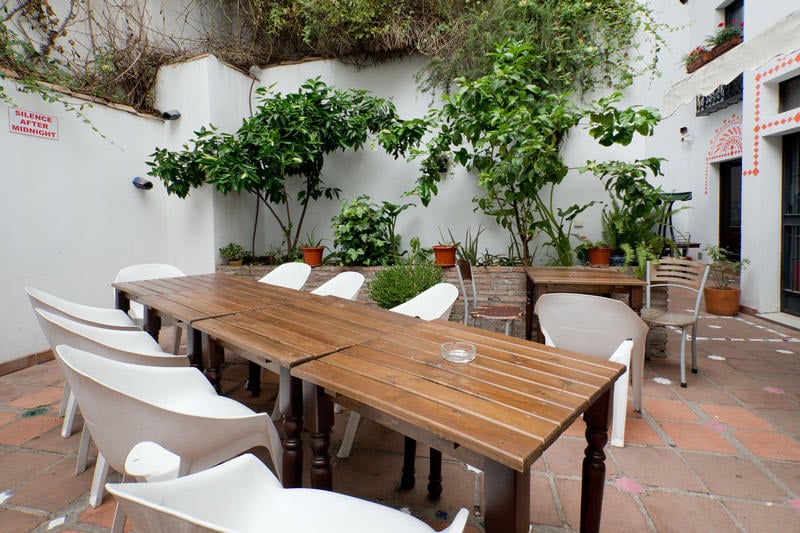 $$
Bar
BBQ
Laundry Facilities
The location of this top hostel in Granada is a good one: it's down a pedestrianised street, close to local markets, and it also means you can walk to pretty much any other place in the city with relative ease.
It might not be what you'd think of as a 'party hostel' but it IS the best party hostel in Granada since it's close to a load of good places to drink and eat. They also do a backpackers party (we don't know either), a tapas and pub crawl, plus a good ol' fashioned pub quiz. Fun times, right?
Best Hostel for Couples in Granada – El Granado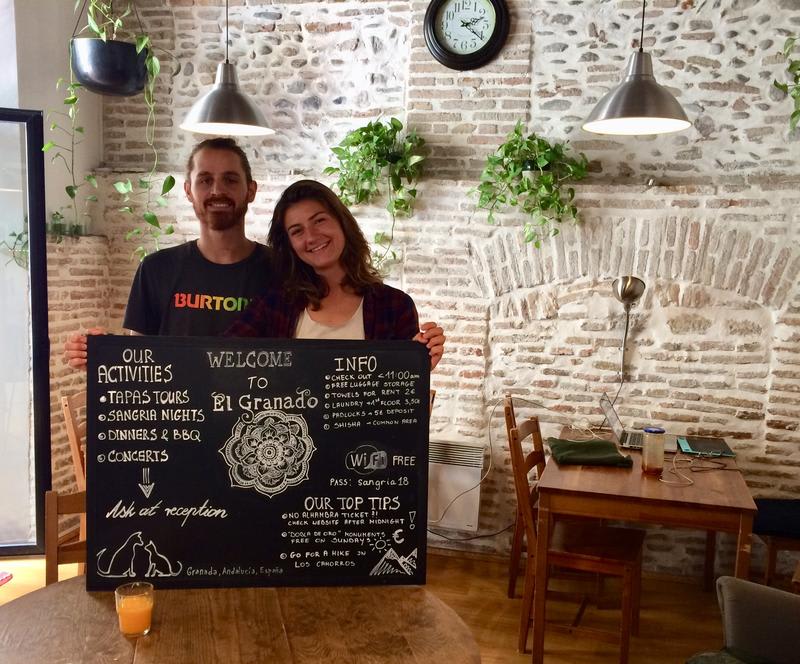 $$
Cafe
Rooftop Terrace
Bicycle Hire
It's the cute private rooms at this Granada backpackers hostel that totally make it the best hostel for couples in Granada. They're, like, hotel quality. Another good thing is the rooftop terrace, which is pretty blissed out – a great place to chill with your partner, we'd say.
Back to the private rooms, because they're amazing, some of them even have balconies with chairs and tables. Even the dorms are cool. We're totally wowed by this place. And if the actual physicality of it wasn't good enough, the staff are super kind and friendly, as well. Definite winner.

Our GREATEST Travel Secrets…
Pop your email here & get the original Broke Backpacker Bible for FREE.
Situated on the Bay of Biscay, picturesque San Sebastian is packed full of truly good eats and beautiful beaches. This Basque city, also known by its native name of Donostia, holds on tight to its heritage, with even its own version of tapas to try (pintxos bars literally litter the city) and a load of cultural events throughout the year. Get ready to fall in love with this postcard-perfect seaside city.
Best Overall Hostel in San Sebastian – Surfing Etxea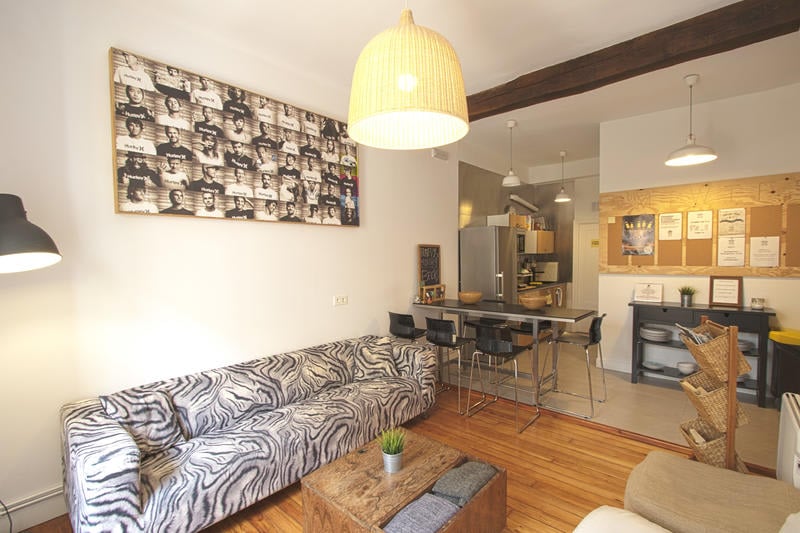 $$
Cafe
24 Hour Security
Surfing Stuff
This best overall hostel in San Sebastian is located right near the beach and is totally the best place for you to come if hitting the waves and indulging in a lil' bit of surfing is what you wanna do. They hire out surfing equipment and even do surf lessons, too.
Whilst there's no alcohol allowed at this San Sebastian backpackers hostel (we know, we know…) there's still a friendly atmosphere and comfortable surroundings which more than make up for it. Plus, well, it's a 3 min walk to the beach. What more do you want? Huh?!
Best Hostel for Couples in San Sebastian – Koba Hostel
$
Free Breakfast
Common Room
Luggage Storage
If you and your partner want a break in the literal centre of the city, then this is one of the coolest hostels in San Sebastian. For major cool points, it's located inside what was once an old car workshop, the hostel is now a chilled out and suitably chic destination with a focus on industrial-flavoured design.
You can unwind together in your own private room (these are effortlessly cool, of course), have a coffee on the terrace, or just chill in one of the many common areas. The surrounding streets of the lively Gros district are fun to explore, too. So you can see why it's the best hostel for couples in San Sebastian.
Best Party Hostel in San Sebastian – Usturre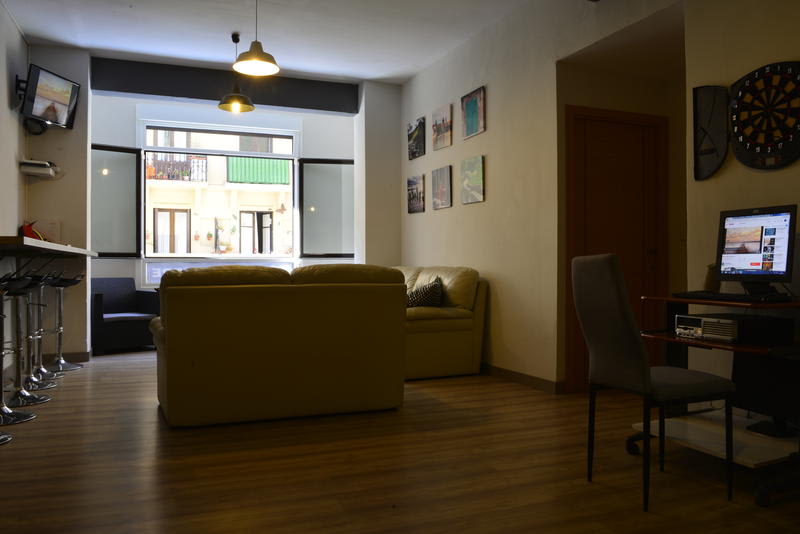 $
Bicycle Hire
Laundry Facilities
No Curfew
This San Sebastian backpackers hostel is located on a lively street right near some choice places to drink and have a night on the town. It's also a cool 1 min from the beach. The Old Town and its fun vibes is also nearby.
There are good communal spaces here making getting to know people pretty easy. It can get a little bit noisy at night, but if what you're here to do is BE noisy and party on, then you probably won't care too much. This is the best party hostel in San Sebastian, after all.
Usturre is one of our favourites in Spain but they're not taking guests right now. We're not sure if they're closed for good but we hope they'll come back soon.
What to Pack for your Spain Hostel
Pants, socks, underwear, soap?! Take it from us, packing for a hostel stay is not always quite as straight forward as it seems. Working out what to bring and what to leave at home is an art we have perfected over many years.
Check out our definitive Hostel Packing list for our top packing tips!
Why you should travel to Spain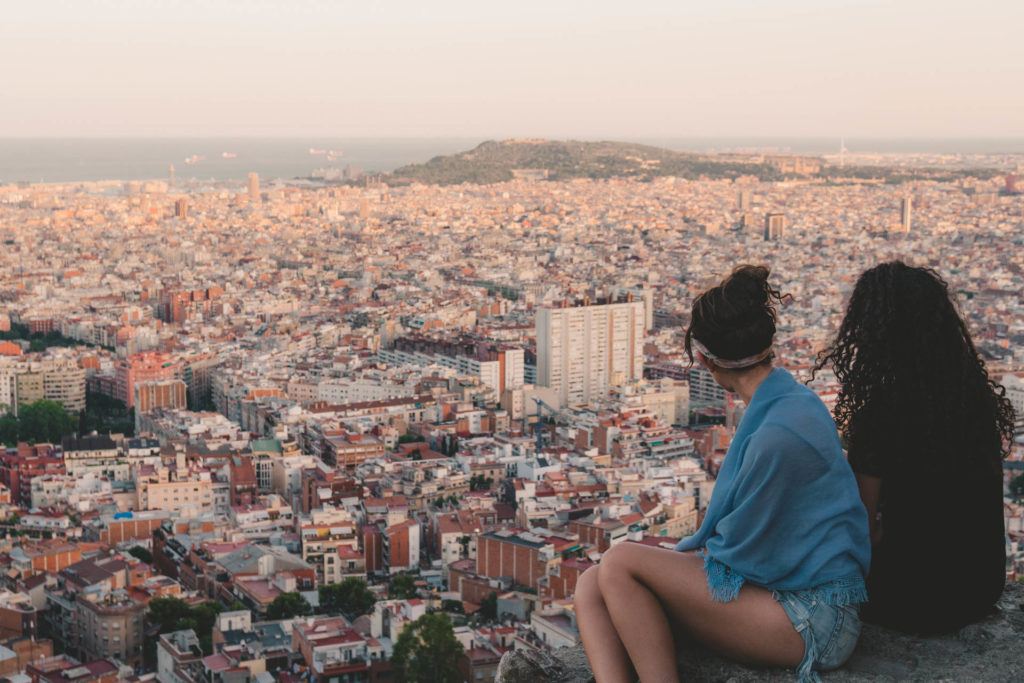 There you have it! All of the best hostel in Spain all in one list, there's a lot to choose from aren't there?
As you can tell, Spain has some incredible cities that overflow with tasty tapas places, amazing museums and some pretty crazy nights out too.
It's not just a destination for family holidays and resorts, there's SO MUCH choice when it comes to backpacker accommodation.
Start in the metropolitan hubs of Madrid to Barcelona with their fun and friendly hostels, then head along the coast and discover for yourself the depth of history and the warmth of the locals in the smaller Spanish cities.
With our list of the best hostels in Spain, there's no stopping you having the best trip ever and bagging yourself a bargain bed in a cool Spanish hostel too.
All of the top hostels in Spain are waiting for you, all that's left is for you to get booking and get packing!
If you're feeling a little overwhelmed with all of the choice, we recommend booking yourself in the forever fun city of Barcelona. Our best hostel in Barcelona, Hostel One Sants, will be an amazing place to start.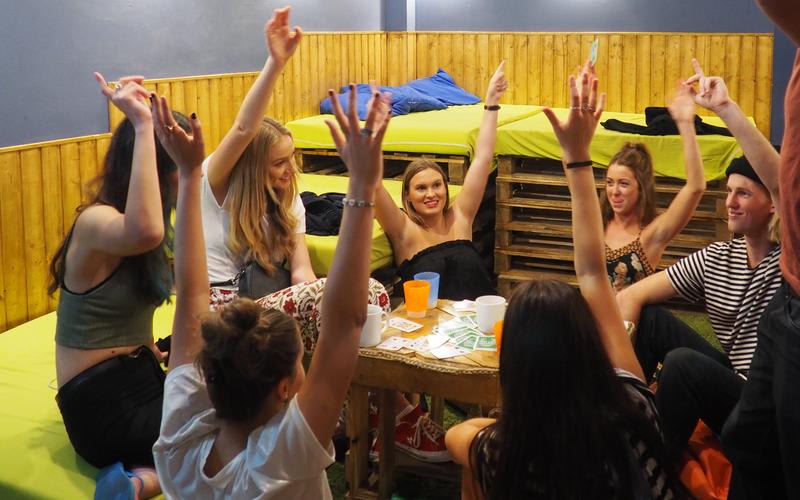 Get ready to live la vida loca baby!
Travel Safety Tips for Spain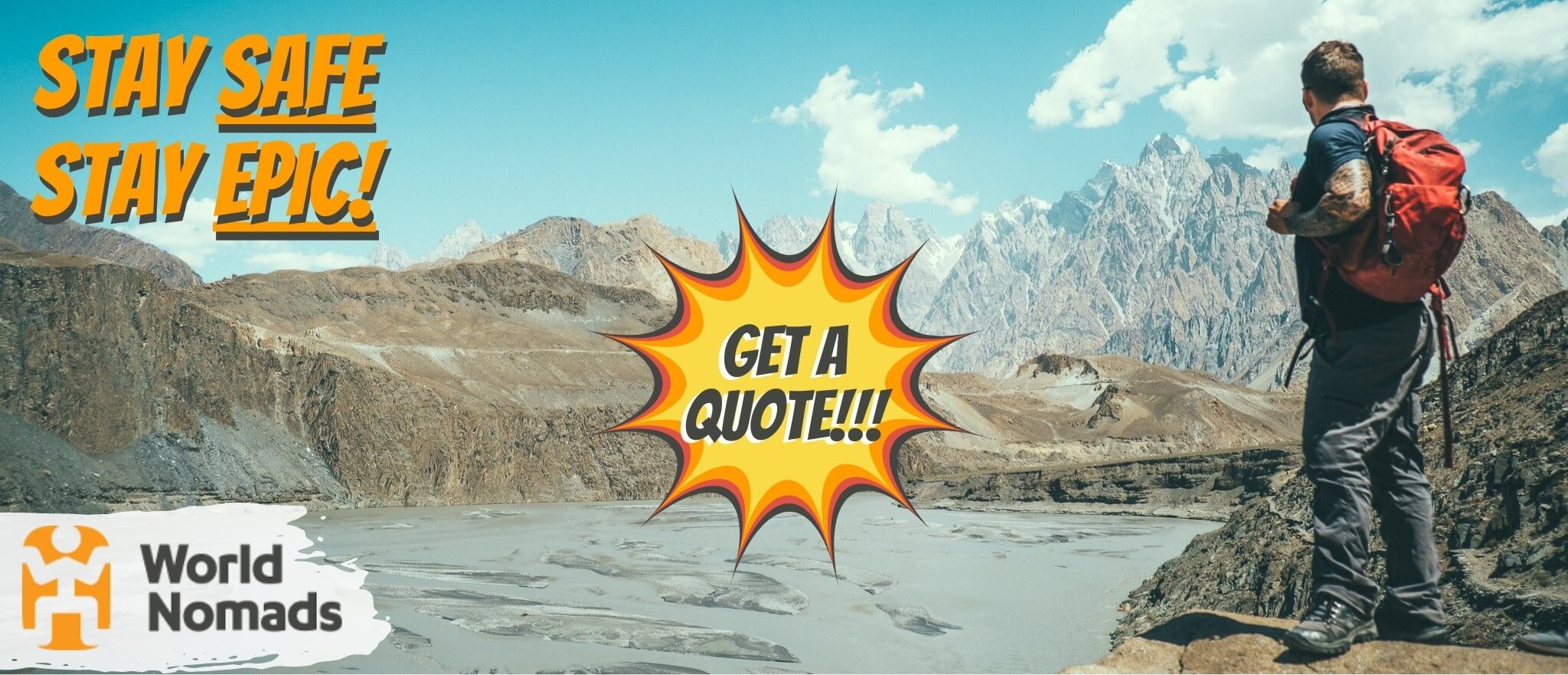 World Nomads' mission is to support and encourage travellers to explore their boundaries. They offer simple & flexible travel insurance, and safety advice to help you travel confidently.
They've been doing it since 2002 – protecting, connecting, and inspiring independent travellers just like you.
Get a quote below or read our in-depth review!
World Nomads provides travel insurance for travelers in over 100 countries. As an affiliate, we receive a fee when you get a quote from World Nomads using this link. We do not represent World Nomads. This is information only and not a recommendation to buy travel insurance.
More Epic Hostels in Spain and Europe
Hopefully by now you've found the perfect hostel for your upcoming trip to Spain.
Planning an epic trip all across Spain or even Europe itself?
Don't worry – we've got you covered!
For more cool hostel guides around Europe, check out:
Best Hostels in Pamplona
Best Hostels in Sitges
Over to you
By now I hope our epic guide to the best hostels in Spain has helped you choose the perfect hostel for your adventure!
If you think we've missed anything or have any further thoughts, hit us up in the comments!
---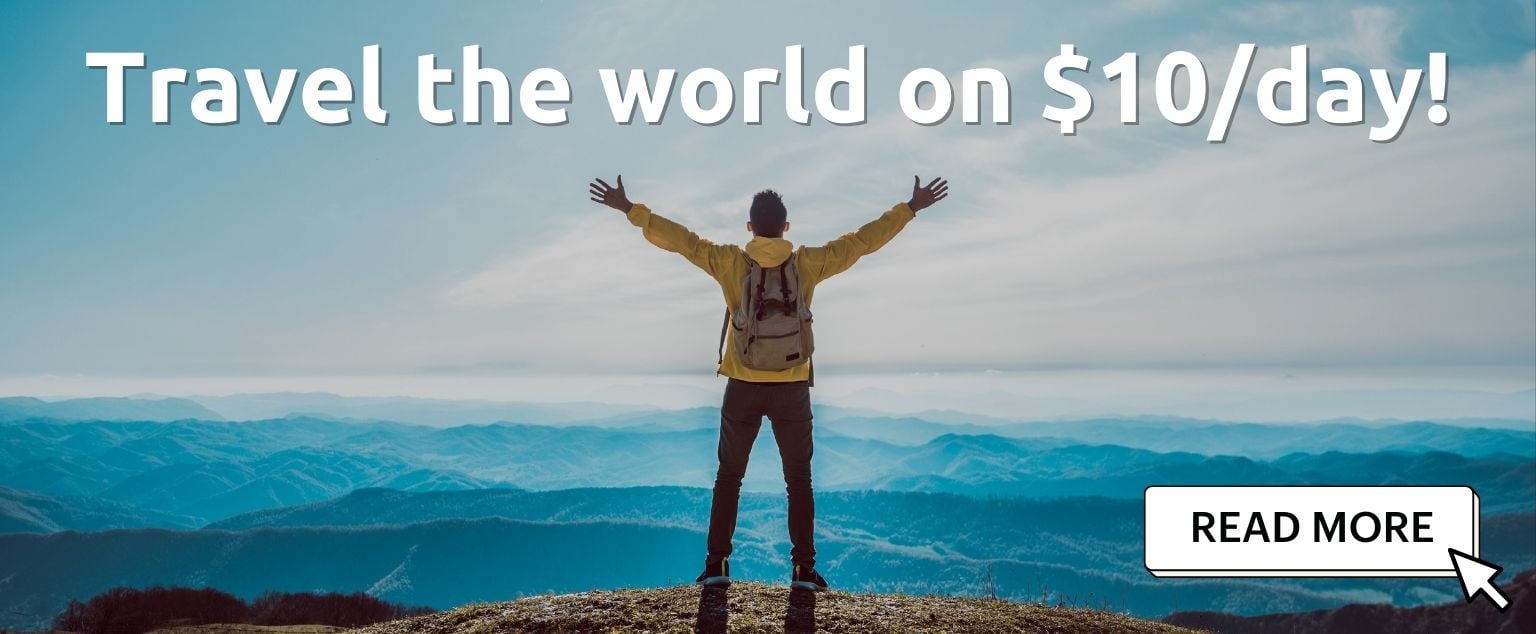 And for transparency's sake, please know that some of the links in our content are affiliate links. That means that if you book your accommodation, buy your gear, or sort your insurance through our link, we earn a small commission (at no extra cost to you). That said, we only link to the gear we trust and never recommend services we don't believe are up to scratch. Again, thank you!