Hola, and welcome to Madrid! This stunning Spanish city is a tourist hotspot, and with good reason. It attracts curious travellers from all over the globe with its spellbinding history, captivating culture, and locals who know how to throw a party! 
Fortunately, there's no dearth of amazing Madrid hostels. The only challenge is picking the right one for you. This is where I step in to help you with the ultimate guide to the 5 best hostels in Madrid.
I've organized the top hostels in Madrid into different categories – leaving no travel-stone unturned. After this, you'll be ready to book the hostel that perfectly suits YOUR travel style. Whether you're looking for the best party hostel in Madrid or a cozy option for solo travellers, I'm going to walk you through this stress-free guide and help you pick the right place to stay — so you can show up, confident in your choice, ready for a good time!
Let's get right into it!
Quick Answer: The Best Hostels in Madrid

Do You Want to Travel FOREVER??
Pop your email in below to get a FREE copy of 'How to Travel the World on $10 a Day!'.
What to Expect when Staying in a Madrid Hostel
Backpacking Spain is every traveller's dream, as is the stunning city of Madrid. Why should you stay at a hostel when you visit Madrid? Well, there are LOTS of reasons, but first, let's talk money.
Hostels are especially popular amongst backpackers because they are the cheapest form of accommodation. Madrid's hostels are affordable and offer amazing amenities for the price you pay.
But that's not all: the most unique thing about hostels is the social vibe. A Madrid hostel is the best place to meet like-minded travellers, make new friends, and share travel tips. This kind of community can't be found in any other type of accommodation.
The hostels in Madrid are very well organized, modern, and clean. Loads of them offer freebies, such as breakfast, Wi-Fi, and event nights. In fact, you can almost always find a sassy Flamenco lesson on offer!
We've mentioned the price, but let's get into detail on that topic. The general rule is: the bigger the dorm, the cheaper the nightly rate. When you're backpacking Madrid, expect the room prices in Madrid's hostels look something like this:
Dorm (mixed or female-only): $17–50 USD/night
Private room: $50–100 USD/night
When looking for hostels, you'll find the best options on HOSTELWORLD. This platform offers you a super-safe and efficient booking process. All hostels are displayed with a rating and previous guest reviews. You can also filter your personal travel needs easily and find the perfect place for you.
When it comes to choosing where to stay in Madrid, you have some pretty cool neighbourhoods to choose from as well. These are our absolute favourites:
Centro – The best area for first-time visitors and the most central base to explore the rest of the city.
Chueca – The best neighbourhood for partying, with epic nightlife venues.
Lavapiés – A super-vibrant and artsy area with amazing budget accommodations.
Now that you know what to expect from Madrid's hostels, here are the best of the best!
The 5 Best Hostels in Madrid
Spain has an overwhelming choice of amazing hostels. So we've not only whittled down the list of Madrid's top places to stay, but we've thrown a few extras in there for you too.
Whether you're looking for the cheapest hostel in Madrid or a youth hostel in Madrid for couples, a digital nomad looking for a Madrid hostel to get work done, or in search of the best hostel for solo female travellers in Madrid to meet cool people, there is definitely something for you out there! Come, let's find the best hostel Madrid has to offer you!
1. Overall Best Hostel in Madrid – The Hat Madrid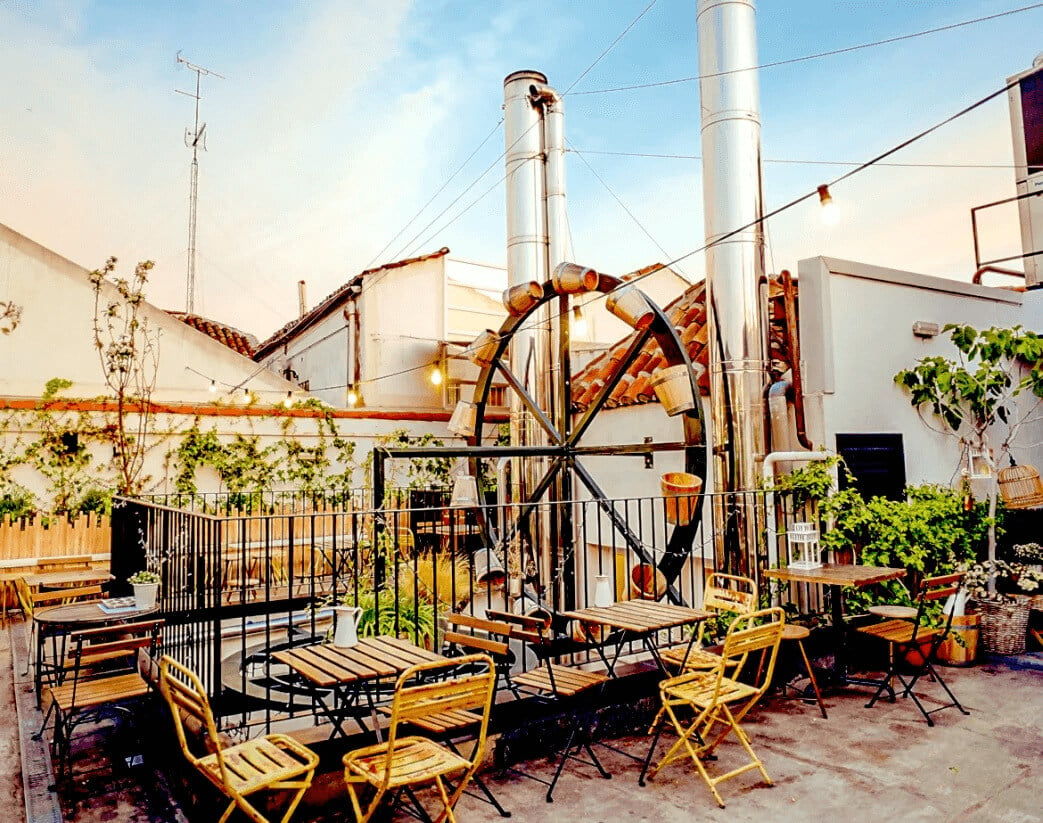 Rooftop Terrace
Laundry Facilities
Calling all Madrid travellers: taking the top spot as the overall number-one hostel in all of Madrid is the award-winning Hat Hostel! Famed for its awesome facilities, friendly vibe, clean rooms, and funky designs, this is one hostel Madrid is very proud of.
One of the top things about Hat Hostel Madrid is its great location. The mansion is centrally located in the best tourist area in the Plaza Mayor, and you can tick things off your Madrid itinerary with a 3-minute walk to the Puerta del Sol, Gran Vía and La Latina.
Why you'll love this hostel:
Insane social atmosphere
Bike hire
Air-conditioned rooms
While Hat Hostel is not one of the cheapest hostels, this boutique hostel offers absolute quality that you can completely trust AND one of the best experiences you can have while travelling across Spain. The hostel offers personalised budget plans for all their guests. That means that if you're a bougie backpacker, you'll be sent to all the places that make the butterflies in your belly dance. If you're a straight-up toe-to-toe budget backpacker, same same, you will get a perfect plan for all the must-see, must-do things in Madrid!
The on-site bar is a great place to socialise, make friends, and have a couple of pre-game drinks before heading for a night out on the tiles. You can also relax in the sunshine on the outdoor terrace. Housekeeping services help the hostel maintain its sparkle, along with laundry facilities, free Wi-Fi, luggage storage, and steam room!
The tour desk at Hat Hostel Madrid is the perfect place to start off on your walking tour to get to know Madrid. You can also sign up for some exciting pub crawls!
As for the sleep situation, custom-made bunk beds make the dormitory rooms super comfy to stay in. The boutique hostel has mixed and female-only dorms to cater to 4–10 guests, and there are also private en-suite rooms to sleep 2 and 4 guests.
2. Best Hostel for Solo Travellers in Madrid – Sungate One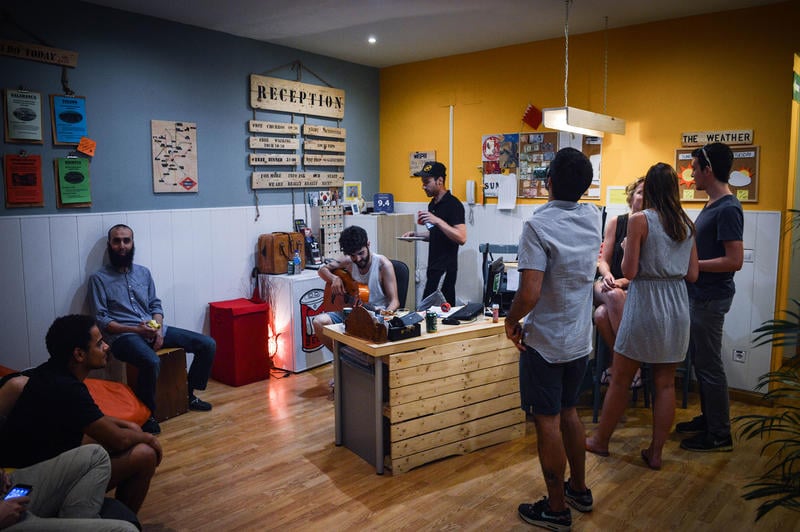 Situated in Centro, close to public transportation links, major sights, and nightlife, Sungate One is a comfortable Madrid backpackers hostel. The helpful staff members are always ready to offer tips and advice on all the things you can do in Madrid, and you can book a range of tours directly on-site.
There's a full kitchen where you can cook your own meals to stretch your funds further, and free tea and coffee are also available at all times.
Why you'll love this hostel:
Very welcoming and homely vibe
Very high cleanliness standards
Incredible location
The rooms at Sungate One are fully air-conditioned, so you can stay nice and cool when the sun's hot. There are mixed and female-only dorms to choose from, all with individual beds (not bunks). You'll find private lockers where you can securely store your backpack. Linen is free, and if you need a towel, just ask the friendly staff at the reception.
For those who have been travelling for a while and are in need of some fresh clothes, you can make use of the hostel's laundry facilities and wash your stuff for a very small charge.
Of course, the Wi-Fi is free too – and it's fast, making it ideal for getting some work done on your laptop as well. The common room is great for socialising and chilling. You'll be able to connect with other backpackers and find new friends in no time, which is why we chose Sungate One as one of the top hostels for solo travellers in the Spanish capital.
3. Best Cheap Hostel in Madrid – Mola Hostel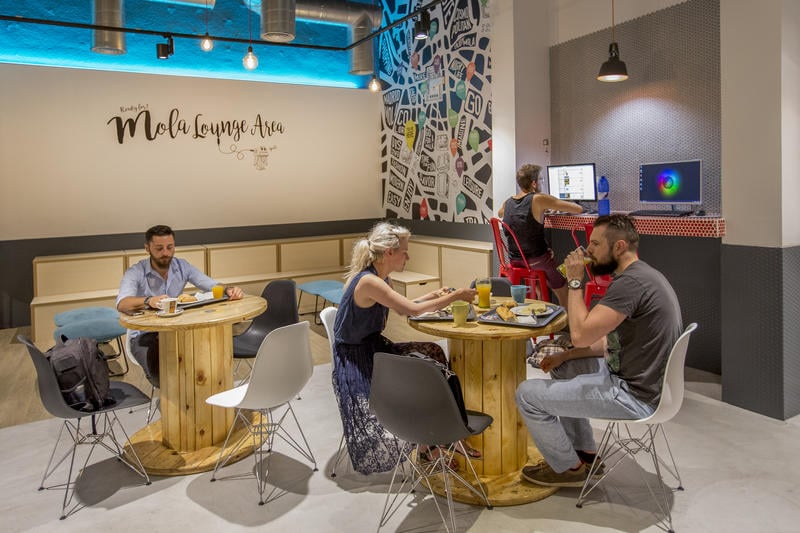 Centrally Located
24-Hour Reception
A terrific base for budget backpackers, Mola Hostel is the best cheap hostel in Madrid. For Madrid hostels, this one sets the standard. The design consists of large and open spaces, with a focus on comfort.
The dorms are spacious and well-designed, giving guests plenty of privacy. Each dorm has built-in bunk beds – so no rocking around with your bunkies rolling about. All the rooms also have their own showers and toilet, and all guests are given their own big locker.
Why you'll love this hostel:
Air-conditioning throughout
Built-in bunk beds
Social common space
Mola Hostel is one of the top cheap hostels in Madrid for people who want the affordability AND social atmosphere of a hostel – while still having quiet time to themselves. That's not to say that you won't meet others – the large cafe, bar, and lounge area are perfect for grabbing a bite to eat, chatting, and chillaxing with fellow travellers.
We have to mention the great location of Mola Hostel too. Most budget options are further out from the city centre, so you can't access downtown on foot. But not Mola Hostel! Everything's within walking distance! You're just 5 minutes' walk from Puerta Del Sol square, and Plaza Mayor, while the Prado Museum, Reina Sofia Museum, and Royal Palace are a short 20 minutes away.
If you're in need of advice on what to see and do in Madrid, the friendly staff will be happy to help you come up with a cool and unique itinerary. They'll hook you up with walking tours and bar crawls too!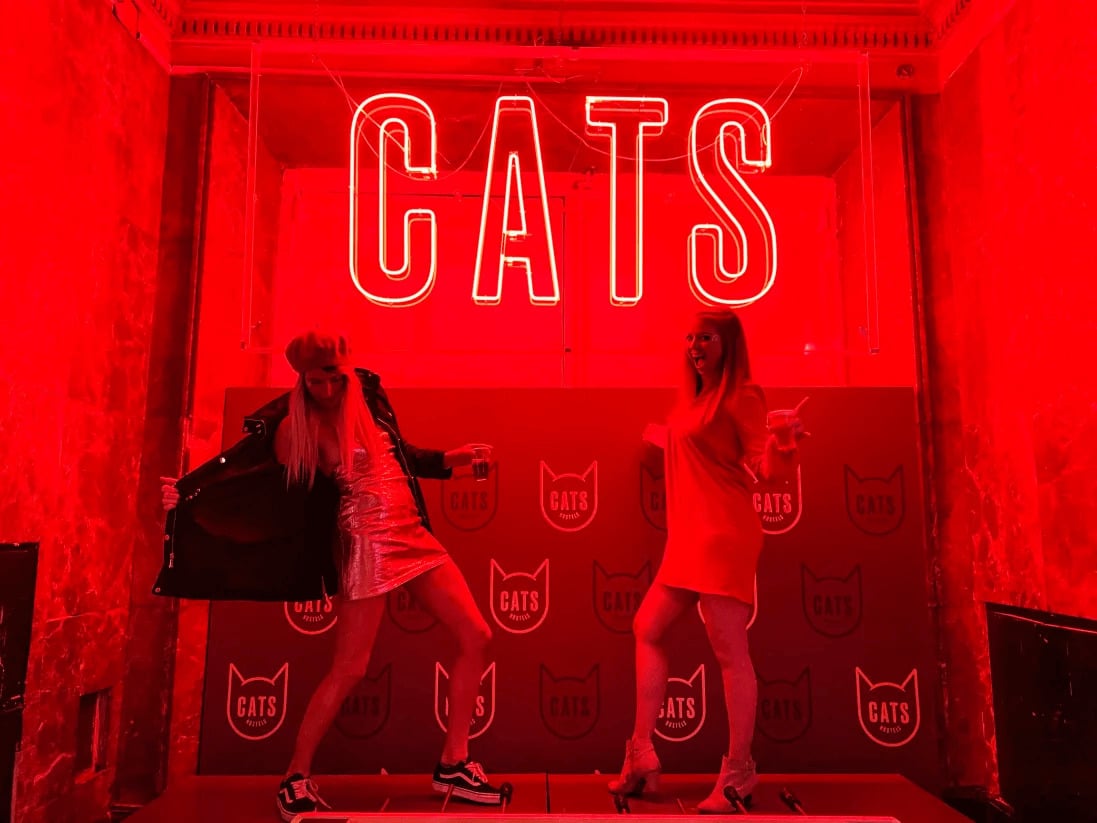 Laundry Facilities
Tour Desk
Cats Hostel Madrid Sol is a cheap and cheerful youth hostel in Madrid's central core. A place that knows how to do social, it's not only the best party hostel in Madrid but one of the best party hostels in Europe! Join pub crawls every night of the week, and take part in diverse activities that let you live the Madrid life, like tapas tours, salsa lessons, and flamenco dancing.
The on-site bar is always buzzing. Breakfast is cheap if you just can't face going out to find food, and the comfy dorms and private rooms let you catch up on your beauty sleep, ready to start afresh come evening time.
Why you'll love this hostel:
Only the best reviews
Free entertainment nights
Beautiful courtyard
Cats Hostel Madrid Sol isn't just an epic party hostel. Since it's located so centrally, travellers who just want to explore the city will love this place as well. Most famous Madrid attractions are within 10 minutes' walking distance. If you're not sure where to start, head to the reception and grab a free city map – that'll help you navigate through the beautiful streets of Madrid.
After a long day of walking around, head back to the hostel and chill with the other backpackers in the massive courtyard. Or if you want to cool drown, grab a book from the exchange and chill in the air-conditioned lounge inside.
If you're lucky enough to stay over the weekend in Madrid, you even get to enjoy the hostel's famous Saturday Paella night! Get to know the taste of Spain with some delicious traditional food while sipping on freshly made sangria. Yum.
5. Best Hostel for Digital Nomads in Madrid – OK Hostel Madrid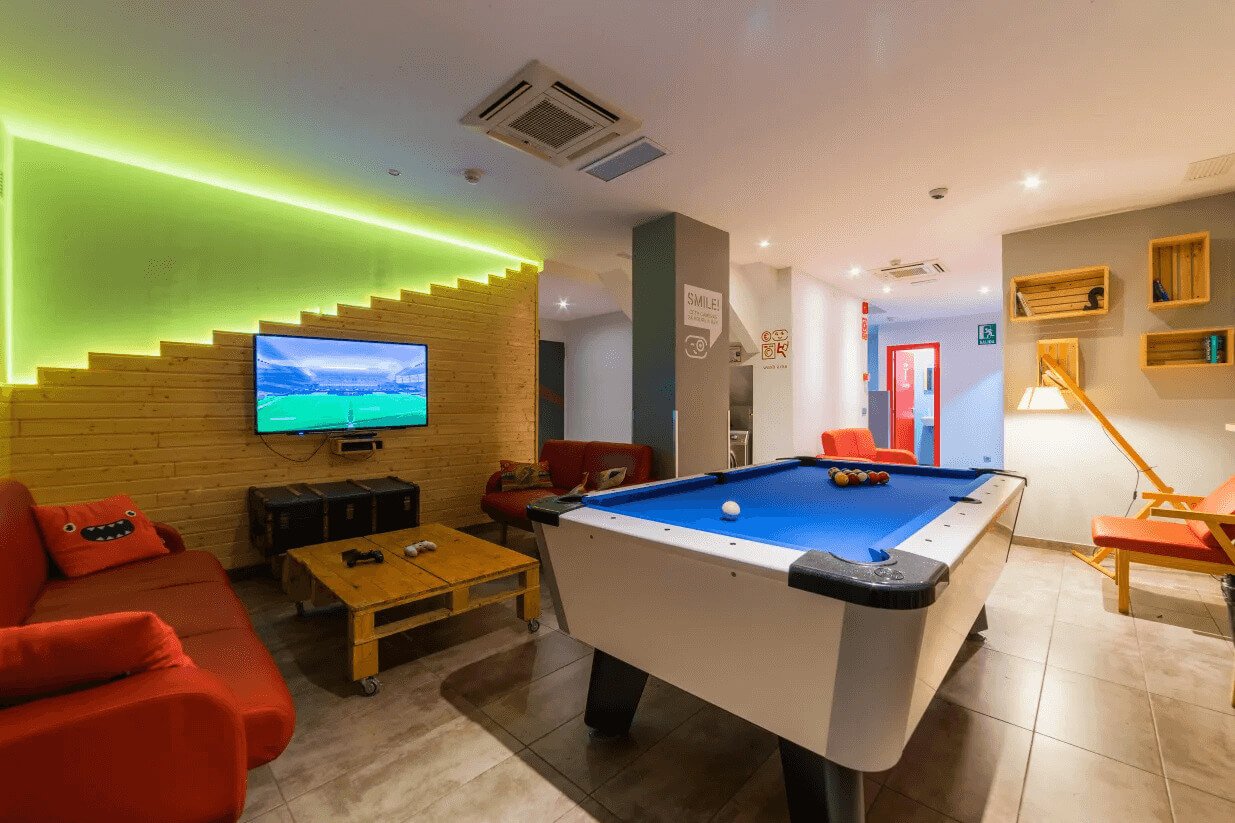 Key Card Access
Air-Conditioned Rooms
If you haven't heard of OK Hostel Madrid yet, it's still not too late. It's far from being simply OK … it's awesome! It was this close to taking the number-one spot in the city!
Located in the historical part of Madrid, in Barrio La Latina with its boho vibes, OK Hostel Madrid is our pick for the best hostel for digital nomads in Madrid.
Why you'll love this hostel:
Social atmosphere
Free, high-speed Wi-Fi
Free use of computers
Consistently named as one of the best hostels in Madrid for solo travellers, we're naming OK Hostel as the best choice for digital nomads too, with its free-to-use computers and free Wi-Fi!
Great communal spaces make this hostel a perfect office space to focus and produce your best output. The private rooms come kitted out with dedicated workspaces too.
The breakfast buffet is a great way to kickstart the day at a really reasonable price. When you're ready to let your hair down, the daily activities are heaps of fun and give you plenty of opportunities to blow off some steam after work and meet other travellers. Join in with bar crawls, communal dinners, drinking games, and more. The lounge has comfy sofas and beanbags, as well as a TV and a PlayStation, musical instruments, a book exchange, and even a frikkin' pool table!
There are mixed and female-only dorms and access is by key card. And don't worry, all the rooms come with air conditioning – so no sleepless summer nights for you!
Is This the Best Backpack EVER???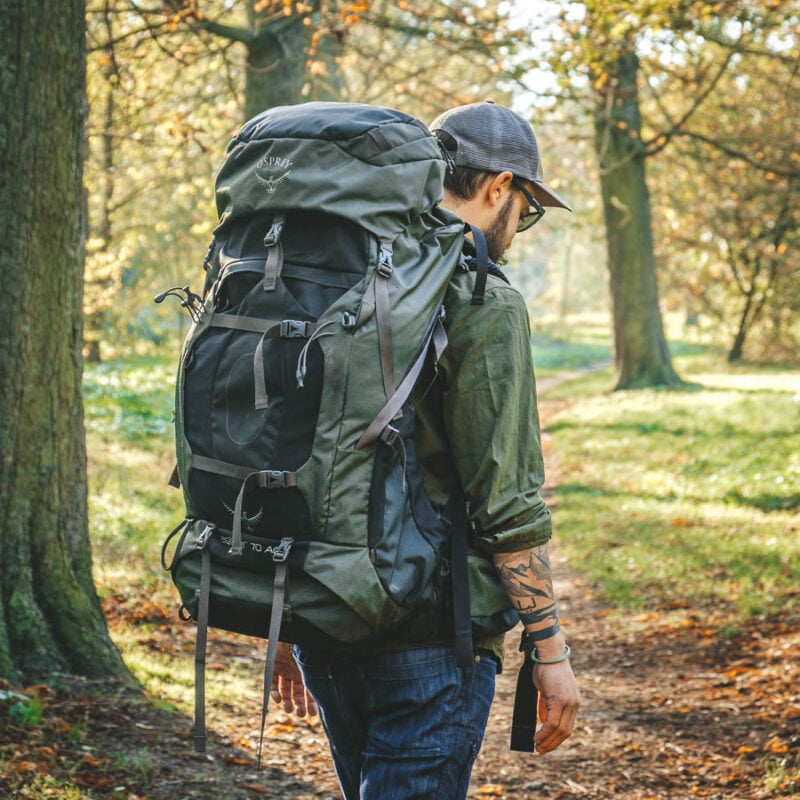 More Epic Hostels in Madrid
There's no need to choose just yet – choosing just 5 was close to impossible. If you don't already know, Spain has some unbelievably good hostels.
So we've got some more awesome hostels coming your way. Keep scrolling down to find the perfect hostel for you!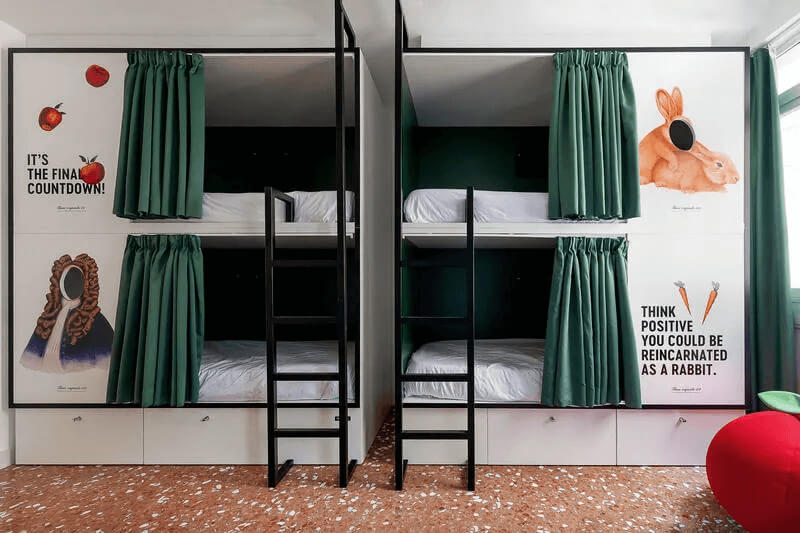 Sauna and Hot Tub
Modern Hostel Design
2060 The Newton Hostel is firmly rooted in the future – 2060 to be precise. The hostel design is intelligent – far from basic or generic – that will offer you an experience that makes you never want to leave!
First off, the hostel has a damn sauna and hot tub for those feeling bougie. Head up to the rooftop terrace–bar for the best views of Madrid to enjoy with your drink.
2060 The Newton Hostel also boasts fantastic common spaces with super-fast Wi-Fi, perfect for those travelling and working on their computers. If you like, you can also make use of the shared computers.
The rooms have bunk beds or single beds, with a modern and minimalist style, and are air conditioned for maximum comfort. You've also got self-catering facilities which will really help give you a sense of home.
Best Social Vibes
Incredible City Views
The old trusty is back again – Generator Madrid, one of our favourite places to stay in Spain! This beautifully designed hotel–hostel is located just a few steps from the Gran Vía in the city centre. Since the location is pretty much perfect, you can spend the whole day exploring the city with ease.
My favourite part is the Generator's popping rooftop bar. It's a great place to meet people before you head out on pub crawls. If you don't know where to start exploring, head to the reception and pick up one of the free city maps. Organise your walking tours so you don't miss any of Madrid's highlights! The friendly staff members can also help arrange a variety of fun events to keep things fresh and lively. You can also enjoy delicious food and drinks from the Generator's on-site cafe and restaurant.
For budget backpackers, there are spacious dorms (mixed and female-only), but the Generator also offers en-suite private rooms and even rooms for a large group of friends or family. The hostel also allows dogs (within limits and for an extra fee), which makes life much easier for those who can't do without their furry friends!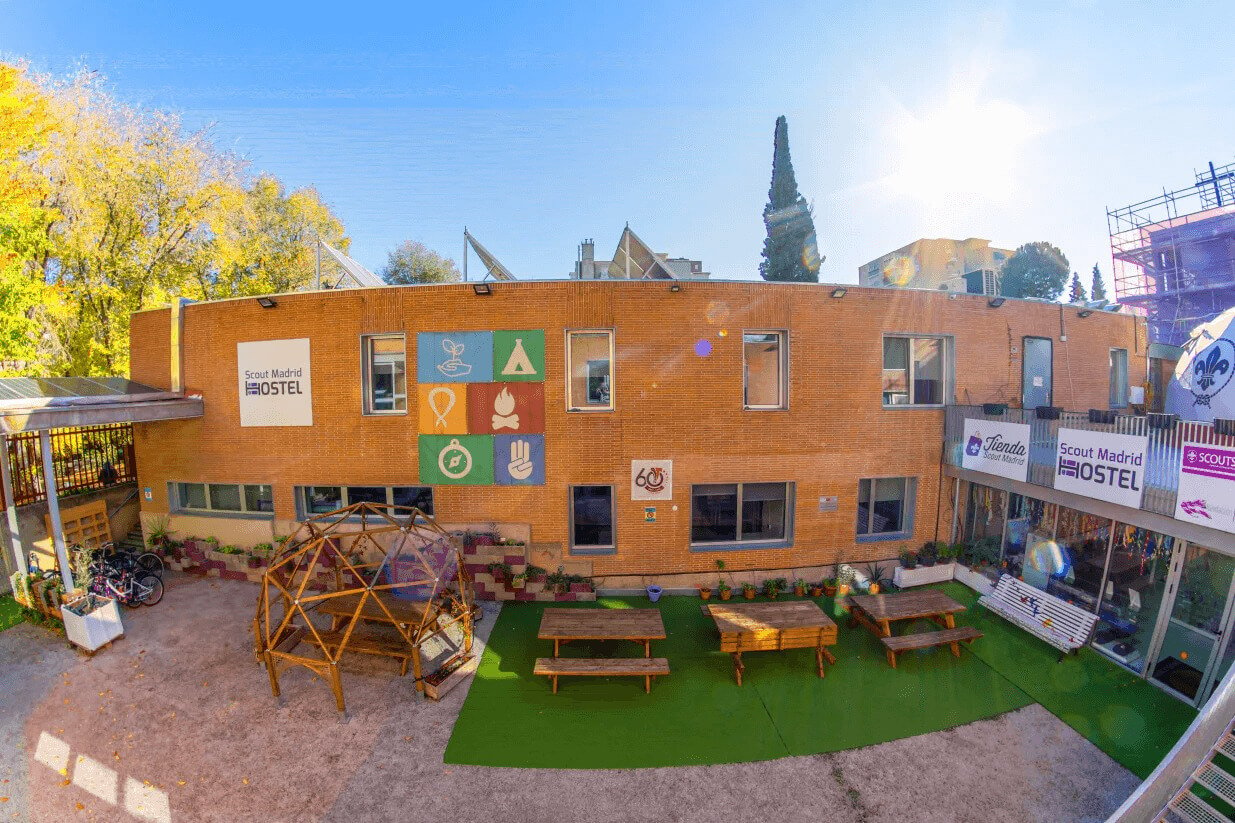 Located about 20 minutes from the city centre by public transport, in a charming and quiet neighbourhood, is Scout Madrid Hostel. The next station is only 2 minutes from your front door, so it's really not a struggle to get around.
Breakfast is included in the price, and there's free Wi-Fi as well as free-to-use computers for those on a Spanish working holiday. There are indoor and outdoor common areas, so whether you want to soak up the sun or chill indoors, there's a spot for you.
Scout Madrid Hostel has a well-equipped kitchen and a professional meeting room. The dorms are spacious and all beds come with a personal power outlet, lights, and lockers.
Other convenient features at this top hostel in Madrid include a tour desk, luggage storage, and laundry facilities. The hostel itself follows the Scout values: incorporating environmental, social and cultural criteria. It's a very welcoming place, with a calm and more grown-up community.
Outdoor Terrace
Amazing and Modern Room Options
Situated in downtown Madrid, Room007 Chueca Hostel has it all: an on-site resto bar that offers great discounts, a kitchen, a cosy attic lounge with a foosball table, and a cool roof terrace. Start the day with a delicious breakfast and then head out to explore the epic neighbourhood. The bars in Chueca stay open till the early hours so you can paint the town red to your heart's content!
You can easily walk to iconic sights like the Royal Palace in about 20 minutes. Free walking tours and a bunch of other activities are part of the deal at Room007 Chueca Hostel too.
This also one of the safest hostels in the city according to previous guests. The round-the-clock security helps to keep you safe, and baggage storage means there's no need to lug your stuff around with you if you're checking out in the morning but not leaving till later.
Room007 Chueca Hostel offers doubles that are so cosy if you're travelling as a couple. The shared rooms are dorms with bunk beds that come with a reading light, linen, towels, and secure lockers. Shower gel and shampoo are included, so no need to worry about fitting all your liquids into your luggage!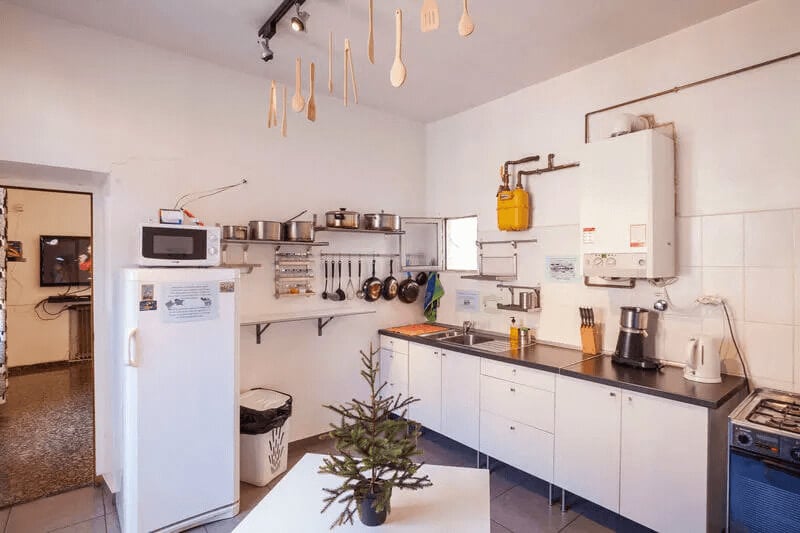 Great Location
Shared Kitchen
Located in the city centre, Barbieri Sol Hostel will make it easy to walk to many of Madrid's major attractions without breaking a sweat. You've got Plaza Mayor, Prado, Reina Sofia Museum, El Retiro Park, and all the amazing neighbourhoods of La Latina, Lavapiés, and Malasaña, ALL within a few minutes' walk.
Barbieri Sol Hostel Madrid has 12 rooms divided into doubles with an en-suite bathroom or dormitory rooms of 4 or 6 beds with shared bathroom facilities. All of them come equipped with comfy bunk beds, air conditioning and heating, free private lockers where you can use your own padlock, and free bed linen.
You get to enjoy days and nights on the hostels' rooftop terrace. Share a drink and make some friends to explore Madrid with. And while you're there, ask the friendly staff for recommendations on what to see and do – a local's knowledge is always the best!
And if you want to rustle up a hearty meal, there's a shared kitchen with all the essentials at your disposal, as well as a common space to chill and meet other travellers. Daily cleaning is provided and there's a tour desk and free Wi-Fi too.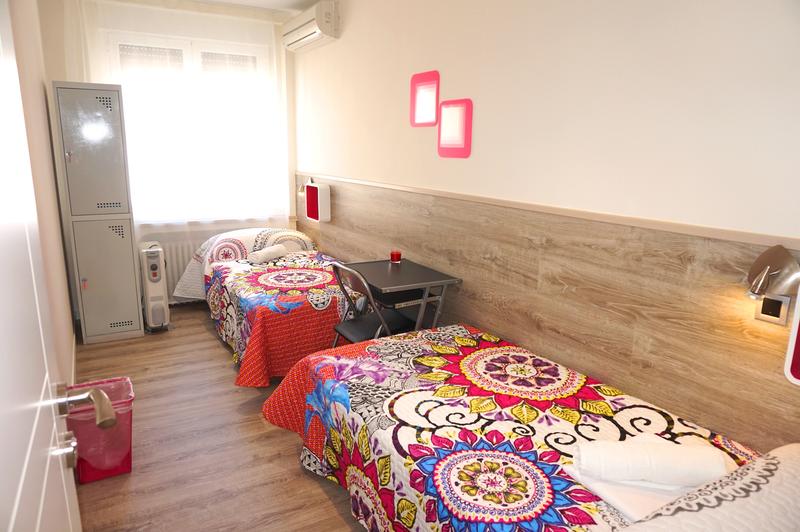 24-Hour Security
Laundry Facilities
Sitting right on Gran Vía in the heart of Madrid, MuchoMadrid couldn't be more centrally located if it tried! The hostel is safe and secure with round-the-clock security, lockers, and female-only dorms in addition to mixed dorms and private rooms. You can also opt for an airport transfer and easily travel right to the door when you land, should you so wish.
The friendly staff members love helping travellers explore Madrid, and the hostel is a comfy home from home to return to at the end of each packed day. The housekeeping team keeps the space gleamingly clean, and there's a lounge where you can meet other travellers, a kitchen where you can whip up a feast, and, not to forget the essentials, laundry facilities.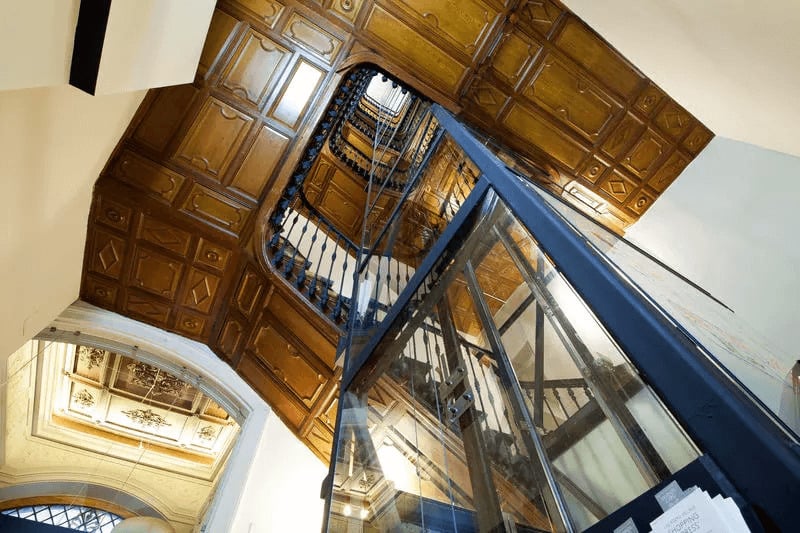 Last, but certainly not least, Toc Hostel Madrid is perfect for those travellers who want a cool pad in the pumping heart of the city. You're right next to Sol metro station, so the city really is at your fingertips with Madrid's great metro network.
The hostel has a super-unique design and is set in an old-style building, so you can get to see past the modern, too-cool-for-school Madrid. Start your day with the included breakfast, have a drink at the on-site bar, and challenge your new mate to a game of pool while you enjoy the vibes of Spain's capital city!
You can choose from a private room perfect for couples or families with a private bathroom or shared dorms with up to 8 people with comfy bunk beds. There's always room to store your luggage, the Wi-Fi works perfectly, and you have a shared kitchen to cook up a storm (and save a few pennies).
Best of all, Toc Hostel Madrid works for people who are on a tighter budget. You don't have to compromise on your comfort and a good night's sleep to have the best experience in Madrid!

Our GREATEST Travel Secrets…
Pop your email here & get the original Broke Backpacker Bible for FREE.
FAQs about Hostels in Madrid
Choosing a hostel is never an easy decision – especially when there are so many great options in Madrid. To help you out a bit, we've listed and answered the most frequently asked questions on Madrid hostels.
Travel Safety Tips for Madrid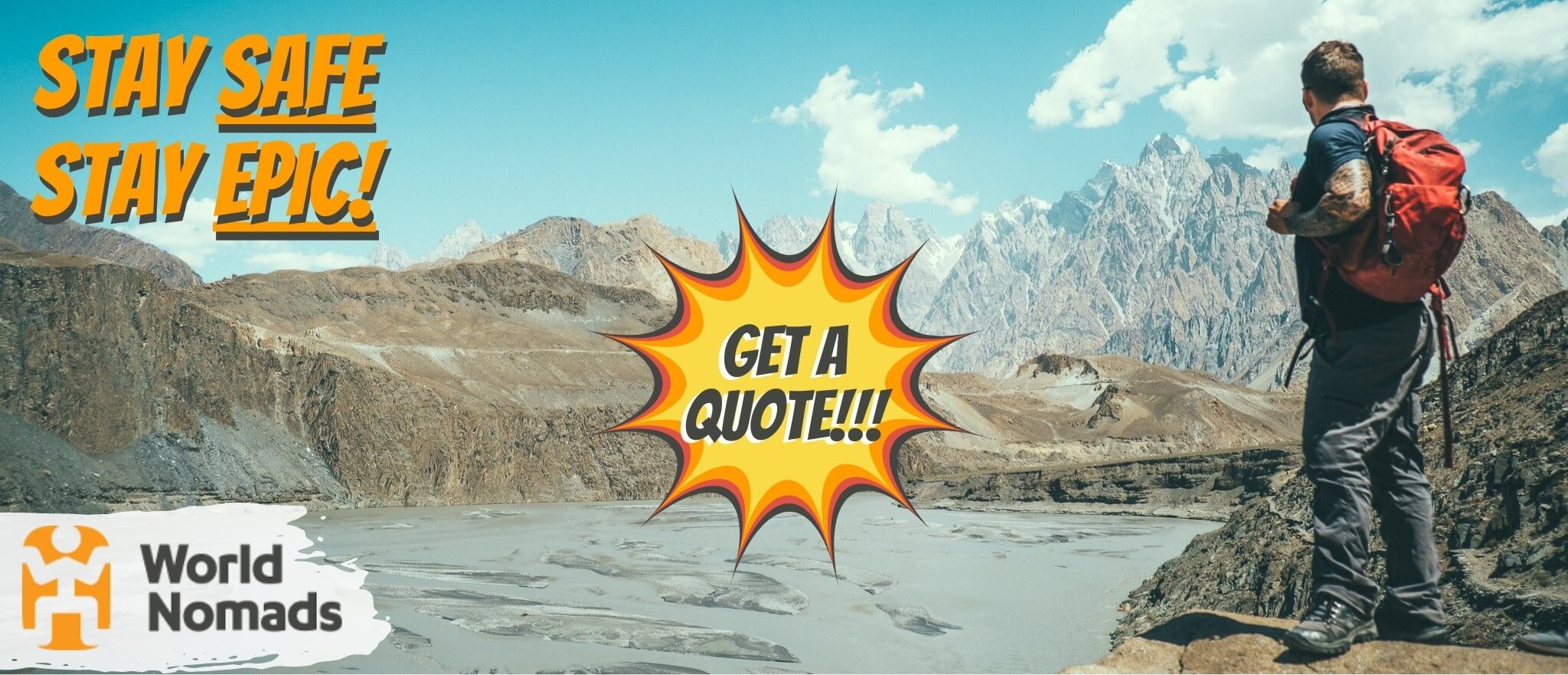 World Nomads' mission is to support and encourage travellers to explore their boundaries. They offer simple & flexible travel insurance, and safety advice to help you travel confidently.
They've been doing it since 2002 – protecting, connecting, and inspiring independent travellers just like you.
Get a quote below or read our in-depth review!
World Nomads provides travel insurance for travelers in over 100 countries. As an affiliate, we receive a fee when you get a quote from World Nomads using this link. We do not represent World Nomads. This is information only and not a recommendation to buy travel insurance.
More Epic Hostels in Spain and Europe
Hopefully, by now, you've found the perfect hostel for your upcoming trip to Amsterdam. If not, then maybe consider a Madrid Airbnb?!
If you're planning to travel further and explore Spain and Europe, check out these awesome hostels:
Final Thoughts on the Best Hostels in Madrid
Madrid was one of those "surprise cities" for me – I didn't expect much from it but was completely blown away. And I'm not alone in my praise for this mesmerizing city.
Madrid is nothing short of majestic with loads of unique and fun things to do. And compared to other major European cities, it's surprisingly budget-friendly.
There is so much in Madrid to keep you busy, and the last thing you want to do is waste your precious time staying in a bad hostel. We have all had those hostel experiences when we prayed to the travel gods to never give us this fate again.
So that's why we want to share the best options for Madrid hostels with you: travellers look out for travellers. And you, dear reader, deserve too see Madrid in all the glory it has to offer!
That's why our top choice for Madrid hostels is The Hat Madrid. It's a solid option that's never let us down!
As you set off on your travels, remember, rest is important. Making friends with fellow travellers is high on the list. Location matters. All of these things are food for thought when making the choice to book the best Madrid hostel for you.
With the help of this ultimate list, sort through the very best hostels in Madrid. Book the one that best suits your travel needs. I recommend booking in advance too so you don't miss out on your chance – especially in peak seasons.
So, which hostel are you going to book? Have you stayed in one of these hostels before? Let us know in the comments! Until then, hasta la vista, and see you in Madrid!
Updated May 2023
---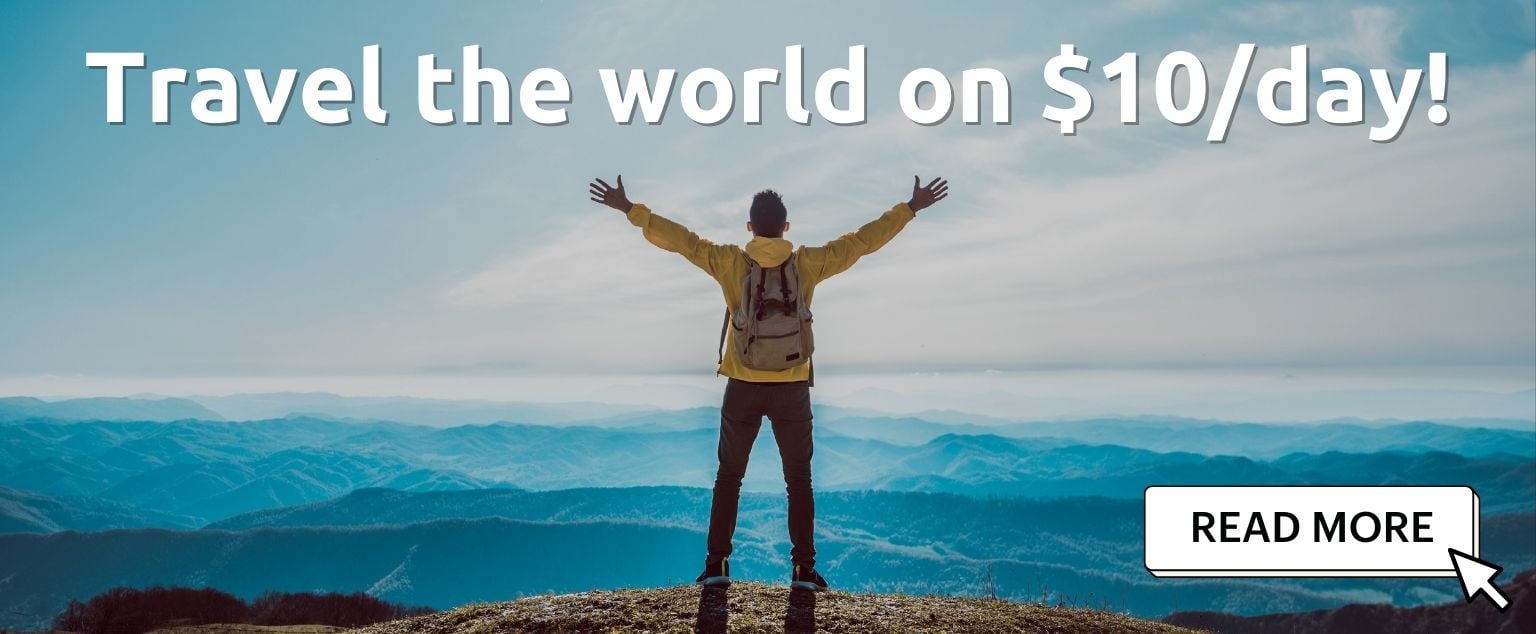 And for transparency's sake, please know that some of the links in our content are affiliate links. That means that if you book your accommodation, buy your gear, or sort your insurance through our link, we earn a small commission (at no extra cost to you). That said, we only link to the gear we trust and never recommend services we don't believe are up to scratch. Again, thank you!