From the lavish facades of the royal palaces to the lush, tranquil gardens dotted throughout the city, Madrid is a fascinating, cultural destination in Spain. With a seemingly endless amount of attractions and activities, something is happening in around every corner, and in every plaza around the city.
Each neighborhood has its own distinct personality, including the quirky La Latina, the lively Literary Quarter, and the lavish boulevard of the Gran Via. It's these neighborhoods that make Madrid a historic, melting pot of culture and diversity.
Not to mention that Madrid is a food lover's paradise. You can spend the evening pincho hopping from one tapas bar to the next or sitting out in the sun drinking a glass of Sangria at one of the sun-filled cafes. The cuisine here is almost as famous as the iconic attractions and landmarks themselves.
There's so much of Madrid to explore, and if you're short on time, you might not know which places to check off your bucket list first. So we've put together this list of the best places to see in Madrid so that you can make the most of your trip!
If you'd like accommodation to go with the fine wine you'll be drinking and have no idea where to start looking, we've got you covered. Be sure to check out where to stay in Madrid before scrolling any further down this list!
#1 – Retiro Park – An awesome place to visit in Madrid for half a day!
Why it's Awesome: Madrid is one of the best cities in Spain It's also one of Europe's busiest cities, but you can't tell once you step foot on the grounds of Retiro Park! Filled with grassy fields, blooming gardens, and forested areas, Retiro Park is the perfect escape from the crowds. It once belonged to the Spanish monarchy, which is evident from the pristinely manicured and luxurious grounds. But now as a public park, it's one of the most relaxing places in all of Madrid.
What to do there: On a clear day, there are plenty of outdoor activities to do in the park. Come for an afternoon stroll with a picnic lunch or a quiet boat ride on the Retiro Pond. However, one of the biggest attractions is the stunning Crystal Palace. This glass conservatory stands over 22-meters high and overlooks one of the park's glistening ponds and fountains. And due to the park's size, make sure to come prepared with comfortable shoes! Seeing as this park is so centrally located, you could even stay in a hostel nearby and come here every morning to soak in the vibes.
#2 – Plaza Mayor – One of the most incredible free places to visit in Madrid!
Why it's awesome: During your trip to Madrid, you'll inedibly visit the bustling, main square of Plaza Mayor. And while it's now a lively place to visit, Plaza Mayor's history has a dark and complicated past hosting a variety of bullfights and even executions. But don't let its past influence your judgment! Plaza Mayor is now one of the most popular places to visit, whether you're coming to watch one of the street performers, dine at an outdoor cafe, or simply relaxing and watching people go about their day.
What to do there: Plaza Mayor is one of the cultural centers of Spanish life, which means there is always something happening day and night. During the day, you'll find locals and tourists admiring the art vendors or enjoying the variety of live entertainment. At night, the square remains a popular destination for happy hour enthusiasts and diners. And due to its central location, there are also plenty of bars and nightclubs keeping visitors entertain long into the night.
#3 – Templo de Debod – One of the more unique places in Madrid!
Why it's awesome: Did you know there are Egyptian remains right in the middle of Madrid's city center? This stone shrine was initially built in the 2nd century BC right along the coast of the Nile. But in the 1960s, the temple was dismantled and brought to Madrid where it stands today. It's located in the middle of Parque del Oeste, and remains one of the only ancient Egyptian monuments in all of Madrid!
What to do there: The main chapel of the temple was initially built for the Egyptian god, Amun. This chapel is situated behind a long processional way with three smaller stone gateways leading up to it. Inside, you can see the offering table, which was used for religious sacrifices, and a staircase that leads to the room of the shrine. Although the materials and structure of the sanctuary is authentic, the positioning of the gates is different. They are placed in a different order compared to where they stood in Egypt.
#4 – MadrEAT
Why it's awesome: In such a big culinary city, there is definitely no shortage of food options in Madrid. But if you're looking to try something different than your typical tapas restaurant, check out MadrEAT. This conceptual food market brings together the most innovative and delicious food trucks and stalls around the city. Their goal is to celebrate the gastronomy using fresh, creative, and new ingredients, and to bring these dishes to locals as well as visitors from around the world.
What to do there: Eat, eat, and eat! At MadrEAT, you'll want to come with an empty stomach and a passion for food. But don't just expect your run of the mill Spanish food. Here, you'll sample international cuisine, unique ingredients, and dishes that you can't find anywhere else in the world. Even the traditional Spanish dishes are crafted with a different flare! The location and times for each festival vary and change each month, so it's always best to consult their website for an up-to-date schedule.
#5 – The Golden Triangle – A must visit place in Madrid!
Why it's awesome: Comprised if not one, or two, but three world-famous art galleries, the Golden Triangle is sure to delight every type of art lover. Each museum is located close by each other, which means you can easily spend an entire day hopping between each one. They are all located on Paseo del Prado, which is right in the middle of Madrid's city center. Besides housing some of the most prominent works from around the world, the museums in the Golden Triangle each focus on a different time period of art.
What to do there: First, you have the Prado Museum, one of Madrid's more prestigious art galleries. It houses a vast collection of classical, pre-20th century works from Goya, Bosch, El Greco, and Titian. The Reina Sofia Museum is next and contains Spain's most extensive collection of modern art. Here, you'll find paintings and drawings from some of the world's most talented contemporary artists, including Picasso and Dali. Completing the trifecta is the Thyssen-Bornemisza Museum, which has artwork that doesn't quite fit into the other two galleries. You'll see paintings from Italian, American, German, and Dutch impressionists and expressionists from the 20th century onwards.
#6 – Palacio de Cibeles – A great place to see in Madrid for architecture lovers!
Why it's awesome: From the outside, you might think this opulent building was home to the Spanish royalty. But quite the contrary! Until 2011, the Palacio de Cibeles was actually the headquarters of Madrid postal system! But this 1907 building is a beautiful piece of Spanish architecture. With its tall white spires and rectangular column windows, Palacio de Cibeles is one of the earliest examples of modern Neoplasteresque design. Although it's no longer a post office, the Palacio de Cibeles is now the home of Madrid's City Council.
What to do there: This imposing building sits on the corner of Plaza Cibeles, and can be seen from miles away! You can enter the building and walk around, admiring the white stone columns and arches from the inside. The stained glass ceiling is also a sight to see. During different times of the year, Palacio de Cibeles hosts a variety of art or photography exhibitions, that can visit for free. But the highlight is to purchase a ticket to the top of the observation deck, for sweeping views over Madrid.
#7 – Mercado de los Motores – A great place in Madrid if you like to shop!
Why it's awesome: For those die-hard shoppers looking to score a deal or two, head down to Mercado de los Motores, Madrid's most famous vintage flea market. And while the main attraction is to shop, the building of the market is actually worth visiting on its own. And that's because the market takes place in the Train Museum of Madrid! Hundreds of stalls and booths are nestled in between dozens of enormous, antique locomotive trains.
What to do there: Selling everything from crafts, furniture, jewelry, and clothing, the Mercado de los Motores has every sort of knick-knack that you can imagine. And we're not talking cheap goods! Only the highest quality items can be sold here, and for a reasonable price if you can bargain! The market spills onto the streets outside, where there are several food trucks, coffee stands (some that sell out of the old train carriages), and plenty of live music and entertainment. The event only happens once a month, so check their website to find out the next scheduled date.
#8 – Calle de Cava Baja
Why it's awesome: Located in the bustling La Latina district, the winding, narrow street of Calle de Cava Baja is the perfect place for tapas hopping! The road dates back over 1,000 years, where Moorish people hid in the dark taverns and bars away from the Castilian Kingdom of Toledo. As you walk down the street, you can see row after row of colorful buildings, each with a different tapas bar and restaurant underneath.
What to do there: Busy at all hours of the day, Calle de Cava Baja is your one-stop shop for dining on delicious Spanish snacks. Many locals and tourists flock to the street to sample a small pincho and glass of sangria at one of the restaurants before continuing down the road to their next destination. And if you happen to get your fill of taps for the evening, know that you'll also find coffee shops, wine bars, and even a pharmacy on Calle de Cava Baja.
#9 – Plaza Dos de Mayo
Why it's awesome: If you're eager to check out Madrid's infamous nightlife scene, start out at Plaza Dos de Mayo, located in the Malasaña neighborhood. Starting from the early evening, you'll find students, locals, and partygoers congregating in the square having a glass of wine or beer. However, the square has a rich history and was the original site where the Monteleón Artillery barracks were in 1808. It was transformed into a landscaped park and garden 60 years later.
What to do there: In the evening, grab a couple of friends and some ice cold beers to enjoy a lively night out on Plaza Dos de Mayo. There are also a variety of bars, restaurants, and shops surrounding the plaza. But besides being a favorite meetup spot for young locals, Plaza Dos de Mayo also has several great sights within its iron gates. The most impressive is the grand arch, which is dedicated to Daoíz and Valarde, two soldiers who died in the battle against the French army in the early 1800s.
#10 – Santiago Bernabéu Stadium
Why it's awesome: The iconic Santiago Bernabéu Stadium is home to one of Europe's most successful football (soccer) team, Real Madrid. And regardless of if you're a Real Madrid supporter, you can still marvel at the gigantic stadium. Seating around 81,000 screaming fans, Santiago Bernabéu Stadium has been wowing sports fanatics for over 70 years. And since it's hosted the European Cup, World Cup, and Copa Libertadores Final, it's almost as famous as the football team itself!
What to do there: The best way to see Santiago Bernabéu Stadium in action is by attending a Real Madrid game. But if you're not in Madrid during one of their home games, you can still book a tour of the stadium and neighboring Museum of Real Madrid. On the tour, you'll be taken through the team locker rooms, dugouts, presidential box, and even on to the pitch! For an extra fee, you can also enjoy an interactive audio guidebook that dives into even more detail of this impressive building.
#11 – National Archaeological Museum – A fascinating educational place in Madrid!
Why it's awesome: Travel through years of Spanish history with a visit to the National Archaeological Museum of Madrid. Founded in 1867, the museum contains a vast collection of artifacts, paintings, and objects collected all around the country, some of which dates back before the Romans! But unlike most museums, the National Archaeological Museum focuses on the archeological influence and importance of its findings and aims to educate the public rather than acting purely as a decorative museum.
What to do there: With tickets to the National Archaeological Museum, you can see thousands of pieces dating from Prehistory to the Early Modern Age. And while many of the artifacts come from Spain and the Iberian Peninsula, there are also exhibits from Ancient Greece, Ancient Egypt, and the Near East. Don't miss the Roman mosaic room from Hispania, the 500 BC Mausoleum of Pozo Moro, and the 7th century Treasure of Guarrazar. And after your visit, you can hop over to the National Library which is located in the same building as the National Archaeological Museum.
#12 – Gran Vía
Why it's awesome: Sitting at the center of Madrid's heart is the Gran Vía, an exciting street filled with shops, restaurants, and entertainment. Leading from Calle de Alcalá to Plaza de España, Gran Vía was once the home to many luxurious hotels and movie theaters, which explains it's nickname as the "Spanish Broadway." But throughout the years, it's transformed into a bustling hub of shopping malls, nightclubs, and high-end brands.
What to do there: Gran Vía has something for every type of taste. Whether you're spending the afternoon shopping or heading out to dinner and movie in the evening, Gran Vía has it all. And as one of the busiest streets in Madrid, you can also find a variety of restaurants, cafes, and bars here too. The buildings lining the street are also stunning, with many various buildings built in Secession, Plateresque, and Art Deco architecture. Some notable buildings include the Beaux-Art Edificio Metrópolis office, the upscale Edificio Grassy, and the 88-meter high Telefónica Building.
#13 – Mercado San Miguel – A must-see for foodies!
Why it's awesome: Calling all foodies! You won't want to miss a mouth-watering afternoon at Madrid's most famous market, the Mercado San Miguel. Situated inside a glamorous 1916 art nouveau building, the Mercado San Miguel has some of the freshest produce and foods available in all of Madrid. Due to its central location, it's more touristy than other markets but still worth a visit for some delicious snacks. And with over 200 stalls, it's also one of Europe's largest public markets, so you're guaranteed to find something delicious to eat!
What to do there: You need to come to the Mercado San Miguel with an empty stomach, because you'll want to devour everything in sight! Act like a local and purchase your fresh produce and groceries at one of the stalls, or come to unwind with a glass of cava and a couple of hot tapas. There are several international foods available, but you can't miss the traditional Spanish favorite like patatas bravas, croquettes, boquerones, and gambas al ajillo.
#14 – Almudena Cathedral
Why it's awesome: As the seat of the Roman Catholic Archdioceses of Madrid, the Almudena Cathedral is a beautiful Baroque cathedral that is sure to delight any architecture lover. Although parts of the cathedral were built in the mid-1800s, it was surprisingly not completed until 1993, when Pope John Paul consecrated it. And in 2004, King Felipe and Queen Letizia of Spain were married right here in the Almudena Cathedral.
What to do there: Unlike most Spanish cathedrals, the Almudena Cathedral has a uniquely modern Neo-Gothic interior. Contemporary artists designed most of the art and sculptures inside the temple. Almudena Cathedral might be one of the only places where you can find pop-art in a religious cathedral! Inside, you can also see a stunning pipe organ, grand nave, and brightly colored square cupola. And as you venture beneath the surface of the cathedral, you'll find a Neo-Romanesque crypt with a 16th-century image of the Virgen de la Almudena.
#15 – Barrio de Las Letras – Cool place to see in Madrid with friends!
Why it's awesome: As one of Madrid's most vibrant neighborhoods, the Barrio de Las Letras is teeming with life from the early morning until late in the evening. Its name translates to the Literary Quarter, which is made clear from the literary quotes that are plastered on the walls of the buildings and on the street grounds. Most notably, the Barrio de Las Letras was home to Miguel de Cervantes, author of Don Quixote. But besides the funky quotes and artwork, you'll also find plenty of charming restaurants, quirky boutiques, and coffee houses.
What to do there: Not only are there tons of restaurants and bars, but Barrio de Las Letras is also home to Madrid's most prestigious museums. Here, you'll find the Golden Triangle, which includes the Prado, Reina Sofia, and Thyssen-Bornemisza Museums. There is also Plaza Santa Ana, and the outdoor square filled with dozens of popular outdoor cafes, perfect for a light snack or for people watching. But the best way to explore the area is by wanding down the winding alleys and getting lost. You never know what you charming shop or bar awaits you around the corner!
#16 – Atocha train station – Quite the quirky place in Madrid!
Why it's awesome: This is not your average train station! And although it's the largest station in Madrid, it has one unique feature that stands out from the rest. Standing in the middle of the industrial, glass building is a tropical oasis of lush palm trees and green foliage. This mini rainforest is a breath of fresh air for travelers coming back from work or jetting off on vacation. So if you're heading to Barcelona, Alicante, or even Marseille in France, stop for a minute and enjoy the peaceful garden hidden inside the Atocha train station.
What to do there: Most train stations are not known for being peaceful. The booming intercom, the loud chatter of voices, and the roar of the locomotives can be overwhelming. But at the mini rainforest, you can spend a moment in tranquillity before the noise takes you back to reality. The rainforest was also home to hundreds of adorable turtles, many of whom were donated to the train station after their owners couldn't care for them anymore. But unfortunately, these turtles were moved to a rescue center in May 2018.
#17 – Palacio Real
Why it's awesome: This lavish building was once the residence of the Spanish monarchy, including Carlos III and Alfonso XIII. And although it is still considered the official home of Royalty, the current King Felipe does not live there. Instead, it opened to the public as a museum and is filled with luxurious riches, artifacts, and paintings. And with almost 3,500 individual rooms, it's the largest palace in all of Europe!
What to do there: Each of the rooms has been decorated and designed to fit the different taste of the monarchs that ruled in Spain. The interior has some of the finest (and most expensive) porcelains, furniture, silverware in the country. And the artwork comes from prominent artists including Caravaggio, Tiepolo, Giaquinto, and Mengs. And while you aren't able to visit all the rooms inside Palacio Real, you can still admire the iconic facade and lush gardens from the outside.
#18 – Puerta de Alcalá
Why it's awesome: Not only is the Puerta de Alcalá the first modern arch in Europe, but it also serves as the passageway and entrance to Madrid. And although the architecture looks Roman, it was actually designed by the Italian architect Francesco Sabatini in 1778. Since then, it's seen several refurbishments and restoration on its structure and columns. It's now considered a Spanish Property of Cultural Interest and remains one of the biggest tourist attractions in all of Madrid, so make sure you add it to your Madrid itinerary!
What to do there: As one of Madrid's most iconic monuments, the Puerta de Alcalá should be visited at least once during your trip to Madrid. The intricate stonework and sculpture are impressive, and many compare it's designed to the Arch de Triumph in Paris. And although it's in the middle of a busy road, you can still admire its beauty from afar (or from the top deck of a tour bus)! And the Puerta de Alcalá also sits at the entrance to Retiro Park, so you can easily combine a visit to both attractions in one day.
#19 – Puerta del Sol – A great place to visit in Madrid if you're traveling solo
Why it's awesome: Similar to the impressive Puerta de Alcalá, the Puerta del Sol is another 16th-century gate to the city of Madrid. Historically, the square of Puerta del Sol was used as a trader market, where locals did business with the many travelers and visitors who entered through the gate. You might recognize this famous square from TV, as it's the location for Spain's main New Year's Eve celebration.
What to do there: As one of the busiest places in Madrid, there's always a bustle of activity happening on Puerta del Sol. It's home to some of the city's most famous attractions, including the House of the Post Office (the office of the President), the statue of Charles III of Spain, and the illuminated Tio Pepe sign. But the most famous landmark is the Bear and the Strawberry Tree statue, which symbolizes the Madrid coat of arms. The Bear and the Strawberry Tree is a prominent landmark for tourists, who come from all over the world to photograph the bronze statue.
#20 – Casa del Campo
Why it's awesome: Often overlooked for the beautiful Retiro Park, Casa del Campo is another slice of green paradise you can't miss during your visit to Madrid. Which is surprising because it's actually the largest park in all of Madrid and five times larger than New York's Central Park! Located next to Madrid Rio and the Manzanares River, there are plenty of activities to do in Casa del Campo throughout the year.
What to do there: Although you can spend an afternoon strolling through the lush gardens and fields of Casa del Campo, there are actually tons of fun attractions to participate in! There are several trails that run through the hills and valleys which are perfect for running, walking, and cycling. The park is home to an amusement park, an aquarium, and even a zoo! But if you're trying to stick to a budget, then you can see animals without booking a ticket. Casa del Campo is teeming with wildlife, and it's not uncommon to see hawks, rabbits, and deer running around the park.
#21 – Real Jardin Botanico – One of the nicer places in Madrid to sightsee!
Why it's awesome: This historical, botanical garden was initially opened by King Ferdinand VI in 1755 and continues to please visitors with its vibrant roses and landscaped fields for centuries. Situated next to Paseo del Prado, Real Jardin Botanico is 8-hectares of peaceful, serene gardens. But it's more than just a slice of beauty in the middle of the city. Real Jardin Botanico was actually funded in order to educate the public on botany, in order to sponsor future expeditions to collect new species.
What to do there: The garden is divided into seven sections, and contains over 90,000 plants and flowers and over 1,500 types of trees. Visi the Terraza de los Cuadros to see the garden's collection of medicinal and herbal plants. Or stop by the Terraza del Plano de la Flor, which contains an English garden complete with ponds and greenhouses. The on-site herbarium is also the largest in Europe, and is overflowing with over a million specimens collected from the 18th century!
Get insured for your trip to Madrid!
World Nomads' mission is to support and encourage travellers to explore their boundaries. They offer simple & flexible travel insurance, and safety advice to help you travel confidently.
They've been doing it since 2002 – protecting, connecting, and inspiring independent travellers just like you.
Get a quote below or read our in-depth review!
World Nomads provides travel insurance for travelers in over 100 countries. As an affiliate, we receive a fee when you get a quote from World Nomads using this link. We do not represent World Nomads. This is information only and not a recommendation to buy travel insurance.
Find out what people want to know about the best places to visit in Madrid
As you wander through the streets of Madrid, you'll want to soak in the lively atmosphere that makes the city so unique. From the vibrant markets and plaza squares to the historic palaces and 16th-century buildings, Madrid is a city full of natural beauty.
And while there are tons of attractions to see during the day, Madrid becomes even more colorful at night. Locals and visitors spill out into the streets while sipping wine, snacking on tapas, and listening to live entertainment. There really is something happening at every hour of the day in Madrid!
And if you're still struggling to plan your day because there are so many options (we don't judge you), you might want to consider booking a guided tour through the city. This tour takes you to the palace, gives you an insight of Madrid's history, offers tapas and wine tasting and one of the best and most professional tour guides you can find – check it out yourself!
And while this list tells you the highlights and main attractions you must visit when in Madrid, feel free to venture and explore on your own. There's nothing like getting off the beaten path and seeing the city for what it really is!
---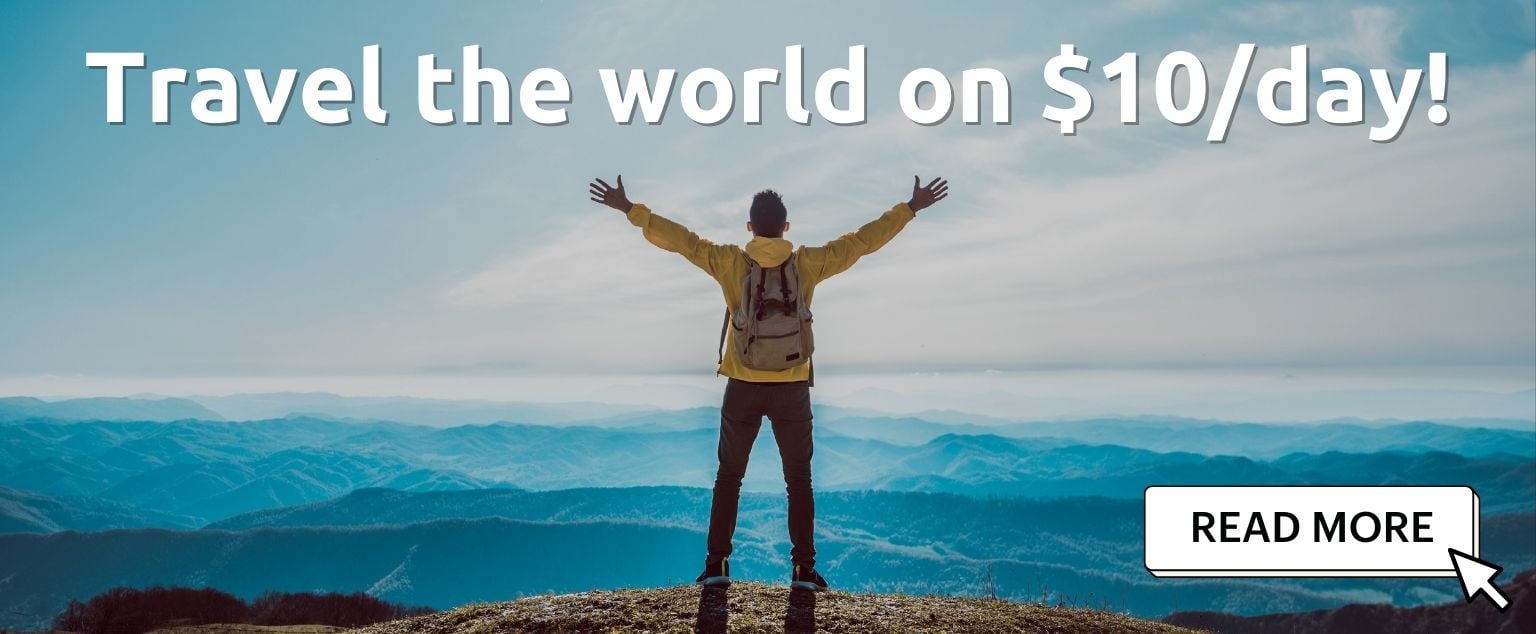 And for transparency's sake, please know that some of the links in our content are affiliate links. That means that if you book your accommodation, buy your gear, or sort your insurance through our link, we earn a small commission (at no extra cost to you). That said, we only link to the gear we trust and never recommend services we don't believe are up to scratch. Again, thank you!