Grand tree-lined boulevards with flowers exploding with color from every branch. Green parks scattered with elaborate fountains and botanical wonders, booksellers, and tiny coffee shops. Museums packed with famous masterpieces. Bustling outdoor markets and an infinity of attractive bars and cafes to take an ice cold beer in the shade. You must be traveling in Madrid.
Madrid, the sunny capital of Spain is a mandatory stop off whether you are backpacking in Spain or visiting a wider swath of Europe. Being as that Madrid is the largest city in Spain figuring out the best things to do and where to stay can eat into your precious time.
On top of that sorting out how to travel to Madrid on a budget requires some more doing still.
Let's face the facts: Traveling in Madrid or any other European capital is not as cheap as us budget backpackers would like. This Madrid travel guide gives you a detailed run-down of how to enjoy the city like a local without your wallet feeling like a matador that has just been gored by the bull.
Get insights on backpacker accommodation in Madrid, suggested itineraries, your Madrid daily budget, awesome things to do in the city, cheap eats in Madrid, nightlife, and much much more.
Madrid is a fascinating city. In my opinion, traveling to Madrid is one of the best experiences backpackers can have in a European city. For travelers looking for a fine balance of culture, history, architectural beauty, culinary delights, and a pumping nightlife scene, look no further than the Spanish capital of Madrid!
First things first, in order to come to terms with what your time traveling in Madrid will look like, you need an accurate and clear picture of the costs involved. I found that backpacking Madrid on the cheap was slightly easier than other capitals in Europe. Don't get me wrong, shit adds up quick if you're not careful.
Certainly, it is possible to visit Madrid on as little as $20-30 bucks a day. For costs so low you would need to have some help. For example, Couchsurfing or staying with a local by some other means would be completely necessary in order for you to get by with so little cash.
I'll be honest with you, Couchsurfing in any European capital has become so damned popular that you need to be blessed by a divine stroke of luck to land a host, especially in the summer. Always worth trying though!
A realistic daily budget for Madrid is more like $45-75 a day.
With that budget, you can eat very well, visit museums, stay in a hostel, and grab a beer or two from one of the zillion bars in Madrid. If you go to a nice restaurant, get a private room somewhere, and go out for a big night, of course, you should expect to deal with the related expense.
On the contrary, if you Couchsurf and cook a bit for yourself, I have no doubt you could spend less than $20. This is including taking the metro and buying a bottle of tasty Spanish wine.
Madrid Average Costs and Daily Budget:
Madrid Budget Travel Tips
Whenever traveling in the pricier regions of the world it helps to have a few awesome travel hacks, tips, and tricks in your pocket. Backpacking Madrid on the cheap is no different. Whilst travel costs to Madrid can add up quickly, traveling here need not be overly expensive.
Budgeting in major European cities is as much as an art form as it is common sense. In the end, how you choose to spend your money falls squarely on your shoulders. Here are a few tips to keep in mind for your Madrid adventure…
Discover the free attractions: Walking around The Buen Retiro is free. People watching and exploring beautiful outdoor markets are free. A visit to The Madrid Royal Palace is free. Point being, there is lots of cool stuff to get into in Madrid that won't cost you a dime.
Visit the amazing museums when they are free: It is possible to visit both the Museo de Reina Sofia and the Prado for free. Free times for Reina Sofia: Monday, Wednesday, Thursday, Friday, Saturday 7 p.m. to 9 p.m., Sundays 1:30 p.m. to 7 p.m. The museum is closed on Tuesdays. Free times for the Prado: Monday to Saturday 6 p.m. to 8 p.m. and Sundays and holidays from 5 p.m. to 7 p.m.
Walk!: Madrid is a very accessible city to walk around in. You should only have to take the metro on occasion. The rest of the time you can hoof it!
Drink wine in public spaces rather than bars: When the sun goes down and the city cools it is magic. Head to the Plaza Mayor or the Buen Retiro with a 3 Euro bottle of wine and some Spanish cheese for a budget happy hour with a view.
Madrid Travel Hacks
Cook occasionally: Part of the charm of any city is getting to taste the food. I get that and I'm all about that too. However, if you plan to spend days exploring Madrid, you are going to have to cook a little if you want to save some money. Most hostels have excellent, well-equipped kitchens.
Pack a travel water bottle: save money every day! It has always both amazed and disturbed me just how frequently people buy bottles of water while traveling. STOP! Plastic is killing the planet and costing you on average $5 extra a day at least. Pack a water bottle and refill it! If you don't like the taste of city water, packing a water filter isn't a bad idea either.
Get Free Lunch: Well nothing in this life is totally free when were talking about eating out in a major city. That said, if you go to a bar and order a few drinks, usually they will keep serving you tapas, if not just ask for refills.
Why You Should Travel to Madrid with a Water Bottle
Plastic washes up on even the most pristine beaches… so do your part and keep the Big Blue beautiful
You aren't going to save the world overnight, but you might as well be part of the solution and not the problem. When you travel to some of the world's most remote places, you come to realise the full extent of the plastic problem. And I hope you become more inspired to continue being a responsible traveller.
Plus, now you won't be buying overpriced bottles of water from the supermarkets either! Travel with a filtered water bottle instead and never waste a cent nor a turtle's life again.
Sometimes there is no better feeling than coming back to a clean, cool room and a bed with your name on it. Luckily, there are many comfortable budget hostels in Madrid. There are so many in fact that in order to give readers the very best options the Broke Backpacker team has chosen three favorites.
Madrid is a magnet for international travelers. A large percentage of them are just like you: on the hunt for both the best and cheapest hostel in Madrid. I don't always recommend booking hostels in advance but in the case of traveling in Madrid, it is definitely a good idea.
If you are traveling as a couple or group, Airbnb is a great option in Madrid, and all over Spain! Otherwise, make sure to check out our neighborhood guide for where to stay in Madrid and our guide to Madrid's best hostels!
The best hostels book out fast, especially during the summer and on the weekends. For those reasons, you should do yourself a favor: book in advance and stay at the hostel of your choice instead of getting left with the dregs.
These Madrid hostels were selected based on reviews, hostel facilities, location, and personal experiences. Let's take a look at them:
$$
Bar
Laundry Facilities
Tour Desk
For those looking for a fun-loving, low-cost spot to get down with other backpackers, Cat's Party Hostel is for you. Few hostels have the stamina to offer pub crawls every night of the week. In the realm of activities not based on drinking there are many. Dance lessons, tapas tours, paella parties: these and much more on all on offer.
The onsite bar is a good place to get the night started and socialize. You can even score a pretty cheap breakfast from the hostel if you can be bothered to go out. Definitely a great choice for you party animals looking for both good value and a good time.
Best Hostel for Solo Travelers in Madrid – Sungate One
$$$
Laundry Facilities
Tour Desk
Luggage Storage
The Sungate One is a comfortable Madrid backpackers located in an excellent location. Since your hostel is your primary base, it is important to choose a spot that's close to everything you want to see. Sungate is that hostel. Many Madrid highlights are within walking distance.
The large kitchen is great for preparing your own meals. In addition to free coffee and tea, you'll find fast free WiFi. There are plenty of activities on offer here too. The common room space offers up just the right amount of social atmosphere for solo travelers without feeling like you're in a bar.
This spectacular apartment located on the fifth floor of a historical building, has an amazing patio view that opens up to Plaza Mayor. The apartment can accommodate up to six guests and comes with amenities like wifi, a fully equipped kitchen, and air conditioning.
Overall Best Hostel in Madrid – Way Hostel
$$
Café
Bike Hire
Book Exchange
The Way Hostel claimed the best hostel in Madrid prize for several reasons. First off The Way is located in a cool central neighborhood. If you need to get anywhere in the city center, the journey is quick and easy. If free walking tours interest you, the staff at The Way will help you get to know the highlights of Madrid in no time.
They also have plenty of fun activities on offer. Flamenco shows, pub crawls, and interesting day-trips can all be arranged through the hostel. To top it off you can rent a bike, enjoy fast-WiFi, a book exchange, and the onsite cafe. Hopefully, you won't love the hostel so much that you forget to spend time exploring the city!
1. Picnic in The Buen Retiro
Load up with lunch supplies and head to one of Madrid's most beautiful green spaces, the Buen Retiro park.
2. Visit The Prado Museum
Take in the masterpieces of some of the best Spanish and international art collections to be found anywhere on earth.
3. Drink a beer in a Matador bar
There was a time in Spain where being a Matador was akin to being Elvis Presley. Taberna Antonio Sanchez is a good place to get the vibes of what the golden era of bullfighting was like.
4. Attend a football match
The Spanish peoples' former love of bullfighting has been overwhelmingly replaced by their love of football. If the Barcelona team is in town visiting, expect locals to be out in full force.
5. Check out the Royal Palace
Okay so this Royal Palace is the symbol of a Spanish monarchy that is super obnoxious and even offensive to the average Spanish person. This is due primarily to a torrent of corruption and lavish personal spending allegations brought against the royal family. What a surprise! That said, the palace was beautifully constructed and worth a look in my opinion.
If you want to get the most out of the palace visit, you can book a guided tour right here. This tour is probably one of the best in Madrid since you'll get early access to the palace, a guided tour through markets, the streets of the city and even some tapas tasting afterwards!
6. Explore the Jardin Botanico
The Jardin Botanico has been impressing visitors since its creation in 1755. Stop by and absorb a little natural beauty in the center of the big city.
7. Check out the Las Letras neighborhood
Over the centuries, Las Letras has been home to writers such as Miguel de Cervantes , Quevedo , Góngora, and Lope de Vega. Now its charming cobbled streets are alive with a plethora of hip bars, cafes, and oddity shops. Even if history isn't your favorite subject at least head there for an excellent gelato.
8. Take a coffee in the Plaza Mayor
The Plaza Mayor is quite the sight to behold. It is a touristy spot, yes, though you won't be spending all day there. Formerly the municipal market place, the Plaza Mayor now is a massive plaza dotted with cafes and fountains lying in the shadow of impressive buildings centuries old.
9. Eat churros and drink hot chocolate at San Gines
The last time I was in Madrid, I had the pleasure of being taken here by my good amigo who is from Madrid. Holy hell! I think I'm still coming down from the major sugar rush that I experienced there. Truly not to be missed if you have a sweet tooth. The hot chocolate by the way is more like thick rich soup than a drink! Amazing.
10. Hunt for treasures at The El Rastro Flea Market.
Haggle at the famous Flea Market El Rastro: Okay for most new things there is a set price, but for other used items the prices are up for debate. If you're traveling in Madrid and want to score a good deal, this is the place to do it.
Now that you have become acquainted with the top things to do in Madrid, let's check out a Madrid 3 day itinerary to get your traveling inspiration charged up even more.
Day 1 in Madrid: Madrid Highlights
Once you have landed and feel rested, it is time to hit the town. If you are arriving in the summer, bring lots of water as the day-time temperatures can be searing. To get to grips with the city, I recommend heading down the Gran Via towards The Royal Palace. Head there early as crowds start to swarm by mid morning.
Then head to San Gines Chocolateria to have your mind blown by tasty churros and chocolate. Eat slowly and enjoy the flavors of a place that has perfected its recipe by serving the same damn thing every day for over a century.
Next, you have several options. You can head to either the Reina Sofia or the Prado. Alternatively, you can save a museum for the early evening when they are free. For me spending two hours there is not quite enough time. However, you can still take it heaps in that amount of time.
After the museum you can head to a cafe (walk a bit away from the museum area) and get into some tasty tapas or a fixed lunch menu. There are more bars per capita in Madrid than anywhere else in Europe! This keeps the prices competitive as well. It shouldn't be too hard to find a reasonably priced place to grab a late lunch.
As the late afternoon sets in, I recommend heading back to your hostel for rest. It is going to be a long night, should you choose.
Whether you are the pub crawl sort or just want to hit the town in search of some dancing and/or revelry, Madrid is open all night for that. Enjoy your time out but seriously don't drink too much. For the sake of your budget and your next day adventures, take it easy.
Day 2 in Madrid: Parks, Museums, Neighborhood Exploration
Good morning sunshine! Glad to see you're still with me. Right, for breakfast you can head to the Las Letras neighborhood. You can easily spend one to three hours here just wandering around, popping into shops, drinking coffee, and eating baked goods.
The streets are super charming and there is a lot of interesting history to take in. Before you head off to the next activity, I recommend finding a little bodega and a bakery. Load yourself up with picnic supplies. It is better to do this now as 1.) you're not hungry so you won't buy too much, and 2.) there really aren't too many shops around the Reina Sofia or Prado.
I recommend checking out whichever of the former museums you didn't see the day before. Honestly, they are both so worth visiting. I am not especially into art and I loved going to these museums. Take in the epic works of Goya, Van Gogh, Picasso and hundreds more equally impressive artists.
After the museum head to the Buen Retiro Park. Depending on the time of day, there are kiosks selling books, benches in the shade, and even a small lake. The park is massive and there are ample places to post up for a picnic lunch. Also the Buen Retiro is an excellent place to take in a short siesta in the shade. I highly recommend it!
Late afternoon time in Spain can be pretty dead. The locals sure as hell aren't up to too much. This is the resting part of the day especially during the dog days of summer heat. I oblige you to take notice.
With evening on the horizon, the city awakens and the possibilities of what to do are endless. Take a Salsa or Flamenco class. Attend a Spanish concert. Catch a show at the teatro. There are at least 20 theaters in Madrid!
Having a drink or two before calling it a night is also a fine option too.
Day 3 in Madrid: Flea Markets, Cathedrals, and Whatever You Like
After after two days in Madrid, you're doing great. For day three I recommend a slow breakfast somewhere you haven't been before. Then get ready for plenty of visual stimulation at the El Rastro Flea Market. Stalls upon stalls of everything from unique t-shirts to handbags and trinkets of every shade. Note that the Flea Market is only happening on Sunday mornings.
Whatever you are looking for (even if it's nothing) you'll probably see multiple versions of it. Weave amongst the interesting stalls under the shade of old trees lining the avenue. Don't rush, though keep in mind that later in the day the tourist masses seem to descend all at once.
Take a stroll through the San Miguel Market. Here you can score all of the delicious ingredients you need to prepare an epic lunch on the cheap. If you have a few mates with you, all the better to cook together. Head back to the hostel and make yourself a good Spanish lunch. Deposit whatever sensational treasures you found at the flea market into your backpack.
Depending on what you want to do next depends on your interests.
Head out for a afternoon round of Sangria and music. Wander through the LGTB quarter Barrio Chueca. Explore the Grand Via. Check out the Botanical Gardens. Take in a Flamenco show if you haven't seen one already. Visit the Santa Maria de Real Cathedral (or the dozens of other epic churches).
Attending a Bullfight in Madrid
After much debate, there is one activity in Madrid I feel like I have to mention: Bullfighting. Whilst I might not agree with Bullfighting entirely (or at all), I recognize that for better or for worse it is an important cultural institution in Spain. Almost every Spaniard (especially of the younger generation) I've talked to is against it. Like strongly against it.
I have not attended a bullfight in Madrid, personally. I must admit I am quite curious, though a big part of me thinks I would not enjoy the event in the slightest.
I've been told by locals that a large majority of the people whom attend bullfights these days are foreigners on holiday. Nothing like a little Death in the Afternoon to cap off a fine Spanish vacation eh?
Attend a Bullfight if you want to. Animals die in brutal ways. Sometimes so do the men "fighting" them which I put down as poetic justice. Whatever your ethics are, a Bullfight in the Plaza del Toros is something you won't soon forget.
Traveling in Madrid is your oyster: all you have to do is crack it open.
Madrid Off The Beaten Track
For all of its must-see attraction, Madrid is full of off the beaten path activities as well. If you want to experience Madrid like a local, you'll certainly have to step off the well-trod path.
Mercado de San Fernando, in the immigrant-dominated neighborhood of Lavapiés, is the locals-only version of the Mercado San Miguel, which is oft-frequented by foreigners.
Explore Parque del Capricho: The Buen Retiro is awesome, but it is also the most famous park in Madrid. For far fewer humans and an equal amount of shady spots for a siesta, check out this park.
El Riojano Hot Chocolate: The hot chocolate and churros from San Gines are world famous and damn good. El Riojano is where locals go to get their chocolate fix. Riojano doesn't have the same fame, but apparently, they serve up a fine cup of chocolatey goodness.
Score unique bird-eye views of the city: Head to Circulo de Bellas Art Museum. Three euros gets you roof-top access and some stunning view of the Madrid downtown.
Day-trip from Madrid: It's true that most of the picturesque towns outside of Madrid are not super off the beaten path. Avila, Toledo and Sagovia are all well-trafficked and rewarding day trips. Think about heading to Alcalá de Henares for a quieter time. If you really want to "get away" from the crowds, consider paragliding above the towns instead!
Visit the Matedero Madrid: Once the large slaughterhouse serving the entire city, in 2018 things are different. The entire old building has been converted into an awesome art space.
Snag a loaf of Sourdough from Panic: There are a million and one bakeries in Madrid. None of which offer up sourdough this good or this authentic. Pick up a little charcuterie and cheese and your picnic is sorted.
Rock climb near Torrelodones: There are some excellent abseiling, bouldering, and crack climbing opportunities right outside of Madrid! Most of the pitches are not too high or complex either, which makes this a great place for beginner climbers.
Best Walks in Madrid
There are no hikes in Madrid, but it is an excellent walking city. There are many great parks and green space to enjoy. However, some of the famous parks and walkways can feel damn crowded.
Madrid Río, the city's very ambitious urban planning initiative, has solved the space conundrum by laying nearly 20 miles of green space and bike-friendly paths along the Manzanares River. You could easily spend an entire afternoon strolling along the banks of the river.
Below I have written some essential travel tips for Madrid, such as how to travel around Madrid, more budget tips, the best bars and restaurants in Madrid, and information on the nightlife and other activities!
Best time of year to visit Madrid
Like many European cities Madrid is inundated with foreign visitors from May until August. Even many locals skip town and head to the beach. The reason? The infernal sun shines down on Madrid with a force to be reckoned with.
I've been in Madrid in June with the thermometer at the bus stop read 44 degrees C (111.2 F). Traveling in Madrid when it is hotter than the devils pitchfork is not so pleasant.
Madrid can be beautiful any time of year. However, I don't recommend visiting in the middle of the summer if you can avoid it. Spring and fall are best both due to the mild temperatures and the fact that less people visit then.
Winter is also a good time to visit. Temperatures can get surprisingly chilly, so pack accordingly. It can even snow in Madrid, though it is a pretty rare event.
Need help deciding between Barcelona or Madrid? Check out our helpful guide.
If you are heading to Barcelona next after visiting Madrid, be sure to check out my other backpacker guide to Barcelona.
Getting in and out of Madrid
There are 4 transportation options from Madrid-Barajas Airport (MAD) to Madrid city center: bus, taxi, metro, and train. The cheapest option is to take the train. Tickets for the train cost €2.60 one way, and the journey is approximately 27 minutes.
Another well priced option is the metro. Tickets are 3€ one-way, and the journey only takes 22 minutes. Then there is the good ol' bus. This takes a little longer than the other options, but it is still only €5 per ticket. If this was France that ticket would cost you €20 I'm sure of it.
The most convenient option is taking a Madrid airport taxi at a cost of €30 but who the hell takes taxis when there is a €3 metro?!
If you have a very early morning flight, the metro and train are not an option as they begin service at six am.
Good news: the bright yellow Airport Express buses going to Madrid-Barajas Airport run 24 hours a day 365 days a year. I took the bus to the airport at four am and it was easy and straight forward.
The bus runs every 15 minutes during the day and every 35 minutes at night. There are only three stops – the corner of O'Donnell and Doctor Esquerdo, Plaza de Cibeles (where you can catch an EMT night bus somewhere else) and Atocha Station (only between 06:00 and 23:30). Catch the bus from terminals T1, T2 and T4. Again, tickets cost five euros and can be purchased on the bus.
How to get around in Madrid
Honestly, after spending days exploring Madrid, I only needed to use the metro at the end of the day when I was heading out of the city center to stay at my friend's apartment. Within the city center, traveling in Madrid on foot is the way to go.
You'll find that you might end up walking close to 10 kilometers on any given day, but hell, you have to compensate for all of those chocolate and churro sessions somehow.
One final reminder: bring a water bottle. You will need to stay hydrated for all of the urban hiking you will be doing. Don't buy plastic bottles!!
If there is a landmark you really want to get to, then the metro or city bus system should have you covered. If you know you'd rather get a ride then walk in the city center likewise just take the metro. Buying your metro tickets in bulk will save you money.
Long Distance Trains from Madrid
In addition to getting most anywhere in Spain by train (or bus), you can cover long distances via rail as well.
Madrid's main train station is Madrid Atocha Station (Avenida de Barcelona Madrid). For example, you can get from Madrid to Paris in about 10 hours and 20 minutes. From Paris, you can easily get to Amsterdam, London, or Berlin and beyond.
Train travel in Europe is at once easy as it is complicated. If you plan on traveling around Europe extensively I recommend looking into buying a Eurorail pass.
Check out this detailed guide on train travel in Europe.
Safety in Madrid
For such a big city, Madrid feels very safe generally. Of course it is not without it perils and annoyances. Pick-pockets and thieves are of the most professional order in Madrid. They work in teams and often target busy plazas, train-stations, markets, and other crowded public spaces.
Be alert when traveling on the metro, especially during rush hour. I found that even at 3:30 am whilst walking around the city center, there are many people still out in the streets partying and hanging out. I felt comfortable when walking several kilometers to catch a bus in the middle of the night.
It is always best to go out with friends of course. Being out late, drunk, lost, and alone is just inviting trouble. I'm not saying you shouldn't get drunk. Just be smart about how you do it and make a plan for how you can safely get back to the hostel.
Armed robbery (mostly involving a knife) does occur, though very rarely. I hope it goes without saying that in the very rare event that a robbery situation plays out with you involved, give them what they want and for the love of Christ don't get stabbed over your Iphone.
Pick yourself up a backpacker security belt to keep your cash safe on the road, and check out Backpacker Safety 101 for tips and tricks to stay safe whilst traveling in Madrid.
Get Insured Before Backpacking Madrid
Traveling without insurance would be risky so do consider getting good backpacker insurance sorted before you head off on an adventure.
I have been using World Nomads for some time now and made a few claims over the years. They're easy to use, professional and relatively affordable. They may also let you buy or extend a policy once you've started your trip and are already abroad which is super handy.
If there's one insurance company I trust, it's World Nomads.
World Nomads' mission is to support and encourage travellers to explore their boundaries. They offer simple & flexible travel insurance, and safety advice to help you travel confidently.
They've been doing it since 2002 – protecting, connecting, and inspiring independent travellers just like you.
Get a quote below or read our in-depth review!
World Nomads provides travel insurance for travelers in over 100 countries. As an affiliate, we receive a fee when you get a quote from World Nomads using this link. We do not represent World Nomads. This is information only and not a recommendation to buy travel insurance.
Madrid Accommodation Travel Hacks
As much as us Broke Backpackers love to camp and rough it, whilst traveling to an urban environment we must face the inevitable: we need to book hostels sometimes. Hostels are great for meeting fellow backpackers and just having space where you can do your thing at your own pace.
Backpacker accommodation in Madrid is not the cheapest I have ever seen, not by a long shot. I will just say the prices are a bit unnerving once you learn what they are. So, stay at a hostel for a night or two and consider your other options:
Couchsurf!: If you manage to land a Couchsurfing spot in Madrid, you will have successfully eliminated your biggest cost: accommodation. I'll be honest with you. Couchsurfing is more popular than ever before.
Couchsurfing hosts can receive dozens of requests per day. Point being, whilst I would not explicitly count on Couchsurfing in Madrid, I would sure give it an honest try. Make sure you send a very convincing message short of selling your body and your soul.
Tap into your backpacker network: If you have done any sort of backpacking before, odds are you know someone who knows someone from or connected to Madrid. The Spanish love to go backpacking! Before you begin your Madrid backpacking trip, I suggest you put your feelers out there and ask your network of friends if they know of someone whom you can crash with for a night or two.
This might sound farfetched, but honestly, this has helped me out multiple times in cities across the world. A blind message has born the fruit of meeting new people and having a free place to crash.
Ultimately, if you can find a balance between a hostel night and a free night, you will have more cash for calamari sandwiches, tapas, and churros.
Cheap Restaurants in Madrid
Onto one of my favorite Spanish activities: eating! Every little via or calle you turn down in Madrid you will come across an attractive looking cafe, bar, or bakery trying to hook you in. Options range from once-in-a-lifetime Michelin-Star restaurants to greasy kebab and sandwich joints.
Because there are so many different eating options many of the restaurants are quite reasonable priced in Europe terms. If you're looking for a sit down lunch multi-course lunch, you could score a tasty meal for as little as €10.
Remember that if you order a beer, you should typically get a free tapa. They might be simple olives or potato chips, or something more elaborate.
Here are some of the best reasonably prices places to grab some excellent Spanish cuisine:
El Tigre: As long as you're drinking beer or cider, the free tapas keep flowing. Patatas bravas, jamón Serrano, Spanish omelette… it's all free. Who ever said you can't get a free lunch was clearly mistaken.
El Brillante: Classic Madrid eatery. Stuff your face with amazing fried calamari sandwiches, a quintessential Madridian food. I met a dude there who had been working behind the bar for 40+ years. Oh the amount of sandwiches he's seen come and go…
Taberna los Madriles: The specialty of this class bar is the 'pincho Los Madriles', with red pepper and anchovies. Also worth diving into are the tuna and prawn pinchos.
Casa Camacho: A favorite spot among locals and hipsters alike. Plenty of taste things on offer here.
Bar Omaira: Delicious empanadas and Spanish food with a Venezuela twist.
Best Bars in Madrid
I said it before: Madrid has more bars per capita than anywhere else in Europe. Cocktails, beer, wine, cider, Champagne, vermouth, sangria, bloodies… you'll find it all here.
Experiencing the nightlife in Madrid or in Spain generally is an important part of traveling here. Just don't go overboard and blow your whole budget over the course of a long big night out.
As you wade through the sea of bars to check out, remember the places I mentioned in the food section above as they all pour good drinks. In addition to those places, here is a few great places in Madrid to wet your whistle:
La Venencia: Hemingway drank here. Enough said.
1862 Dry Bar: A spot where you can find dozens of interesting, overly thought out cocktail concoctions.
La Casa Del Abuelo: A Madrid institution for over 100 years.
Cafe Del Principe: Classy as hell, a bit pricey, but the bar is truly beautiful.
Azotea Del Circulo: One of the best and cheapest places in Madrid to get a drink and take in magnificent views of the city.
For Madrid cooking classes, check out this site for awesome deals.
Nightlife in Madrid
You know by now that Madrid doesn't fuck around when it comes to engaging in the world of nightlife. In fact, I would argue that a large percentage of the population spend the majority of their waking hours between midnight and six am during the weekends.
Between all the activities offered up at the hostels I mentioned before: the bars, the clubs, the dance shows, you have more than enough to keep you busy all night long should you desire.
There are even many places still serving food at four or five in the morning. Late night munchies in Madrid never tasted so good.
Another option is to consider one of the many Spanish festivals available in Madrid. Whilst the tickets aren't always the cheapest, they are a guaranteed good time.
Book to Read whilst Traveling in Madrid
Don Quixote: I have to admit this is a long, sometimes dry, story with sentences longer than a page. However, Don Quixote is the foundation works of literature in Spain. It's a series of tragic-comic episodes of a slightly deranged knight names Don Quixote.
For Whom the Bell Tolls: Ernest Hemingway covered the Spanish Civil War as a journalist, and turned his account into a fiction story. One of my favorite books of all time!
Homage to Catalonia: Another classic from the Spanish Civil War period. In 1936 Orwell went to Spain to report on the Civil War and instead joined the fight against the Fascists. This famous account describes the war and Orwell's experiences.
A Moveable Feast:Fancy having a look into what life was like for expats living in France and Spain in the 1920s? If you yearn for the Golden age of the Lost Generation like I do, this Ernest Hemingway classic is a must read. OK, so I'm showing my Hemingway bias here, but hey it is a great read too!
Death in the Afternoon: One of the best books on bullfighting ever written by a non- Spaniard. Learn the complete history and culture of the most infamous Spanish sport.
Lonely Planet Madrid: Comprehensive travel guide book for traveling in Madrid
Volunteering in Madrid
Long term travel is awesome. Giving back is awesome too. For backpackers looking to travel long-term on a budget in Madrid whilst making a real impact on local communities, look no further than World Packers. World Packers is an excellent platform connecting travelers with meaningful volunteer positions throughout the world.
In exchange for a few hours of work each day, your room and board are covered.
Backpackers can spend long periods of time volunteering in an awesome place without spending any money. Meaningful life and travel experiences are rooted in stepping out of your comfort zone and into the world of a purposeful project.
Worldpackers opens the doors for work opportunities in hostels, homestays, NGOs, and eco-projects around the world. We've tried and approved them ourselves – check out our Worldpackers in-depth review here.
If you're ready to create a life-changing travel experience and give back to the community, join the Worldpacker community now. As a Broke Backpacker reader, you'll get a special discount of $10. Just use the discount code BROKEBACKPACKER and your membership is discounted from $49 a year to only $39.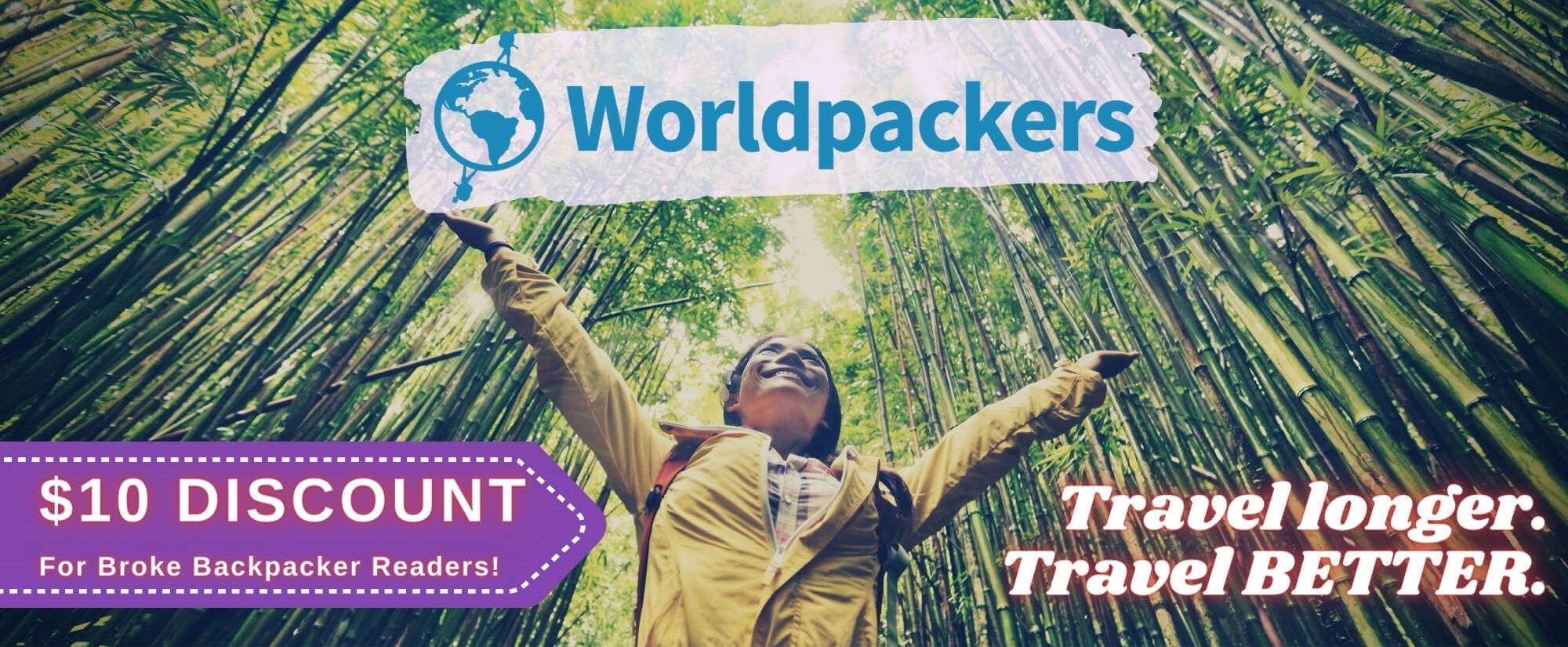 Worldpackers: connecting travellers with meaningful travel experiences.
Make Money Online Whilst Backpacking Madrid
Traveling in Madrid long-term? Keen to make some cash when you are not exploring the city?
Are you a native English speaker looking to earn cash whilst on the road? Teaching English online is a great way to earn a consistent income—from anywhere in the world with a good internet connection. Depending on your qualifications (or your motivation to obtain qualifications like a TEFL certificate) you can teach English remotely from your laptop, save some cash for your next adventure, and make a positive impact on the world by improving another person's language skills! It's a win-win! Check out this detailed article for everything you need to know to start teaching English online.
In addition to giving you the qualifications to teach English online, TEFL courses open up a huge range of opportunities and you can find teaching work all over the world. To find out more about TEFL courses and how you can teach English around the world, read my in-depth report on teaching English abroad.
Broke Backpacker readers get a 35% discount on TEFL courses with MyTEFL (simply enter the code BACKPKR), to find out more, please read my in-depth report on teaching English abroad.
Whether you are keen to teach English online or looking to take your teaching game a step further by finding a job teaching English in a foreign country, getting your TEFL certificate is absolutely a step in the right direction.
Being a Responsible Backpacker in Madrid
Reduce your plastic footprint: Perhaps the best thing you can do for our planet is to make sure you do NOT add to the plastic problem all over the world. Don't buy one-use water bottles, the plastic ends up in landfill or in the ocean. Instead, pack a tough travel water bottle.
Go and watch A Plastic Ocean on Netflix – it'll change how you view the plastic problem in the world; you need to understand what we are up against. If you think it doesn't matter, get off my fucking site.
Don't pick up single use plastic bags, you're a backpacker – take your daypack if you need to go to the shop or run errands.
Bear in mind, that many animal products in countries you travel through will not be ethically farmed and won't be of the highest quality. I'm a carnivore but when I'm on the road, I only eat chicken. Mass-farming of cows etc leads to the rainforest being cut down – which is obviously a huge problem.
Need more guidance? – Check out our post on how to be a responsible backpacker.
Backpacking in Madrid will bring you ample opportunities to participate in debauchery, and it is very important to have fun, let loose, and get a bit wild at times. Most backpacking trips I have been on across the world have included at least a few mornings where I wake up knowing I went too far.
There are some things that will put you in the category of a straight up jackass if you do them. Being super loud and obnoxious in a tiny hostel at 3 AM is a classic rookie backpacker mistake. Everyone in the hostel will hate you when you wake them up. Show your fellow travelers respect whilst backpacking in the Madrid, and anywhere else for that matter!
Climbing on ancient castle walls, monuments, or other historical artifacts should be avoided. Learn to appreciate the cultural treasures of Spain and don't be that dickhead who adds to their demise.
---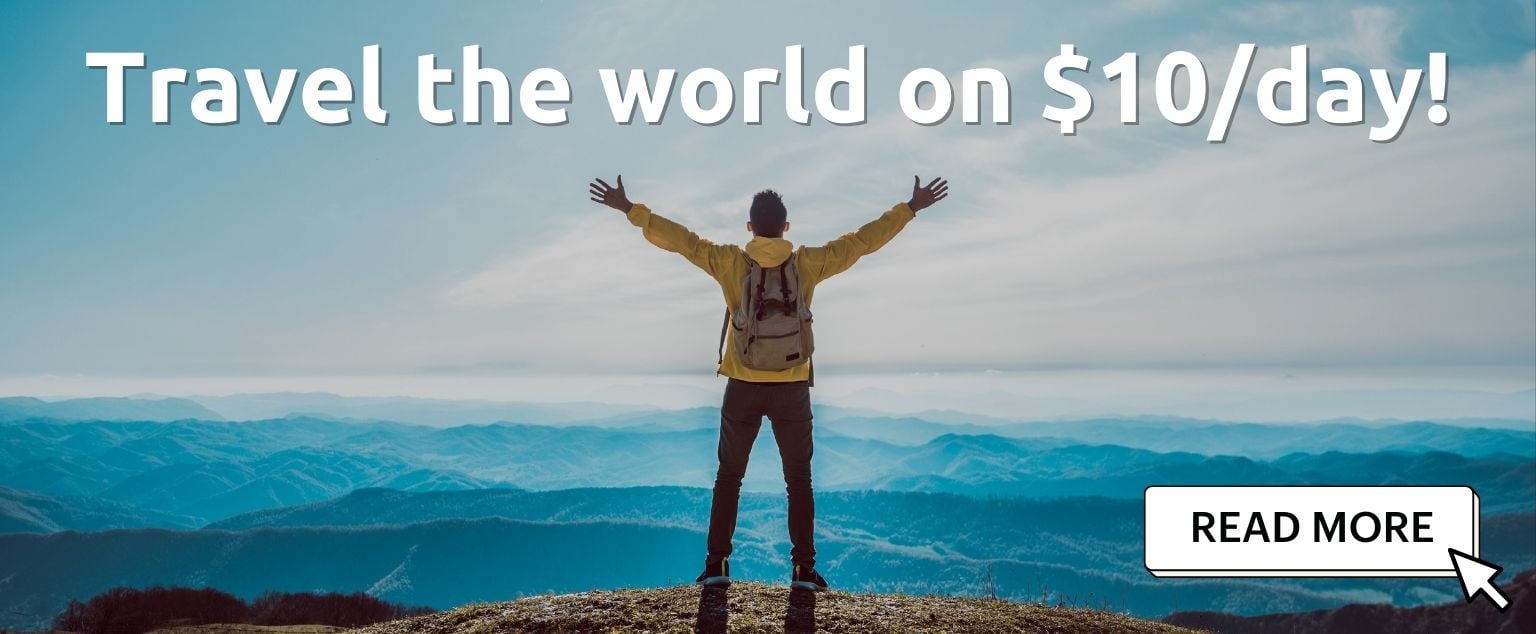 And for transparency's sake, please know that some of the links in our content are affiliate links. That means that if you book your accommodation, buy your gear, or sort your insurance through our link, we earn a small commission (at no extra cost to you). That said, we only link to the gear we trust and never recommend services we don't believe are up to scratch. Again, thank you!