Barcelona: encapsulating people's hearts before Woody Allen could say, Vicky Cristina.
I can't imagine why, though. Mediterranean waters, surreal and colorful Cátalan architecture, dancing in squares drinking sangria, twenty-four-hour beachside parties, boisterous bars, and multi-story nightclubs; I mean who wants to experience that?
If you raised your hand and said aye, well, welcome to Barcelona, my party people. This is the city that doesn't sleep in a country that doesn't sleep, famed by legendary artists surrealist artists: Gaudí, Picasso, and Dalí, whose visions live among Barcelona's buildings.
And this city is surreal alright. But it's also pretty big. Each neighborhood is distinctly unique, though many of my favorites are overshadowed by the popular highlights, like Las Ramblas and La Ribera area. Most travelers who are only backpacking Barcelona for a couple days end up missing out on some of Barcelona's best gems.
Well, I spent four months living in Barcelona, and with the help of some friends who have also lived here, I put together this travel guide for backpacking Barcelona alongside a neighborhood guide for where to stay in Barcelona.
I will cover everything you need to know before traveling to Barcelona, including how to budget for this somewhat pricey city, and my in-depth 3-day itinerary, which includes Barcelona's highlights and hidden gems.
I advise you to keep your eyes peeled open for the level of pride Cátalans have for Barcelona and the rest of their state. They have their own language, traditions, and cultural significance. Many Cátalans do not consider themselves Spanish, but rather an autonomous region of Spain that wants to be independent.
Need more inspiration: I wrote a travel guide on Backpacking Spain, and we have an awesome guide on the best hostels in Barcelona.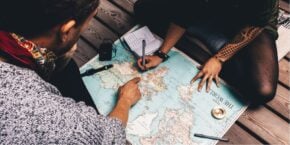 Heading Off-Grid? • Download This Guide as a PDF!
Sign up to The Broke Backpacker's EXCLUSIVE VIP AREA below and download our top backpacking guides as PDFs – go offline with peace of mind!
Barcelona battles Madrid for the title of most expensive city in Spain, so you're going to need to get thrifty if you're on a backpacker budget.
That said – with a bit of planning – you can still visit Barcelona affordably. Barcelona isn't as expensive as other Western European cities, and it is definitely possible to backpack Barcelona on a budget.
An average daily budget in Barcelona will cost $60-70 a day, though crafty travelers can get by on as little as $30 if you're getting free accommodation.
If you travel to Barcelona outside of summer, you will score the best accommodation deals, and most of your day-to-day expenses in Barcelona will revolve around food. Hostels are reasonably priced for their value, though they can be expensive at the height of tourist season (summer).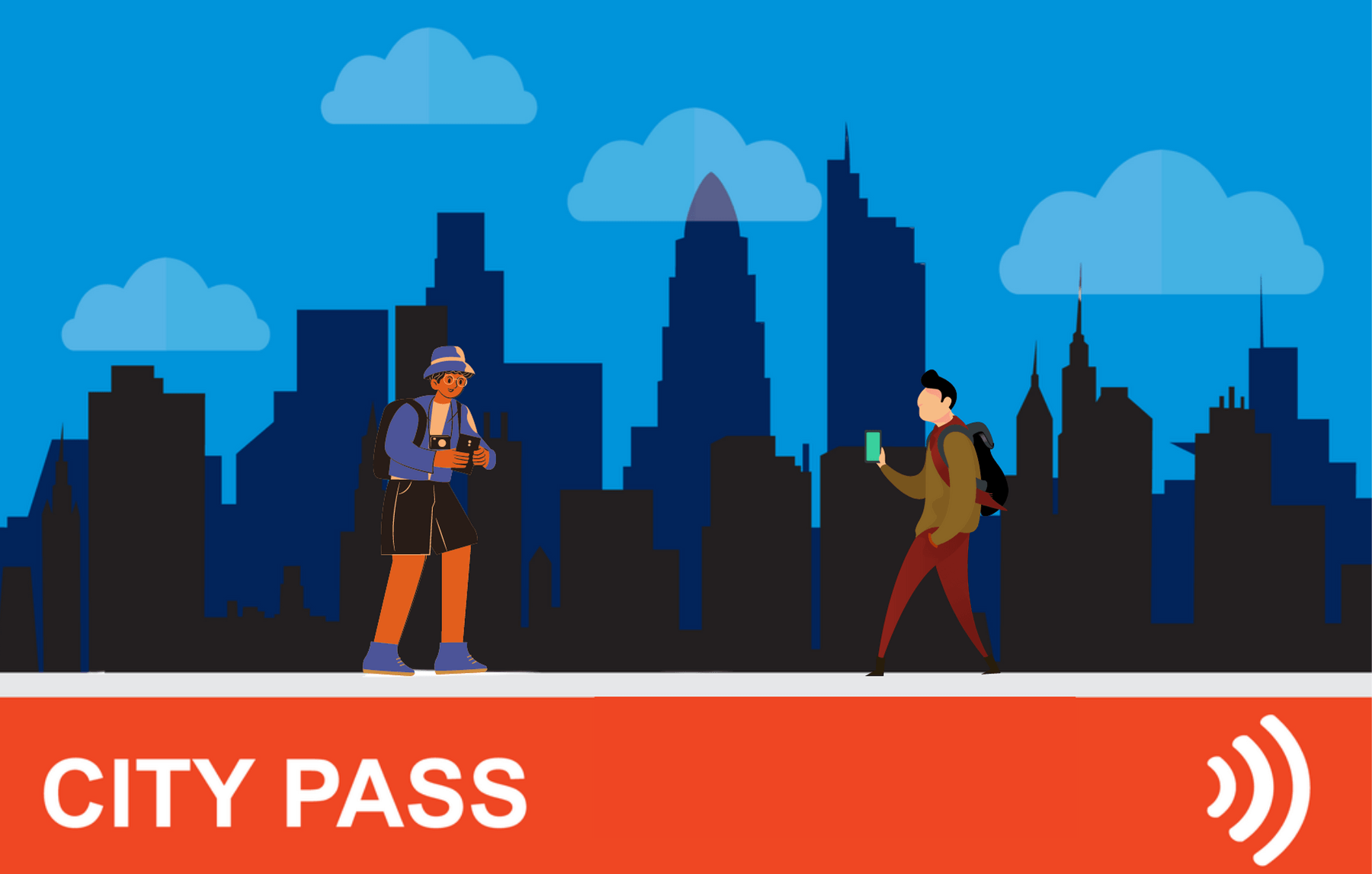 Travelling to Barcelona? Then plan yo' trip the smart way!
With a Barcelona City Pass, you can experience the best of Barcelona at the CHEAPEST prices. Discounts, attractions, tickets, and even public transport are all standards in any good city pass – be sure invest now and save them $$$ when you arrive!
Buy Your Pass NOW!
Often times it is best to split an Airbnb or hotel with a group instead of staying at a hostel. Couchsurfing has a large community here, but these days it is pretty difficult to score a couch.
Luckily, Barcelona's public transportation is both affordable and convenient. The metro and bus system is both modern and reliable. Rides cost about 2.20 euro each way, so you are way better off buying 10 shareable rides for 10.20 euros.
Otherwise, most of Barcelona's most popular attractions are within walking or biking distance, which is always the best way to explore a new city! You can loop around most of the Gaudí sites and museums, as well as the most popular neighborhoods (Barrio Gotic/Barceloneta and Eixample). Bike rentals go for around 5 euros. Check with your hostel for deals!
(Parc Guell and Mont Juic, however, will definitely require a metro ride since they are on the outskirts of the city.)
In the section below I have covered a ton of free activities in Barcelona, as well as some money-saving tips. Moreover, below is a breakdown of the costs of travel in Barcelona for the average backpacker.
And if you're still choosing between Milan and Barcelona, then check out this helpful guide to help you decide.
Daily Costs for Backpacking Barcelona
Hostel Dormitory: $25-$30
Dorm bed: €17-30
Basic room for two: €60-150
Airbnb room: €30+
Airbnb apartment: €75+
1 metro ride: €2.20
City-Airport transfer: €5
Beer at a bar: $4+
Coffee: €2
Bottle of alcohol from the market: €15
Sandwich: €5-7
Set Lunch: €8+
Sit down Dinner for two: €40+
Sagrada Familia Ticket: €22 online
Barcelona Budget Backpacking Tips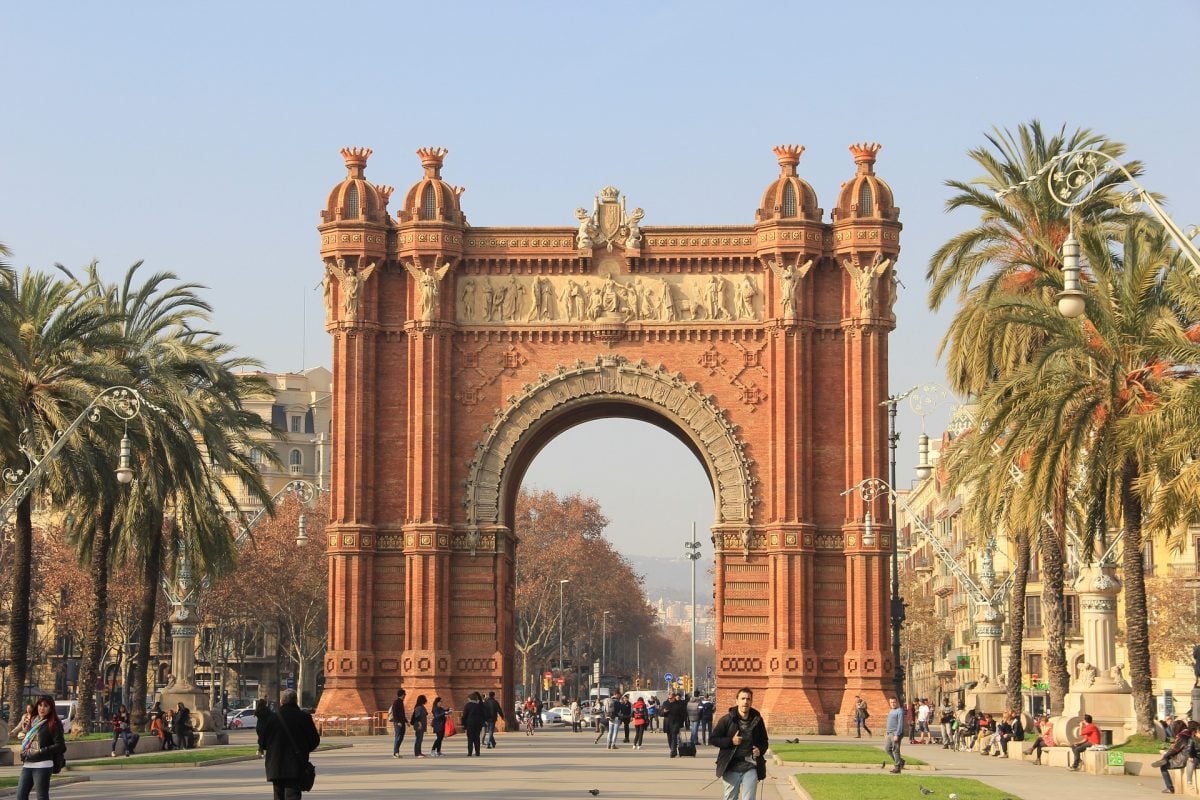 There are plenty of ways to visit Barcelona on a budget.
Below is a list of tips for backpacking in Barcelona that will stretch your budget, including plenty of free things to do in Barcelona. My tips will allow you to visit this city for under €50 a day.
Walk: You can easily walk from site to site. For example, last time I was in Barcelona, I spent an entire day walking from Barrio Gothic, and the beach to Parc Ciutadella and then to La Sagrada Familia.
Take a Free Walking Tour: Any Barcelona Itinerary should include a walking tour as they are awesome. There are numerous companies that offer a donation based walking tour, including Discover Walks and Feel Free Tours.
Check out Barcelona's Free Festivals: This city always has something going on. Many events are free, such as Festes de la Merce in September.
Attend Music in the Parks: From June – August check out this series of free open-air concerts all over the green spaces in Barcelona.
Hang out at the beach: Another free thing to do in Barcelona! While other parts of Catálan has far better beaches, it's pretty awesome having a sandy seaside within city limits.
Hang out in the Plazas: Where Spain lacks for grassy park areas, they make up for in squares with relaxing seating areas. Often this is a great way to enjoy the day like the locals do… with some gelato in hand of course.
Visit Museums on the first Sunday of every month: Most museums and attractions are free from 3pm-8pm on Sundays.
Buy 10 Metro rides at a time: When you can't walk, use public transportation. Make sure to buy 10 rides at a time to save 50%. If you are staying in Barcelona for a few weeks or more, it may make sense to buy more than 10 at a time.
Drink before going out: Buying full-priced drinks at the club will kill your budget. Instead, buy alcohol at a market and drink with your friends. You can then hit up local bars and get plenty a buzz.
Get on the guest list: If you do want to go clubbing, get on the guest list online. Most clubs will waive that €25+ fee if you show up before 2 am, which – to be fair – is quite early for Barcelona locals.
Cook on your own: There are some fantastic restaurants in Barcelona, as well as a lot of mediocre ones, but I'm not going to lie, the best ones are not cheap by Spanish standards. One of the best ways to save money is to buy your own groceries and cook at home.
But if you eat out, eat a set lunch: Lunch is almost always cheaper than dinner menus. Plus, most places in Spain have a set meal of the day for a cheaper price.
Avoid Las Ramblas and La Sagrada Familia for food: These areas have overpriced and mediocre food!
Take advantage of happy hour: If you simply have to buy a drink in a bar, do so during happy hour. A much-loved time of the day, happy hour (usually 4pm-6pm) is when you'll find the cheapest drinks.
Pack a travel water bottle and save money every day!
Why You Should Travel to Barcelona with a Water Bottle
Plastic washes up on even the most pristine beaches… so do your part and keep the Big Blue beautiful
You aren't going to save the world overnight, but you might as well be part of the solution and not the problem. When you travel to some of the world's most remote places, you come to realise the full extent of the plastic problem. And I hope you become more inspired to continue being a responsible traveller.
Plus, now you won't be buying overpriced bottles of water from the supermarkets either! Travel with a filtered water bottle instead and never waste a cent nor a turtle's life again.
Save $$$ • Save the Planet • Save Your Stomach!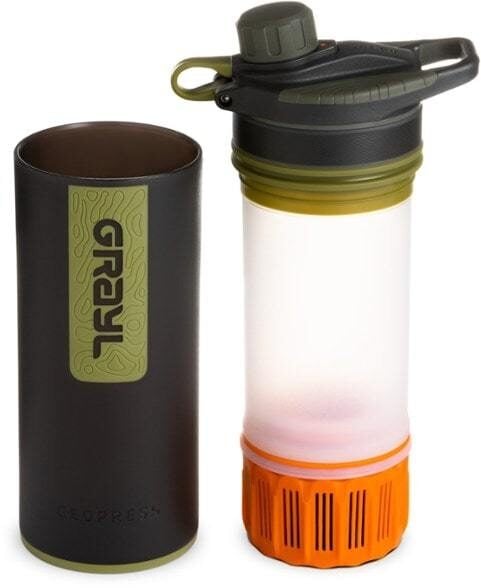 Drink water from ANYWHERE. The Grayl Geopress is the market's leading filtered water bottle protecting your tum from all the waterborne nasties. PLUS, you save money and the environment!
Single-use plastic bottles are a MASSIVE threat to marine life. Be a part of the solution and travel with a filter water bottle.
We've tested the Geopress rigorously from the icy heights of Pakistan to the tropical jungles of Cuba, and the results are in: it WORKS. Buy a Geopress: it's the last water bottle you'll ever buy.
Buy a Geopress!
Read the Review
Wondering where to stay? Check out our insider guide for the best neighborhoods to stay in Barcelona.
IN A RUSH? THIS IS OUR FAVORITE HOSTEL IN BARCELONA!
Accommodation in Barcelona can be affordable if you know where to look; however, expect to pay a premium in the summertime, when most crowds flock to the city on the sea!
Hostel prices vary widely and can start for as little as 15 euros. Central hostels will be at least 25 euros, and potentially more in the summer.
I have listed our top 3 picks for best hostels in Barcelona below., but for a more comprehensive list, head over to guide on Barcelona's best hostels.
1. Best Hostel in Barcelona for Good Vibes – Hostel One Sants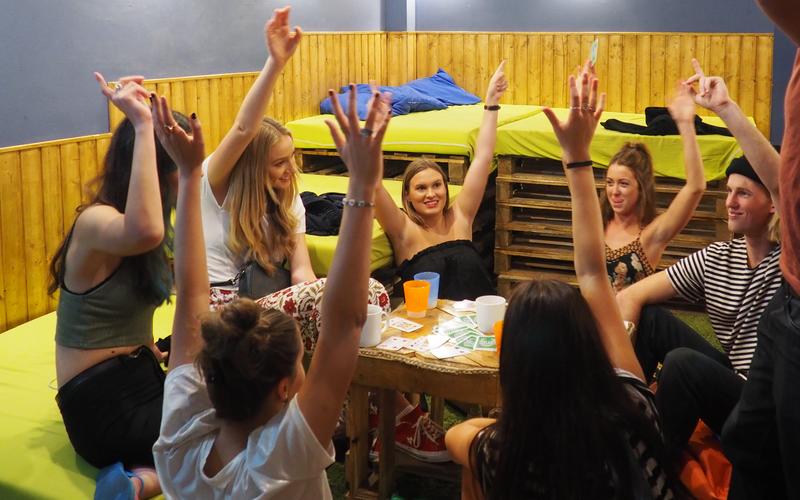 This cheap hostel in Barcelona is our top pick for solo travelers because of its range of activities and social atmosphere. They have free walking tours, bar crawls, a reading nook, and pool table. This hostel also has a fully-equipped kitchen, laundry facilities, and a book exchange!
2. Best Hostels for Digital Nomads in Barcelona – Sleep Green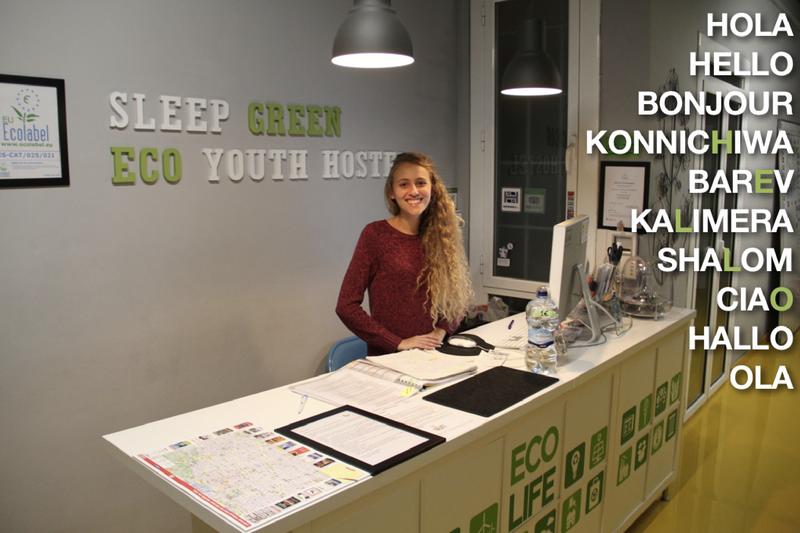 We love this hostel because of they strive to be as eco-friendly and sustainable as possible. It's located near las Ramblas, and has access to fast and free Wi-Fi and Mac computers.
They also have bikes for hire, so you can ride around the city and to the beach!
Free Hostels Barcelona has private double rooms, and dorm beds with shutters for maximum peace and quiet. This cozy hostel has a café on-site, as well as a fully-equipped kitchen and free breakfast.
This is one of the best places to stay in Barcelona for backpackers. Perfectly situated for exploration—so much so that you won't need to spend much time inside. This charming 30m2 loft is located in the heart of Borne and gives you easy, walkable access to most of Barcelona's major sites. With a double bunk bed and modern amenities, it's perfect for two to four guests.
With so much to do in Barcelona, sometimes a Top 10 list is necessary. Below I have highlighted the top things to do in Barcelona for first-time visitors and returning aficionados alike.
1. Gawk at Gaudí's masterpiece in the making: La Sagrada Familia
La Sagrada Familia Cathedral is one of Barcelona's star attractions. It is still a work in progress more than 90 years after the death of its architect and visionary, Antoni Gaudí. If you are backpacking Europe, chances are this is not your first cathedral visit, but I promise you, there is no other building in the world like La Sagrada Familia.
Inspired by nature and fairy tales alike, this cathedral is held up by a forest of columns tower over pews and sunlight streams through the stain glass windows. Make sure to go inside! It's worth the pricey ticket and advance reservation. To make this experience even better, you can also skip the annoying tourist lines at the ticket counter. Don't waste your time, simply book your priority-access ticket here and get the most out of your visit.
2. Go on a tapas tour!
Tapas and Wine – it couldn't get any better. This tour will take you through Barcelona's tapas and wine hot spots. You'll need to be willing to put at least 3 hours into this tour since no one wants to be in a rush when it comes to delicious food. Reserve your spot in advance and make sure to come with an empty stomach!
3. Watch a fútbol game at Barcelona's stadium Camp Nou
Even if you're not a football/soccer fan, nothing beats the energy of a game inside one of the world's largest football stadiums. If you don't get a chance to watch Lionel Messi score a goal, Camp Nou offers stadium tours that are supposed to be quite cool. If you are staying in Barcelona over the weekend then there is a 1 in 2 chance that Barca will be playing at home.
4. Check out a flamenco show
Watch an incredible and authentic flamenco show right in the very centre of Barcelona. With world-class performers, great acoustics and an experience you'll never forget, the show is definitely a must-see on our list.
5. Catch Some sun rays at the Barceloneta beach
Sure, there are better beaches in Spain, but how often can you lay out on the beach and grab drinks downtown in the same short afternoon!?Plus, this area of Barcelona has a cool scene. Play some volleyball, or run, bike, and rollerblade along the promenade.
6. Gawk at more of Gaudi's architecture
It seems like Gaudi's works of art can be found around every corner in Barcelona. Aside from La Sagrada Familia, you can visit works in L'Eixample neighborhood and Parc Guell, a candyland, colorful mosaic park with an epic view of the city.
7. Visit Parc Guell
Speaking of Gaudí, Parc Guell is one of Barcelona's top attractions, and definitely worth the sweaty jaunt up the hill. I suggest getting here early if you want to beat the crowds or book a skip-the-line ticket!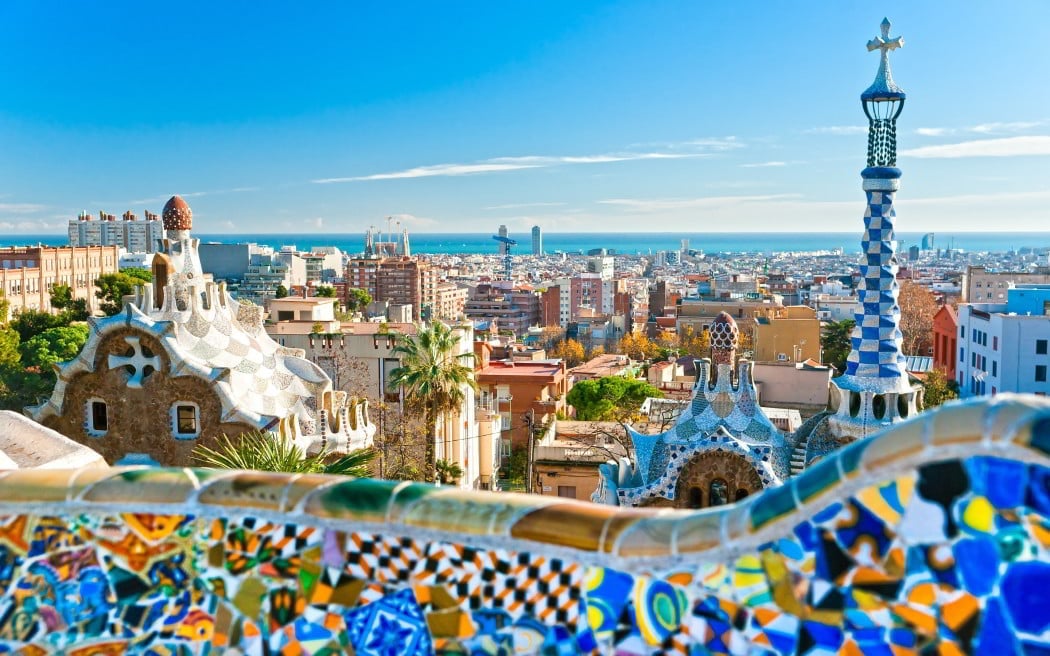 8. Watch the sunset at the Bunkers del Carmelo
While it takes some effort to get here – think a long metro ride and jaunt up a steep hill – the views are nothing short of epic from the bunkers! Get here early for a good seat!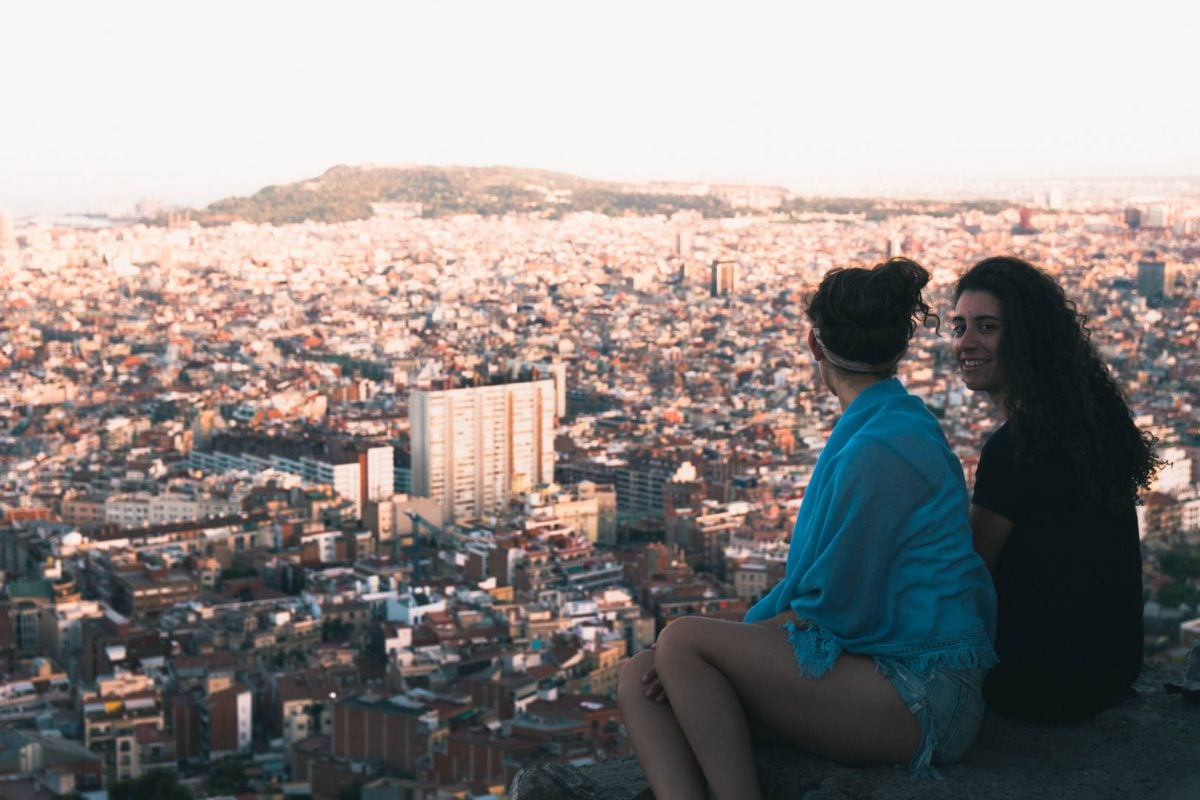 9. Then watch the sunrise on your way home from the club
Barcelona is famed for its nightlife, and you'll quickly see why. Whether you want to bar hop around Sant Antoni or El Raval's hip bars, party with international DJs at one of Barceloneta's beach clubs, catch some live music throughout the city, or watch a flamenco show, there is a night event for everyone in Barcelona.
10. Cafe Hop in Gracia
This bohemian area of Barcelona is a great place to grab some coffee and food, do some yoga, and just hang out in one of the plazas with the locals. This is also one of my favorite places to stay in Barcelona!
11. Get lost in the alleyways of the Gothic District
The Gothic Quarter is one of Barcelona's most popular areas, and it's easy to see why! The medieval architecture will transport you back in time as you sip on sangria at one of the trendy bars.
12. Explore el Raval
What used to be the seedier part of the city – and still is in some areas – has experienced a dramatic face lift, as well as rapid gentrification. It's a popular place to hang out, with plenty of cool boutiques and vintage shops.
This is where the coolest rebels, like Ernest Hemingway, used to hang out. Looks like the coolest rebels are still hanging out here.
13. Check out the Museu Picasso
While you'll find museums dedicated to Picasso all over Spain, this museum showcases the world's best collection of his early work, since Picasso lived in Barcelona in his adolescence.
14. Spend an afternoon exploring Montjuïc
There are plenty of places to enjoy views from Montjuïc. From the cable cars that lead up to the Monjuic Castle to the themed gardens, make sure to make it to this mountain. There are even open-aired bars and clubs in the summer.
For a more laidback event, check out the outdoor movie screenings in summer!
Want more? Check out our epic guide to the 40 coolest things to do in Barcelona, Spain! Check out this post to see the best places to visit in Barcelona!
Is This the Best Daypack EVER???
Below I have crafted a 3-day sample itinerary for backpacking Barcelona that will take through all of the highlights, as well as some of my favorite local gems!
Day 1 in Barcelona: Gaudí's Highlights
Today we're going to hit the major Gaudí highlights: La Sagrada Familia and Parc Guell.
First stop: L'Eixample – Barcelona's largest neighborhood. Here you will visit Barcelona's most famous attraction, Antoni Gaudí's La Sagrada Familia.
La Sagrada Familia is one of Europe's greatest cathedrals, and the crowds come in masses to see it. Make sure to reserve your Sagrada Familia ticket ahead of time! Tickets sell out weeks in advance.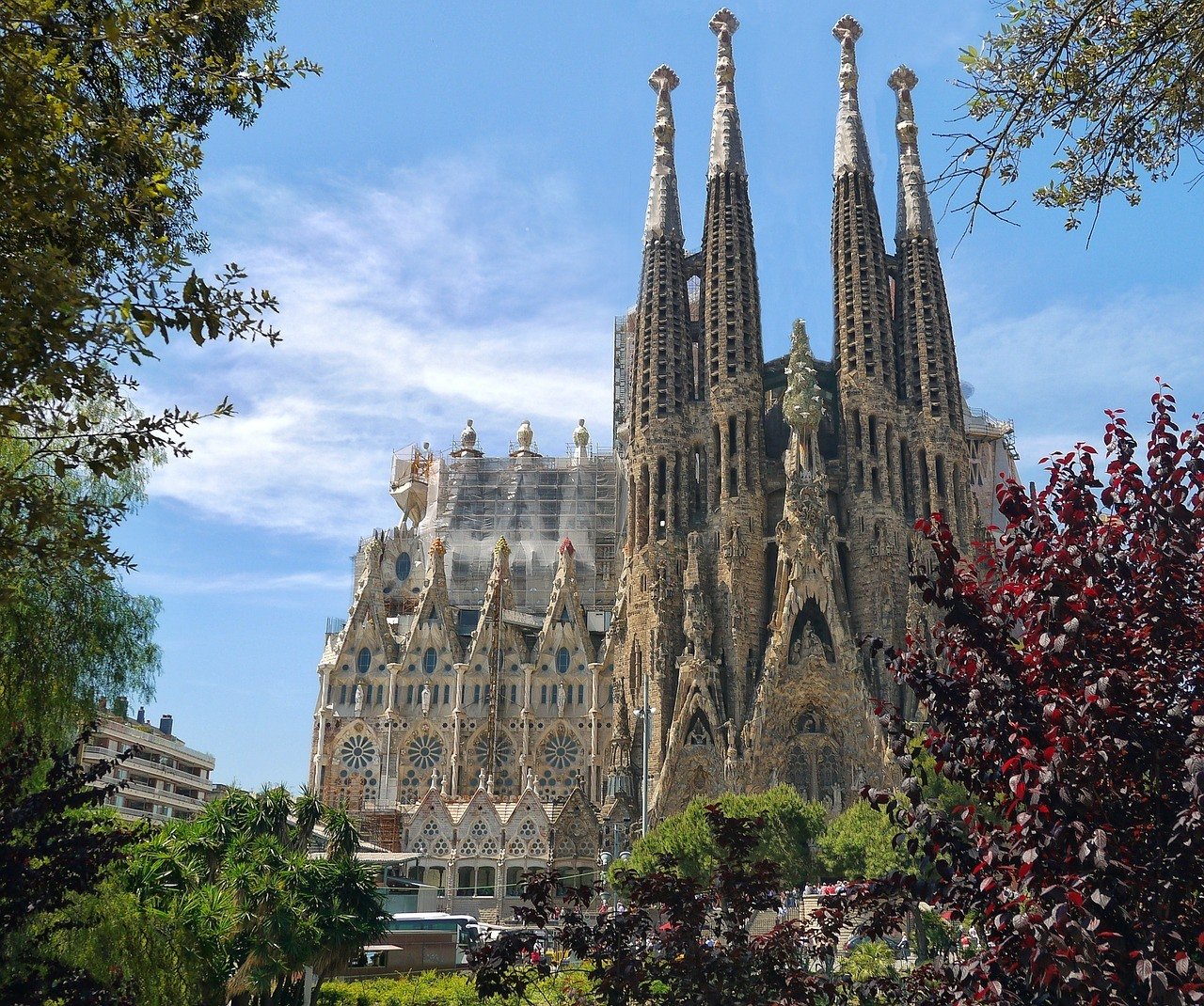 Day 1 in Barcelona: Afternoon
Next stop is the Gracia Neighborhood, where we're going to spend the most of the day. I highly suggest eating lunch and dinner here! You can walk from Eixample/La Sagrada Familia to this neighborhood.
Gracia is Barcelona's most bohemian area with tons of great vegan/vegetarian cafés, a local community theatre, feminist graffiti, colorful murals, yoga, co-ops, natural therapies, art galleries and pop up art stores. This neighborhood is mostly inhabited by young, socially and politically active locals and students.
Plaza del Sol is a great place to hang out in the mid afternoon, drinking 75c caña with the locals, and listen to music. You can also head to Palza Saint Joan to watch the swing dancers in the plaza!
Next, head to Parc Guell, also in the Gracía neighborhood. This is where Gaudí lived, and is now home to a famous park with an excellent viewpoint of Barcelona. Parc Guell is a top attraction in Barcelona and it gets packed in the afternoon, so if you can fit it in to a sunrise visit before Sagrada Familia, I highly recommend it! If you rather come in the afternoon, but don't want to wait in line (which can be up to 1000 people at a time), you can also book a skip-the-line ticket in advance.
After the Parc Guell, book your tickets for an authentic flamenco show in a XIX century theatre. Watching the world-class dancers while listening to the traditional flamenco music – you'll feel yourself falling in love with the unique art! There are three shows in the evening, so make sure to get your tickets.
You might be tempted to stay out til the wee hours of the morning, and I don't blame you. Just try to get some preper sleep before day 2… or just roll into the next day without any sleep and a proper sunrise view, as so many Spaniards do.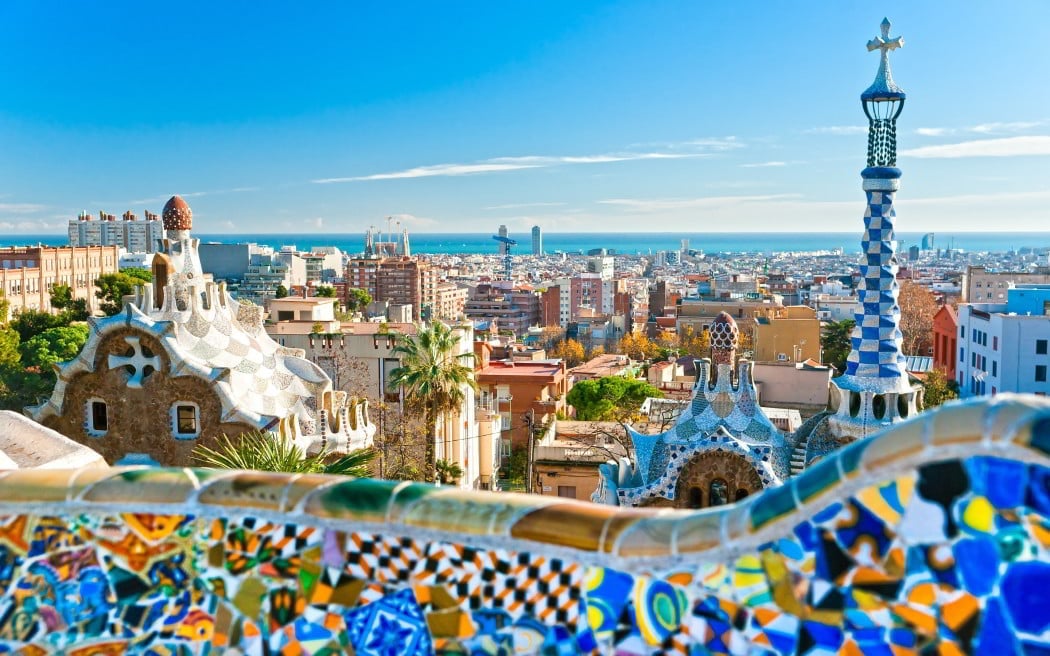 Day 2 in Barcelona – La Rambla and El Raval
Today, we're going to hit most of Barcelona's other major highlights, so strap on your best walking shoes!
We're starting in the Gothic Quarter (Barri Gotic) – Barcelona's oldest neighborhood – where you can stroll around the winding alleys of La Ribera; it's so charming you'll forget you are in a monstrous modern city.
Here, you can grab some breakfast and a cup of café, as the Spanish do. (While Westernized, I highly suggest the restaurant Milk for brunch.)
This is also a good time to visit the Picasso Museum – located in la Ribera – should this museum be on your radar. Make sure to get there early to skip the lines!
If you are interested in live/classical music, take a tour of the Palau de la Música Catalana too. The interior is beautiful! You can also catch a show here, tonight.
Next, we can stroll down La Rambla, which is technically still part of the Gothic Quarter, and also extremely touristy. You'll walk past plenty of tacky tourist stalls and overpriced cafes here. It's not my favorite part of Barcelona, but if you have never backpacked Barcelona it's worth the jaunt, and we're so close anyway.
La Boqueria Market is a giant indoor market on La Rambla with just about every type of food you can imagine. It's really fun to walk around the market and try the food, though the prices are definitely inflated.
You can walk up Las Ramblas all the way to the famous square Plaça de Catalunya. Further past the plaza, you'll find the street Passeig de Grácia – Barcelona's largest shopping area- with just about every famous department and designer store.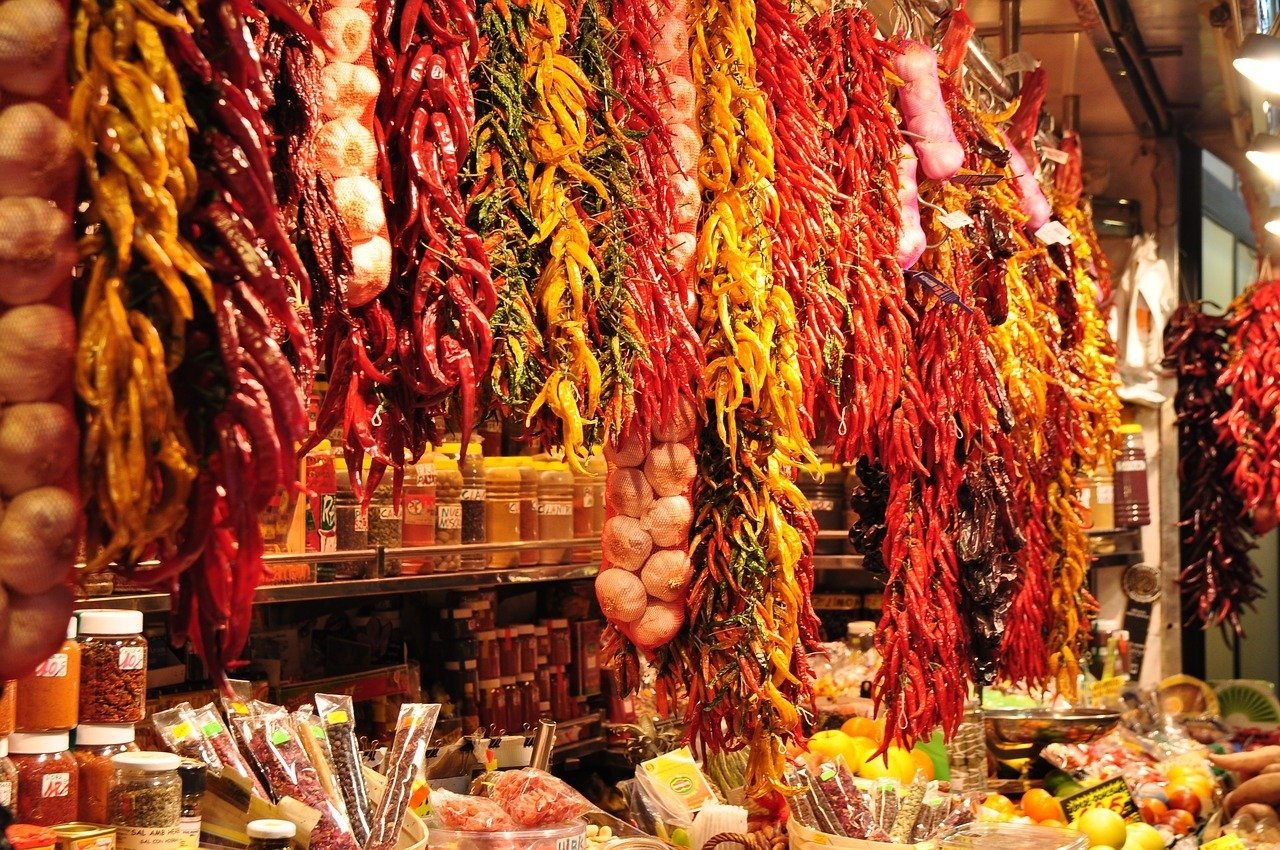 Day 2 in Barcelona: Afternoon
Head to el Raval on the other side of La Rambla to visit one of Barcelona's most ethnically most diverse areas.
While some areas are best avoided at night, this neighborhood is popular with young, bohemian folks, and there are tons of awesome boutiques and vintage stores, bars, and restaurants, so I suggest eating lunch and dinner here.
Raval is close to Montjuic, so plan to spend the a good part of the afternoon here too. You can hike around, visit the Montjuic Castle, and some of the old Olympic Stadiums (you can even swim in the Olympic pool). It's also a great place to catch the sunset!
As night approaches, the fun just gets started in Barcelona. Remember, most Spaniards don't eat dinner until 10pm. Raval has plenty of options for food and bars.
You can drink absinthe like Ernest Hemingway did at the oldest bar in Barcelona – Bar Marsella in el Raval. This bar is well worth visiting just to check it out as it actually feels like you are walking back in time.
There is a live music venue called Big Bang Bar with open mic x2 a week, and live music other nights — excellent vibes.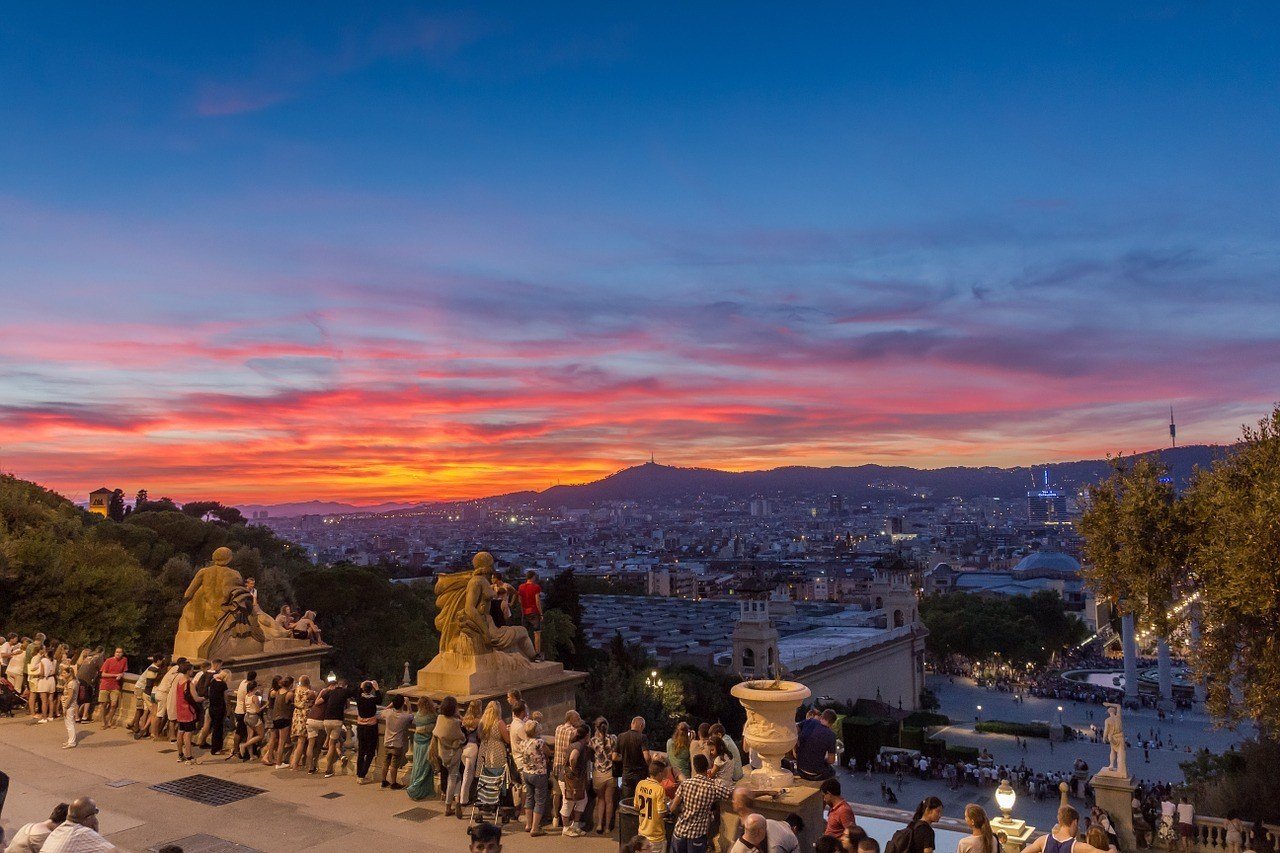 Day 3 in Barcelona: Poblenou and the Beach
Start your day on the Mediterranean sea, and go for a stroll, jog, or bike ride along the waterfront and Barceloneta. You can also lay out a towel and relax on the beach, play volleyball, grab a drink, and catch some sun rays!
Now we head to el Poblenou neighborhood for lunch.
Poblenou has a young, hipster scene. Palo Alto market has awesome stores, concerts, and food – including plenty of food trucks.
Back near the beach in Barceloneta, you can also find some pretty cool craft breweries that have popped up in recent years. Or better yet, try something straight from Catálan, Cava – a dry sparkling wine. My favorite place is the low-key La Xampanyeria, which also serves little bocadillos (sandwiches) and tapas.
Need a nap, but don't want to lay in the sand? There's a great park called Cuitadella close to Barceloneta and La Xampanyeria. There are also some trendy cafés around this area if you need a 3 o'clock latte/pick me up.
There are plenty of opportunities to do water sports in the ocean around Barcelona. If you've ever wanted to try one of those crazy hover boards or jet skiing, this is the place to do it.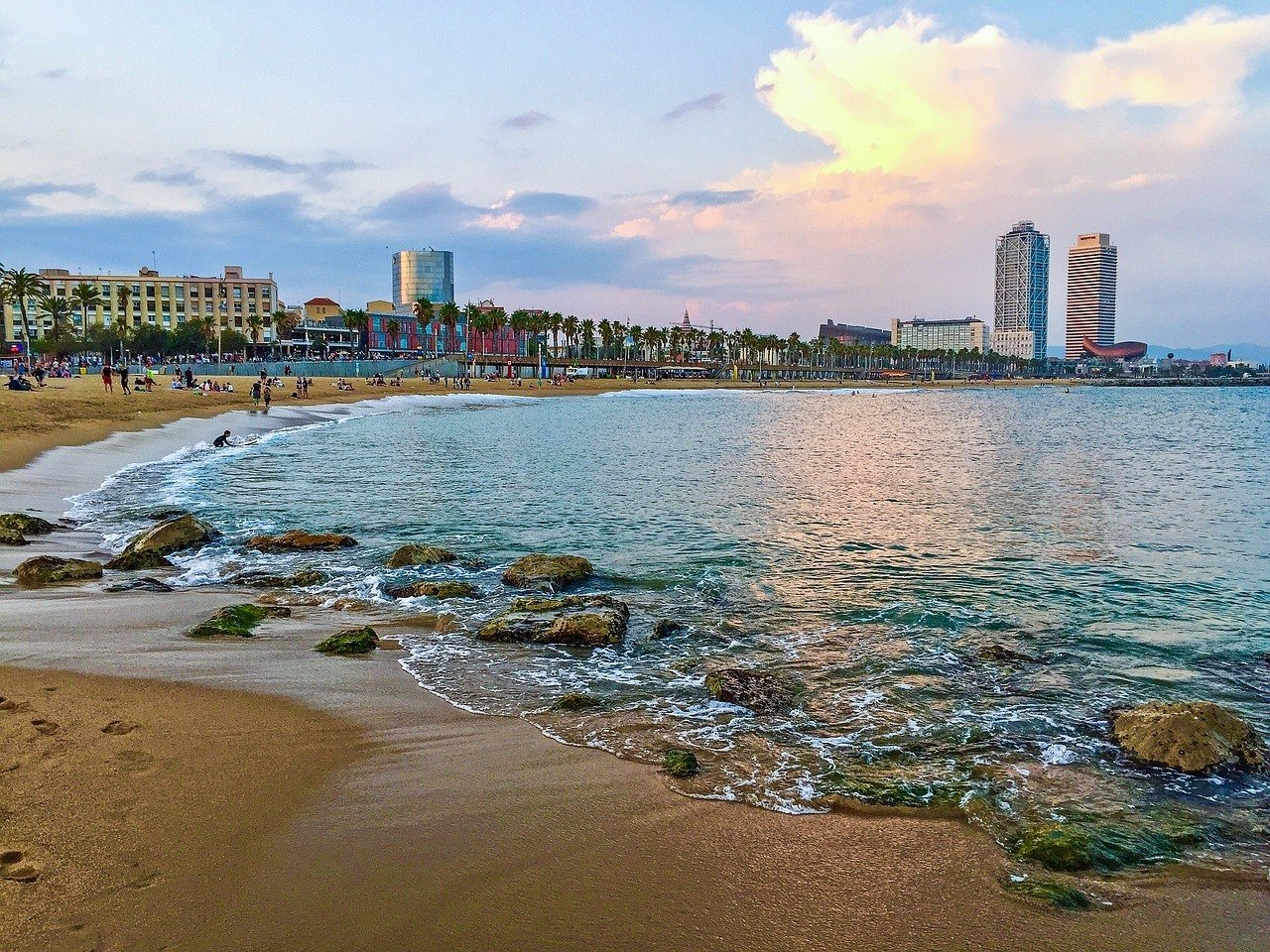 Day 3 in Barcelona: The Evening
For sunset, grab some food and wine, and head to the Bunkers del Carmel outside of the Gracia neighborhood for the best view of Barcelona. It's quite a trek, requiring a longish metro ride, and a sweaty jaunt up a steep hill though, so wear shoes you don't mind hiking in.
Also, get there early to grab a good spot!
As I mentioned before, there is no shortage of bars and dance clubs in Barcelona. If you enjoy dancing the night away, tonight is your night. There is a night club for everyone in Barcelona (see my nightlife sectio below). Razzmatazz is the biggest club – 5 stories high – and has killer live music, but there are numerous clubs and venues throughout the city.
Day 4 in Barcelona
Have more time for backpacking Barcelona!? Well, with an extra day or two you can revisit your favorite neighborhood in Barcelona.
I also suggest you check out out the FC Barcelona stadium, Camp Nou. Try to catch a game here; it's totally worth it! Otherwise, you can also go on a stadium tour.
Another option for the fourth day of backpacking Barcelona is to explore more of Cátalan and take a day trip outside the city.
Montserrat is known for its "sacred mountain" and hiking. You've probably seen photos of Montserrat's stairway to heaven on Instagram as it's very photogenic. Check out this post for info on the practicalities of visiting Montserrat.
Other great day trips from Barcelona include Girona, is a charming medieval town with an interesting history, and Figueres, which hosts the Dali Museum.
Costa Brava is lined with Catalan's best beaches, and reachable from Barcelona by bus or train. Tossa del Mar is a bay with a castle, and Sitges has nice beaches and a nightlife scene. There's a trail, called the Cami de Ronda, that affords awesome views of the Mediterranean as well!
Keep reading for more ideas on more time backpacking Barcelona.
Need help deciding between Barcelona or Madrid? Check out our helpful guide.

Off the Beaten Path in Barcelona
With more than 3 days, it's definitely possible to get off the beaten path while backpacking Barcelona. There are so many hidden gems: cool cafés, side streets, and countless plazas.
You can easily get lost exploring neighborhoods like Gracía, Eixample, and el Raval. There are also nine hills surrounding Barcelona, and dozens of great view points of the city. I only highlighted the best ones in my 3 day Barcelona itinerary.
To explore more of Catalan, head outside the city limits and get into nature, or visit nearby villages and towns. This is also a great area to find yoga retreats in Spain.
1. Check out the other Beaches in Catálan
If you really want to check out some nice beaches, take a train or bus to Tossa del Mar and Sitges on the Costa Brava. Stop in Castelldefels on the way to go sea kayaking or stand up paddle boarding around the coves.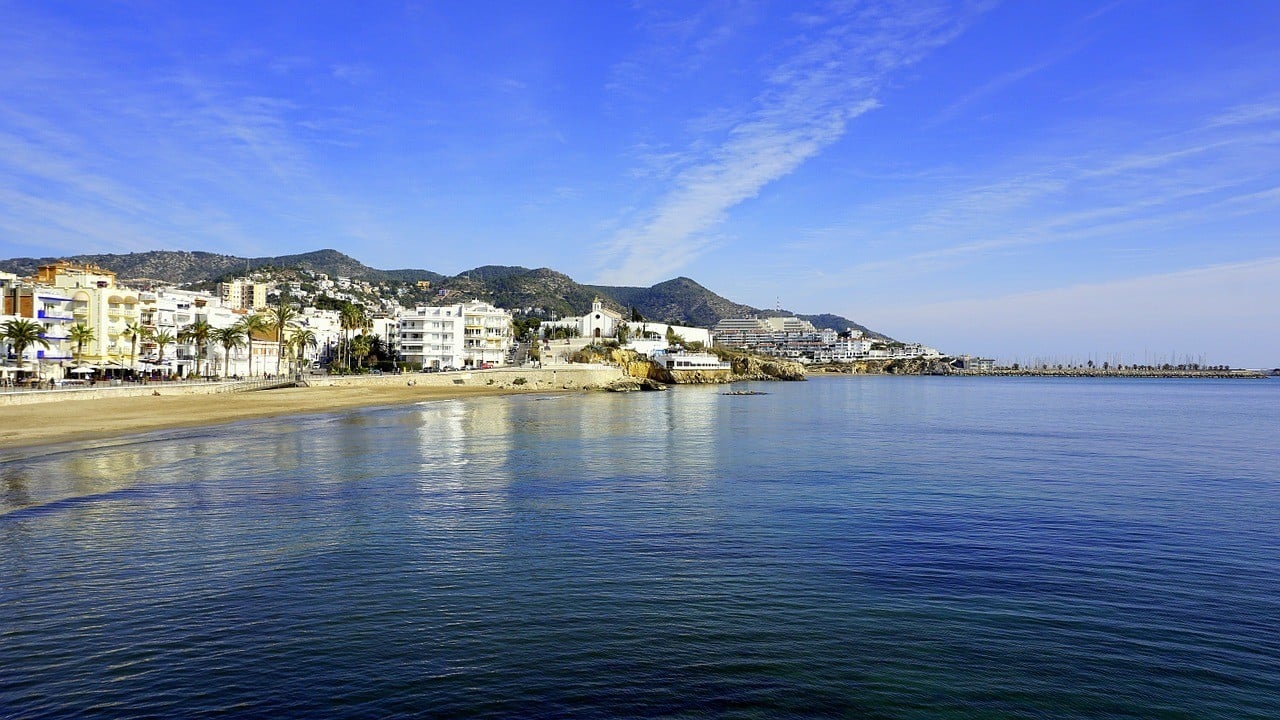 2. Visit San Cugat Neighborhood in Barcelona
20 minutes north of Barcelona you can visit the San Cugat neighborhood, which hosts organic cafes and quaint markets. This area has a local atmosphere, and may be a nice break from the city.
3. Climb, hike, and ski in the Pyrenees
Flying into Barcelona, you may have noticed that this city is not only by the ocean but close to the mountains too! In the summertime, you can climb and hike around the Pyrenees, and it's a great place to go camping in Spain, and in the winter it's possible to ski!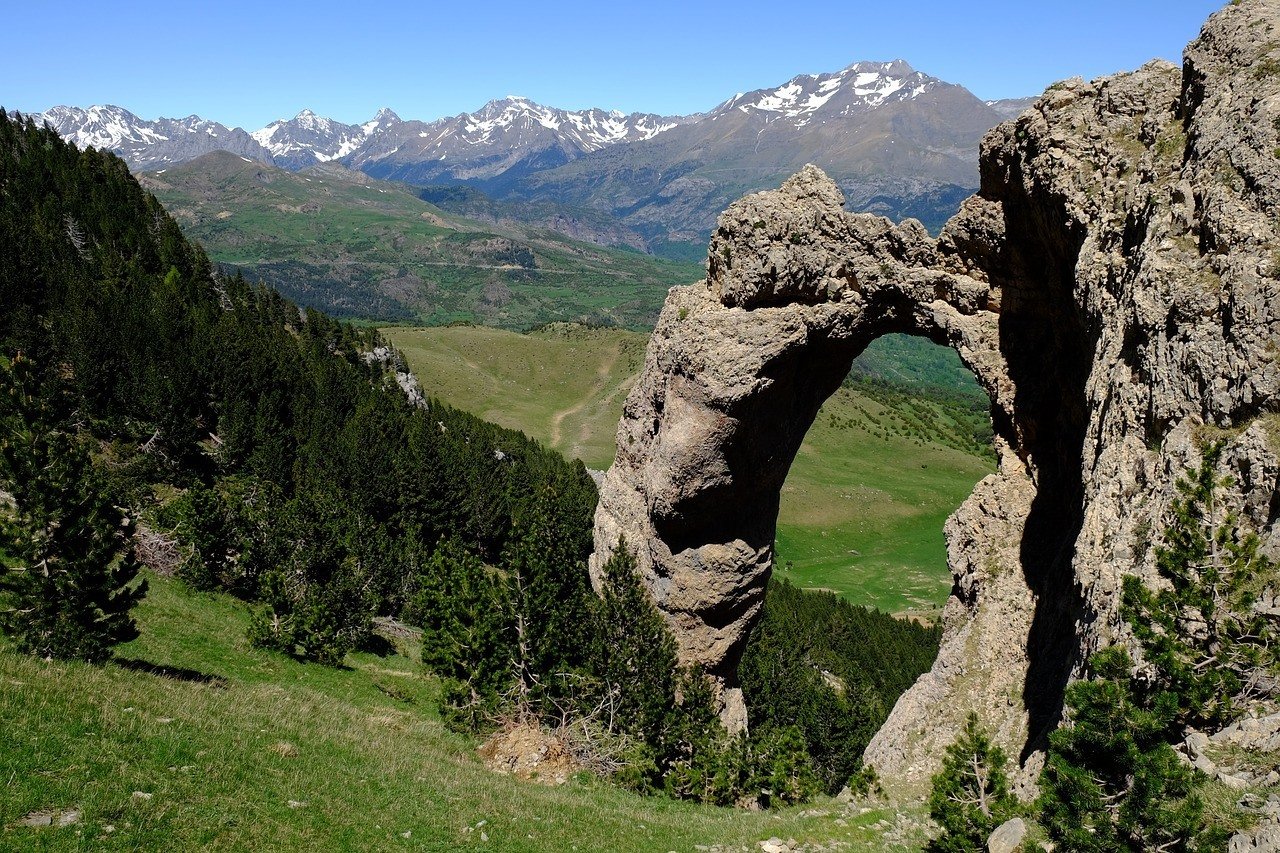 4. Discover the Parks in Barcelona
We've already gone to some, like Parc Guell and Parc de la Cuitadella., but there are plenty of other great places to chill out and take a siesta.
5. Visit one of Europe's Oldest Amusement Parks: Tibidabo
Tibidabo Mountain hosts one of Europe's oldest amusement parks, the Parc del Tibidabo. You can visit the park; just check opening hours!
Best Walks in Barcelona
Below I have highlighted the best urban walks and hikes around Barcelona!
1. Bunkers del Carmel: This is the best place to catch a sunset in Barcelona with panoramic views of the city. You just take line 4 or line 5, and hike up the neighborhood hills until you get to the actual road.
2. Montjuic: This is one of the nine surrounding hills around Barcelona, and home to the Monjuic Castle, numerous gardens, and the Olympic Stadium. There are plenty of opportunities to walk and hike around here, including a jaunt up to the castle if you're feeling ambitious. Otherwise, there are gondolas that take you to the top.
3. Tibidabo Mountain: Another one of the hills around Barcelona, this one is famous for one of Europe's oldest amusement parks. You can walk to the top of Tibidabo and catch some great views of Barcelona.
4. Walk along Passeig del Born: This charming Barcelona street in the Born neighborhood just outside the Gothic quarter has a medieval feel, probably because knights used to actually duel here during the 16th century! Nowadays, you can sit at a trendy bar or café and marvel atthe atmosphere. You can also catch the Holy Week and carnival parades every year.
5. Walk from Barrio Gotic to the Beach: It is easy to combine this walk with number four. Just head for the beach, and take a stroll along the promenade.
Below I have covered everything you need to know before backpacking in Barcelona!
Best Time of Year to Visit Barcelona
Barcelona is subject to a fairly consistent Mediterranean climate, and never suffers from too extreme of weather. Summers can get hot, and sometimes a heat wave rolls in leaving you drenched in sweat and succumbing into a siesta.
Once October hits, you can expect rainer days in Barcelona, though that doesn't mean there won't be temperate, sunny days either.
I've personally visited Barcelona in the summer and fall. Summers are definitely more expensive and crowded. That said, if you are visiting Barcelona for the parties, the outdoor bars and clubs are top notch, and there are some great Spanish festivals in June.
If you really want to go backpacking in Barcelona during the best possible time, I suggest shoulder season, essentially anytime between September- November, and March-May.
Getting in and out of Barcelona
Most visitors will arrive at Barcelona's EL Prat International Airport, located 35 minutes from the city. One-way tickets cost around $6, and run until 1 am. It's connected to the city's public transport but it's not 100% straightforward so make sure you read up on transiting from BCN to the city center.
There are also nearby airports that budget airlines fly into, Girona-Costa Brava airport and Reus Airport. Both are inconveniently 90 minutes away. There are buses that run from these airports to the train stations: Barcelona's Estació del Nord (for Girona-Costa Brava) and Estació Sants (for Reus). Make sure these buses are running before/after your flight! Often times, they won't reach those 6 am flights in time, and you'll have to pay for an expensive taxi instead.
Long-distance trains arrive at Estació Sants in the center of town. RENFE – Spain's train network – is convenient, albeit expensive if you do not buy tickets far in advance.
Buses are often the cheaper way to get around Spain. They will operate out of Estació del Nord in the neighborhood of L'Eixample.
How to Get Around Barcelona
There are plenty of ways to get around Barcelona. The modern metro can get you pretty much anywhere within city limits and beyond, though they stop running at midnight Sunday to Thursday, and at 2 am on Fridays. They do run 24 hours on Saturday, however. As I mentioned earlier, try to buy 10 rides at a time to save money.
If the metro isn't an option, Taxis and Uber are affordable enough, and your best option at night. Otherwise, much of the city is very walkable and bikeable. This is a fun and affordable way to get around Barcelona.
Long Distance Trains from Barcelona
As I mentioned earlier, long-distance trains arrive at Estació Sants in the center of town. Train travel is the most convenient way to get to Barcelona from other parts of Spain and France. RENFE is Spain's train network. Tickets can be expensive, especially if you purchase a ticket last minute.
If you are traveling within Spain, I always recommend comparing train and bus tickets first. If you are traveling to other parts of Europe, taking a flight is almost always the better deal because trains will generally take too long.
Even if you are going to Madrid, a flight will often end up costing less; high-speed trains are expensive, and the regular train takes a full day or night — though you have to travel in-between airports outside city proper if you fly.
Use Bookaway to find the best deals on transport – buses, planes, trains, and ferries. It'll save you a load of time when organising transport and you'll probably nab an EPIC DISCOUNT too!
Book your transport on Bookaway NOW. Get the best price for the best ride… then use those savings to buy the best feed in town!
Book Your Transport Here!
Safety in Barcelona
Barcelona is a fairly safe city, and there are only some areas best avoided at night, mostly around El Raval and the southern part of La Rambla.
Refer to our guide for staying safe while backpacking. For more specific information on staying safe in Spain, then check out our dedicated Barcelona safety guide here. It's full of a ton of useful information and tips.
The most concerning thing travelers should be aware of is pickpocketing. Barcelona is notorious for theft, so be mindful of your belongings, especially in touristic areas, where there are large crowds and plenty of unsuspecting victims.
Never leave your backpack or purse open, or keep valuables in your back pocket. I mean it! Make sure to be conscious of your bag or purse, especially around Passeig de Gracía, Las Ramblas, and on the metro. A popular trick is to grab your stuff just as the metro doors are closing.
Over the course of 4 months of living in Barcelona, at least 5 of my friends had their phones or computers stolen.. so be careful! The most common places theft occurs is around Las Ramblas and within the Gothic Quarter, but it can happen anywhere.
Travel Insurance for Barcelona
Traveling without insurance would be risky so do consider getting good backpacker insurance sorted before you head off on an adventure.
I have been using World Nomads for some time now and made a few claims over the years. They're easy to use, professional and relatively affordable. They may also let you buy or extend a policy once you've started your trip and are already abroad which is super handy.
If there's one insurance company I trust, it's World Nomads.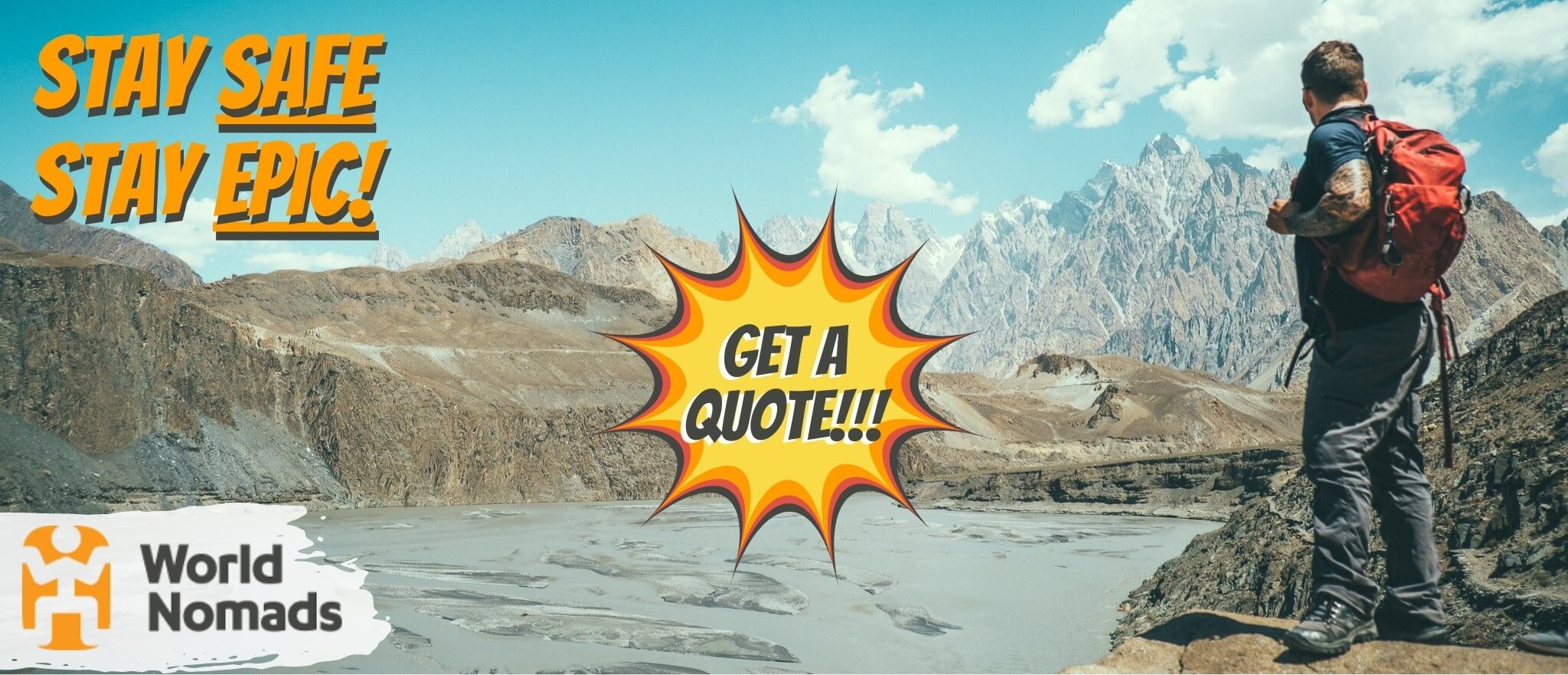 World Nomads' mission is to support and encourage travellers to explore their boundaries. They offer simple & flexible travel insurance, and safety advice to help you travel confidently.
They've been doing it since 2002 – protecting, connecting, and inspiring independent travellers just like you.
Get a quote below or read our in-depth review!
World Nomads provides travel insurance for travelers in over 100 countries. As an affiliate, we receive a fee when you get a quote from World Nomads using this link. We do not represent World Nomads. This is information only and not a recommendation to buy travel insurance.
Barcelona Accommodation Travel Hacks
Hostels are a great way to meet fellow travelers, especially if you want to indulge in a little Barcelona nightlife. The hostels aren't cheap in Barcelona, but they're more affordable than say, Paris or Rome. Most of the hostels have great kitchen options though, so take advantage of this!
If you're backpacking Barcelona as a couple or group, look into Airbnb. You can often find better deals.
Couchsurfing is always a viable option, though it's extremely popular, and most hosts receive dozens of request per day! My point? Don't count on Couchsurfing, but consider this an option.
Eating and Drinking in Barcelona
Barcelona has one of the highest amounts of restaurants and bars per capita in Europe, and there are food options for any budget. The key is to weed through the mediocre ones. My first tip is to generally avoid eating near any tourist attractions, like la Sagrada Familia and Las Ramblas.
Poblenou, Gracía, and El Raval have some excellent restaurants and bars a bit off the tourist map. I always ask locals for their favorite recommendations. This blog post has an excellent list of cafés, restaurants, tapas, and more!
When in doubt, just walk around and get a sense of the atmosphere. Usually, any restaurant the locals are frequenting, or has a line, is probably good.
All throughout Spain, it's pretty common for Spaniards – and Cátalonians – to spend their afternoons leisurely drinking café or a little beer, so there are countless tiny restaurants and bars. Make sure to join them once and a while!
As for the type of food found in Barcelona, you get a combination of Catalan cuisine and other international foods. Catalonia food is inspired by the sea with lots of fish, prawns, and clams. Like the rest of Spain, you will also find plenty of pork, olives, and olive-oil.
Unlike the rest of Spain, however, it's pretty easy to find any type of cuisine here: Italian, Mexican, Thai, you name it. That said, most sushi restaurants are pretty awful.
Barcelona does have plenty of Tapas Bars, which are restaurants that serve Tapas: Spain's bite-size appetizers, but tapas in Barcelona are not like the South of Spain — where tapas are free. In Barcelona, most tapas bars can be on the pricier side, considering tapas are small plates, and you have to order a few to fill up.
If you're willing to splurge a bit, there are some excellent Tapas restaurants, like Tapas 24, Bar Pinotxo – one of my favorites – and Palo Cortao.
Ah, and my vegetarians and vegans, fear not, for Barcelona has plenty more to offer than pork and seafood! There is a huge veggie scene in Gracía, Eixample, Gothic, and other areas. Other good restaurants include, Flax & Kale and Rasoterra. I think Barcelona has the best variety and options for vegetarians and vegans in Spain.
For some cheap eats in Barcelona check out this article.
As for drinking, like any large city, there is a booming coffee culture and craft alcohol scene. If you want to try something unique to Barcelona, go cava tasting.
Cava is a type of dry sparkling wine, native to the Catalan region of Spain. There are plenty of opportunities to try cava in Barcelona, and outside of the city too!
For Spanish cooking classes, check out this site for awesome deals.
Nightlife in Barcelona
Nightlife in Barcelona is notoriously good. Party like the Spanish though, and you won't sleep until the sun comes up. The best neighborhoods for Barcelona nightlife include el Born (just outside the Gothic area), Sant Antoni, el Raval, and Gracia.
Barcelona for gay travellers and nightclubs is a vibe! Eixample, also known as Gaixample, is especially good for bars and clubs if you want to get your rainbow grove on. Barceloneta is home to some pretty famous beach clubs too. You'll be spoiled for choice as far as nightlife goes!
Bars typically stay open until 2-3am, but most locals do not go out until midnight. Clubs stay open until 6am or later, and don't start filling up until 3am.
Best Wineries and Cava Joints in Barcelona
Monvinic for Wine – L'Eixample
El Xampaneria for Cava – La Ribera, Gothic Quarter
Can Paixano for Cava – Barceloneta
Best Bars in Barcelona
Barceló Raval – 360-views of the city from the rooftop terrace – El Raval
Bar Marcella – the oldest bar in Barcelona and serves absinthe – El Raval
Pipermint – Huge fishbowl drinks reaching unfinishable sizes (over 100 oz, for example…)
La Caseta del Migdia – Open air bar on Montjuïc.
Ovella Negra – Best student bar since they have cheap sangria and beer – Gothic
Nightclubs and Live Music in Barcelona
Barcelona's discotecas are best visited on the weekends. The waterfront hosts upscale clubs, frequently playing EDM. Sometimes there are some great shows here, otherwise, they can be pretentious with overpriced drinks. That said, my 20 year old self spent a lot of nights here. Get on a the guest list and you'll never pay for a cover unless a major international DJ is playing.
Razmatazz is Barcelona's biggest club: 5 stories tall, and not like Prague's sorry excuse for a 5 story club (no offense Prague!). I'm talking pretty sizable stages and dance floors, and awesome live music frequented by big named and underground artists alike. Each floor features a different musical genre, so there's always something for everyone. Buy tickets in advance to save money, and check out their calendar. Who knows? One of your favorite bands or DJs may be playing.
Other famous clubs include Pacha and Sutton.
There are certain clubs only open in the summer, like La Terraza on a mountain in an open-aired castle, seriously.
For a completely different experience, I suggest checking out el Row. More than just a club, this is an event with performing actors and insane decorations throughout a multi-room venue. You dress up to the theme of the night.
There are plenty of bars with live music and shows throughout Barcelona. Almost every international act passes through Barcelona at some point too.
Barcelona is also blessed with grand theatre and opera performances, and the best place to see a live show is the Palau de la Música Catalana, which we visited on day 2 in Barcelona.
While Flamenco originates from Andalucia, there are a few tablaos where you can catch flamenco, but don't expect authentic flamenco bars like in the south. Go to Seville for Flamenco!
Books to Read on Barcelona
These are some of my favorite travel reads and books set in Barcelona…!
The Shadow of the Wind – This fiction mystery is about a boy in Barcelona after the Spanish Civil War. In his quest to discover more about a writer, he discovers that someone has been destroying every book this writer has written.
Homage to Catalonia – This is an impressive account of Barcelona written by Orwell as he explores the terrible events in Barcelona's recent history.
What Catalans Want – This book includes tons of interviews from people living in the Catalan region, where many people want to be independent of Spain. This book should be on any Barcelona reading list if you want to understand why people in this region feel passionate about their identification with Spain and the rest of the EU.
Lonely Planet Barcelona – This is a pretty extensive guide on backpacking Barcelona. I highly recommend LP's version if you are looking for a guide book on Barcelona.
Volunteering in Barcelona
Long term travel is awesome. Giving back is awesome too. For backpackers looking to travel long-term on a budget in Barcelona whilst making a real impact on local communities, look no further than World Packers. World Packers is an excellent platform connecting travelers with meaningful volunteer positions throughout the world.
In exchange for a few hours of work each day, your room and board are covered.
Backpackers can spend long periods of time volunteering in an awesome place without spending any money. Meaningful life and travel experiences are rooted in stepping out of your comfort zone and into the world of a purposeful project.
Worldpackers opens the doors for work opportunities in hostels, homestays, NGOs, and eco-projects around the world. We've tried and approved them ourselves – check out our Worldpackers in-depth review here.
If you're ready to create a life-changing travel experience and give back to the community, join the Worldpacker community now. As a Broke Backpacker reader, you'll get a special discount of $10. Just use the discount code BROKEBACKPACKER and your membership is discounted from $49 a year to only $39.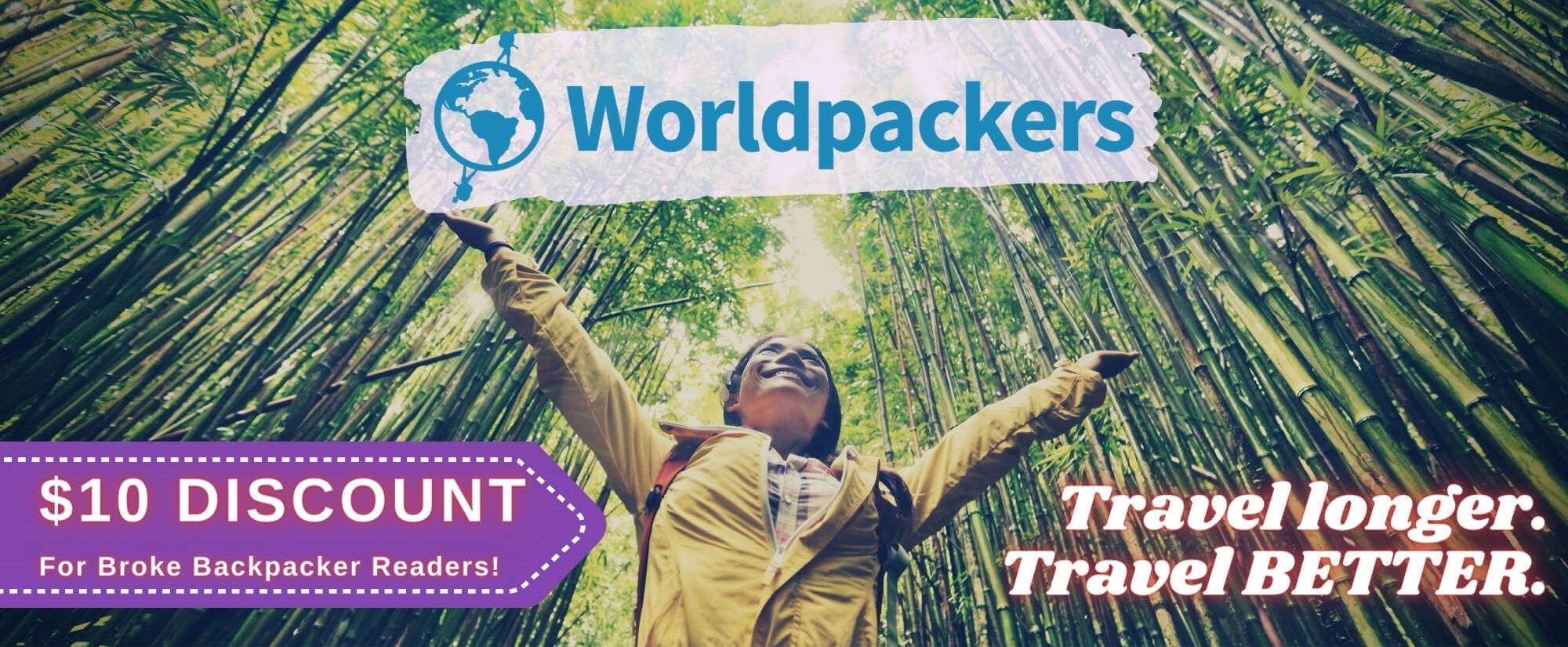 Worldpackers: connecting travellers with meaningful travel experiences.
Make Money Online Whilst Backpacking Barcelona
Traveling in Barcelona or Spain long-term? Keen to make some cash when you are not exploring the city?
Teaching English online is a great way to earn a consistent income—from anywhere in the world with a good internet connection. Depending on your qualifications (or your motivation to obtain qualifications like a TEFL certificate) you can teach English remotely from your laptop, save some cash for your next adventure, and make a positive impact on the world by improving another person's language skills! It's a win-win! Check out this detailed article for everything you need to know to start teaching English online.
In addition to giving you the qualifications to teach English online, TEFL courses open up a huge range of opportunities and you can find teaching work all over the world. To find out more about TEFL courses and how you can teach English around the world, read my in-depth report on teaching English abroad.
Broke Backpacker readers get a 35% discount on TEFL courses with MyTEFL (simply enter the code BACKPKR), to find out more, please read my in-depth report on teaching English abroad.
Going on a TEFL journey with Global Work and Travel is also a viable option. You'll not only get a TEFL in Barcelona but also get help with finding work anywhere in Spain afterwords. You'll also receive VISA guidance and help to find accommodation. In fact, there isn't much the won't help you with!
Whether you are keen to teach English online or looking to take your teaching game a step further by finding a job teaching English in a foreign country, getting your TEFL certificate is absolutely a step in the right direction.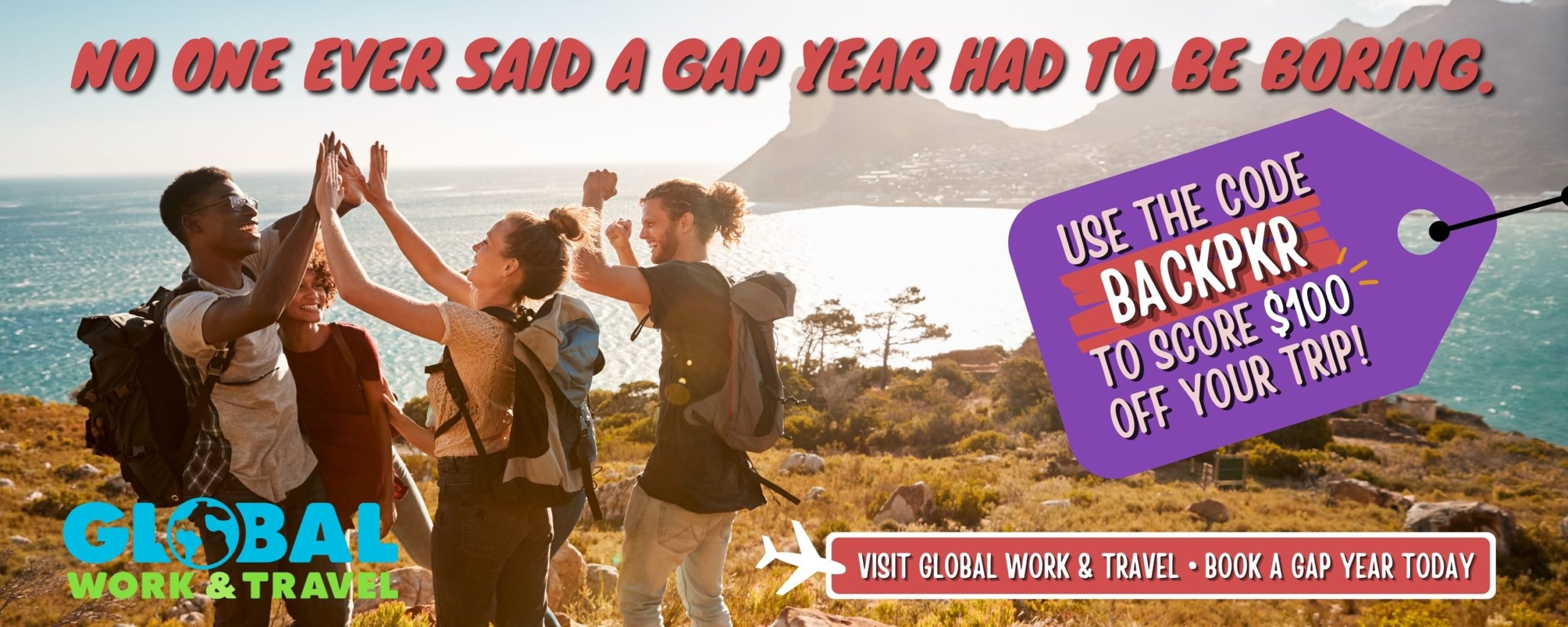 Being a Responsible Backpacker in Barcelona
Reduce your plastic footprint: Perhaps the best thing you can do for our planet is to make sure you do NOT add to the plastic problem all over the world. Don't buy one-use water bottles, the plastic ends up in landfill or in the ocean. Instead, pack a tough travel water bottle.
Go and watch A Plastic Ocean on Netflix – it'll change how you view the plastic problem in the world; you need to understand what we are up against. If you think it doesn't matter, get off my fucking site.
Don't pick up single use plastic bags, you're a backpacker – take your daypack if you need to go to the shop or run errands.
Bear in mind, that many animal products in countries you travel through will not be ethically farmed and won't be of the highest quality. I'm a carnivore but when I'm on the road, I only eat chicken. Mass-farming of cows etc leads to the rainforest being cut down – which is obviously a huge problem.
Need more guidance? – Check out our post on how to be a responsible backpacker.
Backpacking in Barcelona will bring you ample opportunities to participate in debauchery, and it is very important to have fun, let loose, and get a bit wild at times. Most backpacking trips I have been on across the world have included at least a few mornings where I wake up knowing I went too far.
There are some things that will put you in the category of a straight up jackass if you do them. Being super loud and obnoxious in a tiny hostel at 3 AM is a classic rookie backpacker mistake. Everyone in the hostel will hate you when you wake them up. Show your fellow travelers respect whilst backpacking in Spain, and anywhere else for that matter!
Climbing on ancient castle/church walls, monuments, or other historical artifacts should be avoided. Learn to appreciate the cultural treasures of Spain and don't be that dickhead who adds to their demise.
Final Thoughts on Backpacking Barcelona
When it comes down to it, there is something for everyone in Barcelona. This isn't your typical, romanticized European City, like Paris, Rome, or Florence, but there's a reason it's just as likely to end up on on a backpacker's Europe itinerary.
Highlights include Gaudí's architecture and La Sagrada Familia, the nine surrounding hills and there many viewpoints of the city, and of course the urban beach and promenade. The atmosphere in Barcelona is vibrant and buzzing with energy, whether you are strolling around the parks and plazas, or hitting the town at 4 am. A
And did I mention the weather is pretty darn perfect. When the rest of Spain is cooking in an oven, or the rest of Europe is experiencing snow storms, Barcelona still has t-shirt weather. Moreover, you're just a stone throw away from beaches and mountains.
It's hard to put into words, but there is something about this city that will have you buzzing with energy and excitement.
To end this article, I would like to thank my girl Lauren, who is living in Barcelona at the time of writing, and was able to help me get up to speed on the coolest things to do in Barcelona right now! I hope my travel guide to backpacking Barcelona was helpful! Let me know what you think in the comments below!
---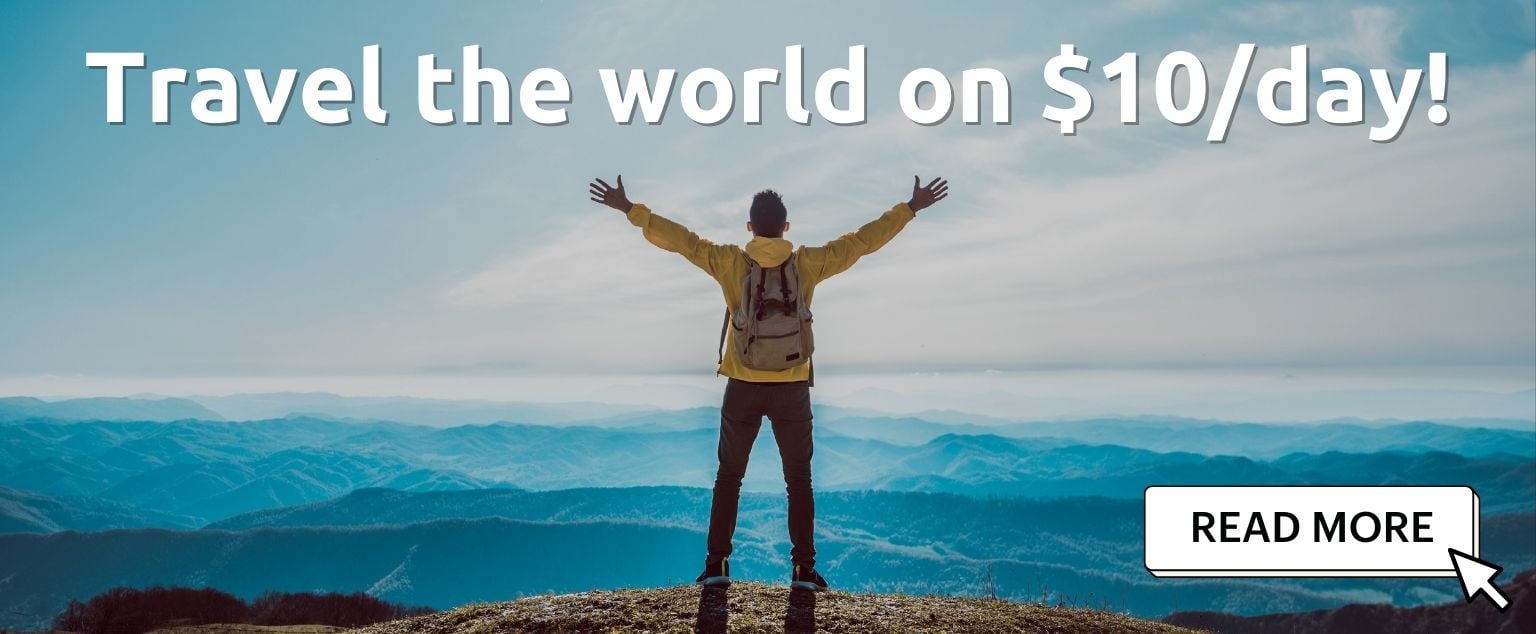 And for transparency's sake, please know that some of the links in our content are affiliate links. That means that if you book your accommodation, buy your gear, or sort your insurance through our link, we earn a small commission (at no extra cost to you). That said, we only link to the gear we trust and never recommend services we don't believe are up to scratch. Again, thank you!