Barcelona is a fascinating city. With its amazing architecture, vibrant culture, and brilliant culinary scene, there's so much to explore here. You could spend days wandering the streets and still have a wealth of places to discover.
However, being the popular tourist destination that it is, prices can get pretty steep. Finding somewhere that suits your budget and travel style can be difficult, especially during peak season.
That's why we've created this guide on the best cheap hostels in Barcelona, to help you find somewhere to stay that's slightly easier on the wallet.  Staying in the Catalan capital doesn't have to break the bank, so we've picked our top five hostels to show you how it's done.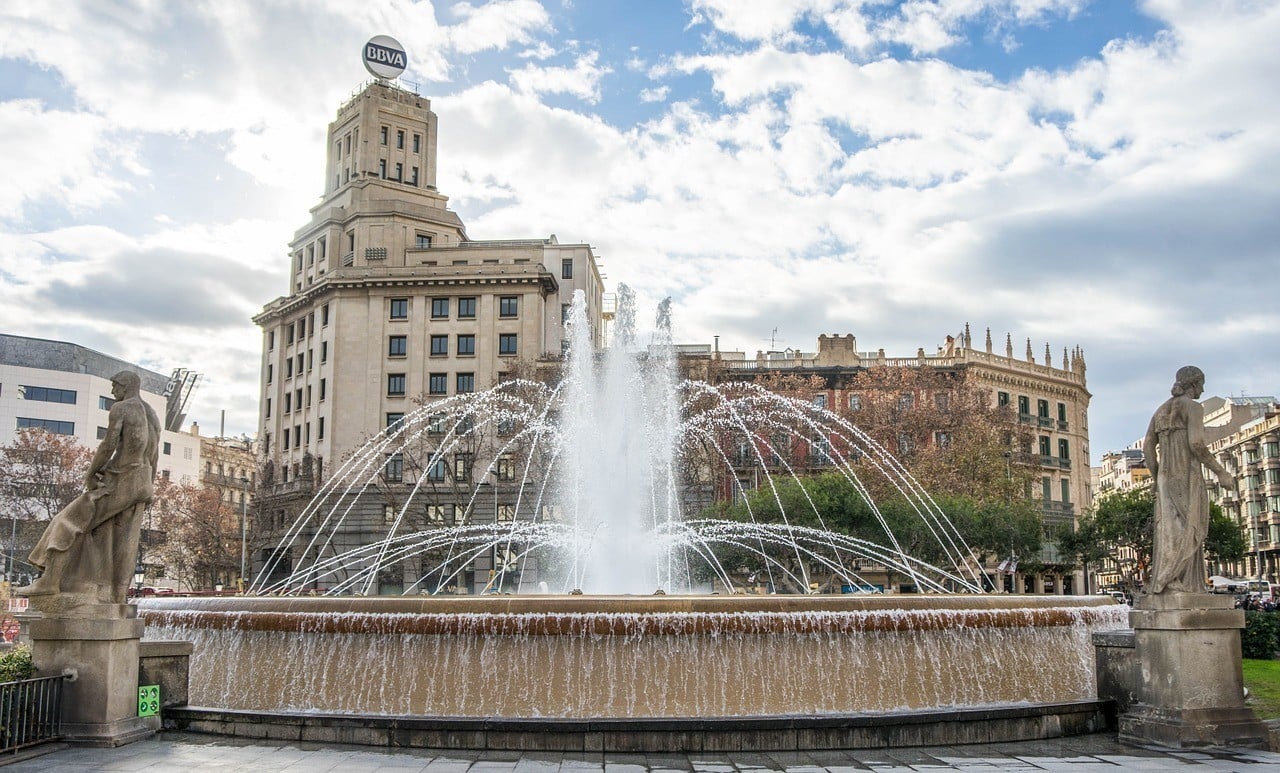 Sant Jordi Hostels' Sagrada Familia put themselves forward as a bit of an edgy hostel, with skateboarding-inspired interiors throughout. They've really embodied this theme, think skate decks on the walls, and graffiti everywhere.
Don't worry if you're not into skating though, as there's some substance to this hostel too. There's a vibrant atmosphere going on here, but the hostel itself claims that it's just as good for people who want a "quiet night" as is it for party animals.
Not only that, but there are loads of cool little nooks throughout to hang out in. There's even a mini ramp for guests to use, just in case you've got your board handy. The rooms themselves are less urban-inspired and more bright, clean, and airy.
Where is Sant Jordi Hostels' Sagrada Familia?
This budget hostel in Barcelona is situated near to one of the icons of the city: Gaudi's famously incomplete Sagrada Familia Cathedral. This central location means you'll be within walking distance of other attractions, or you can opt to hop on the metro or bus to get around. This being Barcelona, there's plenty of spots to eat and drink pretty much on the doorstep.
There are a whole load of room options available at this hostel. Here's what you can choose from in terms of the dorms:
As for the private rooms, your options include:
Single room
Twin room private
Double room
Four bed room
Prices here are from $23 USD per night.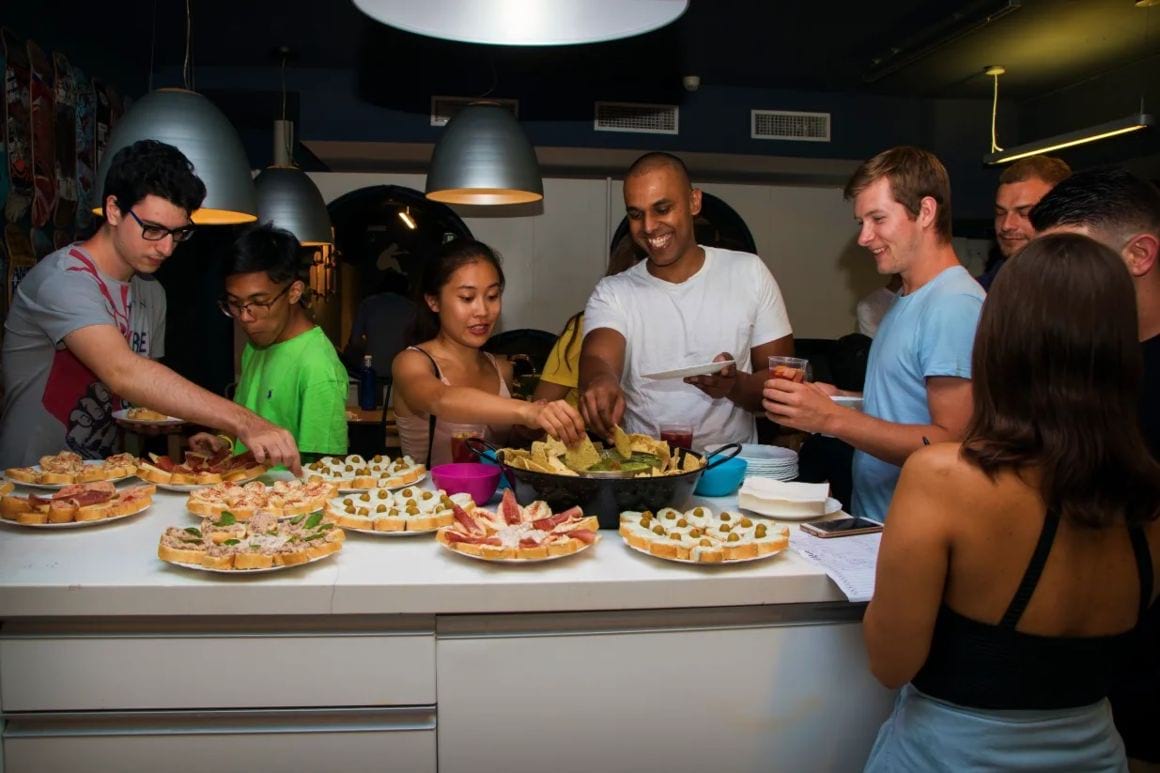 Any extras?
It may be a cheap hostel, but that doesn't mean there aren't some great extras on offer. Staying here means you'll get access to all this goodness… 
Communal kitchen
Outdoor terrace
Skate ramp
Laundry facilities
Multilingual staff
Free Wi-Fi
Cafe
Games room
There's also a nightly events schedule, which is sure to get you chatting to other guests and making friends in no time.
Overall, because this place is part of Sant Jordi Hostels – an award-winning Lisbon-Barcelona chain – it's a reliable place to stay. The staff are professional, it's clean, and the decor at least has some character to it.
The BEST Travel Backpack?!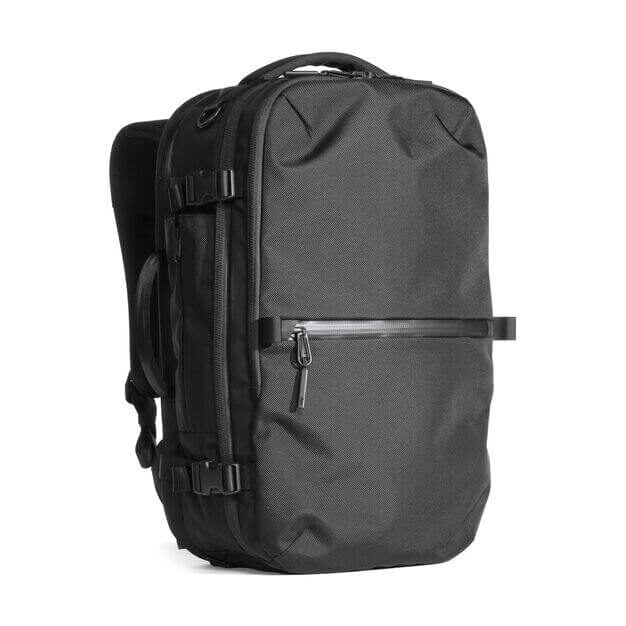 Pssssst! Not picked the perfect travel backpack yet? The Broke Backpacker team has tried out over thirty backpacks this year! Our favourite travel backpack is the Aer Travel Pack 2.
View on AER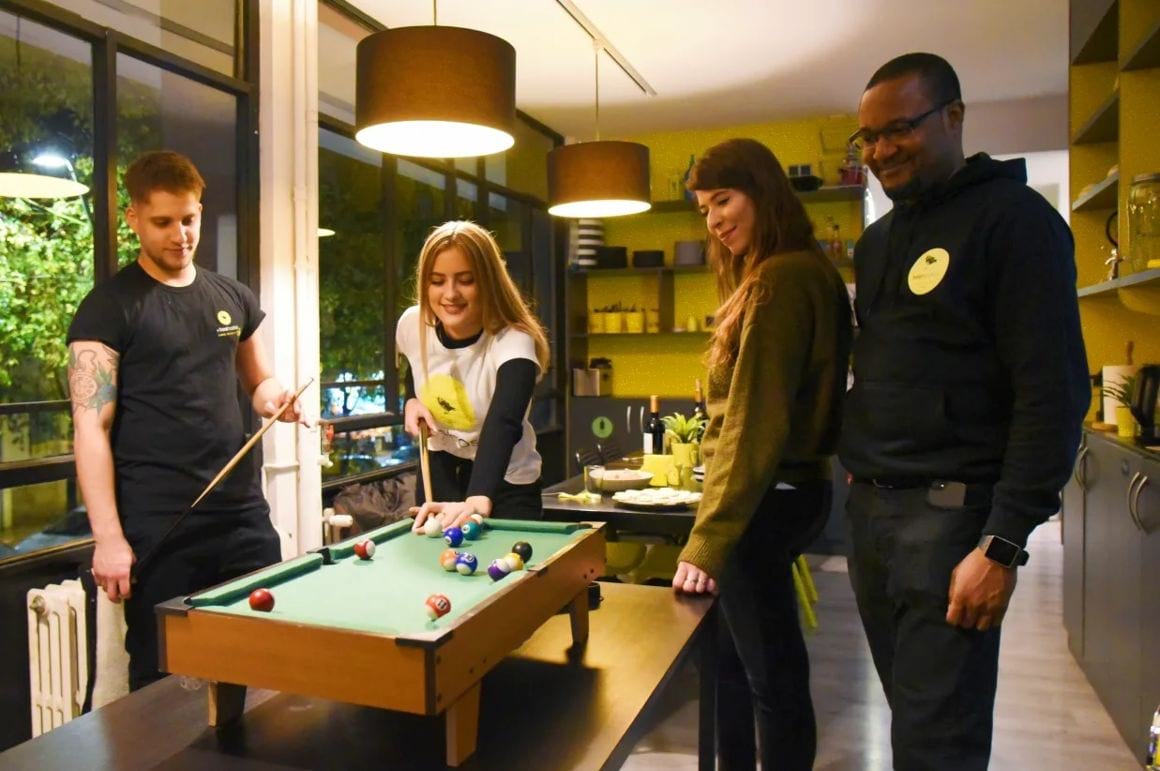 Despite the name, this hostel, unfortunately, isn't actually free. But it is surprisingly swish for a hostel. The interiors are smart and contemporary, with modern additions, innovative dorms, and a sparkling communal kitchen. 
Free Hostels is actually a mini chain, with another location in Rome. This franchise-level shiz means you'll get a professionally run hostel with a bit of affordable luxury thrown in, too. There's even contemporary art adorning the walls from artists at the Barcelona Academy of Art.
So while it may not be free, it is good value for money. It's also a fairly sociable hostel, perfect for solo travellers.
Where is Free Hostels Barcelona?
You'll find this budget hostel near Barcelona-Sants railway station, and close to two metro stations. The neighbourhood itself is quiet, situated away from the tourist crowds, but still safe. It's a 25-minute metro ride to Las Ramblas, while many other of Barcelona's attractions are within a 20-min stroll. There are plenty of drinking and dining options in the vicinity, too.
In terms of the types of rooms on offer, Free Hostels Barcelona includes the following innovative dorm room options:
There is also a whole lot of private rooms to choose from, too…
Double bed ensuite
Three bed ensuite
Two bed tent ensuite
Four bed ensuite
Prices start at $20 USD per night.
Any extras?
As well as being a cheap place to stay in Barcelona, this innovative hostel has a good amount of amenities to help you save money. These include:
Free Wi-Fi
Air-con
Tours/travel desk
Cafe
Cable TV
24-hour reception
Laundry facilities
Security lockers
As far as budget hostels in Barcelona go, this is definitely one that seems as though it should be more expensive. That's because of just how modern it is, especially the cool design features in the dorm rooms. It may not be that central, but you get the bonus of staying in a very nicely designed hostel.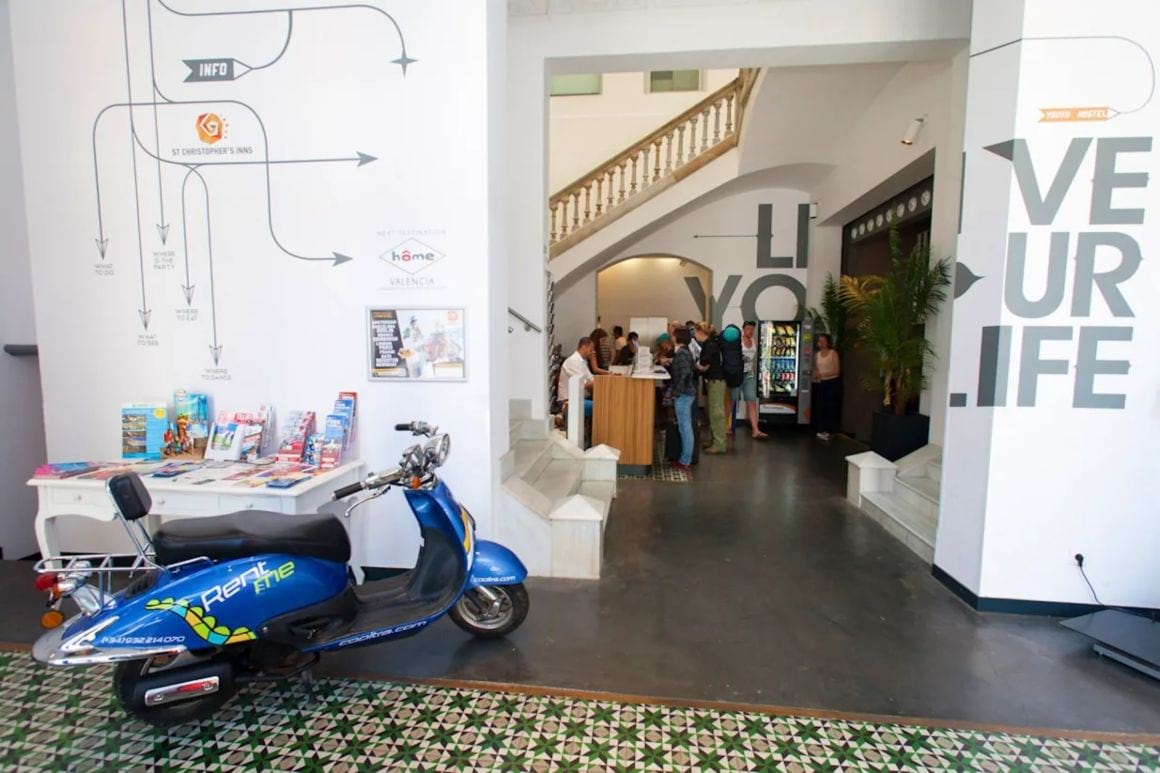 One of the successful and award-winning St Christopher's Inn hostel chain, the Barcelona iteration is awash with cool design and funky features. This budget hostel is set inside one of Barcelona's heritage buildings, that's been lovingly morphed into an awesome place to stay.
The period features are combined throughout with colourful and contemporary design. You get some dorm rooms here that have grey tiled floors and white walls, and private rooms with eye-catching murals on the walls.
This hostel also packs a punch when it comes to socialising. The on-site Belushi's bar, a mainstay of the St Christopher's chain, offers discount prices to guests. It's also home to Barcelona's longest happy hour (or so they say). Combine this with an in-house entertainment team, and you've got yourself an epic party hostel in Barcelona.
Where is St Christopher's Inn Barcelona?
The location of this cool, cheap hostel in Barcelona's famous La Rambla means you'll be in a very central Barcelona neighbourhood. Getting around on public transport is easy, and it's right opposite the official transfer drop-off point for the airport at Plaça de Catalunya. You'll be a short walk from Catalunya metro station, as well as numerous places to dine out.
The room options at the Barcelona arm of St Christopher's Inn are pretty extensive. First off, you'll have the choice of the following dorm rooms:
There are also a number of private rooms to choose from, too. These include:
Single ensuite
Twin room ensuite
Four bed shared bathroom
Six bed shared bathroom
Prices start from $19 per person, per night.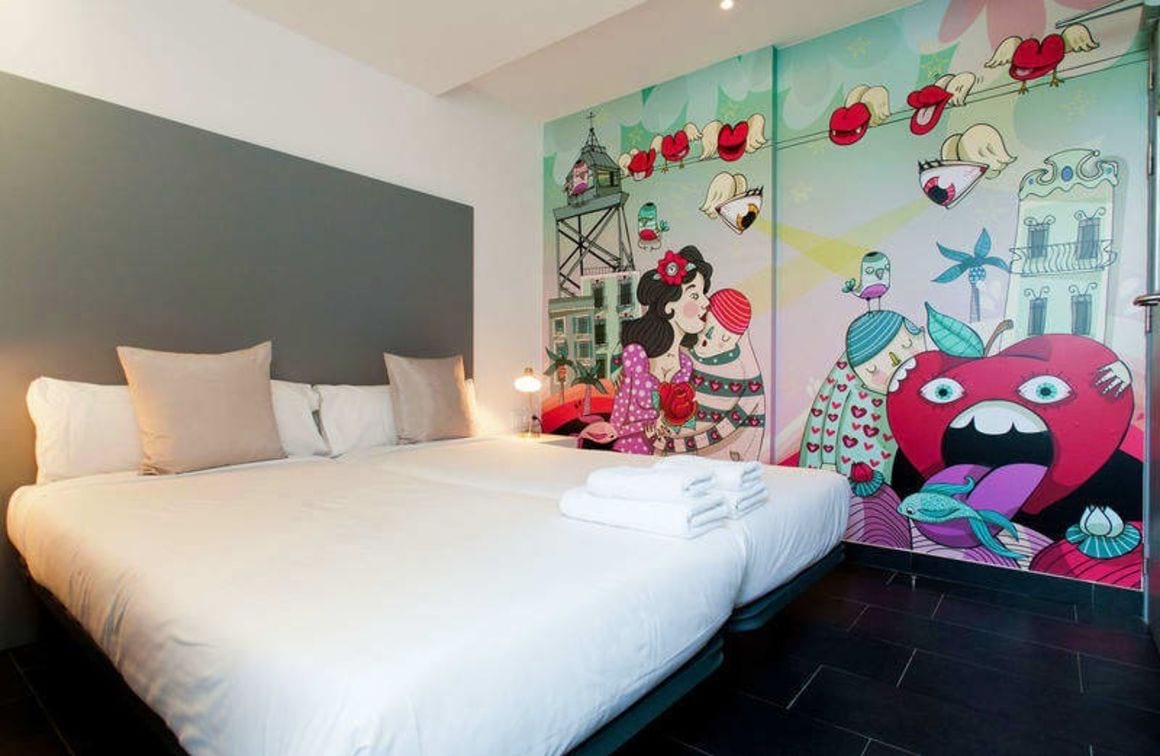 Any extras?
Staying here means having access to a whole load of great amenities. Those features include the following:
Nightclub
Book exchange
Live sports
Bar
Drinks deals
Outdoor terrace
Postal service
Restaurant
When it comes to entertainment, St Christopher's has you covered. Events and activities include:
Beer pong
Cocktail masterclasses
Wine and cheese tasting
Paella cooking sessions
Guest lists to nightclubs
This is possibly the best budget hostel in Barcelona. It may be a little hefty on the party vibes for some people, but the fact remains that it's got a whole lot going for it. For one thing, it's huge: 400 people can stay here at any one time.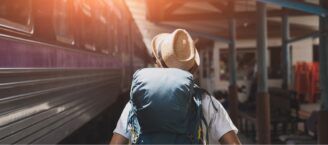 Unlock the The Broke Backpacker's GREATEST Travel Secrets
Sign up for The Broke Backpacker Newsletter to receive weekly tips on how to travel on a budget + a FREE copy of The Backpacker Bible!
This budget-friendly Barcelona hostel is an ideal combo of affordability, comfort, and a laid-back atmosphere. Offering dorm rooms with specially made beds, you're bound to get a good amount of shut-eye at this place. It feels almost like you're in your own cocoon; they come complete with privacy blinds, plug sockets, storage, and your own reading light.
The private rooms provide a little bit more seclusion, and are still furnished in a cool and contemporary way. When it comes to communal spaces, you can get to know your fellow hostel-goers while hanging out on the awesome rooftop terrace.
The staff at this hostel are very friendly and super helpful. It's partly up to them that Hostel One Sants has such a great atmosphere and social environment. If you're backpacking Barcelona on your own, this is a major plus.
Where is Hostel One Sants?
Compared to other cheap hostels in Barcelona, this one isn't as central. It's around seven kilometres from La Rambla, for example. That said, it's just a four-minute walk to the Badal metro station, so you can still travel around Barcelona with relative ease. It's also an ideal location if you're in the city for Sonar, as it's a 30-min walk from here to the festival site.
There's one dorm option and only one type of private room here, but the amount of privacy offered by the bunks is a good compromise.
Mixed dorm
Twin room with shared bathroom
Prices start from $20 USD per night.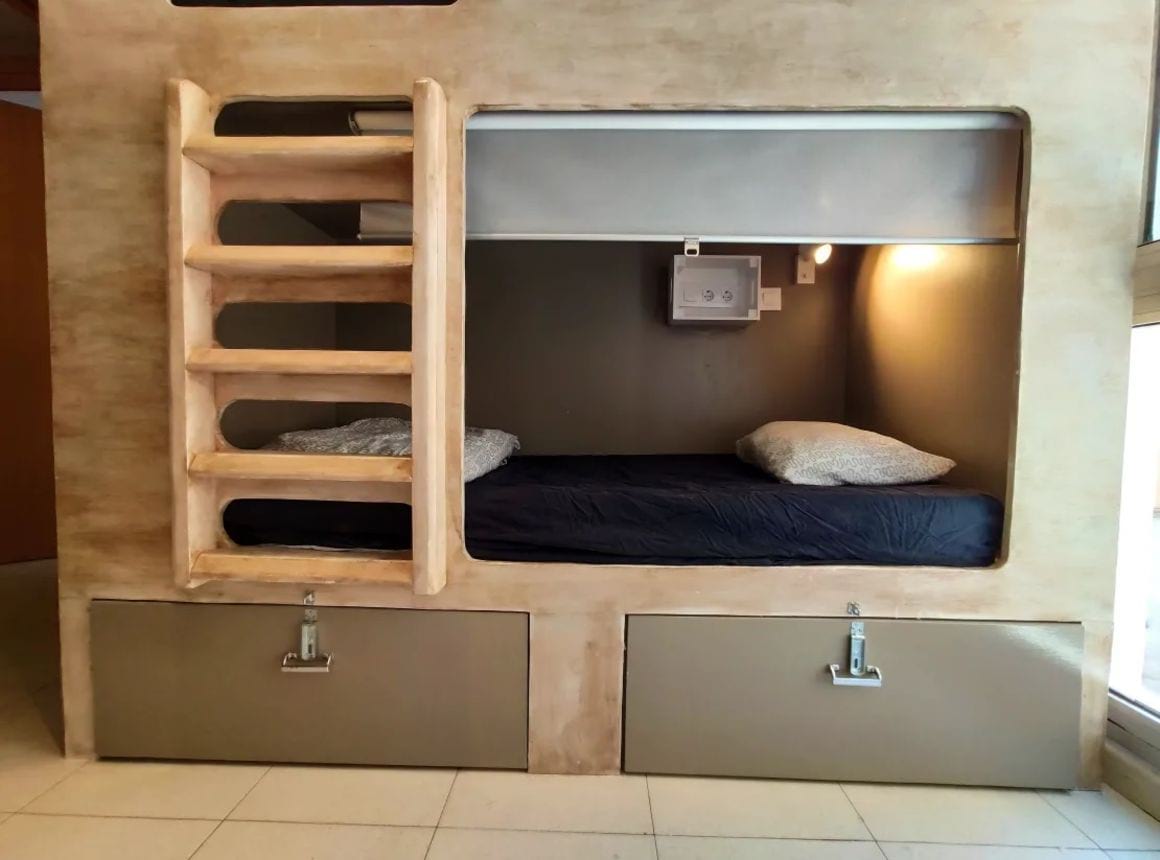 Any extras?
As well as the decent per night price, Hostel One Sants also has a handful of worthy amenities to go with it. These include the following:
Rooftop terrace
Basement games room
24-hour communal kitchen
Security lockers
Free Wi-Fi
Laundry facilities
Breakfast available (additional fee)
24-hour security
It may not be as central as Barcelona's other budget hostels, but it does have a wealth of amenities on offer. Being slightly further from the action does however mean you can avoid staying amongst the tourist crowds, which is definitely appealing.
Spacious, stylish, set inside a traditional historic building – this place is far from an ordinary hostel. It's managed to combine contemporary decor along with heritage elements to create roomy dorms, awesome communal spaces, and some funky design throughout.
It's not the sort of place to stay in Barcelona if you want to party hard. The dorms are pretty quiet, so it's a solid option if you want somewhere to get a decent night's sleep in the city. There are even desks, which is great ideal for digital nomads or anyone wanting to get some work done.
The staff here are also super friendly. They'll help you plan your time in Barcelona, and get you involved in events like pub crawls and the like. Even so, the quieter atmosphere means it may not be the best option for solo travellers who are looking to meet a load of people.
Where is Ten To Go Hostel?
The location isn't as ideal as that of the other hostels, but its proximity to Barcelona-Sants railway station means you can get around pretty easily. The neighbourhood itself isn't close to key attractions, but it is an authentic area where you'll find non-touristy places to eat and drink.
Sleeping arrangements at Ten To Go are fairly limited, but they include:
Mixed dorm
Twin room private shared bathroom
Prices here start from $21 USD per night.
Any extras?
There's a comprehensive list of additional features and amenities that make Ten To Go Hostel much better than its price (and location) would suggest. These include the following:
Bar
Outdoor swimming pool
Air-con
Games room
24-hour security
Free Wi-Fi
Shared workspace
Cafe
As we said, the location isn't great, but there's something about Ten To Go Hostel that makes it pretty awesome. Maybe it's the swimming pool, maybe it's the decor, maybe it's the proximity to Barcelona-Sants. What you can be sure of is that you'll be saving money in an otherwise expensive destination.
Cheap Hostels in Barcelona FAQ
How cheap are hostels in Barcelona?
The cheapest hostels in Barcelona are definitely competitively priced. Some of them offer a bed for the night for as low as $13 USD. So the best value hostels tend to cost around $20 USD per night. For that you can expect things like events, free breakfasts and cool hang-out areas.
Private rooms are a little more pricey – they can cost around $40-50 USD per night. Prices skyrocket in peak season, due to demand obviously. Generally, the more expensive areas to stay are central – around La Rambla and Sagrada Familia – while cheaper options are to be found in and around Sants.
Are hostels in Barcelona safe?
Hostels in Barcelona are definitely secure. They often come with robust security lockers, 24-hour security, key card access, and staff on hand around the clock if there are any issues. Some hostels are more party-centric than others, so if that makes you feel unsafe, opt for hostels that are quieter and chilled.
Barcelona itself is a fairly safe city. Obviously, it comes with all the pitfalls of being a big tourist hub, that means pickpockets and petty crime being something of a concern. But keep your wits about you and hold your belongings close, and you'll have a trouble-free time in the city.
Are there any more cheap hostels in Barcelona?
Of course, there are many more budget-friendly hostels to choose from in Barcelona.
The chilled INOUT Hostel (from $13 USD per night) is super cheap, which is probably because it's on the outskirts of the city. But, it does come with a pool.
Rocket Hostels Gracia (from $16 per night) is another affordable option, a proper backpacker-y kind of place situated in the trendy Gracia district. It's good if you like an artsy destination, or just partying.
There's also The Hipstel Paseo de Gracia (from $14 per night). The staff are friendly and helpful, the location is pretty decent, and it feels nice and clean throughout.
Final Thoughts on Cheap Hostels in Barcelona
Barcelona's cheap hostels are a varied bunch. Each has its own distinct atmosphere, catering to a variety of travellers. Whether you're a veteran to hostels, or if it's going to be your first time staying in a dorm, you're bound to find a budget hostel in Barcelona to suit you.
It's a much less daunting (and less expensive) way to explore this incredible part of Spain, and you'll have more to spend on hitting up its cultural sights.
Which one caught your eye? Let us know in the comments!