Barcelona is definitely up there when it comes to nights out, its more than just football and historic buildings ya know! In fact, the Catalan capital is well known for its wicked nightlife.
It's not all taverns and tapas bars – which are fun anyway; but it also boasts cool bars and some wild nightclubs. As people in Spain love to party all night (especially in summer), you'll love this city when it comes to having a drink and a laugh alongside both the locals and fellow travellers.
So you're on a backpacker budget and you wanna stay at a party hostel in Barcelona, right? But whereabouts do you wanna stay? And maybe there aren't that many… y'know… 'nice' party hostels available…?
Hey! Don't worry! We've actually sorted through the best party hostels in Barcelona to make it easy for you to find a place that'll suit you and your party tendencies.
Peep our guide to the top Barcelona party hostels below!

Do You Want to Travel FOREVER??
Pop your email in below to get a FREE copy of 'How to Travel the World on $10 a Day!'.
What to expect from Hostels in Barcelona
Booking a hostel instead of a hotel comes with loads of perks. One of them is obviously the way more affordable price, but there's even more waiting for you. The one thing that makes hostels really stand out is the incredible social vibe. You can meet travellers from all over the world by sharing common spaces and staying in dorms – it's a great way to make new friends.
When backpackingBarcelona, you'll find all sorts of different hostels. From extreme-party to hipster hostels, there are endless options. The main types you'll find in Barcelona are party hostels, digital nomad hostels and chic hostels.
Luckily, most hostels are focused on being very affordable while still offering a high value. The general rule is: the bigger the dorm, the cheaper the nightly rate. If you go for a private hostel room, you'll end up paying a bit more, but it's still more affordable than Barcelona's hotels. We did some research and listed the average price that you can expect for a Bareclona party hostel.
Private Rooms: 50-170€
Dorms (mixed or female only): 17-41€
When looking for a hostel, you'll find most Barcelona hostels on HOSTELWORLD. There you can check out photos, detailed information about the place and even reviews from previous guests. Just like other booking platforms, each hostel will have a rating, so you can easily pick out the hidden gems! In general, most hostels can be found near the city centre, in the heart and soul of all the cool attractions like The Sagrada Familia and La Ramblas. To find the best hostels inBarcelona, check out these three neighbourhoods:
Barrio Gotico – The oldest neighborhood in the city, it's filled with charming narrow streets.
Montjuic – Montjuic is a large neighborhood south of the centre of Barcelona.
El Born – Packed with restaurants, bars, clubs and cafes, El Born is our pick for the best area to stay in Barcelona for nightlife.
El Raval – If you want to be surrounded by art and culture, El Raval is the neighborhood for you.
Barceloneta – Barceloneta is a neighborhood that feels like a small seaside village within a bustling city.
You see that it's important to find out where to stay inBarcelona before you book your hostel. Do your research beforehand and have an even better trip!
1. Overall Best Party Hostel in Barcelona – Hostel One Paralelo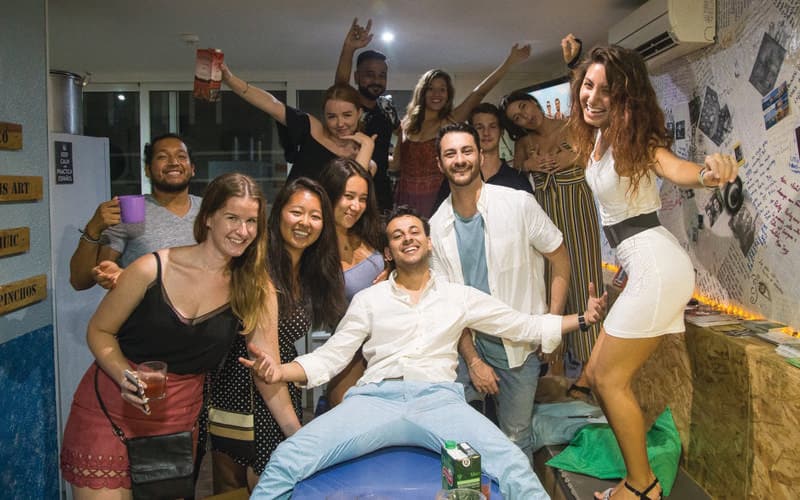 This Barcelona backpackers hostel is in Poble Sec, just a few mins walk from the Apollo nightclub which is great if you wanna party till dawn – especially on a weekend. Back at the hostel, there's an epic, fun atmosphere that is good for meeting fellow party peeps, especially for solo travellers.
There's also a load of cool free stuff on offer at this Barca party hostel. Yep. The all-important free dinners to line your stomach and save yourself a few Euros at the same time. They also take you out to free parties, it might just be the best hostel for backpackers on a budget wanting to party!
Why you'll love this hostel:
Super social atmosphere
Close to Metro station
Near La Rambla
They make sure that every day and night there's something different going on here. It's also got 3 different common rooms: one for chilling, one for working (digital nomads take note), and one for partying. So it means that when you're not in the mood to party, there's always somewhere to suit your vibe that day or to nurse that hangover!
It's close toPoble Sec metro station too for when you want to explore the city and see places like the Sagrada Familia and beyond then i's super easy too. After all, even if you're here to party, you've got to take in all the incredible sights of the city too!
Is This the Best Backpack EVER???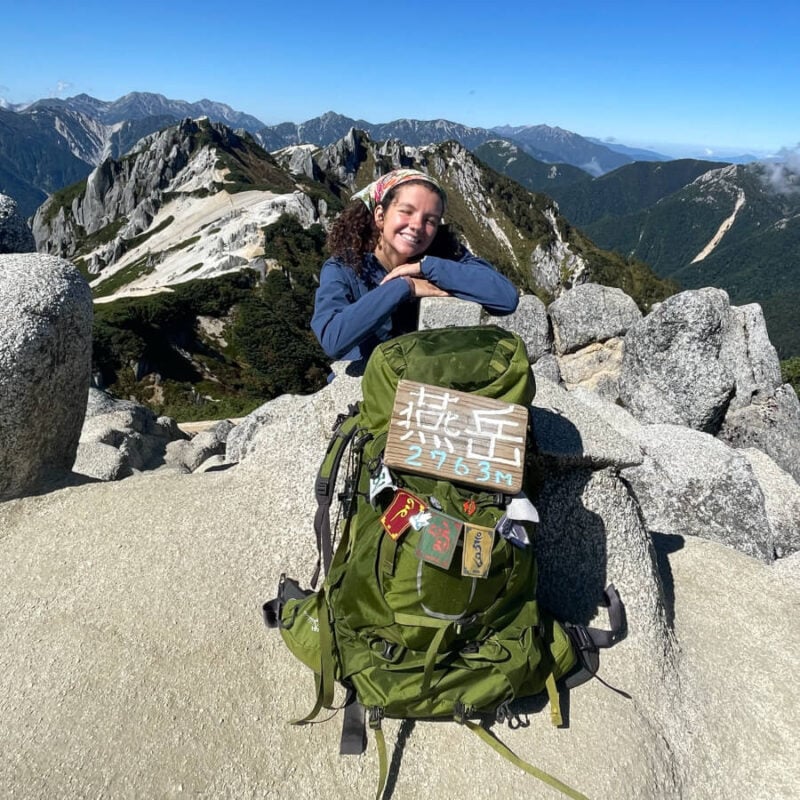 2. Best Party Hostel in Barcelona for Solo Travellers – Hostel One Sants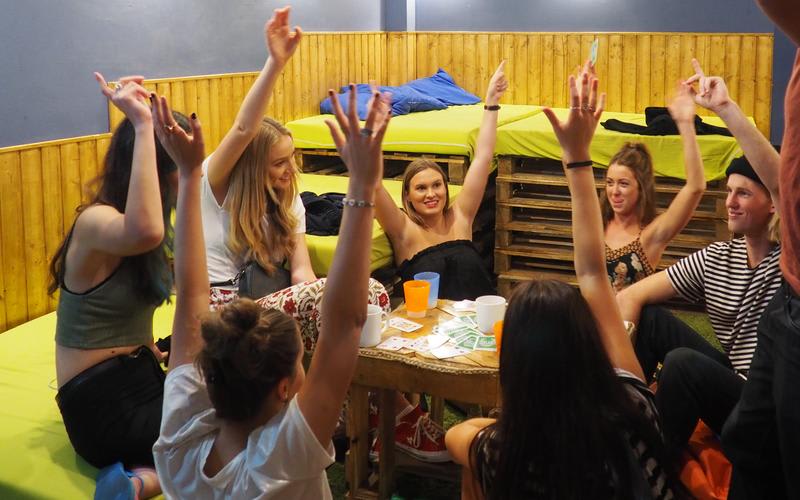 Free Entrance to Clubs
No Curfew
It's easy peasy to meet people at this mega-fun party hostel in Barcelona. That's definitely helped by the super effort the staff here make when it comes to putting on events and activities to get you chatting and mingling with your new friends staying here.
They pride themselves on making everyone feel comfortable and at home and in creating an atmosphere in which everyone can get along and become great friends. Here are some great common areas too that offer different vibes, from partying to chilling on the ps3 or watching Netflix. Then there's the rooftop terrace for when it's really going off!
Why you'll love this hostel:
Close to the Metro
Great atmosphere
POD beds
What really makes this Barcelona backpackers hostel a bit of a party joint is that they give you free entrance to the best bars and clubs in the city, plus it's got a vibey, fun atmosphere anyway.
It's great if you are in Barcelona on a budget as there's a free homecooked dinner every night – always a plus. After that, you can hit the town on one of the pub crawls or just, y'know, play some pool in the basement.
Not only is this an epic hostel for solo travellers wanting to party, but the rooms are pretty decent too! Here you've got custom-built pod beds where you can have some much-needed privacy for the price of a dorm bed.
You can meet like-minded travellers here, exchange cool backpacking stories and share some knowledge about Barcelona's hidden gems.. If you want more of a private space, then check out the private and twin rooms too.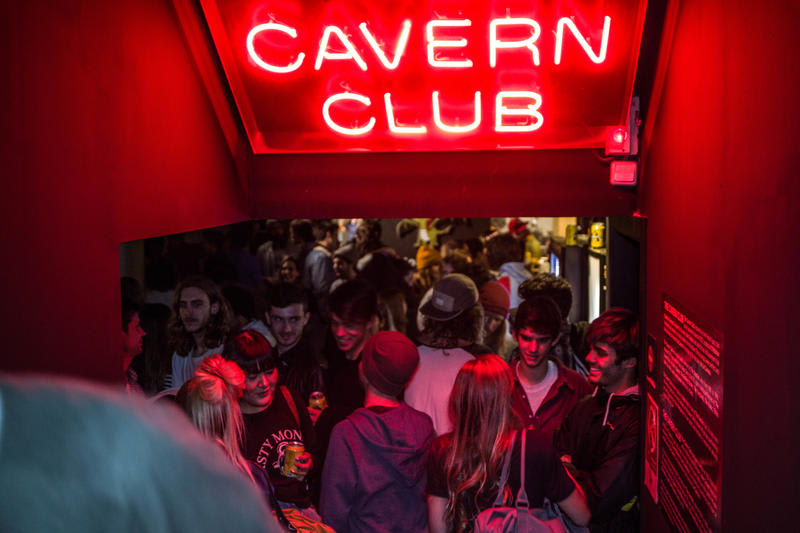 Party Nights
Sound Proofing
The common rooms at this top party hostel in Barcelona are actually decorated like they're clubs or bars, like, it's actually a theme. So you know there's gonna be some party vibes going on here. It's also got a music thing going on: there's a music room with guitars and shizz here to play on (or avoid – your call).
Why you'll love this hostel:
Rooftop pool
Epic onside bars
Live music
Oh, one of the BEST things about this Barcelona backpackers hostel is the rooftop pool. Yes, ROOFTOP POOL. We're totally into that. You'll deffo want to use the free wifi to upload a few poolside selfies to insta! It's got to be the best party hostel in Barca because of the pool tbh!
Basically, these guys have thought of pretty much everything when it comes to having fun in the city. Top marks. They even have private rooms too if you need to recover in peace!
If you've come to Barca to party then this is the ultimate joint! It's got everything you could ever want! They offer a range of different sized mixed dorms, some of which are en-suite and all the rooms come with air conditioning. Each dorm bed has a built-in reading light, charging station and lockets too.
4. Most Chilled Party Hostel in Barcelona – Generator Hostel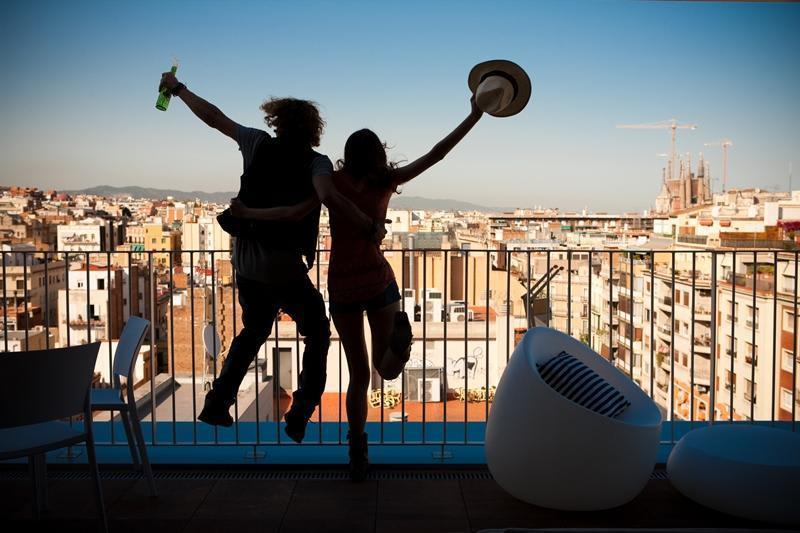 Known pretty much Europe wide as a chain of hostels that's got a lot to do with partying, this Barcelona branch is no different. It's one of the most famous party hostels in town. Sure, it's a short walk to the best bars and clubs and Barcelona places to visit, but it's also got its own pretty poppin' bar, too. The central location is ideal and it's close to Verdaguer metro stations if you fancy popping to The Sagrada Familia and a few other must-visit places.
Why you'll love this hostel:
Sagradia Familia views
Close to the Metro
Rooftop terrace
For when you're NOT partying though, this party hostel is pretty clean with some really nice dorm rooms (which makes a change with party hostels tbh), has chilled spacious terraces – plus there's actually a view of the Sagrada Familia from the 7th floor, which is pretty sick if you ask us.
There's free wifi too if you want to post all your shots from your night out on insta! Maybe not! Ya know though, sometimes you want a party hostel that's not absolutely insane, but just sort of vibes. This is the spot for sure, here you've got a party hostel that's a bit more sophisticated than your average 18-year-old filled place!
5. Best Party Hostel in Barcelona for Location – Kabul Party Hostel
Kabul? What? That's… not really a party place… is it? But anyway this Barcelona party hostel is located down the Placa Reial, close to Las Ramblas, which means you'll be staying in the middle of the Gothic Quarter with all its bars and late-night fun. It's the best hostel for location and it's close to a metro station too for all your daytime adventures.
Why you'll love this hostel:
Free walking tours
Close to Las Ramblas
Curtains on beds
There's a rooftop terrace at this top hostel in Barcelona, which is pretty fun when they have BBQs and pre-drinks going on – or for a lil' bit of a chill after the night before. There's a claim here that they're the first hostel in Barcelona if that means anything to you.
What means more to us is the free breakfast to help cure that hangover, and if you're up for it: a free walking tour. If you want to experience the OG, then you can't beat the Kabul party hostel!
Let's be honest, most of us who are looking for a party hostel don't need a fancy place to lay our spinning heads, what we want is the atmosphere and a good price! If you've come to Barca to enjoy its nightlife to the fullest then this is the ultimate hostel. Dorms are pretty basic but each bed does come with a curtain so at least you can sleep off your hangover in private!
More Epic Hostels in Barcelona
Not happy with your options yet? We've got loads more epic hostels in Barcelona coming for you! Make sure you know what kind of travel needs you have in order to find the perfect place for you!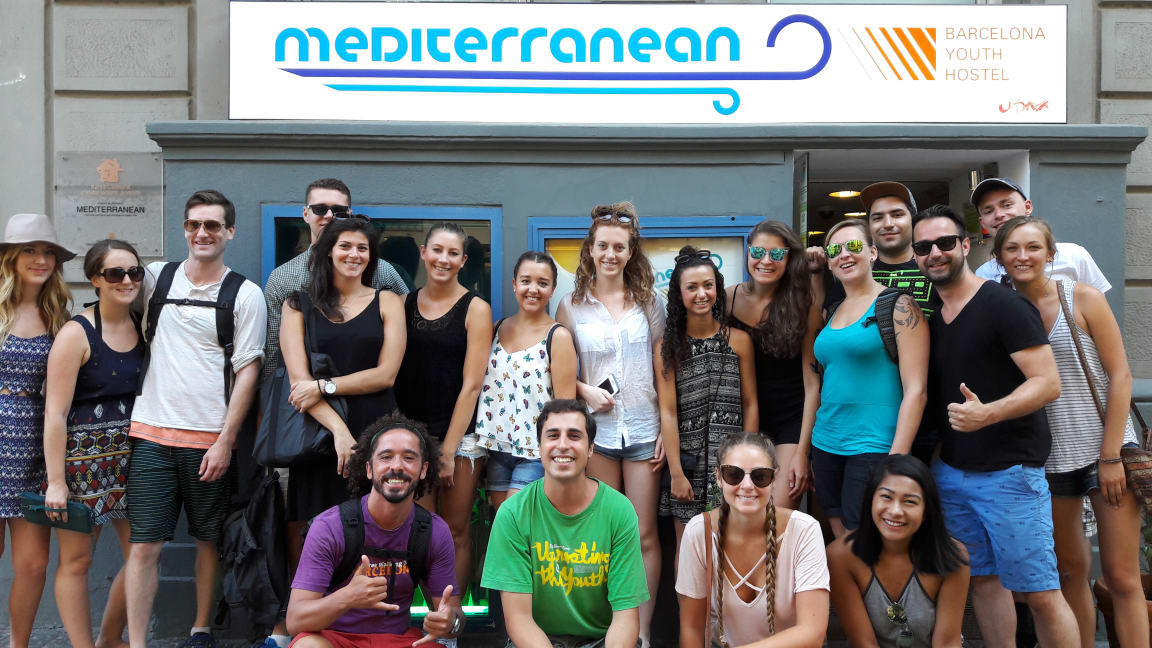 This one is FUN. Just 6 mins to the Sagrada Familia cathedral and close to all the other famous attractions in the city, it's one of the best hostels for location. It's just around the corner from Girona Metro too – so super easy for exploring.
This Barca youth hostel serves up a free dinner EVERY NIGHT before the party gets properly started. We're always down for free food.
In the daytime, this place puts on free walking tours (featuring an actual professional guide), plus the chef at this Barcelona party hostel will teach you how to make a bit of Spanish food. There's also the all-important pub crawls. Solid party option especially for solo travellers. Make use of the free wifi and share all your adventures.
Not exactly the most crunk of Barcelona party hostels, this place is nevertheless a decent place to stay once you've hit up all the bars and clubs in the city. It's clean, it's friendly, and there's a chill atmosphere for nursing that hangover… oh, and meeting new people too. It's also in a central location close to the Arc de Triumph and a short metro ride to The Sagrada Familia.
There's a load of activities going on at this place, so you can experience the best that Barcelona has to offer (salsa classes, flamenco shows, etc. etc.). Plus the staff here love to show people the best of the city's nightlife, so it is definitely a top party hostel.
Another chain, this St Christopher's Inn is in a cool, modern hostel. It's pretty central, but quiet enough that you can get a good night's sleep, which is nice so you got the energy to get on it the next day as well without being too sleep-deprived.
This cool Barcelona hostel is definitely a place to turn up though. It features an on site bar and restaurant (25% off food for guests) – oh and there are drinks deals here too. Every day the staff put on a welcome meeting for guests… which then leads into a nightly event, whether it's beer pong or an open mic night. It's the best party hostel for meeting people for sure.
Then they'll take you out to Barcelona's biggest beachfront nightclubs. Decent. It's close to Barceloneta beach too, so ideal for chilling the day after a big night!

Our GREATEST Travel Secrets…
Pop your email here & get the original Broke Backpacker Bible for FREE.
Be Sound Hostel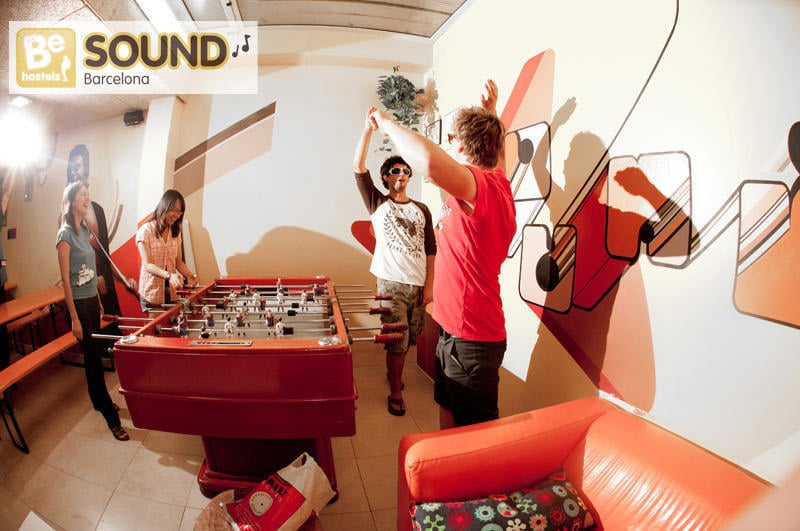 Be Sound Hostel is within walking distance to literally some of the best clubs in Barcelona due to its central location. It's on Nou De La Rambla Street, meaning it's just a short walk to Apollo and Moog – if you wanna get your club on, that is or get involved with a few pub crawls!
Otherwise, this Barcelona party hostel is a cool place to hang out. It's friendly, it's fun, what more could you want? Well, there's a rooftop terrace for drinkies in the evening. Plus they put on events like flamenco dancing and tapas tasting and mojito parties, which sounds good to us tbh. It's one of the best hostels for both going out and staying in!
Be Sound Hostel is one of our favourites in Barcelona but they're not taking guests right now. We're not sure if they're closed for good but we hope they'll come back soon.
Sant Jordi Alberg
Party Nights
Hostel Dinners
Located on Passeig De Gracia, which is pretty close to the Gothic Quarter, with many famous attractions and its buzzing nightlife, this is definitely the place to stay if you wanna meet fellow party lovers to head out into the Barcelona nights with and party the night away.
The atmosphere at this party hostel in Barcelona is pretty much awesome, and it's run by helpful staff who want you to have the 'time of your life' in the city (they actually say 'guaranteed' so). They organise big family meals in restaurants and then you all hit up the clubs later on. Basically, these guys are super organised and will run your fun like clockwork. It's in a great location for both day and night exploration too.
Sant Jordi Alberg is one of our favourites in Barcelona but they're not taking guests right now. We're not sure if they're closed for good but we hope they'll come back soon.
What to Pack for your Barcelona Hostel
Pants, socks, underwear, soap?! Take it from us, packing for a hostel stay is not always quite as straightforward as it seems. Working out what to bring and what to leave at home is an art we have perfected over many years.
Travel Safety Tips for Barcelona
ALWAYS sort out your backpacker insurance before your trip. There's plenty to choose from in that department, but a good place to start is Safety Wing.
They offer month-to-month payments, no lock-in contracts, and require absolutely no itineraries: that's the exact kind of insurance long-term travellers and digital nomads need.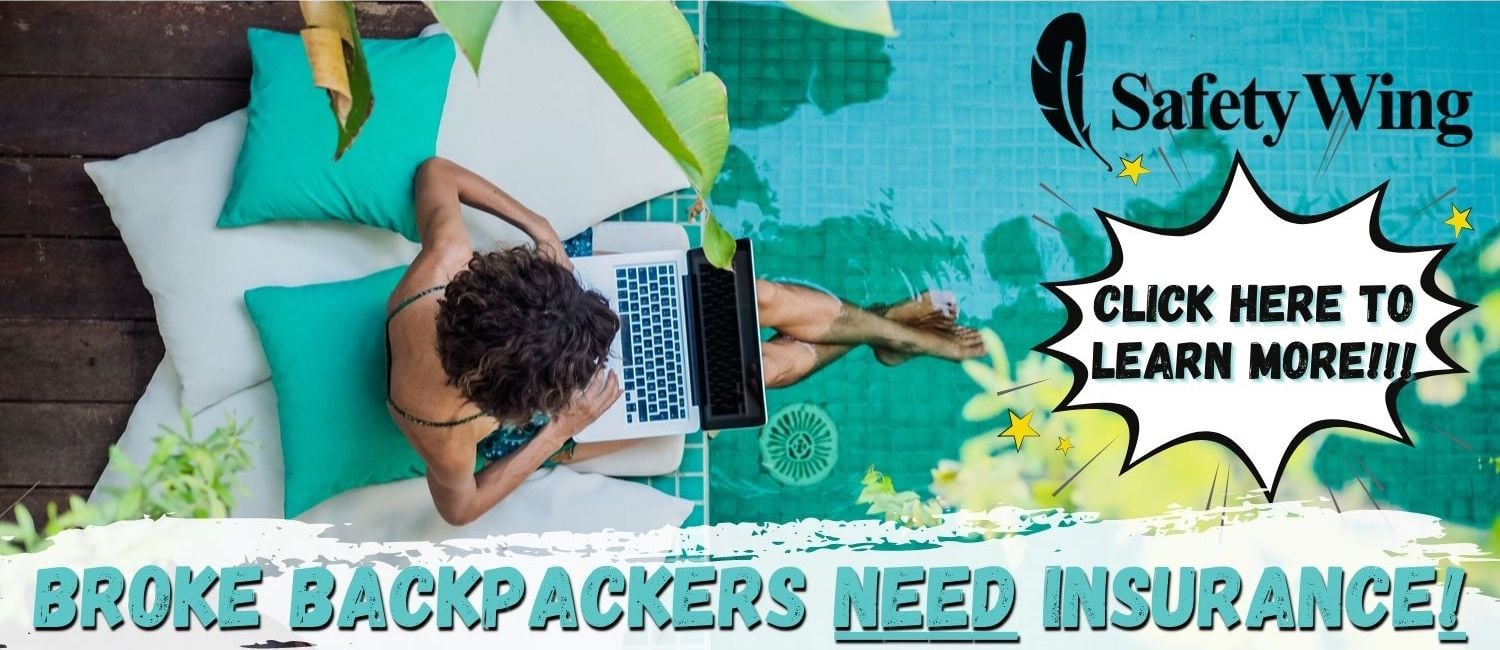 SafetyWing is cheap, easy, and admin-free: just sign up lickety-split so you can get back to it!
Click the button below to learn more about SafetyWing's setup or read our insider review for the full tasty scoop.
Final Thoughts on the Best Party Hostels in Barcelona
By now I hope our epic guide to the best hostels in Barcelona has helped you choose the perfect hostel for your adventure!
There's a lot of choice going on as you can see. And whaddya know? They're all pretty nice and clean, too!
There are well-known chains and famous party hostels like St Christopher's and Generator giving their expected level of quality – complete with onsite bars (of course).
And there are also top party hostels in Barcelona with more of a typical backpacker vibe, where the staff get properly involved in your fun.
So whatever suits you the most, we reckon you'll find a hostel for you on our list. Whether you want a few drinks or to go out on some epic pub crawls, we've got the best party hostel for you!
But if you can't decide on the best party hostel? No worries. We'd say go for Hostel One Paralelo – we reckon it's the best all-around party hostel in Barcelona!
If you think we've missed anything or have any further thoughts, hit us up in the comments!
---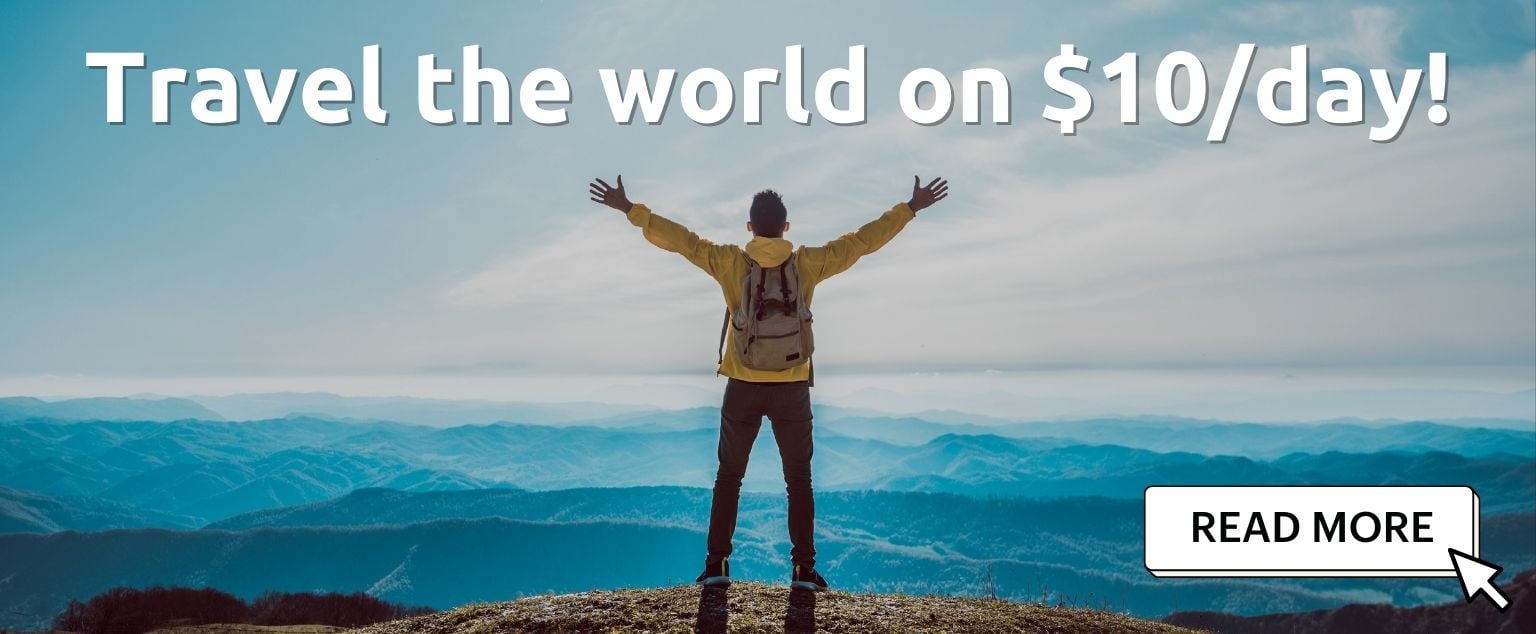 And for transparency's sake, please know that some of the links in our content are affiliate links. That means that if you book your accommodation, buy your gear, or sort your insurance through our link, we earn a small commission (at no extra cost to you). That said, we only link to the gear we trust and never recommend services we don't believe are up to scratch. Again, thank you!