The beaches, the clubs, the food, the architecture – Barcelona is absolutely thrilling. If you're visiting Spain, you surely can't miss out this bucket-list location.
But with over 150 hostels, it can be overwhelming to know where to stay in Barcelona. Never fear, The Broke Backpacker is here! I've got your back with this list of the five best hostels in Barcelona.
This guide was written for travellers, by travellers. Using this guide, you'll find places with actual value which fit any travel style. Split into different categories, you can get to know exactly what makes each hostel unique.
Whether you are looking for a party crew for Barcelona's hottest clubs, a great beach location, a chance to meet other solo travellers, or just a cheap bed to sleep on – you've come to the right place!
Welcome to my insider list of the five best hostels in Barcelona, which will get you exactly where you need to be – to one of the best cities in Spain!
Vamos, let's get right to it!
Quick Picks: Our Favorite Hostels in Barcelona

Do You Want to Travel FOREVER??
Pop your email in below to get a FREE copy of 'How to Travel the World on $10 a Day!'.
What to Expect From a Barcelona Hostel
Ok then, you've finally decided to leave your miserable life back home and chase the dream of backpacking in Spain. Wow, I'm so jealous, congratulations.
Chances are you're trying to stay here as long as possible and stretch that budget, I don't blame you. There are SO many reasons why you should book hostels in Barcelona as your choice of accommodation, and not just the discounted prices.
You can pretty much count on guaranteed great hospitality, perfect amenities for backpackers and, of course, a super affordable price. But, and this is a big but (no pun intended)… the most important perk of hostel life is the social aspect. Meet like-minded travellers, share stories, insider tips and make new friends!
And yes, there are plenty of different hostel types in Barcelona. From super low budget to party hostels or the more luxurious ones, you can always find the perfect one for you.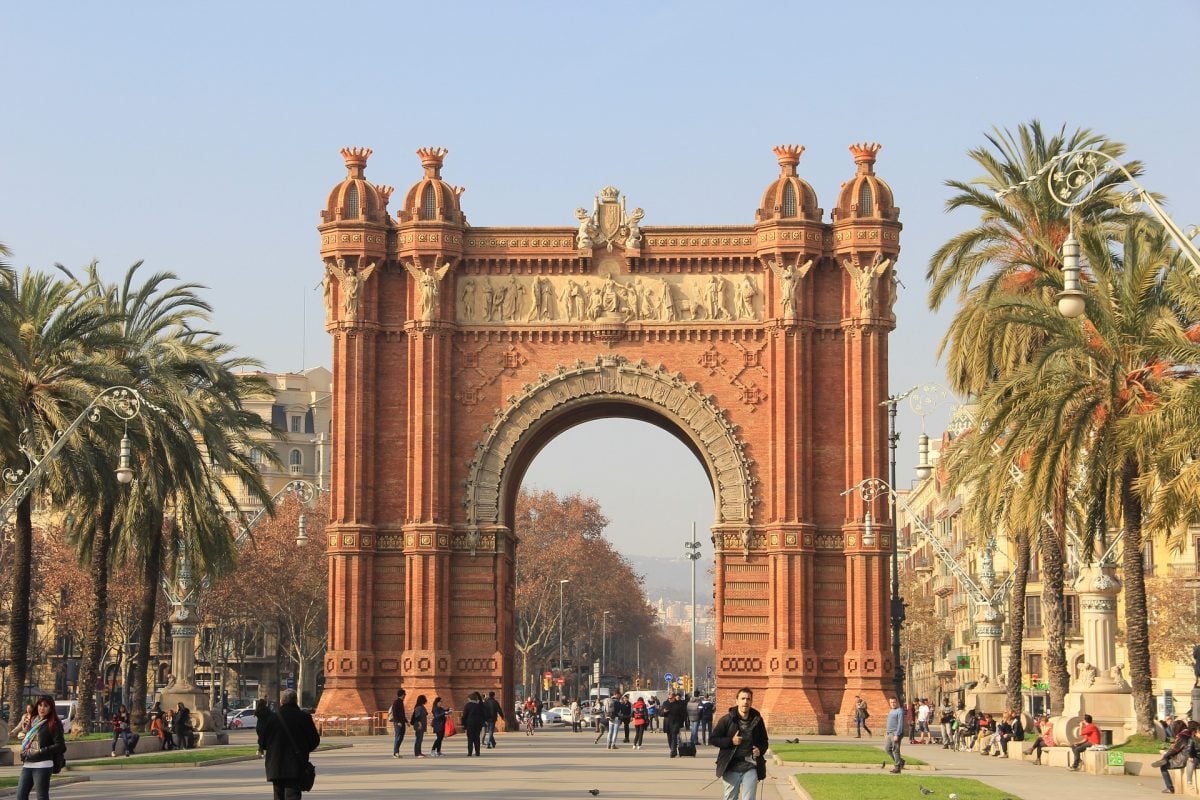 Speaking of prices, most hostels you'll find while travelling in Barcelona are usually quite affordable. Some hostels offer private rooms which are a bit more expensive, but still cheaper than a hotel room.
Dorm Prices: 12-24€/night
Private Room Prices: 32-64€/night
When looking for a hostel, you'll find most hostels on HOSTELWORLD. There you can check out photos, detailed information about the place, and even reviews from previous guests. Just like other booking platforms, each hostel will have a rating, so you can easily pick out the hidden gems!

In general, most hostels can be found near the city centre. The heart and soul of all the cool attractions. To find the best hostels in Barcelona, check out these three neighbourhoods:
Barrio Gotico – the city centre
Montjuic – the budget neighbourhood
El Born – for nightlife action
The closer you are to central Barcelona and Las Ramblas, the more expensive the hostels will be. Move further away from the heart of the city and you'll find some amazing places with a lot of bang for just a little bit of buck!
For somewhat of a hostel experience with just a little more privacy, you can book a private room in an epic Barcelona Airbnb!
The 5 Best Hostels in Barcelona
With over 150 choices, picking a top 5 was difficult. I've taken all the hostels in Barcelona with the highest reviews and separated them to meet your personal travel needs. There's a little something for everybody!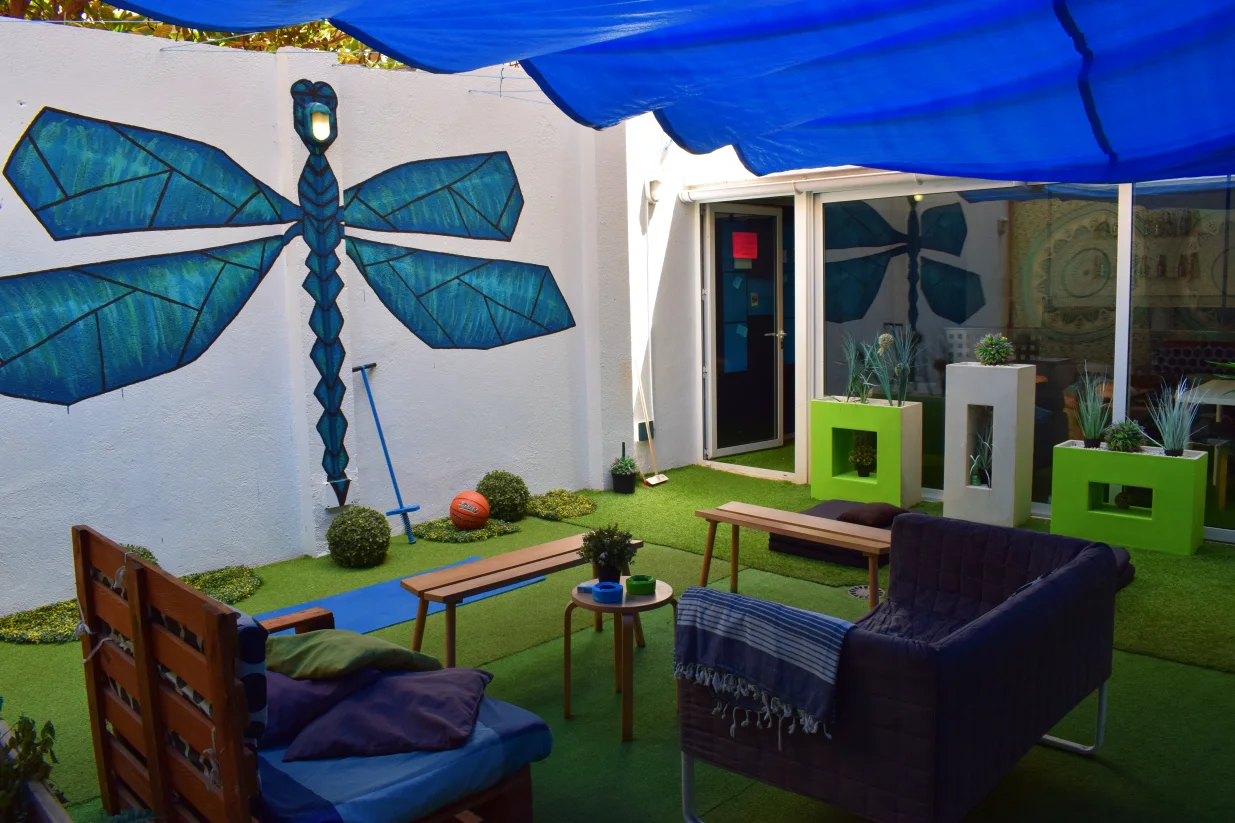 Tour Desk
Laundry Facilities
It's hard not to make loads of new pals at the funky and fun Hostel One Paralelo (Onefam Paralelo). Head off to explore the best of Barcelona and take part in diverse activities during the day. Come home and tuck into a delicious free dinner. (Yes! Free food!)
Make sure you don't just stay for only one night at this amazing place. The hostel offers an incredible community and loads of entertainment options. There's a good reason it's one of the best Barcelona hostels on offer.
Why you'll love this hostel:
Multiple awards for being the best hostel in the city
Cinema room with Netflix
Three common rooms with different amenities
These are just some of the awesome things about this hostel. Whether you need to do work on your laptop, want to lay back and chill or have a couple of predrinks before you head out – you'll find three individual common rooms fully designated to each of these activities as well as great free wifi. Hungry after a big night out? No problem, just head to the 24/7 kitchen and create some of your own meals!
One thing that really stands out about this hostel though is the incredible staff and how much they care about their guests. You'll be greeted with a welcoming smile all day and if you need help or advice, just head to the reception and all your problems will be taken care of!
After dinner, go paint the town red with lively parties and bar crawls every night of the week. Each day is different and filled with laughter. Since you're located in the heart and soul of the city, you'll have the nightlife scene, top itinerary attractions, and charming cafes right around the corner. Everything is within a short walking distance from this hostel.
2. Best Hostel for Solo Travellers in Barcelona – Hostel One Sants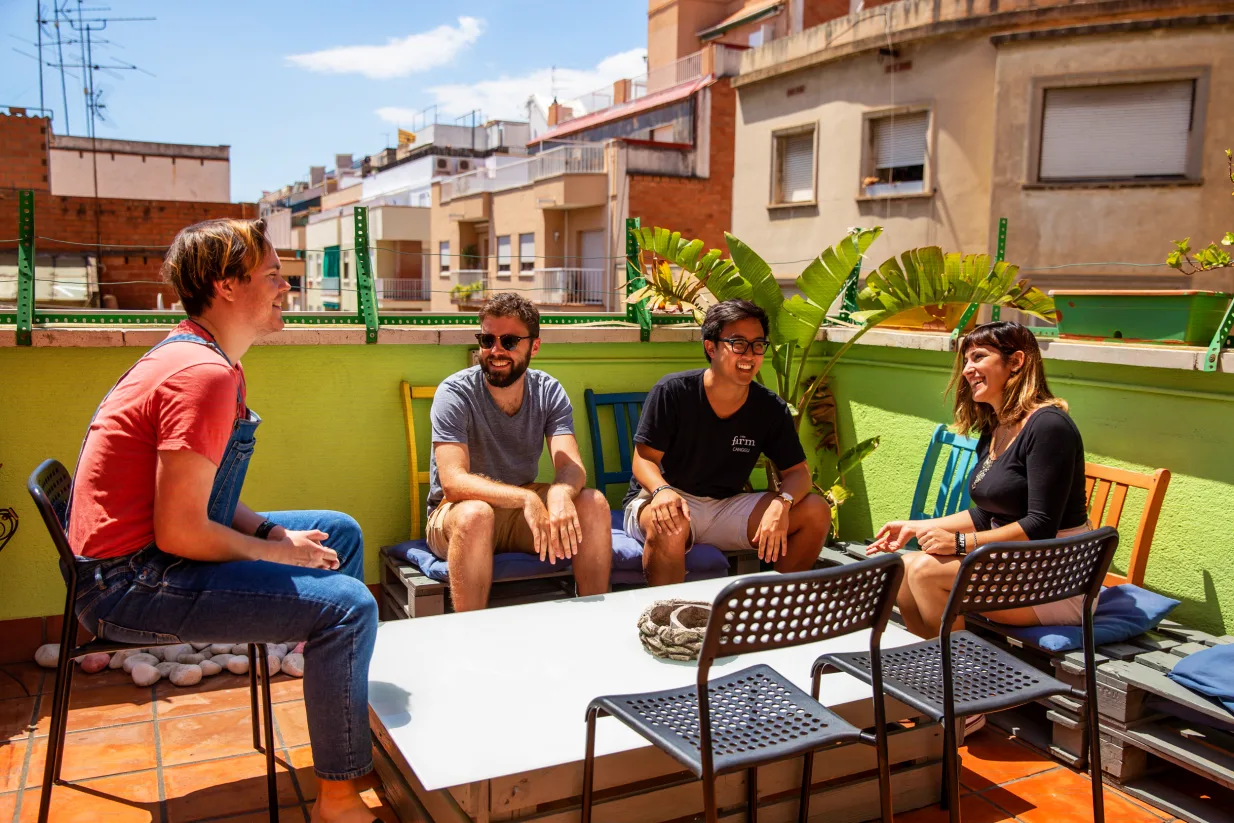 No curfew
24/7 fully equipped kitchen
Travelling alone in Barcelona can be an amazing experience if you find the right accommodation. This smashing budget-friendly hostel in Barcelona was pretty much made for solo travellers, so let us tell you why. The range of activities and strong sociable vibe makes it easy to meet new people and have a fab time.
Hostel One Sants (Onefam Sants) is in the laid-back and more local area of Sants. It's close to the Estació de Sants (Sants Train station) and metro station. This area is quieter than areas like the Gothic Quarter but is still within walking distance of Plaça España and Montjuïc.
Why you'll love this hostel:
Rooftop Deck
Basement for socialising
Homely-family vibes
Especially if you get a bit homesick, this hostel is the ideal place for you. The super friendly and welcoming vibe will make it feel like you're back at home. You'll be taken care of by the incredible staff who really go above and beyond to make their guests happy.
If you want a chilled day to recharge your batteries, the leisure basement is sure to do the trick – it has a quiet reading nook, a TV, PlayStation, and a pool table. You can meet like-minded travellers here, exchange cool backpacking stories and maybe even share some knowledge about Barcelona's hidden gems.
A kitchen, free Wifi, laundry facilities, a tour desk, book exchange, bike parking, and round-the-clock security are just a few more perks of this hostel.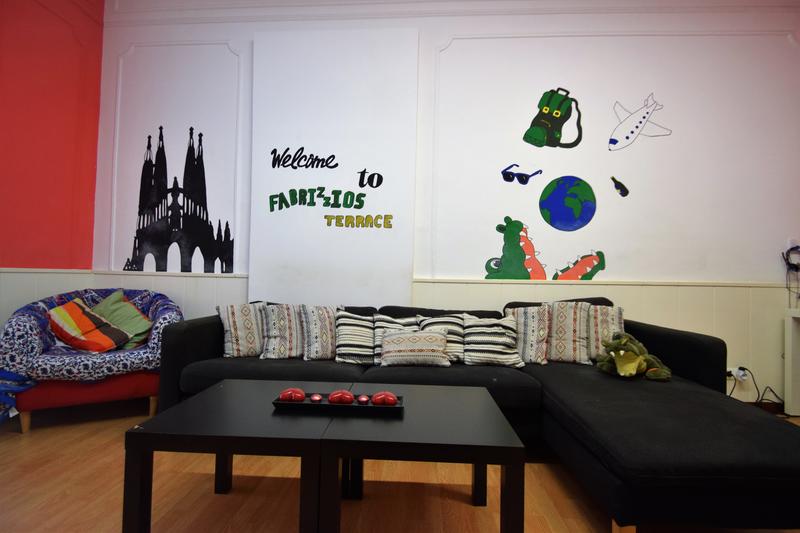 This is definitely one of the best overall hostels in Barcelona too. Rated 9.8 on Hostelworld by nearly 2000 other backpackers, YES 9.8!!!!! What more do I need to say about this place?!
Though Barcelona can be expensive, budget hostels aren't that hard to find. Fabrizzio's Terrace definitely stands out with the incredible value you're getting for such a low price.
It isn't just the central location (walking distance of La Sagrada Familia and other Gaudi classics) that makes this an awesome hostel in Barcelona city's centre. If you're a budget traveller that doesn't want to cut back on all luxuries, this is the right hostel for you. Just because it's cheap accommodation doesn't mean the experience is any less incredible.
Why you'll love this hostel:
Age restriction
Beautiful sun terrace
Prime location in the city centre
Yup, you read right, this hostel is restricted to people between the ages of 18 and 40. This is kind of a bummer if you don't fall into this category, but for everyone else, it makes their stay more relaxed and peaceful (no screaming kids, etc…).
Filled with colour and character, this lively hostel has a beautiful terrace, a comfy TV lounge, and a communal kitchen. The dorms are equipped with air conditioning, massive lockers that fit even the biggest backpack, and super comfy bunk beds.
Free Wi-Fi, a PlayStation, Wii, board games, and a book exchange provide plenty of ways to kick boredom away. With so many entertainment options and charm, you'd think that the price is super high, right? In fact, it's actually one of the cheapest hostels in Barcelona!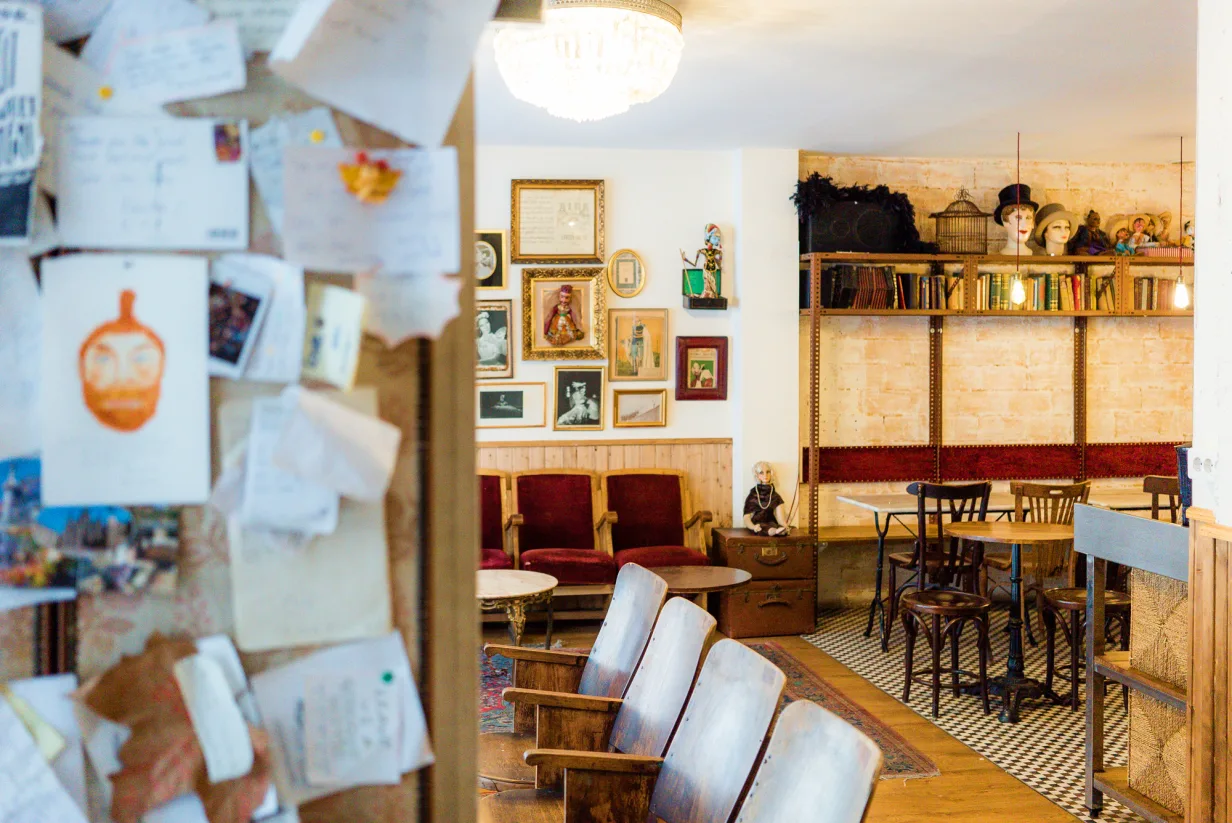 This popular party hostel in Barcelona, Pars Teatro Hostel is within easy reach of Barcelona's city centre, the best beaches, and Barcelona Port. A hive of activity, there's always something going on here. Events include communal dinners, jam sessions, beach parties, pub crawls, sangria nights, and more!
The super comfy beds are perfect to cure the next day's hangover since they're equipped with individual charging stations. You can watch Netflix all day long until you feel halfway human again… so you're ready for the next round of pub crawls! We've already told you that this hostel is ideal for party animals, but it's actually got so much more to offer than just a dorm bed and pub crawls.
Why you'll love this hostel:
Very unique style
Free cold beer when you arrive!
Free daily tours through the city
Let's start with the style – you'll find no other hostel with such a unique and cool vibe as this. The antique vintage design in the common areas gives the place a very special flair, while the bedrooms are sparkling white and very modern. It's the best of both worlds! Who knew the best party hostel could also be one of Barca's best boutique hostels too!
The cool members of staff will quickly feel like long-lost pals and the age limit of 35 gives the place a proper Barcelona youth hostel vibe for the party people.
The top-notch facilities include laundry, a kitchen, a laid-back lounge, a games room and a tour desk. The great location is just as unique as the design. You'll find yourself in Poble Sec, one of the local neighbourhoods.
If you want to experience the real Barcelona, away from all the fake tourist stuff, this hostel should be your go-to! It's also within walking distance of Montjuïc, Plaça España, and The Gothic Quarter for those wanting to experience some culture. Poble Sec metro station is close by and just two stops from La Rambla.
5. Best Hostel for Digital Nomads in Barcelona – Sleep Green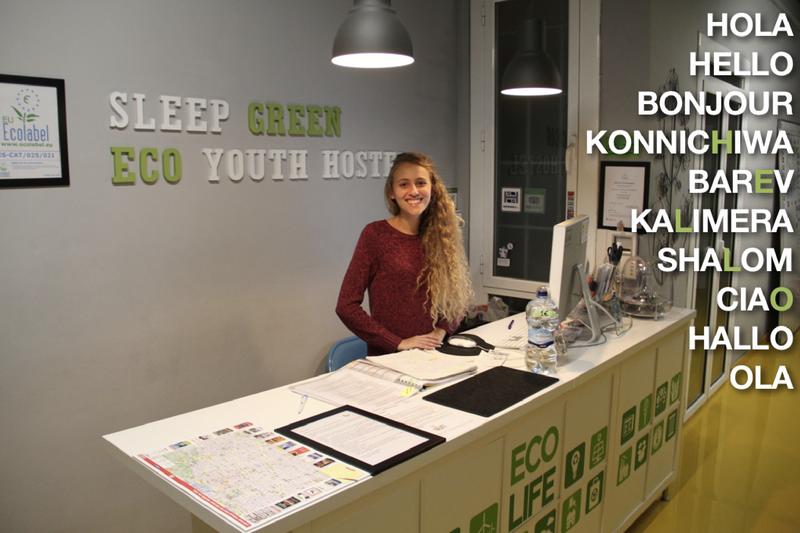 Laundry Facilities
Bike Hire
The digital nomad lifestyle can be a real dream. But only if you find the right accommodation. Luckily, there are quite a few laptop-friendly hostels in Barcelona but this one truly stood out to me.
It might not be the cheapest place in the city, but it definitely comes with a lot of bang for your buck. The Apple Computers in the common areas are just one of them. Of course, the free WiFi is as fast as it could possibly be, so you can get work done within the blink of an eye!
It's located in the lively neighbourhood of Las Rambas, so once you've put your laptop away, you can head out and enjoy the rest of the day. But don't worry, the hostel itself is very peaceful and quiet even on weekends.
Why you'll love this hostel:
Free Apple Computers
Daily cleaning service
Flower Label (EU Eco-Label)
There will be no way around noticing how eco-friendly this hostel is. At The Broke Backpacker, we travel consciously of nature and everyone around us. This hostel's standards make our hearts sing. Not only has it earned an EU Label for being super eco-friendly, but Sleep Green is also committed to sustainable tourism.
If you're a party lover, this place won't be the right one for you as it's one of the more chilled Barcelona hostels. You'll find a grown-up and respectful crowd that prefers a quiet stay so they can work on their laptops in peace. However, as we mentioned before, the hostel is located in a lively area so you get the best of both worlds.
The daily cleaning service is one of the many perks of this hostel. You'll always come home to a clean room, a tidy kitchen, and a highly looked-after common area. If you need any help during your stay, just reach out to the super kind staff and they'll be happy to assist you in any way they can. The hostel is known for great hospitality, so you'll definitely be taken care of.
Is This the Best Backpack EVER???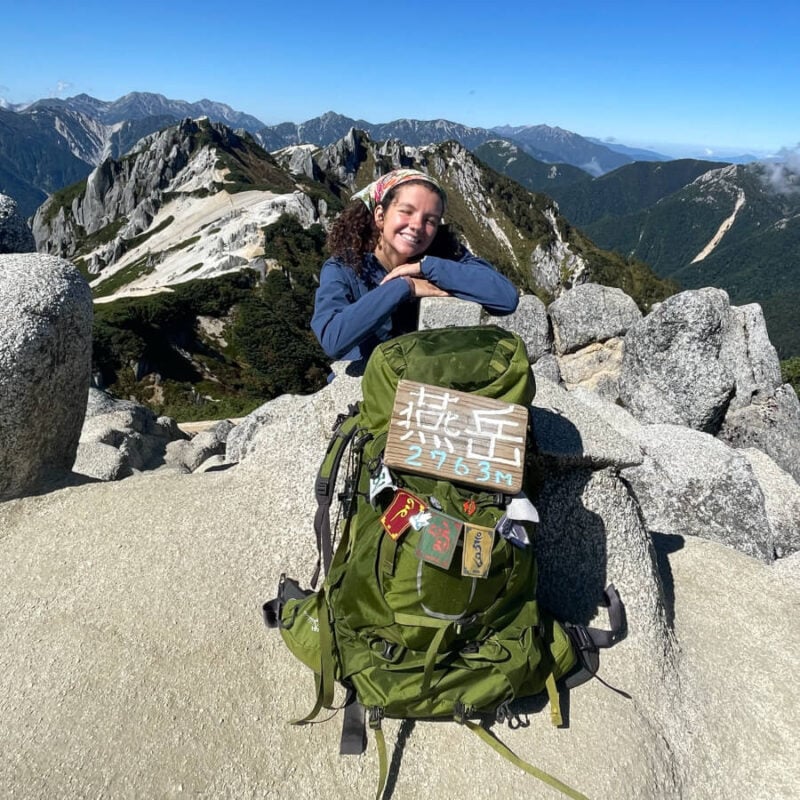 More Epic Hostels in Barcelona
To really make it easier to find the right hostel for you, here are even more options for the top hostels in Barcelona. If you haven't found your perfect match yet, don't fret. I have a few more suggestions for ya!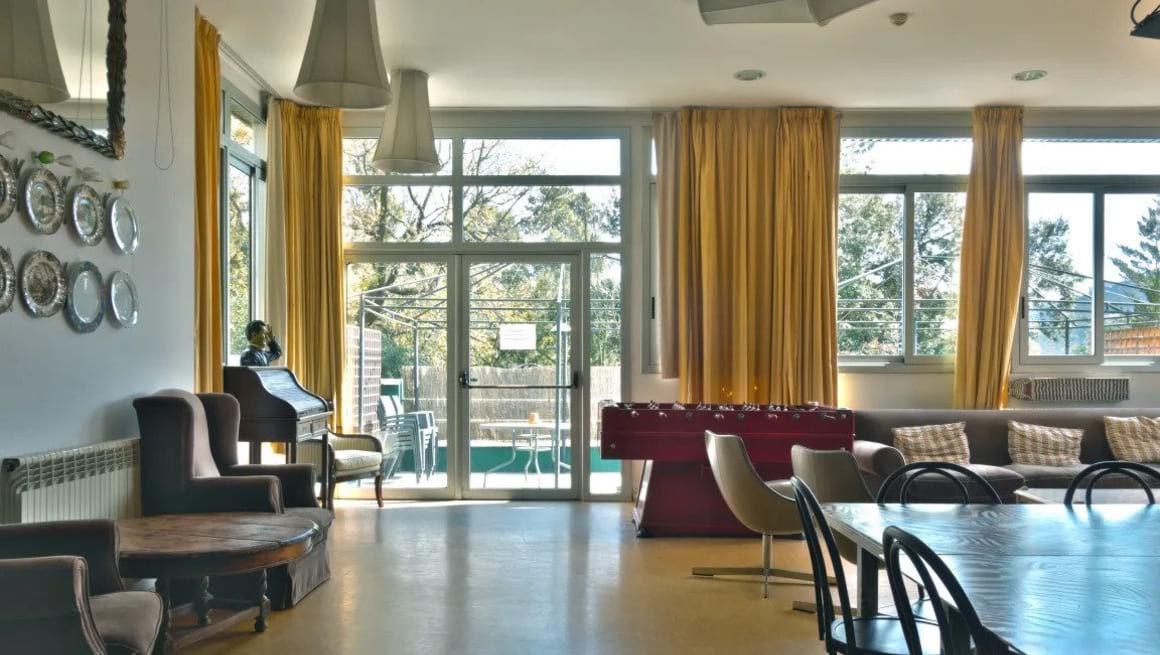 Alright, we just couldn't keep this one from you! The INOUT Hostel is a brand new hostel for backpackers to enjoy a safe space to rest during the night and explore the area during the day. With the massive outdoor pool, an onsite bar, and a cool terrace, you can even enjoy the hot summer days.
Located 20min from the city centre, you'll find yourself surrounded by gardens, forests, and sports fields in this lively hostel. The next metro station is a short 300m walk from the doorstep so you'll be perfectly connected to the rest of the city.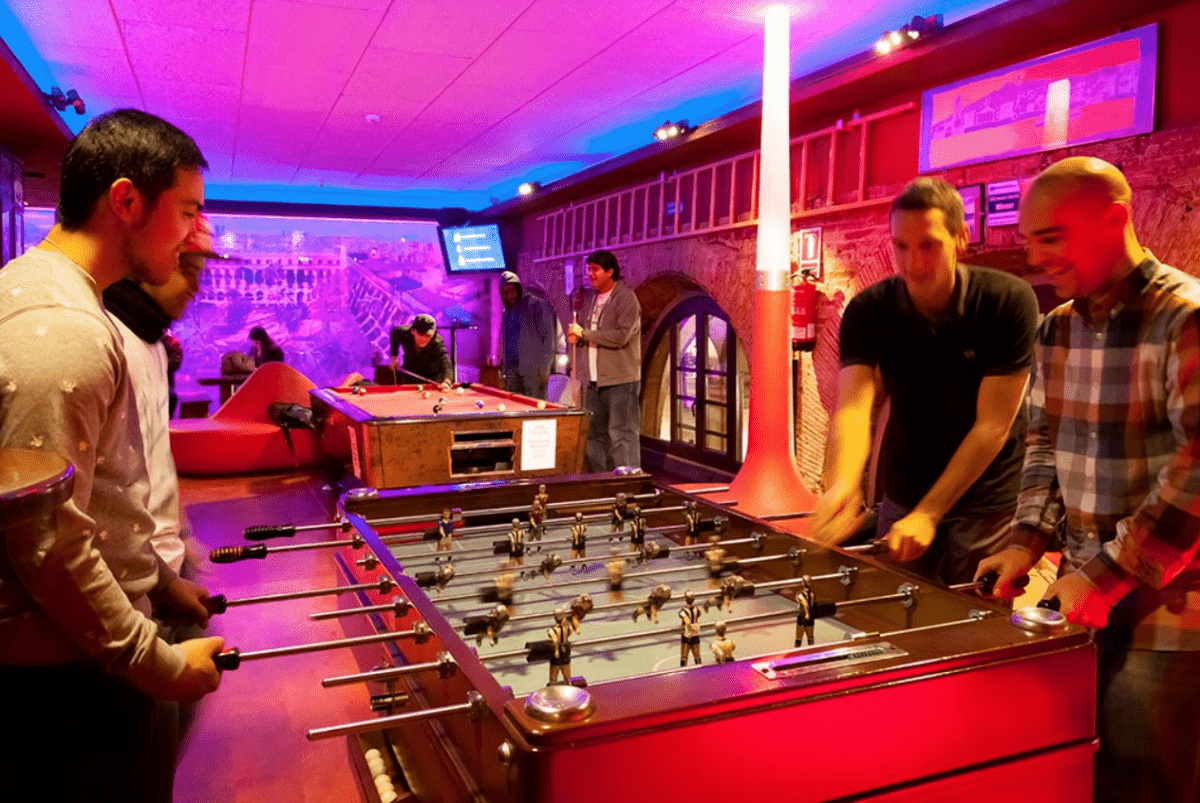 One of the best party hostels not only in Barcelona but in all of Europe – Kabul knows how to party. They even say it themselves: "If you are looking for a place to rest, this is not the right place for you!".
Kabul Party Hostel offers free breakfast and free walking tours by day, and plenty of other activities too. But Kabul is known for what happens at night. Once the sun sets there's a BBQ on the rooftop, followed by a group tour and pub crawls to the hottest clubs in Barcelona – and a new one every night! Kabul Hostel has a sterling reputation as one of the best hostels for partying in Barcelona and for good reason.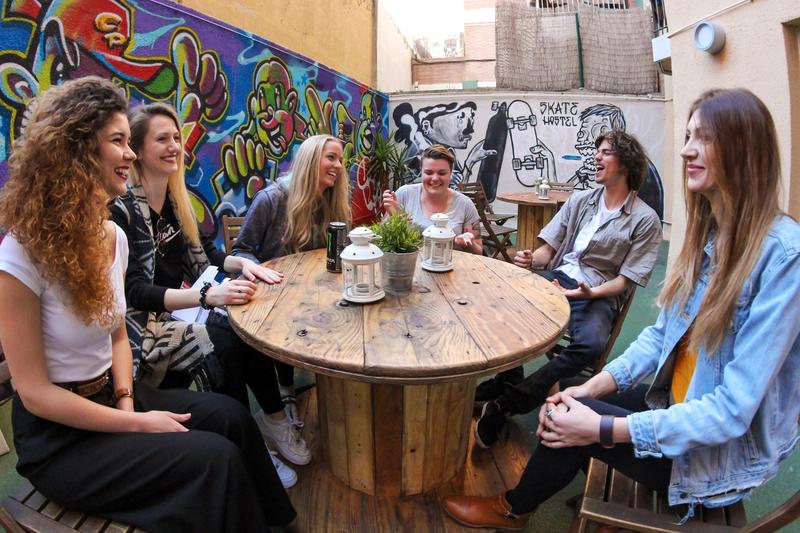 Another top youth party hostel in Barcelona, up-for-it travellers are sure to have a ball at Sant Jordi Sagrada Familia. Giant parties are arranged regularly throughout the week, with trips to the best bars/clubs in Barcelona.
Rest up and relax during the daytime with a spot of sunbathing or a BBQ on the terrace, a movie marathon in the spacious 24-hour lounge, or simply vegging out in the cool skate-themed chill-out room. There are free-to-use computers and Wi-Fi to keep you connected. The modern rooms are on a separate level from the common areas so as not to interrupt your beauty sleep. There are plenty of bathrooms and a huge decked-out kitchen too.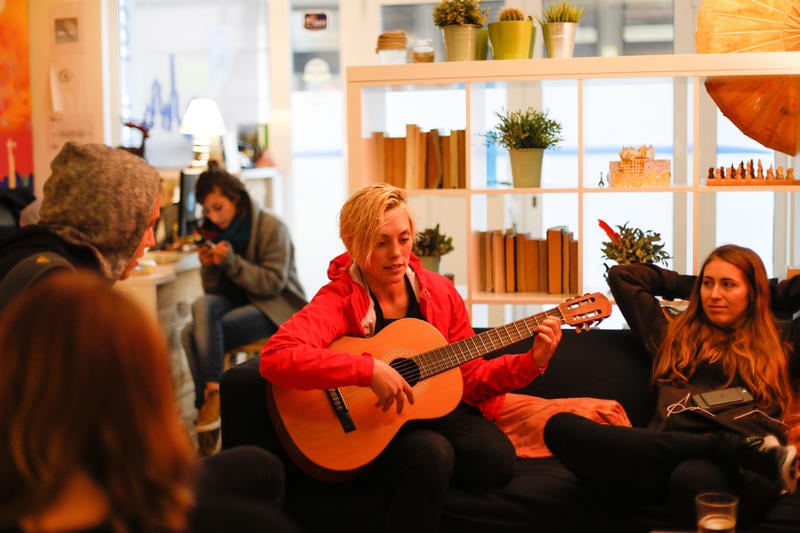 Hungry travellers will feel right at home at Hostel One (Onefam) Ramblas. A great budget Barcelona backpackers hostel with free dinners ensures everyone has a good feed each day. It's also a great opportunity to bond with fellow guests. Nighttime fun shows you the best of Barcelona's nightlife and you can take advantage of free admission to many of the hippest bars and clubs.
There are plenty of daytime adventures too and, if you need a quiet day off, the spacious lounge is a terrific place to relax. The larger dorm rooms have capsule-like beds with plenty of privacy. With all the freebies, this is one of the budget-friendly hostels in Barcelona!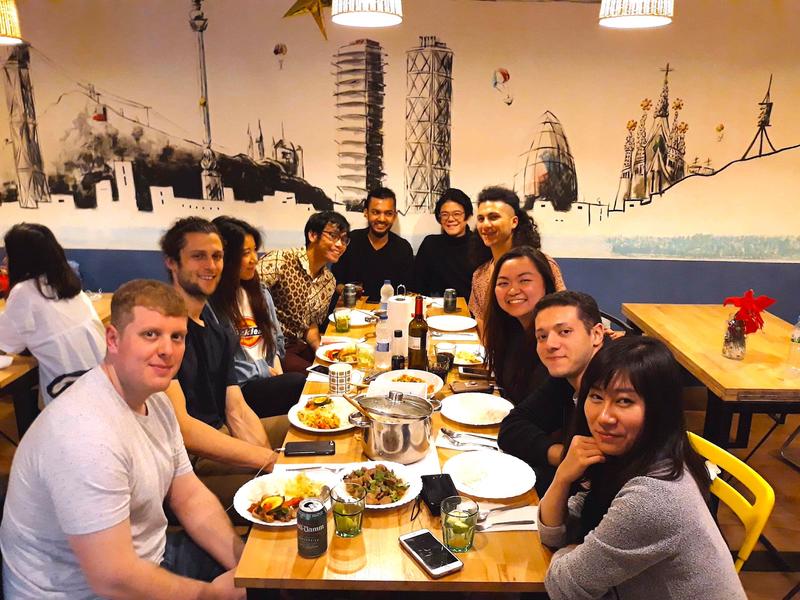 This Hostel is one of my all-around favourites when it comes to choosing the best cheap hostel in Barcelona in 2023. It was so tough not to put it in my top 5! If you don't want to trust me, check out their 9000+ reviews on Hostelworld, rating the place a whopping 9.0!
Mediterranean Youth Hostel is filled with life and fantastic facilities, all for great prices. You may never want to leave! Security is taken very seriously, with CCTV, wristbands to access hostel areas, and free lockers.
The centrally located hostel has cool design features and comfy beds. The showers are fun with music piping as you bathe so you can channel your inner diva to belt out some karaoke!
Additionally, WiFi, printing, use of computers, and maps are free! You can also join free walking tours and varied events. With events and communal meals, a well-equipped 24/7 kitchen and common areas stacked with goodies, Mediterranean Youth Hostel is just a kick-ass hostel in Barcelona.
Free Hostels Barcelona has everything you need (and more) for a fantastic stay. In my humble opinion, it's one of the best hostels for couples in Barcelona, here's why…
The private double rooms come with their own ensuite bathroom with a hairdryer and free toiletries. Each dorm bed has shutters for maximum peace and privacy (heh).
There are eye-catching flashes of art and bursts of colour throughout the friendly hostel, and the facilities are second-to-none. Cook up a storm in the kitchen, grab a bite to eat from the café, and mingle in the common area. They also offer free breakfast and Wi-Fi and getting to and from the airport is easy with affordable transfers.
A contender for the coolest hostel in Barcelona, Sant Jordi Gracia stands out for its funky designs and trendy location in Gracia. Close to many of Barcelona's best nightclubs and bars, the hostel is more than a place to sleep – it's an experience. The state-of-the-art 24-hour computer room, as well as free Wi-Fi, makes it a top hostel for digital nomads in Barcelona too.
Shared spaces include a kitchen and seating area, a dining area, a terrace, and a cosy lounge with a TV, board games, and book exchange. You can even keep your clothes clean with the laundry facilities.
The award-winning Yeah Hostel Barcelona is a terrific and favourite backpackers hostel in Barcelona for fun-loving social butterflies. Although the bar is lively, the rooms are quiet. This means you can be as raucous as you like and still escape for a great night's rest. There are mixed and female-only dorms and private rooms for two and four at good prices.
Walking tours and night tours are good ways to get your bearings and meet other travellers. Or, you can chill in the lounge in front of the TV or challenge pals to a PlayStation split-screen VS-off. Keep hunger away with the well-equipped kitchen.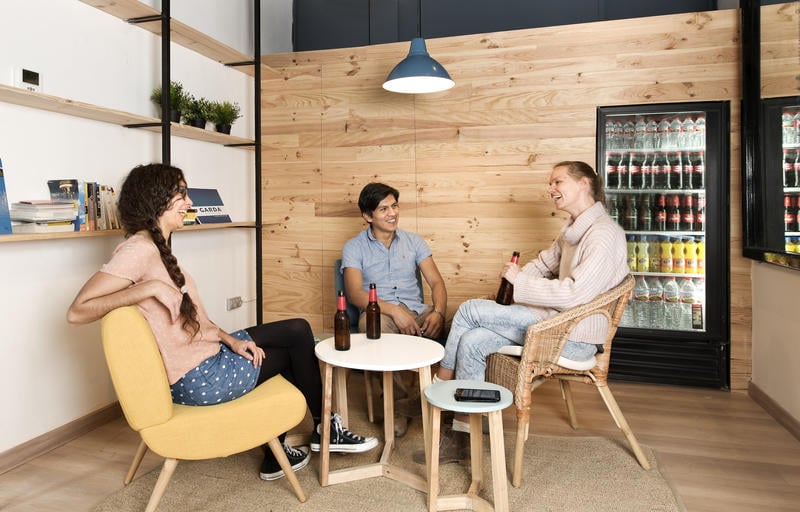 The Central House Barcelona Gracia has a wide choice of dorms. Choose from six or eight-bed female-only rooms. Or you've got the option of mixed dorms for four, six, eight, and ten. Beds have privacy curtains, personal reading lights, and individual power outlets, and each guest has a large locker.
The housekeeping team keeps everywhere looking spotless! The friendly staff members will give you plenty of help finding the best things to do in Barcelona. This minimalist hostel has spacious shared areas including a kitchen and lounge. There's free WiFi, luggage storage, and laundry facilities too.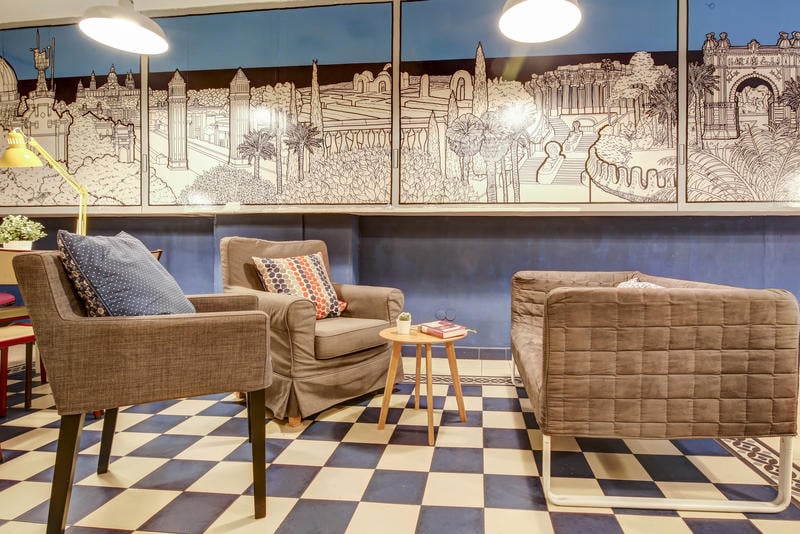 Great for solo travellers and groups of friends, there's a good selection of dorms and private rooms in different sizes at Factory House. This hostel in Barcelona comes with a good location and an intimate homey, and calm atmosphere.
Get to know your fellow backpackers in the kitchen and lounge and pick the staff's brains about the best things to see and do in Barcelona. Keep in mind that this hostel is quite close to a vast array of badass Barcelona bars and hip restaurants. You can also book diverse tours, get your laundry done, and plan your onward travels with the free WiFi.
An awesome youth hostel in Barcelona, the small and intimate Buba House is an ideal base for couples and solo travellers and is one of the best hostels in Las Ramblas. Clean and secure with friendly members of staff, the hostel has a fully-equipped kitchen and brightly coloured rooms and dorms. Enjoy free breakfast each day before heading out and about to discover the best of Barcelona.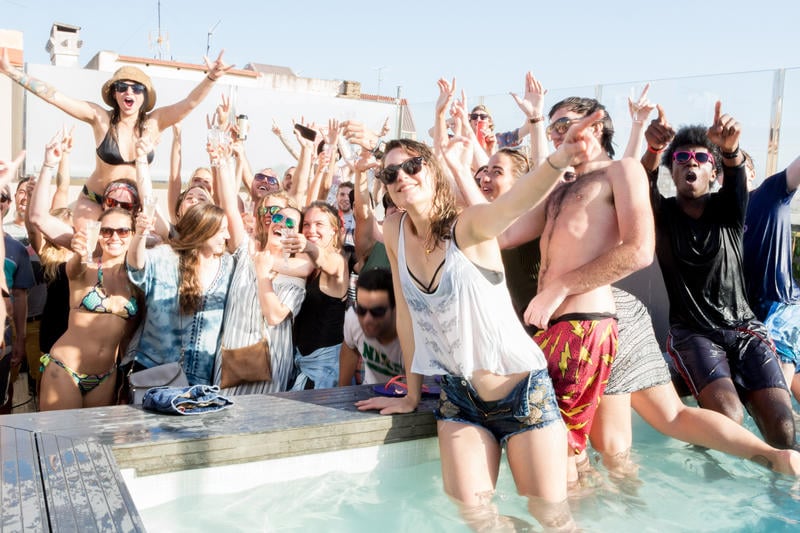 Tune in and rock out at the award-winning Sant Jordi Hostel Rock Palace, one of the most awesome backpacker hostels in Barcelona. The rooftop pool is a prime place to see and be seen. You can impress your new drinking buddies with a few guitar classics or drum solos, and the sociable bar/lounge is the place to be in the evenings.
There's a large kitchen to keep the munchies away or you'll find plenty of great restaurants within the local downtown area. Rooms are sound-proofed so there's no worry about being disturbed if you need to catch up on your beauty sleep (for chilling by the pool).
A small Barcelona youth hostel with a big heart and plenty of charm. Itaca Hostel can be found close to Cathedral Square. A tranquil haven away from the hustle and bustle of city life, it's a great little sanctuary to recharge your batteries after days and nights out in buzzing Barcelona.
The spacious hostel strikes a perfect balance between privacy and sociability. Indulge in a few glasses of free sangria each Thursday, connect with other travellers in the common room, and try your hand at preparing your fave Spanish dishes in the kitchen.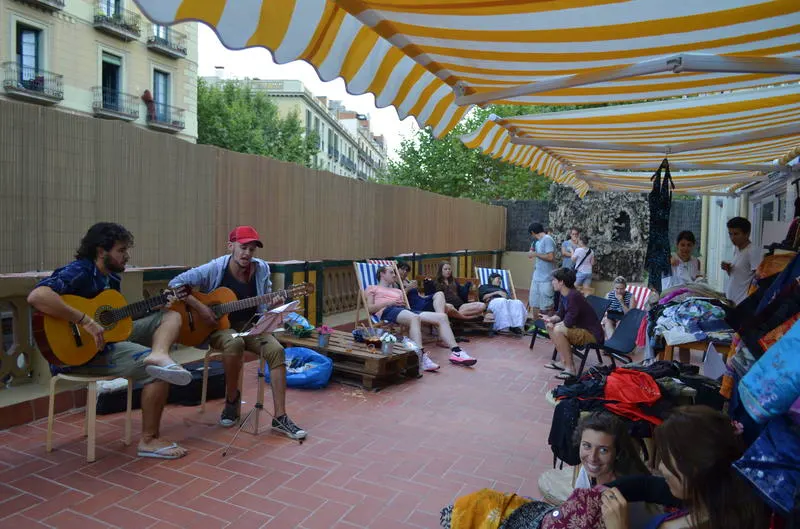 360 Hostel Borne is a great choice for culture-ites, creative souls, and backpackers who want to see a different side of the city. It benefits from a great location near the Plaza Catalunya, which means that many of Barcelona's top places to visit are still nearby.
Hit up the helpful members of staff for recommendations, grab a free city map, or book a tour to discover Barcelona's best spots. The hostel has a kitchen and outdoor common area, a quiet computer area with PCs, and an indoor café.
A stylish Barcelona backpackers hostel, Fabrizzio's Petit is loaded with top-notch facilities and services. They offer free breakfast to dig into before stepping outside for a short stroll to key landmarks like La Rambla and La Sagrada Familia.
Free city tours are available too and when you return, feel right at home in the cosy living room, complete with a TV, Wii, and PlayStation. Or, you could just spend the day relaxing on the large sun terrace – bliss! Come dinner time, the kitchen makes cooking a breeze. Bike hire, laundry facilities, housekeeping, and luggage storage are just a few more reasons to stay here.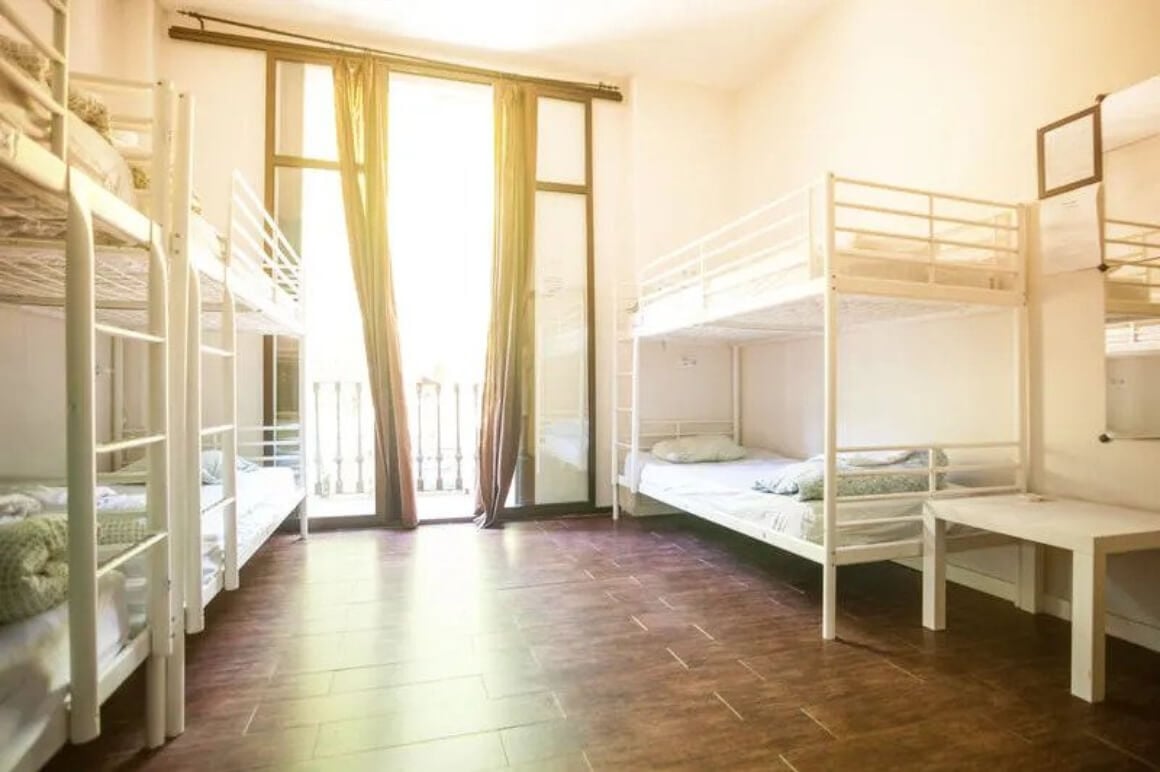 A top hostel in Barcelona for both solo travellers and groups, 360 Hostel Centro has terrific common spaces for mingling and relaxing. Run by travellers for travellers, it's a pleasant base from which to discover Barcelona and make loads of new friends.
There's a café-bar right downstairs, in addition to a kitchen, lounge, and TV room. The high ceilings and big windows in this place make the rooms feel bright and airy.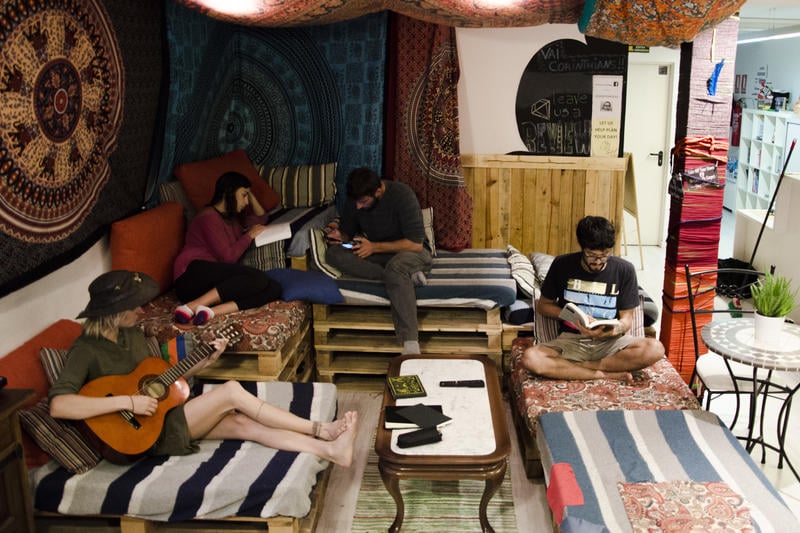 Situated in upper-class Gracia and within easy reach of the iconic Park Guell, Rocket Hostels Gracia is a classy Barcelona hostel for backpackers who like to mix socialising, sightseeing, and chillaxing. The cosy pod-style beds have a small shelf, curtain, light, and power outlet, as well as secure lockers underneath.
Freebies include tea and coffee, drinking water, Wi-Fi, towels, and toiletries. The event schedule is diverse, with yoga classes, communal meals, picnics, and sunset watching. The lounge is cosy and colourful, filled with vibrant designs, while the kitchen is modern and sleek.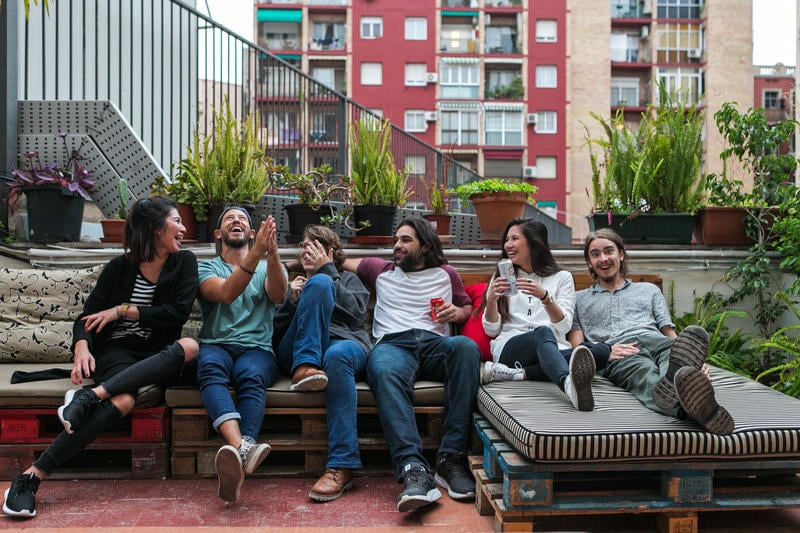 A trendy Barcelona hostel, Pars Tailor's is definitely one of the most unique youth hostels in Barcelona. The concept is that of a vintage tailor's shop; step back in time and imagine yourself in a dressmaker's store in the 1930s.
In the peaceful Eixample District, getting to major sights by both foot and public transport is a piece of cake. The hostel has a sociable heart, with various activities arranged for days and nights, letting you meet new people and have bags of fun with other global travellers. Other plus points include the kitchen, games room, terrace, and free Wi-Fi.
Barcelona Hostels FAQ
Booking a hostel in a big city is never something easy, especially in capital cities. You can find yourself surrounded by countless options, and it's not always easy to find the best one. Depending on your travel style, you'll have different preferences so not every hostel will fit your travel needs. We've answered some of the frequently asked questions on hostels in Barcelona so booking will be a breeze for you.
Travel Safety Tips for Barcelona
ALWAYS sort out your backpacker insurance before your trip. There's plenty to choose from in that department, but a good place to start is Safety Wing.
They offer month-to-month payments, no lock-in contracts, and require absolutely no itineraries: that's the exact kind of insurance long-term travellers and digital nomads need.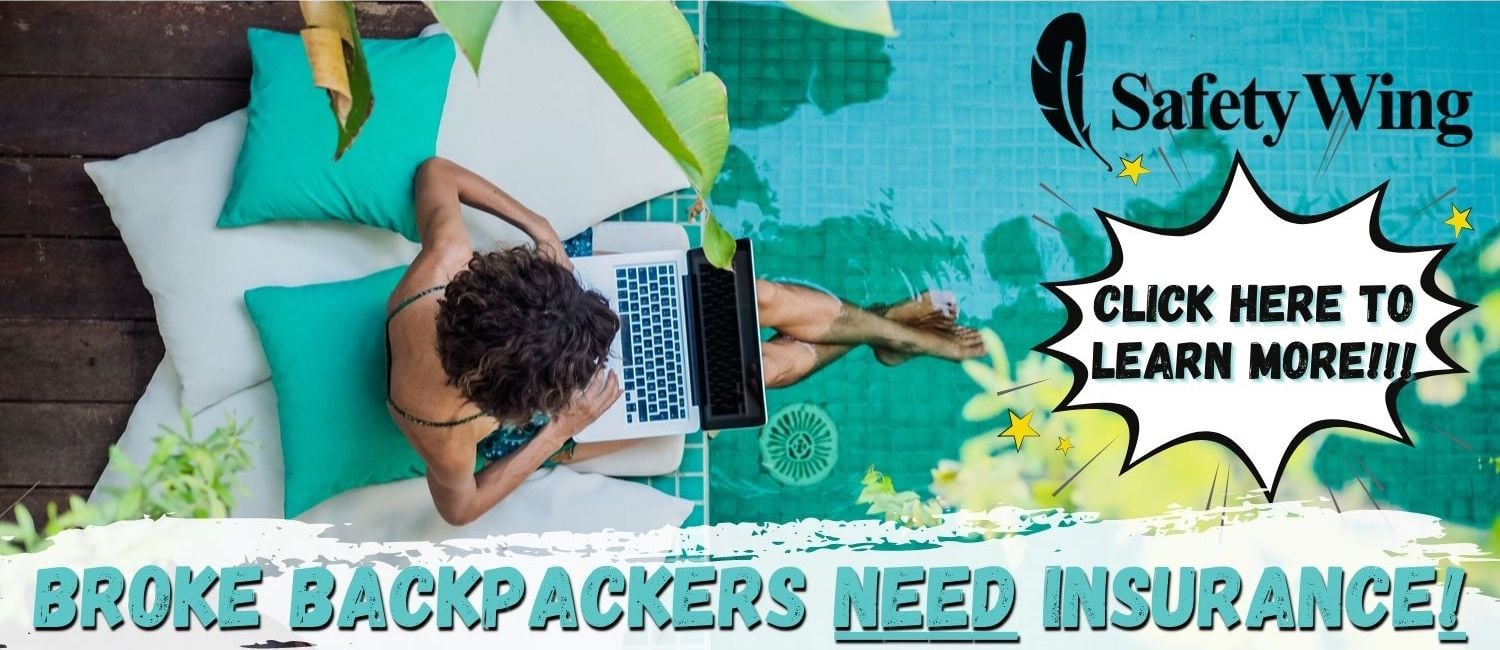 SafetyWing is cheap, easy, and admin-free: just sign up lickety-split so you can get back to it!
Click the button below to learn more about SafetyWing's setup or read our insider review for the full tasty scoop.
Final Thoughts on Barcelona's Hostels
Now having seen all the best hostels in Barcelona, I know it can be overwhelming… but don't sit around for too long! Figure out what your travel needs are, pick a hostel, and BOOK IT!
These hostels in Barcelona are no secret. They DO book out fast. As you now know, Barcelona is one of the most heavily trafficked destinations in Europe for backpackers.
So which place is looking good to you? A for solo travellers? Or how about one of the most crankin' of Barcelona's party hostels? Do you want to base yourself in the city centre? Or maybe the Gothic Quarter, close to La Rambla? Perhaps close to the sights like the Picasso Museum or La Sagrada Familia?
By now I hope our epic guide has helped you choose the perfect hostel for your adventure! And remember, if you can't pick, go with our overall best suggestion – Hostel One Paralelo. It kicks ass like it's going outta style.
Now get out there and enjoy this magical city from one of the best hostels in Barcelona!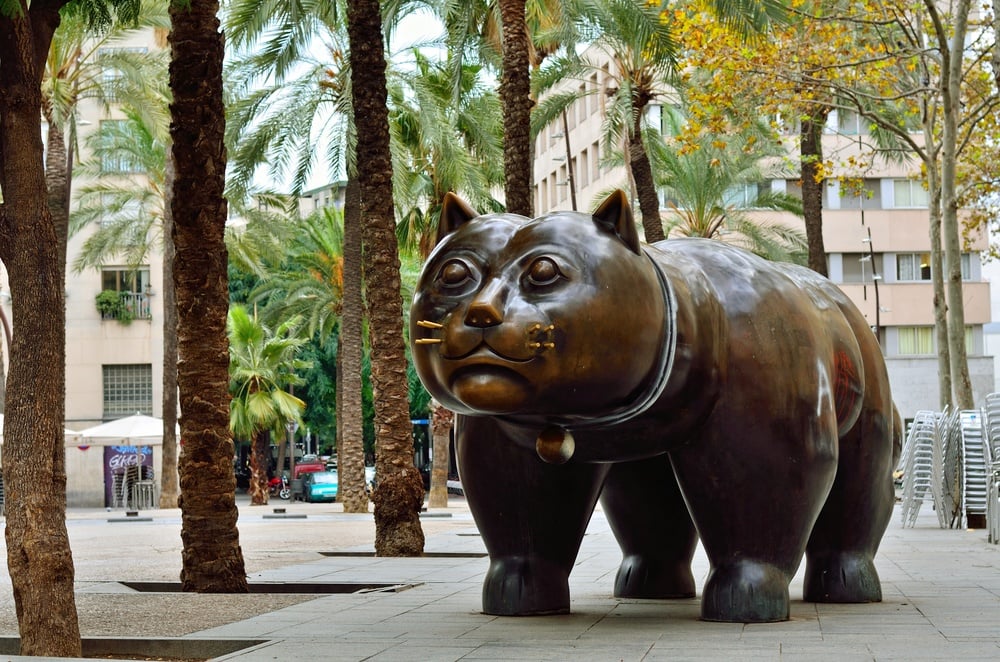 ---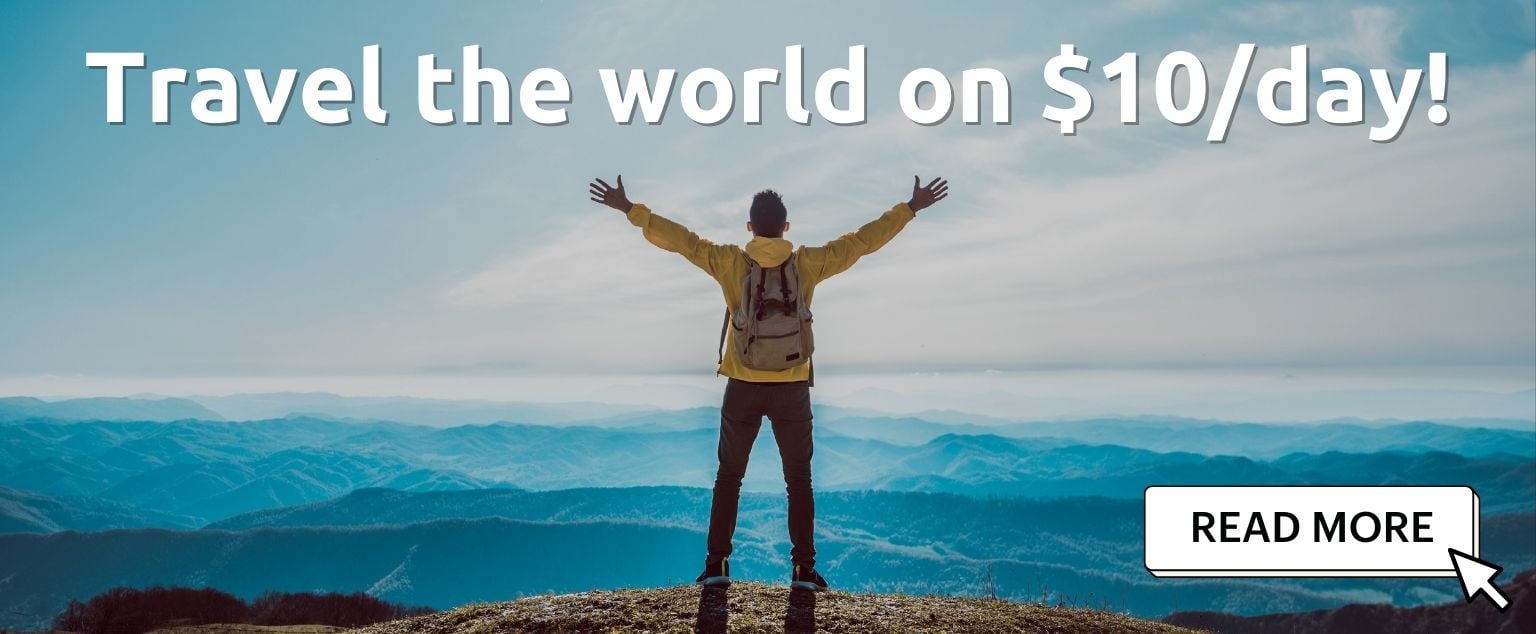 And for transparency's sake, please know that some of the links in our content are affiliate links. That means that if you book your accommodation, buy your gear, or sort your insurance through our link, we earn a small commission (at no extra cost to you). That said, we only link to the gear we trust and never recommend services we don't believe are up to scratch. Again, thank you!
Updated June 2023