Barcelona is one of our favourite cities in the world. It's endless energy, colourful artsy streets, wonky and weird architecture as well as some of the tastiest food in the world … it's no wonder we keep returning over and over! And we're not the only ones either!
It offers a hell of a lot to do, see and experience, but being a major city in Western Europe, you might be wondering … is Barcelona expensive?
Well, that's what we're here for! Barcelona can be expensive if you don't know what you're getting yourself into. But thankfully for you, our wonderful readers, we've got plenty of experience with this stunning city, so we know exactly where to direct you to protect your hard earned cash whilst making the most of your time in Barça!
We've put together this epic guide of what a weekend in Barcelona is going to cost you. Which will erase any of the doubts you have about whether a trip to Barcelona is going to go way over your budget or not. (Some of the costs will end up amazing you).
With the help of this next-level guide to Barcelona prices, you'll almost instantly be ready to start planning your trip.
How expensive is Barcelona, you ask? We're going to be covering the main costs that any traveler should work into their budget, and we're doing it from experience:
Your accommodation costs
Costs for getting around the busy city
The ideal cost of food per day as well as drinks
And costs for some cool activities in the neighborhood
Keep in mind that these costs are only estimates and they're subject to change. Depending on when and how you're visiting the city, your budget may vary slightly. Take for example the coronavirus spreading around Europe, it had a massive effect on the city's tourism rates and flight prices. Events both worldwide and locally are going to cause things to fluctuate somewhat.
The currency of Barcelona is the Euro, like a lot of the surrounding European countries. For the purpose of this article, we've stuck to converting everything to USD. At the time of writing, 1 USD = 0.88 Euro.
Below, we're going to take a look at the general estimates of how much a weekend trip to Barcelona is going to cost you.
3 Days in Barcelona Travel Costs
ESTIMATED EXPENSE: US $550 for a round-trip ticket
One of the important deciding factors about travel is how much the flights are going to cost you. How much does it cost to fly to Barcelona? Well, that comes down to a number of different factors but we've gone off personal experience here to give you the most accurate estimates.
Depending on your starting location, season and holiday period, flights are all priced differently. Take a look at London for example. No one wants to be spending the Christmas holidays in Barcelona, they'd rather spend the money on a trip there during the summer season.
In order to determine the cheapest flights in Spain, we used Skyscanner and their tools. These are the average roundtrip prices from various international airports.
New York to Barcelona: 350-670 USD
London to Barcelona: 60-150 GBP
Sydney to Barcelona: 1120-1700 AUD
Vancouver to Barcelona: 780-1700 CAD
If you're one of those people who are always looking out for the best deals, we've got you covered! Read this awesome post about how to find cheap flights to and from anywhere in the world. You can easily save money by taking advantage of error fairs, deals, and flying to the cheapest airports.
Barcelona-El Prat Airport is the busiest airport nearest to Barcelona, but 56 miles outside of the city center, Girona-Costa Brava Airport is a cheaper alternative.
ESTIMATED EXPENSE: US $30-$120/day
So you know around about how much you'll be budgeting for flights, what's next? Accommodation is the next big decision when it comes to your expenses and a key component to managing your budget.
And honestly, you can find places in the city to fit your needs and budget perfectly. Depending on how you view Barcelona, it's either a party city if you stay in a hostel, a lover's dream with a private suite, or a beachside wonderland in an Airbnb. You'll find the perfect place for your ventures, no matter how big or small your budget is.
Hostels in Barcelona
Hostels in Barcelona are your best bet for scoring the cheapest accommodation. But don't let the idea of hippy bunkbeds and sandy floors put you off. Hostels in the city are found in traditional elegant Spanish buildings, usually accompanied by balconies overlooking the city. In our experience, you'll find some of the best hostels in Europe in Barcelona as well as a thriving backpacker scene.
The average hostel in Barcelona will cost you around $13 to $30 a night, perfect for those Barcelona budget travelers. You'll even find hostels smack bang in the middle of the city for only around $17. To find all the epic spots, take a look at these awesome hostels and find out even more information.
To make choosing the best hostels simpler, we've listed 3 of our favourites, each with its own unique twist:
Sant Jordi Hostel Rock Palace: The party atmosphere means there is always something going on in the famous bar, club-themed chill zones or rooftop swimming pool. The TBB crew absolutely loved their time here!
Mediterranean Youth Hostel: $14 dollars a night, a 10-minute walk from the city center, and just 30 minutes from the main attractions make this friendly hostel the easiest on the wallet.
Yeah Hostel Barcelona: Yeah Hostel gives a new meaning to luxury hostels, but also hosts a cool party scene. Free walking tours, pub crawls and personal bars are all at your service!
Airbnbs in Barcelona
Apartment prices naturally vary depending on what type of place you're interested in. Prices can be wild if that's what you're looking for, but for the average Joe, you'll score a good place for around $60 to $110 a night.
They're the preferred accommodation options given how convenient they all are. With full kitchens, your own private space, and prime locations, they're the most comfortable stay. When we've been travelling with a lot of work to do during our trip, we've found the Airbnbs in Barcelona to be the perfect base.
If you're looking to find a decent apartment in Barcelona, Airbnb is definitely the right site to be looking on. For short-term rentals and weekend trips, you'll find a number of vibrant apartments in the city bursting with life.
Below are 3 of the top Airbnb apartment options in Barcelona:
Barcelona beach apartment: Have this beautiful beach apartment to yourself, and enjoy taking a short walk into La Barceloneta to enjoy the trendy bars and outdoor atmosphere.
Sunshine-filled apartment: With a double bed and plenty of space, you can easily make yourself at home! You're also nearby to the metro rail for easy access to many places around Barcelona.
Apartment in the Gothic Quarter: One of the best locations to be staying in, and the best way to explore the Barcelona lifestyle. It's fitted with wooden floors and a modern interior.
Hotels in Barcelona
This will be the most expensive form of accommodation. But if you enjoy traveling in style, nothing should stop you from treating yourself to a life of luxury. An average night in a hotel is going to cost you around $120 a night. And if budget is what you're after, you can even find some hotels for around $70 a night.
With so much to see and do in Barcelona over a weekend, it can be a real treat to come back to a hotel room fitted with everything you need to unwind. Room service? Yes, please! Mini fridge stocked with supplies? Sure! Housekeeping? Of course!
If hostels and Airbnbs aren't your vibe, here are some luxurious hotel options:
Grand Hotel Central: Chilling out on the rooftop infinity pool that overlooks almost all of Barcelona is pretty fantastic. And the grand Catalan styled rooms aren't too shabby either.
Leonardo Hotel Barcelona Las Ramblas: Right on the busiest street in Barcelona, Las Ramblas, you'll be in the greatest spot to be trying out good food, and even better sangria.
H10 Marina Barcelona: Large windows look out from the bedroom and onto the city (pretty romantic right?). Don't be shy to treat yourself to a day at the spa or at the indoor pool.
ESTIMATED EXPENSE: US $2.50-$10/day
One of the best things about Barcelona is that you can walk almost anywhere. You'll even be surprised to find even the older generations chatting away on an evening stroll in the city.
Although the public transport system might be quite daunting to figure out as a newbie tourist, you'll be happy to know that public transport is a cheap and effective way of getting around the city. It'll cost you between $2.50 to $10 a day for public transport.
There's no need to rent a car to get around, most things are nearby, or you can simply take the metro, bus, or train in and out of the city.
Train Travel in Barcelona
When it comes to riding the train, you'll most likely only take it from the El Prat Airport into the city. Single ticket prices on the L2 train range from $3 to $7 depending on the zone of travel. It's not the most effective way to travel around Barcelona. Instead, you'll be taking the metro.
The metro is ideal for getting from point A to B, and the best form of public transport for getting around the city. Locals tend to opt for this easy-to-use and cost-effective option.
We've always found the Barcelona Metro to be super easy to use, cheap, clean and punctual too. It also serves pretty much everywhere is only a few exceptions, so we've pretty much relied on metro travel combined with good old walking for getting around!
You'll notice the metro easily by the yellow and red signs bearing a letter 'M'. Once you're inside, you'll easily be able to purchase a metro ticket with cash or card from one of the numerous ticket machines. English translations are available, so you don't need to worry about getting lost in the city.
A single metro ticket will only cost you $2.50. Our top tip is to purchase a T10 ticket. A 10 journey pass costing you $10.
Keen on planning a day trip from Barcelona? Then you'll want to take the Rodalies Commuter Rail. You'll notice the stations with a letter 'R' against a yellow background. They're quite pricey and could end up costing you over $80 for a ticket.
Bus Travel in Barcelona
Buses are another great means of getting around. It's your chance to see all of the lovely scenery around Barcelona too. While the metro tends to be busy and loud, buses are less likely to be taken by commuters on their way to work. But, we've found in our experience that they're not as efficient as the metro.
Traveling on the bus is the same as it is in every other country. Find the stop by locating the bus shelters and poles and wave to the driver as the bus comes along. And just press the red button when you want to hop off.
The buses are owned by the same company as the metro, TMB. You can use your T10 card for bus credit, or you can use up the coins in your wallet to buy a bus ticket from the driver. A single bus ticket is going to cost you $2.50, and as long as the destination is on the bus line, you won't be paying any more.
Here's a tip from us to you: the drivers don't accept notes bigger than 10 Euro, so save that extra coin or two for the bus rides.
Renting a Scooter or Bicycle in Barcelona
You can rent a scooter in Barcelona for as little as $30, making it a pretty cheap option for having your own transport. It's not only the fastest way of getting around the city, but it's also the most fun. I mean think of it, all these rom-com movies set in Europe seem to involve some young and in love couple riding off around the beautiful city. Sappy, but also kind of appealing, right?
As for bike riding, well that's just as awesome, especially if you're with a group of friends. With flat streets, really great weather, and everything nearby, it's super convenient. Cycle past many of the gelato shops and stop for some tasters, see where all the action's happening and get to know the neighborhood.
We love these bike rentals popping up all around the world and think they're a great way to see a city. In our experience, we've found Barcelona to be pretty decent to ride around too being flat and easy going.
There's an app called Donkey Republic, which is going to change your experience in Barcelona. All that you need to do is download the app, locate a bike and unlock it with your phone and head off for your adventure around the city. Once you've had your fun, simply check out the app for the nearest drop-off spot.
A full day with the bike is only going to cost you $13, and 3 days will cost you as little as $30.
ESTIMATED EXPENSE: US $20-$40/day
The cost of food in Spain is actually pretty reasonable and there are many ways you can go about getting it. Sure, eating out all the time is going to add up, but you can still keep it affordable.
If you're trying to experience most of the culture, these are some things you have to try:
Seafood paella (the best food in Barcelona): A whole lot of seafood and a whole lotta tasty, fragrant rice. The average meal cost is about $14 to $30 for an entire pan full of goodness.
Cold cured meats: Slap them on some freshly baked bread and you're good to go. So simple, but so so good. You can pay around $4 for cold meats on a sandwich to go.
Faves a la Catalana: Made with fava beans and Catalan blood pudding, it's a whole and hearty dish. Many places to eat in Barcelona prepare this tasty meal from $9 to $15.
Although slightly more expensive than supermarkets, markets stock fresh Barcelonian food that'll make your heart happy. You can save some bucks by not eating out and preparing your own meals with market food.
Keep your eye open for happy hour too, they often have deals and discounts on food and drinks.
Where to Eat Cheaply in Barcelona
The cost of eating out doesn't have to be expensive. In fact, with all the fresh produce, you can have your own go at cooking. Or if that's not your style, indulge at the tapas bars.
You don't have to sacrifice quality food because you think your wallet doesn't allow it. Here are some places you can get good food, for a great value:
The Barcelonian food markets: You've probably heard of the famous Mercado de La Boqueria, right? Well if you haven't, put it at the top of your list of things to do in Barcelona! You can find some pretty affordable, fresh fruit, veg, meat and seafood here.
Hostel meals: Staying in a hostel? Well, you'd be delighted to know that the hostel food in Barcelona is damn affordable. You can pay around $5 for a huge breakfast buffet and about $8 for dinner (usually accompanied by a cold beer).
Sandwich shops: While you're having your day out exploring the city, stop at one of the many sandwich shops for a delicious bite on the go. A sandwich usually costs around $7, and they're super filling.
Tapas bar: Scattered along the cobblestone streets of Las Ramblas, you'll have your pick of hundreds of tapas restaurants. Pay around $8 a dish. Restaurant prices in Barcelona do vary though.
ESTIMATED EXPENSE: US $5-$30/day
Let's start by saying that there's definitely going to be some drinking done in Barcelona. Yes, it's a party city, but drinking is also part of the daily lifestyle of the Catalonians. Whether it's grabbing a cold Estrella, a locally brewed beer, or sipping on some sangria during the hot summer days.
The party scene will run up quite the bill because Barcelona nightlife prices can be around $20 just for the entrance. Plus you'd need to load up on alcohol, and beer will cost around $7 inside. We recommend pre-drinking and getting the party started first at home.
You should definitely head out on a pub crawl if you have the chance. Pay about $20 for the night and you'll visit some of the coolest pubs and bars, and get free shots upon arrival.
Sangria: Red or white wine with a fruit cocktail, a traditional Spanish drink. About $4 to $7 a glass.
Beer (Cerveza): Drink like a local and pay from $2 to $7 for a beer. Ask for a tercio, it'll be a 1 fluid ounce bottle of Estrella beer.
Cava: a delicious, fruit sparkly wine. A whole bottle in the supermarket can cost you anywhere from $7 to $30.
You can also check out Fàbrica Moritz Barcelona, to get a taste of the awesome locally brewed, unpasteurized craft beers.
ESTIMATED EXPENSE: US $20-$40/day
There truly isn't a shortage of things to do in Barcelona. The quirky, colorful city is known around the world for its wobbly, weird and wonderful architecture, historical sites and an array of museums.
If you're spending a couple of days here, make the most of your trip and check out the best places to visit in Barcelona.
One of the most visited sites in the whole of Spain is the Sagrada Família. Even though it's not expected to be finished until 2026, it's still going to take your breath away. Tickets cost $21 for a tour inside, but to be completely honest, you don't even need to buy tickets. Save your cash and view the cathedral from the outside, it's just as marvellous.
This applies to a lot of attractions in Barcelona. Antoni Gaudi buildings are found around the city and you need to pay entrance to get inside, but as we said, they're just as awesome from the outside.
Museums, on the other hand, are definitely worth paying for. The Picasso Museum, for example, showcases an enormous collection of his work. The entrance is $20 but on Sunday evenings from 3 pm to 8 pm, it's totally free.
So, while many of us try to stick to our budget, there are bound to be some unexpected expenses. Or maybe you just think, screw this, this city is awesome and I wanna make the most of my time.
Some things you might not plan on spending money on might pop up though. For example, luggage storage. That sucks, but it's one of the unforeseen expenses. Or maybe you end up paying a lot for cellphone data, or buy too many souvenirs, who knows?
Those types of things need to be remembered, so maybe it's a good idea to set some money aside for that. About 10% of your total expenditure is a decent amount.
Tipping in Barcelona
Tipping in Barcelona isn't as big a thing as in many other countries. Locals don't tip, but if you're happy with the service, a tip is always appreciated. A 5% tip is generous enough.
What might come as an unexpected surprise is that waiters will often add on their own tip. So once you've received the bill, work out how much you've spent and you'll see how much tip has been added for you. Strange, but it's just the way things are done there.
Also note, you'll also pay a heavier tip if you sit on the busy outside terraces.
Get Travel Insurance for Barcelona
World Nomads' mission is to support and encourage travellers to explore their boundaries. They offer simple & flexible travel insurance, and safety advice to help you travel confidently.
They've been doing it since 2002 – protecting, connecting, and inspiring independent travellers just like you.
Get a quote below or read our in-depth review!
World Nomads provides travel insurance for travelers in over 100 countries. As an affiliate, we receive a fee when you get a quote from World Nomads using this link. We do not represent World Nomads. This is information only and not a recommendation to buy travel insurance.
Traveling is as expensive as you make it. There's always a sneaky buck or two that can be saved for your Barcelona trip costs. And how, you ask?
Don't pay for the tourist attractions: They're pretty enough from the outside and you can still get good enough photo proof to show your friends back home.
Pack a lunch: Don't be shy at the supermarkets. It'll save you, in the long run, to buy in bulk and add it to your daily snack boxes.
Buy the T10 ticket: Save on transport and think ahead. The T10 card will give you 10 tickets and you'll be paying $10 instead of $25.
Walk around: A lot of the main attractions are within walking distance from the city center. And with all the good weather in Barcelona, it would be a shame not to walk around the city.
Drink at the parks: Instead of drinking at a bar, buy a 6 pack and head to the park. It'll end up costing you half the price and it can sometimes be even more enjoyable.
Chill out on the beaches: One of the best ways to save money is by doing nothing at all. And you might as well do nothing at all on the white sandy shores, chilling out in the sun.
Have a water bottle: Don't waste money on plastic, bottled waters; carry your own and refill it in the fountains and the tap. If you're worried about potable water, get a filtered bottle, like the GRAYL, which filters out 99% of viruses and bacteria.
Earn money while you travel: Teaching English while traveling is a great way to make ends meet! If you find a sweet gig, you may even end up living in Barcelona.
Become a volunteer with Worldpackers: Give back to the local community and, in exchange, you're room and board will often be covered. It's not always free, but it's still a cheap way to travel in Barcelona.
A Barcelona itinerary can be expensive if you're treating yourself to lunches every day and getting involved with all the main tourist attractions. But it can be done cheaply, without being detrimental to your overall experience of the city.
Get a taste of the local cuisine by visiting markets, drink the local and affordable beers, and exploring the beautiful nature found in and around the city.
Save some bucks by thinking ahead and looking at some of the most convenient ways of getting around the city. Are you going to rent a bike for 3 days, or invest in a T10 card?
You can also buy your alcohol from a nearby convenience store and spend the evening drinking on your Airbnb's balcony. The options to save some money really are endless. So, how much does a trip to Barcelona cost for a weekend?
Well, let's take a look at what we think an average daily budget for Barcelona should be: let's say $40 a day, including accommodation for the real budget backpackers. And $120, including accommodation for those looking at doing it all in Barcelona. In our experience visiting the city several times in the past few years, these sorts of budgets should see you right!
---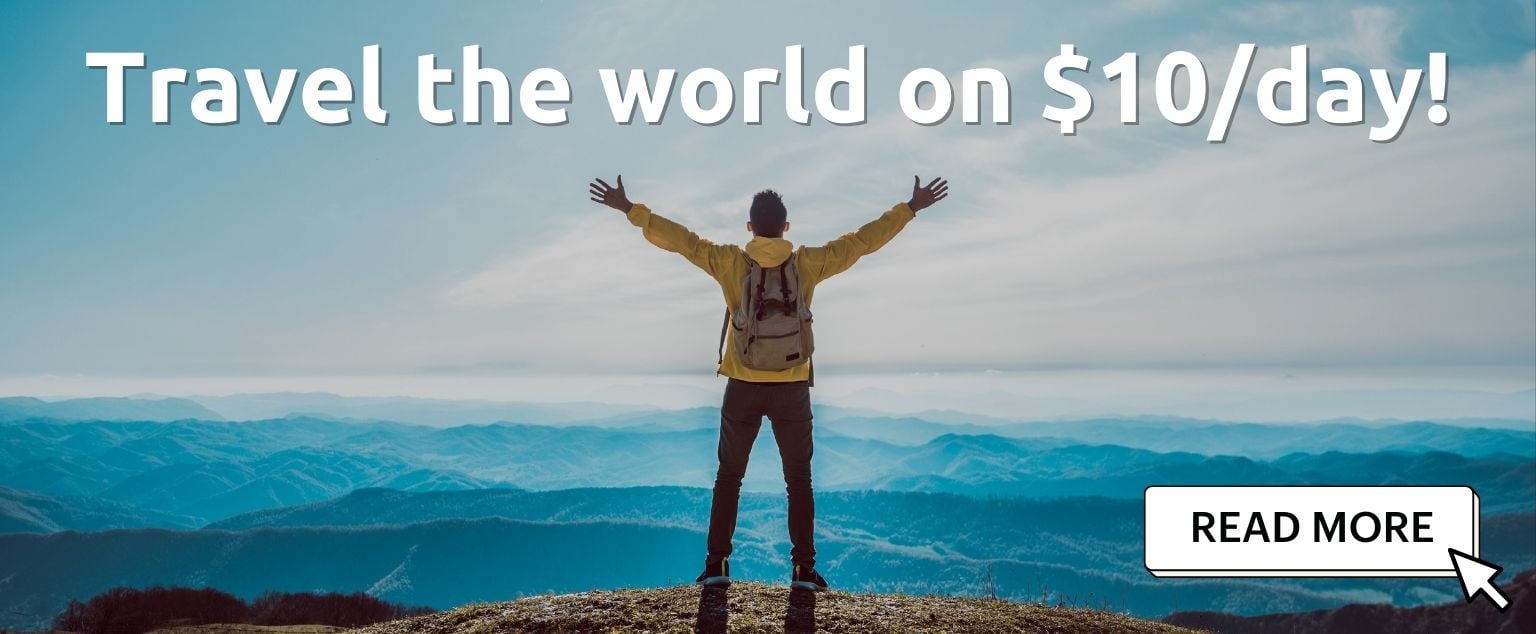 And for transparency's sake, please know that some of the links in our content are affiliate links. That means that if you book your accommodation, buy your gear, or sort your insurance through our link, we earn a small commission (at no extra cost to you). That said, we only link to the gear we trust and never recommend services we don't believe are up to scratch. Again, thank you!