Barcelona: home of hipsters, cava, big cathedrals, cool architecture, beaches and football. It's a vibrant city that you'll be instantly enchanted by and you'll want to be sure to explore every nook and cranny of this incredibly city.
Catch an FC Barcelona game at the Camp Nou, be left speechless my the majesty that is La Sagrada Familia, wander around the otherworldly Park Güell, stroll the rooftop of the Casa Batlló, get lost in the winding streets of The Gothic Quarter or be engrossed at any number of art museums… there's so much to do here that you won't be content with just visiting once!
With so many awesome attractions, knowing where to go and what to see can get tricky! To help ya'll out we've used our own experiences and some insider tips to compile this list of awesome, alternative and downright epic things to do in Barcelona.
We've combined some of the better known attractions with some hidden gems, so you'll get the most out of your Barcelona travel experience.

Unlock Our GREATEST Travel Secrets!
Sign up for our newsletter and get the best travel tips delivered right to your inbox.
Best Things to Do in Barcelona
With so many unforgettable places to visit in Barcelona, it can all feel a bit overwhelming, especially if time is short! Well, never fear because we've done the leg work for you and come up with a kickass list that you can use to plan the perfect trip.
There's so much to do, so be sure to plan out your Barcelona itinerary to make the most of your time!
Top Thing To Do
Top Thing To Do
See Gaudi's masterpiece.
You just can't miss the beauty of La Sagrada Familia, that first look when you step inside will leave you speechless!
Most Unusual Thing to Do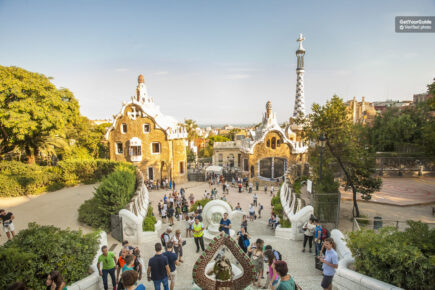 Most Unusual Thing to Do
Get lost in the surreal world of Park Güell
We've not finished with the Gaudi just yet, head over to this magnificent park to discover yet more wild and wacky masterpieces!
Best Thing to Do at Night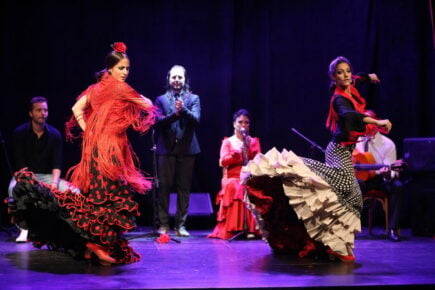 Best Thing to Do at Night
Be mesmerised by a flamenco performance
As the sun goes down, the tempo rises in Barca and what better way to experience the culture than at an intense flamenco show.
Most Romantic Thing to Do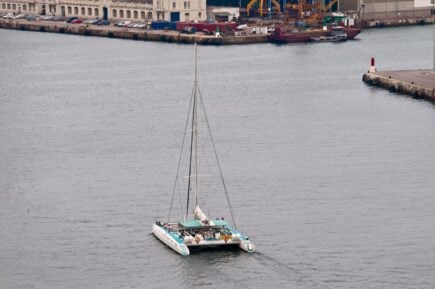 Most Romantic Thing to Do
Take a sunset cruise along the coast
Nothing says romantic like hitting the water with a glass of sangria in hand as the sun goes down.
Best Free Thing to Do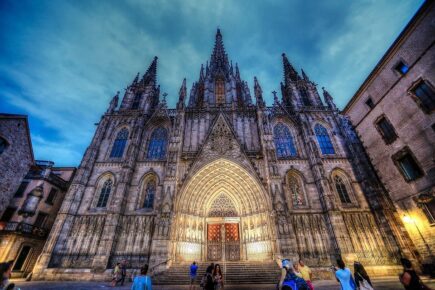 Best Free Thing to Do
Head up to the Bunkers del Carmel
Looking for a free view of the city, well the iconic but somewhat out of the way Bunkers del Carmel is the perfect spot to catch sunset with a view.
Wondering where to stay in Barcelona? Check out these epic hostels in Barcelona! No matter what kind of traveller you are, you'll love the incredible value they offer for just a small price!
1. Go on a Tapas and Wine Tour
Nothing quite says "welcome to Barcelona" like a food tour of the best tapas and wine in the city. Some of the best tours are organised by Tapas & Beer, who will take you to sample the best tapas in town and wash them down with cava, vermouth, and cerveza. If you're backpacking around Spain then this is a definate must try!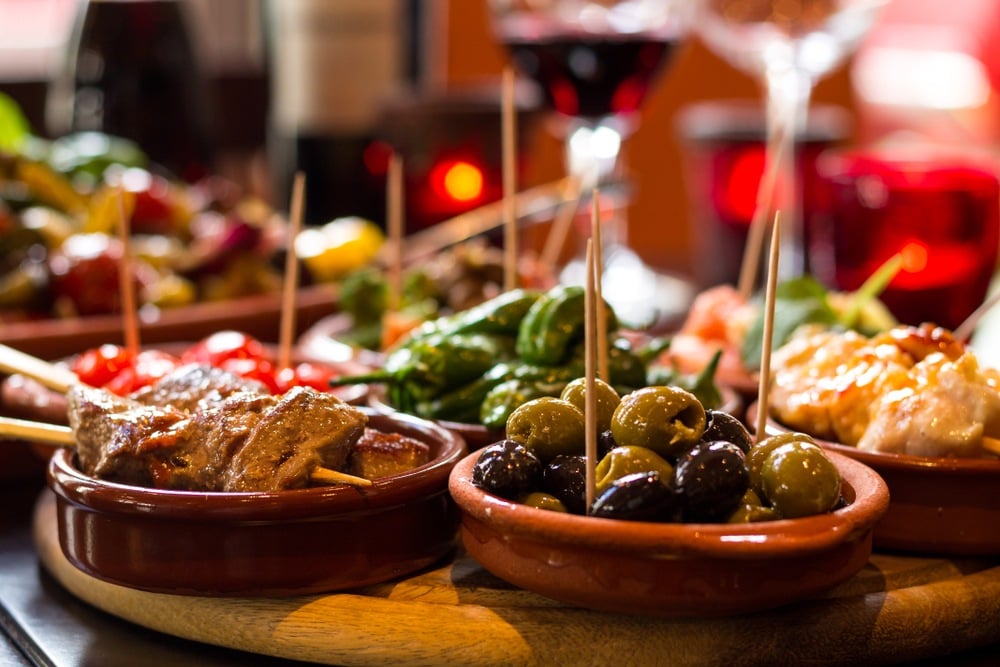 You also get to taste some craft beers and go on a 'hipster' bar crawl, which is always a good idea. You can find one of the best tapas and wine tours right here, to give you your first taste of classic Spanish delicacies.
El Born is a well-known district among Barcelonians. For them, it's like an oasis away from the overrun Gothic Quarter and hosts some of the best tapas restaurants in Barcelona.
El Born is a great place to go and spend the evening. You'll get to see a more authentic side of the city, and get to try some of the best food in Barcelona. We recommend checking out the pernil and formatge over at Bodega La Tinaja first. Then, have a beer on Passeig del Born.
The nightlight and food scene in El Born is great too, in fact, if you're looking for a low key but authentic evening out then this area is possibly the best in the city, it definitely blows Las Ramblas out of the water! A great way to see all the hidden gems in Barcelona is to get on a food and drink walking tour.
This houseboat has all you need for a unique and memorable stay in Barcelona. Sleeping up to four guests in two bedrooms, it's the perfect base for water lovers visiting the city.
The boat is just a 5-minute walk away from restaurants, shops, bars and city attractions. There's a fully equipped kitchen and bathroom on board, and guests will also have access to laundry facilities. There's also plenty of seating around the deck.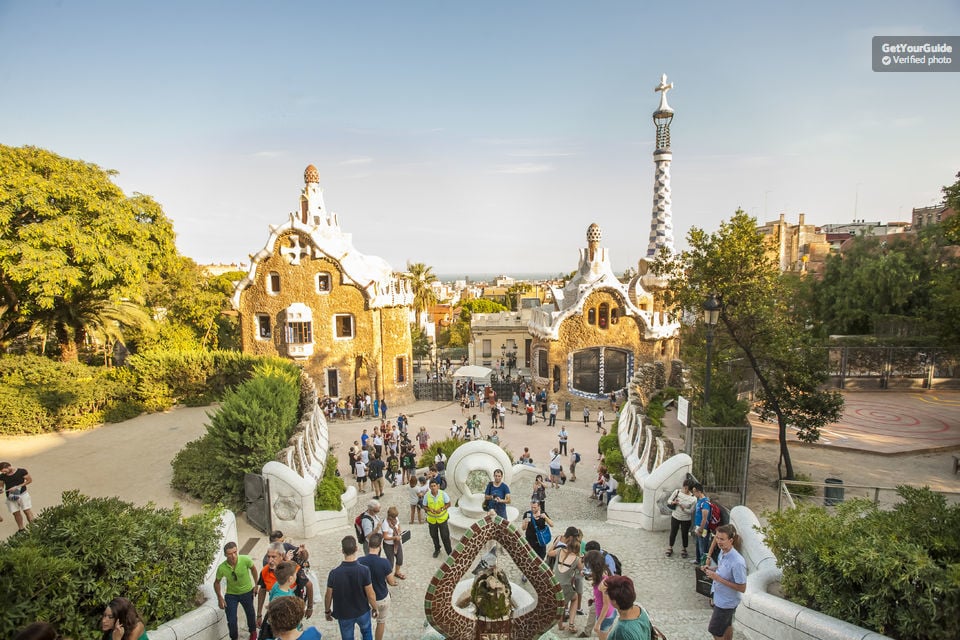 As far as awesome things to do in Barcelona go, having a wander around the surreal theme park of Park Güell is definitely a Gaudi-based highlight.
Since you don't want to be one of the tourists waiting in line to get their tickets (which can be up to 1200 at a time), you can make everything a lot easier by booking in advance. Skip the line and book an expert guide for a tour around the unique site here.
Entrance: €7-10
Hours: 09:30-17:30
Address: 08024 Barcelona, Spain
If you're into Paella, then this one's for you. Learn to cook it yourself from pro-chefs, who will teach you all there is to know about mastering this delicacy.
Not only will you learn to cook Paella, but you'll also be taken around La Boqueria market by the chef to pick out the best ingredients. Tapas and Sangria are included! This is a top-rated experience and definitely one to add to your list.
6. Explore the nightlife of El Raval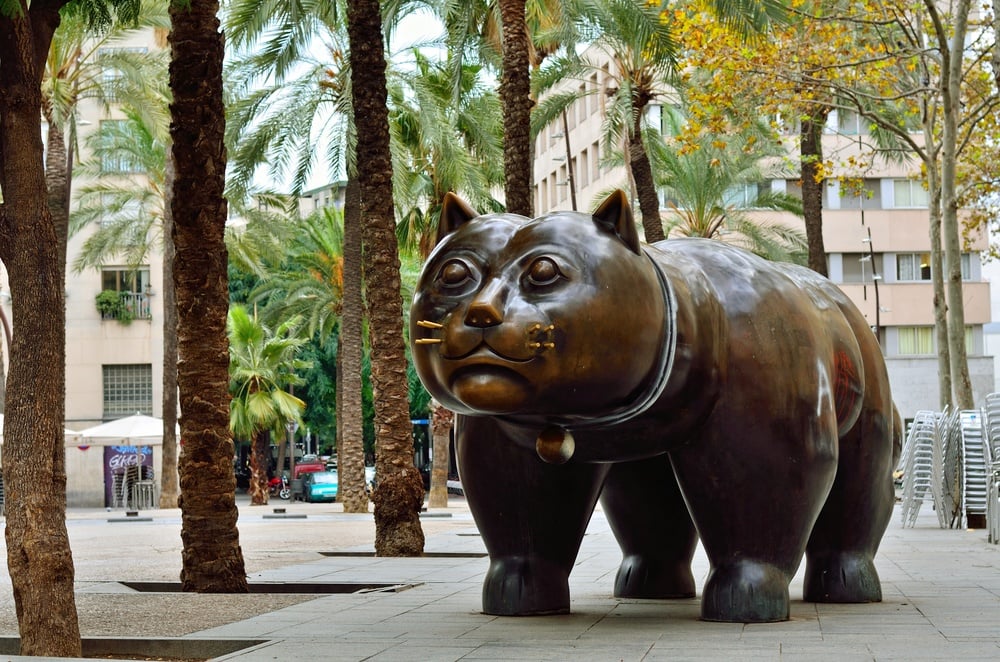 El Raval is well known for its buzzing nightlife and hosts some of the best things to do in Barcelona. Even if you don't go into any bar, just wandering around here gives you a feel for the lively nightlife on offer at El Raval. Staying out all night isn't hard to do here and it's a hell of a lot more enjoyable than Las Ramblas!
This place is known as 'Chinatown' – not because it's an actual Chinatown, but because back in the day it was thought that the area kind of looked like it should be a Chinatown. Fair enough.
Small Pack Problems? 😉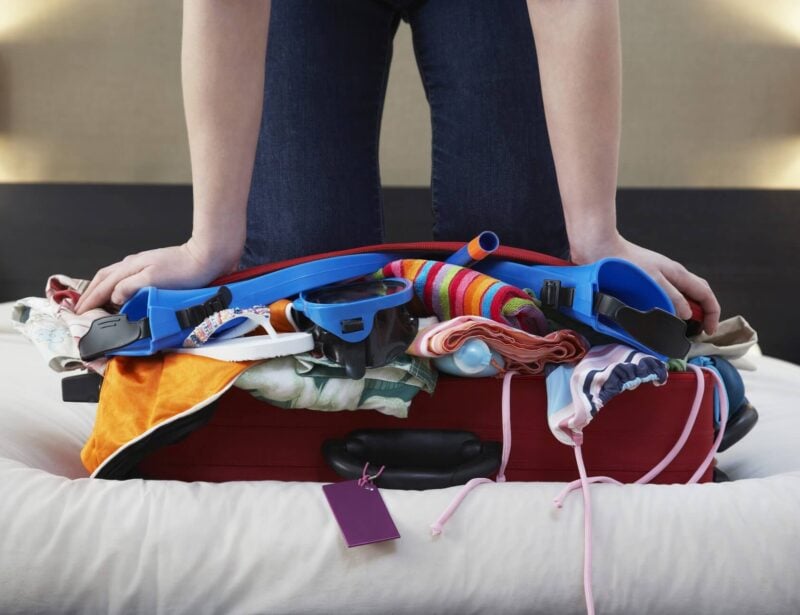 Wanna know how to pack like a pro? Well for a start you need the right gear….
These are packing cubes for the globetrotters and compression sacks for the real adventurers – these babies are a traveller's best kept secret. They organise yo' packing and minimise volume too so you can pack MORE.
Or, y'know… you can stick to just chucking it all in your backpack…
Get Yours Here
Read Our Review
Flower stalls, street food, tons of people-watching to crack on with, and a bunch of amazing old buildings like the Barcelona Cathedral (not to be confused with Sagrada Familia) to gawp at and photograph. Barcelona's Gothic Quarter – or Barri Gòtic in Catalan – is packed with things to see and it's pretty close to Las Ramblas too.
It's definitely very touristy, but it's a really beautiful part of the city that shouldn't be missed. If you just want to see the Gothic Quarter but don't want the crowds, coming early at around 9 am is your best bet. Another great way to see the area is by taking a walking tour, this way you will be sure to catch all the highlights as well as some lesser-known spots.
This is definitely one of those things that fits a laid-back-yet-frenetic Mediterranean backdrop! Tour the city and view Barcelona's famous beaches from your very own (rented) Vespa.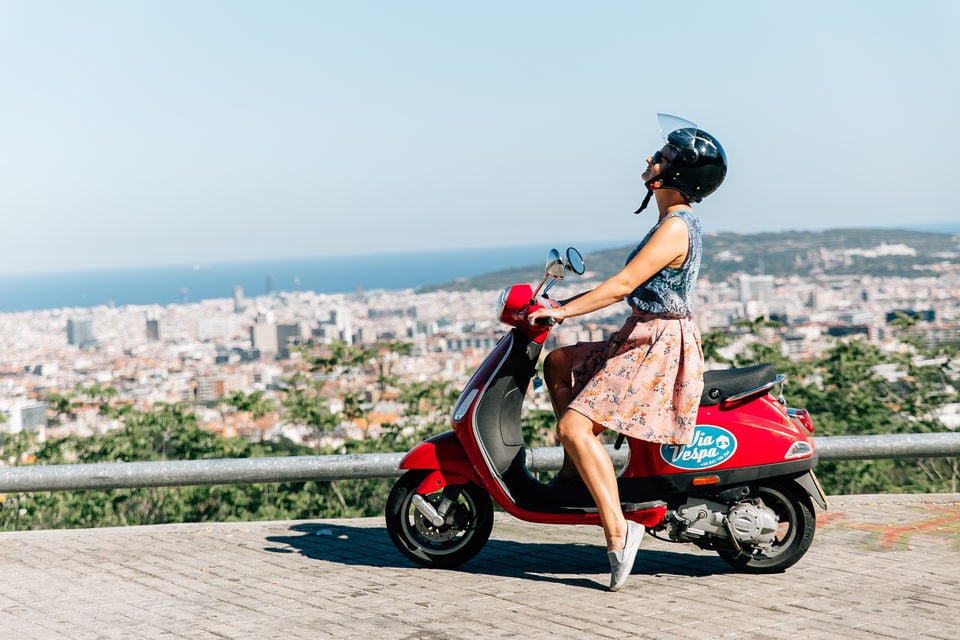 Renting a scooter in Barcelona and exploring the city's historic streets is a super fun activity in Barcelona, especially for couples. You'll almost feel like locals! The city centre might be a bit hectic but this is a great way to get out to some of the more local areas of the city. Also, places like Park Güell can be a bit awkward to get to so this is a great way to do that and see more at the same time.
Tip: the brighter the colour you choose, the more fun you'll have. Fact.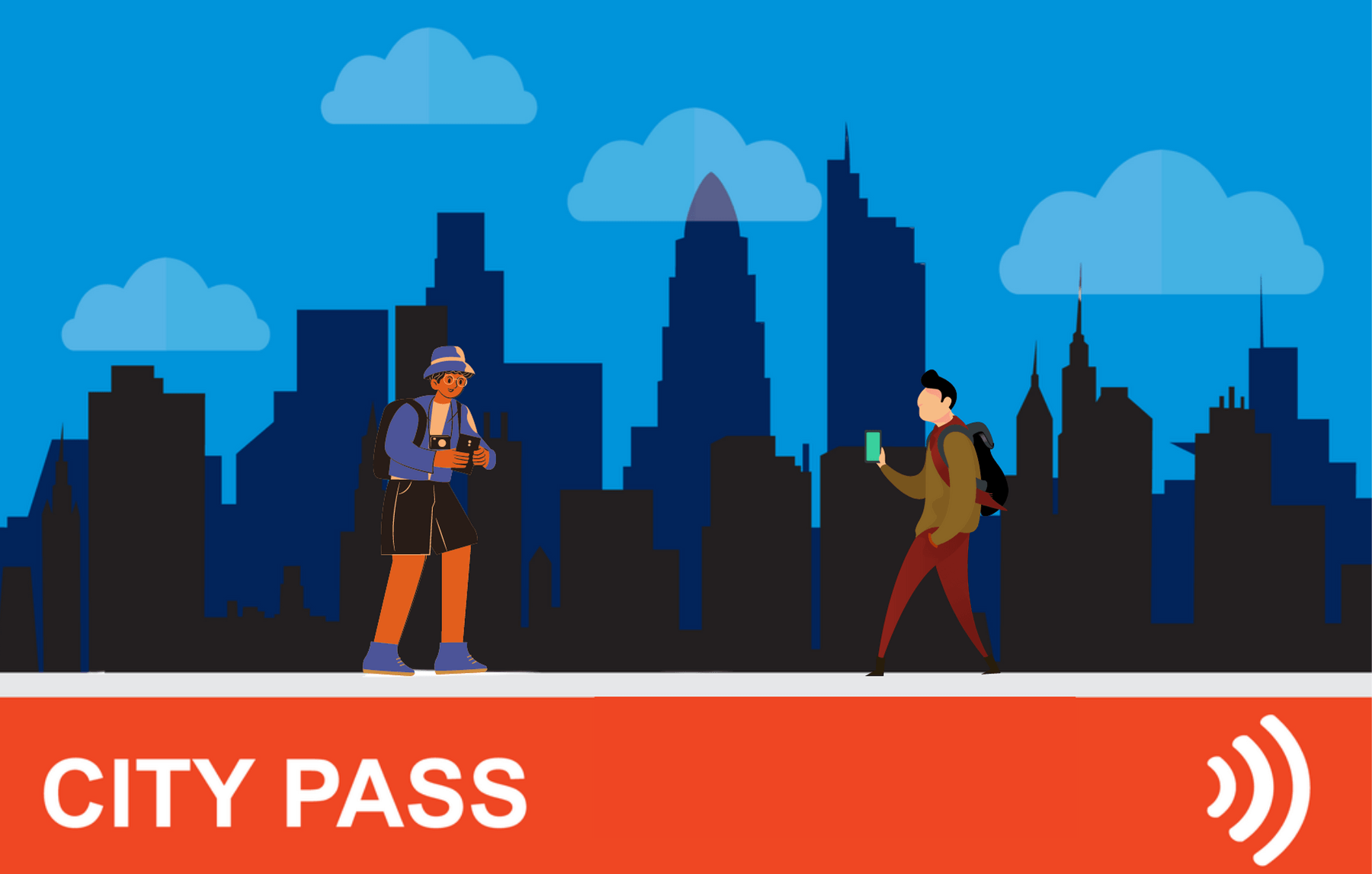 Travelling to Barcelona? Then plan yo' trip the smart way!
With a Barcelona City Pass, you can experience the best of Barcelona at the CHEAPEST prices. Discounts, attractions, tickets, and even public transport are all standards in any good city pass – be sure invest now and save them $$$ when you arrive!
Buy Your Pass NOW!
9. Explore La Boqueria market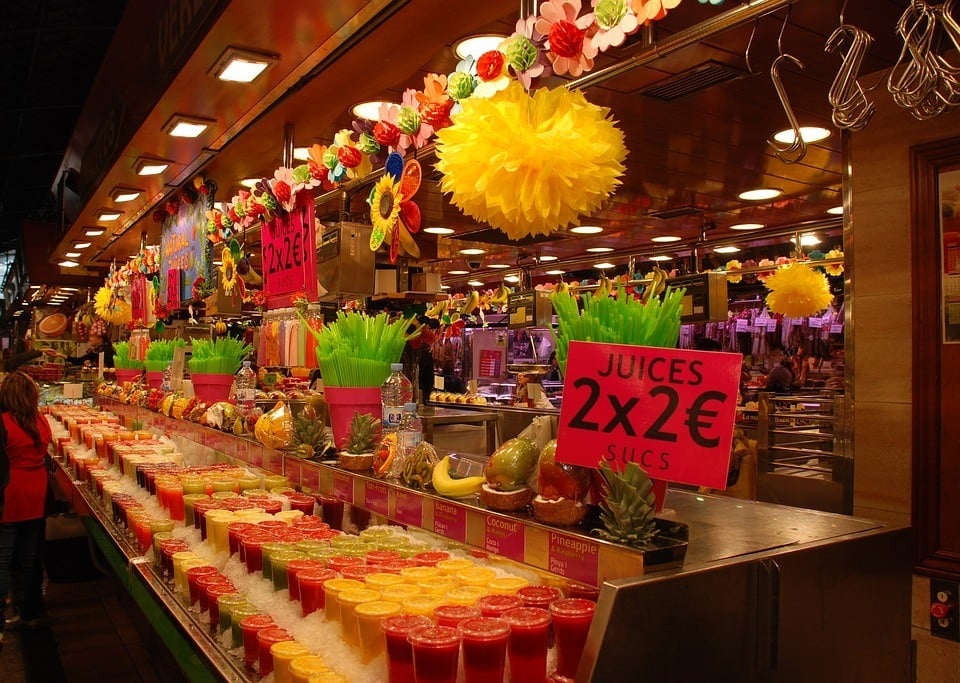 Wandering around a local market is a great way to get a feel for a place, and Barcelona is no different. The famous La Boqueria is literally packed with various local goods and specialities. It's been kicking about for 180 years and hasn't lost any popularity. Thankfully it's also super easy to visit as it's right in the heart of the city centre.
You might not need to actually pick up anything at the market, but wandering around watching the hustle and bustle is a great thing to do in Barcelona. They call it 'The Best Market in the World,' and it just might well be. Just try not to get ripped off if you do buy something.
Entrance: Free
Hours: 08:00-20:30 (Monday-Saturday)
Address: La Rambla, 91, 08001 Barcelona, Spain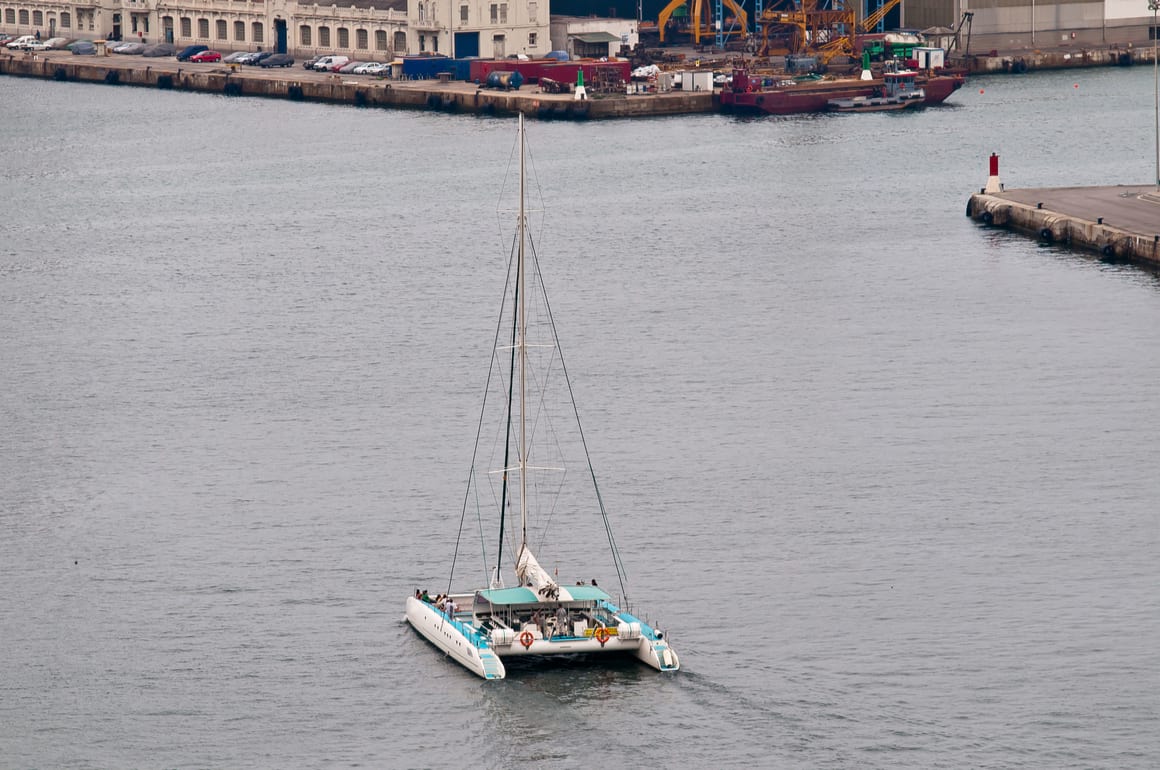 It'd be criminal to come to Barcelona and not experience the famous beach-side atmosphere. Hop on a catamaran and cruise up the coastline and soak in the other side of this incredible city. Better yet, take the trip at sunset for a truly unforgettable evening.
There are a few tours that do this, offering free booze and a BBQ, too. Of course, this also includes a splash and a swim in the Mediterranean and a spot of sunbathing. You can't go wrong with this trip, that's for sure.
Is This the Best Daypack EVER???
11. Be fascinated by La Sagrada Familia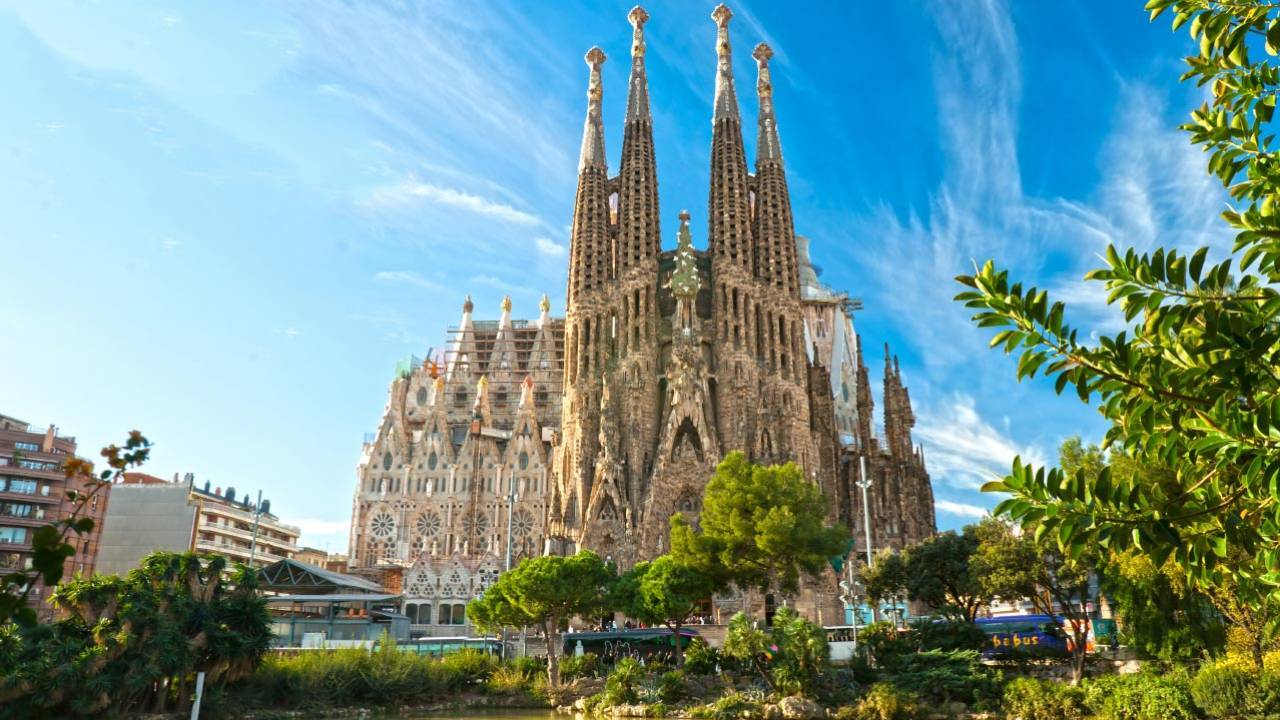 This may be one of the more 'common' places to go in Barcelona, but it really is a must. La Sagrada Familia is an architectural masterpiece and is Gaudi's most famous unfinished work. This UNESCO world heritage site will be sure to leave you awestruck.
Visiting Barcelona's most popular monument is cool, no doubt. But no one wants to spend ages standing in line. Luckily, you can make this experience way better by skipping the annoying tourist lines at the ticket counter. Don't waste your time, book your skip-the-line tickets and get the most out of your visit.
Tip: If you're looking for some lovely green space for which to take in the cathedral then nip across the road for a great view and also a reflection in the lake.
Entrance: €22-29
Hours: 09:00-19:30 (Saturday-Sunday)
Address: Carrer de Mallorca, 401, 08013 Barcelona, Spain
12. Witness the crazy castellers at work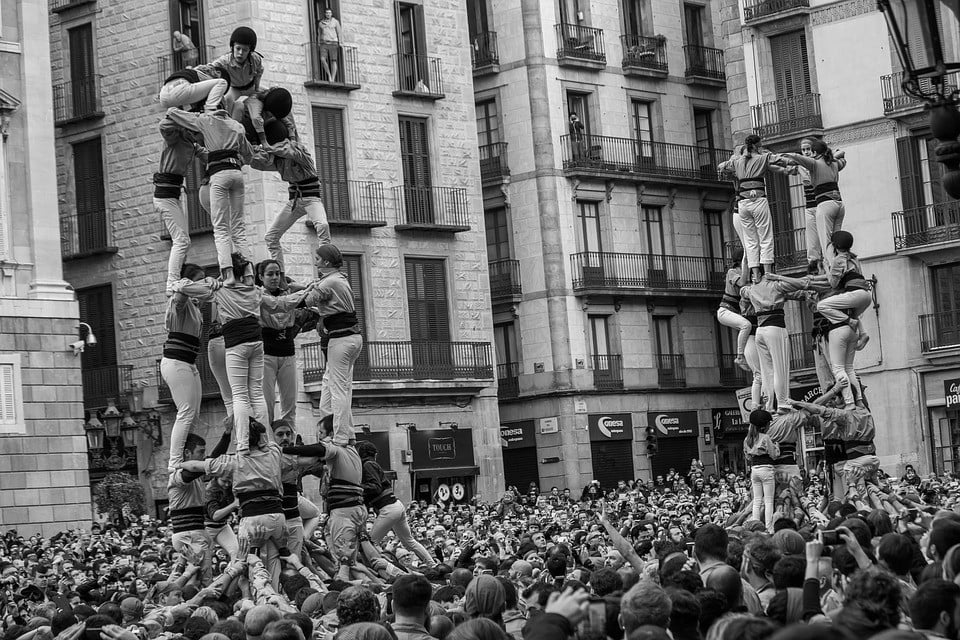 This is an utterly crazy 200-year-old Catalan tradition, and we love it. Castells are 'castles' made of humans. Without the aid of cranes or anything like that, Castellers climb up on top of each other to make these impressive structures.
It's definitely one of the most interesting, if not unusual, things to do in Barcelona. It usually takes place at festas (Catalan for 'fiesta'), usually in summer.
13. Sit and reflect at the Plaça de Sant Felip Neri
Plaça Felip Neri is an atmospheric little square in the Gothic Quarter. The past is evident; the church is pockmarked with bombs dropped by Fascist forces on the square during the Spanish Civil War in 1938.
Today, it's got a solemn and calmer feel to it compared to the rest of Barcelona. It's a nice place to come and sit, especially when the buskers are around and you'll feel a million miles away from the busy city centre and is a great antidote to places like Plaça de Catalunya.
Entrance: Free
Hours: Open 24 hours
Address: Plaça de Sant Felip Neri, 08002 Barcelona, Spain
14. Pub crawl: Barcelona style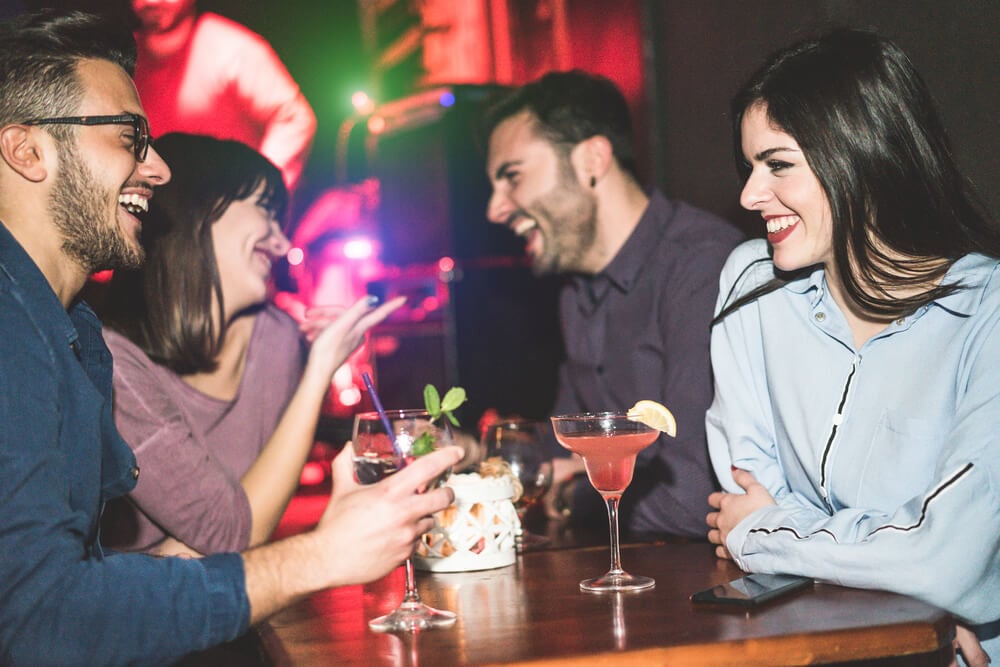 Everyone loves a pub crawl – especially with some new mates from your hostel. So, grab everyone and get yourself on a backpacker pub crawl around Barcelona.
It's not just El Raval that makes this city a great place to turn up when the sun goes down – Barcelona is a pretty party-friendly city. Drinking on the streets is allowed, and is a great way to end the evening (if you're don't end up in a club).
Travel with peace of mind. Travel WITH a security belt.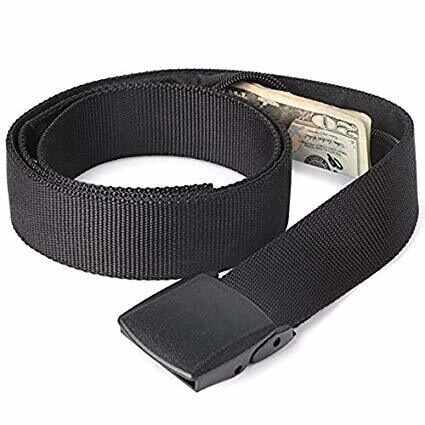 Stash your cash safely with this money belt. It will keep your valuables safely concealed, no matter where you go.
It looks exactly like a normal belt except for a SECRET interior pocket perfectly designed to hide a wad of cash, a passport photocopy or anything else you may wish to hide. Never get caught with your pants down again! (Unless you want to…)
Hide Yo' Money!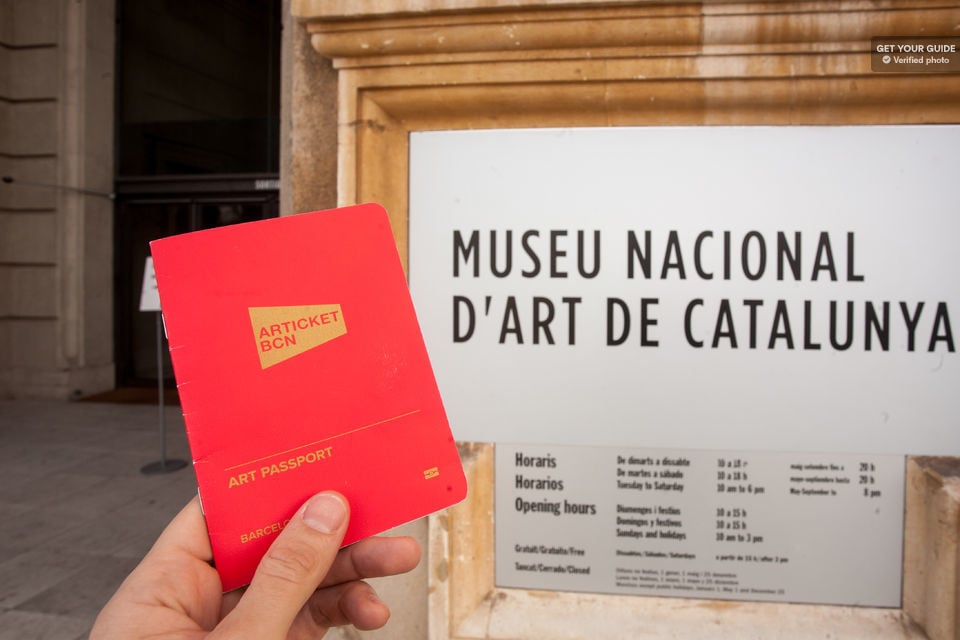 This one ticket will get you into six of Barcelona's foremost cultural establishments, it's an absolute bargain and is valid for up to three months after your first museum visit.
There's the cool Centre de Cultura Contemporània de Barcelona; Fundació Joan Miró; Museu Nacional d'Art de Catalunya (MNAC); Fundació Antoni Tàpies; Museu d'Art Contemporani de Barcelona (MACBA); and the Picasso museum. If art and culture is what you're into, then this ticket is an absolute must for your trip to Barcelona.
16. Walk down Barcelona's famous La Rambla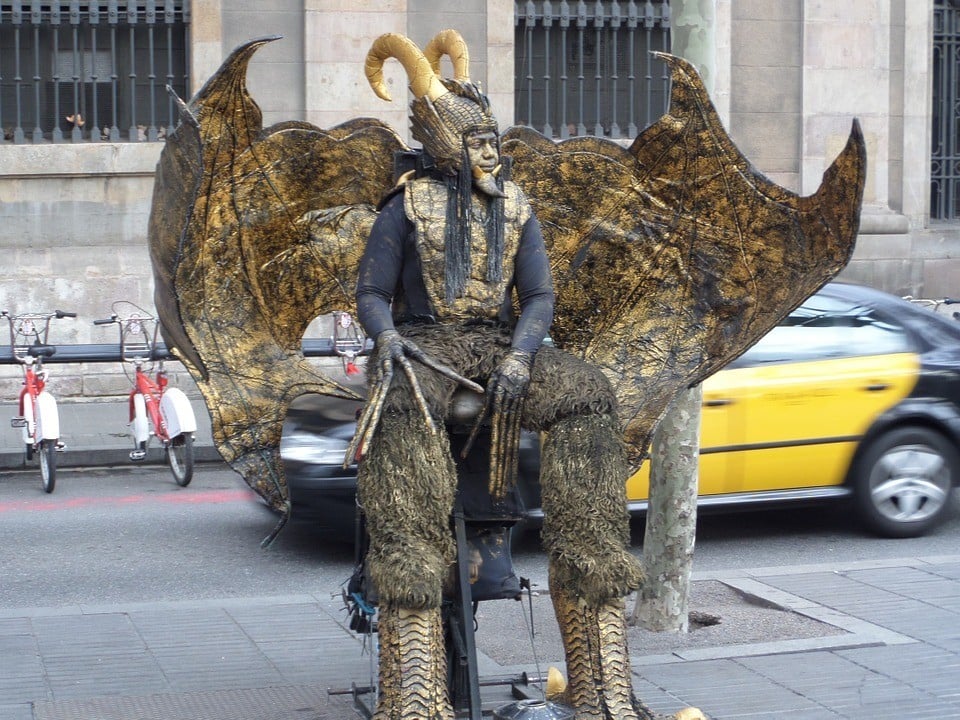 EVERYBODY knows about La Rambla, but that doesn't mean it ain't an awesome thing to do in Barcelona. If you're not familiar with it, Las Ramblas is a really long street – more like an outdoor mall – that splits the Gothic Quarter from lively El Raval between Plaça de Catalunya and the Columbus Monument.
There's shops, bars, restaurants, and all sorts – it's also extremely popular with tourists, but it's all about the atmosphere. Be aware that its popularity makes it a prime spot for pickpockets, so make sure to keep your personal belongings safe.
17. Visit the Temple Expiatori del Sagrat Cor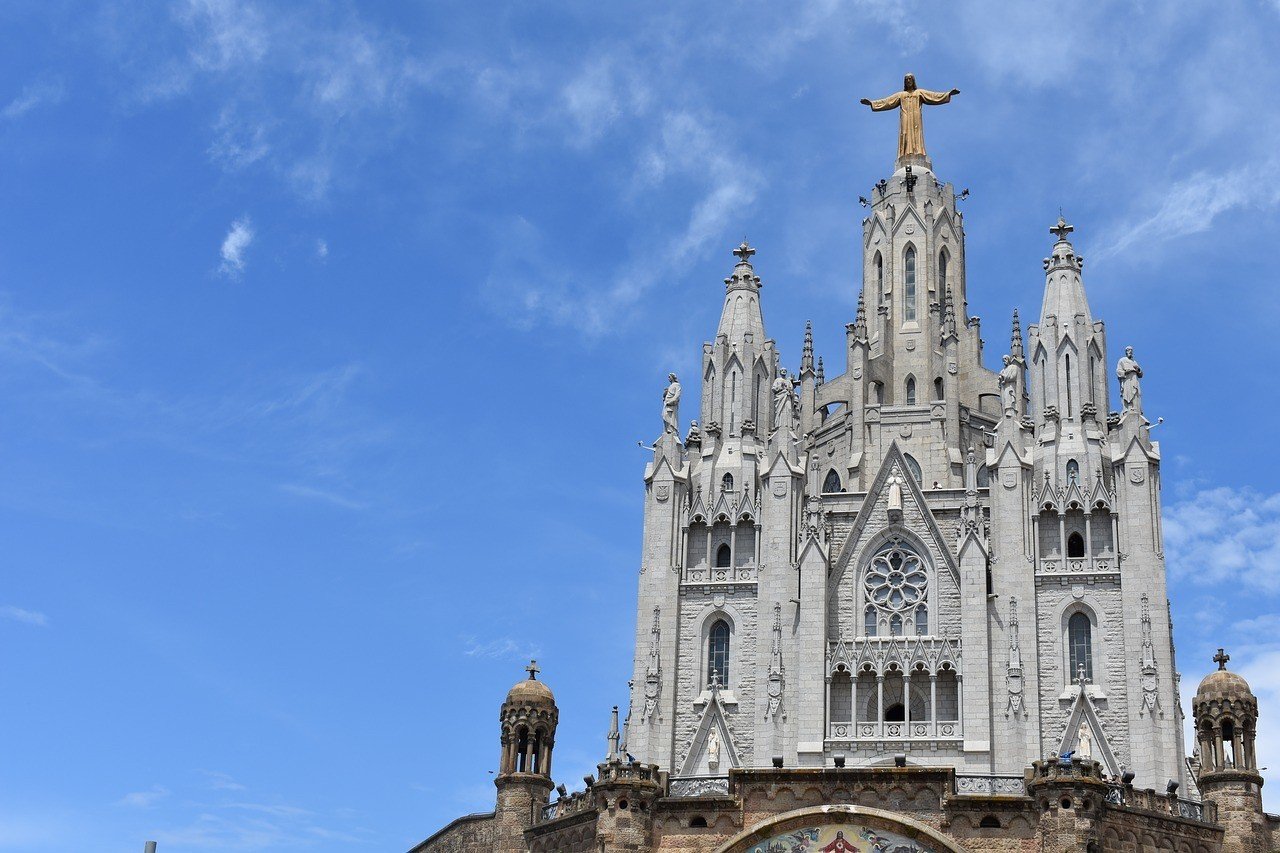 When you're in Barcelona, you may notice an enormous building located on the hills far behind the city. It stands over and watches over Barca, much like the Cristo Redentor in Rio de Janeiro.
That structure in the distance is called the Temple Expiatori del Sagrat Cor. It's located right next to the Tibidabo amusement park, which is a bit of an interesting juxtaposition. The view from this temple are some of the best you can get in Barcelona, so it's absolutely worth the trip.
Entrance: Free
Hours: 09:00-13:00, 16:00-20:00 everyday
Address: Ctra. de Vallvidrera al Tibidabo, 111, 08035 Barcelona, Spain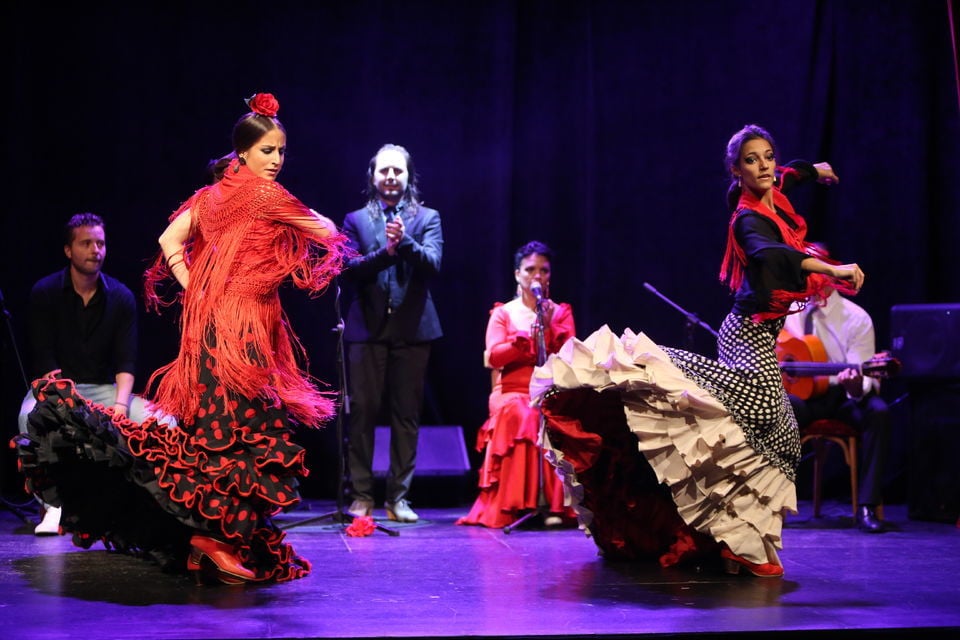 Flamenco is pretty Spanish, so catching a flamenco show whilst you're in the country sounds like an epic thing to do whilst visiting the country, right!? Well, you can catch one of these at Barcelona's 19th-century City Hall Theatre. Not only is it a great place to watch flamenco, but you can also party here after the show; it's a well-known venue for club nights!
Keep in mind: There are only three shows in the evening, so be quick to book your tickets!
19. Knock out 3 countries in one day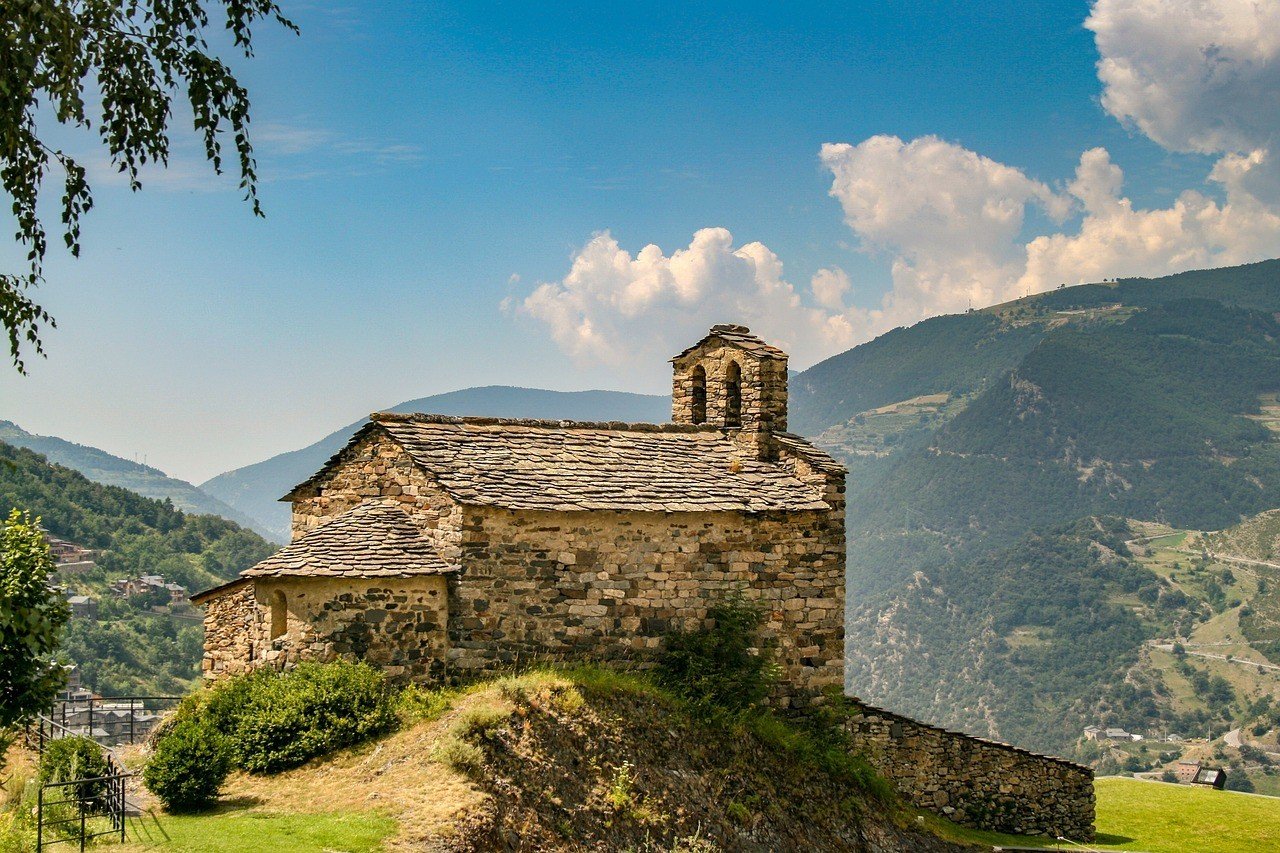 It may sound like a bit of a handful but you can totally accomplish this feat in the course of a day! However, you may need to enlist the help of a local tour guide to expedite the process, as they'll be able to show you the local sights and not waste any time!
You'll obviously have to travel further out of the city, but this really is a rewarding day trip from Barcelona if you have the time. Keep an eye out for Andorra, it's a low tax area making it one of the cheapest places to shop in Europe!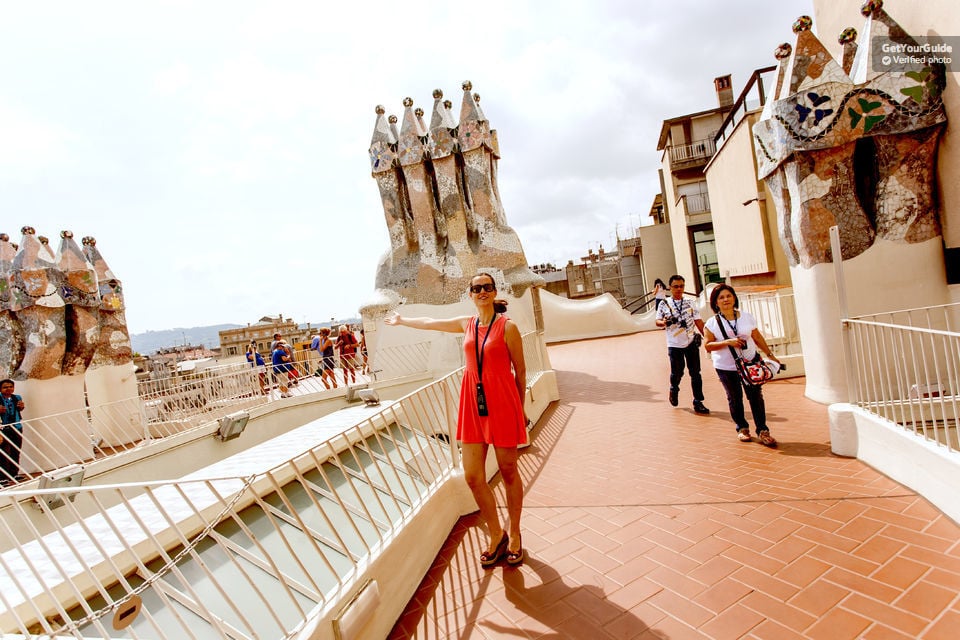 A literal dream of ours is to wander around museums before (or after) their opening times. Sort of like Night at the Museum but with less Ben Stiller and more quiet contemplation and Casa Batlló would be the perfect spot for a late-night peruse.
So how about an early-bird tour of another Gaudi masterpiece? Casa Batlló is known locally as Casa dos ossos ('House of Bones') because it literally looks like it is made of bones. You'll be able to visit without tourist crowds, giving you time to really admire the artwork which is what it's all about really!
Entrance: €25
Hours: 09:00-21:00
Address: Passeig de Gràcia, 43, 08007 Barcelona, Spain
21. Soak up a sundowner from Bunkers del Carmel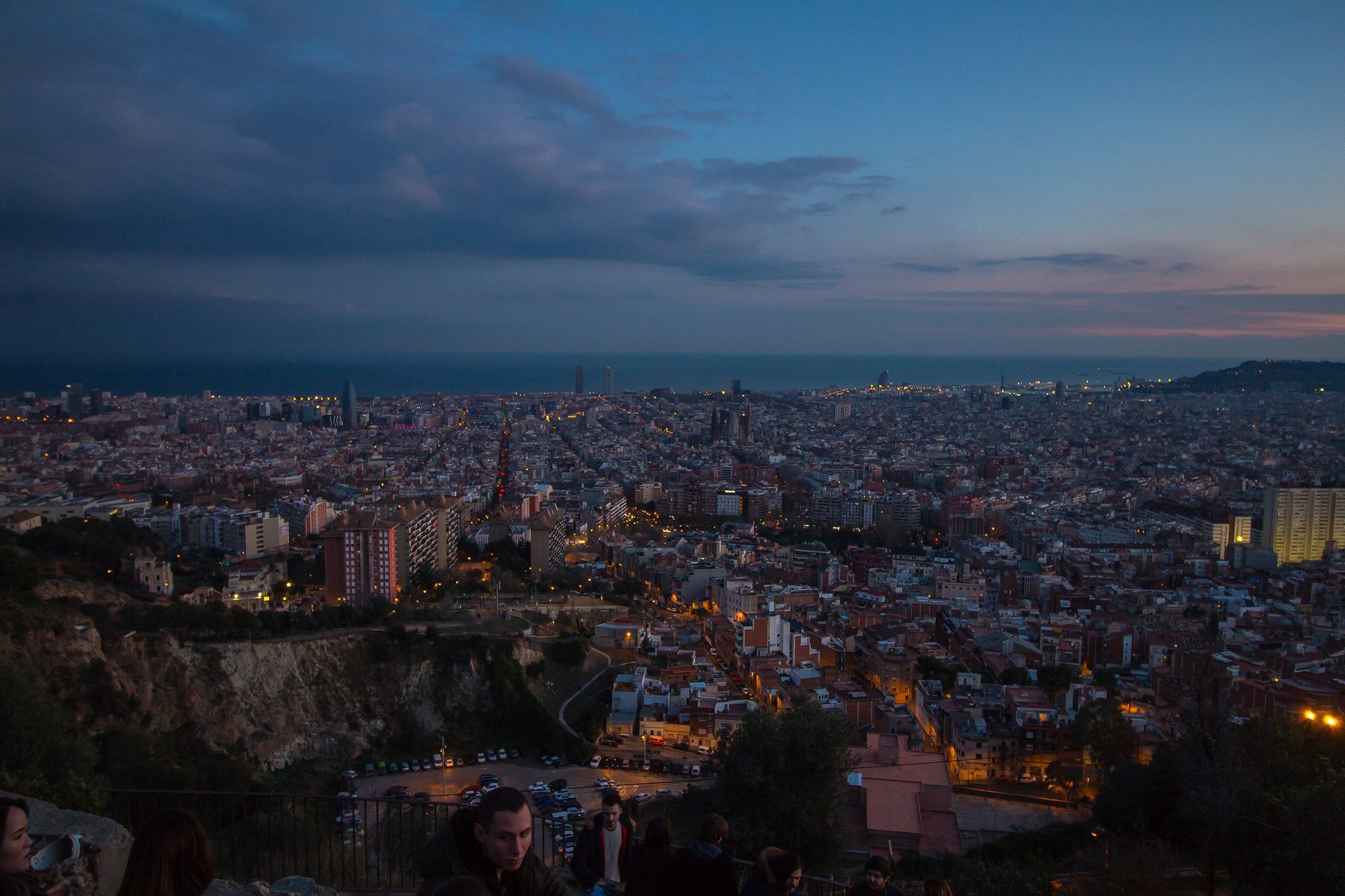 Follow the locals and head up to this little gem – a relic of the Spanish Civil War – around sunset. What you'll get is a 360-degree view of the city, with a cosy atmosphere or people drinking and chatting.
We're not exaggerating here, but the view of Barcelona is an iconic one. You can see the boulevards cut through the carpet of architecture below and the ocean in the distance, making it look like a picture-perfect model town. It's the perfect thing to do on your last night in the city. Bring snacks, beer, and relax.
Entrance: Free
Hours: Open 24 hours
Address: Carrer de Marià Labèrnia, s/n, 08032 Barcelona, Spain
22. Enjoy a round at Bar Marsella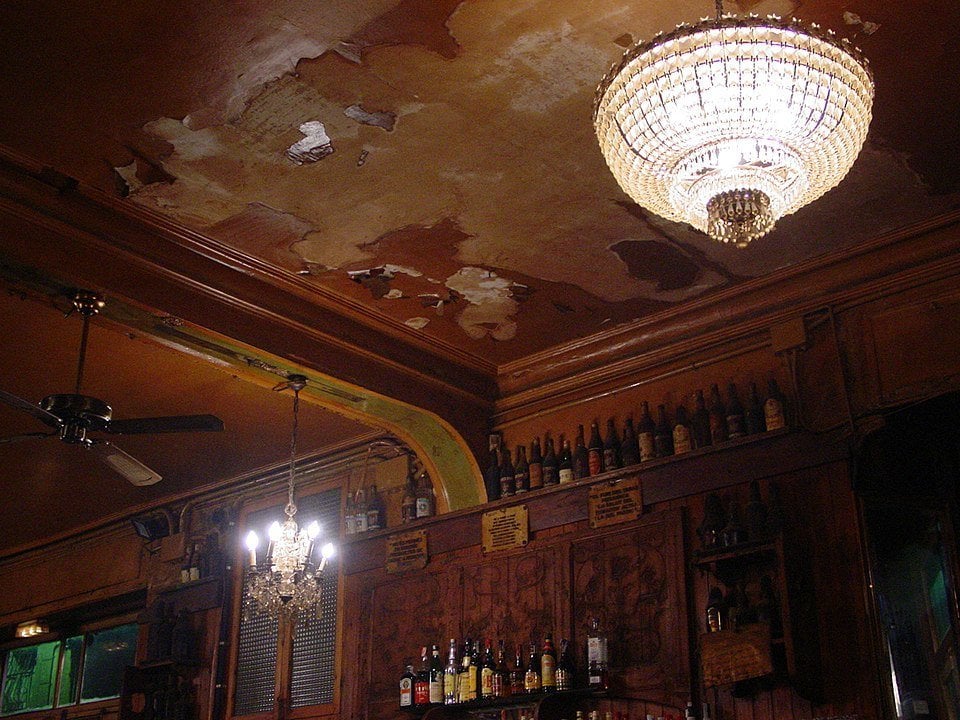 Bar Marsella is the oldest bar in Barcelona (circa 1820) and has likewise played host to a load of big names, including Hemingway and Picasso.
Needless to say, it looks how you'd expect an absinthe bar to look inside: wood panels, gold, mirrors – it's 100% Old World. If you fancy a hit, ask the bartender for an absenta. If you prefer your drinks with less wormwood, try local gin La Tribute and house tonic.
Entrance: Free
Hours: 18:00-24:00 (Tuesday), 18:00-01:00 (Thursday-Monday)
Address: Carrer de Sant Pau, 65, 08001 Barcelona, Spain
23. Pay a visit to the Cementiri de Montjuïc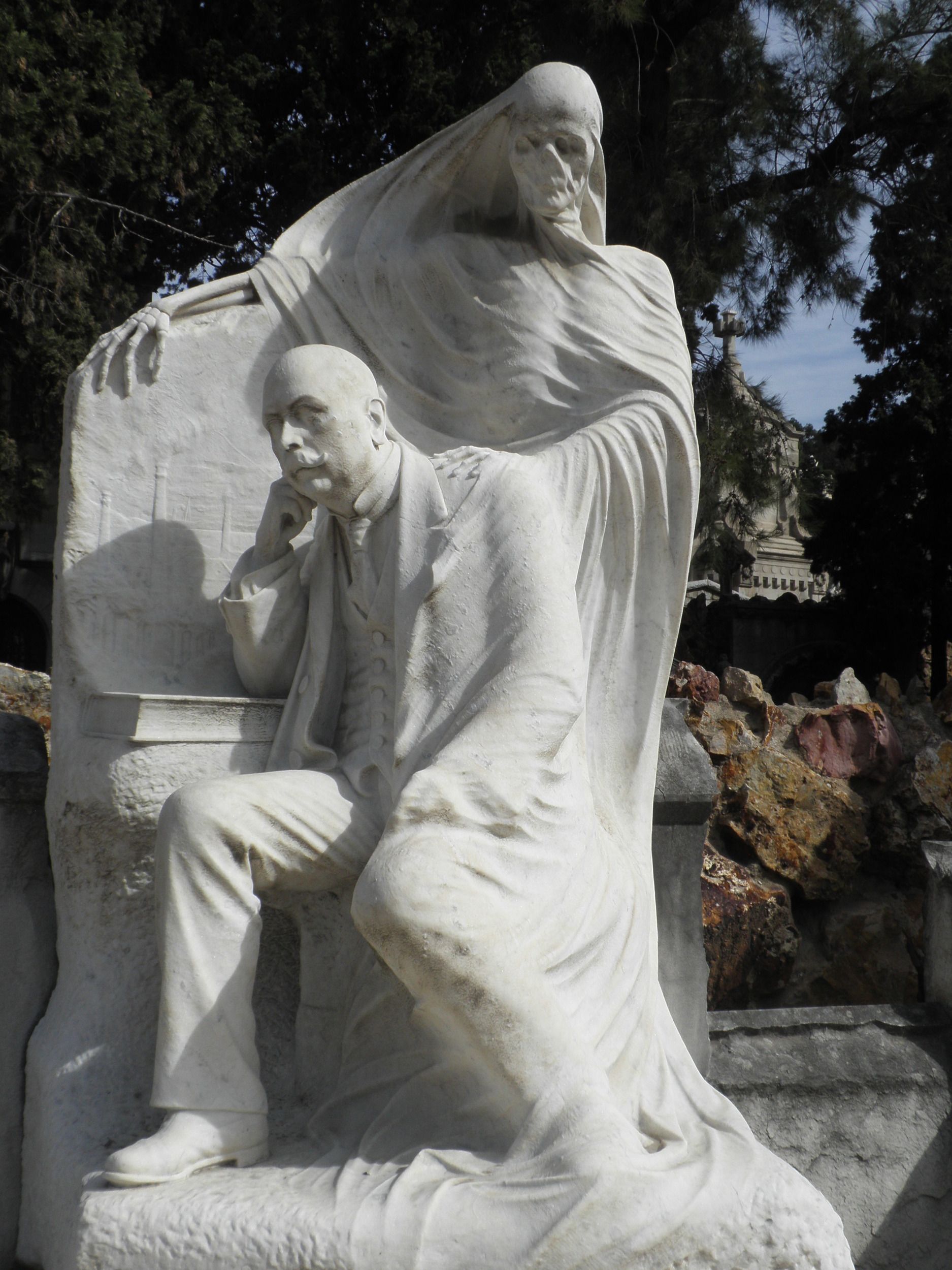 One of the most unique things to do in Barcelona is to visit the Cementiri de Montjuïc. The statues and crypts found here are extremely powerful and hauntingly detailed and feature some incredible pieces.
Keep in mind that, for potentially obvious reasons, the cemetery isn't a 'tourist attraction'. It's important to stay respectful while you're there and leave everything exactly how you found it.
Entrance: Free
Hours: 08:00-18:00
Address: Carrer de la Mare de Déu de Port, 56, 58, 08038 Barcelona, Spain
24. Visit the anti-Sagrada – Basílica de Santa Maria del Mar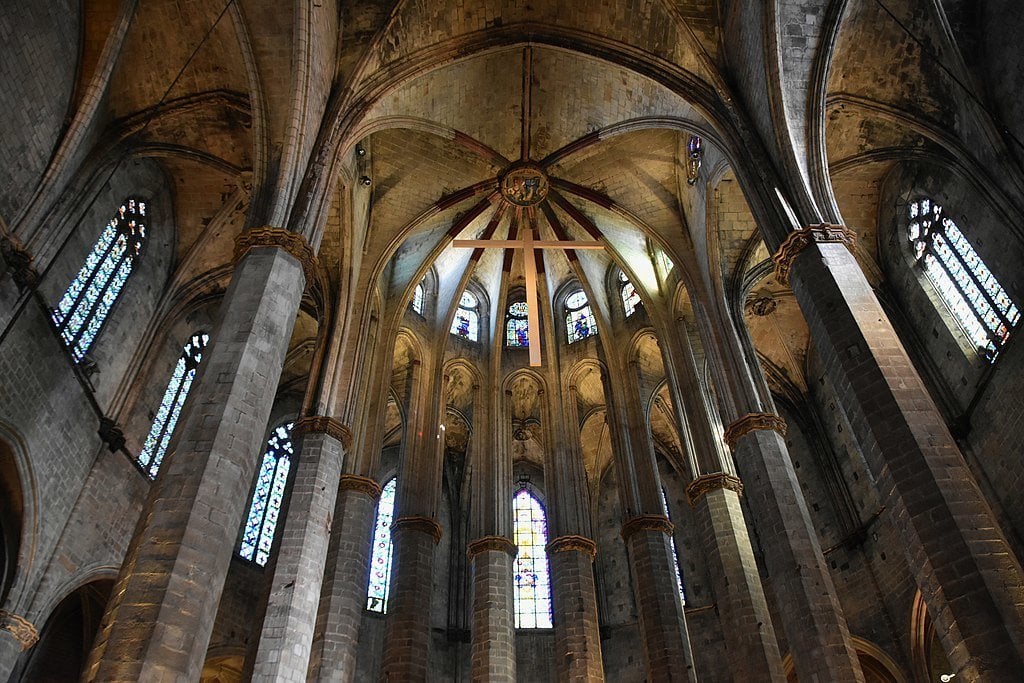 El Born also hosts another of Barcelona's beautiful churches. The Basílica de Santa Maria del Mar is actually the preferable place of worship among Catalonians for a couple of reasons.
Santa Maria del Mar is a Gothic masterpiece – one of the most spectacular in Europe. Better yet, this church is less busy than the Sagrada (although it can still get busy at times).
Entrance: €8.50-10
Hours: 09:00-13:00, 17:00-20:30 (Monday-Saturday), 10:00-14:00, 17:00-20:00 (Sunday)
Address: Plaça de Santa Maria, 1, 08003 Barcelona, Spain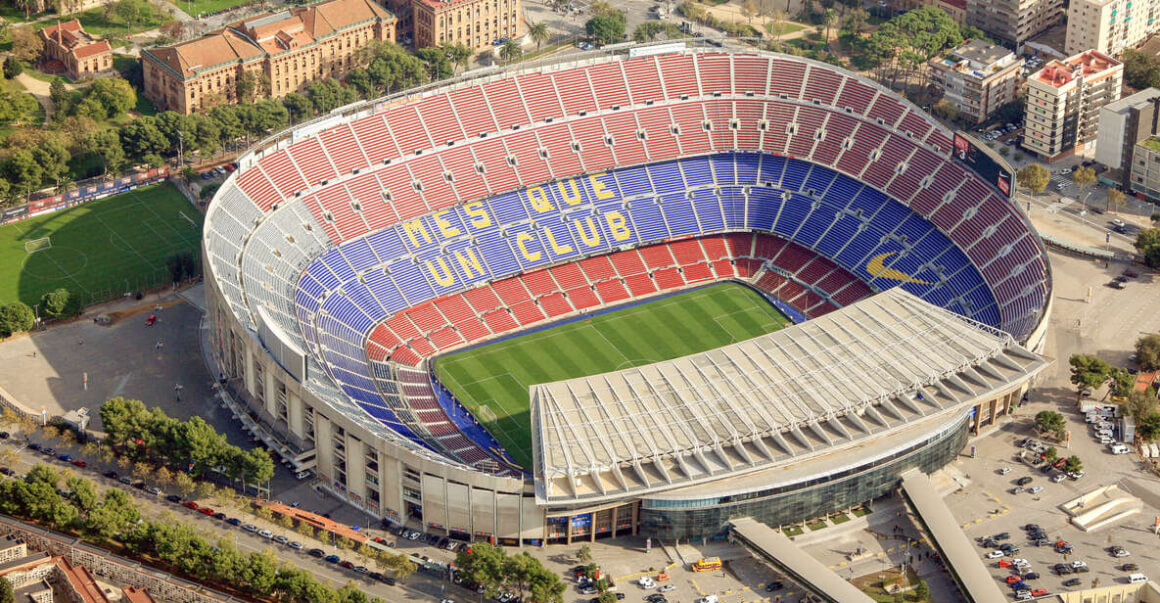 Football here is a religion, in fact, maybe more important than a religion (and that's saying something in this devoutly Catholic country!). A visit to Barcelona wouldn't be complete without visiting the cauldron-like stadium of FC Barcelona. This legendary venue has played host to the likes of Messi, Iniesta and Maradona. If you're a football fan then the Camp Nou is a mecca of the game.
If you happen to be able to catch a game then you're in for a truly spectacular experience at the Camp Nou, the sound levels and electric atmosphere will be something you will never forget. If not, don't worry, there's a great stadium tour available at the Camp Nou that gives you great access to the stadium and the museum.
Entrance: €26 – €119
Hours: Monday – Saturday 10 am to 6 pm. Sundays 10 am to 3 pm
Address: C/Arístides Mallol 12 (main Access 15) and Av. De Joan XVIII ( Boulevard Access 9), 08028 Barcelona.
Where to Stay in Barcelona
Airbnbs in Barcelona tend to be on the pricier side, but this apartment is an absolute steal for the price! Sleeping up to 5 guests in 3 bedrooms, the flat is spacious, bright, and central.
You'll get a great view of the Sagrada Familia from the shared rooftop terrace, and free WiFi included in the apartment. You'll be close to cafes, bars and restaurants, but there's a fully equipped kitchen if you fancy staying in.
This is one of the best hostels in Barcelona, and has won a number of rewards to show for it! It's our top pick for solo travellers as it's a really friendly place to meet loads of new people.
The hostel also provides free dinner every night and organises bar crawls for every day of the week.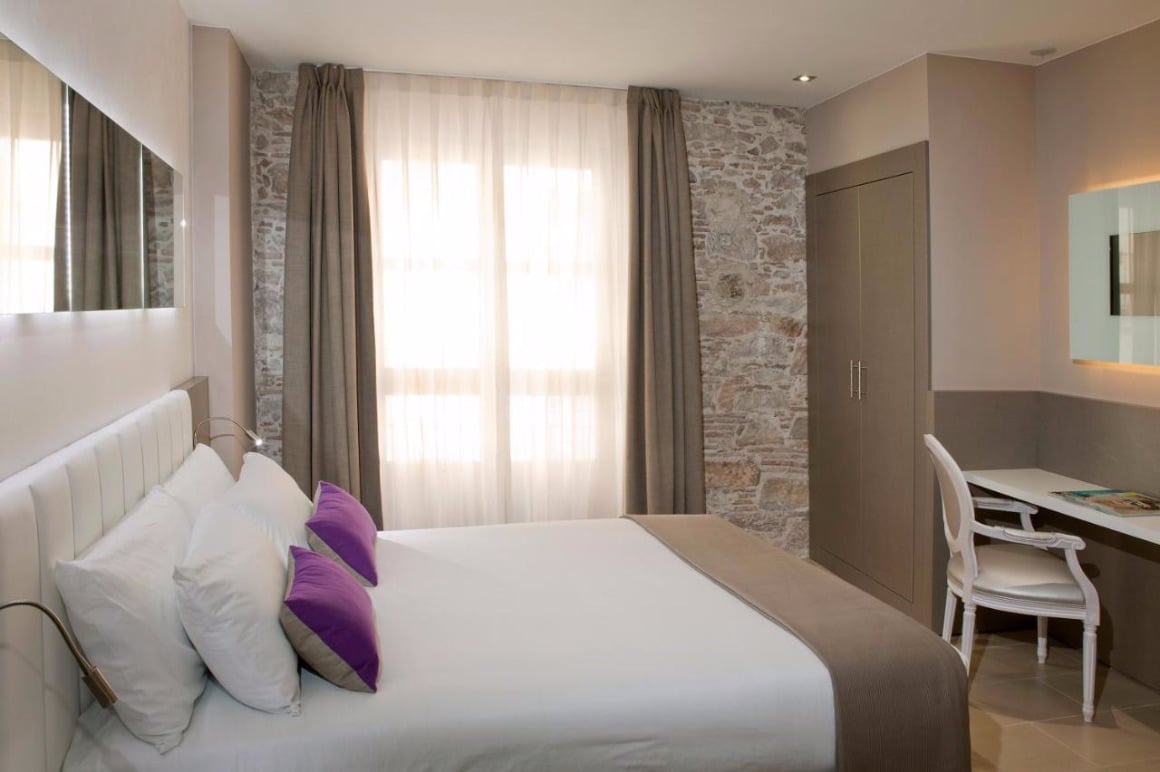 Musik Boutique Hotel is situated right in the centre of El Born, close enough to bars and restaurants while being in a peaceful location.
The hotel is modern and chic, and there's a stylish on-site lounge for you to relax in.
Some Additional Tips for Visiting Barcelona
Barcelona is one of Spain's most expensive cities. An average daily spend for backpackers is $60 (including accommodation), so make sure to budget accordingly.
Walk everywhere – it's a great way to see the sights and save money at the same time. If you can't, there are plenty of travel cards available.
Be aware of pickpockets. Barcelona is a safe destination to visit, but the level of petty crime has increased significantly in recent years. Plaça de Catalunya and Las Ramblas are particular hotspots.
Visit museums on Sundays. Most museums offer free entry on Sunday's between 3 and 8pm.
FAQ on Things to Do in Barcelona
Here are some quick answers to common questions about what to do and see in Barcelona.
Don't forget your travel insurance for Barcelona
ALWAYS sort out your backpacker insurance before your trip. There's plenty to choose from in that department, but a good place to start is Safety Wing.
They offer month-to-month payments, no lock-in contracts, and require absolutely no itineraries: that's the exact kind of insurance long-term travellers and digital nomads need.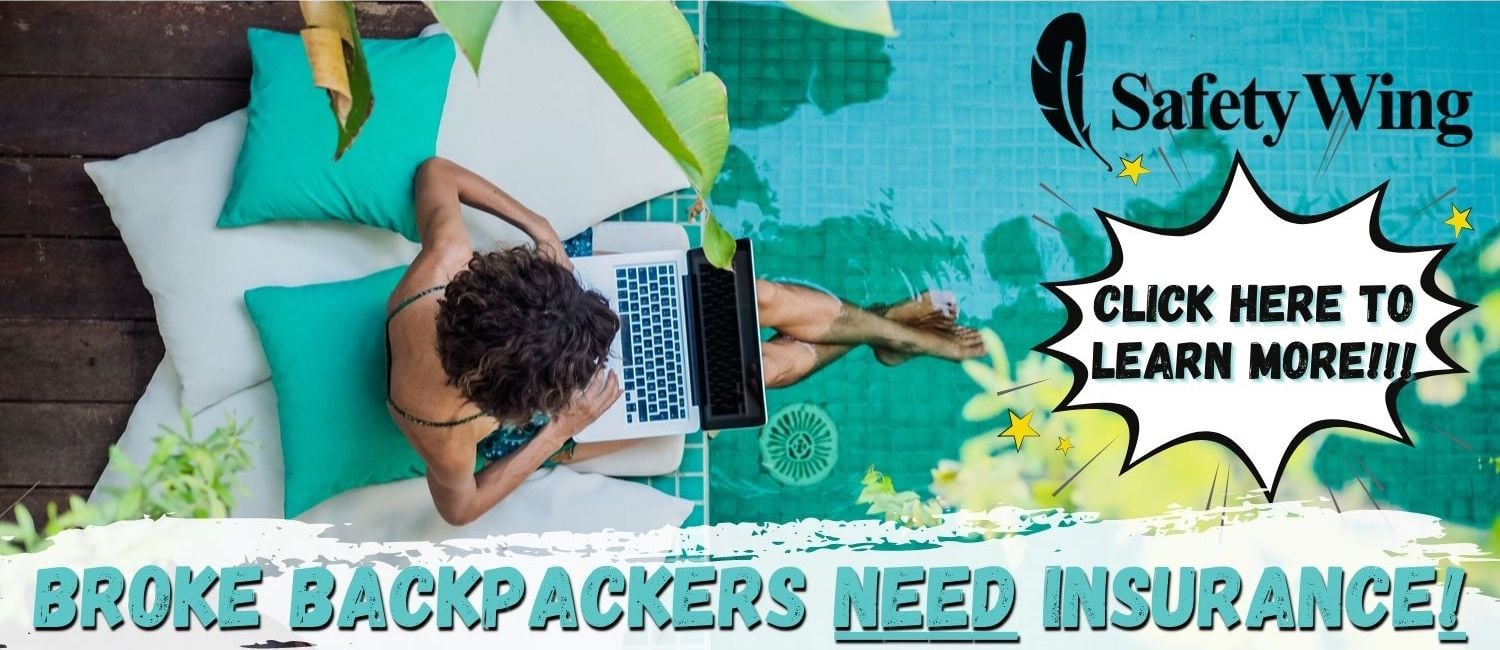 SafetyWing is cheap, easy, and admin-free: just sign up lickety-split so you can get back to it!
Click the button below to learn more about SafetyWing's setup or read our insider review for the full tasty scoop.
Conclusion
Backpacking Barcelona should definitely be on everyone's bucket list, but there are always attractions that fall through the cracks. If we missed your favourite activities in Barcelona, please leave a comment in the section below!
Whether you're visiting for two days or two weeks, there's so much to discover in this inspiring city. We hope this guide has given you some ideas for the best things to do in Barcelona.
We're off for an absenta or two – see ya!
Struggs for time? Why not take in the highlights on a weekend to Barcelona instead?!
---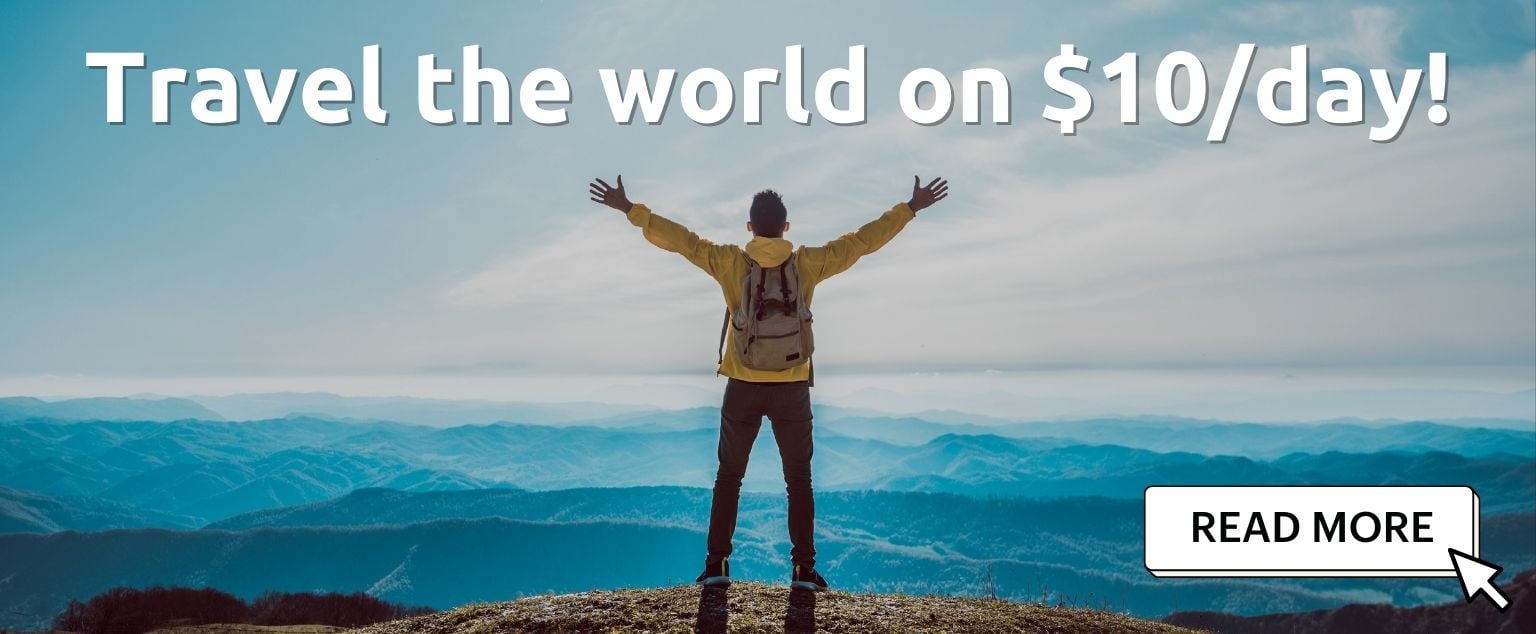 And for transparency's sake, please know that some of the links in our content are affiliate links. That means that if you book your accommodation, buy your gear, or sort your insurance through our link, we earn a small commission (at no extra cost to you). That said, we only link to the gear we trust and never recommend services we don't believe are up to scratch. Again, thank you!