When you think of Barcelona, the first things that come to mind are most likely iconic sights such as Sagrada Familia, Park Güell, and Casa Milà. While those are all incredible spots to visit, Barcelona is also home to miles of picturesque coastline and boasts some pretty gorgeous summer weather – you'll kick yourself if you leave without checking out the best beaches in Barcelona.
Much of Barcelona's seafront buzzes with a carnival-like atmosphere: hawkers sell beer to thirsty beach-goers, while musicians and street performers vie for the attention of tourists and locals that frequent the shoreline. What's great about Barcelona's beaches is that they're a mere 15-minute walk away from the city area. Even if you're looking to head to a less crowded beach, they're all pretty accessible by public transportation, so you have no excuse for not taking advantage of the summer sun in Barcelona.
While all the beaches feature golden sand and sparkling waters, each has a different vibe. From party people to those looking to unwind at a quiet beach with a book in hand, there are an array of Barcelona Beaches for everyone. Most of the beaches also offer plenty of water sports, restaurants, and fun beach games, so you can happily spend the entire day lounging by the ocean. Don't know where to start? Our guide to the best beaches in Barcelona has you covered.
When To Go To Beaches in Barcelona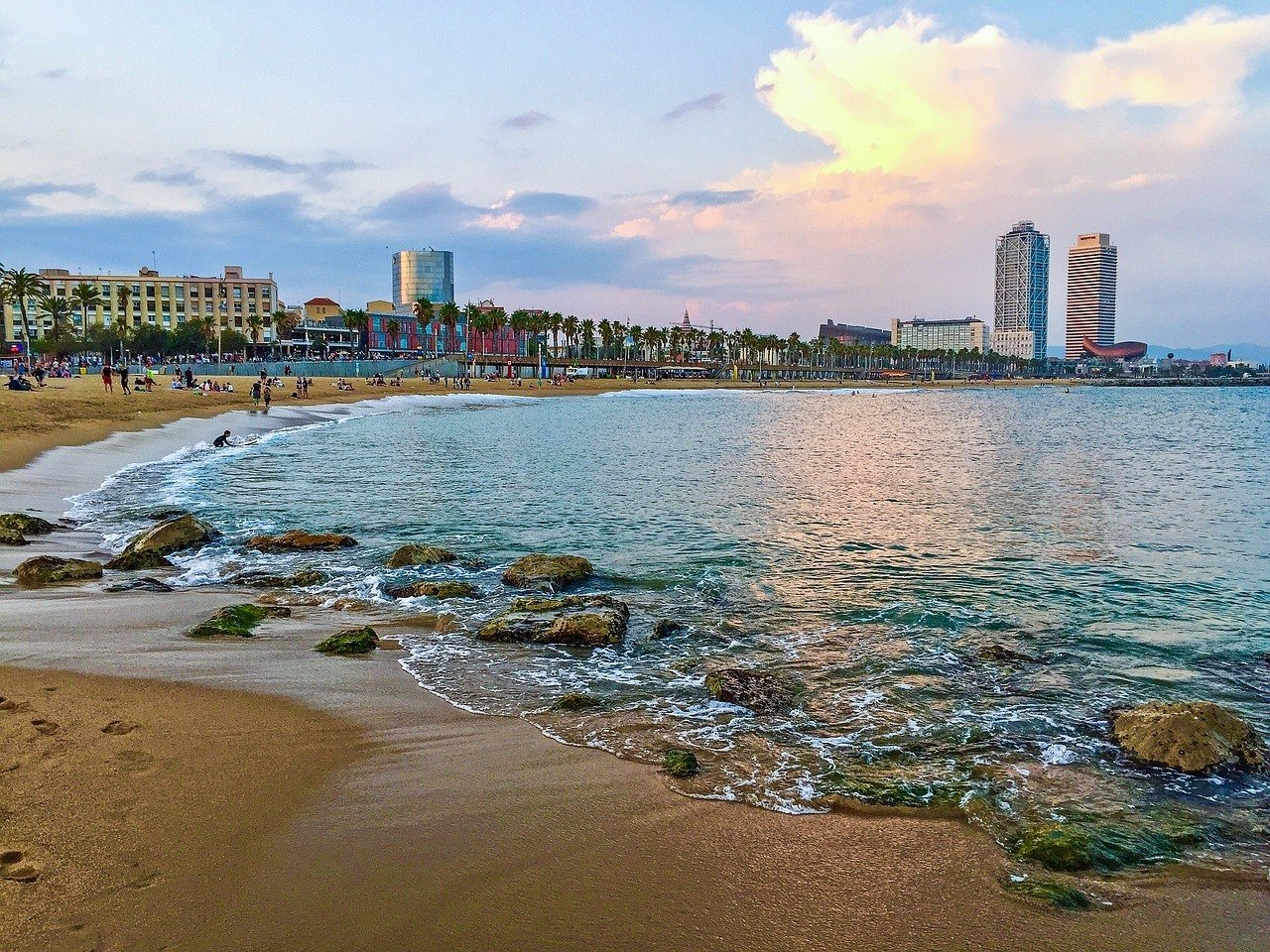 The best time to head to the beaches in Barcelona is during the summer season from May to July. This is the hottest time of the year, which means one thing: beach season! While the queues may be longer and the prices higher, there's nothing like hitting the beach on a warm, sunny day in Barcelona.
Summer in Barcelona starts to heat up in May, with temperatures reaching 23 degrees celsius. The long, sunny days attract travelers in their numbers and you'll notice an influx of tourists from May onwards. By the time July hits, you'll get that glorious tan going, with temperatures reaching 30 degrees celsius.
Just remember to always pack high SPF sunscreen along with a water bottle to stay healthy and hydrated among the humidity. During this summer period, there are also plenty of outdoor events happening around the city, so don't forget to spend some time checking them out.
Most Popular Beach In Barcelona | Barceloneta Beach
Who It's For: Party goers and those looking to meet people from all around the world. If you're heading to Barceloneta Beach, prepare yourself for crowds and an abundance of sellers roaming the beach.
Don't Miss: Head to the nearby Barceloneta district for some delicious seafood and the best paella in Barcelona.
Barceloneta Beach is arguably the most vibrant and exciting stretch of sand and sea, and offers a wide variety of entertainment options and seafood eateries. Start your day at Barceloneta Beach feasting on some fresh seafood at one of the many chiringuitos – also known as seaside huts – before taking a dip in the ocean.
For adventure enthusiasts, why not try your hand at kite-surfing or take part in the other extreme watersports on offer. As the day draws to a close, walk to the city for a taste of Barcelona's nightlife. Barceloneta Beach is one beach that needs to be on your Barcelona itinerary.
Best Beach For Swimming In Barcelona | Sant Sebestia
Who It's For: Those that want a bustling atmosphere, yet prefer to stay away from the crowds, Sant Sebestia is the perfect balance of the two. It's also nudist-friendly and accessible for those with disabilities.
Don't Miss: The fantastic sporting facilities. There's everything from a volleyball court to a plethora of extreme sports.
Sant Sebestia is situated on the eastern end of the city and is both the oldest and longest beach in Barcelona. It's part of Sitges – a relatively small town that's home to over 17 beaches, and one of the best places to visit on a weekend trip to Barcelona. While the beach does attract tourists in their numbers, you'll also see many locals at this iconic spot.
In comparison to Barceloneta Beach, Sant Sebestia isn't as crowded, and is well-suited for swimming. The atmosphere is laid back, with paddleboarders and sailboats skimming along the horizon. Of course, you'll find lots of dining options along the sand as well.
Most Beautiful Beach In Barcelona | Ocata Beach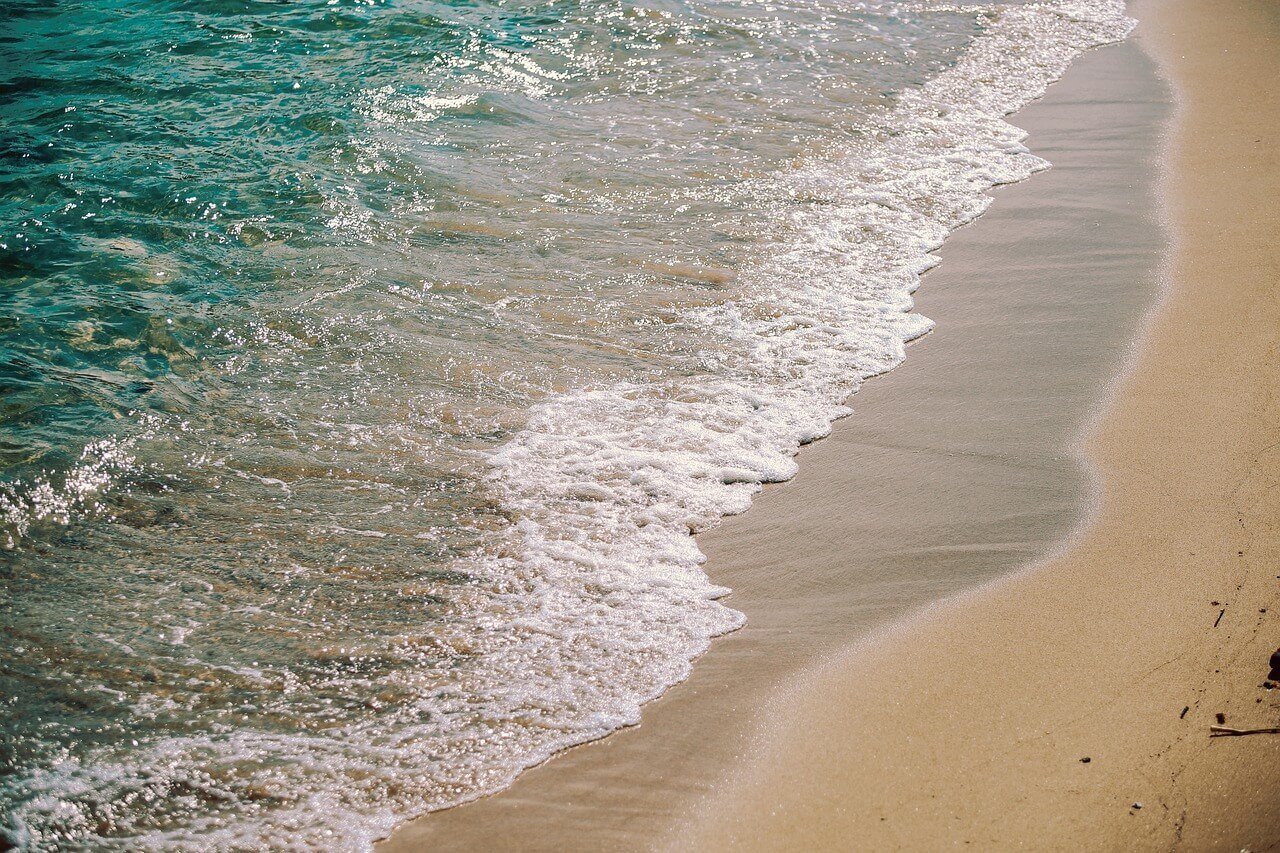 Who It's For: Couples looking for more privacy or those that are looking for a quieter beach outside of the city centre.
Don't Miss: Visiting Iglesia de Sant Pere – the oldest surviving Parish church located near Ocata Beach.
Situated north of Barcelona and only a half an hour train ride from the city, Ocata Beach is tranquil, pristine, and filled with gorgeous golden-white sand. It's the most beautiful beach in Barcelona and is also quieter than the other beaches – making it the perfect peaceful getaway.
The beach is long, wide, and incredibly spacious. Since it attracts fewer tourists than some of the other beaches, there aren't as many dining and entertainment options in the area. However, wander around, and you'll still be able to find some chringuitos serving up fresh seafood and refreshing drinks.
Cleanest Beach In Barcelona | Bogatell Beach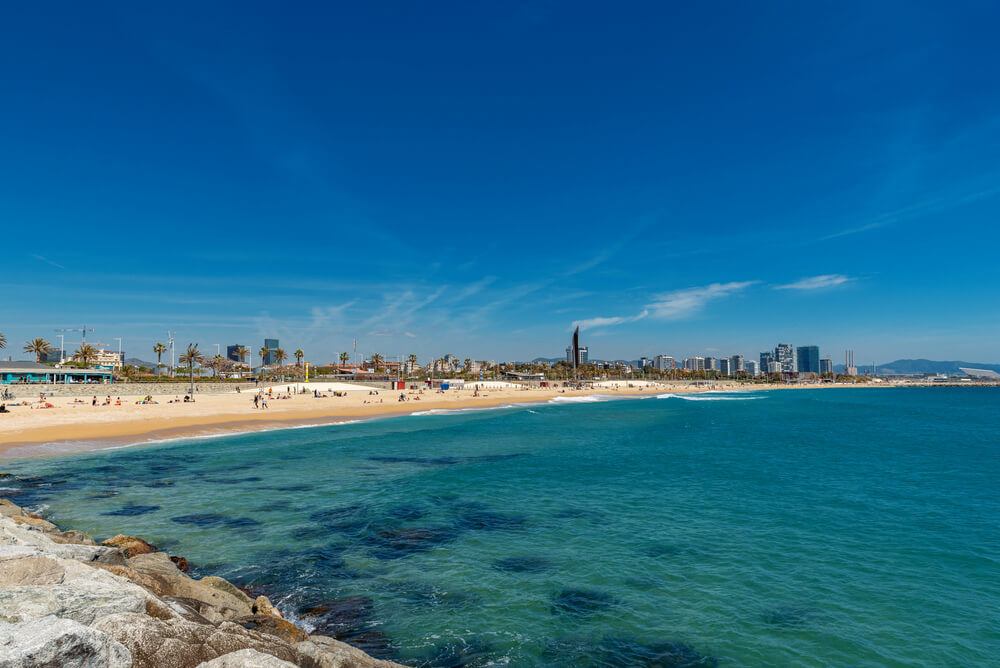 Who It's For: Those looking for a more laid-back beach in Barcelona.
Don't Miss: Walking up the Rambla del Poblenou for its terrace bars and restaurants
Bogatell Beach is the perfect beach to head to for those that just want a relaxing afternoon basking in the sun and enjoying the sound of the crashing waves. This beach generally attracts an older crowd and is comparatively smaller than the other main touristy beaches in Barcelona.
Play a game of ping pong or volleyball at this beach, or explore the various green spaces that have been incorporated within this area. Don't forget to pick up some ice cream or refreshing horchata – an icy milky drink made from tiger nuts – to complete your experience.
Quietest Beach In Barcelona | Mar Bella Beach
Who It's For: Those looking for a nude beach without a party atmosphere.
Don't Miss: Going on a sailing trip along the seafront or taking a beautiful morning sunrise stroll to this peaceful beach in Barcelona.
Mar Bella Beach is known for its peacefulness and is a great beach to head to if you're looking for some respite from both crowds and sellers.
This beach has plenty of opportunities to participate in watersports like windsurfing and kayaking. It's also one of the more spacious beaches in Barcelona, so you've got plenty of room to sunbathe, rollerblade, and relax. If you'd like, you're also welcome to go clothes-free at Mar Bella Beach as it's a nudist beach.
Family Friendly Beach In Barcelona | Nova Icaria Beach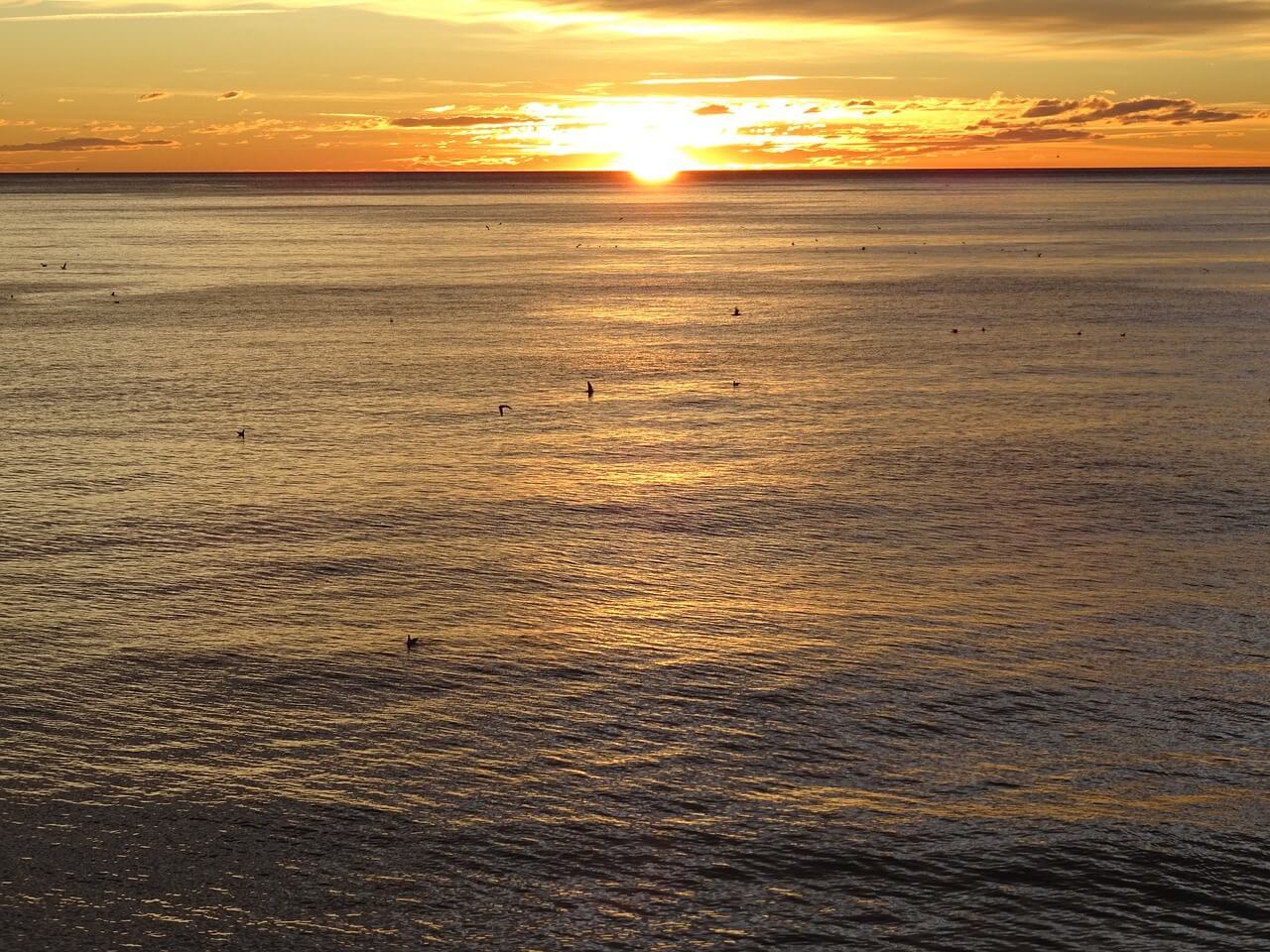 Who It's For: Families and those who want a beach in Barcelona that's a little more peaceful. If you enjoy volleyball, you'll love Nova Icaria Beach.
Don't Miss: Ciutadella Park that's just a short walk away. It has a fountain, the Barcelona Zoo, and the Museum of Natural Science.
Nova Icaria Beach is one of the more tranquil beaches in Barcelona – making it an ideal spot for families. Although it's on the quieter side of things, the beach still has access to a range of great restaurants and bars. It's also one of the more well-equipped beaches in Barcelona and has facilities that range from a ping-pong table to volleyball courts and more.
Don't Forget Travel Insurance for Barcelona
Shoutout from Will – The OG Broke Backpacker: Have fun on your backpacking adventure, but please do get insurance – take it from someone who has racked up tens of thousands of bucks on an insurance claim before: you need it.
As a wise man once said, if you can't afford travel insurance, you shouldn't be traveling! Presenting The Broke Backpacker's top recommendation: World Nomads!
Getting an estimate from World Nomads is simple – just click the button or image below, fill out the necessary info, and you're on your way!

Final Thoughts on the Best Beaches in Barcelona
It's no surprise that Barcelona is rated as having some of the best beaches in the world! Whether you're looking for a quieter beach or something that's more family-friendly, Barcelona has it all. Each of these beaches in Barcelona comes with their own distinct characteristics, but at all of them, you're sure to find the best of Barcelona's warm Spanish hospitality, along with powdery sand and sparkling waters. Don't forget your sunblock!
Yay for transparency! Some of the links in this post are affiliate links. This means that if you book your accommodation through the site, The Broke Backpacker will earn a small commission at no extra cost to you. Your support helps me keep the site going.
---
Need More Inspiration?