When you think of Barcelona, the first things that come to mind are most likely iconic sights such as Sagrada Familia, Park Güell, and Casa Milà. While those are all incredible spots to visit, Barcelona is also home to miles of picturesque coastline and boasts some pretty gorgeous summer weather – you'll kick yourself if you leave without checking out the best beaches in Barcelona.
Much of Barcelona's seafront buzzes with a carnival-like atmosphere: hawkers sell beer to thirsty beach-goers, while musicians and street performers vie for the attention of tourists and locals that frequent the shoreline. What's great about Barcelona's beaches is that they're a mere 15-minute walk away from the city area. Even if you're looking to head to a less crowded beach, they're all pretty accessible by public transportation, so you have no excuse for not taking advantage of the summer sun in Barcelona.
While all the beaches feature golden sand and sparkling waters, each has a different vibe. From party people to those looking to unwind at a quiet beach with a book in hand, there are an array of Barcelona Beaches for everyone. Most of the beaches also offer plenty of water sports, restaurants, and fun beach games, so you can happily spend the entire day lounging by the ocean. Don't know where to start? Our guide to the best beaches in Barcelona has you covered.

Unlock Our GREATEST Travel Secrets!
Sign up for our newsletter and get the best travel tips delivered right to your inbox.
When To Go To Beaches in Barcelona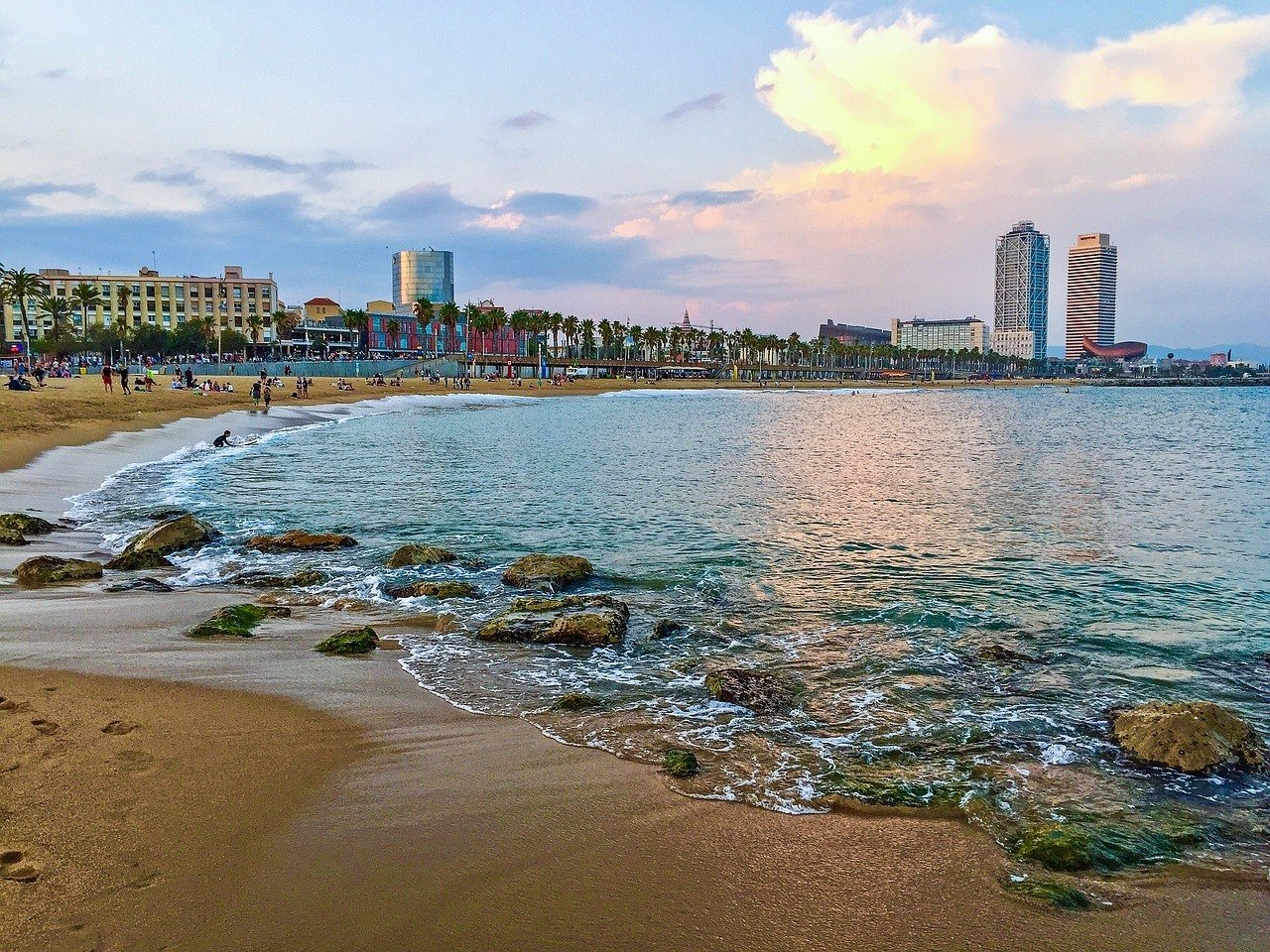 The best time to head to the beaches in Barcelona is during the summer season from May to July. This is the hottest time of the year, which means one thing: beach season! While the queues may be longer and the prices higher, there's nothing like hitting the beach on a warm, sunny day in Barcelona. If you're thinking about staying at a hostel in Barcelona during this time, make sure to book well ahead!
Summer in Barcelona starts to heat up in May, with temperatures reaching 23 degrees celsius. The long, sunny days attract travelers in their numbers and you'll notice an influx of tourists from May onwards. By the time July hits, you'll get that glorious tan going, with temperatures reaching 30 degrees celsius.
Just remember to always pack high SPF sunscreen along with a water bottle to stay healthy and hydrated among the humidity. During this summer period, there are also plenty of outdoor events happening around the city, so don't forget to spend some time checking them out. Barcelona is one of the best places to head to in August due to its incredible weather and vibe.
Most Popular Beach In Barcelona | Barceloneta Beach
Who It's For: Party goers and those looking to meet people from all around the world. If you're heading to Barceloneta Beach, prepare yourself for crowds and an abundance of sellers roaming the beach.
Don't Miss: Head to the nearby Barceloneta district for some delicious seafood and the best paella in Barcelona.
Barceloneta Beach is arguably the most vibrant and exciting stretch of sand and sea, and offers a wide variety of entertainment options and seafood eateries. Start your day at Barceloneta Beach feasting on some fresh seafood at one of the many chiringuitos – also known as seaside huts – before taking a dip in the ocean.
For adventure enthusiasts, why not try your hand at kite-surfing or take part in the other extreme watersports on offer. As the day draws to a close, walk to the city for a taste of Barcelona's nightlife. Barceloneta Beach is one beach that needs to be on your Barcelona itinerary.
This Airbnb has a charming interior, two-bedrooms, and is close to plenty of trendy stores, bars, and restaurants. In the morning, make breakfast in the little kitchen area before taking a short two-minute stroll to the beach.
Just a short walk from Barceloneta Beach, Hostal Nuevo Colon provides excellent service along with a cosy room that allows for a comfortable stay. Some rooms come with balconies so you can soak in the views of Barcelona.
This design hotel is stylish and chic and the rooms feature modern decor and innovative lighting. After a day at the beach, admire views of the port from the hotel's terrace.
If you've always wanted to sleep on a sailboat, now's your chance. Set sail on this stunning sailboat that comes with four bedrooms. Wake up to incredible sunrise views as you lounge on the sunbed with a cocktail in hand.
Pasa Tapas
If you're looking for some delicious fresh seafood, Pasa Tapas is the place to go. There are no frills about this spot, but the paella is fantastic, there's a buzzing atmosphere, and the service is excellent. [image credit]
El Pacifico
Right near the beach is El Pacifico – a beachside restaurant serving up traditional Spanish food along with delicious cocktails and a great selection of wine. As you sip your drink on the restaurant's terrace, you'll also get an amazing view of the beach and the boardwalk of Barceloneta. [image credit]
Somorrostro
This is the place to head to if you're looking for some of the best seafood in the Barceloneta area. The restaurant boasts a gorgeous interior, and you can even see the chefs working on your meal. Don't forget to pair your meal with something from the comprehensive wine list. [image credit]
Learn Standup Paddling and Surfing
Book a lesson, and you'll learn both standup paddling and surfing all in one day. You'll also get some one-on-one time with the instructor while they teach you the basics, so there's no need to feel anxious!
Explore Barceloneta's Fish Tapas and Seafood Market
This unique tour will take you off-the-beaten-track and into Barcelona's fishing culture. Discover the vibrant food market before having a delicious seasonal lunch with fresh farm-to-table produce, along with natural wines from Spain. The tour concludes with an unforgettable experience and exclusive access to La Barceloneta fish market.
Explore Barcelona by Foot
With Barceloneta Beach being so close to the city, take some time to explore Barcelona's remarkable history, layout, architecture, and vibrant culture. This experience is the perfect introduction to Barcelona and provides you with some insider local tips for everything you need to know about the city.
Best Beach For Swimming In Barcelona | Sant Sebestia
Who It's For: Those that want a bustling atmosphere, yet prefer to stay away from the crowds, Sant Sebestia is the perfect balance of the two. It's also nudist-friendly and accessible for those with disabilities.
Don't Miss: The fantastic sporting facilities. There's everything from a volleyball court to a plethora of extreme sports.
Sant Sebestia is situated on the eastern end of the city and is both the oldest and longest beach in Barcelona. It's part of Sitges – a relatively small town that's home to over 17 beaches, and one of the best places to visit on a weekend trip to Barcelona. While the beach does attract tourists in their numbers, you'll also see many locals at this iconic spot.
In comparison to Barceloneta Beach, Sant Sebestia isn't as crowded, and is well-suited for swimming. The atmosphere is laid back, with paddleboarders and sailboats skimming along the horizon. Of course, you'll find lots of dining options along the sand as well.
You'll get a private room in this cozy apartment that's in a fantastic location. After a day at the beach, take in the views of Barcelona's main cathedral from the balcony or cook yourself a meal in the fully-equipped kitchen.
Offering a superb location, Safestay Barcelona Sea is close to plenty of beach bars and seafood restaurants. The cafe at the hostel is a great place to hang out after a day at the beach.
Get the celebrity treatment at W Barcelona with avant-garde design and picturesque views. Sip a cocktail at the rooftop bar or relax at the beach club and restaurant. The hotel has two pools, direct beach access, and a spa with a range of treatments for those looking to unwind.
This lovely Turkish Schooner has four bedrooms and is the perfect option for individuals that are passionate about the sea and sun. Made with unique wood furnishings, the cabins are comfortable and there's a spacious deck area where you can enjoy a glass of wine while watching the sunset.
Makamaka Beach Burger Cafe
This popular beach cafe serves as a 70's-inspired watering hole for locals and travellers to share burgers and cocktails. It has a lively atmosphere and is the perfect place to catch up with friends before hitting the beach. [image credit]
La Estrella Herida
This unique sculpture pays homage to the fishing district of Barcelona and consists of four cubes stacked in a disorderly fashion. Constructed with four steel-blocks, this eye-catching sculpture is worth a look while you're at Sant Sebestia beach. [source: iamalexfroloff (Shutterstock)]
Pez Vela
Take in incredible views from the terrace while indulging in fresh appetisers, salads, and seafood paellas. Using only the highest quality ingredients, highlights include the fresh catches of the day along with steaks cooked on a smoky charcoal grill. [image credit]
Learn Surfing in Barcelona
Get your surf on with a professional instructor who will teach you all the ins and outs of riding the waves. Start by learning the basics before progressing to more advanced techniques and hopefully you'll be standing by the end of the lesson. Your experience also comes with photos that you can take with you as a memento.
Try Sunset Paddle Surfing
If you've never done paddle surfing before, it's a great experience that you'll definitely want to cross off your list. For this particular paddle surf, you'll be paddling as the sun sets with gorgeous views of Barcelona in the distance. We can't think of a better way to end the day!
Test your balance with SUP Yoga
Stand-up yoga (SUP) involves doing a series of yoga positions on a SUP table in the middle of the ocean. While it's certainly not easy, it's incredibly rewarding and a great workout. Book a class and your instructor will teach you everything you need to know for a great session.
Small Pack Problems? 😉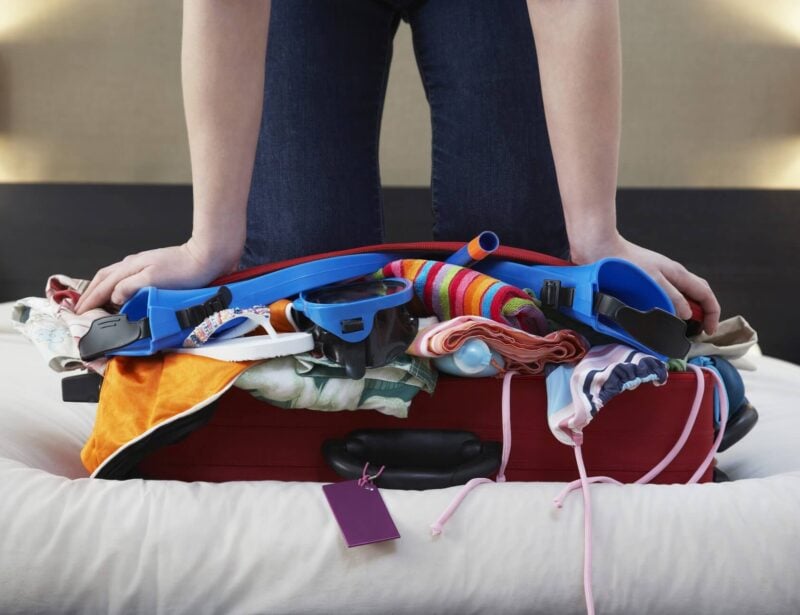 Wanna know how to pack like a pro? Well for a start you need the right gear….
These are packing cubes for the globetrotters and compression sacks for the real adventurers – these babies are a traveller's best kept secret. They organise yo' packing and minimise volume too so you can pack MORE.
Or, y'know… you can stick to just chucking it all in your backpack…
Get Yours Here
Read Our Review
Most Beautiful Beach In Barcelona | Ocata Beach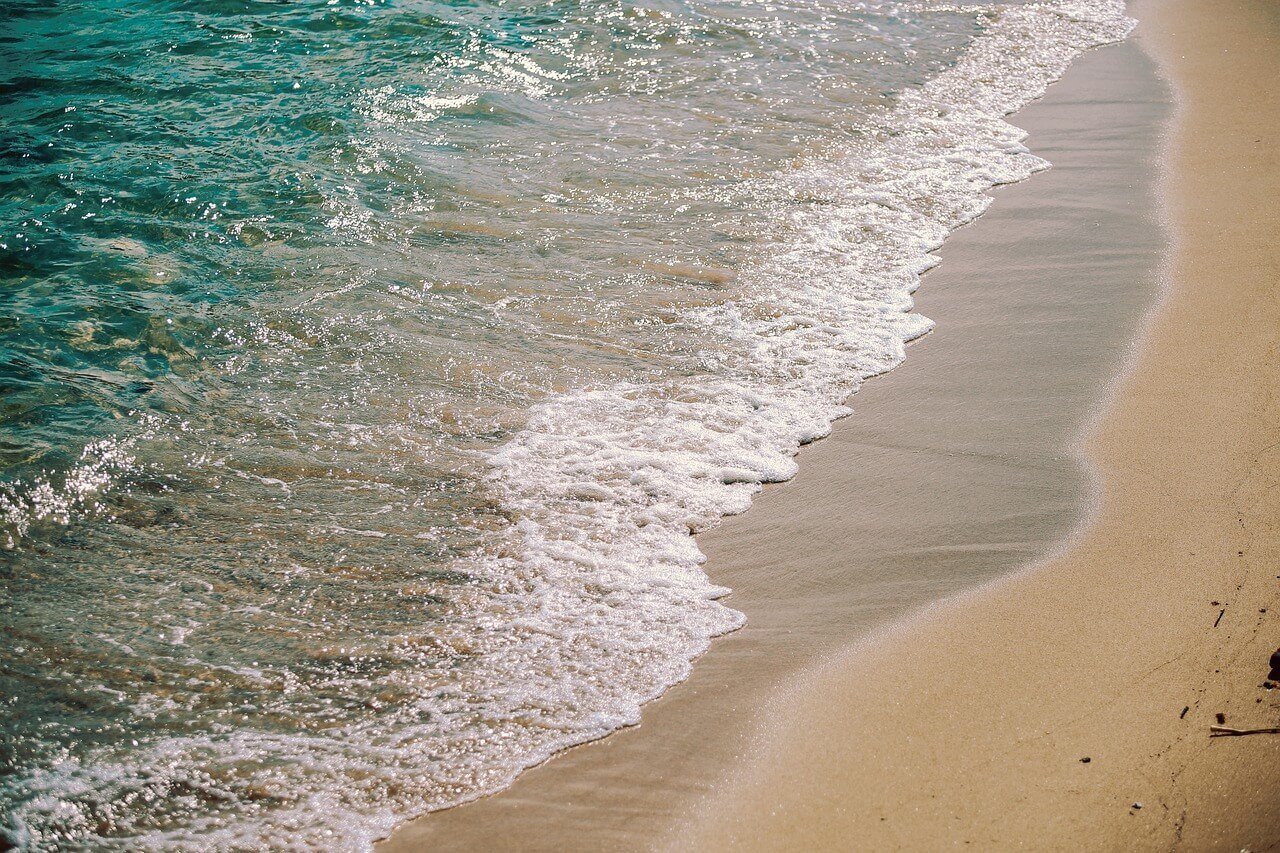 Who It's For: Couples looking for more privacy or those that are looking for a quieter beach outside of the city centre.
Don't Miss: Visiting Iglesia de Sant Pere – the oldest surviving Parish church located near Ocata Beach.
Situated north of Barcelona and only a half an hour train ride from the city, Ocata Beach is tranquil, pristine, and filled with gorgeous golden-white sand. It's the most beautiful beach in Barcelona and is also quieter than the other beaches – making it the perfect peaceful getaway.
The beach is long, wide, and incredibly spacious. Since it attracts fewer tourists than some of the other beaches, there aren't as many dining and entertainment options in the area. However, wander around, and you'll still be able to find some chringuitos serving up fresh seafood and refreshing drinks.
This charming loft is a fantastic place to stay in Ocata Beach. The space is modern and stylish, and Ocata Beach is right on this lovely Airbnb's doorstep.
Just a short distance away from Ocata Beach is this spacious apartment that has everything you need, from a living room area to a fully-equipped kitchen. You'll even get gorgeous views of Ocata Beach from the comfort of your own apartment.
Stay at Hotel Torino for comfortably appointed rooms featuring wooden furnishings. Guests can enjoy local cuisine with fresh produce at the on-site restaurant, grab a drink at the bar, or check out the nearby restaurants and nightlife options.
If you're travelling with a larger group, why not splurge on a villa? This beachfront accommodation comes with an outdoor swimming pool, garden, complimentary private parking, and a hot tub. There are a total of five bedrooms and three bathrooms, along with a living and dining area.
La Nècora d'Or
One of the best places to get seafood at Ocata Beach is at this very restaurant. Everything on the menu is incredibly tasty, but special mention goes to the grilled squid and mussels marinara. [image credit]
Cinema La Calandria
If you're looking for a quick break from the sun, head over to the cinema where you can sit back, relax and take some time out to unwind. [image credit]
Chiringo Calima
Grab a refreshing drink and some shade at Chiringo Calima before heading back out to the beach. This beachside restaurant has an inviting atmosphere and is a great place to relax. [image credit]
Learn to Skateboard
If skateboarding has always been on your bucket list, cross it off by booking this unique experience. You'll learn how to skate and even get to try out all the different boards. If you're a seasoned skateboarder, you can opt to skateboard with your professional host at night.
Get Someone to Capture your Moments
With Ocata Beach being the most beautiful beach in Barcelona, there's no better spot to capture some unforgettable moments. In this experience, you'll have your very own videographer, who'll capture and edit all the footage. All you need to do is book your experience.
Experience Live Sax and Sunset Sailing
Sail on the Mediterranean Sea while soaking up the views of the sunset and enjoying the sounds of the saxophone. Admire the beautiful landscape of Barcelona as you sip on some drinks while enjoying the company of your loved ones. Book this unforgettable experience that's truly unlike any other.
Cleanest Beach In Barcelona | Bogatell Beach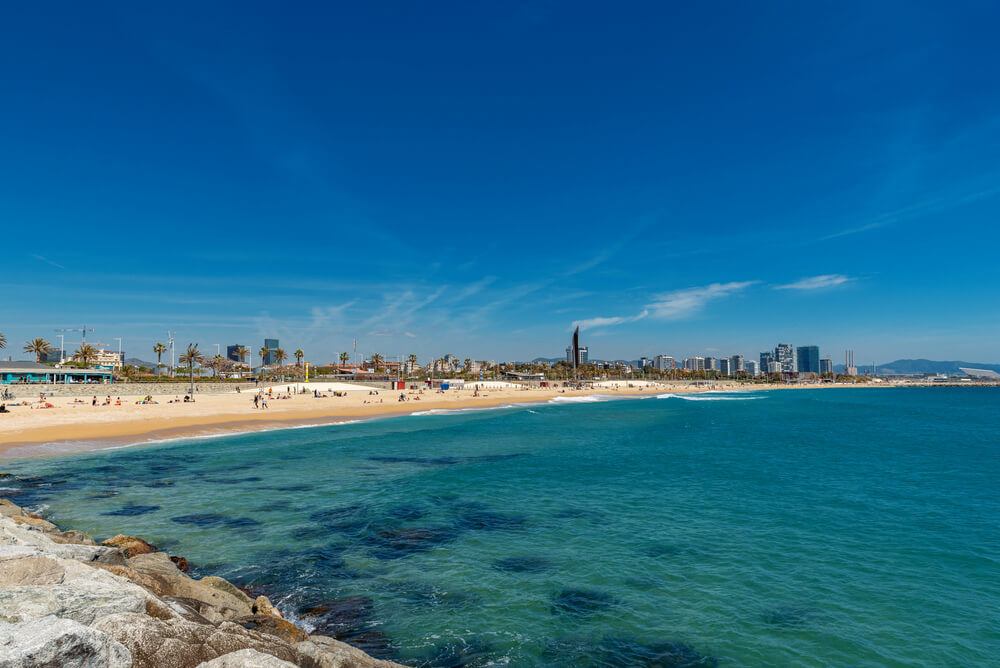 Who It's For: Those looking for a more laid-back beach in Barcelona.
Don't Miss: Walking up the Rambla del Poblenou for its terrace bars and restaurants
Bogatell Beach is the perfect beach to head to for those that just want a relaxing afternoon basking in the sun and enjoying the sound of the crashing waves. This beach generally attracts an older crowd and is comparatively smaller than the other main touristy beaches in Barcelona.
Play a game of ping pong or volleyball at this beach, or explore the various green spaces that have been incorporated within this area. Don't forget to pick up some ice cream or refreshing horchata – an icy milky drink made from tiger nuts – to complete your experience.
Situated in a quaint area, this Airbnb comes with a balcony that looks out onto the streets of Barcelona and the ocean. The stunning apartment is filled with natural light and has one bedroom and a washing machine.
Rooms are clean and spacious at this hostel; there's even a shared lounge area with bean bag chairs for a relaxed vibe. Unite Hostel Barcelona also organises special events such as movie nights and complimentary yoga for guests.
Acta Voraport is a fantastic hotel to stay at for modern facilities and plush beds. There's also a restaurant, outdoor swimming pool and bar within the hotel, as well as a sun terrace for guests to lounge at.
Featuring three bedrooms, this classic power yacht is a great place to stay to explore the coastal waters of Barcelona. Dance the night away to your favourite music and take photos of Barcelona's skyline as your backdrop.
Beach Tennis Barcelona
If you've never played beach tennis, give it a shot on Bogatell Beach. If you don't feel like enrolling in a class, you can take a sneak peek at other individuals having a go at the game. [image credit]
Vaia Moana Barcelona
Inspired by Easter Island, this restaurant has a relaxed and tropical atmosphere that matches the vibe of Bogatell Beach. Have a refreshing cocktail at the beach bar or sunbathe on one of the restaurant's sunbeds as you chill out in style. [image credit]
Parc del Poblenou
This gorgeous park lying at the end of the old Olympic Village is a great place to stroll through while taking in the greenery. Don't forget to check out the lake before taking a breather at the esplanade. [source: DFH Photo (Shutterstock)]
Join a SUP Yoga Detox Flow Class
Unleash your inner zen by doing a yoga flow class while balancing on a SUP board. After the workout, unwind, and relax with your newfound friends by sipping on some detox smoothies.
Stretch Out with Sunrise and Sunset Beach Yoga
There's nothing quite like a gorgeous sunrise and sunset, especially at Bogatell Beach. Start with an invigorating vinyasa flow practice with a gorgeous backdrop – the ideal activity to the beginning or end of your day.
Have Fun Kayaking and Paddle Boarding
Start off your afternoon with a traditional Spanish lunch which you'll enjoy with your host before hitting the water. Your friendly guide will take you out to the beach for a relaxed kayak and paddleboarding session while taking in the gorgeous views of the ocean.
Is This the Best Daypack EVER???
Quietest Beach In Barcelona | Mar Bella Beach
Who It's For: Those looking for a nude beach without a party atmosphere.
Don't Miss: Going on a sailing trip along the seafront or taking a beautiful morning sunrise stroll to this peaceful beach in Barcelona.
Mar Bella Beach is known for its peacefulness and is a great beach to head to if you're looking for some respite from both crowds and sellers.
This beach has plenty of opportunities to participate in watersports like windsurfing and kayaking. It's also one of the more spacious beaches in Barcelona, so you've got plenty of room to sunbathe, rollerblade, and relax. If you'd like, you're also welcome to go clothes-free at Mar Bella Beach as it's a nudist beach.
This bright and airy apartment comes with three bedrooms and a cosy living room and kitchen area. You'll have access to plenty of restaurants and bars nearby, and the apartment also offers a washing machine and dryer.
A great hostel to meet new people, Amistat Beach Hostel Barcelona has spacious common areas that include a games room and a large terrace. There's also complimentary pasta available in the shared kitchen; you can even request packed lunches to take with you to the beach.
This bed and breakfast has a lovely terrace area that's the perfect spot to start your day in Barcelona. Rooms have modern decor, and some even come with their very own balcony. Don't forget to explore the cafes and bars nearby!
These gorgeous lofts come with floor-to-ceiling windows for plenty of natural light. They're situated in the Poblenou area, close to plenty of fantastic restaurants. The furnishings within these lofts are impeccable and have an urban-chic style.
Skatepark de la Mar Bella
Whether you're skateboarding yourself, or just here for the show, Skatepark de la Mar Bella is definitely worth dropping by. [image credit]
Chiringuito MAMMA BEACH
A great spot to unwind at with fantastic cocktails and delicious burgers. You'll get a great view of the beach and exceptional service to go along with your tasty meal. [image credit]
Calisthenics Park
Hit up the calisthenics park at Mar Bella Beach for a sweaty workout. This outdoor gym has pull-up bars, high bars, and all sorts of other equipment to get your calisthenics workout, strength training, and bodyweight workout in.
Go on a bike tour
Want to balance out a lazy day at the beach with some activity? Explore the sights and sounds of Barcelona on this bike tour that will take you through this magical city to discover its secrets and history.
Sail on a classic boat
Escape from the hustle and bustle of Barcelona on this classic sailing vessel. Feel the thermal wind that blows along the Spanish coast and soak up the rays. You'll get to enjoy some Catalan white wine along with tapas and snacks on this adventure on the high seas.
Be a captain for a day
Always wanted to sail your own yacht? Now you can! In this experience, you'll spend the day on the ocean, learning the ropes from a professional skipper.
Family Friendly Beach In Barcelona | Nova Icaria Beach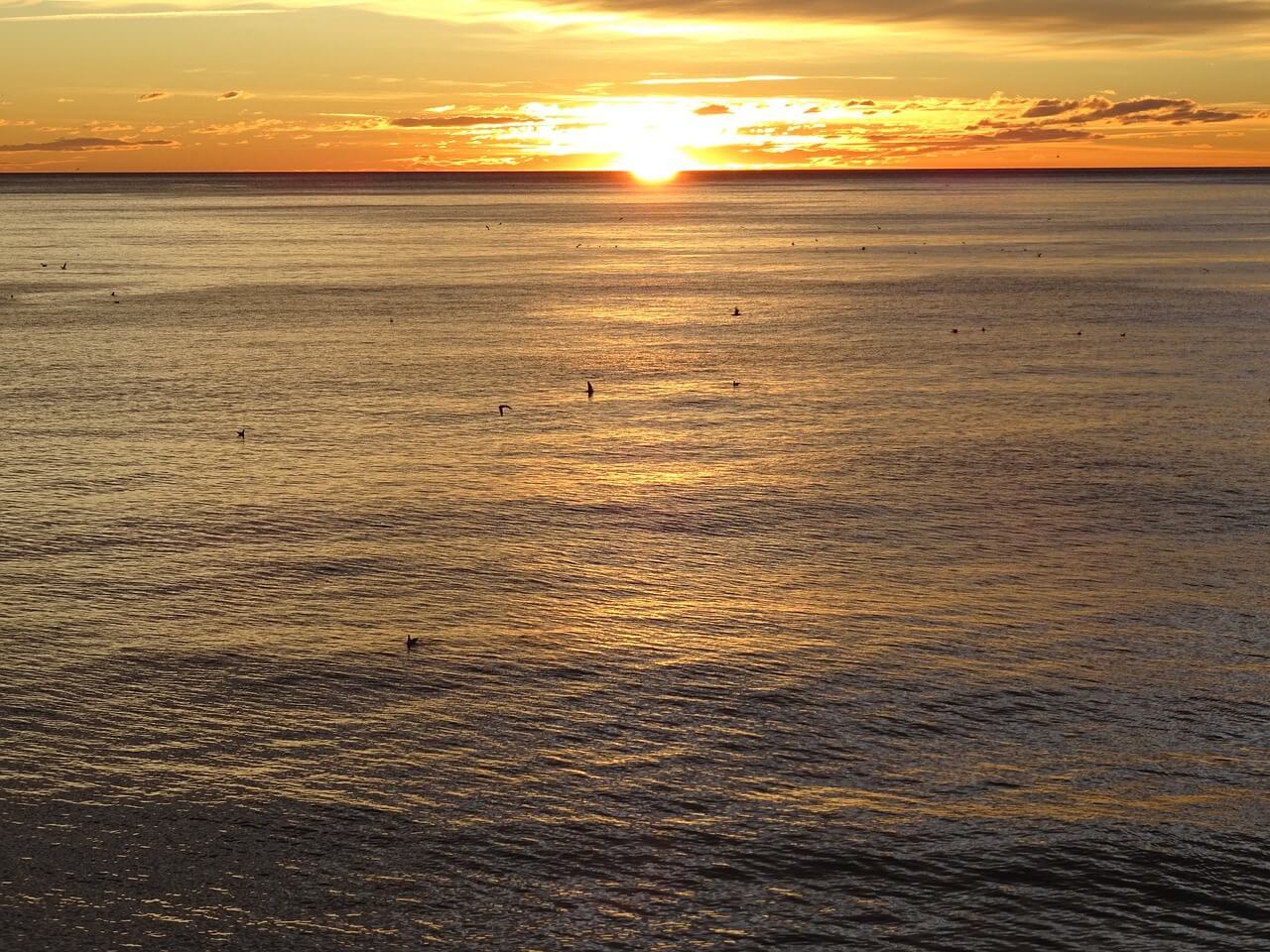 Who It's For: Families and those who want a beach in Barcelona that's a little more peaceful. If you enjoy volleyball, you'll love Nova Icaria Beach.
Don't Miss: Ciutadella Park that's just a short walk away. It has a fountain, the Barcelona Zoo, and the Museum of Natural Science.
Nova Icaria Beach is one of the more tranquil beaches in Barcelona – making it an ideal spot for families. Although it's on the quieter side of things, the beach still has access to a range of great restaurants and bars. It's also one of the more well-equipped beaches in Barcelona and has facilities that range from a ping-pong table to volleyball courts and more.
This airy Airbnb has one bedroom and a sofa bed. The kitchen and living room area is spacious, and there's plenty of natural light due to the floor-to-ceiling windows. The common areas of this Airbnb also include a playground for children.
Ant Hostel has a bright and clean interior with a minimalist design. Rooms come with parquet floors and a private bathroom. Head to the shared kitchen to make some breakfast in the morning before walking to Nova Icaria beach.
A great place for some relaxation, Hotel SB Icaria has a gym and sauna as well as an outdoor pool with a sun terrace and hot tub. Rooms are stylish and modern, and there's an elegant restaurant on-site that serves up Mediterranean market cuisine.
Best Beach Apartment Villa: Lina's Airbnb
Perfect for families, this beach apartment villa can accommodate up to six guests and comes with a cosy living room area and newly renovated kitchen. Private parking is available, and Nova Icaria beach is just 30 metres away.
Beach Facilities
Nova Icaria Beach boasts some of the best beach facilities in Barcelona, so you definitely need to check it out. It has two volleyball courts, a ping-pong table, and even a playground for children.
Xiroi Ca la Nuri
This is a great casual place that serves up fresh seafood. Try one of the delicious paellas or grab some sweet potato fritters with truffle honey. It's also a fantastic place to enjoy views of the ocean with good music. [image credit]

Parc de la Nova Icària
This iconic park was one of the green spaces built around the Barcelona Olympic Games. With large wooden bridges, gentle grass slopes, and Chinese weeping willows, it's a great spot to wander around and soak in the greenery. [source: sanguer (Shutterstock)]
Head on a bike tour
Ideal for all ages, this bike tour is great for first-timers and takes you around the highlights of Barcelona. From the picturesque Art Nouveau district to the historic city centre, this bike tour covers it all.
Take a new family portrait
Your professional photographer host will provide you with a one-on-one photography experience in Barcelona. Choose to have your photo taken by Nova Icaria Beach, or seek out one of Barcelona's landmarks and secret squares.
Hang out with Huskies
If you're a family that absolutely loves pups, this experience will take you to the Husky House Cafe for some one-on-one time with huskies. Meet four delightful huskies while enjoying a cup of coffee and some pastries.
Don't Forget Travel Insurance for Barcelona
ALWAYS sort out your backpacker insurance before your trip. There's plenty to choose from in that department, but a good place to start is Safety Wing.
They offer month-to-month payments, no lock-in contracts, and require absolutely no itineraries: that's the exact kind of insurance long-term travellers and digital nomads need.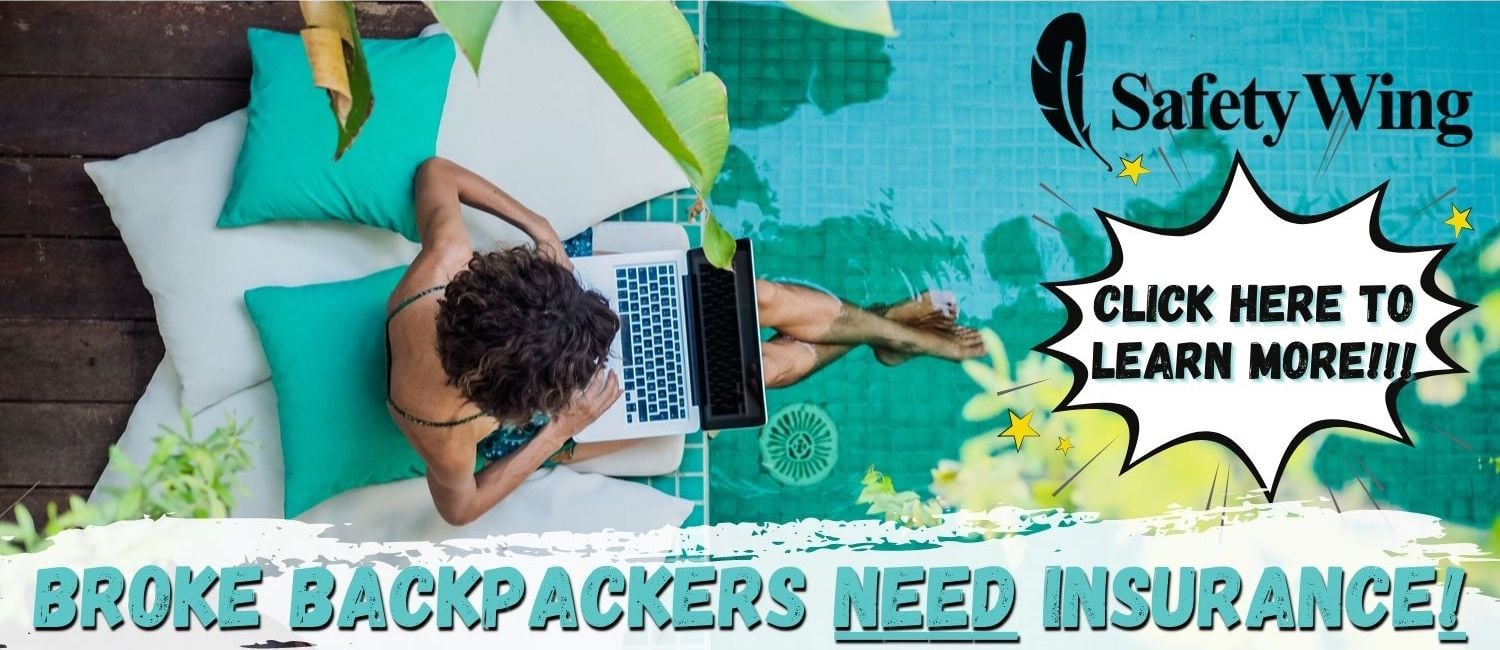 SafetyWing is cheap, easy, and admin-free: just sign up lickety-split so you can get back to it!
Click the button below to learn more about SafetyWing's setup or read our insider review for the full tasty scoop.
Final Thoughts on the Best Beaches in Barcelona
It's no surprise that Barcelona is rated as having some of the best beaches in the world! Whether you're looking for a quieter beach or something that's more family-friendly, Barcelona has it all. Each of these beaches in Barcelona comes with their own distinct characteristics, but at all of them, you're sure to find the best of Barcelona's warm Spanish hospitality, along with powdery sand and sparkling waters. Don't forget your sunblock!
---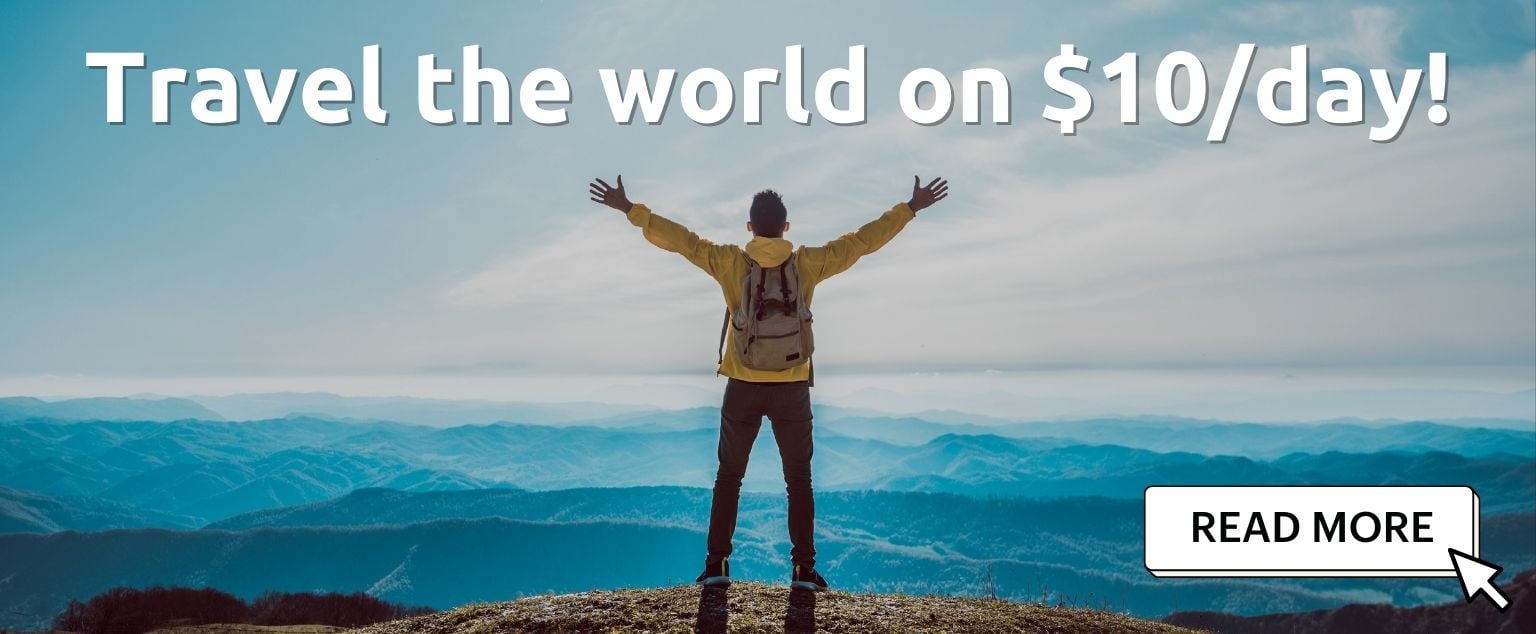 And for transparency's sake, please know that some of the links in our content are affiliate links. That means that if you book your accommodation, buy your gear, or sort your insurance through our link, we earn a small commission (at no extra cost to you). That said, we only link to the gear we trust and never recommend services we don't believe are up to scratch. Again, thank you!