Spain remains one of the most popular tourist destinations on earth. The reasons are many and varied. With Atlantic and Mediterranean coasts, beaches, great weather, beautiful historic cities, delicious food, and a true lust for life, it's a must-visit country.
Although many tourists do come for the beaches and resorts, just as many come for its nature and some for the fine hiking opportunities. Spain boasts mountains, forests, arid interiors, and rugged coastlines. Yep, it's a hiker's paradise. One of its hiking routes is actually a UNESCO World Heritage Site!
So if you've never hiked in Spain but this all sounds good to you, then you've come to the right place. There are things you want answering, like where can I actually hike in Spain? What are the best hikes? And how can I stay safe?.
That's where we come in. Our epic guide covers just about everything you need to know, packed full of all the deets you'll need to have the best time ever while hiking in Spain. Without further ado, let's go hiking!

Do You Want to Travel FOREVER??
Pop your email in below to get a FREE copy of 'How to Travel the World on $10 a Day!'.
The main thing to think about when hiking in Spain is where you're going to base yourself. It's a fairly sizable country with various regions and changing landscapes. The type of hikes you would like to attempt can have a bearing on where in Spain you spend your vacation.
Another thing to note is that there are multi-day many hikes in Spain. These well-trodden paths often trace old pilgrimage routes and can even stretch from across borders with France and Portugal. If these kinds of adventures sound like your thing, you'll need some forward planning.
If you're just planning on a vacation in Spain and fancy trying out a bit of hiking, there are so many day hikes to choose from.
For example, a hike to the top of Mount Tibidabo is a fun walk that offers up views of beautiful Barcelona below. Alternatively, the Covadonga Lakes in Asturias bring you an abundance of scenic Spanish landscapes, where you'll be sharing the trail with sheep and cows. And then there's the climb to the top of Tenerife's epic active volcano, Teide Peak.
Whichever hike in Spain you choose, you can expect well-marked routes that are relatively straightforward to follow. Some hikes do require permits or pre-booking in advance (this can be difficult in peak season), and you'll need to plan for hot temperatures in the summer months.
Spain Trail Safety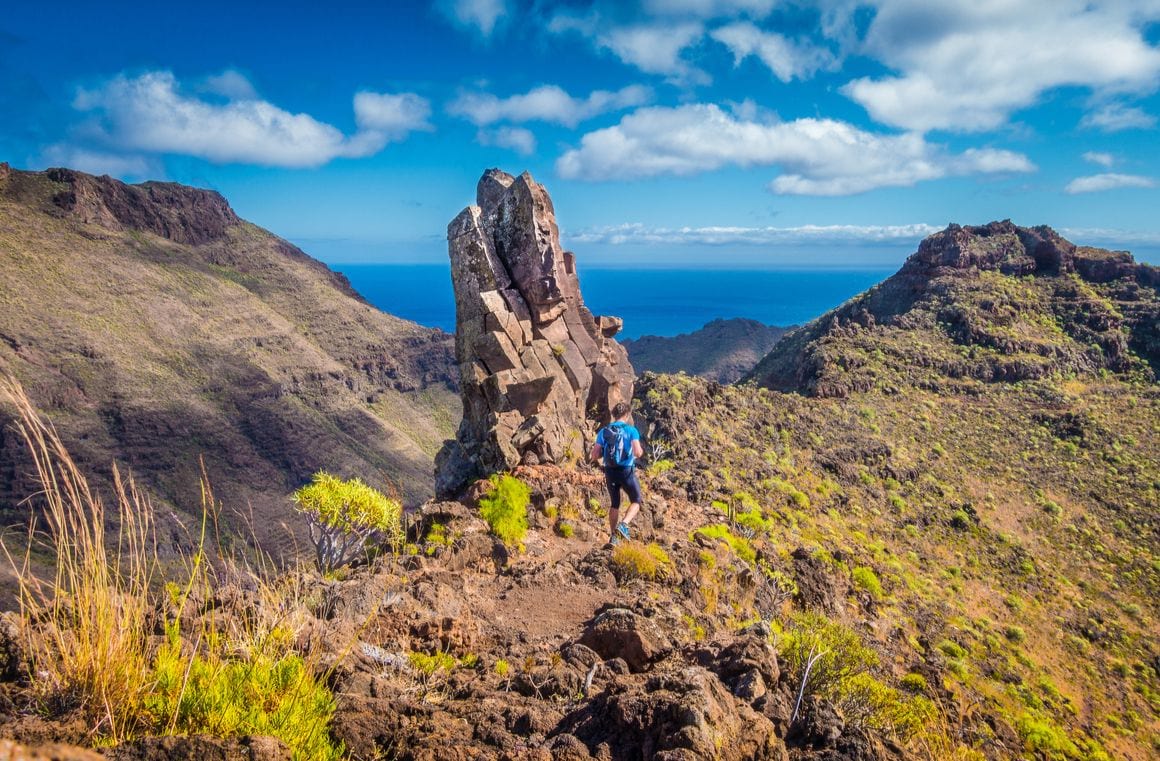 A famous holiday destination, Spain has long lured travellers with its open, friendly culture and captivating landscapes. There's much adventure to be had: multiple islands, national parks, mountain ranges, and coastal countryside are all waiting to be explored.
Hiking is an amazing way to get stuck into Spain's spectacular scenery, and there's a huge choice of trails for different abilities to choose from. But, before you book your tickets and get your backpack on, here's what you need to know to keep you safe when hiking in Spain;
Respect the sun – Spain gets hot, like really hot. There's a reason that locals sleep in the middle of the day when the sun is at its highest. Make sure to protect against the sun by covering up, wearing plenty of sunscreen and taking plenty of breaks.
Don't forget to hydrate – You might think you're just going for a quick hike up a mountain and back again, but going without enough water could lead you to become seriously unwell. Pack enough water to see you through to the end.
Go prepared – It's never a good idea to just attempt a hike without any forward planning; make sure to check the state of the trail before you attempt to hike. Get to know what the route entails and what to expect.
Tell somebody where you are going – Attempting a hike alone brings its own risks. It's always best to hike with a buddy or a group. If you do hike alone, make sure somebody knows your plans and where you are going.
Leave plenty of time – Heading out on a hike too late in the day is not a great idea. Once light starts to fade, you could find yourself stumbling through woodlands or skirting along precarious cliff edges.
Wear appropriate clothing – Get yourself a good pair of walking shoes. Hiking in flip-flops straight from the beach is just not good. You might also want to bring along a hat and a light jacket depending on the season.
Don't push yourself – If you are ever unsure that you are able to tackle a certain hike, or are feeling unwell during your hike, it's always best to turn back. Some of Spain's hikes can reach high altitudes and are not always easy for inexperienced hikers.
Learn a bit of Spanish – Even just the most basic phrases will help you ask for directions (or at least work on your gestures!).
Keep an eye on the weather – It might be known for being a sunny country, but the sun doesn't always shine. Check the weather forecast before you attempt to hike in Spain, especially if you're going to be tackling a mountainous climb.
Make sure to get travel insurance – You would be totally silly to be in Spain without being covered by good travel insurance. It's important that your policy covers you for all the fun activities that you're going to get up to.
ALWAYS sort out your backpacker insurance before your trip. There's plenty to choose from in that department, but a good place to start is Safety Wing.
They offer month-to-month payments, no lock-in contracts, and require absolutely no itineraries: that's the exact kind of insurance long-term travellers and digital nomads need.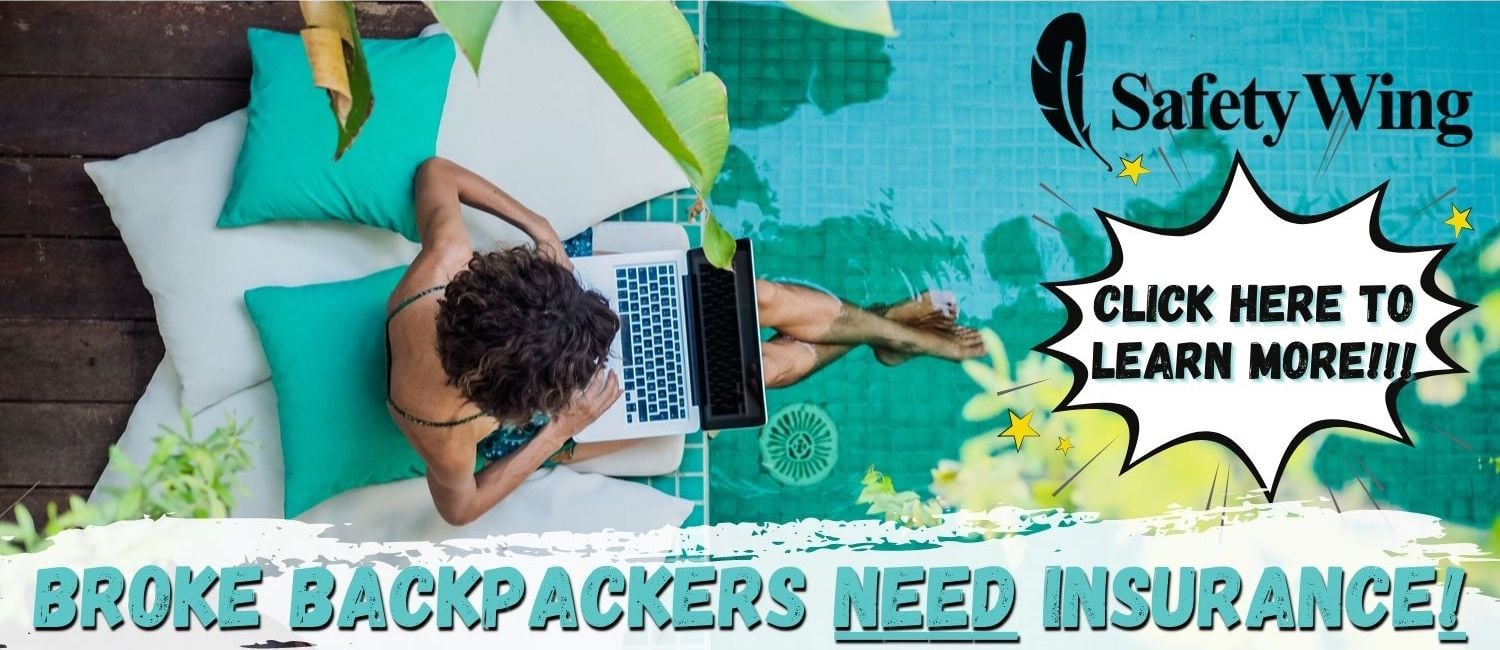 SafetyWing is cheap, easy, and admin-free: just sign up lickety-split so you can get back to it!
Click the button below to learn more about SafetyWing's setup or read our insider review for the full tasty scoop.
You know about all of the details and the important safety tips, now you need to get to grips with the hikes themselves.
Choose from our list of the best hikes in Spain below. From mountain-climbing adventures and easy-going walks in nature to ancient pilgrimages and Insta-worthy suspended walkways through gorges: we've got them all.
1. French Way: Burgos to Hontanas – The Best Day Hike in Spain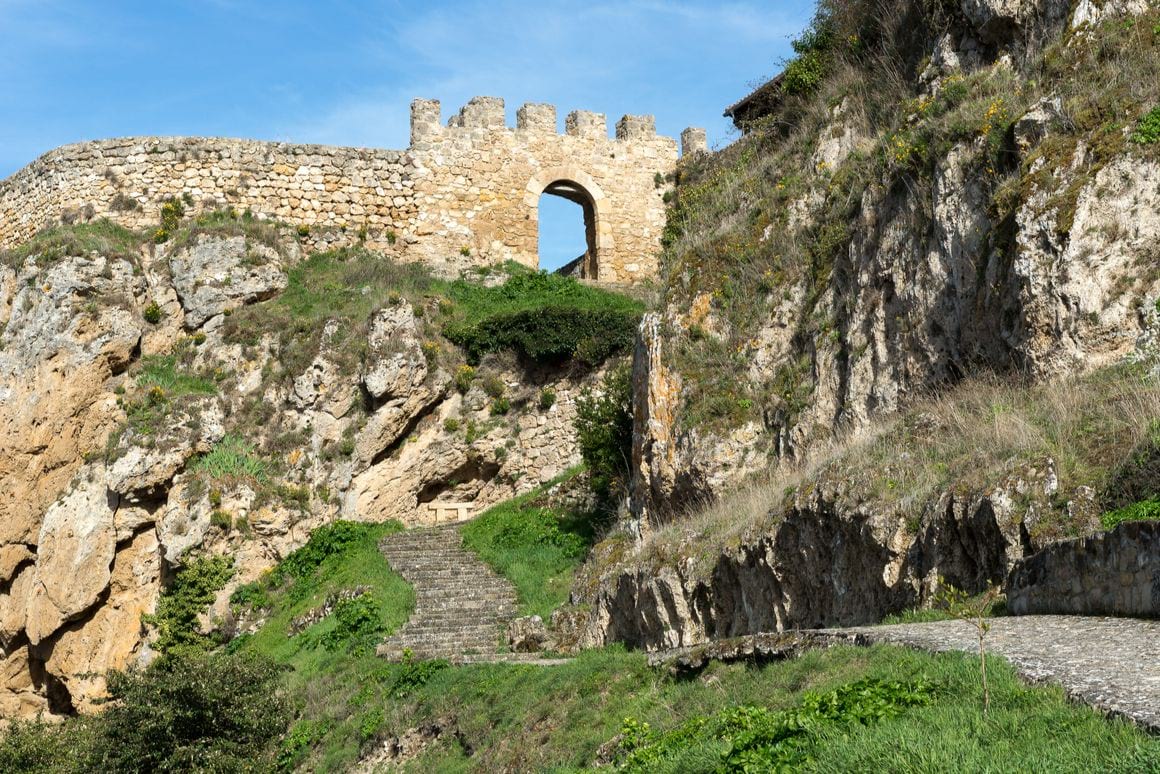 This awesome hike in Spain is part of a popular pilgrimage route: the Camino de Santiago Francés (aka the "French Way" or the Way of Saint James). This epic UNESCO-recognised trail runs all the way from various starting points in France, across the Pyrenees and into Spain. It then runs cross-country to the Cathedral of Santiago de Compostela, where the apostle Saint James is said to be buried.
The Burgos-Hontanas section of this giant route is around a 20-mile journey. The route takes you through small medieval villages, allowing you to stop off to sample local life and peer into old churches along the way.
Summers in Spain are pretty hot; we'd advise getting up early to beat the heat, especially with an almost constant absence of shade the whole way. In winter, however, you'll need to wrap up warm before heading out for the day.
Because it's a well-trodden route, it's easy to find places to stop, rest, eat, and fill your water bottle. For example, in the town of Tardajos you'll find a cafe, a shop, and a 13th-century church.
The scallop shell is the symbol of the pilgrimage route (and has been since the medieval era), so if you're ever lost, look for scallop shells. Even the pilgrims wear these shells tied around their necks.
Length: 32.5km
Duration: 6-8 hours
Difficulty: Easy/Average
Trailhead: Puente de Santa María (42°20'21.7″N 3°42'11.6″W)
2. Covadonga Lakes Trail – Most Beautiful Hike in Spain
The Covadonga Lakes Trail is a beautiful Spanish hike that takes you around two gleaming lakes in Asturias. In the summer months, it's possible to reach this circular route by taking a bus from the Sanctuary of Covadonga to Lake Ercina. Outside peak season, you can drive straight to the carpark by Lake Ercina itself.
The landscape here is nothing short of stunning. This is proper Lord of the Rings territory, with the foreboding Picos de Europa jutting into the sky like towers, and lush grasslands sloping down to the glistening waters themselves. Stunning, like we said.
Expect real countryside feels here. Cattle graze on grassland, and you may be sharing your path with sheep wandering around freely, too. As you walk about the green valleys you'll come across rustic shelters – stone cabins that were once used by shepherds in the winter months.
Every part of this walk is beautiful.
From the green pastures, the path makes its way onto rocky outcrops. If you lose your way, be on the lookout for trail makers to point you in the right direction.
Eventually you'll reach the Vega de Enol: a rural valley ripe for photo ops and gulping in gallons of fresh, mountain air.
The hike continues to Lake Enol. Sit for a while and soak up those awesome views of the Picos de Europa. The path around the lake then climbs up for bonus views of both lakes, Enol and Ercina. And in the distance, you'll spot the Bay of Biscay.
There's a restaurant at the start of the hike. Grab an espresso before the hike!
Length: 5 km
Duration: 3 Hours
Difficulty: Moderate
Trailhead: Lake Enol Refuge (43°16'25.6″N 4°59'24.8″W)
Small Pack Problems? 😉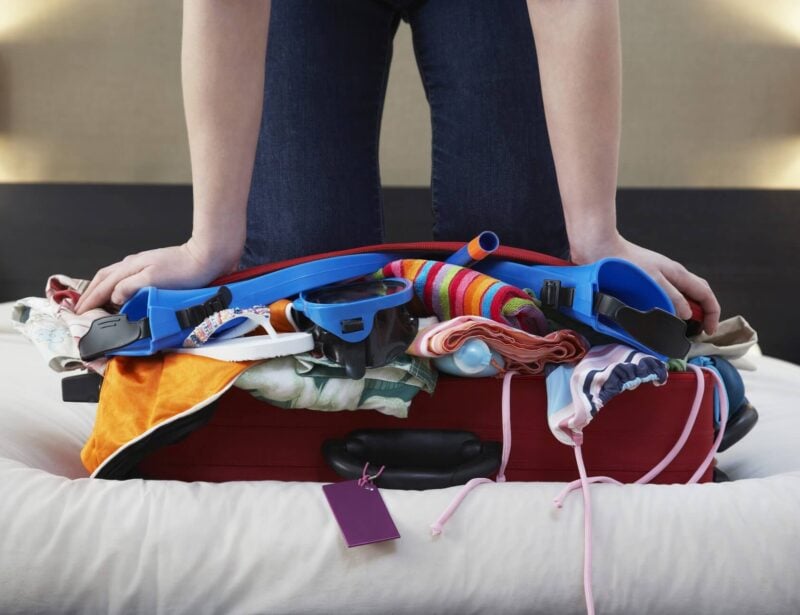 Wanna know how to pack like a pro? Well for a start you need the right gear….
These are packing cubes for the globetrotters and compression sacks for the real adventurers – these babies are a traveller's best kept secret. They organise yo' packing and minimise volume too so you can pack MORE.
Or, y'know… you can stick to just chucking it all in your backpack…
Get Yours Here
Read Our Review
3. The Carros de Foc – The Best Multi-Day Trail in Spain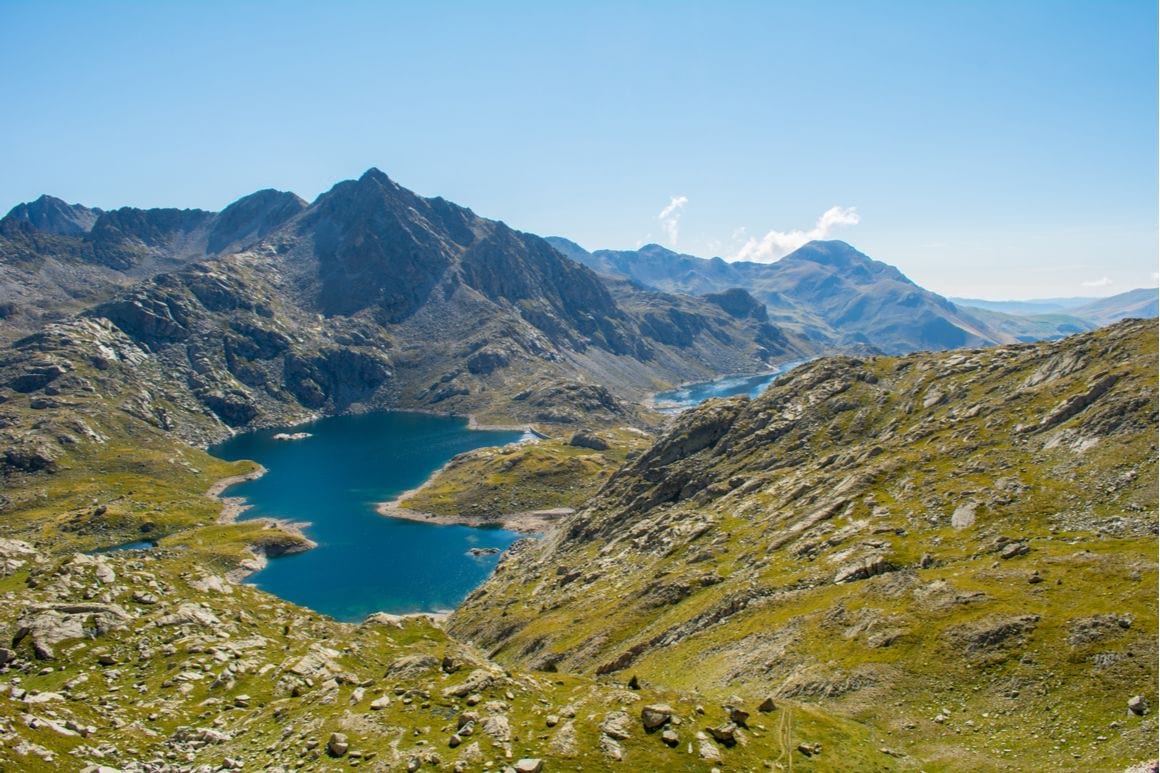 Want a chance to explore the Aigüestortes i Llac de Sant Maurici National Park? Well, here's the trek for you. We'd recommend this 47-mile expedition only for experienced adventurers who really want to get their teeth stuck into a challenge.
Dubbed Carros de Foc (or "Chariots of Fire" in English), this trek is not only one of the best hikes in Spain, but is often touted as one of the most beautiful in Europe. It's no wonder: this area of the Pyrenees is known for gleaming lakes, sweeping forests and tough climbs.
The name, somehow, originates from a legend dating back to… 1987. This is when a group of mountain refuge keepers who decided to visit all of the routes 9 pensions in one day. Why "Chariots of Fire" though is a mystery.
Today it takes more like a week and is typically segmented with eight stopping points, but just because it's well known, doesn't mean it's not easy. You'll need to plan an itinerary. You'll have to reserve a spot in the national park itself, and you need to book yourself into the cabins in advance (they can be fully booked in summer). You can reserve spaces here.
Don't forget a notepad: at each of the pensions there's a stamp to receive as a souvenir.
Length: 75 km
Duration: 7 Days
Difficulty: Hard
Trailhead: Espot (42°34'35.5″N 1°05'13.5″E)
4. The King's Little Path – Must-Visit Hike in Spain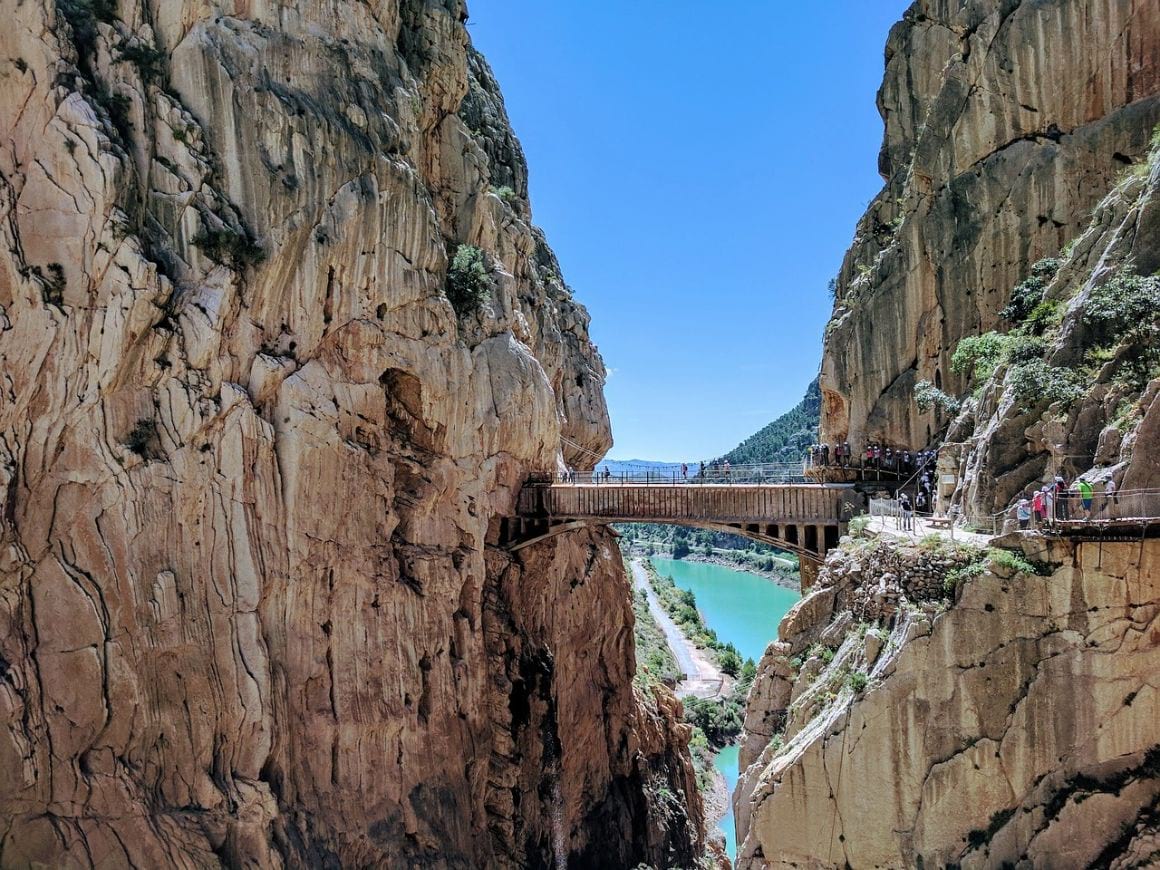 The King's Little Path is named after a visit by King Alfonso XIII in 1921 to inaugurate the construction of a dam. But don't be fooled into thinking that this is some easy little stroll: it was once said to be the most dangerous trail in Spain.
It actually had to be closed at one point because it had fallen into disrepair. But after much renovation (and requirements for visitors to wear a helmet), this hair-raising Spanish trail was opened once more in 2015. And today it's as popular as ever.
But it's not for the faint-of-heart or any sufferers of vertigo. That's because the King's Little Path (or "El Caminito del Rey") is basically a series of gravity-defying wooden bridges and walkways that cling to sheer cliffs.
If you're brave enough to tackle it, you'll be walking high above the river and forests in the depths of the Gaitanes Gorge below.
You have to book if you want to try out the King's Little Path. We'd recommend booking way in advance, as there is only a limited number allowed per its daily time slots – and it tends to sell-out. If you really want, you could even get a guided tour!
Length: 6.7 km
Duration: 6 hours
Difficulty: Average/Difficult
Trailhead: Caminito del Rey Trail Head (36°56'03.9″N 4°48'04.2″W)
5. Mount Tibidabo Walking Route – A Fun, Easy Hike in Spain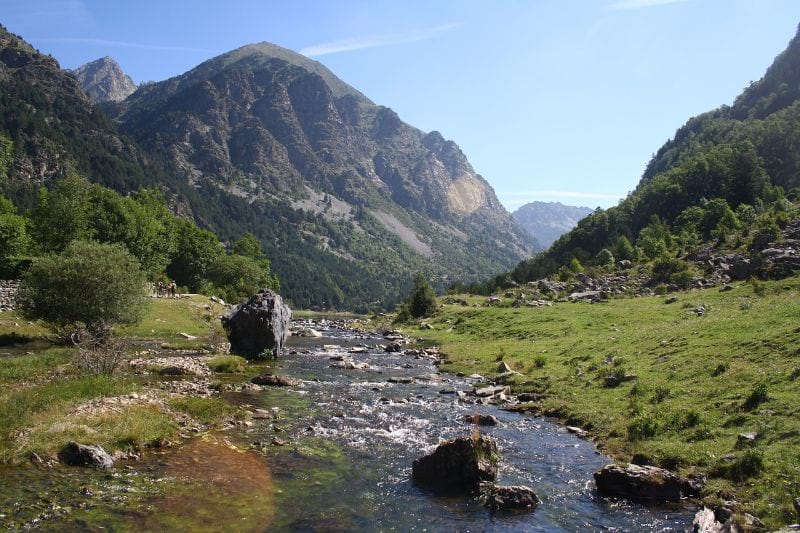 Mount Tibidabo is situated in the Collserola National Park, just north of Barcelona. It's the highest peak in the park (512m) and provides suitably awesome views of the Catalan capital and its coastline.
It's not just the views that are amazing. At the summit, you can also expect to find the Sagrat Cor Church: a soaring, impressive building to say the least. You can take the funicular up here, too, but where's the fun in that?
The hike is an easy incline along dirt paths that are fairly well marked. You'll get to soak up vistas of wildflowers, wooded hillsides, and those all-important city views as well. But make sure to take plenty of water with you, as it can get very hot.
It makes for a good Spanish hiking experience for pretty much all levels of fitness, as nothing about it is overly strenuous. It just might take some people longer than others.
Another major plus point of this hike is that there's an actual amusement park at the top of Mount Tibidabo. It's actually Barcelona's oldest, dating back to 1905!
If you don't want to walk back down, or you've had too much fun at the amusement park, no sweat. There's a bus that takes you back down to Plaça de Catalunya (or you can take the funicular).
Length: 8.5km
Duration: 2 hours
Difficulty: Easy
Trailhead: Parc de les Aigües (41°25'16.3″N 2°07'30.7″E)
Save $$$ • Save the Planet • Save Your Stomach!
Drink water from ANYWHERE. The Grayl Geopress is the worlds leading filtered water bottle protecting you from all manner of waterborne nasties.
Single-use plastic bottles are a MASSIVE threat to marine life. Be a part of the solution and travel with a filter water bottle. Save money and the environment!
We've tested the Geopress rigorously from the icy heights of Pakistan to the tropical jungles of Bali, and can confirm: it's the best water bottle you'll ever buy!
View on REI
Read the Review
6. Las Peñas de Aya – The Toughest Trek in Spain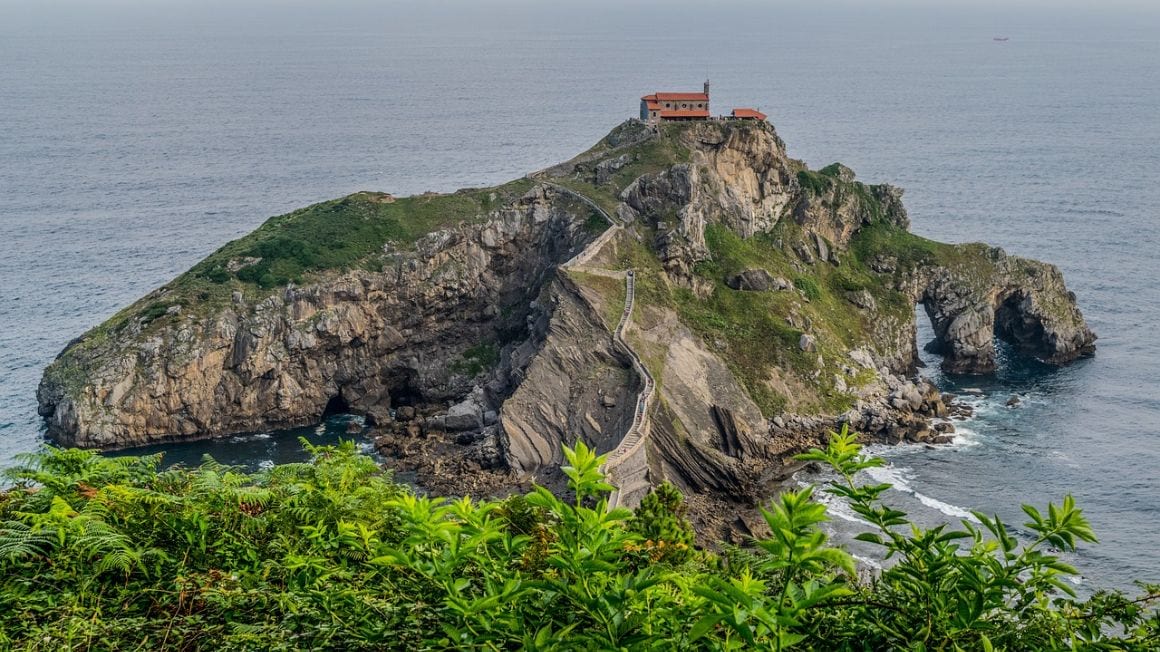 If you don't care all that much for amusement parks on hills, and you feel like something much more gruelling, then this hike is for you. Las Peñas de Haya is such a challenging hike that's almost like mountain-climbing at some points.
Located in the Basque Country, to the east of Oiartzun, Las Peñas de Haya is not for Sunday hikers or children. There's a lot of scrabbling involved, some near-vertical sections of rock, and no balustrades or safety equipment in sight.
Despite its modest altitude, and relative shortness, it won't disappoint those looking for a challenge.
For all its difficulty, the hike is actually well marked with white, red, and yellow markers. And the views, as you'd imagine, are all-encompassing. In good weather, these are next-level. We're talking exceptional, breathtaking views of the entire Basque coastline – even if this is one of Spain's more challenging hikes.
We can't stress enough how much you need proper, good quality hiking shoes for this. Some passages could even use a rope, so if you have that sort of knowledge it's a plus.
Length: 7.5 km
Duration: 4 Hours
Difficulty: Difficult
Trailhead: Parking Arditurri (43°17'03.1″N 1°48'39.1″W)
7. Teide Peak – Best Hike for Views in Spain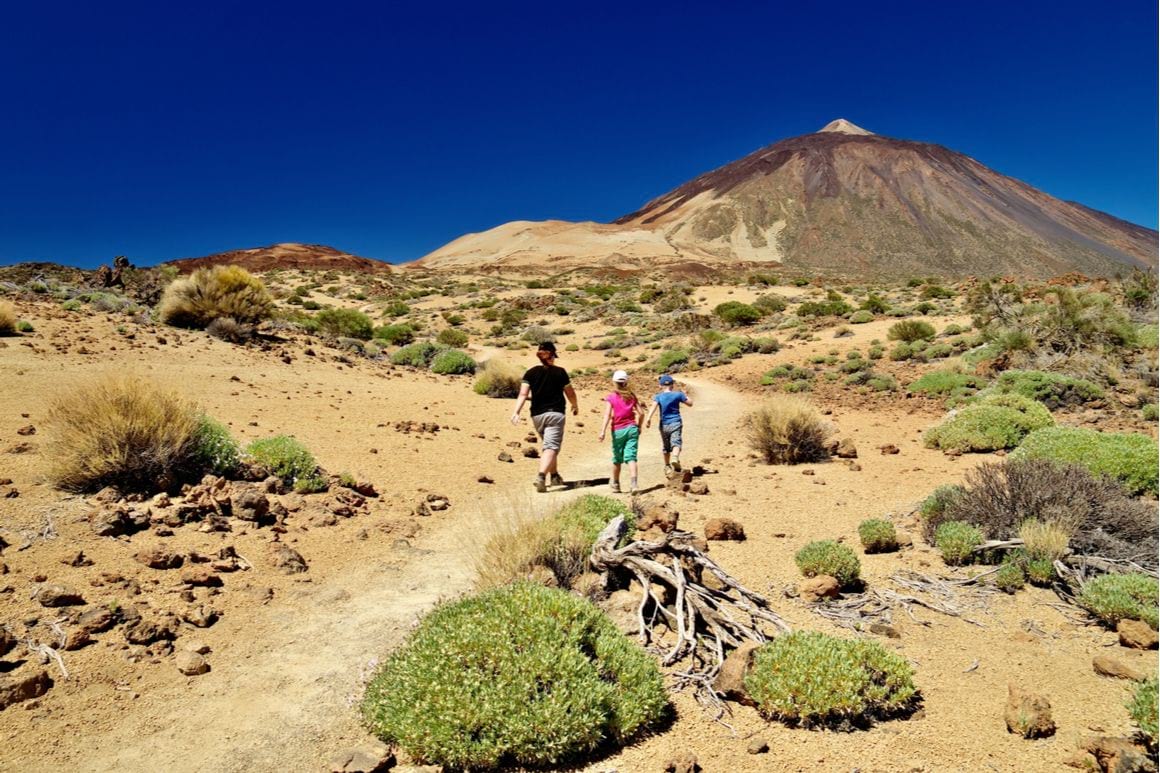 Teide Peak is a beast. Situated on Tenerife, in Spain's far-flung Canary Islands, it's the highest point in the country. If measured from the ocean floor it's the fourth highest volcano in the world. Yep, that's right, this bad boy is a volcano, which last erupted in 1909.
This 12,000-plus-footer is the centrepiece of the Teide National Park – and it's steeped in history and mythology. And for keen hikers out there, it can indeed be summitted.
There are numerous ways to reach the peak to tackle it, but first of all you've got to reserve your place in the national park by getting a (limited) free permit. They're available to order online here.
The path up from Montaña Blanca is difficult. It's rocky and steep, with air getting thinner as you ascend to the higher sections. Starting the climb earlier in the morning will give you enough time to reach the peak and come back down by sunset.
Even though it's challenging, the trail itself is easy to follow. Much of its difficulty lies in this being partly high altitude, which tires you out more quickly. It can also be very cold. Solution: layers.
Views from the top are amazing. You'll literally be above the clouds. Easily one of the best hikes in Spain.
There's the option to stay overnight in a mountain pension, reaching the top for sunrise instead. As for where to stay on Tenerife itself, there is no end of affordable guesthouses and apartments.
Length: 16 km
Duration: 10 hours
Difficulty: Difficult
Trailhead: Sendero de Montaña Blanca (28°15'34.2″N 16°36'12.3″W)
8. Roca Grossa y Talara de Sant Josep – Off the Beaten Path Trek in Spain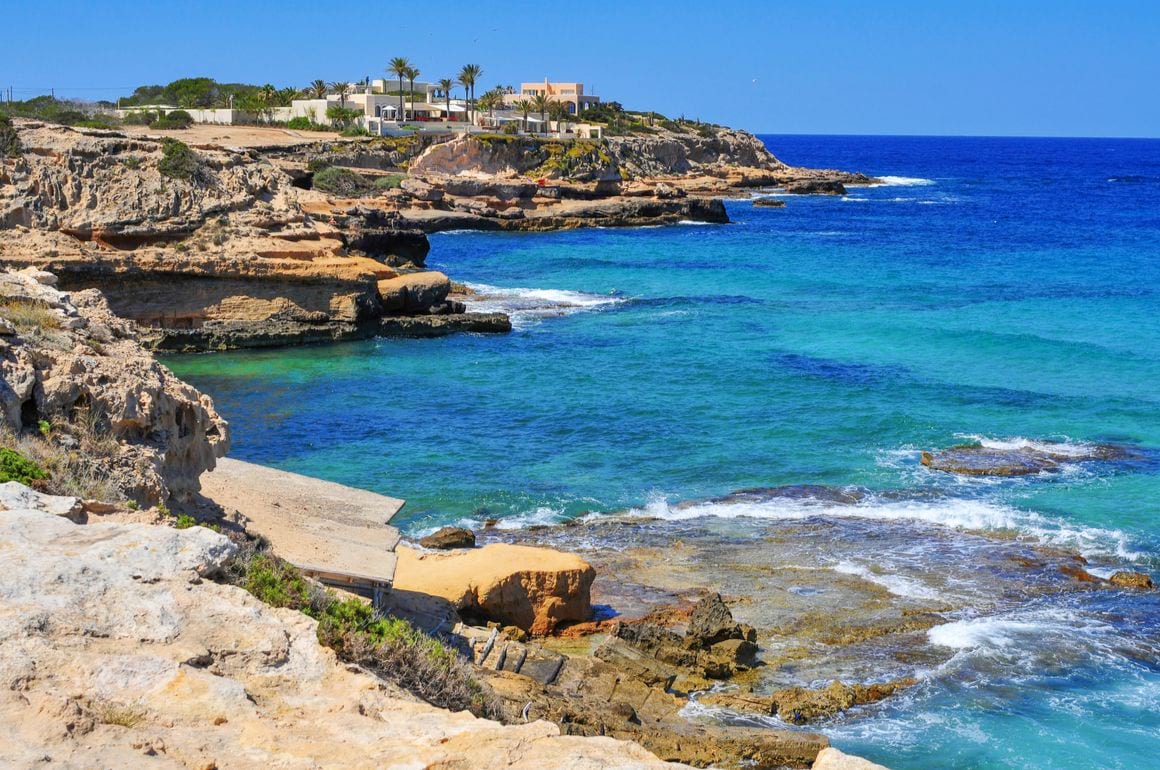 People don't usually come to the hedonistic party island of Ibiza for hiking, but there's actually some good hiking out there. You've just got to know where to find it. One such place is Sa Talaiassa: the highest point in Ibiza.
You can pick up the trail at the church in San Josep de Sa Talaia, and work your way up to the long peak from there. From the top of this tree-covered mountain at 1,500 feet, the views are pretty incredible – even on a cloudy day.
But on a clear day, with 180-degree visibility, you'll be able to see the whole of Ibiza, as well as other Balearic islands in the surrounding sea.
It's not the most famous trail in Spain – far from it – but with those beautiful views, and the rustic setting, it makes for something completely different from the norm in Ibiza.
Just make sure you take plenty of water and food to keep you fuelled up. The trail is generally quite well marked as it winds through the wooded slopes. It can be slippery at times though, so take it slow if you're not a super confident hiker.
Length: 6.5km
Duration: 2 hours
Difficulty: Moderate
Trailhead: Sant Josep (38°55'18.5″N 1°17'35.0″E)
DON'T DIE OUT THERE! …Please 🙂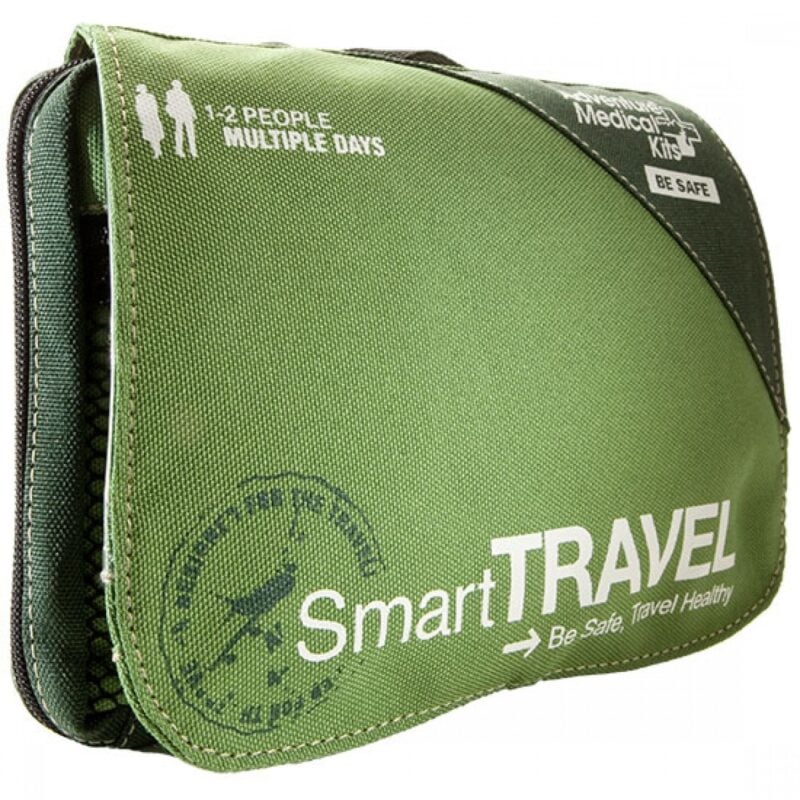 Things go wrong on the road ALL THE TIME. Be prepared for what life throws at you.
Buy an AMK Travel Medical Kit before you head out on your next adventure – don't be daft!
Buy on REI
Spain is one of the most visited countries in Europe. It's not exactly hard to see why that's the case: good food, good weather, chill culture, and interesting history make it a place that's easy to fall in love with. Because of its popularity, accommodation in Spain is a breeze.
The question of where exactly to stay is a good one though. With options being seemingly endless, simply figuring out where to stay in Spain can be tricky. But if you break it down, it becomes simpler.
To start, Spain has a collection of cool cities to base yourself. Barcelona, for example, is fun, beautiful and has some great hiking right on the doorstep. If you want to be literally on the Camino de Santiago, there are even a few cities along the way: Leon, Pamplona, or the smaller Burgos.
Or you could opt for the capital, Madrid… or go to coastal Malaga way down south. Basically the list is almost endless; it all depends where in the country you want to be.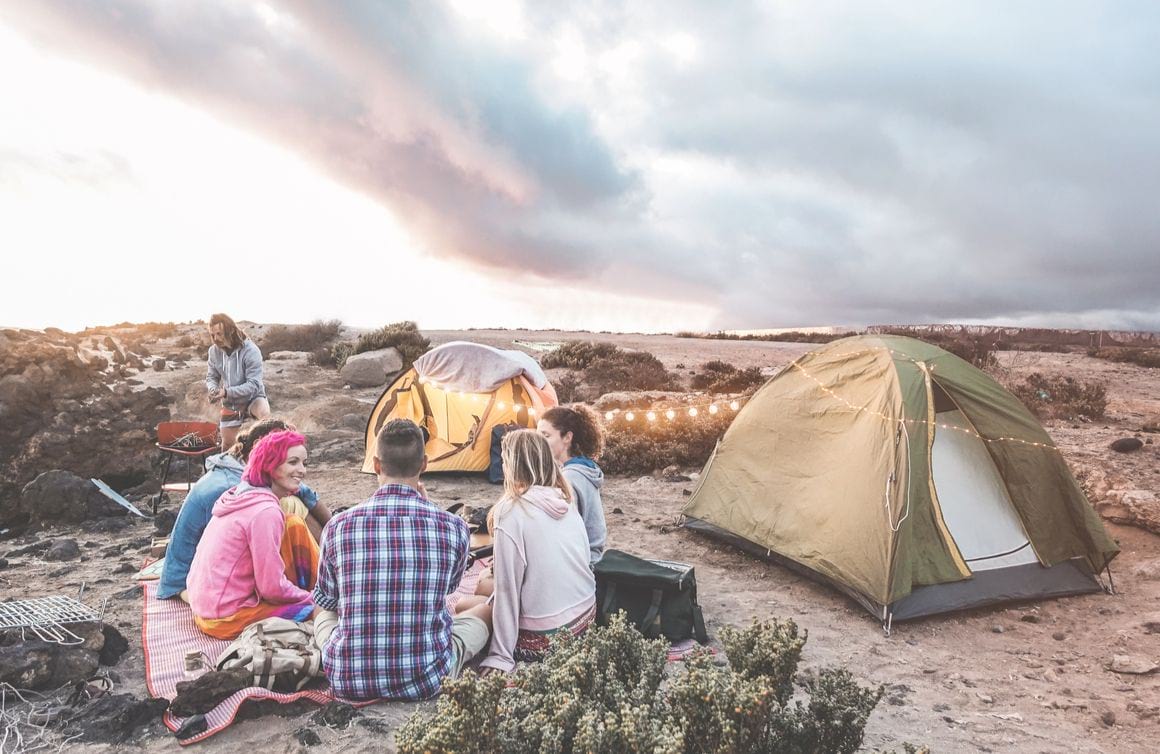 Spanish islands are also great. The Canary Islands, in particular the popular island of Tenerife, have no end of accommodation options, beaches, and hiking opportunities. Even the Balearic Islands, such as Ibiza, can be great bases for keen hikers – it's not all about partying!
Staying in more out of the way towns and villages is also a possibility. Pensions, apartments and family-run inns dot the country, and make for a great way to be closer to the Spanish countryside and its various trails.
And if you want to camp, you can do that too. Spain has numerous Eurocamps: large campsites with conveniently pre-erected tents, facilities like bars and restaurants, swimming pools, and playgrounds.
Wild camping is fairly tolerated, especially along the Atlantic Coast (not beaches; and not the Mediterranean Coast), in rural areas, and away from resorts and tourist hotspots. Otherwise you can expect fines.
There are some apartments that make you drool in envy and this is definitely one of those Airbnb situations here! This Airbnb is for a two-bedroom and one bathroom apartment nestled right in the heart of Toledo's Old Town. The Toledo Cathedral is practically on your doorstep. This pristine clean apartment with crisp white walls and tons of exposed wooden beams will make you never want to leave Toledo.
What more could you ask for in a Spanish hostel? The Oasis Backpackers' Hostel Sevilla is a truly epic hostel! With a pool, rooftop terrace, and onsite bar, you're sure to make plenty of friends at this hostel. Plus, there are BBQs and dinners each night so sip some sangria and get social! Plus, this hostel is situated right in the heart of the city, within easy walking distance of all the top tourist attractions.
Best Hotel in Spain – Hotel El Molí – Costa Brava
Alright folks, this hotel is one for the books! Appearing right out of the pages of a magazine, Hotel El Molí in Costa Brava is beyond comparison. It is situated right in the middle of a pine forest and is around a fifteen-minute walk from the beach. It is also just a five minutes drive away from the Aiguamolls d'Emporda Nature Reserve. Ready to relax in elegance and style? This hotel is for you!
Is This the Best Backpack EVER???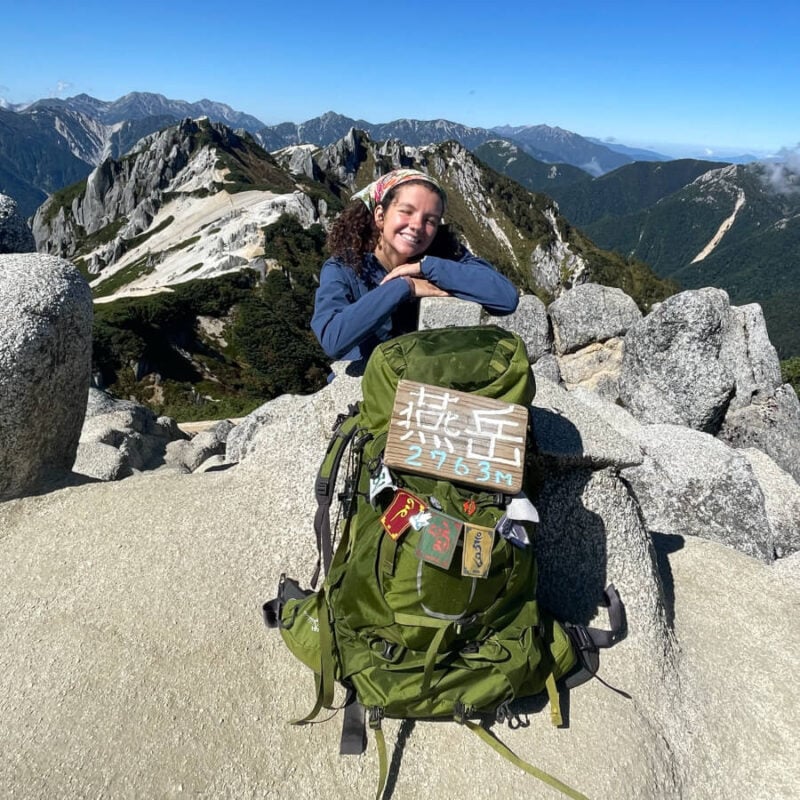 Spain is the most amazing place for hiking and, by now, you're probably super excited to get out there. But what to pack? Many of the hikes in Spain won't require too much specialist equipment, although you will still need to plan what to take with you.
There are a few hikes which might require you to pack a few extras – especially if you're going to be doing a multi-day trek. Whatever type of hike you do choose, there are some absolute essential items you will need to pack though.
Wearing a good pair of hiking shoes is important. There is no point going hiking if you're wearing a pair of shoes on that'll rub your feet. Pack a pair that you know won't cause you any pain and that fit well. Also consider if the grip is suitable for the hike you're tackling.
Making sure you are suitably hydrated will also be a challenge on some hikes in Spain, but a filter water bottle means you'll have access to drinking water on most routes. Hiking without the right amount of fluid is pretty dangerous, so it's always best to pack a bottle in your pack.
Speaking of packs, a good daypack that is light and comfortable is also a must have. Your daypack shouldn't feel like it weighs you down – even when it's got your kit in it.
Here's a round up of the top essential hiking items you need for a trip to Spain:
Trekking Poles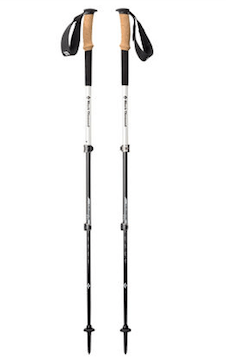 Trekking Poles
Black Diamond Alpine Carbon Cork
Price > $$$
Weight > 17 oz.
Grip > Cork
Headlamp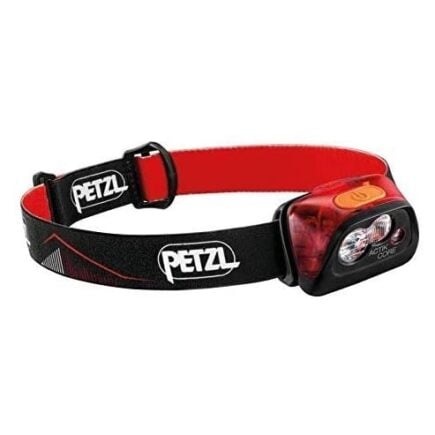 Headlamp
Petzl Actik Core Headlamp
Price > $$
Weight > 1.9 oz
Lumens > 160
Hiking Boots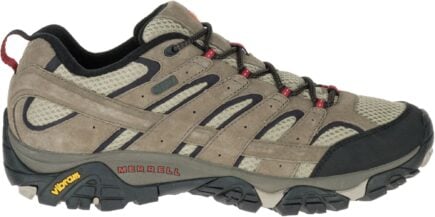 Hiking Boots
Merrell Moab 2 WP Low
Price > $$
Weight > 2 lbs 1 oz
Waterproof > Yes
Daypack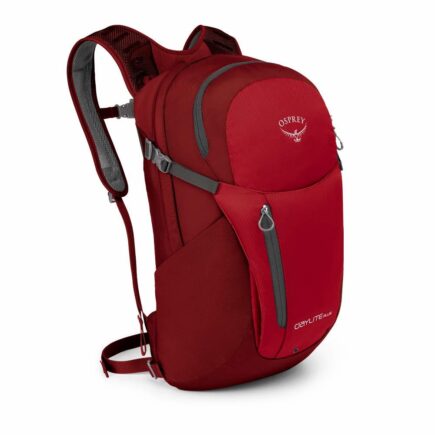 Daypack
Osprey Daylite Plus
Price > $$$
Weight > 20 oz
Capacity > 20L
Water bottle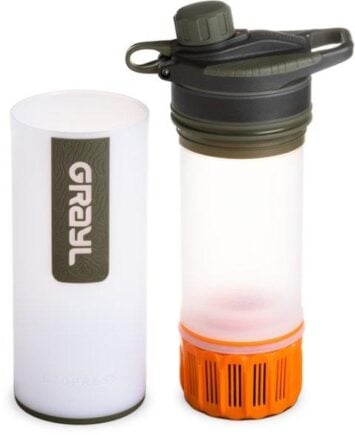 Water bottle
GRAYL Geopress
Price > $$$
Weight > 16 oz
Size > 24 oz
Backpack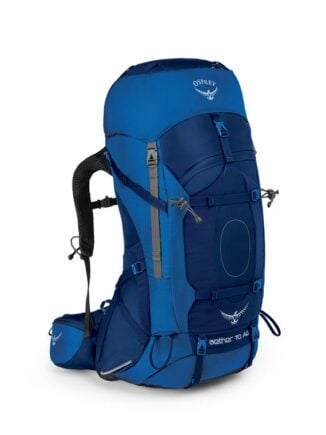 Backpack
Osprey Aether AG70
Price > $$$
Weight > 5 lbs 3 oz
Capacity > 70L
Backpacking Tent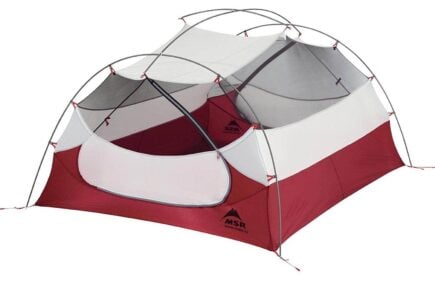 Backpacking Tent
MSR Hubba Hubba NX 2P
Price > $$$$
Weight > 3.7 lbs
Capacity > 2 person
GPS Device
GPS Device
Garmin GPSMAP 64sx Handheld GPS
Price > $$
Weight > 8.1 oz
Battery Life > 16 hours
Don't Forget Your Spain Travel Insurance
ALWAYS sort out your backpacker insurance before your trip. There's plenty to choose from in that department, but a good place to start is Safety Wing.
They offer month-to-month payments, no lock-in contracts, and require absolutely no itineraries: that's the exact kind of insurance long-term travellers and digital nomads need.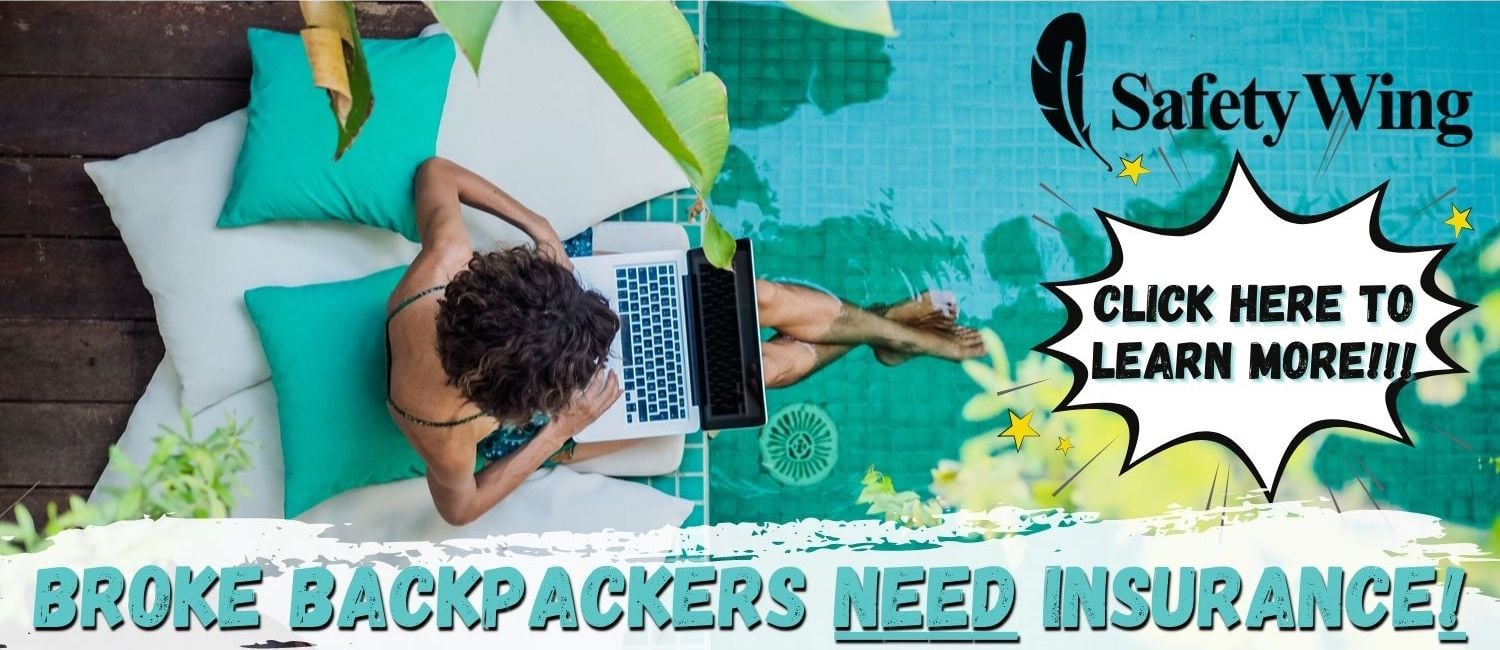 SafetyWing is cheap, easy, and admin-free: just sign up lickety-split so you can get back to it!
Click the button below to learn more about SafetyWing's setup or read our insider review for the full tasty scoop.
---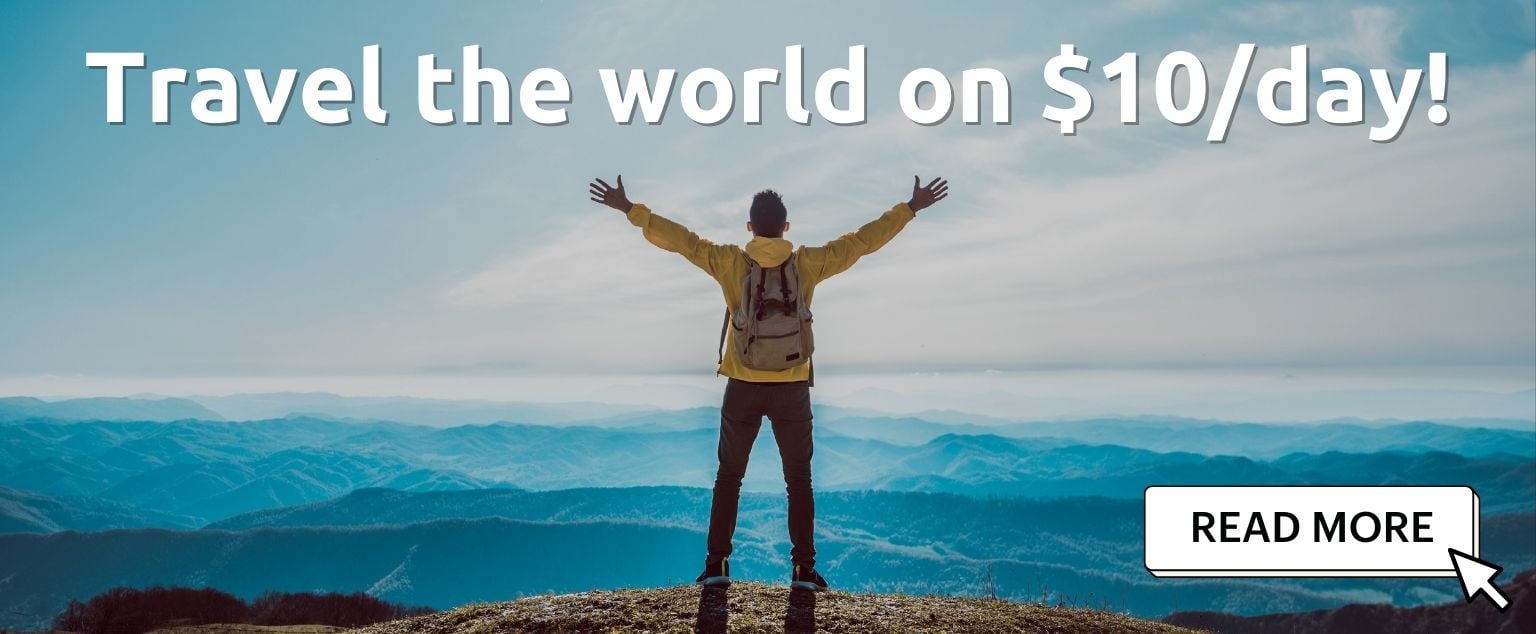 And for transparency's sake, please know that some of the links in our content are affiliate links. That means that if you book your accommodation, buy your gear, or sort your insurance through our link, we earn a small commission (at no extra cost to you). That said, we only link to the gear we trust and never recommend services we don't believe are up to scratch. Again, thank you!