Spain is what I like to call the 'wildcard' of European nations. The quasi-tropical climate elicits unusual behaviour, and even the best of us sometimes wakes up confused, alone, and in dire need of confession. Good weather, energetic characters, and iconic Spanish demeanour make Spain a top tourist destination.
Although Spanish beaches draw millions of visitors each year, Spanish national parks are excellent holiday spots too. As the dark horse of European hiking, Spain has a great range of towering massifs, precipitous cliffs, and volcanic playgrounds. Combine this with delicious dishes and mouth-watering wine, and you have yourself a winner.
The natural spaces in Spain are well-signposted and well-travelled. If you are looking for something straightforward, without compensating for insane views and lush scenery, Spain is for you. Follow this guide as it takes you through the top parks that Spain has to offer.
What are National Parks?

National parks are designated as such because of their national interest. These places have an ecological heritage and contain some of the country's principal natural systems. Development is controlled in these areas and eco-tourism is encouraged.
A pioneer in environmental protection, Spain began preserving its land under the pseudonym of 'national parks' as early as 1918, decades before other European nations started their conservation efforts.
Today, a total of 16 Spanish national parks await visitors. Eleven are located in the peninsula, four in the Canary Islands, and one in the Balearic Islands.
Approximately 15 million people visit the national parks annually. Even if you're not into super adventurous activities, such as whitewater rafting or multi-day hiking, the parks are still great places to indulge in quiet contemplation and impressive scenery. Whether you're backpacking through Spain, looking for an adventurous holiday, or out with the kids, these parks are not to be missed.
National Parks in Spain
Raring to practice your language skills, whilst visiting some of the best hiking in Spain? You're in for a treat! I've rounded up 11 of the best national parks Spain has to offer.
Cabañeros National Park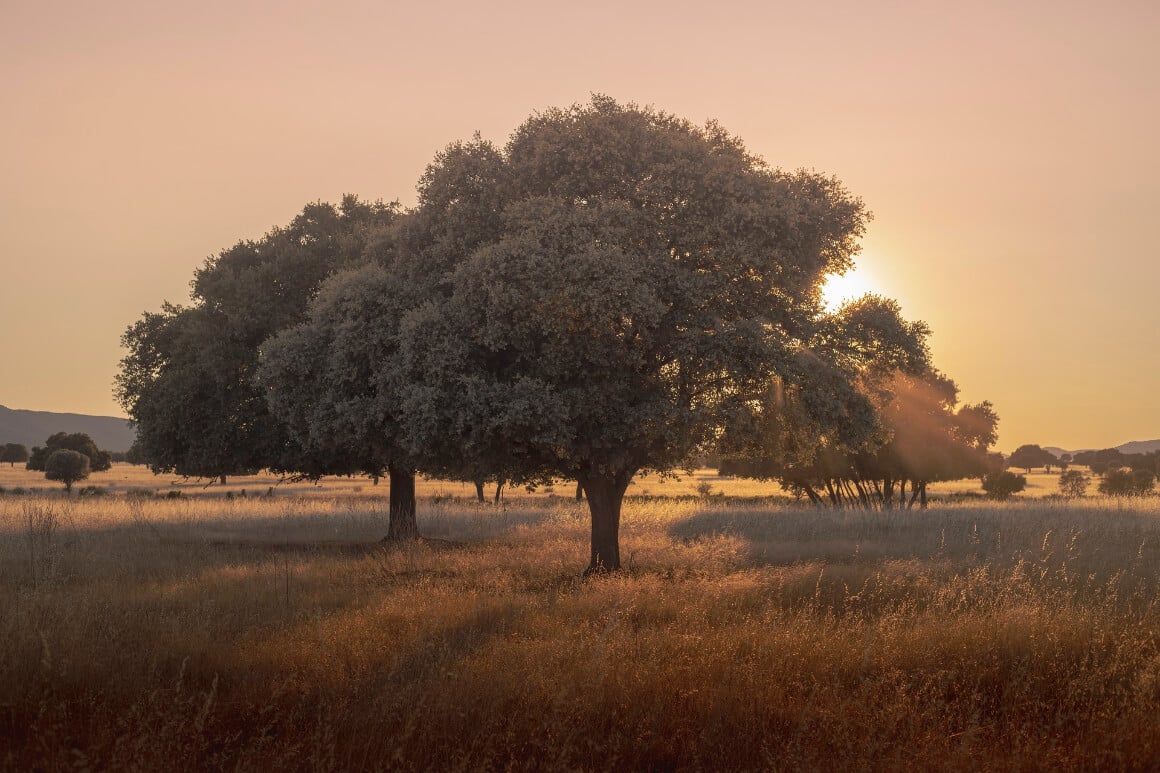 Size: 157² miles
Location: La Mancha
Cost of Entrance: Free
One of the most popular national parks in Spain, Cabañeros National Park is also referred to as the 'Spanish Serengeti'.
The park boasts picturesque mountain ranges, lush pastures, and massifs covered in Mediterranean scrubs and forests. The park contains remarkable fauna, including a variety of endemic species such as the Iberian eagle, black vulture, red deer, and roe deer.
Located in the Montes de Toledo region, Cabañeros is divided into two areas, the mountain range and the lowlands. The mountain range is a haven for large mammals and black vultures, while the lowlands feature lush pastures ideal for cattle grazing.
Hikers will love the park's 16 trails, although none of them present a particular challenge. It's important to keep in mind that even if you're an experienced hiker, temperatures can soar midday, so avoid hiking at that time (or stock up on agua). Check out our guide on the best times to visit for more info.
If hiking is not your thing, you'll be pleased to know that there are routes for exploring the park in a four-wheel-drive vehicle, by bicycle, or on horseback.
After a day of adventure, fill yourself up with authentic Manchego cuisine in the many restaurants within the park. The dishes are prepared and cooked by shepherds who live in the park's six villages, and the experience is a must-try for foodies.
If you want to see the famed spectacular night sky of Cabañeros, time your visit during spring and summer. The skies become stunning natural observatories and it's nothing short of awesome!
Where to Stay – La Casona del Bullaque
This holiday accommodation is the best place to call home when exploring Cabañeros National Park. It has a children's playground, an outdoor swimming pool, and free private parking.
Aiguestortes National Park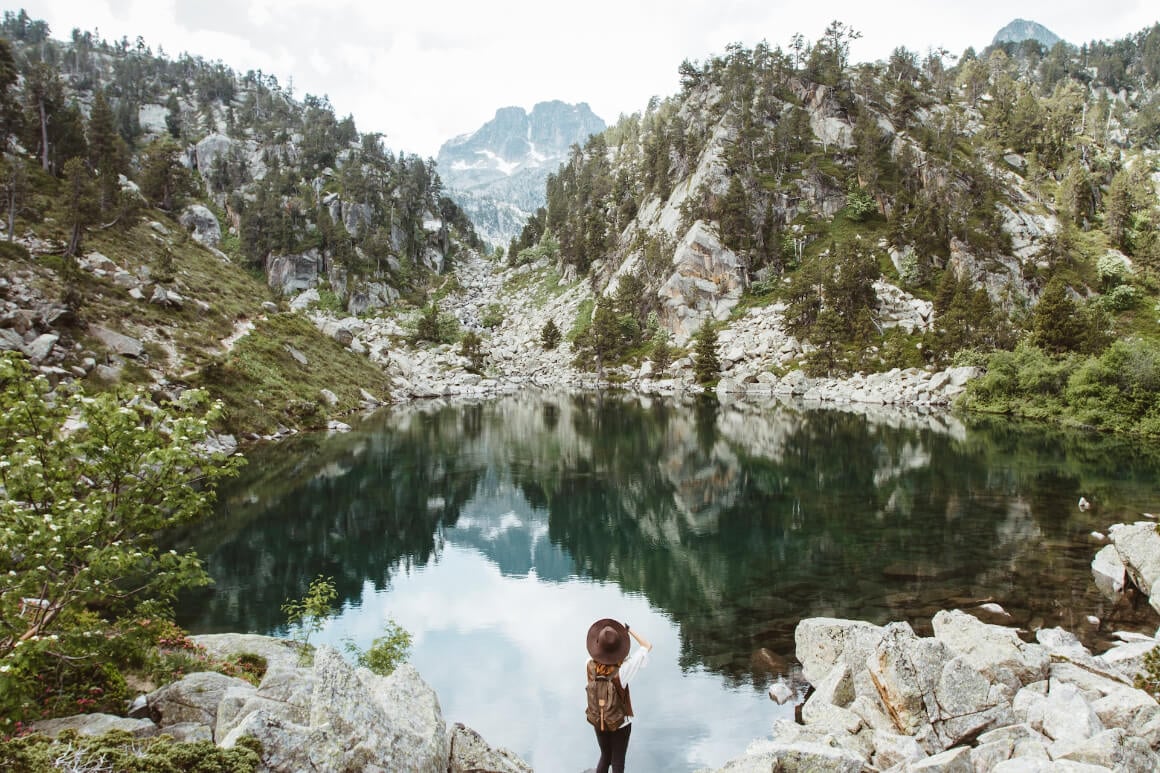 Size: 54² miles
Location: Catalonia
Cost of Entrance: Free
Considered one of the most beautiful national parks in Spain, and the only national park in Catalonia, Aiguestortes is renowned for its various ponds, waterfalls, rivers, lakes, and glacial valleys. Thousands of people visit the park each year to see the Lake of Sant Maurici, found at the foot of the park's mythical mountain, the Encantats.
Aiguestortes boasts 27 different hiking routes, with convenient signposting and well-chosen lookout points. To make the experience more enjoyable, wear comfortable footwear and take a map of the area with you (or google. That works too).
For hardy and adventurous hikers, two multi-day circuits are waiting to be explored and conquered. Camins Vius (living paths) calls to those who are looking for a true adventure, and the other, Carros de Foc, (chariots of fire) speaks for itself. Camping in the park is prohibited, but several mountain shelters and cottages can be found along these routes.
Aside from exploring the park on foot, there are 13 cycle routes to try out. Easy routes are ideal for families, whilst people with more experience can opt for mountain bike experiences.
Where to Stay – Country home in Espot
If you don't plan on spending a few days hiking the park, this beautiful home is the best place to rest up. Located just next to the park and ski resort, it boasts amazing views and is equipped with modern facilities.
Teide National Park
Size: 72² miles
Location: Tenerife
Cost of Entrance: Free
One of the most visited Spanish national parks, Teide is situated over 3,000 meters above sea level. The park has a unique landscape, characterized by rivers of petrified lava, craters, and volcanoes.
The park has two visitor centres, an extensive network of trails, and a wealth of vantage points that highlight the picturesque surroundings.
Declared a UNESCO World Heritage Site in 2007, the best way to explore Teide is on foot. Over 40 well-signposted routes guide adventurers of all levels. The famous Montaña Blanca del Teide, ideal for active hikers, is a gem worth checking out.
If you're not in the best physical form, easier but equally exciting routes are available too (Montaña de Los Tomillos and La Fortaleza routes are great starting points!). Use ample sun protection, carry a good water bottle, and wear sturdy hiking boots if you plan to do a lot of walking.
Mount Teide dominates the park, and the imposing volcano changes its appearance depending on the season. Visitors can climb to the top via the Montaña Blanca trail, taking about seven hours. Those who want to ascend quicker can take the cable car from the base station to La Rambleta.
Not to be missed is the viewing point on Narices del Teide. At over 2,000 meters high, it's the perfect spot for watching the sun set.
If you're into stargazing and astronomy, pay a visit to the Teide Observatory. Some of the best telescopes in the world are sold here!
Where to Stay – House in Portillo Alto
Put your feet up in this cottage just inside Teide National Park. This is a fantastic place to base yourself for the longer hikes, and has some great walks right outside the front door too!
Garajonay National Park
Size: 15² miles
Location: La Gomera
Cost of Entrance: Free
Located on the Canary Island of La Gomera, Garajonay National Park is distinct for its laurel forests and terrain you won't see in other Spanish national parks.
The park got its name from a young Gomeran princess named Gara, and a young prince named Jonay. Their sad and short-lived love story, similar to Romeo and Juliet, took place hundreds of years ago.
Aside from the laurel forests and diverse plant life, impressive rock formations have formed as a result of the erosion of volcanic rocks. Alto de Garajonay, the park's highest point, has commanding views of the whole island.
The park has 18 routes, mostly short and easily accessible. An audio guide is provided for people who decide to visit the park without the help of a guide. Try and take advantage of guided tours if you have the opportunity, as they are completely free every Friday throughout the year.
The quickest and most comfortable way of getting to know Garajonay National Park is through an organized excursion. If you're apprehensive about venturing alone, this is a great option.
Garajonay has a mild and temperate climate throughout the year. If you want to see flowers in bloom, the best time to visit is between March and June.
If you time your visit in September, the Jornadas Colombinas Festival is a brilliant attraction to see, commemorating Christopher Columbus' first voyage to America. There's food tasting, dancing, and music. A must for any culture vulture!
Where to Stay – Hotel Rural Imada
This hotel in Imada, with its balconies and lovely garden views, is the perfect place to have your morning coffee. Sunset with a glass of your favourite beverage in hand is a great way to settle down after a long day.
Picos de Europa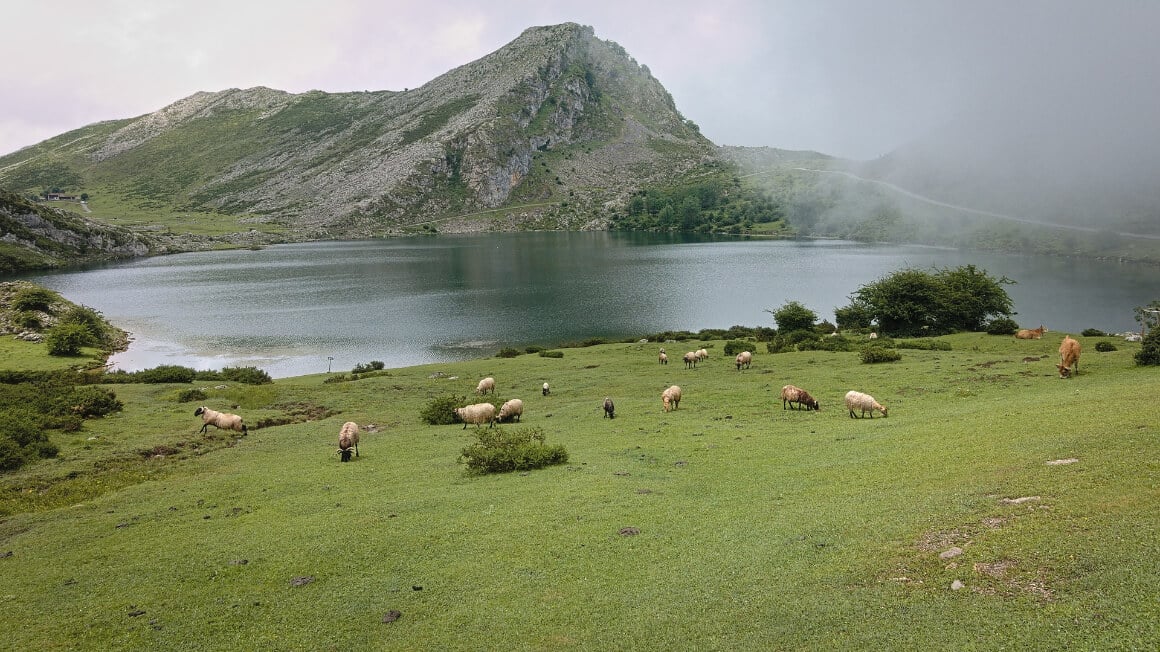 Size: 250² miles
Location: Cantabrian mountains
Cost of Entrance: Free
The oldest of all national parks in Spain, Picos de Europa is one of the best examples of an Atlantic ecosystem. Aside from being the home of three important peaks (Andara, Cornion, and Urrielles), two of the country's most iconic animals, the Iberian wolf and the brown bear, can be found in the park.
This massive park sprawls through the provinces of Cantabria, Leon, and Asturias. One of the finest walks in the park is the popular Ruta del Cares, characterized by dizzying drops, dark tunnels, and precipitous cliffs. Don't worry if you aren't up for hiking, you can still discover the famed route on a jeep tour. Other popular activities are kayaking, canyoning, caving and snowshoeing.
Virtually deserted during winter, Picos de Europa fully comes to life during August. June and September are quieter months but have weather that is just as favourable!
The Lakes of Covadonga, Naranjo de Bulnes, and Sella River, are places not to be missed. The Sella River is a favourite for those who enjoy rafting, canoeing, and kayaking.
Cap off your visit by going on a foodie adventure. Local cider and Cabrales cheese are two of the must-tries in the area. The cider is made by local producers in Asturias and is served in a unique way. The cider bottle is held high up above the head and a small amount is poured into a glass held low. The Cabrales cheese, made from 90% cow milk, is a strong blue cheese that can be eaten on its own or with one of many local dishes.
Where to Stay – Lovely cottage in Cantabria
There's no better place to stay when exploring Picos de Europa than this three-level house. The place boasts private parking, spectacular mountain views, and a closed patio ideal for enjoying al fresco meals.
Doñana National Park
Size: 209.65² miles
Location: Andalusia
Cost of Entrance: Free
Doñana National Park was established as a nature reserve in 1969. It has a diverse ecosystem made up of pine groves, moving dunes, lagoons, marshes, and cliffs. The park is a shelter for countless wildlife species. Fallow deer, the Spanish red deer, European badgers, African migratory birds, the Iberian lynx, and the Spanish imperial eagle all take residence here.
The easiest way to reach Doñana is to fly to Sevilla and then drive the final 45 minutes. You can either rent a car from the airport, or book trips from Sevilla to the park. April is considered the best month to visit, especially if you enjoy birdwatching.
You can explore Doñana on your own, however, guided tours are available if you want that extra bit of local knowledge! Hop on a tourist boat cruising up the final section of the Guadalquivir River for a different perspective of the park.
One of the park's most interesting features is its moving sand dunes. The coastal winds pull the sand inland, forming ever-changing valleys and peaks of sand. If you sign up for horse riding by the beach, you won't miss these spectacular sights.
Another must-see when in Doñana is the famous white village of El Rocio. Visit May or June to see hundreds of lay brotherhoods during the procession of El Rocio, which is part of a larger pilgrimage.
While in the area, make a point to try various local specialities, such as the Iberian ham or the white Huelvan prawns.
Where to Stay – Chalet in Huelva
Get your much-needed shuteye in this centrally located chalet, offering private parking and proximity to the beach. A bevvy of bars and restaurants are located by the beach too.
Have you sorted your accommodation yet?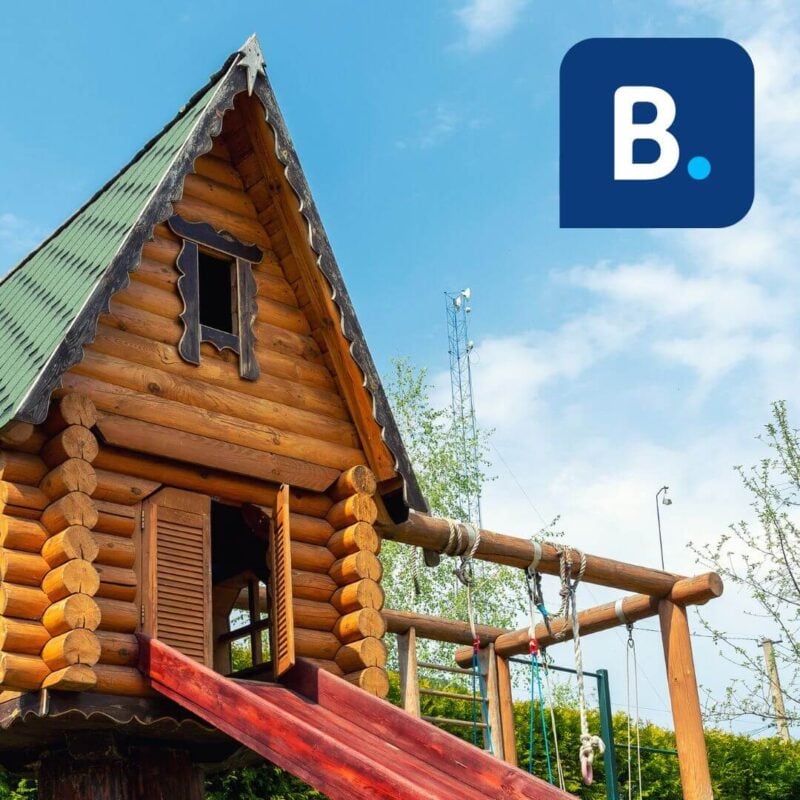 Get 15% OFF when you book through our link — and support the site you love so dearly 😉
Booking.com is quickly becoming our go-to for accommodation. From cheap hostels to stylish homestays and nice hotels, they've got it all!
View on Booking.com
Cabrera Archipelago Maritime-Terrestrial National Park
Size: 351² miles
Location: Balearic Islands
Cost of Entrance: €8
An hour by boat from the island of Mallorca, Cabrera Archipelago Maritime-Terrestrial National Park has one of the best-preserved marine life in the Mediterranean. Its untouched coastline has an awesome assortment of species native to the Balearic Islands.
Uninhabited for long periods of history, the park is characterized by its lack of human interaction. Deliciously deprived of crowds, the park is earmarked mostly for research. It can be visited by the public through carefully controlled boat trips from Colonia de Sant Jordi.
No more than 300 people are allowed on the island daily. You can make your way on a private boat but prior permission is required to do so.
The only Spanish national park located in the Balearics, the park offers adventurers of all sorts eight self-guided routes. Take precautions by ensuring you have plenty of sun protection and water, particularly in spring and summer.
The park's Emile Baudot Escarpment is a prime area for various sea creatures, including turtles, whales, and dolphins. You can explore the seabed if you bring a mask and a pair of fins (or you could free-dive it).
Don't leave the park without checking the view from Cabrera Castle. The 16th-century edifice boasts the island's most spectacular views. The Ensiola Lighthouse, the museum, and the Botanic Garden are other great places to check out.
Where to Stay – Designer loft in Mallorca
This dreamy designer loft is within walking distance of the beach and has a massive outdoor space perfect for relaxing after a day of adventures at the park. Read your favourite book, or enjoy a glass of gorgeous Spanish wine in the evening.
Caldera de Taburiente National Park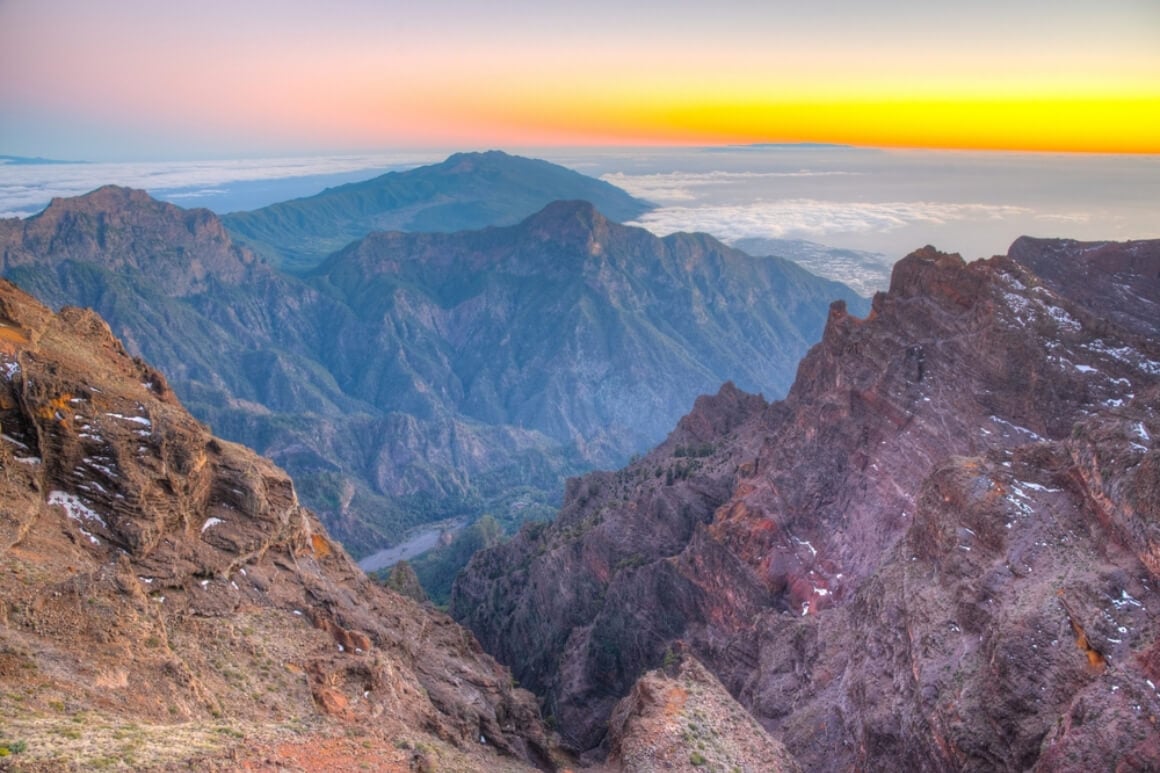 Size: 273² miles
Location: La Palma
Cost of Entrance: Free
Declared one of Spain's national parks in 1954, Caldera de Taburiente is referred to as 'the green island'. The park's most prominent feature is the 5-mile crater of the same name that occupies the island's central area.
The crater was created more than 2 million years ago and has a unique ecosystem, with lush vegetation. Aside from the impressive caldera, you can expect huge mountain peaks and rare Canary Pines native to the island.
Drop by the El Paso visitor centre to get practical information such as maps, routes, and leaflets. If you plan on camping, you also need to get in touch as they are tasked with issuing camping permits.
Hikers can follow the various marked paths, the most popular of which is PR LP 13, which begins at Los Llanos de Aridanes. Stop by the viewpoints of Los Andenes and La Cumbrecita to see wonderful views of La Palma.
If you don't have the energy for hiking, you can actually drive up one of its many peaks (such as El Roque de Los Muchachos).
Where to Stay
It's possible to stay overnight at the park but you need the right permit, and to stay between the dates specified. Remember to take all the necessary materials for a comfortable stay. That means a tent, a bunch of food, and a warm sleeping bag!
Atlantic Islands of Galicia Maritime-Terrestrial National Park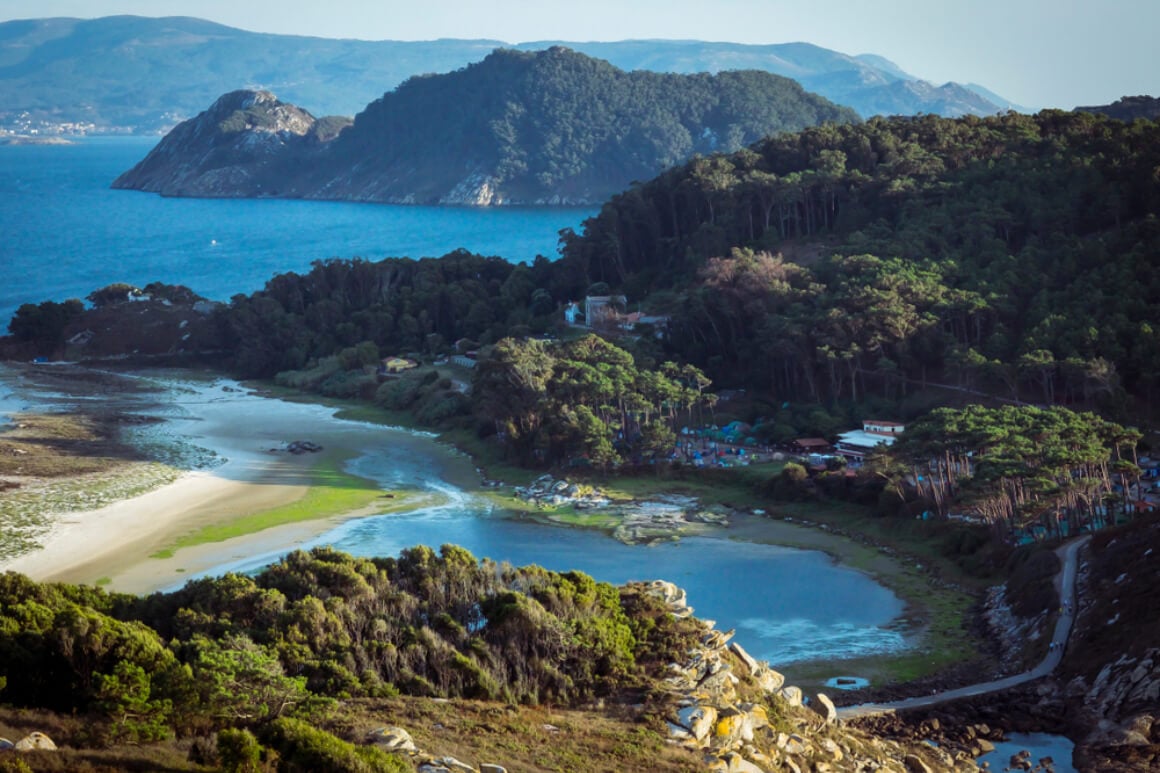 Size: 32.7² miles
Location: Galicia
Cost of entrance: Free
The only national park located in Galicia, the Atlantic Islands of Galicia Maritim-Terrestrial National Park comprises the archipelagos of Salvora, Ons, Cies, and Cortegada. Of all the national parks in Spain, it is the tenth most visited and the thirteenth to be established in the country.
A leader in sustainable tourism, the park is only open to the public in the summer months, ensuring the conservation of the area. Dominated by clear blue skies, white sandy beaches, and pine woods, this park is a fantastic get away for anyone.
Numerous boats travel to the island from Vigo, Nigran, and Baiona. Visitors are allowed to charter and dock private boats, as long as they have the relevant permits from park authorities.
The island has several well-marked routes, with Ons and Cies boasting four each. All routes are accessible and aren't too demanding for visitors.
The crystal clear water is an ideal habitat for coral reefs, basking sharks, whales, dolphins, shellfish, and more than 200 types of Seaweed. The chain of islands was once a popular pirate haunt, so it's normal to hear plenty of stories about the area.
Visit in March and stop by Bayona for one of their most famous festivals, La Arribada. It commemorates the return of Christopher Columbus to Europe after discovering the Americas.
Where to Stay – Hotel Spa Galatea
Just 250 meters from Paxariñas Beach, this hotel features a seasonal outdoor pool, surrounded by loungers and a sun terrace. After a day of exploration, make good use of the spa, with a sauna and indoor pool.
Is This the Best Daypack EVER???
Timanfaya National Park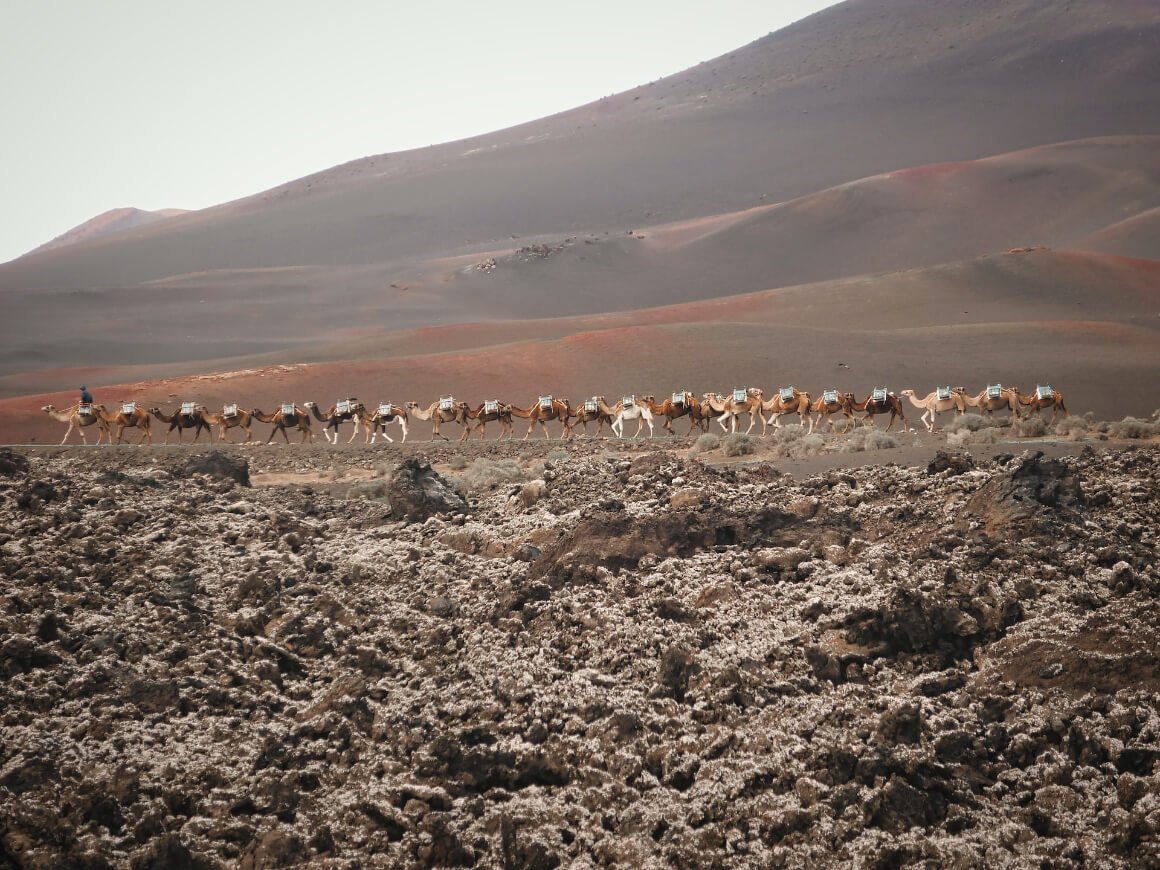 Size: 19.72² miles
Location: Lanzarote
Cost of Entrance: €12
The only one of the national parks in Spain with geological nature, Timanfaya is a place that must be visited at least once in your life. The park has 25 volcanoes, including the famed Montañas del Fuego. The volcanoes lay dormant today, but it's still possible to feel the heat radiating from the ground.
Volcanic eruptions have resulted in terrain that has a great resemblance to the moon's surface. The similarities are so apparent that the crew of the Apollo 17 used this barren landscape for training.
Life continues to bloom in the area despite the apparent severity of lava and magma. Amongst the strange rock formations are fertile areas where potatoes, fruits, and vines grow.
Timanfaya has two main hiking routes. The Coastal Route is physically taxing and suitable only for those who consider themselves very fit, whilst the Tremesana Route is easily accessible. Visitors have the option to take a 20-minute camel ride within the park if they wish to see more.
One of the most unique restaurants in the world is located in Timanfaya. Considered one of the best places to eat in the whole of Lanzarote, El Diablo Restaurant only serves food cooked using the heat of the active volcano. How cool (or hot) is that?
Where to Stay – Luxurious apartment in Canarias
This lovely beachfront apartment has a dedicated workspace, perfect for those who need to get some work done while exploring the Timanfaya National Park. It has a shared outdoor pool too.
Ordesa and Monte Pedido National Park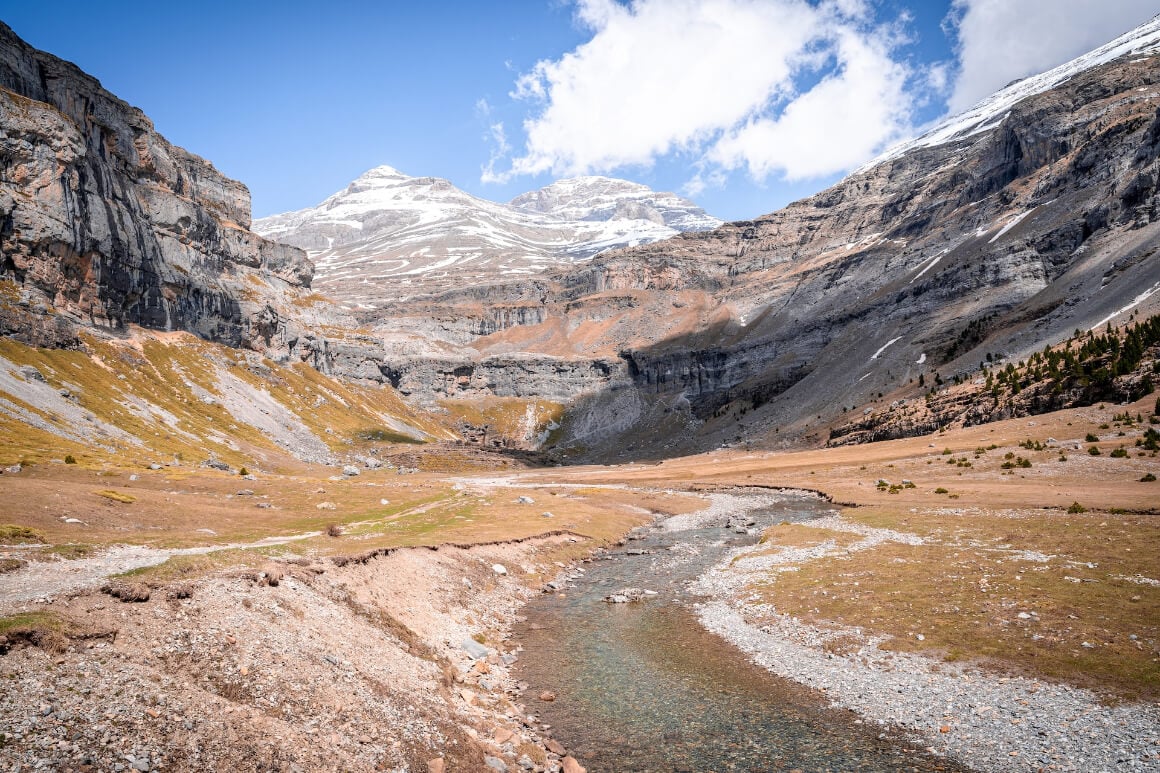 Size: 96² miles
Location: Sobrarbe District
Cost of Entrance: Free
The first of the many national parks in Spain, Ordesa and Monte Perdido National Park hosts plentiful streams, rivers, and waterfalls strung amongst dense woods, steep summits, and green pastures.
Declared a UNESCO World Heritage site and a UNESCO Biosphere Reserve, the park receives more than half a million visitors every year. There are some fantastic trails here, so it's no wonder this park pulls so many guests!
The routes are well-signposted and easy to follow; some take a couple of hours while others take the whole day or require an overnight stay in a shelter.
Home to over 150 different species of animals (like golden eagles, ospreys and wild boar), the park's list of stunning natural attractions also includes fascinating rock formations and ancient glacial lakes.
Considered one of the most beautiful parts of the park, the Ordesa Valley can only be accessed by an official bus which only operates sporadically throughout the year.
A highlight that should not be missed is the Cola de Caballo waterfall. Also known as the Horsetail Waterfall, visitors are allowed to hike the mega 16-km round-trip trail that passes this awesome sight.
Where to Stay – Beautiful cottage
If you'd rather not stay in the park, this fairy-tale cottage is your best alternative. Just 10 minutes away from the park's entrance, it is equipped with everything you need for a comfortable stay. It's also close to one of the best restaurants in the valley.
Final Thoughts
By now I expect you've already realized just how diverse the landscape is in Spain's national parks. The country does a great job of ensuring that its valuable flora and fauna are protected.
If you only have a few days for exploration, I back the Cabrera Archipelago Maritime-Terrestrial National Park in the Balearics to hit the mark. It has one of the most well-preserved marine life in the area.
If you want to spice up your trip, try combining national parks with a Spanish festival. Awesome lights, music and dabblence, followed by some super wholesome trekking!
---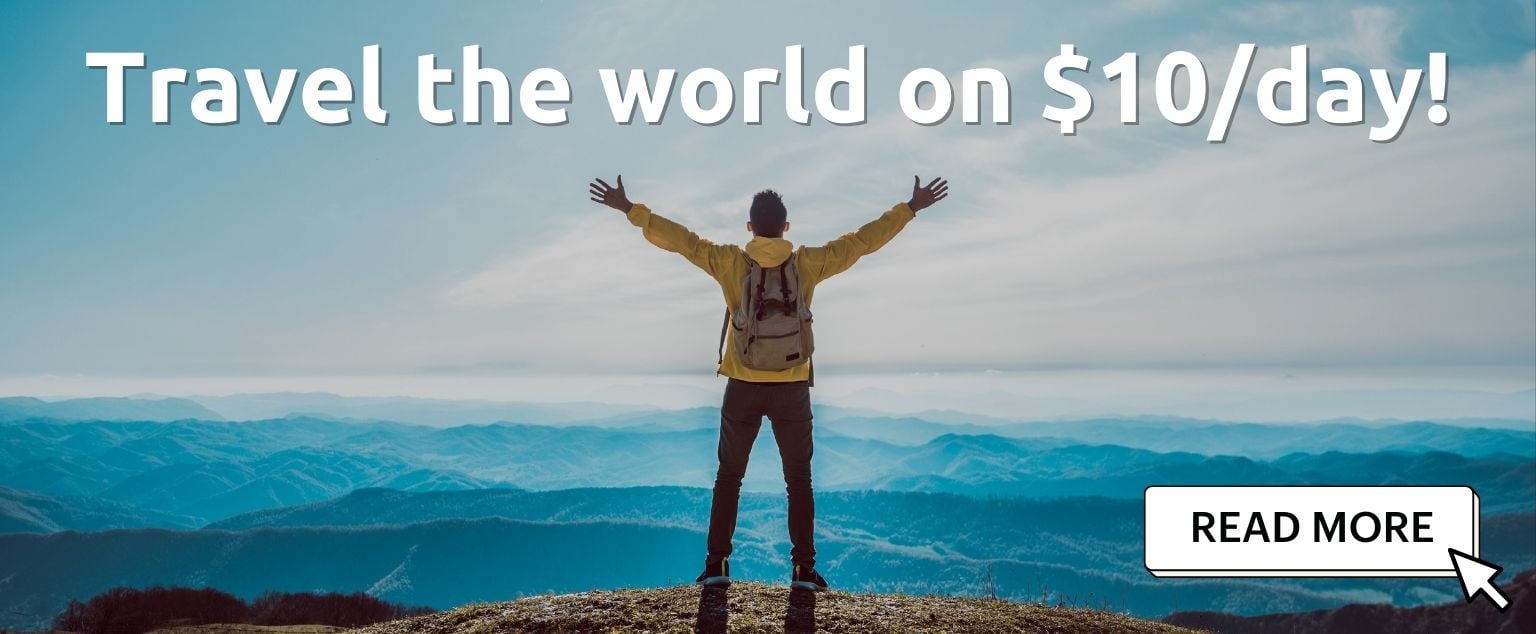 And for transparency's sake, please know that some of the links in our content are affiliate links. That means that if you book your accommodation, buy your gear, or sort your insurance through our link, we earn a small commission (at no extra cost to you). That said, we only link to the gear we trust and never recommend services we don't believe are up to scratch. Again, thank you!