Sun-scorched Tenerife is the biggest of the Canary Islands and one of the most popular tourist destinations in Spain, especially for Brits. While it's well known for revelry, clubs, and all-inclusive resorts, there's a lot more to this enchanting island.
Away from the stunning sandy beaches, head out into the mountains, filled with remote villages and catch a glimpse of Spain's highest peak, Teide. The island really does offer something for everyone!
If you're planning to visit Tenerife you'll need to know where to stay. Yes there are all-inclusive resorts everywhere, but why not opt for something with a little more personality ? There are plenty of rentals in Tenerife which will offer personality and individuality and they might even save you a euro or two!
In this post, I'll be showing you the 15 best Airbnbs in Tenerife. I've taken into account lots of different travel styles, budgets, and personalities to come up with my extensive list. Focusing on the Southwestern corner of the island, it'll help you to plan your trip out and really make the most of your holiday.
So, let's jump in and take a closer look!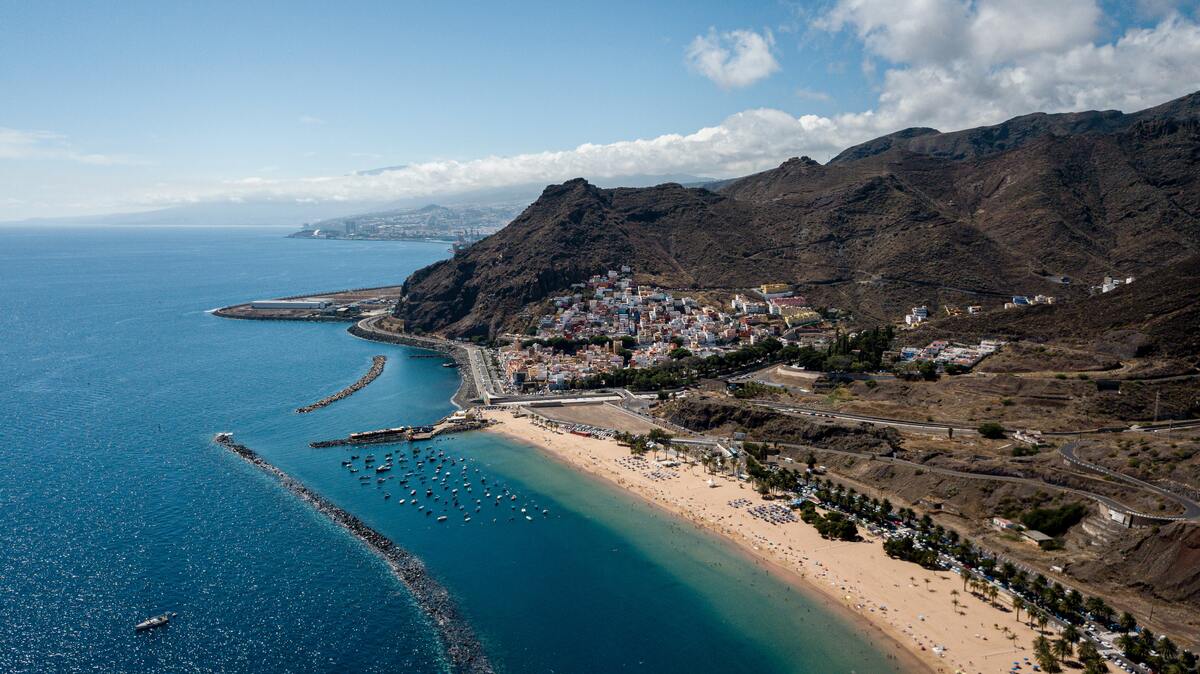 Quick Answer: These are the Top 5 Airbnbs in Tenerife
OVERALL BEST VALUE AIRBNB IN TENERIFE
OVERALL BEST VALUE AIRBNB IN TENERIFE
Central Las Americas Apartment
> $$
> 4 Guests
> Gorgeous sunny terrace
> Heated outdoor pool
BEST HOMESTAY IN TENERIFE
BEST HOMESTAY IN TENERIFE
Double Room in Granadilla B&B
> $
> 2 Guests
> Private outdoor infinity lap pool
> Breakfast included
BEST AIRBNB FOR COUPLES IN TENERIFE
BEST AIRBNB FOR COUPLES IN TENERIFE
Cactus Casita w/ Sea Views and Hammock
> $$
> 2 Guests
> Romantic Terrace
> Stunning sea views
BEST AIRBNB FOR FAMILIES IN TENERIFE
BEST AIRBNB FOR FAMILIES IN TENERIFE
Ocean + Volcano View Villa
> $$$
> 4 Guests
> Stunning Terrace
> Pool
BEST LUXURY AIRBNB IN TENERIFE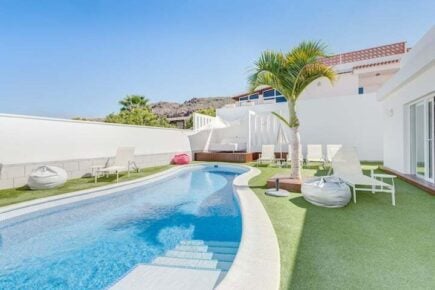 BEST LUXURY AIRBNB IN TENERIFE
Massive Double Apartment Villa
> $$$$+
> 16+ Guests
> Amazing common areas
> Close to beach and nightlife

Unlock Our GREATEST Travel Secrets!
Sign up for our newsletter and get the best travel tips delivered right to your inbox.
What to Expect from Airbnbs in Tenerife
Tenerife is absolutely stunning – and so should be your accommodation! If you're a newbie to Airbnb and vacation rentals in general, no problem, here's a little overview of what to expect from Airbnbs on the island.
Tenerife is an island in the Mediterrainean which means gorgeous sunny weather all year round. As such, many of the homes here feature white-washed walls, shaded courtyards, and shutters on the windows – all of this is designed to keep the house cool and inviting.
Of course, this is the 21st century and air conditioning is widely accessible.
You can also expect your vacation rental to come with a private pool, simply because Tenerife has had a turbulent history with the holiday home market, and opening your home to tourists is an expensive deal – so most homes are usually on the luxurious side.
But that doesn't mean staying in an Airbnb has to be expensive. Depending on your budget, you can choose from private rooms in a shared house to a huge, multi-bedroom villa.
The nightly price, amenities, and size of the home will differ depending on where you're staying in Tenerife, but as a general rule of thumb – the more space, the higher the price.
The most common homes you'll find in Tenerife are apartments, eco homes (I'm pretty stoked about those), and guesthouses.
Apartments & Condos
There is no shortage of cute apartments and condos on offer in picture-perfect Tenerife. If you're here to soak up the rays, see Tenerife's natural beauty, or even visiting for Carnival, there are apartments and condos in every corner of the island. You'll mostly find apartments in the city center or steps away from the beach.
Apartments tend to be cheaper than houses, and are a great option for couples and small families. They are rented as an entire rental unit and offer all the amenities you need, and nothing you don't.
Sometimes they even come with shared facilities such as swimming pools and large terraces. Keep your eyes open for ones with beautiful views!
Eco Homes
In a place with as much natural beauty as Tenerife, it only makes sense that enterprising and eco-friendly property owners are trying to preserve the Canary Island's natural beauty by offering accommodations with small ecological footprints.
Eco homes are becoming ever more popular with Airbnb travellers who want to keep their carbon footprint down. You can expect eco-homes to have things like solar power, and rainwater collections, and often these homes are made out of natural or recycled materials.
Keep your eyes out for lodges, yurts, cabins, and more unique options you can feel great about staying in.
Guesthouses
Want the feeling of a studio apartment without staying in a tower? What about the homey feeling of staying with a local family? If these appeal to you, you'll find there are plenty of stylishly appointed and perfectly located guesthouses in Tenerife.
One of the biggest perks of staying in an Airbnb is that local experience and guesthouses offer that in spades, without compromising on privacy or space. Guesthouses can either run like a bed and breakfast where you can meet other travellers over a morning fruit salad, or you have your own entire space on your host's property.
Why stay in an Airbnb?
I can think of many reasons you would choose a vacation rental over a hotel, but here are just a few…
Local Experience: While many Tenerife Airbnbs are managed by companies, they're still locally based. Get the best recommendations for your Tenerife itinerary that you won't find in the guidebooks to make your trip truly special!
Unique Properties: In a place chock full of unique vacation rentals, why on earth would you want to stay in a drab and dull hotel?!
Privacy: Another great filter – choose an entire place to ensure you won't be disturbed during your trip.
Affordability: Airbnbs offer a lot more value for money than equivalently priced hotels. And with big group stays, you can split the cost multiple ways!
Airbnb Experiences: It's not all about where to stay – check out what there is to do in the area with Airbnb Experiences!
The Best Airbnbs in Tenerife
Now you know what to expect from Airbnbs in Tenerfire, let's take a look at my list of the best of the best!
4 Guests
Heated outdoor pool
Do you want the best when it comes to location and style without damaging your bank account? Great news then – I've found the best value Canary Island Airbnb for up to 4 people.
It's right in the city center of Playa de Las Americas, one of the most popular spots on the island. Here, you'll find the best nightlife, places to eat, and family-friendly activities too. As well as this, this holiday rental is also a short walk to the beach.
You might prefer to spend your time around the cozy apartment's outdoor pool though, which is heated in the winter! There are several other things on offer here, including a television and free Wi-Fi. The balcony is the perfect place to sit and enjoy the warm Mediterranean sun!
$
Bright and spacious room
2 Guests
Discounts on longer stays
The good news is that your money goes a long way in the Canary Islands – certainly more than it would in somewhere like Madrid or Barcelona! So, you can get great holiday rentals in Tenerife while parting with very little cash.
This one's in the Playa de las Americas region, but not in the part where the clubs are so you'll get a good night's sleep in this quiet townhouse. You've got the use of the kitchen if you're staying for a week or more, and the good news is that there are discounts on longer stays!
---
Psst…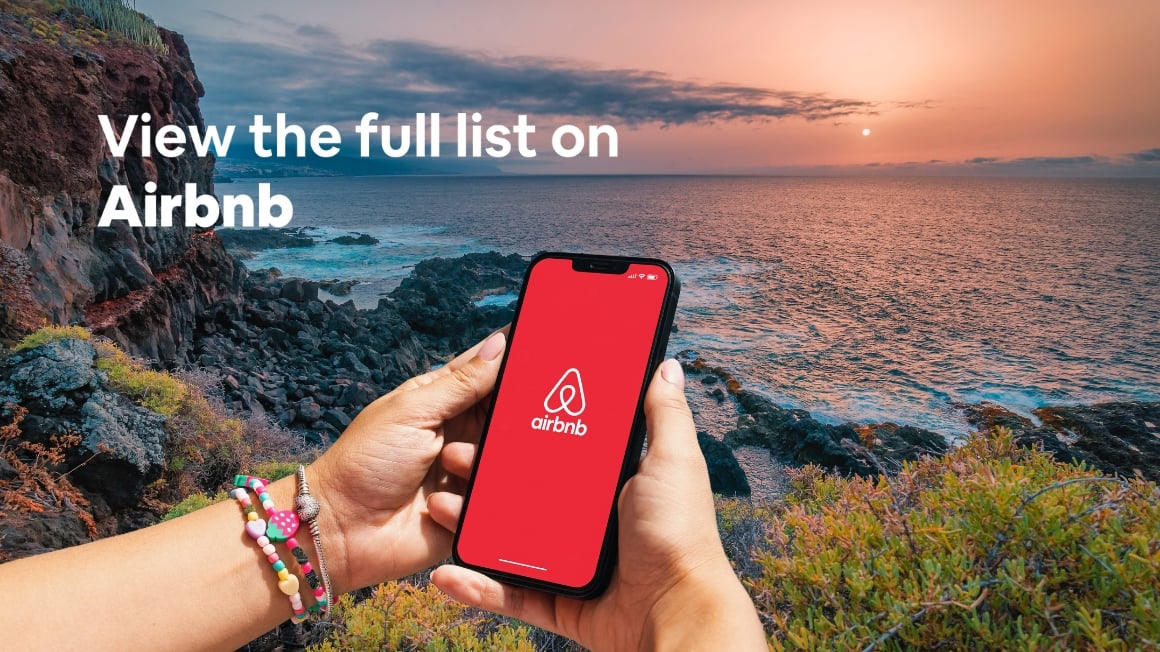 ---
Perfect Short Term Rental for Digital Nomads | Bright Fisherman's Hut
$
Newly renovated historic building
2 Guests
Steps to the beach
This renovated fisherman's hut is the thing Instagram dreams are made of – and at $50 a night, it's a total steal! If you have a big project to get through, or you're looking to detox from the nightlife in busier parts of the island, look no further.
We love this spot for digital nomads for so many reasons – it's quiet and private so you can get your head down and through your tasks for the day, and it has a laptop-friendly workspace with an amazing view of the ocean.
When you're ready to log off for the day, you're just steps away from the swimming pool, beach, and quaint village, or a short drive to major highways so you can explore the rest of the island.
Is This the Best Travel Pack EVER???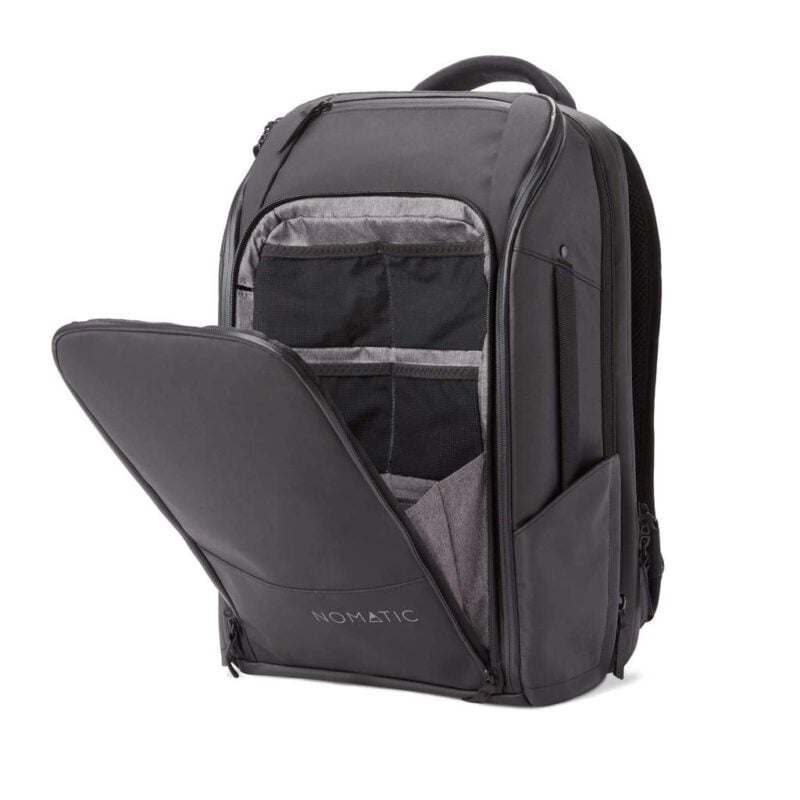 $
Awesome location in Santa Cruz
2 Guests
Bright and modern space
Santa Cruz is one of the areas where you'll find some great Airbnbs in Tenerife. And this one is no exception! You're just steps away from the beach here, where you can chill out in the daytime and meet other travellers and make new friends.
The home is a studio that has everything you need, some a well-stocked kitchenette to a modern bathroom. It's light and airy, and the living space is the ideal place to relax in after a day of exploring.
Some of the Canaries' craziest clubs are in Costa Adeje, and this fabulous apartment in Tenerife means that you won't have to pay for taxis to and from the clubs. There's no shortage of Airbnbs for all group sizes in this area, but if you're looking for two guests, we love this clean and minimal space.
Aside from the awesome location, we love the terrace – the view is spectacular, and it's the perfect spot to have a drink before heading out for the night, or recuperate with a coffee the next morning. Never underestimate the healing powers of ocean air!
2 Guests
Stunning sea views
This secluded but well-appointed studio is a picture-perfect spot for a romantic getaway. You'll be miles from drunken partiers in a cute and quiet fishing village, which is basically the thing couples' trips dreams are made of.
Start your day with a coffee on your private terrace, then explore the village, beaches, and private coves at your leisure. This is a perfect spot to reconnect.
$
Private outdoor infinity lap pool
2 Guests
Breakfast included
One an island with so many high rises and all-inclusive resorts, it can be tricky if you want to find somewhere with tradition and character. Tricky, but not impossible – this Tenerife homestay in a charming bed and breakfast in the island's countryside, and will give you a cozy and authentic experience of the Canaries.
Enjoy the use of free Wi-Fi and TV in a relaxed and friendly environment, but the best place to relax is in the infinity lap pool which boasts incredible views.
You'll be located near to hiking trails, and only a short drive from the best beaches and quaint coastal town. And with free breakfast included, what more could you want?
$$$$
Infinity pool with sunset views
8 Guests
Just outside Santa Cruz
There aren't too many amazing luxury holiday rentals in Tenerife, but this gem is definitely leading the pack. This villa has four bedrooms and three bathrooms, and can comfortably sleep eight guests. It has spacious rooms and a beachy decor throughout.
The highlight of this property though has to be the stunning terrace with an unblemished view of the ocean. As well as offering plenty of places to sit and admire the views, you can also relax in the infinity pool which directly faces the sunset. Can you get any more luxurious than that?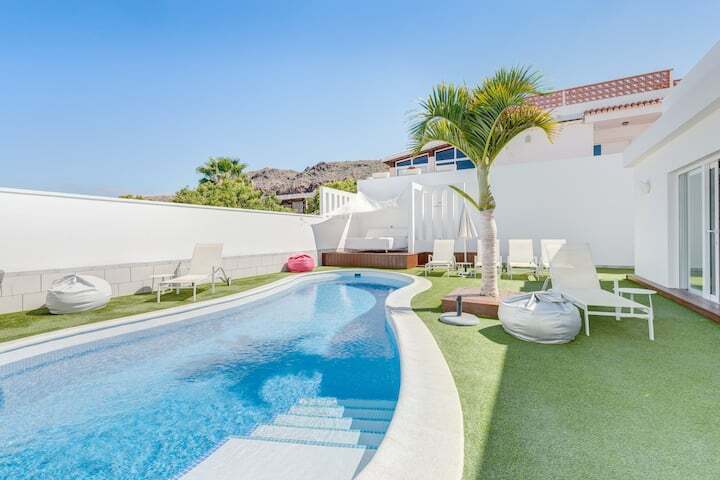 $$$$+
Amazing common areas
16+ Guests
Close to beach and nightlife
Travelling to the Canary Islands with a huge group of friends? Or just want to have a huge entire villa to yourself for a few days?
You can tick off both of those here at this totally awesome incredible over the top Tenerife Airbnb! Whether you want to chill out in the private pool, enjoy the brand-new amenities, or rustle something on the BBQ, there are endless facilities on offer!
The villa has space for up to 16 guests, so this is the ideal spot for a large family gathering, a party, or a hen/stag do! And with such a big crowd, it becomes a lot more affordable!
This Airbnb has it all for families – and a couple of extra perks for parents, too! The expansive terrace is the perfect spot to enjoy a memorable family meal, the sweeping views are absolutely unforgettable even for the littlest traveller, and the quiet neighbors won't keep you up at all hours of the night. Also, there's in-suite laundry – just in case.
This property also comes with loads of optional extra features, too – cleaning, in-room massages, cooking lessons, yoga, grocery dropoff, and a stocked champagne fridge. All that and 3 minutes from the beach? I'm in.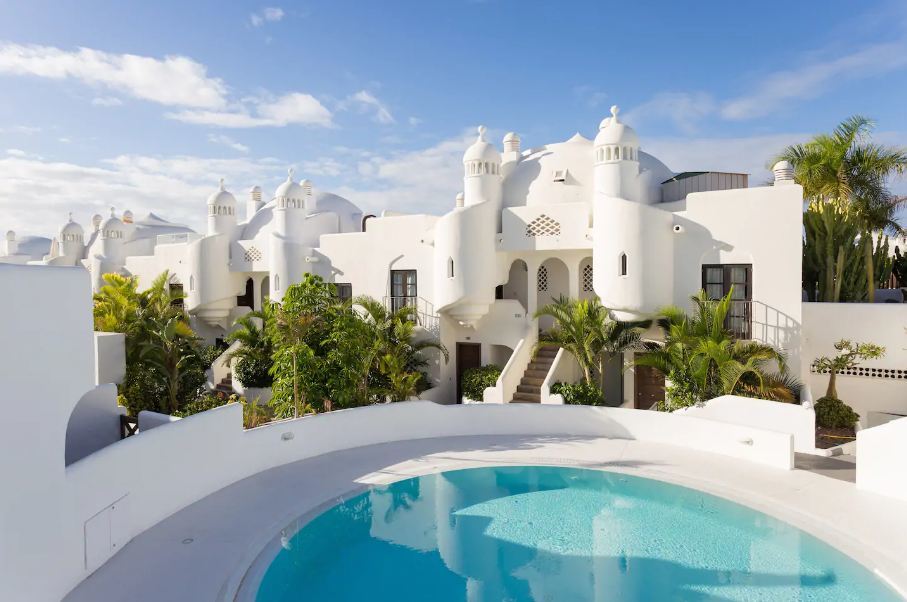 6 Guests
Terrace with ocean view
This well-appointed spot in Tenerife has everything you need for a group trip – including a very photographable heated private pool!
Perfect for a couples' trip, boozy bash, or a girl's getaway, this three-bedroom also features a sunny terrace overlooking the ocean (perfect for meals or pre-drinking!), a roomy lounging area, and an on-site bar.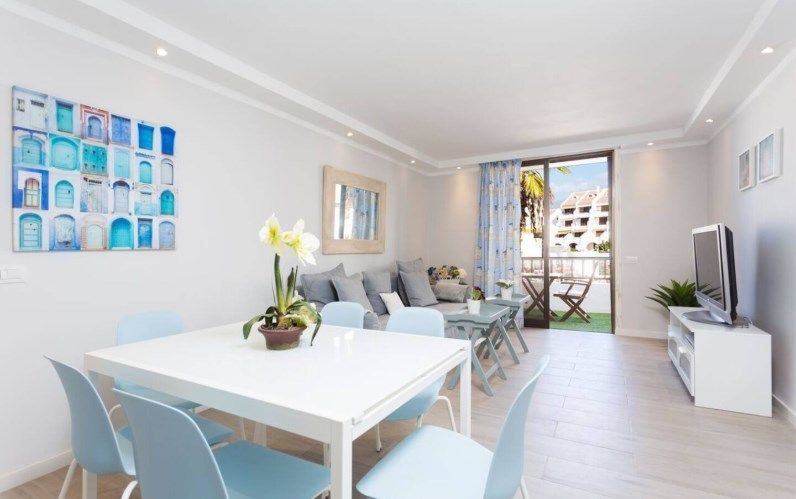 6 Guests
Peaceful and sunny terrace
I know you've seen a lot of apartments in Playa de las Americas – but that's because there are so many great properties. I just couldn't miss this gem – a lovely Tenerife apartment right by the beach! There's space for up to 6 guests here, in a tranquil, calm, and light environment. There are board games and a load of kids toys, so this is another fabulous option if you're travelling with your family!
Best Located Airbnb in Playa de las Americas | Parque Santiago Studio
This is the last one in Playa de las Americas, I promise! Whereas our Américas option above option was suitable for a family, this is probably more up the street of a couple.
This romantic studio has a lovely balcony where you can watch the sunset over a candle lit dinner. The interior is ultra-modern, minimalist, and very, very cool! The sofa stretches out into a king bed – either way it's great for watching the widescreen TV or looking out at the views!
Another place that the name might sound familiar from above is Los Cristianos. A popular resort on the southwest coast of the island, here's another awesome Tenerife apartment in that area. This is an excellent modern offering, and the blue and white design will make you feel like you're right by the beach… And guess what? You are! Also on offer are private parking and a swimming pool – both very useful!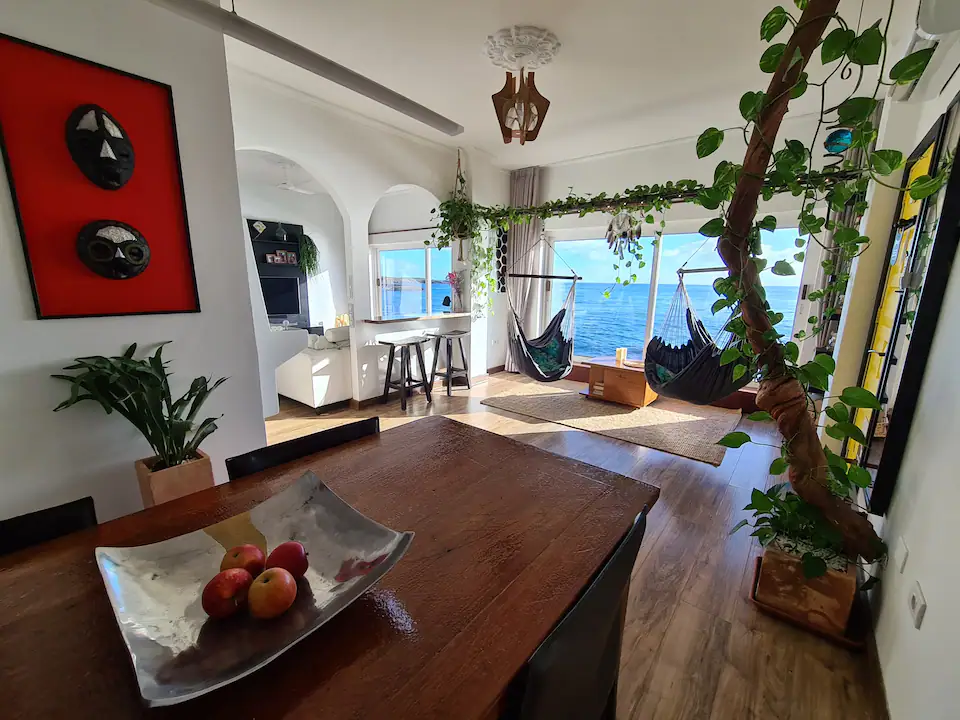 This self-sufficient property is a rare find – if it's open for your dates, snap it up! Here you'll find a spacious apartment with a whole wall of windows looking right out onto the ocean, with stunning views any time of the day or night. When you're done admiring the view, explore the nearby seaside and coves.
The Labyrinth is also perfectly located for foodies. You'll be right by a stretch of awesome seafood restaurants – and really, is there a point to eating anything else when you're this close to the sea? I think not.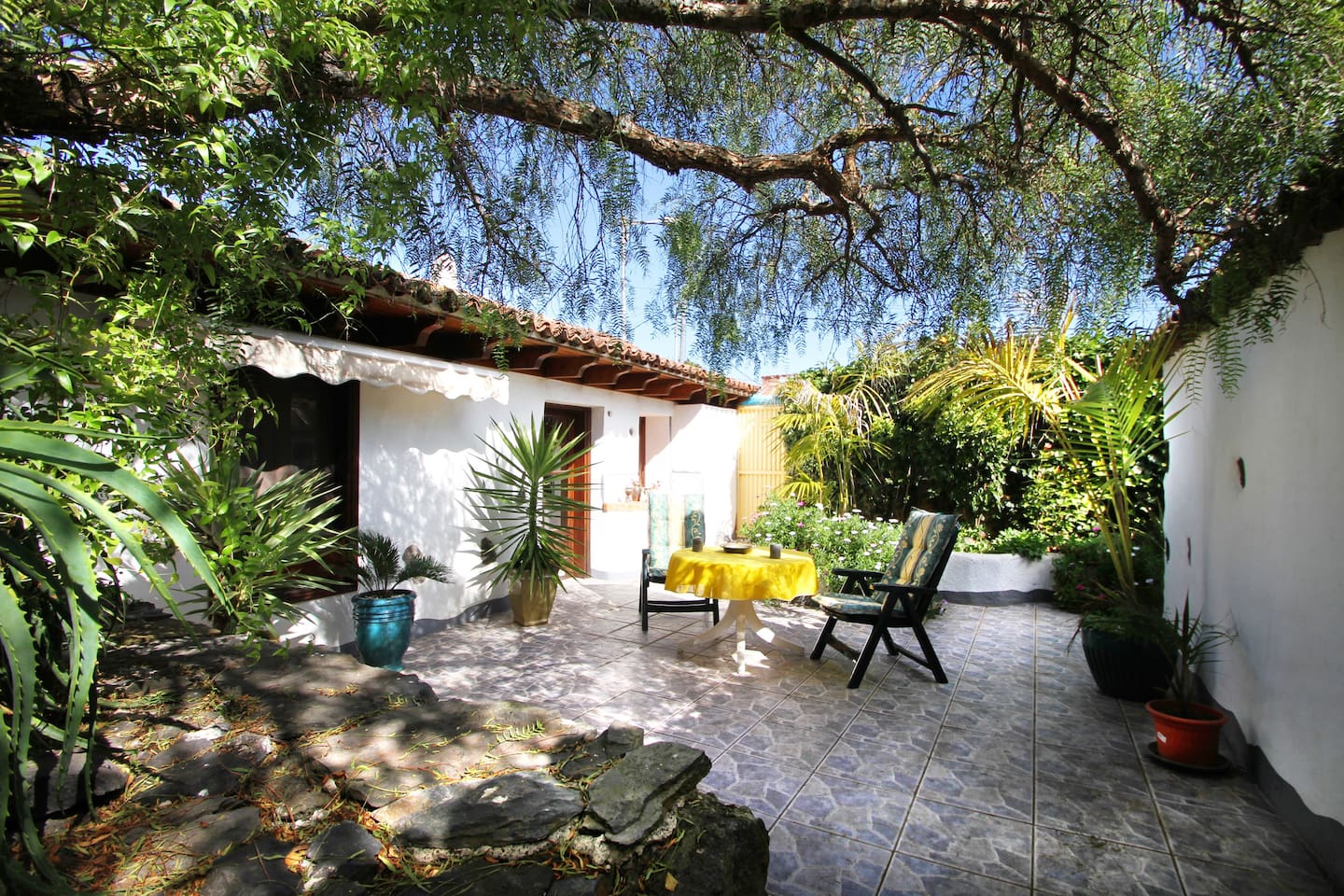 Working on your meditation? Writing a novel? Want to spend some time with your significant other? This is the spot for you!
This charming cottage is located 20 minutes from Puerto Cruz – it's in a. rural area, so you'll have lots of peace and quiet. You're also well located to explore the north and west sides of Tenerife. Our favorite feature has to be the incredible terrace, though.
You'll be surrounded by lush leafy plants, citrus trees, aloes, cacti, and more – and you'll be a short walk to incredible mountain and sea views as well.
Most Unique Airbnb in Tenerife | Yurts In Nature
Up to 4 guests per yurt
Complimentary Breakfast
Yes, Tenerife has all the stunning sea views you could want – but that doesn't mean you shouldn't stray from the coast and check out this cool and very eco-friendly yurt lodge.
Nature lovers or those looking to really unplug will enjoy the mountain and sea views, vegetable and herb gardens, roosters, and fresh air. It's a yurt! It sells itself! Just book it already.
FAQs About Airbnbs in Tenerife
Here's what people usually ask us about vacation rentals in Tenerife…
Don't Forget Your Tenerife Travel Insurance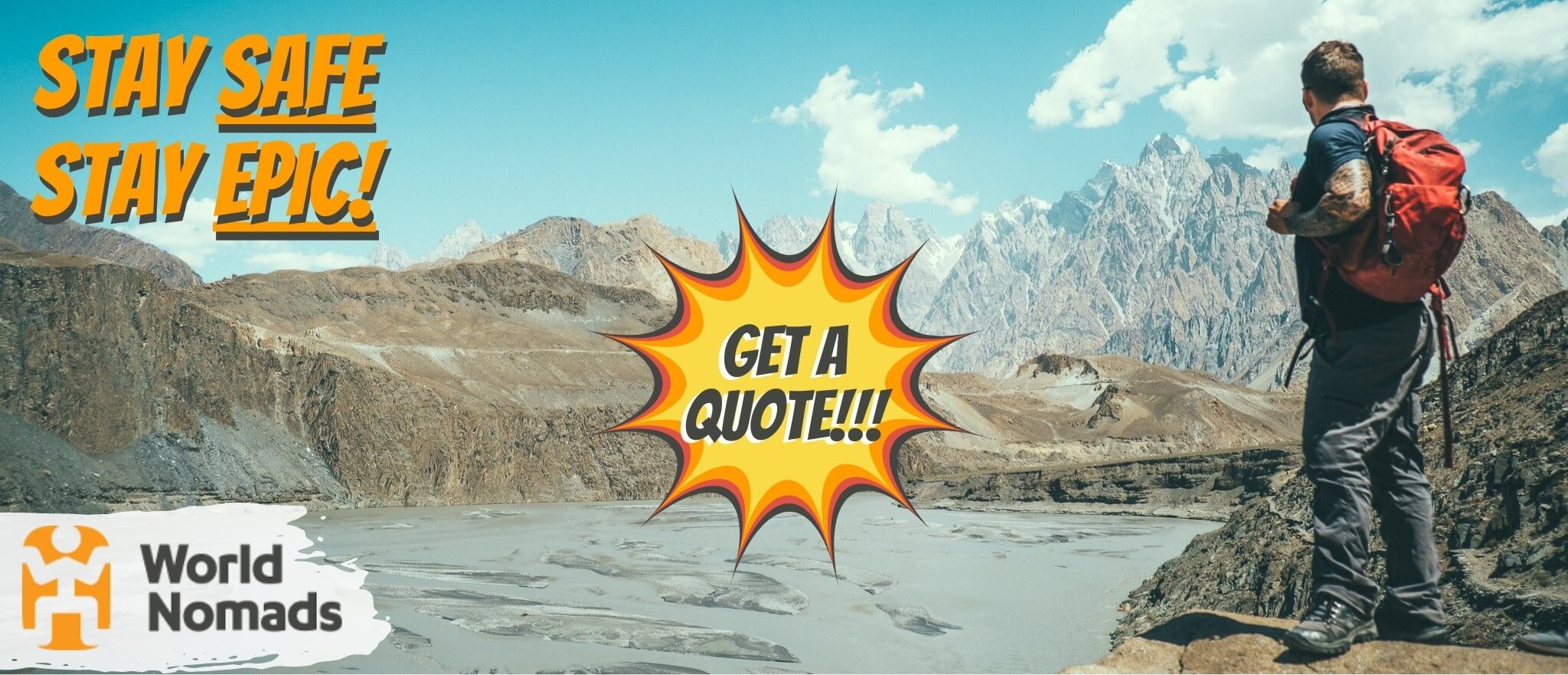 World Nomads' mission is to support and encourage travellers to explore their boundaries. They offer simple & flexible travel insurance, and safety advice to help you travel confidently.
They've been doing it since 2002 – protecting, connecting, and inspiring independent travellers just like you.
Get a quote below or read our in-depth review!
World Nomads provides travel insurance for travelers in over 100 countries. As an affiliate, we receive a fee when you get a quote from World Nomads using this link. We do not represent World Nomads. This is information only and not a recommendation to buy travel insurance.
Final Thoughts on Tenerife Airbnbs
So, that concludes our list of the best Airbnbs in Tenerife. I hope that my extensive list has been useful, and you've got a better idea of what to expect. There are lots of choices, so I'm sure there'll be something that perfectly suits your budget, travel style, and personality!
Whether you want to hit the clubs in Costa Adeje, get a family-friendly place with a pool, or get a huge villa for you and all your mates, hopefully, you've uncovered the perfect Tenerife Airbnb for you!
If you're still deliberating on the best short-term rental in Tenerife, take it easy. Go with our overall best value Airbnb. It's in a great location, it's stylish, and it offers great value.
All that's left now is for me to wish you an incredible holiday when you travel to Tenerife!
---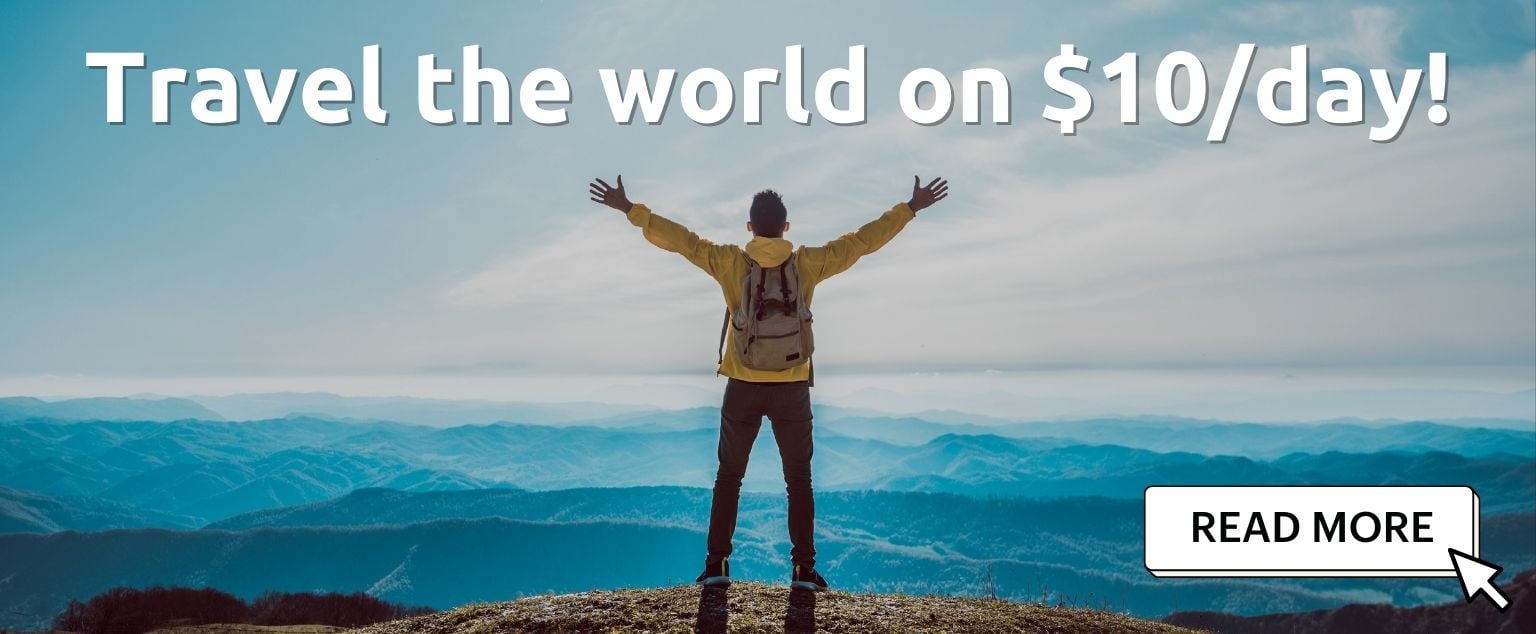 And for transparency's sake, please know that some of the links in our content are affiliate links. That means that if you book your accommodation, buy your gear, or sort your insurance through our link, we earn a small commission (at no extra cost to you). That said, we only link to the gear we trust and never recommend services we don't believe are up to scratch. Again, thank you!