Sun-scorched Tenerife is the biggest of the Canary Islands and one of the most popular tourist destinations in Spain, especially for Brits. While it's well known for revelry, clubs, and all-inclusive resorts, there's a lot more to this enchanting island.
Away from the stunning sandy beaches, head out into the mountains, filled with remote villages and catch a glimpse of Spain's highest peak, Teide. The island really does offer something for everyone!
If you're planning to visit Tenerife you'll need to know where to stay. Yes there are all-inclusive resorts everywhere, but why not opt for something with a little more personality ? There are plenty of rentals in Tenerife which will offer personality and individuality and they might even save you a euro or two!
In this post, we'll take a look at the 15 best Airbnbs in Tenerife. We've taken into account lots of different travel styles, budgets, and personalities to come up with our extensive list. Focusing on the Southwestern corner of the island, it'll help you to plan your trip out and really make the most of your holiday.
So, let's jump in and take a closer look!
In a Hurry? Here's Where to Stay in Tenerife for One Night
Is this amazing Tenerife Airbnb booked for your dates? We've got your back with our other favorite properties below!
Quick Answer: These are the Top 5 Airbnbs in Tenerife
Overall Best Value Airbnb in Tenerife

Overall Best Value Airbnb in Tenerife

Central Las Americas Apartment

>

$$

>

4 Guests

>

Free parking

>

Convenient location

>

$$

>

4 Guests

>

Free parking

>

Convenient location

VIEW ON AIRBNB

Best Homestay in Tenerife

Best Homestay in Tenerife

Double room in family-run B & B

>

$

>

2 Guests

>

Great location

>

Discounts in the family restaurant

>

$

>

2 Guests

>

Great location

>

Discounts in the family restaurant

VIEW ON AIRBNB

Best Airbnb for Couples in Tenerife

Best Airbnb for Couples in Tenerife

Cactus Casita

>

$$

>

2 Guests

>

Romantic Terrace

>

Stunning sea views

>

$$

>

2 Guests

>

Romantic Terrace

>

Stunning sea views

VIEW ON AIRBNB

Best Airbnb for Families in Tenerife

Best Airbnb for Families in Tenerife

Ocean + Volcano View Villa

>

$$$

>

4 Guests

>

Stunning Terrace

>

Pool

>

$$$

>

4 Guests

>

Stunning Terrace

>

Pool

VIEW ON AIRBNB

Best Luxury Airbnb in Tenerife

Best Luxury Airbnb in Tenerife

Massive Double Apartment Villa

>

$$$$+

>

16+ Guests

>

Heated pool and sauna

>

Outdoor BBQ space

>

$$$$$$$$$$

>

16+ Guests

>

Amazing common areas

>

close to beach and nightlife

VIEW ON AIRBNB
What to Expect from Airbnbs in Tenerife
Tenerife is absolutely stunning – and so should be your accommodation! If you're a newbie to the Airbnb filters, rentals, and hacks, we've created a little overview of what to expect from Airbnbs on the island.
Depending on your budget, you can choose from plenty of different homes. The nightly price, amenities, and other home factors will differ depending on where you're staying in Tenerife. The most common homes you'll find in Tenerife are Apartments, Eco Homes (we're pretty stoked about those), and Guesthouses. We've explained the details below.
View this post on Instagram
Apartments – Perfect crash pads
There is no shortage of cute apartments and condos on offer in picture-perfect Tenerife. If you're here to soak up the rays, see Tenerife's natural beauty, or even visiting for Carnival, these spots are a great option as easy and comfortable home bases that offer all the ammenities you need, and nothing you don't. Keep your eyes open for ones with beautiful terraces and views!
Eco Homes – for the conscious traveller
In a place with as much natural beauty as Tenerife, it only makes sense that enterprising and eco-friendly property owners are leaning into the eco-friendly trend and offering you lots of accomodation options with small ecological footprints. Eco homes are becoming ever more popular with Airbnb travellers across the world, too!
Keep your eyes out for lodges, yurts, cabins and more unique options you can feel great about staying in.
Want the feeling of a studio apartment without staying in a tower? What about the homey feeling of staying with a local family? If these appeal to you, you'll love that there's no shortage of stylishly appointed and perfectly located guesthouses in Tenerife.
One of the biggest perks of staying in an Airbnb is that local experience (more on that below!) and guesthouses offer that in spades, without compromising on privacy or space.
Why stay in an Airbnb?
Local Experience
Whether you're staying in a private apartment or shared house, visitors can get in touch with their hosts through the Airbnb mobile app. Use the chat for fast and efficient communication. Any questions about your trip, what to do or where to go – your host can help.
Lots of Airbnbs provide city or neighbourhood guides with helpful suggestions for things to do in your destination – like a favourite coffee shop or unique (or cheap) pubs and restaurants. Some even include transit information, directions to amenities like grocery stores or gas stations and the availability of public transport. This is a great way for travellers to find the best local spots as hosts usually include what they've come to love about their city from years of living there!
Save some time by booking with Airbnb rather than spending years on Google to find out what's around you.
Affordability
Basic backpacker or fancy business person? Airbnb aims to create a cosy escape for EVERY type of traveller! No matter your budget, you'll find something within your price range, from an entire home to a room in a shared house. There are over six million unique places to choose from.
Some places only charge per night and not per person. This usually works out a lot cheaper for big groups like families or if you are travelling with friends. Just split the bill at the end and everyone benefits!
Even the smaller rentals sometimes have more than one bedroom or a pull-out couch. Remember to request extra linen whenever you want to make use of that and your host will provide you with everything you need. To make sure your place is exactly what you're looking for, you can also filter the rentals for amenities like kitchen, TV, Wifi and much more.
Safety
Worried about safety? Airbnb wants every guest to be safe and secure. They require hosts to have a keyed door lock and an interior deadbolt or chain. The privacy inside the rental depends on what kind of place you are looking for but you can always find details in the booking description.
Remember that you are living in someone's home – they want to keep it safe, too. Some properties even have CCTV and a doorman so you don't have to worry about any undesired visits.
Airbnb also has a 24/7 emergency line with someone ready to assist you in case of any problem. They're even able to provide a driver, book you a hotel or send a doctor in a medical emergency.
The Best Airbnbs in Tenerife
$$
4 Guests
Free parking
Convenient location
Do you want the best when it comes to location and style without damaging your bank account? Great news then – we've found the best value Canary Island Airbnb for up to 4 people. It's right in the center of Las Américas, one of the most popular spots on the island. Here, you'll find the best nightlife, places to eat, and family-friendly activities too.
You might prefer to spend your time around the apartment's pool though! There are several other things on offer here, including a television and free Wi-Fi. If you're planning to explore the island by car, free parking is a bonus too.
$
2 Guests
Laptop friendly workspace and Wi-Fi
Discounts on longer stays
The good news is that your money goes a long way in the Canary Islands – certainly more than it would in somewhere like Madrid or Barcelona! So, you can get a great rental in Tenerife while parting with very little cash.
This one's in the Playa de las Américas region, but not in the part where the clubs are so you'll get a good night's sleep in this quiet townhouse. You've got the use of the kitchen if you're staying for a week or more, and the good news is that there are discounts on longer stays!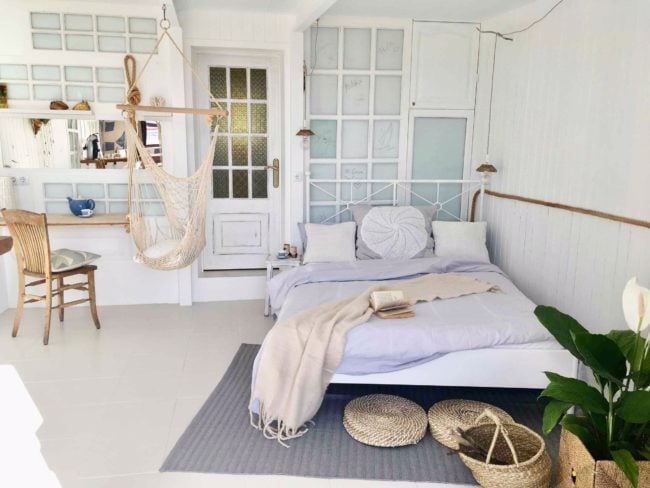 $
2 Guests
Newly renovated historic building
Steps to the beach
This renovated fisherman's hut is the thing Instagram dreams are made of – and at $50 a night, it's a total steal! If you have a big project to get through, or you're looking to detox from the nightlife in busier parts of the island, look no further.
We love this spot for digital nomads for so many reasons – it's quiet and private so you can get your head down and through your tasks for the day, and it has a laptop-friendly workspace with an amazing view of the ocean.
When you're ready to log off for the day, you're just steps away from the pool, beach, and quaint village, or a short drive to major highways so you can explore the rest of the island.
$
1 guest
Awesome location
Terrace with BBQ
Los Cristianos is another of the areas where you'll find some great Airbnbs in Tenerife. And this one is no exception! You're just steps away from the beach here, where you can chill out in the day time and meet other travellers and make new friends.
If you don't want to get sand between your toes, you can always enjoy views of the sea from the terrace, complete with a BBQ. Both the apartment and the host have great reviews on Airbnb, which is always a good sign!
$
2 Guests
Kitchenette
Clean and bright
Some of the Canaries' craziest clubs are in Costa Adeje, and this fabulous apartment in Tenerife means that you won't have to pay for taxis to and from the clubs. There's no shortage of Airbnbs for all group sizes in this area, but if you're looking for two guests, we love this clean and minimal space.
Aside from the awesome location, we love the terrace – the view is spectacular, and it's the perfect spot to have a drink before heading out for the night, or recuperate with a coffee the next morning. Never underestimate the healing powers of ocean air!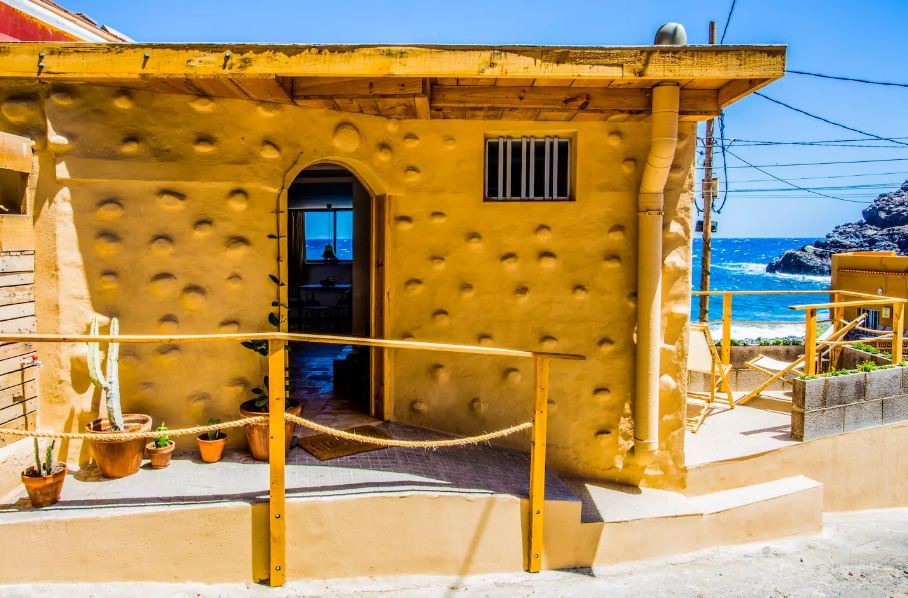 $$
2 Guests
Romantic Terrace
Stunning sea views
This secluded but well-appointed studio is a picture-perfect spot for a romantic getaway. You'll be miles from drunken partiers in a cute and quiet fishing village, which is basically the thing couples' trips dreams are made of.
Start your day with a coffee on your private terrace, then explore the village, beaches, and private coves at your leisure. This is a perfect spot to reconnect.
Reviewers confirm that the bed is extra-comfy, too!
$
2 Guests
Great location
Discounts in the family restaurant
In an area with so many high rises and all-inclusive resorts, it can be tricky if you want to find somewhere with tradition and character. Tricky, but not impossible – this Tenerife homestay in a charming guesthouse will give you a cozy and authentic experience of the Canaries.
Enjoy the use of free Wi-Fi and TV in a relaxed and friendly environment. The family who owns this place also has a restaurant, where you'll get a discount. Looks like dinner is sorted!
$$$
2 Guests
Walk to the beach
Airbnb PLUS property
There aren't too many Airbnb Plus properties in Tenerife, but this gem is definitely leading the pack.
This property pays attention tot he details that take a stay from everyday to extra-special – a stunning terrace with an unblemished view, queen-sized bed, fully appointed kitchen, lofted ceilings, modern decor, and a rooftop pool.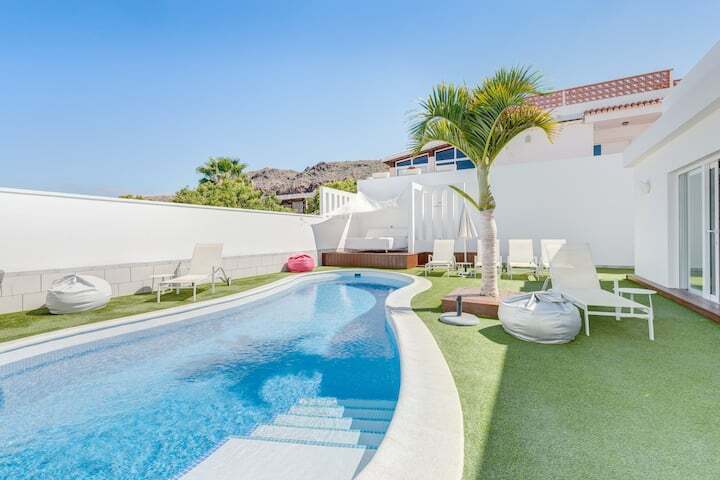 $$$$+
16+ Guests
Amazing common areas
Close to beach and nightlife
Travelling to the Canary Islands with a huge group of friends? Or just want to have a huge entire villa to yourself for a few days? You can tick off both of those here at this totally awesome incredible over the top Tenerife Airbnb! Whether you want to chill out in the private pool, enjoy the brand-new amenities, or rustle something on the BBQ, there are endless facilities on offer!
The villa has space for up to 16 guests, so this is the ideal spot for a large family gathering, a party, or a hen/stag do! And with such a big crowd, it becomes a lot more affordable!
$$$
4 Guests
Stunning Terrace
Pool
This Airbnb has it all for families – and a couple extra perks for parents, too! The expansive terrace is the perfect spot to enjoy a memorable family meal, the sweeping views are absolutely unforgettable even for the littlest traveller, and the quiet neighbors won't keep you up at all hours of the night. Also, there's in-suite laundry – just in case.
This property also comes with loads of optional extra features, too – cleaning, in-room massages, cooking lessons, yoga, grocery dropoff, and a stocked champagne fridge. All that and 3 minutes from the beach? We're in.
Best Airbnb in Tenerife for a Group of Friends – Best-Reviewed 3 Bedroom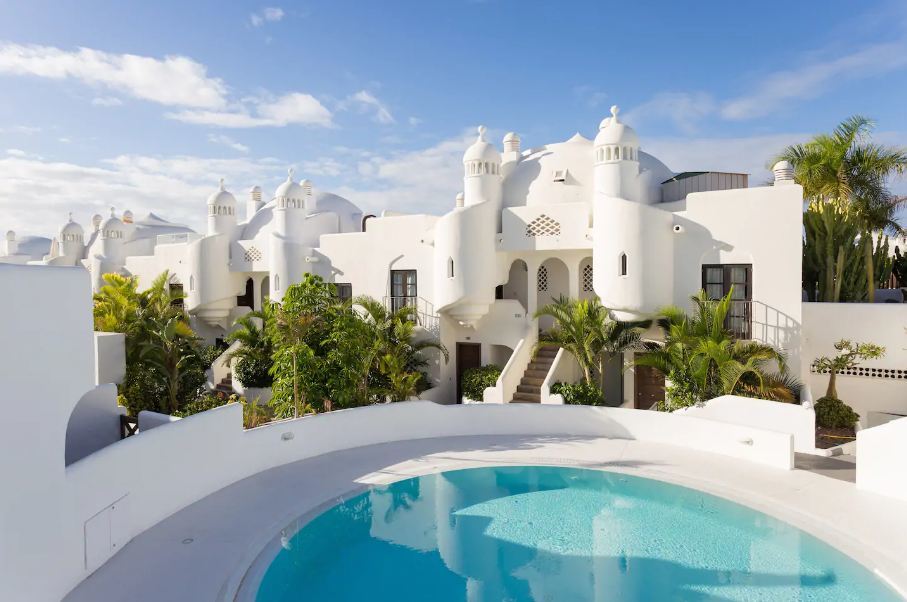 $$
6 Guests
Swimming pool
Terrace with ocean view
This well-appointed spot in Tenerife has everything you need for a group trip – including a very photographable pool!
Perfect for a couples' trip, boozy bash or a girl's getaway, this three-bedroom also features a sunny terrace overlooking the ocean (perfect for meals or pre-drinking!), roomy lounging area, and an on-site bar. Also, they're not lying – at 4.9/5, this is the best reviewed 3-bedroom going right now. Snap it up before someone else does!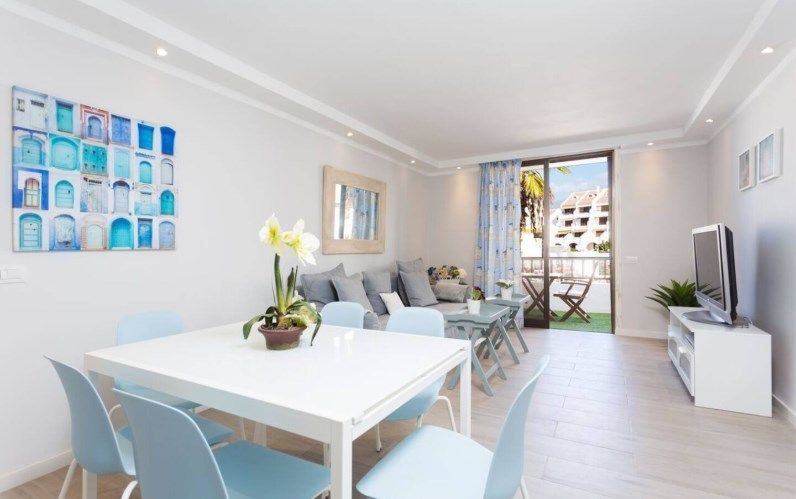 $$
6 Guests
Swimming pool
Peaceful and sunny terrace
We know you've seen a lot of apartments in Playa de las Américas – but that's because there are so many great properties. We just couldn't miss off this gem – a lovely Tenerife apartment right by the beach! There's space for up to 6 guests here, in a tranquil, calm and light environment. There are board games and a load of kids toys, so this is another fabulous option if you're travelling with your family!
Another great apartment in Playa de las Américas – Parque Santiago Studio
$
2 Guests
Excellent Location
Sea Views
This is the last one in Playa de las Américas, we promise! Whereas our Américas option above option was suitable for a family, this is probably more up the street of a couple. This romantic studio has a lovely balcony where you can watch the sunset over a candle lit dinner. The interior is ultra-modern, minimalist, and very, very cool! The sofa stretches out into a king bed – either way it's great for watching the widescreen TV or looking out at the views!
$$
3 Guests
Private parking
Swimming pools
Another place that the name might sound familiar from above is Los Cristianos. A popular resort on the southwest coast of the island, here's another awesome Tenerife apartment in that area. This is an excellent modern offering, and the blue and white design will make you feel like you're right by the beach… And guess what? You are! Also on offer are private parking and a swimming pool – both very useful!
$$
2 Guests
Incredible sea views
Free parking
This self-sufficient property is a rare find – if it's open for your dates, snap it up! Here you'll find a spacious apartment with a whole wall of windows looking right out onto the ocean, with stunning views any time of the day or night. When you're done admiring the view, explore the nearby seaside and coves.
The Labyrinth is also perfectly-located for foodies. You'll be right by a stretch of awesome seafood restaurants – and really, is there a point to eating anything else when you're this close to the sea? We think not.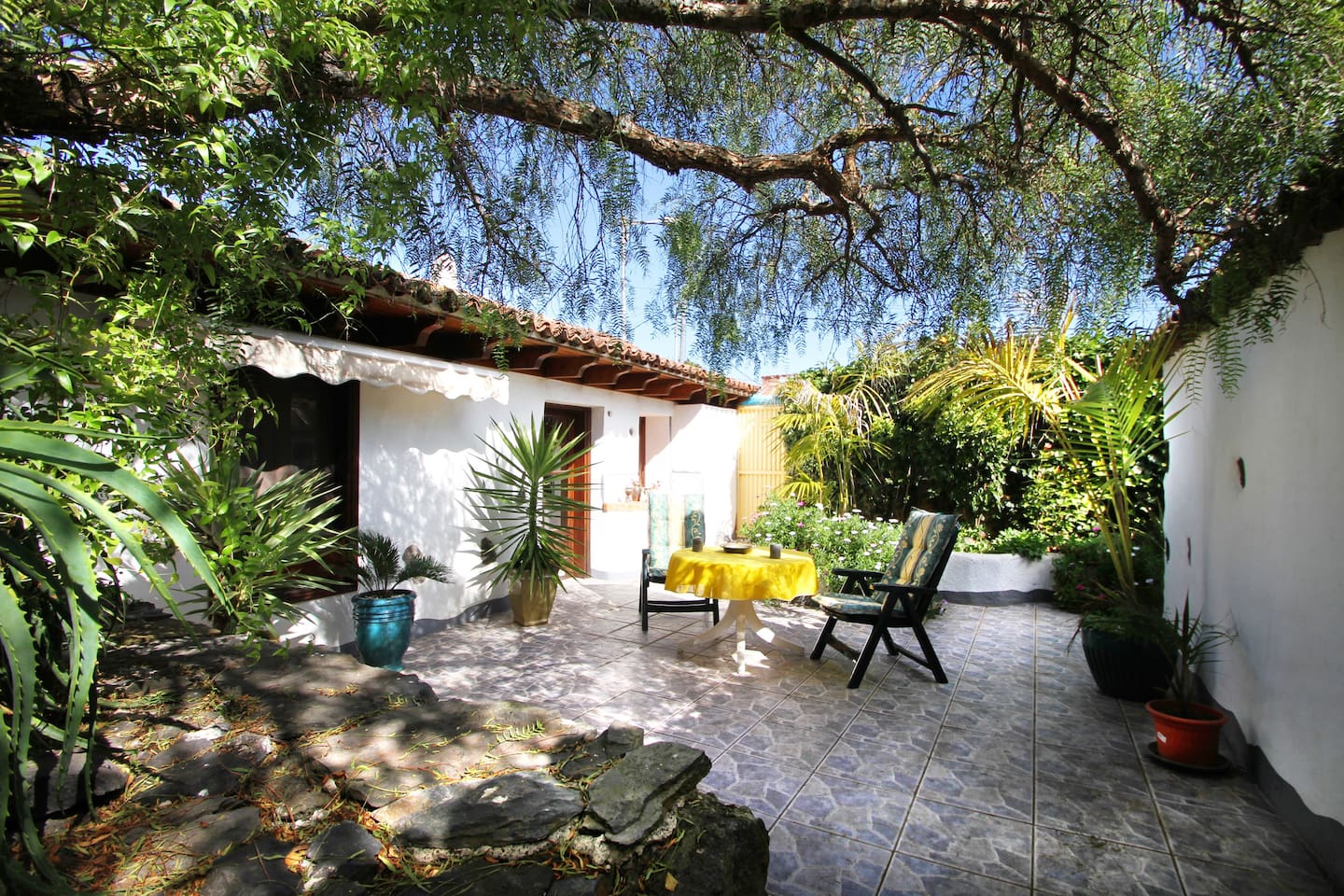 $$
2 Guests
Stunning patio
Ultra-private
Working on your meditation? Writing a novel? Want to spend some time with your significant other? This is the spot for you!
This charming cottage is located 20 minutes from Puerto Cruz – it's in a. rural area, so you'll have lots of peace and quiet. You're also well located to explore the north and west sides of Tenerife. Our favorite feature has to be the incredible terrace, though. You'll be surrounded by lush leafy plants, citrus trees, aloes, cacti, and more – and you'll be a short walk to incredible mountain and sea views as well.
Best Unusual Stay in Tenerife – Yurts In Nature
$$
Up to 4 guests per yurt
Very eco-friendly
Complimentary Breakfast
Yes, Tenerife has all the stunning sea views you could want – but that doesn't mean you shouldn't stray from the coast and check out this cool and very eco-friendly yurt lodge.
Nature lovers or those looking to really unplug will enjoy the mountain and sea views, vegetable and herb gardens, roosters, and fresh air. It's a yurt! It sells itself! Just book it already.
What to Pack for your Tenerife Airbnb
These essentials will make your Airbnb stay easier and maybe loads nicer.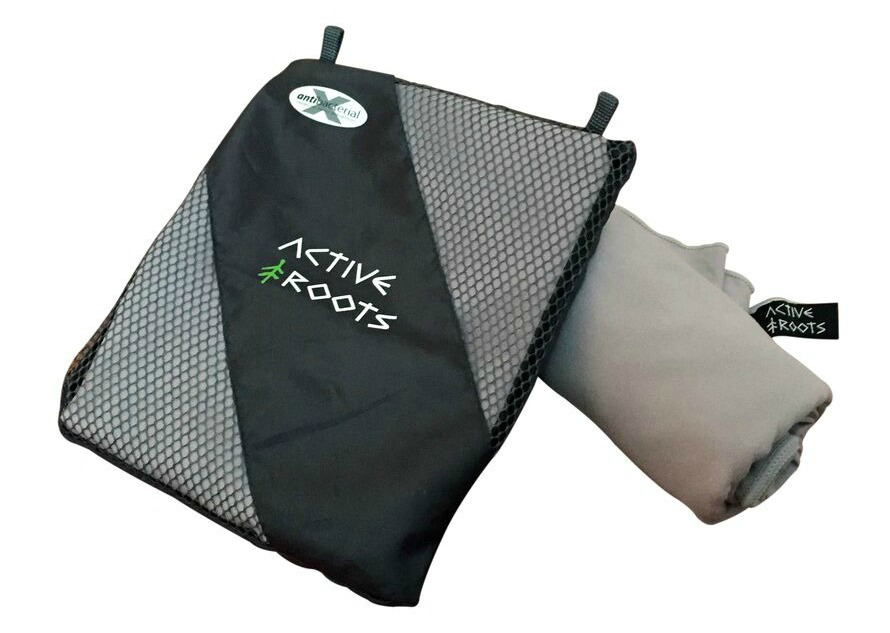 1. Active Roots Microfiber Towel: Most Airbnb's provide towels, but I always keep my own handy on my travels in case I can't get the linens cleaned during a long stay. The Active Roots Microfiber Towel doesn't just sound fancy, it kinda is fancy. The super comfy material is absorbent and quick-drying – perfect for after a shower or a quick jump into the water. Use it as a beach towel, picnic blanket or yoga towel too. Lightweight and compact, it'll hardly take up any space in your suitcase.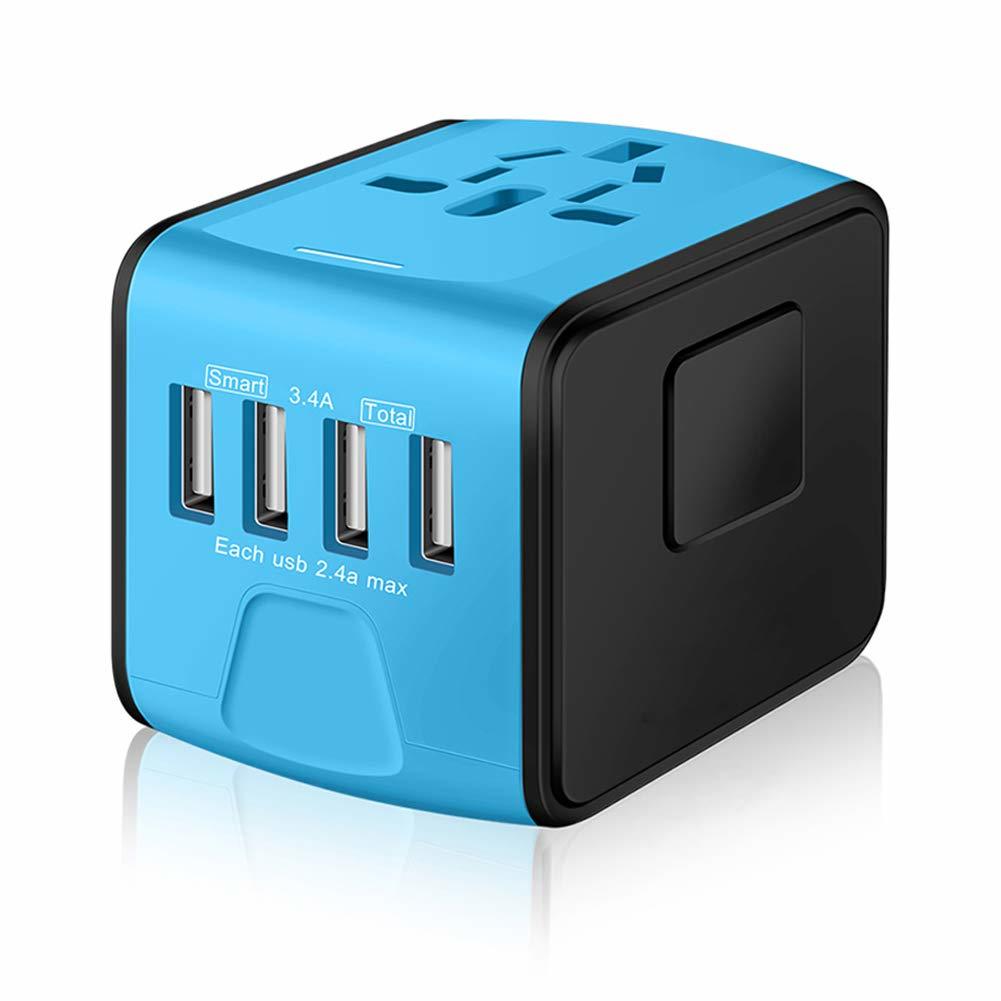 2. Universal Travel Adapter: Nothing is worse than being on holiday, having your phone on 1% and scrambling to find an adapter on the streets. Get a Universal Travel Adapter before you head off. It fits every major type of wall plug. With the 5 USB ports, you can even plug in multiple devices and charge them at the same time – having this little tool can be a total game-changer.
3. Active Roots Water Bottle: Most Airbnbs provide potable (drinkable) water. Have a bottle to fill up so you can take that water on your rambles instead of buying disposable plastic bottles. The Active Roots Water Bottle is great for travellers who are aware of plastic pollution and want to reduce their single-use plastic consumption – no need to buy drinks from the supermarket anymore. The stainless-steel material will keep your drinks cold or hot for up to 24 hours. Stay hydrated throughout your entire holiday with this cool bottle!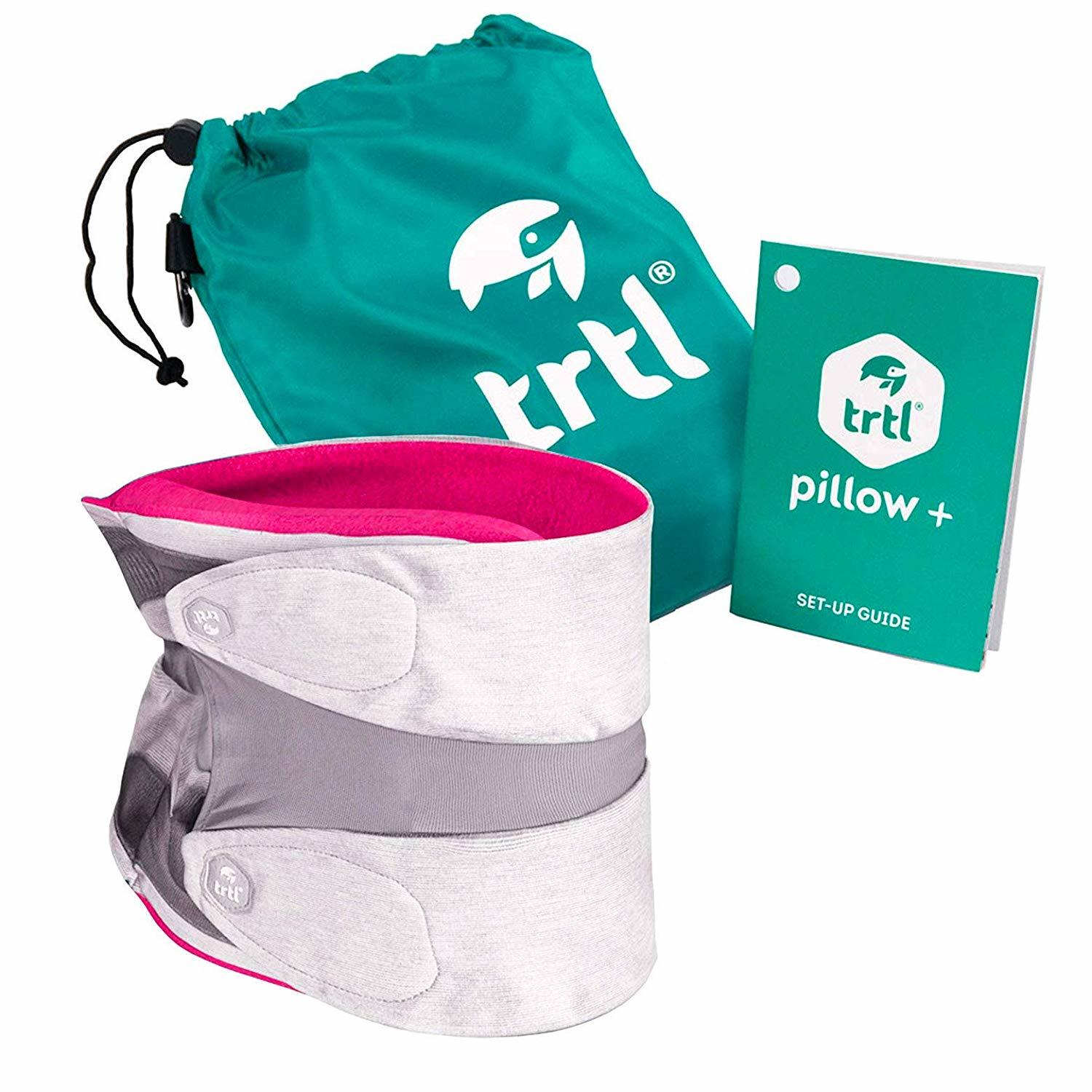 4. TRTL Travel Pillow: I don't have anything to make long-haul flights or bus rides any shorter. But…. The TRTL Travel Pillow will give your neck and head so much support that you'll actually be able to get some proper rest. The ergonomic design, with its adjustable interior support, is absolutely unique and was scientifically engineered to keep you comfy and safe. Including a step-by-step guide and a waterproof bag, you'll never travel without this pillow again.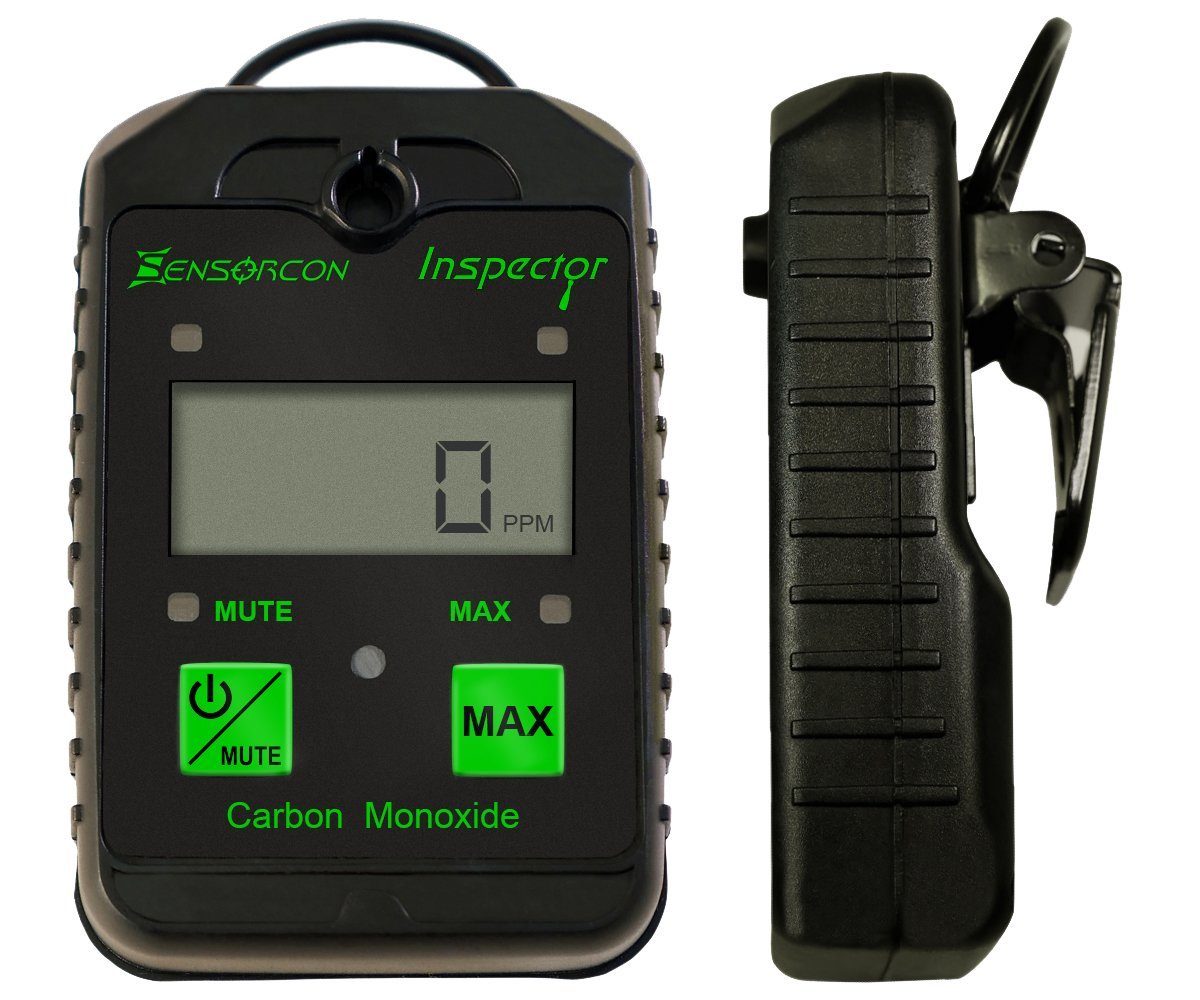 5. Carbon Monoxide Detector: Many homes already have CM detectors hardwired in, but regulation hasn't caught up to technology in some areas. Most accommodations are not obligated to install protections or monitors, which is why owning your own portable device comes in very handy. The waterproof and long-lasting monitor will send out visual and audible alarms, before the carbon monoxide reaches a dangerous level.
6. Reusable Shopping Bag: Getting rid of some plastic in your life might even make it a little bit better. Like the reusable shopping bag for example. There's no need to buy plastic bags at the checkout or have a massive amount of stuff in one cupboard back at home. Using the eco-friendly reusable shopping bag will make your shopping trip much more enjoyable while you're reducing your single-use plastic consumption at the same time.
Check out these other great resources
We have loads more information to help you plan your trip.
View this post on Instagram
Final Thoughts on Tenerife Airbnbs
So, that concludes our list of the best Airbnbs in Tenerife. We hope that our extensive list has been useful, and you've got a better idea of what to expect. There's lots of choices, so we're sure there'll be something that perfectly suits your budget, travel style, and personality!
Whether you want to hit the clubs in Costa Adeje, get a family-friendly place with a pool, or get a huge villa for you and all your mates, hopefully, you've uncovered the perfect Tenerife Airbnb for you!
If you're still deliberating on the best short-term rental in Tenerife, take it easy. Go with our overall best value Airbnb – Central Las Americas Apartment. It's in a great location, it's stylish, and it offers great value.
All that's left now is for us to wish you an incredible holiday when you travel to Tenerife!
And don't forget to sort your travel insurance before heading to Tenerife! We've put together a roundup of the best travel insurance for backpackers – check it out here, or if you're low on time, get a quote from World Nomads, our favorite travel insurance provider.
Getting an estimate from World Nomads is simple – just click the button or image below, fill out the necessary info, and you're on your way!

Yay for transparency! Some of the links in this post are affiliate links. This means that if you book your accommodation, buy a book or sort your insurance, I'll earn a small commission at no extra cost to you. I only link to stuff I've actually used and never endorse crap. Your support helps me keep the site going.
---
Need More Inspiration?
Like this post? PIN ME!!!