Tenerife is one of the most popular tourist spots in the world because it has nearly everything. It's a great place to visit if you like your holidays to include sun-baked beaches, a vibrant nightlife, beautiful mountains, and lots of marine animals. That's why there's no end to the number of best places to visit in Tenerife.
When you visit Tenerife, you want your holiday to go exactly as planned. That means you need the best information in a convenient form. To help with that, we've created this list of the most popular and spectacular hotspots in Tenerife, no matter what you enjoy doing when you're on vacation.
NEED A PLACE QUICK? HERE'S THE BEST NEIGHBORHOOD IN TENERIFE:
BEST AREA IN TENERIFE
Costa Adeje
The charming and lively town of Costa Adeje is our number one pick for where to stay in Tenerife if you're visiting for the first time. Set on the island's southwest coast, Costa Adeje is a vibrant city with dozens of beach bars and clubs, as well as restaurants, cafes and shops.
Places to visit:
Go for a stroll along Playa del Duque, a black sand beach.
Lounge in the sun at Playa Fanabe.
Shop until you drop at Siam Mall.
These are the BEST Places to Visit in Tenerife!
If Costa Adeje doesn't quite strike your fancy, be sure to check out where to stay in Tenerife. We've compiled all of our favourite areas for you! Now, onto the good stuff…

Unlock Our GREATEST Travel Secrets!
Sign up for our newsletter and get the best travel tips delivered right to your inbox.
#1 – Teide National Park – One of the nicer places in Tenerife to sightsee!
Mount Teide is a dormant volcano that dominates the landscape and is surrounded by a beautiful national park.
If you enjoy nature, then you'll love exploring this park while you're visiting Tenerife.
Why it's so awesome: Mount Teide is Spain's tallest peak and offers stunning views of the night sky because of the lack of light pollution. You'll be able to see 83 out of the 88 registered constellations from this spot and that makes for a stunning night-time experience. The national park surrounding it is also one of the best in the region and should be on your Tenerife itinerary.
What to do there: There are trails all through the park for you to explore, and you'll be struck by the stark and sometimes barren landscape. You should also make sure that you take the cable car from the main parking lot to the top of the mountain. This will give you a stunning view of Tenerife, and if you're up there at night then you can do some stargazing.
#2 – Siam Park – Awesome place to visit in Tenerife with kids!
This is a Thai themed water park with the largest collection of Thai buildings outside of Thailand.
The park covers 48 acres, so there's plenty to keep the kids occupied for hours.
This is considered to be one of the top attractions in Tenerife and perhaps in Europe.
Why it's so awesome: This park has an amazing collection of water slides suitable for all levels. There are family-friendly slides for younger kids as well as a collection of slides for adrenalin seekers. There are also other attractions at the park such as a children's play area called the Lost City, a wave pool, Thai restaurants, and a Thai floating market.
What to do there: You could spend all day at this park and if you have kids then you probably will! Go on the slides and scream your way down the winding tunnels, wander through the floating market, and take surfing lessons in the wave pool. And when you get hungry, try out one of the Thai restaurants for an appropriately themed meal.
#3 – Museum of Science and the Cosmos – One of the most underrated places to see in Tenerife
An overlooked museum that will enhance your enjoyment of the night sky in Tenerife.
This museum has activities for all ages.
Why it's so awesome: Museums aren't that popular in Tenerife, and that's a shame because this is a good one. If you find yourself enthralled by the night sky when you travel to Tenerife, you can learn more about it through the interactive displays at this museum.
What to do there: Take a break from the beach and educate yourself a little on what you see in the night sky. This museum is one of the most important in Spain and it combines traditional museum exhibits with interactive displays, astronomy evenings, and a planetarium. So, find out what's on when you're visiting Tenerife and show up for a fun and information visit.
#4 – Cueva del Viento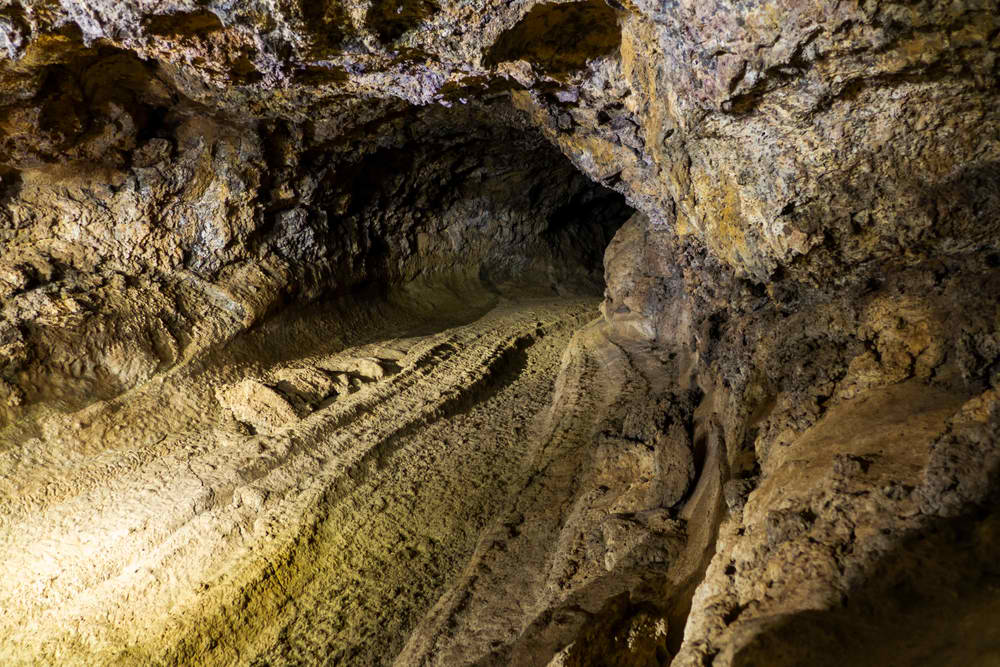 If you like unusual activities, then go caving when you travel to Tenerife!
Make sure you go with a guide, so you don't get lost in the 18 kilometers of lava tubes.
Why it's so awesome: You probably don't think of tropical islands in connection with caves, which is why this is a Tenerife must do. The caves that run under Tenerife were caused by the passage of lava from volcanic eruptions. They run for 18km through the earth and contain fossils, lava lakes, and more than 190 species of unusual insects.
What to do there: This is one of the more unusual things to do in Tenerife, but it's also extremely rewarding. So, if you aren't claustrophobic, hire a tour guide and explore the maze of tunnels and caves. Keep an eye out for lava stalactites, fossils and lakes while you're down there.
#5 – La Gomera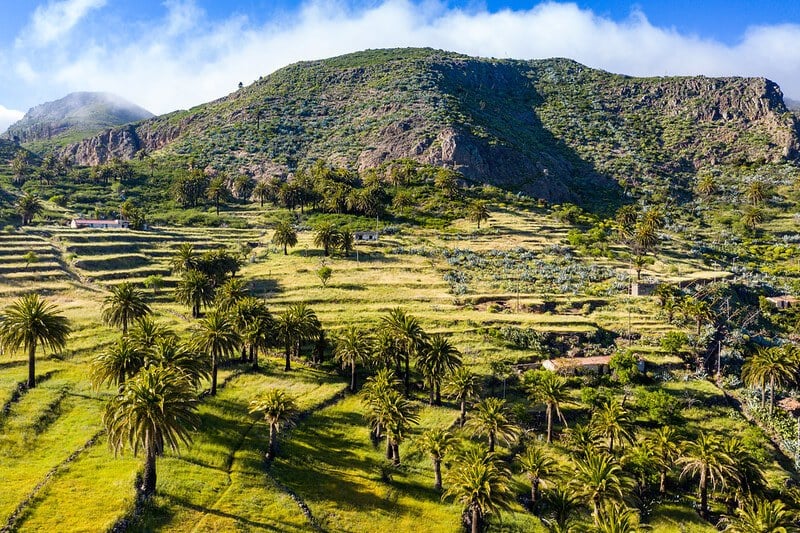 This is the quietest of the Canary Islands and the perfect area for a day trip.
You can reach this island from the boat in around an hour from Tenerife.
Why it's so awesome: Part of the fun of visiting Tenerife is island hopping and finding unexpected sites and attractions. La Gomera is a much quieter island and it's the perfect place for a relaxing visit. It contains the Garajonay National Park, where you can explore waterfalls, quiet lakes, and incredibly beautiful landscape in relative peace and quiet.
What to do there: Hire a boat to take you over and spend the day exploring. Take a packed lunch with you, just in case you can't find somewhere good to eat and have a picnic under the trees. Explore the park and the town and then head back to Tenerife in the evening
#6 – Pirámides de Güímar Ethnographic Park – One of Tenerife's coolest historical sites!
This park is home to some mysterious stone pyramids of unknown origins.
Make sure you spend time at the museum to learn about the theories surrounding the structures and similar ones around the world.
Why it's so awesome: There's nothing like mysterious pyramids for creating controversy and crazy theories. The stone pyramids in this park were first discovered in the early 1990s and theories have sprung up about their purpose ever since.
What to do there: Explore the park and the pyramids and then head over to the Casa Chacona Museum to learn more about them. The museum focuses on the theories as well as similar structures around the world. Learn about this mysterious slice of the past makes for a fascinating couple of hours.
#7 – Masca – An awesome place to visit in Tenerife for half a day!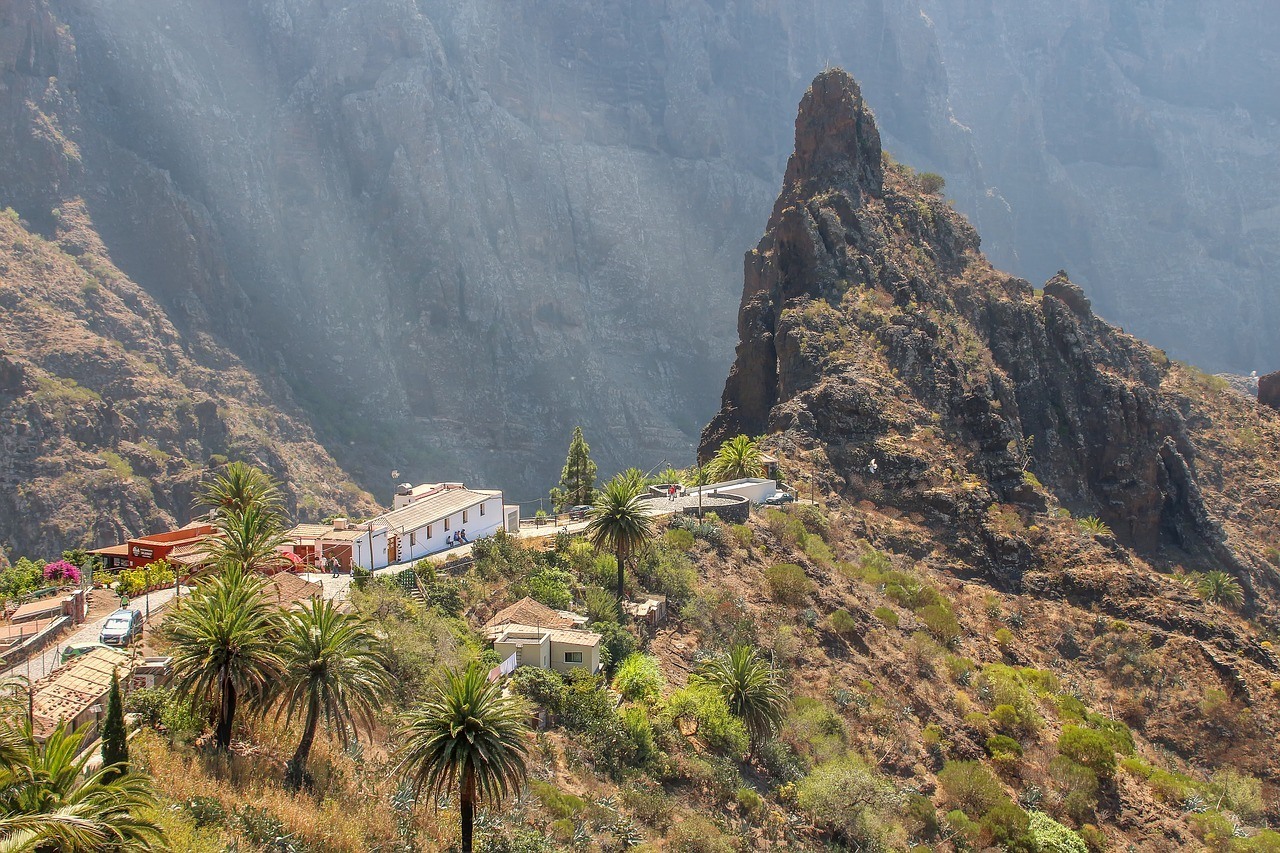 A picturesque village where the locals once hid from pirates.
This makes for a perfect day trip and you can drive there on your own or arrange transport.
The Mesca hike, the most popular hike on Tenerife, is in this area.
Why it's so awesome: Tenerife isn't just beaches and mountains. It also has a unique culture and history of its own and you can explore this history at Masca. This inland town was created as a hideaway, to save the locals from pirate attacks, and today it's one of the most interesting Tenerife vacation ideas.
What to do there: Make sure you leave early when you're visiting this town, as it can get crowded later in the day. Explore the town and then head to the restaurant overlooking the valley, where you can enjoy a great meal with spectacular views. If you like hiking, you should also try the Masca hike, which starts at the village and goes down to the beach. It's about 7 kilometers long and offers spectacular scenery and the natural landscape along the way.
#8 – Playa de las Americas – Cool place to see in Tenerife with friends!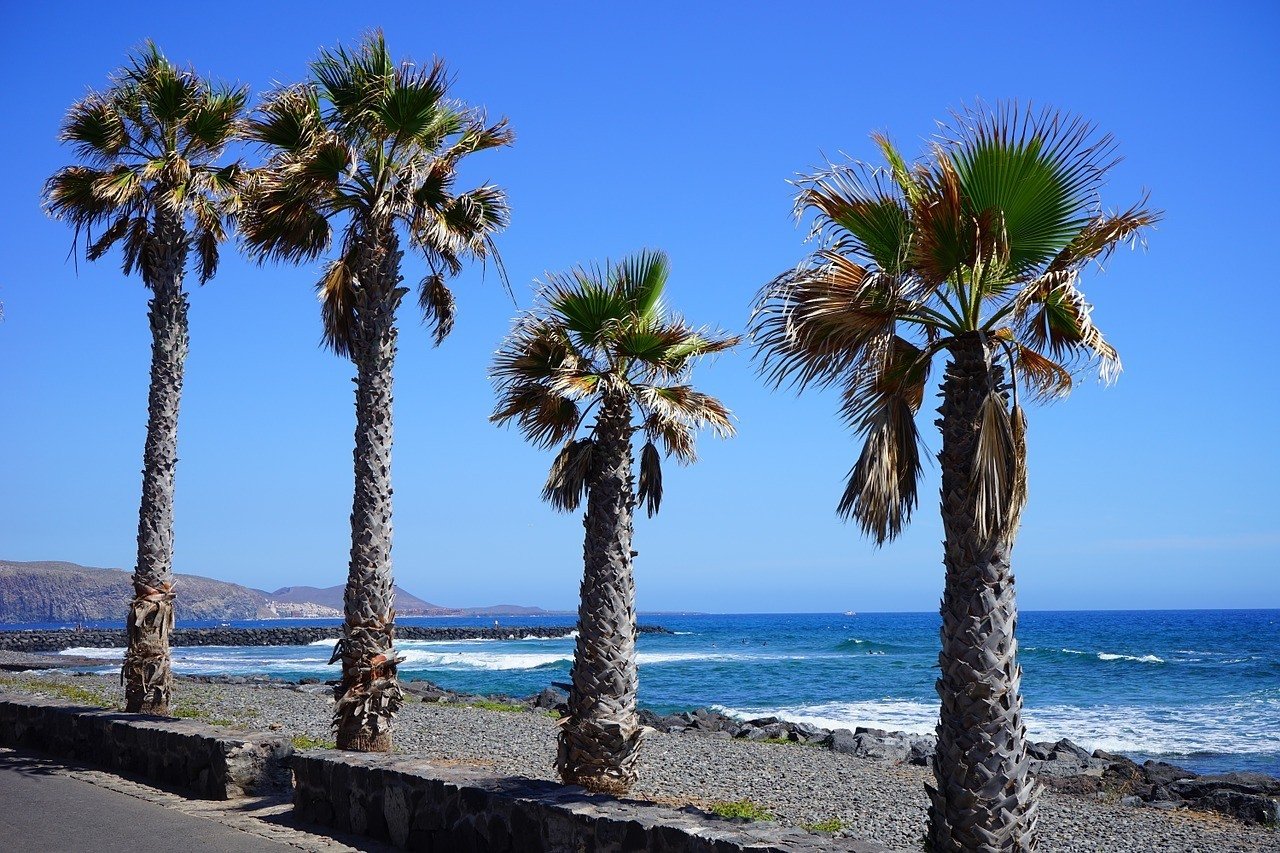 This is one of the best places to visit in Tenerife for a relaxing holiday.
You'll find everything you could want to do during your holiday in this area, from great hotels to bars and the beach.
Why it's so awesome: Playa de las Americas is a resort town, with everything that entails. You'll probably end up staying in this area or close to it, and it's a Tenerife must-do while you're on the island. This area has everything from golden beaches to lively bars and fantastic restaurants, so it's the perfect place to be entertained.
What to do there: If you're lucky, you'll get to stay in this area and enjoy the vibrant atmosphere and variety of activities. Otherwise, you should at least spend a day exploring. Go down to the beach and relax or take part in some water sports, find a great restaurant for your evening meal, and then head over to a bar for a drink and some socializing.
#9 – Playa Bollullo – A nice non-touristy place to visit in Tenerife
This beach is one of the most beautiful and secluded attractions in Tenerife.
It's a bit hard to reach the beach, but the black sand against the blue waters makes the effort worth it.
Why it's so awesome: If you love the beach and want to see one without the crowds, then this beach is one of the best places to visit in Tenerife. It's a black sand beach that's considered to be the most beautiful on the island. Fortunately, the difficulty of the trip to the beach has left it mostly secluded, so you'll be able to explore without the crowds.
What to do there: To get to the beach, you'll have to walk through the banana plantations from Puerto de la Cruz or hire a car to take you along the narrow roads. But the effort is well worth adding this beach to your Tenerife itinerary because it's stunningly beautiful. The tides can be a little rough though, so stay out of the water unless you're a strong swimmer. There are no lifesavers to rescue you on this beach.
Is This the Best Daypack EVER???
#10 – Los Cristianos – A great place to visit in Tenerife at night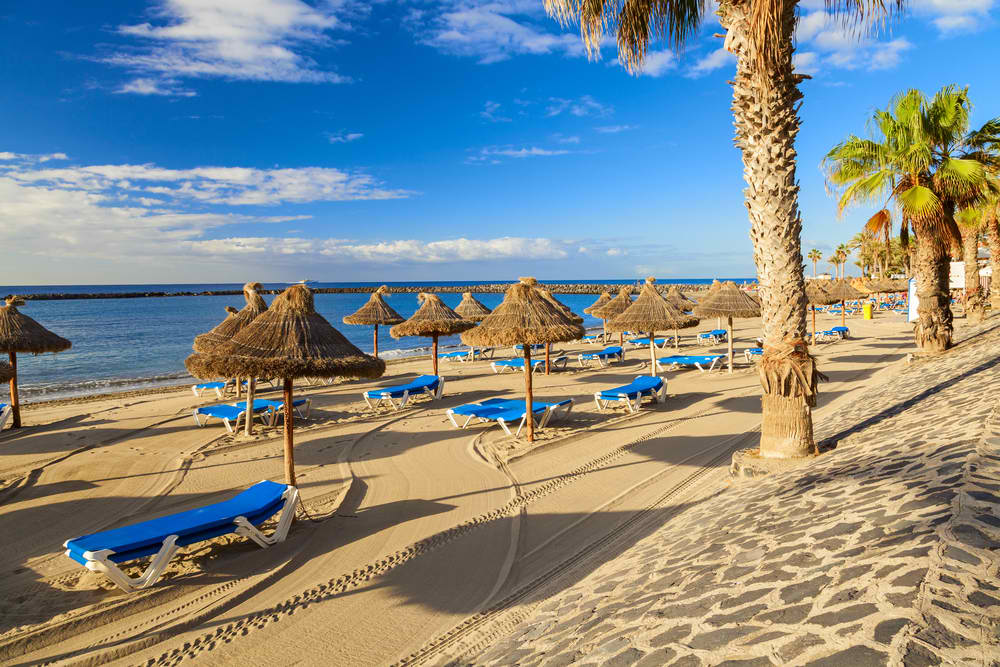 A great alternative to Playa de las Americas.
You can go whale watching, dolphin spotting and fishing off these beaches.
The area is vibrant and lively, with lots to do in addition to the amazing beach.
Why it's so awesome: if you find Playa de las Americas too crowded, this is a great alternative. It's just as vibrant and lively, with stunning beaches, great bars, and restaurants serving up tasting treats. The area also has a great night scene that centers around the promenade and its beachfront attractions.
What to do there: Spend the day relaxing in this area. Go out on the water with a tour operator to see some of the area's marine life, explore the local restaurants and their authentic treats, and then settle in a café and do some people watching. After it gets dark, hang around to enjoy the vibrant nightlife that makes this one of the best points of interest in Tenerife.
#11 – The Museum of Nature and Man – Possibly one of the most important places to visit in Tenerife
This museum is located in Santa Cruz and contains lots of important artifacts about the history of Tenerife.
If you're a history buff, you'll love this museum!
Why it's so awesome: This is a relatively new museum that does a great job of bringing the Guanche aboriginal culture of ancient Tenerife to the modern world. The artifacts cover all aspects of ancient life, from native tools and carvings to mummies from around the world.
What to do there: If you're interested in history, then this is one of the most important landmarks in Tenerife for you to explore. You'll learn more about the culture of ancient Tenerife, from the earliest cultures to the arrival of the first European conquerors.
#12 – Piramide de Arona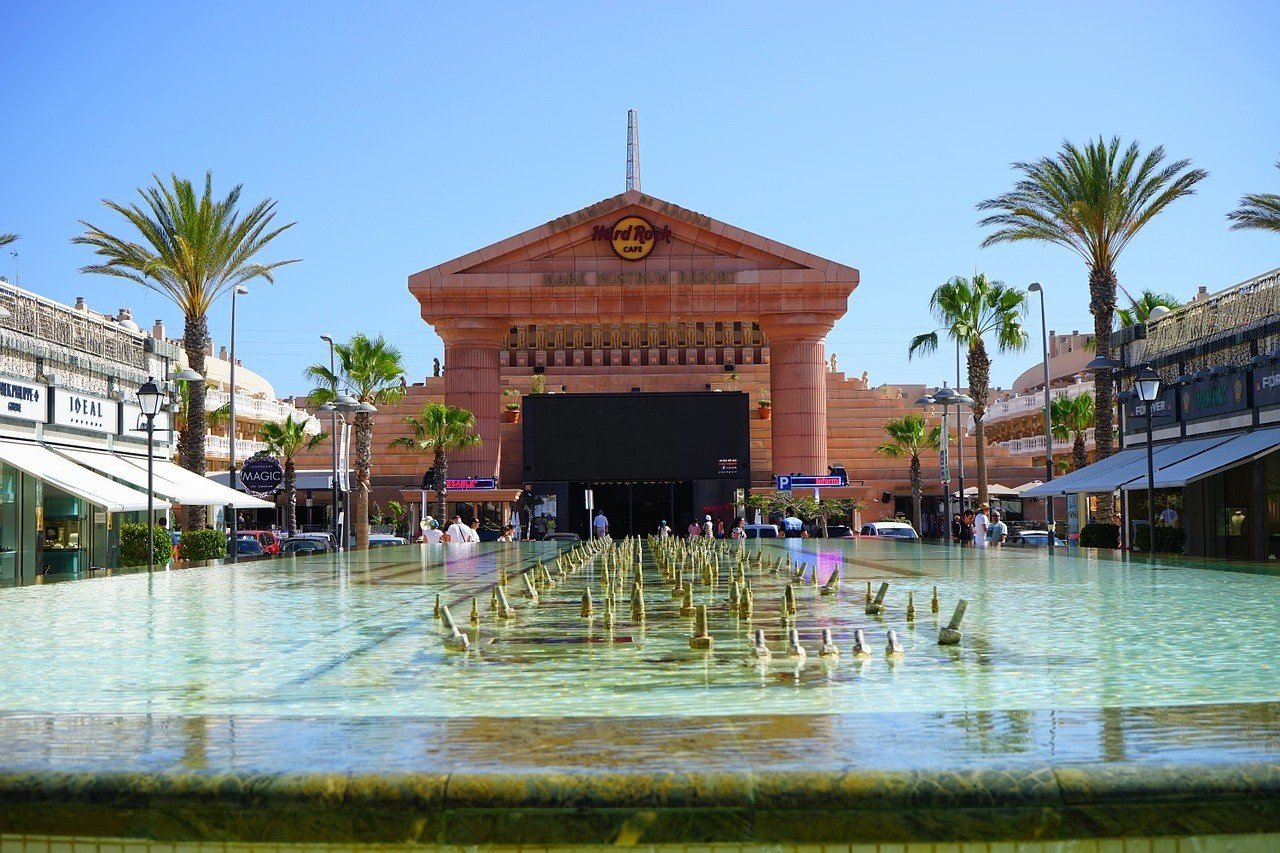 This is the home of the Malizia Show, a live performance that blends Hispanic cultures with flamenco opera and dance.
This show is unique and awe-inspiring, one of the best things you'll see when you travel to Tenerife!
Why it's so awesome: The Malizia Show will captivate children and adults. It blends Hispanic cultures with dance and opera and is both beautiful and thought-provoking. It's in Spanish, but you won't need to understand the language to understand the meaning of the story of the dance. This is one of the best shows on Tenerife and perhaps one of the best in the world as well.
What to do there: Find out if the show is on while you're visiting and make sure you get tickets to this Tenerife must-see. Whether you're visiting with friends, family, or on your own, the show will enthrall and touch you, so don't miss out.
Small Pack Problems? 😉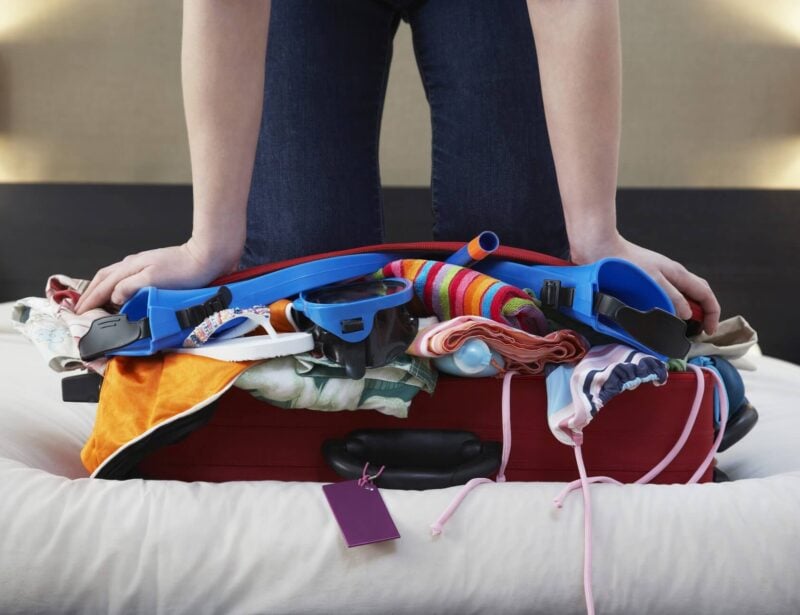 My missus travels with all her clothes in ziplock bags: don't be like my missus. UP YOUR PACKING GAME!
Packing cubes for the globetrotters and compression sacks for the real adventurers – these babies are a traveller's best kept secret. They organise yo' packing and minimise its volume too so you can pack MORE.
Or, y'know… you can stick to ziplock bags.
View Our Fave Cubes
Or Check Out the Sacks!
#13 – Anaga Rural Park – A beautiful and scenic place to check out in Tenerife
One of the most spectacular attractions in Tenerife.
This area is almost magical, which is why it's one of the best places to visit in Tenerife.
Why it's so awesome: This park is almost magical with beautiful beaches and wild laurel trees. It also contains some of the most popular beaches on Tenerife, but there's enough land for you to enjoy the natural surroundings in relative peace and quiet. Anaga Rural Park is located only an hour's drive from other landmarks in Tenerife including La Laguna and Santa Cruz, so it makes for the perfect day trip.
What to do there: You can take a day trip to this part of the island and explore the beautiful natural surroundings as well as some of the best beaches in Tenerife. Just make sure that you check the weather report first. This part of the island can get foggy and overcast, particularly during the winter. When you're there, take the Vueltas de Taganana pathway to explore the laurel forest. Go swimming at Benijo Beach and when you're hungry, head to one of the restaurants there to enjoy some fresh seafood.
#14 – San Cristobal de la Laguna – A great place to see in Tenerife if you love architecture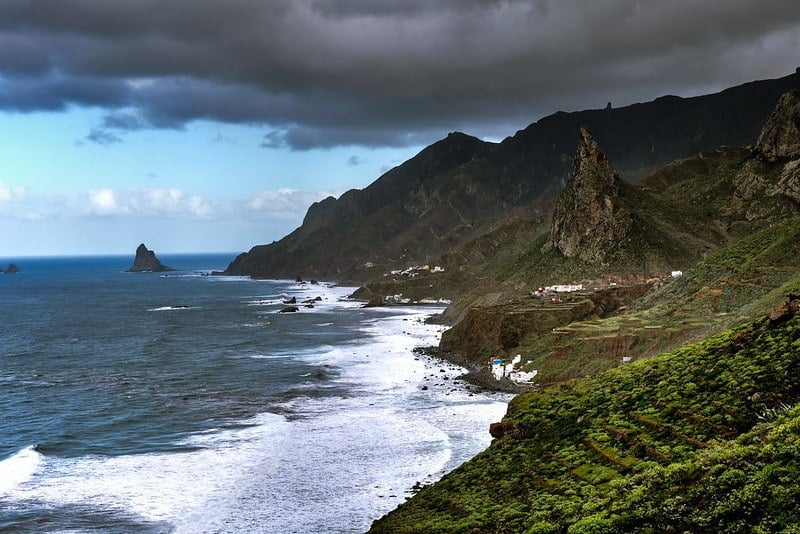 This town is a UNESCO World Heritage Site and contains lots of beautiful, historic buildings.
There are also several museums in the area that have great activities and exhibits for kids if they get tired of walking around staring at the architecture.
Why it's so awesome: This town is stunningly beautiful and contains a lot of architecturally significant buildings. It's located in the north of Tenerife and would make for a great day trip or some time away from the crowds. This city was once the capital of the Canary Islands and is now considered to be its cultural capital.
What to do there: You'll need a couple of hours to explore this beautiful city, so make sure it's a part of your Tenerife itinerary. The historical center is where you'll find the most stunning buildings, so make sure you check out the Cathedral of La Laguna, Old City, Iglesia de la Concepción, the University of La Laguna, and the Real Santuario del Santísimo Cristo de La Laguna. This town is also home to great festivals such as Holy Week, the Holiday of the Cristo de La Laguna, and Romería de San Benito Abad. So, before you arrive, see if there are any special days during your trip and show up to enjoy the culture.
Get insured for your trip to Tenerife!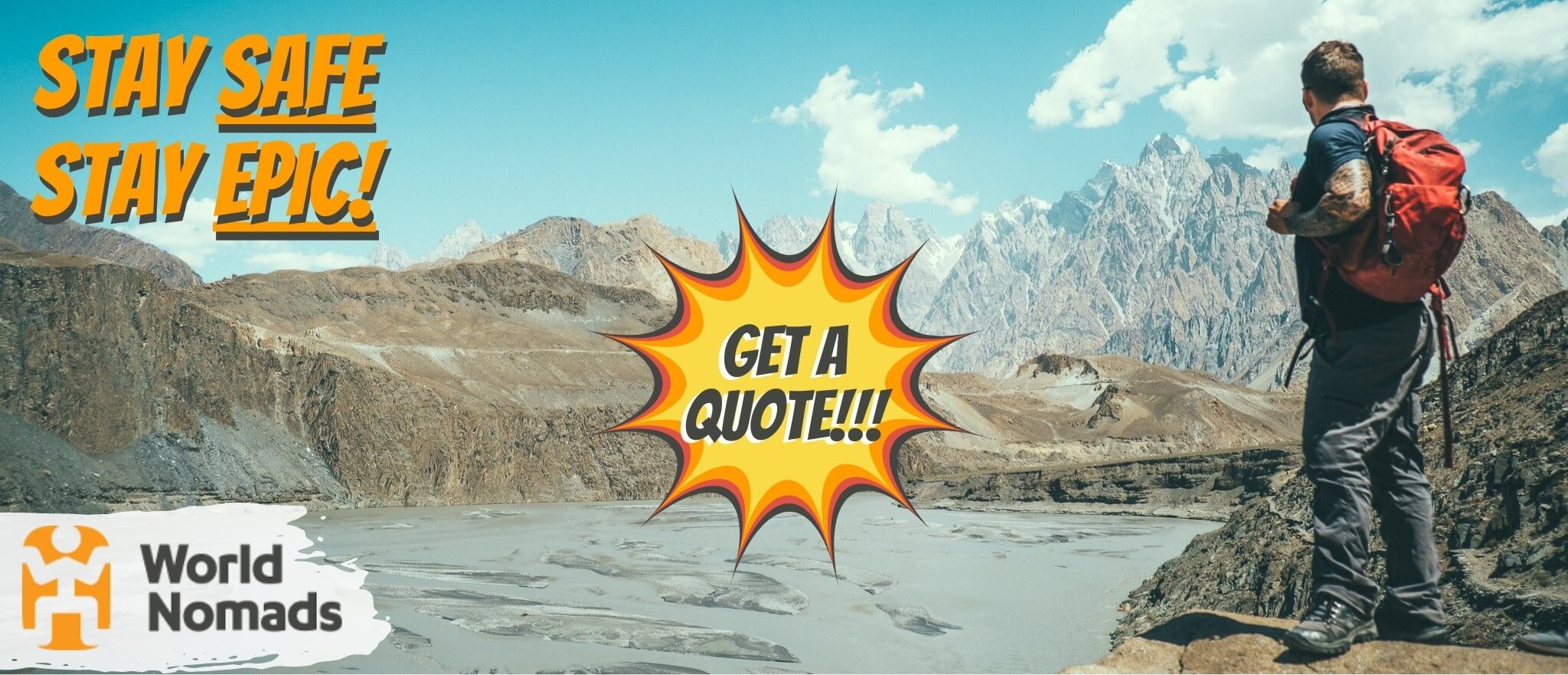 World Nomads' mission is to support and encourage travellers to explore their boundaries. They offer simple & flexible travel insurance, and safety advice to help you travel confidently.
They've been doing it since 2002 – protecting, connecting, and inspiring independent travellers just like you.
Get a quote below or read our in-depth review!
World Nomads provides travel insurance for travelers in over 100 countries. As an affiliate, we receive a fee when you get a quote from World Nomads using this link. We do not represent World Nomads. This is information only and not a recommendation to buy travel insurance.
FAQ on the Best Places to Visit in Tenerife
Find out what people want to know about the best places to visit in Tenerife
Final Thoughts on the Coolest Places to Visit in Tenerife
Tenerife offers stunning beaches, beautiful wildlife, and the kind of relaxed and laidback holiday that people dream about. There are also lots of chances to get more active, if that's your travel style, with lots of opportunities for activities in the great outdoors. This list is a guide that will help you to design the vacation of your dream when you travel to Tenerife. It includes the best and most interesting places to visit in Tenerife, so you know where to start once your plane touches down.
---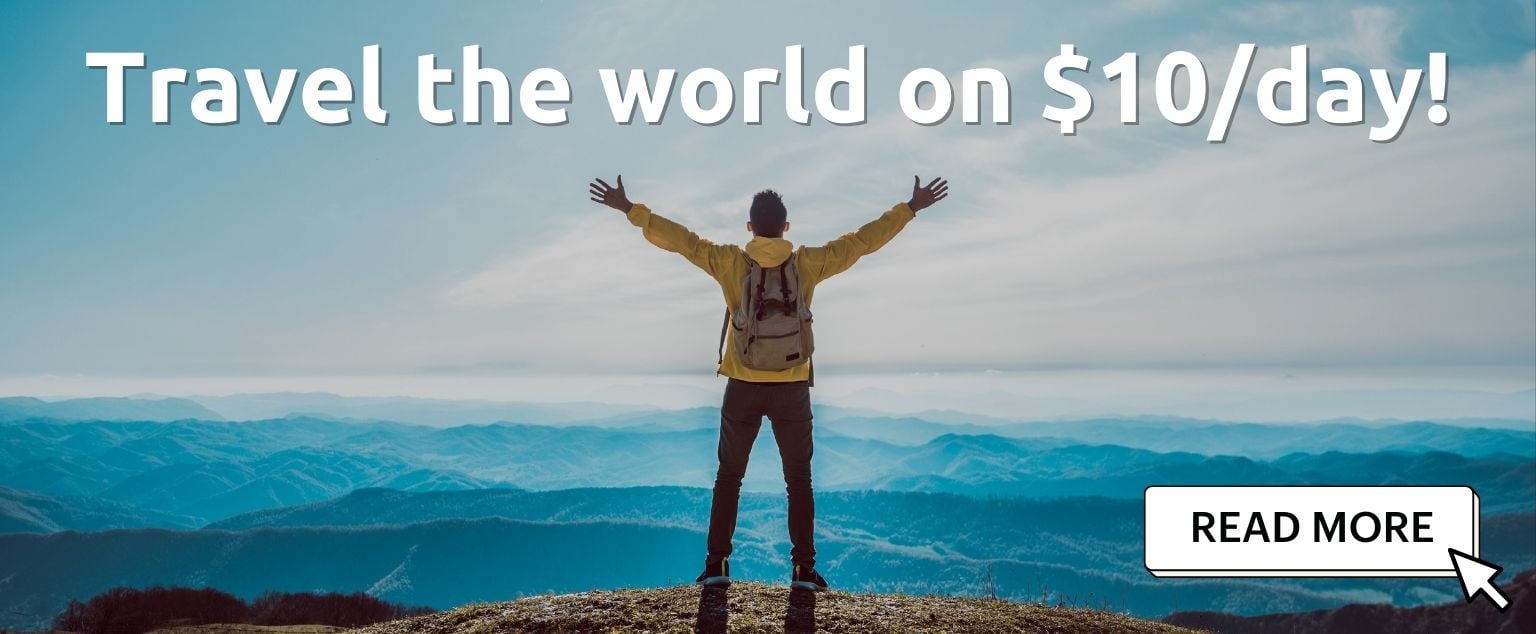 And for transparency's sake, please know that some of the links in our content are affiliate links. That means that if you book your accommodation, buy your gear, or sort your insurance through our link, we earn a small commission (at no extra cost to you). That said, we only link to the gear we trust and never recommend services we don't believe are up to scratch. Again, thank you!