Spain is most likely on every traveler's bucket list. It's an incredibly vibrant country filled with rich cultural traditions and incredible music, history, beaches and dancing. That's before we get to the food, Tapas, Paella and endless pitchers of Sangria, glasses wine and sniff's of Sherry. Ola indeed!
To get you in the mood, why not enjoy a glass of wine as you're nibbling on a tapa or two and allow us to divulge all the best-kept secrets about the top places to stay in Spain! Also, while we are at it, we'll also cover the best places to stay in Spain as well including the best Spain accommodation options for every budget.
Been asking yourself  'where should I stay in Spain?'? Say adios to your worries with our handy guide here! Ready? Let's go.
Quick Answers: Where is the Best Place to Stay in Spain?
Map of Where to Stay in Spain
Madrid – The Overall Best Place to Stay in Spain
We don't mean to hurt Barcelona's feelings, but we just have to admit that we think Madrid is the overall best city to stay in Spain. When staying in Spain's central capital city, you can expect to find beautiful streets, lined with impressive architectural buildings and lots of street life! Whether you're wandering down a random boulevard, or visiting the Plaza Mayor, you are sure to fall in love with the energy of Madrid!
Plus, there is just so much to do and see in Madrid. As the best city in Spain, you know that you won't be disappointed with the sites, activities, and festivities. From touring the Royal Palace of Madrid to visiting the Museo National del Prado, to taking a little boat ride through the waters of El Retiro Park, you simply can't get bored in Madrid!
Best Places to Stay in Madrid
Madrid has some truly incredible neighborhoods. This makes choosing the best areas of Madrid a bit tricky for us. For starters, the La Latina neighborhood is incredible for socializing and for trying tapas, and the Malasaña district definitely has a super-cool hip, artsy vibe. And if you're seeking the best Madrid neighborhood to stay in for cultural activities then head on over to Lavapiés.
This apartment is for an entire studio apartment that has all you could possibly need in it! You'll be in the popular Malasaña neighborhood, close to all the best shopping and nightlife that Madrid has to offer. Even though you're in a central area, don't worry about it being too noisy; the window faces the interior courtyard of the apartment building, so it is nice, quiet, and cozy!
2060 The Newton Hostel sits right in the middle of the La Latina neighborhood. It's only a brisk 6-minute walk to the metro station, and it has a fabulous central location that will make you feel right in the middle of the action. The hostel itself offers incredible events, from Flamenco nights to bar crawls to day trips outside of Madrid!
Sitting just off the Gran Via in the vivacious Malasaña neighborhood Hotel Sterling offers affordable yet highly spacious rooms! In terms of lodging in Spain, this hotel is a gem! Most rooms also come with a lovely little terrace and balcony to enjoy the views of the city below from.
Costa Brava – Best Place to Stay in Spain for Families
Costa Brava simply couldn't be more beautiful! This coastal region of Catalonia, situated in the northeastern part of Spain, is beyond belief. If you are seeking the best city to stay in Spain with your family, look no further than this Spanish wonderland.
Speaking of wonder, we would be completely remiss if we didn't mention that Costa Brava is home to the eccentric artist Salvador Dalí. Thus, Costa Brava is where the majority of the best Dalí museums are! The kids will be dazzled at his quirky works of art, as well as his rather ridiculous summer home in Portlligat.
Also, Costa Brava is known for having amazing beaches that aren't completely taken over by hordes of tourists. Costa Brava is where to stay in Spain if you want more private, secluded beaches— perfect for the whole family!
Make sure to note that to really get most out of Costa Brava we recommend renting a car. That way you won't miss out on seeing any of the darling tiny towns that dot the Costa Brava coastline!
Fancy staying in a beach house in Spain? We've collated our top picks for you!
Best Places To Stay in Costa Brava
Keep in mind that Costa Brava is a large expanse of land, running from the French border all the way down to Barcelona. All along the coastline, you'll find incredible places to stay—each with a special uniqueness and vibe that will make your vacation with your family truly memorable!
This terraced house is perfect for you and your entire family. As a three-bedroom house, with a total of five beds and two bathrooms— you and your family will have plenty of room to breathe in this Airbnb in Spain. Located very close to the beach, near the main promenade, this Airbnb is perfect for exploring the coastline and the city of L'Escala.
Best Guest House in Costa Brava: Hostal Rom
Sitting in nearly the most northern part of Costa Brava, Hotel Rom is a steal! It's a family-run guest house that has incredible affordable rooms for the whole family. There is also a daily Mediterranean breakfast buffet served on the garden terrace that is simply divine! This hotel is your ideal spot for beautiful walks along the coast, and for visiting the Cap de Creus Nature Reserve.
Best Hotel in Costa Brava: Hotel El Molí
Hotel El Molí has to be one of the most beautiful hotels in Spain! It's a spectacular hotel, less than a 15-minute walk from the beach in Sant Pere Pescador. This hotel has an outdoor pool, expansive gardens, and is surrounded by a pine forest. There is free private parking, and also offers complimentary storage for surfboards and bicycles.
Seville – Where to Stay in Spain for Couples
Seville is the capital of Spain's majestic Andalusia region in the south. Seville is world-renowned for its flamenco dancing and for the jaw-dropping Alcázar castle complex. Seville is hands down one of the best areas to stay in Spain on a romantic getaway!
If your honey is interested in arts, culture, history, food, music, dancing, or pretty much anything fun and fabulous, he or she is sure to love Seville!
Get ready to sip on some sangria and be dazzled by incredible flamenco dancers. Put on your walking shoes and hike up to the top of the Giralda tower and take in the sweeping views of the city below. Stroll down the historic heart of Seville, the Santa Cruz district and pick out precious souvenirs. That's right, Seville is definitely where to stay in Spain if you're traveling on a couples trip!
Best Places to Stay in Seville
When staying in Seville, it's best to stay as close to the center of the city as possible. You don't want to be too far from the flamenco action or the incredible sites either.
This Airbnb is for a charming room in Seville, just a three minutes walk from the Plaza de España, close to all the best sites in Seville. This room is quite spacious and has a large bed, armchair, and table for two. Plus, there is an onsite bathroom. This lovely room is filled with sweet touches that will make for a great stay in Seville.
Oasis Backpackers' Hostel Sevilla is just a couple minutes walk from the best tourist attractions in the city, including the Santa Cruz district, the Plaza de Toros, and the Seville Cathedral. This hostel is a highly social one, with daily barbeque and dinners shared with other guests on the rooftop terrace. While there are only dorm rooms available, if you and your significant other are staying in Spain on a budget, this hostel is the way to go.
Hotel Murillo dwells in the beautiful Santa Cruz neighborhood of Seville right inside a historic building with a gorgeous rooftop terrace. The hotel itself has lovely historic features from ornate wooden ceilings to a library to relax in. Also, the daily buffet breakfast is delectable!
Barcelona – The Coolest Place to Stay in Spain
It's no secret that Barcelona is the coolest place to stay in Spain! If you're looking for the throbbing heartbeat of all things cool in Spain, Barcelona is the clear winner.
Of course, there are the obvious things to see and do in Barcelona like tour the Sagrada Familia and the Casa Batllo, or wander down La Ramblas. However, there are some incredibly cool things to do in Barcelona that are a little off the beaten track, and they're definitely more affordable too. Like check out a live music event in the summer season at the Sant Pau Art Nouveau Site, or hike up to the Bunkers del Carmen lookout point for a perfect sunset view over the city! Or how does a helicopter flight over Barcelona sound? Pretty cool, right?
If Barcelona gets too much for you, then take a train and stay in Girona, the capital the Catalan region
Best Places to Stay in Barcelona
Filled with tapas bars and hip cafes, Gràcia is Barcelona's coolest neighborhood. Also, El Born neighborhood is also where some of Barcelona's best kept secrets lie— the most trendy and hipster spots in the city!
There are some great hostels in Barcelona. This one is our pick. Hostal Palermo Barcelona sits right off the Las Ramblas street, in the Gothic Quarter of Barcelona. In fact, the metro station is just a one minute walk away from this hostel! You'll be close to all the action and sites in this affordable hostel.
Hello amazing! This hotel is a site to see in and of itself! It's an eco-friendly boutique hotel that only has 12 rooms in total, all of which are decorated with contemporary art and are accented with bold colors. Situated in the vibrant Grácia neighborhood, this hotel is the best hotel in the city for racking up cool points.
Best Airbnb in Barcelona: Modern Spacious Double Room
This private room in an Airbnb is for a large room in the coolest neighborhood in town— El Born! This is a bright and clean spot, right in the middle of In case you have any qualms, this apartment has two bathrooms and an elevator. You'll be mere steps away from the Picasso museum, and just a couple blocks away from the divine restaurant, La Bona Sort! Lastly, the host lets guests use the kitchen to the fullest extent in case you wanted to make some meals yourself.
Marbella – Where to Stay in Spain on a Budget
Marbella is located in the Costa del Sol in the Andalusia region in the south of Spain. Guess what is the backdrop of this coastal city? Oh, we're glad you asked. Only the incredible Sierra Blanca Mountains! That's right, the twenty-seven glorious kilometers of beaches are backdropped by an enormous mountain range. While this town has lots of luxury to it, and is a favorite holiday spot for the rich and the famous, there are still incredible deals to be found!
Also, there's lots of free things to do! From taking a day at the beach, to strolling along the promenade, to wandering through Old Town you surely won't be disappointed! Moreover, why not pack yourself a picnic and enjoy a pleasant afternoon in Alameda Park? Do Marbella your way— the budget way!
Best Places to Stay in Marbella
While Marbella oozes opulence, never fear— by staying a little off the coastline, you can find plenty of great deals, even under $50 a night!
Hotel Doña Catalina is a beautiful family-run hotel situated in the fantastic Marabella district of San Pedro. It's a little bit farther off the beach, just around a 20-minute walk. However, given the price point, it's worth the extra exercise! Also, there is a complimentary buffet breakfast every morning which is perfect for saving some extra dough. Lastly, if you were looking to splurge a little, the Atalaya Golf and Country Club is less than two miles away. What you saved on breakfasts, you can spend on the golf course…
Best Airbnb in Marbella: Darling Private Room
Get ready to pay less than 20euros a night for this private room in the Los Boliches neighborhood. In fact, you'll be just an eight-minute walk to the train station, and a five-minute walk to the beach. Each day, expect a delicious breakfast to be provided by the gracious hosts. When staying in Spain's luxurious coastal city of Marabella, this Airbnb is a great spot to save some bucks!
Best Hostel in Marbella: Hostal Tak
Hostal Tak sits right at the end of Marabella's beautiful Old Town and is actually just 100 meters from the seashore! This hostel has a great atmosphere and a beautiful outdoor terrace. Get great value for your money at Hostal Tak.
Toledo – One of the Most Unique Places to Stay in Spain
The ancient city of Toledo is perched on a hilltop above the plains of the Castilla-La Mancha in the central region of Spain. Toledo sure offers visitors a heaping dose of uniqueness given its rich history. It has incredible Arab, Christian, and Jewish monuments and architectural delights galore inside this ancient walled city.
When visiting, make sure to visit the Monasterio de San Juan de Los Reyes and check out the interesting cloisters inside the church. Also, visiting the epic gothic Toledo Cathedral simply can't be missed. Do those things simply sound too mainstream for you? Then why not take flight and zip down Europe's largest urban Zipline and get a bird's eye view of Toledo!
What really makes Toledo special, besides being a cultural mixing pot of Judaism, Christianity, and Islam, is that the city is positively brimming with historical landmarks, from the Alcázar fortress to the Puerta de Alfonso. Also, if you happen to have a sweet tooth marzipan treats are sold as a daily snack. Plus, the Mercado de San Agustín is an absolute foodie dream!
Best Places to Stay in Toledo
When visiting Toledo, the best city to stay in Spain for unique vibes, you might as well soak them all up! This is best accomplished by staying inside the Old Town area for a true Toledo experience.
This Airbnb is quite the looker! With crisp white walls and tons of exposed wooden beams, it looks like it's straight off of a Pinterest board. Sitting right in the heart of Old Town, this Airbnb is for a two-bedroom and one bathroom apartment. Given it's glorious decor and style, you would think that the price would be sky high! That's certainly not the case. This centrally located, incredibly low priced Airbnb is waiting for you in Toledo.
Hostal Toledo is a charming hostel situated just outside of the Old Town. It has a total of twenty-six private rooms, and unfortunately, no dorm rooms are to be found. Inside the hostel you'll find a lounge and a coffee shop. It's a great place to base yourself when looking to save a few bucks and still stay in a professional, clean hostel setting.
Hotel Santa Isabel is nestled right in the heart of Old Town and is a mere two minutes walk from the Toledo Cathedral. Also, the Taberna el Botero, a delectable traditional Spanish restaurant, is just a single block away. This hotel is truly fantastic, with affordable room rates, a rooftop terrace, and ornate wooden ceiling and medieval paintings!
Montserrat – Where to Stay in Spain for Adventure
Sitting close to Barcelona, Montserrat is a mountain range that is part of the Catalan Pre-Coastal Range. Hiking the mountain's summit, 1,236 meters high, you can soak up the gorgeous views of Catalonia below. There's also the Montserrat Natural Park to enjoy, with lots of walking paths and with abundant wildlife to spot, you'll love spending your days exploring the mountain. If you happen to be into mountain climbing, there are excellent climbing opportunities in Montserrat too!
After a few days of hiking, take a break and enjoy being whisked up to the mountain's summit by cable car! Moreover, there is also an incredible monastery to visit, nestled in the rocky cliff side, that dates all the way back to 1025. Lastly, make sure to check out the Montserrat Art Museum as it contains a vast collection of artwork that spans eight centuries! There is even a piece from Caravaggio to see. Whether you visit Montserrat or somewhere else, there are some great hikes in Spain.
Best Places to Stay in Montserrat
With plentiful lodging options nestled here and there along the villages that pepper the Montserrat area, there are quite a few gems to find.
Hostal Guilleumes is operated a bit more like a hotel than a hostel, given the price range and private room only availability. That being said, it's ideally located at the base of the Montserrat mountains and is situated in the town where the 'Cremallera de Montserrat' railway begins its journey on the original railway straight through the mountain!
The Hotel Abat Cisneros Montserrat is the place to be in Montserrat if you don't mind breaking open the piggy bank just a little bit. Situated right next to the Montserrat Monastery, this hotel gives guests sweeping views of the mountains. Everything about this hotel is positively fantastic! Plus, getting woken up each morning by the abbey bells is quite a special thing to experience.
Best Airbnb in Montserrat: Rustic Apartment
This Airbnb condo rental is for a two-bedroom and one bathroom home. There are a total of four beds available, which make sleeping up to six people a breeze. This Airbnb is an ideal choice for enjoying the mountain range, with easy access to many different trails. Also, this home is well connected by road and by train and has easy parking available.
Pamplona – The Best Place To Run With Bulls In Spain
Pamplona dwells in northern Spain and is world-renowned for the Running of the Bulls, the Feast of San Fermín festival that takes place each year in July. As a little background, during this epic festival bulls are led throughout the city streets by adrenaline hungry runners.
The Running of the Bulls is a controversial festival. Whilst it is a part of the cities tradition, it is pretty damn cruel on the bulls (and dangerous for participants). Whilst we don't advocate it and none of us has ever taken part, it would be churlish not to mention it.
Rent prices spike during the running and there are even prime balcony rentals available. With more than one million people gathering to watch the action, make sure you plan ahead on how you want your festival experience to go. Also, keep in mind that there are over 400 events throughout the week-long festival— from music performances to parades to kid-friendly activities. Make sure you take a thorough look over the festival schedule to get the most out of your trip to Pamplona.
Best Places to Stay in Pamplona
First things first: book early! Make sure you score one of the best places to stay in Pamplona and don't end up somewhere you don't want to be— like on a park bench…
This Airbnb is for a cozy room in a Pamplona apartment that has an elevator inside. Don't worry about taking the stairs! The apartment is nice, bright, and clean. There is also a bakery and cafe right next door, perfect for picking up your morning cappuccino and pastry.
Best Hostel in Pamplona: Xarma Hostel
Xarma Hostel is a bright and beautiful new hostel that opened just a handful of years ago in 2013. It has great social areas, including a living room, lounge, terrace, garden, and shared kitchen where you can whip up delicious meals and snacks. There are great options to choose from at this hostel, from affordably priced private rooms to dorm rooms with either six or four beds.
This family-run Pamplona hotel is just a brief walk to the historic Old Town, and a 25-minute walk to the city center. It is well connected by public transportation, so you don't have to worry about walking if you're too hot or tired. Actually, this hotel sits right next door to the Yamaguchi Park, perfect for an evening stroll or an afternoon picnic. There are also great restaurants and bars in this area too!
With so many Airbnbs, hostels, and hotels in Spain it sure was tricky to choose just three. However, these three Spanish accommodation options below are true shining Spanish jewels.
There are some apartments that make you drool in envy and this is definitely one of those Airbnb situations here! This Airbnb is for a two-bedroom and one bathroom apartment nestled right in the heart of Toledo's Old Town. The Toledo Cathedral is practically on your doorstep. This pristine clean apartment with crisp white walls and tons of exposed wooden beams will make you never want to leave Toledo.
What more could you ask for in a Spanish hostel? The Oasis Backpackers' Hostel Sevilla is a truly epic hostel! With a pool, rooftop terrace, and onsite bar, you're sure to make plenty of friends at this hostel. Plus, there are BBQs and dinners each night so sip some sangria and get social! Plus, this hostel is situated right in the heart of the city, within easy walking distance of all the top tourist attractions.
Best Hotel in Spain – Hotel El Molí – Costa Brava
Alright folks, this hotel is one for the books! Appearing right out of the pages of a magazine, Hotel El Molí in Costa Brava is beyond comparison. It is situated right in the middle of a pine forest and is around a fifteen-minute walk from the beach. It is also just a five minutes drive away from the Aiguamolls d'Emporda Nature Reserve. Ready to relax in elegance and style? This hotel is for you!
Books to Read While Visiting Spain
Lonely Planet: Spain – Comprehensive travel guide book for travelling in Spain
Ghosts of Spain: Travels Through Spain and Its Silent Past – Francisco Franco, the dictator who ruled Spain until his death in 1975, is long gone. But the ghosts of the Fascist era still haunt the country.
The Alchemist – The story of how universe can help you to achieve goals that you really want to fight for. The main character is a young shepherd from Spain who decides travel to Egypt.
Don Quixote – I have to admit this is a long, sometimes dry, story with sentences longer than a page. However, Don Quixote is the foundation works of literature in Spain. It's a series of tragic-comic episodes of a slightly deranged knight names Don Quixote.
World Nomads' mission is to support and encourage travellers to explore their boundaries. They offer simple & flexible travel insurance, and safety advice to help you travel confidently.
They've been doing it since 2002 – protecting, connecting, and inspiring independent travellers just like you.
Get a quote below or read our in-depth review!
World Nomads provides travel insurance for travelers in over 100 countries. As an affiliate, we receive a fee when you get a quote from World Nomads using this link. We do not represent World Nomads. This is information only and not a recommendation to buy travel insurance.
Whether you're looking to run with the bulls in Spain or hike the Sierra Nevada range, we're sure that you will have an incredible trip to Spain. With so many top places in Spain to stay, it can cause some heartbreak deciding where to go— especially if you have to snip a couple of cities off your list. We hope that our handy list of the best areas to stay in Spain helped make your travel planning a piece of cake! If not cake, then as easy as a Toledo marzipan treat…
Do you own or run a kick-ass hostel? Want to be featured on this list? Get in touch at [email protected]
---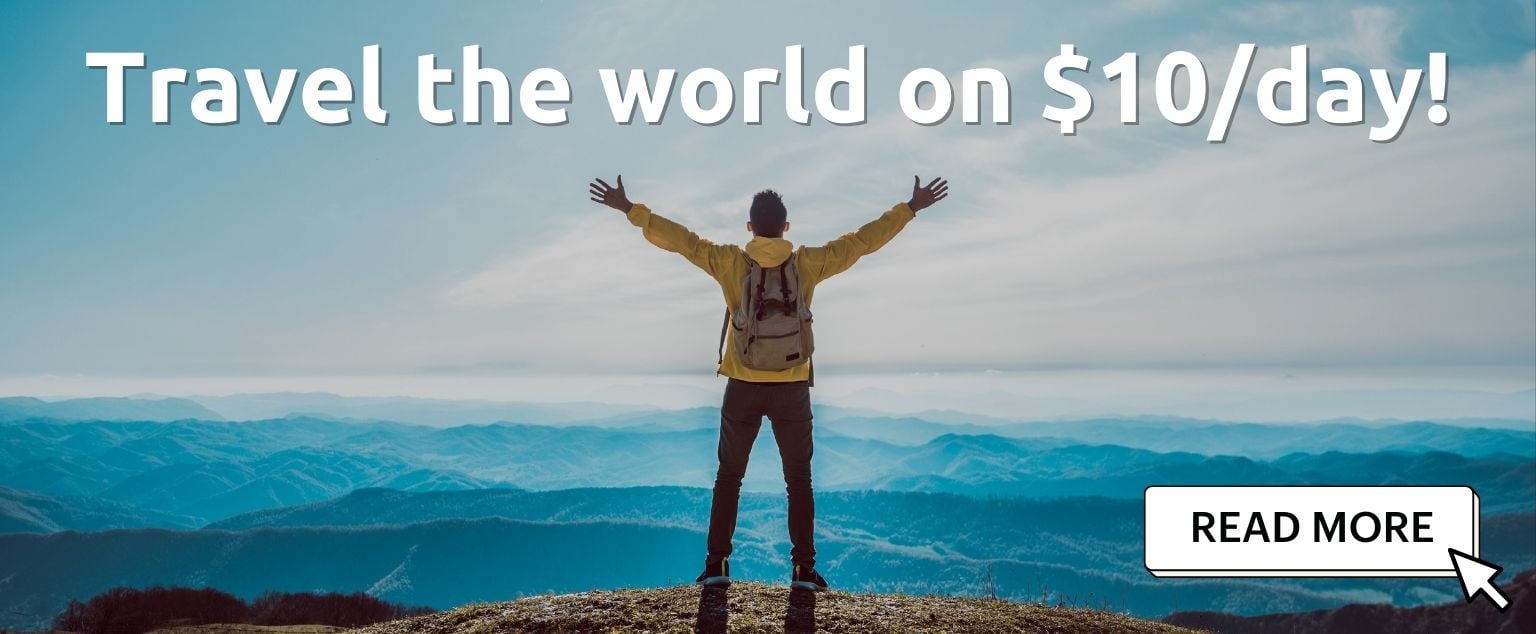 And for transparency's sake, please know that some of the links in our content are affiliate links. That means that if you book your accommodation, buy your gear, or sort your insurance through our link, we earn a small commission (at no extra cost to you). That said, we only link to the gear we trust and never recommend services we don't believe are up to scratch. Again, thank you!