The word Ibiza is synonymous with hedonism and each year countless hordes of youngsters head to the Balearic island in search of sunrise and sunburns. The island is famed for its super-clubs and endless carnage.
But what if I told you that besides the renowned nightlife and pumping club, Ibiza has another side to it? If partying isn't your thing, you can find quiet villages, scenic beaches, and yoga retreats offering soul, class, spirituality and serene natural beauty.
If you're planning on spending a weekend in Ibiza and not sure where to start, we've found the best of the best to make your Ibiza weekender one to remember.
Insider Tips for an AMAZING Weekend in Ibiza
To really experience Ibiza, it's handy to have a couple of insider tips in your pocket. Read on to find out what will make your weekend in Ibiza one to remember!
Know Where to Stay in Ibiza
Choosing Where To Stay in Ibiza depends really on what kind of Ibiza experience you are after – ie, peace or partying?
There are loads of accommodation options with Ibiza hostels and hotels so suit every budget.
Great location in a peaceful area
Swimming pool
Daily transfers to the best and most secluded beaches on the island!
This hostel is a relatively new gem set in the scenic countryside of Ibiza, near San Llorenç de Balafia. Imagine spending your day doing yoga, sipping cold beverages by the pool, exploring all the best beaches on the island and getting to know some pretty great villa friends? Sound good? All while you let your hair down and make the most of the natural beauty all around!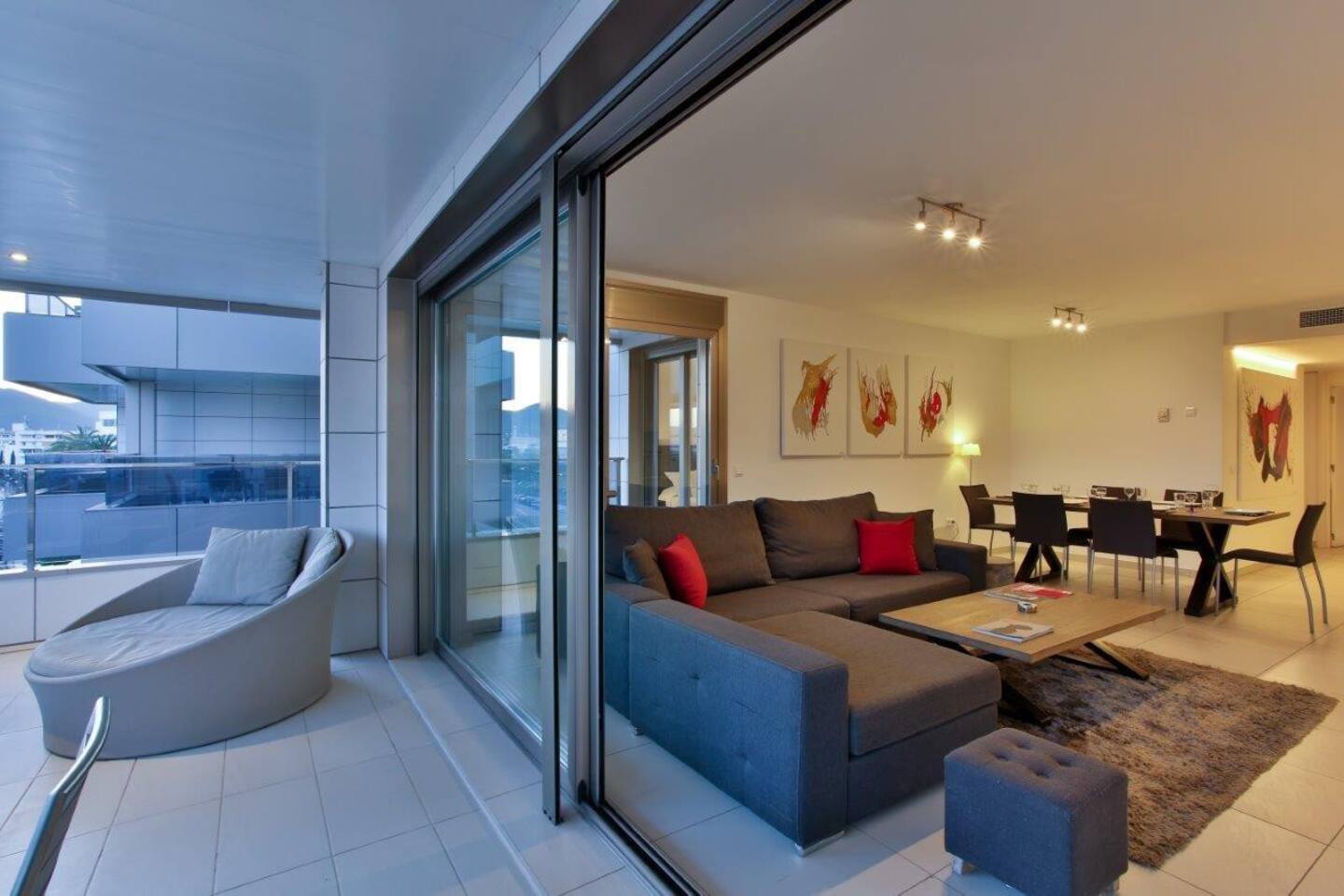 You'll find this penthouse style home in the heart of Ibiza with plenty of amenities to accommodate a couple with 3 different dining spaces and an open balcony. It's a magical place near the water and the city with nightlife excitement. You'll be sharing the area, so you get the luxury of meeting new people and getting tips on where to go and what to see during your stay!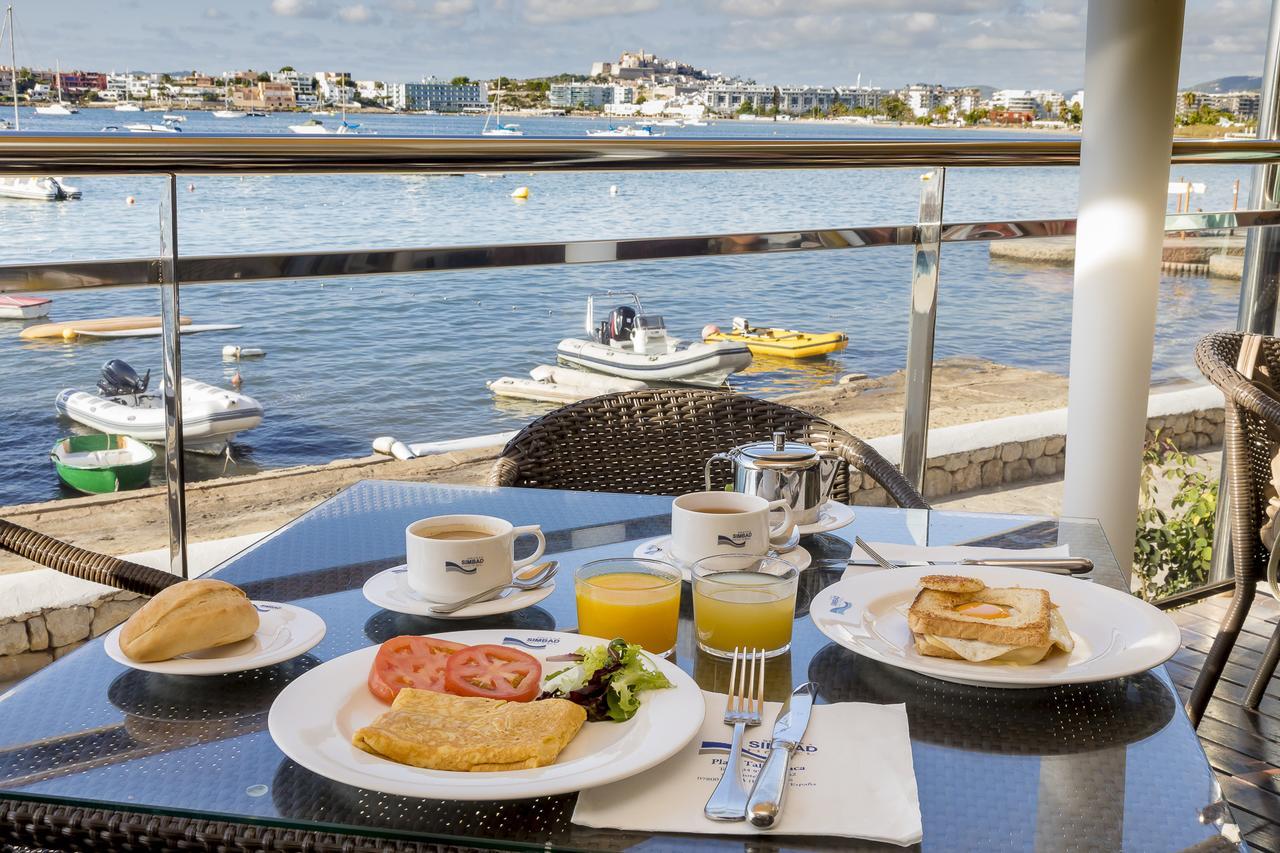 Perfect location on the beach in Talamanca Bay!
Free spa with a gym and a hot tub
Most rooms have balconies with sea views!
An easy 3km from Ibiza Town, this hotel offers pure luxury and comfort with the most convenience, for your weekend in Ibiza. The views are amazing and there are two restaurants on site to indulge in before making the most of the gym and spa, or the outdoor pool with sea views. There are also 2 bars with terraces to enjoy the panoramic views of the bay while getting a bit festive before you hit the town for a night of dancing!
Luxury hotel in the exclusive Marina Botafoch area
Free access to the gym and an incredible spa with crystal walls!
Outdoor and indoor pools, steam baths and an oxygen room to rejuvenate yourself!
This luxury hotel is one of the top rated in Ibiza. Each stylish room has a private bathroom with bathrobes and slippers to relax in pure comfort and luxury. The hotel has a restaurant with amazing panoramic views as well as one in the pool area; you won't go hungry or thirsty while lounging around or pre-fueling before a night out! The unique spa also offers the most ideal recovery and relaxation tools.
Know How to Get Around in Ibiza
Ibiza is a pretty small island, which makes it fairly easy to navigate. There are a couple of transport options when trying to get around the 571 square kilometers of paradise. The transport network is well-connected, reasonably priced and easy to understand.
From the airport: It's very easy to organize a weekend Ibiza Airport transfer in advance if you have booked a villa and would like quick and efficient transport to get there without standing in a long queue. Another option that offers a bit more comfort and luxury for getting to your accommodation is booking a private transfer with a driver.
The most inexpensive way of getting to your hotel from the airport is the number 10 bus, which takes you from the airport straight to Ibiza town. During the summer you'll also find specific bus routes that travel to San Antonio, Santa Eulalia, San José, Es Caná, and Cala Nova. The bus traveling to Ibiza town conveniently runs every 15 to 20 minutes while the bus to San Antonio departs hourly.
The next option of getting to your hotel from the airport is a private taxi, which works well if there are a couple of you traveling together. Just be prepared for a bit of a wait if you are expecting a taxi in the middle of the busy season.
Car rental: There are so many competitive car rentals in Ibiza that make it easy and affordable. This mode of transport offers you complete freedom to explore the island at your own pace and go wherever you'd like. Car rentals can also be organized in advance from the airport.
Taxi: Taxis can be arranged by the hotel staff at your accommodation, or by hailing a cab on the streets, and they are a quick and convenient way of getting around Ibiza. The taxis charge on a metered system with a start fare and can get you wherever you need to go on the island.
Bus: The bus system works well in Ibiza and remains the most affordable way of getting around. They are easy to find and have frequent trips connecting popular destinations. As a bonus they are also comfortable and air-conditioned.
Disco bus: The disco bus is ideal for all the party-goers needing to get home to rest their heads after the bus system has stopped for the night. They run from midnight until 6 am and visit different clubs, bars, and party resorts. These can be booked in advance to have peace of mind when heading out for a big night!
Ferry/Boat trips: If you're traveling any further afield you'll need a whole new kind of transport. Visits to the nearby islands and beaches can be organized using a low-cost ferry, the Aquabus.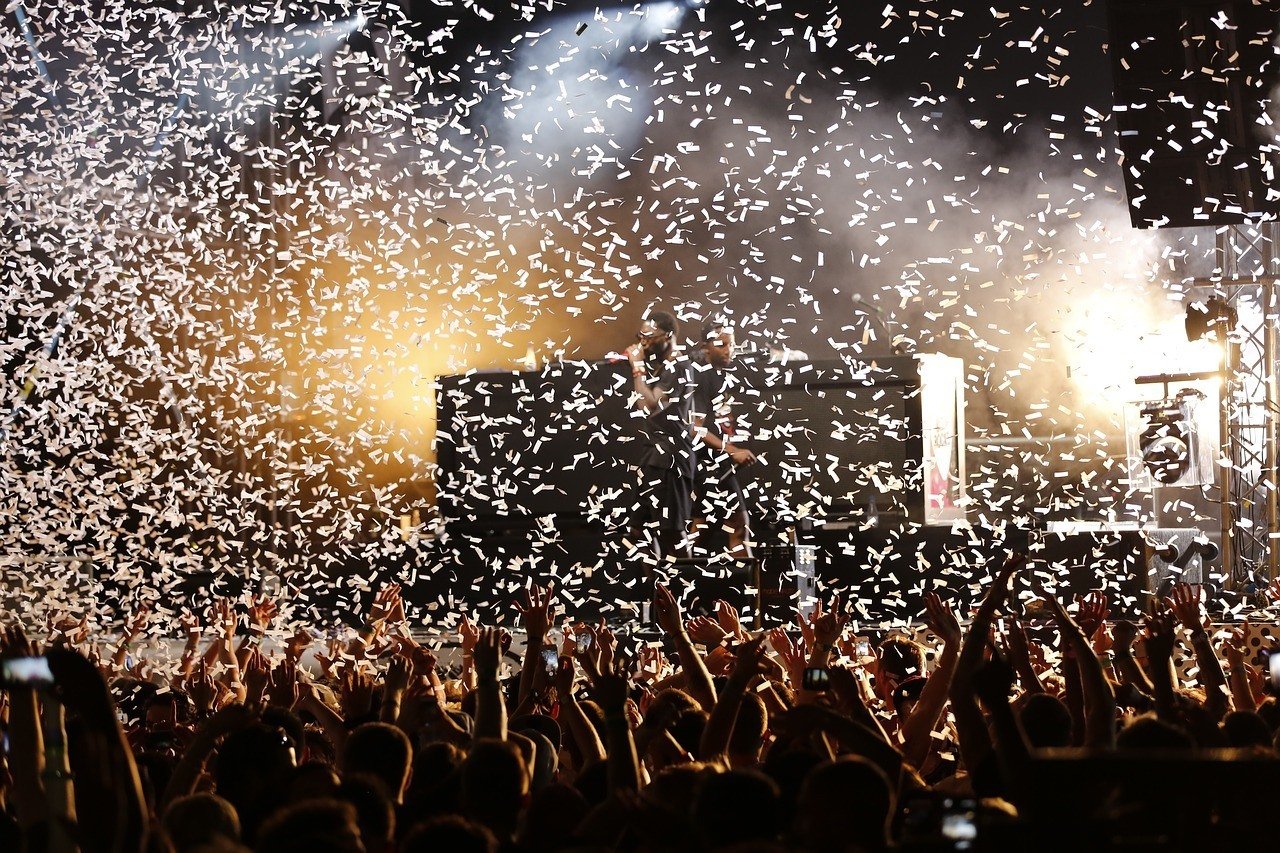 If letting your hair down and dancing the night away is what you want, then Ibiza is pretty much paradise! Renowned for the vibrant nightlife and world-class DJ's, this island is a party like no other.
San Antonio
You'll find the world famous sunset strips and its cafes and beach clubs!
A lively town center with lots of bars and nightclubs
Enjoy a night of open-air clubbing around the pool!
This popular party area in Ibiza is located on the west coast and is home to those picture-perfect palm-lined strips where you can really get your party shoes on and dance until dawn. Party around the pool at O Beach Ibiza or Ibiza Rocks Hotel.
Eden and Es Paradis are larger clubs with pumping ambiance all night long and the place to be as the party continues!
Ibiza Town
Countless restaurants, bars, and shops!
Diverse international crowd all hitting the streets for a good time and some good music!
Enchanting setting with different styles of clubs to choose from
You can't leave Ibiza without having a good time in the historic old town. The enchanting cobblestoned lanes lead you to amazing bars and clubs to spend the night drinking and dancing. The famous super club Pacha is just a short walk away, and there are many smaller venues like Heart and Lio if the crowds get too much!
Playa d'en Bossa
Longest beach strip found on the island
Diverse range of bars and clubs to choose from
Main island destination for party going tourists of all ages!
This area is found on the east coast of Ibiza, just south of Ibiza town. It boasts the longest beach found on the whole island and along with it comes a pulsating nightlife! There's something here for everyone, so if you're not sure what you're in the mood for, a wander down the promenade will take you past a myriad of restaurants, bars, and superclubs.
This is where you'll find the famous open-air venue of Ushuaïa and the neighboring and newest addition of Hï Ibiza.
This is where you'll find the famous open-air venue of Ushuaïa and the neighboring and newest addition of Hï Ibiza.
The BEST Travel Backpack?!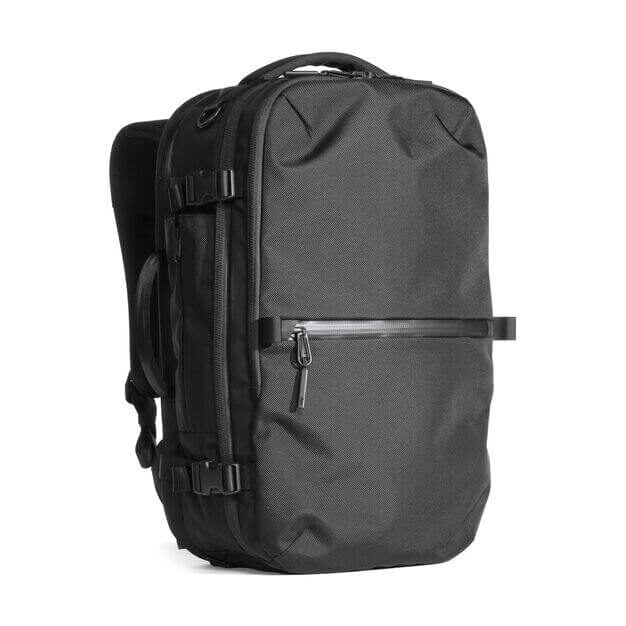 Pssssst! Not picked the perfect travel backpack yet? The Broke Backpacker team has tried out over thirty backpacks this year! Our favourite travel backpack is the Aer Travel Pack 2.
View on AER
Yum. That's all we can say. What an amazing plethora of tastes and settings to choose from on this beautiful island. Tasty food is all around, but here are some of our favorites.
Best Market – San Juan Market
Runs every Sunday from 10 am – 3 pm
Located in a stunning quaint village to explore after the market!
Amazing eco-friendly products and organic foods to delight your senses!
This popular market is a must when visiting Ibiza for the weekend. It is located in the quaint village town of Sant Joan de Labritja in Catalan.
The market offers eco-friendly everything from natural soaps and toiletries, tasting delicious locally produced market fresh foods and homemade organic goodies that you can take home with you. There's also a free local art gallery on-site so you can fill up your senses on a Sunday!
For a Spanish culinary immersion – La Bodega
A truly Spanish culinary experience!
Careful selection of small tapas dishes in celebration of sharing meals
Typical Spanish style of dining in an informal and sociable way
This treat of a tapas style restaurant is found on a furnished sidewalk that is bustling yet charming. Enjoy the surroundings as you watch the world go by and embrace the company as you share these small delicious selections of Spanish delights.
La Bodega is located near the historic old town and the perfect simple Spanish place to share a meal with friends.
Best dining experience – Sa Capella
Ambient setting in a former chapel from the 18th century!
Gothic decor with chandeliers and candlelight
Amazing views over San Antonio's shimmering lights
Sa Capella is an amazing setting for a restaurant. Offering rich and exuberant cuisine on top of a hill in San Antonio with stylish elegance. This romantic restaurant boasts an inviting view and incredible ambiance for a meal in Ibiza.
Sit on the terrace watching the shimmering lights of San Antonio whilst sipping on some tasty Spanish wines and selective Mediterranean style cuisine.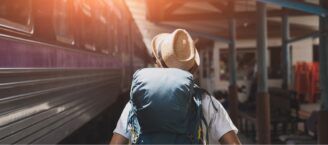 Unlock the secrets of traveling on a budget!
Sign up for The Broke Backpacker newsletter to receive regular tips on how to travel for less plus a FREE copy of The Backpacker Bible!
Contrary to popular belief, Ibiza isn't just the island to get loose and party till dawn! There are also loads of fun and exciting outdoor activities going on. Afterall, Ibiza offers aquamarine seas, good weather, mountains, and adventurous explorations for all ages!
Walking and Hiking Tours
Explore the island and discover unknown areas on foot
The mountainous areas offer the perfect stomping ground for some great active outdoor activities
A great way to see the coasts and panoramic views of the landscape of Ibiza!
The island is set amidst mountains and valleys with picturesque views over the Spanish seas and countryside. Many tour companies offer walking and hiking tours that take you down remote and unknown paths as you explore the island and its mountainous areas in an active and exciting way!
If you are going for a hike then be sure to check out our guide to the best daypacks for hiking.
Yoga
Ibiza is the perfect place to find an oasis of calm inside yourself as well as on the island
One of those great activities that is perfect for the beach!
Ibiza hosts tonnes of yoga retreats, classes, and workshops
Ibiza's lesser known alter-ego is a sanctuary of yoga, meditation, heathy organic foods and pure bliss. Join a yoga class or workshop or spend a bit more time in Ibiza and join in on one of their incredible yoga retreats with great views and food for the soul! There are just so many options to choose from!
Water Sports and Activities
Rent all kinds of equipment to play around in the azure waters of Ibiza!
There's something for everyone, from sailing and surfing to snorkeling and just about everything in between!
This is a great way to experience the beautiful seas from a new perspective and get active on your weekend in Ibiza!
The stunning blue waters surrounding Ibiza are the perfect playground for adrenaline junkies and sports lovers. There are a whole range of water sports and activities that are offered around the island. You can choose to participate when you're feeling active and full of energy. Perfect for when you're in the mood for exploring and making the most of Ibiza's exciting water experiences.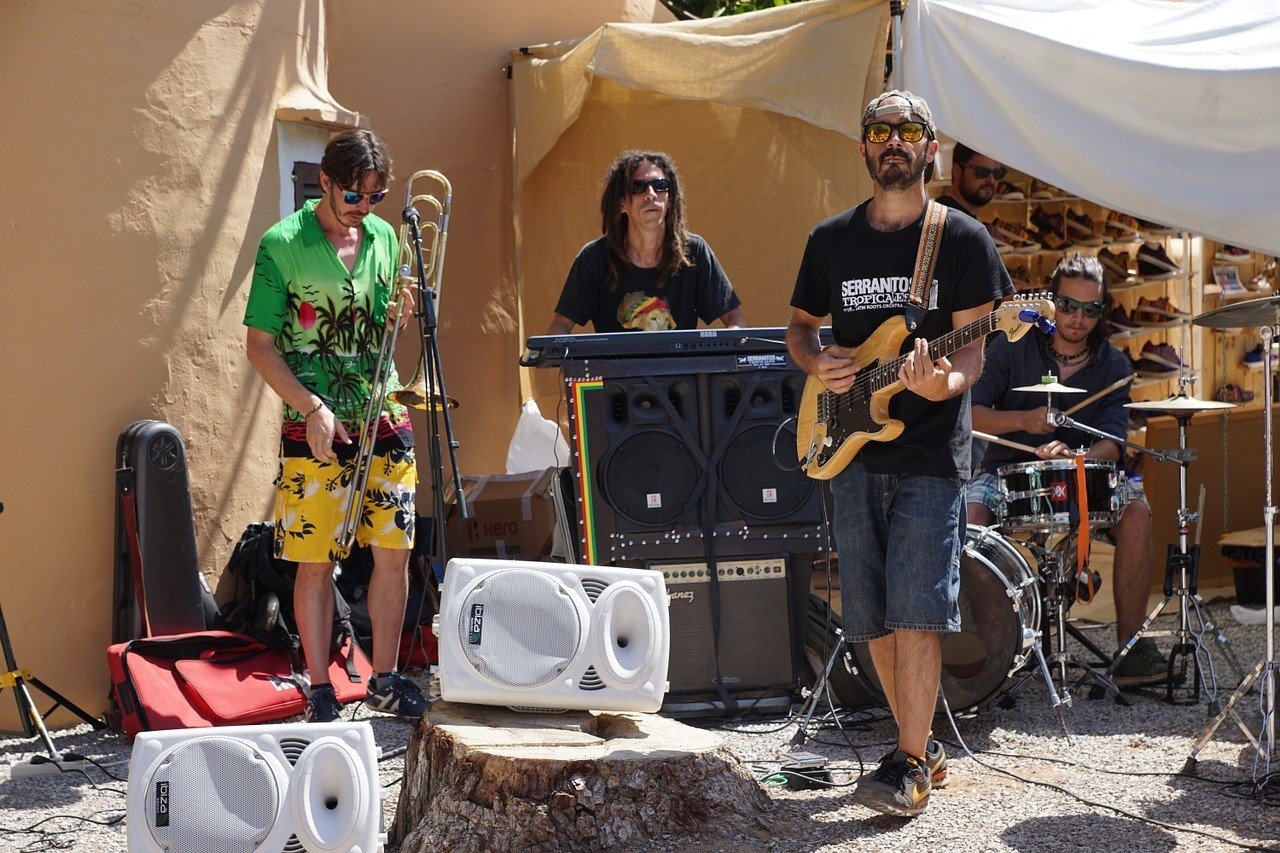 You'll find a very diverse cultural scene on this beautiful island, with many live concerts and spectacular music festivals offering a diverse range of genres. There is also theatre and other live performances to keep you entertained during your weekend in Ibiza!
Go Watch a Concert
Weekly new and exciting performances to go and see!
Enjoy the different concert venues as you dance to your favorite tunes
See live performers from all over the world!
Ibiza is a hub of great music and incredible performers. It would be a shame to miss out on one of the awesome concerts that are hosted at new and exciting venues every week and weekend! You can check here to find out what's on in Ibiza, and enjoy an evening of performance, dance and great ambiance.
Check out a Children of the 80s show!
This popular themed event hosts spectacular shows every week!
Experience some incredible visual shows with catchy choreography in a fun environment
Relive some authentic 80s magic at these interactive shows!
Children of the 80s is a fun and popular themed event that incorporates authentic 80s style performances with great audience interaction in a way that is fun, theatrical and totally exciting! Come and see break dancers breaking it down, or witness any of the spectacular visual shows for a fun night of sensory overload!
Indulge in some great live music
Head to a cozy bar or restaurant for some live music to get a break from all the dance music
Spend a night indulging in jazz, blues or even an orchestra performance!
Each town puts on live music bands during the many celebrations around the Catholic Saints' days
Ibiza is overloaded with options for party music and clubbing scenes, but it also has a quieter and more cultural side. Try listening to cozy dinnertime live music at the many different bars around the island.
You'll be able to find everything from jazz and blues to rock n roll and even catch an orchestra performance if that's what you're in the mood for! Try Sa Questió in Ibiza Town or the Can Jordi Blues Station just down the road for a fun live music filled evening!
Want to keep your money safe?
You should always have emergency cash hidden on you – pick up this awesome security belt with its hidden pocket before you travel, it's perfect for hiding money, a passport photocopy.
10 Other Awesome Things to do in Ibiza This Weekend
If you're still looking for more to do for your Ibiza holiday, we've got you covered. You'll be able to follow up the wild nights of dancing with relaxing and therapeutic days at the scenic beaches or take a historical journey through the streets.
#1 – Journey into the UNESCO listed Dalt Vila in Ibiza Town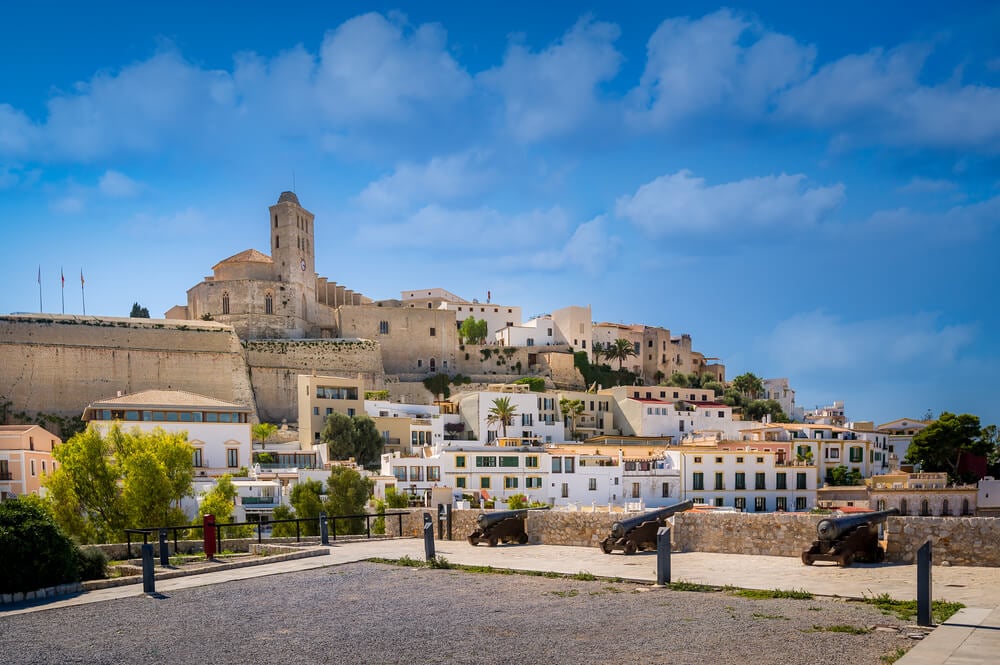 This is the highest and the oldest part of Ibiza's historic town. The architecture is guarded by strong renaissance fortifications that were built by Charles V in the 16th century and is a historic site to behold. The walls were originally built to fend off attacks by invaders and foreign forces. It's definitely worth taking a tour of the fortifications to check out the different bastions and the stories behind them.
#2 – Visit Ibiza Cathedral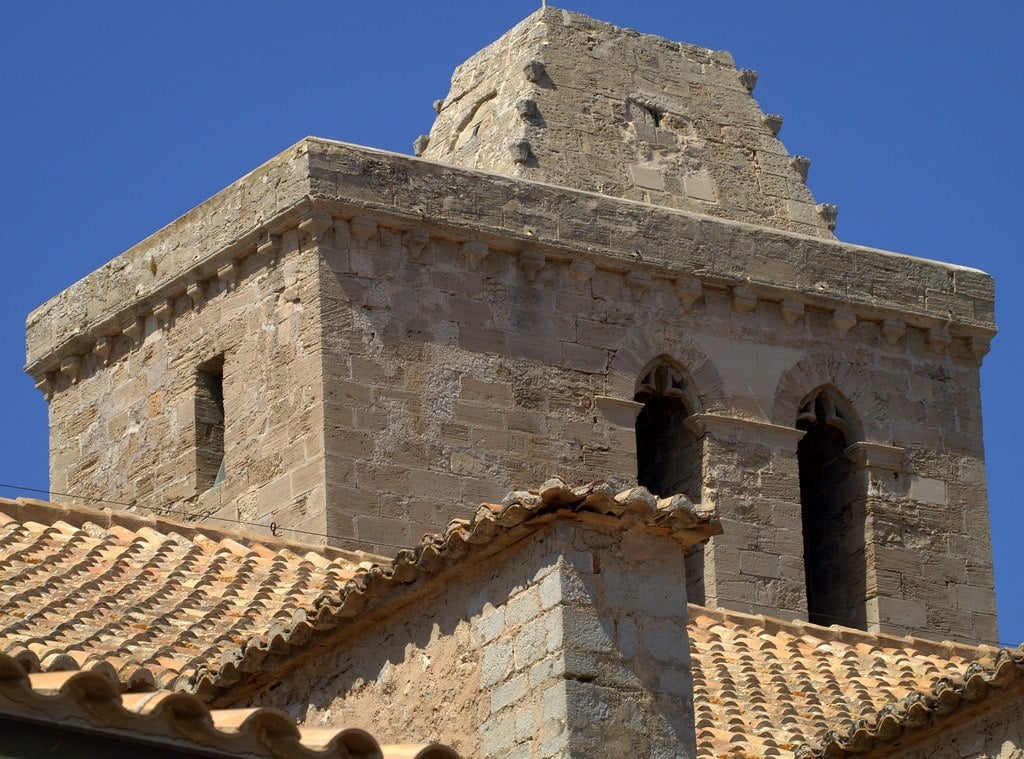 Located at the very top of the old city and overlooking the blue waters of Ibiza is the charming Cathedral. You're able to explore the warren of alleys inside the Cathedral walls. Marvel at the gothic gold and silver entrance that dates back to 1399 and the incredible 14th and 15th-century gothic panel paintings. Inside the walls, you'll find galleries, boutiques, and local shops to wander around.
#3 – Explore Talamanca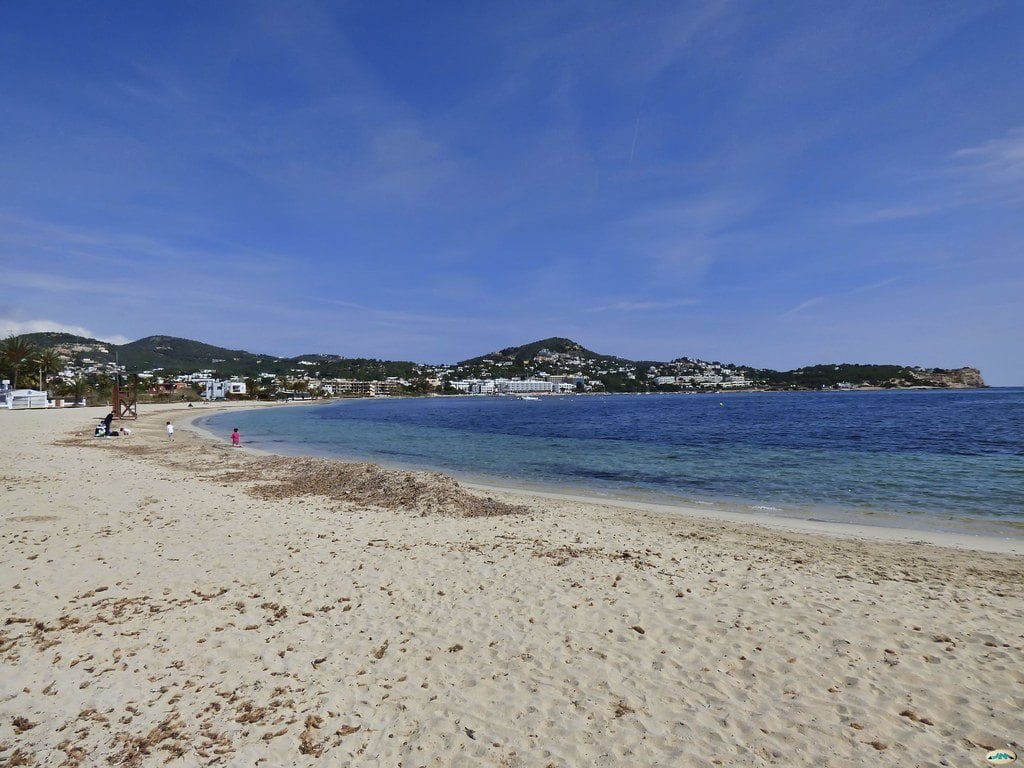 Take a quiet day on the other side of the island as you explore the beaches and headlands of Talamanca. Spend the day relaxing on the beach tucked away between the headlands, or explore one of the island's largest beaches a couple of minutes up from the marina. There are some great places to eat right on the beach and the most scenic views all around for some real R&R!
#4 – Take a Cruise to the Island of Es Vedrà
This protected natural park is found just off the coast on the southwest side of Ibiza. It's an amazing uninhabited island that you can reach by boat from San Antonio or Ibiza Town. It's also where you'll find loads of water sport options around the island, where you can organize jet-ski tours or snorkeling excursions.
This beautiful, otherworldly place is a rugged island with a monolithic slab of 413-meter high sheer limestone! Bring your camera to capture the dramatic landscape and interesting wildlife like goats, falcons, and lizards! Book your Es Vedra cruise here!
IN A RUSH? THIS IS OUR FAVORITE HOSTEL IN IBIZA!
Ibiza is home to about 15 spas across the island. In facit, is almost as well known for its holistic spa and relaxation scene as it is for its nightlife. There are many choices of available treatments and packages to go at. Think anything from yoga classes and floating on pools to peels, waxes massages and so much more!
#6 – Have a Sundowner at Cafe del Mar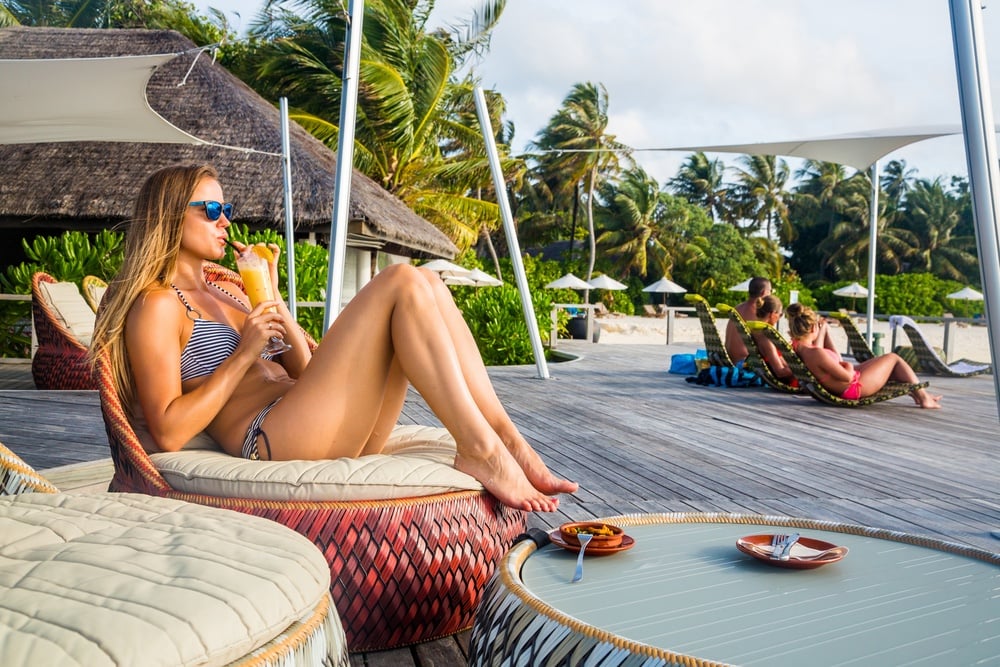 This cafe is a popular sunset beach bar that has been serving chilled drinks as the sun goes down since 1980! One of the famous chill-out spots that you'll find just off the main strip of Sant Antoni. Get here early to claim your prime seating location and spend the evening enjoying the blissful beats and good cocktails while enjoying the best views around!
The Ibiza sunsets are legendary so bring a good travel camera so you can get a good shot!
#7 – Dine at Amante Restaurant
This stunning restaurant is set atop a cliff face with wondrous views overlooking the bar and an open-air candle-lit ambiance that is almost as good as the food! Amante has a chilled vibe with comfy bean bags and great cocktails, and some truly spectacular meal options that you won't want to miss out on!
#8 – Make Your Way to the Punta Arabi Hippy Market
This is the original, and one of the biggest, markets in Ibiza. Wander through the countless stalls that are gathered under the shade of the luscious pine trees with winding paths between white bungalows. There are so many goodies to choose from and a great mellow atmosphere with bars and restaurants! The market takes place every Wednesday from 10 am.
#9 – Explore the Vistas over the Old Fishing District and the Harbor
Wander through the cobblestoned lanes as you explore the incredible architecture, historic buildings and vistas over the old fishing district. Gaze down at the harbor below as you get a great view over the town and across the inviting blue waters of Ibiza. Just spending your time wandering through the streets is an awe-inspiring and interesting experience in Ibiza!
#10 – Hike up the Castle of Ibiza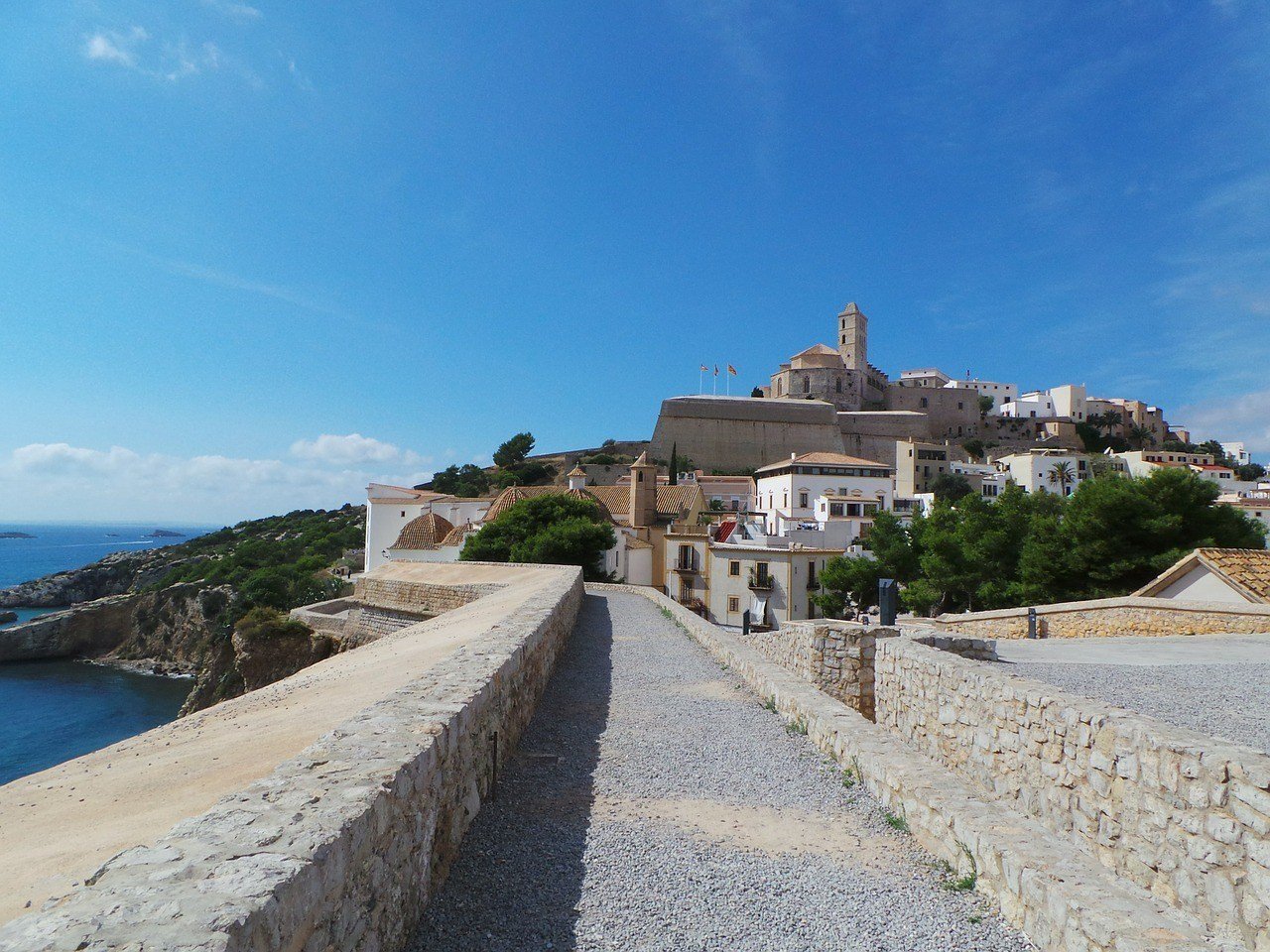 The castle forms part of UNESCO's World Heritage sites along with the other establishments that are found in the Old Town. What better way is there to explore one of Ibiza's most important sites than making your way to the top to experience the views of the island. Marvel at the 12th to 18th-century architecture and explore the fortress compound including the Governor's House, the citadel and the twelve towers.
Don't forget to pack a good book! DK Eyewitness Travel Guide Mallorca, Menorca and Ibiza is our top recommendation for an awesome and inspiring read on this magical city.
So now you've got a pretty good idea of what you're in for when heading to Ibiza for the weekend. But maybe there's something we've left out? Here are some of the most frequently asked questions about visiting Ibiza…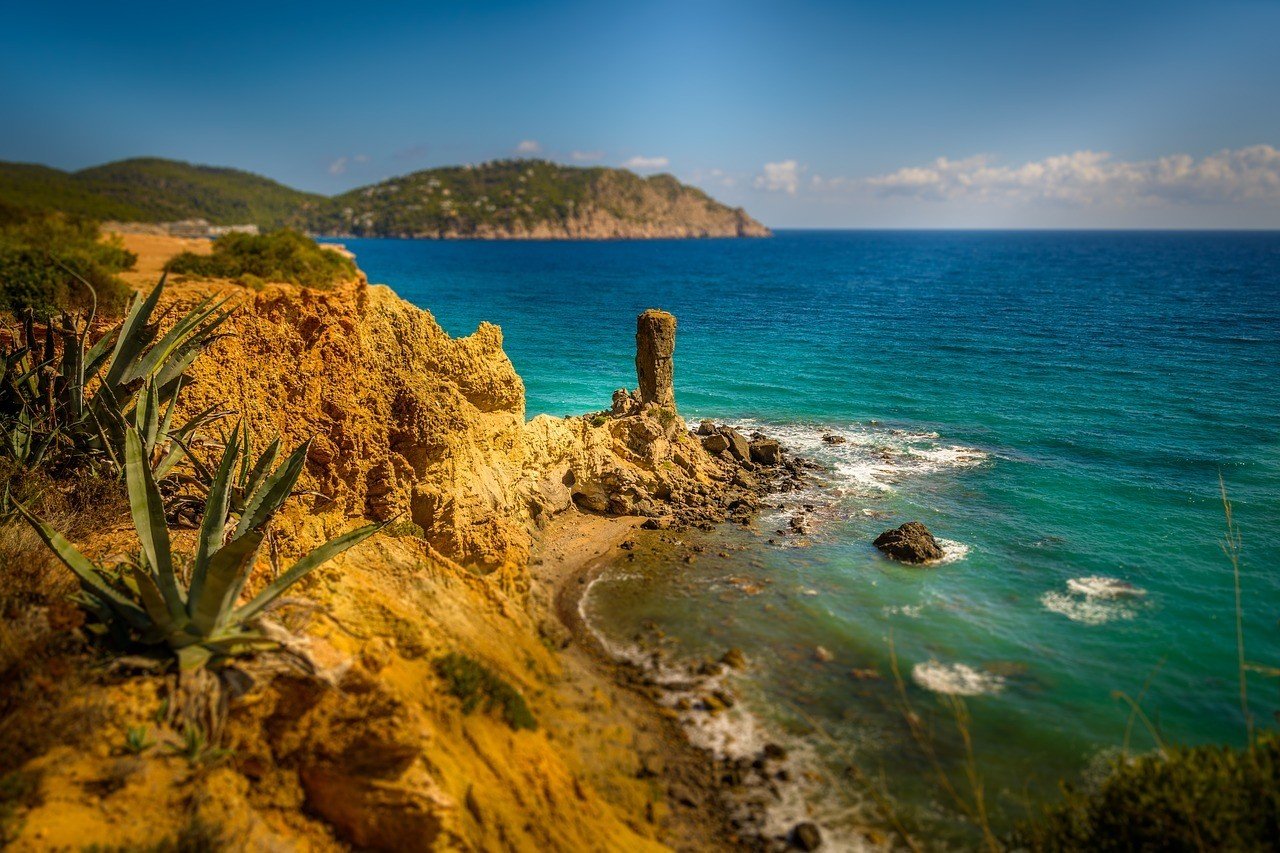 #1. What should I pack for a weekend in Ibiza?
Sunglasses: If you want to really enjoy the scenic landscape and azure blue waters, you're going to need your sunnies!
Fancy clothes for a night out: If you're planning on hitting the town for a night of dancing, remember to pack your fancy dress! Some clubs will only allow you in if you're dressed up, but there will also be more chilled options to choose from.
Comfortable walking shoes: To really make the most of sightseeing around Ibiza, you'll need some good walking shoes. There's so much to see down all the cobbled lanes that you wouldn't want to miss out on!
#2. Can I get an apartment in Ibiza for the weekend?
Yes, there are loads of apartments that are rented out to tourists for weekends in Ibiza or short-term stays. You can check websites like Airbnb for their listings that are available in Ibiza, or many other apartment rental websites that you can find online.
If you're traveling with a group of friends, another great option is to see what villas or Ibiza packages are available for the weekend. Renting a villa is a great way to celebrate a trip to Spain and a weekend in Ibiza!
#3. Is Ibiza safe for a weekend trip?
These include minor dangers like watching your step on the cobblestoned paths to ensuring your safety when catching a ride around the island.
Ibiza can also be very loud in areas so be sure to bring your earplugs if you are sensitive to noise. In general, Ibiza is relatively safe, but some tourists have reported minor crimes like being mugged or pick-pocketed.
If you take sensible precautions and keep your wits about you, you'll be just fine. Just make sure that if you are having a big night out, you don't take your most valuable possessions with you and stick with a friend.
Drink water! Spain can get pretty hot and you don't want to get dehydrated while you're exploring the beautiful island. Oh, and if you partake in Ibiza's illegal excesses', your chances of running into problems increase.
And have you thought about getting Travel Insurance for your trip? We've put together a roundup of Travel Insurance for backpackers – check it out here, or if you're low on time, get a quote from World Nomads, our favorite travel insurance provider.

Final Thoughts on a Great Weekend in Ibiza
Ibiza is a wonderful place to spend a weekend and has so many different places to explore, party or relax. You now hopefully have a better idea of what you're looking for when planning to travel to Ibiza, Spain. Armed with this informative Ibiza guide to help you along the way, we're sure that you'll have a great experience on this sunshine-filled blue-water island.
This Spanish island in the Mediterranean is so much more than a party-filled destination. Be sure to not fall into the usual tourist traps and make time to travel to the other parts of the island. This way you'll make the most of the scenic landscape and historic buildings with amazing architecture that is all around, and ensure a fun and adventurous last minute Ibiza trip.
"Find out how YOU can support the site. We work hard to put out the best backpacker resources on the web, for free! It's all about helping out our tribe of awesome backpacker readers [that's you!]. Please visit the link to find out how you can help keep the site going 🙂
For the sake of transparency, some of the links in our content are affiliate links. This means that if you book your accommodation, buy a book or sort your insurance, we earn a small commission at no extra cost to you. I only link to stuff I've actually used and never endorse products or services that are not up to scratch. Thanks for your support.