Ibiza! It's the world-famous party island where the best DJs in the world come to perform. This gem of an island also has a tamer side where you can appreciate its beautiful beaches and stunning nature in peace. And this is why I wrote this wonderful piece of guidance about where to stay in Ibiza, because it's not all 'Ibiza rocks' and sunset stripes.
So hold on tight, 'cause we're not just here to party. At least not all of us…
However, as crowds flock to the island during the summer months, it can be difficult to find the perfect accommodation for you when booking your trip.
After reading this masterpiece of information, you will be the ultimate expert on where to stay and choosing your next holiday accommodation will be a breeze. I promise.
So slap on some sunscreen, grab a cocktail, or three…, and let's uncover the secrets of the ultimate island escape.
Buckle up, wanderlusters – the adventure is about to begin!
Vamos!
When you're backpacking around Spain, Ibiza might not seem like the first destination you might have in mind. Most people head to Barca, Madrid or Granada for the culture. However, as a famous party island it's still not lacking on the cultural side, so be sure to add it to your list!
So many that it's hard to fit everything in if you're only staying for a short while. To make sure you can recharge fully, check out our top recommendations for places to stay in Ibiza.
This awesome villa pretty much sums up the Ibiza vibe! With 4 bedrooms, 4 bathrooms, a hot tub and a private pool, you'll be living it up in style at this joint! It's the perfect place to bring a group of mates looking to fully embrace Ibiza. Yes, I'd consider it as a family friendly accomondation. It's got a fully equipped kitchen, private gardens, free parking and is designed in a modern yet traditionally Spanish style. It's set back a little from the action but still super close to the beach.
Amistat Island Hostel Ibiza is one of the only hostels in Ibiza and offers private rooms as well as single beds in mixed or female-only dormitory rooms. The hostel offers a free Wifi connection and has a nice terrace where you can relax or get some work done. This is the best place to stay in Ibiza for solo travellers who want to meet new people.
On of the best hotels in Ibiza, The Anfora. It's located steps away from Es Canar and boasts several outdoor pools with enough sun loungers for both the Brits and the Germans, terraces, and a spa. The rooms in the hotel are modern and spacious and feature air conditioning and a private bathroom. Some rooms have a private balcony and a free Wifi connection is provided to all guests.
Ibiza is one of Europe's most popular summer and party destinations, thanks to its beaches, rugged cliffs and blue skies. It is also one of the most famous destinations for clubbing, as world-famous DJs flock to the island during the high season to perform in some of Europe's biggest clubs.
Ibiza Town is the main city of the island and has kept its authentic and traditional side. It has a few historic sights such as Catedral de San Maria, built during the Renaissance. It is also very lively at night thanks to the many clubs, bars and restaurants that have set up shop here.
Playa D'en Bossa: The main party area of Ibiza is located around Playa D'en Bossa, to the south of Ibiza Town. This is where you will find the bigger beach bars and nightclubs like Bora Bora, Ushuaïa (Ushuaia Ibiza beach club), Hï and Hard Rock Hotel Ibiza, and Sankeys. The music around here is on almost 24/7 and the drinks flow all day and night. You are sure to have a good time in Playa D'en Bossa!
San Antonio: On the northern west coast, San Antonio bay provides cheaper accommodation for those who have to work around a tighter budget, while still providing great sand beaches (and beach bars) for the day and crazy clubs for the night. San Antonio is also the best place to go to catch the iconic Ibiza sunsets at the nearby beaches!
Santa Eulalia or Santa Eulària des Riu: For families, is a much quieter choice with a laid-back atmosphere. There are gorgeous sandy beaches for you to spend the day at, and a large choice of resorts to choose from.
So does Ibiza have to be expensive to have a nice time? I say it depends. But rest assured it doesn't have to, that's for sure!
Ibiza is more than just a party island. You can find stunning nature, cute little villages and beautiful beaches – there are countless amazing places to visit in Ibiza.
You might still feel confused about where to stay in Ibiza. Let us clear that up right now by looking at the 5 best Ibiza locations to stay in. If you're only spending the weekend in Ibiza, make sure to choose your location wisely!
1. Ibiza Town – Where to Stay in Ibiza your First Time
Ibiza Town is the main city in Ibiza. While it can seem quiet at first glance, it turns out that Ibiza Town is nothing short of lively and can be a lot of fun.
If what you want is to see a more authentic side to Ibiza, Ibiza Town is the perfect place to stay. Indeed, the city has kept several historical sights and its small streets have an atmosphere you will never find anywhere else.
Foodies will love Ibiza Town as it is full of little spots to discover Mediterranean and Spanish cuisine, while history and culture lovers will rush to the UNESCO World Heritage-listed Dalt Vila, the old town, perched on top of a hill.
At night, party lovers should experience the ambience of Pacha, the first superclub that opened in Ibiza back in 1973. Nights there are still legendary and you can expect to see DJs like David Guetta, Alesso or Calvin Harris on the events list. Don't worry if you want to laze on the golden sands of Ibiza too, the nearby Talamanca Beach is just a short distance away.
You'll find this luxury apartment in the heart of Ibiza with plenty of amenities to accommodate a couple with 3 different dining spaces and an open balcony. It's a magical place near the water and the city with nightlife excitement. You've got an awesome pool area, garden as well as kitchen and laundry facilities.
Located at the seafront promenade and some of the best historical attractions in Ibiza, you'll love this amazing apartment. In more affordable price range, the home offers quite a lot of bang for your buck and check-in is flexible 24/7. You'll find yourself in the heart of the Old Town, however, all of the restaurants and shops are within walking distance. There are also a couple of public transport options nearby. Overall a very nice place to stay, would take it anytime again.
The Giramundo Hostel in Ibiza Town will go out of its way to make sure you have an amazing time in Ibiza. The 19 rooms offer either private accommodation for 2 or 3 people or single beds in dormitory rooms. Dorm rooms are either mixed or female only. Breakfast is included too which is always a bonus!
Best Mid-Range Hotel in Ibiza Town: Royal Plaza Hotel
The Royal Plaza Hotel is located in the heart of Ibiza Town and within walking distance of the harbour and Talamanca Beach. It offers a beautiful rooftop terrace with a swimming pool and sunbeds to relax. The rooms are all fitted with air conditioning, a private bathroom with a bathtub and a flat-screen TV. The hotel also has a fitness centre and a spa.
Things to do in Ibiza Town
Climb the hill to Dalt Vila, The Old Town of Ibiza
Spend a relaxing day in the sun at Talamanca Beach
Have a crazy night out at Pacha, Ibiza's first superclub
Visit the Catedral de San Maria
Join one of the many amazing festivals in Ibiza. A no-brainer I attended, the Patrimoni Gastronomic Food Festival in Ibiza Town – Food, Food, Food!
2. San Antonio – Where to Stay in Ibiza on a Budget
The city of San Antonio is located on the North West Coast of the Ibiza island and is easily accessible by bus or taxi from the airport and the main town. It offers cheaper accommodation than the south of the island and is the perfect spot for backpackers in Ibiza.
San Antonio is home to a few iconic Ibiza spots such as the Café del Mar, where you can listen to chill-out music while having dinner and watching the sunset, or Ibiza Rocks, where some of the craziest pool parties on the island are held.
During the day, if you want to relax or recover from a wild night out, San Antonio offers a really nice stretch of white sand beach. Do not forget to take a refreshing dip in the sea from time to time!
This awesome villa pretty much sums up the Ibiza vibe! With 4 bedrooms, 4 bathrooms, a hot tub and a private pool, you'll be living it up in style at this joint! It's the perfect place to bring a group of mates looking to fully embrace Ibiza or even a family. It's got a fully equipt kitchen, private gardens, free parking and is designed in a modern yet traditionally Spanish style. It's set back a little from the action but still super close to the beach.
San Antonio is a great destination for travellers, but your accommodation can make or break your trip. If you're staying at this Airbnb, you know you'll be in for a real treat! Located right in the centre of the city, it'll only take a couple of minutes to get to the port or any major public transport options. The apartment is super bright and spacious, with a very welcoming and comfy vibe – it's going to feel like a home away from home!
Amistat Island Hostel Ibiza is one of the only hostels in Ibiza and offers private rooms as well as single beds in mixed or female-only dormitory rooms. The hostel offers a free Wifi connection and has a nice terrace where you can relax or get some work done. It's also got a pool, like, whaaaat! It's also super close to Sunset Strip.
Best Hotel in San Antonio: Abrat Hotel
The Abrat Hotel is located on the beachfront in San Antonio less than half a mile from cafe Del Mar. The rooms are modern and spacious and all feature air conditioning, a private bathroom with a bathtub, a flat-screen TV and a private balcony/ terrace. The hotel boasts 2 swimming pools, a Turkish bath and a free Wifi connection.
Things to do in San Antonio
Sip on a drink while watching the famous Ibiza sunset.
Laze the day away on some sun loungers on the white sandy beach.
Have a wild day out at Ibiza Rocks, one of the most famous beach bars on the island.
Relax with a good meal while listening to good tunes at Café del Mar.
Experience a snorkeling and cave tour in area.
Take a trip along the coast to the stunning Playa Porto beach area, one of the most beautiful on the Balearic Islands.
Visiting the cotton beach club. 20 – 25 min drive to one of the coolest clubs in Ibiza.
Try to get the chance and walk the Cala D'Albarca hike. One of the most beautiful hikes in Ibiza.
3. Playa d'en Bossa – Best Area to Stay in Ibiza for Nightlife
Playa d'en Bossa is located a short drive south of Ibiza Town. It is where the longest stretch of white sand beach in Ibiza, Playa D'en Bossa beach.
As a consequence, many beach clubs and bars have settled in Playa d'en Bossa, and some of them have become the biggest names on the island, like Hard Rock Hotel Ibiza. Partying in this area has become one of the most popular things to do in Ibiza, so you can expect to meet quite a few tourists here. It's a great spot for a good beach resort, but don't expect it to be family-friendly!
Party lovers will not want to miss a day at Ushuaïa, the biggest outdoor club in town. You can chill by the pool while listening to good vibes and, in the evening, some of the biggest DJs in the world come to perform.
Once the day clubs have closed down, time to head to a proper nightclub to dance the night away, Ibiza style. Booking a place in the area will make it so much easier to go back home when you finally want some sleep! The nightlife is 7 nights a week from May to September and is especially lively on Saturdays with Ibiza weekend benders. So if you visit Ibiza to party, I think we all know where to go now…
Start your adventures in Ibiza in this suite! With 2 bedrooms, you can share this room with some mates to spread the cost. Get your party on just a few footsteps away downstairs at the Beachclub with a live Dj inside the property, a private swimming pool, and lounging beds.
Spend less on accommodation and more on drinks – this Airbnb makes it possible. You'll have a very clean private room to yourself and access to the rest of the flat as well. The Bathroom and living spaces are shared with the hosts but you do have access to a plunge bath too!
With 1 min walking distance to the best bars and shops, you can really enjoy a night out without having to worry about how to get home.
Visiting Playa d'en Bossa with your friends and get ready to hit the clubs? What better way to get rid of your hangover the day after than chilling in your own rooftop jacuzzi? This penthouse might not be the cheapest, but once you split the costs, you'll get real luxury for a ridiculously low price. There's nothing this place can't offer you and your friends so check it out!
Tropicana Ibiza Suites offer a cool vintage feel in Playa d'en Bossa. The tiled rooms are fitted with a private bathroom, air conditioning, a balcony and a full kitchenette with a Smeg minibar and fridge. This beach resort has everything. It is an adult-only hotel.
Things to do in Playa d'en Bossa
Relax in the sun on the longest stretch of beach in Ibiza.
Party on Ibiza's biggest party boat with + 150 guests from all over the world!
Try out some water sports like jet skiing or stand-up paddleboarding.
Get a tan to the sound of laid-back music in one of the beach clubs.
Have a day out at the Ushuaïa superclub.
Finish the night beautifully in a nightclub such as Hï.
Pick a beach bar and spend the day prepping for a big night!
If you feel like doing a bit of casual sport, there are a few beach volleyball courts along the long crescent-shaped sandy beach.
Take a ferry and discover Formentera. I've you covered on where to stay in Formentera.
4. San Carlos – Coolest Place to Stay in Ibiza
San Carlos is a small village located inland. It gained popularity during the 60s and 70s when all the hippies flocked around the village for the holidays. Nowadays, the hippies may have somewhat disappeared but the place has kept a bohemian feel and a cool vibe that is not found anywhere else on the island.
For decades, the place to hang out and be seen has been Anita's Bar. It first became popular as it was the only place in the area with a telephone. People also came here to collect their mail, and the wooden mailboxes have been kept until this day.
Just a few minutes away is the Las Dalias hippie market where you can shop for fashion and jewellery from local artists. Handicrafts like paintings and leatherwear can also be found at the market. Las Dalias has a lot of great places to hang out and have a refreshing drink on a hot day.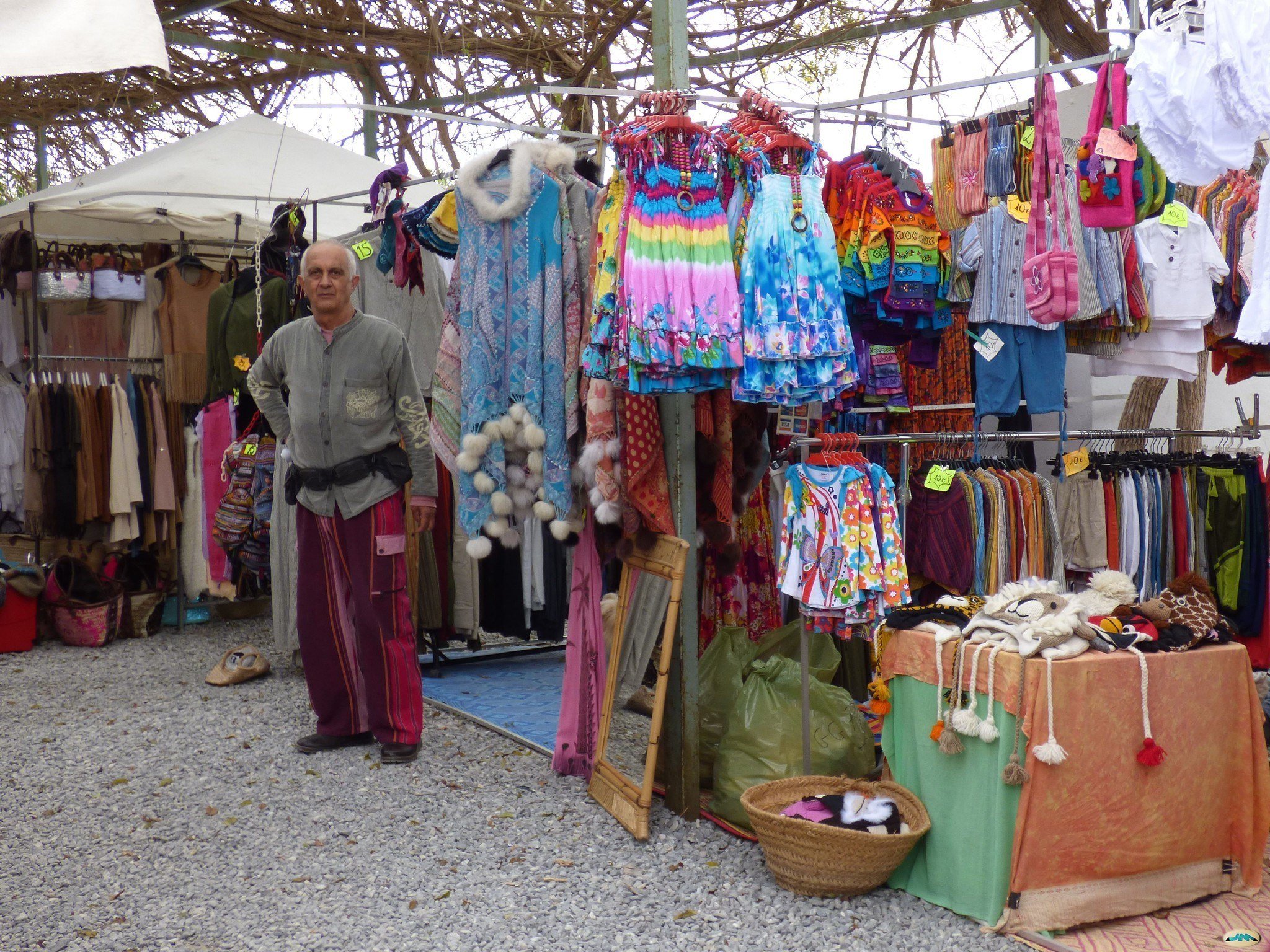 If you're looking for a really peaceful stay, this is the right Airbnb for you. Located in the middle of a tiny forest, you'll have full privacy and wake up to the sound of nature. There's a shared pool and lots of space in the garden to get your tanning game to the next level.
The apartment has everything you might need and if you don't want to cook yourself, there are a couple of restaurants within walking distance too.
Best Hotel in San Carlos: Can Curreu
Can Curreu is a 5-star hotel located in San Carlos. The beautifully decorated rooms feature a private bathroom, air conditioning, a flat-screen TV and a private terrace or balcony. The hotel boasts an indoor and an outdoor pool, an equestrian centre, a spa, and a gym and provides a free Wifi connection.
There are no hostels near the area, and it is an area displaying prices higher than the average on Ibiza. Still, the Hotel Club Can Jordi provides affordable rooms with a private bathroom and a terrace. Some rooms also have air conditioning and a flat-screen TV. The hotel features an outdoor pool.
Things to do in San Carlos
Have a drink with the hippies at Anita's Bar.
Browse the market in Las Dalias.
Take a hike to the Aguas Blanca beach.
Check out the abandoned Festival Club in the hills of Ibiza.
6. Santa Eulària – Best Places to Stay in Ibiza for Families
Santa Eulalia (spa. Eulària) is a resort town that provides a much quieter environment than many other places in Ibiza and, for that reason, is perfect for those of you who come to the island with kids and are looking for a great beach resort. This is Ibiza beyond the clubs and the beach bars!
It is Ibiza's third largest resort area and as such provides lots of accommodation options for everyone. Many resorts are fitted with big swimming pools, some of them boasting slides and play areas for the little ones.
If you want to spend the day outside of your hotel, the beach is beautiful and has white sand and clear waters to take a dip in the Mediterranean. Kids and parents will enjoy building sandcastles and taking a refreshing swim afterwards!
The stunning palm-lined promenade provides the perfect urban oasis and calls for an evening stroll once the heat of the sun has gone away. Many local restaurants can be found around that area, some of them serving the best food you will find in Ibiza.
Why stay somewhere boring whilst in Ibiza? Instead, what about this light and airy cabin with lake views for a bit of a different vibe. The duplex apartment is just 5 mins from the beach and features 2 bedrooms and 2 terraces with a kitchen and a designer-styled vibe.
If you're travelling to Ibiza as a group, look no further than this amazing family friendly accommodation. Close to the beach, you can choose between laying on the sand or staying home and jumping into your private pool. The garden is spacious and amazing for kids to play in. With two bedrooms, it's perfect for a small family while still guaranteeing everyone's privacy and own space.
Santa Eulalia is a resort town and no hostel has opened up around here yet. Instead, I can recommend a stay at Buenavista and Suites, where the rooms are fitted with air conditioning and an ensuite bathroom. The hotel has stunning sea views, an outdoor pool and beautiful gardens where guests can relax.
Things to Do in Eulària
Spend a relaxing day building sandcastles at the beach.
Take a walk along the palm-lined promenade.
Experience authentic Ibiza food in the restaurants.
Visit Cala Llonga Beach and Cala Nova, the most stunning beaches in the area.
One of my favorites! Eulària has so many captivating hiking trails. If you need some help, here are 20 beautiful hikes in the area.
Here's what people usually ask us about the areas of Ibiza and where to stay.
Where to stay in Ibiza for couples?
In my opinion, if you have a partner, San Antonio offers all you need – nightlife and romantic beaches. Cala Saladeta is my favorite beach in the area to have a nice stroll.
Where to stay in Ibiza away from clubs?
Head to the north part of the island. Portinatx is a good choice to start your laidback Ibiza journey from there. Beaches like Cala Xuclar are worth visiting here.
Where to stay in Ibiza Old Town?
Ryans La Marina Hotel. It's in the middle of everything and not too expensive to make your wallet cry.
Ok, I know buying travel insurance sounds very boring when all you want to do is party. But believe me, you can't plan for what Ibiza has to offer man! If you do come to need it, it really can be a lifesaver.
World Nomads' mission is to support and encourage travellers to explore their boundaries. They offer simple & flexible travel insurance, and safety advice to help you travel confidently.
They've been doing it since 2002 – protecting, connecting, and inspiring independent travellers just like you.
Get a quote below or read our in-depth review!
World Nomads provides travel insurance for travelers in over 100 countries. As an affiliate, we receive a fee when you get a quote from World Nomads using this link. We do not represent World Nomads. This is information only and not a recommendation to buy travel insurance.
While Ibiza is a true heaven for those who love to have a good party, it also offers beautiful beaches and a lot of authentic history for everyone else. Some people wonder "where is Ibiza?" so I thought I'd give a few pointers on its location and where to stay in Ibiza in this insider's guide.
My favourite place to stay in Ibiza remains Ibiza Town, as it provides easy access to the rest of the island in a beautiful, traditional setting.
The Hotel Anfora Ibiza is the best choice you can make for where to stay in Ibiza. With a spa and several outdoor swimming pools, the quality of its amenities can only match the comfort of its rooms.
If you prefer to stay in hostels, the Amistat Island Hostel Ibiza is a great and friendly place to stay in San Antonio.
Still don't know where to stay in Ibiza? Have I forgotten your favourite spot? Let me know in the comments below!
---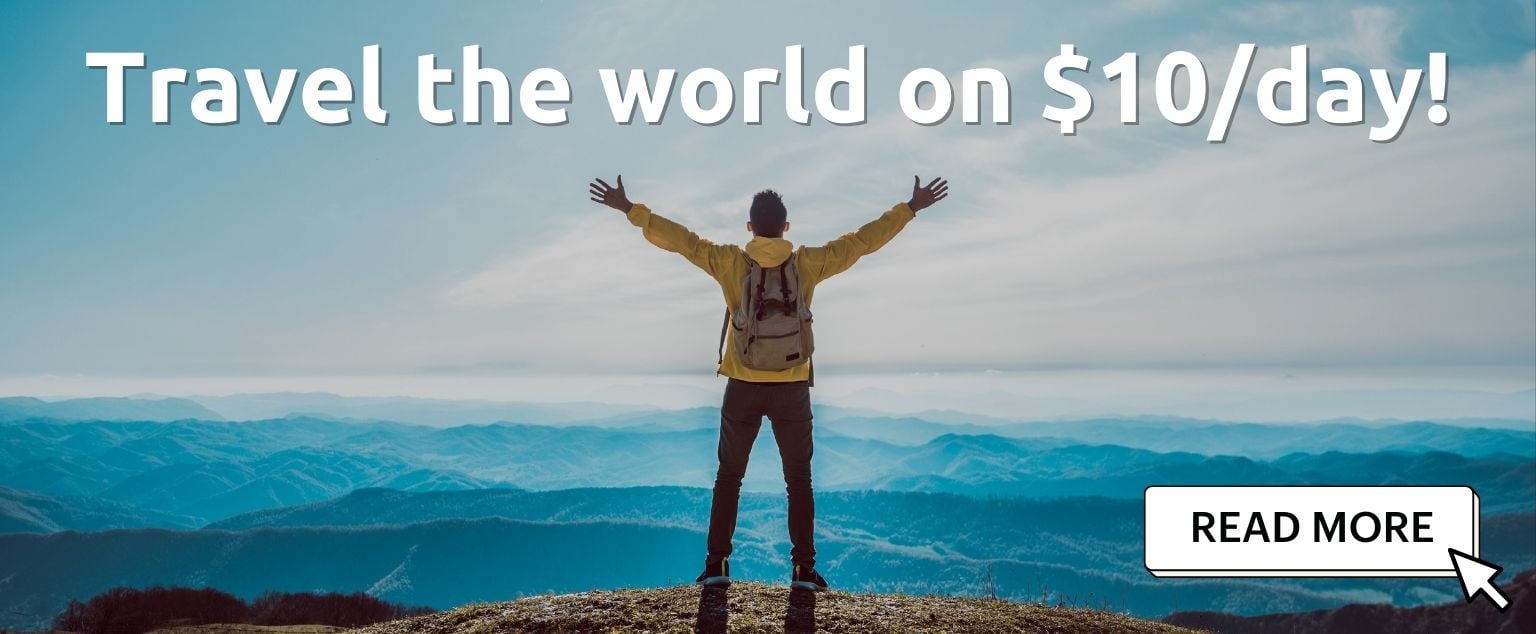 And for transparency's sake, please know that some of the links in our content are affiliate links. That means that if you book your accommodation, buy your gear, or sort your insurance through our link, we earn a small commission (at no extra cost to you). That said, we only link to the gear we trust and never recommend services we don't believe are up to scratch. Again, thank you!
Updated August 2023