The Spanish island of Ibiza (officially named Eivissa) is part of the Balearic group of islands. Located in the Mediterranean Sea, the island is blessed with a warm and sunny climate, beautiful beaches, and a variety of things to see and do. It is a World Heritage Site with a long history and plenty of diversity.
Ibiza is primarily known for its party scene and frenetic nightlife. This can deter travellers who are looking for a quieter Spanish island vacation or who love a good party on some nights but would also like a wide choice of other experiences to enjoy at other times.
Whatever kind of island getaway you're dreaming of, we're here to show you that Ibiza can be perfect! There's plenty to do on the island besides partying into the wee small hours! Our team of dedicated travel writers has compiled a list of the best places to visit in Ibiza, including a broad selection to suit different tastes.
Warning: some of these best places to visit in Ibiza are sure to shock you!
NEED A PLACE QUICK? HERE'S THE BEST NEIGHBORHOOD IN IBIZA:
BEST AREA IN IBIZA
Ibiza Town
Ibiza Town is the main city in Ibiza. While it can seem quiet at first glance, it turns out that Ibiza Town is nothing short of lively and can be a lot of fun
Places to visit:
Spend a relaxing day in the sun at Talamanca Beach
Climb the hill to Dalt Vila, The Old Town of Ibiza
Have a crazy night out at Pacha, Ibiza's first super club
And, after those handy tips, here are the best places to visit in Ibiza:
These are the BEST Places to Visit in Ibiza!
Before you bust out your best dance moves, you're going to need to know where to stay in Ibiza and book yourself accommodation! That way, you'll be able to rest assured that you've got somewhere to put your feet up at the end of the day…or the wee hours of the morning. Now, let's get into the good stuff below…

Unlock Our GREATEST Travel Secrets!
Sign up for our newsletter and get the best travel tips delivered right to your inbox.
#1 – Playa d'en Bossa – Cool place to see in Ibiza with friends!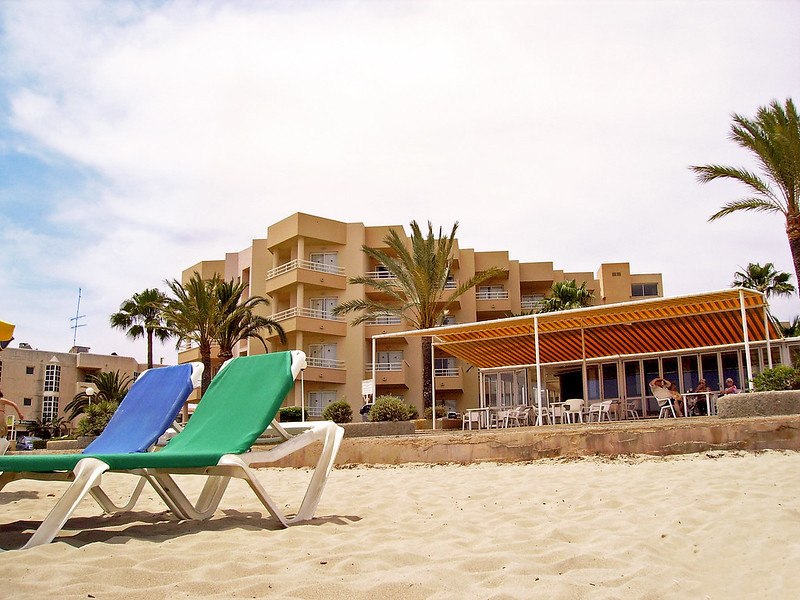 Ibiza's longest beach
Varied activities
Lively ambience
Great nightlife
Why it's awesome: Playa d'en Bossa is the longest beach in Ibiza, stretching for some two kilometres (1.2 miles). The sandy strip is wide and the sparkling waters are shallow. Attracting many visitors keen to lap up the sun and vibe, there are also quieter parts where visitors can escape the crowds. Just a short distance from Ibiza Town, there are various activities available at the beach as well as a wide range of places to eat and drink. Facilities include bathrooms and showers. At night, there's a pumping night scene.
What to do there: Lay on the golden sands, relax on a sunbed under the shade of a parasol, paddle in the shallow waters, build a sandcastle, and wade out far enough to swim in the sea. Have a go at stand-up paddleboarding, jetskiing, kayaking, and diving, ride in a catamaran, have fun in a peddle boat, and bounce along the waves on a banana boat. Join in with a spirited game of beach volleyball or football. Stroll along the sands and keep hunger at bay in one of the restaurants and cafes. As evening falls, have a few drinks in one of the bars and party hard in a lively nightclub.
#2 – Dalt Vila – One of Ibiza's coolest historical sites!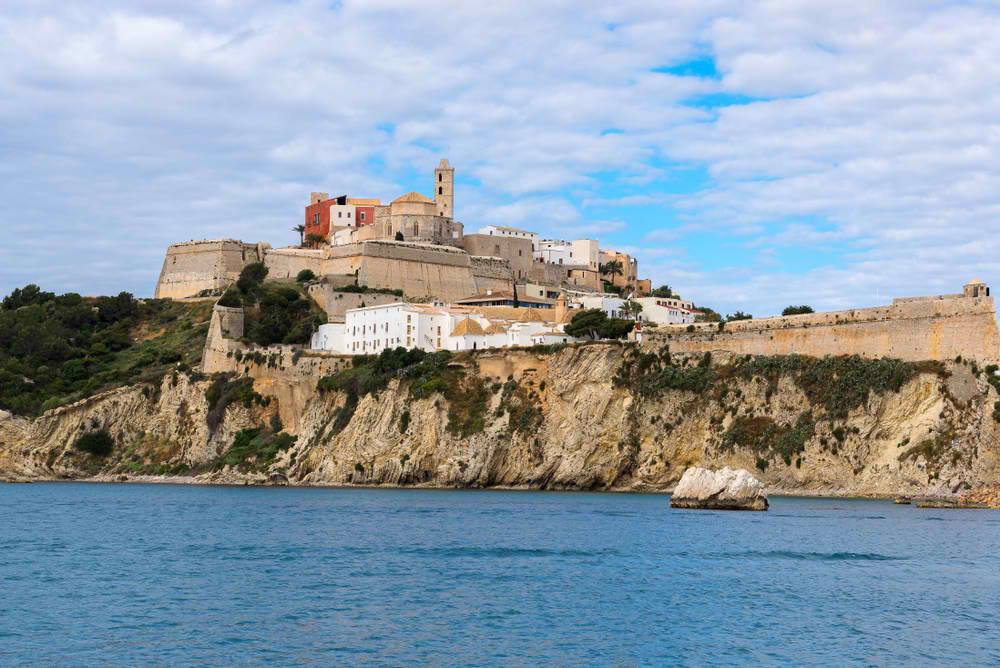 Historic area
UNESCO-listed site
Terrific views
Photogentic
Why it's awesome: Dalt Vila is the historic part of Ibiza Town. A UNESCO World Heritage Site, the olde-worlde attractions are surrounded by shops filled with dazzling jewellery, interesting antiques, souvenirs, and more, restaurants with strings of colourful fairy lights, and romantic balconies. Narrow lanes and cobbled streets wind through the residential areas and it's easy to get a feel for local life as washing hangs off balconies and kids play in the streets. Visitors can stroll through more than two millennia of history and visit the diverse museums and historic sites like the castle, cathedral, and old walls. Steep steps lead in the hill and the upper areas have great views.
What to do there: Wander through the Placa d'Espanya and soak up the views before visiting Sant Domingo Church and walking along the cannon-lined battlements. Explore the Moorish-style citadel and see the weaponry display within Baluarte de Sant Jaume. Don't miss the impressive 14th-century Gothic cathedral, one of the most striking landmarks in Ibiza. The bell tower soars above and the inside of the cathedral is filled with religious art and a serene vibe. Travel back through the island's long history in the Archaeological Museum, admire modern art at the Museum of Contemporary Art, and shop for quirky goods in the hippie, trendy, and unusual stores.
#3 – San Antonio – A great place to visit in Ibiza at night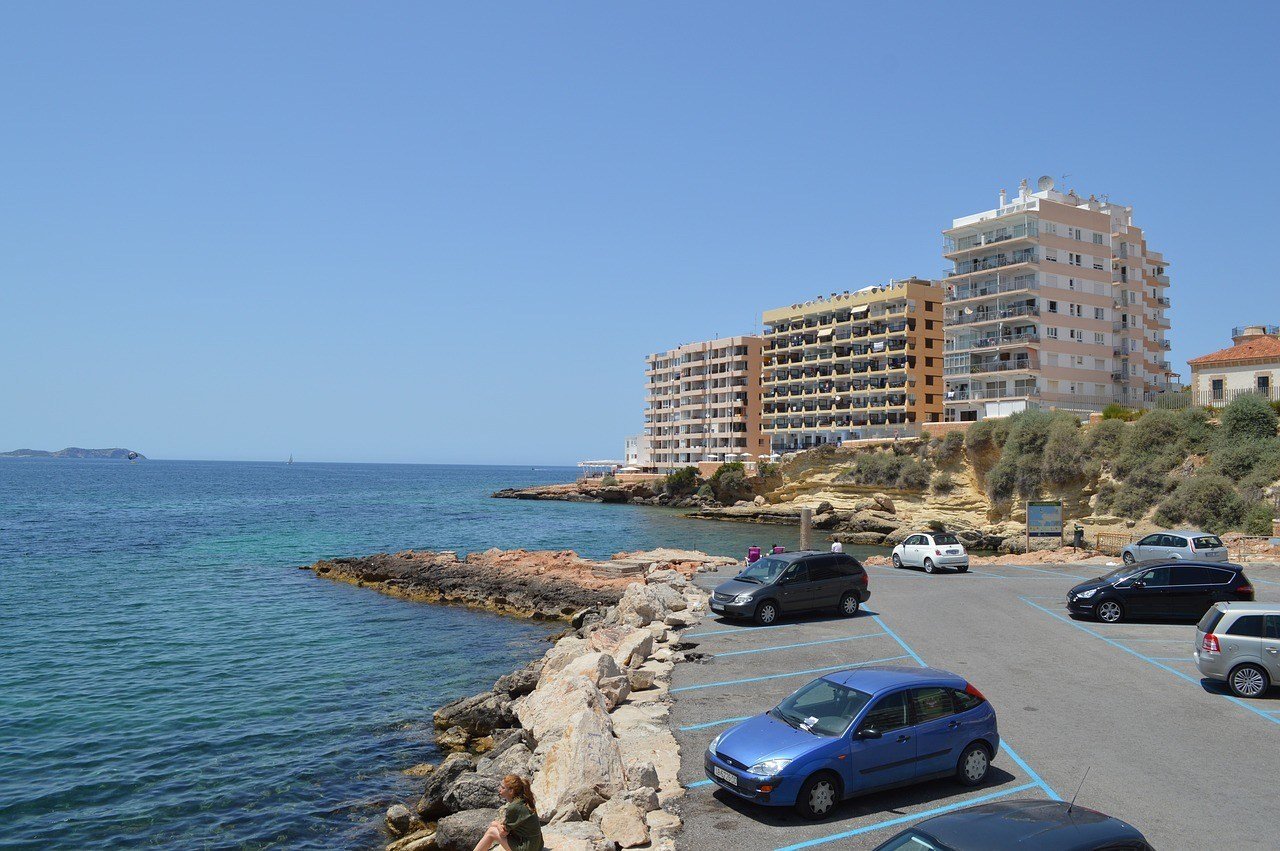 Popular nightlife area
Many accommodations, eateries, and bars
Water sports and beaches
Sunset views
Why it's awesome: Previously a sleepy fishing village, San Antonio is one of the best places to visit in Ibiza today for a lively night scene. Ibiza's second-biggest town, it sits next to San Antonio Bay. Tourism started to boom in the 1950s, eventually becoming a renowned partying hotspot by the 1990s. There are plenty of accommodation options to cater to the fun-loving crowds and numerous restaurants for a filling feed. The beach offers varied water sports and several spots are especially known for amazing sunset vistas. The huge variety of bars and huge nightclubs offer something to suit all night owls.
What to do there: Walk along the promenade at Passeig de ses Fonts in the evening to see the fountains lit up in various shades and watch the world go by from one of the pavement cafes. Snap a picture of the Egg, one of the most well-known attractions in Ibiza's San Antonio. Bask on the beach and have a go at activities like swimming, parasailing, bungee jumping, and diverse water sports, join a cruise, and ride on a luxury yacht. For family fun and giggles with your mates, Ocean Mania Water Park is a great addition to any Ibiza itinerary. Witness a beautiful sunset from hotspots like Café del Mar and Café Mambo and get your night going in the bars and clubs along the lively West End. Catch a bus to some of the big-name clubs and spend your night dancing to tunes spun by famous DJs – a night in the clubs if the thing to do in Ibiza.
#4 – Christ, the Sacred Heart of Jesus – One of the most religious places to see in Ibiza
Photo opportunities
Awesome views
Religious icon
Unusual sight
Why it's awesome: Known locally as Sagrat Cor de Jesus, the monument of Christ, the Sacred Heart of Jesus is modelled after the iconic Christ the Redeemer statue in Brazil. Standing 23 metres (75 feet) high, the detailed stone statue was carved by an eminent sculptor from Valencia. Completed in 1947, the statue honours islanders for having offered protection to a significant revolutionary during the Spanish Civil War.
What to do there: Travel the short distance out of Ibiza Town and walk up to the base of the looming monument. Gaze up at the glorious religious icon and soak up the views from the elevated position. Make sure that your camera is fully charged as you're sure to want to take plenty of pictures. It's definitely an Ibiza must-see.
#5 – Es Amunts – A beautiful outdoor place to visit in Ibiza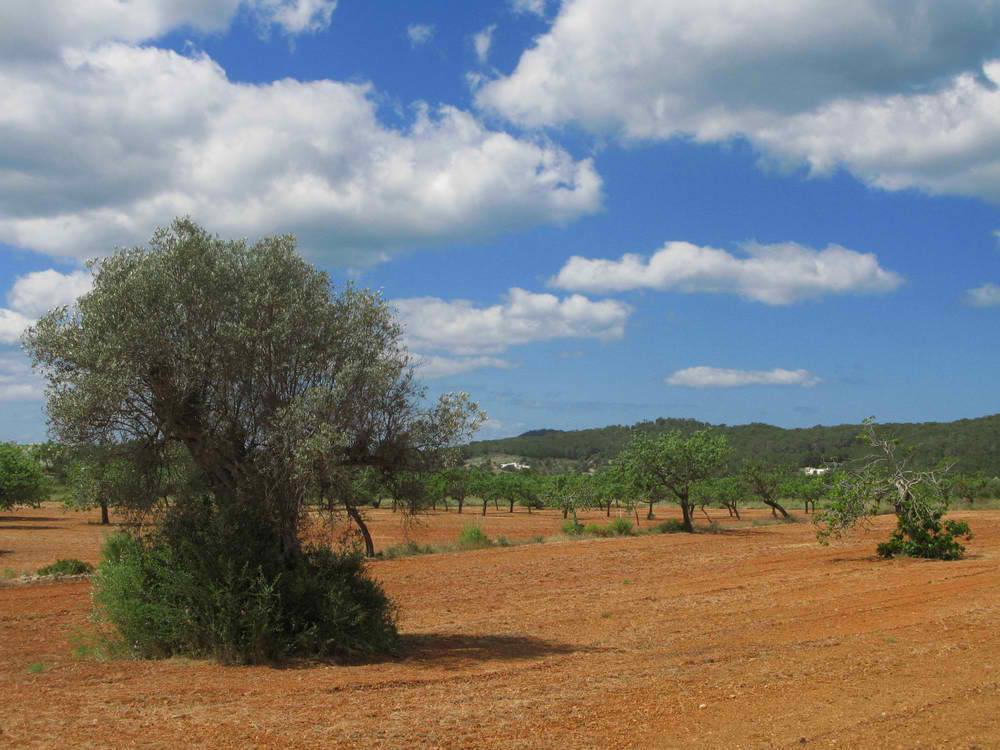 Nature spotting
Varied landscapes
Outdoor adventures
Culture and history
Why it's awesome: Es Amunts is one of the best places in Ibiza for nature lovers and people who love exploring the great outdoors. Covering some 37,000 acres (15,000 hectares) and stretching from east to west, the protected parkland includes dramatic coastal areas, forested areas, jagged peaks, fields and meadows, and lots of native wildlife. The unusual landscapes are home to a fascinating ecosystem. A top place for hiking, visitors can also experience rich traditions and culture too.
What to do there: Strap on your hiking boots, fill up your water bottle, and set out to discover some of Ibiza's most under-visited natural gems. The island's biggest nature reserve, you can expect to see an array of flora and fauna as well as ancient buildings and beautiful landscapes. Many birds inhabit the area—binoculars will enhance your chances of spotting various avian species. Stop at picturesque coves, discover San Miguel Port, walk through olive groves, inhale the scent of juniper trees, see the interesting paintings inside the cave of Ses Fontanellas, soak up the spiritual vibe in Santa Agnes Church, and explore quaint villages filled with whitewashed homes.
#6 – San Juan – One of the nicer places in Ibiza to sightsee!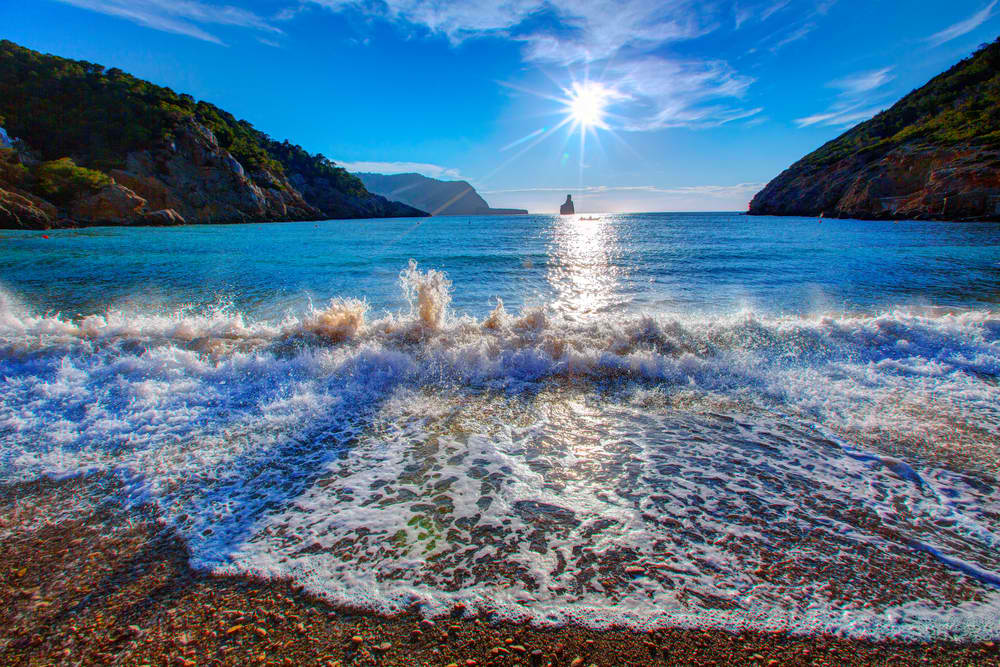 Quaint village
Weekly market
Rustic appeal
Activities in nature
Why it's awesome: San Juan is often said to be the last remaining village in Ibiza. Charming and quaint, it remains blissfully unaffected by tourism, retaining a rustic and rural ambience and appearance. There's something of a hippie vibe and the way of life is laid back. It's easy for visitors to travel back in time and get a glimpse of how Ibiza was long ago. The pine-covered hills offer terrific hiking opportunities and there's a pretty beach too. The village hosts a large festival every June in honour of its patron saint.
What to do there: Take a leisurely walk through the traditional village, noting the difference between the local architecture and that commonly found in other parts of the island. Stroll along the main street, exploring narrow streets and cobbled alleys as you get a taste of local life. Call into a charming coffee shop and unwind on the sandy shores of Cala San Vicente Beach. The picturesque village church is well worth a quick photo stop. Don't miss the delightful artisan market that sets up each Sunday in the main square. You can peruse a wide range of island goods, including jewellery, fresh produce, handmade soaps, and leather goods, and listen to local bands making beautiful music.
#7 – Es Vedra – One of the most amazing places in Ibiza!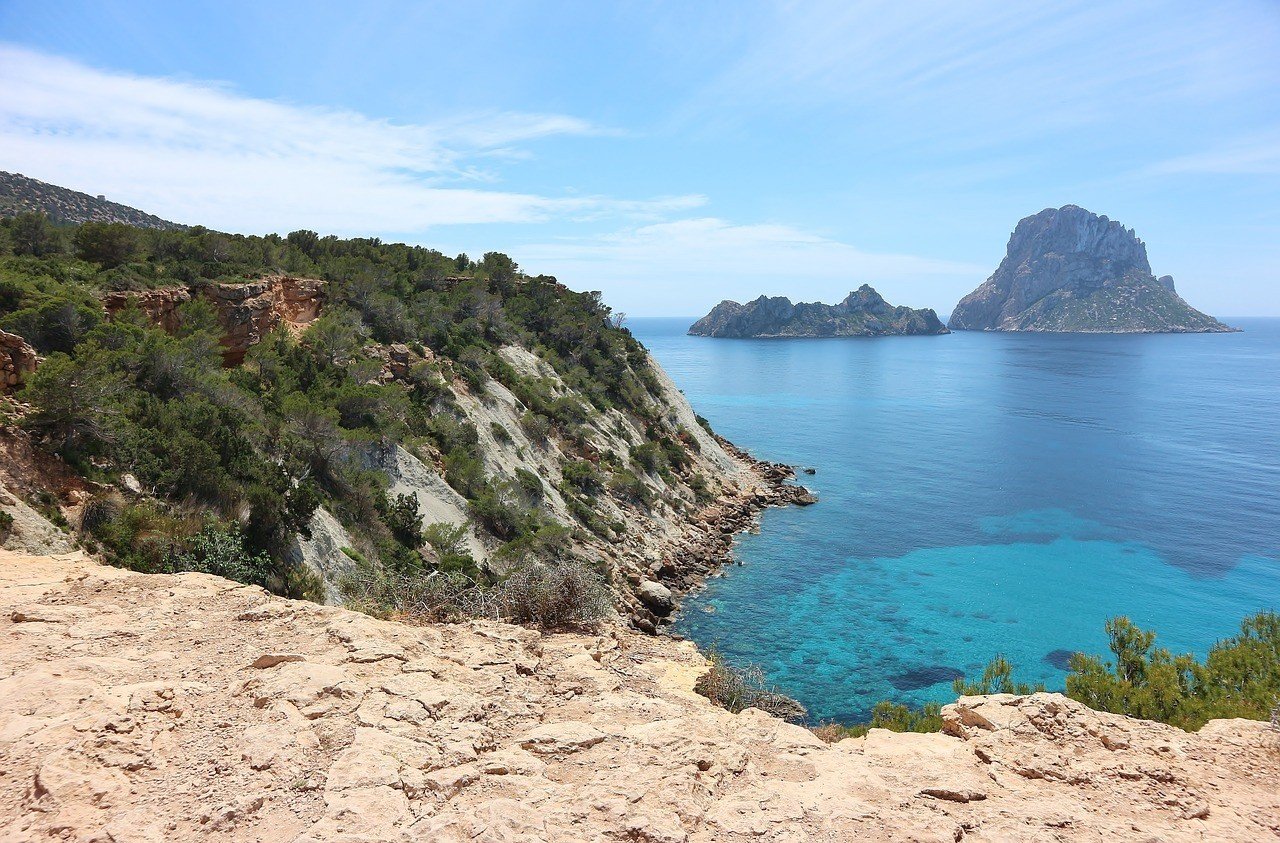 Amazing views
Snorkelling and diving
Nature spotting
Explore caves
Why it's awesome: Part of the Cala d'Hort Nature Reserve, the small rocky island of Es Vedra is one of the most striking natural hotspots in Ibiza. Reaching more than 400 metres (1,312 feet) tall, the uninhabited island is steeped in local legends and myths. It is thought to be the sacred island of the Phoenician moon goddess, as well as home to mythical creatures like sea-nymphs and sirens. Local lore tells of a giant who lived in the caves, and the island has featured in a number of movies and shows.
What to do there: Catch a boat across to the island and explore its rocky shores and unusual landscapes. The surrounding waters offer awesome snorkelling opportunities too. Walk around the island to spot varied birdlife and small reptiles scuttling across the rocks. You can explore caves, including that, used a place of refuge by Francis Palau y Quer, a friar who was banished from Barcelona in the 1850s. Soak up the views and enjoy the peaceful aura.
#8 – Eixample – An awesome place to visit in Ibiza for half a day!
Lively and trendy
Star-studded appeal
Cool night scene
Excellent shopping
Why it's awesome: Eixample is the newer, more modern part of Ibiza Town. The name means "Extension" in English. It's an especially great place for shopping, with a huge selection of stores selling almost anything you could ever want, need, or imagine. Brimming with soul and character, there are many eateries and bars. There are chilled beaches in the locale and the marina is a magnet for the jet-set and swanky yachts.
What to do there: Visit the trendy Marina Botafoch to catch a boat ride or ogle the luxurious vessels that dock there. You might even spot a celebrity or two as you wander around the port town. Eixample is a great place in Ibiza if you love to shop! Explore the shopping centres and markets and browse local island fashions, international designer goods, souvenirs, vintage items, and more. Unwind in Pau Park or up the excitement levels and have a flutter in the Casino de Ibiza. Spend a night (or more!) diving right into the local night scene, walk-in wide-eyed wander along Calle de la Virgen after nightfall, and dance to the beats at Pacha, often considered an Ibiza must-do for any cool clubbing fan.
#9 – Cap Blanc Aquarium – Awesome place to visit in Ibiza with kids!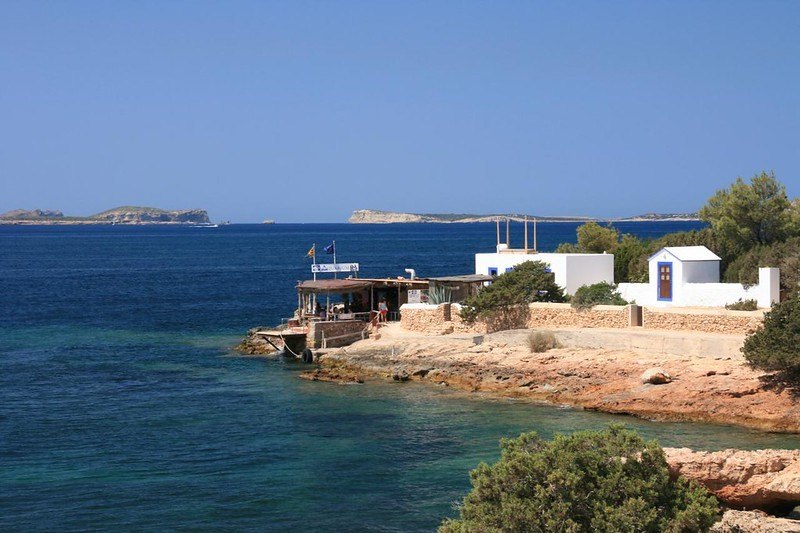 Family-friendly attraction
Underwater discoveries
Natural setting
Home to diverse sealife
Why it's awesome: House within a gigantic natural cave and sometimes referred to as the Lobster Cave, the exciting Cap Blanc Aquarium is an Ibiza must-see for anyone keen to learn more about creatures of the ocean deep. Among the top Ibiza vacation ideas for families, the cave was previously used as a lobster nursery. Today, it houses a large selection of sea creatures and plants from the Mediterranean region.
What to do there: Learn more about Ibiza's ocean flora and fauna as you explore the rock-surrounded aquarium and peer into natural pools and tanks. Observe various creatures beneath you as you cross wooden walkways over the water, seeing things like brightly coloured fish, starfish, lobsters, crabs, and sea sponges. You might even be able to see rescued sea turtles recuperating here before being released back into the wild.
Is This the Best Daypack EVER???
#10 – Sa Pedrera de Cala D'Hort – A nice non-touristy place to visit in Ibiza
Under-visited destination
Peaceful and quiet
Local legends
Unusual features
Why it's awesome: Often referred to as the Atlantis of Ibiza, the unusual cove and rock formations of Sa Pedrera are part of the stunning Cala d'Hort Nature Reserve. Local legends abound, given even more mystery by the unusual and otherworldly landscapes. The area was used as a stone quarry in times gone by, with much of the stone mined here to build Ibiza Old Town. It later became a popular hangout spot for hippies and free thinkers.
What to do there: Charter a boat for the easiest access to Sa Pedrera, or wear comfortable walking shoes to follow the rough and uneven track to the cove. Both ways of reaching the magical cove will lead past peaceful hidden gems. Feast your eyes on the unusual geometric formations both on land and under the glistening waters and spot later additions, such as carved Buddha images, created by hippie groups. If you love exploring the underwater world, this is a top spot for diving too.
#11 – Sant Mateu d'Albarca – Great place to visit in Ibiza for couples!
Romantic ambience
Wine making
Rural charms
Laid-back lifestyle
Why it's awesome: Located in the north of the island, the small and scenic island of Sant Mateu d'Albarca is one of the most romantic places to visit in Ibiza. A fabulous place to escape the crowds and discover a more traditional and rural part of the island, the village lies in a lush and fertile valley. The area is especially known for its wine-making heritage, and visitors can call into one of the wineries to learn more about the industry and sample delectable local wines. The vineyards and verdant countryside are ideal for hiking and cycling, and the village has a number of photogenic buildings to admire too. The village hosts a wine festival each December.
What to do there: Be enchanted by the pretty village as you stroll hand in hand with your love past traditional houses and the 18th-century church. Hear whispers from the past in the cemetery, see the large Via Crucis, and wonder at the large stones that stand proudly in the nearby fields. Relish the slower pace of life as your head into the countryside for scenic walks and bike rides through vineyards, olive groves, citrus groves, and almond plantations. Visit a winery or call into the cosy local bars to sip glasses of the local red wine with your love.
#12 – Formentera – A very cool place in Ibiza to go for a day
Day trip from Ibiza
Outdoor activities
Cultural sites
Spectacular beaches
Why it's awesome: Formentera is the smallest of the Balearic Islands, and it is easy to reach from its larger neighbour of Ibiza. It's a great place to spend a day (or longer) when visiting Ibiza. Although busy in the peak season, it is often quieter than the more boisterous Ibiza. The island has gorgeous beaches, stunning sea cliffs, megalithic sites, traditional fishing villages, pine forests, sand dunes, and other interesting sights, and visitors can take part in diverse activities, including hiking, biking, and snorkelling.
What to do there: Explore the beautiful island by foot, bicycle, or rented scooter, stopping to climb historic watchtowers to soak up the vistas, follow boardwalks through the undulating sand dunes, spot diverse nature, and discover gorgeous hidden treasures. Go snorkelling in the aquamarine waters to marvel at the rich array of creatures that inhabit the sea.
Relax on magnificent beaches like Platja Es Arenals, Platja Migjorn, Platja Llevant, and Cala Saona. Visit the lagoons of Estany de Peix and Estany Pudent, saunter along the old Roman road of Cami de Sa Pujada, get a different perspective of the island with a boat trip, see the gigantic fig tree, and admire the views from the top of La Mola lighthouse.
Small Pack Problems? 😉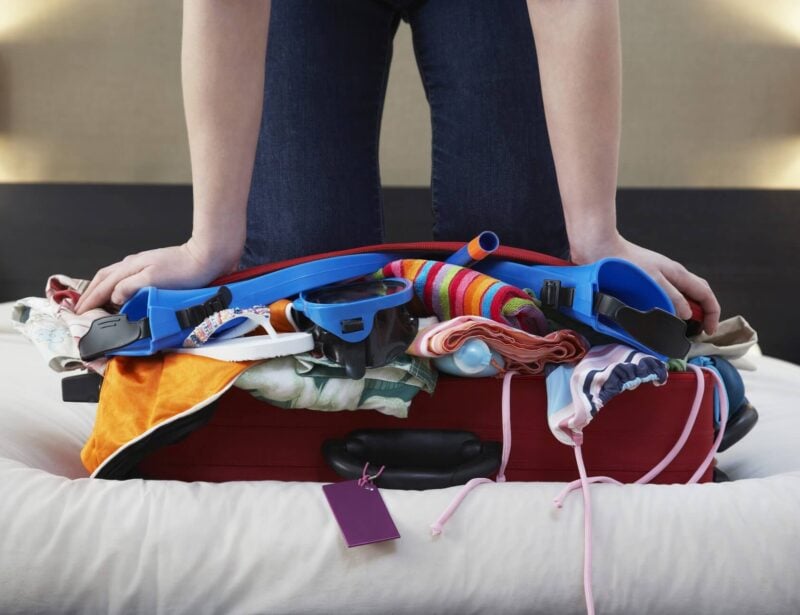 Wanna know how to pack like a pro? Well for a start you need the right gear….
These are packing cubes for the globetrotters and compression sacks for the real adventurers – these babies are a traveller's best kept secret. They organise yo' packing and minimise volume too so you can pack MORE.
Or, y'know… you can stick to just chucking it all in your backpack…
Get Yours Here
Read Our Review
Get insured for your trip to Ibiza!
ALWAYS sort out your backpacker insurance before your trip. There's plenty to choose from in that department, but a good place to start is Safety Wing.
They offer month-to-month payments, no lock-in contracts, and require absolutely no itineraries: that's the exact kind of insurance long-term travellers and digital nomads need.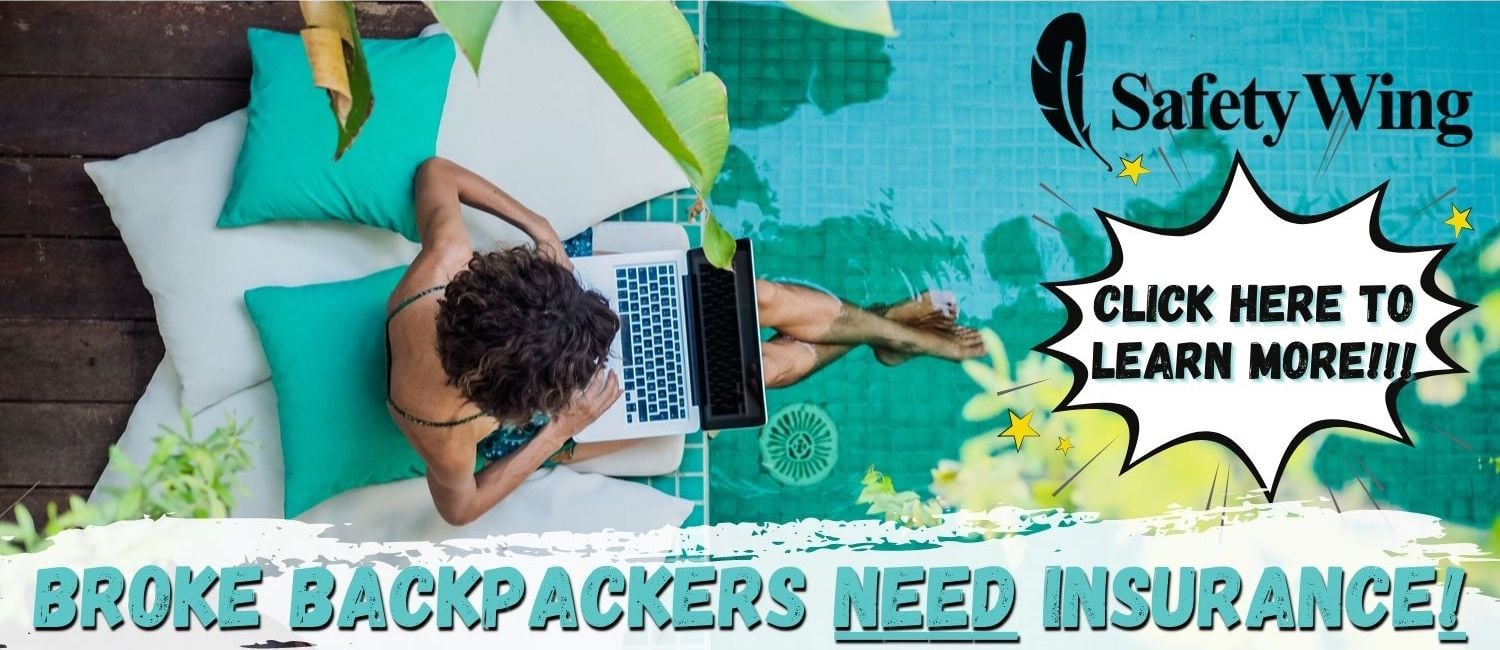 SafetyWing is cheap, easy, and admin-free: just sign up lickety-split so you can get back to it!
Click the button below to learn more about SafetyWing's setup or read our insider review for the full tasty scoop.
FAQ on the Best Places to Visit in Ibiza
Find out what people want to know about the best places to visit in Ibiza
Discover the best places to visit in Ibiza
There really is much more to enjoy in Ibiza than simply partying, dancing, and recuperating on the beaches! Plan your Ibiza vacation to be seduced by the island's many charms and have a fantastic time discovering the best places to visit in Ibiza.
---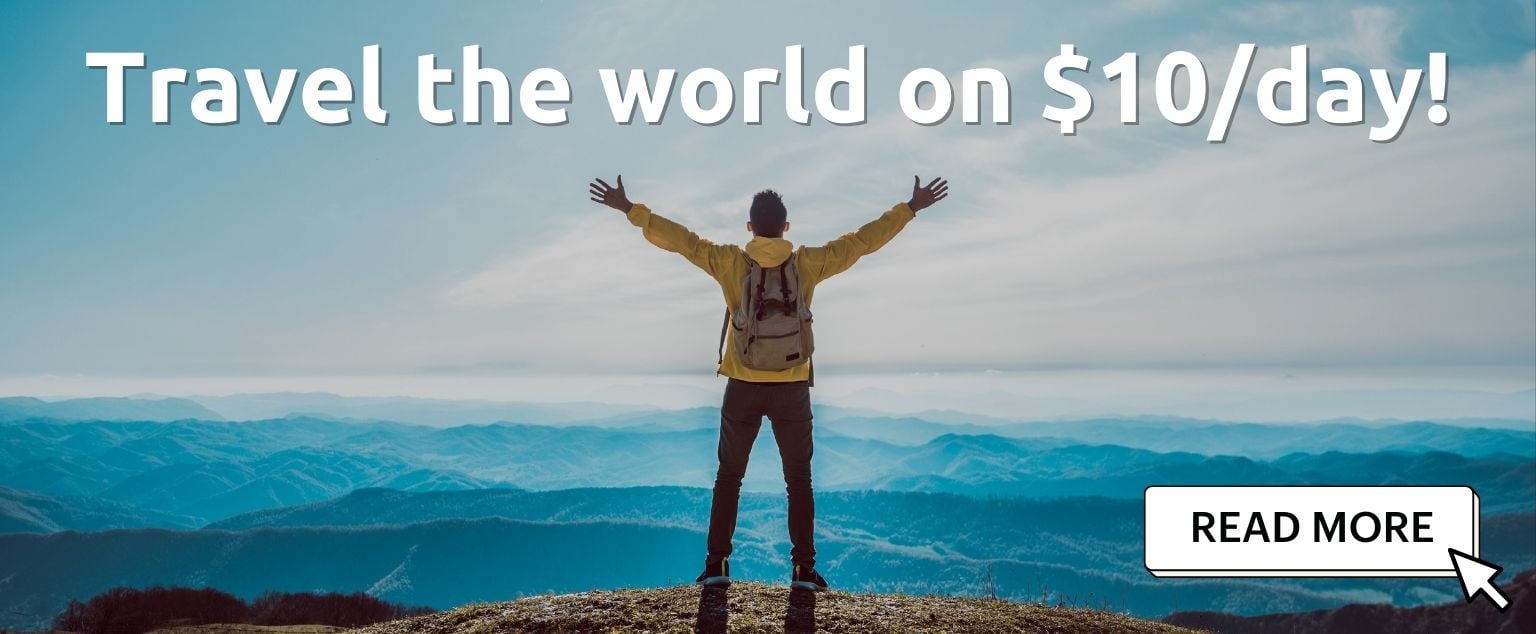 And for transparency's sake, please know that some of the links in our content are affiliate links. That means that if you book your accommodation, buy your gear, or sort your insurance through our link, we earn a small commission (at no extra cost to you). That said, we only link to the gear we trust and never recommend services we don't believe are up to scratch. Again, thank you!