Lying off the South Coast of Spain is Formentera. It's the smallest of all of the inhabited Balearic Islands, and in my opinion, the most underrated, too.
While Ibiza, Majorca and Menorca are all well known for being party central, Formentera is completely the opposite.
This quiet island is known for its sensational beaches, azure water and arid landscape of pine forests, jagged cliffs and isolated coves.
Blessed with a stress-free vibe, this sunkissed island is the perfect place for a relaxing family holiday or a romantic getaway. Though the island has a landmass similar in size to that of Manhattan, knowing where to stay in Formentera can make or break your holiday.
If you're not sure which neighborhood to stay in or need ideas on places to stay in Formentera, don't worry, because I got you covered.
Let's get started…
Looking for a place to stay in Formentera but don't have much time to find one? Here are my three top recommendations for the coolest places.
Best Apartment in Formentera – Lara Home
Hands down the best apartment in Formentera, this wonderful property is located in the touristy village of Es Pujols. Styled in a fresh and vibrant Mediterranean style, this property is beaming with elegance. The beds are so comfortable, you won't want to get out of them!
Situated just a three-minute walk from the lovely Es Pujols beach and its famous promenade, this accommodation is also very near all the main shops, restaurants and bars in town too. So if you are looking for a Spanish holiday experience that offers comfort and convenience, you can't go wrong with this place.
This fantastic hotel offers everything you could possibly want for a wonderful Balearic holiday! For a start, it is less than a minute's walk to Migjorn beach. So you can hit the golden sands and the alluring turquoise water whenever you want. It also has two fabulous outdoor swimming pools, as well as an indoor pool that comes with a hot tub, which you will definitely want to make use of.
Best Villa in Formentera – Sa Paret Nova
This villa is perfect for those who want to feel like a movie star, this exclusive holiday home on Formentera is a terrific place to stay during your time on the island. Housing 300m² of floor space it has four bedrooms as well as three bathrooms and a spacious living and dining area. So there is plenty of space for up to eight people to stay here.
One of the best features of this stylish and comfortable accommodation is the magnificent views it showcases. It also comes with its own handler who can arrange all sorts of conveniences for you!
Formentera is not the biggest island in the Balearic Islands, but what it may lack in size it more than makes up for with interesting areas to stay. The island's diminutive size means it can easily be explored by motorcycle or bicycle. Both methods of which will enable you to immerse yourself in the tranquillity of rural scenery, you will struggle to find in most Mediterranean destinations.
Most tourists come to Formentera as a place to visit from Ibiza or other islands, so for them, La Savina will be the first place they get to. It's actually a pretty decent spot for first time visitors to base themselves in, as the ferry port is a hive of activity.
You will also get to see some luxury yachts, while there are plenty of market stalls and shops in the area too. Nearby are two excellent beaches, while the rest of the island can easily be explored from here by hiring a car or bike if you don't want to take a bus.
If you are on a budget the lovely town of Sant Francesc Xavier is a very good place to stay in Formentera. Shops and restaurants tend to be a bit more affordably priced here, whilst a town square is a lovely place to people watch.
The architecture is very impressive too, with a church that dates back to the 1700s being one of its main features. If you are here in June you will time your visit with the wonderful Formentera Jazz Festival, whilst there is also a fantastic local craft market that runs from May to October.
There are many fabulous beach areas for families on the island, but one of the best of them is Es Arenals. Offering safe swimming and a beautiful aesthetic, this is a very good spot for water sports activities. You will also find a good number of restaurants and shops here as well as some very good tourist attractions.
If you are into snorkeling or scuba diving, the gorgeous crystal clear waters which surround the island are a mecca for both. In between the verdant Posidonia Oceanica that grows underneath, and filters the water, there is a stunning aquatic world of fish and plant life waiting to be explored.
Another outstanding beach area is Migjorn Beach. It is actually the longest length of beach on the island, so is perfect for long, romantic walks. There are also lots of rocky coves to explore and a number of outstanding bars and restaurants. While the sunset views you get here are nothing short of magnificent.
Finally, if you are looking for accommodation in Formentera which has a lot of good shops, restaurants, amenities, and nightlife, Es Pujols is the place to be. Especially for the latter, which is by far and away the best place on the island to enjoy an evening out.
Now you know what to expect from each of the five best areas, it's time to take a look at each neighborhood in Formentera in more detail.
There are lots of apartments, villas, studios, and hotels inFormentera that offer a very good standard of accommodation and luckily for you, I've picked out the best ones
Also known as La Sabina, La Savina is the only ferry port on Formentera. So most visitors to the island will pass through here at some point.
This bustling port actually receives quite a bit of traffic from Ibiza and other islands, so it's always a lovely sight to watch the ferries come in from there.
The marina here is also home to some deluxe yachts which make for good viewing and wishful thinking too, while there is plenty of shops, cafes, restaurants, and bars around the harbour for you to visit.
The best time to visit is during the height of the summer, when there are often excellent market stalls as well, which sell an eclectic mix of jewelry, clothing, handcrafted goods, and other knick-knacks. All of which will make terrific souvenirs or gifts for the folks back home.
La Savina is also known for being close to a couple of fantastic beaches, as well as a pretty cool lighthouse and some very interesting salt flats which are well worth checking out. In addition, with a wide range of cars, scooters, and bikes available to hire, you should feel confident enough to explore the island at your leisure.
This modern and stylish apartment is a real gem! Located just a five-minute walk from the port, and very close to the beach, this accommodation provides a quiet place to stay on Formentera. Offering all the mod cons you could want, the bedroom comfortably fits a double bed, whilst the fully-equipped kitchen and washing machine will come in very handy too. Offering free Wi-Fi to help you stay connected, the property also showcases lovely views of the sea and harbour. For those who make want to self-cater, or explore further afield, it is also situated on the same street as a supermarket and car rental hire.
As hotels in La Savina go this stylish accommodation is very hard to beat. Conveniently located right next to the Estany des Peix saltwater lagoon the property is also just a minute's walk to the beach. If you don't feel like hitting the sand you can always choose to go for a dip in its fabulous outdoor swimming pool. While its modern and well-appointed rooms have a balcony that you can relax on, as you take in the wonderful garden or sea views.
Equipped with a flat-screen satellite TV and a private en-suite bathroom with a shower, they also give you some free toiletries too, which is a bit of a bonus! While the hotel boasts a fabulous restaurant that serves breakfast and offers an à la carte menu for dinner.
Best Villa in La Savina – Comfortable Villa with Terrace and Enclosed Garden
This stylish villa is another fabulous place to stay near La Savina harbour. Offering over 100 square metres, this comfortable and spacious property is an excellent base on which to stay during your time on Formentera.
Nestled within a comely tree-lined terrace, it is situated just a five-minute walk to the Estany des Peix lagoon, which is a lovely, safe spot for swimming in warm turquoise waters. It is also handily located close to all the main shops and restaurants, while the beach is not too far away either.
Things to See and Do in La Savina:
If you want to take a break from the beach and learn a bit more about island life then Sant Francesc Xavier is as good a place as any to visit.
It's actually also known as San Francisco, but thankfully for your feet at least, it is nowhere near as hilly! It is however a lovely town to stroll through.
Featuring a charming town square that is dominated by a historic church that dates back to the 1700s, there are also a couple of fascinating museums here to explore too, including the Calle Jaume I Ethnographic Museum and the Ajuntament Vell exhibition centre.
Those who love shopping could easily spend hours perusing the quaint boutique stores, and local craft and flea markets, that specialize in wares like leather goods, handmade clothes, and jewelry. While lovers of jazz music will want to come here in June for the Formentera Jazz Festival.
A place where budget travellers and backpackers in Spain will thrive, the cost of accommodation in Sant Francesc Xavier and restaurant meals are also generally cheaper here than most places on the island, without significantly dropping in quality.
Best Apartment in Sant Francesc Xavier – Entire rental unit
If you are looking for a quiet place to stay in Formentera, this charming apartment should be right up your alley! Despite being just 300 metres from the town square of the church of Sant Francesc Xavier, and only 50 metres from the bus stop that will take you around the island, this neighbourhood has a relaxed and laid back feel to it.
The air-conditioned studio apartment has a homely ambiance too, possessing a lovely bedroom with an en-suite bathroom, as well as its own private terrace, kitchen with fridge and microwave, and free Wi-Fi. This is a great spot for couples as it offers them overall privacy, as well as close proximity to all the main shops, markets, restaurants, and bars of the area.
There are a number of very good hotels in Formentera, but the Paraíso de los Pinos is definitely up there as one of the best of them. It's so spic and span with elegant presentation and modern facilities, including the likes of a fully-equipped kitchen, which even includes a Nespresso coffee maker, and a fantastic balcony or terrace.
The property is just 500 metres from Migjorn Beach, so you will be able to sunbathe and swim there whenever you want, and also very close to the main drag of shops, bars and restaurants too. But if you would prefer to stay within the grounds of the accommodation there is plenty to keep you entertained, including an outdoor swimming pool, tennis court and hot tub with sun terrace.
Best House in Sant Francesc Xavier – House with Garden and Views
This is the perfect holiday home for those who want to be close to town but also near the sea during their stay at Sant Francesc Xavier. At just 200 metres from the water, the house is nestled on a quiet residential side street on a large 2000 square metre plot.
It's walled for your privacy, so you will be able to rest and relax in its large garden without fear of interruption! The property also features three bedrooms and three bathrooms, as well as a fully-equipped kitchen, veranda, and patio. In addition, it is close to all the main amenities of town including shops and restaurants, so it is perfectly set up for a fantastic family vacation!
Things to See and Do in Sant Francesc Xavier:
Another wonderful beach destination in Formentera is Es Arenals. Located on the southeast part of the island, this stunning landscape of sand, turquoise water, and nature is the kind of image you see on laptop screensavers. For this reason alone it renders Es Arenales one of the best places to stay in Formentera.
Popular with families who come here for a low-key family holiday, swimming is very safe here. While the local water sports centre can hook you up with a range of sea-based gear for hire.
The beach also hosts a selection of very nice restaurants and bars. One of which, the Piratabus Beach Bar, is a bit of an institution on the island for its tapas and drinks.
In addition, if you like getting into your birthday suit, this beach also has a nudist section at one of its more remote parts.
Best Apartment in Es Arenals – Apartamentos La Fragata
As a Formentera holiday destination, you really can't go wrong with the wonderful Apartamentos La Fragata. Situated just 50 metres from the stunning Es Arenals Beach, this splendid apartment offers a terrific restaurant onsite, as well as a lush garden, and stylish accommodation.
Boasting an outdoor patio that showcases terrific views of the surrounding area, the property is fully air-conditioned, which you will love when the heat of the day starts to really kick in. Whilst its kitchenette, satellite flat-screen TV, and a private bathroom with shower, give you a level of home-from-home comforts you will also appreciate.
Best Holiday Home in Es Arenals – Casa Carpe Diem
Offering you close proximity to Es Arenals Beach, as well as Migjorn Beach and Es Cupinar Beach, this holiday home is perfect for those who want to spend a lot of time down by the sea. Once you have had your fill of swimming and sunbathing, you will be able to relax in a fantastic beachfront property that has two cosy bedrooms as well as a private bathroom.
The holiday home also comes with a gorgeous sun terrace and balcony which conveys lovely views of the locality. While the flat-screen TV with satellite channels and free Wi-Fi should keep you entertained. Should you want to head out for dinner or drinks, you will also find a nice selection of restaurants, cafes, and bars within easy walking distance.
Best Hotel in Es Arenals – Casa Pacha Formentera
For a beach location you can't beat, the Casa Pacha Formentera is the place to be. Nestled right on the fringes of the sand, rooms here come with private terraces that showcase magnificent sea views, which you will want to spend a lot of quality time taking in. Comfortably furnished with a private bathroom and large double bed, the air-conditioned apartment also offers free Wi-Fi.
It even has a top-notch Mediterranean restaurant situated directly on the beach, which provides you with a complimentary breakfast a la càrte, as well divine dinner option. Should you prefer to self-cater though, there is a supermarket less than 1.5km away, as well as a number of other interesting shops and local attractions to check out too.
Things to See and Do in Es Arenals:
If you love the beach then you really have to come to Migjorn Beach, which is easily the longest stretch of sand on the island.
Pretty much takes up the entire south coast of Formentera, if you are into long, romantic beach walks this is the place for you to come.
As it is a little removed from the port at La Savina and Es Pujol, there tend to be fewer crowds here. So if you love peace, quiet, and solitude you will be in for a treat! Although one continuous beach, the expanse of sand here is broken by rocky outcrops, which means there are plenty of isolated spots you can head to for a bit of uninterrupted relaxation.
Migjorn Beach also boasts its fair share of restaurants and a handful of lovely bars. While it is also renowned for being a place where you can see some truly incredible sunsets too – which will definitely give you plenty of photos and footage to post on your Instagram!
This fantastic apartment in Migjorn Beach is a wonderful place to stay during your Formentera holiday. Located close to the beach and with a good selection of shops, cafes, restaurants, and bars, the accommodation is in a lovely neighborhood that is safe and relaxed.
It features a very nice double bedroom, as well as a living room with a kitchenette and a private bathroom, that are of a standard which provides you with exceptional value-for-money. There is also a lovely patio too, which is great for relaxing or eating meals under the feel-good rays of the Mediterranean sun.
Best Hostel in Migjorn Beach – Hostal Es Pi
One of the nicest hostels in Formentera is the Hostal Es Pi. In terms of location, this pleasant guesthouse is very hard to beat, sitting just 150 metres from Migjorn Beach, in the quiet neighbourhood of Es Ca Marí. Given how close you are to the beach you will love staying at this property. Not least because it also has a fabulous seasonal, outdoor swimming pool, complete with a sun terrace that you will also want to spend a bit of time at. A delicious buffet breakfast is served to you daily.
Best Hotel in Migjorn Beach – Riu La Mola
The Riu La Mola is definitely the place to stay if you want to combine a fabulous beach location with very comfortable accommodation. Literally situated just a stone's throw from the Es Cupinar Beach, you will be able to see from your private balcony, or be on, the sand as often as you want! A great choice of Formentera hotel accommodation, this property is well set up for all the family.
Parents will love the hot tub, while the kids will want to spend plenty of time on the children's playground. There is also a fantastic outdoor swimming pool that everyone will enjoy too. In addition, a buffet breakfast is provided every morning, while those wanting to venture further afield can hire a car or bicycle directly onsite as well.
Things to See and Do in Migjorn Beach:
Es Pujols is known for being the only genuine resort town on the island. For this reason, you will find a number of very good accommodation options in this part of Formentera. This includes a variety of hotels, villas, apartments, and the odd hostel.
What you will also find are some wonderful beaches which are perfect for walking, swimming and sunbathing, as well as a slow pace of life, and a stunning town center that is lined with beautiful trees. The town's narrow warren of backstreets is fascinating to explore, while there are plenty of quaint shops, fashion boutiques, and market stalls to browse for gifts or souvenirs.
The dining scene is pretty good here too, with lots of cafes providing lovely eats and great spots for people watching. The main bars and restaurants also dish up a terrific range of meals and alcoholic beverages, whilst the nightlife here is easily the best and most vibrant on the island.
Best Apartment in Es Pujols: Espardell
There is much to love about this cosy seafront apartment. For a start, it is as close to the beach as you can be without actually having sand on your toes! It also showcases expansive views of the water from a large private balcony that is perfectly set up to enjoy an afternoon of relaxation. With two spacious bedrooms, two well-equipped bathrooms, an American-style kitchen, and a stylish living room, all set up for your convenience. Placing you just 50 metres from shops, grocers, cafes, and bars, you are also very much in the heart of the action too.
Offering you the quintessential Spanish holiday experience with a wonderful beach setting, terrific restaurants, and a decent nightlife scene, this property ticks all the boxes.
They feature a range of amenities to ensure your stay is a very relaxed one, including bedrooms that are a decent size and a well-equipped bathroom too. They also have private balconies which offer magnificent coastal views, whilst all the major amenities like shops and eateries are within easy, and short, walking distance.
For those wanting to treat themselves to a more upscale hotel in Formentera, the Sunway Hotel Club Sunway Punta Prima is an excellent choice. Set within beautifully manicured gardens, it is situated about a 700-metre walk from the beach. But to make up for that you can see the water from your spacious private balconies.
There is also a fantastic outdoor swimming pool on-site, as well as a pool-side bar and terrace with loungers for you to enjoy. Rooms are cozily decorated with attractive yet simple wooden furniture that adds a real sense of character to the property. While the main town centre of Es Pujols, where the most of the best shops, cafes, and local attractions are situated, is also just a 10-minute walk away.
Things to See and Do in Es Pujols:
Don't Forget Travel Insurance for Formentera
World Nomads' mission is to support and encourage travellers to explore their boundaries. They offer simple & flexible travel insurance, and safety advice to help you travel confidently.
They've been doing it since 2002 – protecting, connecting, and inspiring independent travellers just like you.
Get a quote below or read our in-depth review!
World Nomads provides travel insurance for travelers in over 100 countries. As an affiliate, we receive a fee when you get a quote from World Nomads using this link. We do not represent World Nomads. This is information only and not a recommendation to buy travel insurance.
So, there you have it! The fabulous Spanish island of Formentera makes for a fabulous getaway from your busy working life. I hope this guide has provided you with a greater appreciation of what you can do on the island if you decide to visit it.
As you have seen,Formentera has accommodation options for everyone, no matter what you are interested in or what your budget may be.
No matter who you are or where you stay in Formentera, you can be sure to have a relaxing and chilled holiday under the Mediterranean sun. If it's your first time in Spain, you should consider reading up on some Spain travel tips to make sure you are well prepared, especially when it comes to handling the heat.
But my last bit of advice to you is don't leave anything to chance. You never need travel insurance until you don't have it. It's a good idea to consider travel insurance, especially if you're visiting from abroad.
Happy travels!
---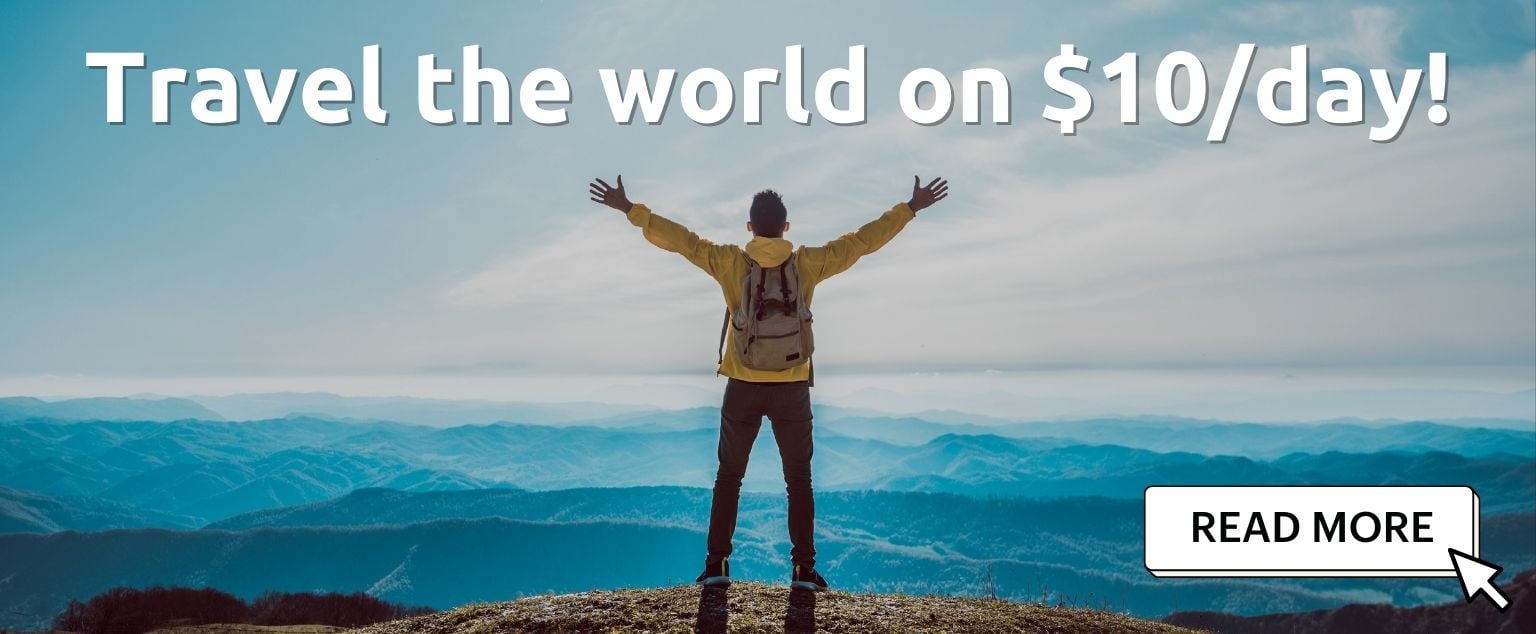 And for transparency's sake, please know that some of the links in our content are affiliate links. That means that if you book your accommodation, buy your gear, or sort your insurance through our link, we earn a small commission (at no extra cost to you). That said, we only link to the gear we trust and never recommend services we don't believe are up to scratch. Again, thank you!