Ibiza is the White Isle, the Balearic beauty, the party-loving hippie island that is a magnet for celebrities, and international DJs. Its beaches, charming towns, famed sunsets, and uber-chilled vibes make it pretty easy to fall in love with, and keep people coming back year on year.
There's definitely more than just a hint of glitz and glamour in Ibiza. The superclubs, lounge bars, and hotels are notoriously easy to blow a budget. But does it follow that all travel in Ibiza is expensive?
Nope, not at all! We've crafted this guide for travelling to Ibiza on the cheap to help you navigate the pitfalls of paying over the odds on this beautiful Mediterranean island. It's packed full of information, from flight costs and accommodation options to cheap eats and affordable transport.
Travelling to Ibiza can be done more affordably than you think and we're about to show you how!
Answer: well, it depends. There are a bunch of different elements at play, from the basic stuff like flights and accommodation to the daily budget bits, including food, drink, sightseeing, and the cost of transport in Ibiza. The following guide breaks all of this down section by section.
The travel costs that we list throughout are estimates and subject to change. Prices are listed in US Dollars.
Being part of Spain, Ibiza uses the Euro (EUR). As of April 2021, the exchange rate is 1 USD = 0.83 EUR.
Check out our handy table below for a summary of the costs for a 3 day trip to Ibiza.
3 Days in Ibiza Travel Costs
ESTIMATED EXPENSE: $640 – $923 USD for a roundtrip ticket.
Flying to Ibiza can be expensive. It depends on where you're flying from, obviously. But it also depends on when you're flying. Flights are at their most expensive during high season which generally runs from May through August. The low season (November to April) tends to be much cheaper.
Ibiza's main international airport is Ibiza Airport (IBZ), which is located close to the capital, Ibiza Town. When keeping costs down, you can consider staying in San Antonio, which is a cheaper area with many accommodation options just 14 miles from the airport. Don't forget to factor in the cost of a taxi or bus from the airport to wherever you're staying.
See below for the average costs of flying to Ibiza from various global air travel hubs:
New York to Ibiza Airport: 640 – 923 USD
London to Ibiza Airport 90 – 160 GBP
Sydney to Ibiza Airport: 816 – 1,280 AUD
Vancouver to Ibiza Airport: 702 – 1,190 CAD
There are no direct flights into Ibiza from some international destinations, such as New York. Many airlines will fly into Madrid and you will catch a connecting flight. One budget tip is to opt for a flight with more than one connection – it's longer but can be much cheaper – worth it to have some extra coin when you get into town! Or you could backpack in Spain a little before you head on over to Ibiza.
Another way to save money on the cost of your flight to Ibiza is to utilise online services, such as Skyscanner. This will enable you to scroll through a ton of different options and weigh up which one is best for your budget.
ESTIMATED EXPENSE: $20 – $200 USD per night
Is accommodation in Ibiza expensive? It definitely can be. While this Balearic island is known for its chic villas and hip hangouts, it can also be a great destination for a bargain holiday. It all depends on when you travel and what sort of place you want to stay in.
The island has everything on offer, from Airbnbs and hostels to villas and hotels. These can be pretty expensive during high season – especially the luxurious offerings. Low season is a better time to travel to Ibiza if you want more affordable prices, and staying in hostels as opposed to hotels will help keep those accommodation costs down too.
Now, let's see how each of these digs size up in terms of price.
Hostels in Ibiza
We won't lie, there aren't a load of hostels in Ibiza to choose from – just a handful of fairly cheap communal accommodation options across the island. This means backpackers on a shoestring budget may have to opt for something outside the realm of hostels (a family-run guesthouse, for example).
But still, the cheapest hostels in Ibiza cost around $20 per night.
As well as being easy on the wallet, hostels have other perks. They're sociable places for international travellers to meet each other and they have extra amenities, like free events and communal kitchens, to keep your travel costs low. In Ibiza, hostels even have swimming pools!
(If that sounds good to you, see our guide to the best hostels in Ibiza!)
Here are a few of Ibiza's top hostels to give you an idea:
Amistat Island Hostel – This is a fun, happening hostel right in the middle of Sant Antoni de Portmany. It comes complete with a pool, a roster of events and even an on-site restaurant. It's a great place for mingling with other travellers.
Giramundo Hostel – Run by travellers, this is a colourful hostel with a ton of chill-out spaces, an outdoor terrace and an onsite bar. It's situated in Playa d'en Bossa and also boasts a free breakfast, perfect for a good budget option.
Hostal Residencia Adelino – Not strictly a hostel, but a family-run guesthouse in downtown Sant Antoni de Portmany, this place has budget-friendly air-conditioned rooms, a swimming pool, restaurant and lounge.
Airbnbs in Ibiza
There are a lot of Airbnbs in Ibiza. You'll find them all over the place – tucked away in beautiful countryside spots as well as in the middle of the action overlooking beaches. From private rooms in houses to whole apartments, there's something to suit every budget.
In fact, they can cost as little as $60.
Airbnbs have a lot of benefits. If you like privacy, having the run of a whole home is something you'll love. Being able to cook your own meals is also a great way to save money, too. The locations are often unique (i.e. more local) making them different from more conventional inns and hotels. Plus, Airbnbs are often pretty stylish.
Here are a few Airbnbs in Ibiza to inspire your trip:
Loft with amazing sea view – This clean, modern loft is newly renovated and located just steps away from the beach. It's equipped with a kitchen, a large terrace and sea views, of course.
Beautiful Rustic Apartment – More of a traditional (but chic) option, this apartment is situated in the north of Ibiza and is well sized for couples. It comes with a patio area, garden and pool, and all within walking distance to the beach.
Private Studio near Ibiza Port – This Airbnb is a modern loft situated inside a historic building in Ibiza Town. It's compact but cosy and clean, and has everything you need for a comfy, convenient stay, from the kitchenette to the large double bed.
Hotels in Ibiza
You may be thinking hotels in Ibiza are expensive, but they're actually more varied than you think. Yes, there are fancy hotels, and there are also family-run places and budget spots for all types of travellers. You can bag a room in a hotel for as low as $80 – far from the glitzy prices associated with the island.
The more high-end hotels in Ibiza come with plentiful perks: concierge services, housekeeping, pools, on-site restaurants, complimentary breakfast, private beach access – you name it. However, the budget options have just as much to offer as a place to relax.
Here are some of the best cheap hotels in Ibiza to get you started:
Hotel Puchet – Featuring bright, chic rooms which come with their very own private terrace, this hotel is located in Sant Antoni de Portmany just 600 metres from the beach. There's a cafe and restaurant on-site, as well as a swimming pool and mini-mart.
Bon Sol Prestige – Situated just 150 metres from Playa d'en Bossa beach, this hotel has a range of amenities, including a cafe, swimming pool, squash and tennis courts, plus daily entertainment. Rooms are traditional but polished.
Ácora Ibiza – The rooms at Acora Ibiza feature a fresh, ocean-themed style with crisp white linens and modern furnishings. It's pretty fashionable overall – think Balinese beds and luxe amenities – with a restaurant and activities, such as yoga, to take part in.
Private Villas in Ibiza
Villas are the name of the game in Ibiza. Running the gamut from palatial and luxurious homes, all the way to more cosy, intimate options, they're easily one of the best places to stay in Ibiza. Opting for a villa means space, privacy, and perhaps even your very own pool to laze around, too.
If you're in a group and you want to travel to Ibiza on a budget, a villa is a good choice; not only will it have enough room for everyone but you'll also be able to split the cost between you all. Even fancy villas can become relatively affordable this way.
Here are some of our favourite villas in Ibiza:
Villa Milady – Located in Sant Antoni de Portmany, this stylish villa has a lot going for it. There's a private pool and garden, free parking, BBQ facilities and a sea view. Inside, it's spacious with a traditional and contemporary design throughout.
Villas S'Argamassa – This villa is quintessentially Ibizan in style, with white-washed walls and terracotta floors but plenty of design flair. Featuring three bedrooms and a seasonal outdoor pool, it's located in Santa Eularia.
Ibiza Panoramic – This villa is a super modern option with four bedrooms, a well-equipped kitchen and four bathrooms, as well as a swimming pool, terrace garden and even a gym. It's a great fit for a large group of friends.
ESTIMATED EXPENSE: $0 – $10.00 USD per day
Ibiza is a relatively small island – just 25 by 12 miles to be precise – so it's fairly easy to get around. No journey should take hours on end, with the distance between Ibiza Town and Sant Antoni de Portmany around 10 miles, for example.
All of the main towns on the island are well connected by the reasonably priced bus network. While public transport is not expensive in Ibiza, using it a lot can add up. So, in some cases it can be cheaper to rent a car or scooter – especially if you're travelling in a more remote area, or want to get off the beaten track (more on that later).
But for now, let's take a look at your options in terms of public transport in Ibiza.
Bus Travel in Ibiza
Ibiza's bus network is efficient and can be used to travel around the island without too much difficulty. Traveling around by bus can work out much cheaper than car hire, but it depends on where you're staying and who you are travelling with.
When staying in one of the main towns, Ibiza's bus network is an effective mode of transport. However, if you're staying in the countryside, it's likely that there's not a bus service to your area.
The buses run at least every half hour, if not more frequently. They connect most of the major resort towns, and top beaches across the island. In the summer months (high season) you can expect more services, running between 7 a.m. and 10 p.m.
During high season, the island had a "Disco Bus", which ferries revellers back from the clubs between 12 a.m. and 6 a.m. Perfect if you don't want to waste money on a taxi and have some time to kill. It connects Ibiza Town with Sant Antoni de Portmany, Playa d'en Bossa, Sant Rafel, and Santa Eularia.
This special service "disco bus" costs between $3.60 and $4.75. For regular buses, fares are calculated by distance and range between $1.85 and $4.75.
You simply pay the bus driver when boarding the bus in cash. And, don't worry, you don't need the correct change (but try to avoid using big notes). Hop aboard and visit all the must-see attractions of Ibiza.
Ferry Travel in Ibiza
Being an island, Ibiza is also served by a variety of boats and ferries. Some boat services are seasonal, while others run throughout the year.
The ferries work as a low cost option for travelling to other islands, or even the Spanish mainland. Other times, you can just hop on a boat service to reach another beach.
One fun example is the Aquabus – an affordable ferry service that connects Ibiza Town with La Sevina on Formentera, a neighbouring island. It is a great budget option for day trips with a one-way ticket costing around $32.
You can also hop on a ferry from Ibiza to Palma, another Balearic island, this costs around $78.
While the private boats and ferry services tend to be more expensive and geared towards tourists in high season, unless you're planning on island-hopping, it's probably cheaper to stick to buses to get from A to B.
Renting a Car in Ibiza
Renting a car is a great way travel around Ibiza affordably. Especially for those who have opted to stay in accommodation in a remote countryside area.
Even with the island's fairly expansive bus network, it might be preferable to have your own set of wheels to get around – it can actually work out cheaper, too. If the goal of your trip is to be off the beaten track, then a car is a must.
There are both international rental companies at the airport and numerous reliable car companies across the island. You can expect to pay around $35 to $60 per day for car hire in Ibiza. On top of that, car insurance costs $14 per day.
Then there's fuel to think about; petrol costs $1.58 per litre.
For car hire, the best way to keep the cost of your trip to Ibiza low is to book in advance. Not only will it be cheaper, but in high season rental cars can also be in short supply. You can also compare prices in advance more easily.
So, want to save some cash and explore Ibiza by rental car? Use rentalcar.com to find the best deal possible. There are some great prices on the site and they aren't difficult to find.
ESTIMATED EXPENSE: $5-$20 USD per day
Ibiza's food scene has grown in recent years to become a hotbed of local and international gastronomic delights. From simple Balearic meals to exquisite upscale dining, there's something for every budget in Ibiza – great food doesn't have to be expensive.
Much of the food served up in restaurants is made from fresh, locally produced ingredients. So whether you dine out in style or go for something more down to earth, there are an array of specialities to try out.
Make sure you don't miss out on these must-try foodie favourites:
Sofrit pagès – This hearty Balearic stew is traditionally eaten in the winter months. It's a combination of chicken, lamb and Ibizan sausages, simmered with potatoes and other vegetables. A bowl of this can cost around $10.
Paella – This dish is ubiquitous throughout Spain, and Ibiza is no different. Being an island the fish option is the most popular, and is best eaten at the beach or at a local joint. It is the perfect dish to share with friends. Usually priced around $25.
Allioli – In Catalan this means "garlic and oil" and is a staple across the island. Best enjoyed with bread; all you do is spread it on thick and enjoy. Textures and quality varies but you can get it in pretty much every restaurant from as low as $5. Or try your hand at making your own!
Want more tips on how to eat your way around Ibiza cheaply? Then keep these tips in mind:
Look for bakeries – Local bakeries can be found throughout the main towns in Ibiza. They serve up a selection of freshly baked goods for an affordable price. Think a fluffy loaf of bread or sweet pastries.
Try tapas – Although small, opting for a few plates of tapas is a great way to keep costs low. Venturing away from the tourist areas means you can enjoy authentic tapas for affordable prices. Dishes are both hot and cold.
Opt for a tortilla de patata – Possibly the cheapest thing on any menu, a tortilla de patata, or traditional omelette made with potatoes and onions, is both delicious and filling. You'll see it everywhere, especially in more local restaurants.
Where to Eat for Cheap in Ibiza
Ibiza may be known for its world-class chefs, and exclusive restaurants, that need a reservation a week or more in advance, but that doesn't mean that every eatery is expensive. In fact, it's possible to eat out every day without breaking the bank.
Here are some of the best places to get cheap eats in Ibiza:
Chiringuitos – These small bars or beach kiosks come in all shapes and sizes. Locally run, they offer up affordable food in a pleasant setting. Enjoy long lunches and tasty local dishes for budget-friendly prices.
Local cafes – These family-run operations can be found pretty much everywhere in Ibiza. Offering outstanding value away from tourist areas, local cafes serve up fish dishes for around $10 as well as omelettes, salads, and other local favourites.
Make your own meals – It goes without saying that making your own food is always the cheapest option. Choose accommodation with a kitchen, cook your go-to bargain dishes, and save, save, save.
For more suggestions, take a look at our Weekend in Ibiza Guide which outlines the best places to get a bite and party the night away.
If you are hoping to cook throughout your stay, then you'll want to know where to pick up the cheapest produce in Ibiza.
Aldi – This European giant of supermarkets is very budget-friendly. It's got everything from frozen food, ready meals and alcohol to cheese, bread and fresh produce. A one-stop shop for everything you need.
Mercadona – Popular with locals, this large supermarket chain sells relatively low-priced foodstuffs and fresh produce, including fish, fruit and vegetables. There's a large one close to the airport for a quick stock up upon arrival.
ESTIMATED EXPENSE: $0-$15 USD per day
Alcohol in Ibiza is notoriously expensive. Horror stories of nightclubs charging extortionate amounts for a bottle of water (let alone a beer) are not uncommon. Despite this, it is possible to drink on a budget in Ibiza – it just depends on where you go.
For example, the difference between drinking a cocktail at a trendy lounge bar, and sipping on local wine in a local bar can vary wildly. Choosing your drinking venue can save you a whole heap of cash.
Beachside bars in San Antonio serve up affordable jugs of sangria; others offer free shots and two-for-one deals that make them pretty budget-friendly.
In one of Ibiza's superclubs, expect to pay between $18 and $21 for a vodka and mixer. In a small bar, the same drink can cost between $12 and $18. A small bottle of beer in a club costs $10 to $16; in a bar, that would be $7 to $10.
These aren't the average prices but a guideline to how expensive things can get in Ibiza for alcoholic beverages. To keep your drinking expenses low during your trip, opt instead for these local favourites:
Sangria – Pretty much the national drink of Spain, sangria is a must in Ibiza. This refreshing and fruity red wine cocktail (in which brandy plays a part) is both tasty and costs around $10 for a carafe. A cheaper alternative is the simpler tinto de verano, so look out for this on menus.
Hierbas – This Balearic liquor is brewed on Ibiza itself, and is a popular free shot given at local bars. It has an aniseed flavour, and is usually drunk at the end of a meal. It is by far the most popular shot on the island (and cheap too).
For those of who just want a nice beer, watch out for 1 litre bottles of San Miguel. This classic Spanish beer can be picked up for around $2.50 and enjoyed on your balcony or terrace. It makes the nightclub prices look extortionate.
ESTIMATED EXPENSE: $0-$25 USD per day
Ibiza may be known for being something of a party island, or somewhere to chill and do absolutely nothing, but there's more to this Balearic gem than hedonistic nightlife and lazy beach days.
For one thing, Ibiza is historic. Head into Ibiza Town and you can marvel at the Dalt Vila or "Upper Town" – its oldest, fortified section, complete with a 13-century cathedral. Further inland there's even more ancient history at Puig des Molins, the site of a Punic necropolis, with artefacts displayed in its museum dating to the 4th century BC.
You can enjoy excursions that soak up the island's natural wonders, such as boat tours around the western coast and Es Vedra. There's so much more to do in Ibiza than simply sip cocktails at lounge bars and party all night!
The cost of tours and museum entrance fees can all start adding up. However, there are some ways to keep costs low on your trip to Ibiza by trying out these sightseeing options:
Hiking – Hiking is free of charge everywhere around the island. There are some great hikes to be found here, through charming Mediterranean landscapes and along coastal paths. If that's too intrepid for you, simply wandering Ibiza's major towns can be rewarding.
Watch a sunset – Ibiza is famed for its sunsets and you don't have to sit in an expensive bar to enjoy them. There are multiple spots to take it all in, one of the best being Benirrás Beach (head here on a Sunday for hippie drumming).
By now you should have a pretty good idea of your budget. You've factored in the flights, the accommodation, the food, the alcohol and the sightseeing… But it doesn't end there. You'll also have to think about the unexpected expenses, too.
From souvenirs to luggage storage, parking fines to snorkel hire, these unforeseen costs and spur of the moment purchases could seem insignificant at the time. But across a 2-week trip to Ibiza, it could really start racking up. Plan to set aside around 10% of your total budget for all your novelty T-shirt needs (and more!).
Tipping in Ibiza
Tipping is customary in Ibiza, although you're not obligated to tip. The most common place you may be expected to tip is at restaurants.
Depending on the type of establishment you're eating in, a tip may be included in the total bill as a service charge. This is usually stated in the menu.
If a service charge is not included in the bill, then a tip of around 10% is expected and very much appreciated by the staff at the restaurant.
You can tip taxi drivers a discretionary amount – either 5 to 10% of the fare, or (more commonly) round up to the fare to the nearest whole number and leave the change.
Tipping hotel staff is also much appreciated but not obligatory. At more high-end hotels, tipping concierges and bell boys a couple of Euros for their services – as well as leaving a small tip for the housekeeping staff – is a welcome gesture.
Get Travel Insurance for Ibiza
ALWAYS sort out your backpacker insurance before your trip. There's plenty to choose from in that department, but a good place to start is Safety Wing.
They offer month-to-month payments, no lock-in contracts, and require absolutely no itineraries: that's the exact kind of insurance long-term travellers and digital nomads need.
SafetyWing is cheap, easy, and admin-free: just sign up lickety-split so you can get back to it!
Click the button below to learn more about SafetyWing's setup or read our insider review for the full tasty scoop.
Want some more budget travel tips? Read on for a few more bonus ways to keep the cost of your Ibiza trip as low as possible…
Browse the markets: Whether it's the hippie market at Benirrás Beach, or something more local for fresh produce, chances are the prices you'll pay at a market stall will be cheaper than those in stores and boutique shops.
Be prepared for the beach: The cost of sunshades and loungers at the beach (not to mention food and drink from beachside eateries) can make it seem impossible to travel on a budget in Ibiza. Take your own shade, beach towels and a picnic, and your days of sun, sea and sand can be realised at bargain prices.
Go local: While Ibiza is known for its international crowd and jet-setting bars and restaurants, visiting local eateries and drinking dens can save you a ton of money. Plus you'll get to sample a slice of a more authentic Ibiza, too.
Go couchsurfing: It may not be for everyone, but there's no denying the shoestring budget credentials of couchsurfing. There are thousands of couchsurfing hosts in Ibiza Town alone, so if you're a sociable solo traveller who wants local insight (and to save massively on accommodation), it's a good option.
Have a water bottle: Don't waste money on plastic, bottled waters; carry your own and refill it in the public fountains and from the tap. If you're worried about potable water, get a filtered bottle, like the GRAYL, which filters out 99% of viruses and bacteria.
Earn money while you travel: Teaching English while traveling is a great way to make ends meet while on the road.
Become a volunteer with Worldpackers: Give back to the local community and, in exchange, your room and board will often be covered. It's not always free, but it's still a cheap way to travel in Ibiza.
In conclusion, Ibiza doesn't have to be expensive. The hippie-friendly, party-centric island isn't all about expensive cocktails and luxury villas. In fact, millions of holidaymakers come here every year and enjoy a relatively bargain trip.
So let's round-up some of the easiest ways to keep the cost of your trip to Ibiza as low as possible, so you can spend more time enjoying yourself, and less time worrying about your bank balance:
Go out of season – High season can be expensive for flights and accommodation, and low season is significantly cheaper. If you don't mind slightly cooler weather, travelling to Ibiza in early spring or late autumn can be a real money-saver.
Don't drink in nightclubs – Nightclubs, as we've discussed, are notoriously expensive in Ibiza (where drinks have been known to be watered down, too). Drinking before you go out, either in a cheaper bar or at your accommodation, is definitely the way to go.
Get buses, not taxis – Taxis are more expensive than buses; it's that simple. So get the bus timetables down and you can be whizzing across the island – sometimes even at night – at a fraction of the cost of a taxi.
Choose your accommodation wisely – Generally, hotels are always going to be more expensive, so a self-catering villa or Airbnb is a good idea. But be careful: if your accommodation of choice is in the middle of nowhere, you'll have to pay for transport to ferry you from your inconvenient location.
Make your own food – It's not exciting but it's always cheaper to make your own food. This doesn't have to be all the time (a lunch out here and there is fine). Yet another reason why a self-catering accommodation is a good choice.
We believe the average daily budget for Ibiza, using our budget tips, should be between $60 to $120 USD per day.
Before you go, check out our essential packing list. Trust us – buying forgotten essentials in Ibiza can be expensive, and just eats into your budget!
---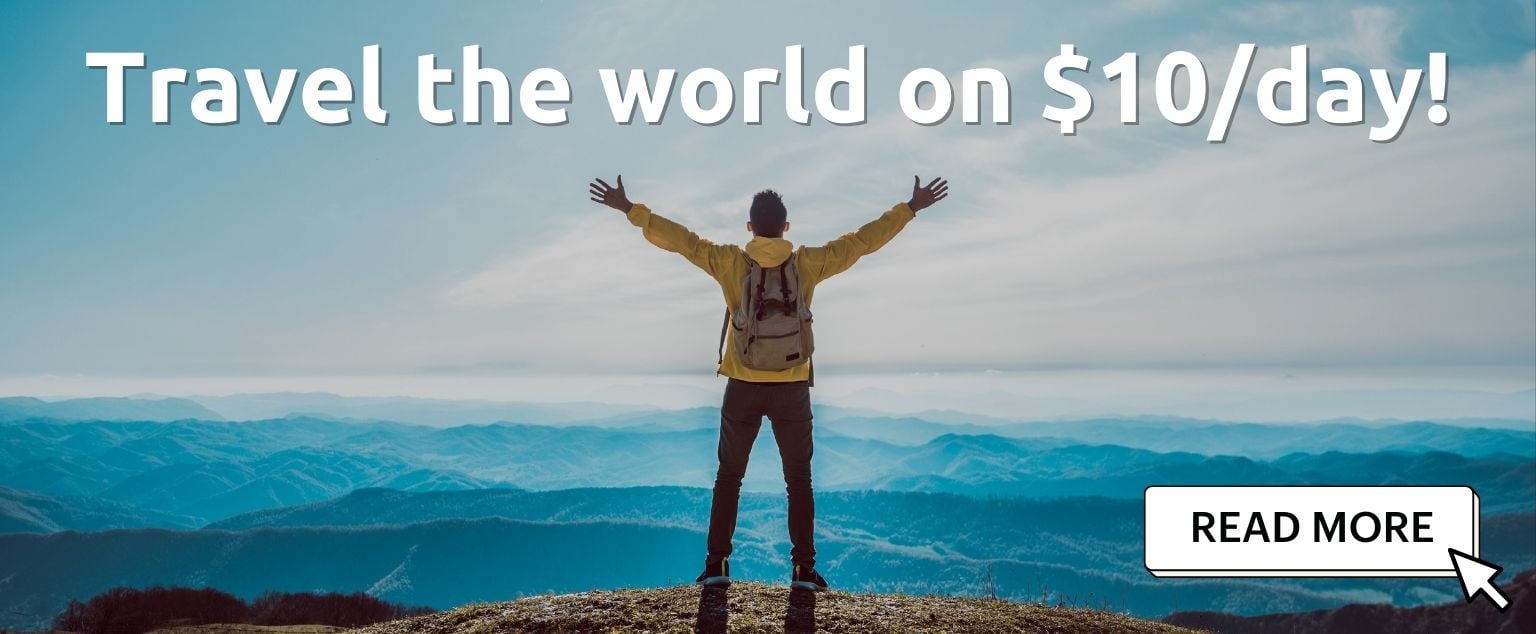 And for transparency's sake, please know that some of the links in our content are affiliate links. That means that if you book your accommodation, buy your gear, or sort your insurance through our link, we earn a small commission (at no extra cost to you). That said, we only link to the gear we trust and never recommend services we don't believe are up to scratch. Again, thank you!