Madrid is a vibrant city full of culture, shopping, and great food. The Spanish capital sees a multitude of visitors every year, from budget backpackers to city-breakers.
Being a capital city, Madrid isn't the most wallet-friendly destination. However, we've got a number of hints and tips to help you experience the best of the region no matter how tight your budget.
In this guide, we've figured out the five best cheap hostels in Madrid, to get you started on your trip. 'Cheap' doesn't have to mean skimping on quality or sleeping in grotty digs – each of our top picks is comfortable, clean, and stylish.
Let's get started!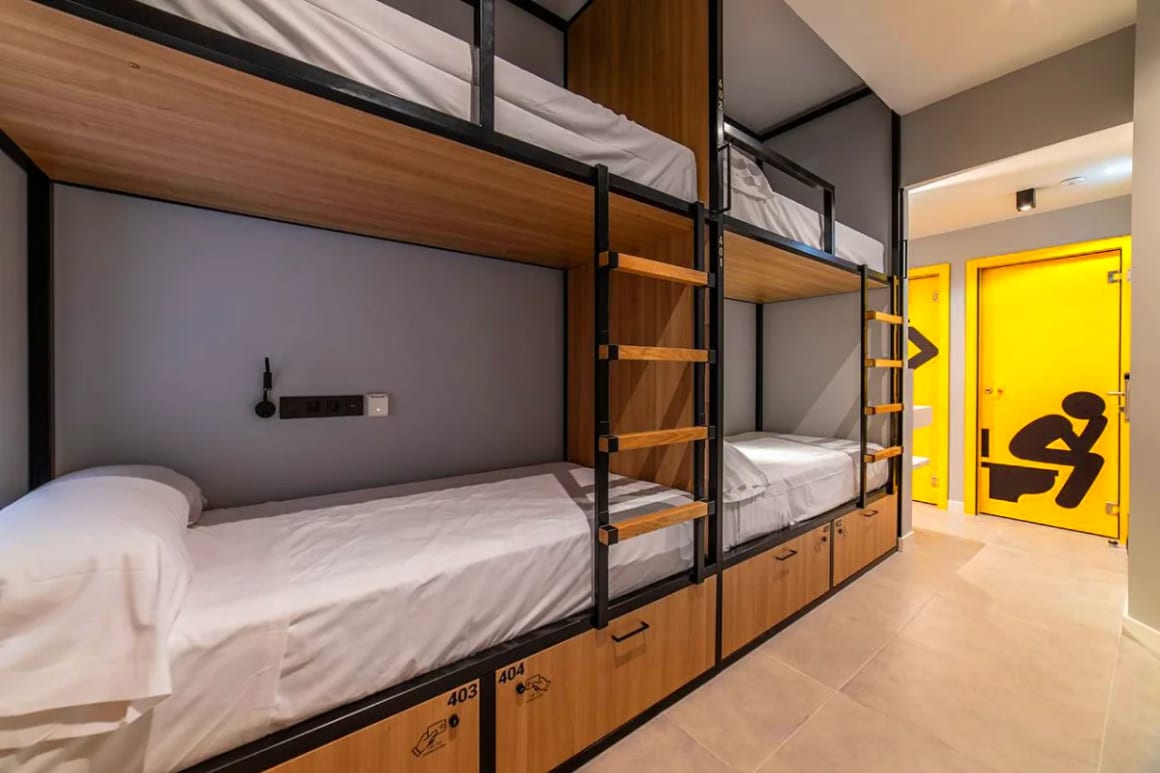 Petit Hostel is a surprisingly elegant backpacker hostel. They say they're "more than just a hostel", and perhaps they are. But what it is, is a pretty cool place to hang out during your travels in Madrid, with some great reviews to show for it.
It's well organized, spotlessly clean, and very modern. If you've not really considered hostel life before, you'll likely be pleasantly surprised. There's electronic check-in and key card access to dorms, so it's super up to date.
You'll find everything you need for a comfortable stay in Madrid – and a very affordable one at that!
Where is Petit Hostel?
This place has a great location for exploring Madrid's best sights. Specifically, it's close to the Royal Palace, La Almudena and Plazo Mayor, among other top attractions. You'll find a whole bunch of tapas joints in nearby La Latina, and you can go souvenir shopping at the Rastro Market.
There's a sizable selection of rooms available at Petit Hostel, all of them comfy and clean. Let's kick things off by taking a look at the dorm options, which include the following:
If you're traveling in a group and want a private room to yourselves, you can book a 4+ bed private room.  
Prices per night start from around $17 USD.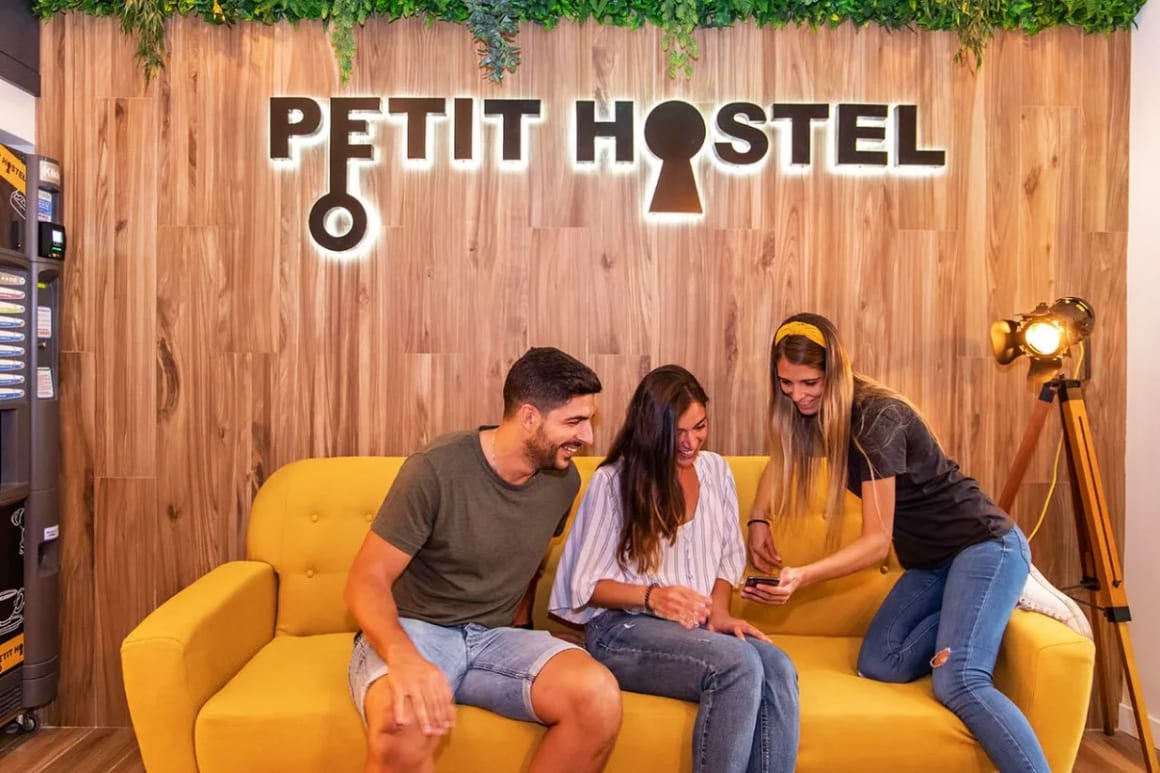 Any extras?
Not only is this place one of the best budget hostels in Madrid, but they also have a fair few perks that make staying here even more worth it. These include:
Wheelchair friendly
Communal kitchen
Self check-in/check-out
24-hour reception
Common room
24-hour security
Vending machines
Key card access
This place may not be the most happening party hub out there, but it's clean, it's cool and it's definitely easy on the wallet. One particularly awesome thing we like is the key card situation – you even use the same one for your locker, so it all feels pretty secure.
The BEST Travel Backpack?!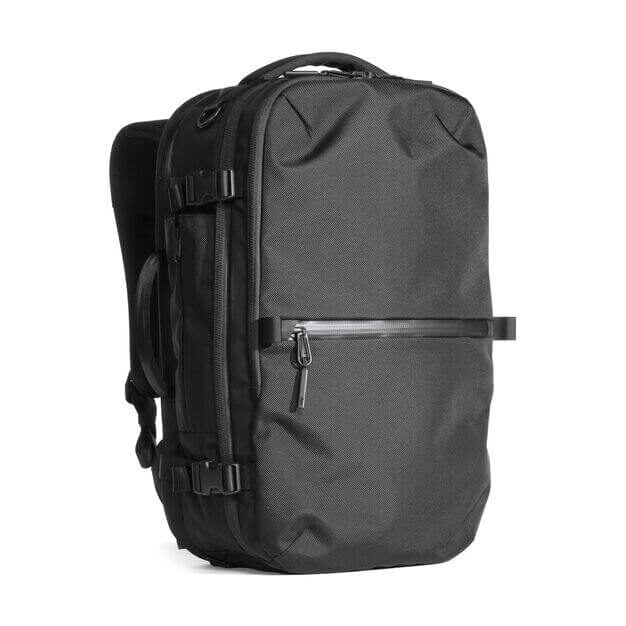 Pssssst! Not picked the perfect travel backpack yet? The Broke Backpacker team has tried out over thirty backpacks this year! Our favourite travel backpack is the Aer Travel Pack 2.
View on AER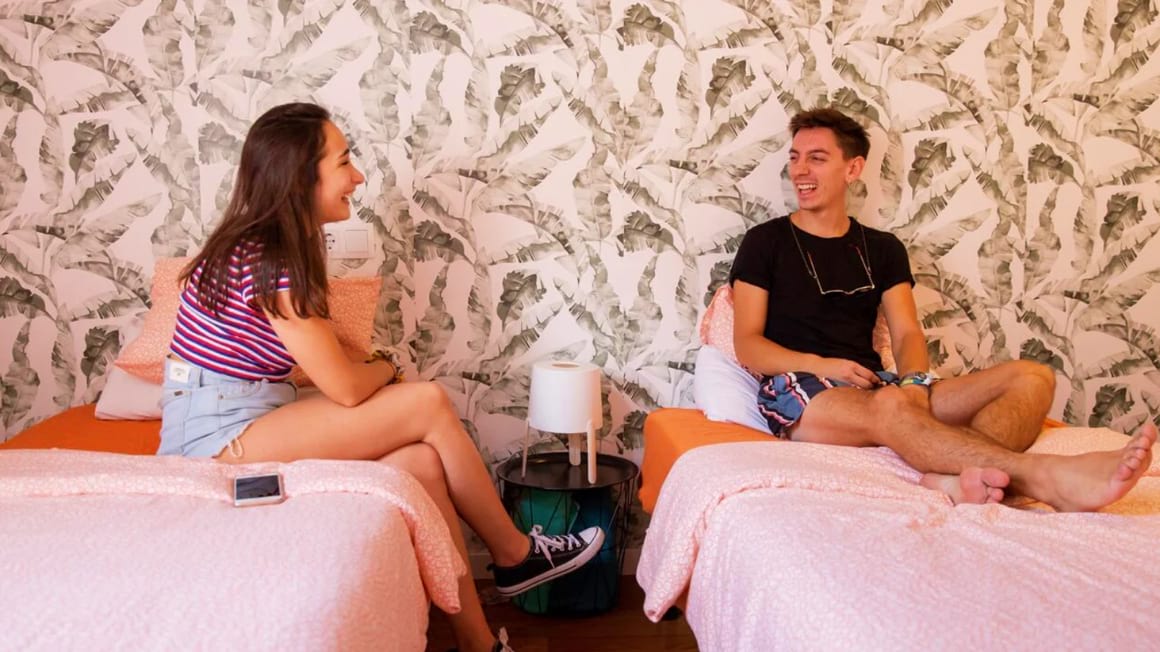 This is one cool, hipster-friendly hostel alright. Boasting bucketfuls of friendly vibes alongside its colorful interiors, this place is a solid choice for a budget hostel in Madrid.
One of the best things about Hostel One Madrid is its huge outdoor courtyard, complete with wall art and plenty of places to sit and chill. Dorms here are spacious, complete with parquet floors and large windows. Another major plus – the bathrooms are spotlessly clean.
This place is particularly great for solo travellers. Thanks to its roster of get-togethers and family dinners, you're bound to feel super welcome here. The awesome atmosphere is easily the winning element of this hostel, with the staff really helping to bring it all together. That's probably why this place consistently gets 10/10 review scores. It truly is difficult to say anything bad about it.
Where is Hostel One Madrid?
Location-wise, this budget hostel is in bohemian Malasana, the coolest neighbourhood in Madrid. It's less than a five-minute walk from here to the Noviciado subway station, which makes getting around the capital fairly easy. The district itself is known for its cool places to hang out, with plenty of shops, cafes, and bars to explore.
Below, you'll find the choice of dorm beds available at Hostel One Madrid:
There's one private room on offer here – a standard twin room with a shared bathroom.
Prices per night start from around $18.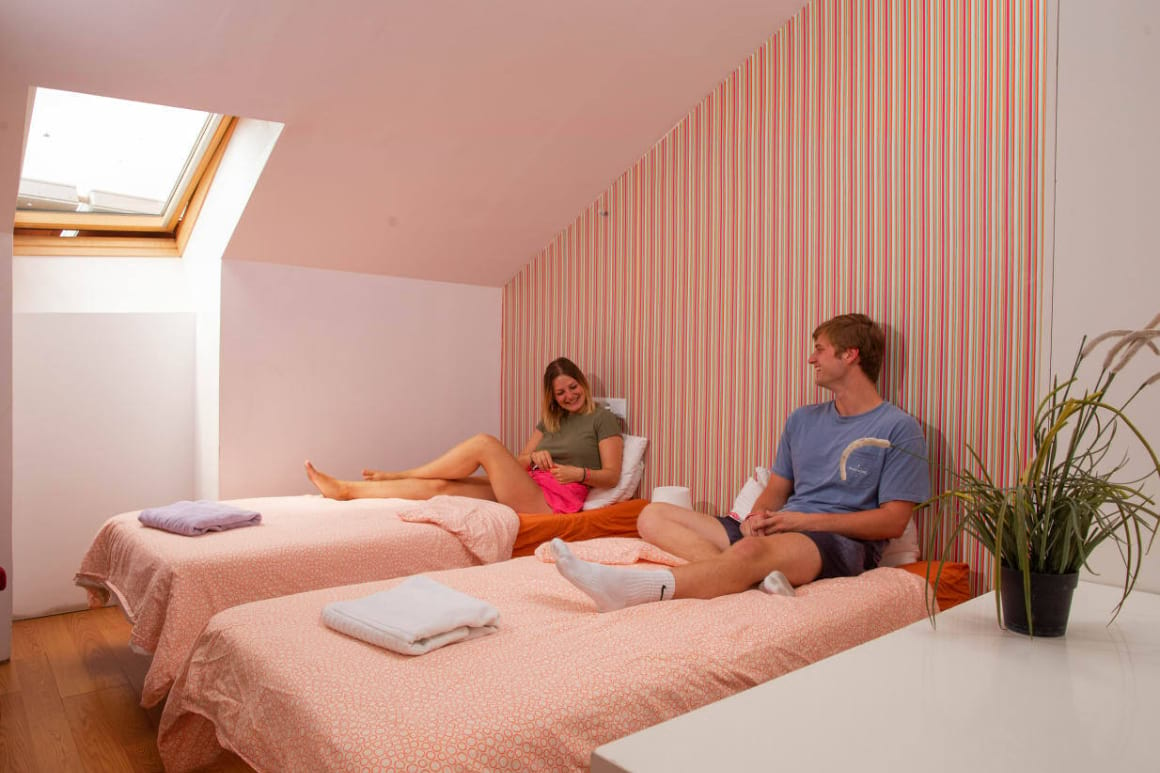 Any extras?
Your room rate gets you more than just a bed for the night. There are some added extras to Hostel One Madrid that you should know about: 
Communal kitchen
Security lockers
Elevator
Outdoor terrace
Luggage storage
Cafe
Laundry facilities
Free Wi-Fi
There are some pretty cool happenings going down at Hostel One Madrid, too. They include:
Free family evening meals
Free walking tour
Organised nights out
Weekly day trips
In terms of a social atmosphere, this place could well be the winner of all the budget hostels in Madrid. The staff go above and beyond to make everyone feel at home, so you'll know you're in good hands.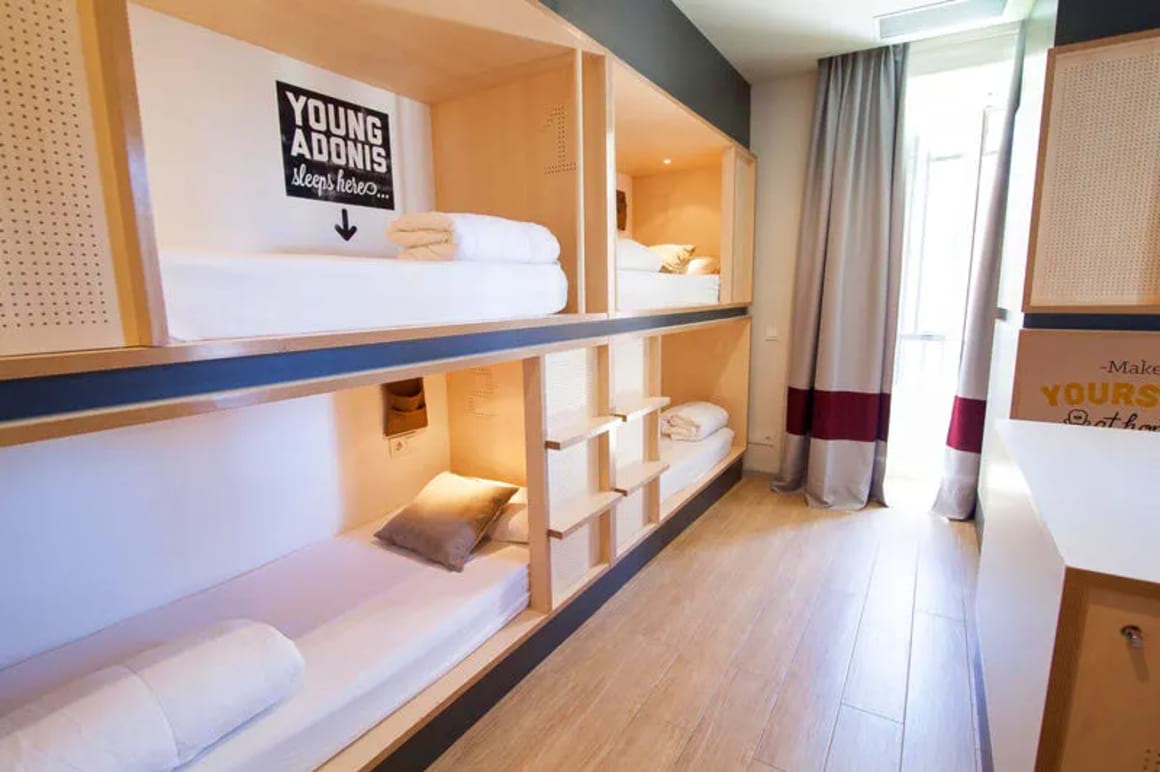 Toc Hostel Madrid is situated in a traditional downtown apartment building, so you can be sure to expect some history and period features. In fact, the hostel bar is super swish, with crazy original ornate ceilings making you feel like you're drinking in some sort of palace.
The history continues in the dorms, where you'll find the spacious pod-style bunks mingling with exposed wooden beams in its loft spaces and large windows elsewhere. The private rooms though are next level – hotel quality.
It's a bright and breezy hostel, with an artsy, modern atmosphere. There are nice places to hang out as well, such as the games room and the restaurant. As you may be able to tell, it's not exactly backpacker central – it's more catered to welcoming couples and even families (they're child-friendly).
Where is Toc Hostel Madrid?
This budget hostel is situated close to the Porta del Sol metro station – with Plaza Mayor and the Royal Palace an easy stroll away. There's good shopping to be had on the doorstep if that's your thing, but there are also plenty of places to eat and drink close by as well. It's Central Madrid, after all.
Like the sound of all that? Then you'll want to know about the wide range of room types going on here. Let's start with the dorms:
There are private rooms on offer, too:
Double room
3+ bed private rooms
Prices per night start from around $21 USD.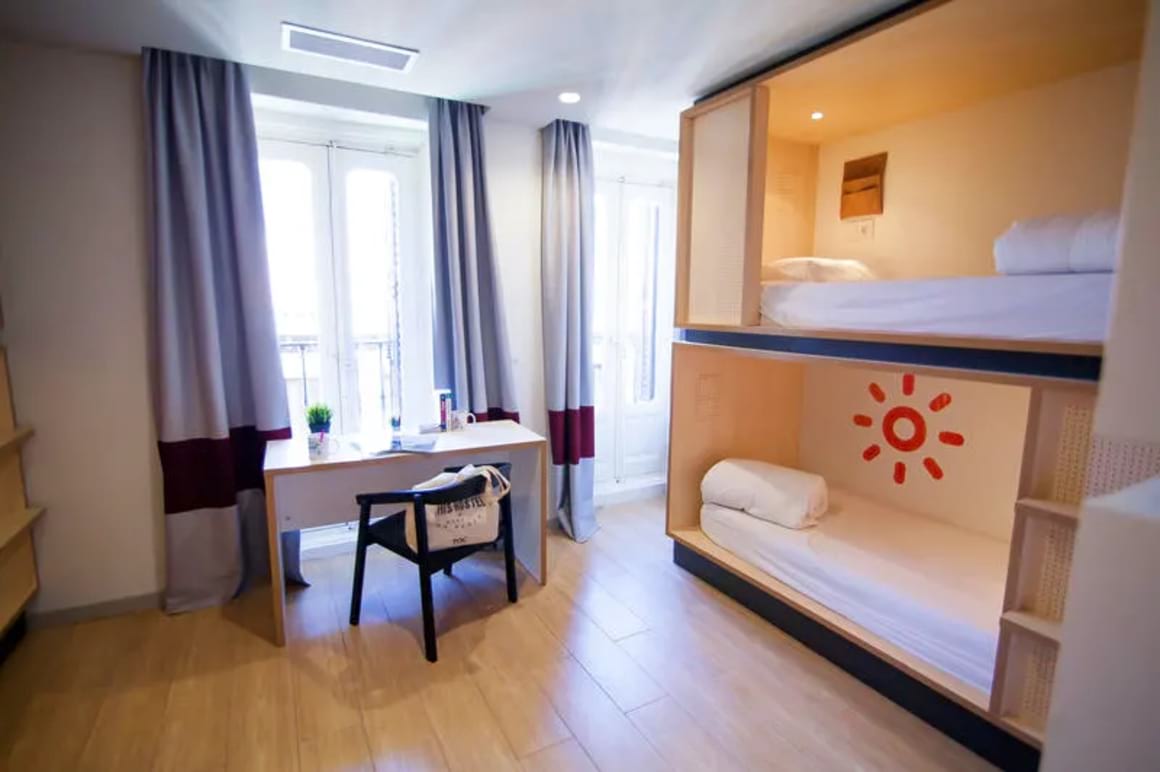 Any extras?
It's easily one of the most beautiful budget hostels in Madrid, but there's more than just impressive interiors and a cheap bunk going on here. You'll also get to benefit from the following perks:
Bar
Restaurant
Communal kitchen
Games room
Vending machines
Housekeeping
Air-con
Mini supermarket
If you're in town to party you'd better look elsewhere, as Toc Hostel Madrid is firmly family-friendly. So, if you're after somewhere quiet and chilled to relax after a day of exploring Madrid, this place is just the ticket.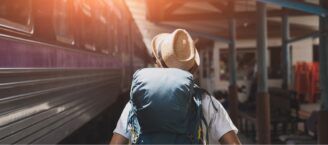 Unlock the The Broke Backpacker's GREATEST Travel Secrets
Sign up for The Broke Backpacker Newsletter to receive weekly tips on how to travel on a budget + a FREE copy of The Backpacker Bible!
Generator is a funky Europe-wide hostel chain, so you know that any iteration of this brand is going to be reliable. Generator Madrid is no different. Well, other than the fact that it's situated in a converted 1930s gas station.
The interiors make it feel more like a boutique hotel than a budget hostel in Madrid. It's seriously stylish – from the vintage vibes of the diner-esque bar, all the way to the clean and minimal dorms.
The jewel in the crown at this place has to be its rooftop terrace. Here's where you can enjoy cocktails, either in one of the lounge chairs or in a hot tub – your choice! It's got views out across the city too. Basically, Generator Madrid will surpass all expectations.
Where is Generator Madrid?
Located in the centre of the city, just off the hustle and bustle of Gran Via, you'll find this branch of Generator on the corner of Calle de Silva and Calle de San Bernardo. Just out the front door, there are a whole lot of eateries, galleries, and sights to check out. No matter what you're planning to do in Madrid, you can do it from here.
It may look like a boutique hotel, but yes, Generator Madrid still has dorm rooms on offer. These include:
Dorms not your thing? Then you'll definitely want to check out these private rooms: 
Twin room
Double room
Family room
Prices per night start from $25.
Any extras?
Generator Madrid is a very cool place to be. There are a load of cool amenities to match, making sure your stay in this funky hostel is pretty much hotel quality: 
Elevator
Rooftop terrace
Bar
Restaurant
Hot tub
Housekeeping
Cocktail bar
24-hour reception
The only thing we can say about this particular Generator is that you may miss the atmosphere you'd (probably) otherwise get at another budget hostel in Madrid. It's definitely lacking that "traditional" backpacking vibe. We reckon it's a great choice for couples looking to spend a romantic weekend in Madrid, but it really is suitable for any traveller.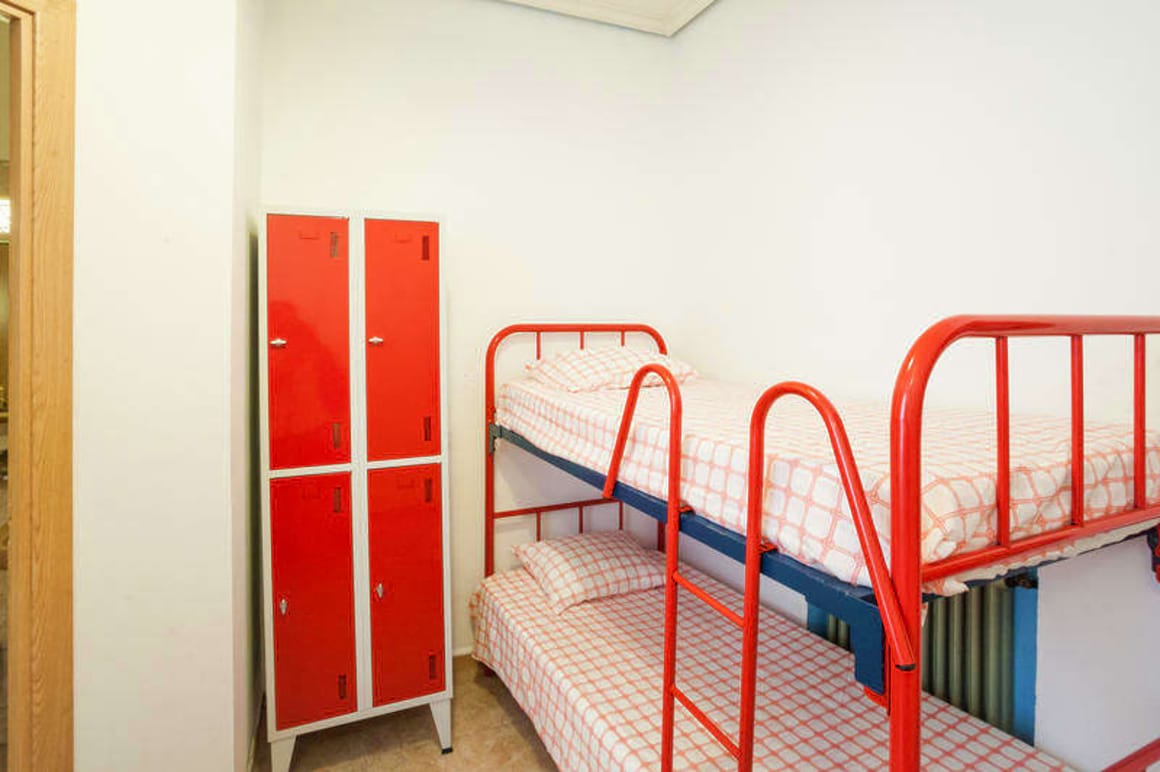 Pretty much the opposite of Generator, Barbieri Sol Hostel isn't particularly sleek. But what it does have is a lively, welcoming atmosphere to match the surrounding area.
The staff are friendly, helpful, and a big part of the hostel vibe. But one of the best things about this cheap hostel in Madrid is the huge rooftop terrace – perfect for evening drinks or sunning yourself in the afternoon! Naturally, it's the social hub of the hostel.
There's also a communal kitchen where you can keep costs low by cooking up your own meals. The nightly rate is also a bargain, so if you like the thought of a social hostel that won't break the bank, this place is for you.
Where is Barbieri Sol Hostel?
Barbieri Sol Hostel has an awesome location. It's central, situated in Puerta del Sol on the Calle de la Victoria. This means you'll be right next door to some of the best bars and nightclubs in the city. This street is also really well known for tapas which is a bonus. From the hostel, you can easily walk to attractions including Plaza Mayor, Retiro Park, and the Royal Palace.
As for sleeping arrangements, there are only 12 rooms at Barbieri Sol Hostel comprising of dorms or privates. They are as follows:
Mixed dorm
Twin room (private)
Prices start from around $17 per night.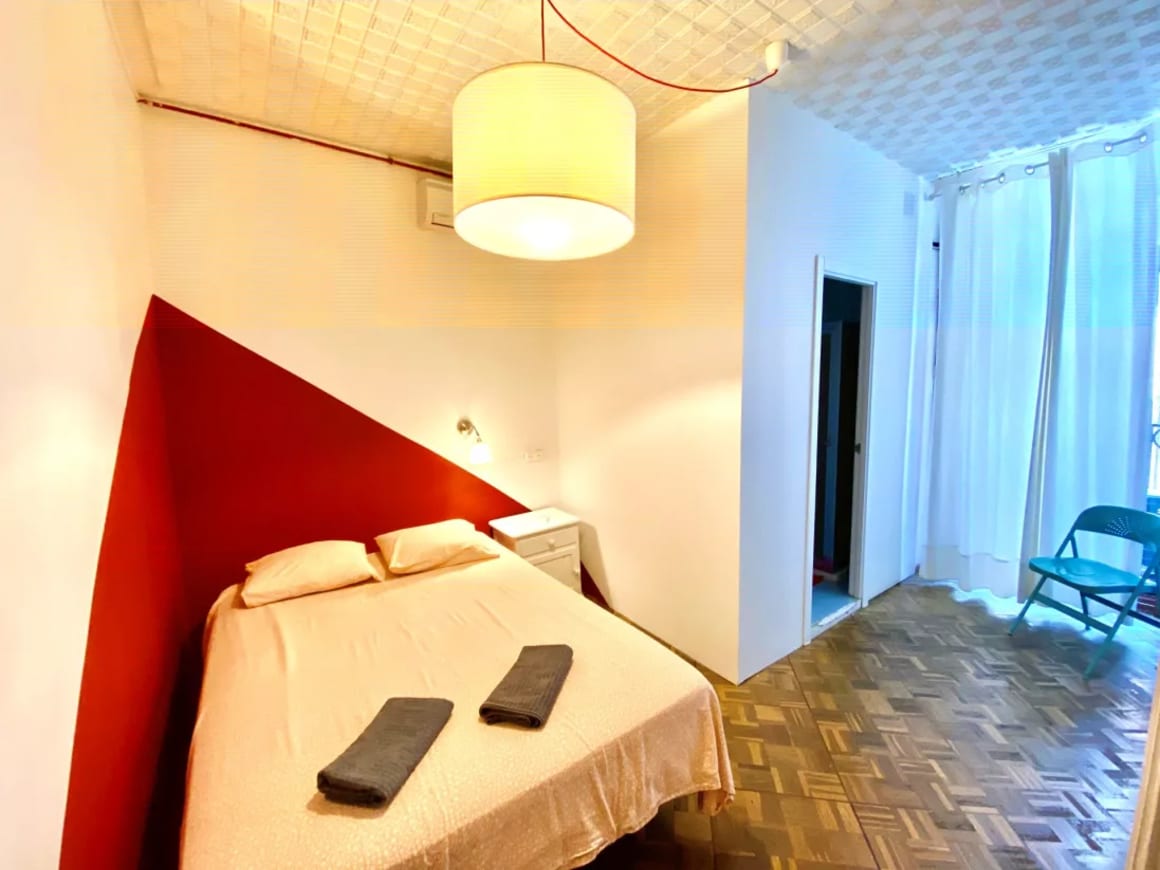 Any extras?
It may be a small hotel, but this budget-friendly option has a whole lot of heart and some great amenities to boot. These include:
Rooftop terrace
Communal kitchen
Air-con
Security lockers
Free printing service
Cable TV
Free city tour
Common room
Being close to some of the city's best bars and clubs (according to the hostel, anyway) is a major plus of staying at Barbieri Sol Hostel. Even if you're not here for nightlife, the friendly vibe of this compact hostel really helps make it a solid option if you're backpacking Spain on a budget.
Cheap Hostels in Madrid FAQ
How cheap are hostels in Madrid?
The hostels in Madrid are fairly affordable, given that it's a capital city. A truly budget bed in the city will cost you an average of $20, but you can pay up to around $30 for a night, which is still pretty reasonable.
If you want to stay in a private room, then you can expect to pay around $60 to $70 for the privilege.
The more central you are, the more you're going to pay. We've chosen the above locations because being conveniently situated is pretty important – it just makes it so much easier to get around! But in general, the further out you go, the cheaper things get.
Are hostels in Madrid safe?
Hostels in Madrid are totally safe. They come with all the safety and security precautions that you'd expect of hostels in a big city. These include CCTV, key card access, lockers, and staff onsite 24/7. There's nothing to worry about, really.
Madrid is a safe city, but like many capital cities is prone to occurrences of petty crime. Things like bag-snatching and pickpocketing around big tourist sites are still a reality, but you shouldn't have any major problems. Just make sure to stay aware of your surroundings, and keep your belongings close to you. Overall, however, Madrid is safe to visit.
Are there any more cheap hostels in Madrid?
With bold claims of being the "most central hostel in Spain" Arc House Madrid (from $17 per night) is a cheap place to stay. To be fair, it is right in the centre and close to loads of attractions, but it can get noisy at night because of its location.
Another option is Las Musas Hostel (from $18 a night). An award-winning hostel, this place has a ton of good reviews. That's down to its central location, its chilled vibe and its cool interiors.
Last but not least, Sungate One (from $19 per night) is situated in an historic building. It's got spacious, light-filled dorms with single beds instead of bunks.
Final Thoughts on Cheap Hostels in Madrid
Taking a trip to Madrid is always a good idea. Not only does this city have some amazing sights to soak up, but it's super easy to visit on a budget when you opt to stay in a hostel. Madrid's cheap hostels are a mixed bunch – some are sleek and inside large buildings, others more low-key and sociable.
Whatever your travel style, Madrid's hostel scene has you covered. Let us know which hostel you decide to choose! We can't wait to hear all about your adventures.