Madrid, the city of bustling plazas, endless museums, and an art scene that has put it on the map as a cultural goldmine!
With an endless supply of fun and fascinating things to do, you could create a hundred Madrid itineraries and still have more to see! However, we've put together a jam-packed travel plan to enjoy, whether you're planning a whirlwind getaway or spending five days in Madrid.
Get ready to explore the sun-kissed streets of this incredible Spanish city as you discover a collection of museums that would put the Louvre to shame, sprawling parks to get lost in, and oh-so-many amazing restaurants to get your fill of tapas!
Whether you're a true-blue tourist looking for a Madrid highlights reel or in search of the city's hidden gems, this Madrid itinerary has you covered. From a memorable weekend in Madrid to a week-long vacation, get a taste of history, nature, and art in this world-renowned city!

Unlock Our GREATEST Travel Secrets!
Sign up for our newsletter and get the best travel tips delivered right to your inbox.
Best Time To Visit Madrid
When planning a top-notch Madrid trip itinerary, it's never a bad idea to take a look at the best time to visit!
May and October are ultimately the best months to visit Spain's capital city as it has cooler temperatures than the sweltering summer months. You will also get a more intimate travel experience as the number of tourists slows down. This is normally when Madrid's hostels and other accommodation offer super low rates as well.
Madrid's climate is continental, so it has mainly pleasant and sunny weather throughout the year! However, summer is not ideal for a ton of outdoor sightseeing. Summer forms the city's high season, so the streets and landmarks are often crammed with tourists!
If you're wondering when to visit Madrid to enjoy the outdoors, the autumn months between September and November showcase Madrid's natural beauty with golden light filling the parks and amazing wine tasting available! There is also a plethora of festivals during spring, and it's the perfect time to enjoy strolling through the amazing city streets!
If you're looking to enjoy Madrid's amazing festivals, you can join Feria del Libro in May, (MULAFEST in June as well as the Feriarte Antiques and Art Galleries Fair in November.
Knowing what you're looking for is vital when planning a trip to Madrid, because it will affect what kind of weather suits your chosen activities. Take a look at our breakdown of the weather and crowds to make the choice easier!
| | Average Temperature | Chance of Rain | Crowds | Overall Grade |
| --- | --- | --- | --- | --- |
| January | 6°C / 43°F | Average | Calm | 🙂 |
| February | 7°C / 45°F | Average | Calm | 🙂 |
| March | 10°C/ 50°F | Average | Medium | 🙂 |
| April | 11°C / 52°F | High | Medium | 🙂 |
| May | 15°C / 59°F | Average | Meidum | 😀 |
| June | 21°C / 70°F | Average | Busy | 😀 |
| July | 25°C / 77°F | Low | Busy | 😐 |
| August | 25°C / 77°F | Low | Busy | 😐 |
| September | 22°C / 72°F | Low | Medium | 😀 |
| October | 15°C / 59°F | High | Medium | 😀 |
| November | 10°C / 50°F | High | Calm | 🙂 |
| December | 7°C / 45°F | High | Calm | 😐 |
Where To Stay In Madrid
An integral part of creating a knock-out Madrid itinerary is, of course, deciding where to stay in this gorgeous city! Being the diverse and storied city it is, every neighborhood in Madrid has a unique vibe and has something special to offer.
Centro is by far the number one choice for accommodation in Madrid! As its name indicates, it is the central hub of all things touristy as well as some incredible places to stay. As the beating heart of Madrid, this bustling area is filled with unforgettable attractions as well as fantastic public transport to reach them all!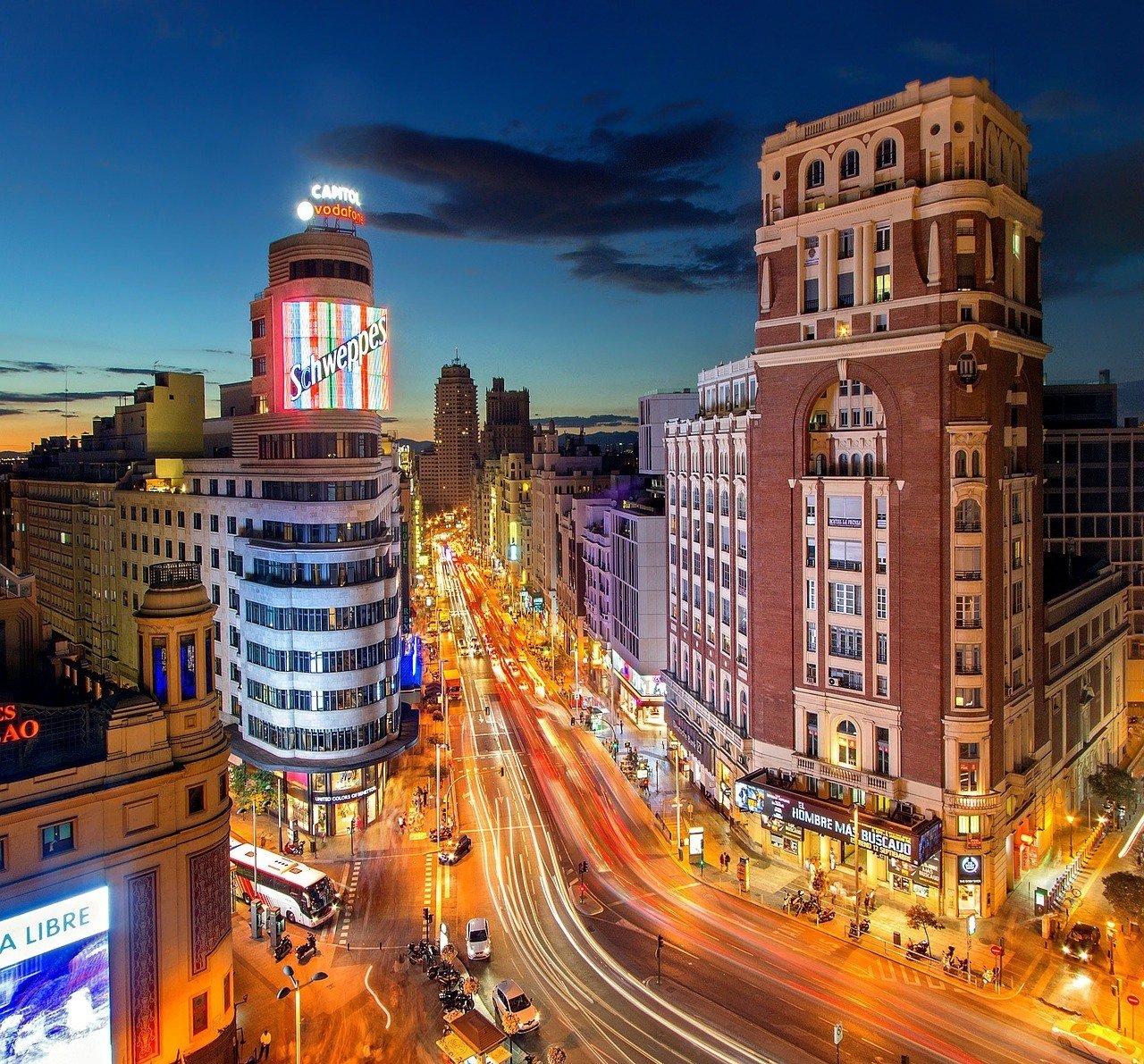 For an edgier place to stay, Malasaña is an up-and-coming area that is home to a ton of trendy restaurants and iconic nightlife. It's also the ultimate area to enjoy a sampling of Madrid's street art scene. From winning foodie spots to spectacular vintage shops, Malasaña is one of the best places to stay in Madrid!
To enjoy Madrid's idyllic side complete with classic terraces and markets, La Latina is the place to be! Soak up Madrid's unbeatable atmosphere as you admire the incredible architecture and enjoy strolling along the Calle de Cava Baja.
Get a taste of Madrid's literary side in Calle de las Huertas where the streets are etched with famous quotes! Discover the writer's residences which have been converted into museums and don't miss a walk past the unreal twenty-four meter-high vertical garden at the CaixaForum Cultural Center.
On your quest to find the best place to stay in Madrid during your three-day trip, take a look at our picks from budget to luxury accommodation! Oh, if you want to truly live like a local then check out an Airbnb in Madrid and take an apartment or homestay for a few days.
Best Hostel in Madrid – Mola Hostel
With a stunning location on the Calle Atocha in Centro, Mola Hostel offers fantastic social activities and city tours to get to know Madrid! Take your pick from a range of hostel rooms and enjoy the vibrant atmosphere at this memorable hostel. Plus, who doesn't love a rainfall shower on their holiday?
If you prefer to stay in hostels, explore more options in our Madrid hostel guide.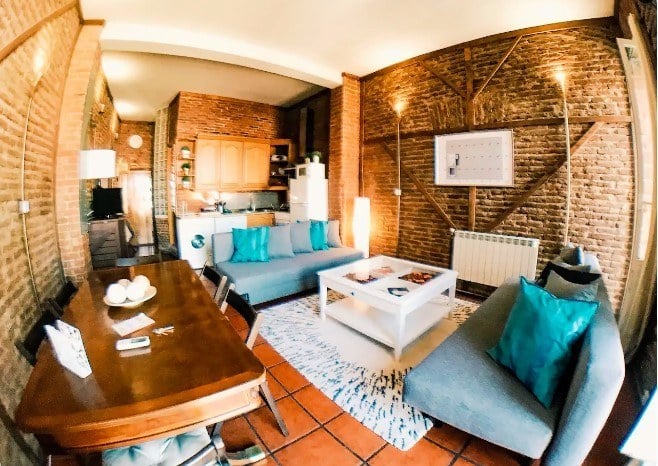 This spectacular apartment located on the fifth floor of a historical building, has an amazing patio view that opens up to Plaza Mayor. The apartment can accommodate up to six guests and comes with amenities like wifi, a fully equipped kitchen, and air conditioning.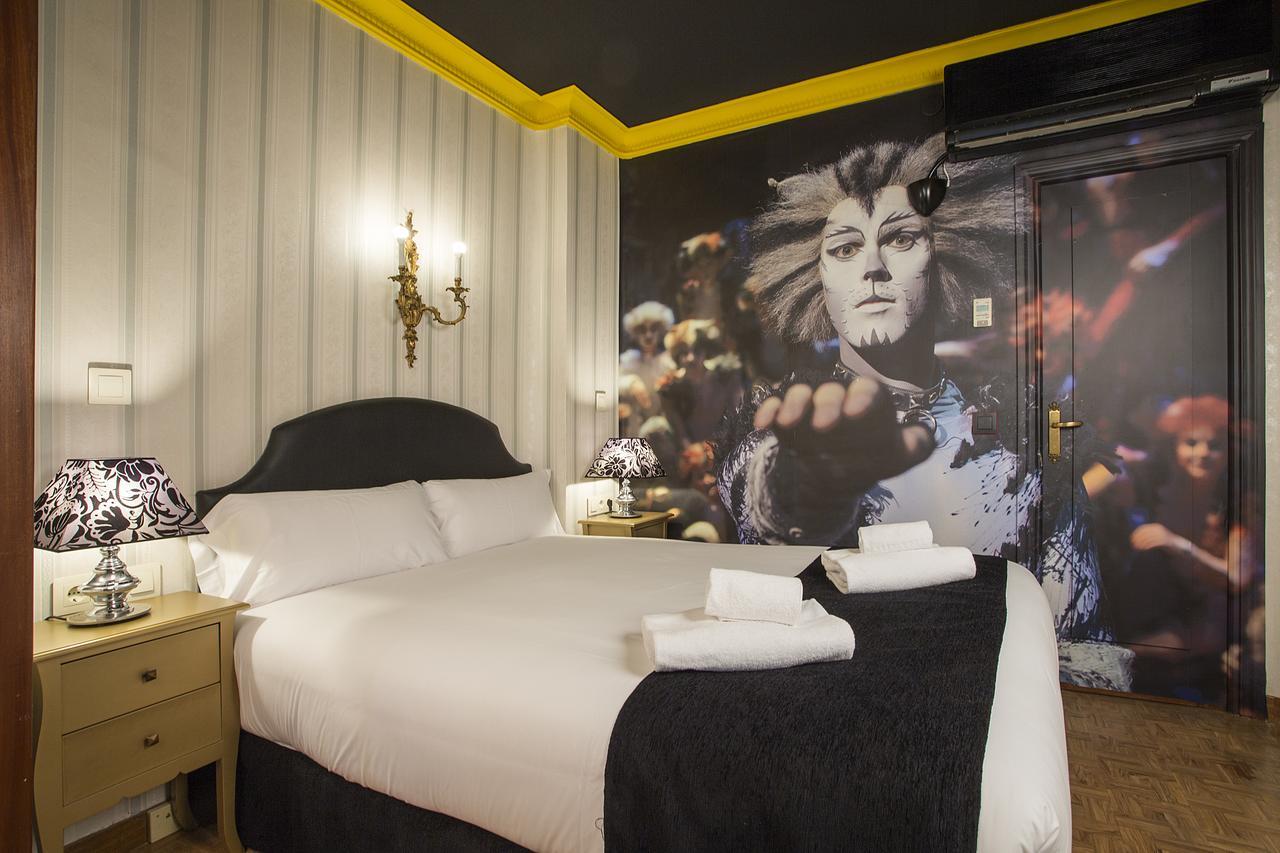 What better place to embrace the theatricality of Madrid than in a musical-themed hotel? Right in the heart of the city, the Casual del Teatro Madrid is close to tons of attractions and amazing foodie spots! With a gorgeous roof terrace and vintage interior, this unreal hotel is a stellar accommodation choice.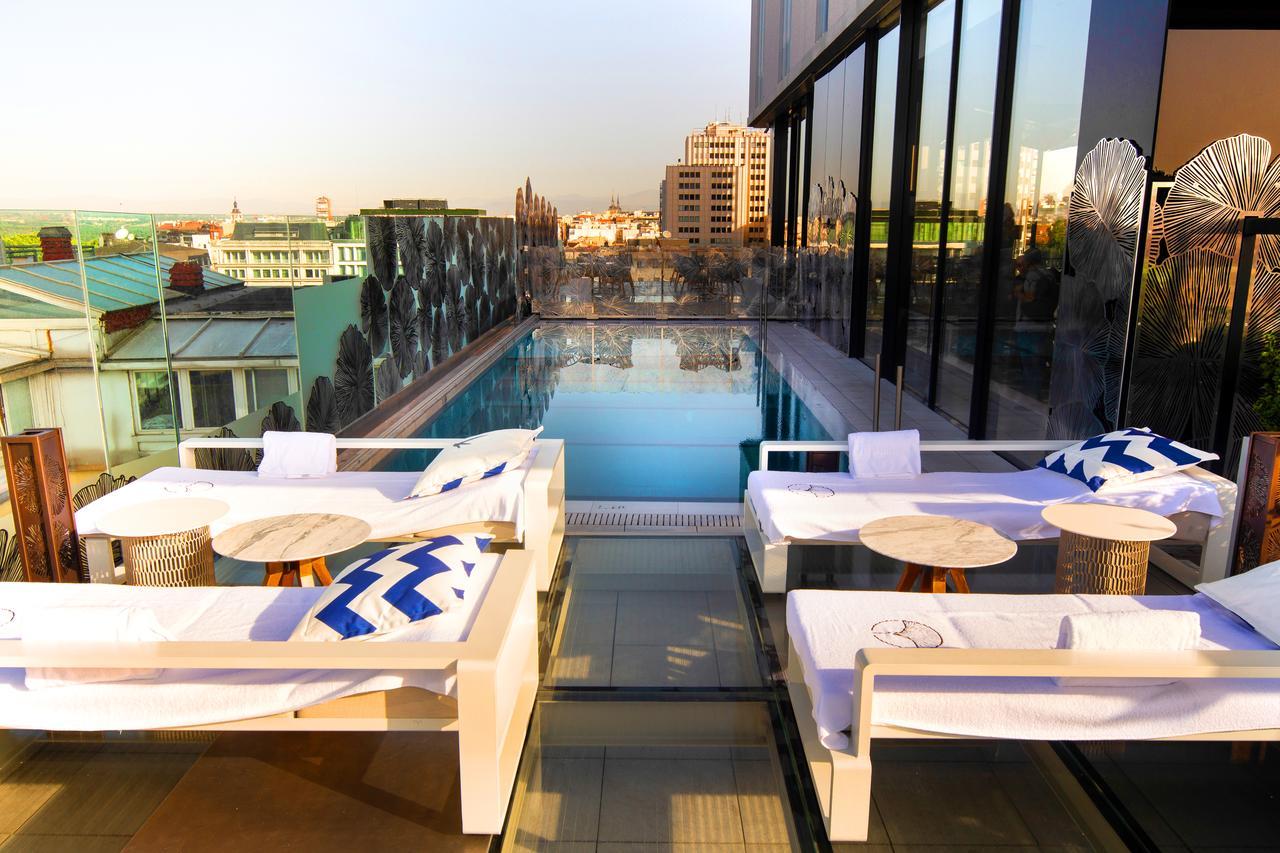 Enjoy everything from an exquisite rooftop pool complete with amazing views to evenings spent at the Gingko Sky Bar where the lights of Madrid are laid out before you! With tons of popular attractions nearby and an amazing interior, you'll feel like a VIP at this unforgettable hotel.
Madrid Itinerary
Aah Madrid, the city of royalty! From the Royal Palace to the Royal Theatre, you'll feel pretty regal as you enjoy walks along its many grand plazas or stroll through the impressive halls of some of the world's finest museums. On your Madrid, Spain itinerary, there's a smorgasbord of incredible options, so you'll never be left wondering what to do in Madrid!
Central Madrid is mostly walkable with a lot of the main attractions being fairly close to each other. From the lush parks to nights out at one of the many amazing theaters, you'll easily be able to zip from one Madrid attraction to the next! The trusty Metro is also there to help with any trips further out of the city, but we've put together a selection of amazing and central options!
If you're not sure about how many days to spend in Madrid, anything from a day to a week will be a memorable experience. Take a look at our picks for a world-class Madrid itinerary!
…and if you're super short on time, check out this guided tour!
From the Royal Palace to the Medieval Streets and even some tapas and wine tasting – you'll get to see the best of Madrid with an awesome guide by your side in less than 5 hours.
Day 1 Itinerary in Madrid
Prado Museum | Retiro Park | Royal Palace of Madrid | Almudena Cathedral | Teatro Real
Enjoy a spectacular first day on your Madrid itinerary. It's packed to the brim with exciting activities! From a stroll around the Royal Palace of Madrid to admiring the incredible art at the Prado Museum, there is a star-studded list of Madrid attractions to enjoy. If you're planning a trip to Madrid, we've got your first day covered!
Day 1 / Stop 1 – Prado Museum
Why it's awesome: One of the most visited museums in the world!
Cost: €15 / USD $19.
Food nearby: Enjoy fresh and flavorful cuisine at the Cafe Murillo. This fun and cozy spot found fame as one of Michelle Obama's favorite restaurants!
As one-third of the iconic Golden Triangle of Art, the Prado Museum deserves first place on your Madrid trip itinerary!
The building was originally made to function as the Cabinet of Natural Sciences, but was converted into one of the world's finest museums and one the ultimate Madrid attractions!
The Prado is also surrounded by lush greenery as it was built within a meadow, which also lent itself to the museum's name. The building itself is like a work of art starting with the impressive main promenade which features an impressive statue of Diego Velázquez.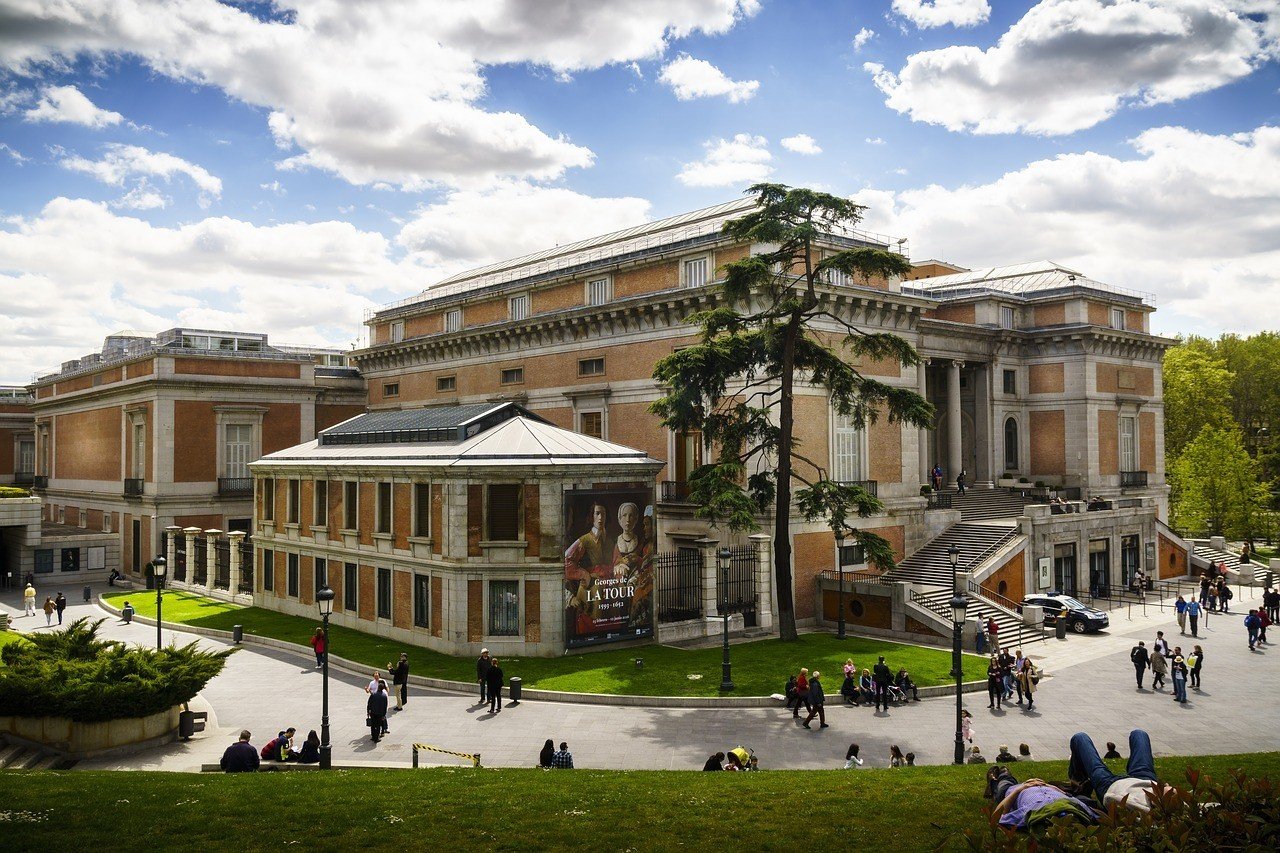 With a collection spanning over 7,000 priceless artworks, there is an incredible amount to see! The Prado Museum is home to works by Spain's 'big three' – El Greco, Velázquez, and Goya, which has art lovers flocking to this famous gallery.
Complete with artwork dating from the 12th to the 20th century, the Prado Museum is known to have one of the finest collections of Spanish art! Along with works by the museum's golden boys, you'll also find creations by Rafael and Peter Paul Rubens, including notable works like The Descent From the Cross.
Whether you're spending a week or one day in Madrid, this world-renowned museum is a must-see!
Day 1 / Stop 2 – Retiro Park
Why it's awesome: Home to the Jardines de Cecilio Rodríguez where peacocks walk serenely amongst a labyrinth of trees!
Cost: Free entrance!
Food nearby: Tuck into an array of Mediterranean dishes with a twist at The Spanish farm! Admire the views from their terrace and enjoy one of their incredible desserts.
This amazing park is a winning choice on any Madrid itinerary! Just a stone's throw away from the city's museums, this gorgeous oasis of greenery is the perfect place to soak up the sun.
From enjoying a picnic to boating on the stunning lake, El Estanque, Retiro Park is worth the visit. On weekends, the park becomes a bustling hub of jugglers, buskers, and a range of other street performers.
The show-stopper is the exquisite Palacio de Cristal, an incredible glass palace observatory. Take in the sight of light streaming through the glass ceiling, which is surrounded by a beautiful lake where terrapins and ducks spend the day.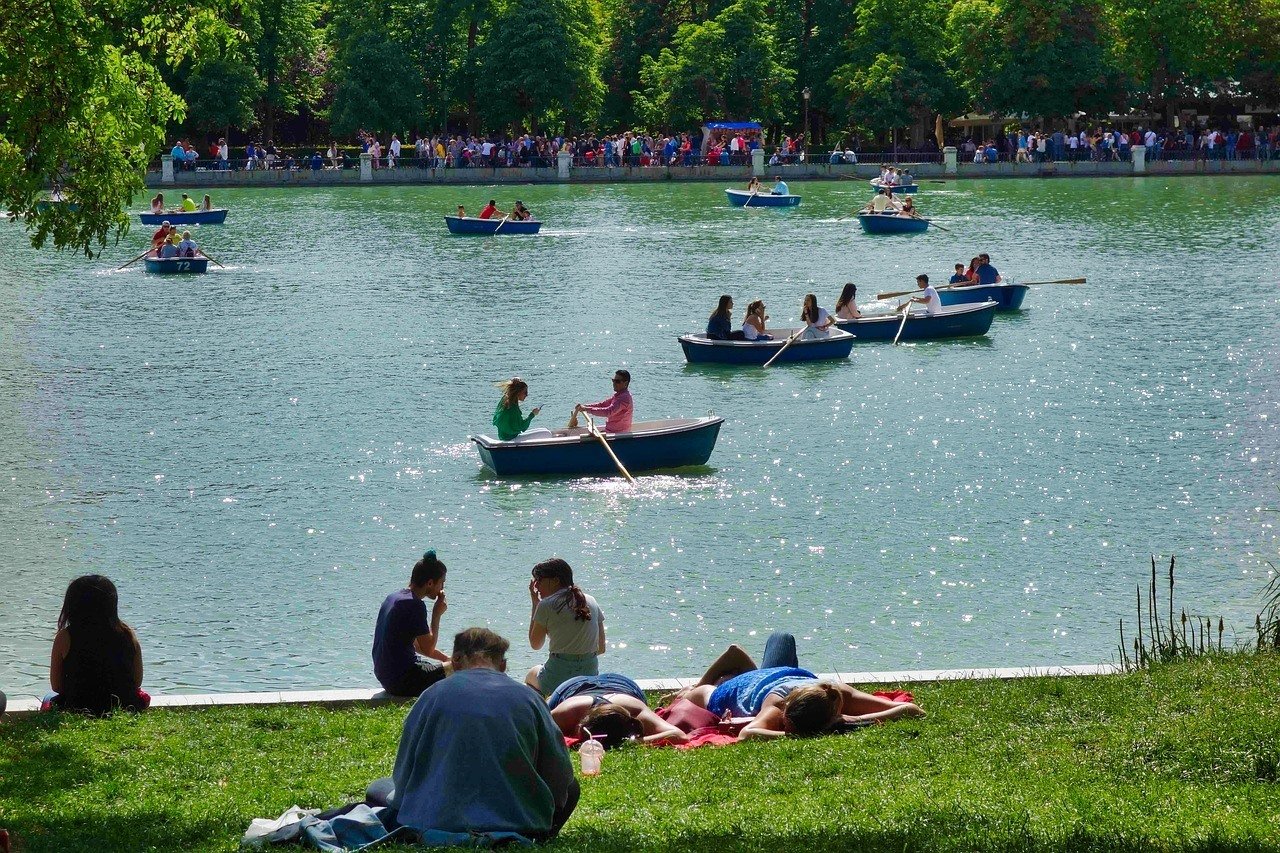 The park was created as a royal retreat but has become a well-loved place where families, friends, and tourists visit to enjoy the outdoors! Nestled beside one of the park's smaller ponds is a quaint and brightly colored little house that looks like it was plucked from a fairytale! There's even a tiny 'mountain' to climb nearby for an amazing view of Madrid.
If you'd like your day to get even more dreamy, take a stroll through La Rosaleda, the park's beautiful rose garden. Surrounded by ivy-clad trellises, bubbling fountains and over 4000 roses of every hue – it's truly picturesque!
Insider Tip: Grab a cool drink at one of the numerous Terrazas (open-air cafes).
Day 1 / Stop 3 – Royal Palace of Madrid
Why it's awesome: The famous changing of the guard happens at this regal landmark!
Cost: €13 / USD $16 (unguided)
Food nearby: La Candela Restó is perfect for a taste of fusion cuisine with an amazing tasting menu!
This spectacular palace definitely deserves a spot on your Madrid itinerary. The entrance alone is spectacular with its grand staircase and amazing interior!
Stroll through the palace's collection of incredible rooms from the Hall of the Halbardiers to the impressive Hall of Columns adorned with majestic frescoes. Pretend to be a royal for an hour or two as you visit the incredible Throne Room where 17th-century sculptures stand gracefully around the room!
Next on the agenda is some of the immaculate rooms once used by bona fide Spanish royalty. Enjoy a walkabout through the opulent dressing room of Carlos III (Gasparini Room) which is covered in colorful mosaics and stuccoes. If you didn't think it could get any more surreal, the Porcelain Room is next and you guessed it, it's covered in wall-to-wall porcelain!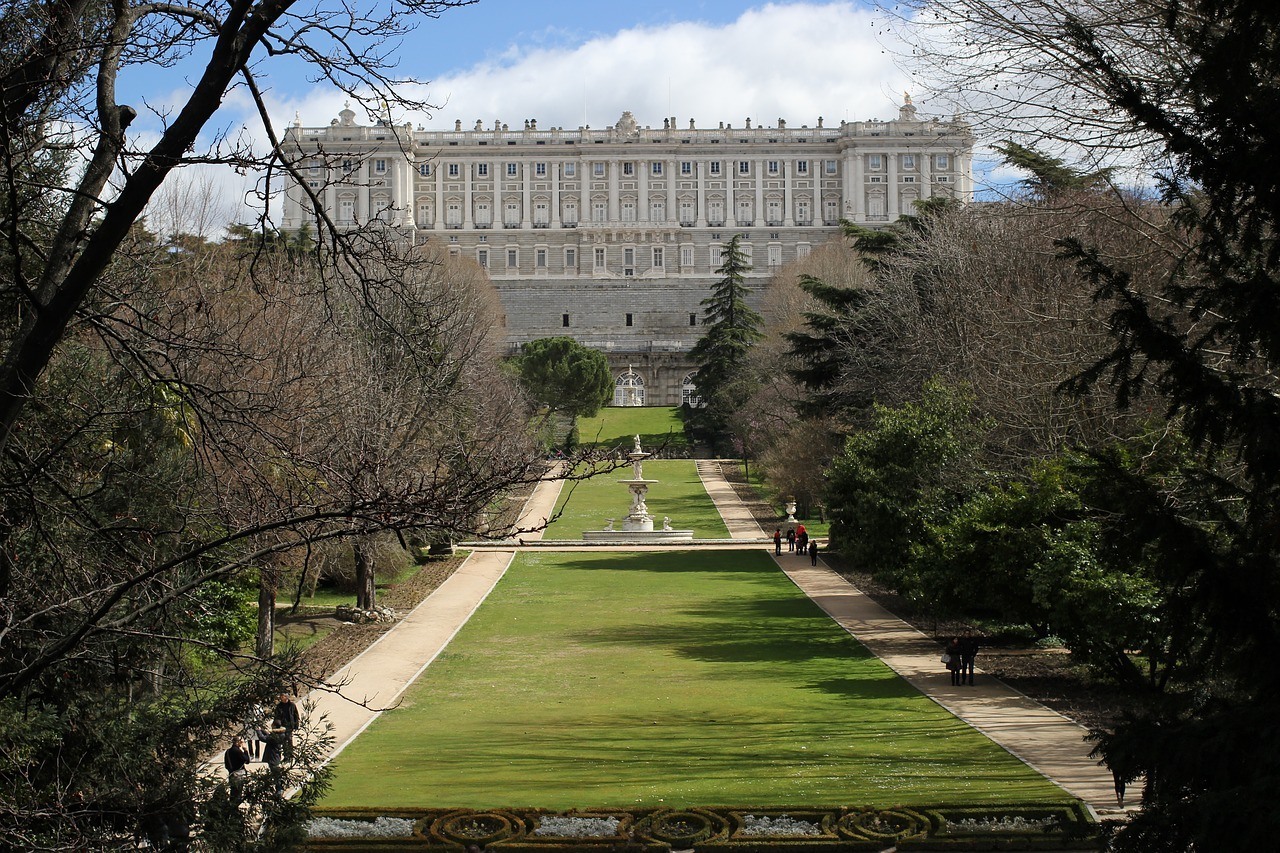 One of the highlights on a tour through the breathtaking palace is the remarkable collection of Stradivarius instruments, which is the only complete string quartet of its kind. If you're looking for a touch of nature, the palace's Sabatini Gardens will definitely do the trick! Drink in the sprawling grounds and idyllic pond as you stroll across the lawns.
Take in the history and stunning architecture of the city at one of the best Madrid landmarks!
Insider Tip: Arriving after 3PM will usually mean fewer crowds.
Day 1 / Stop 4 – Almudena Cathedral
Why it's awesome: Amazing views from the dome over Madrid!
Cost: Free entrance but €6 / USD $8 for entrance to the museum.
Food nearby: Cerveceria La Mayor is the perfect pitstop between sightseeing. Grab tapas or one of their delicious paellas!
The next stop on your Madrid trip itinerary is the incredible Almudena Cathedral, which is right next door to the Royal Palace. Built over a period of 100 years, the cathedral has quite an impressive history as well as remarkable features!
The cathedral has become renowned for its amazing mixture of architecture styles. Enjoy a memorable tour through the cathedral where you can admire the bright and colorful interior based on a Neo-Gothic style with incredible elements of Pop-Art decor.
Ancient stories are depicted in the almost-animated frescoes within this stunning building! The Neo-Romanesque crypt is the oldest section of the cathedral and houses an incredible 16th-century image of the Virgen de la Almudena.
Explore this uniquely modern interior complete with chapel interiors and statues designed by some of Spain's finest contemporary artists. From its regal white and grey facade to the jewel-bright stained glass windows, the Almudena Cathedral is a must-see while touring Madrid!
Day 1 / Stop 5 – Teatro Real
Why it's awesome: You may see a rehearsal in progress on your tour!
Cost: €7 / USD $9 (audio guide included), €6 / USD $8 for people over 65 and under 26, children under 5 enter for free.
Food nearby: For a quality dining experience along with a dizzying amount of freebies, enjoy a meal at the incredible De Maria Opera.
In a city famous for its theatre, a trip to the Teatro Real is a must on your Madrid itinerary. The Teatro Real is one of the most epic theaters in Europe with stunning architecture to complete the picture!
On a fascinating tour of the theater, enjoy the chance to step onto the historic stage, view the rehearsal rooms, visit the dressing rooms, and access the Royal Box like a member of the aristocracy!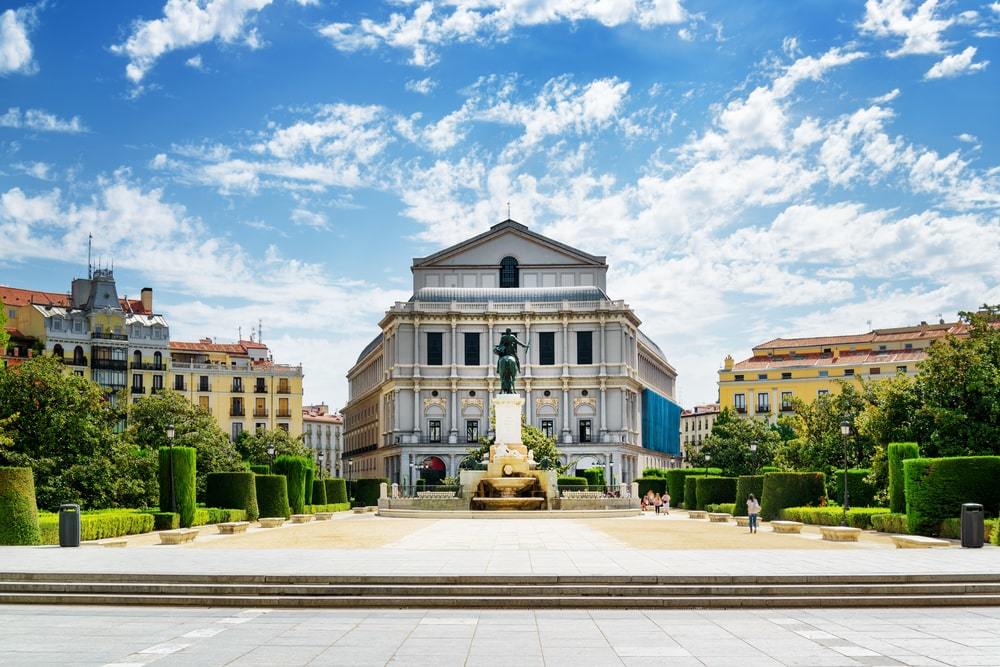 The theater also has an incredible VR experience, which takes you into the performer's world as you, step onto the stage during an opera performance! This unique and amazing experience is one to remember! The theater plays host to everything from incredible opera to less traditional art forms like their short film, Lemon. It's grand architecture and high-quality performances make the Teatro Real one of the best Madrid landmarks.
Insider Tip: If you can, getting tickets to one of the incredible shows or concerts is definitely worth it!
Small Pack Problems? 😉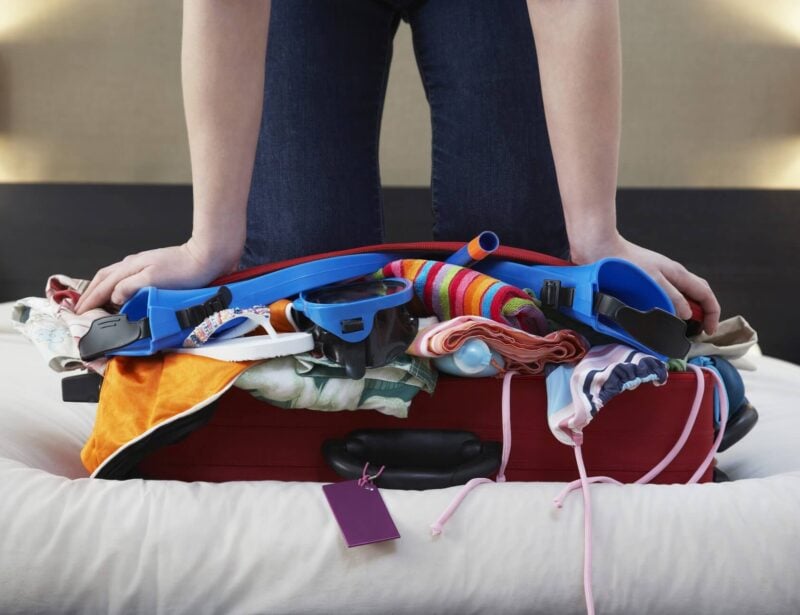 My missus travels with all her clothes in ziplock bags: don't be like my missus. UP YOUR PACKING GAME!
Packing cubes for the globetrotters and compression sacks for the real adventurers – these babies are a traveller's best kept secret. They organise yo' packing and minimise its volume too so you can pack MORE.
Or, y'know… you can stick to ziplock bags.
View Our Fave Cubes
Or Check Out the Sacks!
Day 2 Itinerary in Madrid
Thyssen-Bornemisza Museum | Madrid Botanical Garden | Real Basílica de San Francisco el Grande | Mercado de San Miguel | Essential Flamenco
If you're spending an epic weekend in Madrid, take a look at our picks for even more unforgettable sightseeing! From the art-soaked halls of the Thyssen-Bornemisza Museum to an wonderful performance by Essential Flamenco, the day two of your Madrid itinerary promises to be unforgettable!
Day 2 / Stop 1 – Thyssen-Bornemisza Museum
Why it's awesome: This unbelievable museum began as a private collection!
Cost: €13 / USD $16.
Food nearby: Enjoy a tasty Mediterranean meal at the oh-so-elegant La Rotonda!
The perfect way to begin a two-day itinerary in Madrid is a stroll around the incredible halls of the Thyssen-Bornemisza Museum!
With an impressive collection of over 1,600 paintings, you'll see everything from Expressionist paintings to works by 20th-century American artists. As the second piece of the Golden Triangle of Art, there's a lot to see and be wowed by at this museum!
Started in the 19320s as a private collection, the museum has spent the last few decades accumulating incredible artworks from across styles and eras. You'll find works from the English, Dutch and German schools as well as artists from the Impressionist, Expressionist, and Cubist art movements.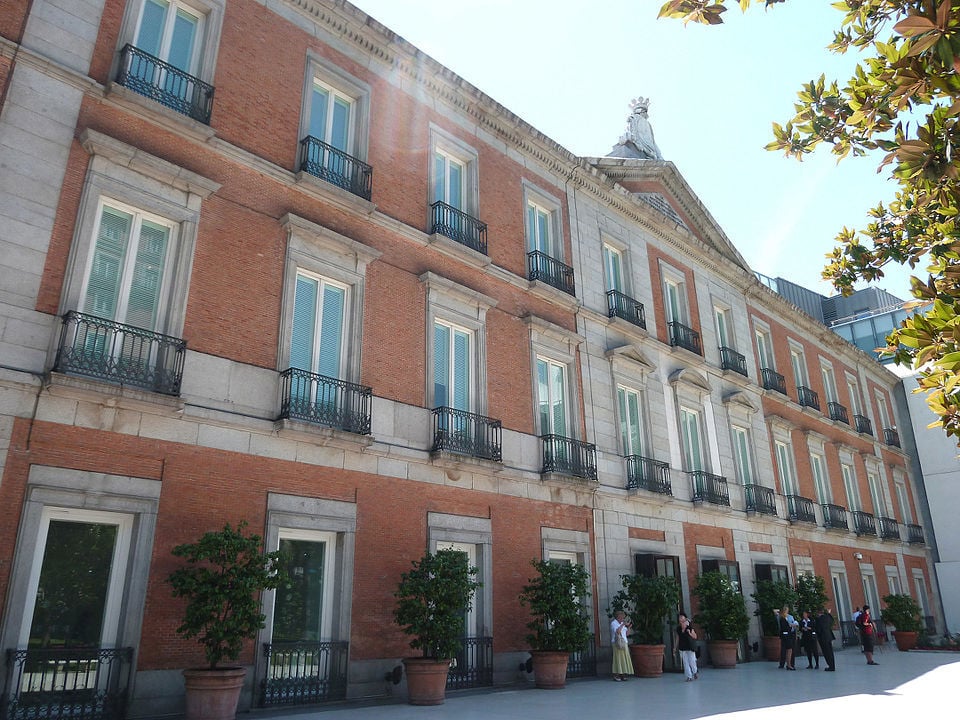 Stroll past works by the likes of Chagall, Salvador Dalí, Gaugin, Monet, Degas, Francis Bacon, and Jackson Pollock! You'll also have the chance to view the museum's State Rooms and an incredible photo exhibition.
If you are an art buff with an appreciation for the artistic masters from the last few centuries, or you just love a good painting, this is one of the top things to do in Madrid that definitely belongs on your list!
Insider Tip: The audio guide is a great way to get insight and take your time.
Day 2 / Stop 2 – Madrid Botanical Garden
Why it's awesome: It was declared an artistic garden!
Cost: €6 / USD $8 for adults, free for people 65 and over as well as children under 10, school groups and teachers.
Food nearby: The Matilda Cafe Cantina is a quaint and cozy spot perfect for a light lunch or a slice of their delicious chocolate and pear cake!
Add a splash of nature to your Madrid itinerary with a trip to the Madrid Botanical Garden! The garden includes eight hectares of gorgeous lawns, a tapestry of flowers, and amazing greenhouses.
Founded in the Orchard of Migas Calientes on the banks of the Manzanares River, this lush oasis is the perfect break from the city sights. With over 90,000 plants and 1,500 trees, there's plenty of greenery to get lost amongst on a relaxing stroll through the garden.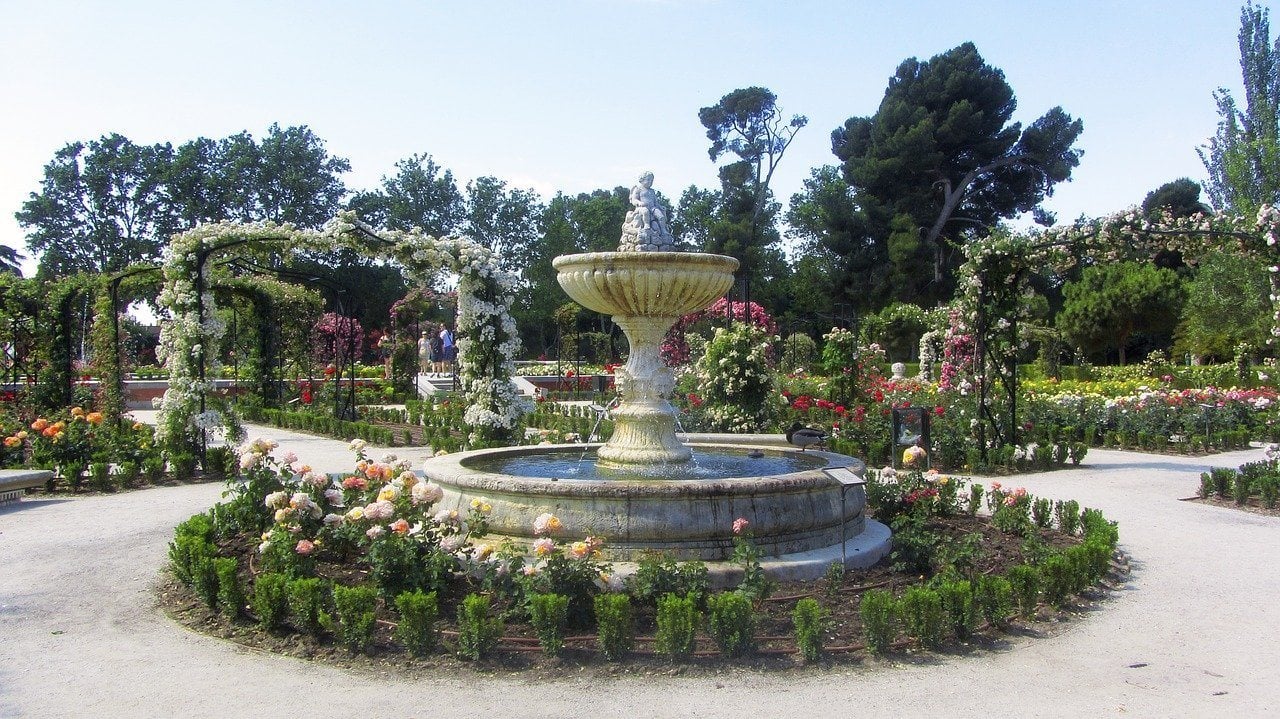 It's also home to three stunning terraces, each with something different to discover! The Terraza de los Cuadros is home to an amazing collection of ornamental plants around a tranquil fountain as well as a beautiful Japanese garden.
Fountains dot the landscape and there are occasional art exhibitions to enjoy amongst the amazing plant life. For a step into nature and exploring the amazing Madrid landscape, a walk in the botanical garden is a winner!
Day 2 / Stop 3 – Real Basílica de San Francisco el Grande
Why it's awesome: The frescoed dome is estimated to be the largest in Spain and the fourth largest in the world!
Cost: €5 / USD $7 (including the museum).
Food nearby: For some delicious and authentic Spanish cuisine, El Tormo is perfect for foodies looking for a traditional experience!
Add another touch of history to your two day itinerary in Madrid with a trip to the Real Basílica de San Francisco el Grande!
Built in the footprint of an ancient monastery, this Neo-Classical church became an architectural gem in La Latina. The cathedral is home to several remarkable frescoes that were painted between the seventeenth and nineteenth centuries.
The church is home to an incredible collection of chapels which are guarded by impressive statues of the twelve apostles. The golden child (or chapel) is Capilla de San Bernardino, which has a stunning central frescoes painted by Goya himself! Funnily enough, the famous painter included himself in the design and can be spotted in a yellow shirt.
With so much to see within, the cathedral's facade is simple but beautiful with incredible detailing on the wooden doors. Visiting this remarkable church is a must on your trip to Madrid, and don't forget to enjoy a stroll around the rose garden before you leave!
Insider Tip: The entrance is free during Mass, but the museum is closed.
Day 2 / Stop 4 – Mercado de San Miguel
Why it's awesome: It was one of the first covered markets in the city.
Cost: Entrance is free!
Food nearby: This incredible food market has endless choices for places to grab a snack or have dinner.
This iconic market definitely deserves a spot on your Madrid itinerary, especially if you're hoping to try as many different Spanish dishes as possible! The entrance alone makes you feel like you're stepping into somewhere special, then the scent of amazing cuisine and fresh produce takes over!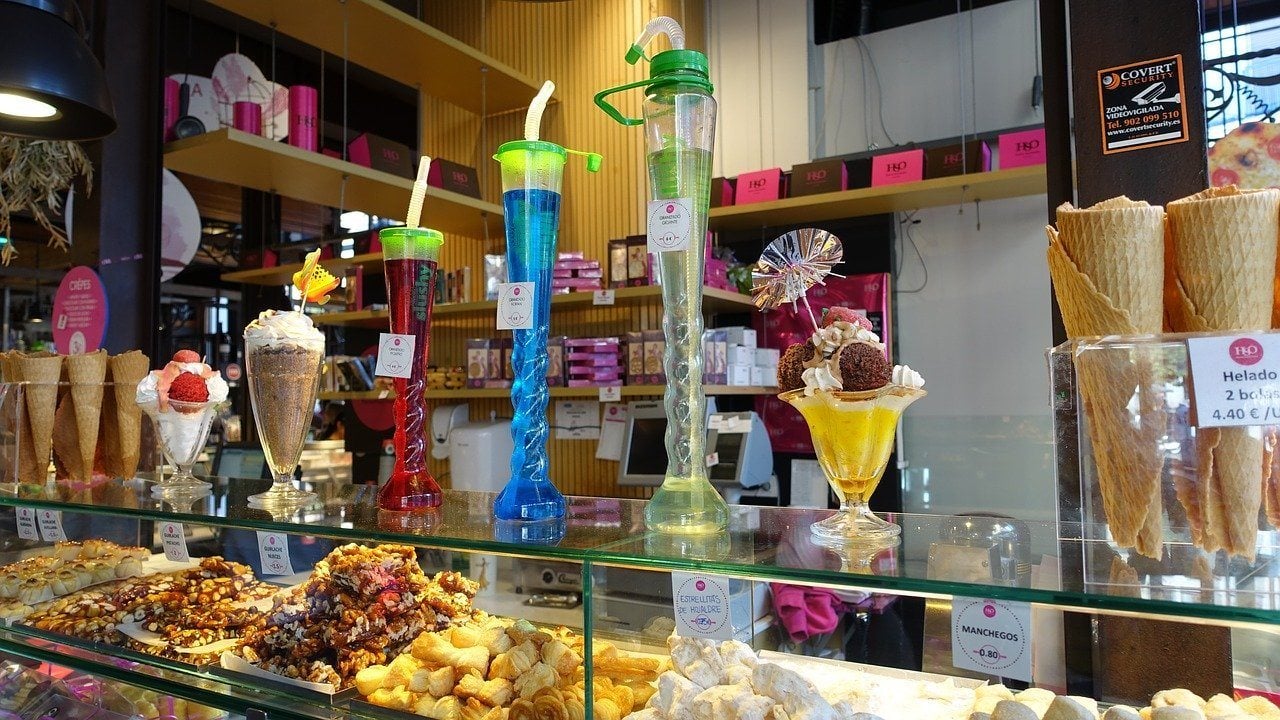 This is the perfect place to get a taste of a variety of Spanish food from classic tapas to the more adventurous. With everything from pastries to seafood and glasses of cava, you won't go hungry at the Mercado de San Miguel! This market is a real favorite when touring Madrid and it has become one of the city's treasures.
This historic market has become a hub of activity where a mix of tourists and locals enjoy good food and fantastic atmosphere! Experience the sights and flavors from over twenty stalls with amazing dishes to enjoy!
Day 2 / Stop 5 – Essential Flamenco
Why it's awesome: Performed in an intimate space by a small but talented group of artists!
Cost: Tickets from €35 / USD $41
Food nearby: Finish off the night with amazing tapas alongside tasty sangria at the Taberna del Chato!
It would be a crime to visit Spain without seeing a Flamenco performance, so we've got you covered with our Madrid itinerary!
This vibrant and beautiful performance style began with the folkloric music traditions of southern Spain and has become a UNESCO-stamped masterpiece of heritage. Essential Flamenco offers an intimate and authentic performance of this incredible art form!
The show consists of six artists including two dancers, one singer, one guitarist, one percussionist, and one violinist. Flamenco evolved in hidden places and the group pays tribute to that with their venue and style.
Enjoy a memorable one-hour show in a small cellar space where the music and movement will fill your mind with wonder. This emotive and genuine experience is definitely not to be missed on your vacation in Madrid!
IN A RUSH? THIS IS OUR FAVORITE HOSTEL IN MADRID!
Madrid Itinerary: Day 3 and Beyond
Casa de Campo | El Rastro | Madrid's Plazas | Sorolla Museum
In a city with so much to do, we've compiled a list of the best places to visit in Madrid during a stay of at least three days. Whether you're looking for a fun day out at Madrid's incredible amusement park or stroll through the city's amazing plazas, we've included the very best options for what to do!
Casa de Campo
Lookout points dotted all over the park to enjoy views of Madrid.
Little wooden restaurants line the park for tasty Spanish fare.
There are outdoor pools to enjoy in the warmer months.
In the footprint of an old royal hunting ground, Casa de Campo is the perfect activity for a fun day out in Madrid!
If you thought Casa de Campo was going to be a regular park, think again! It has just about everything you could think of! Go boating on the idyllic lake where you can see a gallery of Madrid's incredible landmarks in the background.
Fancy seeing some animals? Casa de Campo is prepared for everything with the Madrid Zoo Aquarium which is home to over 6,000 animals! From giant pandas to giraffes and bottlenose dolphins, you could spend all day exploring this amazing park.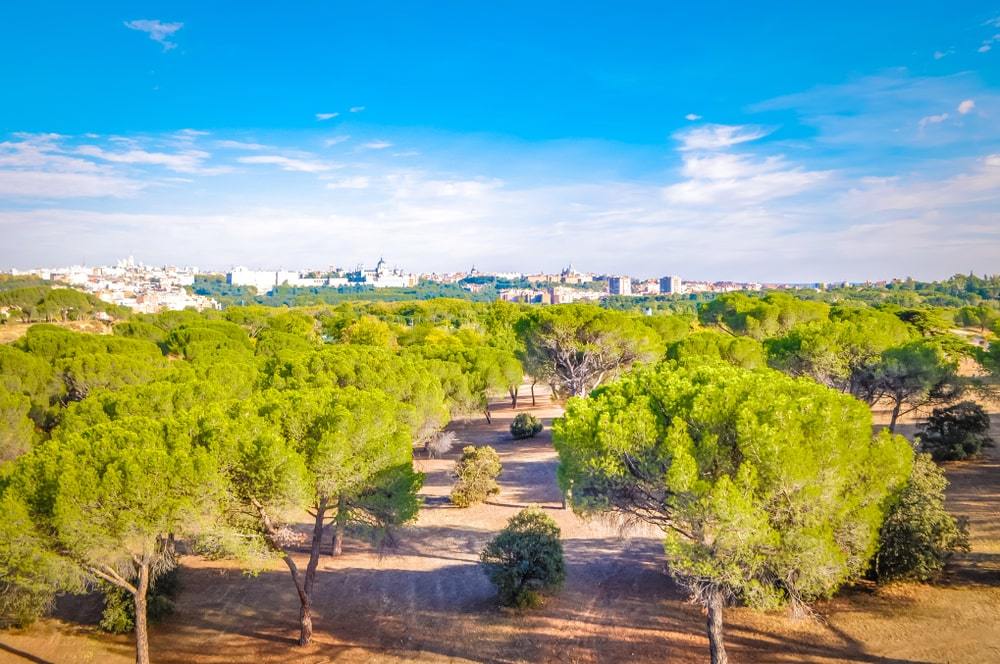 If you're up for some old-fashioned entertainment, enjoy stomach-churning rollercoasters and more relaxed rides.
There are multiple ways to reach this amazing park including walking alongside the River Manzanares until you reach a crossing near the Principe Pio Metro station. Alternatively, there is a fun cable car ride that runs from the Parque del Oester or a Metro line that runs to the park's entrance.
A trip to the fun and jam-packed park of Casa de Campo is a must on your three day Madrid itinerary!
Enjoy the El Rastro
Open on Sundays between 9AM and 3PM.
Jazz bands play on occasion!
It's busiest at 11AM, so enjoy a visit before or after peak hours.
This amazing outdoor market sets up camp across the streets of central Madrid and has become a major tourist attraction!
If you're deciding what to do in Madrid, this is the perfect way to experience the atmosphere of Madrid amongst locals who sell their wares, play music, and fill the streets with chatter. Whether you're searching for the ultimate souvenir, handmade jewelry, or an enjoyable stroll, El Rastro is the place to be!
Meet interesting characters as they run their stalls or enjoy the music played by talented buskers. If you're looking for real gems, head down the side streets where you might just find an incredible vintage item or bargain.
As one of the most popular street markets in Spain, it has become a true hub of activity with everything from earthenware plates to gas masks on sale. A Visit to El Rastro is a top choice for your three day Madrid itinerary!
Stroll through Madrid's Plazas
Admire the incredible Clock of the Puerto del Sol.
The Metropolis and Telefonica Buildings are amazing for taking photos.
Enjoy a stand-up comedy night at La Chocita del Loro!
Seeing the best of the city's plazas is perfect for an itinerary in Madrid. We have to begin with the Gran Via, which is known as Madrid's Broadway, and is filled with theaters of all kinds!
If you're looking for an opportunity to do some high-end shopping, Gran Via is a hub of Spanish boutiques and brand names including Chanel and Dior! The Gran Via is also home to a collection of incredible buildings which make for amazing photos. Don't miss out on a stroll past the incredible Casa de las Siete Chimeneas (the house with the seven chimneys).
The next leg of your Madrid walking tour should include the well-known central square of Madrid, Puerto del Sol! Check out the Zero Stone which marks the starting point for Spain's six national roads.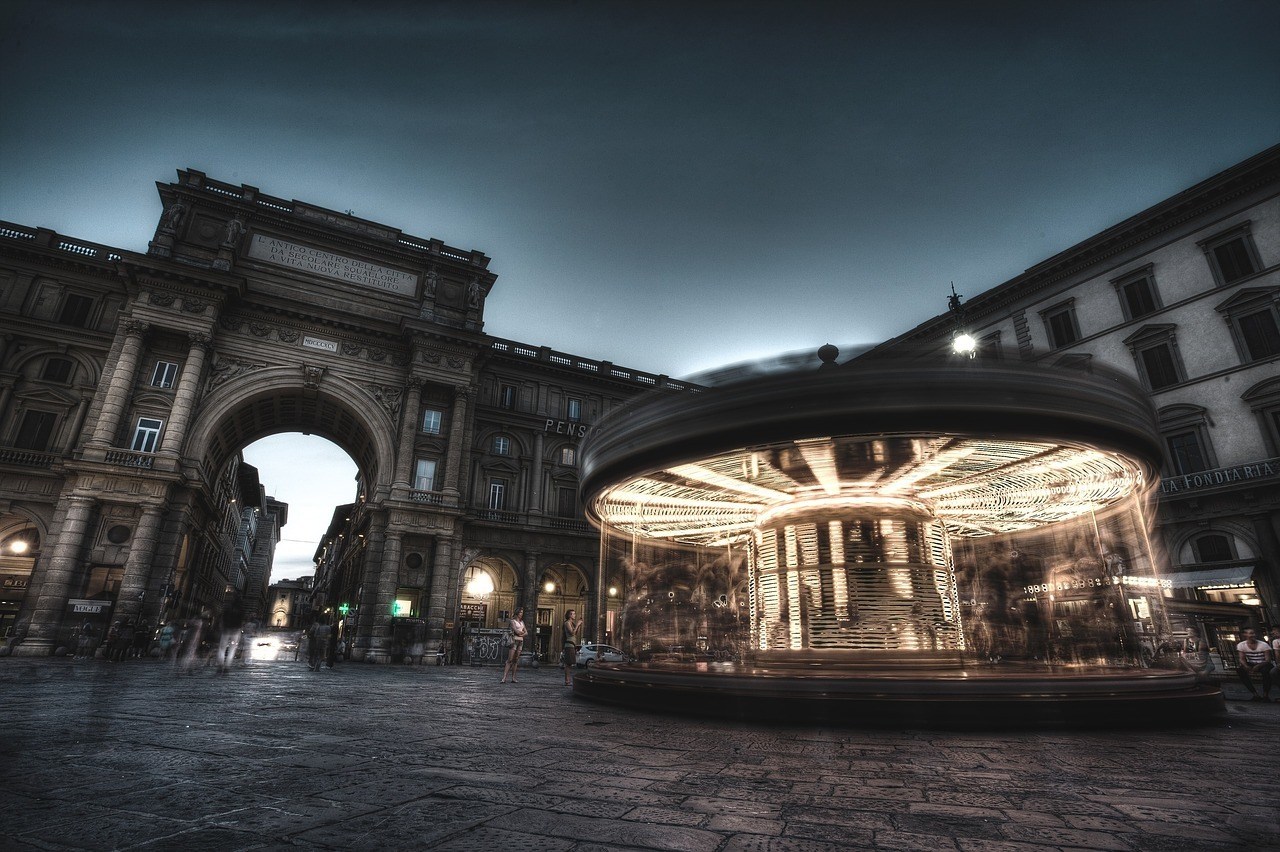 If you're looking for a true monument of Madrid to snap a pic with, the Oso y el Madroño (Bear and the Strawberry Tree) is the perfect spot! Preciados Street is amazing for a night-time walkabout with tons of shops to peruse and amazing lighting.
Finish off your tour of Madrid's plazas at Puerta de Alcalá in the Plaza de la Independencia. This ancient 'gateway' is one of the city's most well-known monuments with amazing sculptures adorning its facade. Add a tour of the city's incredible plazas to guarantee an unforgettable three days in Madrid!
Sorolla Museum
The garden was designed by the artist himself.
View the original furniture used by Sorolla.
Museum's creation was orchestrated by Sorolla's wife, Clotilde García del Castillo.
You can't finish off your backpacking adventure in Madrid without a final splash of Spanish art!
Discover the life and works of amazing painter, Joaquín Sorolla. This house-turned-museum houses the largest collection of his works in the world! With over 1,200 of his original pieces, the collection is quite breathtaking.
Alongside his incredible works, you'll have the chance to view a collection of precious objects he collected over his life. Admire sculptures, ceramics, popular jewelry, antique photographs, and an unbelievable anthology of letters penned by the artist himself.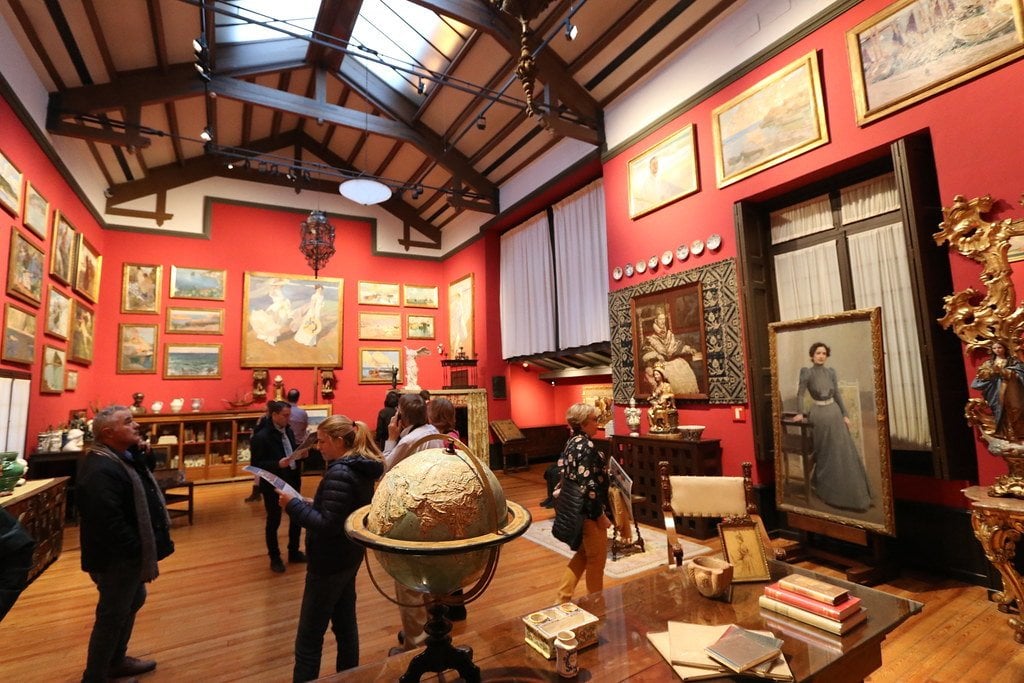 The garden is also a sight to remember and is known as one of the most beautiful in the city. Stroll through the grounds where water features and sculptures turn it into a museum of sorts as well. This incredible and underrated gem is the perfect addition to finish off your third day in Madrid!
Is This the Best Daypack EVER???
Staying Safe in Madrid
An important factor in planning your Madrid itinerary is knowing how to keep safe while visiting the city!
While Madrid is a fairly safe city (and Spain is a safe country in general), pickpocketing is quite a high risk in Madrid. Because of the size of the city, the bustling tourist attractions, and the number of visitors, pickpockets are quite active in central Madrid as well as near major tourist attractions.
Using a bag with strong straps is quite useful as it will be harder to pull off of you and keeping your bag as close as possible is recommended. It is better to leave your passport, most valuables, and large wads of money at your accommodation (as long as that is fairly secure). However, remember to carry some form of identification on your person, especially if you are not from Spain.
Areas that are at risk, especially at night, are Retiro Park and Lavapies. The areas around Plaza Mayor and Puerto del Sol are also at risk for bag snatchers and pick-pocketers.
When you travel to Madrid, it's also a good idea to keep a spare Metro ticket in your pocket in case yours gets stolen. SATE (Servicio de Atención al Turista Extranjero) is a specialized bureau for foreign visitors should you encounter theft or a crime of any kind.
There is also the potential risk of scams including petitions and selling fake jewelry, which you should be on the lookout for. In general, Madrid is a safe city for tourists but being vigilant and aware is always recommended. Have safe travels!
Don't Forget Your Travel Insurance for Madrid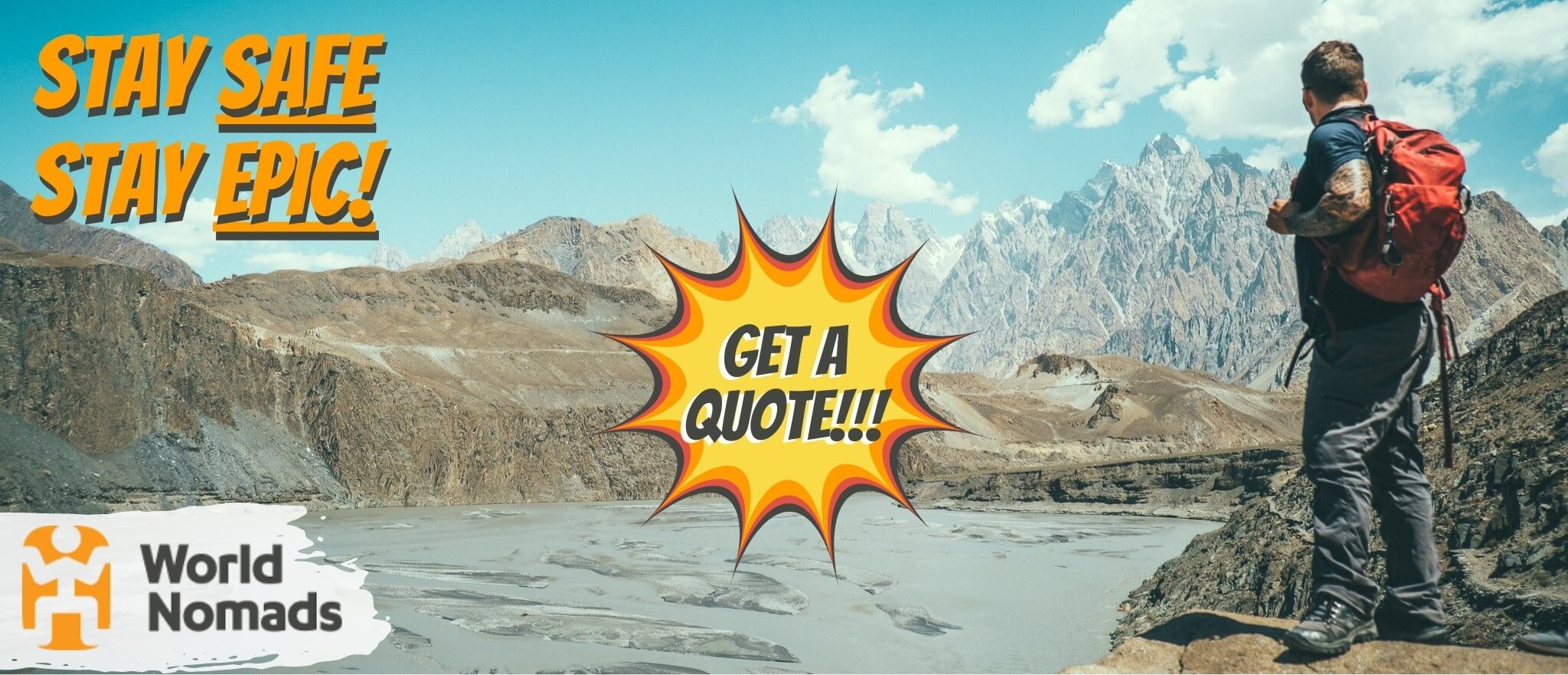 World Nomads' mission is to support and encourage travellers to explore their boundaries. They offer simple & flexible travel insurance, and safety advice to help you travel confidently.
They've been doing it since 2002 – protecting, connecting, and inspiring independent travellers just like you.
Get a quote below or read our in-depth review!
World Nomads provides travel insurance for travelers in over 100 countries. As an affiliate, we receive a fee when you get a quote from World Nomads using this link. We do not represent World Nomads. This is information only and not a recommendation to buy travel insurance.
Day Trips From Madrid
With so much on offer in this vibrant and unforgettable city, there's already an array of options to choose from. However, four days in Madrid is hardly complete without a few amazing day trips thrown in the mix. Take a look at our choices for the top day trips from Madrid!
Use Bookaway to find the best deals on transport – buses, planes, trains, and ferries. It'll save you a load of time when organising transport and you'll probably nab an EPIC DISCOUNT too!
Book your transport on Bookaway NOW. Get the best price for the best ride… then use those savings to buy the best feed in town!
Book Your Transport Here!
Segovia Hot Air Balloon Flight & Tour
If, by any chance, you're left wondering what to do in Madrid, a memorable day trip from Madrid to Segovia could be the answer!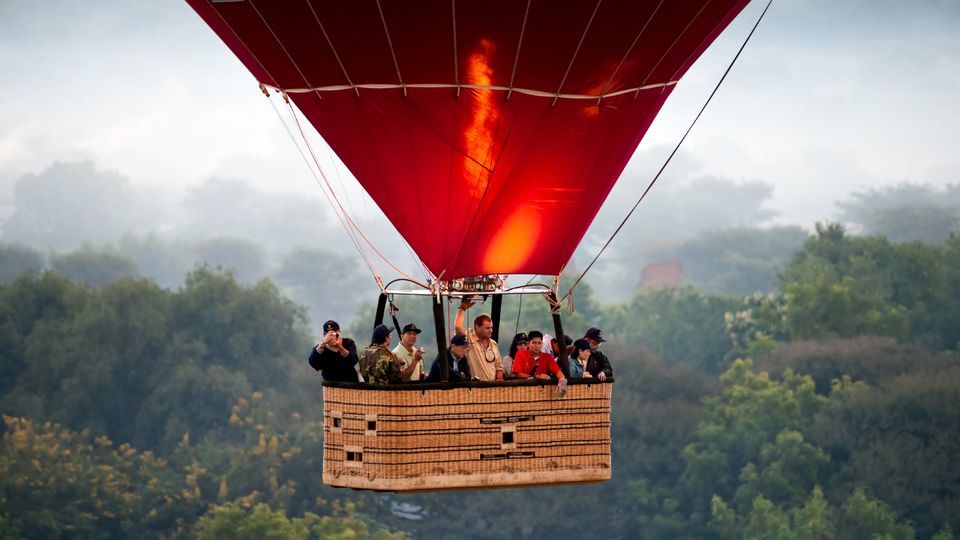 Take in the sensational aerial views of Segovia as you float above the beautiful city in a hot air balloon. After the tour by air, experience the city on foot as you explore the historic Roman Aqueduct, visit the last Gothic cathedral built in Spain and admire the incredible Alcazar Real!
Enjoy breathtaking views from this cliffside fortress built on the edge of a stunning cliff near the Sierra de Guadarrama massif. Add a champagne breakfast to the mix, and you'll have an incredible day trip!
Guided Tour of Avila & Salamanca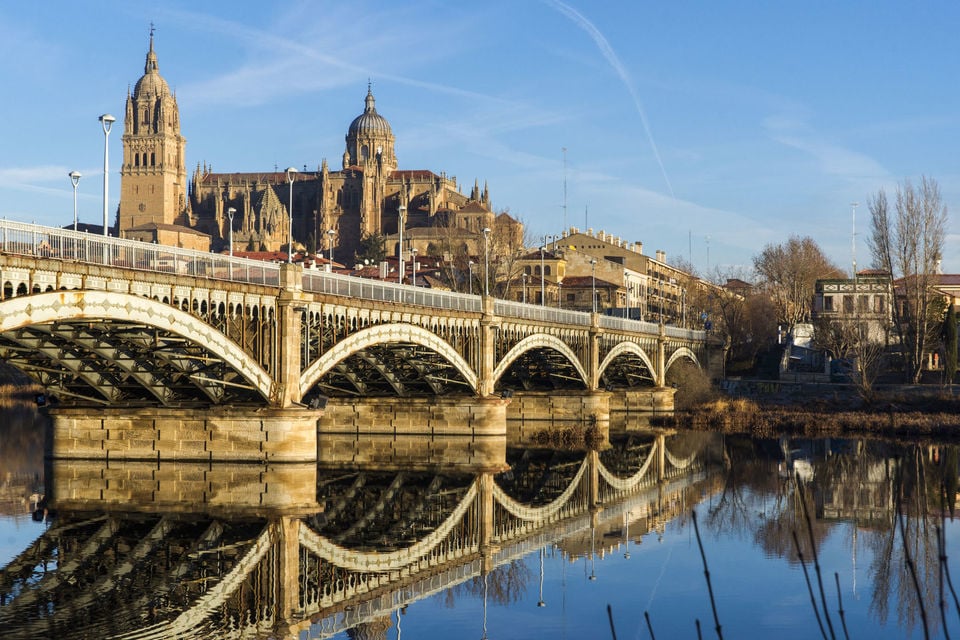 Filled with incredible architecture and amazing landmarks, this tour to Avila and Salamanca is unmissable!
If you're wondering what to see in Madrid, Spain in 3 days or more, a guided tour of these historic towns is a top-notch choice. Follow your knowledgeable guide as they lead you through the history and legends of both cities, pointing out fascinating monuments along the way!
On this fantastic tour, enjoy views of the many impressive cathedrals in Salamanca's Plaza Mayor and wander through the city's oldest squares. The, get to know charming Avila from San Vicente's Shrine to the Cathedral of Avila.
Enjoy the 16th-century atmosphere Avila has preserved while you stroll through the cobblestone streets. Experience these quaint and idyllic towns on the perfect interlude from bustling Madrid!
Royal Monastery of El Escorial & Valley of the Fallen Tour
On a day trip from Madrid, a walking tour through San Lorenzo is a fantastic choice!
Experience the grandeur of the Royal Monastery of El Escorial, which has become a major symbol of sixteenth-century Spain! On this memorable tour admire monuments like the Habsburg palace, the Kings and the Princes Mausoleum.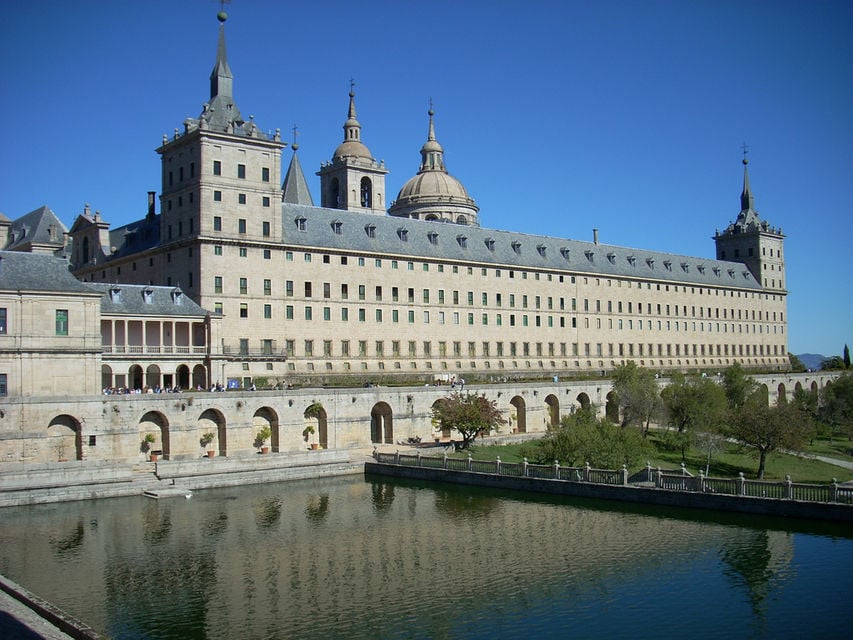 The Basilica of the Valley of the Fallen is another incredible gem pressed into the mountains near Madrid. Explore the Chapter Houses, Architecture Room, library, and Basilica on this unforgettable tour! Built between 1940 and 1959, this basilica is quite a remarkable monument.
Enjoy a guided tour then take advantage of your free time where you can admire the truly incredible views of Sierra de Madrid!
Toledo Tour With Wine Tasting
Exploring the gorgeous city of Toledo makes for one of the ultimate day trips from Madrid! This ancient and storied city is perched high above the Castilla La Macha plains of central Spain, which promises some truly amazing views.
Discover the incredible Unesco monuments of Toledo where you can enjoy a memorable stroll down the city's medieval streets and learn all about their most prominent figures. Toledo also happens to be the birthplace of famous Spanish painter, El Greco, who features in many of Madrid's incredible museums.
Next up is a fantastic look at local wine-making! Get an inside look at the history and tradition of winemaking in Castilla La Macha, then enjoy a delicious wine and tapas tasting!
Cuenca & Enchanted City Tour
The name alone sounds amazing and a tour of this incredible city doesn't disappoint! Perched on the cliffs of the Huécar River gorge, this historic city is filled with breathtaking monuments like Spain's very first Gothic cathedral, complete with an amazing facade.
Cuenca is also home to some truly spectacular scenery! The show-stopper on this tour is the Enchanted City, which is a collection of incredible stones that have become famous for their amazing likeness to animals! You'll see the likes of a seal, mushroom, turtle and bears in this memorable labyrinth.
A tour to Cuenca is definitely a top choice when deciding what to do in Madrid during three days or a week long adventure!
Travel with peace of mind. Travel WITH a security belt.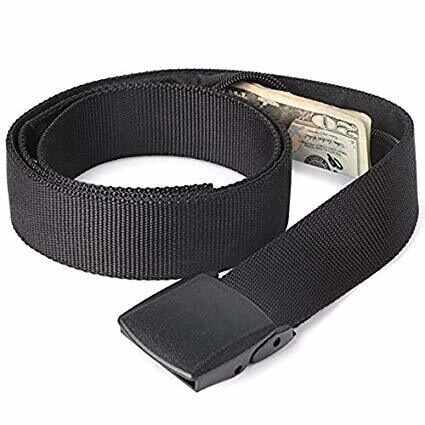 Get your cash stashed with this awesome Pacsafe money belt. It will keep your valuables safe no matter where you go.
It looks exactly like a normal belt except for a SECRET interior pocket perfectly designed to hide a wad of cash or a passport copy. Never get caught with your pants down again! (Unless you want to.)
Hide Yo' Money!
FAQ on Madrid Itinerary
Find out what people want to know when planning their Madrid itinerary.
Conclusion
From its art scene to its many amazing parks, your Madrid itinerary will be packed with fantastic opportunities to explore this incredible city! No matter how many days in Madrid you spend discovering the sights, history, and unique atmosphere of one of Spain's finest, you'll never run out of things to do.
From a jam-packed weekend to an incredible four day vacation in Madrid, the city will have you captivated. When you travel to Madrid, just strolling through the vibrant streets gives you a glimpse into the many treasures this city holds! Discover art from across the centuries, dip your toes into the amazing Spanish architecture and definitely dig into Madrid's amazing tapas.
This city will have you hooked and we hope this itinerary helps you get the most out of your trip!
Take a look at our ultimate travel tips while preparing for a trip to Madrid!
---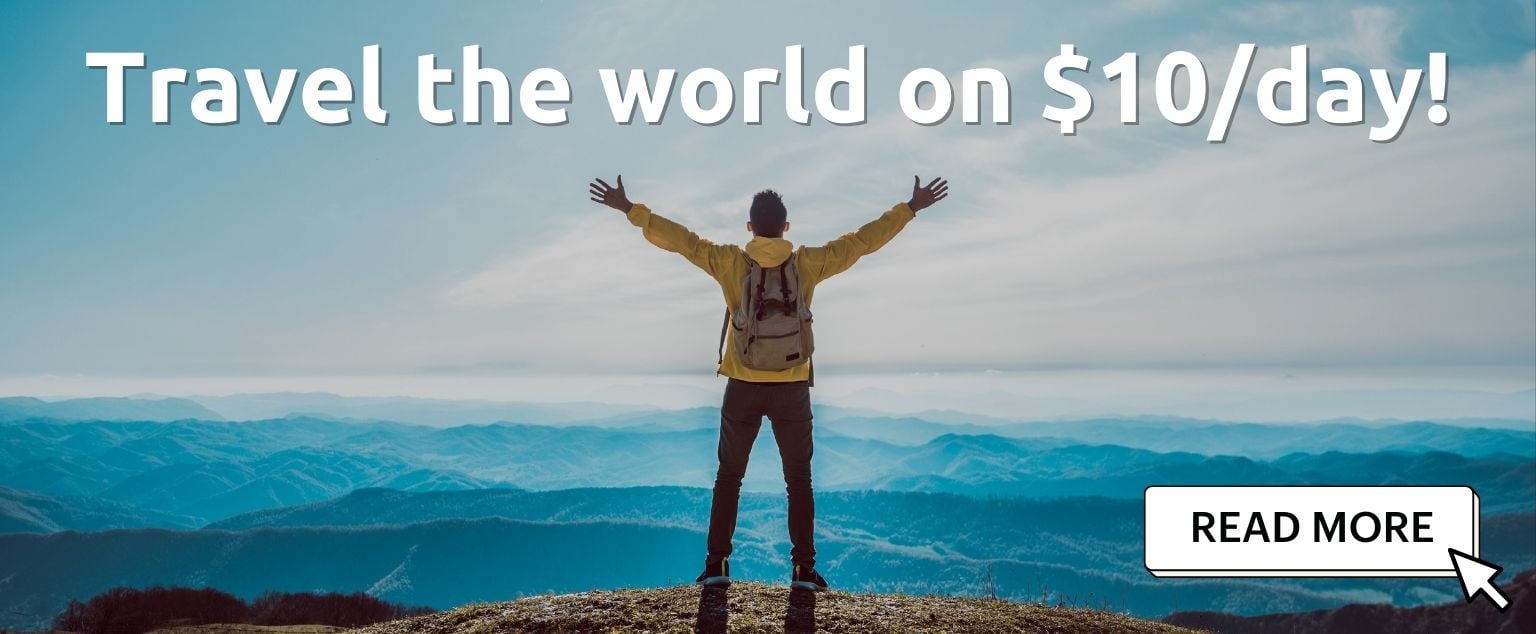 And for transparency's sake, please know that some of the links in our content are affiliate links. That means that if you book your accommodation, buy your gear, or sort your insurance through our link, we earn a small commission (at no extra cost to you). That said, we only link to the gear we trust and never recommend services we don't believe are up to scratch. Again, thank you!