Wanting to take the trip of a lifetime but don't have the funds? Say hello to working holidays abroad.
I'm sure you must know, or at least have heard of someone who jetted off to Australia or New Zealand for a year or two of sun, sea, and lots of fun! Most people don't even think of looking into other destinations, when in fact, there are a ton of countries out there with working holiday agreements, including Spain!
Imagine a year under the beautiful Spanish sun, gorging on tapas, working on your tan, and exploring the beautiful cities of Barcelona, Madrid, and Seville. Pretty much everyone wants to do that, right???
Luckily, this dream could become a reality with some quick know-how and a little bit of planning on your part. We've put together this EPIC guide to teach you everything there is to know about working holidays in Spain, so don't go anywhere just yet!

Do You Want to Travel FOREVER??
Pop your email in below to get a FREE copy of 'How to Travel the World on $10 a Day!'.
Taking a Working Holiday in Spain
The best way to do a working holiday in Spain is with a working holiday visa. They let you work, live, and explore Spain for up to a year! Don't make the mistake of thinking it's only for gap year students either, oh no. This visa is eligible for ages 18- 30, so if you're just tired of your regular job, need a change, or just wanna live that Spanish gap life, you should definitely consider it!
Spain is chock-full of adventure, and aside from working your arse off, there will be plenty to see and do on your days off. Even the regularity of a boring old 9-5 could be exciting if you had say, checking out La Sagrada Familia or road tripping along the North West coast on your weekend itinerary! What I'm trying to get at here is that working holidays won't take over your life.
There are so many roles you could do, of course, these will depend on your personal skill set. Most people look at being an au pair, working in the hospitality industry, teaching English, and jobs in the tourism sector. Spain also has an awesome coastal summer season, so if you fancy working in a summer camp as an instructor, you're in luck!
This could all be a little overwhelming. The beauty of this modern age is that there are companies to help out and handle all the little minor (and major) details.
Worldpackers is an online company that connects travelers with foreign volunteer hosts who then work in exchange for housing. That being said, Worldpackers does do more than just connect volunteers to hosts. It offers a plethora of additional resources, a great support network, a blogging platform for collaboration, and a whole lot more.
Sounds pretty rad, right? But wait, there's more!
According to their mission statement, Worldpackers is "a community based on collaboration and honest relationships that make travel more accessible to those seeking a profound cultural experience." They value environmentalism, authenticity, growth and working together above all else and make a great effort to provide the best experience possible.
And even better – Broke Backpacker readers get a special discount of $10! When you use our special hookup, it makes even more sense to pay. Just use this Worldpackers discount code BROKEBACKPACKER and membership is discounted from $49 a year to $39.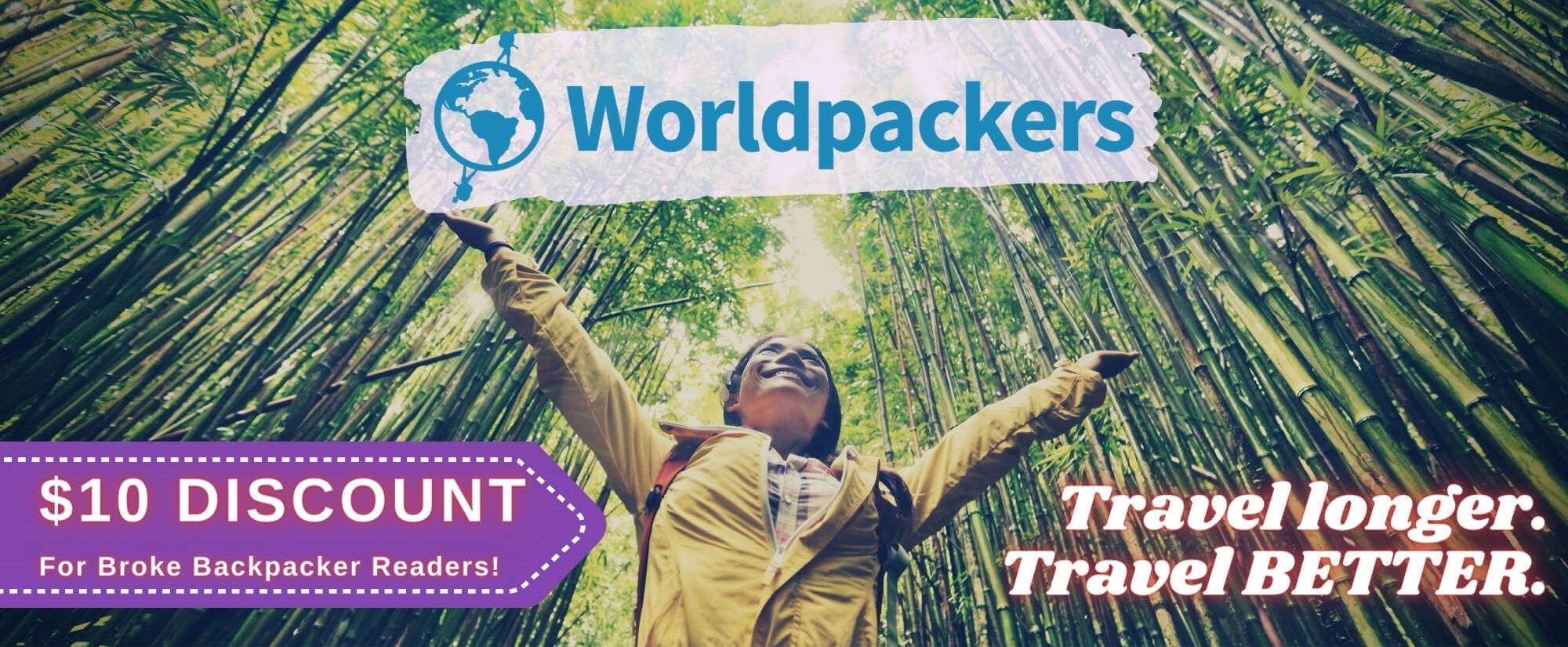 Worldpackers: connecting travellers with meaningful travel experiences.
Go with Global Work and Travel
Global Work and Travel is one of our faves for this, they are THE people to go to when it comes to working holidays abroad.
It's got a bit of a different approach than Worldpackers, but it offers JUST as many amazing opportunities for travellers.
It provides working holidays, teaching abroad, volunteering, au pair and student internship packages. On top of that, the agency plans, sorts and assists with visa requirements, connections to local businesses, accommodation search and job interviews.
Most products even come with flights and basic medical insurance, a 24/7 Emergency line and payment plans.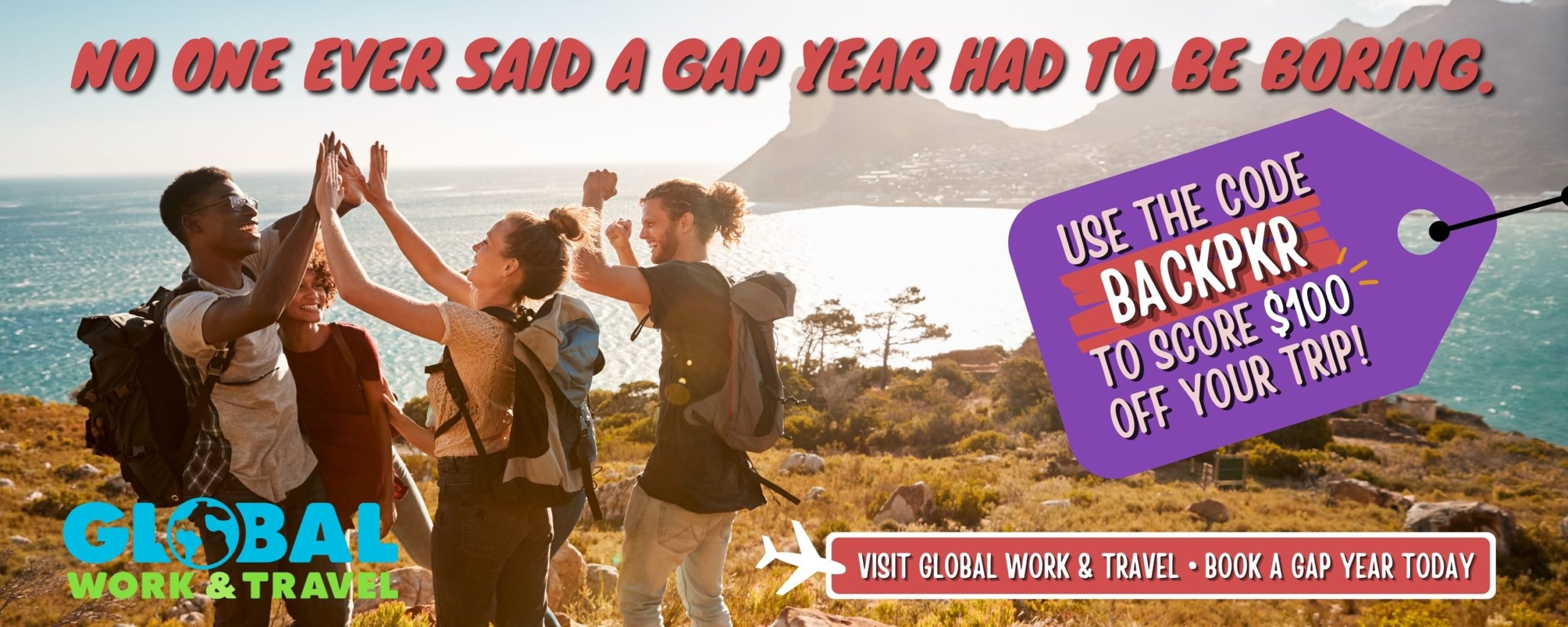 As I mentioned earlier the huge draw of this trip is that you can be up to age 30 (35 for certain countries). But once you're any older, you won't be able to apply, so you gotta act fast!
Working holiday visas reign supreme, you can stay for a hell of a long time AND keep your bank balance topped up. It's a winner.
Top 5 Tips for a Working Holiday in Spain
If you've never taken this type of trip before (kudos if you are working holiday-ing your way across the globe), you'll probably want to get all the info you can possibly get.
It isn't as easy as turning up, getting a job, and having the time of your life. There are a lot of important factors to consider. These 5 top tips should help you break things down a little further before we get into the nitty gritty of applications later! Here they are:
Applying for the correct visa. If you're one of the lucky ones and qualify for a Spain working holiday visa by a) being the right age and b) coming from an eligible country, then you're all set! It's the perfect visa for people who want to travel and live in Spain long term, while working to supplement their income. If you only want to go for a short vacation, definitely get a tourist visa as you are only eligible for a working holiday visa once – don't waste it in case you want to use it later on in life!
Knowing how long you want to stay. Knowing how long you are going to be away is important for a whole load of reasons. Maybe you have commitments back home, are starting school the following year, or need to make sure your salary can support you for the entire length of your stay. Either way, it's good to know so you can plan ahead.
Finding the right job. There will be a load of working holiday jobs for you out in Spain, but that doesn't mean that you should take the first one that comes your way. Think about it, a big chunk of your time will actually be spent working, so you wanna make sure you enjoy it/are capable of doing it. If you don't like kids, don't be an au pair, or if you don't know your slicing from your dicing, applying to be a cook isn't a smart idea either. Life is too short to be doing a job you don't enjoy, even if you get to let loose on the weekend.
Finding somewhere to stay. Accommodation in Spain will be your biggest expense. You'll want to think carefully, not only about what kind of place you want (shared apartment, studio flat, one-bedroom apartment), but also WHERE you wanna live. Spain is filled with so many wonderful locations, but sadly your budget may end up narrowing down your options a bit. It's better to know beforehand than getting a nasty shock later on.
Getting around during your days off. By far the best way to travel around the country during your weekends and vacations is by the high-speed train or AVE (Alta Velocidad). This train service links up all the major cities and riding from Barcelona to Madrid will only take you two hours and 40 minutes. Incredible! Within Spain's main cities like Barcelona and Madrid, there are extensive metro lines that link up all the neighborhoods and areas of the city. Tickets are cheap, but if you're commuting a lot, you may want to consider looking into a weekly or monthly pass to save money.
The Future of the SIM Card is HERE!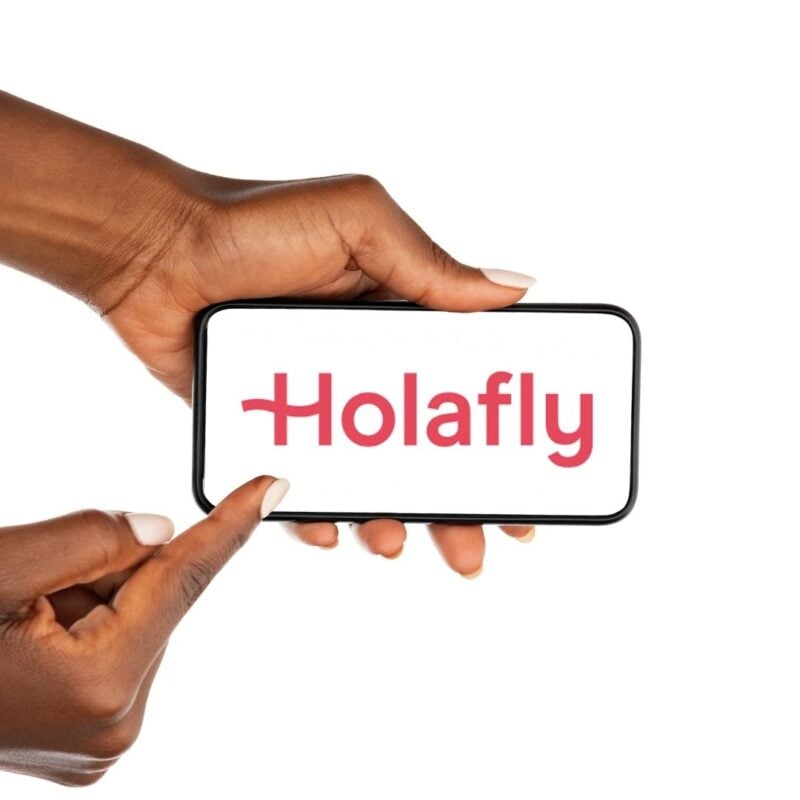 A new country, a new contract, a new piece of plastic – booooring. Instead, buy an eSIM!
An eSIM works just like an app: you buy it, you download it, and BOOM! You're connected. It's just that easy.
Is your phone eSIM ready? Read about how e-Sims work or click below to see one of the top eSIM providers on the market and ditch the plastic.
Grab an eSIM!
Spain Working Holiday Visas
Now it's visa time. Here are all the bits and pieces you need to know about the Spain working holiday visa, but it's always best to do a quick double-check yourself to make sure all the info is up to date.
Currently, only citizens from Australia, Canada (through the Youth Mobility Program), Japan, South Korea, and New Zealand qualify for a working holiday visa. You'll need to be between the ages of 18 and 30, except for Canadian citizens, who can apply up to the age of 35. Of course, if you belong to a country that is exempt from long-stay visas, you can move freely around Spain and work as you please.
You need to apply for the visa in your home country at either a Spanish embassy, Spanish consulate, or through a third-party visa service center. Visa processing can sometimes take several months. It's best to apply with plenty of time to spare (the idea of an upcoming flight and still no visa gives me nightmares). Remember, you can't just waltz into the embassy or consulate to sort your visa out, you'll need to make an appointment first and possibly fill in an online form.
There are quite a few documents required for your appointment. These include your pretty standard documents (valid passport, passport photos, previous visa copies and passports), then you a few more complicated ones. You need to show that you have sufficient financial means for the duration of your stay, amounting to at least 532.5 EUR per month, you will also need to have a return flight ticket, or proof that you have enough money to purchase one later on.
On top of that (this list is kinda a long one…) you need police clearance, a medical certificate issued within the last three months, medical insurance from a legal Spanish provider, proof of at least two years of higher education, proof that you have a basic knowledge of Spanish, a letter of support from the department of Immigration and Border Protection, a Foreigner's Identification Number (A.K.A work authorization), and *takes a HUGE breath* a pre-arranged contract of employment. PHEW, that was a lot!
On arrival, you'll need to get a Foreigner's Identity Card, through the local Foreigner's Office or Police Station. This needs to be done within 30 days of arrival. Make sure to bring your passport, a copy of your visa, and your Foreigner's Identification Number.
Once that's all over, the visa gives you a maximum of one year in Spain where you can live AND work. Bear in mind, the maximum employment period within the year is 6 months, and you can only work for the same employer for 3 months.
If you are totally independent and want to do this whole process alone, with no pre-arranged working holiday, then you may want to enlist the help of a specialist visa company like Visa First. There are a LOT of things you need for the visa application (just see above), these guys can guide you through everything so you can worry about deciding where to spend your six months of totally free time!
Insurance for a Working Holiday in Spain
If you were paying close attention above (I hope you were), then you'll see that you need medical insurance from a legal Spanish provider. BUT, and this is a big but, I would still suggest you get travel insurance *gasps*. Yes, that means doubling up on the old insurance. Let me tell you why.
Travel insurance doesn't only cover your medical bills, it covers canceled flights, lost luggage, etc. You might also want to head out of Spain to explore the rest of Europe (totally allowed), in which case, you'll be glad for the extra assurance. I personally use WorldNomads, these guys are FAB and won't try to swindle you by not paying out if you need it!
ALWAYS sort out your backpacker insurance before your trip. There's plenty to choose from in that department, but a good place to start is Safety Wing.
They offer month-to-month payments, no lock-in contracts, and require absolutely no itineraries: that's the exact kind of insurance long-term travellers and digital nomads need.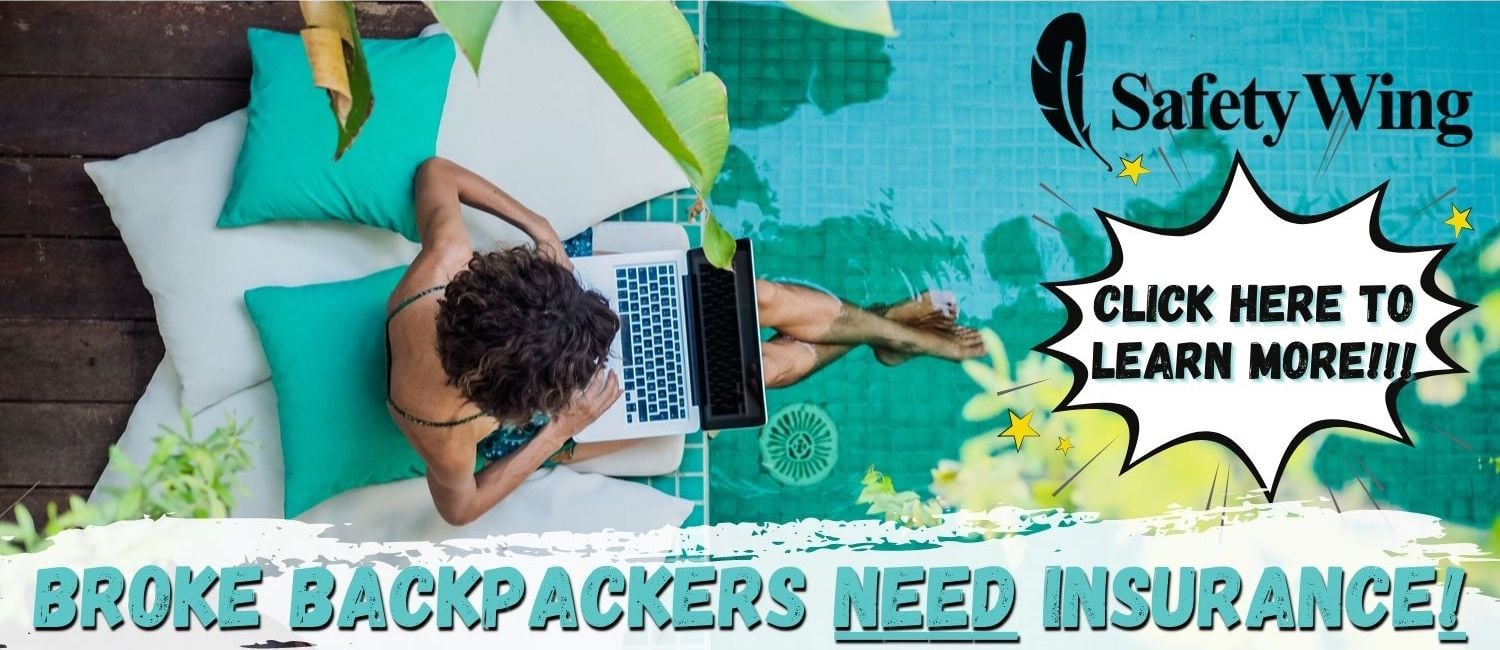 SafetyWing is cheap, easy, and admin-free: just sign up lickety-split so you can get back to it!
Click the button below to learn more about SafetyWing's setup or read our insider review for the full tasty scoop.
Working Holiday in Spain Budget
Let's talk MONEY, or more specifically your budget! You will need over 500 EUR per month of your stay to even apply for the Spain working holiday visa, which may sound like a lot, but we recommend banking some extra depending on where you'll be, where you want to travel, and how much you'll be spending on things like eating out.
Whether you choose to base yourself in a major city like Barcelona or a smaller one like Granada could make a HUGE difference in your monthly expenditure! For example, rent in a city center one bedroom apartment, transport, food, and activities would cost you around 1,500 USD in Barcelona and roughly 1,000 USD in Granada. That's quite a big difference.
Of course, a big differing factor is how much you will spend day to day. You can definitely cut costs by not eating out, walking more, and doing free activities for entertainment. The minimum wage in Spain is 7.55 EUR an hour, so working a full time job at 40 hours a week, will bring you 1,125.83 EUR a month (1,250 USD). You probably won't save any money, but it IS enough to live on if you're careful.
Working Holiday in Spain

| Expense | USD$ Cost |
| --- | --- |
| Rent (Rural Vs Central) | $400 – $1000 |
| Eating Out | $40 – $225 |
| Groceries | $300 – $400 |
| Car/Public Transport | $40 – $100 |
| TOTAL | $780 – $1725 |
Earning Money on a Working Holiday Visa
Since you'll be doing a fair bit of working while you're in Spain, let's get into the details of Spanish working holiday jobs. From au-pairing, working at a summer campsite to waiting tables at a cute cafe, there's a load of choices.
However, being able to live and work abroad does come with responsibilities, like paying taxes. Even if you're a non-resident of Spain, you'll be required to pay taxes on all of your Spanish-sourced income.
There is a flat rate of 24% taxed to non-resident workers in Spain. Your employer should be the one to deduct this from your monthly paycheck, so you don't have to have the hassle of working out how much tax to pay every month.
Perhaps one of the most crucial things when it comes to earning money on a Spain working holiday visa is getting paid. This means you need to have a local bank account not only for your employer to pay into, but to pay your rent, utilities, and groceries. It might be a good idea to do some research around the different banking groups in Spain to get the best deal, but since you'll only be in the country for a year, it's not too big of a deal if you don't.
Once you have chosen the bank you want to go with, you should head in there in person to request an account. Bear in mind that the tellers and clerks may not speak fluent English, so if you're not super proficient in Spanish, bringing along a local friend or at least your Google Translate app will be very useful.
The documents you will need to bring are proof of identity (like a passport), your Spanish foreigner identification number (obtained before you applied for your visa), proof of address (this can be a utility bill or a copy of your lease agreement), and proof of employment (your employment contract).
Once your bank account is sorted, you're going to want to transfer some money into your new Spanish account. I do NOT recommend just doing an international transfer as this could take a while and you'll definitely get the short end of the stick when it comes to exchange rates and fees.
Instead, opt for a money transferring service such as Wise (formerly known as Transferwise) or payoneer. You'll get good rates and you can even use these services to pay bills and hold funds.
Pre-planned Working Holiday Jobs with Global Work and Travel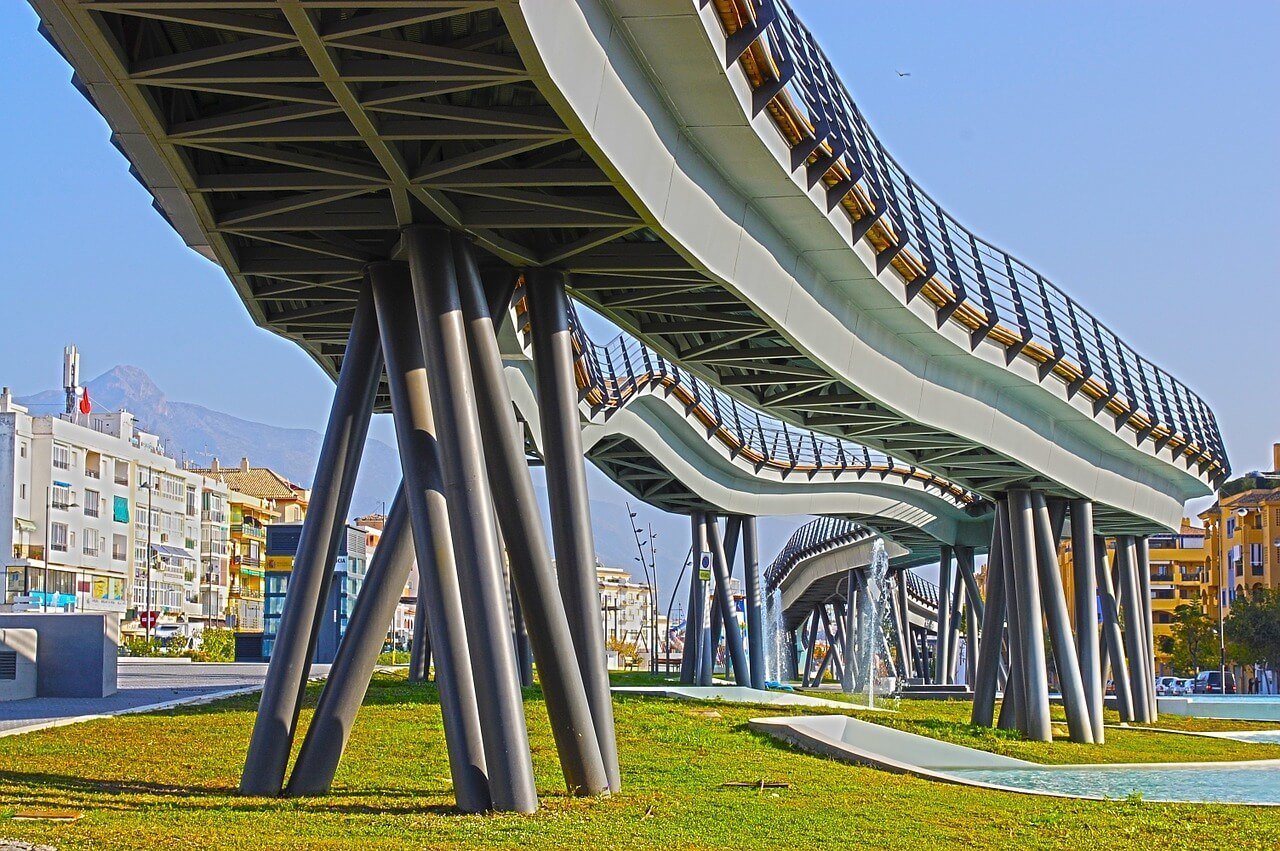 By now, hopefully you are raring to go, and I'm sure plenty of you have got this, but some of you are going to be leaning towards pre-planned working holidays. For me, Global Work and Travel are the bees knees. They are specialists when it comes to arranging your working holiday programme, and will help you jump right into your new life abroad!
There are loads of choices in Spain, you could find yourself as a live-in nanny (au pair), seriously buffing up your CV by taking part in an internship, or teaching English. They are all great opportunities.
Au Pair in Spain
Au Pairs are basically live-in nannies whose main job is to provide childcare, DUH, as well as a bit of light cleaning around the house and occasionally doing some cooking. It is one of the best ways to become fully immersed in Spanish culture as you'll be living with your host family in their home.
This is great if you love kids and you'll be sure to develop a super close bond with your host family, plus make a load of amazing memories. This is why finding the right host family is important. You will be in each other's space 24/7, so you'll want to be sure that you will mesh well! It's good to consider where you want to au pair too, as well as any non-negotiables.
Finding au pair work on your own isn't too difficult, but you will have to secure a contract before arriving in Spain. You could take a look at various au pair websites online where families post vacancies or look at local Facebook groups in the area you want to work.
You can either au pair using your Spain working holiday visa, or if you're not eligible for that, there's also the au pair visa to consider.
The drawbacks from a DIY au pairing job (aside from the paperwork) is that there's always a chance that you don't get along so well with your host family. If you want to reduce the risks and hassle as much as possible, then opting to pair up with a Global Work and Travel could put your mind at ease.
Their au pair package will have you matched up with a fully vetted host family, earning between 75-90 EUR a week! Their programmes last between 3-12 months with numerous locations around the country! Your personal trip coordinator will help you through the visa process, set up the contract between you and your host family, and arrange for them to pick you up from the nearest major airport.
For first-time au pairs, there's an online short course on everything you need to know so you can feel confident on your first day. There's a ton of perks, but my personal favorite is that you can opt to extend your time away and head on over to the Netherlands with a new host family!
Interning in Spain
Working holidays aren't only limited to working, you could get an internship instead. I think we all know how hard it is to get an internship nowadays, let alone one abroad. Most of the time you'll find yourself sending out hundreds of applications, only to get rejected due to lack of experience. The cheek!
Why is this? Well for starters internships are really competitive as you need experience to land an entry-level job in most fields. They look fantastic on college CVs, and are one of the best ways to get to grips with your field without the responsibilities or feeling overwhelmed. They are more structured than volunteering and tend to be a better way of learning the ropes too.
If you're interested in finding your own internship in Spain, a good place to start is by email blasting potential companies you wanna intern for. It's important to remember that you'll need to have something secured before you head over, and you'll be up against Spanish locals who will have the upper hand. It may also be difficult to communicate well since whoever you'll be contacting probably speaks Spanish.
Sometimes the lack of security of doing things yourself is, let's be honest, so NOT worth it. If you agree with me, then maybe you should think about handing off the responsibility and hard work to Global Work and Travel. They have a fantastic working holiday programme that will help you to secure an internship in a wide range of fields. Some of them include journalism, design, leisure and tourism, and marketing. There's loads to choose from!
The duration is 3 to 6 months, you'll need to be between the ages of 18 to 30 and come from an eligible country. Interns in Spain can either enter on a working holiday visa or a student visa. GWaT will arrange interviews with their partner organizations in the fields that you choose, and help to secure a fantastic unpaid internship you'll be sure to learn loads at.
Aside from having a dedicated trip coordinator to help with all the confusing stuff, my favorite thing about this programme is the CV/resume assistance that will help you get noticed by potential companies, the company reference you'll get once you internship is completed, and best of all, the dedicated mentor they'll assign you to help you grow your knowledge in the industry and give you one-on-one training.
Teach in Spain
This last one has got to be the most popular thing to do when it comes to working holidays abroad. It is the one and only, trusted time and time again, English teaching job! Teaching English abroad, especially Europe, usually comes with a load of conditions and requirements. Luckily, Global Work and Travel has a full package deal just waiting for you. You will need to be aged between 20 and 65, be from an eligible country, and have had no criminal convictions within the last five years. Pretty easy, right?
The working holiday programme includes a four-week TESOL training course, so there's no need to worry if you don't have an international teaching qualification. Once you've completed your course, GWaT will arrange interviews for you with their partner schools in Barcelona. Most private language institutes also pay the very fair wage of 15 EUR an hour, so you'll be able to live a super comfortable life.
Before you arrive your dedicated trip coordinator will help you with visas, and answer any questions you might have. While you're getting your ESL certificate and during your orientation, you will be put in a modern apartment close to the training center with 2 to 3 other students. You will also be given 10 hours of Spanish lessons to give you the best start towards your time in Spain.
Of course, it's possible to get a teaching job off your own back, but with perks like interview prep, guaranteed interviews, and help setting up a bank account and all that jazz, going with an agency just makes a lot of sense!
DIY Working Holiday in Spain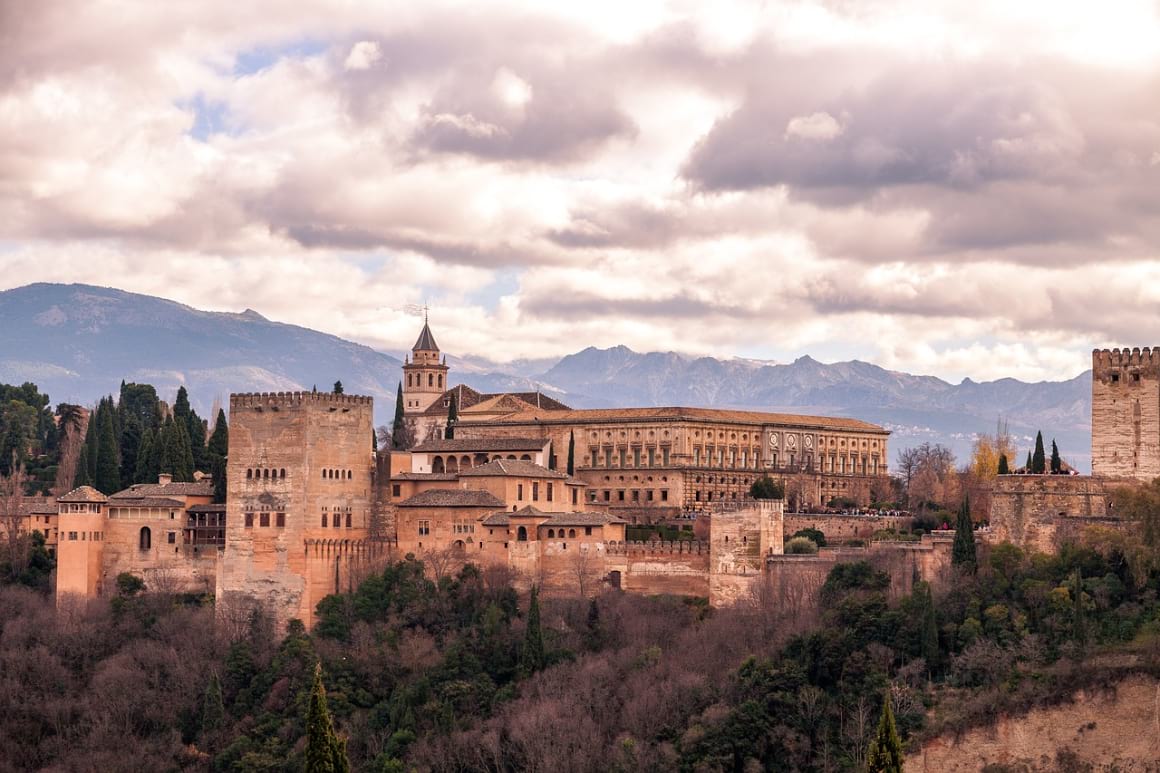 Don't get me wrong, even though I've been ranting and raving about how awesome pre-planned working holidays are, doesn't mean I'm not a big fan of DIY. If you don't mind the extra work and like to be totally in control, then doing it alone could be a great option for you. You could find yourself a job as an au pair, teaching English, or simply working in Spain.
You will be in charge of sorting out your visa, return flights, making sure you have enough cash to a) meet the working holiday visa requirements and b) to see you through the duration of your stay. There is plenty of seasonal work in Spain, if that's what you're after you may want to start searching early as it can be competitive. Another good tip is to stick with major tourist posts like Ibiza so the language barrier won't be as much of an issue.
If you want to try something a little more outside of the box on your working holiday, then you could spend some time working in exchange for room and board. Check out WWOOF, Woldpackers, and Workaway for some great opportunities that are perfect for prolonging your travel time. There'll be more opportunities in rural countryside areas too!
Final Thoughts
If you're still umming and ahhing about whether embarking on a working holiday in Spain is a good idea, I highly recommend just taking the plunge. Sadly, the Spain working holiday visa does have an age limit, so if you wait around forever, the opportunity will slip away.
There is no better way to expand your horizons and grow as a person than pushing yourself to your limits in an unfamiliar environment. You'll learn to adapt to any situation and meet people from all walks of life.
Spain is a seriously beautiful country, and not many people will get the chance to explore all it has to offer, from idyllic beaches to ancient cities, all while keeping your bank balance out of the red zone. Taking your time to travel through Spain also means you'll really learn the ins and outs of Spanish culture as well as seeing the secret spots that only the locals know.
There's no doubt in my mind that whether you choose to DIY your working holiday or to seek the help of an agency, this trip will be some of the best years of your life!
---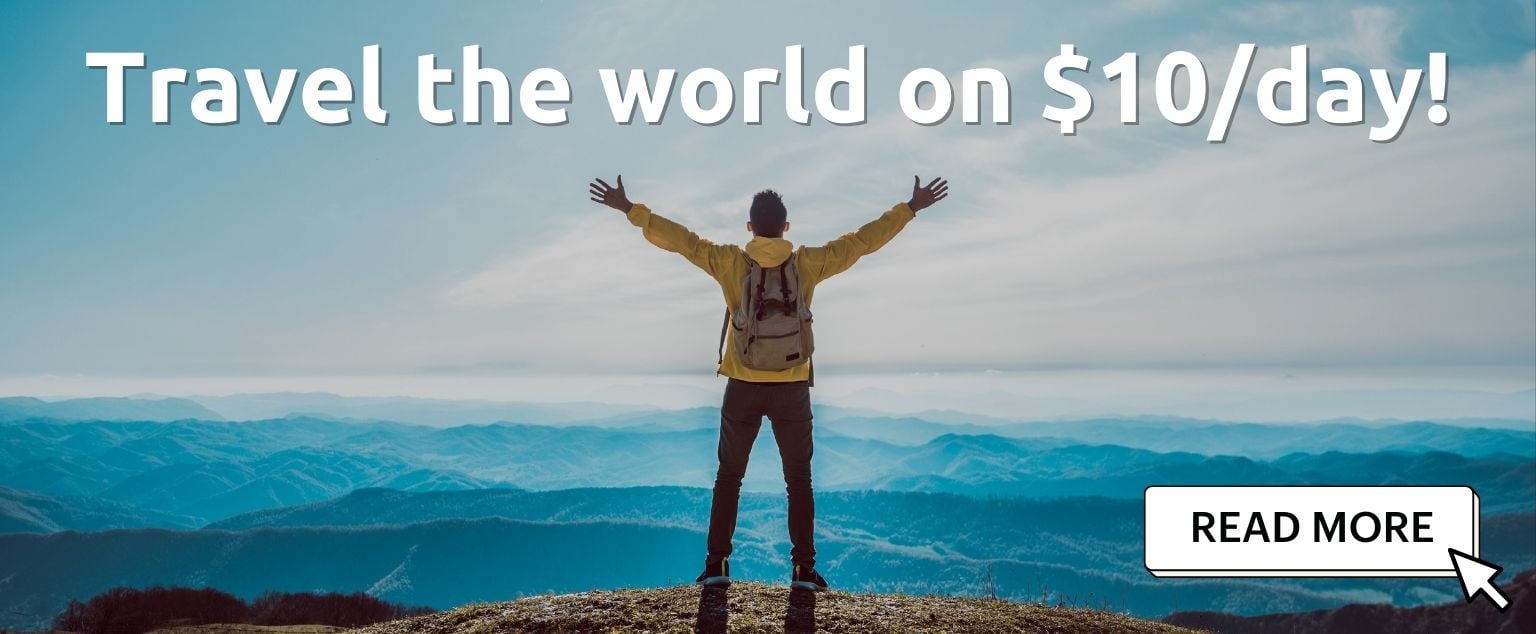 And for transparency's sake, please know that some of the links in our content are affiliate links. That means that if you book your accommodation, buy your gear, or sort your insurance through our link, we earn a small commission (at no extra cost to you). That said, we only link to the gear we trust and never recommend services we don't believe are up to scratch. Again, thank you!