Spain is one of those countries that has a special place in the hearts of many. It's the epicenter of the Spanish-speaking world, is bursting at the seams with history and culture, and boasts some of the most incredible outdoor nature in Europe.
Of course, it's just as well known for its tapas-style cuisine and delicious food and for hosting endless events and festivals throughout the year. But Spain also knows how to take it easy, with a daily siesta to help reboot you for the night ahead.
It's no wonder being a digital nomad in Spain is so popular. The country really has everything you could dream of, from world-famous cities and culture to good food and even friendlier locals.
In Barcelona, Madrid, Valencia, and Bilbao, four of the biggest cities in the country, digital nomads have access to an array of shared workspaces, cafes with a strong internet connection, and even co-living and working spaces that make working and living in Spain not only fun but super convenient.
Whether you choose a small seaside town or the capital city of Madrid, there are endless opportunities for digital nomads in this country. In this article, I will give a taste of what it's like living in Spain as a digital nomad, revealing all the best coworking spaces, coziest cafes, and other helpful information you might want to know before taking the leap and moving.
Is Spain Good for Digital Nomads
Spain isn't just a good place for digital nomads. In my opinion, it's one of the best places in Europe. And there are a few things that make it so great:
The first has to do with affordability. While visiting Spain is by no means a cheap country, there are plenty of ways to live an excellent quality of life here without spending too much. Compared with other parts of Europe, rent can be affordable, and you can almost always enjoy a fun night out without spending a week's salary.
Spain is huge and alone offers plenty of opportunities for travel and weekend trips. For a break from city life, you could visit plenty of coastal Mediterranean villages, lush wine lands, and incredible mountainside villages, all within a short drive or a cheap flight from where you base yourself.
It is also ideally located as a base to explore the rest of Europe. Budget airlines are a booming industry, and there are plenty of direct flights to catch across Europe if you are living in Spain. If you travel light, you could be on your way to Prague for the weekend on a return flight for under $50.
Weather plays a significant role in the likability of a location, and Spain is blessed with a temperate Mediterranean climate year-round. The country does have a diverse climate, depending on where you are, with hot summers and cold winters inland and mild summers and cool winters along the coastline. However, you won't have to prepare for unbearable tropical humidity or frigid temperatures here.
Onto the admin side of things. The Spanish government has officially approved a new visa for remote workers and digital nomads, making it easy for non-EU nationals to live and work in the country for up to three years, paying subsidized taxes. The visa was introduced as part of a new Start-Up Act to attract entrepreneurship to the country's tech scene.
To qualify for this visa, applicants need a university degree, three years of work experience, and a specific minimum income. Nomads must apply for a three-year residency permit, all of which can be done via Spain's immigration website.
You can apply from Spain or from your country of origin. The visa applies to remote workers employed with a company outside of Spain, freelancers with clients abroad, or digital nomads in Spain who can earn an income from different online sources outside of the country. If this applies to you, you're in luck!
Cost of Living
One of the things that makes Spain so attractive to digital nomads is its relatively low cost of living compared with other developed countries of its caliber. In fact, stats show that Spain is significantly more affordable than the USA and other Western European countries.
By specific calculations, it is entirely possible to live a good and healthy life in Spain for just over $1000 per month, considering you don't splurge on excess luxuries.
This attractive cost of living is made possible by the large area of land controlled by the country. With so much land area, land prices are lower than average. On top of that, the country produces a lot of its own food, making good quality produce abundant and affordable. With a moderate climate, housing and fuel costs can also be kept low.
Depending on the quality of life you like to live, and where you choose to settle, you can expect to spend between $1,000 and $2,500 per month per person in Spain. Couples or families traveling in groups can save even more by sharing rental expenses.
Spain uses the Euro currency, which hovers around the same exchange rate as the US Dollar. Here are some costs that might be relevant to you as a digital nomad in Spain.
Eating out: A burger meal at a typical fast food chain will cost around $8.50. A meal at an inexpensive sit-down restaurant costs about $13 per head. If you choose a three-course meal at a mid-range restaurant in a city, you could spend between $25 and $30 per person. A cappuccino costs around $2, while a soda costs the same if purchased from a restaurant or bar.
Rent: Expect to spend around $800 per month on a one-bedroom apartment in the city center and $650 for a similar size apartment outside the city center. Barcelona tends to be more expensive than Madrid. If you share with others, a three-bedroom apartment in the city center costs around $1,500 monthly. On top of this, you might have to pay an additional $130 for rates, electricity, and water.
Transport: A one-way ticket on public transportation costs around $1.50, while a monthly pass without a discount will set you back around $45. Taxis are affordable, starting at about $4 depending on the distance you travel, and gas is priced at approximately $1.90 per liter.
Activities: With an active culture, many of the best activities are outdoors and free. You should add between $300 and $500 to your monthly budget for activities, including entrance to events, festivals, museums, and tours.
Groceries: Purchasing local produce and cooking at home is one of the best ways to save on costs and keep healthy. A liter of milk costs around $1, while a loaf of fresh bread is around $1.20. A pack of excellent quality fresh beef or red meat is around $12, while chicken is more affordable at $7.20 for a similar quantity. You can expect to pay approximately $2 for two pounds of apples, bananas, oranges, tomatoes, or onions.
Digital Nomad Accommodation in Spain
Spain is a big country with a few incredible cities, countless small towns, and local regions to explore. Most digital nomads in Spain congregate around the big cities; Madrid, Barcelona, Valencia, and Bilbao. As major international hubs, these cities have a supportive ex-pat community, making it easy to make friends and form a social circle in Spain, no matter where you come from.
There are plenty of co-living and working spaces that offer convenient facilities and amenities for digital nomads. Another option is to rent out a private Airbnb or apartment on Booking.com for a bit more privacy and space.
Co-living spaces can book out quickly, so make sure to stay on the pulse if you're planning a digital nomad adventure to Spain.
Where Should Digital Nomads Stay?
There are a few great options for long-term accommodation in Spain, most of which can be found in the major cities and commercial hubs of the country:
The first is dedicated co-living and coworking spaces specifically designed for digital nomads. Many of these places have private rooms fitted with trendy furniture and bedding (a huge savior when visiting for only a few months), with shared kitchens and common spaces to use to work, socialize, and cook. Designed for working professionals, co-living areas typically have air-conditioned rooms with plenty of desk space and lighting, and are equipped with high-speed Wi-Fi, business centers, and printing facilities.
Circles House in Barcelona offers a co-living and coworking space and has created a community of entrepreneurs and self-starters. Besides private rooms and a well-equipped coworking space, Circles offers a rooftop garden, free parking, a social club, an event room, and a gym on-site.
VIU is another top co-living and working space in Barcelona with everything you need to live and work as a digital nomad in Spain. This space offers furnished rooms with shared bathrooms, a coworking area, laundry, and a shared terrace. They even provide fully furnished apartments with equipped kitchens and living and dining rooms.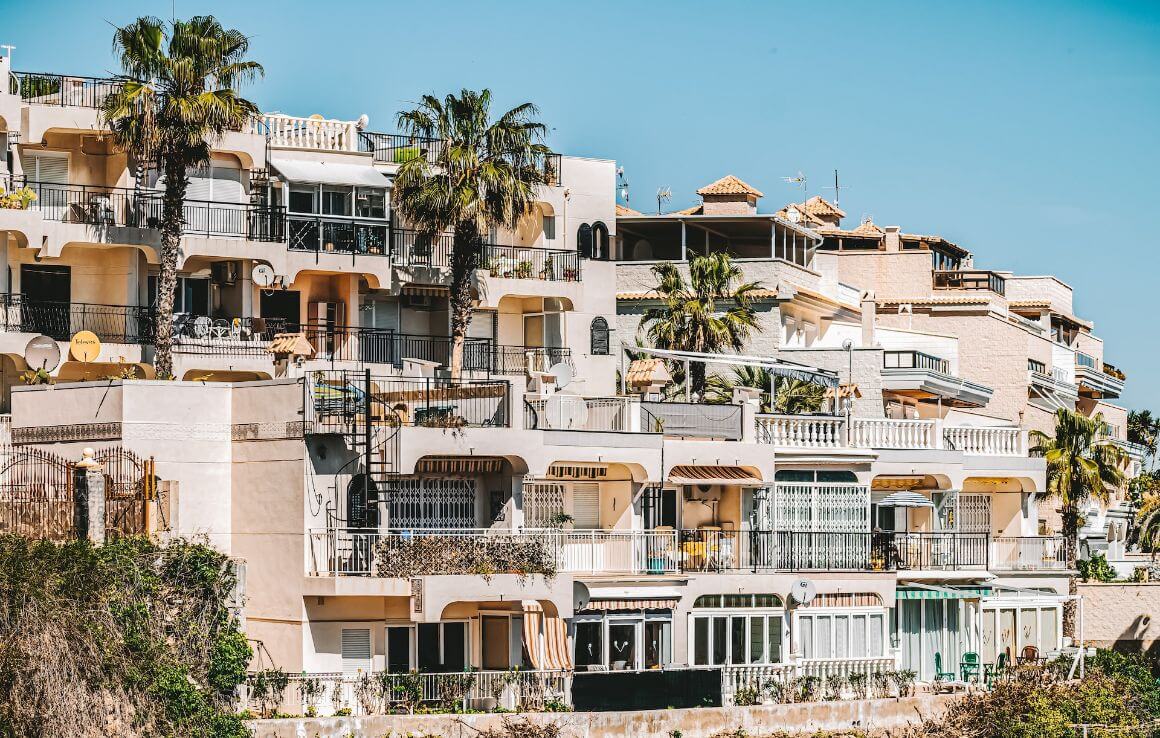 Renting out a private apartment is another excellent option. This way, you can enjoy your own space and privacy while still taking advantage of spaces like cafes and shared workspaces during the day.
This modern apartment in Malaga is on the beach and has a full kitchen, a dedicated workspace, and a well-working internet connection. For a reasonable price, rent out this cozy private bedroom in a shared apartment in the heart of Madrid. The entire home has been refurbished with warm interiors, and the private bedroom has its own desk and air conditioning.
For a rural experience in the Spanish countryside, this rustic farmhouse in Vega de San Mateo offers accommodation for up to six guests with a huge outdoor pool and garden and a shared lounge and terrace. Wi-Fi connection is strong, and each bedroom is equipped with a coffee machine, kettle, and desk space.
If you're visiting for a shorter period of time and want to indulge in a bit of luxury along the way, staying in a hotel with coworking spaces is another wonderful way to experience the country. Hotels offer benefits like daily housekeeping, room service, and shared lounges and restaurants to spread out when you aren't in your en-suite bedroom. I recommend finding a hotel with a kitchen or, at the very least, a kitchenette to avoid spending too much money on eating out.
Coeo Apart-Horel Parras in Malaga is a great (although pricey) example, featuring modern rooms with clean finishes in the heart of the center. Most rooms have a kitchenette and seating area; some even have a terrace with city views!
Hotel Medicis in Barcelona is just a short metro ride from the center of the city and offers long-term accommodation for a steal of a price, ideal for living in Spain. Alternatively, you won't beat the costs of a private room at Far Home Gran Via Hostel in Madrid, which has a shared kitchen and living area and great quality Wi-Fi throughout the property.
Forget boring accommodation… book yourself an EPIC STAY!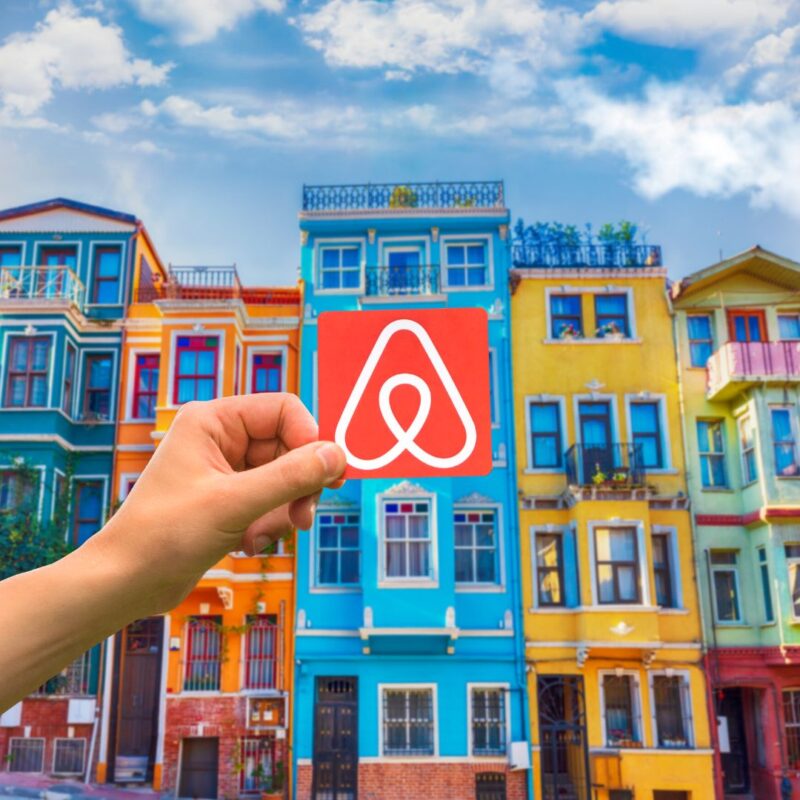 Why stay in a naff hotel when you can stay in a cosy, stylish local house instead? And for half the money too!
Stay somewhere EPIC and save your hard-earned dollars — from houses to barns to castles and caves, there is an Airbnb for every occasion!
Book an EPIC Stay
Wi-Fi in Spain
Good quality internet connectivity is a top priority for any digital nomad. And if Wi-Fi isn't available, you should at least have access to 4G or 5G, which you can hotspot and connect between a mobile device and your computer.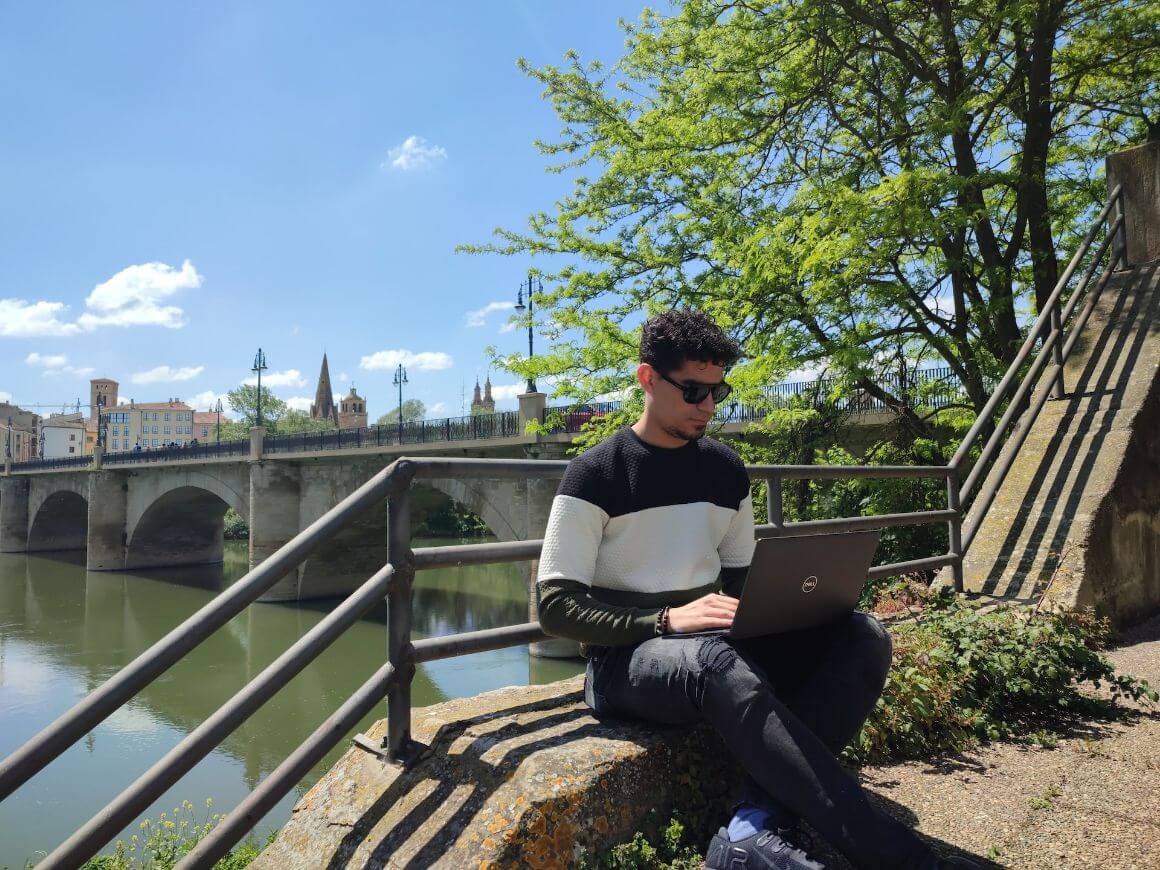 If you base yourself in one of Spain's central hubs, you won't have any issues connecting to Wi-Fi, whether you purchase a monthly plan or connect through cafes and workspaces across the cities. Your chances of connecting to the Wi-Fi at a cafe, hotel, shop, or gym are very high.
Across the rest of Spain, Wi-Fi availability reaches around 91% of the country, with an average speed of 16 megabytes per second using mobile networks. This makes Spain the 22nd-best country in the world with Wi-Fi connectivity.
Coworking in Spain
Perfect for digital nomads who enjoy a bit of formal structure and a social scene during the workday, the country is dotted with designated coworking spaces offering private and shared desk space.
Alternatively, if you prefer to work in a busier space where background sound doesn't disturb you and are willing to risk sitting at an unfamiliar desk every day, you could save some cash by working from a cafe.
The Best Coworking Spaces in Spain
Coworking spaces are like your one-stop shop for a good day's work when living in Spain. They include all the amenities needed to get your work done in a social yet quiet workspace area, often offering complimentary tea and coffee, and healthy food for an additional cost to keep you fueled throughout the day.
One of the best coworking spaces in Madrid is called The Shed CoWorking. It offers a cozy yet modern space decorated with trendy interiors in an unbeatable location in central Madrid. Plenty of friendly staff is available daily to help you with whatever you might need. Although peaceful to work at, the space also offers networking opportunities and meeting rooms. There are plenty of outlets as well as large screen monitors for you to make use of.
Next on the list, CoWorking Espiritu23 in Madrid offers a cost-effective option with all the basics; a good internet connection, a spacious work environment, and friendly staff. This space is particularly well known as a place to host interviews.
One CoWork in Barcelona might be one of the trendiest coworking spaces in the country. Settle in at a lounger couch in what looks like it could be out of an interior magazine. This office's main proposition is that it is working to be a zero-emission office, taking special steps to lower your environmental footprint as a remote worker on a daily basis.
Nomad Coworking in Madrid is an all-equipped space with temperature-controlled air conditioning and heating and comfortable ergonomic seating spread across different rooms, all with plenty of natural light. One of the main pros of this spot is the shared kitchen and cafe area, which is the perfect spot to store your own food or grab a bite and socialize with other coworkers.
WeWork is a global company with high-end workspaces in all four corners of the world. They offer private offices, dedicated desks, and all access to shared spaces for different rates per week or month. There are ten WeWork properties across Spain, in both Barcelona and Madrid.
Cafes with Wi-Fi
Renting a desk at a coworking space is optimal for most, but it also comes at a price. For a bit more flexibility in where you work, you could choose to visit a few cafes each week, switching up your routine as you please.
Working in a cafe is a great way to keep focused while staying on the pulse and being social during the workday. All you need to do is purchase a coffee or juice every few hours to hold your seat. Cafes are ideal for digital nomads in Spain who don't need absolute silence for the work they do.
There are plenty of cafes dotted across Spain that offer free Wi-Fi and abundant plug points:
Cafe Fosc in Barcelona is just a few roads from the beach and harbor and is open from 9 am to 3 pm on weekdays. They serve tasty food in a Parisian cafe setting, with streetside seating. However, if you want to get some work done, the interior has great Wi-Fi, good background music, and a social cafeteria atmosphere.
Morrow Coffee is another excellent local Barcelona coffee brewery, with in-house roasted beans and specialty drinks like matcha lattes, as well as simple snacks of pastries and toasts. They offer indoor and outdoor seating. There are plenty of plug points and great Wi-Fi throughout the property, which is open until 5 pm every day of the week.
Madrid's Ambu Coffee 2 is a cozy space with comfortable seating and many tasty snacks on the menu. The coffee is exceptional here, and this cafe is open until 8 pm daily.
At HanSo Cafe in Madrid, you can enjoy a tasty breakfast in a hipster Japanese environment, all while getting your emails tended to. Laptops are only allowed at the large shared table, and there are limited power points, so make sure you arrive early to secure a spot and come with a fully charged laptop.
Wherever You Roam… Get Insured First
Keep yourself and your precious electronics safe when roaming around town. Travel insurance is key for your own peace of mind, and The Broke Backpacker stands strong for SafetyWing.
Month to month payments, no lock-in contracts, and no itineraries required: that's the exact kind of insurance digital nomads and long-term traveller types need. Cover yo' pretty little self while you live the DREAM!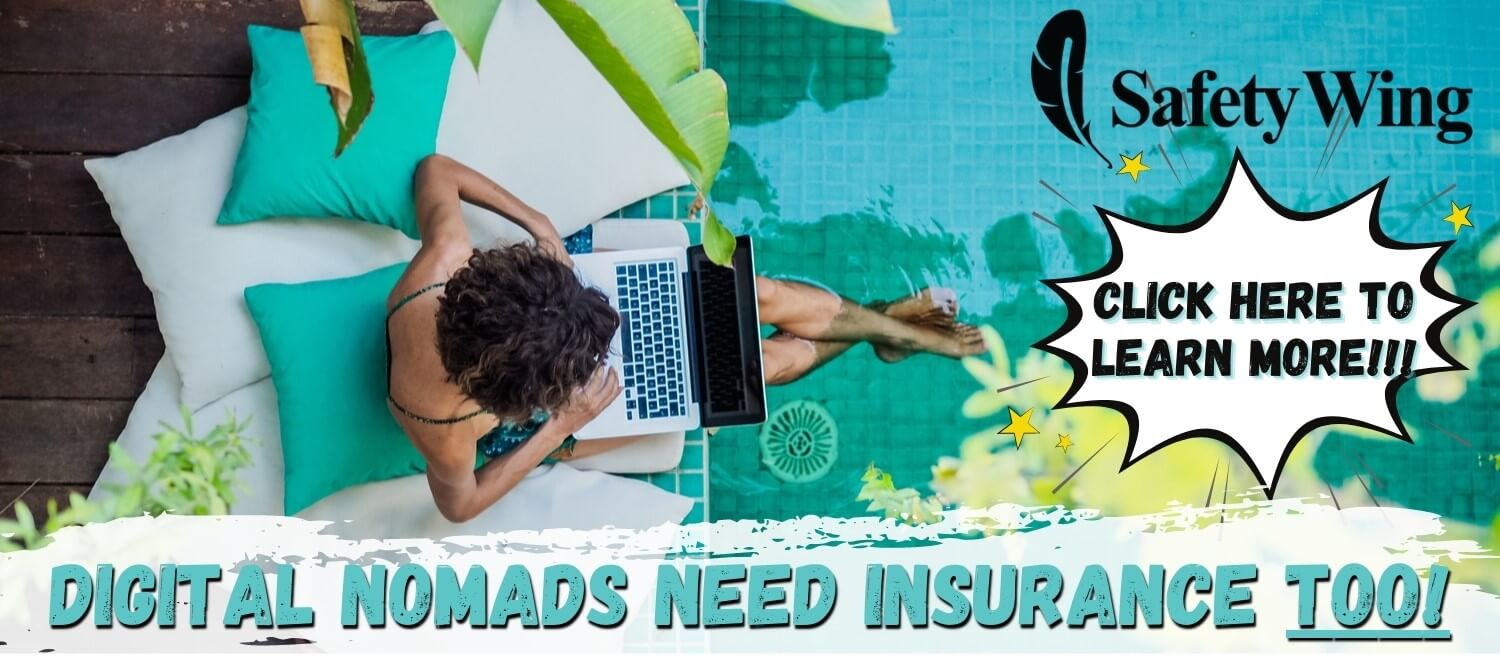 SafetyWing is cheap, easy, and admin-free: just sign up lickety-split so you can get back to work! Click the button below to learn more about SafetyWing's setup or read our insider review for the full tasty scoop.
Places to Eat in Spain
If there is one thing Spain is well known for, it is its exceptional cuisine. High-quality ingredients, incredible cultural dishes, and centuries of practice have contributed to Spain's food successes.
Spain's most famous dishes include seafood paella fried rice, patatas bravas fried potatoes, world-famous churros, and a cold tomato soup known as gazpacho. You would be crazy not to take advantage of the world-class food scene while living in Spain.
Of course, it's also the homeland of tapas, which is undeniably one of the best ways to eat any meal and has been adopted by multiple cultures across the globe. Seafood is at the forefront of Spanish cuisine, with some of the best calamari, muscles, and fish caught off the Mediterranean coastline.
Complimented by superb local wines and world-class ingredients, the reputation of Spain's cuisine has grown from strength to strength, almost taking over the world with its incredible flavors and small-dish way of eating.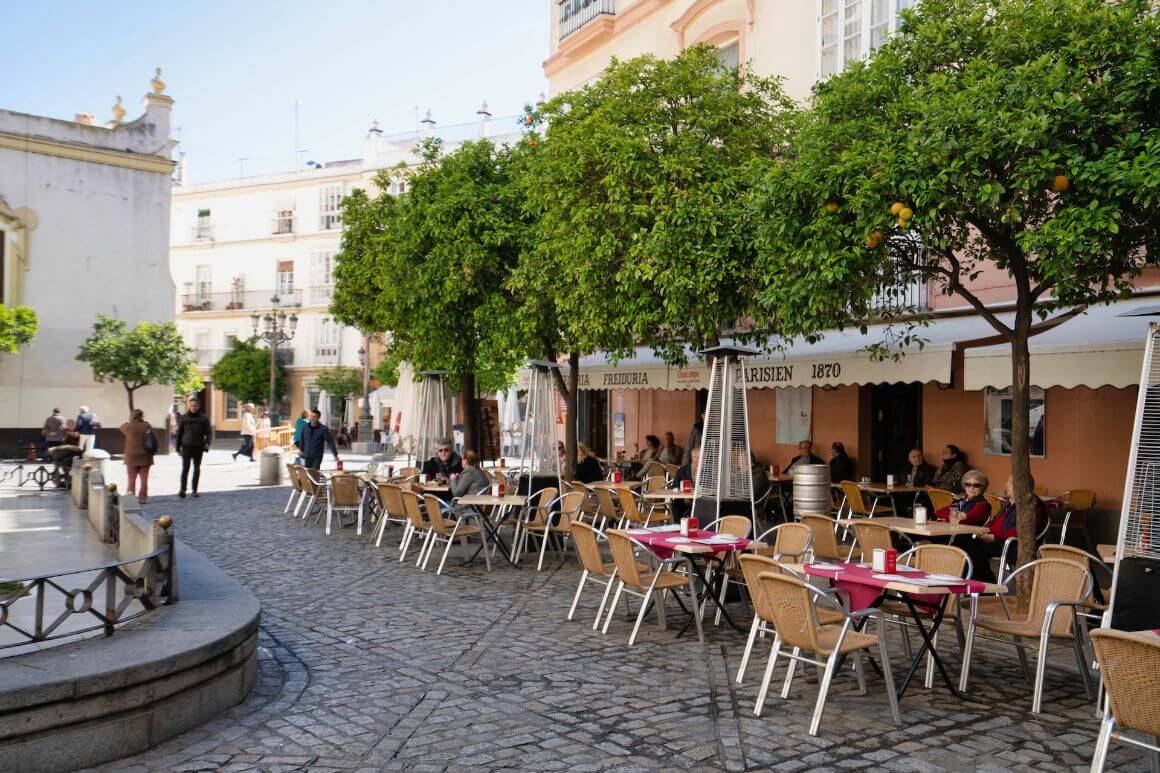 Asador Etxebarri in Atxondo is a fine dining extraordinaire that puts a particular focus on fire and grills. Every dish that comes out of the kitchen is impeccably prepared and plated using only the finest ingredients. Priced above the average restaurant, add this to your list for a (very) special occasion.

San Sebastian's Akelarre is another fine dining establishment that has consistently been ranked as the best in the city. The Michelin Star restaurant offers stunning sea views and tasting menus with wine pairings.
One of my favorite tapas bars is El Sur in Madrid. With a casual atmosphere and no reservations, you'll need to arrive early to catch a table at this trendy spot. Set in a cozy tavern decorated with Spanish movie posters and filled with wooden tables and bar stools is a welcoming establishment that will quickly become your local watering hold in Madrid.
Alhambra is another Spanish restaurant serving tapas and small plates in the heart of Madrid. The restaurant has one casual dining space and a fine dining restaurant. Service is fast and friendly, and it's open until 1:30 am.
For one of the tastiest breakfasts, head to the Eqvilibrivm Cafe, a vegan breakfast and juice bar serving delicious smoothie bowls, fresh juices, pancakes, and a full English breakfast equivalent. It is easily one of the best vegan places in Barcelona.
What it's like Living in Spain
A cultural haven flanked by rolling hills, abundant farmlands, and exquisite coastlines – being a digital nomad in Spain really is a dream come true. The country is relatively safe and affordable and offers a high quality of living compared with other European destinations.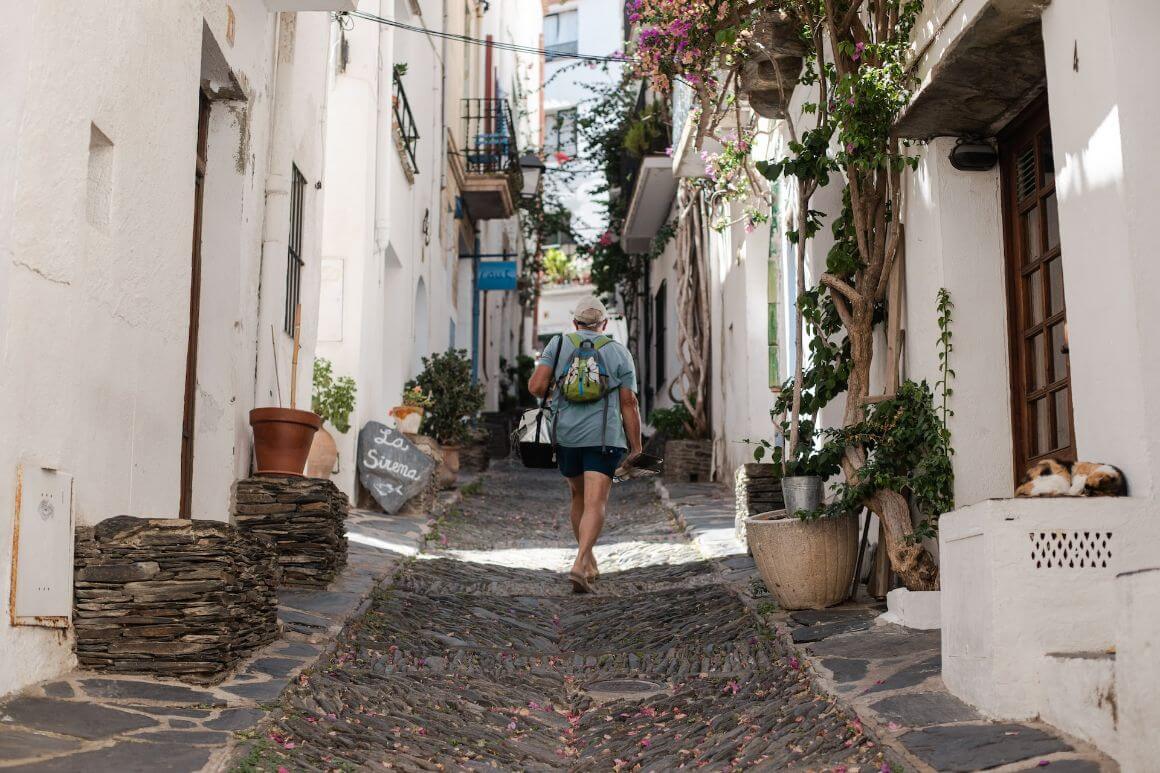 Spanish is the most common language spoken in Spain and is spoken by around 94% of the population as their first or second language. After this, Catalan, Galician, and Basque are common in their respective regions. Of almost 50 million people living in the country, around 10 million are fluent in English. In the big cities, you won't have any issues conversing with locals in English.
Spain has released a new digital nomad visa that allows workers to live and work in the country for up to 3 years, paying subsidized taxes.
There are 59 airports in Spain, with the leading international hubs being Madrid, Barcelona, Seville, Bilbao, Ibiza, and Malaga. The distance from Madrid's Adolfo Suarez Madrid-Barajas Airport to the city is just 15 minutes and is accessed via the metro, costing around $3 per person. It takes about 40 minutes to reach the city center from Josep Tarradellas Barcelona-El Prat Airport and costs about $5 on the train.
Things to do in Spain
Depending on where you base yourself, there are countless things to do in your spare time as a digital nomad in Spain. With year-round moderate weather, the country has a very active population who enjoy spending time outdoors in nature.
Complimented by incredible natural landscapes, there are plenty of amazing hikes, camping trips, mountain biking trails, and viewpoints worth checking out in Spain.
Beginning in Poncebos and ending in Cain, the Divine Gorge, or Ruta del Cares is one of the best hikes not only in Spain but in Europe.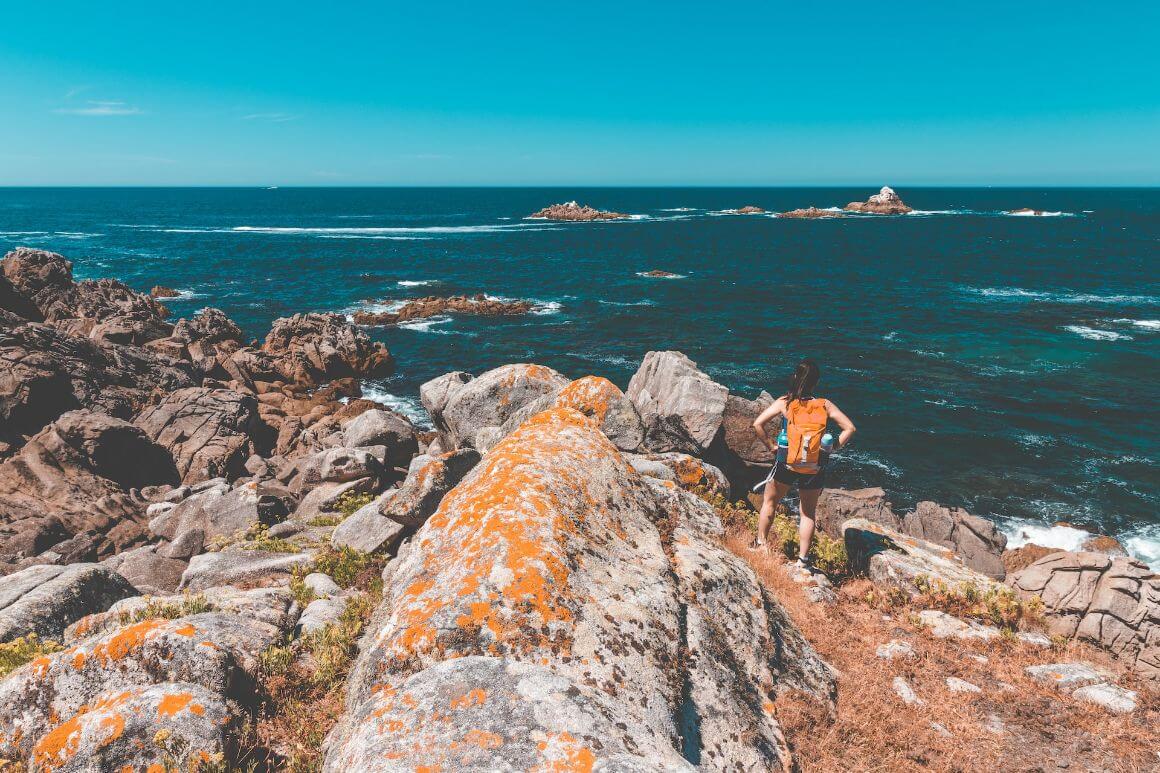 Near Madrid, the Mount Abantos trail from El Escorial and Mirador de la Naranjera is an incredible hike for a day trip. For a guided experience, this volcano trekking tour in La Palma lasts under four hours and is an adventure you won't soon forget.
For a weekend getaway, the paradisical islands of Tenerife are flanked by exquisite beaches and volcanic mountains to hike and explore.
Spain knows how to throw a party, and you can't do much better than attending an event on the island of Ibiza or Majorca. Spend your days relaxing on Mediterranean beaches and your nights partying up a storm with some of the world's most famous celebrities.
Of course, you should spend some time soaking up the culture and history that Spain has to offer. Join this unique tour of Seville's Cathedral, Giralda, and Alcazar for a taste of Seville's stunning architecture, or this three-hour guided tour of Granada through Alhambra with the Nasrid Palaces and Gardens.
It's always a good idea to join ex-pat or digital nomad in Spain Facebook groups to find info on social meet-ups and networking opportunities in your area.
Final Thoughts
The moral of this story is that Spain is an excellent option for digital nomads wanting to spend an extended period of time abroad. The country offers everything from great weather, world-class food, friendly locals, beautiful scenery, and incredible culture, history, and architecture.
The welcoming ex-pat community and unbeatable coworking and living spaces across the country's major cities make life as a digital nomad in Spain even better. Not to mention the liberal visa regulations for foreigners.
On a day off, you could catch a flight on a budget airline to a nearby Mediterranean island or go off-grid with some friends on a camping trip into the mountains. What's not to love?
---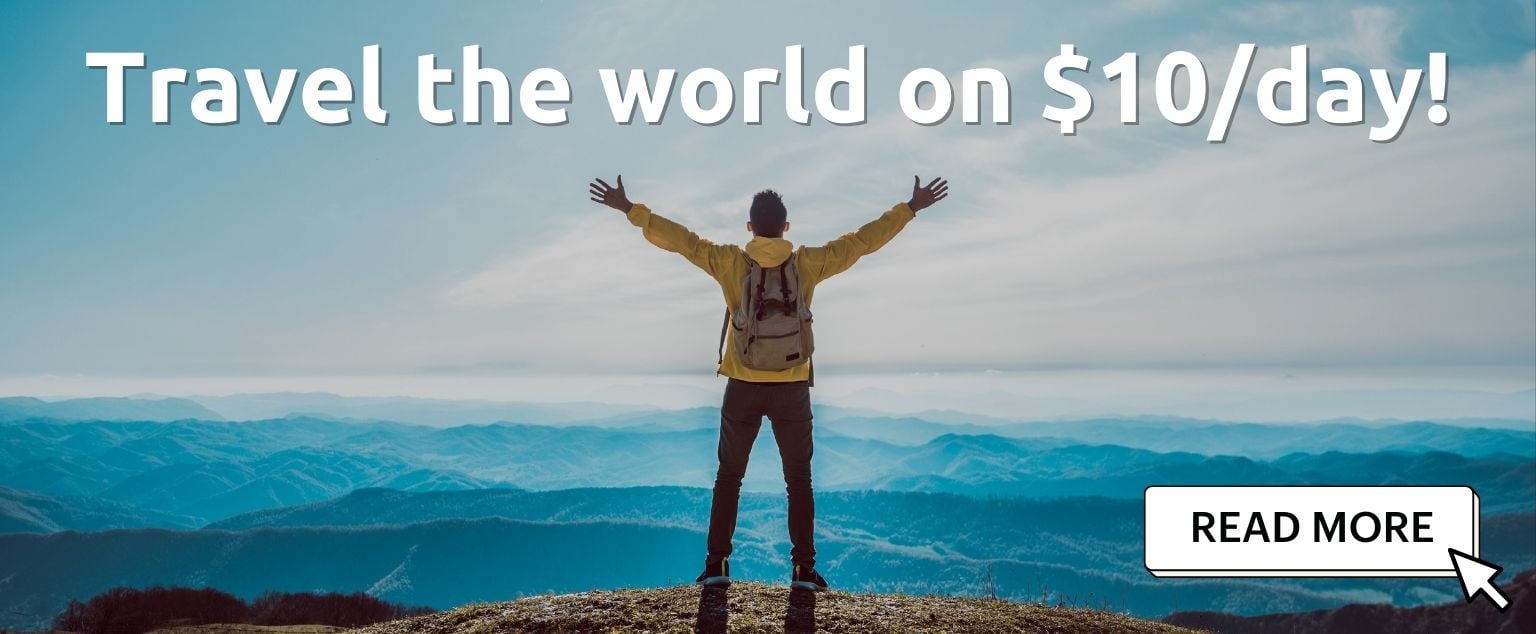 And for transparency's sake, please know that some of the links in our content are affiliate links. That means that if you book your accommodation, buy your gear, or sort your insurance through our link, we earn a small commission (at no extra cost to you). That said, we only link to the gear we trust and never recommend services we don't believe are up to scratch. Again, thank you!