The gateway to Spain's Costa Del Sol, Malaga is a mix of history, beaches, and bars. That's not all though, it's packed with art and culture too. It's where Pablo Picasso was born. You'll have trouble packing everything in, as you'll not want to miss the natural beauty of nearby Torcal de Antequera!
With so much to do in Malaga, you're going to need somewhere to stay. An Airbnb in Malaga is a good base for your trip, as you'll be able to save money and have a bit more freedom than in a hotel or a hostel. Rentals in Malaga come in a wide range of shapes and sizes – from private rooms to villas.
In this post, we'll introduce you to the best Airbnbs in Malaga. We've taken into account a wide range of travel style and budgets, and there's sure to be something to suit you. So, let's check them out!
Quick Answer: These are the Top 5 Airbnbs in Malaga
Overall Best Value Airbnb in Malaga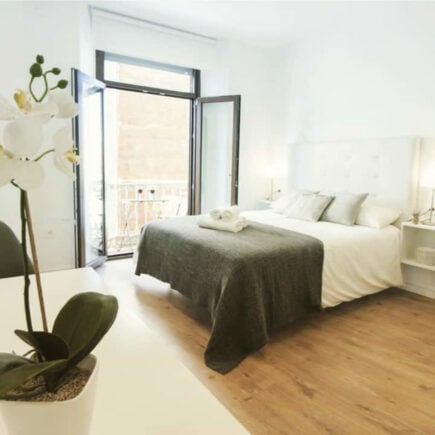 Overall Best Value Airbnb in Malaga
Premium Historic Center & Parking
> $
> 4 Guests
> Free parking
> Safe and quiet area
Best Budget Airbnb in Malaga
Best Budget Airbnb in Malaga
Bright and Comfy Rustic Room
> $
> 2 Guests
> Shared kitchen and patio
> Private bathroom
Best Airbnb for Couples in Malaga
Best Airbnb for Couples in Malaga
Lovely Studio in Historic Centre
> $$
> 2 Guests
> Great location
> Outdoor Terrace
Best Airbnb for Families in Malaga
Best Airbnb for Families in Malaga
Elegant and Central Apartment
> $$
> 6 Guests
> High Speed Wi-Fi
> Small balconies
Over-the-Top Luxury Airbnb in Malaga
Over-the-Top Luxury Airbnb in Malaga
Andalusian House with breathtaking terrace
> $$$$
> 8 Guests
> Wonderful location
> Fantastic Terrace
What to Expect from Airbnbs in Malaga
As we've already mentioned, there is a huge range of property available in Malaga. The best place to start is in the historic centre of the city, where you're likely to be finding places run by friendly locals. You might even need to brush up on your Spanish for some private rooms! The good thing about that is that you'll get to know about the best hidden tapas bars and nightspots.
Many Malaga Airbnbs come with an outdoor terrace, so be sure to check if there's one available at your property. There's nothing nicer than people watching or having your morning coffee with the chatter of the narrow lanes down below.
Further out of the city centre, you might come across bigger properties such as villas. While you'll have lots of space and maybe even a pool, you'll have to trade that with being far away from where everything's happening.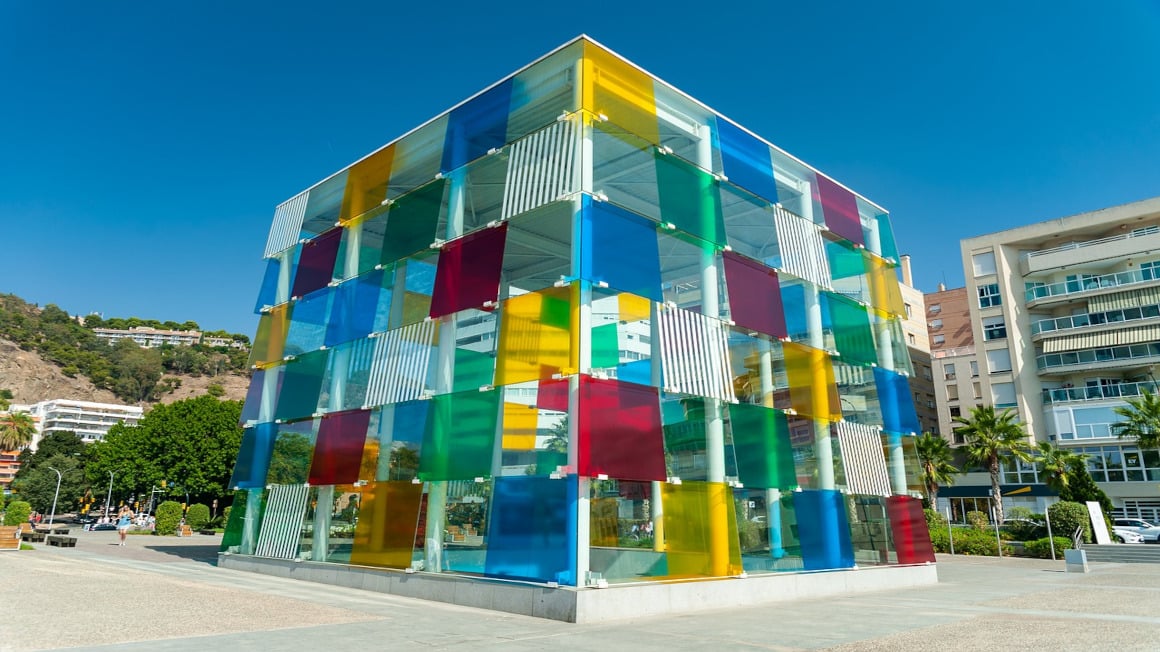 City Centre Apartment
First of all, let's check out the most common property in Malaga. A city centre apartment comes in two varieties – you might be staying in someone else's private room, or you might have it all to yourself. This is reflected in the price, so budget travellers should definitely look to share.
However, Malaga's entire apartments cost much less than you would expect in Barcelona and Madrid. Spain also has the benefit of being one of the cheapest countries to travel in Western Europe, so you could be pleasantly surprised at the small size of your final bill.
Apartments are likely to come with a basic kitchen. However, don't expect an oven as a lot of Spanish food is fried. To be honest, you probably won't be using the kitchen too much when there are so many great Andalusian tapas bars on your doorstep!
Loft
Loft apartments aren't that different from city centre flats. But one thing is for sure, they will always be on the top floor! If you're looking to rent a loft in Malaga, you might pay a little more than the average city centre flat, but that isn't always the case.
Often studio flats, lofts are likely to come with a balcony or terrace, and some have sublime views of important Malaga attractions like the cathedral. Just imagine sipping some wine out on the terrace in the evening!
These are a great option if you're travelling with your other half or enjoying an honeymoon.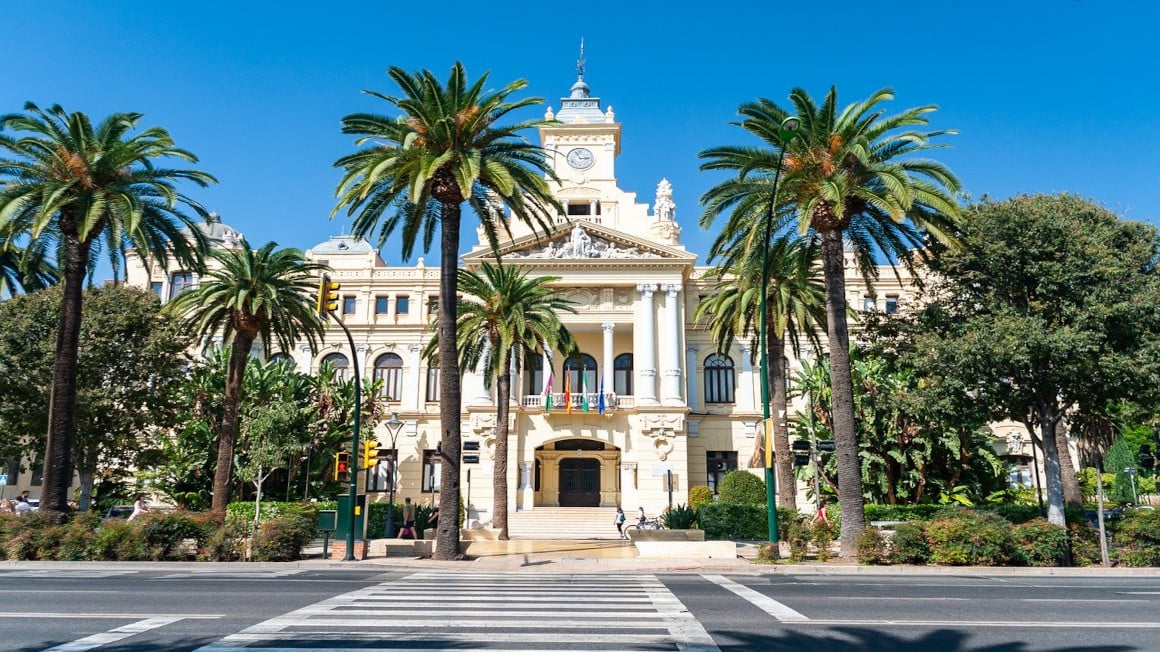 Villa
Last but not least, it's the dream Andalusian stay. Who doesn't want to stay in a villa on the Costa Del Sol?!
While villas are great for romantic getaways, that can prove pretty expensive. Better instead for families and large groups of friends, as most villas will accommodate a minimum of at least 8 people. If you stay in a villa, you could probably spend your holiday there. Most likely, you'll have luxurious additions such as a fully equipped kitchen, multiple bedrooms, and maybe even a swimming pool.
If you split the cost of a villa multiple ways, they often are more affordable that you might expect. However, do remember that they'll be found outside of the city centre. So, if you do want to travel in and have a few drinks, you'll be spending a lot on taxis.
Why Stay in an Airbnb
If you're not already convinced, here are five of the endless reasons that you should consider staying in an Airbnb property.
Local Experience: Staying in an Airbnb means you can get tips and tricks on the best ways to see the local area that you won't find in the guidebooks.
Privacy: Malaga is often a romantic getaway destination. There are hundreds of vacation rentals which you'll be able to treat as a home away from home.
Affordability: The savings you can make on Airbnb as opposed to hotels of the same quality are enormous. Then, you can spend your money on tapas!
Safety: Both hosts and guests are vetted by Airbnb. The review platform protects both you and them.
Airbnb Experiences: Locals won't just help you out with the best things to see and do – they can even take you! Airbnb Experiences are a great way to see Malaga with a personal touch. And we've listed our top five below!
Travel with peace of mind. Travel WITH a security belt.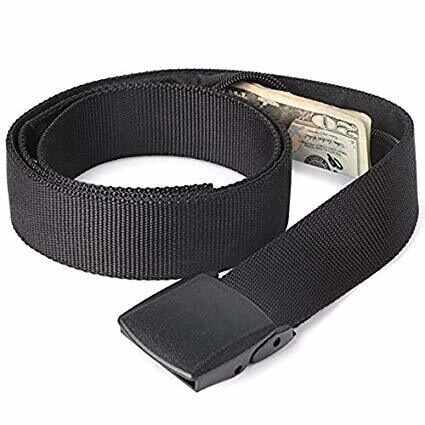 Custom-designed BY the Broke Backpacker FOR broke backpacking, the Active Roots Security Belt will keep your valuables safe no matter where you go.
It looks exactly like a normal belt except for a SECRET interior pocket perfectly designed to hide a wad of cash or a passport copy. Never get caught with your pants down again! (Unless you want to.)
Check on Amazon
The Top 15 Airbnbs in Malaga
We've had you waiting long enough, check out the 15 best Airbnbs in Malaga. But before you head off, make sure to decide where you want to stay in Malaga first. You don't want to end up far away from your favorite hotspots!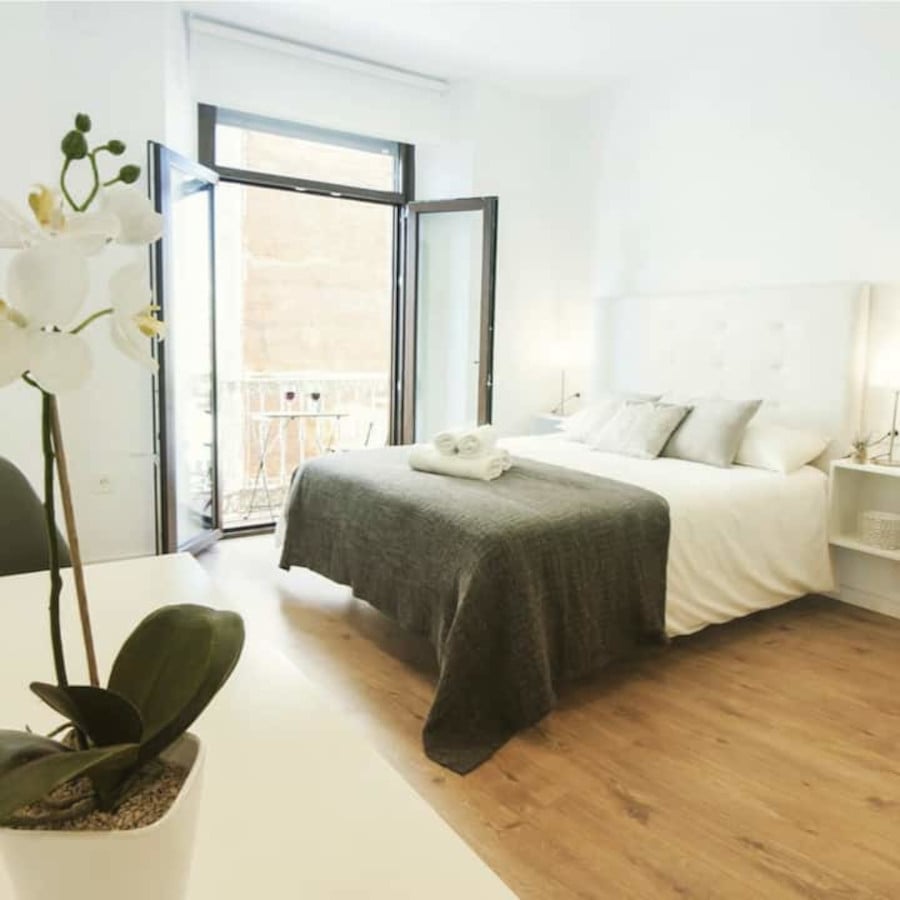 4 Guests
Safea nd quiet area
This flat is the best Airbnb in Malaga to make the most of the city centre and keep your costs down low. It can sleep as many as four people, though it might be more comfortable and cosy for a couple. As well as a comfortable bed, you've got a balcony where you can sit and enjoy a glass of wine or a morning coffee as you soak up the atmosphere of the historic centre. Renting a car? There's free parking too!
$
Shared kitchen and patio
Backpacking Spain on a budget? It might be a better idea to look at a private room than an entire place. Which brings us to this bright and comfortable room with your very own private bathroom. You'll be sharing the kitchen and patio, but that's just a chance to meet other travellers and your host. A laptop-friendly workspace and aircon mean any digital nomads on a shoestring need look no further.
1 Guest
Terrace with sofas
Yeah, a double bed is nice, but in the interest of keeping your costs down you can do without one if you're travelling solo! Again, this isn't the only private room on the property so there's every chance you'll meet other travellers you can explore the top hotspots in Malaga with. Chill out in the living room where there is a sofa, dining table, and a library. Everything you need if you fancy a night in!
Wow, it really is hard to choose the best Airbnb in Malaga for couples. There are so many awesome apartments in the centre that will give you the privacy and romance you desire! This one just edges it with its Andalusian balconies which are the perfect suntrap. The wonderful location means it's not far to try the best bars and restaurants in Malaga too!
Is This the Best Travel Backpack EVER???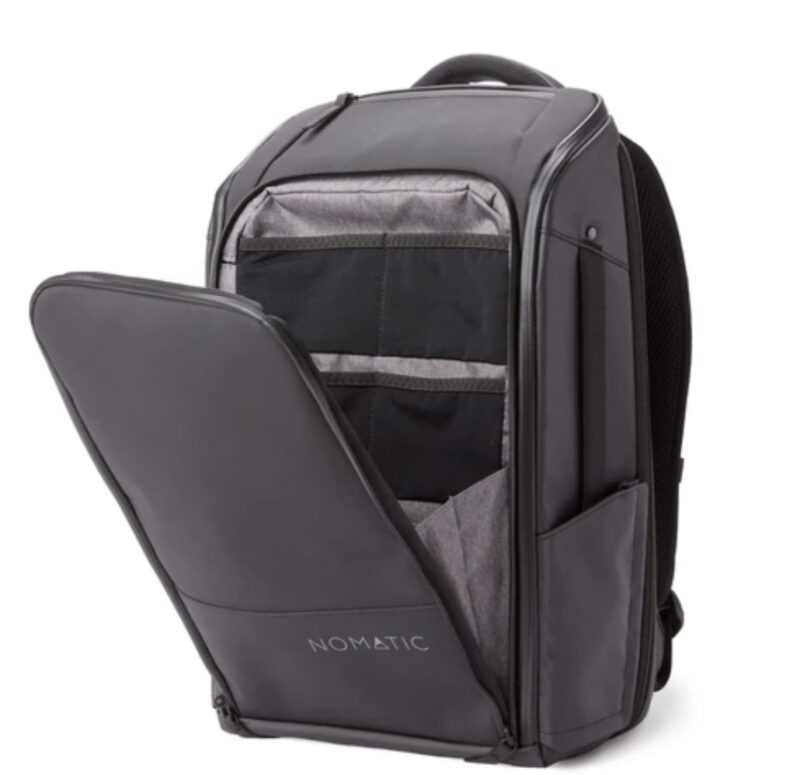 With three bedrooms, a comfortable living room, and space for up to 6 guests, you won't find a better Airbnb for families in Malaga. No matter the age! You'll just have to be quick as this place gets booked up fast! Eating out can get expensive in a big group, so choose to prepare something in the fully equipped kitchen instead. High-speed Wi-Fi means everyone can connect to their devices too – who's for a movie night on one of the balconies?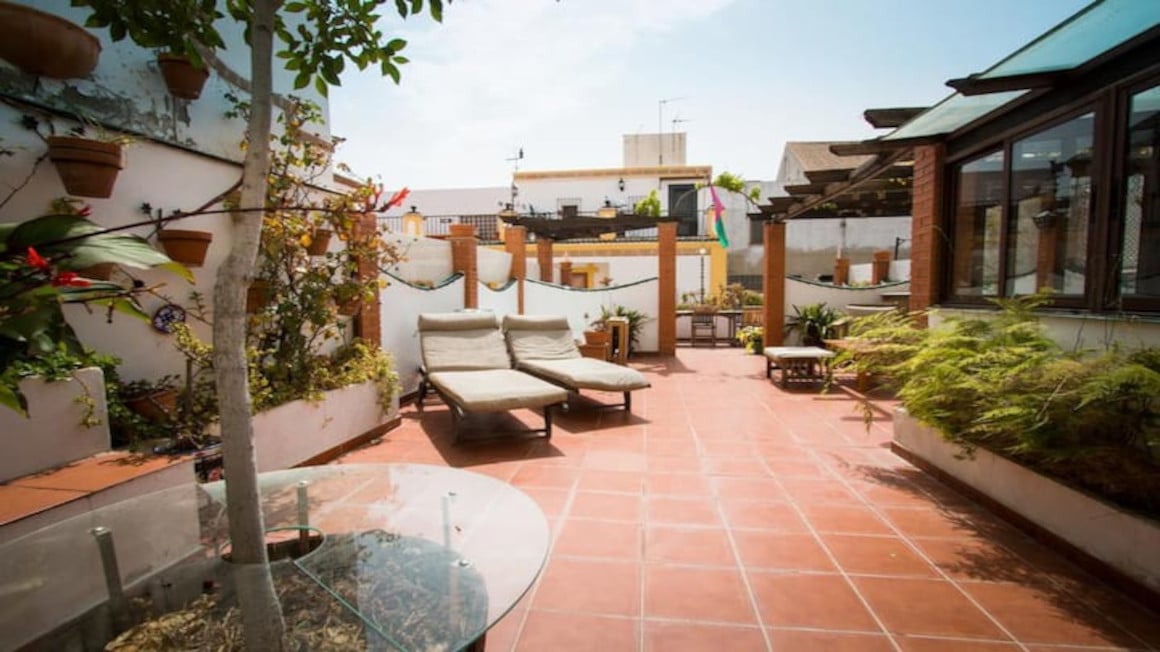 8 Guests
Fantastic Terrace
Money no object? If that's the case splash out on this totally beautiful and over the top Airbnb in Malaga. For you and seven of your nearest and dearest, you can spend the day on the roof just soaking up the sun. Weather's not good? No problem, just head inside and have a play on the piano or enjoy some food in the farmhouse style kitchen. You're going to love it!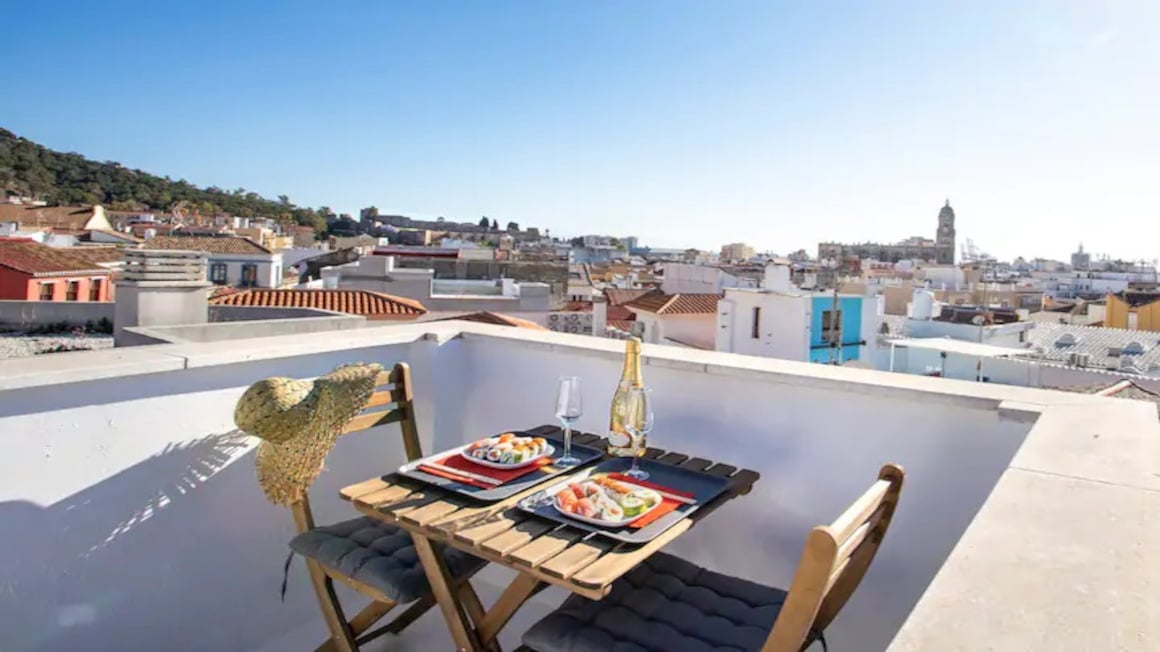 Just look at that view of the cathedral from your roof terrace! It's worth the shaky climb up the telescopic ladder in your bedroom. Another awesome staff for couples, this beautiful city centre flat might just end up on your Instagram page. It's just five minutes from the city centre and 15 from Malagueta Beach. Book it now!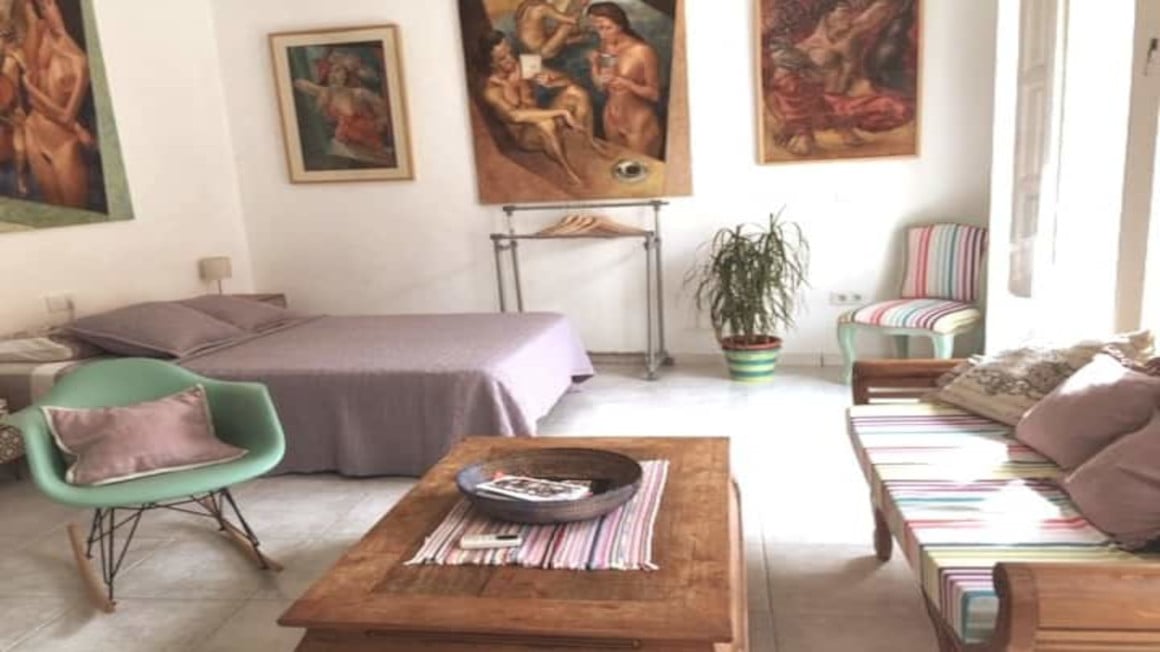 The walls of this Malaga loft apartment are lined with art, which gets plenty of light from the double doors! Open them up and step out onto two balconies which will give you a view over the car-free historic centre. When you finally decide to leave the flat, it's just a short walk to the top tourist attractions, including the cathedral, beach, and port. Lots of restaurants and cafes nearby too!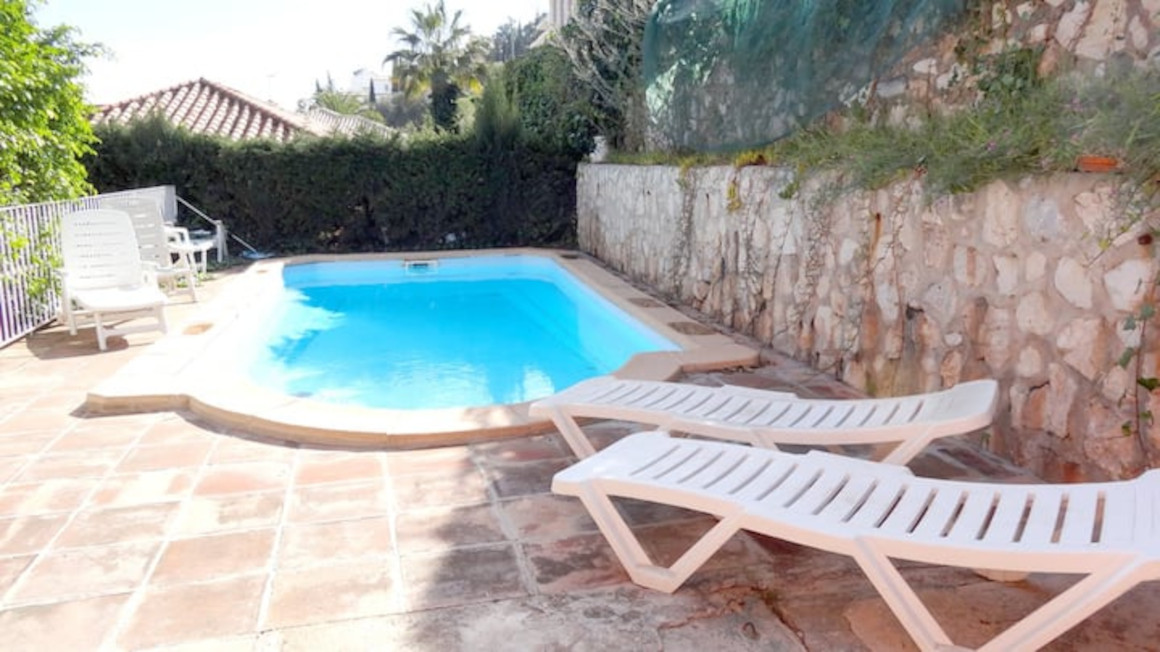 You'll find that most of the villas in Malaga are nowhere near the centre of town. However, there's always an exception to the rule and here it is! With space for up to ten guests, this is a wonderful place to stay for a large family gathering. The price is high but that does get you five bedrooms, a garden, and a pool – all within a five minute drive of the nearest beach and historic centre.
$
Laptop friendly workspace
2 Guests
Near bars and cafes
What are the two most important things as a digital nomad? That's right, a laptop-friendly workspace and superfast broadband. Both of which you'll get at this pleasant city-centre flat. If you want a change of scenery but need to continue working, it's just a stone's throw from loads of cafes and bars where you can keep your caffeine levels high while people watching!
And now for the most unique Airbnb in Malaga… Pack your sea legs because you're staying on a luxury yacht! You might not expect much space, but there's room for up to 6 guests, and there's everything you could want from an accommodation. We're talking kitchen, sundeck, and salon. The only disappointment with staying on this boat? You're not actually allowed to drive it and must stay anchored in the port. But that just means you're near lots of great things to do in Malaga.
$$$$
Fully equipped kitchen
Malaga is a city known for its art scene, but this beautiful Airbnb proves you don't need to leave where you're staying to get your fix. With elegant paintings in a multitude of styles across the three bedrooms and living space, you'll always have something to feast your eyes on. The furnishings and large spaces in this awesome flat only make it more likely that you'll spend all of your time rather than going out to explore the city!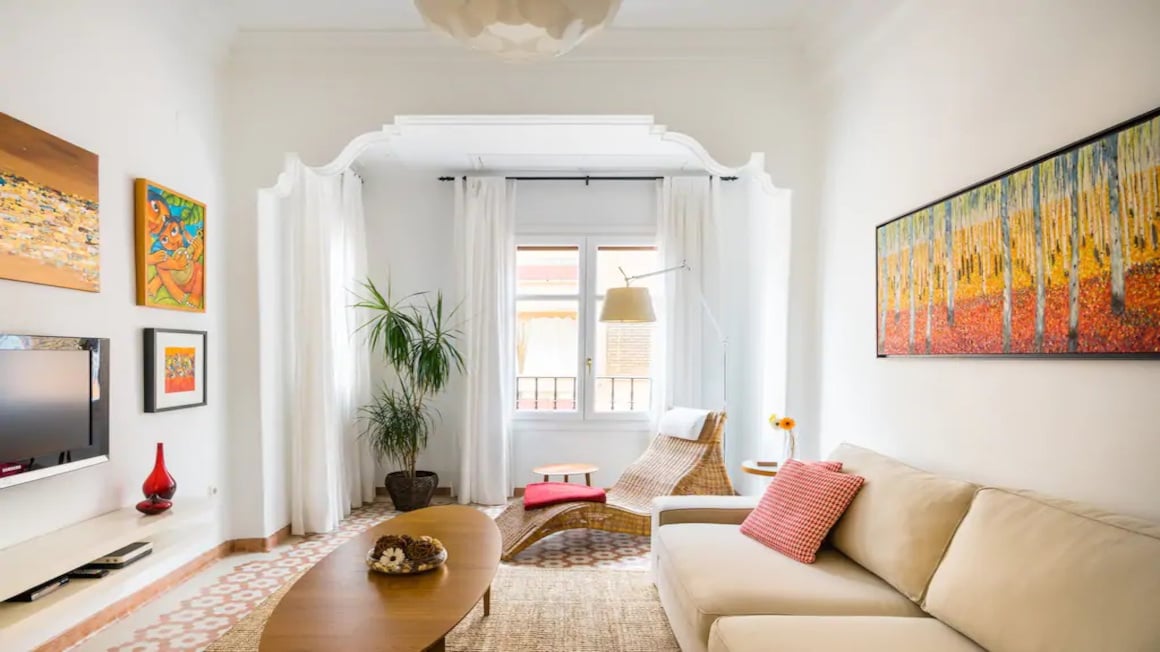 $$$
Fully equipped kitchen
Usually, you'd expect an Airbnb Plus property to be noticeably more expensive than similar apartments of its size. Not this one in Malaga's Soho art district though. It's one of the city's coolest neighbourhoods, and this flat reflects that with cool artwork on the walls. There are two bedrooms, the larger of which has a balcony and a cot so it's appropriate for families visiting with small children.
Best Airbnb for a weekend in Malaga | Alcazaba Views
If you're planning a weekend in Malaga, you'll want to be close to all of the best things to do and see. Well, from your window you've got the stunning alcazaba on show so you can enjoy views of that while you eat breakfast or lunch! As well as having multiple tapas restaurants on your doorstep, the city's stunning cathedral awaits you. Check it out from your roof terrace.
6 Guests
Independent Kitchen
With space for up to six people, you can have a real blast in this stunning Airbnb. Whether you spend the day at the close-by beach or chill around the shared pool, you can be sure to have a great time (just don't forget your sunscreen!). The spacious apartment is the perfect spot to hang out with your friends and plan your next adventure.
Top 5 Airbnb Experiences in Malaga
Don't like the feeling of forced fun with a tour company? You don't have to put up with that anymore. Airbnb Experiences are put together by locals who enjoy nothing more than showing you what's great about their city.
It could be anything from a cooking class or bar crawl to a multi-day hike in the mountains (though you'll only find day hikes in Malaga).
Organising an experience through Airbnb can save you the hassle of booking at a tour operator and it means there won't be any confusion if there's a language barrier. Just a few clicks and you're done! Let's take a look at the best experiences in Malaga.
€49 per person
5 hours
Up to 8 guests
You're spoiled for choice when it comes to hiking in Malaga, with Caminito del Rey and Frigiliana nearby. However, why not tick a UNESCO World Heritage site off the list with a guided hike around the Torcal de Antequera? It's unlike any other landscape in Europe and you're likely to see vultures, goats, and reptiles.
€42 per person
5 hours
Up to 4 guests
Sometimes a hike can just be too tiring – especially in the Andalusian heat! However, with this small group tour you can immediately risk your legs after a little walk. These hidden hot springs can't be found in the guide books, but that's not all. Your friendly guide will prepare you with a traditional tapas picnic. An awesome and unusual day to remember!
€29 per person
3 hours
Up to 10 guests
Once you've been fitted with your bike, you'll see all of the sites that Malaga has to offer in just three hours. As well as the historical centre, you'll be able to chill out in the botanical gardens and along the promenade by the beach. Not only will you learn more about the city, but you'll work off those tapas from the night before!
€67 per person
3 hours
Up to 6 guests
Spain is incredibly famous for its tasty tapas. It's not just the food that makes this experience special, the socializing part of the tour is also worth the unique experience. You'll discover the five best tapas hotspots in Malaga together with your host and learn everything there is to know about the Andalusian cuisine. You can enjoy local bars that aren't overfilled with tourists and some of the best local drinks as well. Make sure you come with an empty stomach!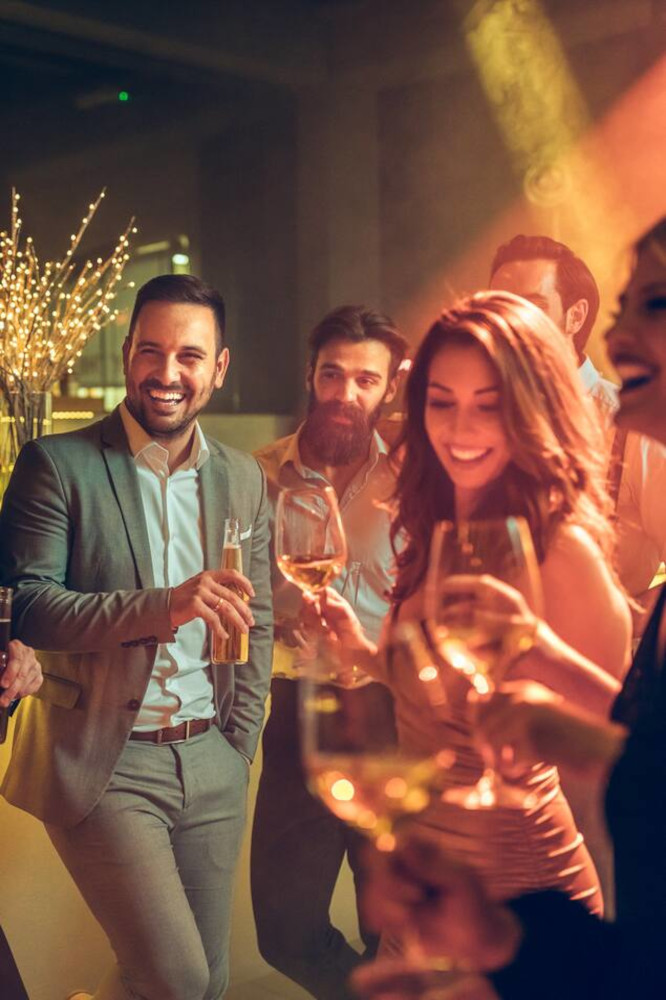 €15 per person
5 hours
Up to 10 guests
No trip to Malaga is complete without a night out, but where should you go?! Well, your host has prepared an itinerary that will have you relax and enjoy a few drinks before you move onto a couple of clubs. And yes, you can expect a free shot!
Final Thoughts on Malaga Airbnbs
Hopefully, now you have a better idea of where to stay in Malaga. All you need to do is pick your favourite. Are you going to go with a central loft apartment with awesome views or a grand villa? Only you can decide!
If you're still struggling, we'd suggest keeping it simple and going for our overall favourite Airbnb in Malaga – Premium Historic Centre Apartment with Parking. It boasts a wonderful location and great value for money.
We hope that now you have a good idea of where to stay in Malaga and are ready to book your trip. As well as booking your accommodation, make sure to take out travel insurance from World Nomads!
And don't forget to take out Travel Insurance for your trip! I have been using World Nomads for some time now and made a few claims over the years. They're easy to use, professional and relatively affordable. They may also let you buy or extend a policy once you've started your trip and are already abroad which is super handy.
If there's one insurance company I trust, it's World Nomads. To find out why I use World Nomads, check out my World Nomads Insurance review.
Getting an estimate from World Nomads is simple – just click the button or image below, fill out the necessary info, and you're on your way!

---
Find out how YOU can support the site.
We work hard to put out the best backpacker resources on the web for free! It's all about helping out our tribe of awesome backpacker readers (that's you!). Please visit the link to find out how you can help keep the site going 🙂
For the sake of transparency, some of the links in our content are affiliate links. This means that if you book your accommodation, buy a piece of gear, or sort your insurance through our link, we earn a small commission at no extra cost to you. We only link to stuff that members of the Broke Backpacker team has actually used and never endorse products or services that are not up to scratch. Thanks for your support!