Like a neglected middle-child, Valencia is the smallest (and most underrated) of Spain's 3 largest cities. It is a city fuelled by the intense heat of a Mediterranean sun, and combines maddening southern France with the tastes and burnt rhythm of the Spanish.
Ultra-modern architecture (like the Ciudad de las Ciencias y las Artes) aggravates a stark contrast to the city's vibrant historic buildings. The resulting atmosphere is as fragrant, juicy and exciting as any Spanish dish.
And, just as any Spanish main course begs to be wine-paired, any visit to Valencia feels similarly allured by a complimentary accommodation.
Perfecting this art may be intimidating, but there is no reason to settle for a sub-par stay when Valencia is turkey-stuffed with amazing apartments, revitalizing villas, and luxurious lodgings. In this post, I'll take a look at what I consider the 10 best Airbnbs in Valencia. Whether you have a budget larger than John Cena, are looking for something family friendly, or want a mattress soaked in dirt, I've got you covered.
So, let's jump straight in and check them out!
Quick Answer: The Top 5 Airbnbs in Valencia
OVERALL BEST VALUE AIRBNB IN VALENCIA
OVERALL BEST VALUE AIRBNB IN VALENCIA
Spectacular Central Penthouse
> $$$
> Outdoor dining area
> A terrace worth prison time (not literally)
> Right in the city centre
BEST BUDGET AIRBNB IN VALENCIA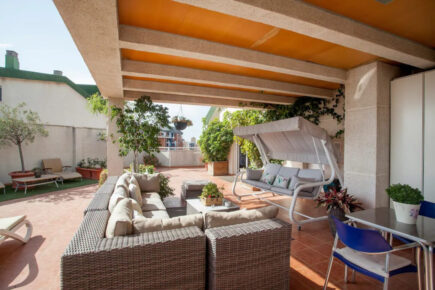 BEST BUDGET AIRBNB IN VALENCIA
Duplex Attic with Magnificient Terrace
> $
> Outdoor terrace
> Access to a shared pool
> Within walking distance of Cabecera Park
AMAZING LUXURY AIRBNB IN VALENCIA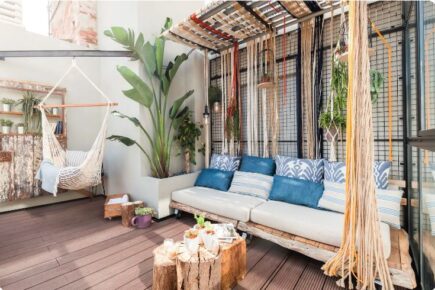 AMAZING LUXURY AIRBNB IN VALENCIA
Bohemian Penthouse with Terrace
> $$$
> 3 Guests
> Terrace with Hammock!
> Awesome views of Santa Catalina Church
PERFECT AIRBNB FOR SOLO TRAVELLERS
PERFECT AIRBNB FOR SOLO TRAVELLERS
Charming Flat for One
> $
> Dedicated workspace
> Living/ dining area
> Luggage drop-off
BEST AIRBNB FOR DIGITAL NOMADS
BEST AIRBNB FOR DIGITAL NOMADS
La Guarida III
> $$
> 2 guests
> Great Location
> Clean and tidy

Unlock Our GREATEST Travel Secrets!
Sign up for our newsletter and get the best travel tips delivered right to your inbox.
What to Expect from Airbnbs in Valencia
Valencia is a beautiful city bursting with seaside vibes and stunning architecture – so naturally, there is an abundance of gorgeous places to stay!
Most vacation rentals in Valencia are well-kept and are prone to decorative flair. That said, there are some stand-out gems, and because Valencia is less expensive than most Spanish cities, you can pick 'em up for a bargain.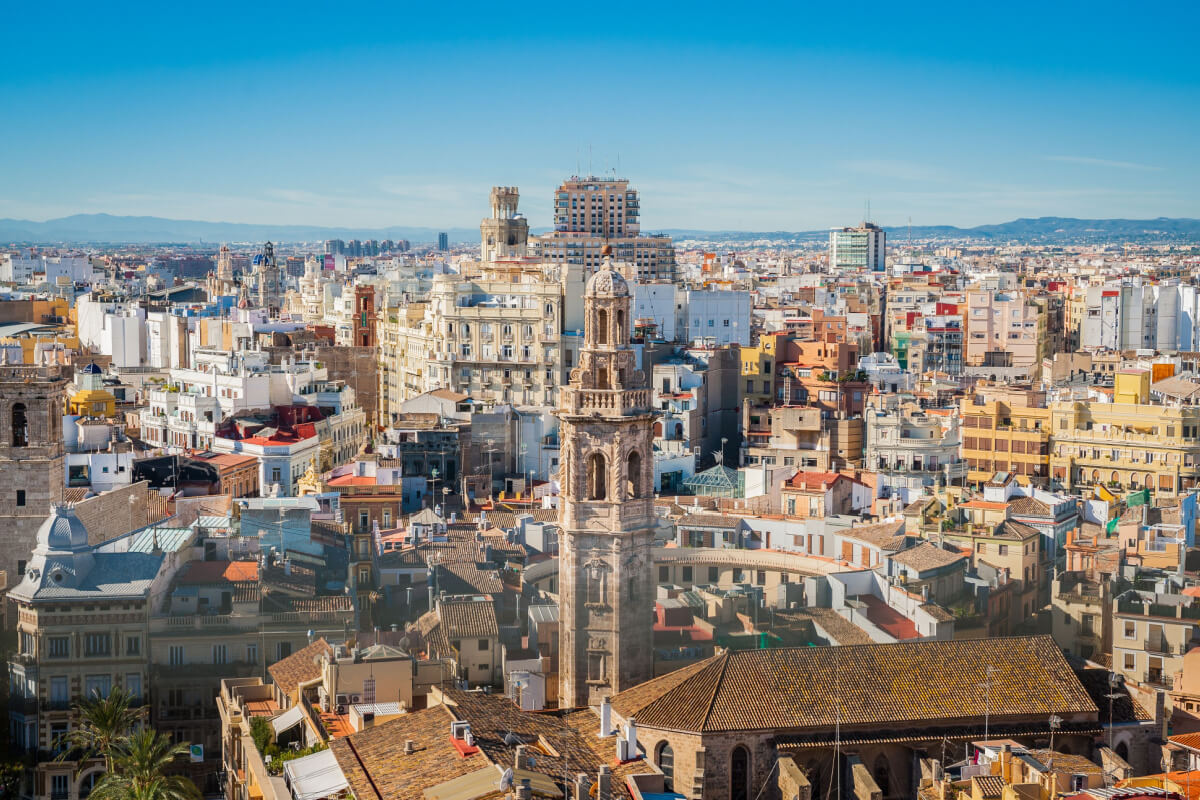 Apartments- unusual, colourful and exciting
As previously mentioned, Valencia is an affordable city – relatively, anyway – so you'll find you can get a little more space for your cash here than you might be able to in Barcelona or Madrid. These spots are also often attractively decorated, so you'll be able to Instagram your wonderful apartment right alongside the rest of the stunning snaps from your trip. There's a reason Instagram's most popular filter is named after this city, right?
Whilst Valencia might be cheap, and a range of beautiful apartments are available, many of the best are well outside the price range of a normal Spanish backpacking trip. Airbnb is a slightly classier accommodation option, great for holiday-goers and travellers who want their own space and privacy.
The old town (or Ciutat Vella) is where most options are centred, so a great location is almost assured. There are several penthouse apartments available in this area for people who love a view.
Regardless of what trip you are planning, whether you are looking to pick up a spacious apartment, sunny terrace or stunning swimming pool, Airbnb will ensure you can find the best vacation rentals around.
Beachfront- rustic charm or hotel-like
Valencia is a city on the coast, and there is no better way to do a city than to stay somewhere with access to open spaces and mind-boggling views. The beach solves all problems, especially if you find yourself short of things to do in city biomes.
Beachfront Spanish Airbnbs generally fall into two categories. If you're up for a beachfront room with a 70s, kind of "Goldfinger" hotel atmosphere (ok they are actually modern and cool too) there are some awesome options available. If you head slightly further north from the main beachfront and port, you can find increasingly rustic and charming places that are ideal for families and larger groups.
Whilst they are slightly further from the city centre, beachfront stays will always have a fantastic location, because they are always within walking distance of the beach!
Private Villas- go on, splash the cash…
"Spanish-style Villas" are obviously iconic, so there's really no better place to experience one than in a Spanish seaside town like Valencia! Travellers with families or larger groups of friends will love having their own slice of paradise a little outside the hustle and bustle of Valencia proper – plus, who doesn't want to float in a private pool under the Spanish sunshine?
Villas are supremely popular, which is good for them since extra demand drives up the price. However, booking early or during the off-season can reduce the cost significantly, so even if you don't have the cash to stump up for summer prime time, there is often a way to make sure you get a piece of the action.
Villas in Spain's third-largest city are reasonably rare but very awesome, so make sure that you book early!
Why Stay in an Airbnb?
Local Experience: Having a local as a host means you are able to find out all the best places to visit and things to do that are off the beaten tourist track. That doesn't just go for Valencia, but for all travel destinations in Spain.
Unique properties: Airbnb has every kind of property you could think of. There's even a 'unique stays' search function, where you can find an array of funky, quirky or uber-stylish stays.
Privacy: Whether you're travelling with the whole family or your other half, it's nice to have your very own space where you won't be disturbed.
Affordability: You can spend less than $100 a night on an Airbnb and get all the facilities you'd expect in a five-star hotel and more. Airbnb makes it easier to spend your holiday money wisely! The price also acts as a predictor of the most popular holiday bouts, but these are not necessarily the best times to visit.
Safety: It might seem a little weird staying in someone's house; however, both hosts and guests are vetted by Airbnb reviews to ensure their safety. Spain is a safe country on a bad day, and Airbnb booking security just adds a little extra to it.
The 10 Best Airbnbs in Valencia
The perfect Valencia Airbnb is lounging somewhere out there… … Let's go get it!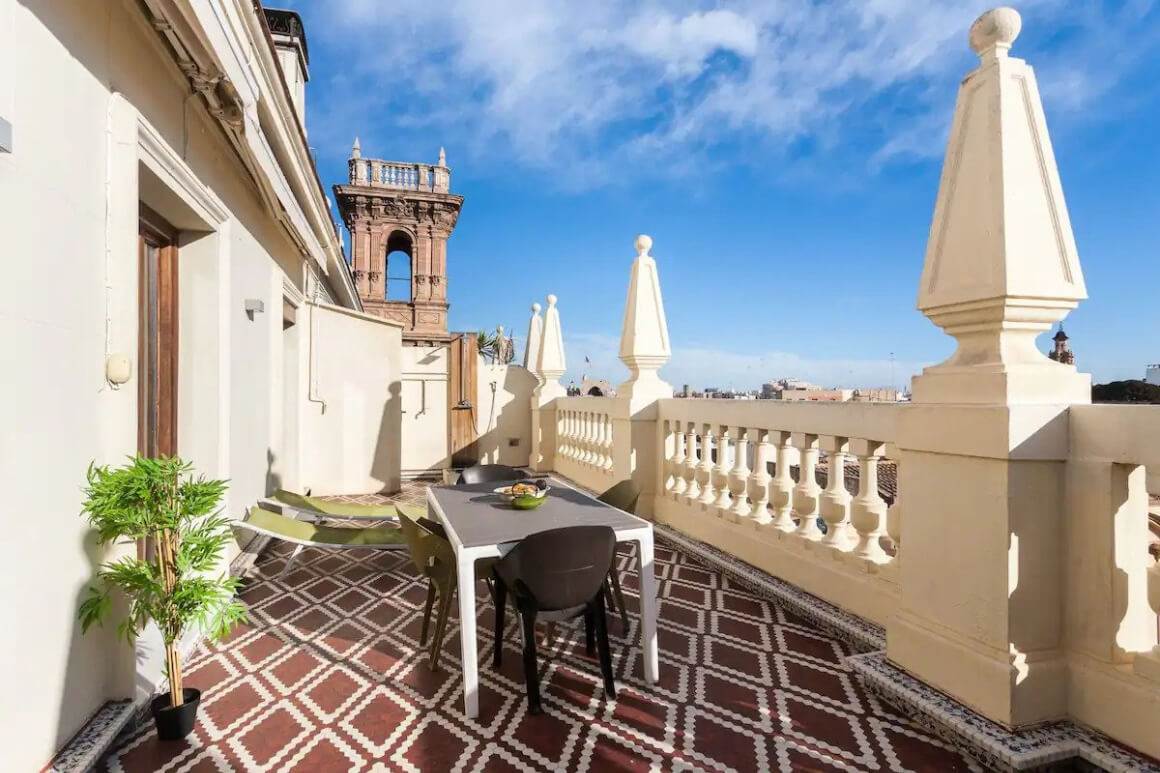 $$$
A terrace worth prison time (not literally)
Outdoor dining area
Right in the city centre
With room for up to four guests, this beautiful apartment is a clear contender for the best Airbnb in the city. The outdoor terrace is perfect for sunbathing, having dinner, and enjoying some great downtime. There are unbelievable views of the so-called "little finger" and cityscape.
Placed conveniently in the old town centre, all you have to do is walk out the door to be swept up into the fray, with charming cafes, restaurants and bars all within easy walking distance. Both the plaza de la Reina and Valencia Cathedral are within reach too!
This Airbnb tends to get booked up during the summer, so getting a groove on and making moves is the best way to secure a stay here! There is air conditioning, free wifi, a flat-screen TV, and great kitchen space.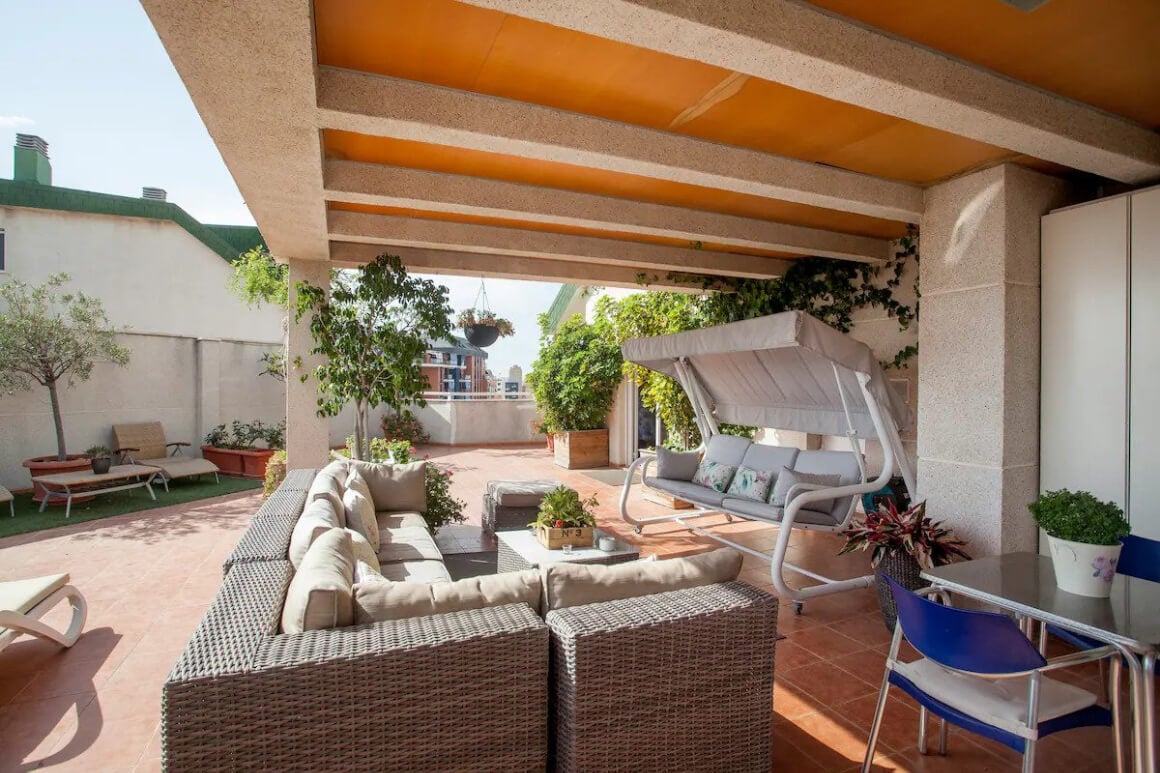 Outdoor terrace
Within walking distance of Cabecera Park
While not located as centrally as some of the other Airbnbs listed here, there is a big trade-off in terms of the quality and space available (especially for the price). However, there is a bus stop right across the road for accessing the attractions of the old town (the Valencia cathedral ain't gonna see itself).
There is shared pool access and a communal outdoor area. A reasonably sized kitchen is available for whipping up the odd meal, and there is a dedicated workspace and wifi for anyone who needs to take care of a little business.
This comfy Airbnb will leave you with an awesome place to crash after a day out in Valencia. The hosts are very friendly, and I'm sure will accommodate anything that you need!
3 Guests
Awesome views of Santa Catalina Church
If you have a little extra money to spend, that can go a long way when choosing your Valencia Airbnb. Imagine enjoying breakfast on a hanging chair on the balcony with a view of one of the city's prettiest churches! Stay here, and it'll become a reality. The apartment can accommodate up to 3 guests as well, so splitting it between you won't seem that expensive at all – especially for such a lovely spot!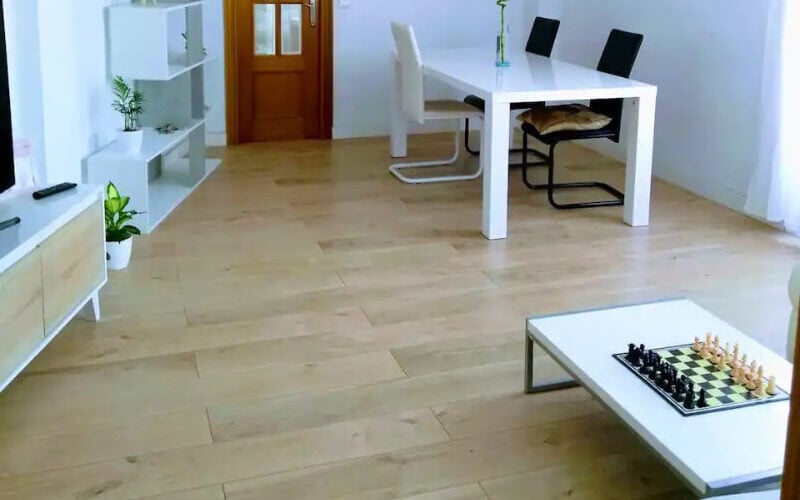 Dedicated workspace
Luggage drop-off
Perfect for those travelling by themselves or in a pair, this super cheap apartment has everything you need to make a stay in Valencia comfortable. With stylish and clean decor, there is a double bed, sofa, and TV. This stay is five minutes from Valencia Airport, making it perfect for an end-of-trip place to kick back.
The flat is based a little further from the Ciutat Vella, inland, but there are great transport connections to both the city centre and the beach. Just one street off of Valencia main road, there is a Lidl, Mercado and a Consum nearby.
Best Airbnb for Digital Nomads | La Guarida III
Located no more than 5-10 minutes from the Barrio del Carman and the train station, this stay will make sure you're able to get the most out of any visit to Valencia. Not only does this bright apartment come with free coffee pods, juice and breakfast cookies, but a complimentary bottle of wine (and maybe a few beers) are on offer too.
Guests here will feel that they really get the hotel treatment, as the apartment has a great-sized bed, super fast wifi (300mbps), a 55″ smart TV, and air conditioning. Perfect for a siesta, crashpad, or dinner party, this vacation rental will have you on top form whatever your plans are.
Is This the Best Backpack EVER???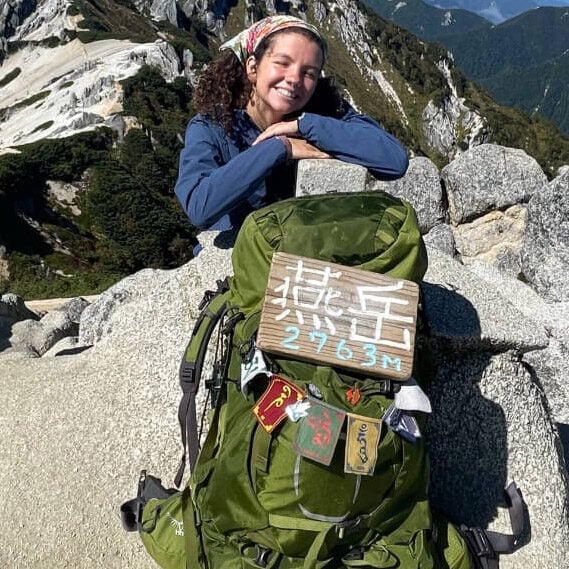 $$
Great location near lively bars
Barrio del Carmen is the place to be if you're out for the night in Valencia. So, why not pick a place that means you can ditch the taxis and spend more money on cañas and sangria! This light, bright, and airy Old Town apartment ticks all of those boxes, and there's space for you and up to 3 friends. As well as being within walking distance to the nightlife action, it's comfortable if you've overdone it a bit the night before!
Comfy double beds and an indoor patio mean that you can lounge around in the apartment until you're ready to face the world again!
Rustic and Unusual decor
Great Kitchen
Spain is a romantic country- full of great food, wine, and perfect weather. If you want to step that up another notch, this stylish apartment is the perfect place to do it. Beautifully furnished, there is a Nespresso machine, free wifi, kitchen and air conditioning.
The flat is located less than half a mile from the Ciutat Vella, so escapes the super touristy areas, while not being too far from the excitement. The train station is easily accessible too, and there are plenty of ways to get around.
The kitchen is well equipped for a night in, and there is a large terrace area out the back which is ideal for an evening meal. The bed is comfy, and the host is super happy to make sure everything runs smoothly.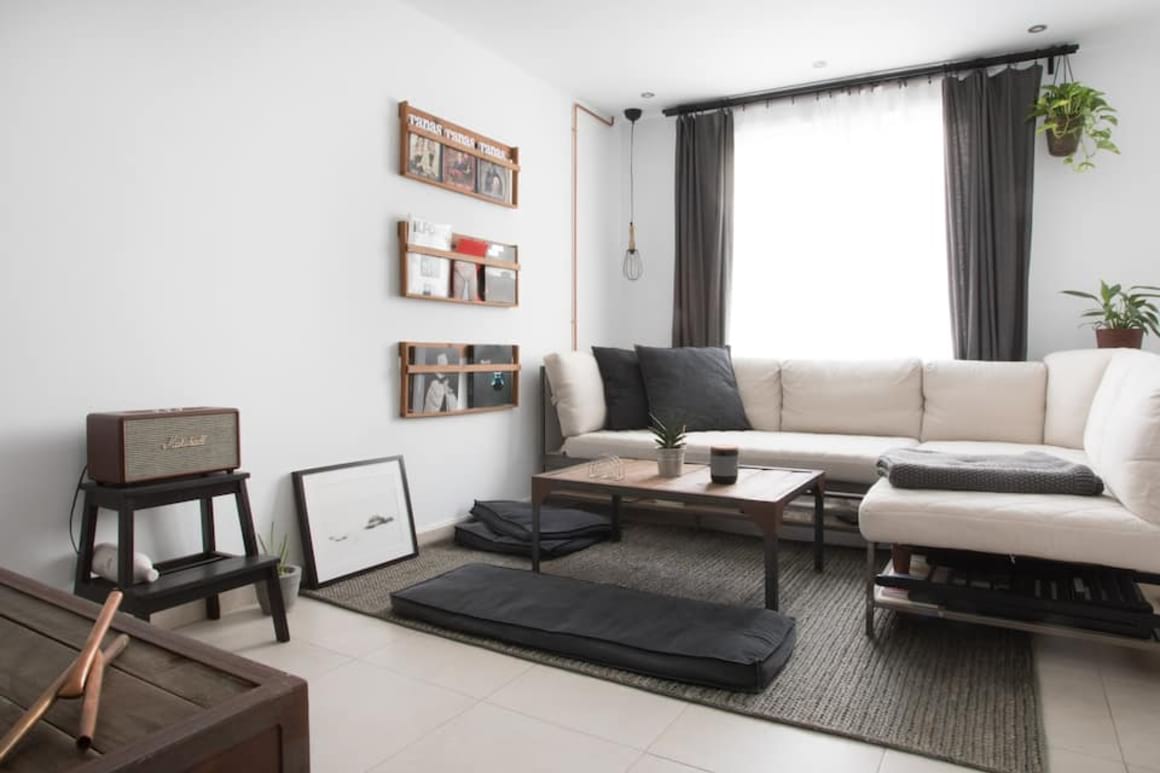 1 Guest
Amazing Central location
Staying at this charming home will give you the ultimate Valencia experience. You'll be living in a super charming private room, while having full access to all common areas of the flat, including the living room, kitchen and bathroom. There is a functioning air conditioning system too.
The Wifi is super fast, ideal if you have some work to do and the place is super homely and comfy. The Airbnb is shared with your host who is known to be incredibly welcoming and kind. If you have any questions about Valencia or what hotspots are the best, don't hesitate to reach out to him!
Kids? Entertained. Adults? Living like they wanna. This exceedingly gorgeous beachside apartment is an idyllic place to take a holiday. Located on the edge of Playa la Patacona, beach entertainment is assured, as well as fantastic restaurants, cafes and bars.
There are two terraces, one with unbelievable beach views out front, and another for hanging out the laundry. There is a great kitchen, so if you're looking to cut costs for a few meals, you can. There is free wifi, and a large TV if any rainy days do happen to come along (which is most unlike Spain).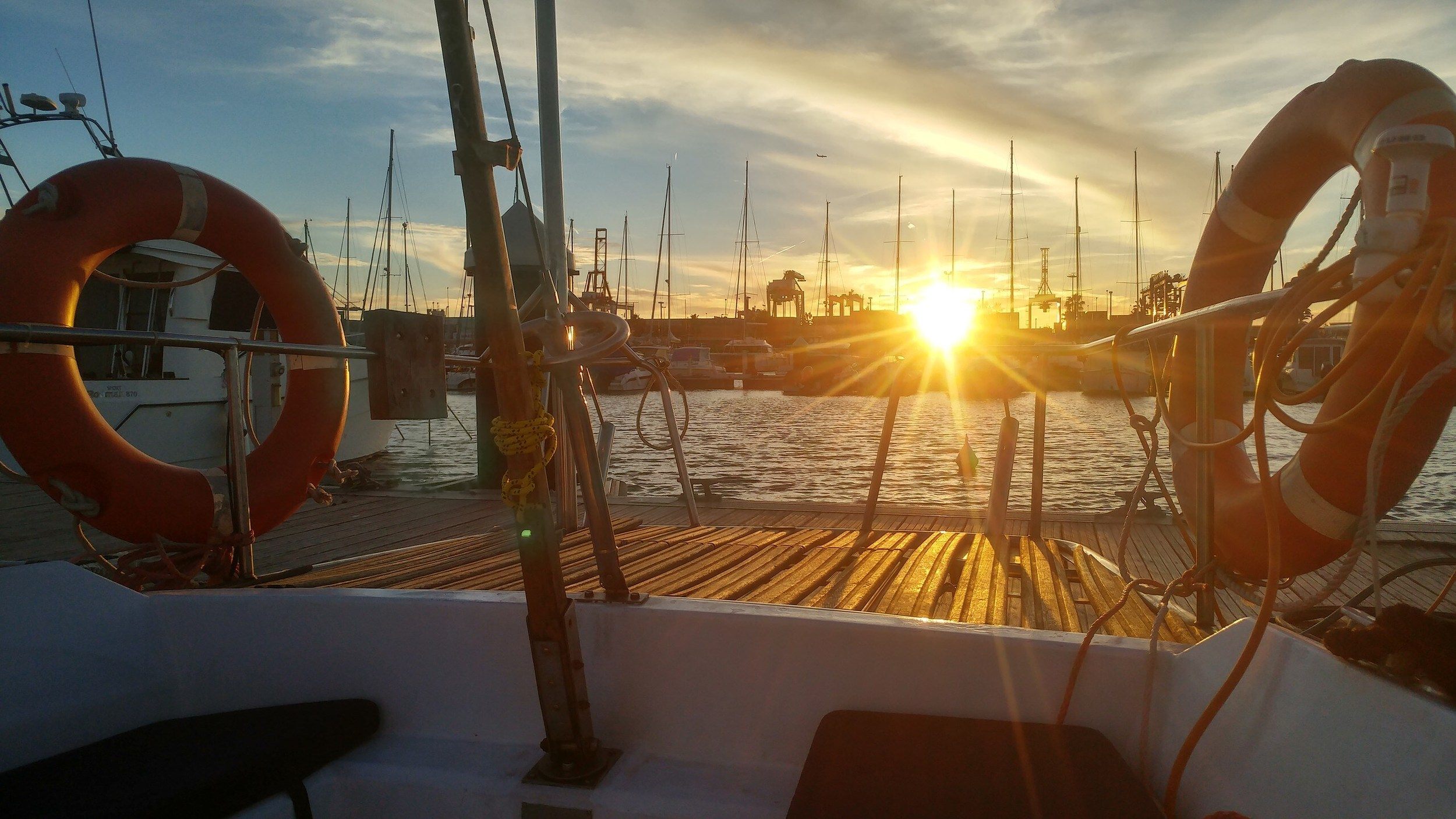 2 Guests
Laptop-friendly Workspace
There are a surprising number of boats on offer in Valencia, but we love this one because of its high rating, sparkling-clean status, and easy self-check-in. Staying on the water will take you out of the action in the main city centre and give you an awesome opportunity to reconnect with your significant other (or with yourself if you're solo!), check out some awesome sunrises and sunsets, and breathe in all that clean ocean air. If you've never slept on a sailboat, you gotta try it!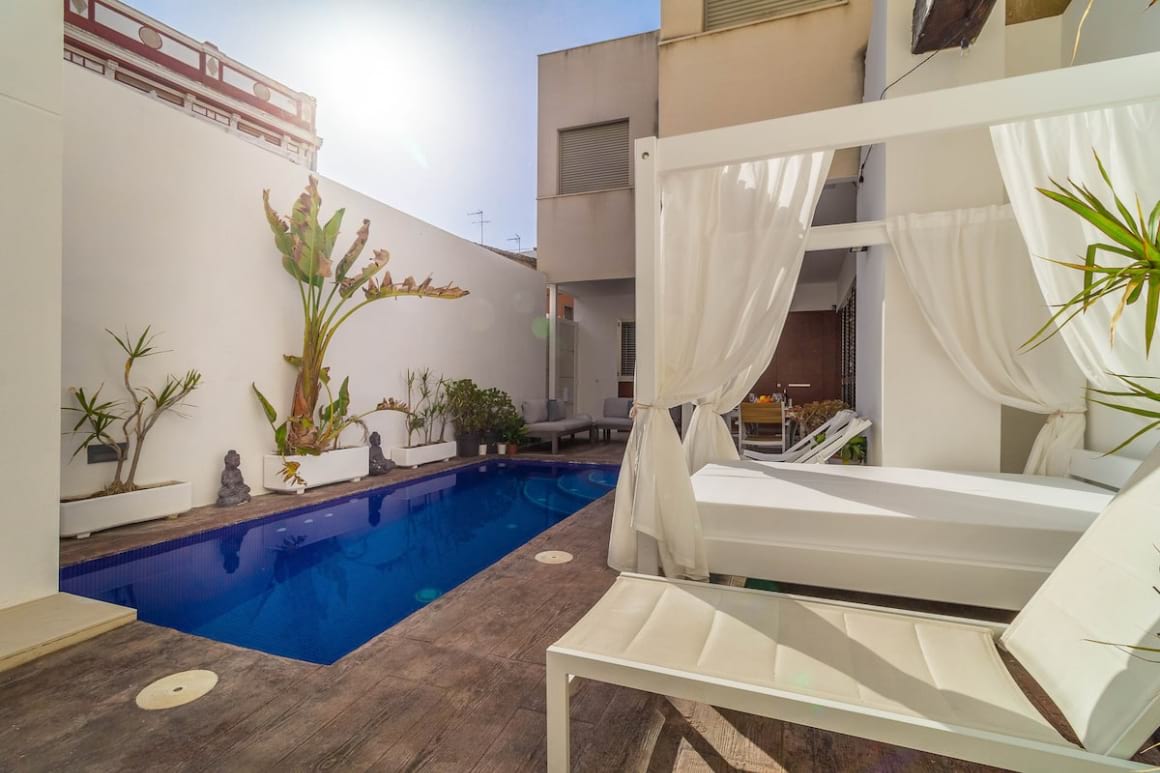 There are lots of villas on offer in Valencia, but this one sticks out for a few reasons! One, it's not far from the centre of Valencia, so if you want to enjoy the nightlife, hit a restaurant or even run to the grocery store, you won't have far to go. Two, the cinema room is a great option for chill nights with friends or occupying any kids in your group while you enjoy a drink by the pool. Oh, and about that pool – it's really unusual to find one on private property this close to the city centre. Snap this one up while you can!
Top 5 Airbnb Experiences in Valencia
Whilst Airbnb is predominantly a website used to find top rentable homes, it also plays host to a considerable variety of activities. Airbnb experiences are fun, cheap, and more ethical than most tours.
Just like Airbnb's main operation connects local homeowners to people wanting to avoid the 'sameness' of hotels, Airbnb's experiences join locals with those looking to experience something new, exciting, and different.
Booking with Airbnb often gives you better value than the large travel companies, as smaller groups can result in more one-to-one speaking time with a host. There is often a more exciting range of activities to take part in too, as hosts are able to offer pretty much any activity they want, as long as they can sell it.
Valencia's Airbnb experiences are unusual, exciting, classy, and the rest. There is a huge range to choose from, and I've listed the top five right here.
$96 /person
All day
up to 8 guests
Do you have a love of natural places, great photos, and adventure? Well, so does Mike. This amazing bloke will take you on one of the most memorable day trips you will ever go on. 5 locations are included in this day's exploration, the result of 12 years of hard graft, thought and planning.
There are some quite special natural sights in and around Valencia, due to its varied topography and nearby mountain range. The Bridal veil waterfall, the Blue Lagoon natural thermal springs, the canyons, the Pony Tail waterspout and the dam are all included in this visit.
Mike gets some unbelievable reviews and has even acquired the legendary Airbnb tag of "once-in-a-lifetime". Most of his guests rate this as the best thing to happen during their Valencia trip.
$92 /person
4 hours
up to 8 guests
If you are up for a bit of fine dining and juicy conversation, this Airbnb experience is perfect for you! Starting with a tour of the impressive City of Arts complex, this tour will have you delving into the thrilling history of Valencia. Then, after an hour of footslogging, you will be taken up to a private terrace (with unbelievable cityscape views) for a ten-course meal.
This is a top opportunity to get all the questions you wanted answering answered, and maybe even some you didn't. Either way, with great views, company and food, there isn't a lot that can go awry with this formidable tour.
The host Eduardo is part of a small group dedicated to making sure this experience runs smoothly for you, and all of them share a passion for gastronomy, Valencia, and of course, wine!
$49 /person
3 hours
up to 10 guests
Whilst the name of this experience might put a few people off, there is absolutely no reason to be frightened. The Slaughterhouse has been reviewed by Lonely planet, Tripadvisor, and of course, Airbnb.
In this 3-hour activity, you will learn how to prepare some of the best paella in Valencia. Starting at the old town market, you will see exactly how this dish is prepared at the top level from start to finish. Oh, and you get to make yourself a "Valerian water", a combination of wine and juice that will make the experience even more enjoyable!
This is a fantastic activity for anyone interested in augmenting their cooking skills, meeting a local, and having a little fun Spanish style. You might even get to eat the paella that you make… …(you do)
$17 /person
1.5 hours
up to 14 guests
Get familiar with the city centre quickly! Bikes are a fab way of covering ground quickly in a short space of time. Hosted by Michael, a history graduate raised in Valencia, this tour promises to be a sensational introduction to the city. This cycling adventure happens every Tuesday and Thursday, so there is no rush to book if you're planning on staying for a while.
Bike tours are always a laugh. I was forced onto one in Paris (during my sulky teenage years) and was pleasantly surprised when the tour guide convinced everyone that drive-through bars were a great idea. Venezuela is an awesome place.
Anyway, this Valencian bike tour will give you some helpful tips and tricks for enjoying the city fully, and give you an awesome experience to kick off any good trip.
$38 /person
2 hours
up to 6 guests
Whilst Carbonara is not actually a Spanish dish, learning to cook a good one is still a skill worth learning. That and the chef is from Rome. Which makes it entirely possible they do know what they're talking about.
Either way, spending an evening drinking homemade limoncello and making pasta sounds like a bloody great time. Learn how to make pasta with a professional Italian chef, and have a glass of Sangria while you're at it!
This experience gets fantastic reviews and provides an opportunity to discover the secrets of a dish you probably thought was easy. The host is super friendly, will make sure everything runs smoothly and maybe even slip in a story here and there.
FAQS about Airbnbs in Valencia
Here's what people usually ask us about vacation rentals in Valencia.
Don't Forget Your Valencia Travel Insurance
ALWAYS sort out your backpacker insurance before your trip. There's plenty to choose from in that department, but a good place to start is Safety Wing.
They offer month-to-month payments, no lock-in contracts, and require absolutely no itineraries: that's the exact kind of insurance long-term travellers and digital nomads need.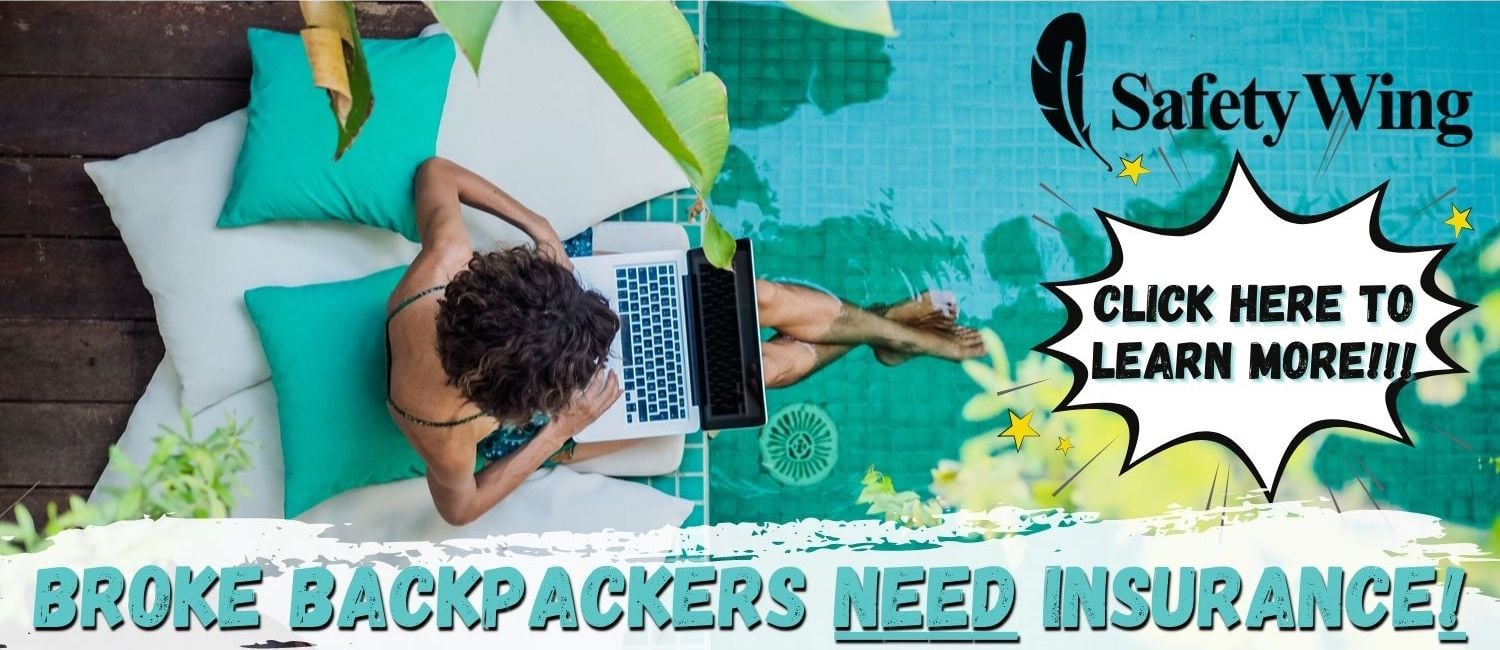 SafetyWing is cheap, easy, and admin-free: just sign up lickety-split so you can get back to it!
Click the button below to learn more about SafetyWing's setup or read our insider review for the full tasty scoop.
Final Thoughts on Valencia Airbnbs
.Bt now, we hope you've found something that matches your budget and travel style. As you can see from our list, there's a huge range of apartments in Valencia.
It doesn't matter if you want a cool and contemporary loft in the old town, a place to crash after a night out, or somewhere you can get your head down and work, Valencia has it all.
My last nugget of advice to the confused; keep it simple and go for our overall top choice the Spectacular Central Penthouse. It's in a great location, and effortlessly combines comfort, style, and value. I am a big fan!
Good luck with your travels!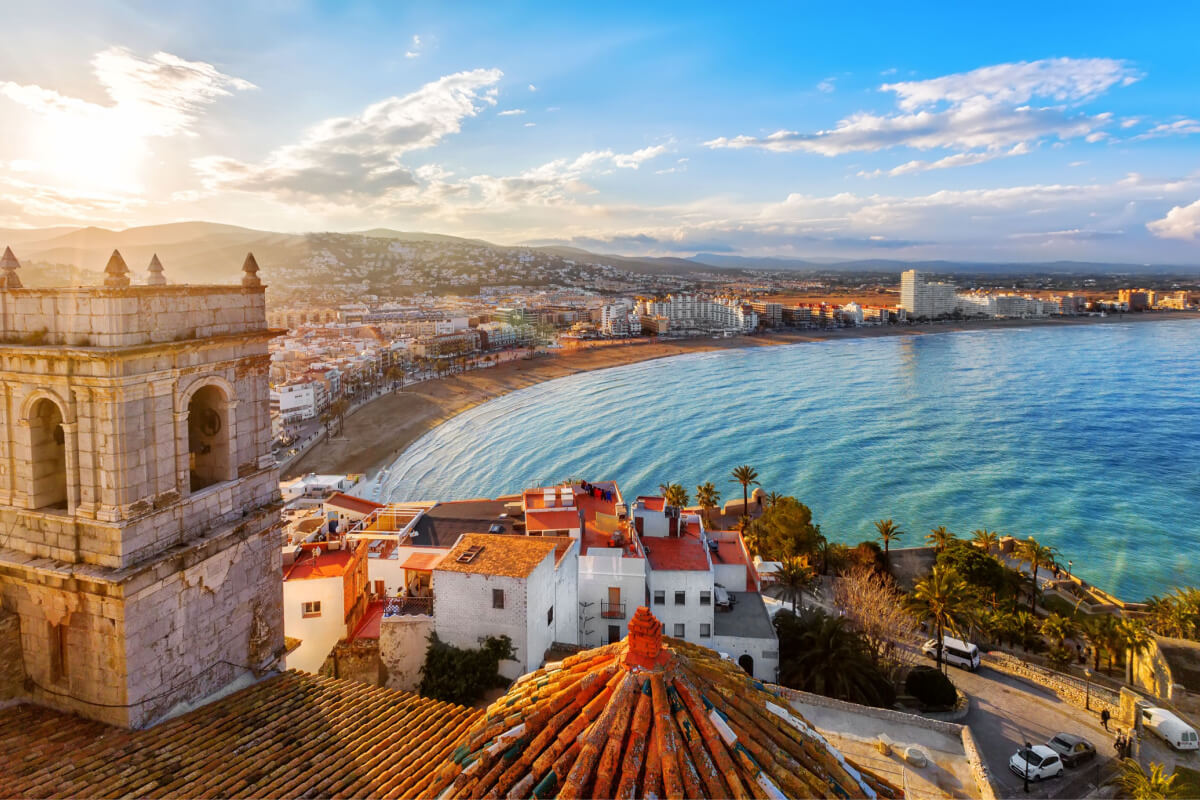 ---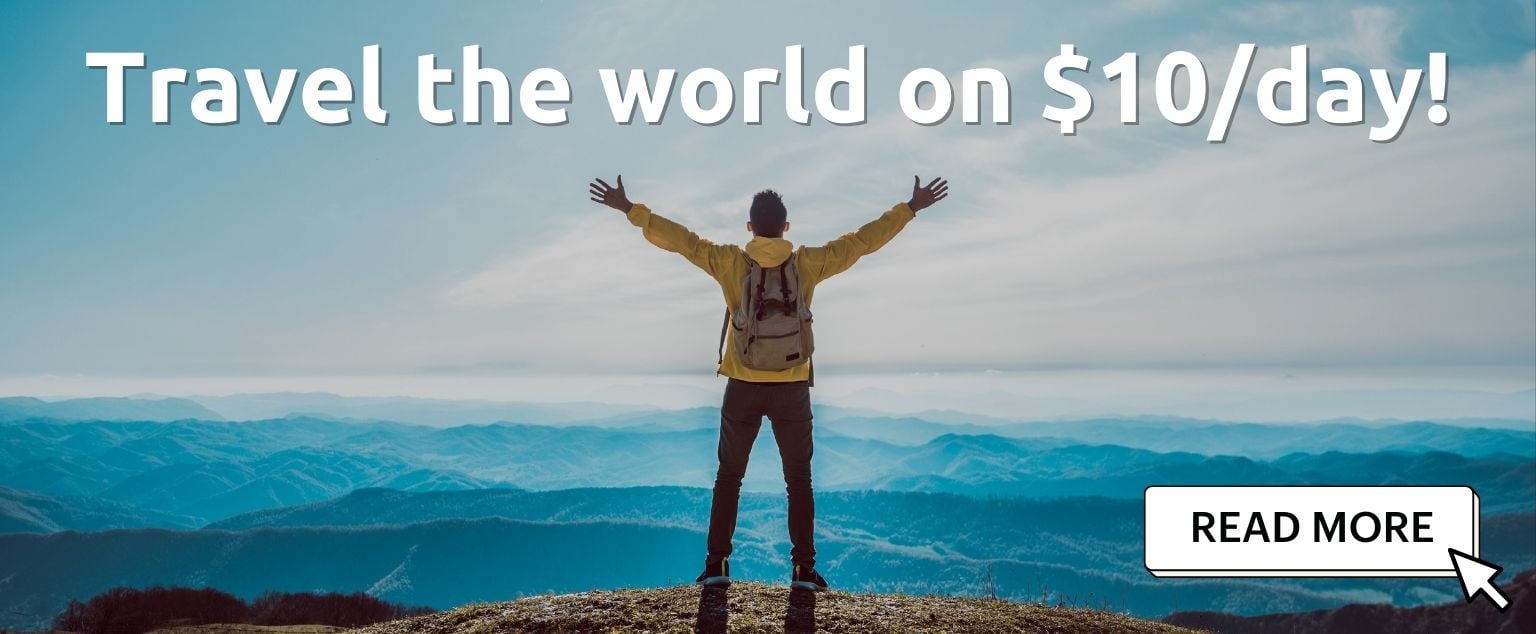 And for transparency's sake, please know that some of the links in our content are affiliate links. That means that if you book your accommodation, buy your gear, or sort your insurance through our link, we earn a small commission (at no extra cost to you). That said, we only link to the gear we trust and never recommend services we don't believe are up to scratch. Again, thank you!