Spain remains one of the most visited countries on earth and it's easy to see why. The Iberian nation offers miles of beach, a rich culture, delicious food, friendly people and of course, some amazing weather.
Incidentally, Spain was the first foreign country I ever visited when I was a small child. After not visiting much as an adult, I recently fell in love with the nation all over again whilst on an epic Spanish road trip.
Driving In Spain
Spain is a pretty big country (at least by European standards) but is very well connected by a modern, well-maintained network of fast and efficient highways. Therefore, with a set of your very own wheels, it is perfectly possible to take in quite a lot of the country even if you only have a few weeks.
In this post, we will provide all the essential info you need for your own Spanish road trip and even suggest a few little itineraries.

Unlock Our GREATEST Travel Secrets!
Sign up for our newsletter and get the best travel tips delivered right to your inbox.
Requirements
Spain is the EU and as such, is pretty strict on formalities and legalities. To rent a car in Spain you will need a full EU driving license or an international driving license. Most rental companies will also insist that the license has been held for at least 12 months.
Most rental companies also require a deposit to be paid by credit card only. Do note that all form of Debit cards (including prepaid credit cards) are generally not acceptable. The amount of the deposit required will vary from company to company. The deposit will be returned to your credit card once the car has been safely returned.
Personally, I usually travel with a dedicated credit card which I use only for car rental. This means that my other credit card has its full balance available for expenditure and emergencies. Having multiple credit cards does not in itself, adversely affect your credit rating.
Be sure to check that your credit card is valid and has sufficient credit balance to cover the cost of the deposit before you leave home.
Once you get the car, keep your license on you and keep the rental papers inside the vehicle. Spanish traffic cops are few and far between but if you do run into one, you will need both of these documents.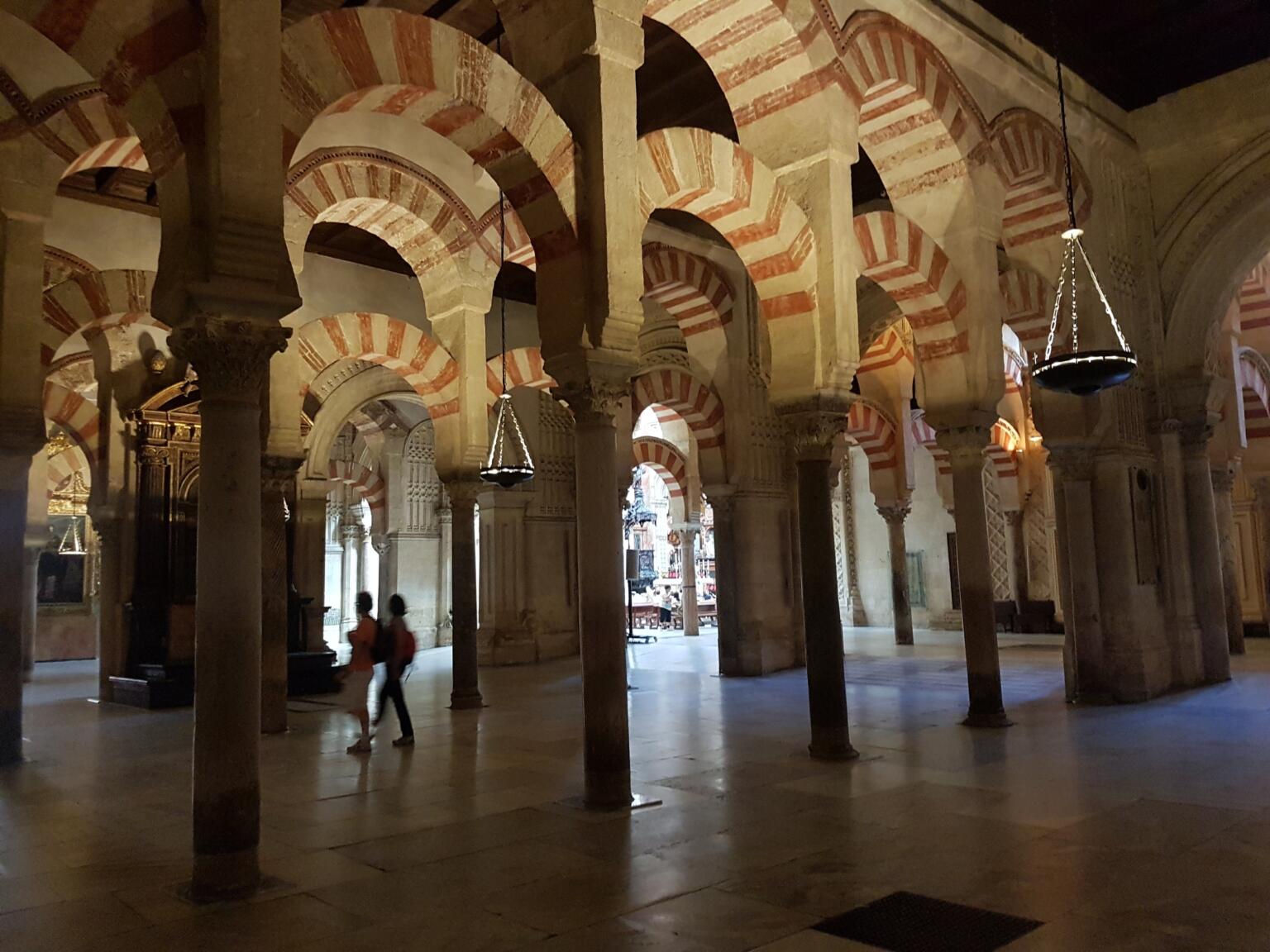 Collecting and Returning The Car
Rental car agencies have offices throughout Spain. Where exactly you wish to collect and return the car will depend on which regions you are visiting but generally, only major cities and tourist hotspots have car rental agencies.
Some major hubs are Santander, Barcelona & Bilbao in the North and then Zaragoza & Madrid in the interior. In the South, Malaga is a major transport hub and services the entire Andalucia and coastal region. If you are planning on visiting Andalucia (Seville, Granada, Marbella etc) it may well be worth your while flying in and out of Malaga airport and collecting the car in the airport – flights to the airport tend to be a lot cheaper than other cities in the region and the choice of rental cars is impressive.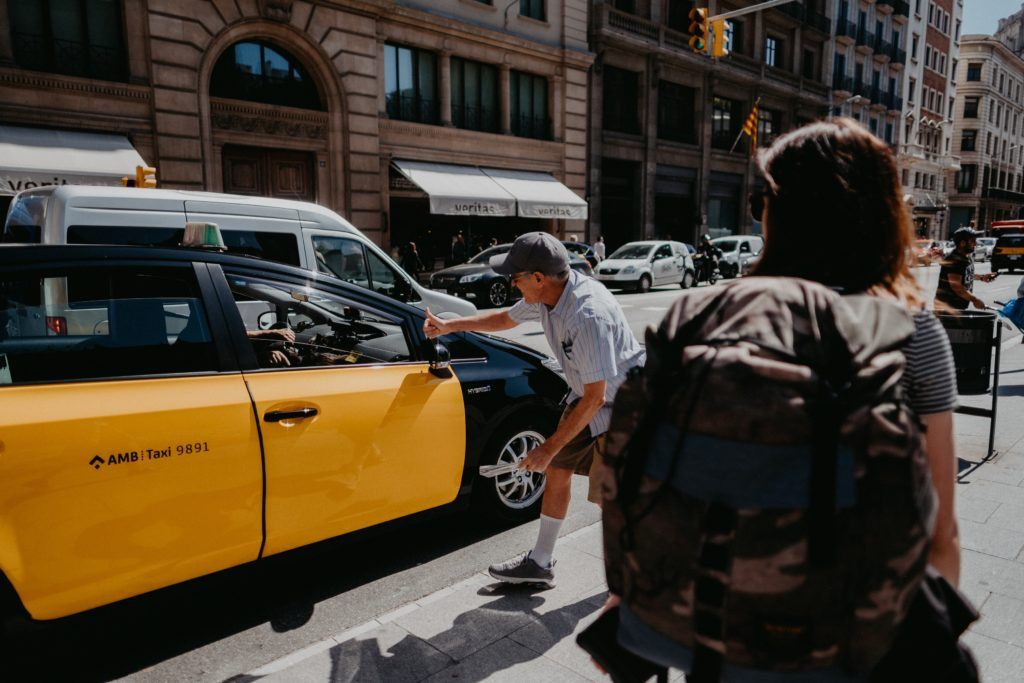 It will usually work out cheaper if you collect and return the car in the same place so do see if you can do your trip as some kind of loop. If not, then please don't worry too much.
When you collect the car, be sure to inspect it carefully for any scratches or dents. These should all be logged on the sheet they give you but if you find some that are not, however small, take clear photographs with a device that records the date and time and the photograph.
When you return the car, you should ensure it is clean, tidy and has a full petrol tank. Most airports have petrol stations situated just outside them pretty much for this exact purpose.
Driving Standards in Spain
The Spanish, like the rest of mainland Europe, drive on the right side of the road. This can be quite confusing for the countless Brits who visit. Incidentally, I noticed that around the Sotheran Coastal area there were lots of road signs reminding and guiding motorists to keep to the right – this is in recognition of the legions of British expats who have settled in the region!
Spaniards generally drive manual vehicles. Automatic cars are few and far between and if you want one, you should consider booking well ahead of your trip to make sure they have one for you.
Driving standards are decent but a little faster and looser than what you would usually see in the UK or the US. Speeding on the highways is very common and I saw a lot of seriously dodgy overtaking.
Despite this or because of this, there are relatively few traffic police around and you are unlikely to be pulled over on your trip.
Note that like the Italians, many Spanish drivers don't seem troubled by the odd bump, dent or scratch. In fact, it is not uncommon for drivers to deliberately drive into the bumpers of vehicles parked in front of or behind them to move them along a bit to facilitate parking – this practice is known locally as "bumping". If this happens to your rental vehicle you can expect to lose some of your deposit. The only certain way to avoid this is to be very careful about where you park.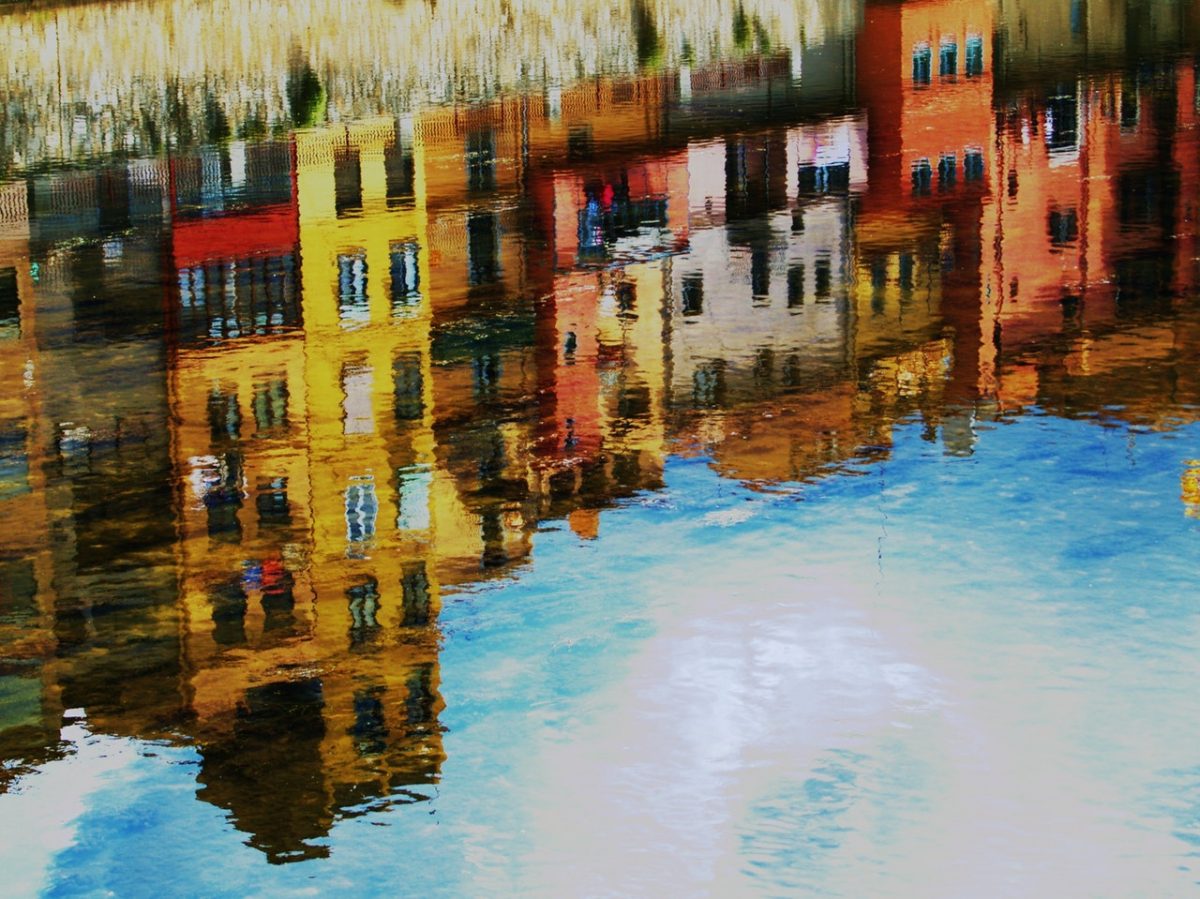 Parking a Car in Spain
One of the downsides of traveling Spain with a car is parking in the cites as this can prove to be a serious headache. Parking can be difficult and expensive in all major cities. Many of the historic city centers long predate the combustion engine and as such, the narrow streets cannot accommodate them. If you are staying in old Granada or Cordoba, there may well be nowhere to park anywhere near your accommodation. In Seville, we found a car park for 6 Euro per day but it was a good 5km from our apartment.
You should factor parking before you book any accommodation. Some Air B n B's offer on-site parking and high-end hotels tend to offer on-site parking too. Other Air B n B's may direct you to the nearest car park but this may not always be the best value so do make your own inquiries.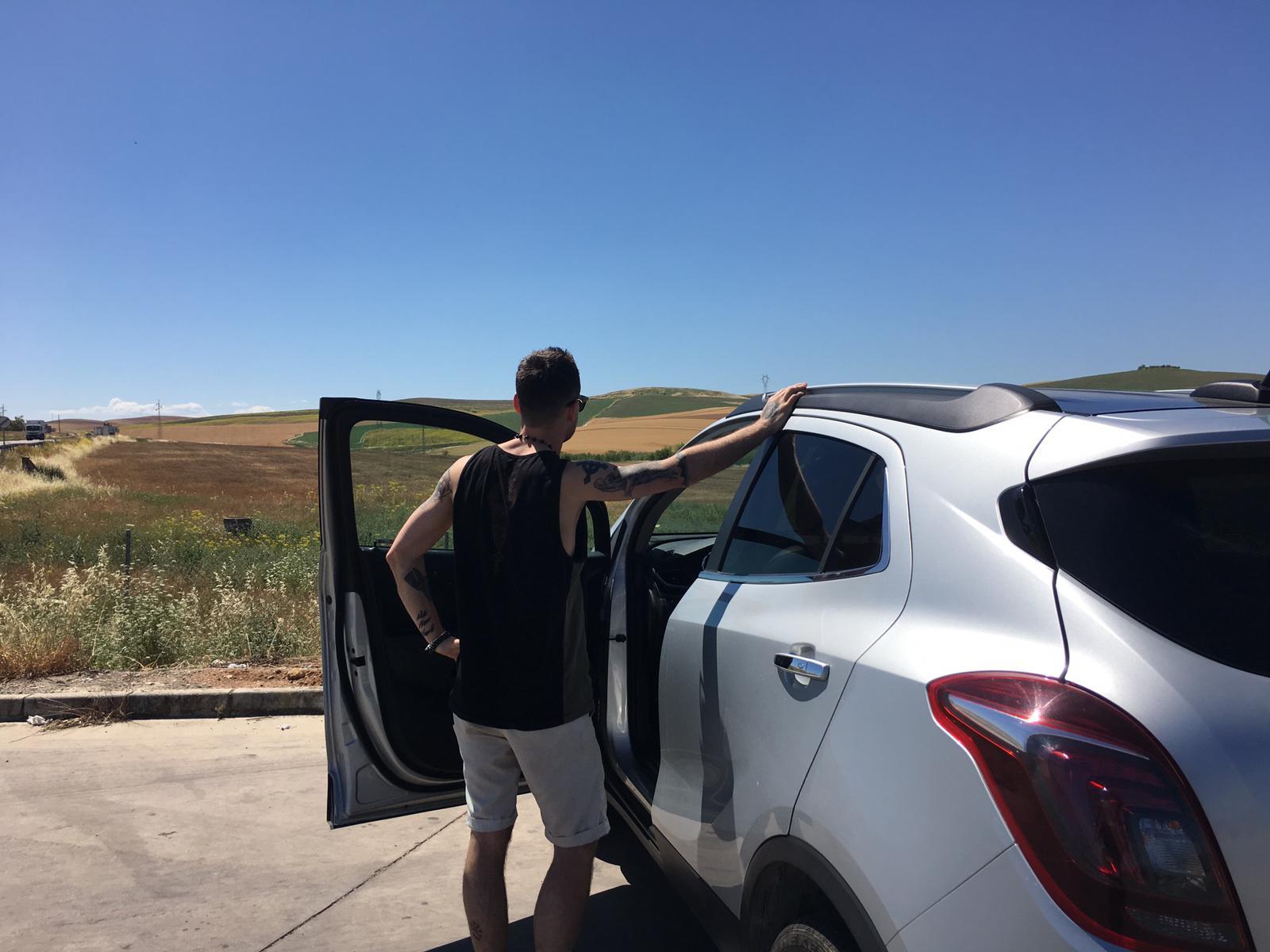 There are a few good parking apps and websites such as www.parkimeter.fr which can help you find car parks. Car Parks which allow online bookings are usually cheaper but you need to ensure you have your smartphone with you to scan yourself in and out.
Note that it is sometimes worth being a bit cheeky and parking right on the street even if maybe you feel shouldn't do. Spanish Police are far more relaxed than in other parts of the world and rarely enforce parking regulations unless somebody specifically complains.
We had relatively few issues with parking in the smaller towns and villages though. In Guadix, we were able to leave it pretty much anywhere we wanted for free and in Pueblo Mijas, we found a free parking spot which was a 10-minute stroll from the main square. Many of the coastal resorts such as Marbella also a lot of parking options; most apartment complexes and condos have on-site parking.
Spanish Highways
Spain's Highway (motorway/freeway/autobahn) is very impressive and knits the nation together quite wonderfully. Much of the country is relatively flat or on slight, gradual inclines so getting across it is fast, easy and enjoyable.
The speed limit on the Highway is 120KM (74 MPH). Most of the roads are free to use although there are a few toll roads dotted around. These are usually ones that go under mountains or involve some marvel of engineering and probably costly maintenance. Any sat nav, or Google maps will offer you the option to avoid toll roads if you wish. That said, the one between Granada and Malaga is well worth the 5 euro fee as it dramatically crosses a suspension bridge overlooking the stunning mountains.
The Highways are usually a lot quieter than in many parts of Europe and heavy traffic is rare. The scenery is also, generally pleasant and oftentimes stunning. Driving on the Spanish Highways is in many ways, quite the pleasure.
Small Pack Problems? 😉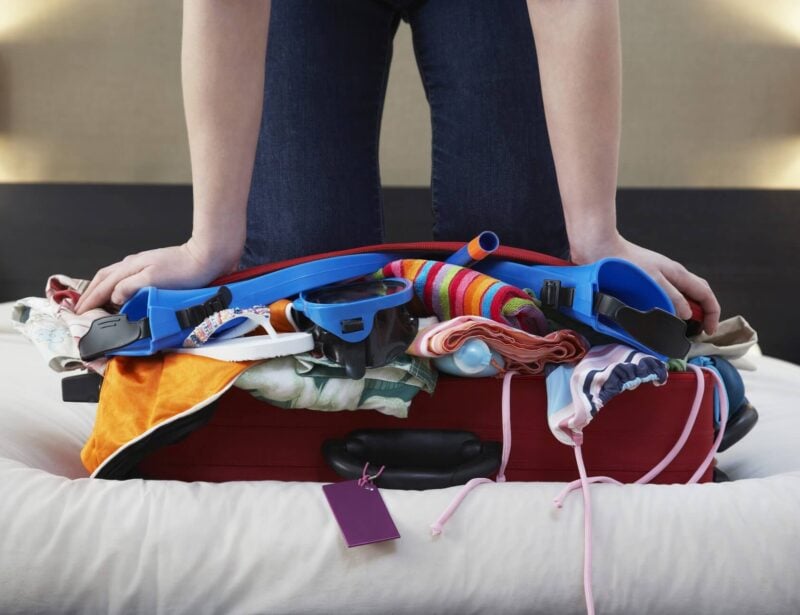 My missus travels with all her clothes in ziplock bags: don't be like my missus. UP YOUR PACKING GAME!
Packing cubes for the globetrotters and compression sacks for the real adventurers – these babies are a traveller's best kept secret. They organise yo' packing and minimise its volume too so you can pack MORE.
Or, y'know… you can stick to ziplock bags.
View Our Fave Cubes
Or Check Out the Sacks!
Drink Driving in Spain
Curiously, most gas stations have quite an impressive selection of beer and wine. This does not mean that drink driving is OK in Spain, the limit is 0.5MG which is even lower than the UK. As a guide, that means men can drink less than one pint of beer and women less than a half – to stay safe don't drink on anything more than a small beer from a bar or small bottle.
Pros of Renting a Car in Spain
Renting a car in Spain has many advantages.
For many, the main gain is the sense of freedom it offers. You can get up in the morning, jump in the car and set off wherever you want to go. For us, we found it enabled us to move around a lot faster than we could have done on public transport allowing us to cram in a lot of different places into a short, 10-day itinerary.
It also allowed us to visit of a lot of small towns and villages which would have been very difficult to visit without a vehicle. Take it from me, the real magic of Spain still lies in its white villages and hilltop castles.
Also, having a car allowed us to make a few unexpected detours and stop off along our route. We stopped to take in the sun olive groves and also called into a Vine Yard for a quick tour – none of this would have been possible had we taken public transport.
"Oi bus driver, pull over and wait I want to go and sample that wine!"
It wouldn't quite go down so well with the other 50 passengers itching to get home would it?!
Cons of Renting a Car in Spain
Of course, there are some downsides of renting a car in Spain. The flip side of the unbridled freedom it offers is the degree of responsibility it entails. Driving through Spanish cities and highways means you are responsible for looking after an expensive piece of borrowed equipment and that may play in your mind – you can't simply jump onto the bus or train, relax and enjoy the view. That said if you take out Full Coverage then will indemnify you against damage or theft. When I did my Spanish road trip, I bought Full Coverage for 7.95 Euro per day which is a small price to pay for peace of mind.
Finding and paying for parking can also be a serious buzzkill in certain areas. Then, getting lost can be fun for a while but getting lost without a sat nav or Google to help you out, it would suck.
The costs of renting a car may also work out more expensive than using public transport. This depends on a number of variables which we will look at in more detail in the next section.
Is This the Best Travel Pack EVER???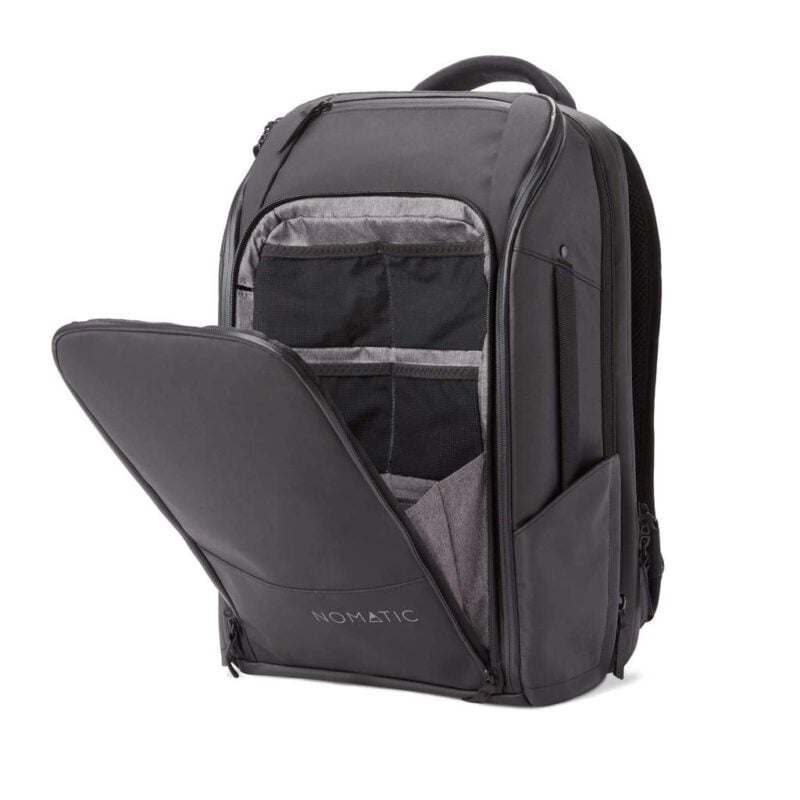 Costs of Car Rental in Spain
So, how much does it cost to rent a car in Spain? Spain is definitely amongst the cheapest destinations in Western Europe to rent a car in.
The per day cost of the rental varies greatly depending on the type of vehicle, the dates, and the collection point. The price will also vary depending on whether you need to take out any "extras" such as an additional mileage allowance, extra insurance a sat nav. Breakdown cover and a spare tire or other common examples of extra's. To compare car rental prices in Spain you should use a price comparison website or alternatively go through Google to check out various providers websites and make a list of your own.
To get an idea of prices, I took a look at some prices for rental cars between 6 – 13 July collecting in and returning to Barcelona airport. I found midsize cars available from as little as 74 Euro up to 219 Euro. There was plenty of cars available for the 120 Euro mark.
Always carefully read and compare what is included in the "basic price". If you see a price that seems too good to be true, then it may well be and may not include things such as Insurance or a sat nav. Many agencies will try to sell you these as expensive add-ons once they have hooked you in with the initial "low" price. We recommend you purchase a RentalCover.com policy online to cover your vehicle against any common damages such as tires, windscreens, theft, and more at a fraction of the price you would pay at the rental desk.
As well as the rental cost, you need to make allowances for petrol and parking. The price of petrol is currently around 1.25 Euro per liter. In 10 days I and my girlfriend put around 100 Euro in and covered pretty much the entirety of Andalucia. To estimate your petrol costs, make a rough itinerary of where you want to go, add the distance between destinations together and then do your maths!
KM x 1.25 = $
This formula is only an approximation and you need to leave some extra headroom (I suggest 7.5%) in your budget for things such as (1) petrol prices rising (2) burning petrol by getting lost (3) extra day trips and side quests!
Parking is a lot harder to estimate. Note that expensive car parks usually cap their costs at around 20 Euro for 24 hours. You can usually find cheaper car parks though (we found one in Cordoba for 6 Euro a day) and free/street parking will be possible for at least some of your trip. Planning ahead and booking online will always yield savings.
Public Transport
With all of this in mind, it may prove cheaper to do your Spanish adventure by public transport depending on precisely where you are going. The bus between Seville and Andalucia is Granada under 20 Euro. However, the train between Barcelona and Madrid is usually around 50 – 80 Euro.
Public transport is great for getting between major cities on popular routes but can become problematic when trying to get off the beaten track. For example, if you are looking to take a tour of Andalucia's white village, this is not really possible on public transport. You would, therefore, have to book a driver or taxi from Granada/Seville/Malaga for the day.
In summary, if you are sticking to major cities, visiting relatively few destinations and have a fixed itinerary, then public transport may prove cheaper and easier for you. However, if you want to really explore then renting a car will work out to be great value for you.
Use Bookaway to find the best deals on transport – buses, planes, trains, and ferries. It'll save you a load of time when organising transport and you'll probably nab an EPIC DISCOUNT too!
Book your transport on Bookaway NOW. Get the best price for the best ride… then use those savings to buy the best feed in town!
Book Your Transport Here!
Suggested Itineraries For Renting a Car in Spain
Now that the boring but essential logistical stuff is out of the way to let's get on with the fun stuff! For those of you in need of some travel, inspiration lets take a look at some awesome Spanish road trip itineraries.
The North & Basque Region
The Basque region straddles the Spanish/French border and is the most strong-minded and independent of all of Spain's semi-autonomous provinces. This trip starts in the city of Santander, home of the super bank. Santander is a transport hub so it is easy to fly in and collect a car here. The journey then proceeds to the heart of the Basque country taking in the city of Bilbao with its cool museums.
Next is the paradisical San Sebastian which is famed for surfing, festivals, food, and good vibes. We then leave the Basque country and head towards Pamplona which is famed for its controversial "running with the bulls" fiesta before finishing in Zaragoza where we drop the car off.
Andalucia
Andalucia is pretty much the quintessential Spain. It is the home of Flamenco, tapas, and Sherry wine and is famed as a region of 1000 pretty, white, sun-kissed villages.
Start your trip in Malaga collecting your car from the cities airport (named after Pablo Picasso). Head towards the mighty Seville but take a stop off at Ronda to admire the famous bridge.
Spend a few nights in Seville taking in a flamenco show and the Royal Alcazar (book ahead). Afterward, drive over to Cordoba either for a long day trip or an overnight stay. Then head to the mighty Granada where you can spend your days exploring the Alhambra (book well ahead!) and evenings enjoying free tapas in the many bars. The mountain scenery is stunning up here and there are lots of great day trips to do with the car.
Then head back towards the coast for some beach time whether it be Marbella, Torremolinos or Almeria there is a beach for everybody. Spend at least a day in Malaga itself before returning the car.
The Big 3: Barcelona, Valencia & Madrid
Barcelona is a tourist mecca and can get a bit intense in the summer season. That said, if you visit at a lower ebb you will find a cool, quirky city with a lot to offer. Flights here are plentiful and affordable and its great place to pick up a car. Hang here a few days to take it all in and also consider a day trip to the historic neighborhoods of Girona for a taste of the real Catalonian spirit.
Valencia on the coast is the home of Paella and you must try the dish here. Valencia also boasts great art museums and a happening nightlife. Next up we head towards Spain's complicated capital city of Madrid after making a little detour to Toledo.
---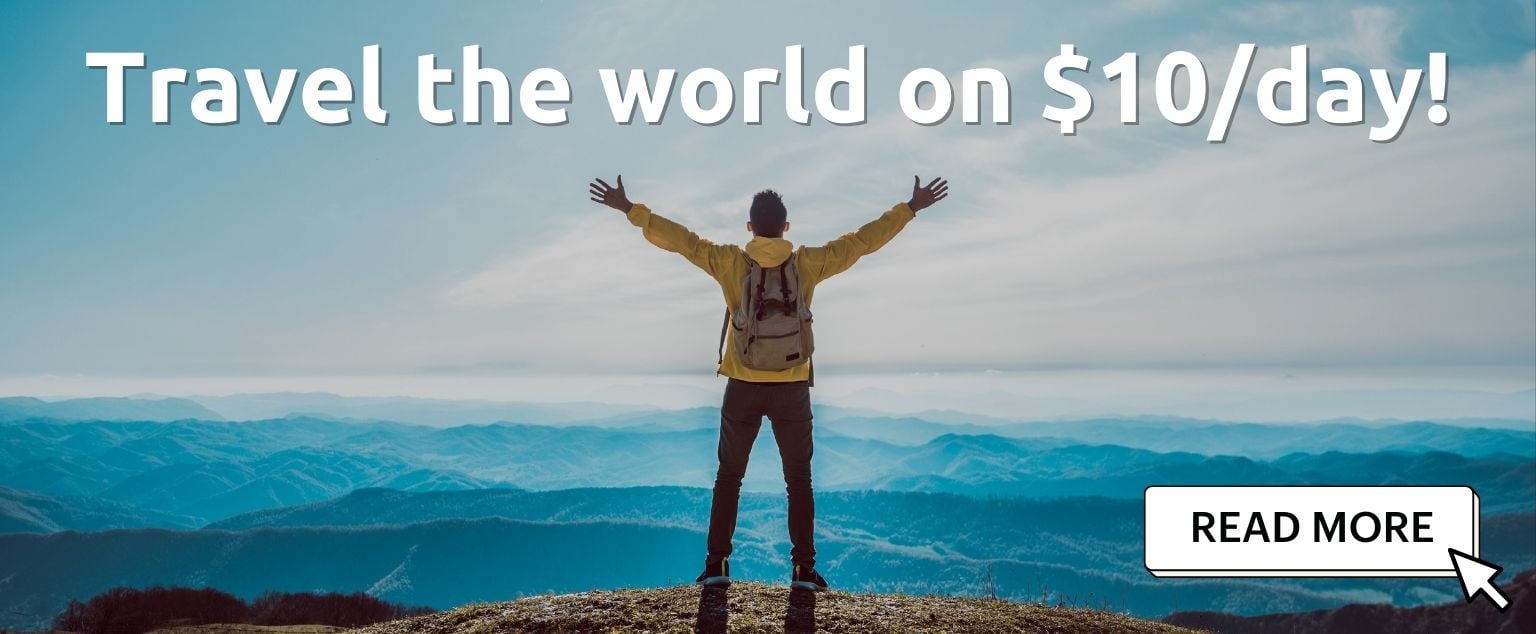 And for transparency's sake, please know that some of the links in our content are affiliate links. That means that if you book your accommodation, buy your gear, or sort your insurance through our link, we earn a small commission (at no extra cost to you). That said, we only link to the gear we trust and never recommend services we don't believe are up to scratch. Again, thank you!