With buzzing Flamenco bars and plazas framed by orange trees, Seville is the kind of holiday destination that never fails to charm! Whether you're crossing lively public squares towards UNESCO World Heritage Sites or soaking up the atmosphere as the sun sets, the activities on our Seville itinerary will set you up for an unforgettable vacation!
There's so much to take in throughout the Andalusian capital but Seville's gentle pace will constantly remind you to take things easy! Seville has been through the hands of the Phoenicians and the Moors before it joined Spain. All these cultures have left a mark of this sunny city, making this city an unassuming cosmopolitan melting pot in southern Spain!
With architecture galore and plenty of stops for local tapas, our itinerary is the kind that steals your breath away with its fabulous sites and easy pace much like Seville itself!
Best Time To Visit Seville
The weather in Seville, Spain, is generally quite lovely: think blissfully warm summers and mild winters. If you want to know when to visit Seville, bear in mind that the city's sometimes called "the City for all Seasons" due to the mild climate!
Its inland location means that it's one of the warmest cities in Europe. Come winter, many northern Europeans flock to the city, for this reason, Seville is seldom deserted.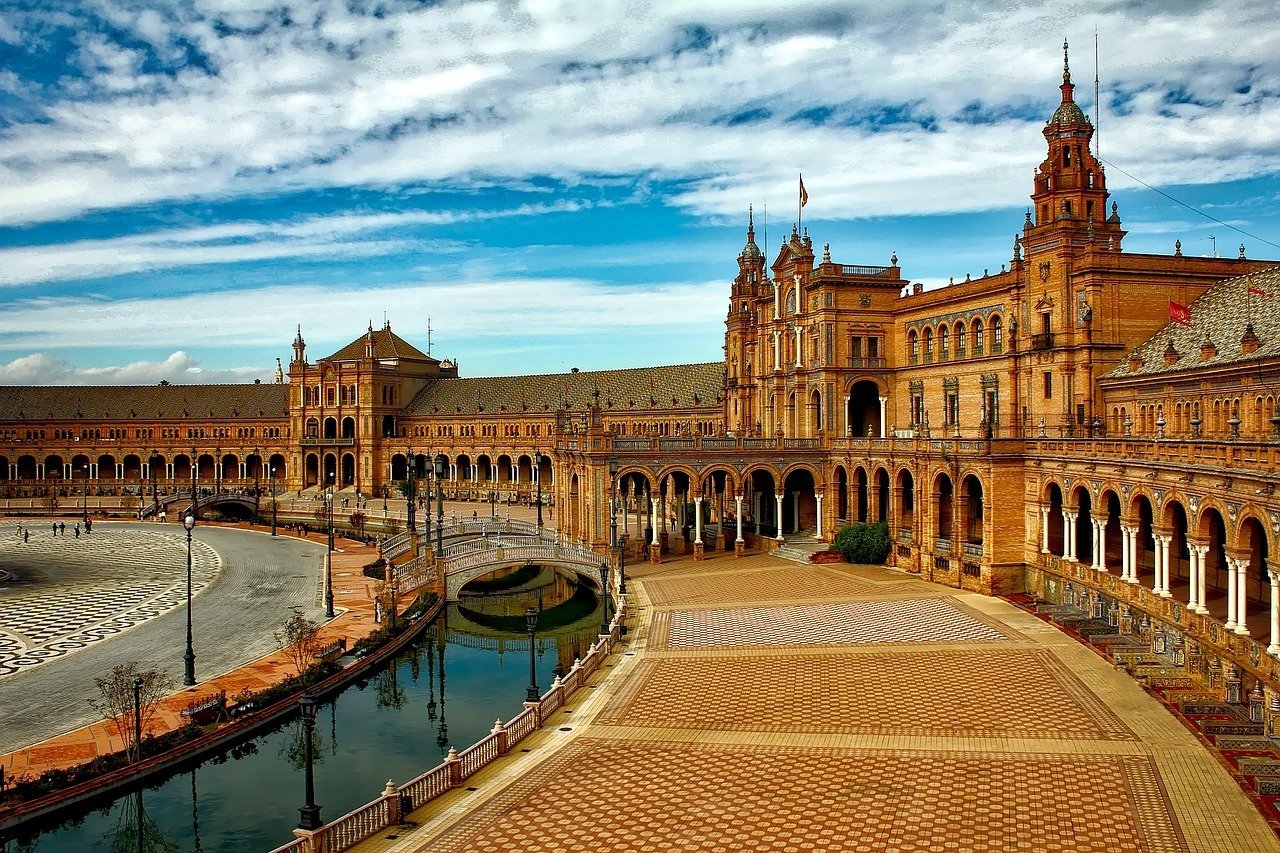 Peak season tends to run from April to August, although July and August can be unbearably hot. Things calm down in winter, except around Christmas festivities. When Easter falls at the end of March/beginning of April, the Semana Santa (Holy Week) and the Feria de Abril (a spring festival) cause crowds to swell and so do prices.
So, when should you visit Seville? Try to plan your trip to Seville so that you're there in spring when the crowds aren't too dense and the weather is pleasant!
| | Average Temperature | Chance of Rain | Crowds | Overall Grade |
| --- | --- | --- | --- | --- |
| January | 15°C / 59°F | High | Calm | 😐 |
| February | 17°C / 63°F | Average | Calm | 😐 |
| March | 20°C / 68°F | High | Medium | 🙂 |
| April | 24°C / 75°F | Average | Medium | 😀 |
| May | 27°C / 81°F | Average | Medium | 😀 |
| June | 32°C / 90°F | Low | Busy | 🙂 |
| July | 36°C / 97°F | Low | Medium | 😐 |
| August | 36°C / 97°F | Low | Busy | 🙂 |
| September | 32°C / 90°F | Low | Medium | 😀 |
| October | 26°C / 79°F | High | Medium | 😐 |
| November | 20°C / 68°F | High | Medium | 😐 |
| December | 16°C / 61°F | High | Medium | 😐 |
Where To Stay In Seville
Seville is the fourth largest city in Spain and the capital of the beautiful Andalusia region. It's a very popular destination for tourists and long-term visitors and has neighborhoods to suit all tastes! There are 11 districts that are further divided into 108 neighborhoods.
In the north, the neighborhood of Macarena is the commercial center with vibrant bars. It's a trendy, hipster-style area that's near the old Moorish walls. There's also plenty of souvenir shopping to be done at the Mercado de la Feria and El Jueves!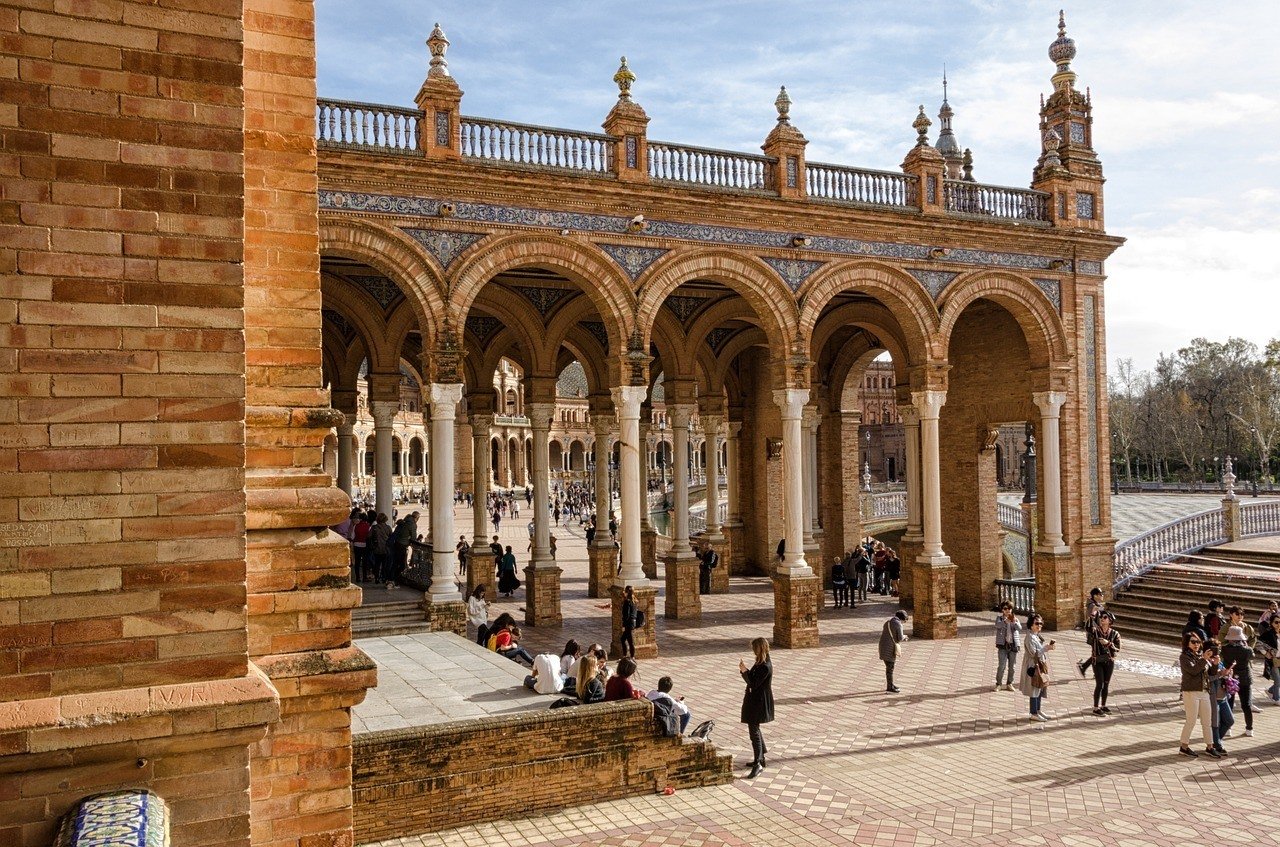 Triana and Los Remedios are the most trendy areas. They have tonnes of clubs, restaurants, and stores, making them full of fun and adventure! Despite the youthful atmosphere, it attracts people of all ages. Triana used to be a Roma neighborhood and remains energetic with flamenco clubs and bars. Los Remedios is very modern but quirky. It's home to some of the best museums in Seville and some striking architecture!
The most popular neighborhood for visitors, though, has to be Santa Cruz. It's the historic center of Seville that has most of the attractions on your Seville itinerary, such as the Seville Cathedral and the Real Alcazar. There's a stylish, yet warm ambiance to this area. Narrow, cobblestoned alleys bypass towering Moorish-era landmarks, while orange trees are scattered around historic squares.
For more information, read through our AMAZING guide on where to stay in Seville!
When you talk about quality for money, this is the place you should have in mind! The central location is top-notch and the hostel has a warm, stylish atmosphere. Each bed comes with a large locker, a powerpoint, and a lamp. Additionally, the hostel is also committed to eco-friendly practices!
There are some more INCREDIBLE options for hostels in Seville!
Check on HostelWorld
This 500-year old beauty of a house has three stories and is full of Spanish history and character. The room is your own private area, but the whole house is yours to explore and enjoy. Sit in the courtyard garden and enjoy your tea or coffee while listening to the trickle of the fountain. Enjoy a restful bath after a long day exploring the town. Cook a meal in the rustic style, well-equipped kitchen. Take in the beautiful sunshine and orange-blossom-scented air of Seville on the rooftop terrace. From the house, you are a short walk to the major sights, such as Catedral de Sevilla (4 min walk), Jardines de Murillo (4 min), Museo del Baile Flamenco (6 min), Iglesia del Salvador (9 min), and many others.
Check on Airbnb
Best Budget Hotel in Seville – Hotel Plaza
Hotel Plaza has to be the best place to stay in Seville if you're on a budget! It's centrally located, just 100m from the Plaza Nueva in Old Town. The rooms are spacious and comfortable, with modern and clean bathrooms. These kinds of facilities will set you up for a wonderful vacation in Seville!
Check on Booking.com
This breathtaking combination of modern luxury and traditional features is the absolute best place to stay in Seville! It's a converted 18th-century palace in Old Town that really lives up to royal standards! There's a lovely rooftop terrace with a plunge pool and an in-house restaurant serving Andalusian food.
Check on Booking.com
Seville Itinerary
There are plenty of attractions in Seville to capture your attention and atmospheric parks to soak up the Spanish sun! Whether it's just a weekend in Seville or much longer, we have the perfect Seville itinerary for you!
Adding to the charm of your Seville itinerary, you'll have to get around on foot for the most part! The abundance of tight alleyways and one-way streets make driving such a nuisance that few tourists bother to put up with car rentals. If you do, you'll find the usual array of Avis and Europcar at the airport. Be warned, though, that parking is a nightmare unless your hotel comes with a garage!
On the rare occasion that you can't walk to an attraction on the Seville itinerary, turn to the city's bus network. Tickets can be bought at stations, kiosks, or on the bus. It's USD $2 for a standard ticket, but it's more cost-effective to purchase a three-day pass for  USD $12. This will cover all your transport needs as you hop around and wonder what to do.
Taxis are another reliable option to get around the city. You'll find them across the city. It's a flat rate of $29 from the airport to the city center.
Day 1 Itinerary in Seville
Real Alcazar | Seville Cathedral | La Giralda Bell Tower | Parque de Maria Luisa | Plaza de Espana
Today's all about getting to grips with the most awesome Seville landmarks and soaking up the relaxed vibe of this city! With mosques that became cathedrals and colorful Moorish tiles giving way to Renaissance marble, you'll see how various cultures and periods have left their mark on Seville!
Day 1 / Stop 1 – Real Alcazar
Why it's awesome: This palace has been in use since the 11th century, making it one of the oldest palaces still in use in the world!
Cost: $13 USD for general admission and an extra $5 USD for entrance to the royal apartments.
Food nearby: You'll find quick but heavenly refreshments at nearby Amorino- Alcazar which serves up coffee, tea, gelato and yummy pastries!
The Real Alcazar may be a historic site, but it is also one of sublime beauty! It was decorated with plasterwork, mosaics, and wooden coffered ceilings. These original features can still be seen, alongside Renaissance features. These include a tiled altar and a collection of tapestries depicting the Spanish conquest of Tunisia.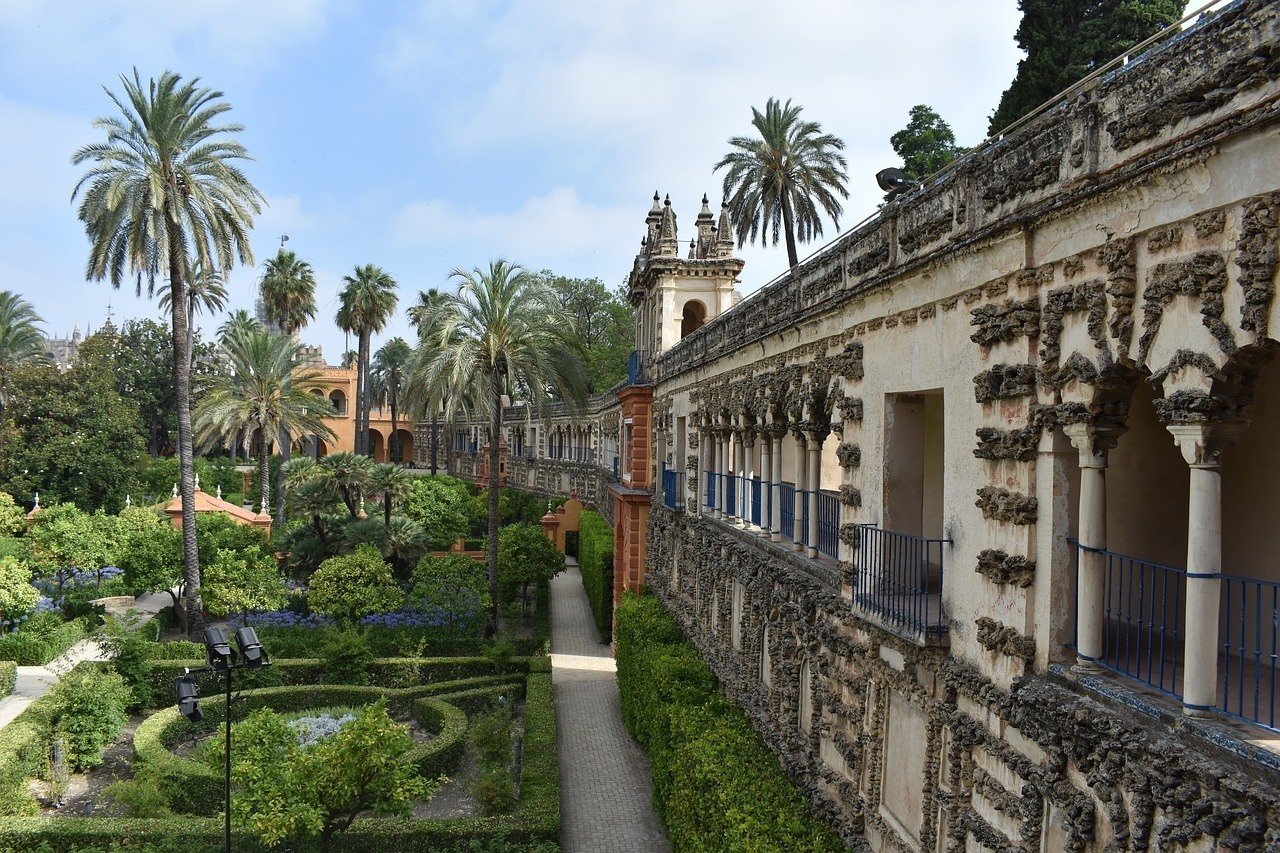 Be sure to find the dazzling Patio de las Doncellas, a courtyard renowned for its tiled pillars. Another beautiful courtyard is Patio de las Muñecas which features various decorated capitals. At the end of your visit, linger a bit longer in the spectacular palace gardens which boast impressive water features! If you're looking for Instagram-worthy shots, you'll find them here!
Insider Tip: Only 750 people are allowed inside the palace complex at a time and preference is always given to those who have booked ahead. Buy your skip-the-queue tickets online. It's also advisable to book a guided tour or add the audio guide for $7USD as there isn't much information provided inside the palace.
Day 1 / Stop 2 – Seville Cathedral
Why it's awesome: It's not every day that you get to visit the world's largest Gothic church!
Cost: $10 USD
Food nearby: Grab some yummy montaditos, small local sandwiches, at Bodega Santa Cruz.
Seville Cathedral was originally a mosque until Islamic Seville was conquered by the Christian King Ferdinand III in the middle of the 13th century. He had the mosque converted into a church but the orange tree courtyard that you can visit today is a remnant of the original mosque!
The church was built in the Gothic style and was later renovated during the Renaissance and Baroque periods. The interior of the church is dark and spacious which gives it a serious hushed atmosphere! Your attention is immediately drawn to the dramatic vaulted ceilings and stained glass windows. One stained glass window, of the four evangelists, measures 9m and dates from the mid 16th century!
One of the highlights of the cathedral has to be the chance to visit Christopher Columbus' tomb. That's right, the great explorer's here, too! His coffin is carried by life-size pall-bearers made of stone. It's quite an impressive site!
In the Treasury, you'll be left breathless by the sheer extravagance of the items, if not their beauty! Gold, silver, rubies, diamonds…you name it, it's all here!
Insider Tip: If you're quick at the Real Alcazar, try to be at the Seville Cathedral in time for 10:00 mass. It's a great opportunity to get a sense of the church's purpose and to hear the magnificent organ!
Day 1 / Stop 3 – La Giralda Bell Tower
Why it's awesome: This dusty orange tower has been an icon of Seville for centuries!
Cost: Admission is included in the $10 USD fee for the cathedral.
Food nearby: La Azotea is a popular local restaurant with several branches across the city! Look forward to a lunch of tapas made from seasonal ingredients.
La Giralda was originally built in 1195 as the minaret of the Aljama Mosque but was later converted to Seville Cathedral's bell tower. At 103m tall, it was the tallest building in Seville for over 800 years!
Look closely (perhaps with a camera zoom!) at the weather vane on the top of the tower. This is where this Seville landmark gets its name: girar means "to turn" in Spanish. This statue, called  El Giraldillo, represents faith. It's now a UNESCO World Heritage Site!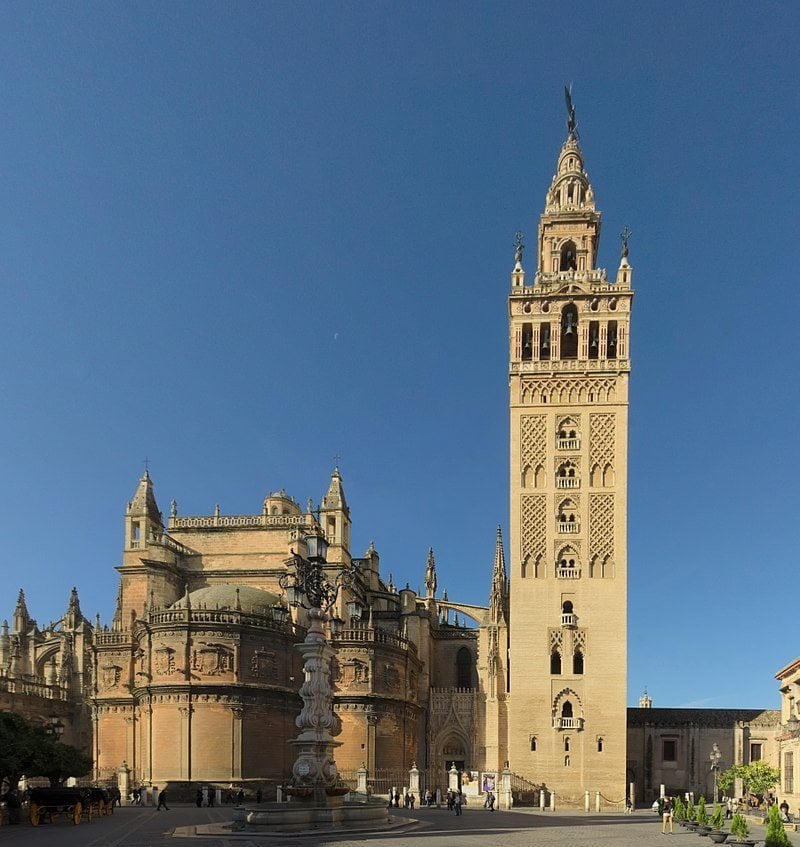 Walk up the bell tower for spectacular views of Seville attractions and the cathedral's architecture! Don't be daunted by its height there are ramps inside which allow for a fairly comfortable ascent!
The Best Travel Backpack?!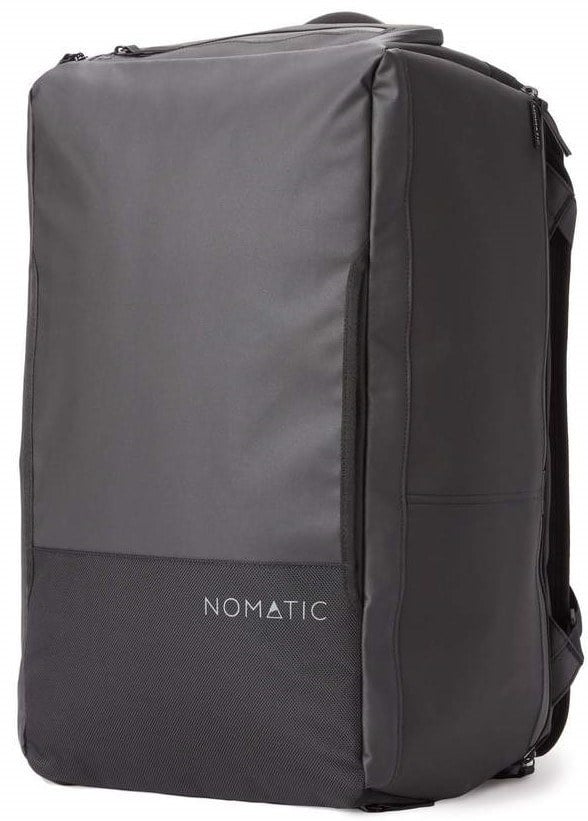 Pssssst! Not picked the perfect travel backpack yet? The Broke Backpacker team has tried out over thirty backpacks this year! Our favourite carry on backpack is the Nomatic Travel Bag.
Read our full review!
Day 1 / Stop 4 – Parque de Maria Luisa
Why it's awesome: One of Europe's most beautiful public parks is right here in Seville, Spain!
Cost: Free!
Food nearby: This is as perfect a picnic spot and there are almost always ice cream sellers nearby! For something more substantial, try first-class Estraperlo.
Alongside the meandering Guadalquivir River, French architect Jean-Claude Nicolas Forestier cultivated a lush public park to be the setting for the Ibero-American Exhibition in the early 20th century. The exhibition was intended to boost morale following the loss (of independence) Spanish colonies suffered by promoting the Andalusian industry. Times have since changed but the Parque de Maria Luisa does remain a cheering stop on any Seville itinerary!
The expansive park is perfect for a Seville walking tour of your own! There's a pleasant, relaxing atmosphere as you stroll beneath the orange and palm trees beside the river. Be sure to find the statue of Miguel de Cervantes, the author of Don Quixote who was imprisoned in Seville, on the Plaza de America.
Bypassing colorful flowers, choose your favorite tiled bench or pavilion for a short rest to appreciate the gushing of nearby water features. Sit back and relax as one day in Seville begins to wind down. If you're really looking to add some indulgence to your Seville itinerary, hail a horse-drawn carriage!
Day 1 / Stop 5 – Plaza de Espana
Why it's awesome: If a place is called "the Venice of Seville", it must on your itinerary for Seville!
Cost: Free admission; $6 USD to hire a rowing boat for 45 minutes.
Food nearby: Treat yourself to the exquisite food of Ispal Restaurante to celebrate the first day of your Seville trip itinerary!
It may sound like a public square but Plaza de Espana is actually the monumental building you see in the midst of the Parque de Maria Luisa. It's such an iconic landmark that you cannot travel to Seville without a visit here!
The monument may look centuries-old but it was actually only built in 1929 as the centerpiece of the Ibero-American Exhibition! It was designed to showcase Spanish accomplishments to the world.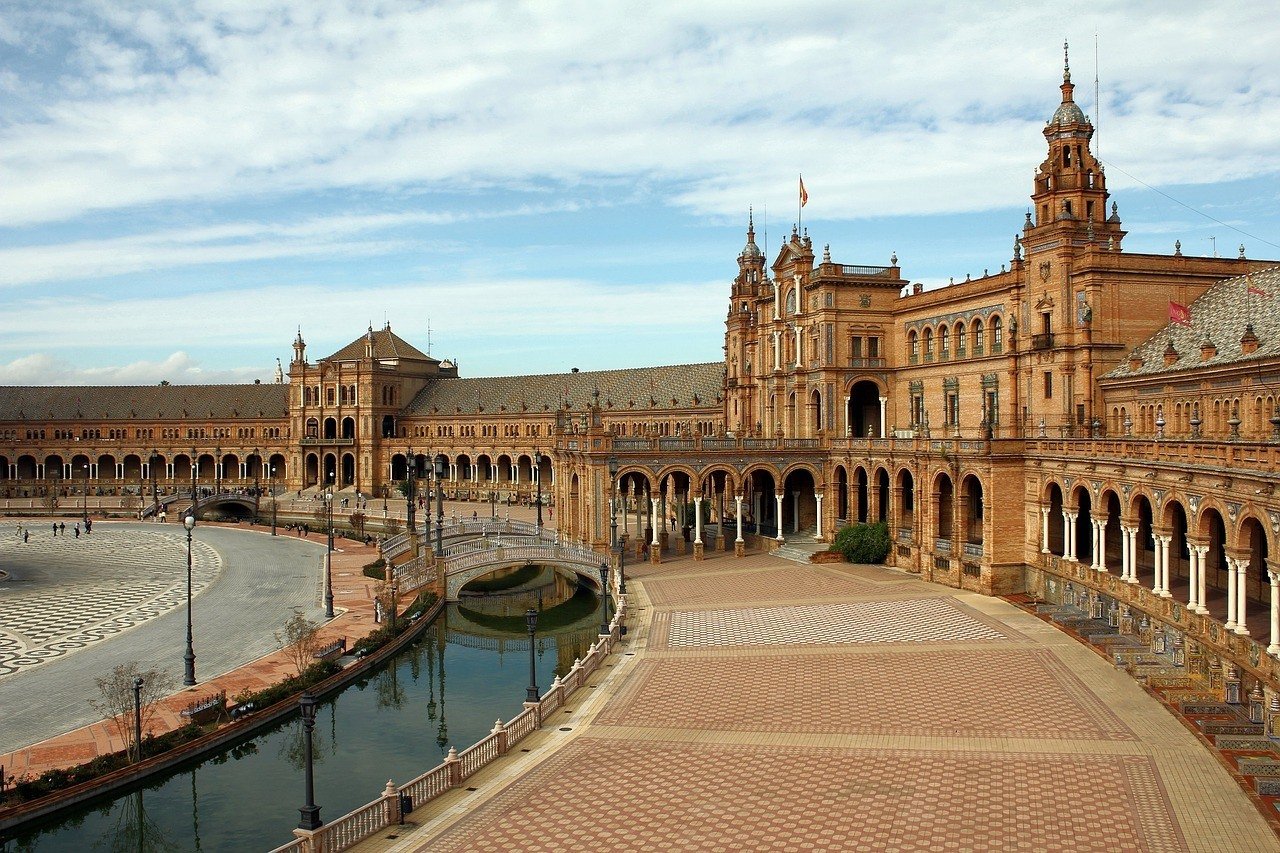 Around the building is a moat on which visitors can row hired boats. There are four bridges crossing the water, each representing the old kingdoms of Aragon, Castille, Leon, and Navarre. 48 pavilions represent the 48 provinces of Spain. These are decorated with ceramic tiles to display Spanish craftsmanship.
This monument has since doubled as a film set and you may recognize it from Lawrence of Arabia or Star Wars: Attack of the Clones! Regardless, it should definitely be on your Seville itinerary as a leisurely visit to it is one of the most pleasant things to do in Seville, Spain!
In a rush? This is our favorite hostel in Seville!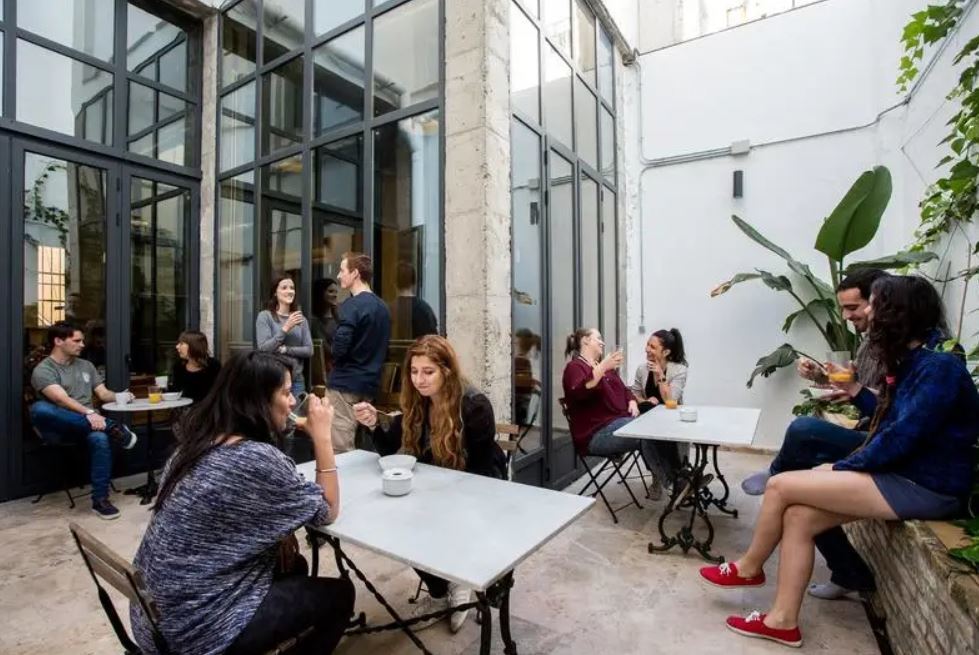 Black Swan Hostel Sevilla
Free WiFi
24 Hour Reception
Laundry Facilities
When you talk about quality for money, this is the place you should have in mind! The central location is top-notch and the hostel has a warm, stylish atmosphere.
Hostels are an awesome place for backpackers to stay. When you're staying in Seville, check out our guide to backpacking Spain.
Day 2 Itinerary in Seville
Metropol Parasol | Museum of Fine Arts | Torre del Oro | Royal Tobacco Factory | Flamenco Dancing
With our itinerary in Seville, it's time to admire some more city views and to get up close to the cultural arena. You heard right, it's Flamenco time!
Day 2 / Stop 1 – Metropol Parasol
Why it's awesome: This most iconic of Seville landmarks is also the largest wooden structure in the world!
Cost: $3 USD
Food nearby: The first level of Metropol Parasol hosts a food market, while the top floor hosts a restaurant.
As thoroughly modern as the Seville cathedral is ancient, Metropol Parasol should be out of place in the historic Old Town. Somehow, though, it manages to fit right in! Its purpose is to provide shade but it's also a popular monument in its own right that must be on your itinerary!
It was designed by German architect Jürgen Mayer and completed in 2011. Ever since, Las Setas (The Mushrooms), as the locals call it, has been dividing opinion over whether it should even exist! You'll likely be convinced of its worth, though, as soon as you take the elevator to the top level of the structure. The panoramic views are a highlight of any two-day itinerary in Seville!
On the ground level, Roman ruins and mosaics that were discovered on the site are housed in the Antiquarium of Seville.
Day 2 / Stop 2 – Museum of Fine Arts
Why it's awesome: Enjoy art from the Gothic era to the 20th century that's housed in a converted convert!
Cost: $2 USD
Food nearby: Considered to have the best ice cream in Andalusia, Creeme Helado Helado should certainly be on your Seville itinerary!
Spain's been home to some of the world's most famed artists in history and with two days in Seville, it's time you paid homage to some of their masterpieces! The Museum of Fine Arts was founded in 1835, and many think that the location alone is worth the entrance fee!
The museum houses a substantial collection of art from the Golden Age of Spanish painting in the 17th century. The most magnificent ones are hung in the former church. The star artist of this collection has to be Bartolomé Esteban Murillo. Look out for his Immaculate Conception which is a prime example of the physicality that's typically present in Baroque art. Another luminous work of his is Saint Anthony of Padua with the Child.
Diego Velázquez, one of the most famous Spanish artists, was a local of Seville. Many of his early works can be found in the museum, most prominent of which is Don Cristóbal Suárez de Ribera.
As if that's not enough, Spanish masters El Greco and Goya also have paintings here! If you have a weekend planned in Seville, Spain, this is a must-see!
Day 2 / Stop 3 – Torre del Oro
Why it's awesome: This riverside tower is another classic Seville point of interest!
Cost: $3 USD or free on Mondays.
Food nearby: In a beautiful Andalusian house from the 19th century, you'll find Casa Manolo Leon. This smart but unstuffy restaurant has a menu of fresh Andalusian meals that you'll remember long after your vacation in Seville!
Torre del Oro means "Golden Tower" but this ancient landmark in Seville, Spain, is made of the usual brick! It was, however, coated in a mortar which, when hit by the sun, gave off a gold color. Sadly, this can no longer be seen but there are other treasures at the Torre del Oro!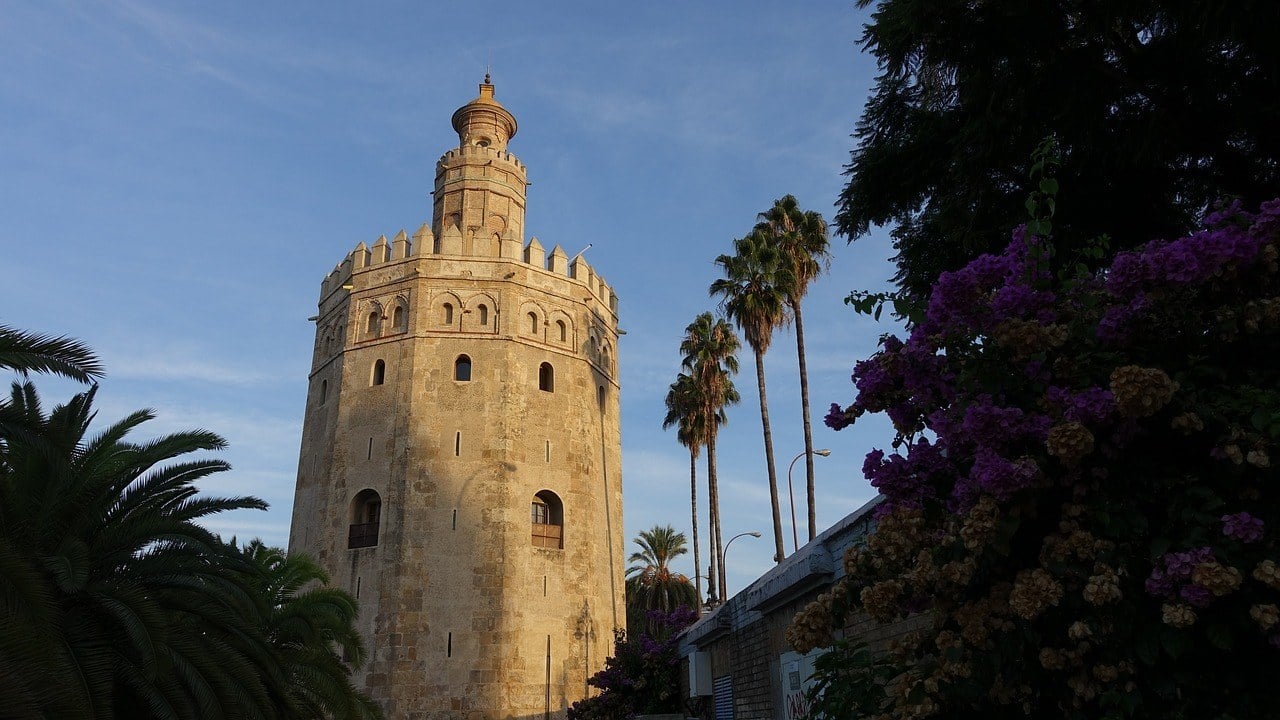 Like so many Andalusian monuments, Torre del Oro shares both a Moorish and Spanish past. The tower was originally built under the rule of the Muslim Almohad dynasty as a part of the defenses along the Guadalquivir River. It was later conquered by the Christian Spanish. It suffered significant damage from an earthquake in 1755 and was restored by the passionate pleas of locals.
Today it houses the Naval Museum of Seville. There's an exhibition on the history of the tower but the focus is on Spain's glorious naval history. The rooftop terrace also boasts some of the best city views you're likely to see while on your Seville itinerary for two days!
Day 2 / Stop 4 – Royal Tobacco Factory
Why it's awesome: This fabulous complex was once the heart of the European tobacco industry!
Cost: Free!
Food nearby: For beautifully-presented and gourmet Mediterranean cuisine, sit down at Realcazar Restaurant!
It may seem like an unusual attraction to put on your itinerary but trust us when we say you'll regret it if you don't visit the Royal Tobacco Factory! It was Spain that introduced tobacco to Europe in the 16th century and the demand just kept growing. The factory even expanded to such an extent that it was the second largest building in the country! 75% of all cigars sold on the continent were produced here!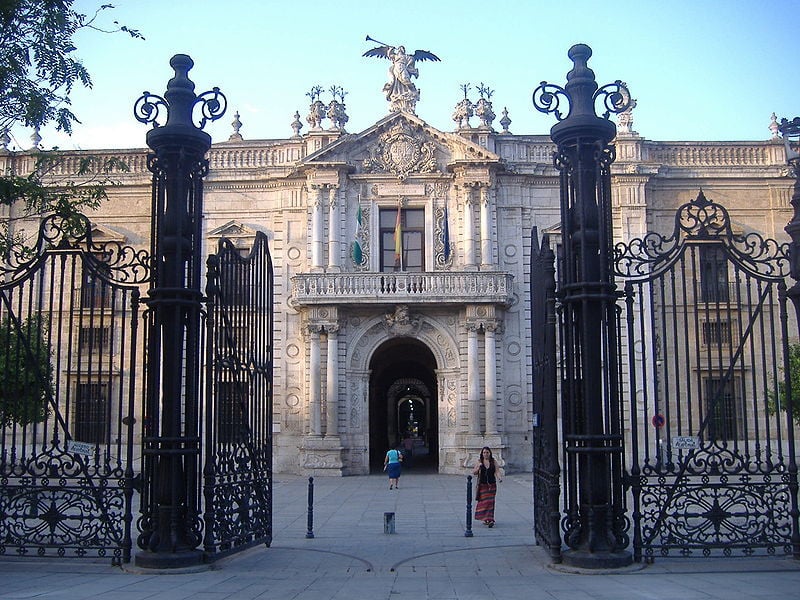 This is one of the most popular Seville attractions because of the beautiful architecture. It resembles a fortified palace, with a dried moat on three sides of the building. This was necessary since tobacco was such a valuable commodity. There was even a prison for tobacco smugglers!
The factory is also known as the setting of the opera Carmen where the leading character works and falls in love with a guard!
The tobacco factory was moved in the 1950s and today the building is home to the Hispalense University.
Day 2 / Stop 5 – Flamenco Dancing
Why it's awesome: Spanish passion and flare come together in this dramatic dance style!
Cost: Around $21 USD.
Food nearby: Flamenco takes place in tablaos, bars that are hotspots for the dance, so you won't be left hungry!
Flamenco originated in southern Spain and Seville offers visitors some of the best Flamenco dancing in the world! Originally, Flamenco involved only singing but it has since involved to include guitar and the flamboyant dance that's loved around the world! Don't fall for just any Flamenco show, though; make sure to follow our recommendations for an unforgettable celebration!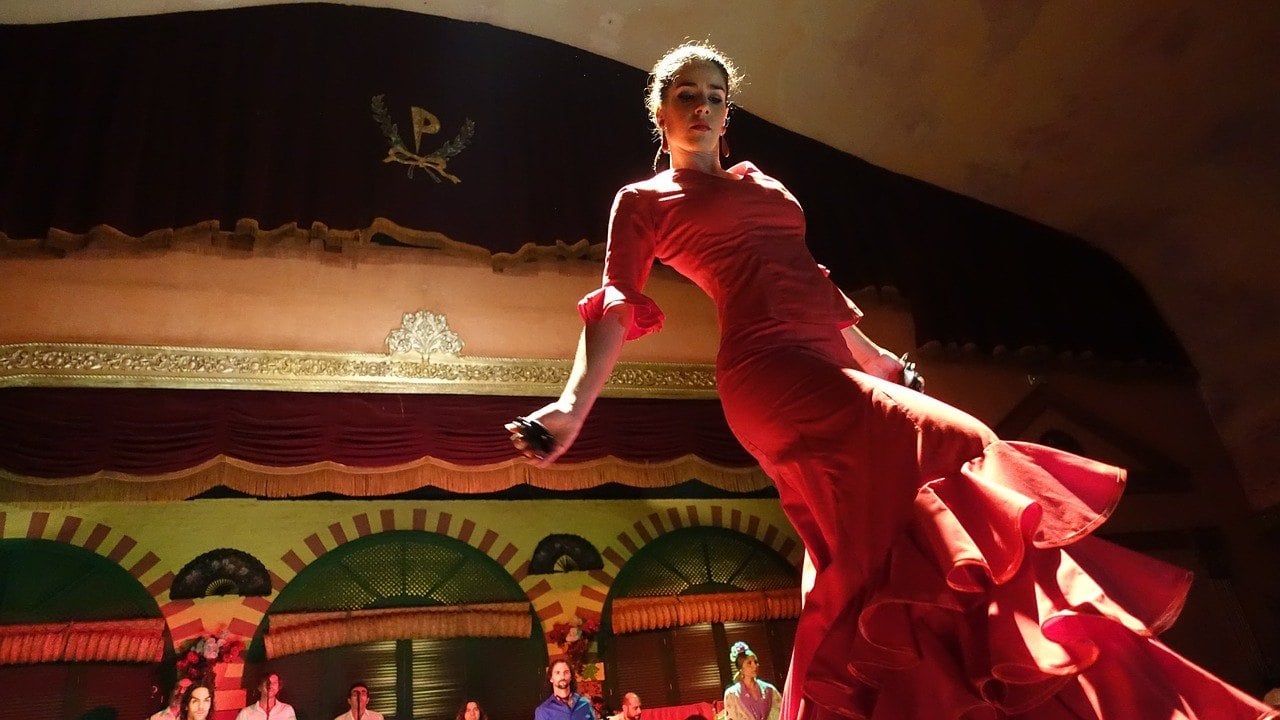 Our favorite tablao has to be Los Gallos Tablao Flamenco. It's one of the oldest in the city and is situated in a historic traditional house. This only enhances the authenticity of the Flamenco experience! For a modern twist, there are plenty of cocktails and sangria!
Casa de la Memoria is another sure bet for an epic Flamenco experience while touring Seville! The intimate environment is the setting for two shows daily and no day brings the same show! For those interested in learning, there are guitar and dance classes in Flamenco.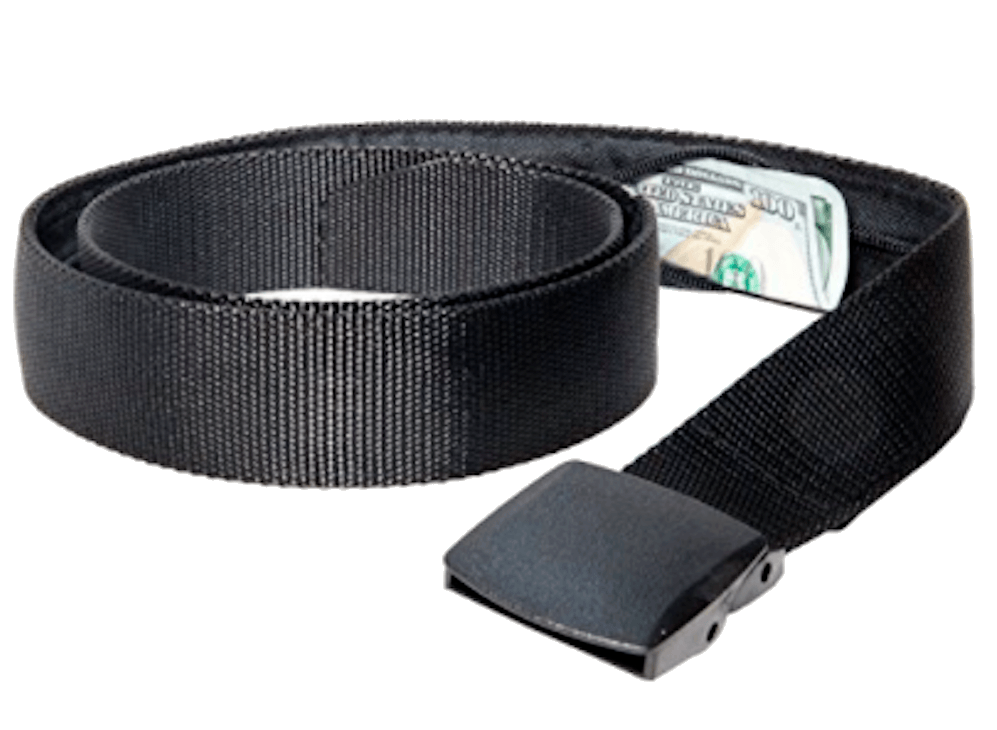 You should always have emergency cash hidden on you- pick up this awesome security belt with its hidden pocket before you travel, it's perfect for hiding money, and a passport photocopy.
Seville Itinerary: Day 3 and Beyond
Real Maestranza Bullring | Archaeological Museum | Museo Palacio de la Condesa de Lebrija | Casa de Pilatos | Triana
 There's more Spanish passion to experience at a bullfighting ring and you haven't seen half of the city's museums! That's right, there's more to see on our epic three-day itinerary in Seville!
Real Maestranza Bullring
Bullfighting may not be for everyone but it has been a part of Spanish culture for centuries.
The museum at the ring explains its role in Spain and is an ideal alternative to witnessing a bullfight.
Entrance is $9 USD.
The Real Maestranza Bullring is the oldest bullring in Spain and has a close association with the Spanish Royal Family! The museum has two major sections.
The Art Bullfighting Collection presents many paintings by Spanish artists on the subject of bullfighting, country life, and famed bullfighters. Some highlights include art by Francisco de Goya.
A more contemporary exhibition on bullfighting is presented in the final area. There are paintings, bullfighters' capes and suits, and posters on display.
This isn't as pleasant an experience as strolling through the Parque de Maria Luisa but it is one of the most fascinating aspects of Spain to learn about on your Seville itinerary.
Archaeological Museum
Housed in a beautiful Art Deco building, the ruins from Roman settlements in the area are worth adding to your Seville itinerary!
Travel through time to see Seville from prehistoric to early modern times!
Entrance is just $2 USD!
This airy building allows its various antiquities to speak volumes to an often mesmerized audience. The Phoenicians, Greeks, and Romans were all settlers of what is now Seville. Although the history of the area is traced through archaeological discoveries, the Roman period is the most well-documented.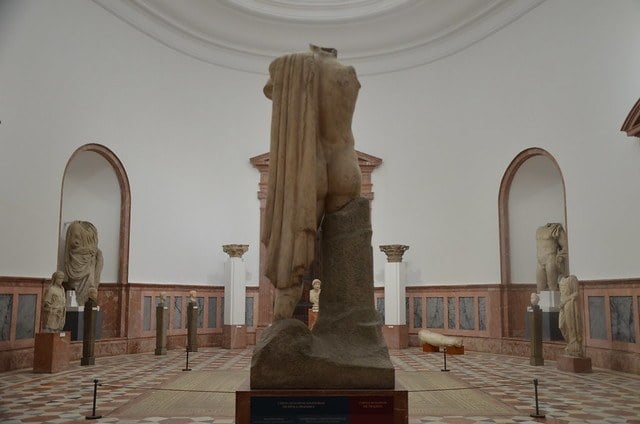 Most of the Roman objects come from the nearby site of Italica. Look out for the Ecija Mosaic which dates from the 3rd century BCE! There are also sculptures of Emperors Trajan and Hadrian who were born in the region.
The Treasure of Carambolo is another popular collection in the museum. This dazzling collection replicates Phoenician gold artifacts made around 650 BCE!
Museo Palacio de la Condesa de Lebrija
This renovated 15th-century palace is one of the few mansions that you can visit on your itinerary in Seville!
After it was bought by the Countess of Lebrija in 1901, it became the home of her extensive collection of Roman antiquities!
It's $9 USD for entrance and a short tour of this eccentric, yet elegant house.
Merging Roman mosaics with Renaissance masonry, this palace is one of the most charming places to visit in Seville!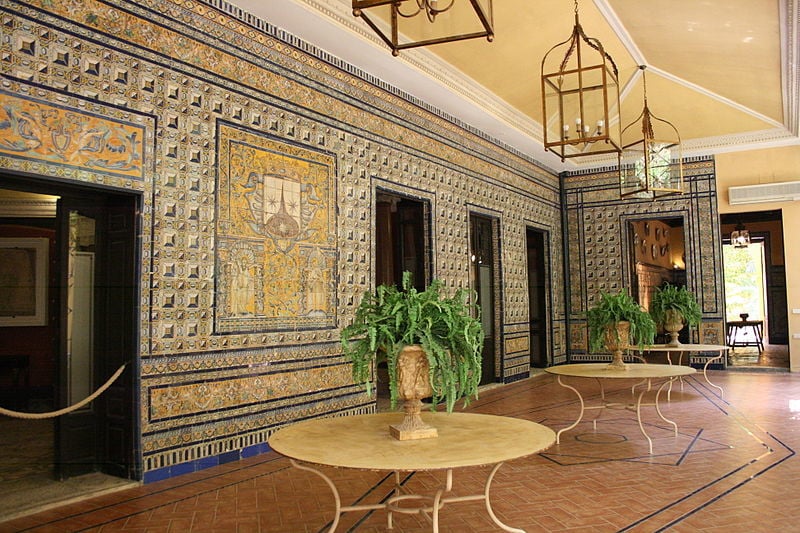 The ground floor houses the countess' Ancient Rome collection which includes some of the best-preserved mosaics in Spain! The masterpiece of the palace is the Pan mosaic which awes visitors with its size. There are also marble statues and Etruscan ceramics.
To see the upstairs, you have to join a guided tour that's included in the price since the family still use these rooms from time to time. It's totally worth it for the chance to see Arabic, Baroque, and Spanish-style rooms! A bit of family history is also on display in the form of jewels and military medals.
Casa de Pilatos
With three days in Seville, you've got to head over to this Andalusian palace!
This is a truly hidden jewel amongst all the things to do in Seville, so you may only have a dozen or so people exploring alongside you!
It's the perfect place to understand Spanish history!
This large private residence was built between the 15th and 16th centuries for an Andalusian mayor after his pilgrimage to Jerusalem. His revitalized piety was the inspiration for much of the house's decor!
As time went by, the family expanded the palace and today it offers prime examples of the different architectural styles that have influenced Seville.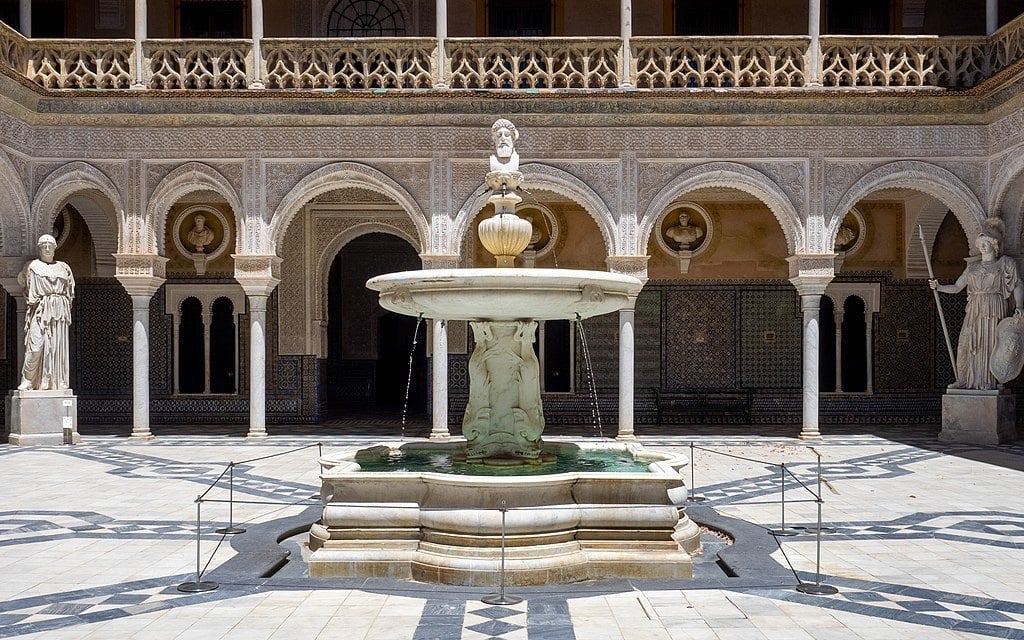 Make sure to visit the Chapel of Flagellation which is considered to be the oldest room in the building. Although it's a chapel, it often gives the impression of being a mosque or a pagan temple due to the intricate mosaics and Roman sculpture on the altar!
The Casa de Pilatos was the first private house in Seville to have a staircase. It's situated beneath a magnificent dome and is a stunning representation of local craftsmanship!
Visit Triana
This artsy neighborhood is atmospheric and full of cultural attractions!
It's often considered to be the soul of Seville!
Once an exile for undesirable citizens of Seville, it's now the trendiest part of town!
Start your Seville walking tour of Triana by crossing the Isabel II Bridge over the Guadalquivir River from Old Town. You'll find yourself in Plaza Altozano. Here, a statue of local bullfighter Juan Belmonte stands before images of Virgin Mary painted on colorful buildings.
Triana's home to a centuries-old ceramics industry due to the abundance of clay along the Guadalquivir River. It started with the Romans and flourished under the Moors who invented the azulejo, the little tile that used decoratively in nearly every grand building in Seville.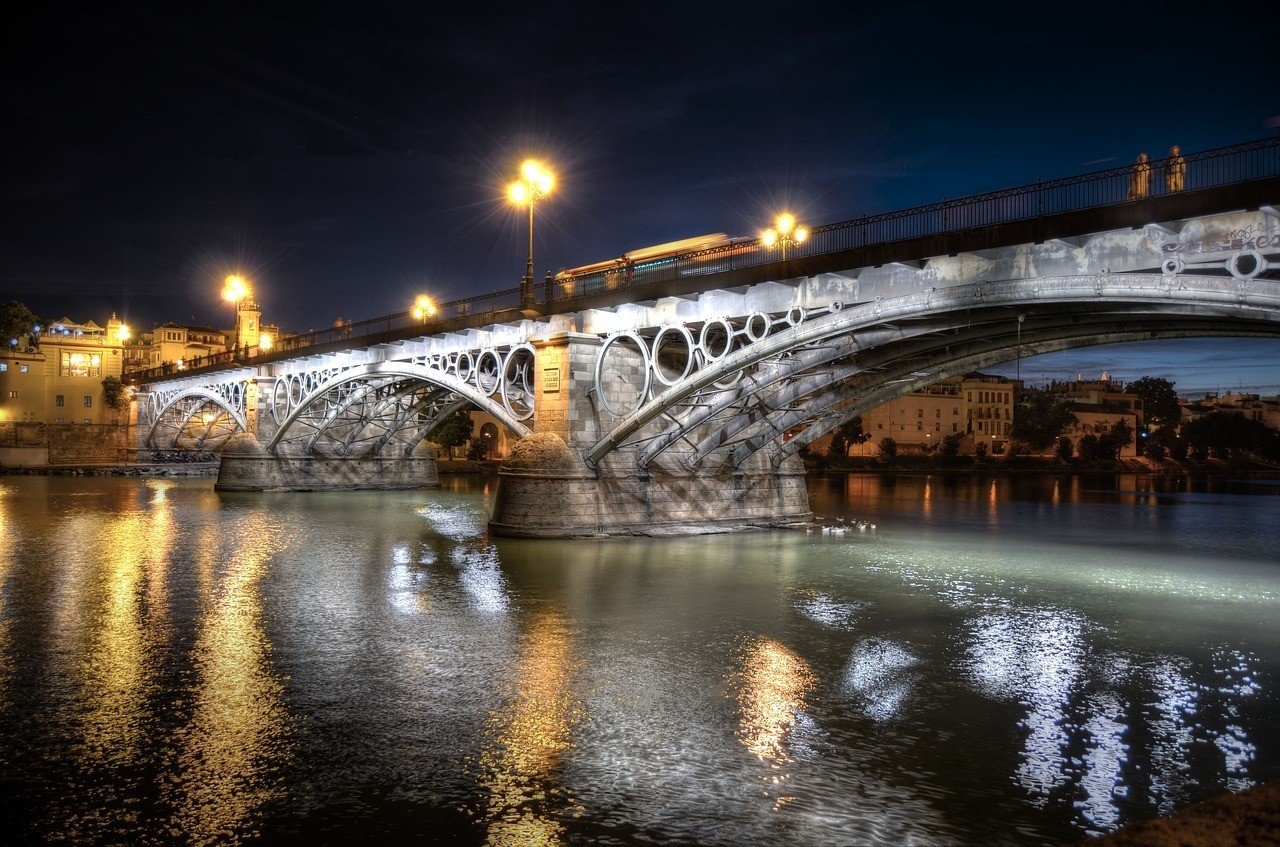 The business has since dwindled but there's a lovely museum that continues to honor the craft. Centro Cerámica Triana not only documents Triana's ceramic industry but also explains how various tiles were made. The city's finest tile shop, Ceramica Santa Ana, is just next door. Having been in business for over 150 years, there's not much chance of you leaving empty-handed!
Much of Triana's historical population was Roma who would gather in communal courtyards forfestivities. When people say Flamenco came from Seville, it's this tradition that they're talking about! Triana has produced many brilliant Flamenco artists so pull up a chair and order a drink if you hear the music from a nearby bar!
Don't forget to pack a good book!
Miracle in Seville: A Novel: This is our top recommendation for an awesome and inspiring read on this magical city.
Staying Safe in Seville
Don't worry about safety when planning a trip to Seville! There's generally no violent crime to be heard of but there are common scams and pickpocketing that you should watch out for.
When you're in crowded places like the Seville Cathedral or the Real Alcazar, keep your valuables close to your person. Forget your back pockets and only use your front pockets. Avoid deserted ATMs that look broken, they're probably rigged to steal from you. These are just a few of our tips that will keep you safe on your Seville itinerary!
To prevent being completely stranded if you are robbed, keep copies of all your important documents, like your passport, apart from the originals. Bonus points if you have a spare credit card or a wad of cash kept safely in your room!
It's also common for women to give you rosemary, offer to read your palm and then demand money. It's rather a hassle, so say 'no' upfront if you're not into it.
You should always have travel insurance in case of emergency (although unlikely to injure you, Seville has suffered numerous earthquakes). World Nomads offers the perfect general cover for your trip to Seville!
Don't forget to sort your travel insurance! We've put together a roundup of the best travel insurance for backpackers,or if you're low on time, get a quote from World Nomads now, our favourite travel insurance provider.
Day Trips From Seville
You're spoiled for choice when it comes to day trips from Seville! Seville's location in the south of Spain means it's within easy distance to some other remarkable cities like Granada and Cadiz!
Gibraltar Day Trip from Seville
Imagine a day trip from Seville to a foreign country! Well, it's totally realistic with this day trip to Gibraltar. You'll drive to Gibraltar, stopping for breakfast along the way. Your guide will then show you around the city center. The Pillars of Hercules and St Michael's Cave are just some of the great attractions you'll get to see!
There'll also be an opportunity to visit the only monkey colony in Europe. In the afternoon, you'll try some delicious local dishes before relaxing on the iconic Línea de la Concepción beach. This is one epic activity to put on your Seville itinerary!
Cadiz and Jerez de la Frontera Day Trip from Seville
Located on the Bay of Cadiz, Cadiz is a beautiful seaside town with sublime beaches and delicious cuisine! This day trip from Seville offers the perfect opportunity to visit Cadiz with minimum inconvenience.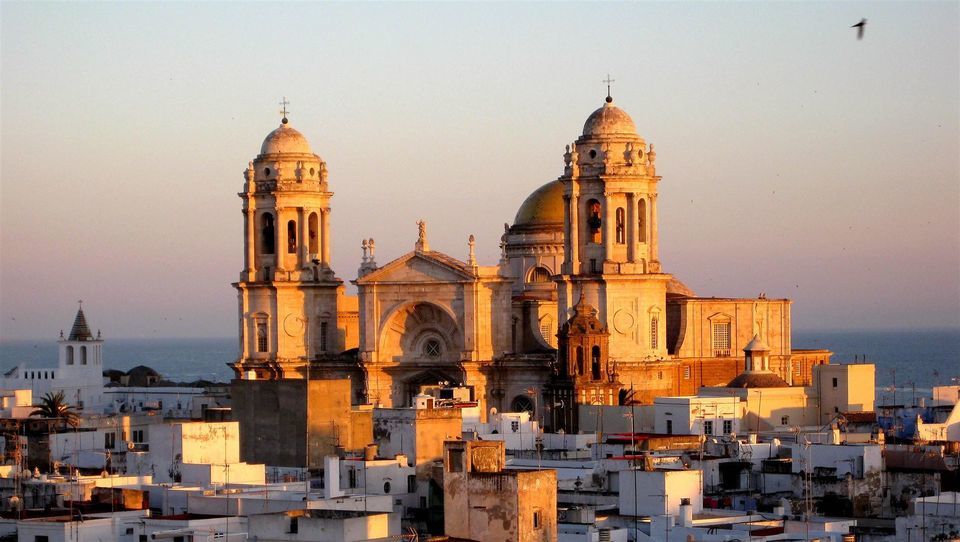 On your way, you'll stop in Jerez de la Frontera to sample some of Spain's best wines, as well as its famous sherries. Once you make it to Cadiz, there's plenty to see in the white-washed port! From the ancient cathedral to the charming neighborhoods, you'll visit all the picture-perfect sites of Cadiz and discover more about southern Spain's fascinating history!
The Villages of Andalusia: Full-Day Trip from Seville
Seville is fairly laidback but once you step into the Andalusian countryside, you may need to redefine the concept of relaxation! Time seems to have stood still in this rocky corner of the world where crumbling fortresses loom over whitewashed houses and rivers meander through rich agricultural land. It's a rustic experience that may be the highlight of your trip!
This tour will take you to five local villages. There, you can admire the chilly atmosphere and taste scrumptious Andalusian cuisine by sharing some tapas with your fellow tourists! The countryside is just as much of a highlight, and the tour will visit a national park. It all sounds divine to us!
Day Trip to Granada from Seville: Alhambra and Albaicín
Granada's ancient history is written all over its impressive fortresses and palaces that seem to have suntanned in the centuries since they were built! They may be old, but we can guarantee that they'll take your breath away on this day trip from Seville!
The highlight, of course, is a visit to the striking Alhambra Palace. This UNESCO World Heritage Site was built in the 9th century and reached its peak during the 13th century Nasrid dynasty. The whole complex of palaces and gardens is one stunning work of art that would set the tone for Andalusian architecture in the centuries since!
Afterwards, you'll be further enchanted with the medieval Moorish architecture of the historic old town!
Cordoba Full-Day Tour from Seville
Cordoba's an overlooked gem in Spain that blows visitors away with its easy charm, towering monuments, and vibrant religious history! This day trip from Seville is the perfect introduction to this Andalusian jewel!

The trip includes a guided tour of Cordoba's historic center, with visits to the old Roman Walls and the Roman Bridge. You'll also be shown the Mezquita, a remarkable cathedral that was built around a mosque. Next up is the Jewish Quarter which is a UNESCO World Heritage Site. This is a special experience that allows you to see how Christians, Muslims, and Jews coexisted in this area and left an undeniable mark on Andalusia!
Tip: Want to spend the night in this historic town? Check out our favorite hostels in Cordoba!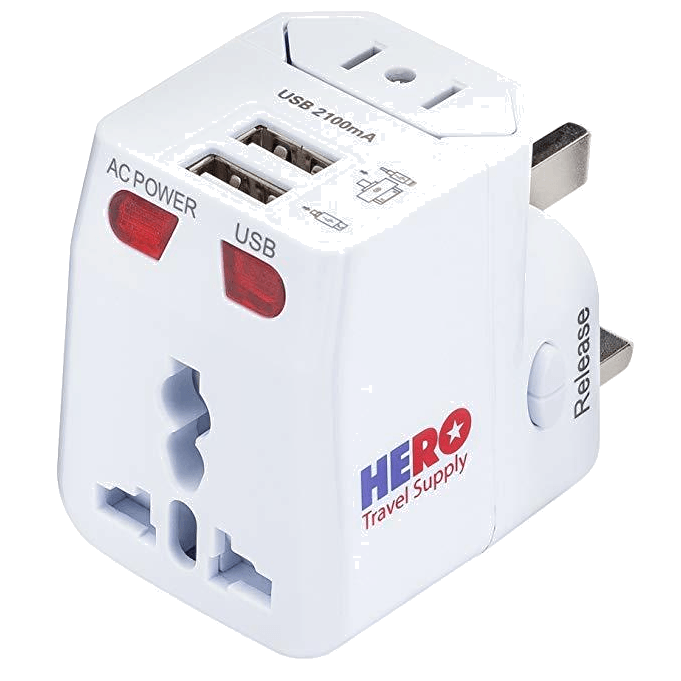 One of the best investments you can make is a
worldwide travel adapter
that will work anywhere! The one featured here is tough, reliable and a solid buy.
Don't leave home without one.
GET IT HERE
Conclusion
Seville revels in rich history which has both spectacular architecture and cultural traditions. From the lavish Real Alcazar to the soaring La Giralda Bell Tower, there are many beautiful sites to see this in Seville!
The magic of Seville, though, lies in its charming culture! Church bells ring out across squares and the iconic Flamenco clap calls many to the nearest bar. From the vibrant hues of Triana's buildings to the abundance of flowers in the Parque de Maria Luisa, you'll be struck by the volume of color.
As you eat your way through tapas and inhale the nutty Andalusian wines, you'll often have views of the medieval cathedral or the modern cityscape. This kind of sensory experience is the real attraction that will make Seville your new favorite city! Start packing for Spain and book your accommodation.
Combining the rich history of Seville with its equally rich cultural scene is no easy task but our selection of what to do will make your trip as effortless as possible! If you're looking for a fun time in, hold tight to our Seville itinerary!
Yay for transparency! Some of the links in this post are affiliate links. This means that if you book your accommodation through the site, The Broke Backpacker will earn a small commission at no extra cost to you. Your support helps me keep the site going.
---
Need More Inspiration?
Like this post? PIN ME!!!