The largest city in Andalusia, Sevilla is a mashup of everything that's great about Spain. The birthplace of Flamenco, a mix of Baroque and Mudéjar architecture, and a historic centre packed full of little bars where you can enjoy tapas and your drink of choice, one thing is for sure – you're never going to be bored here!
With everything going on in Sevilla, you're going to need somewhere to stay. Rather than looking at hostels or hotels, why not treat yourself to something with a little more character and personality. Yep, we're talking vacation rentals in Sevilla. They'll offer you a lot more in terms of value for money, too!
In this post, we'll take a look at the best Airbnbs in Sevilla. Not only that, but some of the best Experiences in the city too. After reading our list, you'll have everything you need to know to start planning your Andalusian adventure. Let's go!
Quick Answer: These are the Top 5 Airbnbs in Sevilla
Overall Best Value Airbnb in Sevilla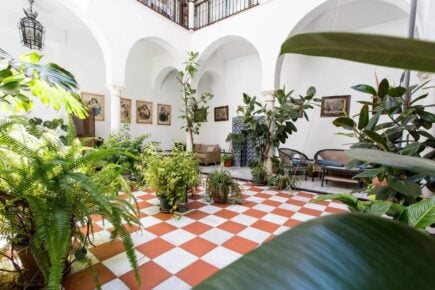 Overall Best Value Airbnb in Sevilla
Yard of the Flowers Old Town
> $
> 3 guests
> Central location
> Traditional Andalusian patio
Best Budget Airbnb in Sevilla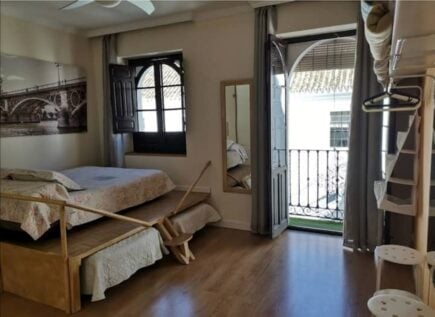 Best Budget Airbnb in Sevilla
Quiet and comfortable room
> $
> 4 guests
> Self check-in
> Private balcony
Best Airbnb for Couples in Sevilla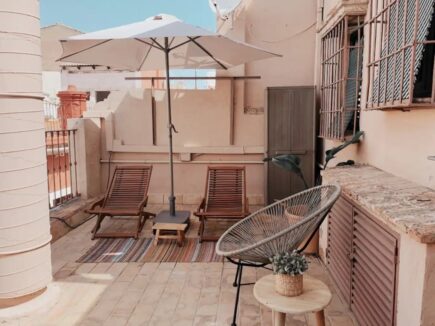 Best Airbnb for Couples in Sevilla
Luxurious Studio opposite Cathedral
> $$$
> 2 guests
> Queen bed
> Rooftop terrace
Best Airbnb for Families in Sevilla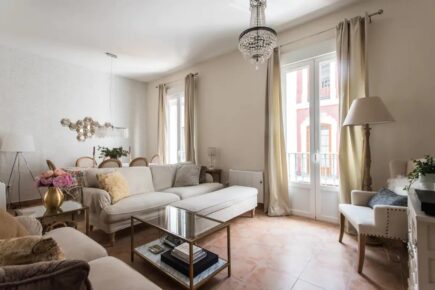 Best Airbnb for Families in Sevilla
Eight person apartment near Cathedral
> $$$
> 8 guests
> Self check-in
> Two private patios
Over-the-Top Luxury Airbnb in Sevilla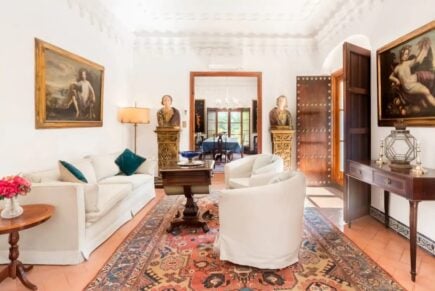 Over-the-Top Luxury Airbnb in Sevilla
Palatial Apartment Filled with Art
> $$$$$$$$$$$
> 7 guests
> Outdoor swimming pool
> Opulent antique furnishings

Unlock Our GREATEST Travel Secrets!
Sign up for our newsletter and get the best travel tips delivered right to your inbox.
What to Expect from Airbnbs in Sevilla
The good news in Sevilla is that you're going to get more for your money than you will in Barcelona or Madrid. And there's a lot to choose from! Most people opt to stay in the Casco Antiguo; it's a great base to see the cathedral, central markets, and wander the narrow cobbled lanes.
In that part of town, you're most likely to find entire flats and private rooms (as you would in most cities) as well as loft apartments and boutique hotels. If you want a larger style of property like a house or a villa, you should look outside again in somewhere like Los Remedios.
We'd suggest that wherever you stay in Sevilla, you make sure there's air-conditioning. It has the hottest summer in continental Europe, with an average temperature in July of 36 degrees Celsius!
Loft
A loft apartment is like an entire flat, but they're more exclusive and just that little bit more expensive. They're worth the extra outlay though. Positioned above the first floor, you'll often find them at the top of the building.
And that 'lofty' position means that with many of these properties, you can make the most of at least a balcony – sometimes even a roof terrace! Great for sunbathing and/or admiring the views across the city. Many are found in the Old Town. As a general rule, start at the Cathedral for the most expensive and work your way out from there.
Lofts are normally best for couples and small groups of friends or family – though there are some larger loft apartments available.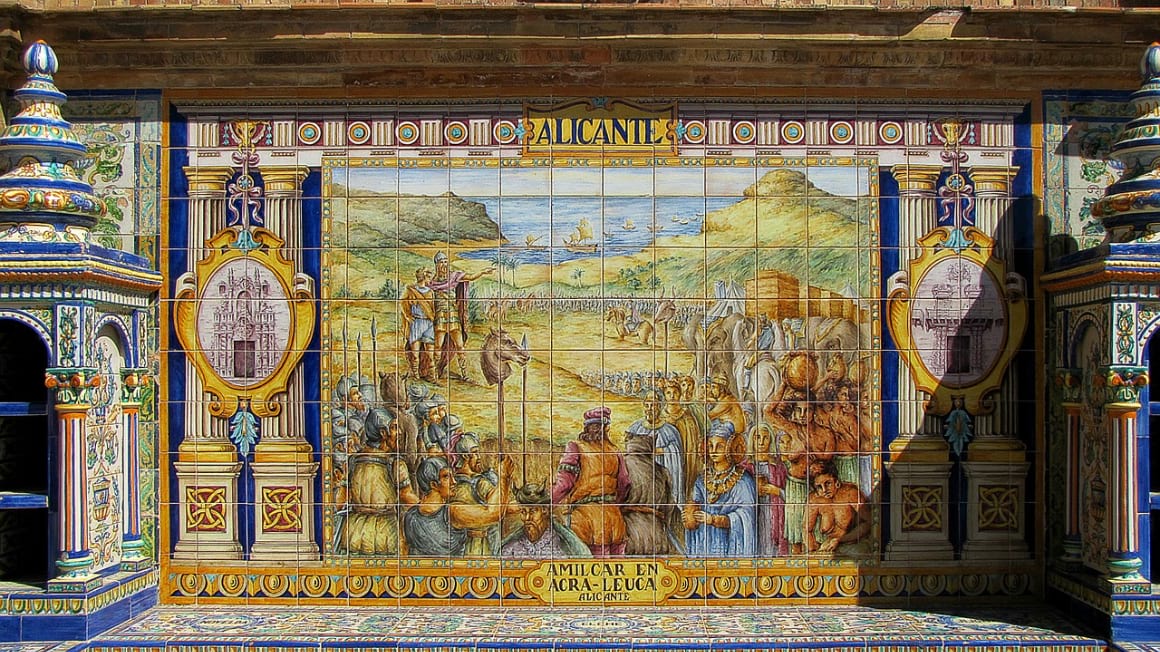 Boutique Hotel
Okay, we know; a hotel is kind of defeating the point of Airbnb, isn't it? Well, we'd agree with you if we were talking about the standard boring chain hotels that afflict every city in Europe. But we're not; we're talking boutique hotels. They're a bit fancy.
Most boutique hotels have just a handful of rooms, each with its own distinct design and character, making for a wonderful place to stay. They're passion projects for their owners, meaning they have gone above and beyond so that you enjoy yourself.
Boutique Hotels are a good option if you're not quite ready for a fully self-contained accommodation but want something a bit unusual and interesting.
Villa
Is there anything that says Spanish holiday in the sun quite like a villa? We're not sure there is. This is the coolest and most exclusive type of accommodation you'll find in Sevilla, but there are a few things to consider before you book.
Villas are expensive – there's no getting around that. A solo traveller or a couple on a shoestring are probably going to have to pass. However, they're not as prohibitively expensive as you might think. Because they offer space for lots of people, that initial huge cost can be split multiple ways.
And you do get a lot for your money – villas have huge living areas, fully equipped kitchen, and most offer a garden and a swimming pool. What more could you want?!
Why Stay in an Airbnb
Now you know what's available in Sevilla, you'll be itching to book. If you're not, let us give you five of the top reasons to book with Airbnb. If this doesn't convince you, nothing will!
Local Experience: With a local host, you can get inside info on the best backstreet tapas bars, hidden gems and things to do in Sevilla, and a whole lot more, too.
Unique Properties: As you're about to see, Airbnb has some truly unusual and unique properties – way more interesting than a hotel or hostel!
Affordability: Line up an Airbnb next to a hotel of the same price, and there's only one winner when it comes to value for money. It's not the hotel!
Safety: Airbnb has a rating system which keeps both host and guest safe. If that's not enough, their customer support team is on hand 24/7!
Airbnb Experiences: It's not just about great places to stay – Airbnb Experiences can help you fill your Sevilla itinerary, too. More on that later!
The 15 Top Airbnbs in Sevilla
Now we're at the part you came to this list for. Arranged by category according to budget and travel style, here are the 15 best Airbnbs in Sevilla. All you need to do is choose your favourite!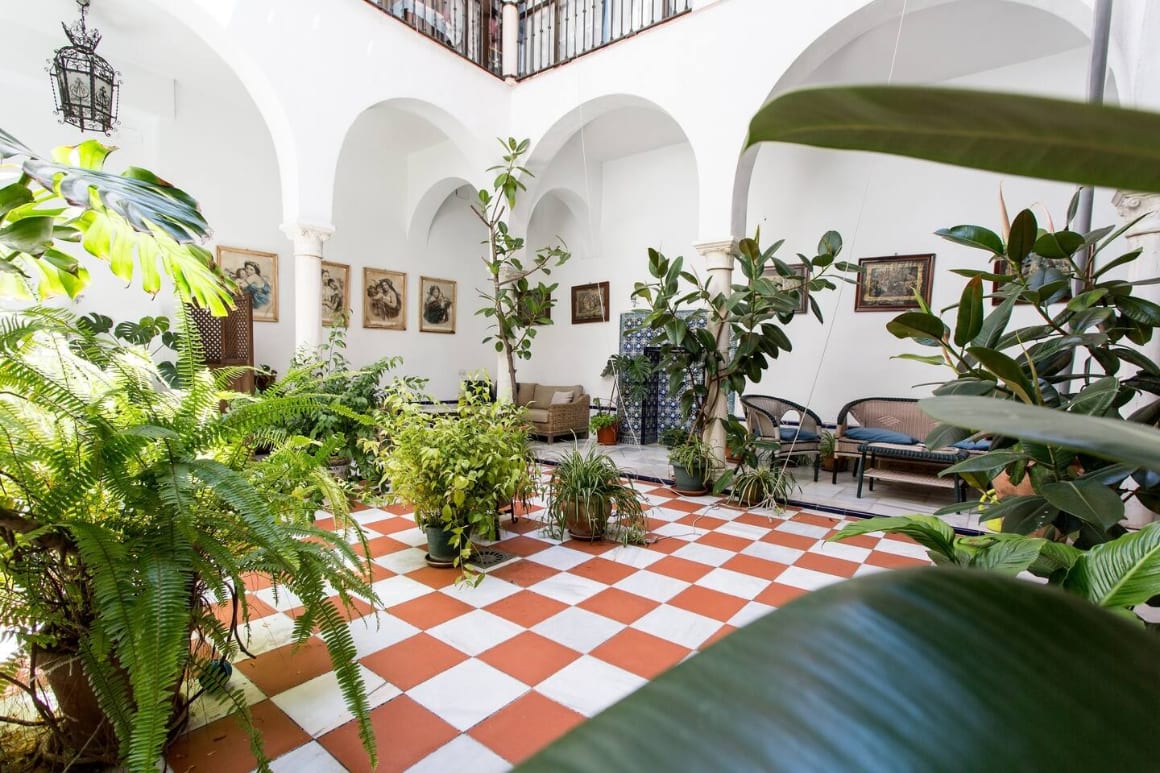 3 guests
Traditional Andalusian patio
This cute apartment in Sevilla's Old Town is managed by a business. However, they'll still be able to give you all the tips and tricks you need to find the best places to eat and drink in Sevilla. Fancy a siesta? Come back and take a break in the flat or catch some shade in the beautiful courtyard and read a book or update your social media.
You'll be on the other side of the Alfonso XIII Canal from the Old Town at this private room. However, that just means you get to see an area that fewer tourists go to! An unusually shaped room, you can actually fit four guests in here thanks to the clever arrangement of the beds. There's also a small balcony where you can enjoy your morning coffee and plan the day ahead.
1 guest
Dedicated workspace
If you're travelling solo, a homestay is the best way to have a local experience and keep your costs manageable. Surprisingly, your budget can stretch to a roof terrace where you can enjoy dinner right in the heart of the Historic Centre. And there's still enough left over for tapas and a flamenco show! Thanks to a dedicated workspace, this is suitable for a digital nomad on a budget, too.
Is This the Best Backpack EVER???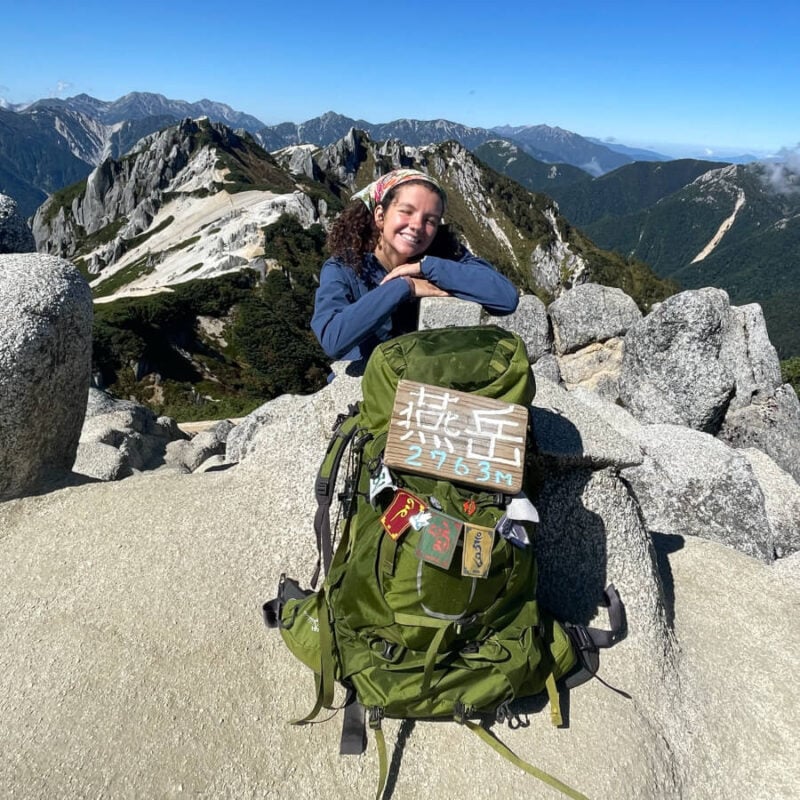 Travelling with your other half? You'll need somewhere that's going to sweep them off their feet, and this might just be it. As well as a big queen bed that you can retire to after a day of exploring the city, you've got your very own outdoor terrace – and you've got that all to yourselves! The property is right in central Sevilla, ideally positioned if you get the urge to explore the best places and hidden gems of the city.
8 guests
Two private patios
Right opposite the cathedral, this apartment has everything you could wish for a family, no matter what age! There's space for eight guests – and if it feels like things are getting too cramped inside, you can always spill out to one of two private patios. Eating tapas every night is wonderful, but expensive. So it's good to know the fully equipped kitchen is on standby should you want to cook a family favourite one evening.
$$$$$$$$$$$
Outdoor swimming pool
7 guests
Opulent antique furnishings
If you find yourself watching shows like The Crown, wondering what it's like to be a member of a royal family, this incredible Sevilla Airbnb might go some way to answering your questions. Decorated with antique furnishings and gilt-framed classic paintings, it's on another level. There's a swimming pool where you can take a dip, too – that's if you can get yourself away from the fancy dinner party that you'd be daft not to host while staying at this palatial apartment!
4 guests
Laptop-friendly workspace
Just look at that view of the Cathedral. That might be all you need to book this loft apartment, but it does offer some other cool features. You've got a lovely living space across two levels, with a dedicated workspace and chill out area on the lower level. On the mezzanine, you'll find your comfortable double bed. A delightful home away from home.
Ideal for couples, the Hotel Cetina is a four-star boutique hotel in the heart of Sevilla's Old Town. Set in a historic building, you'll be able to enjoy food and drinks on the traditional Sevillian patio, should you choose too. You can even arrange a bath in the outdoor tub here. A continental breakfast is optional – and a must if you want to sample traditional Spanish cured meats.
7 guests
Private garden and swimming pool
Though many of the best villas in Sevilla are in the surrounding areas, you can find some in the heart of the city. It's crazy to think that between the narrow streets and behind the façades of buildings, there's a villa this large, really. Ponder that as you float in the outdoor pool or lie back on a sunlounger topping up your tan. Life could be harder, we suppose.
2 guests
Two large terraces
This private room in a local's home is the perfect spot for a digital nomad in Sevilla. Offering a dedicated workspace, a private bathroom, and your very own outdoor terrace, you might end up staying here just that little bit longer than you'd intended. When you've closed your laptop for the day, you won't have to go far to find beers and tapas, either!
$$$$
Rooftop swimming pool
We've already seen a couple of Airbnbs in Sevilla with pools. However, those pools weren't on a rooftop with a view of the Cathedral. This one is, though! It's every bit as stunning as it sounds – just make sure you slather on the sunscreen if you're spending the day up here. The apartment can be accessed by a smart key, so you can enjoy the privacy of self-check-in if you wish.
2 guests
Fully equipped kitchen
With Sevilla being such a romantic city, we couldn't just have one option for couples. Here's an even more stunning place to stay – especially suited to those on a honeymoon. The quiet and subtly designed loft apartment has high ceilings, painted wooden beams, and tasteful furniture that will make you want to spend as much time in here as possible with the one you love!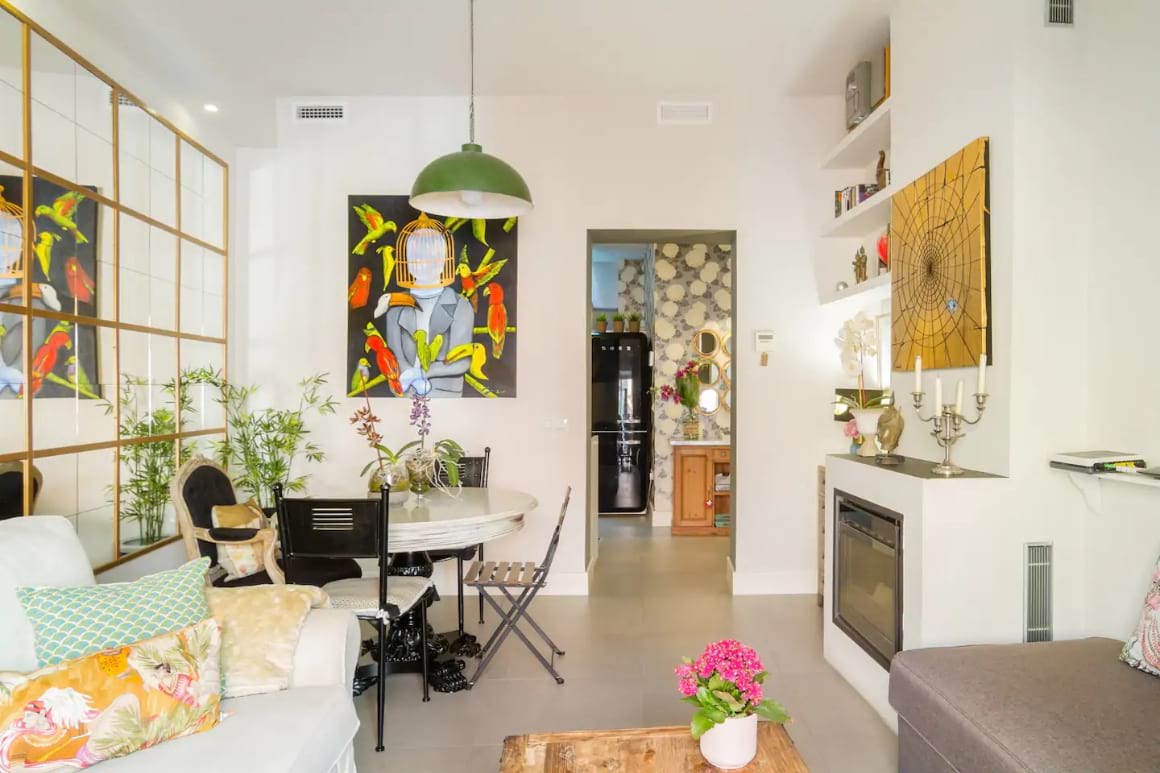 $$$$
Rustic rooftop terrace
Airbnb Plus properties are known for not only having excellent review scores, but hosts who pay close attention to detail. They even get an inspection from Airbnb before their badge! With space for five guests, this would perfectly suit a small family or group of friends who want a bit of colour in their accommodation.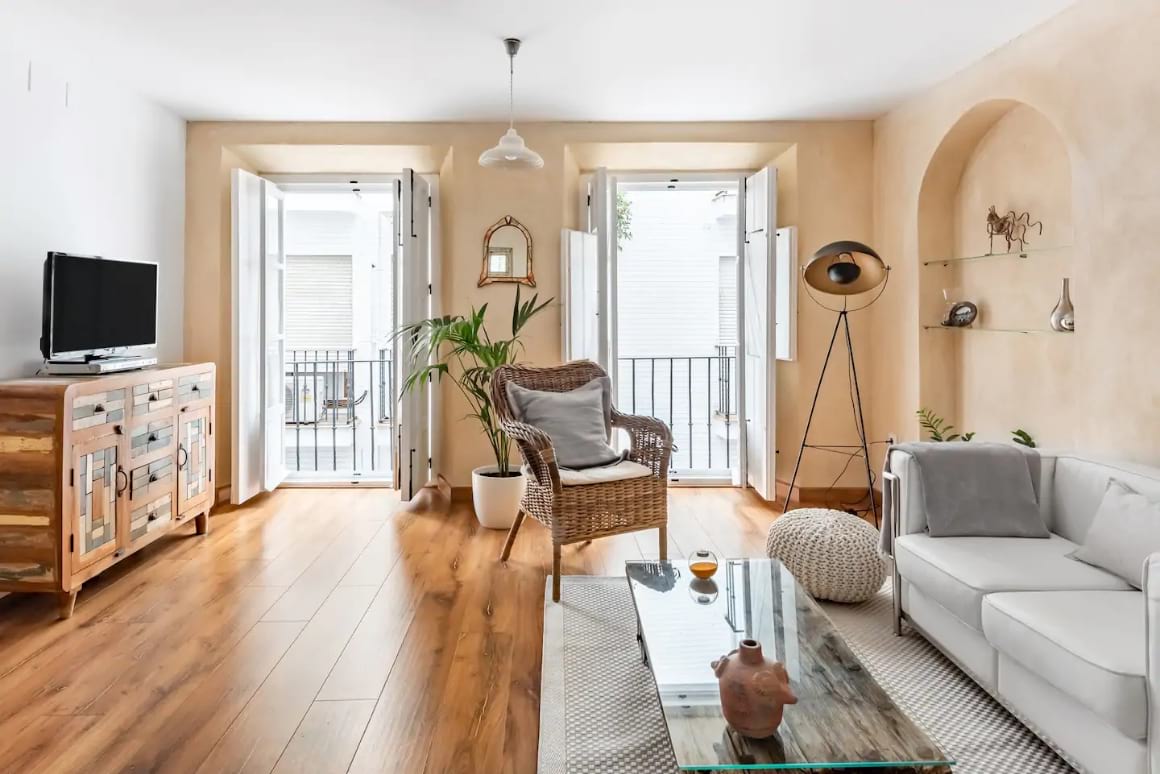 If you're planning a weekend in Sevilla, the most important thing is to be sure you have a central location. Then, go for the nicest place you can that's in your budget! For a couple with some flexibility in theirs, we'd recommend this central apartment with a terrace – another Airbnb Plus. If you can't be bothered to go and visit attractions like the Church of the Saviour, just admire them from your terrace!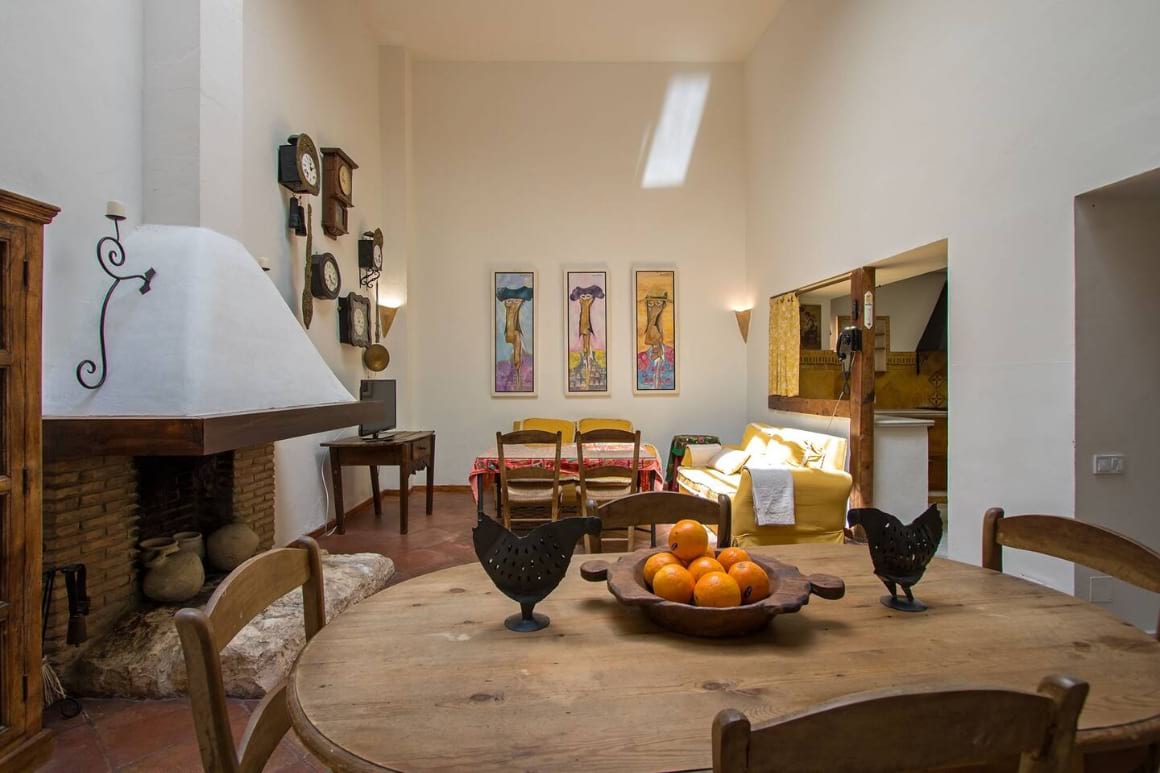 6 guests
Restored Andalusian Palace
With a large living area, a cool courtyard, and a delightful dining table, there are plenty of places to spend quality time with your mates in this Sevilla Airbnb. Split it six ways, and you'll be able to gorge yourself silly on tapas and cañas, too. This converted palace even has a garage – great news if you've brought your car.
Top 5 Airbnb Experiences in Sevilla
With so much going on in Sevilla, you'll not just want to plan where to stay; it's also a good idea to find some things to do when you're arrive – you don't want to miss the architecture, flamenco, and food that the city is famous for.
A great way to do that is by checking out Airbnb Experiences. Here, you'll find all the best tours, trips, and experiences curated by locals with you in mind. They can be anything from a walking tour or a cooking class to an animal encounter!
Here are five of our favourite Airbnb Experiences in Sevilla – we think you're going to love them.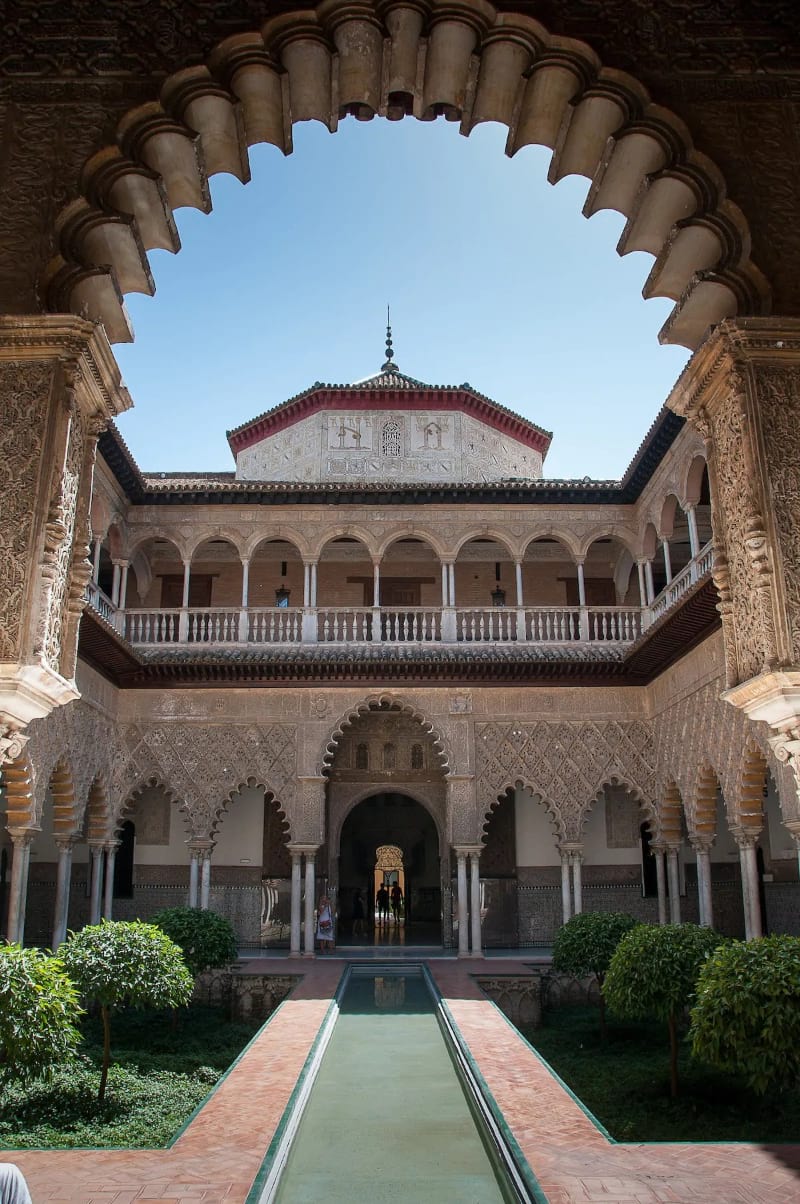 €45/person
2 hours
Up to 8 guests
The Alcázar is one of the most important monuments in Sevilla. This is your chance to skip the queue and see it much more in-depth than the majority of tourists get to on a small group tour. It's a great experience for tourists interested in Spain's history and Mudéjar architecture. There'll also be free time where you can explore at your own leisure or chill out in the gardens.
€79/person
3 hours
Up to 8 guests
Beautiful as Sevilla is, it can get hot and sticky. And if you don't have a pool, the best thing to do is get out of the city centre. This animal encounter gives you the chance to do just that – and ride Andalusian horses. The ranch is just half an hour from the city, but you'll feel worlds away as you canter through the olive groves and orange gardens on the back of these beautiful creatures.
€30/person
2.5 hours
Up to 4 guests
Sevilla has something historic on just about every street corner, and that can be overwhelming. However, take a walk with a local guide, and you'll learn loads more about the city and be able to chill knowing that you're not missing anything. The tour is limited to four people, so you can be sure that all your questions will be answered by your attentive guide.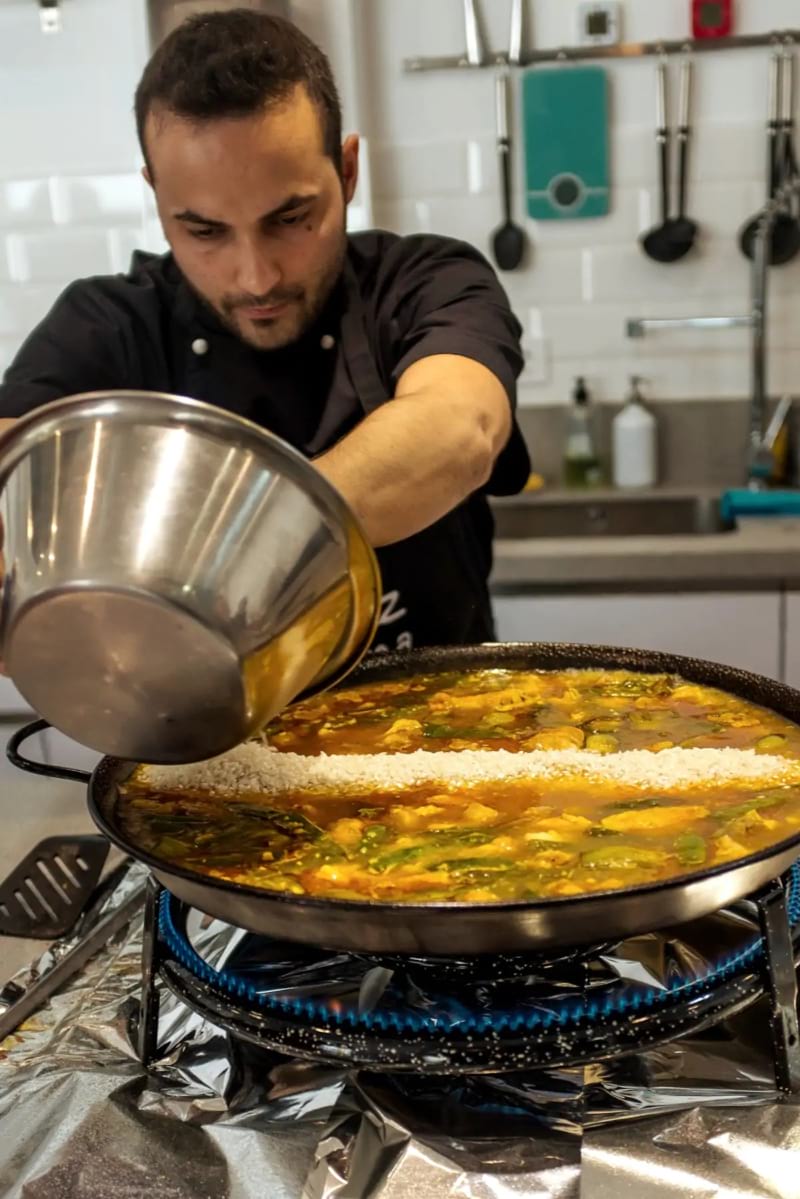 €55/person
3 hours
Up to 10 guests
At this Andalusian cooking class, you'll learn to make some of the most emblematic Spanish dishes. The showstopper is a traditional Paella Valenciana – the main course. However, don't turn your nose up at other delicious dishes such as tortilla española, gazpacho, and codfish fritters. You'll get sangria and olives during the class to keep you fed and watered!
€69/person
3.5 hours
Up to 10 guests
No trip to Sevilla is complete without visiting a flamenco show. And why would you turn down one that offers tapas, too? You'll stop at two traditional bars before heading to the show itself – where your hosts will explain each of the songs and dances (if they're not up there themselves).
Don't Forget Your Sevilla Travel Insurance
ALWAYS sort out your backpacker insurance before your trip. There's plenty to choose from in that department, but a good place to start is Safety Wing.
They offer month-to-month payments, no lock-in contracts, and require absolutely no itineraries: that's the exact kind of insurance long-term travellers and digital nomads need.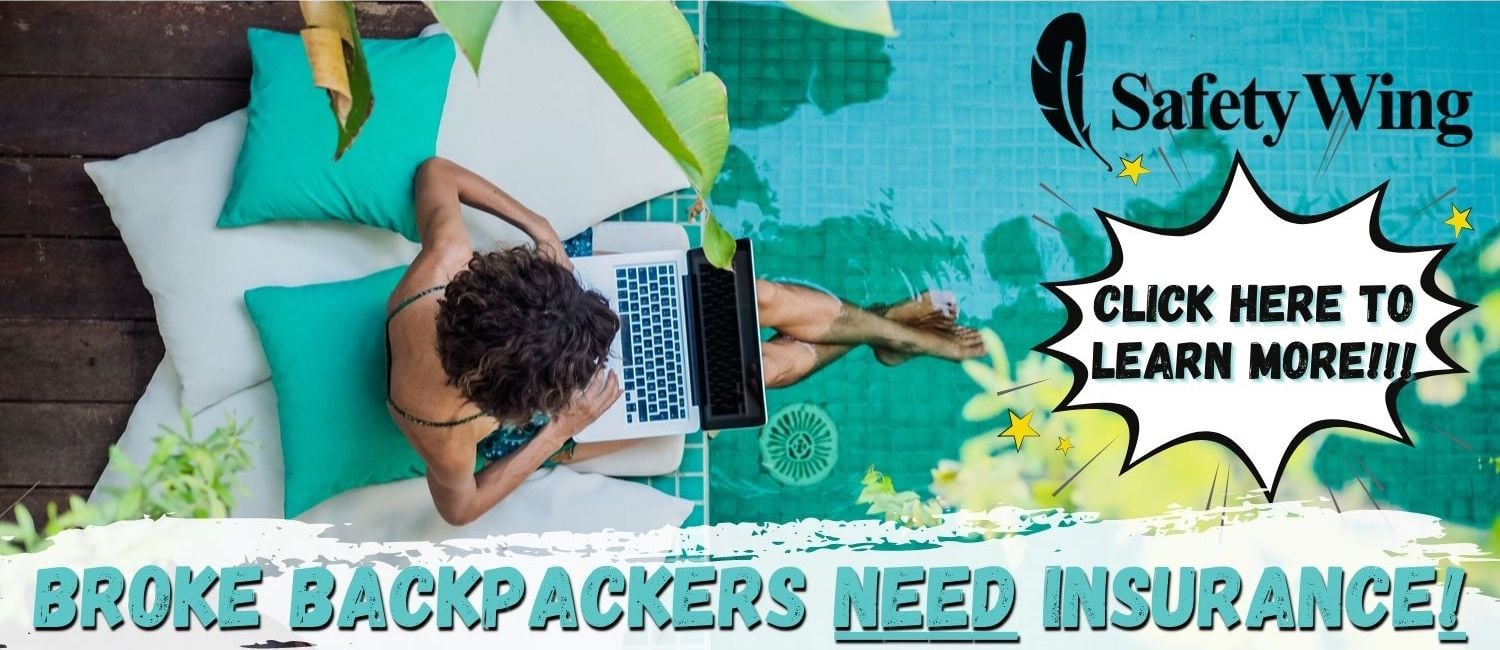 SafetyWing is cheap, easy, and admin-free: just sign up lickety-split so you can get back to it!
Click the button below to learn more about SafetyWing's setup or read our insider review for the full tasty scoop.
Final Thoughts on Sevilla Airbnbs
Well, there you have it. Those are the best Airbnbs in Sevilla, with some fun experiences you can do when you're there, too. Whether you want to stay in a loft in the heart of the Old Town, soak up the Spanish sun from the pool, or live it up in a luxurious villa, there's an Airbnb in Seville for you.
Still struggling to decide on the right accommodation for you? Just go for our overall best Airbnb in Sevilla. That's Yard of the Flowers in the Old Town. As well as the central location and reasonable price, it's a cosy and comfy base for your trip.
We hope that wherever you choose to stay, you have an incredible vacation. And remember to stay safe! The best way to look after yourself and your belongings is by taking out a travel insurance policy with World Nomads.
---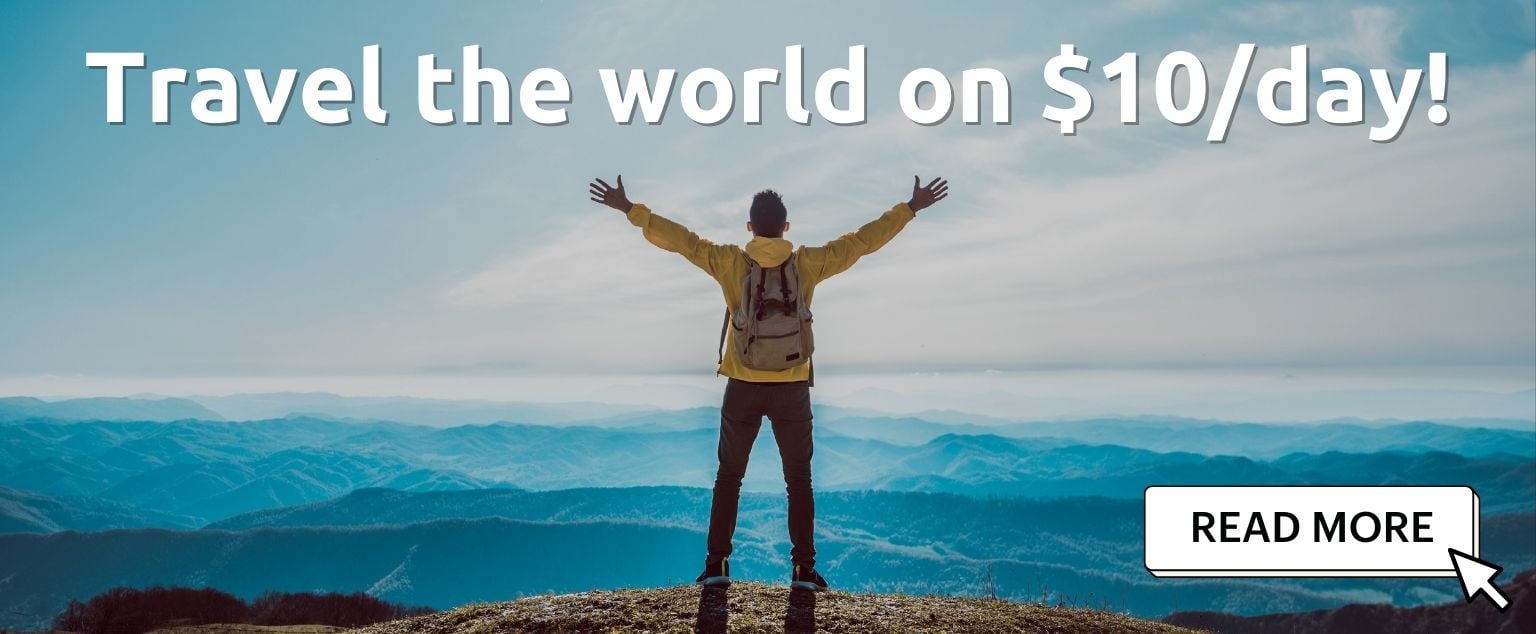 And for transparency's sake, please know that some of the links in our content are affiliate links. That means that if you book your accommodation, buy your gear, or sort your insurance through our link, we earn a small commission (at no extra cost to you). That said, we only link to the gear we trust and never recommend services we don't believe are up to scratch. Again, thank you!