The capital of Spain's Andalucía and a major tourist destination in the south of the country, Seville is known for its glorious Moorish architecture, rich traditions, oranges, and for being the birthplace of Flamenco. Split in two by the Guadalquivir River, there are many awesome things to see and do in the culturally rich city.
Tourism is really booming in Seville, and it can be difficult among the crowds to find quieter spots and enjoy an air of authenticity. It is sometimes said that mass tourism is spoiling the city's charm.
This doesn't have to be the case, though. There are still plenty of hidden gems in Seville and ways to escape the masses … if you know where to look. We've compiled a list of the very best places to visit in Seville, including both popular tourist hotspots and lesser-visited places to let you really appreciate the southern Spanish city's many delights.
Some of these best places to visit in Seville are sure to surprise you!
Best places to stay in Seville
With mixed and female-only dorms, private rooms, a great location, awesome freebies, and great facilities, Hostel One Catedral is one of the best places to stay in Seville for budget travellers who love the sociable hostel vibe. It is located in Santa Cruz, one of the most exciting and energetic neighbourhoods in Seville.
Bond with other travellers over the tasty free dinner each evening and learn a bit about the city on the free walking tour. Join pub crawls and various other social events or simply chill in the comfy common area. The hostel has a shared kitchen, laundry facilities, free Wi-Fi, and bike rentals.
This 500-year old beauty of a house is one of our absolute favorite Airbnbs in Seville. Ithas three stories and is full of Spanish history and character. The room is your own private area, but the whole house is yours to explore and enjoy. Sit in the courtyard garden and enjoy your tea or coffee while listening to the trickle of the fountain. Enjoy a restful bath after a long day exploring the town. Cook a meal in the rustic style, well-equipped kitchen. Take in the beautiful sunshine and orange-blossom-scented air of Seville on the rooftop terrace. From the house, you are a short walk to the major sights, such as Catedral de Sevilla (4 min walk), Jardines de Murillo (4 min), Museo del Baile Flamenco (6 min), Iglesia del Salvador (9 min), and many others.
Pensión Macarena is a top choice if you're wondering where to stay in Seville on a budget. There are single, twin, double, and triple rooms to choose between, some with en suite bathrooms and others with shared bathrooms. All rooms are cheerful and bright. The courtyard is a pleasant place to unwind after a busy day and you can access free Wi-Fi throughout the guest house. Reception is staffed around the clock. The property is located in the Old Town, one of the most historic neighbourhoods in Seville.
The gorgeous and atmospheric Sacristia de Santa Ana, housed in an elegant 18th-century building, is one of the best places to stay in Seville's Old Town if you are looking to splurge. Stylish, chic, and welcoming, all rooms have traditional décor, free Wi-Fi, and a private bathroom. Various room types are available; most rooms sleep two but there is capacity for an extra single bed in some rooms.
Just a short walk from the heart of the city and many of the top attractions in Seville, the hotel offers various services and amenities, including free coffee at all times, bike and car hire, a tour desk, laundry, and child-minding.
Need a place quick? Here's the best neighbourhood in Seville:
BEST AREA IN SEVILLE
El Arenal
A smart and sophisticated residential district, El Arenal is most famous for its beautiful bullfighting ring which sits in the centre of the neighbourhood.
Places to visit:
Climb the El Torre del Oro, the "Tower of Gold" and see great views of the city and river.
See the Real Maestranza, one of the oldest bullfighting rings in Spain. Even if you're not keen to take in a fight, pop by the ring to see its incredible architecture.
Take in a lively and fiery dance show at Tablao Flamenco El Arena.
After those useful recommendations and tips, here are the best places to visit in Seville.
These are the BEST Places to Visit in Seville!
#1 – Seville Cathedral
One of the most religious places to see in Seville
UNESCO World Heritage Site
Long history
Beautiful architecture
Serene and peaceful atmosphere
Why it's awesome: Officially called The Cathedral of Saint Mary of the Sea, the UNESCO-listed cathedral is among one of the most impressive landmarks in Seville. One of the biggest churches in the world, the Gothic gem was built in the 1600s. It sits on the site of an old mosque that was later converted to a Christian place of worship. The grand building was constructed as a visual display of Seville's affluence. A gorgeous building both inside and out, it features many chapels and tombs of prominent people. There's lots of religious art as well as remains from the ancient mosque. This is one of the best, unmissable things to do in Seville.
What to do there: Feast your eyes on the stunning building and see the ornate doorways before entering inside to admire the spectacular interiors. Major doors include the Door of Assumption, the Door of Baptism, the Door of the Nativity, the Door of Forgiveness, the Door of the Lizard, the Door of the Bells, and the Door of Saint Cristopher or De la Lonja. Walk along the sweeping nave and see the huge carved scenes that depict the life of Jesus Christ and the splendid altar.
Step onto the Patio de los Naranjos, home to orange trees and a fountain—this was originally the ancient mosque's washing area. Explore the numerous chapels and shrines, see the famous painting of The Vision of St. Anthony, admire the religious artefacts in the treasury, and gaze at the curious stuffed crocodile. Don't miss seeing the lavish tomb of Christopher Columbus. Climb to the top of the Giralda Tower, once a minaret in the ancient mosque, and admire the beautiful vistas.
#2 – The Metropol Parasol
A great place to see in Seville if you love architecture
Unusual architecture
Interesting archaeology museum
Great views – bring your camera!
Opportunities to relax
Why it's awesome: Situated at La Encarnación, a square in the historic area, the Metropol Parasol was constructed in 2011. The eye-catching wooden structure stands some 26 metres (85 feet) tall and is among the biggest wooden structures across the globe. The huge structure is made up of six mushroom-like parasols and split across four tiers. It was designed to resemble both Seville Cathedral's vaults and nearby trees. A popular place for people to hang out in the shade, the structure offers great views and also houses a museum.
What to do there: Descend into the underground level to see a large collection of Roman and Moorish archaeological finds in the Antiquarium. Various temporary exhibitions are often placed around the structure too. Browse in the Central Market, located within the Metropol Parasol at ground level, and soak up the city views from the upper two terraces. Enjoy a meal in the panoramic restaurant, stroll along the walkways, and snap plenty of pictures of one of the most unusual attractions in Seville.
#3 – Triana
A great place in Seville if you love to shop!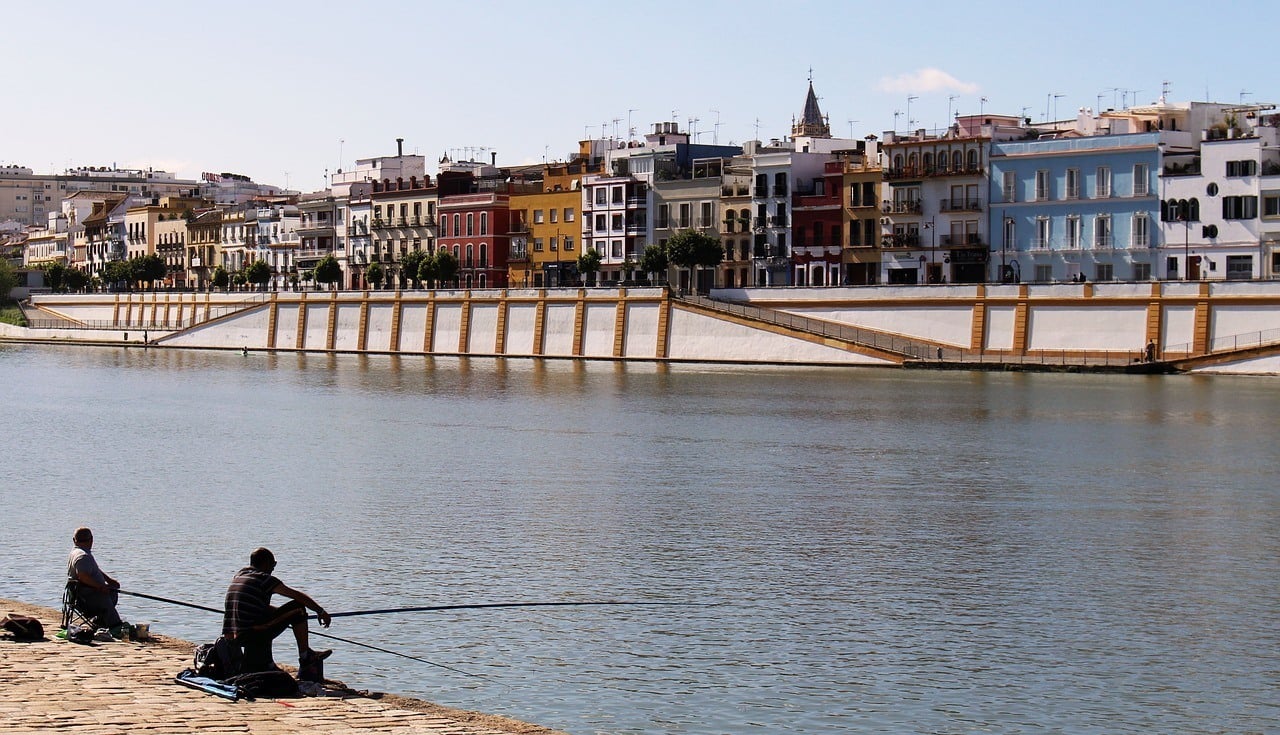 Colourful historic district
Industrial heritage
Busy market
Several museums
Why it's awesome: Sitting on the banks of the Guadalquivir River, Triana is a historic district of Seville. Filled with colour and character, it was historically a place where people were sent to live if they were deemed not to fit in with the rest of Seville's population. A top place to delve into local customs, culture, and traditions, Triana has long-standing tile and pottery industries. There are several museums in the area and the charming streets are home to numerous excellent eateries, bars, and shops. There's an attractive and bustling market too, and the neighbourhood is a fabulous place to indulge in a little retail therapy between your sightseeing.
What to do there: Cross the Isabel II Bridge to reach Triana and stand in the impressive Altozano Square, surrounded by modern artworks related to flamenco and a famous matador. Stroll along the pretty streets of San Jacinto, Castilla, San Jorge, and Calle Pureza and see landmarks like Santa Ana Church, the old Santa Ana pottery factory, the Church of Our Lady of the O, San Jacinto Church, and Casa de las Columnas.
Visit museums like Centro Temático del Castillo de San Jorge and Centro Cerámica Santa Ana. Wander along the waterfront street of Calle Betis and pop into one of the many bars and restaurants, and come back in the evening to dance the night away in one of the lively nightclubs. Pick up local goods and souvenirs in the plethora of shops around the neighbourhood and the lively market.
#4 – Alamillo Park
A beautiful outdoor place to visit in Seville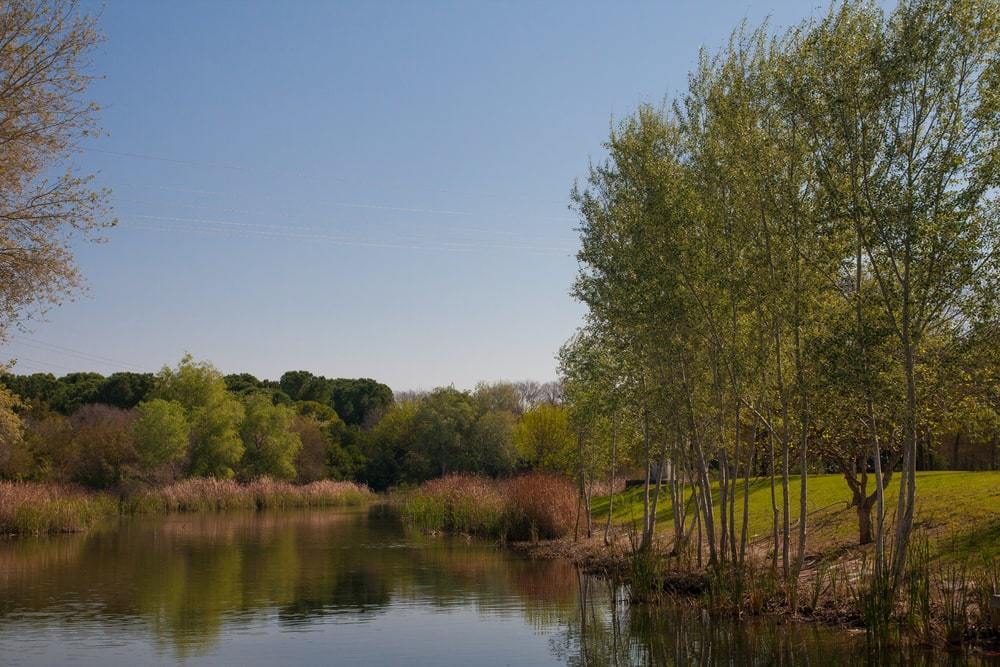 Large and pretty park
Diverse leisure activities
Varied program of events
Home to wildlife
Why it's awesome: Located on Cartuja Island and covering some 116 acres (47 hectares), Alamillo Park has lots of rolling greenery, two man-made lakes, and diverse wildlife. There are varied leisure facilities too, including walking and biking trails, children's play areas, sporting facilities, and refreshment stands. It's a beautiful place to enjoy being outdoors and get away from busy city life for a while. Especially busy in the summer months, different events are often hosted in the park in the sunshine.
What to do there: Cross the contemporary Alamillo Bridge to reach the island park and relax in a lovely outdoor setting. Look out for small creatures like hedgehogs, and rabbits, as well as many birds. Inhale the sweet scents from the citrus trees and admire the sparkling lakes. Go boating and water skiing on the water and walk or cycle around the trails. Let little ones run and play in wide open spaces and have fun with the play equipment.
#5 – Royal Alcázar Palace
Possibly one of the most important places to visit in Seville
Stunning architecture
Popular tourist attraction
Long history
UNESCO-listed site
Why it's awesome: Seville's Royal Alcázar Palace was constructed on the site of a former Muslim property, which was destroyed when Christians conquered the city. Built in a Moorish style, the palace is still the city's official royal residence. The glorious building is one of the most impressive hotspots in Seville and it attracts numerous visitors all year round. There are gorgeous gardens too.
It is today a UNESCO World Heritage Site. The complex has featured in several movies and TV productions, including Game of Thrones, and the 1962 film Lawrence of Arabia. The palace is an ideal thing to do if you're trying to explore Seville on a budget—admission is free on Mondays!
What to do there: Book a tour of the magnificent palace complex and explore different rooms, courtyards, and gardens from old. Admire intricate tile-work, diverse architectural designs, from Gothic to Renaissance and Moorish, and many more other eye-catching details. Wander through centuries-old gardens and see striking fountains, ponds, statues, and flora. Audio guides are available in different languages. If you speak Spanish, it's well worth visiting at night time too, when you'll hear tales associated with the palace from its long history.
#6 – Ramón Sánchez Pizjuán Stadium
Cool place to see in Seville with friends!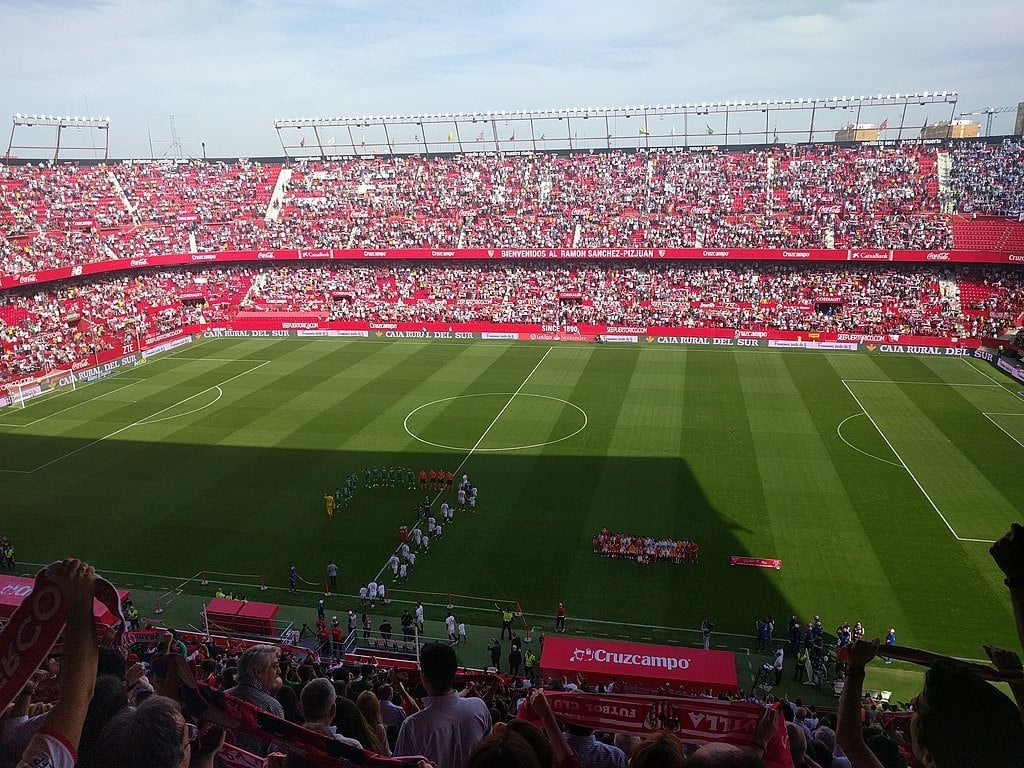 Oldest football club in Spain
Tours of the stadium
Merchandise shop
Exciting football matches
Why it's awesome: Ramón Sánchez Pizjuán Stadium is the home ground of Sevilla Fútbol Club, and the stadium takes its name from a long-serving former club president. Sevilla Fútbol Club is Spain's oldest football club. Established in 1890, it is among the champion teams from the region and plays in La Liga, Spain's highest football league. Built in 1958, the stadium has seen many major moments in the sport's history. It hosted, for example, the semi-final of the 1982 World Cup and the final of the 1986 European Cup. Tours are available at the stadium and it's an exciting place to watch a game.
What to do there: Take a tour of the famous stadium and learn more about the football club. Discover tons of fun facts in the SFC History Experience Museum and see trophies, photos, kits, and more. Visit areas that are usually out of bounds, including the press room, VIP boxes, and changing rooms, and step onto the pitch where many dreams have been both fulfilled and dashed. You can pick up football memorabilia in the store and book tickets to watch a match in action.
#7 – Flamenco Dance Museum
One of the more unique places to visit in Seville!
Rich traditions
Flamenco shows
Educational and interesting
Lovely building
Why it's awesome: Seville is famous for flamenco and, while you may have seen performances in one of the numerous bars and theatres in the city, a visit to the Flamenco Dance Museum provides terrific insights into the music, dance, and vibrancy that is flamenco. The museum is housed in a striking 18th-century building and has been open since 2006. The informative museum was established by a prestigious flamenco performer from the area, Cristina Hoyos.
What to do there: Dive deeper into the exuberant world of flamenco as you learn more about its beginnings, traditions, mysteries, and culture. Pass under the arches as you stroll along the atmospheric passages of the lower level. Listen to the soothing sounds of the fountain as you relax on the patio. Visit the teaching area where various classes are held and see flamenco-related art, promotional material from various eras, musical instruments, costumes, castanets, and accessories. For even greater immersion, why not book a class or attend a show?
Quick Note – Staying safe in Seville
Seville is generally a safe city for travellers, and most visitors encounter few, if any, problems. Violent crime is low, though visitors should be wary of leaving bags unattended or on the floor underneath tables and be aware of the risk of pickpocketing. Another possible method of theft includes scooters whizzing past and grabbing your bag. Be alert while following along with our Seville guide.
Solo women travellers may experience harassment, though most incidents are verbal rather than physical.
It's easy to get lost in Seville's winding maze of streets—make sure you have GPS and/or a good map and avoid wandering around alone at night time. Be aware of common scams, including palm readers, overly friendly strangers, and people who try to distract you while an accomplice steals your belongings. If you apply basic safety precautions, though, you should be more than fine.
Stay hydrated, especially when spending long days outside in the summertime. The tap water is generally drinkable in Seville.
Do you need Travel Insurance for your trip? I have been using World Nomads for some time now and made a few claims over the years. They're easy to use, professional and relatively affordable. They may also let you buy or extend a policy once you've started your trip and are already abroad which is super handy.If there's one insurance company I trust, it's World Nomads. To find out why I use World Nomads, check out my World Nomads Insurance review.
Want to keep your money safe?
You should always have emergency cash hidden on you – pick up this awesome security belt with its hidden pocket before you travel, it's perfect for hiding money, a passport photocopy.
#8 – Aquopolis Sevilla
Awesome place to visit in Seville with kids!
Family-friendly attraction
Water rides for all ages
Relaxation
Food and drink options
Why it's awesome: Aquopolis Sevilla is one of the top family-friendly attractions in Seville. There are several fun water-based attractions, like slides and shoots, as well as pools for different ages, a lake, a fast river, and Jacuzzis. You don't have to spend all your time in the water though, thanks to attractive lawns and relaxation areas with sun loungers. There's a good selection of places to grab fast food and drinks too.
What to do there: Challenge your family and friends on the fast Speed Race slides, bob about in the wave pool, float in the Blue Lagoon, and unwind in the Jacuzzi. Watch as your kids have fun in the Mini Park, which has shallow waters, slides, water buckets, and colourful features, Feel the rush on things like the Rapids and Black Hole, get an adrenaline burst on Kamikaze and Mamut, and soar above the water to enter a lush jungle area on the zip line.
#9 – Alameda
A must-see for foodies!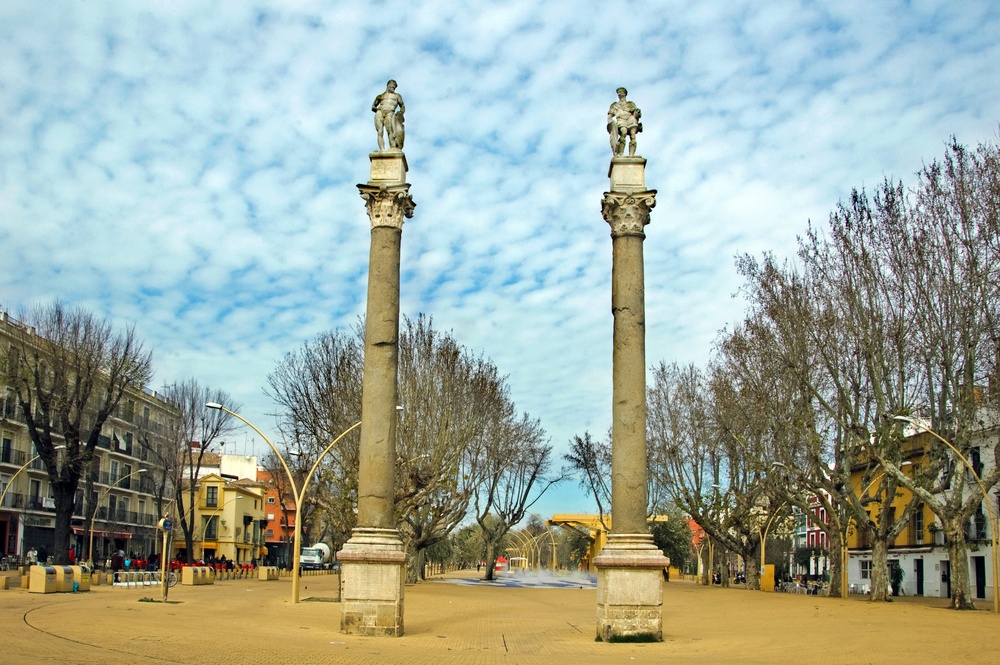 Alternative vibe
Diverse cuisine
Great nightlife
Cool buildings
Why it's awesome: Alameda used to be a place best avoided, a magnet for the seedier sections of society. It has undergone a huge transformation, however, and is today on the trendiest and most sought-after neighbourhoods in Seville. It does still retain something of an edgy and alternative vibe. At the heart of the district is a wide avenue with Roman columns and statues at one end. Visitors will find a number of interesting buildings in the area as well as cool cafes, bars, restaurants, and galleries. Eateries sell a wide range of global cuisine and it's a great place for a fun night out.
What to do there: Visit the attractive Convento Santa Clara and admire the striking cloister that is often used for various exhibitions today, and appreciate the brilliant frescoes and artworks at Convento San Clemente. Be sure to explore the Alameda area when hungry—the wide array of restaurants and bars are sure to tempt you! From vegetarian eateries, sushi joints, and tapas bars to fusion restaurants and Mediterranean menus, there's something here to suit most taste buds. Return after dark to dance the night away in one of the funky clubs too.
Need some extra energy?
One of the best investments you can make is a worldwide travel adapter that will work anywhere! The one featured here is tough, reliable and a solid buy – Don't leave home without one.
Buy your travel adapter on Amazon now.
#10 – Hospital de los Venerables
Quite the quirky place in Seville!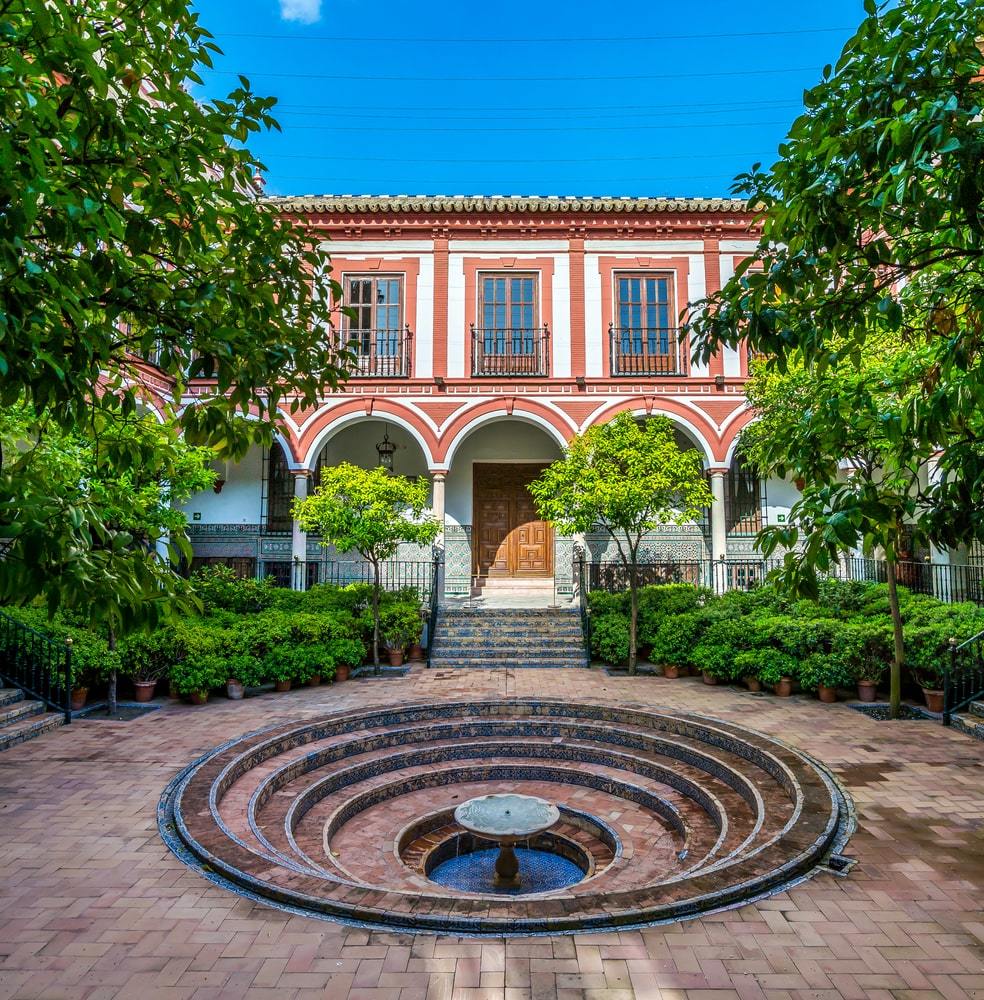 Fabulous art
Historic air
Gorgeous church
Peaceful vibe
Why it's awesome: Hospital de los Venerables can be found at the heart of Barrio Santa Cruz. Founded as a hospital in 1675 and originally a home for priests, financial difficulties led to the building being given to a textile company. It was later returned to the brotherhood. Restoration works have been carried out on the beautiful building and today it is home to a small art museum. The art collection may be small, but it is visually striking. It is dedicated to artists from the Spanish Golden Age, notably Diego Velázquez.
What to do there: Make your way through the maze-like streets of Barrio Santa Cruz and enter the peaceful tucked-away building to admire art and architecture. See the small collection of valuable and historic paintings as you explore the gorgeous 17th-century Baroque gem. Stand in the arch-surrounded courtyard, which has a fountain at its centre, and note the famous red and white tiles.
Ascend the elegant staircase after exploring the lower levels and don't miss peeking out onto the balconies and peering through the holes in the wood for a close-up view of the paintings. Visit the ornate church, arguably a highlight of the complex, to see the many frescoes, murals, and sculptures. Seeing the altar is among the most unusual things to do in Seville—rather than being surrounded by typical wooden carvings it features paintings instead.
#11 – Parque Isla Mágica
Easily one of the most fun places to check out in Seville
Fun for families and friends
Diverse rides and shows
Water park
Great for all ages
Why it's awesome: A fabulous day out for people of all ages when they travel to Seville, Parque Isla Mágica is a fun theme park on part of the grounds that were used for the Expo '92 World's Fair. Open since 1997, the attraction park has a great selection of rides, both thrilling and tame, as well as shows and various other things to do. A large lake lends a relaxed feeling to the park and there are places to eat, drink, and shop too. You're sure to have a great day at a place whose tagline is "Fun Without Limits"!
What to do there: Step back in time for some good old-fashioned joy as you ride on the charming 16th-century carousel. Set sail for the New World on La Travesía, have a water battle at Los Bucaneros and immerse yourself in a 4D cinematic show. Rides for the little ones include Sapo Salón, Topetazú, Las Llamas, Caimán Bailón, Crisálida, and La Rana Saltarina. Thrill seekers should check out El Desafío, Anaconda, El Tren del Potosí, and Rápidos del Orinoco. Cool down in the heat at the varied water-based attractions in the Agua Mágica area. You'll definitely find plenty of ways to enjoy your day.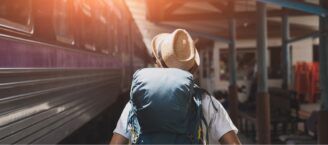 Unlock the secrets of traveling on a budget!
Sign up for The Broke Backpacker newsletter to receive regular tips on how to travel for less plus a FREE copy of The Backpacker Bible!
Get insured for your trip to Seville!
Remember, when you are traveling you may need insurance! World Nomads are our go-to Travel Insurer; we have used them ourselves for years now.
Getting an estimate from World Nomads is simple – just click the button or image below, fill out the necessary info, and you're on your way!

Other top places to visit in Seville
Soak up the peace and quiet in the atmospheric Monasterio de Santa Paula, go off the beaten track at Casa de Pilatos, and take a free tour of the Andalucía Parliament. Learn more about Seville and Andalusia at Archivo de Indias, explore the beautiful grounds and buildings of the University of Seville, stroll around the attractive Plaza España, travel back in time at Iglesia Colegial del Salvador, and escape the crowds at Palacio de Lebrija. Santa Cruz is a great place for night time fun. Take day trips to nearby places like Jerez de la Frontera and Carmona for even more diversity.
There are certainly many cool places to visit in Seville and you will sure have an awesome time in Seville!
"Find out how YOU can support the site. We work hard to put out the best backpacker resources on the web, for free! It's all about helping out our tribe of awesome backpacker readers [that's you!]. Please visit the link to find out how you can help keep the site going 🙂
For the sake of transparency, some of the links in our content are affiliate links. This means that if you book your accommodation, buy a book or sort your insurance, we earn a small commission at no extra cost to you. I only link to stuff I've actually used and never endorse products or services that are not up to scratch. Thanks for your support.